Greetings and salutations everyone and welcome to another blog here on BlueCollarBlueShirts.com. On Thursday night, at MSG, the Rangers picked up their first win of the season, defeating the San Jose Sharks in overtime, with a final score of 3-2. For the Rangers, this was somewhat a "monkey off their back" type of win, as this win should bring confidence to the young club. For head coach David Quinn, it's his first win as an NHL head coach.
This win over the Sharks was very reminiscent of the first two games of the season. In all three of these games, Henrik Lundqvist was the starting goalie. With Lundqvist in net, the Rangers played hard, and even with San Jose being the better team on paper, the Rangers did not give up. While I thought the Rangers played better defensively for a complete 60 minutes in the losses to Nashville and Buffalo, the Rangers found a way to win this game with the Sharks.
Unlike the two other previous Lundqvist starts, the Rangers had a dreadful first period, where at one point, they were being out-shot 11-1. The Rangers also wasted two powerplay opportunities, with one of the Ranger powerplays turning into a shorthanded goal for the Sharks. However, despite playing a Stanley Cup favorite (at least that's what the sports books in Vegas are saying about San Jose) the Rangers did not give up.
In the third period, the Rangers had a complete 180 from their third period on Sunday night against the Hurricanes. As we all know by now, at the beginning of the preseason, head coach David Quinn preached three words – "Fast", "Physical" and "Relentless." Like Kurt Angle and his three I's (Integrity, Intelligence & Integrity) the Rangers leaned on these three words in this win over San Jose. With this game looking like a noble lost cause with under four minutes remaining in regulation, the Rangers were relentless and wound up picking up the two points.
This 3-2 OT win for the Rangers was a complete team victory, with production coming from all over the roster. While one can not over-exaggerate this win, (as many young fans on social media are doing right now) one can appreciate the hard work that was paid off in this win. David Quinn, who made headlines before this game, also deserves some credit for pushing all the right buttons and making the right roster moves.
However, before getting into Quinn and the Rangers first win of the season, here are my last few blogs in case you missed them:
---
---
---
---
---
---
---
The biggest story going into this game was David Quinn benching his high priced defenseman, Kevin Shattenkirk. If you haven't seen it already, here is the video of Quinn, from Wednesday, talking about what he expects out of his players:
No player is above a benching to Coach Quinn.#NYR pic.twitter.com/sjgdiQ3Ft2

— MSG Networks (@MSGNetworks) October 10, 2018
I thought the last sentence could be prophetic, when Quinn started talking about benching people with big bank accounts. I have a funny feeling I'll be revisiting this tweet later in the season.
On Tuesday, the news made the rounds that Shattenkirk would be scratched for this game, but no matter the result, would play on Saturday against the Oilers. Before the win over the Sharks, Quinn met with the media and said this:
"He's [Shattenkirk] taking it well. I know that everyone wants to make a big deal out of this and it's always a big deal when you don't play a game but I think that under these circumstances, where a guy is coming off major knee surgery, missed the second half of the whole year, finding his way mentally. He's fine physically, but he doesn't have a lot of confidence from a skating perspective. He isn't fine with it, no one is fine with not playing but if you were hearing our conversations, this is not an 'are you kidding me type of conversation. We've talked through this and he is going right back in on Saturday. This is part of where he needs to get back to."
Whenever there is Ranger news, there will always be a controversy or a conspiracy. One fan conspiracy I read was that Quinn and Shattenkirk are friends. Quinn even attended Shatty's wedding over the summer, where Quinn had his hand placed on the ass of Shattenkirk's wife. I only mention this to show you how close they are. I am not implying that Quinn is Bill Cosby or anything.
In Shattenkirk's AHL days, Quinn previously benched Shattenkirk, when both were with the Lake Erie Monsters. The two had also previously worked together during their time with Boston University. Knowing that Shattenkirk and Quinn have a bond, the conspiracy I read suggested that Quinn benched Shattenkirk, as a way to put a kick in the ass of the Rangers. As the conspiracy suggests, in front of the team, media and fans, Shattenkirk was Quinn's sacrificial lamb. However, behind closed doors, it is rumored that Shattenkirk volunteered to be scratched. Again, that's the conspiracy theory that's out there.
Personally, to me, I don't think David Quinn and Kevin Shattenkirk were hanging out on a grassy knoll or chasing UFO's together. However, I do think because of their past relationship, where tough love is there, David Quinn knew he could bench Kevin Shattenkirk, without their player-coach relationship turning negative.
I thought Steve Valiquette, tonight, said it best, when it came to the Kevin Shattenkirk benching. The best way to get through to a millionaire is to take their ice time, because then you're taking their pride away. While you can't hurt these player's bank accounts, you can shame/motivate them a bit, by taking their playing time away.
When Vally started talking about pride and shame, I immediately thought then you're opening up Shattenkirk to fan ridicule. After all, in some social media circles, you're already seeing Shattenkirk getting blasted. I guess Vally was on the same wavelength as me on that too, because he immediately followed up his statement with, and I'm para-phrasing here, "but you don't want the fans in the building to turn on him." That last sentence explains why Quinn made it clear that Shattenkirk would be in the line-up on Saturday vs Edmonton.
Oh, while on Valiquette and the MSG Networks, this was the first game this season that I watched on TV with the volume on. (I attended the home opener, the game in Carolina and watched the Buffalo game in a packed and noisy bar.)  At least for this game, it looks like the MSG Networks "salary dumped" Ron Duguay and are happy to double-shift Vally. While I think Vally is good at what he does, Duguay is certainly missed and it sucks not having a different perspective.
I mean, to start the broadcast, Vally was whipping out charts from the Islanders/Sharks game. What wasn't mentioned in that chart was that the Sharks flew coast-to-coast for a 1PM start time and weren't sharp. Do you know who mentioned the Sharks travel and 1PM game time? Dave Maloney, during his podcast with John Giannone. (More on that podcast later.)
I know there is a new generation of fans,whom are eager to make up charts in the basement of their parents. (More on that to come on this blog.) Vally has those fans eating out of his over-sized goalie glove. However, I do think Vally doesn't connect as well with older fans, because he's too busy with his charts and nerd stuff, rather than talking about the actual game, the emotion, the passion, the intangibles and all the other stuff that happens on the ice. As someone who talks to a lot of older fans (most of this blog's readership is 40+) I am confident in saying that the older fan misses Duguay. That's not a knock on Vally, it's just that the older fans want someone they can relate to.
MSG Networks did Ranger fans a disservice by not keeping Ron Duguay and are showing their cheapness by not having a replacement. (I am hearing Anson Carter will do other games, but for this game, all we had was Vally and the teeth of Al Trautwig. Speaking of which, how come MSG Networks doesn't offer a dental plan to their employees?)
I want to stress that I think Vally is great at his job and will probably have a national job one day if he chooses, but you need more than his opinion out there. Losing Ron Duguay and not replacing him with someone that older fans can connect with, is a colossal mistake, which then again, pretty much sums up the Rangers during the Sather era.
Oh – and if you're new to this blog, welcome to my manifesto of tangents. Don't worry, I'll get back to this NYR/SJS game eventually!
While on Duguay, I wanted to mention a few things.
I'm giving everyone until Monday to sign the "Bring Back Ron Duguay" petition, which you can view and sign here: https://www.change.org/p/jeff-fillippi-bring-back-ron-duguay-to-msg-networks
Come Monday, I'm heading to my buddy's house to print the whole thing up and mail it to Jeff Fillippi. I could email the thing, but there's something to having a physical item in your hands, rather than something electronically. It's kind of like sex – sure internet porn can get the job done, but there's nothing like the real thing in your hands. (I'm sure some snowflake will find my attempt of being a comedian here offensive.)
Speaking of trying to be a comedian, Ron Duguay recently did an interview with diehard Rangers fan and stand-up comedian, Chris Roach. You can listen to Roach's "Not Another Pucking Podcast" here:
Episode 2 of @ComicsOnHockey featuring NY Rangers Favorite @RonDuguay10 is up at https://t.co/N0NWGXejRT and on https://t.co/TrIuZ3EIVk

— Christopher Roach (@RoachComic) October 8, 2018
This was one of the better Duguay interviews I've heard, because Duguay and Roach are friends, thus their conversation flows better. I've been a fan of Roach's work for years, ever since I saw his act about 4-5 years ago during a fundraiser for my friend's bar. He's a knowledgeable guy, as well as funny.
I don't know if Roach's humor will connect with everyone, and this goes back to the millennial fans that you see on Twitter. I saw some of these fans happy that Duguay was dismissed, as they wanted more Valiquette or another chart guy to replace Duguay. I just can never relate to those fans, these same fans who never saw Mike Richter play, much less tell you who Frank Boucher or Bill Cook were.
It's sad that these fans don't do their homework, nor have the ability to appreciate the past. What's ironic, is many of them turned Mats Zuccarello into a fan favorite. (I would add Dubinsky, Avery and Callahan here, but many of these fans didn't pop up until 2014.)  Ron Duguay was just like those players, a huge fan favorite who brought something different to the studio.
Anyway, check out the podcast, it's very enjoyable. As someone who thinks scientology is a cult, it was hilarious hearing Duguay and Roach share their Leah Remini story.
As far as news from the podcast, concerning Duguay's current status with NYR & MSG Networks, he didn't add anything that I didn't report here on this blog already. However, he did talk about his days on 90210!
Also, to wrap up this Ron Duguay section, I wanted to share an email I received from Michael Tootikian:
Hi Sean,

Great work on the petition for bringing back Ron Duguay to MSG NETWORK.

I signed the petition I believe on October 8 and the next day I called MSG NETWORK and I spoke to Colleen who took down my name and cell phone number.

Please keep me posted and thanks for your work.

I am in Los Angeles but I have long been a NY Ranger fan since the seventies and attended many Ranger/Kings games going back to Duguay's rookie year (1977).

Best, Michael
I have gotten tons of emails and feedback with this blog, and when you get emails like this, it makes it worth it.
Only on this blog, will you get a rant on the MSG Networks, conspiracy theories, podcasts, and other Ranger minutiae.
Going back to where we started, Kevin Shattenkirk was scratched for this game, but he was told he would play on Saturday. Also scratched was Neal Pionk, which I found peculiar. With these two out of the line-up, David Quinn, who employed a 11 forwards/7 defensemen line-up on Sunday, went back to a traditional 12F/6D line-up for this game with the Sharks. Tony DeAngelo, the 7th defenseman on Sunday, remained in the line-up. Joining DeAngelo was Frederik Claesson, who made his Rangers debut. Of note, Claesson wears the number 33, which is sacrilege for all Cam Talbot fans!
David Quinn also shook up the lines for this game. Here's what he rolled out:
First Line: Buchnevich/Zibanejad/Fast
Second Line: Vesey/Hayes/Spooner
Third Line: Kreider/Howden/Zuccarello
Fourth Line: Namestnikov/Chytil/Lettieri
First D-Pair: Skjei/McQuaid
Second D-Pair: DeAngelo/Staal
Third D-Pair: Smith/Claesson
As mentioned, after the Georgiev debacle on Sunday, Henrik Lundqvist returned to the net.
Before getting into the meat and potatoes of this game, as always, let me give you the official box score from ESPN.com. Of note, both ESPN.com, TSN.CA and NHL.com are no longer offering period-by-period stats, which is odd to me.
SCORING:
1st Period
4:31

Marcus Sorensen

(1)

(Shorthanded)

Assists: Timo Meier, Brent Burns

1
0
13:52

Brett Howden

(2)

Assists: Mats Zuccarello, Chris Kreider

1
1
2nd Period
4:59

Joonas Donskoi

(1)

Assists: Antti Suomela, Brent Burns

2
1
3rd Period
17:21

Brendan Smith

(1)

Assists: Pavel Buchnevich, Jesper Fast

2
2
OT Summary
0:37

Brady Skjei

(1)

Unassisted

2
3
PENALTIES:
1st Period
3:07

Evander Kane:

2 minutes for Closing Hand on the Puck

8:49

Mika Zibanejad:

2 minutes for Interference

13:52

San Jose Sharks:

2 minutes for Delaying the game (served by Kevin Labanc)

17:04

Evander Kane:

2 minutes for Roughing

17:04

Marc Staal:

2 minutes for Roughing

20:00

Brendan Smith:

2 minutes for Hooking
2nd Period
No Penalties This Period
3rd Period
5:30

Anthony DeAngelo:

2 minutes for Interference
OT Summary
No Penalties This Period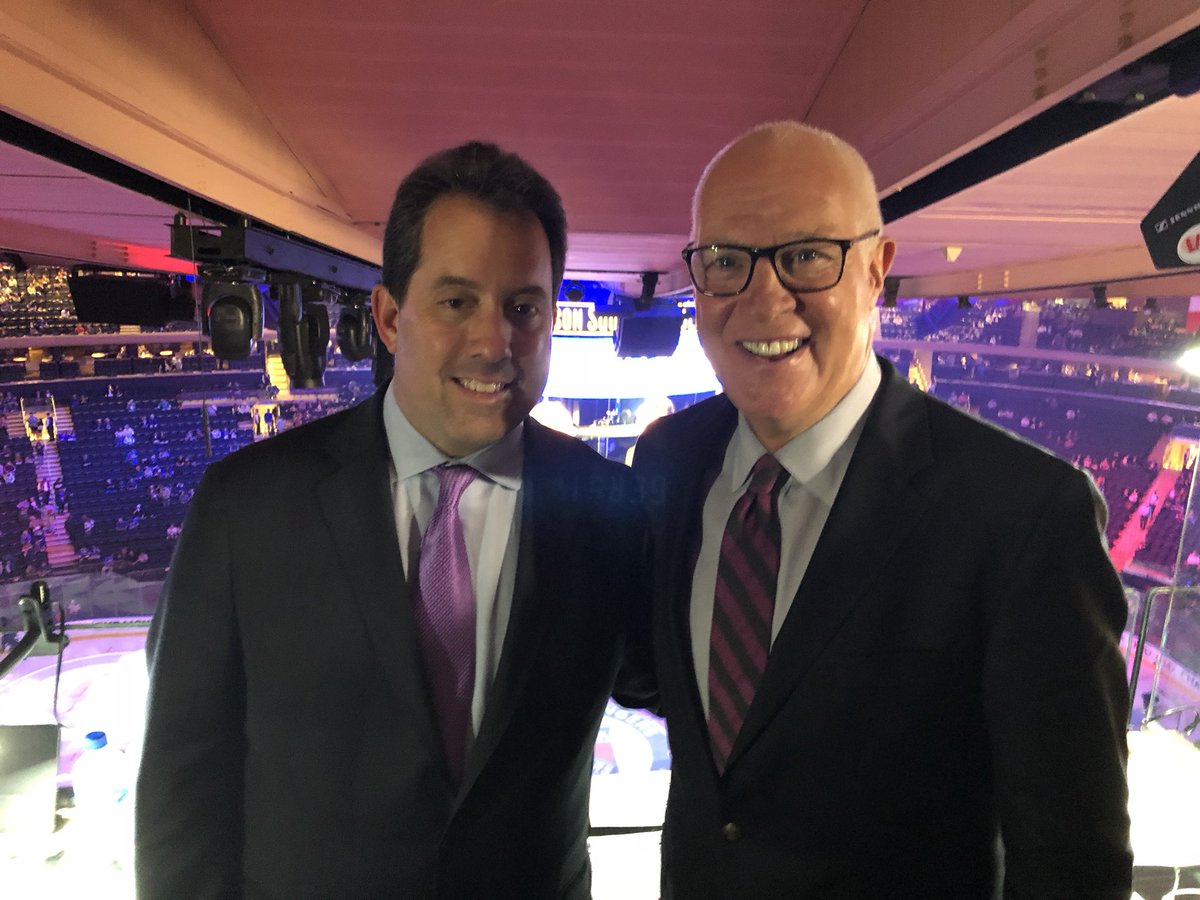 In a game played in front of a half empty MSG, due to bad weather, a rebuilding team and a NY Giants home game taking place at the same time, the Rangers were able to battle against adversity, in a victorious effort.
As mentioned earlier, the first period wasn't pretty, and was pretty much the Henrik Lundqvist show. However, as we've seen in the small sample size of games that the Rangers have played, the other goalie was just as good. That said, this game featured Lundqvist's heaviest workload, and he wound up with 41 saves. For comparison, his counterpart, Sharks goalie Aaron Dell, made 24 saves.
I guess I should mention, that as usual, Joe Micheletti was horrible, irritating and rash-inducing all game. I don't advocate for people to lose their jobs, but I can't believe that in the entire world of hockey, that Micheletti is the one with the job in New York. Joe is a perfect yes-man and a corporate type, but you can't trust anything he says or take anything he says with any merit, since you know he's just a puppet for the Rangers & the MSG Networks.
One thing was evident in this game – Brett Howden has potential. And lots of it.
Let's make something clear, before people start running with what I'm about to say. The Rangers have only played four games. It's a small sample size. However, I can only write about what I've seen so far. That said, I don't think you can really get a feel for a team or how a player will do for the season, until around Thanksgiving.
In four games, Howden is the best center the Rangers currently have. What does this mean? For starters, it shows you that Tampa is better at the draft than the Rangers are. The Rangers can't even get their number 7 overall pick from 2017 into the league. If things stay status quo, Howden may have "Wally Pipp'd" Andersson before Andersson ever had a chance. (Okay, that's an exaggeration. After all, the team usually dresses four centers anyway.)
What it also means, and again, this is way early – it makes Mika Zibanejad expendable. As mentioned on previous blogs, I would trade 93 sooner than later. Zibanejad is concussion prone, and without sounding cruel, this is a business too. Plus, it's not like Zibanejad is producing to his contract. Furthermore, you don't want to get stuck with his NMC, which kicks in next season.
If Quinn is truly this master guru of player development, as fans, that means we haven't even seen Howden scratch the surface. With young names like Andersson, Chytil, Pionk and others getting a lot of ink, it's been Howden out-performing them all.
And also, as mentioned repeatedly here and on the twitter, I would love to see a line of Kreider/Howden/Lettieri. Sorry, but Zuccarello, for all the memories he's given us, he has become very expendable. How many times can you watch Zucc opt to make an extra pass to nowhere, rather than taking a shot? Even in this game, Zucc missed on several shot and offensive opportunities. Luckily for the Rangers, both Howden and Skjei capitalized on where Zucc failed. Let's see if Quinn has the balls to scratch Zucc. I know Ranger fan Al Demauro wouldn't mind!
I'll save my diatribe about Lundqvist for later on in this blog, but once again, he had another strong game for the Rangers. The two goals allowed weren't 100% on him, even if you could make the case that Dell made similar saves. (Dell also wasn't challenged nearly as much throughout the 60 minute contest.)
The Sharks struck first in this game, when Marcus Sorensen scored a shorthanded goal at the 4:31 mark. Here's the goal:
Sharks take a 1-0 lead on a short handed goal from Marcus Sorensen. #NYRvsSJS pic.twitter.com/57aty4J8Xy

— Rangers Report (@rangersreport) October 11, 2018
On the play, Kevin Hayes turned the puck over and Brady Skjei was undressed, looking more naked than the Times Square cowboy. Could Lundqvist make the save on this? Perhaps, but Skjei did him no favors. After Quinn's speech about accountability, I was expecting Skjei, who was just horrible all game until the OT frame, to be the latest name on the SCRATCH LIST OF QUINN.
Anyhoo, 1-0 bad guys.
This first period was pretty much the Sharks shooting at will at Lundqvist. (I was going to make "South Park" school shooting joke here, but I know people would cry and take it out of context.) So let's replace a potential school shooting joke with a "Sharks took more shots than a pledge at a hazing ceremony during a frat party." (Eh, I don't think that joke landed either. I'm losing my Dennis Miller edge.)
The point I'm trying to illustrate here is that the Sharks just kept pummeling Lundqvist with rubber, like he was a cheap Thai hooker at Bill Maher's house (Found it!) while the Rangers flailed their arms around like a kid learning how to swim for the first time.
However, Brett Howden, once thought to be warming up a spot for Lias Andersson, continued to maximize his minutes when he put the Rangers on the board with a highlight reel goal, with under 7 minutes remaining in the period:
GOAL! Brett Howden! His 2nd of the season! pic.twitter.com/QE1Gyf07vX

— Rangers Report (@rangersreport) October 11, 2018
1-1.
On the goal, the Sharks challenged the play, with one of those "YOU WERE A CUNT HAIR OFFSIDE, I'M TELLING MOM ON YOU!" challenges. I hate this rule and as I've said over the years, how many goals would've Gretzky lost with this ticky tack bullshit? Anyway, the Sharks lost their challenge, which put the Rangers on the PP. However, unlike the preseason, the Rangers had no luck on their PP's tonight.
Have I mentioned that like Grabner from last year, the Rangers should put Lettieri on the PP? What's better, watching Lettieri go to the net or watching Zuccarello pass?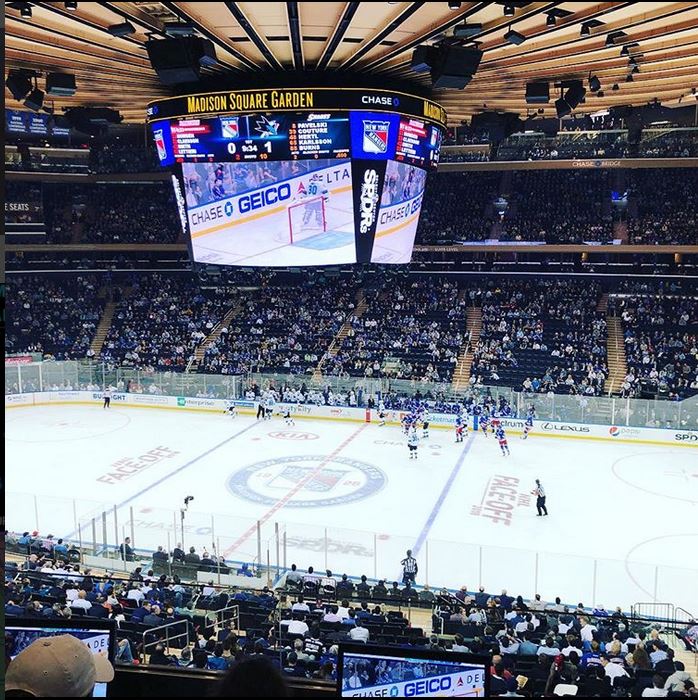 During the broadcast, Sam & Joe kept pushing season tickets (like anyone is going to buy them with the season already in progress) and tried pushing 5 game packs. Spoiler: you're out of your mind if you buy these things, as it's cheaper to do the Stubhub trick on the day of the game. Furthermore, the Rangers think they are Harvey Weinstein and treat their season ticket holders like potential starlets, with their daily text messages/"Last Minute Pass", where fans can get good seats for nearly 50% less than what a season ticket holder pays.
I also wanted to mention the non-stop airing of "Addiction Network" commercials. If you haven't seen it, and I don't know how you could've missed it, here it is:
No joke, this commercial aired about 78678687967896967896 times during the broadcast. How many fucking junkies are watching this game? Furthermore, is the Addiction Network banking on the Rangers being so bad, that they think they can drum up business when Ranger fans turn to COLD HARD SMACK to cope with these games?
This reminds me of the "Pines Motor Lodge" no-tell motel commercials of last season. If you forgot my rant on those commercials, visit: http://doinow.com/112217/
For a major market team, it's something else that the top tv advertisers are a home for junkies and a place for people to cheat on their spouse. I guess Jeff Fillippi can't draw a better quality of advertiser. Even a MY SHINEY HINEY commercial would be more respected than this nonsense.
Anyway, towards the end of the first period, a period that the Sharks dominated, yet the two teams were tied on the scoreboard, Marc Staal & Evander Kane got into a love spat. Maybe they should've took this kinkiness to the Pines Motor Lodge:
A rare sighting of Marc Staal getting 😡 pic.twitter.com/lNjIIgPUxh

— Rangers Report (@rangersreport) October 11, 2018
Speaking of hooking at the Pines Motor Lodge, Brendan Smith took a hooking penalty at the end of the period, thus giving the Sharks a man advantage to start the second period. At the end of twenty minutes, 1-1 game.
The Rangers killed off the Sharks PP to start the second period, with Vinni Lettieri showing off his hockey IQ, helping to keep the Sharks off the board.
As the period approached the five minute mark, Chris Kreider, who must've saw Erik Karlsson take a similar shot on the Sharks PP, destroyed a slap shot, which rebounded deep off of Dell's pads. With the Rangers changing, this led to a Sharks 3 on 1 rush and to the Sharks taking a 2-1 lead. Here is Joonas Donskoi breaking the tie:
Rangers trailing 2-1 after a goal from Joonas Donskoi pic.twitter.com/TUoUnQlq4L

— Rangers Report (@rangersreport) October 12, 2018
The Rangers would follow this Sharks rush with several rushes and GOOD LOOKS of their own, but Dell denied a few chances, while the Rangers beat themselves on other chances.
As the period moved along, we got another commercial that has seemingly been done to death, with the Rangers fan in the hard hat. Listen, I think that guy is a non-union scab. After all, he has no union stickers on his hard hat and everyone I know in construction has stickers on their hard hat. This fan in this commercial also talks about how Ranger fans see his hard hat and they then start to jerk off to it and shout "POTVIN SUCKS".
True story: I'm in construction and met an ironworker on a site that I now consider a friend. One of us was wearing Rangers gear at work, I forget who. Anyway, our conversation wasn't "POTVIN SUCKS", our conversation was like "eh, it's going to be a tough season" and "yea, you're right, they aren't winning the Cup this season." He then recognized me as the "blog guy" and the guy who posted on the "Skjeidy End of Rangerstown" Facebook group. Not once did we compliment each other on our hard hats or say "POTVIN SUCKS!" Again, who comes up with these commercials? Furthermore, now that I think of it, I don't even know what that commercial is advertising!
As the second period progressed, Vlad the Impaler was scolded by the referee for a late hit. It's like he whipped his johnson out, as the ref was appalled. The ref audibly on camera shrieked, "WHAT ARE YOU DOING?"
As the period waned down, the Sharks were outshooting the Rangers 33-13. That's something that will need to change, as while the Rangers won this game, you're not going to win many games when you're giving your opposition 20 more shots.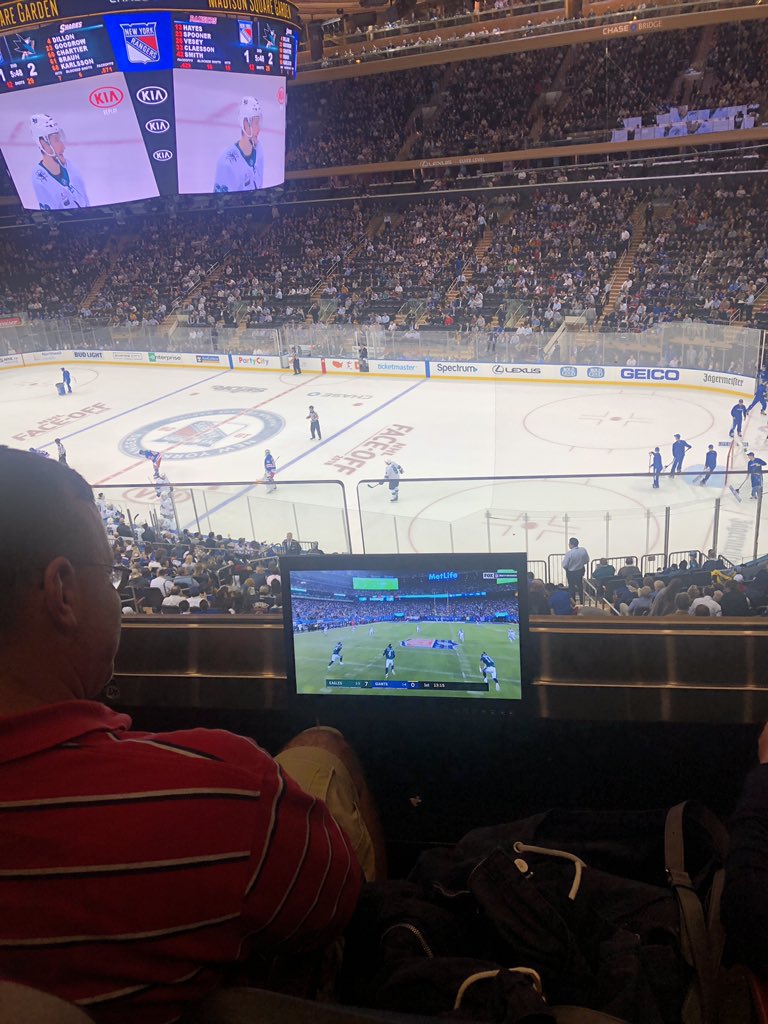 The Rangers were a whole new team in the third period, generating a bulk of their offense and getting the majority of their shots off in the third period. Lundqvist was no longer under seige, as the tables were turned on Aaron Dell & his Sharks.
The Rangers came close to tying the game on multiple occasions, with Dell making a highlight reel save on Vinni Lettieri. Also of note, MSG Networks ran a commercial for a David Quinn documentary, where he said the same thing, in two different ways, about Brian Leetch. What a way to hook an audience, with pure redundancy. I guess that explains Joe Micheletti's 60 minute repeated circle jerk of Henrik Lundqvist.
As the game started to wind down, Brendan "Did you hear that I had a bad 2017-2018 but lost weight this year?" Smith tied the game:
GOAL! Brendan Smith ties it with less than 3 mins left in the game! pic.twitter.com/nuL65FHZfq

— Rangers Report (@rangersreport) October 12, 2018
Of note, what an intoxicating pass from Buchnevich. 2-2 game, with under three minutes to go.
With regulation winding down, Dell bobbled a puck and almost put it into his own net. However, both the Sharks and the Rangers held each other off to force an overtime period, thus giving the Rangers at least one point, their first point, of the season.
In less than a minute into the OT, Brady Skjei scored, while Mats Zuccarello was falling down. (Of note, I think there was bad ice tonight, as you saw a lot of guys falling down tonight.)
Here's Skjei redeeming himself and helping the Rangers to their first W:
BRADY SKJEI WINS IT IN OVERTIME!!! pic.twitter.com/bIxRuZT29p

— Rangers Report (@rangersreport) October 12, 2018
3-2, good guys, your final. Of note, it was fun watching David Quinn give a shit:
Congratulations to Coach Quinn on his very first NYR win! pic.twitter.com/BMAf3556iY

— Rangers Report (@rangersreport) October 12, 2018
I would really love to go on a rant about the Yankees & Giants right now, but I'll save that for the twitter.
Going into tonight's Rangers game, I didn't think they had a shot at winning, even with the Sharks starting their back-up goalie. If it wasn't for Buchnevich fortunately finding Smith, I would be talking about the 0-4 Rangers & another wasted start from Lundqvist.
I talked about this plenty already on this blog, but this season is a stress-free, house money season. I'm in the tank/get Hughes camp. However, when Smith, then Skjei scored, I was fist pumping. As much as I know losing is the right thing, I can't invest my money, time and energy rooting for my team to lose. If the Rangers do lose though, I'm not upset.
That said, while I'm happy the Rangers won, I had to crack up while reading the basement fan/millennial reaction to the win. Such hot takes as "LUNDQVIST IS BACK", "PLAYOFFS" and "QUINNING", were plentiful in social media land. Because of my opinions on Lundqvist, I get tagged in a lot of this. Unfortunately, these acne riddled children do not have the attention span to read these long blogs in full, thus miss my points or what I've said before.
Whenever I see fans say "VINTAGE LUNDQVIST", I wonder if they realize they are admitting that these type of efforts and games aren't the norm anymore? By saying the word "vintage", they are agreeing with me – it's time to move on.
Anyway, I've talked about Lundqvist and my approach to him this season in previous blogs already. Check the blogs linked above for my rants.
I'm happy he is doing well so far this season, but at the end of the day, these are the types of starts we needed consistently in the 2014 SCF, where Hank was blowing two goal leads left and right. These starts are what we needed in the 2015 ECF, when Hank was giving up back-to-back touchdowns. These are the starts we needed in the 2016 QF when Crosby was abusing Lundqvist. These are the starts we needed in the 2017 semis, when Jean Pageau turned Lundqvist into his private property.
Plus, we're only three starts in. You think Lundqvist is going to keep this up all year? I'm waiting for the inevitable Quinn vs Lundqvist showdown.
At the end of the day, Lundqvist's time to dominate the playoffs has passed. He didn't, thus the Rangers didn't win a Cup, hence why we are in this rebuild in the first place. Only the Rangers would still continue to build around a failed idea of Lundqvist, as the bedrock of the team.
And as I said in other blogs, the cap stuff doesn't mean anything like it once did. That said, he's still grossly overpaid.
Lundqvist can win every game for the rest of the season, but if he doesn't win the Cup this season, the Rangers squandered an opportunity to build up a new netminder for the franchise. As mentioned repeatedly on these blogs, if there was a star player in Russia, the Knicks would get the OK to buy that player out. Why the Rangers can't get the OK to buy out CZAR IGOR SHESTYORKIN, is beyond me. Then again, I don't think the Rangers want to cross that bridge right now anyway.
I would be happier if KING GEORGE had a start like this, because as this new Rangers team develops, I want to see a new goalie develop. If the Rangers are to ever win a Cup, in what will hopefully become the Quinn era, thus ending the Lundqvist era, the Rangers will win that Cup without a goalie wearing the number 30. Just like how fans want Staal moved, I want Staal & Lundqvist moved, as I rather these spots be used to develop new talent for the future. It's great Lundqvist has a game that reminds you of 2011-2012, but that does nothing for the current crop of Rangers.
After all, look at Lundqvist's press conference tonight. If the Rangers lost this game, you know he was going to put everyone on blast:
Henrik Lundqvist post game relief pic.twitter.com/TsO0FQl0Ba

— Rangers Report (@rangersreport) October 12, 2018
For head coach David Quinn, I'm happy he got his first NHL win. I think he's said and has done all the right moves. David Quinn will get a free pass all season, because expectations aren't high and most understand that this is a rebuild. As long as talent is progressing, he will even get a free pass next season too. However, if we hit Year 3 and Year 4 and the playoffs aren't in sight, patience will run out and people will want results.
I'm very opinionated on these blogs and will rub it in your face when I'm right, as I told you the Rangers would never win a Cup with Henrik Lundqvist. I told  you that almost five years ago, and I haven't been proven wrong. I'm on record that I wouldn't have fired AV and wasn't a fan of the Quinn hiring. Although it's still early, it looks like I was wrong on Quinn, as he's been great in the limited exposure we've had to him. Let's hope he keeps it up and one day, brings the Cup to MSG.
Just wanted to plug a few things before I get out of dodge.
After taking the summer off, Cam Connor's "View From the Penalty Box" podcast is back. Cam is a great story teller and keeps his podcast entertaining. To listen to the new episode, check out his latest tweet:
Excited that our latest podcast is up. I make my Stanley Cup champ predictions for the year. Can I make it 2 years in a row with a good pick?

Also, as minor hockey starts, I share some heartfelt advice on how to coach kids.https://t.co/7MKJVK0QAb

— Cam Connor (@CamConnorNHL) October 9, 2018
Debuting this season, which is basically the maturation of their "TWITTER LIVE" from last season, is the new "Bleeding Blueshirts" podcast, hosted by MSG Network personalities, John Gianonne (FROM THE PROJECTS IN BOONTON) & former NYR captain, Dave Maloney. I've enjoyed their short 30 minute episodes thus far. (Episodes usually are released on game day, which means they can be dated if you don't listen to them immediately.) I hope as the podcast grows, Giannone takes time out to interview Maloney about the old days, especially if the current product is blah. I would love to hear Maloney's take on "THIN ICE".
Aside from telling stories from the old days, Giannone and Maloney have chemistry. I also find Maloney to be one of the better analysts out there. 30+ years removed from the game as a player, Maloney still lives, breathes and sleeps hockey. He's talking about late night games and interviews he heard on NHL radio. He brings a unique brand for fans and Giannone knows how to get the best out of him.
To listen to Bleeding Blueshirts, check out Giannone's latest tweet:
REMINDER: One week into the #NYR season, @DaveMaloneyMSG and I break down the breakdowns and talk up the buildup for tonight vs SJ on EPISODE 4 of our BLEEDING BLUESHIRTS podcast. Have a listen!https://t.co/bbXKC3FY5e

— John Giannone (@jaygeemsg) October 11, 2018
Of course, to me, the reigning and defending NYR related podcast champs (Even if they aren't a podcast, they are a radio show) are the guys from BlueShirt Underground Radio. They were here first, keep it funny and if you like these blogs & all my craziness & tangents, you'll enjoy their product. I am hearing that they will soon be trying to put their work on YouTube as well. To listen to them, check out Jim's latest tweet:
The chat room is open for another live episode of #blueshirtundergroundradio https://t.co/sSF3Wh23x2 #nyr

— Jim Schmiedeberg (@BSURadioJim) October 8, 2018
Another site I'd like to plug while this season is still young, is something that fellow road-trippers like myself would enjoy. Check out https://supertailgate.com/stadium/washington-capitals/overview which is a site hosted by Pat O'Brien that gives traveling fans the 411 on a stadium or an arena. I linked their Capitals page, as I was browsing that one, as a potential road trip destination.
And if you're doing something hockey related that you want plugged here, feel free to hit me up. If I enjoy what you're doing, I'll plug it.
With the Rangers win tonight, the Edmonton Oilers are now the only team in the league without any points. The Oilers, who started their season in Europe, lost 4-1 to the Bruins on Thursday night. I didn't see the game, as I was watching the Rangers and the Giants, so I really don't have a feel for their team yet. (I missed their Saturday game vs NJD, because I was flying to North Carolina when it took place & the free Jetblue Wifi wasn't the best.)
Obviously, if I'm Quinn, I'm riding the hot hand and starting Lundqvist on Saturday. I just hope the Oilers start Talbot, as based on the scores (again I didn't see the goals allowed from tonight's game) it seems he's struggling early. Who doesn't love Lundqvist vs Talbot?
I'll be there Saturday and try to get a review up on Saturday afternoon. I am debating about going to Bellator at the Nassau Coliseum on Saturday night, so the blog may be on hold until Sunday. It's not like the NFL season means anything to me anymore!
After Saturday, the Rangers have Colorado and Washington, back-to-back. Both are tough outs, but with the Colorado game being at MSG, it would make sense for Georgiev to take that game and for Lundqvist to see his old friend Alex Ovechkin in Washington the next night.
Either way, I'll be back over the weekend and as always…
"LET'S GO RANGERS"
Sean McCaffrey
BULLSMC@aol.com
@NYCTHEMIC on twitter
PS: A thanks and a credit goes to @RangersReport for all the NYR gifs.