Greetings and salutations everyone and welcome to another blog here on BlueCollarBlueShirts.com. On Friday afternoon, the day after Thanksgiving, the Rangers 095427hajdahdkjahdfkjhafhaldhfjuahdgkjhakjgh3o3ihoi3thhjaghakjgh….
Sorry folks, my head hit the keyboard there. This Rangers game today was a snoozer and was the equivalent of freebasing NyQuil. I've never done heroin before, but I've seen people who were on it. I would imagine this Ranger game would make a heroin addict nod off faster than the purest china white in the world.
So let's try the opening again.
Greetings and salutations everyone and welcome to another blog here on BlueCollarBlueShirts.com. On Friday afternoon, the day after Thanksgiving, the Rangers 095427hajdahdkjahdfkjhafhaldhfjuahdghgf;auihg;aihga9yu93uj4o3ihoi3thhjaghakjgh….
God damn it, not again. Sorry. Let me slam a shot of this new Conor McGregor "Proper 12" whiskey to wake up here. <GULP> Okay, one more time, from the top.
Greetings and salutations everyone and welcome to another blog here on BlueCollarBlueShirts.com. On Friday afternoon, the day after Thanksgiving, the Rangers found themselves on the wrong end of a 4-0 game, losing to one of their most-heated rivals, in the Philadelphia Flyers.
For the much talked about Henrik Lundqvist, he had one of his best games of the season. Unfortunately, when it came to the other guys wearing the diagonal letters down their chest, those guys did not.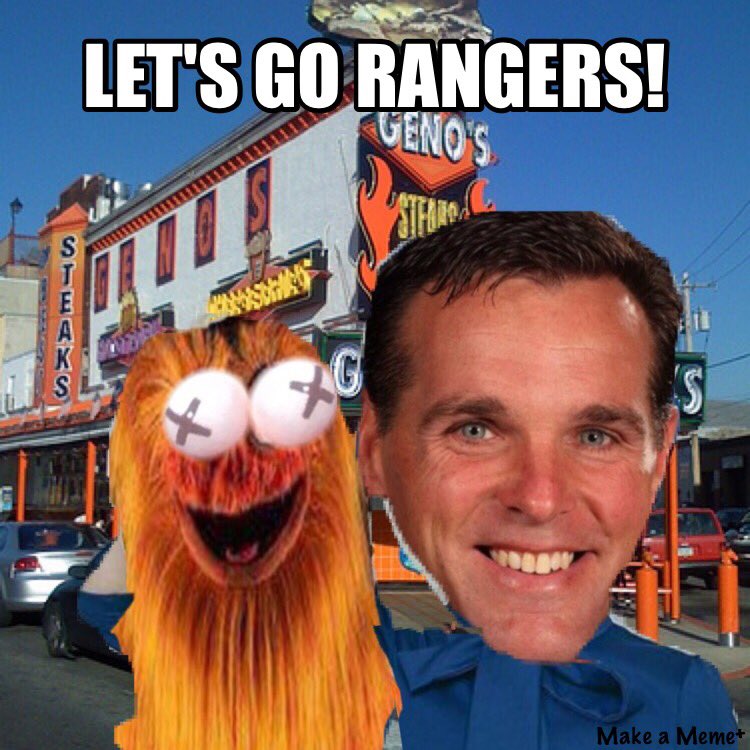 If you're familiar with the Rangers, it should come as no surprise to you that the team laid a stinker in this game. More times than not, when it comes to these afternoon games, the Rangers lay an egg. There's really no excuse, but it's just the way it is. These afternoon games just throw off the body clocks of the players, rituals are fouled up and for the players who have strict game day routines, everything is just thrown out of whack.
That said, it's no excuse. The schedule is part of the game, and you're not always going to play at 7PM.
As we know, the Rangers entered this game on a 9-1-1 streak and had a chance to grab sole possession of first place. Instead, with 15 games on the slate today, the Rangers may take a few steps down in the standings, by the time Black Friday is over.
This was just one of those games that happens from time-to-time with any NHL team, and it's just one of those games that really, you just try to forget and move on from. There's nothing to take out of this loss. I'm sure you will hear the word "tryptophan" a lot in the next 24 hours, as people come up for reasons for this loss.
This has been a roller-coaster of a season. However, when you use the word "roller-coaster", that implies that not only are there many highs, there are also several lows. In game 23, this was the lowest the Rangers have looked this season.
Unlike the back-flips I was doing on Wednesday night, this game put me into a horizontal and comatose state. At one point in the second period, I had to physically get off the couch and stand up, as my eyes were flickering. Just watching this game made you feel like you went through 12 rounds with an in his prime Mike Tyson. It was that painful.
Speaking of my blog from Wednesday night, in case you missed it, here it is below, along with my most recent manifestos:
---
---
---
---
---
---
The biggest news in Rangerstown, after the euphoria of beating the Islanders wore off, was that Cody McLeod did in fact sustain a substantial injury after his fight with Ross Johnston. I've read two conflicting reports about McLeod, but both reports end the same way – McLeod will be out for 4-6 weeks, with either a fractured or broken hand. I say these reports are conflicting because I would assume that a broken hand is worse than a fractured hand.
Just like Pavel Buchnevich before him, McLeod's injury came during his best offensive game of the season.
This McLeod injury is just terrible news. While many Ranger fans will blow off McLeod and his contributions to the team (and I won't argue with those fans, as I see their argument) the bottom line is this injury should've never happened. McLeod ignored and kept on ignoring Johnston's overtures to fight throughout the game. Finally, McLeod had to defend himself. He didn't want to fight, so he didn't have that adrenaline going, nor did he have the desire. Now, because of a freak thing, he will miss up to six weeks after something that should've never happened in the first place.
It's too bad we don't have the eye-for-an-eye punishment in the NHL, (and I'm not advocating for it here, I'm just venting on behalf of McLeod) because Johnston should be forced to miss as much time as McLeod misses.
With McLeod out, the Rangers got some relief, as Mats Zuccarello, who missed 7 of the last 8 games with a groin injury, was able to return for this game. With Zuccarello back, the Rangers didn't have to recall anyone from Hartford. With a few home games left, before heading off to Canada, I don't see any call-ups happening until then.
Defensively, the Rangers are still without Adam McQuaid. Who knows if he ever plays for the Rangers again, as it's hard to envision him bumping someone out of the line-up.
With 7 defensemen on the roster, Brendan Smith was the lone healthy scratch today. When it comes to Philadelphia, the Rangers usually have physical games with the Flyers. That's why I thought Smith would play in this one, but instead, David Quinn kept his line-up from Wednesday. And really, with the way the Rangers smacked the Islanders, can you blame Quinn for keeping the same line-up in this game?
On the line-up, here's what Quinn rolled out today:
FIRST LINE: Namestnikov/Zibanejad/Fast
SECOND LINE: Kreider/Hayes/Chytil
THIRD LINE: Vesey/Howden/Strome
FOURTH LINE: Zuccarello/Anderson/Fogarty
Defensively, here were your pairs:
FIRST PAIR: Skjei/DeAngelo
SECOND PAIR: Staal/Pionk
THIRD PAIR:  Shattenkirk/Claesson
Obviously, the big thing that stood out was Zuccarello on the fourth line. By the time the second period started, Zuccarello was bumped up and Vesey was bumped down. Quinn would tell the annoying boil, in a one Pierre McGuire, that due to Zuccarello coming off an injury, he wanted to see what Zucc had, before giving him his normal minutes. Makes sense to me.
;ljakdjafajd;kajdfakdjakdfj3h3h4hhnjn fjnadfkjabhnakjdbhnfkjabhndfkjabhndfkjabhndfkjabhndfjkab ndjna….
Sorry, still trying to stay awake here. This game was more sleep inducing than listening to the soft and gentle tones of Bob Ross, as he paints his happy little trees.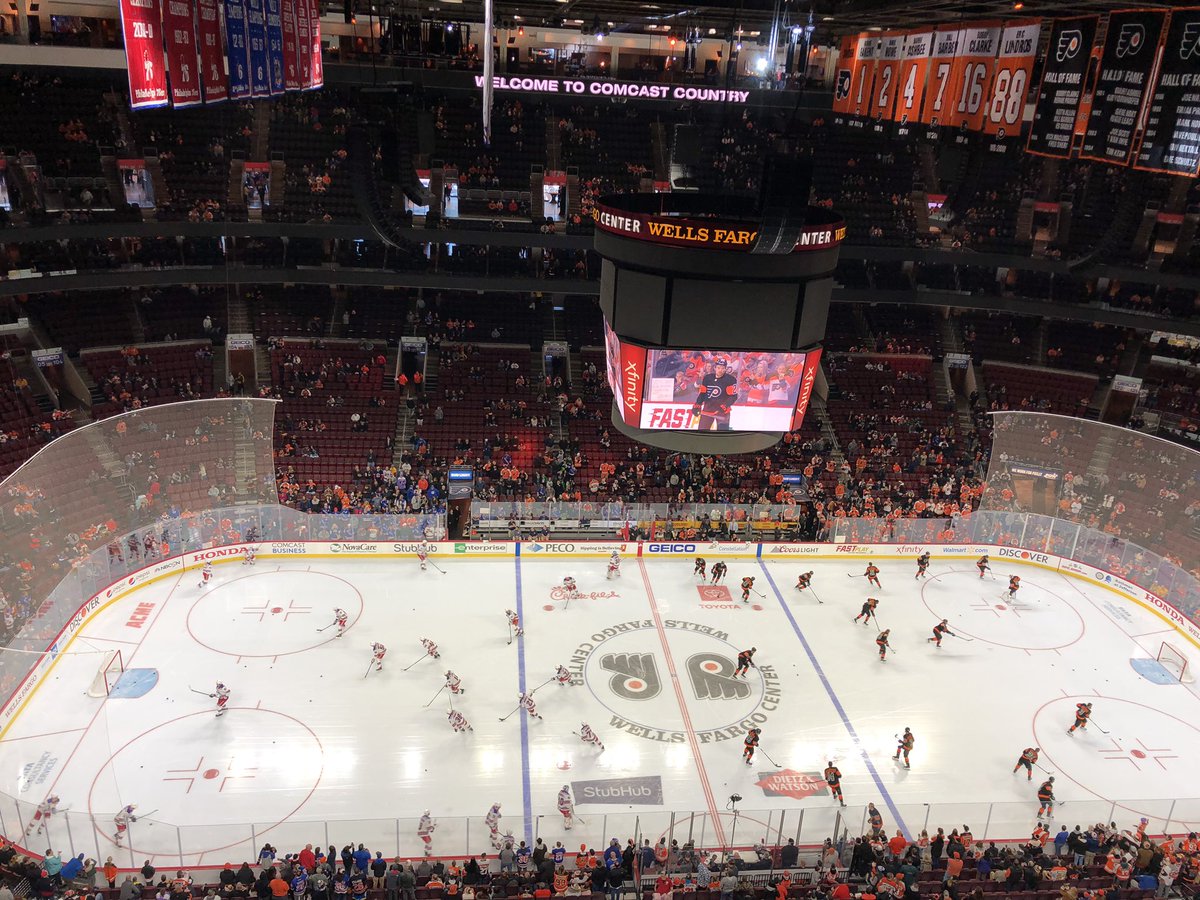 I really don't have much to say like I normally do before getting into the game review portion of this blog.
Great essay writers will tell you that everything that can be said has been said before, and by someone better. So before diving into this game, here's what David Quinn said after this debacle:
"We really didn't have our legs, from the get-go, and over 82 games, you're going to have stinkers. And I put this in the stinker category. We were a little bit slow in everything we did – we were slow skating, we were slow-thinking, we were slow shooting."
What else can you say about this game? As I always say, you can't overreact to one win or one loss. Games like this will happen. If there is any true loser here, it's Henrik Lundqvist, who had a remarkable game, but when it was over, took the L and a 3.00 GAA for the afternoon. I guess the hockey gods wanted to get him back, as Georgiev took the official loss on record ,after the 5 spot Lundqvist gave up to the Islanders at Barclay's.
Box score time.
As always, here's the official box score from ESPN.com:
SCORING SUMMARY:
1st Period
13:21

Travis Konecny

(6)

Assists: Sean Couturier, Claude Giroux

0
1
2nd Period
No Goals Scored
3rd Period
14:39

Sean Couturier

(9)

Assists: Travis Konecny, Claude Giroux

0
2
17:58

Jordan Weal

(3)

Assists: Wayne Simmonds

0
3
18:23

Sean Couturier

(10)

Assists: Travis Konecny, Claude Giroux

0
4
PENALTY SUMMARY:
1st Period
No Penalties This Period
2nd Period
5:13

Oskar Lindblom:

2 minutes for High-sticking

9:52

Ryan Strome:

5 minutes for Fighting (Major)

9:52

Travis Konecny:

5 minutes for Fighting (Major)

12:41

Marc Staal:

2 minutes for Hooking

19:04

Dale Weise:

2 minutes for Holding
3rd Period
14:54

Robert Hagg:

2 minutes for Delaying Game-Puck over glass
GOALIES:
| | | | | | | | | | | |
| --- | --- | --- | --- | --- | --- | --- | --- | --- | --- | --- |
| SA | GA | SV | SV% | ESSV | PPSV | SHSV | SOSA | SOS | TOI | PIM |
| 31 | 0 | 31 | 1.000 | 27 | 1 | 3 | 0 | 0 | 60:00 | 0 |
| | | | | | | | | | | |
| --- | --- | --- | --- | --- | --- | --- | --- | --- | --- | --- |
| SA | GA | SV | SV% | ESSV | PPSV | SHSV | SOSA | SOS | TOI | PIM |
| 45 | 3 | 42 | .933 | 39 | 3 | 0 | 0 | 0 | 59:49 | 0 |
These 1PM games on NBC never start on time as advertised. Instead of using the 12:30pm-1pm time frame to do their pregame show, hockey fans were forced to watch a re-run of "Ellen". What a way to get you into the hockey mood!
I will say, while the NHL tries to get fighting out of the game, NBC hyped up the fights & physicality between the Rangers and the Flyers, when trying to sell this game during their pregame show. That's better than Sam & Joe slurping soup when talking Rangers vs Islanders.
I must also mention Gritty, the Flyers new mascot. While I think this mascot is the brainchild of a MR, I gotta give the Flyers credit. It's all you see around the league. Everyone is talking about this stupid mascot. I don't know how much money Gritty is generating for the Flyers, but I do know that he has people talking the Flyers. You see Gritty everywhere, whether it's on "Saturday Night Live", in random NHL tweets or in print ads. The promotional campaign is working, even if it associates the Flyers with a crack riddled muppet that probably partakes in "fuzzy" porn. (Thanks Nick Adams for defining the word "fuzzy" to me!)
The Flyers were wearing their all blacked out jerseys today, meaning the jersey numbers were hard to see. While that doesn't mean much to fans, it gave Doc Emrick fits. I heard that Dave Maloney & Kenny Albert were also saying how hard it was to decipher the Flyers as well. In other words, these jerseys are not practical for the media, nor are they practical for fans in the nosebleeds.
If you're looking for the short and dirty about this game, through the perspective of the Rangers, it is that Henrik Lundqvist played great, everyone else not so much. That's it. For sixty minutes, this game was a bore and a chore.
I mean, even from puck drop, the crowd seemed as excited as a bunch of little kids finding out that their dog died. There was just no energy, which really, in turn, should've favored the Rangers. However, the stale arena was contagious, and I was half expecting to see guys with their eyes closed and a little drool dribbling out of their mouth, as they waited for their next shift on the bench.
While the game wasn't exciting, time flew in the first period, as there weren't any penalties and there were very few stoppages. As far as reviewing this period in-depth – there's really no point and to be honest, not much happened.
The first goal didn't come until the 13:21 mark, and it was a fluke goal at that. Here's Travis Konecny getting some puck luck:
We've said it before. Good things happen when you throw the puck at the net!

Travis Konecny strikes first for the @NHLFlyers.

Stream it here: https://t.co/1xuNMg09XC pic.twitter.com/fbVEt13ck5

— NHL on NBC (@NHLonNBCSports) November 23, 2018
1-0, bad guys.
This was just an unfortunate goal allowed. The expression, "Good things happen when you put the puck on net" was fitting. It's tough to blame Hank for the goal. He probably could've squared up better. Skjei was covering his man and the puck took a bad bounce.
Oh, and with the way Lundqvist was looking at Skjei, I would expect Skjei to be scratched tomorrow!
The biggest thing to take away out of this goal was that this would be the eventual GWG, which speaks to how bad this game was for the Rangers.
The Rangers were out-shot all game, as the Flyers went wire-to-wire, dominating the Rangers not only on the scoreboard, but with Shots on Goal (46-31) and Faceoffs (37-26).
What the Rangers had in their favor were that the Flyers weren't particularly great either. Even with this game finishing up at 4-0 Flyers, the Flyers blew so many chances in this game, that if you weren't asleep, you would be aggravated with this loss. The Flyers would blow one of four odd-man rushes in this period, as they did the extra pass to nowhere shit, with just 30 seconds remaining in the first. That kept this a one goal game, as the first period expired, with the Flyers maintaining a 1-0 lead.
I will say one thing here. During the first intermission (and later the second intermission) I was confident that Quinn would rile up the troops. I 100% believed that the Rangers would come out flying to start the second and third periods. While the Rangers played their best in the third period, their best was hardly good enough. When the game was over, I saw fans going bat-shit.
As I've said in past blogs, all these feelings are good. That means the team is competitive and people care. While this game sucks, it's only one game and it's a game you purge from your system, just like it's a Thanksgiving shit, full of bright yellow corn. You purge and you will live to eat, or in this case, play again.
And really, make no bones about it, while Pickard deserves some credit, as he made 2 or 3 good saves in this game, for the most part, this was one of the most silent 31 save shutouts in NHL history. I am still in awe that the Rangers even had 31 shots in this game! It felt like ten!
The second period a;idjalfknj3klnjtklihnjoklihnlihnjuihnajrhnahnfhnashndfehnahnjdefhnjdehnfjhnajdnfhgja dnfj nahdf……
Sorry, hit my head on the keyboard again there.
The second period felt like huffing a paper bag full of car exhaust and paint fumes. While most fans in the Cult of Lundqvist are probably used to that, for normal people, this second period had the eyes fluttering like the wings of a butterfly.
To start the second period, Quinn shook up his lines. He's done this before during games and it has worked. Here is what Quinn put out there:
Kreider/Hayes/Chytil
Zucc/Z-Bad/Fast
Strome/Howden/Namestnikov
Fogarty/Jessiman/Vesey
The second period saw Marc Staal break up three separate Flyer scoring chances, within a matter of 30 seconds and all in one shift. He still remains as the team's best defender.
Shattenkirk on the other hand? Oomph.
After a Shattenkirk turnover, Lundqvist would make a flurry saves, four in total, in the matter of seconds. For as good as Lundqvist was, the Flyers were also their own worst enemies. They had so many chances to run up the score and put the game away, but they stepped on their own dick a lot. There were these four saves here made by Lundqvist, all at ice level, as not one Flyer thought of lifting the puck over Lundqvist's leg.
Even as the game went on, the Flyers would waste many odd-man rushes, with one odd-man rush in particular that screamed a goal, only for Shayne Gostisbehere to pull a Scott Norwood, and shoot wide right.
Ryan Strome and Travis Konecny would fight in this period, with Strome getting the better of it. That's one way to get your name on the score sheet.
The Rangers would also get two power-plays in this period. Against Philly's 30th ranked PK (In other words, second worst in the league) the Rangers would display the most anemic play that you've ever seen from a team on a power-play. Horrendous.
To continue this horror show, long time nemesis and asshole, Radko Gudas, probably had the best offensive game he's ever played in his life during this one. He had some good shots and actually looked like a skilled hockey player for once.
adajkdjaadadfkljadklfjafadadkljadflajdfu8974350y4  hnjb nadjb nadkjfbhnakdjbhnadhnjadhnfja……
For fuck's sake, I'm sorry, I hit my head on the keyboard again.
At the end of a boring period, and with the Flyers out-shooting the Rangers 33-22, the score remained 1-0. Of note, the Rangers had a wrap-around power-play, as Weise was called for holding with under a minute left. Didn't matter, as the Rangers wouldn't score in the final minute of the second period or in the first minute of the third period.
At 1-0, and with twenty minutes remaining, I still felt that despite this game feeling like a pilled up Bill Cosby victim, that the Rangers would somehow find a way. Unfortunately, they didn't.
It's funny, I said on social media before and during this game, that I would've started Georgiev. Of course, that set off the Cult of Lundqvist. When I said that, I wasn't trying to disparage Lundqvist. I was making the point that the Rangers play better offensively in front of Georgiev and the Rangers lacked offense in this game. With Philly being a last place team going into this game, (and with rumors of Hakstol on the hot-seat) I would've rode Georgiev, especially after his shut-out on Wednesday. However, as predicted, Quinn started Lundqvist, as Quinn has not started Georgiev in consecutive games this season.
(And if you look it up, Georgiev is in the top 3, when it comes to goal support. I truly believe that the Rangers just play looser and are more aggressive when he's in net. While I can understand Lundqvist giving the evil eye to his teammates in this game, it's unnecessary and it doesn't help. I feel that these guys sometimes feel like they are walking on eggshells with Hank in net.)
The Flyers would blow more chances in the third period & Lundqvist would remain solid. However, the turning point, of what was already a bad game, was when third string goalie Calvin Pickard stopped Lias Andersson:
CALVIN PICKARD STRETCHES OUT TO ROB LIAS ANDERSSON! WHAT A STOP!#LetsGoFlyers pic.twitter.com/5JjtI1Inp6

— Hockey Daily (@HockeyDaily365) November 23, 2018
A Swedish player that chokes in a big moment? Why I never!
Seriously, Andersson is one of the few Rangers to not get it going during the month of November. This potential goal would've been huge for him. Instead, Pickard stops the first round draft pick. I'm telling you, as time moves on, the more and more it looks like Arizona won that trade. You just have to be happy that the Rangers also landed Chytil in that same draft.
That said, you have to look at this play in a vacuum. The Rangers were terrible all game. Andersson was just another player that was terrible and couldn't convert. Granted, he had the best chance of the game and the Rangers sacrificed a lot for him, but he is still a rookie and this is part of his development. The Rangers recent success makes you forget that he's still a rookie and expectations shouldn't be through the roof.
Then again, we see other rookies lighting up the league left and right, so when do we hold Andersson 100% accountable? It's choppy waters when discussing Andersson. On one hand, I think the Brendl, Sanguinetti, Jessiman, Lundmark, etc references are fair game. On the other hand, it's still early.
One thing that can't be debated – if Andersson scored here, that would've been huge and it would've took some pressure off of him. It would've also changed the complete complex of this game.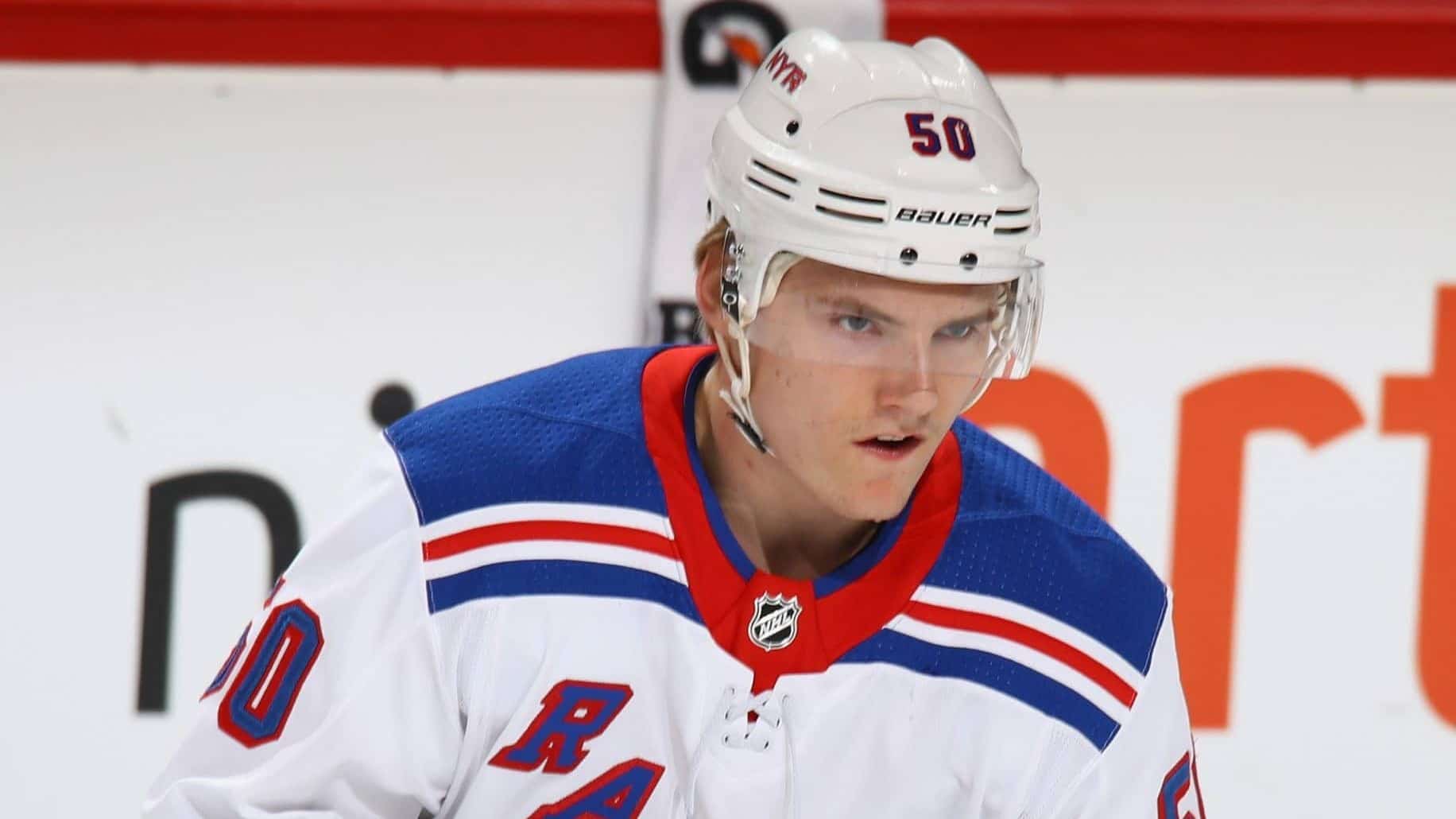 After failing on multiple odd-man rushes, failing to lift the puck and failing to beat Lundqvist, the Flyers finally put it all together, late in the third period. Here's Sean Couturier at the 14:39 mark:
@28CGiroux is an assist machine! Couturier makes it 2-0 @NHLFlyers.

Stream the final five minutes here: https://t.co/1xuNMg09XC pic.twitter.com/uI8EyMBXoC

— NHL on NBC (@NHLonNBCSports) November 23, 2018
Of note, Konecny had an assist on this goal, giving him the Howe Trick.
On the goal itself, it was a perfect play and you could see it coming the whole way. 2-0 bad guys.
Immediately after, the Rangers would get a chance, as the Flyers took a delay of game penalty. In response, the Rangers had another crappy power-play. As time ticked down, Lundqvist was pulled and Jordan Weal hit an empty net to make it 3-0.
With Lundqvist back in net, Couturier would make it 4-0 after a broken play. This goal was horrendous, as the Rangers gave up and you could see they were waiting to go to the locker room. Seriously, as the puck went into the net, you could see the Rangers already envisioning themselves on their way back home to New York.
In the grand scheme of things, 4-0 meant nothing in a game that was already over, but for Lundqvist, it hurts his GAA and you could see he was furious about that. As someone who can't stand Lundqvist's diva behavior and would've traded him years ago, I can understand why he wanted to smash his stick into a million pieces after that one. While the Vezina is no longer judged by total goals allowed, a stupid goal like this raises his GAA just enough to be annoying.
4-0, your final.
This was just a bad game for the Rangers. It happens. No point in over-analyzing it. We know it was. The team knows what it was. The coach knows what it was. All you can do is get back on your horse tomorrow and ride. Speaking of tomorrow…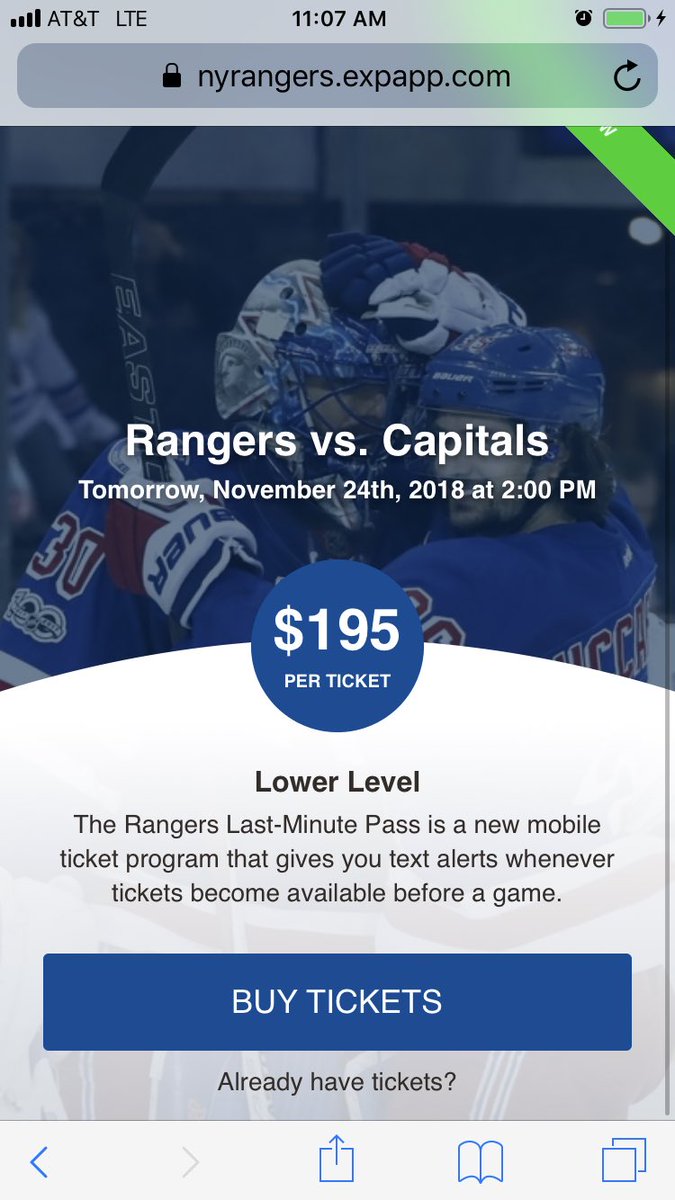 That's some Black Friday offer from the Rangers! The way they price gouge their fans is ridiculous.
After the win against Dallas on Monday, I said if the Rangers could take two out of three against the Isles, Philly and Washington, I'd be happy. Right now, they are 1 for 2. They can go 2 for 3 on Saturday, as the Rangers will host the Capitals at 2PM.
There's no point in showing you the standings now, as the Capitals are currently in-play and the Blue Jackets play tonight. The division is still up for the taking and the Rangers have of good of a shot as any at winning the division. They also could wind up in the cellar, but who wants to think like that?
I'll be back tomorrow with a Caps/NYR review.
And in one last thing before I get out of here, a reader mentioned that I don't plug the subscription option to this blog at all. To be honest, I forgot that I had that feature on this blog. So, if you feel moved, you can click the button below, and when I post something, it will show up in your emails. Here's the button: