What's up everyone and welcome to another blog here on BlueCollarBlueShirts.com. Tonight, the Rangers defeated the two time, reigning & defending Stanley Cup Champions, in the Pittsburgh Penguins. For the Rangers, who won the game in overtime, 4-3, it was one of the more exciting wins of the season. It was also a rare comeback win for the kids in blue, with the final 10 minutes of game time, putting you right on the edge of your seat.
I've talked a lot about Henrik Lundqvist on this blog. In my last blog, I even went deeper in explaining my reasons on why the Rangers really need to move Lundqvist this off season. In fact, if you missed that blog or missed any of my more recent blogs, you can check them out below:
---
---
---
---
---
While this game wasn't solely won because of Alexandar Georgiev's efforts, he did contribute immensely to the "team-game" victory. Unlike Lundqvist, who takes credit after every win and blames everyone else after a loss, Georgiev credited the team in front of him for the win. And really, he didn't have to, as the first 50 or so minutes of this game were absolutely brutal, Rangers-wise.
I've talked about this before and it bares repeating. During Lundqvist starts, all game long, Lundqvist is up-in-arms, flopping, shouting, pouting, finger-pointing, crying and acting like Mariah Carey on her period. In the five starts that we've now seen from Alexandar The Great (or Alexandar From Russia/AFR, thanks Rob for that one!) AFR doesn't display the piss-poor egomaniac character traits which Lundqvist displays, on a daily basis.
For example, the first goal Pittsburgh scored in this game, occurred after a turnover and with Brady Skjei doing his best lunar eclipse impression. He had Georgiev 100% screened. Bryan Rust easily capitalized. Instead of screaming and belittling Skjei on the ice, Georgiev shook it off and played his game. When Riley Sheahan deflected a goal in, less than a minute later, Georgiev kept his head high and was his usual self – cool, calm and collected.
Rather than showing desperation and oozing fear, Georgiev remained stoic. He didn't try to do too much. In fact, he froze the puck in some situations where you normally wouldn't see a freeze. He continued to let the game come to him, rather than overplaying. He didn't come out of net to get beat by a bad goal. He didn't get stuck laterally. Even better, he didn't let Sidney Crosby ding pucks off the back of his head for goals:
In fact, Georgiev stoned the killer elite duo of Crosby & Malkin all night. Georgiev stopped Crosby on a breakaway, early in the first period, then would later stop Malkin on a penalty shot, with only 10 seconds left in regulation. For a guy making his 5th start and barely over the legal drinking age, you have to be impressed.
And really – this is where all my TRADE/DEPORT LUNDSWISS and Lundqvist's contract hurts the team diatribes, comes from. The team is just better without Lundqvist. We've seen this game before from the Rangers. Down 2-0, whether it's Steve Mason and the Jets or anyone else, you just know the Rangers weren't going to come back with Lundqvist in net. The team is beaten up verbally by him all game, akin to the way he bruises women. They lose their will to keep playing with his negative behavior.
With Georgiev, his calming influence spreads an invisible cloak of tranquility over the team. They don't give up. They just keep playing. They don't lose their will. They keep displaying their hard work and effort.
Listen – these Rangers aren't great, but with Georgiev in net, they give it their all. When times got tough tonight, especially against one of the best teams of this era, the Rangers weren't going down. In his first ever start on national TV – Alexandar Georgiev made the NHL take notice.
Some quick news before getting into tonight's thrilling 4-3 OT win.
As you can tell from above, DeAngelo's MRI results are in and they aren't good. DeAngelo is out for the next 3-4 weeks. Barring any miraculous playoff run, DeAngelo's season is over.
Here's what Alain Vigneault had to say about DeAngelo:
"He has been coming along. You see the skill level with the puck. I think for Tony, like a lot of young players, it's understanding the game, what plays to make that are right for the situation. Just a matter of improving his overall knowledge of the game with and without the puck, by doing that, obviously playing more, he will get better. There is definitely a skill set but like any young player it's about putting it together. You gotta understand the game and have the right attitude and work ethic, Tony is a young player going through the different stages. Some get it together quicker than others but in Tony's case, I think he was on the right track."
Where DeAngelo's future lies is anyone's guess. If the Rangers don't make the playoffs (and it doesn't look likely) perhaps he can suit up for USA Hockey in the IIHF World's Championship.
I wouldn't call DeAngelo a bust this season, but he definitely is a work-in-progress. I don't know what Gorton has planned. With all the defensemen prospects, who knows if DeAngelo is in Gorton's 2018-2019 plans? The Rangers could move on without him and really, the team wouldn't miss a beat.
Some of the reaction to DeAngelo's injury was quite frankly disgusting, and that's coming from me. I'll get into that at the end of this blog, just in case you want to skip the topic of politics sleeping in the same bed as sports.
The Pittsburgh Penguins, ever since the Crosby era, have become a real major thorn in the side of the Rangers. In turn, they are just a notch below the Islanders & the Flyers, at least in my eyes, as an all-time top rival for NYR.
Carl Hagelin, who now has two Cups to his resume, is now joined by one of his closest friends and fellow NYR alum, in Derrick Brassard. I don't think I have to remind you that these two are also BFF's with Mats Zuccarello.
On Brassard, here's what AV had to say about him before the game:
"He is a good player. For us, it seemed like the bigger the game the better he played. He played some important minutes. He was one of our top-two centers. In Pitt, it shows you the strength of that team, he is their third-line center. He is a real good player and it seems like when the playoffs come around he plays his best hockey of the year and that is what he did for us."

On Brassard joining the Penguins: "I've only watched a couple of shifts here and there in breaking down their system. He will get used to his new environment, he is a good young man that works extremely hard. He is a hockey fanatic, he knows everything that is going on everywhere an I am sure he will play real well for them."
Before talking about the game itself, I gotta talk about the NBC Sports presentation of this game and yes, talk about Susan Sarandon!
There was a common theme during the broadcast – "Should the Rangers trade Henrik Lundqvist?" The pregame panel talked about it, Bob McKenzie talked about it, and even Pierre McGuire himself, asked Susan Sarandon about it. Talk about a narrative that you'll never hear Micheletti or Rosen ever mention!
More and more, I see people jumping on my TRADE LUNDQVIST train, a train that I started conducting three seasons ago. While there are many "Johnny Come Lately's" boarding the train, as a lot of people couldn't see ahead, like the way I & many others did, people are finally coming around. It seems the NBC guys are as well, as I was shocked about how many times the topic came up on the broadcast.
The biggest problem is that the Rangers think they need Lundqvist to win, to sell tickets and to sell merchandise. Despite Talbot, Raanta and now Georgiev, proving the "You need Lundqvist and that disgusting contract to win" theory wrong and despite that a Stanley Cup victory would sell more tickets & merch than someone parading around as a fake King, Gorton still wants to build around Lundqvist. Watching this broadcast, I felt like the NBC guys were openly questioning this roster construction strategy on air.
It's what I've told you guys all along – get out of the NYR bubble. Yes, I'm a RANGERS TRUTHER (I love saying that because it makes people mad) but watch TSN, watch NBC and check out non-Ranger hockey media. You will then see that many esteemed journalists, as opposed to the blowjob fluff in the current NY media, all agree that the Rangers would be a better team if they moved on from Lundqvist.
It's just common sense. I mean really, where else would you overpay for a broken down product, which gives you less production, than a brand new product, that works better and for way less money?
It's as simple as that. $8.5M for a broken down product whose numbers are worse than a product that's new and costs less than $1M. The Rangers are playing with betamax while everyone else is streaming.
The big story of tonight's game, at least from the television viewer perspective, wasn't the Rangers 4-3 shocker. It was SUSAN SARANDON calling the first period.
Susan Sarandon was so bad as a guest announcer, that you had news reporters filing reports about her, by the time the puck dropped for the second period. While I agreed with those reports, I found those reporters to be catty a bit. Your job is to report hockey, not to report twitter reaction. Save that shit for the bullshit bloggers like me.
Make no bones about it – Susan Sarandon was TERRIBLE. That said, she was set up to fail. She wasn't coached, she wasn't prepared and you can see she was just winging it. This is why on most broadcasts, when they see a celebrity, the networks give them a few seconds of facetime – they don't give them 30+ minutes of air time.
However, to ignore Susan Sarandon in this blog, would be pure blasphemy and irresponsible blogging from me! I just wanted to acknowledge that she was never in a position to succeed anyway.
It didn't start well for Susan Sarandon. Her first comment on air was, "It feels so much different being down here." Keep in mind, her season tickets are only five rows behind where she was standing. Maybe her ex-husband, Tim Robbins, still smells like the shit pipe that he crawled through, during "Shawshank Redemption."
For the next twenty minutes, all Susan Sarandon did was say "OH OH OH" after every play. It sounded like she was finger blasting herself to kingdom come. In reality, I just thought she was just mimicking Joe Micheletti during a Lundqvist start.
There are plenty of good one-liners to make about Susan and to save myself time, I'm not going to recap the 72634578926357896235 times she said "OH OH OH" during the entire first period. If you saw it, it was a train wreck. While some fans may have ran to press the MUTE button and turn on Maloney on the radio, I was oddly fascinated. Hey, we all look at car accidents.
My favorite part of this Susan Sarandon fiasco was the following exchange:
(Keep in mind, This is AN ACTUAL TRANSCRIPT from tonight's play-by-play.)
Pierre McGuire: "How would you feel if the Rangers ever traded Henrik Lundqvist?"
Rangers Superfan Susan Sarandon: "Who?"
I had to get a beach towel to wipe up the tears of laughter streaming down my face.
Making matters worse, was Susan Sarandon portraying the worst possible stereotype of a female talking sports. Listen, I have no problems with QUALIFIED people talking sports, whether it's men, women, whites, blacks, gays, straights, trannies leaking engine fluid, whatever.  For as much as I praise men like Steve Valiquette, Ron Duguay, Kenny Albert or Dave Maloney, I have no problem burying Joe Micheletti.
With everyone so sensitive today, that you can't make any type of joke without being labeled a misogynist, a racist, or homophobic, I guess I have to reiterate this – there are female reporters that I like. I enjoy the work of Kim Jones, Tina Cervasio, Suzy Kolber, etc. To a degree, I respect Suzyn Waldman's knowledge, but I can't stand her voice.
Anyway, Sarandon wasn't like those women. Again, she wasn't supposed to be like those women, but she did nothing to push forward the argument that women know sports.
I have many female readers of this blog and I enjoy talking hockey with them. Whether it's Jen, Gloria, Michelle, Lorraine, Stephanie, Kerri, Beth, Chrissy, Helen or the many others that read these blogs, I value our conversations. Every one of these females that I talk to would've been better for this spot.
Here's Sarandon on Lundqvist and Messier:
"They dress well and look good. They are leaders."
I guess that's what made Hitler a great leader – he dressed well!
Why is Susan Sarandon a commentator on @NBCSN for #PITvsNYR? #LGR #NYR pic.twitter.com/Txgb4jOEFs

— Jamie McCarty (@JamieMcCarty) March 15, 2018
Sarandon personified every negative female sports fan stereotype possible. Again, this isn't her forte and she wasn't prepared. It's a shame that they couldn't find a better female for this. How about one of the women on the US Olympic Gold Medal team? I mean, even that chef with the weird hair would've been better.
If NBC needed a NYR celebrity fan, how about John McEnroe? Or on a lesser level, how about Chris Roach?
There's so much more I could say about Sarandon, but it's already approaching midnight, I haven't talked the game yet and I got a 4:30am alarm clock. Plus, I think you get my point already. Let's just hope NBC keeps that dumbass Leslie Jones off future broadcasts, as I know the in-thing to do is to pretend that Leslie Jones is funny. Ditto Amy Schumer.
Nearly 3000 words in and I still haven't talked the game yet. This alarm clock is going to be worse than Lundqvist two goal lead.
ESPN.com box score time:
1st Period Summary

Time
Team
Scoring Detail
PIT
NYR
No scoring this period
0
0
Time
Team
Penalty Detail
12:28

Mika Zibanejad: 2 Minutes for Tripping
16:40

Olli Maatta: 2 Minutes for Hooking

2nd Period Summary

Time
Team
Scoring Detail
PIT
NYR
1:53

Bryan Rust (11)
Assist: Derick Brassard
1
0
2:48

Riley Sheahan (10)
Assists: Kris Letang, Carter Rowney
2
0
Time
Team
Penalty Detail
12:58

Brady Skjei: 2 Minutes for Slashing
19:47

Ryan Sproul: 2 Minutes for Slashing

3rd Period Summary

Time
Team
Scoring Detail
PIT
NYR
8:42

Chris Kreider (13) (Power Play)
Assists: Pavel Buchnevich, Neal Pionk
2
1
14:28

Jesper Fast (11)
Assists: Marc Staal, Chris Kreider
2
2
15:41

Carl Hagelin (9)
Assist: Olli Maatta
3
2
16:43

Mika Zibanejad (21) (Power Play)
Assists: Chris Kreider, Neal Pionk
3
3
Time
Team
Penalty Detail
8:29

Patric Hornqvist: 2 Minutes for Slashing
16:22

Chad Ruhwedel: 2 Minutes for Tripping
19:49

Alexandar Georgiev: Penalty Shot Awarded for Goalie Displacing Net

OT Summary

Time
Team
Scoring Detail
PIT
NYR
2:53

Mika Zibanejad (22)
Assists: Chris Kreider, Neal Pionk
3
4
Time
Team
Penalty Detail
No penalties this period
Goaltending Summary
Penguins

Pittsburgh Goaltending

Player
SA
GA
Saves
SV%
TOI
PIM
C. DeSmith
33
4
29
.879
62:53
0

Rangers

New York Goaltending

Player
SA
GA
Saves
SV%
TOI
PIM
A. Georgiev
40
3
37
.925
62:44
0
With King Matt Murray, winner of the last two Stanley Cups, out with concussion, the Penguins called on third string goalie, Casey DeSmith. In turn, with how bad Lundqvist has been and with how great Georgiev has been, the Rangers called on their third string goalie (although, I don't see how Pavelec returns this season) in Alexandar Georgiev. In essence, the playing field, I mean, ice, was leveled. We had two third string goalies auditioning tonight.
Georgiev's biggest test came in the first period, as he would deny all 14 shots. On the other end, DeSmith DeNied 7 Ranger shots.
By the end of the game, Kreider, Zibanejad, Fast and Georgiev, would dominate the talk among fans, and the media, alike. One player who deserves equal praise is Neal Pionk. Logging a team-high 26:03 of ice time, Pionk was a beast out there. He made stop after stop. He shut down elite scorers. He cleared pucks. He created turnovers. I just wanted to mention how great Pionk was in this game, because it will get lost in the Rangers four goals and with Georgiev making 37 saves. So much for that, "LUNDQVIST HAS TO MAKE 40 SAVES FOR THE RANGERS TO WIN GAMES" bullshit.
I'm not going to lie – I was distracted with Susan Sarandon's Razzie-esque performance in the first period. In addition, the Rangers were playing catch-up all first period. I gotta say this too – when Georgiev was announced as the starter, I was thinking about going to the game. However, the late 8PM start turned me off, as you know about my early alarm clock. It all worked out. If I went to this game, I would've missed out on Susan Sarandon!
The Rangers just blew opportunity after opportunity in the first. They just couldn't get the machine going. Luckily, Georgiev was as fluid as clear vodka sliding down an ice sculpture.
After twenty minutes played, 0-0.
The scoring in this game started in the second period, as Bryan Rust got the Penguins on the board first, at the 1:53 mark. Credit Skjei with the assist here:
BRYAN RUST MAKES IT 1-0 PENGUINS! pic.twitter.com/H6CkIFF2py

— NHL Daily 365 (@NHLDaily365) March 15, 2018
For as great as Neal Pionk was tonight, Skjei was at the opposite end of the spectrum. He was terrible all game.
I know I've said this before, but this blog continues to grow and I always got new eyes reading. It's tough to judge these games, because of the new roster and with AV trying new things. These games are a jump start on the preseason. You can't go ape shit after every error. In addition, the Penguins are a team with Cup hopes, so the talent disparity is wide here.
That all said, Skjei is a regular here and a name that Gorton said he wanted to build around. I'm not going to hammer Skjei for one bad game, but I will acknowldge that he had a bad game tonight.
1-0 bad guys.
55 seconds later, Riley Sheahan made the score 2-0, after deflecting a Letang shot past Georgiev. This was a tough one to stop. I may have criticized Hank if he gave it up, but this was a tough one and Georgiev is in his 5th game as a starter and making $8M less.
2-0 bad guys.
What really impressed me, was what I talked about at the top of this blog – how Georgiev handled these goals. He didn't slam his stick, scream at his teammates, or hang his head. These goals allowed were akin to walking in the busy streets of NYC and stepping on a homeless junkie. You don't stop. You just keep your head up and keep on walking.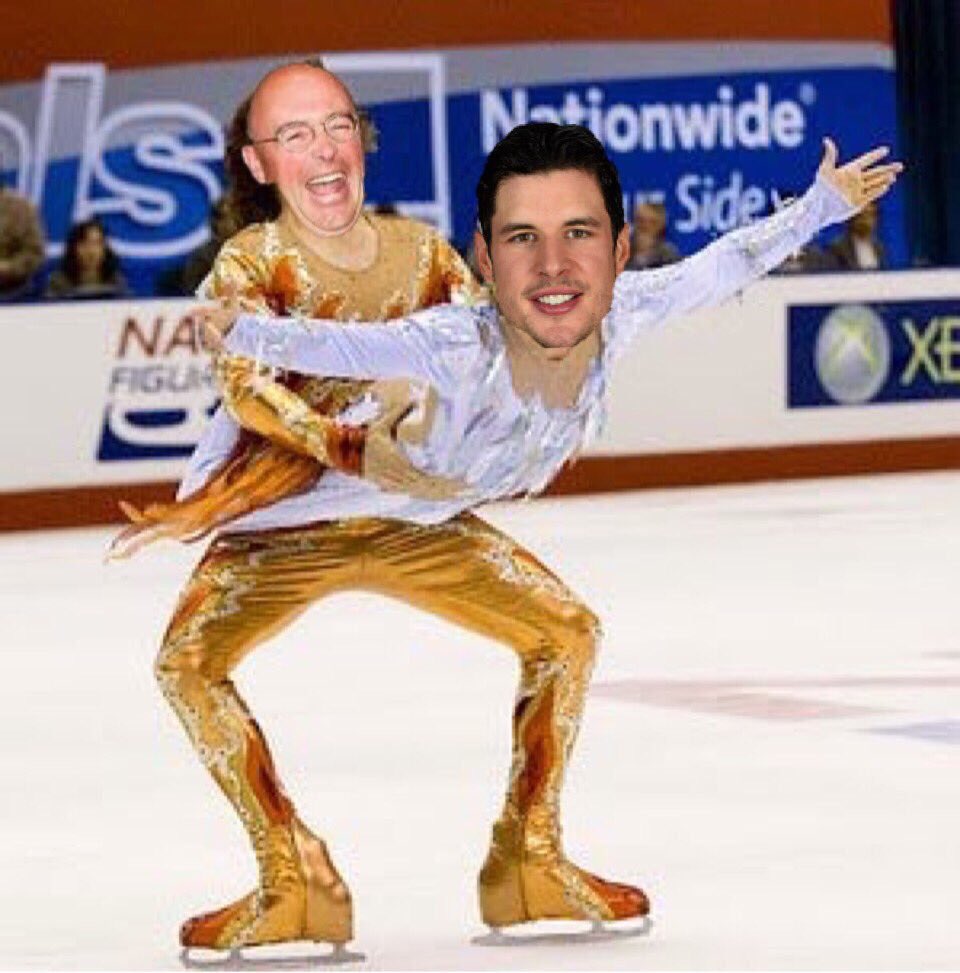 The second period featured the Rangers getting NOYNE (BABA BOOEY) chances at net during a 2:30 stretch of time. They just couldn't get shots off and when they did, they did the Norwood shit. Really, the Rangers would be on pace for 656785678567856785962306778363 goals this year, if the NHL changed the rules and moved the net 15 feet to the right.
Namestnikov had a bad game tonight too, as he missed on several "GOOD LOOKS", especially when he turned over the puck on a silly toe drag in front of traffic.
In fact, with all the Ranger misses and the ability to connect on passes, this was looking as the lone Ranger highlight of the game:
This is why we love sports today. 💙 pic.twitter.com/BizmUwUpB2

— NHL on NBC (@NHLonNBCSports) March 15, 2018
I love seeing things like this. Buchnevich created a new fan for life, as this kids reaction, was akin to Joe Fortunato getting a new Lundqvist hair to add to his hair doll.
The Rangers really started to fall apart at the end of the period, where they just looked tired and spent. At this point in the game, they already killed two penalties, missed a chance on another and then Ryan Sproul took a dumbass penalty, with only 12 seconds remaining in the period.
The Rangers were lucky to escape, down only two goals, when the horn went off.
After two periods, 2-0 bad guys.
Just want to mention what I said at the beginning of this period:
Three goal third period coming up for #nyr !

— BlueCollarBlueShirts (@NYCTheMiC) March 15, 2018
The Rangers continued their horseshoe (close, but no cigar, no smoking here) hockey in the third. They couldn't make clean passes, nor could they handle errant passes. However, HORNY, Patric Hornqvist himself, helped the Rangers out, when he got called for slashing at the 8:29 mark. This gave the Rangers their second PP of the game and they wasted no time cutting the deficit to one:
Chris Kreider has the #NYR within one! 👀 pic.twitter.com/qggtokQnzS

— NHL on NBC (@NHLonNBCSports) March 15, 2018
Pionk feeds Buch, Buch shoots right into the goalie and Kreider cleans up for the rebound power play goal. I'll take it! 2-1 bad guys.
DeSmith played well, although he would surrender three tough goals here in this third period. After DeNying Fast on a "GOOD LOOK", Fast redeemed himself and tied it up, right around the 5 minute mark:
JESPER FAST TIES THE GAME YAS BABY 2-2 pic.twitter.com/Na4AUzmvtL

— Mrs.Reedus (@ninaxoxox97) March 15, 2018
If you believe in momentum, the pendulum was swinging in favor of the Blueshirts. Give it up for the Rangers for not giving up and by being motivated, by the strong play of Alexandar Georgiev.
In some rollercoaster action, Carl Hagelin (Because an ex-Ranger must score in these games) put Pittsburgh ahead, 3-2 bad guys, with less than five minutes remaining. You could hear the air leaving M$G and people checking train times. Fans have seen this script before. However, with Lundqvist not rattling everyone, the Rangers stayed the course.
Chad Ruhwedel would get busted for tripping. Twenty seconds later, another Rangers PPG and a tie game:
That @ChrisKreider leap over @MikaZibanejad after he scores is impressive. pic.twitter.com/it71eR8TsP

— NHL GIFs (@NHLGIFs) March 15, 2018
3-3 game, with under four minutes to play.
In a controversial call, Alexandar Georgiev would be called for delay of game, with 11 seconds left in regulation. Georgiev bumped the net off its moorings. The result – a penalty shot for Malkin.
Take a look at the call for yourself:
Georgiev called for delay of game for "Intentionally" knocking the net off. Because there was under 2 minutes left, the Penguins were awarded a penalty shot. pic.twitter.com/MOH50TsqK1

— TheRenderNHL (@TheRenderNHL) March 15, 2018
To me, I agree with the call, and that's someone who will do backflips for anyone who proves that this team needs to move on from Lundqvist.
It looked like Georgiev bumped the net, then gave it a shove. At the time, it was all Pittsburgh and they were attacking heavily. I can see why the refs called the penalty. I can't bust out the shovel on these refs for that call.
On the penalty shot, Georgiev ensured the Rangers would at least get a point for this effort, as he stopped the potential Hart/MVP, Geno Malkin. The Garden erupted.
3-3 after 60. This one was going to OT.
After a game where he missed several chances, Zibanejad not only tied the game, but he won it, as he put the Penguins away at the 2:53 mark of overtime:
Overtime: there's no better time to score career goal number 💯, Mika Zibanejad! pic.twitter.com/Rb4JuVER0y

— NHL on NBC (@NHLonNBCSports) March 15, 2018
4-3, in OT, your final, for your NEW YORK RANGERS!
Just because I'm feeling giddy about the win, how about a look at the crossing-my-fingers-and-hoping-to-build-the-tent standings:
| | | | | | | | | | | | |
| --- | --- | --- | --- | --- | --- | --- | --- | --- | --- | --- | --- |
| Metropolitan Division | W | L | OT | PTS | ROW | GF | GA | HOME | ROAD | L10 | STREAK |
| Washington | 39 | 23 | 7 | 85 | 36 | 209 | 202 | 24-9-2 | 15-14-5 | 5-5-0 | W2 |
| Pittsburgh | 40 | 26 | 5 | 85 | 38 | 232 | 215 | 26-8-1 | 14-18-4 | 5-4-1 | L1 |
| Philadelphia | 35 | 24 | 11 | 81 | 33 | 205 | 205 | 17-12-6 | 18-12-5 | 4-5-1 | L1 |
| New Jersey | 36 | 26 | 8 | 80 | 31 | 212 | 211 | 18-14-3 | 18-12-5 | 5-5-0 | W2 |
| Columbus | 37 | 28 | 5 | 79 | 31 | 193 | 195 | 23-11-2 | 14-17-3 | 7-3-0 | W5 |
| Carolina | 30 | 29 | 11 | 71 | 27 | 188 | 218 | 16-13-6 | 14-16-5 | 3-6-1 | L2 |
| N.Y. Rangers | 32 | 32 | 7 | 71 | 29 | 205 | 227 | 20-13-4 | 12-19-3 | 5-3-2 | W2 |
| N.Y. Islanders | 30 | 29 | 10 | 70 | 27 | 222 | 245 | 16-12-4 | 14-17-6 | 2-4-4 | W1 |
Yes, time for some quick "P" word talk, as in the playoffs!
The Rangers are 8 points out of a wild card spot, with 11 games remaining. Improbable? Most likely. Unheard of? No. I'm rooting for it though. Build that tent!
And as I've outlined in prior blogs, I will not and can not, root for a losing culture. Let the kids grow!
As I said in my last blog, I'd keep riding the hot hand. You know the tom-foolery and garbage you get with Lundqvist. Keep Georgiev going. After all, I'm going to the next game, in St. Louis. I don't want to fly to Missouri to see Lundqvist!
Since my twitter DM's and emails were off the charts yesterday, I just wanted to address something real quick- the other "P" word, as in politics.
Off the bat, politics are involved in this section, so if you want, skip to the next section. And yes, I know talking politics alienates half of anybody's given audience, but when have I ever gone with the grain on this blog?
Politics are now in bed with sports. Whether its the NFL and the kneeling stuff or all these leagues promoting Gay Pride, you can't get away from it.
For the record, I'm not disparaging gay pride. I'm pro gay rights/gay marriage. I've talked about why before. I just think that you don't need to talk about sexual preferences during games, just like you don't have to talk about straight marriage/heterosexual sex, during games either. I just think when a father takes a son, or when a mother takes a daughter to a game, the topic of sex or sexual preferences, shouldn't be something that needs to be discussed.
We live in a world with a heavy liberal media. While I'm pro-choice (and if you're pro-life, that's fine too, we all have different opinions) how far are we from ABORTION NIGHT at MSG? Maybe fans can throw dead fetuses on the ice during a hat trick? And when I say the word "abortion", I'm not talking about a Lundqvist game with a two goal lead.
To be open with you here, I voted for Obama twice. Despite voting for Trump last election, I usually lean democrat. I just think the liberals got everything they ever wanted, but it wasn't enough. I did vote for Trump, just because I couldn't stand Hillary. However, this isn't about my politics. I just wanted to be open here, so you can understand where I'm coming from and where it's coming from.
In all honesty, I don't agree with any party line. I'm pro gay marriage and pro-choice. I'm also for tightening our borders, tax cuts, getting rid of unnecessary welfare programs and for strengthening our military. I can't say I'm a bonafide democrat and with all the religion in their politics, I sure as hell am not a Republican either. I'm just me – a loudmouthed American with a ton of opinions!
Let me be clear – I'm not saying what I believe in is what's right or what everyone else should believe in. Believe in what you want. It doesn't bother me. Everyone is entitled to their opinions. It's what makes America great – we have the freedom to express ourselves, as I do on this silly blog daily!
What does bother me, are a sect of Ranger fans who openly root for player injuries, based on a player's political beliefs.
Tony DeAngelo is a Trump supporter. So am I. Does that mean that I root for him more than anyone else? Nope. I hope he plays well because he's a Ranger. That said, if the Rangers moved on from him this off-season, I would have no qualms about it. I don't think he strengthens the team at all, but since he's here, I hope he plays at an optimal level.
All season long, there are Ranger fans hoping for bad things to happen to DeAngelo because he voted for Trump. In full disclosure, he also called someone a "faggot", during his formative years. I've done this debate before too – the word "faggot" is not always homosexual slur. It's like calling someone a douchebag or an asshole.
To give you full disclosure, I used the word "faggot" a lot when I was in high school, twenty years ago. So did everyone else. Shit, when you read some of these old timer hockey books, the word appears frequently. I'm not trying to justify it, I'm just saying, it was a word in the lexicon to describe an asshole.
When I used that word, even back then, it didn't have homosexual connotations to me. That said, I've actively removed the word from my vocabulary, because it's not worth the hassle of being branded a homophobe and in this new PC world, what's the point? It's easier to call someone a dumbass. Why offend my gay friends if I don't have to? Douchebag works just as well!
DeAngelo has gotten alot of vitriol from the liberal Lundqvist Ranger fans, just because he's open about his support for Trump. Only in America, can someone be lambasted for supporting the President!
When DeAngelo had a fight with Wayne Simmonds, of the Flyers, several weeks ago, Ranger fans were rooting for him to get injured. ALL BECAUSE OF HIS POLITICS.
I've had it with those fans. Due to my opinions on Lundqvist, (I am the first person to openly write articles suggesting why NYR is better off without him) I get "heat" from Ranger fans. That's fine. I put myself out there. Shit, I come from the pro wrestling world, so I know any heat is good heat. I can take it. If you're going to make yourself public, you have to understand that not everyone is going to agree with you.
That said, when DeAngelo got hurt on Monday, some Ranger fans were doing back-flips, all because of who DeAngelo voted for. Let me share these twitter exchanges:
The mind of the Lundswiss Liberal Snowflake fan: It's never ok to point out that Lundqvist is overpaid or that he bruised up a woman. However, it's ok to celebrate when a player, who voted for Trump, gets injured. And I'm allegedly the bad guy? Typical SAD behavior. #nyr #nhl pic.twitter.com/XPdHr2ew5Z

— BlueCollarBlueShirts (@NYCTheMiC) March 13, 2018
To recap – some people don't like me because of my opinion Lundqvist. Fine, I get it.

This person wishes aids soaked spit on people, death on cops and celebrates injuries based on the political ideologies. She thinks she's a great person.

SAD! pic.twitter.com/7VIjJGx8tN

— BlueCollarBlueShirts (@NYCTheMiC) March 13, 2018
So in the mind of the Lundqvist fan/liberal – wishing violence, unprovoked attacks, injuries and death on cops is ok. Saying that you support the President or wishing that the team went down a different path, when it comes to the goalie – BLASPHEMOUS!
Fans like these, and really, these types of people in general, is what strengthens Trump voters. I'm not sitting here wishing harm on liberals, but here are these hypocrites, out in the open. These are the same people, that you know, that are preaching tolerance, as long as you agree with them. If you don't agree with them, in their view, it's then okay to wish harm, injuries and death on people.
To quote Donald Trump, I only have one word to close this rant off with – "SAD!"
Oh – just imagine if Lundqvist came out and admitted he supported Trump! Heads would explode in Rangerstown! That said, it would never happen, because Lundqvist knows his brand and wouldn't do anything to put that brand in jeopardy. But as a guy making a ton of money, you know he's a Trump guy!
Well this was a doozy of a blog!  I have to be up soon, then it's off to work and then off to St. Louis. I'll try to get the St. Louis/NYR blog up during my flight home from St. Louis. Let's hope King George starts!
Until then, as always, thanks for reading and…
LET'S GO RANGERS!
Sean McCaffrey
BULLSMC@aol.com
@NYCTHEMIC on twitter