What's up everyone and welcome to another blog here on BlueCollarBlueShirts.com. Right off of puck drop here, I'd like to thank everyone who read my St. Louis road trip manifesto. It was one of the most viewed blogs of the season. It seems that the road trip stories always connect with fellow fans. The best feedback I got? A reader telling me how much he enjoys the heavy aroma of cigarettes and cheap cigars, just like me. Pure degenerate!
Not much news went down between Saturday's OT loss to St. Louis and today's game against the Blue Jackets. As mentioned in previous blogs, the only upcoming news will be whenever Chytil and Andersson get called up. It's only a matter of time, before we are all put out of our misery and the Cody McLeod experiment comes to a merciful end.
Going into tonight's game, the Rangers needed a Miracle on Ice multiplied by the 1994 New York Rangers Cup run, to have any shot of the playoffs. While mathematically still alive, it's only a matter of time before you see the letter "E", as in eliminated, next to the Rangers in the standings.
Alexandar Georgiev, who started the last three games, going 2-0-1, thus picking up five points for the team, was benched tonight. In his place was career loser, Henrik Lundqvist. However, if you subscribe to the tank theory, there's no better goalie than Lundswiss. It's like AV and Gorton got together and said, "Shit, a rookie goalie is winning games and picking up points left and right. If we want a lottery pick, we better put the overpaid baby in net."
The Rangers, who were 5-2-2 since the trade deadline, found themselves at 5-3-2, after tonight's 5-3 loss to the Blue Jackets. While the M$G Networks had a ton of stats and fake praise for the faux King, what wasn't mentioned was how Lundswiss is the "3" in the 5-3-2. That's right, as much as the M$G Networks wants to talk about one win over shitty Vancouver, they forget to mention that Lundswiss has all three L's since the deadline.
Then again, why would the M$G Networks present you with facts that actually matter? I mean, what's more important – giving you this information or showing you Joe Micheletti slobbering like a hungry dog, during his "Taco Bell Take", when talking about his Swedish dreamboat?
Before diving into the meat and potatoes of this game, here are my last few non-award winning blogs, in case you missed them:
---
---
---
---
---
What was almost as funny as Lundqvist calling himself a "King", was M$G claiming an attendance of 17,194. In other words, M$G is claiming that the building was 95.5% full. That's like saying Lundqvist is a Vezina candidate.
The truth was the building was a little more than half full. When you see these crazy attendance numbers (The Islanders claimed 10,000 fans tonight, despite no more than 4000 fans in the building) it's because the teams are going by tickets sold. You will never get the number of how many tickets were actually scanned.
I understand that teams want to inflate their attendance a bit, but when you can clearly see on TV that there are more people waiting on a LIRR platform, during rush hour, than at the game, you're better off not touting your bullshit, fake news number.
Let's go to the ESPN.com box score, followed by my thoughts and opinions on the game:
1st Period Summary

Time
Team
Scoring Detail
CBJ
NYR
14:05

Alexander Wennberg (8)
Assists: Thomas Vanek, Ryan Murray
1
0
Time
Team
Penalty Detail
No penalties this period

2nd Period Summary

Time
Team
Scoring Detail
CBJ
NYR
9:28

Artemi Panarin (23)
Assists: Ian Cole, Mark Letestu
2
0
13:44

Kevin Hayes (21) (Shorthanded)
Assist: Jesper Fast
2
1
Time
Team
Penalty Detail
10:07

Neal Pionk: 2 Minutes for Delaying Game – Puck over Glass
13:02

Paul Carey: 2 Minutes for High-sticking
14:45

Markus Nutivaara: 2 Minutes for Hooking

3rd Period Summary

Time
Team
Scoring Detail
CBJ
NYR
4:05

Markus Nutivaara (5)
Assists: Artemi Panarin, Nick Foligno
3
1
7:16

Mika Zibanejad (25) (Power Play)
Assists: Neal Pionk, Pavel Buchnevich
3
2
11:19

Artemi Panarin (24)
Assists: Cam Atkinson, Nick Foligno
4
2
18:08

Chris Kreider (14) (Power Play)
Assists: Brady Skjei, Ryan Sproul
4
3
19:58

Artemi Panarin (25)
Assist: Ian Cole
5
3
Time
Team
Penalty Detail
6:32

Artemi Panarin: 2 Minutes for High-sticking
13:36

Boone Jenner: 2 Minutes for Holding
16:54

Thomas Vanek: 2 Minutes for Tripping
Goaltending Summary
Blue Jackets

Columbus Goaltending

Player
SA
GA
Saves
SV%
TOI
PIM
S. Bobrovsky
32
3
29
.906
59:53
0

Rangers

New York Goaltending

Player
SA
GA
Saves
SV%
TOI
PIM
H. Lundqvist
30
4
26
.867
57:55
0
Here were the lines for tonight's game:
Warmup:

Kreider-Zibanejad-Fast
Vesey-Namestnikov-Buchnevich
Spooner-Hayes-Zuccarello
McLeod-Desharnais-Carey

Staal-Pionk
Skjei-Sproul
O'Gara-Gilmour

Lundqvist

— Justin Tasch (@J_Tasch) March 20, 2018
I'll you what, this new KZF line and Vesey & the commies, are both fun to watch. I'm also enjoying Pionk getting top minutes.  Like I said in my last few blogs, if there is anything that should be a slam dunk for next season, it's Neal Pionk on this team. Out of all these new faces, no one has maximized their ice minutes like Pionk. Even better, he's just starting his NHL career. He will only get better.
The M$G Networks pregame show was laughable. While it featured a good interview, with Maloney talking to Jimmy Vesey and a nice spot with Giannone and Pionk, Valiquette and Micheletti were spitting out the fake news as fast as they could.
Oh and on Jimmy Vesey, it's amazing that Chale, from "Kevin Can Wait", grows thicker facial hair than Vesey can: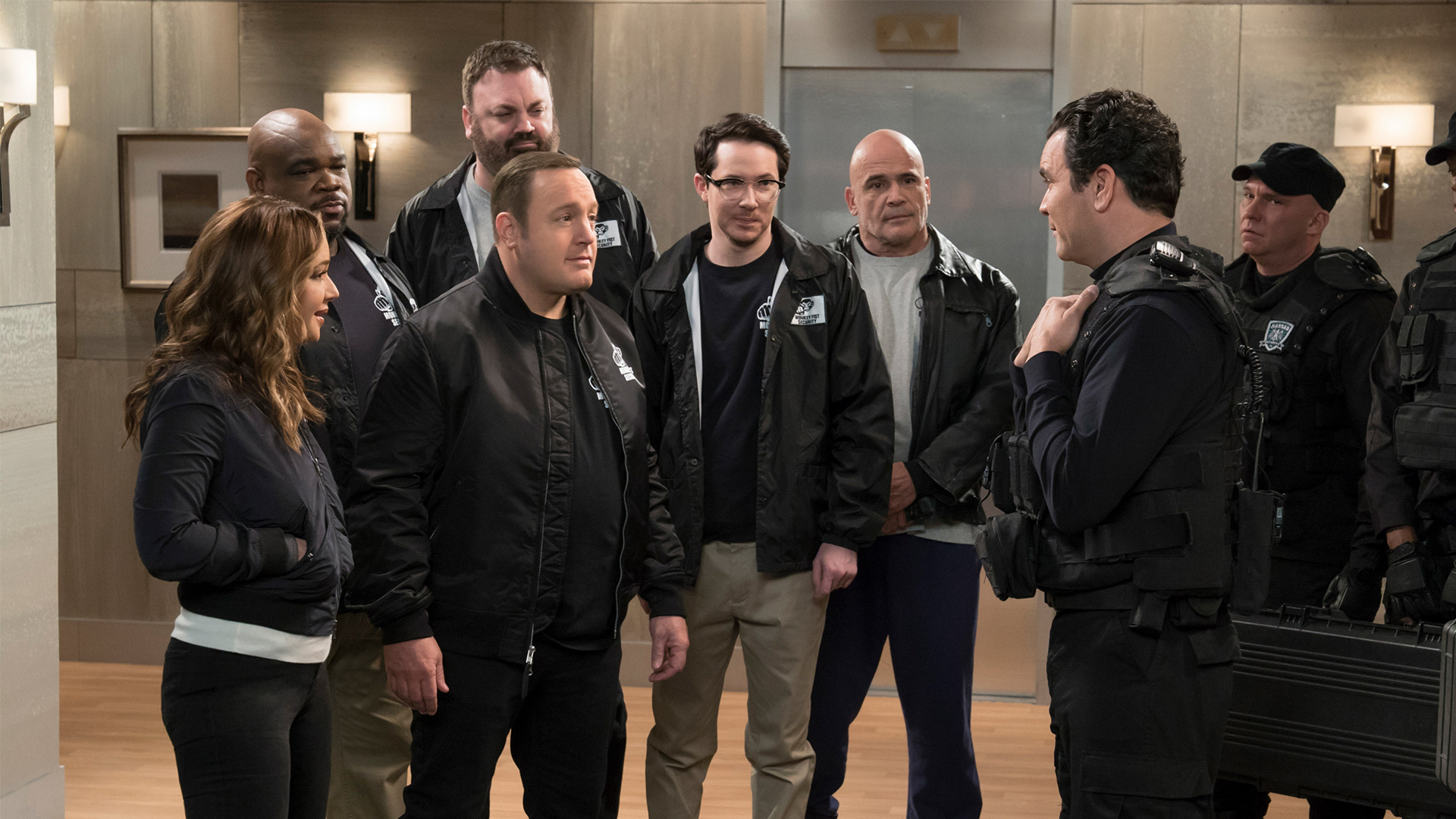 Micheletti was his usual terrible self. Then again, I think he was even worse than usual, because he didn't see his boy toy play for three games. Micheletti was a little backed up and finally gummed up the works, the second he saw that 30 jersey on the ice. He could not stop raving about Hank. I'm surprised Micheletti's engorgement didn't knock down the new Ratelle banner.
Valiquette, who is a great analyst, has one real flaw. He just can't talk about Lundqvist objectively. If you took a shot every time Valiquette had an excuse for Lundqvist, you'd die of alcohol poisoning.
Seriously, it's the same old shit from Steve. Stop me if you heard this hard hitting analysis before:
— Lundqvist was screened by his own guy, so it's not Lundqvist's fault. (Of course, the next highlight is the opposing goalie fighting through a screen and making a save.)
— Lundqvist faces (insert some random objective number here) (insert some objective stat here, like high quality shot), which is the most in the league. As I've said before, these advanced stats are in the eye of the beholder. Do you know how you debunk these stats? How many times have the Rangers shot wide, while right in front of the net? That's a high quality shot and it doesn't hurt the opposing goaltender at all, nor does it hurt the opposing defense either. Of course, omitted from the broadcast, is Georgiev is going through the same stuff, yet has better numbers. Not bad for a guy with 6 starts and making $8M less than Hank.
— Lundqvist may have given up a bad goal here, but let's talk about (insert some random relic Lundqvist game, that has nothing to do with the game being played right now.)
Do you know what would've been useful information tonight, information that Steve left out:
— Columbus has torched Lundqvist more than any other team, outside of Tampa and Pittsburgh, in the last three seasons.
— Alexandar Georgiev was 2-0-1, in his last three starts.
— Lundqvist is giving up nearly 4 goals a game since the Winter Classic.
— Lundqvist leads the league in the most amount of goals allowed in the first two minutes of a period.
— Lundqvist leads the league in the most amount of goals allowed in the final minute of a period.
— Lundqvist is paid the most money in the NHL (Vally has talked other player contracts before) yet hasn't won a Vezina since becoming the highest paid goalie in the league.
— Bobrovsky, who Vally did rave about, has picked up his game since Tortorella came to town. Lundqvist hasn't won a Vezina since Torts left, yet Bobrovsky won another Vezina, just last year. (Let's not even get into how Senile Sam and Clueless Joe, didn't know that Bobrovsky won the Vezina last season. Yes, this is true, they both debated on-air if Bobrovsky won it last season. You'd think this info would be in their pregame notes.)
— Lundqvist is not confident in net and flops around like Ric Flair in the 1992 Royal Rumble.
— The team plays better in front of Georgiev, because AFR is cool, calm and collected, while Lundqvist is doing Cirque Du Soleil in net and screaming at his teammates all game.
— Lundqvist's HOF numbers continue to slip and drip as time goes on.
— For a team to rebuild, they should move on from Lunqvist and that terrible contract.
— The team is actually more exciting to watch without Lundqvist right now.
Then again, why mention all that, when you can tell us how Lundqvist has to face screens and deflections. I mean, I guess that stuff doesn't apply to any other goalie in the league!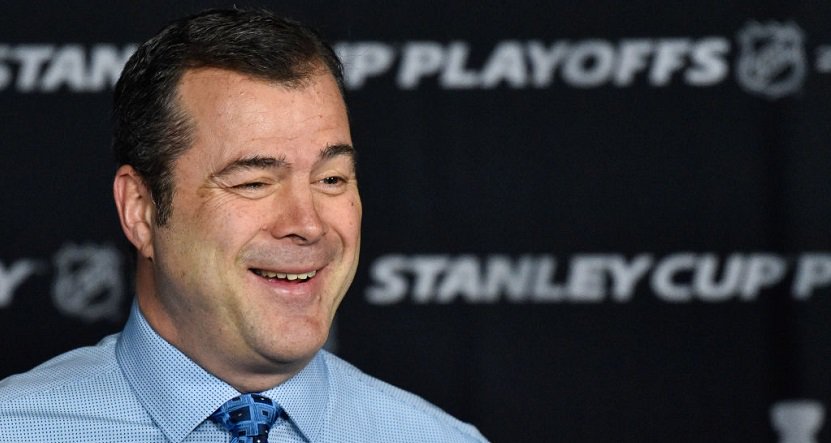 The first period of this game started like many other Ranger games – with the opposition teeing off. However, the Rangers were able to weather the storm and reverse their fortunes. Both goalies would be called upon to make some tough saves in the first period, and each delivered. However, like many Lundqvist games, it was the other goalie being more consistent for a 60 minute period, hence Lundqvist finding another "L" on his win/loss record.
I thought, despite the early Columbus onslaught, that the Rangers did a great job of coming back. Neal Pionk, once again, had a strong game throughout. There are so many little things that he does well. He does a lot of things that don't exactly show up on a box score, such as clearing the puck, stopping his man, getting his stick on loose pucks, etc. He's also collecting points at a clip, as he would pick up an assist in this game.
With Bobrovsky (9 saves in the first & finishing with 29 saves overall) and Lundqvist (11 saves in the first & finishing with 26 saves overall) both having strong first periods, it would be Alexander Wennberg breaking up the nil-nil game. Here's Wennberg, executing after receiving a pass, from behind the net, from Thomas Vanek, at the 14:05 mark of the first:
1-0 bad guys. Fortunately, this wasn't a CBJ home game, so we weren't subjected to the cannon.
You know I have no problems killing Lundqvist, but it's hard to blame him for this one. Has he made this save before? Sure. However, this goal came from a pass behind the net, Wennberg took advantage of Zuccarello not blocking the shot (thus screening Lundqvist in the process) and boom, it's a goal off a perfect play.
Unlike Georgiev, there is no calm demeanor emanating from his overpaid highness. Instead of letting the game come to him and keeping his wits, Lundqvist tries to do too much. It was at this point in the game that I knew it was over.
After the goal, Lundqvist kept coming out of net. He kept trying to playing the puck. Even the most ardent Lundqvist fan, has to admit, that Hank's two biggest weaknesses are coming out of the net and puck handling. For whatever reason, when he finds himself in a hole, he tries to make up for it by pretending to be Marty Brodeur. Instead of being Fat Marty, he winds up with a Fat Rick Dipietro 4 goals allowed game.
Lundqvist's inability to control himself, would later cost him, as we'll get to eventually.
In a somewhat evenly matched period, despite Columbus playing the night before, 1-0 Columbus, after twenty minutes.
With Micheletti spewing so much bullshit that I had to wonder if his breath smelt like the bottom of a porto-john, I was once again wondering to myself, what if Sam & Joe switched places with Knicks announcers, Walt Frazier and Mike Breen?
Seriously, 25 years of Dolan and neither of his teams have a championship. Even worse, both teams are in a rebuild/hoping for a number 1 pick mode.
To make things entertaining, why not switch the broadcast teams up for a game? I know I've done my spiel on Frazier in previous blogs, but c'mon, wouldn't you love to hear "icing & dicing", "offsidin' and colliding", or "stickless and dickless?"
How about Micheletti and Sam calling a Knicks game? "PARDON ME SAM, BUT THAT BALL WAS DEFLECTED INTO THE NET." Maybe Valiquette can tell us about the royal road that starts in the paint!
I could go on and on about this, but I have a 4:30AM alarm clock!
While Lundqvist is known to drop his stick as frequently as an old man drops his dentures, he came up with a new trick to play without his stick – by leaving it on top of the net!
Here's the unfocused and unaware King:
Hank, much like the suits, hipsters, and other douchebag faux fans that inhabit the lower bowl of the corporate shithole they call Madison Square Garden, wasn't aware of the game going on. #NYR pic.twitter.com/RTRY9RF0RO

— Bobby (@Bobby_StG) March 21, 2018
In his post-game interview (I got a lot to say about that, as you'll see below) Lundqvist blamed the referee. Yes, the referee. GOD DAMN THAT REFEREE FOR DROPPING THE PUCK. HOW DARE HE DROP THE PUCK, DESPITE A COUNTDOWN CLOCK AND A HORN TO SIGNAL THE SECOND PERIOD? AREN'T THESE REFEREES AWARE THAT THE ALMIGHTY KING OF NO CUPS MUST GIVE HIS APPROVAL TO START A PERIOD? After all, Lundqvist knows a thing or two about periods, as he would have his period in the post game interview!
For what it's worth, Lundqvist, with his stick on top of the net, did make the save. However, this wouldn't be the last time he lost focus in this game, nor would it be the last time he blamed someone for his folly.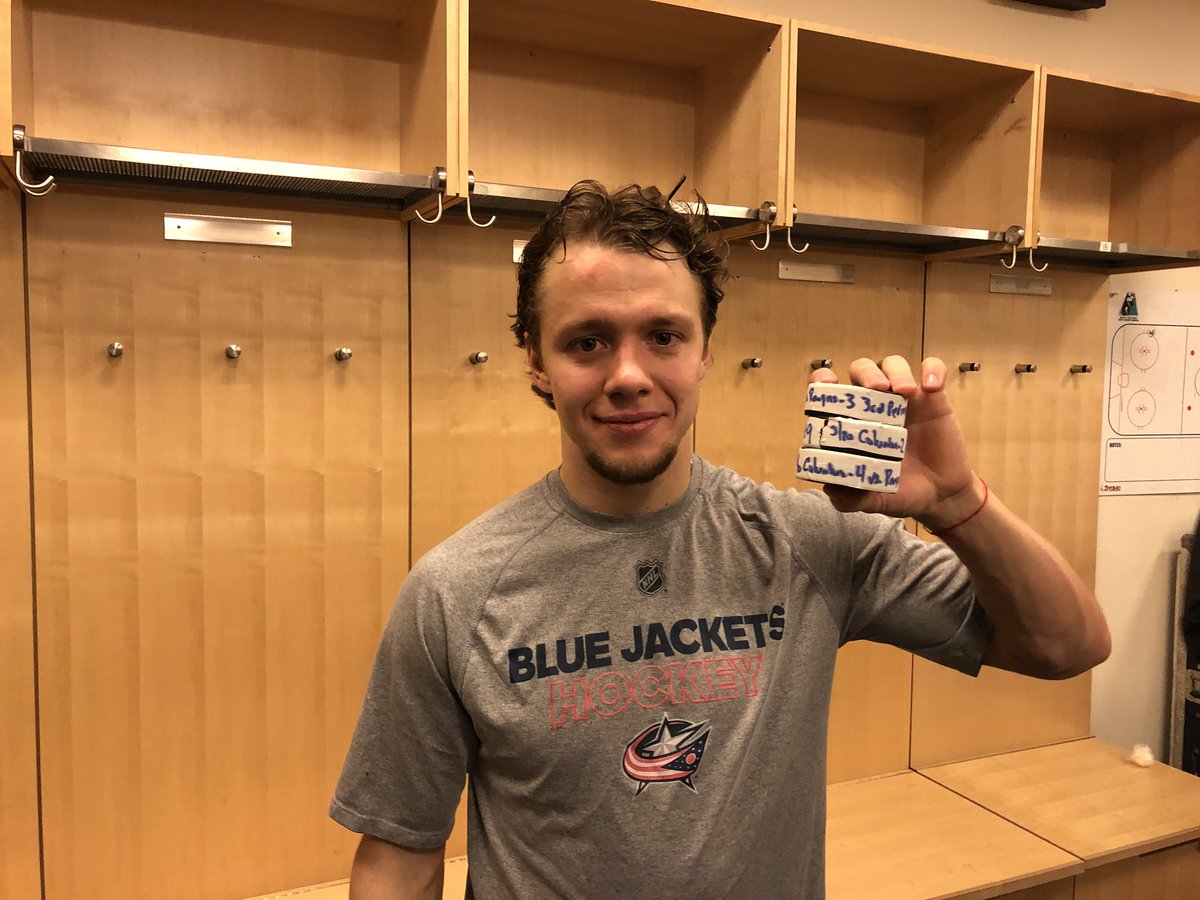 In a period that was back and forth, much akin to the first, even right down to the 12-9 CBJ shot advantage, Artemi Panarin would score his first of three goals on the night. Here's the first goal, at the half way mark of the period and of the game:
2-0 bad guys, on a shot Lundqvist has to have.
For the Rangers, they were lucky this score wasn't in double digits, as CBJ had Rangeritis in this period, doing the Scott Norwood stuff, as many shots went wide. The Rangers were more patient, as they looked for their shot. Perhaps too patient, as Kevin Hayes, who could've easily had a hat trick this game too, would pass up on several shots.
With the Rangers down 2-0, and with a few assholes chanting about an Islander from the 1980's, Columbus went on the PP. Kevin Hayes would get a breakaway, but took too much time and got off a weak shot. A sigh of relief for Bobrovsky.
As soon as Pionk got out of the box for a delay of game, Columbus got another PP, this time after Paul Carey got busted for high sticking. After blowing one short handed opportunity, Hayes redeemed himself on his second attempt:
KEVIN HAYES TALLIES ON THE BREAKAWAY! RANGERS WITHIN 1! pic.twitter.com/rPuC5rsrzY

— NHL Daily 365 (@NHLDaily365) March 21, 2018

Holy Michael Grabner Batman! 2-1 bad guys, at the 13:44 mark of the second period.
The best part about this goal? It was John Tortorella going nuts!
If there was a God, at this moment of the game, Susan Sarandon would've been between the benches and asking Torts for an in-game interview.
The Rangers, within one, really brought the fire to close the second. Kreider hit the post after a deflection. Hayes added more wind chime music, as he ringed one of the post. Right here, if Hayes scored on his first shorty chance and on this shot off the post, there's a hat trick.
Bobrovsky and the iron, were able to survive the Rangers pressure. 2-1 after two periods.
I know I drive a lot of the millennial Ranger fans nuts, especially the moronic "WE DON'T DESERVE LUNDQVIST" fans. What kills them even more, is that I'm always right. Everything I've ever said and predicted here, about Lundqvist and this team, has come true. I haven't been proven wrong.
I just want to show you how I can nail this stuff, on any given night. Here are two tweets I sent out before the third period:
Panarin owned Hank last time #nyr

— BlueCollarBlueShirts (@NYCTheMiC) March 20, 2018
I see a big three goal period for CBJ. Torts is fucking fuming. #nyr

— BlueCollarBlueShirts (@NYCTheMiC) March 21, 2018

The time stamps don't lie. I talked about how Panarin always lights up Lundqvist before the game. After seeing the second period, I said CBJ would have a three goal period. What happened in the third? Columbus scored three goals and Panarin wound up with a hat trick. In addition to being known as the RANGERS TRUTHER, you can also call me the Lundswiss whisperer!
At the four minute mark of the game, Panarin would pick up an assist on Nutivaara's elementary shot:
MARKUS NUTIVAARA SLAMS ONE HOME FROM THE SLOT! 3-1 #CBJ! pic.twitter.com/quCLY6kppC

— NHL Daily 365 (@NHLDaily365) March 21, 2018
3-1 bad guys, and the first Columbus goal of the period. It also put the Rangers in a two goal hole.
Bobrovsky would also turn up the dial in the third, as he absolutely robbed Hayes of another near goal, picking up a deflection. Amazing how the other goalies aren't praised for fighting through screens and stopping deflected pucks. I guess that doesn't suit the narrative of the M$G Networks.
At the 6:30 mark, Lundqvist was flopping all around his crease, like a fish out of water. As Columbus was going in for the goal, Panarin was called for a high sticking penalty. On the ensuing PP, the Rangers made it a one goal game again, this time from Mika Zibanejad:

I'll tell you what, there's Pionk, once again setting up a goal. Then you have Kreider screening Bobrovsky and boom, Zibanejad, despite missing a ton of games, scoring his 25th goal of the season.  The Rangers have something here with these guys (with Fast too) and all you can do is hope to see more of this next season.
The Rangers PP has vastly improved since the trade deadline. I hope this isn't a reprieve for Scott Arniel, as I think this PP still needs a lot of work. Marty St. Louis as assistant coach anyone?
3-2 bad guys.
However, whenever you think the Rangers are about to turn the corner, with Lundqvist in net, Lundqvist reminds you that he's an overpaid crybaby. Here's Panarin, scoring his second goal, the second goal for Columbus in the period, after another gaffe from the royal one:
This was a back-breaking goal, coming at the 11 minute mark. Essentially, the Rangers only had 9 minutes to tie this game up.
I know there is no stat for this, but there is no other goalie in the league that loses their stick more than Lundqvist. Once again, he loses his stick, loses his focus, and boom, the other team scores. In his post game interview (we're almost there) Lundqvist blamed his defense for this. What a fucking coward.
4-2 bad guys, as Lundqvist whined about not getting a whistle, despite not having control of the puck.
As mentioned, when Lundqvist is falling apart, he starts getting wild. He's not cool, calm and collected like Georgiev. He's like a homeless crack junkie, running around all over the place. His frantic antics led to this:
Here's the MSG footage of the play that hurt Lundqvist..he's staying in. pic.twitter.com/BIThwXr7Jf

— Mike Ashmore (@mashmore98) March 21, 2018
That sound you heard was Lundqvist fans running to my twitter page to see if I would be happy about this.
My take? This is all Hank's fault. He foolishly came out of net. This wasn't a dirty play by Calvert at all. In the post game (one last tease) Lundqvist actually blamed Gilmour. Yea, it's Gilmour's fault for playing his man, while the goalie is 10+ feet out of net.
I don't root for Hank to get injured. I root for him to get pulled, traded and possibly deported. For 3+ seasons, I've been saying the Rangers won't win a Cup with him here. I've been proven right, season-after-season.
For all his egomaniacal and dickish behavior, an injury is a cop-out for him. Watching him fail, because his head is as big as his GAA, well that just proves me right. An injury does nothing for my case.
What made me laugh, were Ranger fans, while speaking about Lundswiss specifically, saying "this is the worst collision/hit/injury EVER". I guess the Eakin hit and the puck to the throat were forgotten. I mean really, I've seen women in high heels take worse falls. I've seen grown men take bigger splashes on black ice than this flat back Lundqvist bump.
It's unfortunate Lundqvist put himself in this situation, but to blame Gilmour? That's bullshit, just as it is to say this was the worst hit Lundqvist ever took. Nothing ever good happens when he comes out of net. One day, maybe he'll realize this.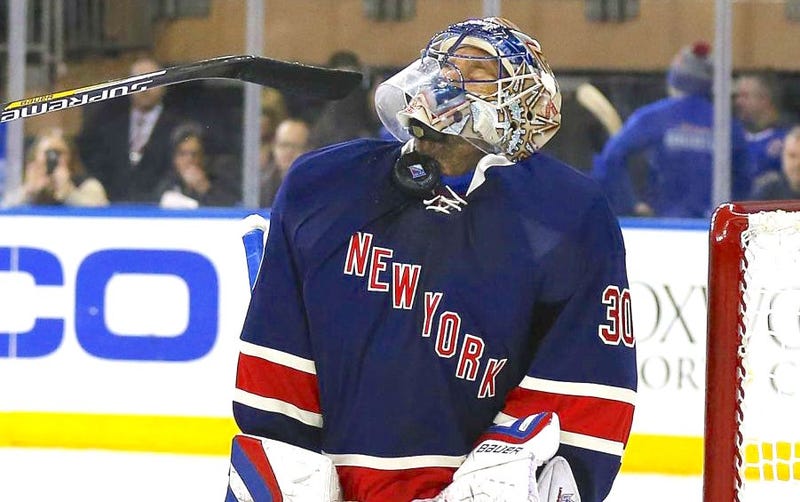 With Lundqvist pulled, Chris Kreider would bring the Rangers within one goal again, with a powerplay deflection goal. 4-3, with 1:52 remaining.
However, as you may know by now, I have a knack for predicting what happens in these games. With just two seconds left in the game, Panarin scored an empty netter. A hat trick for Panarin and yes, this was the third goal for Columbus in the third period. 5-3, your final.
Let's go to Hank's post game interview. This is something you have to see for yourself, courtesy of the M$G Networks:
How can any Ranger fan defend Lundqvist here? In a three minute interview, he blamed his teammates, his defense, and the referees, for his shoddy performance. I'm surprised no one bowled him over again in the locker room.
Lundqvist, who says he wants to be part of a rebuild, has to realize that he doesn't have the late 1990's-early 2000's NJ Devils defense. He also has to realize that he will never be as good as Marty Brodeur, so he shouldn't leave the net or play the puck either.
I've talked about this endlessly. The team always plays better when Lundqvist isn't around. Who would want to play in front of this guy? He blames everyone for everything and rarely takes personal responsibility or accountability. How is someone like this good for a rebuild?
Even when the Rangers defense has let down Georgiev, King George doesn't blame anyone. He doesn't make faces. He keeps playing. Have you seen Georgiev flop around the net even once? Of course not.
You have Lundqvist constantly screaming at these young guys on the ice and then burying them in the media after a loss. Not one reporter brings up how the Rangers, 5-3-2 in their last ten games, have seen all three losses occur on Hank's watch. Not one reporter brings up how the Rangers look more comfortable without Lundqvist out there.
This post game interview are words from a sad little man, a man that's a product of playing in the NY market, whom is so overrated and so over-hyped, that even he himself, sees no fault with his diva attitude and fundamentally unsound play.
To all the people who hate that I bury Lundqvist – can you tell me how Lundqvist burying his young team benefits anyone, besides Lundqvist himself?
You're just fooling yourself if you think Lundqvist is the key to a rebuild. How many times can you change the cast, without realizing that the problem is Lundqvist and his horrendous contract?
It's a team game, but when one player has the ability to blame everyone else and absolve himself from anything negative, it becomes about one player. That is why this blog is focused on him. After all, it's all the M$G Network talking heads could talk about.
Unfortunately, because of Lundqvist, the new Fast/Zibanejad/Kreider line doesn't get as much play. Neither does Pionk. Neither does AV, who had the team ready after a slow start. A great game from Kevin Hayes gets less buzz. Instead, the Henrik Lundqvist show, the narrative that the M$G Networks pushes more than anything, goes right to the forefront, at the expense of the team. Even worse, they have no problem defending Lundqvist for burying his teammates. It's truly infuriating.
For the Rangers, I thought they put out a good effort, against a playoff team trying to get the number 1 seed. What Columbus does in the playoffs is anyone's guess (I don't see them beating TB, BOS or PITT) but give it up to Tortorella, as once again, he has his team on another huge winning streak. (Last season, Columbus had the biggest winning streak in the NHL, with 16 wins.)
If I was coaching, I'd keep riding Georgiev until he had a bad game. Sorry Lundqvist fans, I don't give a fuck if he gets 30 wins or not. This is about the team, an idea that has been lost in RANGERSTOWN and by the M$G Networks themselves.
Let's hit a quick few notes and then head home.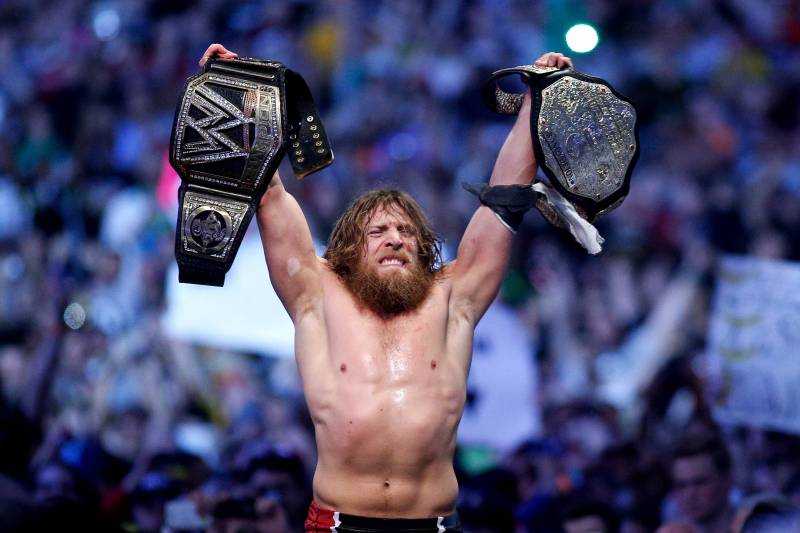 I know I have a few crossover wrestling/hockey fans that read this blog. However, if you're not familiar with the story of Daniel Bryan, read the work of Dave Meltzer, of the Wrestling Observer or just do a google search.
In short, Daniel Bryan is a pro wrestler, who had his career cut short due to multiple concussions. Now, after 2 1/2 years off, Daniel Bryan has now been cleared by numerous doctors and is able to compete again. During Bryan's time away from the ring, he explored numerous techniques to help heal his brain. Bryan started doing Hyperbaric Oxygen Therapy (HBOT) which involves breathing oxygen in a pressurized chamber. Of note, Joe Namath also went through HBOT.
While I think we may still be a decade away (if not more) from having a sure-fire way of slowing down CTE and possibly curing it all together, the case of Daniel Bryan is something that everyone in the NFL, UFC and the NHL should take notice of.
Daniel Bryan, a wrestler who had 10+ documented concussions in his career, has been cleared to wrestle by all the top neurological surgeons in the world. It was Bryan, who aggressively sought treatment, who was able to reverse his fortunes.
Time will tell if Bryan will make a full comeback and if he's able to last for a significant amount of time. Regardless, other athletes should keep an eye on Bryan and pro sports, as a whole, should monitor Bryan. Bryan's recovery could help others.
Good luck to Daniel Bryan, as he pursues his dream once again.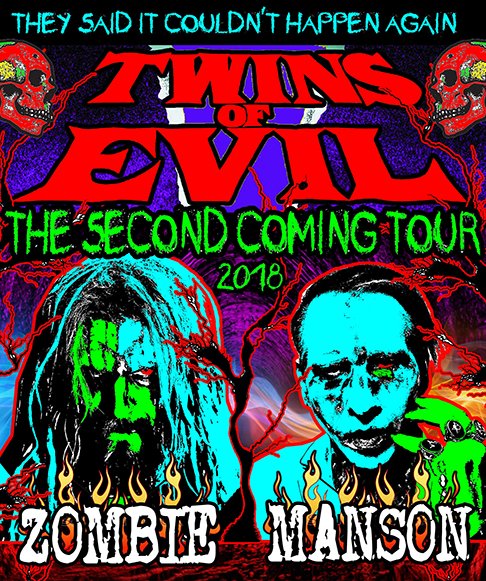 9 more games left on the calendar, with a tilt in Philly on Friday. After that, the Rangers host their arch-rivals, their Winter Classic opponents, the Buffalo Sabres, on Saturday. I am thinking about going to that game, but if Lundswiss is starting, I'm saving my money. I've heard other fans say the same thing. You just don't get the same team with Lundswiss there, and for a team rebuilding, I want to see the energy and youth on display. I don't want to see a gray bearded curmudgeon blame everyone but himself, for a loss.
With that said, I really want to go to the last game of the season, even if it's just to see Mac & the Tampa Rangers, but I have no interest in seeing Lundqvist, especially if he gets the Steve McDonald participation trophy. After all, Grabner probably would've won it this season, but he's gone.
I'll be back Thursday after the Philly game. Until then, as always, thanks for reading and "LET'S GO RANGERS!"
Sean McCaffrey
BULLSMC@aol.com
@NYCTHEMIC on twitter
PS: Happy Birthday Mike Francesa!