What's up everyone and welcome to another blog here on BlueCollarBlueShirts.com. This blog won't be as long as usual, as it's late and there are only a few topics to dive into. Let's get the usual plugs out of the way and jump into it.
Here are the last few blogs in case you missed them:
---
---
---
---
---
So the first round of the NHL draft has come and gone. As Ranger fans, the big question is – "How did we do?" If anyone is telling you an answer, whether positive or negative, they are full of shit. Instead of giving you a diatribe on how the Rangers did, I'm just here to tell you what everyone should be telling you – "Who knows?"
As talked about in my last blog, when it comes to the draft, outside of those drafts where you have that generational no-brainer talent, such as a McDavid, a Crosby or an Ovechkin, you really don't know how these guys are going to turn out. Shit happens. Life happens. Injuries happen. The only way you can judge a draft is by looking at it three-five years down the road, and even then, you may not have all the answers.
When it comes to this draft in particular, the first draft of this century, where the draft was more important to the Rangers than a trade deadline or a free agency period, I had my questions. However my questions are derived from a business, roster and nationality perspective, rather than comparing a player from Sweden (SHL) to a player from Russia (KHL) or a player from the Ontario Hockey League to an American collegiate player.
It just cracks me up when you see other bloggers, fans on social media, or whoever else, try to talk about these kids like they watched them year round. The only person who is into watching kids sweat that much is Pierre McGuire. And really, I hate to admit this, Pierre McGuire shone bright and looked like a stud on the NBC broadcast of this draft. He was a walking encyclopedia (Encyclopedia's are volumes of books for you millennials) and a few times he would predict team selections, pick-by-pick and more times than not, he was on the money.
While Pierre and the other Canadian reporters were pretty solid in their predictions and analysis, you also had the "social media experts" weighing in. How can you not laugh at an idiot like this:
As usual, this blog will be the only blog of it's kind out there. I'm not here to grade the picks, tell you that I saw this guy do that and that guy do this. No, I'm just going to throw out some opinions on how the Rangers got to where they are. I will also explain the severe social media backlash that occurred (I guess that would've happened anyway, no matter who the Rangers selected) after the Rangers drafted Vitali Kravtsov.
The NHL Draft, which is an exciting night of the year, started off with Gary Bettman doing the 786789696789679679th tribute to the Humboldt Broncos. Not surprising, the crowd booed him. If there weren't already a million Humboldt Bronco tributes, I think Bettman would've got a pass here. However, we get it. It was a terrible tragedy, but after the ceremony at the NHL Awards, the NHL needs to give it a rest. The NHL has already gone far and beyond to help out. It's just time for the tributes to end. Sorry if that sounds cold, but I know I can't be the only one who feels this way. After all, the crowd was booing Bettman here!
Just for a quick reference, in case you missed the draft, here were the final results:
Quick aside here – with three players named "Rasmus" being taken in the first round, was there some sort of Scandinavian celebrity in the late 1990's named Rasmus? Or maybe there was some cad who slept around a lot & the mothers took his first name instead of his last name? Then again, perhaps Rasmus was just the hot baby name of 1999. Either way, Rasmus seems to be a pretty popular name in Europe.
Before getting to the Rangers biggest pick of this draft, their first pick, 9th overall of the first round, you have to look at what the other teams did before them. After all, when you're sitting with three picks, your first pick at the 9 hole, you're reacting to what other teams are doing.
According to the real experts who knew these kids, Rasmus Dahlin (BUF) was the no-brainer number 1 pick. Andrei Svechnikov (CAR) was the only other player assumed to be ready for the NHL. It was also thought that Brady Tkachuk (OTT), Filip Zadina (DET), Hayton (ARI), Boqvist (CHI), Bouchard (EDM) and Wahlstrom (NYI) could challenge for roster spots, but they weren't guaranteed to make the NHL in their first season like Dahlin or Svechnikov.
Again, to be clear, I did not know any of these guys, nor seen any of these guys. I'm just telling you what the experts thought, the real experts, like the staff on the NHL Network, Pierre McGuire, Bob McKenzie, Darren Dreger, etc.
If there was any major "WHAT THE FUCK ARE THEY DOING?" selections, it was when the Montreal Canadiens took Jesperi Kotkaniemi. I'm judging that solely based on how Montreal fans reacted on twitter and at the draft:
As the teams made their selections, it looked like the Rangers would have a shot at Filip Zadina, who is supposed to be a dynamic right winger. I really liked this kid. Zadina, who many experts had as a Top 3 overall pick, slid to sixth. In fact, Zadina was interviewed by both Montreal (3rd pick) and Ottawa (4th pick). In his interview with both teams, he told Montreal that if he was drafted by them, he would put goals in Ottawa's net. He then told Ottawa that he would light Montreal's lamp if he was drafted by the Senators. Now, as a Redwing, he has a chance to pot goals on both of them.
Zadina, after being selected by the Wings, said he was pumped to be with Detroit. When asked about "falling" down to the 6th pick, he said he was chosen by Detroit and no one fell. Google his name and check out his interviews. Basically, if you're a fan, this kid said everything you wanted to hear and carried himself with such poise and confidence, that you can't help but root for him.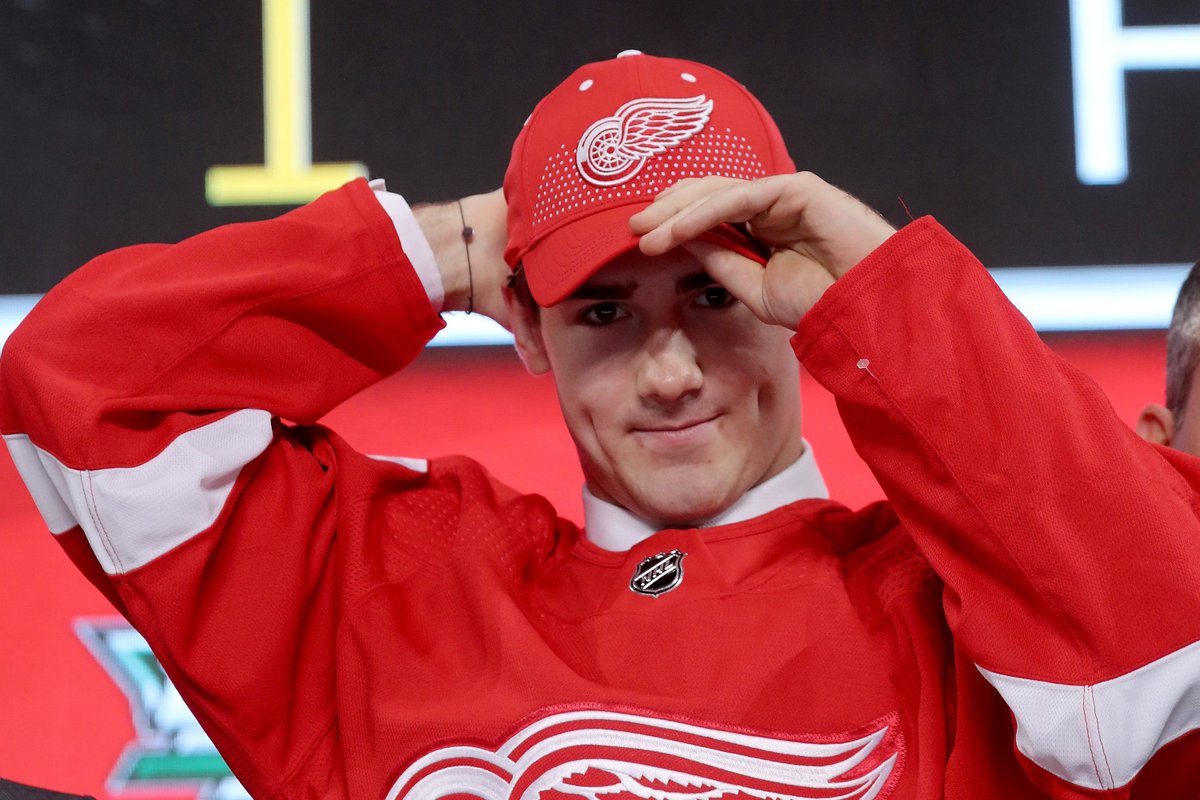 With Zadina off the board, the Rangers only had to wait to see what Vancouver and Chicago would do. It was obvious that if Adam Boqvist was available, the Rangers would've taken him, because they are obsessed with Swedish players. (More on that to come on the Rangers 28th pick.)
The Canucks would take what looked to be the Rangers "safety pick", when they took defenseman Quintin Hughes. Chicago, with the 8th pick, the final pick before the Rangers were up, took Adam Boqvist.
Lurking in the shadows was the heralded and hyped up American forward, a man who could score goals, in Oliver Wahlstrom.  In fact, live, both on social media and at the official draft party at the former Irving Felt Forum, now named after a second tier streaming service, Ranger fans were going bat shit bananas at the idea of acquiring Wahlstrom.
I can't lie either, despite knowing jack shit about these guys, I was hyped to get an American player who the experts were hyping up. I was all about the Wahlstrom train. I'm telling you, in that 5 minute period from when Boqvist sat down until Senile Sather & Gutless Gorton took the stage, you had some fans already buying Wahlstrom jerseys. It was supposed to be a done deal. Then it wasn't. Poor Pedro:
WALHSTROM!!!I WILL GET HIS JERSEY IF HE'S PICKED!! #NYR

— Pedro Rodrigues (@_rodrigues_20) June 23, 2018
Right off the bat, for all intents and purposes, this Vitali Kravtsov has a nice resume. Maybe he develops into something big one day or perhaps he goes the way of Pavel Brendl. Who knows?
However, once Kravtsov was selected, Ranger fans were insanely enraged. Some people talked about giving up their season tickets. Some said the franchise was done. Some said this team will suck. Some said Gorton doesn't know what he was doing. Some said this was worse than when McDonalds canceled the McRib. It was doom and gloom.
Adding to the drama, according to several reliable SOURCES that I have (aka Ranger fans that I know in real life) at the Rangers Draft Party, it was all Swedish lollipops and rainbows as the Rangers took the stage. However, after the pick, the party quickly turned into a Sharknado full of diarrhea. In fact, I was told that the party started emptying out when the Rangers took Kravtsov instead of Wahlstrom.
Everyone thought the Rangers would take the American, in a one Oliver Wahlstrom. At that moment in time, it seemed like the best choice, and it gave the Rangers another player to develop this season. Instead, in typical Rangers fashion, the team chose another commie, one that can't even enter the NHL until the 2019-2020 season.
Let me be clear again – I got no problem with Kravtsov. It's not like I was banging Wahlstrom's drum when the Rangers said rebuild. However, I understand the fan fury. In fact, let me explain why this Kravtsov pick was a mistake, using the options the Rangers had in front of them.
When the Rangers gave up on the season, wrote their letter, traded nearly everyone of value besides the overpaid failure of a goaltender, they told us fans to buy into a rebuild. Of course, being NY, fans want instant gratification. That said, for the most part, I think NYR fans are willing to accept a rebuild, but the hypocrisy coming out of M$G is too much. After all, how are you rebuilding when Lundqvist and Staal are still here?
The Rangers, who charge the most money in the league to attend games in one of the worst arenas in the NHL, (Yes, the MSG history nice, but as a fan, MSG is a terrible and overpriced experience) are asking their fans to accept new faces & some time to get it together. However, with this pick, Kravtsov can not enter the NHL until his KHL contract is up. While it's assumed he will come to the NHL, that's not a 100% written in stone deal either.
When you compare Kravtsov against Wahlstrom, Wahlstrom is an American, who knows the culture and language. Wahlstrom is also ready to compete for an NHL job, and with that Rangers team, he would've had a shot at it. While Kravtsov may pan out years from now, in the short term, Kravtsov goes back to Putin land, never to be seen from again until Summer camp or the Traverse tournament of 2019.
The Rangers are telling you the REBUILD IS NOW, and while that's a half truth at best, your top pick of this draft is on hold for another year. Even worse, where did Wahlstrom wind up? With the New York Islanders of course.
The kicker or perhaps where idiocy rears its head into this, is the way the Rangers took Kravtsov. Here's the deal – Kravtsov wasn't even on the board at the time the Rangers took him. He was no where close to being projected as a Top 10 pick. I mean look at this one expert take:
Do your homework if you don't believe me. If you Google "Vitali Kravtsov NHL Draft Projection" you will see that the top experts had Kravtsov going in the late 20's. Some writers had him as an early second round pick.
Bottom line – the Rangers drafted him way too early. That's fine if they believe in him. If that's their man, they got him. However, at the same time, the Rangers could've increased their stock.
Post draft, there are no reports about Edmonton (10), the Islanders (11 & 12), Dallas (13), Flyers (14) or the Panthers (15) looking to draft Kravtsov. In fact after the Oilers took Bouchard, Lou Lamoriello was walking around like he popped 100 viagras. However, he didn't need any pills for erectile dysfunction, as the hockey gods handed him two gifts. If this wasn't an already banner week for the Islanders, it got only better, as Lou took two studs in Wahlstrom and Dobson.
Put it this way, if you're gambler, there's never been a surer thing than Wahlstom scoring a game winning goal against Lundqvist next season.
Again, who knows how Kravtsov does or how Wahlstrom does. What we do know as fact is that no one was drafting Kravtsov that early. What the Rangers could've done, was trade their number 9 overall pick to a team with a pick in the teens. Obviously, the Islanders and Flyers are most likely out as trading partners here. However, maybe you talk to the Stars, the Panthers, the Avalanche, whoever, and try to get them to trade up, while acquiring their first round pick and a second rounder. That way, you get the commie you want, plus another pick or trading chip.
Instead, the Rangers ordered a $20 phone charger, but paid $40 for it. Is it the end of the world? Probably not. You're still getting a good product. Will it be painful in year one? Probably, especially if Wahlstrom treats Lundswiss like a Christmas tree and lights him up all over the place. Even worse, imagine Wahlstrom playing like Jake Guentzel in the 2019 playoffs.
When it comes to Kravtsov, the Rangers overpaid for him (nothing unusual for them), limited their options and let a player that could play in 2018-2019 waltz right over to their rivals, the very same rivals that finally have a successful hierarchy in place for the first time since the 1980's.  There lays the fan rage.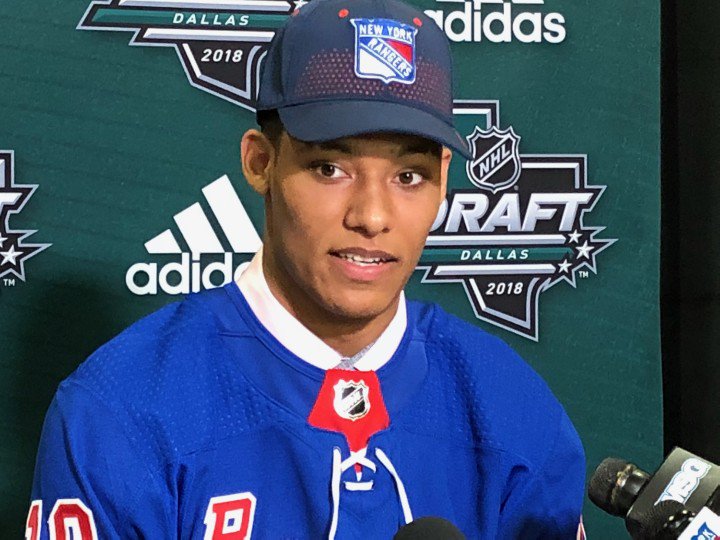 K'Andre Miller, who has a name that you think you would hear in the NBA draft and not the NHL draft, came to the Rangers via a trade. And oh, I used that NBA/NHL draft joke on twitter. Older people found it funny. The fake outrage millennials were upset. It's amazing how we can't joke about anything anymore. Then again, I really don't give a fuck and will make my jokes anyway!
As the draft turned into the latter stages, the teams were basically drafting players to develop, as this wasn't a heavy "NHL ready" draft. The Rangers really liked K'Andre Miller, as they traded their 26th and 48th overall pick to trade up to the 22nd position. This was a good trade for Ottawa and was the same idea, in principle, that I thought the Rangers should've done with Kravtsov.
Again, I don't know anything about Miller and immediately, I thought, "This is another case of the Rangers being the Rangers." I thought that because NBC showed Miller's highlights. However, they weren't hockey highlights, they were football highlights!  Whether we got a Bo Jackson thing here or not, I don't know (Okay, I do know, Miller is only playing hockey) but I was nervous about not seeing hockey highlights.
However, I calmed down a bit after seeing Miller's interview, as I thought he said all the right things, similar to Zadina earlier in the draft.
For people who don't pretend to be experts like me, here's Adam Rotter, of SNY.tv and his take on the pick:
With the 22nd selection, the Rangers chose defenseman K'Andre Miller.

The Rangers traded 26 and 48 to Ottawa for 22. 48 was the pick the Rangers acquired from New Jersey for Michael Grabner.

From the Rangers release on Miller:

Miller, 18, skated in 58 regular season and tournament games with the U.S. National U18 Team in the United States Development Program (USNTDP) this past season, registering nine goals and 20 assists for 29 points, along with a plus-23 rating and 26 penalty minutes.
The 6-3, 199-pounder has been a member of the USNTDP for each of the last two seasons (2016-17 and 2017-18).
Miller helped the United States earn a silver medal at the 2018 IIHF U18 World Championship, as he registered three points (one goal, two assists) and a plus-four rating in seven games.
In addition, he represented the United States at the 2016 World U17 Challenge, the 2017 U18 Five Nations Tournament, the 2016 U17 Four Nations Tournament, and the 2017 U17 Five Nations Tournament. Miller has also been invited by USA Hockey to the 2018 World Junior Summer Showcase.
At the 2018 NHL Scouting Combine, Miller led all participants in the Left Hand Grip (170 pounds) and the Right Hand Grip (180 pounds).

Craig Button said that he is an "elite, elite skater, outstanding athlete. Like Brady Skjei, he has the ability to move the puck up the ice quickly. Call him a puck transporter. When you can quickly get the puck out of your zone and up the ice, that is a good way to play defense and get on the offensive attack."

Bob McKenzie said that there was wide variance among scouts about Miller with one having him at number 10 and others having him as a second rounder.

He noted that Miller has only been playing defense for two and a half years and that he is heading to Wisconsin next season.

Pierre McGuire said that he has "huge potential, gigantic upside. He has live legs, this kid is unbelievably strong, powerful person." 

He was compared on NBCSN to Brady Skjei.

He spoke with NBCSN and said:

On the Rangers moving up to get him, "having an organization like that come to you and really want you that bad means a lot, it shows how your hard work and dedication pays off in the end."
On being a fourth forward as a defenseman, "I played forward my whole life, this is my second full season playing defense. Up until that point I thought o

He was ranked as the 2nd hardest player to play against by McKeens and was projected to go 17th in their mock draft to the Devils.

He was ranked:

McKeens: 14
Future Considerations: 20
Hockey Prospect: 20
ISS: 32
THN: 26
TSN: 24

McKeens wrote, "Miller is rawer than some of the other available defenders, but his upside is through the roof. Still somewhat new to the position, with high end athleticism and uncanny reads. He will need time with the Wisconsin Badgers, but could be a game changer within a few years.

Craig Button's TSN Scouting report has him as a 4.5/5 for skating, 4/5 for competitiveness and 3/5 for hockey sense, defensive play and puck skills.

ISS listed his size/strength as "excellent," his skating, puck skills, shot and offensive play as "good" and his defensive play, physical play, competitiveness and hockey sense as "very good."

ISS says that he projects as more of a shutdown type defenseman.

Adam Rotter: Miller has great size and reportedly has great speed, athletic ability and a comparison to Brady Skjei certainly doesn't hurt. He is relatively new to defense so I'd expect him to spend at least 2-years at Wisconsin, if not more. The Rangers obviously moved up to get him, so they clearly view him as someone with a ton of upside but probably someone for a few years down the line than right now. I wouldn't be surprised if he is likened, in some way, to Chris Kreider. Kreider was drafted as a more "raw" type of player with great size, skating, speed and upside. Kreider spent three-years at BU and had some growing pains but if Miller can develop his raw skills in a similar way to Kreider than I'm sure the Rangers will be thrilled.
In essence, Michael Grabner produced K'Andre Miller for the Rangers. To me, after reading up after all these picks, it seems that K'Andre Miller is the best VALUE of the three first round picks. Again, time will tell and all we can do is root for his & the team's success.
As the draft wound down, the Rangers had one more pick, the 28th overall. Of course, they had to draft a Swede.
With the 28th pick of the draft, the Rangers took Nils Lundkvist. Make your own punchlines with that last name. However, the joke seems to be on the Rangers, as no expert had Lundkvist as a first round pick. In a league where being deep up the middle is crucial to winning Cups, the Rangers went with another Swede, a defenseman nonetheless. There were plenty of centers on the board, most notably, Joe Veleno, who was eventually drafted by Detroit at number 30 overall. The Veleno story is something else, as most experts had him as a Top 15 pick.
Instead of grabbing a center, something that the Rangers have had trouble with in recent years, they went with a Swedish defenseman. Again, you can't judge a draft until 3-5 years have passed, but you can imagine the eye roll when I saw this selection, especially with what was left on the board.
Once again, here's Adam Rotter of SNY.tv:
From the Rangers release:

Lundkvist, 17 (turns 18 years old on July 27), split this past season between Lulea in the Swedish Hockey League (SHL) and Lulea's junior team in SuperElit.
He skated in 28 SHL games with Lulea, registering two goals and three assists for five points, along with a plus-two rating.
His 28 games played were tied for the second-most among SHL defensemen younger than 18 years old in 2017-18 (Dahlin – 41). He averaged 16:00 of ice time in his 28 SHL games and posted a plus/minus rating of even or better in 22 of the 28 contests.
The 5-11, 172-pounder was selected as the Best Defenseman in SuperElit in 2017-18. In addition, he registered five assists and posted a plus-five rating in six playoff games during the season.
Lundkvist participated in the 2018 IIHF U18 World Championship, registering two assists and a plus-one rating in seven games while helping Sweden earn a bronze medal.
At the 2018 NHL Scouting Combine, Lundkvist ranked second in the Vertical Jump (26.7 inches), finished third in the Standing Long Jump (114.5 inches), and finished fourth in the No Arm Jump (20.69 inches).

Craig Button said on NBCSN, "he played in the SHL this year as a 17-year old defenseman and was very good. Excellent head, excellent hands, he knows how to get himself into the right position to take advantage of opportunities. Defensively he can beat the pressure, can shake a check, really good with the puck. More than anything, you watch a defenseman that might not be the biggest guy, he digs in, he competes and when you look at other players at a similar size or stature, yea, it's not a strength of his but he gets in there and that is what you are looking for because of the physical maturity will be able to handle it."

Bob McKenzie said, "was named the best defenseman in the Swedish junior league. He was 36 on our list, 4 of the 10 scouts that I talked to did have him as a first round pick." 

Button added, "he reminds me of Sami Vatanen" and Pierre McGurie concurred, saying "he reminds me a ton of Sami Vatanen."

Button said that Lundkvist wasn't on the radar heading into this season but that "when you are in the SHL and you do as well as he did as a 17-year old, people stand up and take notice."

TSN: 36
THN: 51
Future Considerations: 35
ISS: 56
Hockey Prospect: 16
McKeens: 37

McKeens listed Lundkvist as the 8th most skilled player in the draft.

Craig Bustton's TSN Scouting report listed him as 4/5 for hockey sense and competitiveness and 3.5/5 for skating, defensive play and puck skills.

ISS listed his skating as "excellent, his puck skills, shot, offensive play, competitiveness and hockey sense as "very good," his defensive play as "good," his physical play as "average and his size/strength as "below average."

Adam Rotter: Another defenseman and one that the Rangers can let develop in Sweden for a bit. Scouting reports indicate that he is a reliable and smart player that makes good decisions with the puck and has offensive upside. The Rangers needed more defensive prospects in the system and they accomplished that with their two picks in the 20s.
Trying to grade this draft is a futile exercise. My only true criticism was the way the Rangers drafted the Russian. They could've got him and added to the cupboard. At the end of the day, I guess Gorton was so confident in the Russian, that he didn't want to chance it.
Ranger fans, of course, are a fickle bunch. I'm no exception, but in this case, I don't go nuts about drafts. I've seen Ranger fans whine all night. Some have valid points, some are ready to jump off a cliff. Some just need to be put in their place:
The Islanders generational goalie won 4 Cups. Try again. https://t.co/Yx5kDIJvKt

— BlueCollarBlueShirts (@NYCTheMiC) June 23, 2018
The overlying frustration is that the Rangers are telling you all sorts of things. They are trying to win according to Lundswiss and Dolan. They are rebuilding according to Gorton. I think at the end of the day, Ranger fans are just upset that none of these new toys will be able to be opened come October. It's like setting up a Christmas tree on December 26th and waiting a year before you can open a present.
There's no help coming for this season, at least via the draft. Instead, the Rangers did what they thought was best for the future & we won't know anything until the 2020's come our way. Whether this was the way or not, time will tell. However, if history is your guide, you can pretty well chalk this up as a loss! (Do your research, the Rangers have never drafted an All Star forward since the inception of the draft, which started in 1963. Previously, teams got rights to players based on where they lived, hence why Montreal was a powerhouse forever.)
The Rangers, who are now embracing a font made for the young and dumb, announced their schedule for 2018-2019. There aren't as many back-to-backs as last year, but there a cluster of games all sandwiched in together. The Rangers bye week also comes later in the season, which, in theory, should be better for the team.
Of note, for the road trippers like myself, Montreal and Nashville are friendly Saturday games. Unfortunately, Vegas is a Tuesday game. Last season was perfect, as you had Vegas, followed by the bye week. I know it's the sickness in me, but I don't like to miss games. Either way, if you're doing Vegas this year, it means you're probably watching either the Arizona or Islander game in a bar in Vegas too.
The Rangers also start the season with three games in four nights, so they will be tested early. The Rangers close the season with four of their last five games against divisional opponents. The Rangers also wrap up their season series with the Islanders on January 12th, which just seems way too early to me. Speaking of the Islanders, let's talk about our rivals before heading home here.
As talked about in my last blog, it's official – Barry Trotz is the head coach of the Islanders. The Isles now have two Stanley Cup winners at the helm of the organization.
It was rumored (Don't you love this time of year, where rumors are flying like it's a high school hallway?) that Bettman asked the teams not to make any major trades during the draft, as he didn't want attention being taken away from the draft. Whether that's true or not, I don't know, but one of the Canadian reporters put that out there.
Of note, the only major trade on draft day was Philipp Grubauer and Brooks Orpik, of the Caps, going to Colorado, for a second round pick. The Islanders, in the market for a goalie, saw Grubauer taken off the board.
Oh, and for the record, Joe Sakic, GM of Colorado, said Orpik would be traded or bought out. This trade was a pure salary cap move, as Washington will be re-signing John Carlson to a rumored 8 year contract. That contract could be signed by the time you read these words.
However, the most important rumor of the day surrounded the goalie with the most wins in a single season for the Edmonton Oilers, in King Cam Talbot. Here are the twitter updates from the reporters:
Talbot currently owns a full NMC thru July 1, then he has a 10-team trade list… Told Oilers requested list last week. Chicago among teams he'd accept deal to.

— David Pagnotta (@TheFourthPeriod) June 22, 2018
Hearing the Oilers continue to entertain trade talks involving Talbot. Things may be escalating there, as clubs like Chicago in need of goalie help may be in strong play.

— David Pagnotta (@TheFourthPeriod) June 22, 2018
Cam Talbot is due just $4.1 million for the next year and has a modified No-Trade-Clause. At that price, it would definitely be worth the risk for Lamoriello to try and acquire him. Instantly becomes the #Isles number one until Soderstrom or Sorokin emerge.

— Rob Taub (@RTaub_) June 22, 2018
BUF and EDM are discussing a Cam Talbot trade. CAR and NYI have also inquired on Talbot that I am aware of.

— NHLRumorMill (@NHLrumorsOT) June 21, 2018
Maybe the Isles will tap their favorite trade partner and heist Cam Talbot?

— #StayG7ock (@AndyGlockner) June 22, 2018
Before I get myself worked up over nothing, let's make it clear – trade rumors are nuts at this time of year. It would make no sense for the Oilers to trade Talbot, but we're also talking about Peter Chiarelli here, who traded Taylor Hall for Adam Larsson, straight up.
When you look at the Islanders, they are making all the right & logical moves. They got a great GM. They got a great coach. They had a great draft. Tavares seems to be in the bag. Up next is addressing their goaltending and defense, which they can do via trades and free agency. If you're looking for a winner, Talbot is perhaps the best candidate for net, and Edmonton did ask for his ten team list before his NMC kicks in. Craig Anderson of Ottawa, who is nearer to the end of his career than others, wants out of the losing and toxic situation that is going on there. He could be an option, but he would be a short term fix.
This isn't the 80's, but when I see Ranger fans flipping out tonight over the draft, you can bet that some of it has to do with the Islanders on the upswing. For the first time since the decade of hair metal, the Islanders are in a better position than the Rangers, at least on paper. Of course, they need a building and a fanbase of more than a 100 people, but as a hockey club, they got smart men handling the decision making and some great talent on the ice.
Edmonton would be fucking nuts to trade Talbot, almost as nutty as the Ranger fans giving real-time grades to players in this draft.
For the sake of posterity, I've included this Talbot to the Islanders rumors on this blog and I hope that is the last time I ever write of this again. Fuck the Islanders!
Day 2 of the draft is today, Saturday 6/23. The NHL will wrap up the draft, as Rounds 2-7 will take place. I would expect some minor trades here. I don't see that big splash Erik Karlsson trade happening here.
After the draft, it's free agency and that is when we will know who this Rangers team will be in 2018-2019.
I'll be back once the Rangers make any major moves. If not, I'll have a book or Delorean review next week.
As always, "Let's Go Rangers!"
Sean McCaffrey
BULLSMC@aol.com
@NYCTHEMIC on twitter