What's up everyone and welcome to another blog here on BlueCollarBlueShirts.com. This is a different blog than most, as I wanted to chime in a few opinions on the Stanley Cup Final, plus talk other NHL topics. Let's roll.
On Thursday, June 7th, hockey fans witnessed history, as we all saw the Washington Capitals, led by future Hall of Famer, Alexander Ovechkin, defeat the Vegas Golden Knights, 4-1, in their best of 7 series, to win the coveted Stanley Cup. For the Capitals, it is their first Stanley Cup in their 44 year old history.
Obviously, the Washington Capitals didn't win the Stanley Cup solely because of Alex Ovechkin. It was a full team effort. There are 20 other players out there, a General Manager, coaches, scouts, trainers and other people under the team's employ. For the people not wearing the number 8 on their red sweater, they also contributed to this success & now have a memory that will last a lifetime. Everyone associated with the Capitals now have stories of a championship for future generations.
That said, for all intents and purposes, for people living in the now, and perhaps for hockey fans 25, 50 or 100 years from now, this will be known as the Ovechkin Cup. This Washington SCF victory is the series that put Ovi over the hump.
I'm sure by the time you read this, you've probably read or seen 786789678678 columns/tweets/Facebook statuses about Ovechkin. The reason for the abundance of Ovechkin love is not because he just won the Cup, but because he's a Hall of Famer off the ice as well. I've detailed in prior blogs about all the charity work and fan interaction Ovechckin is involved with, so I won't rehash all that here. The point is this – it's always good to see good people succeed, and Ovi is aces. He's a great ambassador for the sport, and now he's a Stanley Cup winning ambassador for the league and for the sport overall.
After 13 grueling seasons, with doubts lingering if Ovechkin would ever get it done (Sound familiar Ranger fans?)  Ovechkin got the proverbial monkey off his back. (I don't want to offend anyone, so I ask you, is using the word monkey okay, or will I be chastised like Roseanne Barr?)
Whenever Alex Ovechkin makes his Hockey Hall of Fame speech in Toronto, this night will be the one he looks back and recalls with the most fondness. This SCF was Ovi's redemption. For Ovi, and for Capital fans, who love their Russian hero, Ovi joins the Winner's Circle. All time great names like Dan Marino, Charles Barkley, Karl Malone, Ted Williams or even hockey players like Jarome Iginla, the Sedin Brothers, Jean Ratelle, Brad Park, Pavel Bure, and gasp, yes, even King Nothing himself, Henrik Lundqvist, are now all in Ovi's rearview mirror.
Fans of players who never won a championship, will always offer the petty excuse that "it's a team game." In most cases, while that's true, most of these all-time greats had a chance at a championship, and blew it. What Alex Ovechkin and his Capitals did, separates him from the haves and have-nots. Not only did he cement a legacy, he put himself in conversation as one of the all-time great players in NHL history. There is no longer the "but, he never won" argument. Furthermore, locally, Ovechkin perhaps became the greatest athlete in the history of Washington sports.
Before moving on, as I got a lot more to get into tonight, here are my last few blogs, in case you missed them:
---
---
---
---
---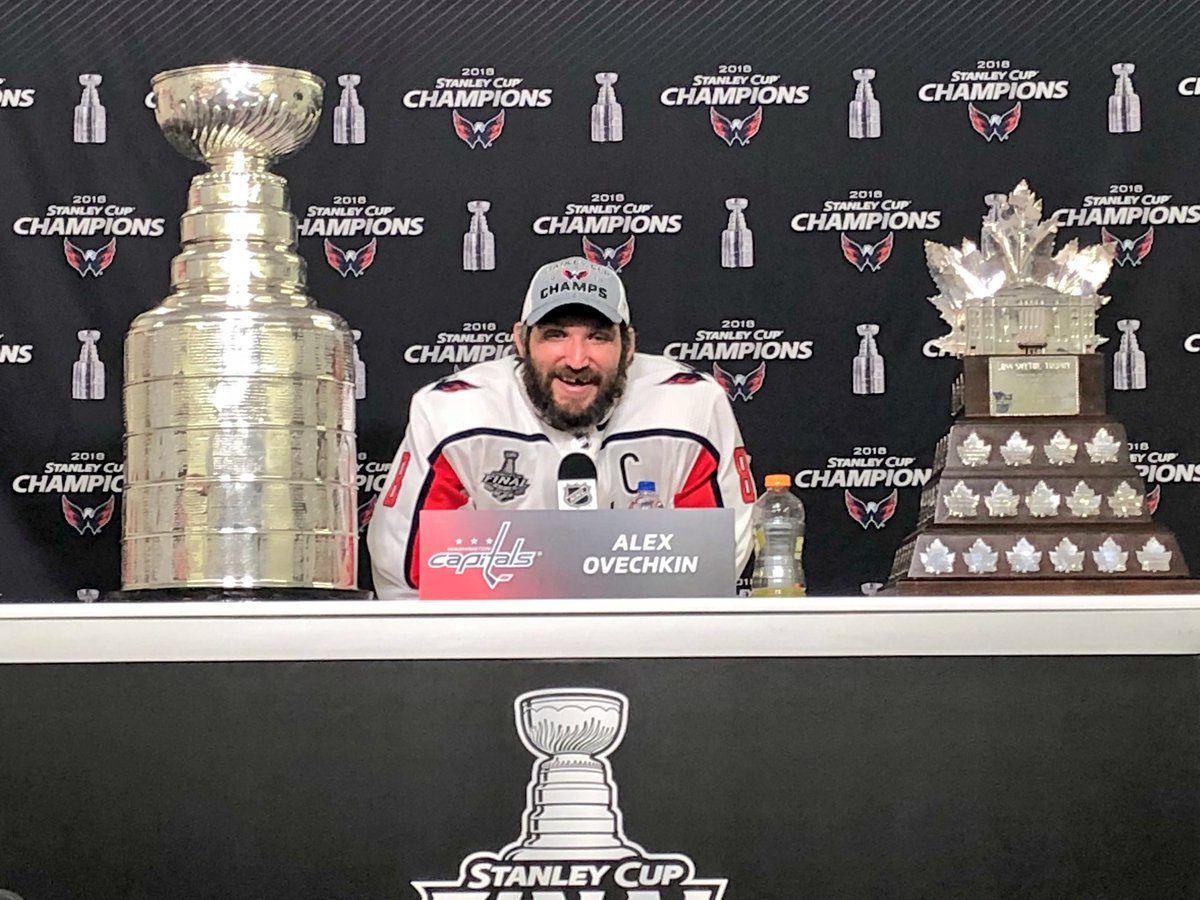 The Washington Capitals were not supposed to win the Stanley Cup this season. In fact, similar to my hometown New York Rangers, it was thought that the Caps would have a down year and would have to build again. Just like the Rangers, the Capitals went all-in two seasons in row, with last season being the do or die season. Like the 2015 New York Rangers, the Capitals failed.
The Capitals, who got the biggest name at the trade deadline last season (Acquiring Kevin Shattenkirk from STL), won another Presidents' Trophy during the 2016-2017 campaign. Despite prior Presidents' Trophy wins, the Capitals could never get out of the second round. Despite one of the strongest rosters in the league, the Capitals would bow out to the Pittsburgh Penguins for the second year in a row. For Capital fans, no matter what they saw their team do, the Capitals just couldn't get past the Rangers or the Penguins, come playoff time.
In the off-season, the Capitals accepted their fate and watched players like Marcus Johansson, Nate Schmidt, Justin Williams and Kevin Shattenkirk move on. They also watched Karl Alzner move on, to Montreal, where he signed a five-year deal and left with this parting shot – "I want to win." To replace all these key cogs (aside from Shattenkirk, who never quite fit in with the Caps) the Caps signed Devante Smith-Pelly. Who would've known that The Notorious DSP would've been a stud for the Caps in the playoffs?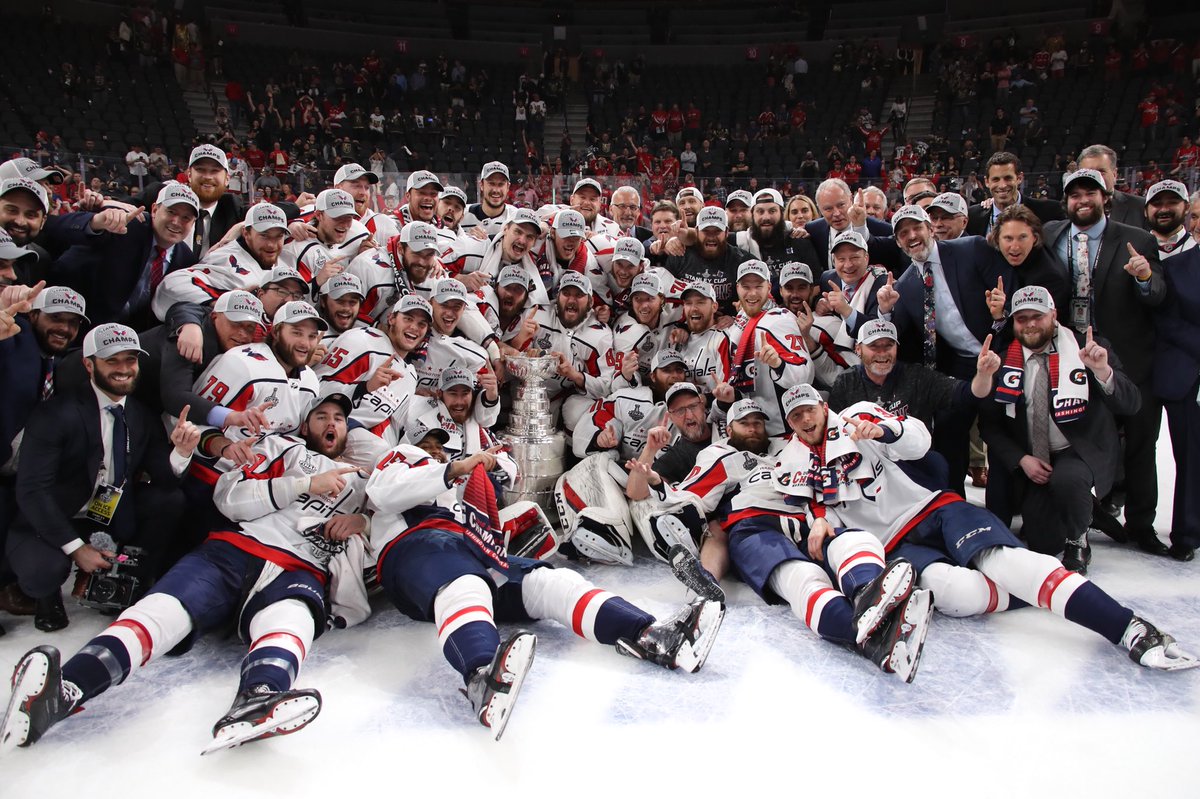 I talked about this before, the world is smaller because of technology. I can watch a live minor league game from Flin Flon on my phone. To be clear – I can watch any game, anywhere in the world, at any time. With all these tech advances, we are more aware of all the other teams and players, than fans of previous generations. We are exposed to more of the league than ever before. Instead of reading box scores, we can watch players from all over the league, on any given night.
Put it this way. Granted, I was in elementary school during the great Edmonton Oilers run of the 1980's, but imagine today's technology in that era? Gretzky would be an even bigger star. The league, despite poorly marketing itself today, did a great job of being in sync with the tech advances in the world and was the first league to get aboard with streaming out of market games.
With more channels, the advent of streaming and unlimited accessibility to out of market games, to me, this year's Stanley Cup playoffs was one of the better ones in recent memory. I felt more invested, because outside of the Jets, I watched a bulk of these teams in the regular season.
Despite it only being a 5 game Stanley Cup Final, this may have been the most exciting Stanley Cup of this century. Sure, there was the Ray Bourque Cup of 2001, but that was only one story. In this year's SCF, you had two teams, with two completely different stories.
On one side, you had the team with a 40+ year history, with the long suffering fan base, looking for their first Cup. On the other, you had an expansion team breaking every feat and record in sports history. For a fan without an allegiance, this was a win-win scenario. Both teams were easy to root for. Either team would have a happier ending than a Vegas massage parlor.
If you are looking for great drama, this year's SCF had it all. Maybe it's the pro wrestling in me, but I enjoyed all the twists and turns of the playoffs. Admittedly, I was rooting for the Tampa Bay Lightning. (A TBL Stanley Cup win meant a first round pick for the Rangers, plus many of my favorite players in the league are on that team, like McDonagh, Girardi and Callahan.) However, when the Caps knocked out TBL, while I wasn't happy about it, I wasn't hating on the Caps either. They deserved to be there as much as anyone.
When hockey historians look back at this Washington Capitals Stanley Cup victory, I hope the Pittsburgh Penguins are mentioned. I'm not trying to rain on anyone's parade here, but look at Sidney Crosby and the Penguins. For the last three years, they've played more hockey than anyone. Sid also was playing (and winning) tournaments. Also, in this era of free agency/salary caps, whoever wins a championship is punished for it.
I'm not trying to turn this into a Sid vs Ovi debate. I just wanted to throw this theory out there – if the Penguins didn't play so much hockey the last two seasons & if they weren't a victim of the salary cap, does Washington get out of the second round? It's worth talking about.
While the Vegas Golden Knights got the bulk of attention and press before the puck was dropped in the SCF, and deservingly so, the Washington Capitals were making magic themselves. In fact, looking at the Caps and the Knights, you'll have a plethora of books and media released on both these teams in the near future.
Look at the Caps. Former Vezina winner, Braden Holtby, was inconsistent. So inconsistent, that rumored lame-duck head coach, Barry Trotz, started the back-up goalie, Philipp Grubauer in round one of the playoffs. The Caps would then find themselves in an 0-2 hole, after losing the first two games of the series with Columbus, on Washington's home ice. Ovechkin made some promises, while not exactly Messieresque, he did say the Caps would come back.
In Game 3, Trotz went to his Vezina winning goalie, and Grubauer would never see the ice again. The Caps would win the next four games, ousting the Blue Jackets in 6 games.
Up next were the dreaded Penguins. After blowing Game 1, it looked like it would be the same old story for the Caps. Instead, the Capitals were able to get a 3-2 series lead, and then close the door on the Pens in 6 games. The "I always ask a Capitals fan to buy me the first drink, because they never get past the second round" joke was dead. It wouldn't be the only famous joke that would die on this run.
It felt like the Caps won their personal Stanley Cup when they beat Pittsburgh. Surely, Tampa would make short work of the Caps, as Tampa was the better & deeper team on paper. Tampa would take a 3-2 series lead over the Caps & it looked like the Caps shot at the Prince of Wales Trophy was over. Instead, the Capitals went nuts in Game 6, playing a more physical and smash mouth style of hockey. From that game on, the Capitals never looked back.
The Capitals were a new team. They found a second wind. As teams slow down and feel the aches & pains of the strenuous playoff brand of hockey, the Capitals were like Al Pacino at the end of "Scarface". Unlike Pacino, the Capitals weren't falling off any perches. Instead, they just steamrolled the competition.
Tampa Bay was shell-shocked in that Game 6, but still had a home Game 7 in their pocket. The Caps would blank the Bolts in that Game 7, 4-0, to win the ECF. It was another first-time ever accomplishment for Ovechkin.
With Vegas making history on the western side of the Mississippi River, many fans bought into Vegas and had them as the favorite. After all, Vegas had home ice advantage. Vegas won a crazy Game 1, a thrilling affair, which saw VGK best the Caps, 6-4. Vegas, who had the longer break between the Conference Finals & the Stanley Cup Final, surely was rusty. No way would Marc Andre Fleury, who was the Conn Smythe favorite going into the SCF, give up another 4 spot.
Like the Rangers of 1979, who won Game 1 of the SCF, the opponent, in this case for Vegas, the Washington Capitals, would then peel off four straight victories. Vegas has nothing to be ashamed about, but like every other Stanley Cup loser, they leave the series with the "what if?"
To me, the difference in the series were special teams and finishing. Vegas, who were strong on the powerplay going into this SCF, left too many goals on the ice. Whether it was hitting posts or missing wide open nets, the Knights were like a bad porn star, and couldn't finish.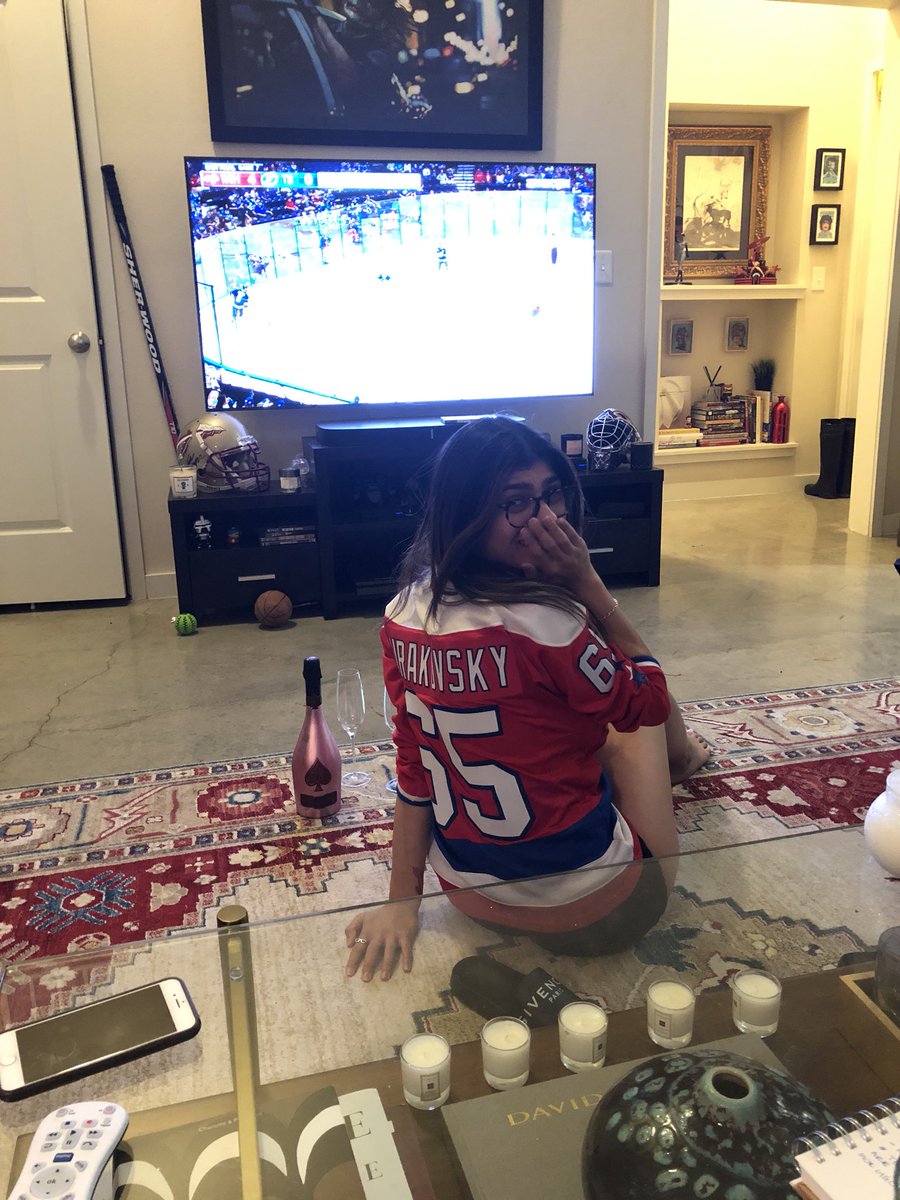 Vegas, who did get some puck luck goals in the final game of the series, just had no answer for Washington's PP throughout the series. I will never say another team wanted it more in this series, but it felt like Washington was stronger and had more energy, despite the 7896789678967896 hour Vegas pregame shows. (For the record, in case you're not familiar with my previous work, I enjoy the VGK pregame shows and like that it's something different. They should just start them earlier, so puck drop isn't 11:18PM EST!)
Trust me, I know several of you are waiting for me to unleash on the faux King, a one Henrik Lundqvist, the last lonely superstar without the Stanley Cup. Don't worry, it's coming! However, let's save the best and troll stuff for last! (It still amazes me how people get riled up because I've never been wrong on Lundqvist and it's always fun to get these kids in a tizzy.)
For the Capitals, they were in the right place and at the right time. Oh, and it's bullocks for anyone to say that the Caps beat an expansion team to win the SCF. This isn't a super-loaded Montreal Canadiens gobbling up the anemic St. Louis Blues in 1968 or 1969. I mean, just look at the Caps journey alone. The Bluejackets are a great team & the Caps made up a two game deficit to win that series. The Caps exorcised the Penguin demon. Down 3-2, the Caps won two straight to knock off the odds-on favorite to win the Stanley Cup, in the Tampa Bay Lightning. And yes, the Vegas Knights were good. The Caps were just better.
In short, for anyone to discredit the Knights as an inferior team, is speaking directly out of their hiney hole. In fact, if anyone is trying to play off the Knights as weak, because they were an expansion team, I would recommend standing back from them, before the particles of shit on their breath land on you.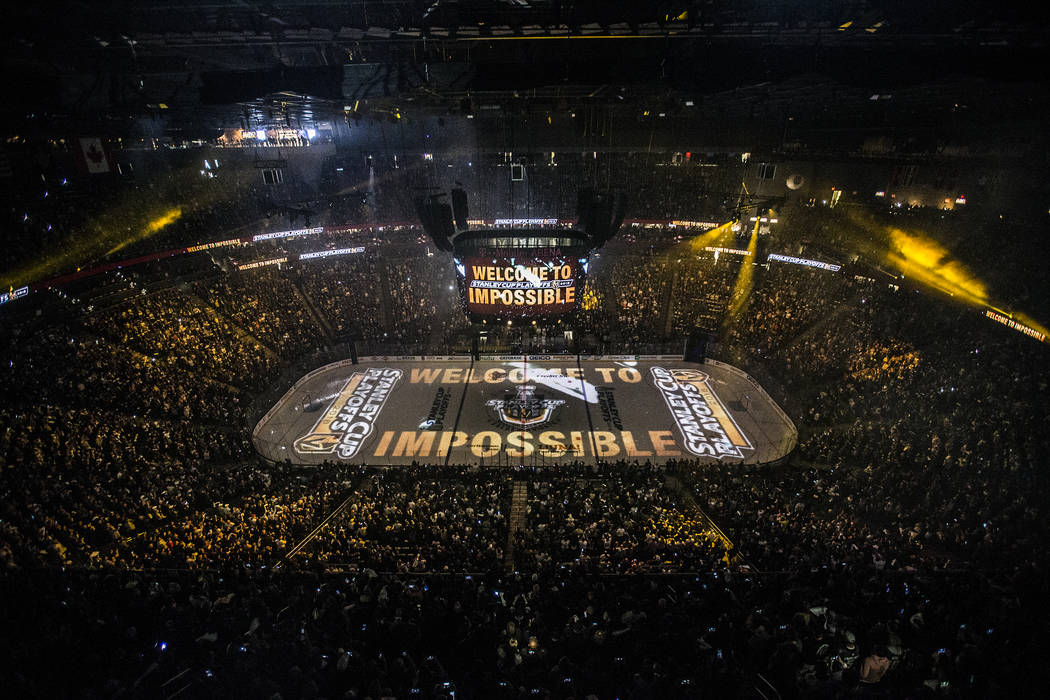 With every championship, there's also the team that came up short. This time, it was the Vegas Golden Knights. I'll spare you all the Year 1 jokes, but by now, you know all about the Knights and about their historic run.
The Vegas Golden Knights and their fans have nothing to be sorry about. Sure, it's disappointing, as they were right there. The bad feelings are natural. However, when time goes along and VGK & their fans reflect, this was a hell of a season. It's a season that other teams envy.
The only thing that alarmed me about the Knights, was the crowd tonight. People in the building remarked how 40% of the crowd was in red. If you watched the game on TV, you saw huge pockets of Capital fans in the good seats, which are also season ticket holder seats. Down 3-1, VGK fans bailed on the team.
I will never judge anyone for what money they make or what they do with their money. I saw tickets going from $4,000 to $12,000 in some of these primo seats, that were filled with Capital fans. If you're a season ticket holder, you had the opportunity to pay for the entire season by selling this ticket.
The reason I bring this up, is because despite all the good vibes and hoolpa about the team, one ornery cynicism criticism has been, "Let's see what happens when the team isn't good." In Game 5, of a SCF, many Vegas fans took the money. Then again, if you're living in the land of casinos, you gotta know when to walk away. For many VGK fans, they paid for this season (or next season's) season tickets, however you want to look at it.
Ironically enough, the VGK loss also meant that the casinos didn't have to pay out on all the 500:1 VGK to win the SCF bets, thus saving the casinos an estimated $9M, which really, is a small drop in the bucket. While VGK lost this series, the house never loses.
With the SCF complete, it's safe to say Washington was the better team. Vegas, despite a wild Game 1 win, just could never get it going in the games that followed. However, their season was still a story book one and more importantly, united a community that was overcoming a major tragedy.
Just like the 2001 Yankees, who were also playing and bringing a community together after a national tragedy, the VGK were inspiring to their fans & to Vegas residents. The fact is, like those Yankees, just because VGK came up short of the ultimate goal, it is inconsequential. The off-the-ice/real world mission was aced & VGK did their part to help build back positivity after a horrific event.
On a personal note, as mentioned previously, I met a lot of VGK fans, from Vegas, in real-life and on the twitter, based on my trip there in January. These fans, at least the ones I talk to, are a passionate bunch. They made the VGK a success. They made every other league envious of the NHL. It's up to these fans and other VGK fans, to keep it going, whether the team is good or bad, as time goes on. For a franchise that did everything and anything right, both on and off the ice, I expect that the future will remain as bright as the lights that adorn the city.
While I'm happy for Ovechkin, I was hoping that VGK could pull it off. It wasn't meant to be and instead of talking about an expansion team winning the Cup, we are talking about an all-time great getting his just due deserts. As I said above, these playoffs and the stories that were told, were better than anything you'd find at your local cinema.
In closing on Vegas, at least when they lose, they still give you a show: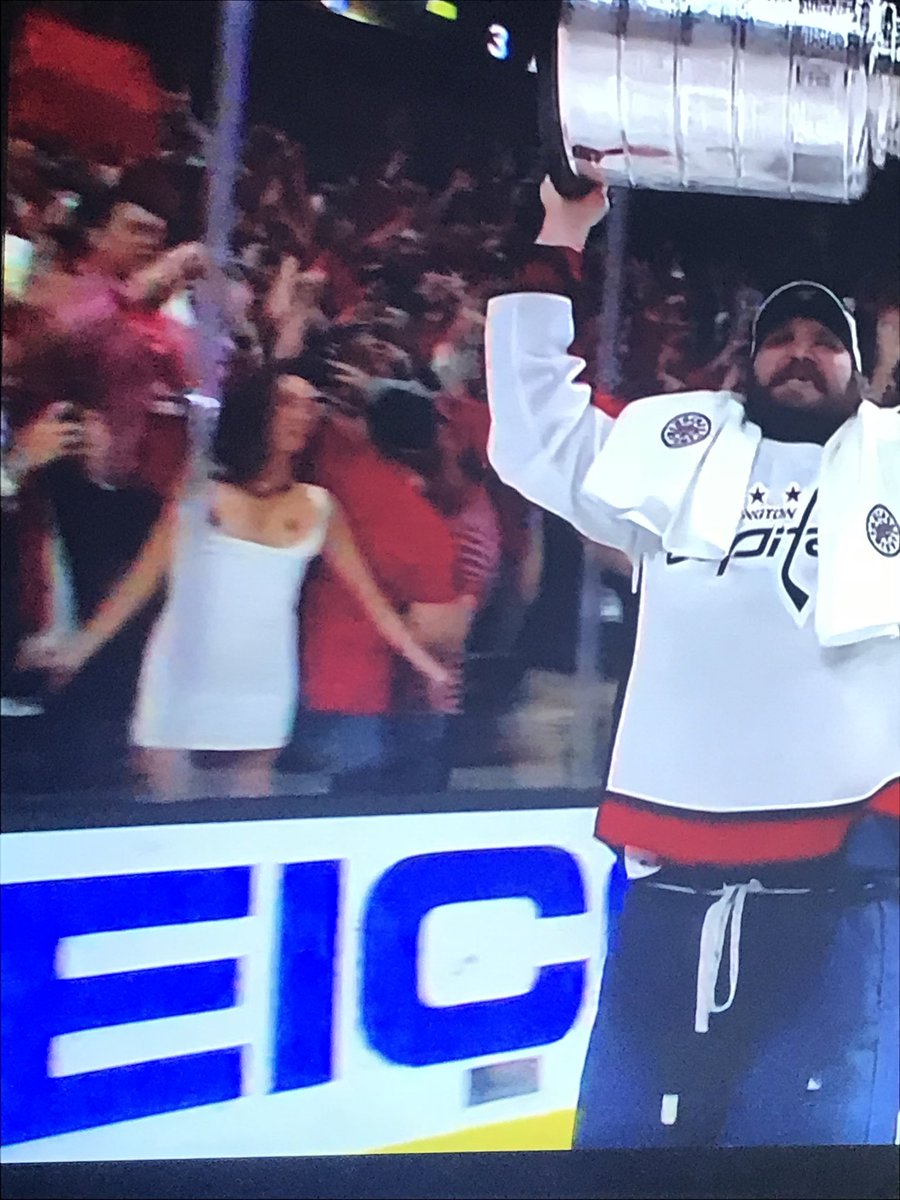 I know, I know, you're waiting for me to rip into Lundswiss, but there is still more hockey news to discuss!
Lou Lamoriello, at 75 years old, hired several weeks ago by the New York Islanders, wasted no time making his mark on the franchise. The new Team President of Hockey Operations (basically the Islanders version of Glen Sather) fired GM Garth Snow and HC Doug Weight on Tuesday.
When Lamoriello was hired two weeks ago, I wondered why he was keeping Garth Snow around. In hindsight, I suppose by waiting these two weeks, Lamoriello can offer the excuse of, "I was evaluating everyone." To me, I don't think there was a doubt between ownership and Lou – the second Lou was hired, Snow was gone. Unfortunately for Doug Weight, he's collateral damage in the latest Islander mess. I don't blame Lamoriello though – every President/GM wants their own guys. It happens in every business, not just in sports.
In a little twist, which probably means nothing, the Islanders announced that after Snow & Weight were "relieved of their positions", both would be retained by the team. I'm sure that won't be long lived, although it would be funny to see Garth Snow be the George Costanza of the bumbling Islanders.
One theory that was thrown out there, but quickly denied by the Islanders, was that the status of John Tavares was the reason for the firings. The rumor was that since Snow failed to lock up impending free agent John Tavares, Snow was a goner. Seriously, Snow should've been gone years ago and it just took a real hockey man to pull the trigger.
For the Rangers, and the rest of the Metro division, Lamoriello's firings are bad, because with Snow & Weight gone, this makes the Islanders stronger. At Lou's age, he's not a senile decrepit failure, living off of past glories, like Glen Sather has been, in his now 18 year front office position with the New York Rangers. While Lou did not bring a Cup to Toronto, he leaves Toronto better off than when he found it. Furthermore, Toronto is on the right path to success.
The Islanders, for many Ranger fans, are the most hated Rangers rival. (Older fans may consider the Flyers or the Canadiens as bigger rivals. It all depends on when you grew up.) With someone successful as Lou, this is great for the Isles, bad for NYR.
As far as who the Isles hire to coach the franchise, Lamoriello obviously has connections with the man that many felt should've been offered the NYR HC job – Sheldon Keefe. You then have the same carousel of names, with Alain Vigneault and Barry Trotz sprinkled in. In my opinion, I don't see why Trotz would leave Washington. He's well liked and now a winner. I'm sure Washington would match any money offer, especially with these good vibes. (Note, as I write this, Caps owner, Ted Leonsis says he wants Trotz back & the ball is in Trotz's court.)
In the case of AV, he still has a home in NY and knows the Metro division inside and out. He also wouldn't be saddled with the job of placating an overrated crybaby goalie. He wouldn't be as handcuffed, and if the Isles can retain Tavares, can build a team around the right position.
Other names include ex-Devils, all of whom have an association with Lamoriello, such as Scott Stevens, John MacLean and John Madden. If the Isles want to go full boar, and embrace the winning culture of the Devils from the mid 1990's-early 2000's, go for it. However, let me tell you a tale about the Rangers and letting Glen Sather trying to relive his Edmonton Oiler glory days in NY!
On the Rangers front, there isn't much to report or comment on. However, with the SCF now over, things will ramp up a bit, as we approach the NHL draft on June 22nd. I would expect some trades on that day, as it is my belief, that the Rangers will try to trade up in the draft. From there, July 1st begins the free agency period, with John Tavares, Paul Statsny and John Carlson as the main prizes. Rick Nash and Michael Grabner are also available, with Grabner more likely to return to NYR than Nash.
Quick aside – wouldn't it be something if Vegas, who have $20M+ in cap room, make an aggressive effort for Tavares?
There are plenty of veteran role players out there, but with the Rangers sending out the mixed message of wanting to rebuild (They say they want to rebuild, yet keep Lundqvist & Staal on the roster) I don't see them trying to pick up players like Thomas Vanek, Joe Thornton, Patrick Maroon or a Ryan Reaves.
On the goaltending front, with the play of Alexandar Georgiev, and with the Shestyorkin only having one more year to burn in the KHL (Rangers won't buy him out) I don't see the Rangers trying to bring back Ondrej Pavelec or going for Kari Lehtonen, Cam Ward, Jonathan Bernier or Rangers killer, Jaroslav Halak.
While you see rumors, speculations, theories and fan fiction, all over the internet, I don't think anyone truly knows what the Rangers will do, outside of Jeff Gorton.
As stated previously on this site, I'm not a fan of David Quinn. I'm rooting for him to do well, but I feel I will be saying "I told you so" at the end of his tenure. The Rangers are in a weird position, especially with the owner and the goalie talking playoffs & winning now, while the general manager keeps hammering home the word "rebuild."
Once the Rangers start making moves, we'll talk about them. Until then, as we head to home stretch here, let's talk about the biggest superstar in the NHL without a Stanley Cup, the biggest crybaby in the league, Henrik Lundqvist. (And don't get it twisted, anyone without a Rangers/Lundqvist bias, will agree that Lundqvist cries a ton more than Crosby. Plus, Crosby wins.)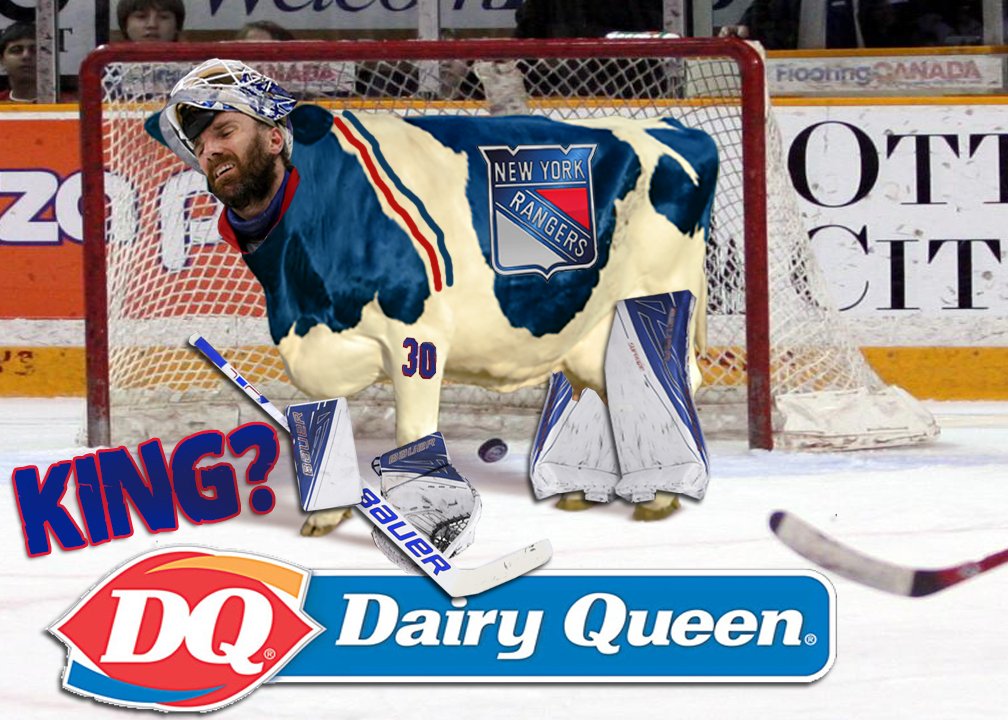 Here you go, some Lundswiss truthing time!
With Alex Ovechkin winning the Stanley Cup, Henrik Lundqvist is now the last future Hall of Famer, from his generation, currently in the league, without a Stanley Cup. Future HOFer's, like Crosby, Fleury, Ovi, Kane, Toews, Quick, Chara, Perry, Eric Staal, etc, have their names on the Cup. The only name that is nearly equivalent to Lundqvist, on the superstar scale and without a Cup, is Roberto Luongo. However, I'm sure most will agree, that Lundqvist has had the better career. Hurting Luongo was that the majority of his career was spent in small markets. Who knows what would've happened if Lundqvist and Luongo flip-flopped teams?
By now, you must've heard this joke a million times: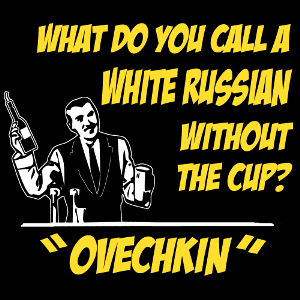 However, this joke now gets its own epitaph on a tombstone, as Ovechkin now has his Cup. In the spirit of trying to keep this joke alive, it's time to create "THE WHITE SWEDISH" mixed drink. Being an expert mixologist and resident bar fly myself, I have come up with the perfect cocktail!
Let me introduce to you, the ingredients for "THE WHITE SWEDISH":
Like everything else from Sweden, whether it be goaltenders or IKEA furniture, start off with poorly made and inferior Swedish Vodka.
Kaluha
Nail Polish
Hair Conditioner
Tears from a millennial Lundqvist fan after they say "WE DON'T DESERVE HIM" or after they say "IT'S THE DEFENSE'S FAULT!" In lieu of millennial tears, you can use the slobber of Joe Micheletti.
Rim the glass with Swiss cheese.
Garnish with an umbrella or a tampon, because only a bitch would drink a drink in honor of the failure known as King Crybaby, Henrik Lundswiss!
In all seriousness, I'm eager to find out how Lundqvist feels about his newest "accolade" in the NHL, now that Ovechkin joins the big boy table.  Lundswiss is the last one without the Cup and I'm sorry, as much as I love this team, they will never fucking win a Cup with this egomaniac.
Go check my last blog, there are only 3 goalies, in NHL history, over the age of 37 to win a Stanley Cup, and with the exception of Tim Thomas, the teams those goalies played for were loaded. Plus, there is the whole cap issue, Lundqvist's decline, Rangers having an inept owner and a senile team president, etc.
I found it very fitting, after chasing the Cup so long and having so much heartbreak along the way, that when Ovechkin gave his first interview to Pierre McGuire, after the win, the first thing he did was thank his teammates. Very telling. Just look at the Swedish loser – the first thing he does is blame his teammates after every loss and credits himself after every win. Maybe he can learn from the superior Ovechkin.
As we come to the conclusion here, it still fascinates me how Ranger fans can say they want a Cup, but go absolutely ape-shit when you suggest that trying to win a Cup with a 37 year old overpaid goaltender is not a wise move. Obviously, I'm the loudest of the "Trade Lundswiss" movement, but there were people before me, who were saying this before I did in 2015, most notably in Ricky Otazu.
If you talk to anyone in the hockey media, not based in the biased NY market, where reporters fear for their jobs & just repeat & not report, they all will tell you that building around Lundqvist is not the right move.
If you're one of these diehard Hankholes/Lundbots, ask yourself this – would you want your favorite team to build around a 37 year old goalie, who takes up 10% of the cap space? It just doesn't make sense, especially for a team supposedly championing a rebuild. Do you think Lou Lamoriello's first order of business, as Team President of NYI, is trying to find a 37 year old goalie, in his quest to build a winner?
I get the relationship and bond fans have with players. Mattingly was always my guy and I even resented Tino Martinez for taking his job. (That's not what really happened, but I felt at 13 years old, that Mattingly was forced to retire.) Later on, I was absolutely furious about Graves and Leetch. Then again, those two players won, where the Lundswiss experiment, while fun and had some highlights, ultimately failed.
It's only going to get worse for Lundswiss in NY. He should get splints on his fingers now, because with this young defense, he will be doing more finger-pointing than usual. The worst part about keeping this diva? You're wasting a year that you could be developing another goalie.
Once again, congratulations to the Washington Capitals, Alex Ovechkin and their long-suffering fan base. I envy you and wish to see the day, that as an adult, I get to see the Rangers hoist that very same Stanley Cup.
As far as this blog, once the Rangers get cracking, I'll return. I also have book reviews and Delorean blogs set for the summer, so keep an eye out for that.
As always…
LET'S GO RANGERS!
Sean McCaffrey
BULLSMC@aol.com
@NYCTHEMIC on the tweeter machine