What's up everyone and welcome to another blog here on BlueCollarBlueShirts.com. Since this is the blog that tries to give you something that you can't find anywhere else, how about a review of the Mats Zuccarello and Henrik Lundqvist "Summer Classic" Charity Game? Oh, and to be proper, this game was marketed as the "Henke & Zucca 2018 Summer Classic."
In today's blog, I'll be reviewing the "Henke & Zucca 2018 Summer Classic" charity game, talk about the current Rangers, and add some odds & ends stuff in-between. Yes, I could've done another Delorean blog or another book review (Check out those tabs on the main menu) but like many of you, I'm ready for the 2018-2019 NHL season to begin already. After all, the majority of my summer blogs have been history based. It's time to get my ass in the present day!
Granted, while I will have a deep and in-depth preview of both the Rangers, and the NHL as a whole, once we get closer to puck drop on opening night, I gotta say, right now, I'm ready for the NHL season to start. Just think about it – the Rangers haven't played since April 7th! This is the longest break in-between games since the dark days of the turn of the century.
If you're familiar with my past writings or with me in general, whether it be on social media or in person, I don't have high hopes for the Rangers in 2018-2019. I predict a loooooooong season, with more downs than ups. However, if the Rangers can start forming a new core and cross your fingers, can land Jack Hughes as the first pick in the 2019 NHL draft, then hey, maybe we got something here. Then again, this is the Rangers, so come the 2019 NHL Draft, Senile Sather, Gutless Gorton and Dumbass Dolan will probably pick a Swede over an elite American center!
While the word "spoiled" is probably the wrong word to use here, considering the lack of Stanley Cup victories for the club, Ranger fans have been "spoiled" during the Henrik Lundqvist era. And that's coming from me, the King of the Trade Lundqvist movement!
Whenever you take a deep look at the history of the Rangers, you can break up the franchise into several different eras. You have the Original Ranger Era, The 3 Cups in 14 Years Rangers, the World War II Rangers, the Post World War II Rangers, The Emile Francis Rangers, The Hockey Sock Rock/Post Trade Rangers, The Dark Days of the 80's Rangers, The 1994 Rangers, and another Dark Era of Rangers, spanning from 1998-2004.
The latest era, which if it was up to me, would've ended in 2015, is the Henrik Lundqvist era. While this was Jagr's team at the beginning of this Lundqvist era, (beginning with the 2005-2006 season) in hindsight & for historical purposes, the Lundqvist era is the span of time that covers the Rangers after the worst lockout in professional sports, to right now, here in the present day.
In other words, we are in season 14 of this era and have no Cups to show for it. To put it in perspective, in the Rangers first era, they won three Cups in 14 seasons. And yes, it's nearly impossible to compare different eras to each other.
Personal feelings for Lundqvist & his contract aside, with 13 seasons under his belt, the Rangers have only missed the playoffs twice. When you look at previous Ranger eras, the Lundqivst era has an impressive track record of making the playoffs. Sure the variables change from era to era, and I've already discussed that in-depth on previous blogs, so I won't bore you with repetition or redundancy here, but when you bottom line it, the Lundqvist era has been exciting and full of hope.
Barring the finish of the 2017-2018 season, during Lundqvist's career, the Rangers always had a crack at it. Going into the 2018-2019 season, for the first time in the Lundqvist era, playoff expectations have been erased. It's kind of a weird, surreal and serene feeling. While it's in the best interest for the Rangers to tank and try to get a player like Jack Hughes, if they somehow make the 2019 playoffs, they will be playing with house money.
When you really dig deep and get dirty, for the first time in long time, the Rangers are no longer a perennial playoff contender. The richest and most profitable team in the league has been reduced to an underdog. Whether or not that benefits the NHL as a whole, and if the stringent salary cap instituted by Bettman is a good thing or not, is a topic for another day. However, the Rangers are no longer the big, bad, super rich and super powerful team from the biggest city in the world. Instead, they are a meek franchise, who have their tails caught in the salary cap mouse trap. Parity, it's what makes the league go 'round!
Are all the aforementioned playoff runs in the Lundqvist era solely the result of Henrik Lundqvist? Of course not. After all, it's a team game. However, one can not deny that Lundqvist is the face that runs the place for the Rangers. For a large portion of his career, he's been the fountain of consistency.
On a personal note, detractors of this blog, with 99% of them being born after 1994, get upset with me because of my feelings about Henrik Lundqvist. After all, the Lundqvist Era is the only era they've ever known. I've said it a million times, but of course it always gets lost because it doesn't fit their agenda, but I do realize how great Lundqvist has been for this organization. However, it's just been time to cut bait. It's a different era in the NHL, one that puts emphasis on elite forwards, and not elite goalies.
While I have opined and championed for the Rangers to move past Lundqvist, which I started at the end of the 2014-2015 season, I just don't see the argument for keeping him as the Rangers move forward. As we know, Gorton asked him to waive his no-move clause, but Lundqvist said he wants to stay here for the rebuild. I just don't see how staying in the Lundqvist era benefits a Rangers rebuild. No matter how you may feel about Lundqvist, it would be better for the Rangers to start building up new goalies, goalies who can be ready once these new era of Rangers are ready to make a serious playoff run.
What also doesn't benefit this blog, with my anti-Lundqvist rhetoric, is that after selling my wrestling company and my other side businesses, and looking to do something with my free time, I started this blog in 2014, right after the Rangers Stanley Cup run. In other words, if this blog was around for 8-10 years, before that Cup run, there would've been 8-10 years of blogs praising Henrik Lundqvist. I still would've got a "heel" reaction from some Ranger fans, but I would've had a stronger foundation to make that heel turn!
Make no bones about it, Lundqvist is a Hall of Famer, number in the rafters and all that goo-goo ga-ga bullshit. That said, when I started this blog, I noticed where the league was, how Lundqvist was declining, how the salary cap was driving the NHL and how you can't win a Cup with a Top 5 paid goalie anymore.
I mean really – take a deep look at who has won Cups in the salary cap era. You can even go a little further back, and start after the Cup the Red Wings bought in 2002. All these teams had to suck for a while and had to build their teams through the draft. Whether it was the Penguins, the Blackhawks, the Kings or the recent Cup champs, the Washington Capitals, all these franchises had to bottom out before getting the Holy Grail.
While other teams this century were hitting rock-bottom and building themselves back up through the NHL draft, Henrik Lundqvist was the rock for the Rangers and took some crappy teams to the playoffs. It wasn't until after the Stanley Cup loss in 2014, where the Rangers really started to see some success, that the franchise went all-in and did everything they could to win.
Sure, prior to the Alain Vigneault coached Rangers, the Rangers made splashy moves & made big name free agent signings in previous years in an attempt to win. How can one forget the failures of Scott Gomez and Chris Drury? Going back to the beginning of the 2000's, how about Wade Redden and all the failed draft picks from Senile Sather?
However, the Rangers & Sather truly mortgaged their future multiple times over, starting with the Martin St. Louis/Ryan Callahan trade towards the end of the 2013/2014 season, right up until the 2017 second round playoff loss to the Ottawa Senators. You can even argue that the Rangers still thought they were in it, going into the 2017-2018 season, because they did sign the biggest free agent prize of last year's off-season, in Kevin Shattenkirk.
At the end of the day, during the seasons that Alain Vigneault was behind the bench, the Rangers traded their draft picks left and right, with the hope they could find that one veteran who could get this team over the hump. You can't say the Rangers didn't try to get that Cup. They just failed.
My thoughts about Henrik Lundqvist and his contract in the present day aside, what Lundqvist gave the Rangers was a decade of dominance, as one of the elite goaltenders in the NHL. In large part because of Henrik Lundqvist, the Rangers never had that "bottoming out" process.
The Rangers, who say they are rebuilding in the present day, started this process at the trade deadline of the 2017-2018 season. For our sake, hopefully we see light at the end of the tunnel in 2-3 seasons. (I know most rebuilds take 5+ seasons, but this is New York and I don't see the Rangers sitting idly by, especially if the Islanders are successful.)
As mentioned numerous times on this blog, I question this rebuilding process, not because I feel the Rangers shouldn't be rebuilding (I am fully aboard with the rebuild) but because of the stuff Lundqvist and Dolan have said. Currently, you have GM Jeff Gorton talking rebuild. You also have new head coach David Quinn talking about "building blocks" & crap of that sort. On the flip side, you have the bedrock of your franchise, Henrik Lundqvist and the team owner, in James Dolan, talking about the playoffs as maybe an 8th seed. That is a problem.
You can't rebuild by trying to chase the playoffs. You have to really stink. You need to build your team through the draft. Getting a bunch of #16 first round picks does this franchise no good. You need to suck for a bit, and put yourself in position to grab a number 1, number 2 or number 3 overall draft pick. You need that elite center or elite forward, something the Rangers haven't had since Jaromir Jagr & even then, the Rangers didn't allow Jagr to build a real tenure here. Seriously, for 90+ seasons, you're lucky if you can name 10 forwards, who were elite for their era.
Damn it. You know I can't resist. Here are my Top 10 Elite Forwards in Rangers History, in no particular order:
Frank Boucher
Bill Cook
Mark Messier
Rod Gilbert
Jean Ratelle
Phil Esposito
Jaromir Jagr
Andy Bathgate
Neil Colville
Bryan Hextall
Okay, so maybe there are more than 10 elite forwards in Rangers history, as I'm leaving off guys like Gretzky, Laprade, Hadfield and others, but I think you get my point. After all, outside of the limited Jagr stint on Broadway, the Rangers haven't had one elite forward, playing at the top of his game, since Mark Messier, and that was 25 years ago.
To further illustrate my point, the Rangers haven't drafted an elite forward since the days of Rod Gilbert & Jean Ratelle. And they weren't even drafted, both were given a "C" contract! (Read my past blogs for more information on "C" forms/contracts & the different eras.)
Regular readers of this blog will appreciate all these tangents. You new readers must be asking – "where's the game review?!?!?" It's coming, trust me!
Anyhoo, the point I was going for was this – because of Henrik Lundqvist, the Rangers never had that chance to bottom out and rebuild. Unfortunately, with his window of winning a Cup with the Rangers seemingly slammed shut, the Lundqvist era will one day be remembered just like the Emile Francis Era of Rangers – Lundqvist & his teams did everything but win.
The other point I was going for, when I started today's blog was this – I am fiending for the Rangers to start the season, no matter how bad they may look on paper. As we got closer to puck drop of this "Henke & Zucca Summer Classic", I was looking forward to seeing this game because this game was the closest thing to the present day Rangers. Yes, it's a charity game, but I was seeking my hockey fix! This game, while not a true competitive game on the ice, at least scratched my itch a bit!
Before jumping into the game review and giving you some info about the game itself, let me, as usual, plug my last few blogs, in case you missed them:
---
---
---
---
---
---
---
---
After much hype and promotion, the "Henke & Zucca 2018 Summer Classic" took place on Saturday, August 11th, in Oslo, Norway. From all accounts, the event was a tremendous success. Despite being an outdoor game in the middle of the summer, the ice at the Ullevaal Stadium (a soccer field) held up. The event, built to hold 23,000 fans, was reportedly close to sold out, as nearly 20,000 fans attended. Money generated from ticket sales and merchandise went to three separate charities, as revenue went to the individual charities of both Lundqvist and Zuccarello, in addition to the "Right to Play" charity.
As said on my last blog, and I'm being extremely nit-picky and self-serving here, I thought it was a shame that not more was done to try to generate donations from American fans. I thought "Henke & Zucca" could've raised more money if they sold jerseys, pucks, programs, shirts and/or other types of trinkets & nonsense.
More importantly, I thought it would've been wise if the "Summer Classic" was offered, for a small nominal fee, like $5, so North American fans could stream and watch the the game. You could've even added a Paypal donate button to the Summer Classic website. Instead, this game was exclusively catered to European fans. While it's nice to see Lundqvist and Zuccarello give back to the fans that they made their name in front of, it's in America where they made their money & became set financially for life. They shouldn't forget that.
The only place to watch this game online was from a Swedish Pay-Per-View website. They were asking for $11. The game, played at 9AM our time, was something I was looking forward to. I tried to buy the PPV, but I was told I needed a Swedish IP address and a Swedish credit card. So here I am, and I'm sure I wasn't the only Ranger or hockey fan, willing to part with $11 for this game, but I wasn't able to watch it live. Instead, I had to follow the game live via social media.
Now that the game is over, various streamers have this game up to watch for free. This is how I watched the game. You can view the game, in its entirety, by visiting: https://drive.google.com/file/d/1fMzZ2XqtpVuBPgzN0gi0o7xcCV9Bj57R/view
For the record, I don't know the legalities of watching this stream. All I know is that I'm not hosting it, so I'm okay with the law!
Again, to be clear, please don't think I'm criticizing Lundqvist and Zuccarello for putting on this game. I just thought they could've done more to cater to the fans who made them multi-millionaires. That's all. They were streaming the game in Europe anyway, and they could've made a few extra bucks putting up a stream for American fans. Case closed.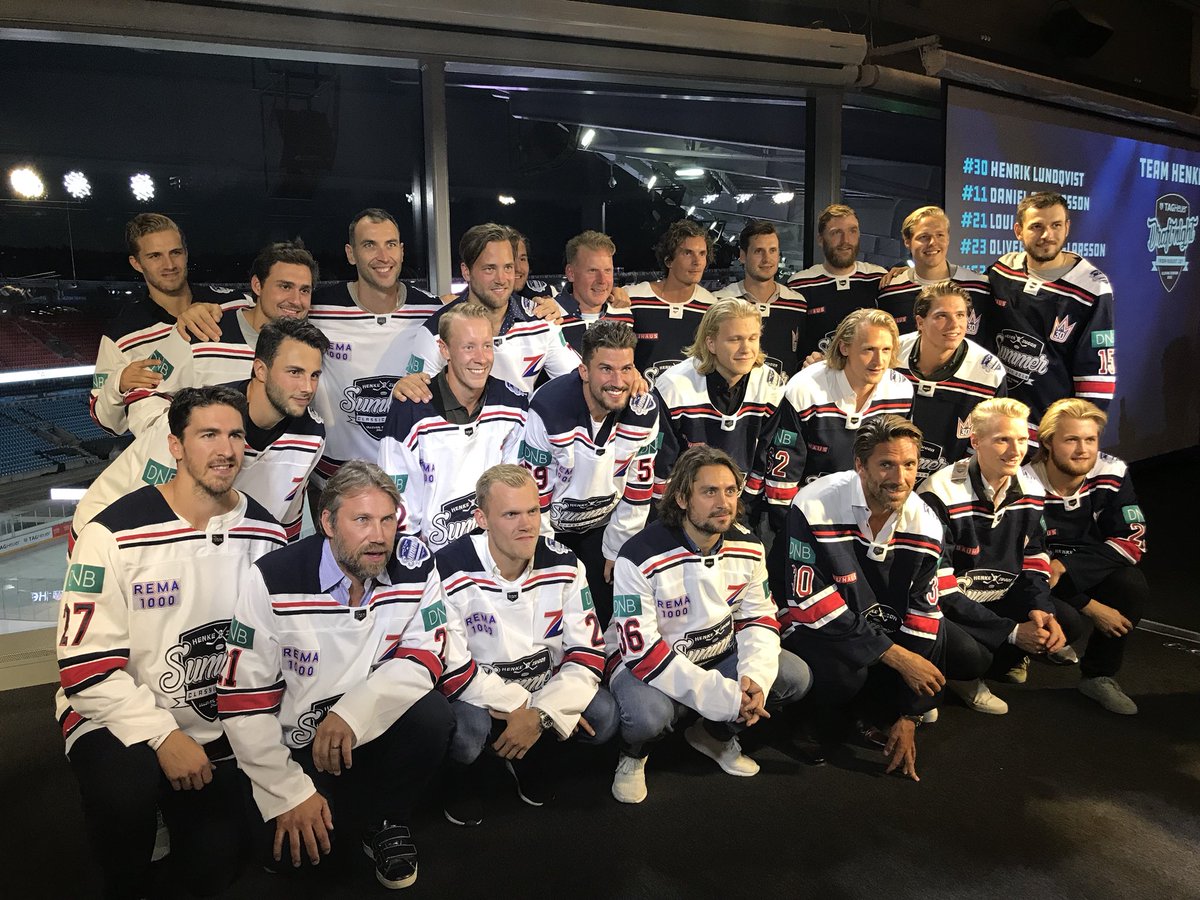 The Summer Classic was a two-day event, with a dinner the night before the game, where team captains, Mats Zuccarello and Henrik Lundqvist, held a draft to pick their respective squads. Of note, notice how the majority of the ex-Rangers were on Zuccarello's team! I told you that Ryan McDonagh ignored Hank on purpose in his thank you letter! And look, Zuccarello even wanted KING RAANTA as his goalie! The only ex-Ranger on the Lundqvist team was Carl Hagelin, and that's probably because he's Swedish.
(This is the part of the blog where you try to figure out how serious I am about that previous paragraph!)
Here were the rosters for the game:
TEAM ZUCCA:
Antti Raanta
Zdeno Chara
Ryan McDonagh
Derrick Brassard
Victor Hedman
Nikolaj Ehlers
Roman Josi
Filip Forsberg
Nino Neiderreiter
Alexander Wennberg
Peter Forsberg
Mats Zuccarello
TEAM HENKE:
Loui Eriksson
Oliver Ekman-Larsson
Carl Hagelin
Mattias Ekholm
Artem Anisimov
John Klingberg
Hampus Lindholm
William Karlsson
Kevin Fiala
William Nylander
Daniel Alfredsson
Henrik Lundqvist
As you can tell by the rosters, most of the Swedes were with Lundqvist. Also of note, how about big props to Ryan McDonagh, who I believe is not a fan of Lundqvist, playing in this game. He was the only American to make the trip to Norway for this game. The guy just signed a monster contract with Tampa, owes Zucc & Hank nothing, but came out for this charitable cause. Kudos to Captain Mac, a player I truly miss not being with the Rangers anymore.
Oh, and there were pictures of Zuccarello & Chara palling around. In a different lifetime, it would've been hilarious to see them on the same team.
As mentioned, before watching the game, I was following this game live by reading social media updates from people in attendance. At one point, it was 6-3, Team Zucca. When it was all said and done, Team Henke won, 10-7. Zucc scored four goals in the contest.
Here are some highlights that I found when the game was in progress, via twitter:
Zucc lights up Hank like every other forward in the league! https://t.co/1AJYE0GWfx

— BlueCollarBlueShirts (@NYCTheMiC) August 11, 2018
KING!!!!! https://t.co/e8qRwYfR5D

— BlueCollarBlueShirts (@NYCTheMiC) August 11, 2018
Chara isn't even trying and beats Lundswiss with ease. THE MOTHERFUCKING KING! Lmao! https://t.co/QZIFXrotlM

— BlueCollarBlueShirts (@NYCTheMiC) August 11, 2018
Zuccarello is just embarrassing Lundswiss now. Another touchdown given up by the KING! https://t.co/OEosq0mN7v

— BlueCollarBlueShirts (@NYCTheMiC) August 11, 2018
Lmao it was 6-3 a few minutes ago, I gotta see this game in full! https://t.co/ZZfjr5OAU0

— BlueCollarBlueShirts (@NYCTheMiC) August 11, 2018
Obviously, my twitter comments are of a trolling nature – after all, it's a freaking charity game! That said, I'm surprised Lundqvist wasn't blaming his defensemen and Alain Vigneault for giving up 7 goals! And yes, I'm hoping you can decipher how serious between how facetious I'm being on this blog right now!
For more video clips of the game, you can visit the Rangers Twitter and Facebook pages.
Without further ado, my thoughts on the game!
After about 8 or so minutes of introductions, and man, how big is it that Peter Forsberg played in this game, we got the ceremonial puck drop:
Oh, I must mention, the commentary is in Swedish. Hey, that's better than listening to Micheletti! Also, the game is shot a little bit differently than American games, with some camera work from inside the ice.
Obviously, this is a charity game, so guys aren't hitting each other, no penalties were being called (Although there was one penalty shot, where Henke blanked Zucca), the passing isn't crisp, there isn't any real team chemistry and all the players were going at 1/2-3/4 speed. That all said, that won't stop me from making jokes every time Hank gives up a goal in this game!
I just love how Antti Raanta played in this game, as he keeps his ties to his ex-Ranger teammates. He should be thankful that the Rangers refuse to move past the Lundqvist era. Because of that, Raanta is now making life-changing money and has a starting goalie job in the NHL. Even better, Raanta is the starter in an Arizona market where the pressure isn't as high as playing in NY. And for bonus points, Raanta has warm weather year-round and doesn't have to deal with NY traffic!
Ironically, the Rangers continue to give Raanta the cold shoulder, as they recently cropped him out of Jesper Fast's wedding photos and the official NYR twitter account omitted him during their account of this game. The Rangers treat Raanta in the same way that the WWE treats Chris Benoit – scrubbed & erased from the history books!
The first seven minutes of this game was a feeling out process, with Raanta being called on to make some saves. He had to stop some point blank shots, but wasn't challenged to any sort of extreme difficulty. Despite no score, the crowd responded well to the players on ice.
Just after the 8 minute mark, Zuccarello beat Lundqvist on a breakaway. 1-0, GOOD GUYS! Zucca, putting his team on the board in front of his hometown crowd, got a nice reaction. Of note, the clock continued to run, as there were no clock stoppages in this game.
The C MORE Hockey PPV provider, provided inset interviews with the Rangers equipment guy. Nice little in-game stuff here.
At the 12:00 mark, Team Zucca broke up a Team Henke 3 on 2. Then again, that's being generous, as Team Henke lumbered down the ice, despite the man advantage.
At the 12:30 mark, Zuccarello once again beat Lundqvist, scoring on a pedestrian backhand shot. 2-0 GOOD GUYS! I loved how, just like the MSG Network, the camera panned right to Lundqvist's sour face! Of note, the goal song, no matter who scored, was the Rangers goal song. You would hear that song 17 times during this broadcast!
At this point in the game, Lundqvist was screaming at Oliver Ekman Larsson. Okay, I'm joking!
With under 5 minutes to go, Ryan McDonagh had a chance at net, but his opportunity was broken up by a Team Henke defender. What a shame, I'm sure McDonagh would've liked to rip one past the Swedish goalie.
For most of the first period, I thought Team Zucca was more fluid than their Swedish counterpart. You think the Swedes, who have time playing international together, would've had the better chemistry to start.
Highlight save of the first period was around the 16:50 mark, when Raanta stoned Karlsson on a breakaway.
With under three minutes to go in the first period, Lundqvist was up to his usual tricks. With Zuccarello streaking on a breakaway, Lundqvist flipped his net. Was Lundqvist being a pissy diva? Maybe. However, I think he was calling back this:
What should've been 3-0, was laughed at, because Lundqvist showing poor sportsmanship is FUNNY! (Again, this is a charity game and I'm breaking balls here. It's sad that I have to point that out, as many of my detractors take every word that I say literally.)
Anyway, the Swedish bitch prevented his team from being in a 3-0 hole. You just know Lundqvist wishes he could flip the net on a regular basis with the Rangers. In fact, with the way this 2018-2019 team looks on paper, I'll be surprised if he doesn't toss the net into the fucking blueseats, like he's a regular Nick Fotiu.
I will say, while Hank was laughing and having a good time, Zucc seemed annoyed!
Worth mentioning too, Derrick Brassard won more faceoffs in this game than he did on an average night with the Rangers.
Yes, it's a charity game, but Raanta did a good job of stopping shots and breakaways in the first period.
At the end of one period, 2-0, Team ZUCCA aka the GOOD GUYS.
Whether there was an intermission show or banter between the commentators, I don't know. After the first period break, the feed I have went straight to the players coming back out for the second period.
Of note, for the first time during the broadcast, the commentators were introduced. They were Espeen Ween and Bjorn Kr. Erevik. I could pretend that I know anything about these guys, but I won't. A Google search tells me they are regular commentators in Norway. Erevik was a former player, with no NHL time.
Up to this point in the game, Team Zucca was actually fore-checking pretty well. Maybe they really wanted this win in front of the home town crowd!?
At the 3 minute mark of the second period, Team Henke, the BAD GUYS, got on the board. William Nylander was fed a pass from the back of the net and beat Raanta point blank. This goal is totally Nick Holden's fault. 2-1 GOOD GUYS.
In typical Lundqvist fashion, HE GAVE UP A GOAL 10 SECONDS AFTER NYLANDER SCORED! I'm not making this up! With traffic in front of the net, Wennberg beat Lundqvist. 3-1 GOOD GUYS!
After the Wennberg goal, the teams skated and you could feel the competition rising a bit. It just seemed the players were skating harder and were trying to limit the scoring. By now, you know the final score was 10-7, so you know how that worked out.
With under 10 minutes to go in the second period, on a 3 vs 0 breakaway, Anisimov beat Raanta. 3-2 BAD GUYS!
Gotta say, it was cool to see Alfredsson and Forsberg having fun out there.
At the 12:30 mark of the second period, Chara was fed a pass from the back of the net and ripped one past Lundqvist. Yes it was a charity game, but the shot had enough power that the Gatorade bottle went flying to the boards. 4-2 GOOD GUYS!
Too bad Team Henke couldn't pull their goalie.
At the 15:00 minute mark of the period, Anisimov had a breakaway and got his second goal of the game, putting the puck past the wickets of Raanta. Goal for the BAD GUYS. 4-3 GOOD GUYS though!
At the 16:56 mark of the second period, Derrick Brassard beat Hank at Hank's doorstep, sending Hank fishing to get the puck from the back of his net. 5-3 GOOD GUYS! The defense may have been suspect on this one!
To close the second period, Lundqvist made a big save on Zuccarello, to keep the score at 5-3.
As noted, I watched the game after knowing the final score of 10-7. With the score 5-3 at the end of two periods, I was ready for the next 9 goals and was interested in seeing how they were scored.
Zuccarello, who should've had a hat trick in the first period, finally got his third goal 90 seconds into the third period, after beating Lundqvist after a bad rebound given up by "The King". 6-3 GOOD GUYS.
Three minutes later, Klingberg got one past Raanta. 6-4, GOOD GUYS. Raanta would then stop a breakaway on the ensuing Team Henke rush. However, on a very pedestrian play, with 15 minutes remaining in the period, Anisimov got his hat trick, easily beating Raanta. 6-5, GOOD GUYS. Team Zucca was on its way of blowing a three goal lead. Holy Islanders!
With 8 minutes remaining, the game was finally tied up. Team Henke would complete their comeback, tying the score at 6 goals a piece, when Eriksson, after blatant goalie interference, scored. Charity game goal!
Team Henke would take their first lead of the game, with under 9 minutes remaining. Fiala scored a pretty goal, right in front of Raanta, to make the score 7-6, BAD GUYS. To quote the new Ranger puppy at MSG, "RUH-ROH!"
A minute later, Anisimov, treating this game like it was Game 7 of a Stanley Cup Final, scored his fourth goal of the game, to push Team Henke to 8-6. Team Zucca was having trouble getting shots off, as Team Henke took control of the game.
As the clock went past the FOXWOODS FINAL FIVE part of the game, Zuccarello beat Lundqvist, on a shot to Lundqvist's left and after an easy feed from Brassard. 8-7, BAD GUYS, and this was the last Team Zucca goal of the game.
With 2.5 minutes remaining, Carl Hagelin got in on the action, as he beat Raanta on Raanta's door step. 9-7, BAD GUYS. This was all Michael Del Zotto's fault!
Raanta was eventually pulled. I was kinda hoping that Lundqvist would take a crack at the empty net, but that wasn't meant to be. Fiala would get the empty netter, with seconds left, giving us a 10-7, Team Henke, finish. Zuccarello didn't seem particularly pleased about losing this game. Take a look:
After the game, the two teams lined up at their respective blue lines. Zucc and Hank thanked the crowd for coming out in their native languages. Here's Henke during his speech:
All in all, with my wise-ass comments aside, this was a fun game and for a good cause. It's a shame the Rangers don't try to host one of these types of games. As mentioned in prior blogs, the only real charity game that I can recently remember at MSG, was one from 2002. I was at that game, and it was a fundraiser for the Christopher Reeve foundation and featured future WWE Hall of Famer, Chris Jericho, faux fighting (Jericho is used to that) with his father, ex-Ranger, Teddy Irvine.
And before people write in, I'm aware of the FDNY vs NYPD games and the Band of Parents games, but I'm talking about a game with current big name stars. I know the Rangers do charity games all the time with their alumni, mixed in with celebrities, for the Junior Rangers, but we haven't seen one huge gala at MSG in some time. Maybe Henke and Zucca, if they are still here at this point next season, can do one of these Summer Classic's at M$G.
All in all, this was an entertaining game and it's nice to see these guys use their fame to benefit others. For all the smack talk I give "Lundswiss" on these blogs, I tip my hat to him here. He could've been vacationing in Barbados, getting his hair permed and having his anus bleached. Instead, he gave up his time and was a large reason why this "Summer Classic" was a success.
However, and with my last wise-crack of the blog, I promise, with the Rangers training dogs for autistic children, maybe they can get a seeing eye dog for Lundswiss?
Of note, as of this writing, I do not know how much money was raised for the charities. I figure with nearly 20,000 fans in the house, these players must've raised six figures, easily.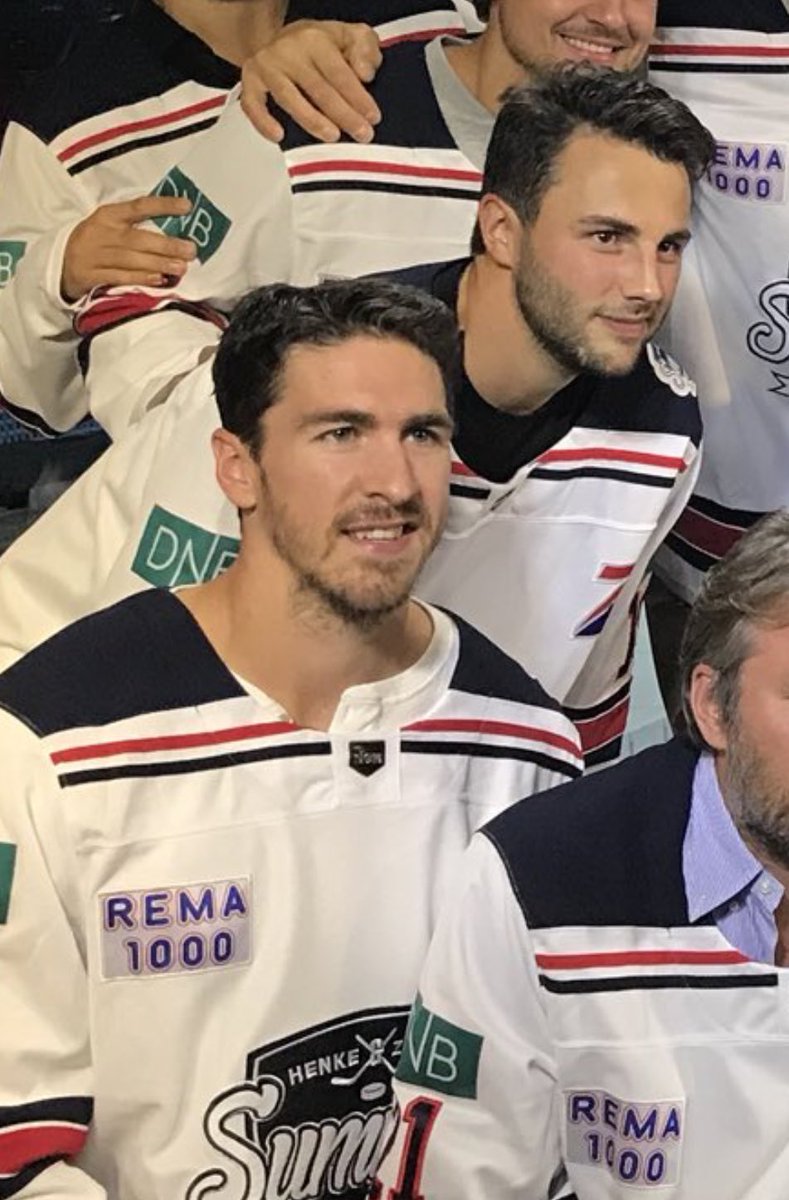 As far as this "Summer Classic", obviously, outside of the players in the game being current or ex-Rangers, this game has no bearing or gives you any indication on how the Rangers will be in 2018-2019. This game was just nice to get a hockey fix. I know the Hlinka Gretzky Cup Tournament was also going on, but really, all these international tournaments of late are the same shit – USA chokes and Canada wins the whole thing. And that's what happened in that tournament. At least Canada crushed Sweden in the gold medal game!
Moving ahead, this is probably the last Rangers related story to take place until the Traverse Tournament. As mentioned in my last blog, August is the slowest month on the NHL calendar.
Unless something major happens, I'll most likely be back next week, with a book review or a Delorean blog. With preseason pigskin taking place, we are not too far off from the Rangers preseason commencing.
As always, thanks for reading and….
"LET'S GO RANGERS!"
Sean McCaffrey
BULLSMC@aol.com
@NYCTHEMIC on twitter