Greetings and salutations and welcome to another blog here on BlueCollarBlueShirts.com. I've been indulging in Miller Lites all afternoon and into the evening, so I don't think I have 10,000 words in me tonight. However, I will give you more effort in this blog than the Rangers gave in their 4-1 loss, to the Calgary Flames, at MSG on Sunday night.
When looking at the Rangers loss to the Flames tonight, you could argue that this was the worst loss of this young season. As mentioned in prior blogs, up until this game, the Rangers have essentially played one goal games during every Lundqvist start this season. Tonight snapped that streak. (That is, if you include the loss at Buffalo as being a one goal game, as Buffalo scored an empty netter to win that game by a margin of 2 goals.)
Like the 2-1 Saturday afternoon loss, from October 13th, to the Edmonton Oilers, the Rangers laid another dud against an opponent from Alberta. However, while the Rangers did enough to lose and the Oilers did enough to win in that game, in this loss to the Flames, the Rangers decided to take the first two periods off. The Rangers mounted their biggest offensive attack in the third period, but by then, it was too little too late.
I attended tonight's game, so as mentioned in other blogs, sometimes you miss stuff live without the benefit of replays on TV. I don't know how it came across on TV, but to me, live, only Vinni Lettieri and Cody McLeod seemed to give a damn for 60 minutes. The rest of the team seemed happy to lolly-gag and just play a mind-numbing brand of hockey.
Before getting into the meat and potatoes of tonight's game, I just want to recap some of the news that took place before this game. And if you missed my last few blogs, and need a refresher, here they are:
---
---
---
---
---
---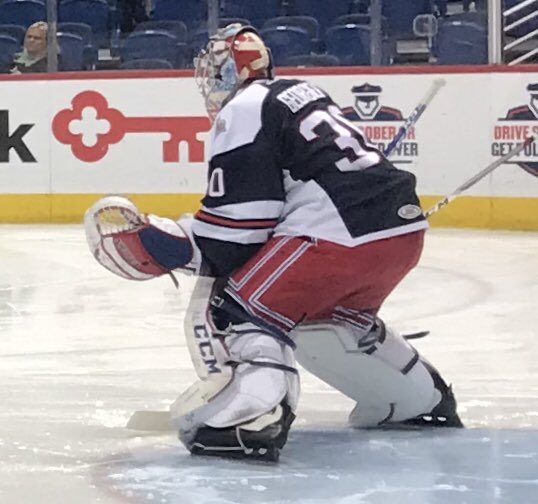 After Wednesday night's OT loss to the Washington Capitals, the Rangers sent Alexandar Georgiev to Hartford, with the goal of getting him work. Georgiev played in the last two Wolfpack games during the Wolfpack's Ontario road swing. On Friday, Georgiev made 25 saves in the Wolfpack's 4-3 win over the Belleville Senators. Then, on Saturday, Georgiev made 33 saves in the Wolfpack's 3-2 loss to the reigning & defending Calder Cup Champions, the Toronto Marlies.
To me, as I said in my last few blogs, and operating with the mind-set that this is a rebuild, I didn't understand the reasoning of playing Lundqvist in back-to-back games this past Tuesday & Wednesday, against Colorado and Washington, respectively. This is supposed to be a rebuild right? As mentioned, I would've given Georgiev the start against Colorado at home, then give Lundqvist the start in prime-time against Washington.
By playing Lundqvist so much, I think Quinn wants to go with what is best for winning.  I think that Quinn thinks that a few wins will help instill confidence and good vibes in the locker room. I don't argue that logic, but again, is this a rebuild? You have James Dolan & Henrik Lundqvist talking playoffs & then you have Jeff Gorton & David Quinn talking about a rebuild. Georgiev will only get better playing against NHL talent and outside of getting work, I don't see how putting him in front of Hartford's porous defense helps him any. Plus, with this erratic schedule, what are you going to do, start Lundqvist in 70+ games?
After the loss to Washington, Larry Brooks, of the NY Post, had the following in his column. This will be something to remember as the season goes along:
I wanted to include this quote/screen grab, just for down the line, when people say that Lundqvist doesn't have a say or any pull. Here is David Quinn telling you that Lundqvist has a say and has control of when he starts. You know already how I feel about Lundqvist being on this team that's allegedly going through a rebuild, so it's nice to see that Lundqvist can halt the progression of developing a new goalie when he sees fit. What's going to happen when Igor Shestyorkin gets here?
With KING GEORGE temporarily in Hartford, the Rangers called up Marek Mazanec, who seems like a lost cause in this organization. For those not aware, Mazanec is currently 2-2 with Hartford, with a 3.53 GAA & .859 save percentage.
Since Georgiev played back-to-back on Friday & Saturday, Mazanec stayed on the roster for Sunday's game with the Flames, just in case he was needed. The thinking was that if something was to happen to Lundqvist, the Rangers didn't want Georgiev playing in three straight games. I mean, Georgiev is only 22 years old, I'm sure he could've handled it, but at the end of the day, it's no big deal.
In other roster news, defenseman Frederik Claesson was scratched from tonight's game with an upper-body injury. That could mean anything. To me, I wonder if it was from his fight on Tuesday, during the Colorado game, as he was nursing a bloody hand.
Also scratched was Ryan Spooner, who became the latest victim of the "SCRATCH LIST OF DAVID QUINN". Time to share this image again:
With all the roster movement, here was the latest Ranger's line-up, for tonight's tilt with Calgary:
— FIRST LINE: Kreider/Zibanejad/Fast
— SECOND LINE: Chytil/Hayes/Zuccarello
— THIRD LINE: Vesey/Howden/THE INTOXICATING COMMIE, Pavel Buchnevich
— FOURTH LINE: McLeod/Namestnikov/Lettieri
— FIRST D-PAIR: Staal/Shattenkirk
— SECOND D-PAIR: Skjei/Pionk
— THIRD D-PAIR: The Returning Adam McQuaid/Brendan "Have you heard that I lost weight and trying to take this season serious this time around?" Smith
As mentioned, Lundqvist started and Mazanec got a free ticket.
With this all said, that basically catches you up with all the latest Ranger news. Before getting into the game, I just wanted to share two more things from around the league.
Newsday broke the story of the death of Charles Wang on Sunday morning. If you didn't see the article, you can view it here: https://www.newsday.com/long-island/computer-associates-charles-wang-1.22209693
While Wang is now two years removed from the mess known as the Islanders, one can not deny the impact he left on the team. Wang was a great NHL owner who truly cared about the team and his fans. For fans who try to turn everything into a RANGERS VS ISLANDERS rivalry, this isn't the time for that. I think most Ranger fans can appreciate what Wang did for the league. (However, if Dolan was to pass away, I don't know if he would get as much respect from fans as Wang did today.)
It was truly a shame that Wang was a victim of Nassau County red-tape corrupt politics, as Wang wanted to build up Long Island and give Long Islanders a venue & team to be proud of. His much talked about Islander Lighthouse project never got the political backing it needed, and with outside forces trying to shut him down, Wang's project never saw the light of day.
Between the town of Garden City (They didn't want a monorail or more public transportation in their town), Roosevelt Field Mall, and crumb bum politicians, a project that could've created a ton of jobs in Long Island, was viciously guillotined.
For Islander fans, Wang kept the team in New York after being butt effed by politicians. Wang could've easily tried to move the team, with Kansas City being the most rumored destination. (Quebec was also rumored.) Instead, Wang wanted to keep his team in New York, even if there were more dollars to be made elsewhere.
Wang, a Chinese immigrant, was the embodiment of the American dream. Coming to America at 8 years old, Wang worked hard, became the head of a multi-billion dollar computer company and helped the Islanders after their darkest times, which were the Spano/Milbury years. While the Islanders didn't have much playoff success during his tenure, one can not deny how much he cared and respected the people who bought tickets to see his hockey team, which was barely treated as an after thought, in the NY sports media.
RIP Charles Wang
In other news, rumors are swirling about Alain Vigneault. Larry Brooks, of the NY Post, speculated how AV would fit in with LA Kings. The Kings, who are one of the older teams in the league and are in "WIN-NOW" mode, are struggling out of the gate. With AV's success with older teams/veteran players, AV could be a fit there. It remains to be seen if LA would fire their current coach, in John Stevens.
To me, another team that may fire their coach in-season, would be the Edmonton Oilers. Head coach Todd McLellan, seems to have a mess on his hands. The Oilers go into every game with a game plan of "McDavid must log 3 points and Cam Talbot needs a shutout." McLellan is feeling the wrath of the Canadian sports media, as well as from Oiler fans themselves. If things don't change, would GM Peter Chiarelli, who is on borrowed time himself, make a last ditch effort and make a coaching change? You just can't keep wasting Connor McDavid in his prime.
And now, without further ado, let's get into this Rangers/Flames fiasco.
Tonight's 4-1 loss to the Flames was the most embarrassing loss of the season for the Rangers, at least in my opinion. The Rangers, who played well in their last two games, collecting three out of four points against two great teams, just laid a stinker of a game at M$G.
It's one thing to play hard and to lose to a better team, and that's fine for a team rebuilding, but it's another thing to show a complete lack of interest or motivation. With the Rangers having three days off before this game and with Calgary making a cross continent flight after playing on Friday, there was no reason for the Flames to win this game, or at least in the fashion that they did. After this shit-show, it should be interesting to see who is next on the Scratch List of David "TORTS LITE" Quinn.
Heading into this game, I thought the Rangers M$G personalities essentially jinxed the team. On his "Bleeding Blue" podcast with Dave Maloney, John Gianonne made sure to mention how the Flames haven't won at the Garden since 2008. Jinx.
The second jinx came from Steve Valiquette, who came off as a life-long Ranger fan suffering from depression, when he tweeted out the following:
#NYR Fans take a deep breath…The Calgary Flames are starting backup goaltender David Rittich. #curseofthebackup

— Stephen Valiquette (@VallysView) October 21, 2018
You should check the comments to Vally's tweet. Every Ranger fan had the same line of thinking. When Vally announced that the Flames would be starting their back-up David Rittich, I replied with: "40 save shutout." Like many Ranger fans & as Vally was alluding to, I wasn't that far off, as Rittich finished the game with a 44 save, one goal allowed, performance. Of note, the only goal he gave up was a power-play goal, so when it came to the five vs five game, Rittich pitched a shut out.
If David Rittich wound up in the AHL a month from now or never played another game in the NHL again, it wouldn't shock me. Rittich just joins a long list of young NHL back-ups, to turn into Georges Vezina, when under the bright lights of M$G.
What also is telling, when it comes to the state of the Rangers, is that you're seeing teams starting their back-up goalies against them. I wouldn't say that's a sign of disrespect, but when you have a bad team on the schedule, especially during a rough stretch of games, you find games for your back-up to play in. The Rangers are just one of these teams that opponents around the league are comfortable with starting their back-up against, during their effort to pick up two points.
Simply put, the Rangers have become "a gimmie" game for their opponents, while the Rangers don't have one "gimmie" or "trap game" on their schedule. Every game is a struggle for them.
As we move along, as usual, here is the box score from ESPN.com:
SCORING SUMMARY
17:00

Johnny Gaudreau

(4)

Assists: Sean Monahan

1
0
2nd Period
12:21

Garnet Hathaway

(1)

Assists: Mark Jankowski

2
0
14:55

Johnny Gaudreau

(5)

Assists: Mark Giordano

3
0
3rd Period
6:41

Mika Zibanejad

(3)

(Power Play)

Assists: Neal Pionk, Mats Zuccarello

3
1
18:07

Garnet Hathaway

(2)

Unassisted
PENALTY SUMMARY:
1st Period
18:16

Garnet Hathaway:

2 minutes for Holding

19:12

Chris Kreider:

2 minutes for Holding

19:12

Calgary Flames:

2 minutes for Too Many Men/Ice – Bench (served by Matthew Tkachuk)
2nd Period
15:23

Brett Howden:

2 minutes for Tripping
3rd Period
5:58

Sam Bennett:

2 minutes for Boarding

18:07

Mats Zuccarello:

2 minutes for Slashing
Personally, if there were any highlights in tonight's game, it would be my pre-game, where I drank one or twenty beers at the Molly Wee. I went to this game with my road-trip buddy and friend of 15+ years, BORGATA RAY. At the Wee, I ran into my friends, Double G, Dancin' Larry and Travis Jackson. However, Travis decided getting pizza was more important than drinking beer! (My friend from Guam knew I'd have to mention that!) Here are some pics from the bar, if you give a shit:
Popping and belting #nyr pic.twitter.com/wkbxOKJ0p8

— BlueCollarBlueShirts (@NYCTheMiC) October 21, 2018
There were two things that went through my mind on my way home from the game. The first thing was that it was nice to see everyone and I had a good time. I should've just taken the train home at 6:30PM, rather than sticking around for the game! The second thing I thought was that I was jealous of everyone who didn't attend this game and opted to sit in their underwear blowing hot farts, while scratching their balls, while watching football and hockey all day.
All jokes aside, I get discounted season tickets from a season ticket holder in section 111. His seats are right on the aisle and right by the staircase. Even better, when you get to the staircase, beer is on your left, the bathroom is on your right and the exit is straight ahead. While the seats are behind the net, I enjoy sitting there, because I can go get beer or take a piss during commercial breaks and never miss a second of action. If you're going to pay money to go to these games, I don't want to waste time standing in line for the opportunity to urinate or purchase fluid that will make urinate.
(As talked about in blogs from seasons ago, that's why I refuse to sit in the 200's/400's anymore. M$G did a terrible job with their renovation. I'm not paying good money to be squished and be part of a "Walking Dead" cosplay whenever I want to take a leak or get a beer, in the fire-code breaking rotunda of the 200's/400's. I rather stay home.)
Before the game started, the Rangers held a moment of silence for Charles Wang. Of note, they pronounced Wang the way it was spelt, rather than pronouncing his last name correctly. (You pronounce it as Wong.) The Rangers then had some guy with a trumpet do both National Anthems. That was fine for what it was, but I prefer someone belting their lungs out. Then again, after what the Rangers did on opening night, with their John Amirante tribute, how the hell is anyone going to top that?
If you're looking for any positives from tonight's game, the biggest positive is that the game is over. If you're looking for a hockey-related positive, it's that the Rangers got a ton of shots off, but far too many times, the Rangers went wide or high when they were open. Kevin Hayes, as usual, was the biggest offender, as I had to wonder if he was just trying to break the glass behind the net. Zuccarello didn't do the Rangers any favors either, when it came to this department.
During the game, I tweeted out that it looked like Lettieri & McLeod were the only players who showed up and were the best skaters the Rangers had in this game. As blog reader @WJPEACE9 accurately replied, "by itself, that is a problem." While Chris Kreider would crash the net on occasion, it wasn't often enough. Only Lettieri parked himself in front of Rittich, which flustered the Flames, as there were many post-whistle shenanigans because of Lettieri's aggressiveness.
I don't mean to beat the GIVE LETTIERI MORE TIME, PUT LETTIERI ON THE FIRST OR SECOND LINE or PUT LETTIERI ON THE PP drum as much as I do, but I wonder how Quinn watches these games, and says, "Buchnevich and Chytil both need more ice time." It was once fun to laugh at Buchnevich being benched, but now it's getting sad, as he looks like a deer in headlights at times. Chytil, who is 19 years old (Micheletti may have mentioned that 7678678967878969687687967678968768768796 times) will hopefully grow. At least he looks like he has a clue, whereas Buchnevich looks like a disinterested grumpy commie millennial.
I should've also counted how many times the Rangers just gave up on the puck in the first and second period, as they seemed content to flip the puck into the zone and play conservative, rather than showing any form of aggression. That could be a Lundqvist thing, as the Rangers are limiting and blocking more shots per game, than during the AV years.
The story of this game was the Rangers getting a ton of shots off, not many of them particularly great, and another unknown goalie having the game of his life, in David Rittich. On the other end, Lundqvist had his worst game of the season. For comparison, Rittich made 44 saves on 45 shots, while Lundqvist made 22 saves on 26 shots. What killed the Rangers more than anything, was just a lack of hustle and shooting recklessly, especially when they had direct and open looks.
With three minutes remaining in the first, JOHNNY HOCKEY, whose government name is Johnny Gaudreau, got the Flames on the board first, with this sweet spinorama:
Johnny Gaudreau with the quick hands 👀 pic.twitter.com/Fw4KauKUqK

— Sportsnet (@Sportsnet) October 22, 2018
1-0, bad guys and the score remained 1-0 after the first period.
In the second period, at the 12:21 mark, Garnet Hathaway skated past all five Rangers and beat Lundqvist to make it 2-0. How this happens is remarkable:
Skater of the Day – Garnet Hathaway: 2 Goals, +2, 1 Game-winning Goal, 2 Shots on Goal, 3 Hits, 1 Block (Free Agent) — 1st this season pic.twitter.com/19zvZpFn0f

— Awesome Balls (@FantasyNerdFix) October 22, 2018
2-0, bad guys.
Two minutes later, Johnny Hockey struck once again:
Johnny Gaudreau strikes again. He makes it 3-0. Look at that move though! 👀 pic.twitter.com/Li1p1X0BxL

— Rangers Report (@rangersreport) October 22, 2018
3-0 bad guys, and really, that was the end of the game. Should've took the early train out of Penn.
When the period came to a close, for the first time this season, the M$G crowd booed the Rangers off the ice. Efforts like this aren't going to help the Rangers season ticket sales at all.
Oh, and here's Lundqvist at 2-0:
— Fixxser (@Fixxser) October 22, 2018
I'll get more into King Crybaby at the end of this blog.
I'm assuming that in the locker room between the second and third periods, is when David Quinn really gave this team a tongue lashing. Then again, maybe it was Coach Lundqvist. In any event, the third period is when the Rangers turned it on, and would log 19 shots. They created some traffic in front of Rittich too, and would score their lone goal of the period, a Mika Zibanejad PPG. Of note, Zucc and Pionk got the assist on the goal. For Pionk, that's now four assists in two games.
The Garden woke up a bit, just as the Rangers did, when Zibanejad scored. However, Rittich, of course, was lights out, because what else would of happened?
With the clock getting under five minutes, then under four minutes, then under three minutes and with the score still 3-1, I was wondering when Quinn was going to pull Lundqvist. After all, I just saw Dallas pull Bishop with 7 minutes remaining, just the other night. However, it never happened, as with two minutes remaining, Hathaway scored once again, sending Ranger fans to the staircases:
Garnet Hathaway with an absolute snipe #Flames #CGYvsNYR pic.twitter.com/D02REGRmWt

— Sportsnet 960 (@Sportsnet960) October 22, 2018
If that wasn't bad enough, while Hathaway was sniping Lundqvist, Zuccarello got called for slashing and Brady Skjei got into a tussle:
This. Is. Great. Zucc gets hit and Brady stands up for him. Smashed his face to the ice and took him by his neck basically. Highlight of the night pic.twitter.com/iKc3Ucr7Qw

— Rangers Report (@rangersreport) October 22, 2018
While I'm sure it's happened before, there aren't many times that you see a goal being scored while there is a fight going on.
Oh and here's Lundqvist after the goal, slamming his stick over his own goal for the second time during the contest:
Temper tantrum as per usual….. https://t.co/g6Bvo7BIbx

— CK20 (@melissa710) October 22, 2018
4-1, bad guys, your final, in just a horrible game, at least from the perspective of a Rangers fan. It's one thing to lose and show effort, and then there is this.
Let me purge the Lundqvist stuff out of my system now, so I can also move on from this game.
While everyone was going rah-rah about Lundqvist and his hot start, and make no bones about it, before this game, he was playing just as good as he was during his prime, which was the 2011-2012 season, I was waiting for a game like this. It was inevitable.
As many Ranger pundits, experts and fans questioned before this season, everyone was wondering how Lundqvist would react when things started going bad. Well this was the first real bad game for Lundqvist this season. To be fair though, I don't pin this loss 100% on him, as the Rangers as a whole looked bad, but when you have a nobody on the other end making 44 saves, you can't sit and finger-point at everyone else and think you're blame-free.
This was the first Lundqvist meltdown of the season. This was the stuff we saw from last year. Shouting at his teammates. Crying like an entitled diva. Slamming his stick. Just acting like a spoiled brat.
For those of you who say, "WE DON'T DESERVE LUNDQVIST" or "I FEEL BAD FOR LUNDQVIST!", I don't get it. He knew what he was getting himself involved in, not only when he signed that ridiculous contract but when he refused to be traded during the trade deadline of last season. For better or for worse, he wants to be here. In the same vein, when the Rangers have games like these, and it's early, so there will be more to come, he can't have these breakdowns.
Every time Lundqvist starts screaming and slamming his stick, he is telling everyone in the arena that he's rattled and losing his focus. It's one thing to care, but when you're doing this every time you have a bad game, it's habit that makes everyone laugh at you.
Again, keep in mind – LUNDQVIST WANTED TO STAY. He knows what he signed up for. You can't have this curmudgeon screaming at his teammates and being a spoiled brat. This is the dark cloud shit that a young and rebuilding team doesn't need. If anything, at times like these, and there will be plenty more, Lundqvist must adopt a mantra of "this is a rebuild, this is a rebuild, this is a rebuild…"
Ron Duguay said it best in one of his interviews – "When was the last time you saw Lundqvist pat a teammate on the back?" When was the last time you saw Lundqvist be a positive influence or have anything positive to say to a teammate during a game? Lundqvist, unfortunately, the defacto leader of this team, needs to promote positivity by being positive. When he's in doom and gloom mode, that shit trickles down.
Furthermore, when you have a coach that will acquiesce to every Lundqvist demand and scratch anyone at the drop of the hat, you then have these young guys playing on eggshells. That's not going to breed confidence. For a young player, it's one thing to worry about your coach scratching you. You don't need some overpaid egomaniac shouting at you too.
It is understandable to see why Lundqvist was frustrated with this game, but the Rangers did put up 45 shots, which 44 were saved. I'm not blaming Lundqvist for every goal allowed tonight, but he is not faultless in this loss either. I mean look at this diva in his post game interview:
Henrik Lundqvist on giving up 3 identical goals in #NYR loss to Flames. pic.twitter.com/TmxVkSvhIY

— MSG Networks (@MSGNetworks) October 22, 2018
It can't be "we, we, we" after every loss and doing the blame game, while after a win, it's "I, I, I". Lundqvist's attitude, as we all know, can be extremely salty and self-serving. This is not the stuff you want to see as the season goes along. There are going to be many games like this. As much as Lundqvist and Dolan want to think about the playoffs, they are living in a fantasy world if they think this team has any shot at the Cup this year.
If Lundqvist truly wants to chase his Cup, he needs to ask to be moved at the deadline. If not, as a veteran, he needs to be more supportive of the young and learning cast around him. He signed up for this, so he can't be a little bitch every time something doesn't go his way. It's a fine line to show emotion and it's another thing to drag the team down with your poor attitude.
This is not to take away from how well Lundqvist has been playing thus far this season, but these are the character flaws that need to be nipped by Quinn, before it gets worse and takes the team down.
The Rangers will host the Panthers on Tuesday night as they finish up their mini home-stand. Of note, the Panthers are doing their northeast loop this week, as they play the Rangers & Islanders on back-to-back nights. How much you want to bet that the Panthers start their back-up goalie against the Rangers?
It's funny, I have a good friend, who is not a Rangers fan, who asks me why I bother going to these games, especially since I have been to four games this season and they haven't won once! I enjoy seeing my friends at the games and it's my hobby. I don't care if the team loses if they play hard. This game was not an example of that and this game just needs to be forgotten about.
See ya Tuesday night. As always, thanks for reading and…
"Let's Go Rangers!"
Sean McCaffrey
BULLSMC@aol.com
@NYCTHEMIC on tweeter