Greetings and salutations everyone and welcome to another blog here on BlueCollarBlueShirts.com. After a team-wide victory over the Panthers on Tuesday night, the Rangers had one of their worst periods of the season on Thursday night, enroute to a 4-1 loss to the Chicago Blackhawks. For Rangers goaltender Henrik Lundqvist, it was just another one of those games where he may go to bed thinking about his future. Lundqvist can talk about the playoffs all he wants, but games like these are just a cold slap of reality to remind him that these Rangers are not a playoff team.
The Rangers, in their first game of a four game road-trip (they will now play the three California teams, starting on Sunday) started off this game in Chicago like they were Wile E. Coyote. In the first period alone, there were three collisions between Ranger teammates. One of these collisions, as you'll see, led to a Chicago goal. Lundqvist prevented a goal on another collision. On the third collision, the Rangers went offside, while on the power play.
The Rangers would eventually settle down. Once they did, Howden found Buchenevich to tie the game. When the first period was over, it was a 1-1 game. In other words, after twenty minutes, this was anyone's game to win.
The Rangers played a decent second period, but Fortin would beat Lundqvist to give the Blackhawks a 2-1 lead. The goal was scored after a pretty play from the Hawks. Still, it was anyone's game going into the third period, as the Hawks only had a one goal lead.
In the third period, the Rangers played their worst period of hockey all season, mustering up one shot, YES AS IN THE NUMBER 1, in the entire period. Unless you are blowing someone out and not trying to run up the score, you're not going to win many games when you take only one shot in the entire period.
I talked about this in my last blog – the Rangers have been prone to these Jekyll & Hyde periods during their entire 91+ season existence. They can be world beaters in some periods and then in some periods, just look completely lost. The third period was truly an embarrassment & I feel bad for fans like Dancin' Larry, Bob Groder & other diehards, who flew out for this game.
As I've said in the off-season, the preseason and during this regular season – I'm aware this is a rebuild. I don't care if the team loses. You just want to see the team play hard and give you a full 60 minute effort. You didn't get that in the final 20 minutes of this game. While one can not deny how good the Blackhawks are (after all, they have a bunch of future HHOFers in the organization) what once looked like a winnable game, turned into something out of a "Friday the 13th" movie. The Rangers were just massacred in the third period and that was the story of this loss.
Henrik Lundqvist, now sporting a 2-5-1 record, saw another familiar game play out in front of him. Omitting the Calgary game, this was another game where Lundqvist was the best player on the Rangers, but the goals just didn't come. It has to be infuriating for him to watch the KING OF KINGS, Alexandar Georgiev, get five goals per game from the Rangers. Lundqvist couldn't even get the team to get two shots off in the third period!
I explained why I think the Rangers are scoring more goals for Georgiev, and not scoring goals during Lundqvist starts, in my last blog. In case you missed that blog, or any of my recent game recaps, here are my latest manifestos:
---
---
---
---
---
---
Before getting into the news, I gotta say, having Sam & Joe preview the game from Soldier's Field did nothing for me. What a waste of money. Money that could've been given to Ron Duguay to make this a more balanced broadcast.
Oh, and can you imagine Joe calling football games with Sam? "I THINK THE BALL ON THAT ELI MANNING INTERCEPTION WAS DEFLECTED. AND LOOK, THE GIANTS LINE WAS SCREENING ELI ON THE PLAY! OH, AND DID I MENTION, SAQUON BARKLEY IS ONLY 21 YEARS OLD AND THAT NATE SOLDER LOST 15 POUNDS IN THE OFF-SEASON?"
Let's go to the pregame news.
For the first time all season, except for the goaltender position, head coach David Quinn dressed the exact same line-up, two games in a row. For those who need a reminder, or are not aware, here is the first line-up that played in two consecutive games this season:
FIRST LINE: Zuccarello/Zibanejad/Kreider
SECOND LINE: Fast/Hayes/Chytil (Of note, with Chytil playing in his tenth game, the Rangers have now officially burned the first year of his rookie contract.)
THIRD LINE: Buchnevich/Howden/Vesey
FOURTH LINE: McLeod/Namestnikov/Spooner
1st D-Pair: Skjei/McQuaid
2nd D-Pair: Pionk/Staal
3rd D-Pair: Shattenkirk/Smith
Despite the win on Tuesday, as mentioned, Quinn switched out his goaltenders, and started Henrik Lundqvist. While I feel the Rangers play better with the abusive little league father of a goalie on the bench, I don't fault Quinn for going back to Lundqvist. While you can say the Rangers didn't lose this game because of Lundqvist, who knows, maybe the Rangers put up another 5-spot if Georgiev was in net?
I don't know how many of you guys were fans of "The Sopranos", but if I had to take a guess, based on the median age of the readership of this blog, many of you were.
When I see a hard-working player like Vinni Lettieri remain on the "Scratch List of David Quinn" and see Tony DeMAGAngelo (Credit, as always goes to @NYRKELSMADS) remain in the press box, I have to start wondering if David Quinn has a thing against the Eyetalians. When I saw that Quinn was going to keep Lettieri & DeMAGAngelo out of the line-up, I immediately thought of this scene from "The Sopranos":
While I'm obviously joking here, (and hey, how about "The Sopranos" tackling the issue of Columbus Day, way before the United Snowflakes of America started to tear down statues) seriously David Quinn – are you prejudiced against the Eyetalians or something? When I see that Lettieri & DeMAGAngelo remain on the list, all I gotta say is, "BA FUNGUL!"
With this brutal loss, and with McQuaid now injured, (McQuaid was hurt in the first period and wouldn't return to the game. No update on his status as of yet)  I would hope that the Italians will now get a chance to play, come Sunday.
If DeMAGAngelo and Lettieri don't play on Sunday, David Quinn might wake up in his sunny California hotel room with the decapitated head of Glen Sather in his bed. (And to be clear to the millennials out there, this is a Jack Woltz reference, not something I'm advocating or promoting!)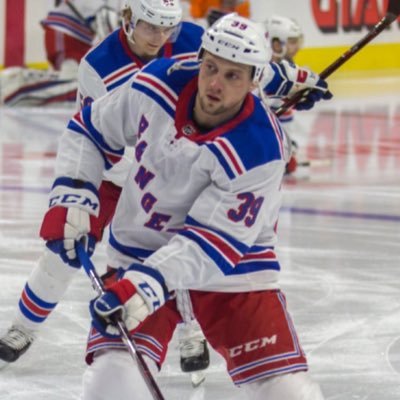 In the only real news between the win from Tuesday and the loss tonight, Matt Beleskey was waived on Wednesday and cleared waivers on Thursday. He is expected to join the Hartford Wolfpack.
When it comes to Beleskey, the only reason he's on the Rangers roster is that they needed to take his salary in the Rick Nash trade from last season. Beleskey will not be featured once this team finishes their rebuild.
I would imagine the Rangers would like to trade Beleskey, but since Beleskey has a terrible contract, the Rangers will find trading partners to be scarce. I guess the Rangers could buy Beleksey out, but that money would be better suited into buying out a Marc Staal, which is something that won't happen.
I'm going to make a Steve Valiquette sandwich in today's blog, as I'll have some stuff about him here and then say some stuff about him at the end of this blog. I'm sure a Vally chart sandwich is the wet dream of many of the basement brethren!
I've talked about the MSG Networks & their coverage all season long, so I'm not going to repeat myself. Check out the past blogs.
I want to say here, since I've been critical about the MSG Networks studio coverage of these games in prior blogs, that I thought tonight's game was the best broadcast I've seen all season. There were no charts. No fancy boy stats. While I still miss Ron Duguay from these broadcasts and when the Rangers are on the road, you don't get the Vally/Trautwig comedy hour, I thought this was Vally's finest broadcast to date.
What did I complain about in my last blog? I said there were too many hieroglyphic charts. There was none of that tonight. I said that Vally relies on stats and doesn't humanize/bring life to the game. In tonight's game, he did the opposite and sold stories, instead of promoting pie graphs & venn diagrams. I even brought up how Tuesday's broadcast didn't mention who was starting in net for the Panthers. In this broadcast, we were told Corey Crawford was back and what he's been through.
If I'm going to moan and groan when I don't like something, I want to be loud & proud when I do like something. I thought that Vally (and Pidto, the only other person in the studio) did a good job tonight. That said, I would take Duguay back in a heartbeat.
Of note, it was mentioned on the broadcast that Wednesday was Micheletti's birthday. He's 64 for those wondering, so we are probably stuck with him for at least 6 more years. Sam also mentioned that his daughter Allison had a baby the other day with her husband Mike. For some reason, the last name "Modano" was omitted. Is this supposed to be some trade secret?
Anyway, for all the razzing I give Micheletti on these blogs, and I doubt he reads them, I just want to say congratulations on your fifth grandchild and happy birthday. I hope you got that Henrik Lundqvist ultimate edition dildo that you've been pining for all year. (What, you thought I would let him off the hook?)
I guess I should get into this game now. This game was like a movie. If a movie is good, but has a bad ending, you walk out of the theater pissed off. This is what this game was like. The Rangers weren't really bad for the first forty minutes, but the ending was like the Rangers telling you that "WE SEE DEAD PEOPLE" and gave you "The Sixth Sense" ending. (And yes, some people liked that ending, but most people hated it.) In any event, unlike "The Sixth Sense", this game wasn't entertainment, it was reality and the reality is that these Rangers have a better shot at landing Jack Hughes than they do a playoff berth.
As always, here's the ESPN.com box score:
SCORING SUMMARY:
1st Period
2:55

Jonathan Toews

(6)

Assists: Corey Crawford, Duncan Keith

0
1
4:09

Pavel Buchnevich

(3)

Assists: Brett Howden, Brendan Smith

1
1
2nd Period
10:33

Alexandre Fortin

(2)

Assists: Nick Schmaltz, Brandon Manning

1
2
3rd Period
15:39

Patrick Kane

(9)

Assists: Alex DeBrincat, Artem Anisimov

1
3
18:51

Alex DeBrincat

(8)

Assists: Dominik Kahun, Henri Jokiharju

1
4
PENALTY SUMMARY:
1st Period
9:20

Brady Skjei:

2 minutes for High-sticking Jonathan Toews

14:08

Jonathan Toews:

2 minutes for Slashing Jesper Fast
2nd Period
2:33

Luke Johnson:

2 minutes for Interference Henrik Lundqvist

5:59

Chicago Blackhawks:

2 minutes for Too Many Men/Ice – Bench (served by Pavel Buchnevich)

14:11

Mika Zibanejad:

2 minutes for Tripping Artem Anisimov
3rd Period
10:28

Brady Skjei:

2 minutes for Interference Brent Seabrook

19:14

Jimmy Vesey:

5 minutes for Fighting (Major) Brandon Manning

19:14

Brandon Manning:

5 minutes for Fighting (Major) Jimmy Vesey
GOALIES:
| | | | | | | | | | | |
| --- | --- | --- | --- | --- | --- | --- | --- | --- | --- | --- |
| SA | GA | SV | SV% | ESSV | PPSV | SHSV | SOSA | SOS | TOI | PIM |
| 0 | 0 | 0 | .000 | 0 | 0 | 0 | 0 | 0 | 0:00 | 0 |
| 36 | 3 | 33 | .917 | 22 | 2 | 9 | 0 | 0 | 58:46 | 0 |
| | | | | | | | | | | |
| --- | --- | --- | --- | --- | --- | --- | --- | --- | --- | --- |
| SA | GA | SV | SV% | ESSV | PPSV | SHSV | SOSA | SOS | TOI | PIM |
| 19 | 1 | 18 | .947 | 15 | 0 | 3 | 0 | 0 | 59:45 | 0 |
| 0 | 0 | 0 | .000 | 0 | 0 | 0 | 0 | 0 | 0:00 | 0 |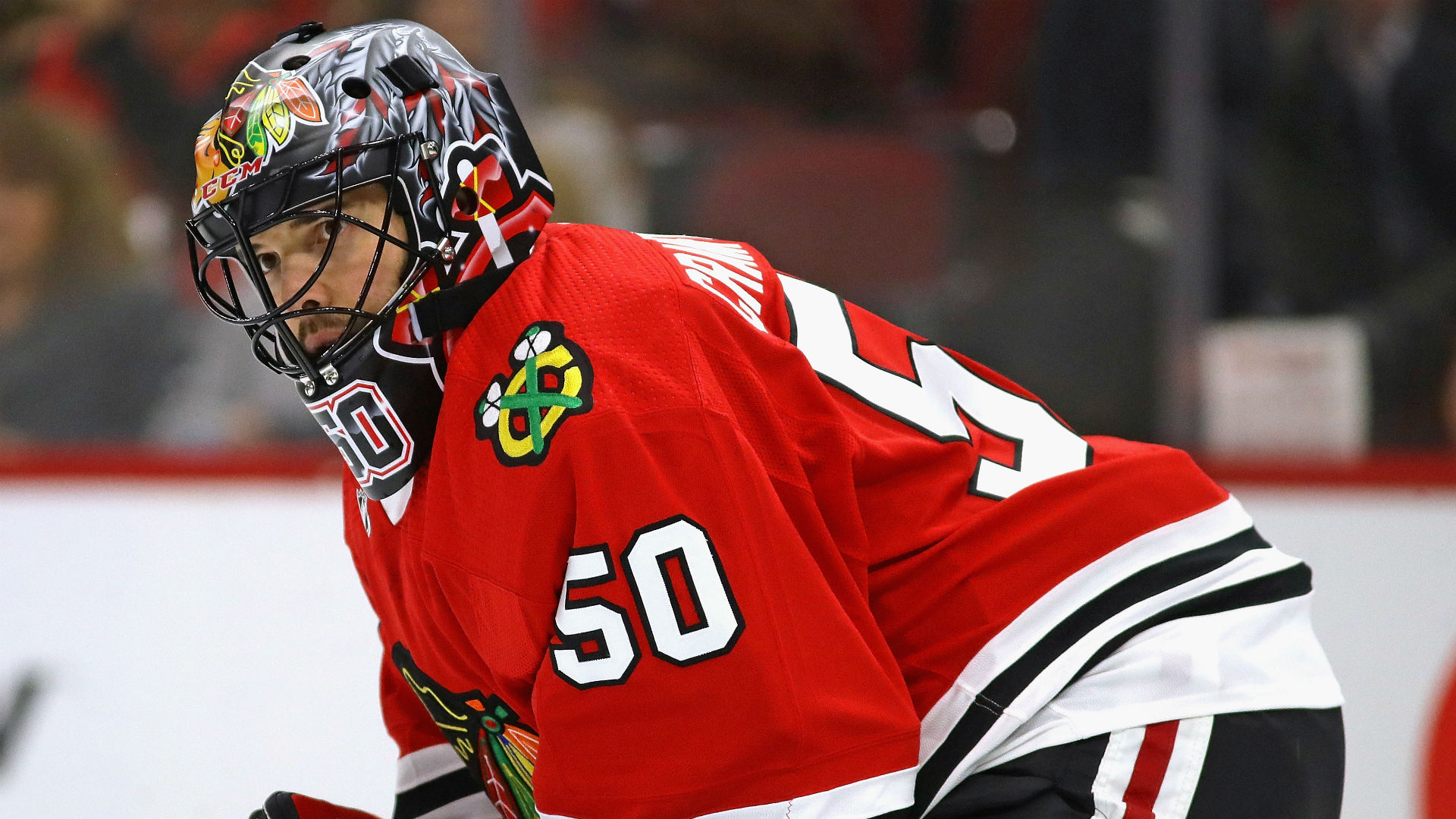 As mentioned above, the Rangers started off this game like a cross between "Looney Tunes" & "The Bad News Bears." To start the game Jesper Fast and Kevin Hayes collided with each other. Lundqvist was forced to make an odd-man rush save. Immediately after, Skjei and McQuaid tangled each other up, which led to Jonathan Toews getting the Hawks on the board early. If you put the Benny Hill music to this video, it would make all the sense in the world:
I.. uh.. OK pic.twitter.com/MAi2i3bQ7u

— Dimitri Filipovic (@DimFilipovic) October 26, 2018
1-0 bad guys.
However, in a rare occurrence, Pavel Buchnevich immediately tied the game, after a beautiful feed from Brett Howden. When you watch this video, take a real good luck at Howden. He's going for a deflection, but somehow sweeps the puck away and finds the commie open for the "Red Rocket" goal:
The #NYR kids combine to score the game-tying goal.

Watch the action now on MSG & https://t.co/9032j80fse! pic.twitter.com/VFiTauuU01

— MSG Networks (@MSGNetworks) October 26, 2018
What originally was promoted as a goalie's duel, we already had a 1-1 score, and the game was barely four minutes old. However, the game would turn into a goalie battle. Unfortunately for the Rangers, this Buchnevich shot was the first, last and sole goal of the game for them. Lundqvist, who had as strong of a game as any he's had this season, eventually was cracked.
And not to harp too much on this, since I went in-depth on this in my last blog, but the Rangers, ever since the AV era began, play better in front of their back-ups than they do Lundqvist. You can not convince me otherwise – the team is more relaxed, looser and plays with more aggression, whenever Lundqvist isn't around to scream and slam his stick.
Oh, and before you do the "the team always plays harder for the back-up because they are scared of the back-up facing shots" nonsense, this has been on-going trend for five seasons and two coaches.
Yes – Georgiev had a shit show of a game in the game with Carolina where the Rangers scored five goals. In that particular game, they also didn't play much defense either. I'm not saying Georgiev helped matters, as he was obviously awful in that game, but the Rangers went nuts with shots and goals. In the game on Tuesday, Georgiev was just much better, making 36 saves on 38 shots.
Even Valiquette himself, said before the game, how it's ok to give up more shots if you're getting better ones. Georgiev did his job on Tuesday. The Rangers were more relaxed and played an up-tempo game, which in turn, led to a solid offensive production.
With Lundqvist in net tonight, you found the Rangers constantly icing the puck. (They iced the puck 6 times in the third period alone, before I stopped keeping count.) The Rangers were constantly back. You have Kevin Shattenkirk shaking like a heroin addict in rehab, as he is too scared to charge and be aggressive with the puck. He's happy to skate backwards. Just like Shattenkirk, most of this defense would rather stay back and not get burnt, than take a chance and make a play on offense.
Even before this fiasco of a game, I said it before – David Quinn is "Torts Lite" and you're seeing more of an emphasis on shot blocking and limiting shots when Lundqvist is in net. This third period, an anomoly from what the team has been doing all season, was somewhat an example of that. Rather than try to make a two line pass, the Rangers were happy to ice the puck. Rather than try to skate the puck into the zone, the Rangers were happy to chip and chase.
In no way am I blaming this loss on Lundqvist, but without him, I think the team is much better offensively because there is no pressure. I feel the team has a more of a "we're in this together" mentality whenever he's on the bench. When Lundqvist is on the ice, the Rangers have the "Oh shit, Daddy is home" mentality.
Both teams would get multiple power-plays in the game, with Chicago finishing 0-4 and the Rangers finishing 0-2. I thought Chicago had only one good power-play, which Lundqvist was able to thwart off by himself. On the other three Blackhawk PP's, I thought Scott Arniel was behind the Blackhawk's bench – it was that bad. Seriously, with the talent the Hawks have, you think they would have a PP that would rival the Capitals. Instead, it looked woefully dreadful, at least in this game.
On the first Rangers PP, which occurred a few minutes after the intoxicating goal from Buchnevich, they had another collision, this time between Zuccarello & Zibanejad. That put the Rangers offside. Not that the Rangers would've scored on the chance, but little things like this are remembered when the team loses.
Both teams played hard in the first period. Of note, and what will probably be lost because of the final score, Neal Pionk played a hell of a first period. I thought both Pionk and Crawford were the best players of the period. You can see Pionk growing defensively in every game.
1-1 after twenty.
Towards the end of the first period, Adam McQuaid was involved in a collision, but unlike the other collisions in this game, it wasn't with a teammate. As a result, McQuaid was ruled out for the rest of the game with a lower-body injury. If he's gone for a period of time like Frederik Claesson (Claesson is rumored to be out 2-3 weeks) I would assume Tony DeMAGAngelo will return to the line-up.
If McQuaid is to miss time, I would assume the Rangers would call-up a defenseman to sit in the press box for the California trip. I talked to my go-to source for Hartford Wolfpack news, my buddy on twitter, who is appropriately named @WHALEPACK, and he said that he thinks John Gilmour and Libor Hajek are the two best defensemen in Hartford. I guess you could also make a case for Ryan Lindgren as well. I have not seen a lick of the Wolfpack this season, so I'm not leaning in either direction. I guess we'll find out tomorrow.
Of note, with McQuaid hurt, the Rangers only had five defensemen for the last forty minutes of this game. Neal Pionk would go on to log 28+ minutes of action. What a champ.
The second period started off with a bang, as Luke Johnson of the Hawks skated into Lundqvist. There were a few incidents with Lundqvist tonight, where the Hawks were all up his ass like a wedgie, but the Rangers didn't seem to mind. I bet they would've fought or cleared the net if the KING OF KINGS, Alexandar Georgiev was in net. Seriously though, Lundqvist had people whacking him with sticks and skating into him and the Rangers peacefully watched. I'll tell you what for real – if Vinni Lettieri was playing, he would've sent these Indians off the reservation.
The Rangers didn't do much on the PP. They would then take what seems to be their 7689678967896789678967896th too many men on the ice penalty of the season. On the PK, Kevin Hayes did a great job of killing time and establishing control of the puck. He then passed the puck to Marc Staal, who then just dumped the puck into the zone, giving the Hawks a free turnover. If I was Hayes, after breaking my hole like that, I would want to slap Marc Staal right across his fucking face for disrespecting the hard work.
It was funny, during the game, I think it was Rosen, he talked about how that empty net goal on Tuesday would get Hayes going. Is Rosen on the fucking pot? That was the worst empty net goal of all time and I still contest that Hayes didn't even touch the puck with his stick. Hayes had his normal game offensively, where 99% of his shots left marks on the boards and the glass.
At the half-way mark of the period, Alexandre Fortin took a beautiful pass from Nick Schmaltz and beat Lundqvist:
LW Alexandre Fortin (UDFA) scores his second goal of the season off a nice feed from Nick Schmaltz to give Chicago a 2-1 lead over the Rangers. Kid's been very active in all seven games.

Brendan Smith has to take a penalty there WTF?#CalderWatch pic.twitter.com/DmvXjLbFBt

— Steve Kournianos (@TheDraftAnalyst) October 26, 2018
The Hawks system is just incredible. 2-1, bad guys.
The teams would then finish the period with the score remaining at 2-1, but the Hawks took a shot on goal advantage into the third.
On the Fortin goal, Vally said this was new school stuff, essentially saying that when it comes to Lundqvist, you can't teach an old dog new tricks. Vally, as a goaltender, said that goalies from his "generation" (Damn Vally isn't that old) would expect Schmaltz to just shoot it, rather than passing it. Has Vally watched Zuccarello the last few years? And really, for anyone who plays the EA Sports "NHL" franchise, this is a goal you see in every HUT game!
That said, I liked Vally using his playing days to illustrate a point and to tell a story, rather than throwing up some chart. While I'm being funny here, I did understand what he meant. The goalie, in this case Lundqvist, as part of an older guard, is expecting a shot. In this new era, teams are more apt to make the extra pass. However, if you can't get with the times, you're gonna get burnt and this wound up being the game winning goal.
To quote Mike Francesa, the third period was an "UDDAH DISASTAH!"
For some reason, as mentioned in past blogs, neither NHL.com, the Rangers or ESPN carry the period-by-period stats anymore. However, I do know the Rangers only had one shot on goal in the period. I believe the Blackhawks had 15. I could be off by one or two shots, in either direction.
When you're going into the third period down a goal, you're not going to win when you give up 15 shots and you only take one. And while the Rangers hit the post three times in this game, the Hawks also found the post twice. Still, that's no excuse for this pathetic period.
The Rangers were outclassed in the third period, leaving Henrik Lundqvist to shoulder the load. While other fans might feel bad for him, I don't – he knows what he signed up for, refused to waive his NMC when offered the chance and lives in a fantasy world where this team is making the playoffs. I understand that as players, these guys don't care about a rebuild. However, Lundqvist knows the deal, was told what was happening, yet instead of chasing a Cup on a competitive team, he would rather remain coddled where he feels comfortable. Sure, he may not want to uproot his family, but at the same time, there is no other organization that would put up with the regular hissy fits.
The Rangers were just a mess. They routinely iced the puck in the period. Brady Skjei was taking offensive zone penalties, stuff that hasn't been seen since the days of Benoit Pouliot. Hank was getting mauled and no one seemed to care.
After having one goal review of a play that was deemed unreviewable (only in the NHL), Patrick Kane, who Lundqvist previously stopped on four great chances, with one of the saves being highlight reel stuff, was finally beat to give the Hawks a 3-1 lead, at the 15:39 mark of the third period. Here's Kane, who wouldn't take NO for an answer:
PATRICK KANE WHIPS HOME A BEAUTY!#Blackhawks pic.twitter.com/pP5QPCZH3d

— NHL Daily 365 (@NHLDaily365) October 26, 2018
While the Rangers looked like shit, Lundqvist told everyone in the arena that the game was over, despite there being over four minutes left on the clock:
@NYCTheMiC pic.twitter.com/tyPJS5Wt50

— Fixxser (@Fixxser) October 26, 2018
If you don't operate with the theory that this team plays better when Lundqvist is on the bench, then obviously, Lundqvist held the Rangers in this game. However, here's another Rangers loss and here's Lundqvist crying and slamming his stick again. I'll get to this in the next segment of this blog.
With Lundqvist checked out, Alex DeBrincat added the empty netter. 4-1 Blackhawks, your final from Chicago.
I will say, as one of the more vocal fans of wanting Lundqvist off this team, this is getting tough to watch. He's dialed the clock back, but now he's playing with a team that is worse than the teams he played with during the days of Tom Renney & John Tortorella.
When it comes to Steve Valiquette, I'll save you my normal spiel and just say that I like him, respect his work, he's good at what he brings to the table and blah blah blah.
However, when Vally talks about Lundqvist, Vally can never talk about the guy objectively. He will always defend Lundqvist to a fault.
Who remembers the game where Lundqvist was getting abused, giving up 5 or 6 soft goals, from two seasons ago, and the MSG crowd booed Lundqvist and gave him Bronx cheers for making easy saves? Between periods, Vally called out Ranger fans for having the audacity to voice their opinion. What I don't think Vally considered, and as I said at the time, is that with these high prices, most people can't afford to go to these games regularly. If you're the family of four, these games, between the travel, tickets and concessions, can easily run you over $1000. So if you go to one game a season, and you saw that, who is Vally (or anyone else for that matter) to tell a fan how to voice their opinion?
With Lundqvist having another meltdown and hissy fit in this game, Valiquette said this on the post game:
@NYCTheMiC pic.twitter.com/TpSnlgi4hQ

— Fixxser (@Fixxser) October 26, 2018
Of course, since I make my opinions public, for better or for worse, about Lundqvist's temper tantrums, I got a bunch of tweets, DM's and Facebook tags about this. Was Vally talking about my reaction? I really don't know, but hey, if he was, in this crappy season, this gives me something to talk about. After all, this season is a slow grind to the draft anyway, so let me have my fun with this. Let's also hope that we can all laugh about this, years down the line, when the Rangers are having their Cup parade.
First off, let me state this – I totally get where Vally is coming from. Lundqvist is his former teammate and current friend. We've all worked with people in our jobs, that maybe our other co-workers don't or didn't like. However, we defend these people, our co-workers and friends, to the death, no matter what the circumstances are/were.
I mean personally, I work for a union, and even if I don't like someone, I will defend my union brother if someone else is trashing them. So yes, I get where Vally is coming from and where his head is at. That said, people aren't paying thousands of dollars and investing three hours of their night to see me and my co-workers go to work.
Let's run down all the stuff Vally was missing from his statement, shall we? And please, for you idiots who can't tell when I'm tongue-in-cheek, remember this is a crappy season and I'm trying to make these blogs entertaining when the team is not!
— Vally says Lundqvist isn't a choir boy. That's pretty funny considering the MSG Networks only wants choir boys working for them. #BRINGBACKDOOGIE
— We already know Lundqvist isn't a choir boy. When a choir boy gets molested by a priest, they don't say anything until they grow up. Lundqvist wastes no time and gets his priest/coach fired. #WEMISSYOUTORTS #BRINGBACKAV
— Vally talks about Ranger fans missing Lundqvist one day. We can't miss him if he doesn't leave. It still sickens me that Lundqvist will get a banner in the rafters ceremony, of an epic proportion, while Frank Boucher, Lester Patrick and the Cook's are remain ignored.
— Furthermore, is Valiquette acquainted with the careers of Cam Talbot & Antti Raanta? In the Rangers two best years of the Lundqvist Era/Error of Terror, Talbot was a member of the Cup run. He was also one of the main reasons that the Rangers had their best season, statistically, in 2014-2015, when Lundqvist was injured and missed 30% of the season.
— During Raanta's short tenure, he significantly outplayed Lundqvist in the 2016-2017 season.
— Vally should know this more than anyone – THE RANGERS HAVE BENOIT ALLAIRE! The same Benoit Allaire that saw two of his back-ups go on to become starters in the NHL.
— Cam Talbot, who admittedly had a bad season last year, set Oiler records two seasons ago (No easy feat, considering the teams in their history) and was fourth in the Vezina voting in 2016-2017. Currently, on a team with no defense, he has twice as many wins as Lundqvist.
— Raanta, who is on a team that is just god awful, would've been a Vezina candiate last season if it weren't for injury, and has been lights out since leaving the Rangers. So yes Vally, Ranger fans are willing to move on & other goalies have performed better.
— Lundqvist has not been in the Vezina running since Torts left. This all during a time when he was the highest paid goalie in the league.
— Vally has no problem talking player contracts, (He even talked about the money Kane & Toews made tonight) but it's taboo and horrific if one mentions Lundqvist's contract and how NOT ONE TOP FIVE PAID GOALIE SINCE THE LOCKOUT has won a Stanley Cup.
— The Rangers have a stud in CZAR IGOR who just posts video game numbers game in and game out. IGOR + ALLAIRE = Sign me up.
— When you're a WINNER, you get some leeway. Patrick Roy had a temper, but the guy won four Cups and is arguably the greatest goalie to ever play the game. Paul O'Neill was known to smash anything he could get his hands on, but he was also a WINNER on numerous occasions.
— Lundqvist is on a rebuilding team. How are you promoting positive vibes when you're crying like a bitch every game?
— It's one thing to smash your stick once in a while, BUT THIS IS GOING ON SEEMINGLY IN EVERY LOSS! How about trying to take the perspective of a young skater on the team, that has to see this baby throw his rattle over the crib every game? This is where the MSG Networks misses Ron Duguay, because you're only getting the opinion of Hank's friend.
— When was the last time Lundqvist positively supported a teammate, called out the great work of a teammate by name, patted a player on the ass, etc? Never?
— Name me one example of when Lundqvist acted like a spoiled brat and the team fed off of it? Even when Paul O'Neill was having his fits of rage, the Yankees would feed off it. The Rangers just give up. HOW DOES HANK ACTING LIKE A DIVA POSITIVELY AFFECT THIS TEAM?
— The Rangers are REBUILDING! Hank signed up for this. He's supposed to be a leader, not having 2008 Brittney Spears meltdowns every game. Maybe he should shave his fucking head!
In closing on this, I'm saving this video clip so I can send it to Valiquette when CZAR IGOR & NYR win the Cup. I shall have my vindication. Now I know how Galileo felt!
But besides all that, I still like Vally anyway. Don't know if the feeling is mutual though!
---
The Rangers now head to California, and if you think the playoffs are possible, you're "California Dreamin'" too!
The Rangers have a rare 3:30 PM start time on Sunday with the Kings. If Lundqvist plays and the Rangers can get a two goal lead, maybe he can hold it this time!
After the Kings, the Rangers have two late games, on Tuesday & Thursday respectively, with the Sharks and the Ducks.
As far as the goaltending situation, I feel that Quinn is just going to run Lundqvist into the ground. I would give Georgiev the start on Sunday. I would also add the Eyetalians back into the line-up, scratching Ryan Spooner for Lettieri & adding DeMAGAngelo for McQuaid.
If Georgiev plays well on Sunday and the Rangers put five goals past Quick and the Kings, I would roll out KING GEORGE on Tuesday. If it's another game like this, then I have no problem with my original idea, which is to alternate starts between the two. Keep in mind – this is a rebuild, we need to see what Georgiev has, especially with CZAR IGOR on his way here next season.
#blueshirtundergroundradio is live tonight at 7 pm! Join us for some #nyr talk on #blogtalkradio https://t.co/emTPJBG54N

— Jim Schmiedeberg (@BSURadioJim) October 24, 2018
And finally, as we close another manifesto here, check out the above tweet and click the link for the Blue Shirt Underground Radio radio program. (I just said that in a Chris Russo voice to myself.) If you haven't listened already, you can thank me later for making you aware of the greatness that is Rum Greschner.
The Rangers return Sunday and I'll be back then. My work schedule is all over the place and severely erratic right now, which is what happens in construction. I may live tweet the games as usual, but skip blogs on Tuesday and Thursday. If I'm working nights, I can do this silly blog in the AM. We'll see.
Until then, see you Sunday, my Giants suck, the Rangers are rebuilding and I hope you were entertained with today's rantings and ravings. These blogs are meant to be light-hearted, and in a season like this, I hope to make you chuckle & slap your knee.
When you see a game like this, and there will probably be plenty more of these this season, especially when the Rangers start stripping this team for future parts, like Americans of another generation once said – "Remember the Alamo." In the case of the Rangers, "Remember the word Rebuild!" Let's hope that down the line, this is a season we'll look back at with fondness and appreciation.
If you find yourself taking these games too seriously, I must share this tweet that Dancin' Larry sent out tonight, which really puts everything all into perspective:
Remember folks it's just a game!!!! There are more IMPORTANT things in LIFE!!!!! I had the honor of meeting a 98 year old World War 2 army veteran tonight after the game!!!!! #usa #army #chicago #unitedcenter #nyrangers #chicagoblackhawks #hockey #nhl #lifeisgood pic.twitter.com/Cn6FLNGOVm

— Dancin Larry (@TheDancinLarry) October 26, 2018
As always…
"Let's Go Rangers!"
Sean McCaffrey
BULLSMC@aol.com
@NYCTHEMIC on twitter