Greetings and salutations everyone and welcome to another blog here on BlueCollarBlueShirts.com. After having one of their worst games of the season on Thursday night, where the Rangers dropped a 4-1 decision to the Chicago Blackhawks, the Rangers flew out to the west coast to start their annual California road trip. On the trip, the Rangers will play all three California teams, in the Kings, the Sharks and the Ducks.
While the California trip is one of the tougher road trips of the season, the Rangers fortunately drew the worst team out of the lot first, in the LA Kings. The LA Kings, a team that's in win-now mode, before their 4-3 victory over the Rangers in this game, were the second to worst team in the NHL. (The Red Wings, with 4 points are the worst.)
In fact, before this game, there were rumors of John Stevens, head coach of the LA Kings, being on the hot seat. The LA Kings are the oldest team in the NHL and have built their roster around veteran talent. Larry Brooks, of the NY Post, even suggested that former Rangers head coach, Alain Vigneault, could be a good fit for LA.
With all the veteran talent, the LA Kings, who once again, were the second-to-worst team in the league going into this game, were also the worst scoring team in the league. Before this game, the Kings were in the league cellar in the goals for department, with only 18 goals scored. To make things even worse, two-time Stanley Cup champion & one of the best goalies in the league today, Jonathan Quick, is out with injury.
In Quick's place, is goaltender Jack Campbell, who before this season, had played in only 7 NHL games & is making $675,000. Conversely, Rangers net-minder, Henrik Lundqvist, was making his 814th regular season career start and is an $8.5M salary cap hit.
The Rangers, who had two full days off before this game, were once again under the thumb of their head coach, David Quinn. After their disappointing loss on Thursday, Quinn said it was the worst game of the season and was not thrilled with the effort from his young team.
As usual after a game, especially after a loss, David Quinn shook up his lines. As the schedule progresses, I understand that Quinn is trying to find things that work, but I also wonder if he is sacrificing any chance of creating line chemistry too. The lines seemingly change every game, you have a mostly young roster and with all the shake-up with the lines, I think it's tough for players to get a feel for each other.
Before getting into the new lines, the latest news and everything else, here are my last few blogs in case you missed them:
---
---
---
---
---
---
For whatever reason, Vinni Lettieri remains in Quinn's doghouse. I ranted enough about that in my last blog, so I'll bare you another spiel. I just don't get it.
Here are the latest lines and the lines that played in this 4-3 loss to the Kings:
FIRST LINE: Vesey/Zibanejad/Zuccarello. Putting Vesey on the first line is an idea.
SECOND LINE: Kreider/Hayes/Spooner. Rewarding Spooner with second line minutes is perplexing.
THIRD LINE: Namestnikov/Howden/Buchnevich.
FOURTH LINE: McLeod/Chytil/Fast. On Chytil, David Quinn told John Gianonne that he wanted to put Chytil back at his natural position, which is at center. No matter where Chytil's played this season, he hasn't made much of a difference. However, it's a learning process and this is a rebuild. I'm fine with it.
Defensively, the Rangers, who carry 8 defensemen, mainly due to waiver wire rules (they are scared of losing DeAngelo & Claesson) currently have two defensemen that are injured. Claesson, who's missed the last several games, will still be out for 2-3 more weeks. McQuaid, injured in the game with Chicago, is listed as day-to-day.
As far as calling someone up in case of injury, the Rangers are waiting to see if McQuaid will be healthy enough to play on Tuesday. If McQuaid is able to play, the Rangers can dress him, or keep him in the press box. Having the two extra defensemen is an injury insurance policy and the Rangers are cashing in on that policy very early into the season.
With the injuries, getting a chance to return to the line-up was defenseman Tony DeMAGAngelo (Credit: @NYRKELSMADS). A lot has been written about Tony D., so I was glad to finally see him actually play, rather than reading & listening to what others think of him. For one game at least, DeAngelo made the most of his time, scoring a goal and picking up an assist. I've given up on trying to figure out how Quinn's mind works, but you would have to think that DeMAGAngelo earned another start. We'll find out Tuesday night.
I've said this before – I don't see the Rangers giving up on DeMAGAngelo anytime soon. As it stands RIGHT NOW, Arizona won the trade with the Rangers, as Raanta has been lights out for the Coyotes & Derek Stepan has been serviceable. The other parts of the trade haven't been as successful, YET. Lias Jessiman remains in Hartford, while Tony D., based on his playing time, is the team's 8th defenseman. He's been as useful to Quinn as a third nipple, but after a game like tonight, he should get more minutes. Then again, Quinn doesn't necessarily reward hard work. Just look at DeAngelo's "paesan", in a one Vinni Lettieri.
With the injuries, here were Quinn's D-pairs:
First D-Pair: Staal/Pionk
Second D-Pair: Skjei/DeAngelo
Third D-Pair: Smith/Shattenkirk
As mentioned in past blogs, with the way Pionk has been playing, Shattenkirk gets more and more expendable with every game.
This was a weird game, going in. For starters, you had the SPORTS EQUINOX taking place in LA. Just check out the graphic the M$G Networks aired during the game:
For the first time ever, you had an MLB game (World Series), an NBA game, an NHL game, an NFL game and a MLS game, all taking place on the same day, in the same city. Compounding matters was that the World Series had two late games on both Friday & Saturday night. In addition, there was also mini marathon taking place outside the arena, closing off many streets. Oh, and just for shits and kicks, the Ducks, in Anaheim, were also playing, hosting the Sharks.
I still don't understand the NHL schedule makers who schedule afternoon games on NFL Sunday's, especially if there is an NFL home game taking place at the same time. To me, you're just limiting your attendance that way. Obviously, the NHL had no clue about the Dodgers hosting the World Series, but they did know about the Rams game.
With all the stuff going on in LA, Ranger fans, who made the trip to the west coast, had their option of where they wanted to sit and for cheap. Just look at the ticket prices, hours before the game:
Going into this game with the Kings, everything seemed to be in the Rangers favor. The Kings were even worse than the Rangers. Quick was out. The coach was stressed. The Rangers had a few days off. However, as I predicted on twitter (and you can go check my timeline @NYCTHEMIC) I said that Lundqvist would blow a two goal lead and Alec Martinez would score the game winning goal. What happened? Lundqvist blew a two goal lead and Alec Martinez scored the game winning goal. I'm telling you, for as much as it irritates other Ranger fans, I know my subject inside and out, and I knew Lundqvist would choke this game away.
What I also mentioned before this game is that I thought this was a game that Alexandar Georgiev should've started. Here are the reasons why:
— Lundqvist sucks in LA.
— LA is a cellar dweller team. This would be a perfect start for the back-up goalie.
— It makes no sense to play Lundqvist in nearly every game.
— The Rangers play better/score more when Georgiev is playing.
— The Kings were starting their back-up goalie, in light of the Quick injury.
— The Rangers need to develop and instill confidence in Georgiev. A win here would've helped in both departments.
Instead, Lundqvist, who as Quinn has admitted, has control of when he plays, started this game. As usual, it was the same result – another two goal lead blown and another Martinez GWG. It's the same old shit from Lundqvist, and I don't know why any fan would be surprised with this result.
When I woke up on Sunday, I poured myself a nice stiff drink and prepared for an afternoon of ass pegging and losing from my sports teams. Sadly, I was correct on all my predictions:
— The Giants looked like shit and it looks like the Eli Manning era is officially over.
—The Rangers threw away a win & Lundqvist choked as usual. Too bad his era hasn't ended yet.
— For third straight week in a row, I finished with the second most points in fantasy football, only to be playing the team that scored the most amount of points. (DeShon Watson, 47 points, GTFO.)
— Went 25% in my NFL sucker sheet picks.
— The Islanders won. (I guess that's good for the Rangers TANK.)
— And lastly, Boston will probably win the World Series.
Of note, at least KING TALBOT and the Edmonton Oilers beat the Blackhawks today. The Rangers are going nowhere, so at least I'll have some playoff rooting interest in both the Oilers (because of KING TALBOT) and for the Tampa Bay Lightning (because of the ex-Rangers & if TBL wins the Cup, then the Rangers get their first round draft pick.)
I'm 36 years old and for many around my age, this is the first time that I can remember all four of my teams just stinking. Yes, the Yankees were a playoff team, but when Boston is about to win the World Series, that negates that to me. I don't really care about the Knicks, but they have sucked forever.
With the Giants, they were supposed to be a win-now team, and instead, just like last year, I find myself rooting for them to lose so they get a top pick in the draft. I love Eli Manning, but his era is over and the Giants will have to draft a QB in 2019.
While the Giants find themselves with an unplanned rebuild, I knew the Rangers would be in store for a long and hard season. I'm fine with the Rangers doing a "Lose for Hughes" season, but I was also hoping that the Giants would be a Super Bowl contender, which would help take some sting out of a bad Rangers season. Instead, all my teams stink and maybe I should just take up knitting to pass the time!
For the fans who root for the Jets/Mets/Nets, losing is nothing new to you.
In the pregame news department, several reporters are reporting that Vladislav Namestnikov, Kevin Hayes and Ryan Spooner are all potential trade-bait. Several teams (none of the interested teams were named) have called the Rangers about these three. If I was General Manager Jeff Gorton, I would have no problem trading any of these three for picks and prospects.
As far as the MSG pregame show today, Steve Valiquette opened the broadcast by saying that "Henrik Lundqvist is the best goaltender in the NHL…" Once Vally said that, I muted him and put on the volume of the Giants game. Even Vally's nerd stats doesn't suggest that Lundqvist is the best. Normal/regular stats don't suggest that either. When you factor in Lundqvist's cap hit, it makes that statement even more ridiculous.
Joe Micheletti was his awful normal self. Before the game, he was saying how bad the Kings were, how they were done, etc. At the end of the second period, Micheletti said "you knew it was only a matter of time before the Kings broke out." I hope the Rangers rebuild their announce booth and leave Joe in California. Oh, and of course, after Lundqvist gave up four goals, all four goals were deflected, screened and part of an alien invasion.
Even better, Joe Micheletti was hyping up Kevin Hayes as an All-Star and one of the best Rangers today. Maybe I'm drinking too much during these games, because I don't understand how a player who shoots high and wide 90% of the time, is one of the better players in the NHL.
Even the beloved Sam Rosen seems to be mailing it in. He was shocked about how old the Kings were. This is not news. This is common knowledge. It just feels that the whole MSG broadcast has taken a nosedive, just like the Rangers. And of course, as noted numerous times before, this broadcast sorely misses Ron Duguay.
With the way the MSG Networks crew was going off about how bad LA was, you knew they jinxed the hell out of this game. I even said that before the game:
Kings will explode today. Msg is reverse jinxing the hell out of them lol

— BlueCollarBlueShirts (@NYCTheMiC) October 28, 2018
Nearly 3000 words in. Let's get into the game. As always, here's the ESPN.com box score:
SCORING SUMMARY:
1st Period
11:11

Vladislav Namestnikov

(1)

Assists: Pavel Buchnevich

1
0
2nd Period
7:42

Tony DeAngelo

(1)

Assists: Vladislav Namestnikov, Brett Howden

2
0
11:23

Dustin Brown

(1)

(Power Play)

Assists: Ilya Kovalchuk, Drew Doughty

2
1
13:14

Ilya Kovalchuk

(3)

(Power Play)

Assists: Drew Doughty, Anze Kopitar

2
2
3rd Period
10:28

Trevor Lewis

(2)

Assists: Adrian Kempe, Ilya Kovalchuk

2
3
15:16

Ryan Spooner

(1)

Assists: Tony DeAngelo, Brady Skjei

3
3
19:05

Alec Martinez

(1)

Unassisted

3
4
PENALTY SUMMARY:
1st Period
9:22

Kyle Clifford:

5 minutes for Fighting (Major)

9:22

Cody McLeod:

5 minutes for Fighting (Major)
2nd Period
3:06

Kyle Clifford:

2 minutes for Tripping

10:55

Cody McLeod:

2 minutes for Slashing

12:41

New York Rangers:

2 minutes for Too Many Men/Ice – Bench (served by Chris Kreider)

14:27

Cody McLeod:

2 minutes for Roughing
3rd Period
0:48

Tanner Pearson:

2 minutes for High-sticking

1:12

Neal Pionk:

2 minutes for Tripping

7:45

Derek Forbort:

2 minutes for Tripping
GOALIES:
| | | | | | | | | | | |
| --- | --- | --- | --- | --- | --- | --- | --- | --- | --- | --- |
| SA | GA | SV | SV% | ESSV | PPSV | SHSV | SOSA | SOS | TOI | PIM |
| 25 | 3 | 22 | .880 | 19 | 0 | 3 | 0 | 0 | 60:00 | 0 |
| | | | | | | | | | | |
| --- | --- | --- | --- | --- | --- | --- | --- | --- | --- | --- |
| SA | GA | SV | SV% | ESSV | PPSV | SHSV | SOSA | SOS | TOI | PIM |
| 40 | 4 | 36 | .900 | 30 | 0 | 6 | 0 | 0 | 59:20 | 0 |
The Rangers lost another game they could've won tonight, by a score of 4-3. For Lundqvist, he now drops to 2-6-1.  That's not very kingly. If these games continue, he will be lucky to even sniff 20 wins this season. And let's not forget, he shouldn't be playing that much to begin with, because it does nothing to help develop/see what you have with Alexandar Georgiev. I guess it's poetic justice that he blew this game to LA, after politicking to play a bottom of the barrel team.
While this game picked up in the second and third periods, the first period was largely a snooze fest. The Rangers, picking up where they left off on Thursday, just kept on icing the puck.
Go back to my blog from Tuesday – the Rangers just play better with Alexandar Georgiev. With King Excuses, they are too tense, too nervous and stay back all the time, because they are scared of being berated by the abusive little league father of a goalie. Plus, these guys don't want to risk getting wood fragments in their eye, which can potentially happen when Lundqvist has his usual hissy fit and slams his stick.
After a slow and dragging period, the game picked up a bit, half way into the first period, when Cody McLeod and Kyle Clifford threw down. Here's the fight:
It's nice that McLeod plays hard and is willing to fight all the time, but does he plan on winning any of these fights? I still miss "The Glassiah", Tanner Glass.
A minute later, Vladislav Namestnikov, who must've heard about his name in the trade rumor mill, got his first goal of the season. Here it is:
C'mon, this was definitely a good goal! What's up with the 95 minute review? #NYR pic.twitter.com/WnnltjLHUD

— MSG Networks (@MSGNetworks) October 28, 2018
This goal sucked the life out of the game, because no joke, there was a ten minute review, which was lengthened by the LA Kings reviewing the goal after the original review ruled this as a good goal. You could've ate White Castle and took a colon cleansing dump, in the time it took to get the game going again.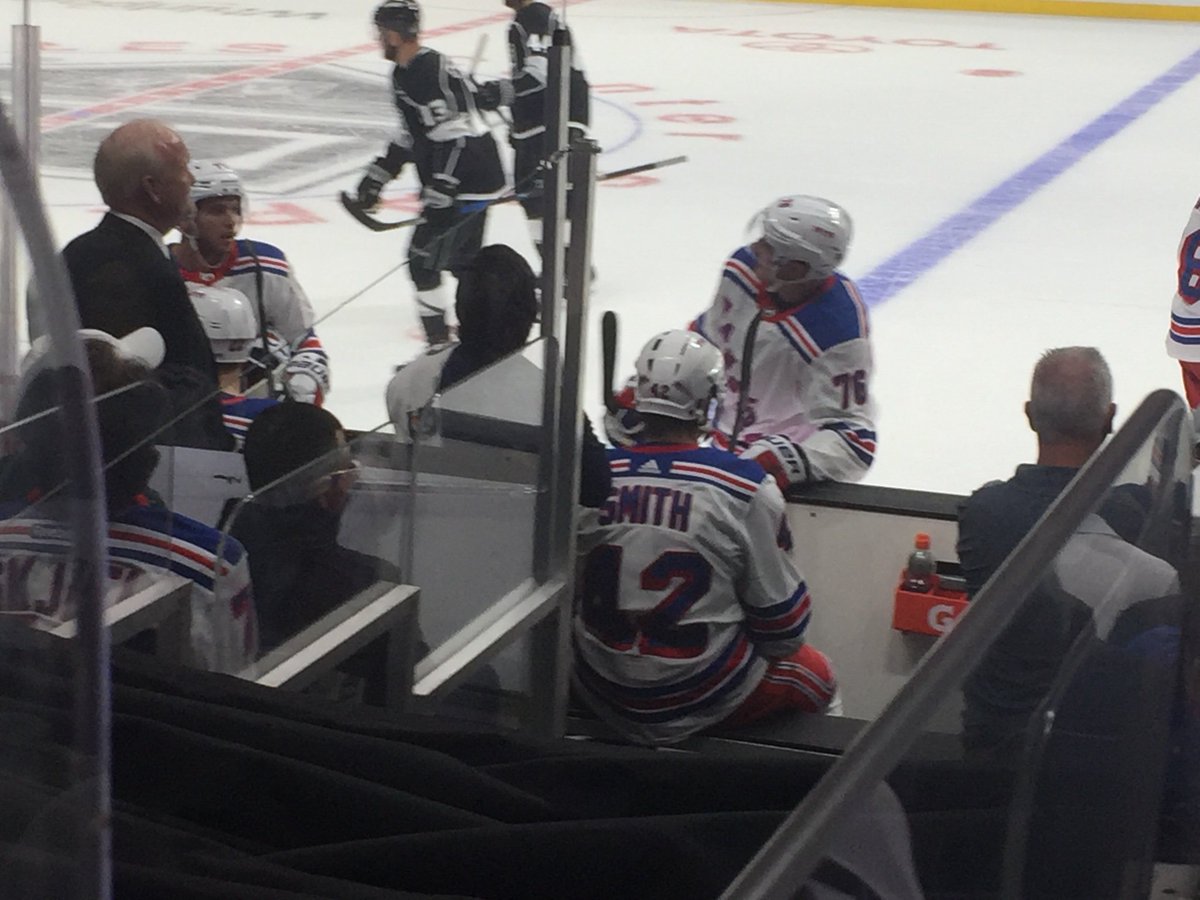 The Kings looked like the bad team that they were advertised as, when Dustin Brown, on a 2 vs 0 rush, shot a puck wide of Lundqvist. The Kings didn't get many GOOD LOOKS in the period. As Vally would say after this period (But then do a 180 on after the game) the Rangers were out-shot, but since the shots on goal weren't of high quality, it was ok. However, if you out-shoot your opponent and win the game, it's a different story for the MSG Networks, especially if the Cupless King is in goal.
At the end of one period, 1-0, good guys.
In the second period, both teams battled back and forth, and to their credit, both Lundqvist & Campbell did a good job of keeping goals off the scoreboard.
At the 7:42 mark, Tony DeMAGAngelo scored his first New York Ranger goal, and it was a funky one:
TONY DEANGELO SCORES FROM BELOW THE GOAL LINE!#NYR pic.twitter.com/LHQaewfzOv

— NHL Daily 365 (@NHLDaily365) October 29, 2018
Go ahead, watch it again. I had to watch it several times myself to see how that puck went in. Oh, and suck it Hillary! (Calm down, it's a joke.)
Anyway, for Tony D., this was huge, as I thought he played a solid game and getting some points in this game helps his case. 2-0, good guys.
A few minutes after the goal, Cody McLeod took a tripping penalty. That put LA on the PP. Here's Dustin Brown beating Lundqvist to make the score 2-1:
Dustin Brown is back and we couldn't be happier to see him 😍#GoKingsGo pic.twitter.com/KX5TWTEc6I

— LA Kings (@LAKings) October 28, 2018
If King Rebound stops the first shot, there is no Dustin Brown goal. 2-1, good guys.
Oh, and of course, at the time, I had to mention the two goal lead in LA:
Don't worry about that LA PPG, Hank is solid in LA with a two goal lead. #nyr

— BlueCollarBlueShirts (@NYCTheMiC) October 28, 2018
Immediately after the goal, the Rangers took their 7896789678967567678778526742946792674862th too many men on the ice penalty of the season. On that note, this is a coaching issue. Will David Quinn scratch himself? Will he call himself out in the media? Will he punch a mirror?
On the too many men on the ice penalty, the Kings made the Rangers pay, as Lundqvist did his usual job of blowing a two goal lead. Here's Kovalchuk:
Goal: A+
Celly: A++#GoKingsGo pic.twitter.com/KmNChSeBLk

— LA Kings (@LAKings) October 28, 2018
2-2. Of note, after the game, Vally was saying how the Rangers could've got Kovie in the off-season. What? How would Kovie fit on this rebuilding team? Furthermore, Kovie got ridiculous money and if you haven't noticed, the Kings aren't doing well. You're going to say the Rangers should've got this guy, just because he beat a swiss cheese goalie on a power-play?
Vally needs to wake up. In the last few years and today, Raanta is better than Lundqvist. Talbot is better than Lundqvist. And come next year, CZAR IGOR SHESTYORKIN will be better than Lundqvist. Scoring against Lundqvist isn't some miraculous feat of strength – it's the same old hat.
For real, whenever Hank goes to LA, I wonder if he hits the comedy clubs too? After all, I laugh my ass off every time I see him with a two goal lead.
And here's Quinn after the goal, which occurred on a penalty which was his fault:
Coach is going to have a stroke by January, assuming he's not fired by then. #NYR pic.twitter.com/juLZJYX9lx

— Bobby (@Bobby_S92) October 28, 2018
2-2, after two. All that was missing was the Alec Martinez game winner, but that would eventually come.
I thought the third period was the most entertaining and exciting period of the game, but then again, with the game on the line, how couldn't it be? Then again, I guess the Rangers could've had a third like they did on Thursday.
The Rangers allowed the Kings to tally up the shots, as the Kings would go on to out-shoot the Rangers, 40-25.
The Rangers would have countless powerplays in the game and in this period, but couldn't find the net. It cost them.
Vally, on twitter, said this during the period:
When you can't scoop the puck up cleanly to hand it to the referees…you are not feeling it. Next NYR chance goes in 😉 pic.twitter.com/QleW7XCdV4

— Stephen Valiquette (@VallysView) October 28, 2018
What happened? Campbell revved up and stopped all comers, as both Fast and Kreider both had really GOOD LOOKS, but were denied.
With under ten minutes in the period, Trevor Lewis beat King Rebound to make the score 3-2, bad guys:
Right place, right time Trevor Lewis 👌 pic.twitter.com/B5S81A18zI

— FOX Sports West (@FoxSportsWest) October 28, 2018
Less than five minutes later, Ryan Spooner scored, to tie the game at 3-3.
With under a minute to go, it looked like two of the worst teams in the NHL would be playing a three point game. Instead, history repeated itself and Alec Martinez beat the highest paid goalie in America:
Alec Martinez scored a big goal against the New York Rangers today. Wait, that sounds familiar. pic.twitter.com/RTdF6AwyKC

— Yahoo Sports NHL (@YahooSportsNHL) October 29, 2018
4-3, bad guys.
The Rangers would pull Lundqvist, but just like their crappy powerplay, with the man advantage, the Rangers didn't do much and 4-3, the Kings, would be your final. For the Rangers, it's getting ugly, especially when you lose a game like this and in this fashion.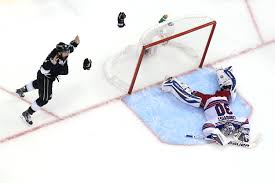 So how does one assess and/or criticize this game? Quite frankly, you don't. It's a rebuild. If you're for the tank, be glad that Martinez decided to win the game in regulation, rather than in OT.
I haven't watched the post game stuff yet, but from what I get from my followers on twitter is that Hank did the usual blame game stuff. I just hate that shit. It doesn't help the team. To be fair, he didn't slam his stick in this game, but whining about his teammates doesn't help. Again, HE SIGNED UP FOR THIS.
The only criticism I truly have is I don't get why Georgiev didn't start. Maybe they run KING GEORGE against the Sharks on Tuesday, which means you're putting Georgiev against a strong team, rather than building him up against a dreck team.
For the Rangers, they are now in 30th place, in a 31 team league, after 11 games played. I think for people like Lundqvist, like Dolan and like some fans who talk the "p" word, as in "playoffs", reality is starting to set in. Even if the Rangers were able to go on some sort of win streak, do you really see this team having a chance in the playoffs against the upper-echelon teams in the East, such as Tampa, Toronto, Pittsburgh, Washington, etc? They can't even beat a bad team with an inexperienced goalie.
For Lundqvist, who started so strong this season, you're slowly starting to see the cracks. I can only imagine what he'll be like come Christmas. I think the Rangers should improve as the season goes along, but how many of these players will be moved by the time the trade deadline comes around? 3? 4? 5+?
I saw a lot of fans going nuts after this blown game. It's the wrong attitude to have. I get you don't want invest three hours of your time for this, but this is the season for trial and error. BEST CASE SCENARIO, and that's a huge question mark if that even happens, is that the Rangers turn it around next year, when you get Shestyorkin and Kravtsov, plus whatever else you get from Free Agency.
As these games go by, I'm seeing a lot of familiar faces and names tap out on the season. To each their own. However, for the diehards, this blog will still be here. What also will be here is "BlueShirt Underground Radio". They have a live episode on Monday night at 7PM. To listen/call in, visit https://player.fm/series/blueshirt-underground-ny-rangers-radio-134068 or visit their Facebook page at https://www.facebook.com/groups/blueshirtunderground/.
The Rangers travel to San Jose on Tuesday, then go back to Anaheim on Thursday, which is kind of weird. Usually the Rangers play San Jose first or last, and not in the middle of the California loop of games.
The Rangers, who beat the Sharks earlier in the season, will face a different Sharks team this Tuesday night, as the Sharks are currently in first place and playing better than when the Rangers hosted them earlier in October.
Of note, the Rangers vs Sharks game takes place at 10:30PM. I will live tweet the game as usual, but depending on my work schedule, I'm not sure if there be a blog. If I don't have a 4:30AM alarm clock, then I'll get something up. If not, I'll most likely recap both games in a blog before the Sabres game. I'm also trying to get a new book review up, so maybe I'll do everything together, if I can't get a blog up after the Sharks game.
Until then, as always thanks for reading and…
"Let's Go Rangers!"
Sean McCaffrey
BULLSMC@aol.com
@NYCTHEMIC on the twitter machine