Greetings and salutations everyone and welcome to another blog here on BlueCollarBlueShirts.com.
Man, oh man, where does one start with tonight's game recap? If you decided to hit the hay rather than watch this game, you missed the most exciting Rangers game of the season, and arguably, one of the most exciting Ranger games in some time.
The Rangers, swirling with controversy, some coming from the team and some of it coming from the fan base, defeated the San Jose Sharks on Tuesday night (Wednesday morning on the east coast), 4-3, via the shoot-out. For Ranger fans, it was obvious that no one wanted these two points more than head coach David Quinn and Rangers goaltender, Henrik Lundqvist. This game had more ups and downs than a manic depressive on cocaine, but at the end of the night, the Rangers came out of this game with the win.
I know I have many old time wrestling fans that read these blogs. To equate this win to a wrestling promo, this is what this win temporarily felt like:
Much like the "60 Minute Man" himself, in a one Ric Flair, the Rangers played a full 60 minutes. Then they played five more minutes. Then they won the game, once again, via Kevin Shattenkirk, in the shoot-out.
Forget that the Rangers were the worst team in the league going into this game. Forget that the Rangers are better off losing every game. Forget the #LOSEFORHUGHES stuff. Forget the tank talk. In this one moment in time, at least for tonight, the Rangers won the battle and the war. You take the good times with the bad times. With the way this season is going, there will be more bad times than good times, so as a Rangers fan, you take what you can get and you enjoy the good times when they happen.
For hockey fans without a rooting interest, this game was like a heavyweight boxing title fight, with both teams trading big body shots, jabbing away at each other and counter punching. When it was all said and done, the Rangers finally harpooned the Sharks & skated out of San Jose with two points. Seriously, at one point in this game, I forgot this was a game in October. It really had a playoff vibe to it, that is, at least until the shootout.
Of course, many Ranger fans, those of the "TANK SZN" and "LOSE FOR HUGHES" variety, may be upset with this win. After all, a potential loss here kept the Rangers in the cellar and in the best position, come the 2019 draft. However, the Rangers have only played 12 games. You need to win a game every now and then. Plus, for the development of the kids, this was a great win for them. Even someone like a Brett Howden, who didn't log a point tonight, can take something out of this.
Someone who won't take anything out of this win is Pavel BUSTnevich. However, before getting into him and all the other news before this game, here are my last few blogs in case you missed them:
---
---
---
---
---
---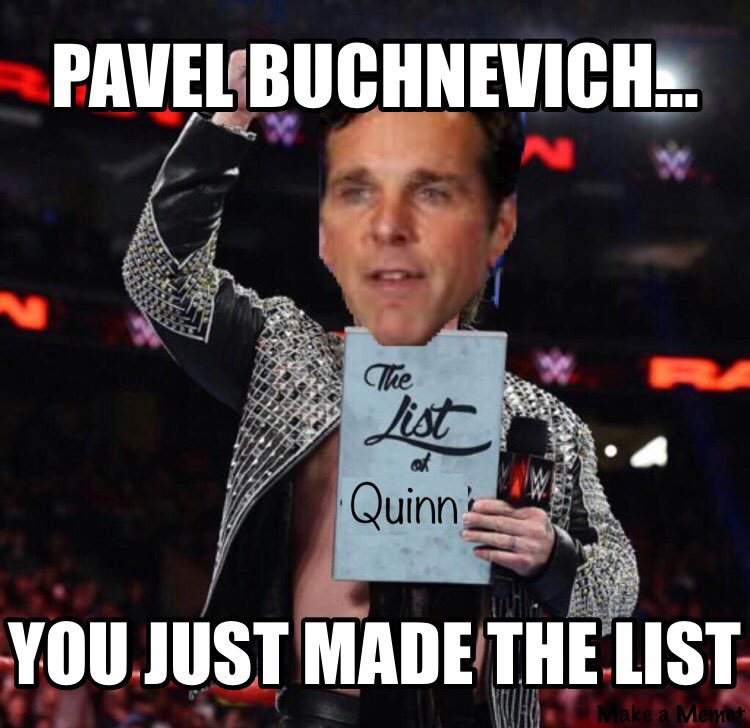 The big story before tonight's game, was head coach David Quinn scratching the "intoxicating" (can you believe some fans actually used that word?) Pavel Buchnevich. To me, when it comes to the inconsistency of the INTOXICATOR, it seems like a mental thing, more than anything else.
Dave Maloney, on the "Bleeding Blueshirts" podcast with John Giannone, said that he feels that Buchnevich isn't strong enough to endure the NHL game. Maloney also brought up how the game is different in Russia, Buchnevich tends to coast and how Buchnevich seems to not care at times.
What Maloney also brought up, which I found the most interesting, is that he thinks the Rangers and the fan base too for that matter, may have overrated Buchnevich. After all, these Rangers haven't had many number 1 draft picks over the last few years, so when the Rangers get a young kid like Buchnevich, perhaps the expectation bar was set too high.
While the chart boys and the basement brethren were crying about the scratching of Buchnevich, the Rangers didn't seem to mind and had one of their best games of the season without him. (Of note, remember when everyone was blaming AV for stunting Buchnevich? In 12 games thus far, Bustnevich logged more TOI with AV than he has with Quinn. And that's not including the scratches.)
What really cracks me up, and I have mentioned this before, is how some Ranger fans are already doing the "FIRE QUINN" stuff. Of course, these are the same people that went overboard with their HOT "FIRE AV!", "TANK" and "REBUILD" takes, just a few months ago. You can't win.
On that note, I'm really taking enjoyment out of watching some of the Rangers fan base just cry about every move the Rangers make. For the first time in the age of social media, the Rangers have no playoff expectations. The tears are real on twitter folks! It just cracks me up and for those fans, I would suggest you google the world "rebuild."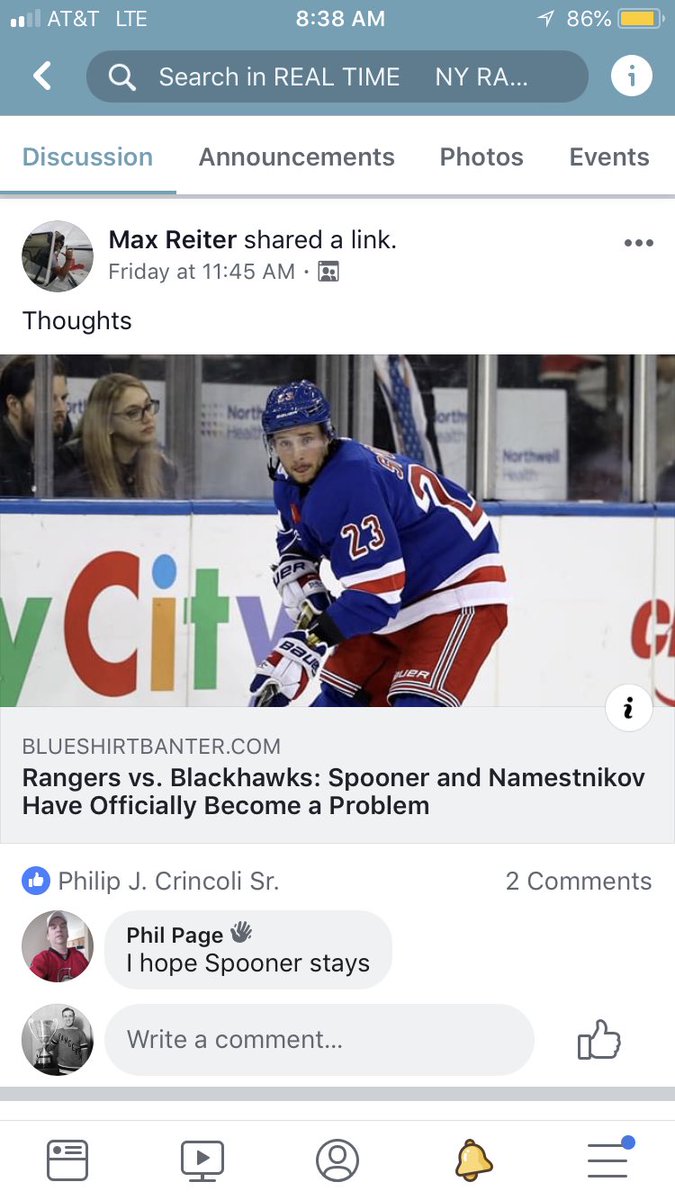 The over reactions to these games are something else. I can understand why some fans may want the team to lose, as that's what's best for a rebuild. I just don't get some of these people psycho-analyzing every player, like they are Sigmund Freud. This season isn't about winning. The Rangers already told you that. That said, I do question if mix-mashing all the lines every game will hurt player chemistry. However, at the end of the day, Quinn wants to see what's best. This is his year to experiment, so let him.
The other news/talking points going around Rangerstown, that were debated before this game, is when will the Rangers start selling off the remaining veterans on this team? This started off with a Larry Brooks article, which was promptly copied, pasted and plagiarized by resident WFAN hack, Sean Hartnett.
Brooks makes a strong argument – why waste time playing players that won't be here next season? However, in the same vein, are upper-echelon teams like PITT, TBL, WSH, TOR, SJS, WPG, etc, looking for Rangers to help get them over the top? If you're a team like TBL, who's come close but has no Cup to show for it, is Kevin fucking Hayes really going to get you over the top? Are Ryan Spooner and Vladislav Namestnikov the missing pieces for the Toronto Maple Leafs? Does Mats Zuccarello seal the deal for the Winnipeg Jets?
While I understand the argument for moving on ASAP, the Rangers may get more back around the trade deadline, when teams making a playoff push and are willing to overspend. A guy like Adam McQuaid might be worth a fourth round pick right now, but around the deadline, with more bidders, the Rangers may fetch a prospect and a third rounder. A guy like Mats Zuccarello or a Chris Kreider, perhaps packaged together, could fetch a first round pick.
It is for the best that the Rangers move on from the players who won't be here next season. However, the Rangers must do basic economics and wait until the market is a buyer's market. As of right now, teams aren't lining up at the door to set up a bidding war over these veterans. The Rangers may have to wait a bit. Fans may have to wait to see guys like John Gilmour, Ryan Lindgren, Libor Hajek and Lias Andersson. (And who knows, NYR may only give Andersson 9 games again, so they don't burn the rookie year of his contract)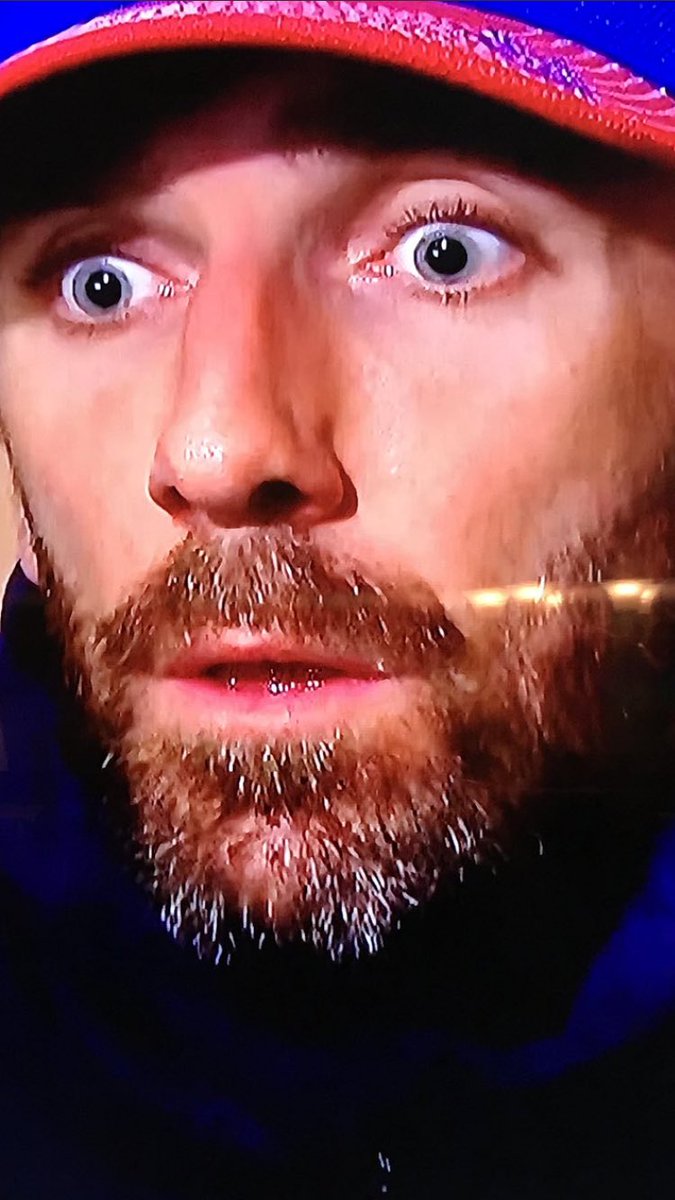 Of course, since the Rangers had another crappy game in LA, David Quinn went right back to the drawing board. With the Claesson & McQuaid injuries (talked about in my last blog), the Rangers kept the same defensive pairings.
On Tony DeMAGAngelo (credit: NYRKELSMADS) I thought Dave Maloney made a great point. Quinn has this guy so on edge with all the scratchings, that Tony DeAngelo tries to do too much, in an effort to stay away from the press box. It would be nice to see Quinn give Tony D. a vote of confidence and not threaten to take away his playing time, as it may help him grow. After all, it does seem to be working out for Neal Pionk.
Line wise, here's what Torts Lite rolled out:
FIRST LINE: Namestnikov/Zibanejad/Zuccarello
SECOND LINE: Kreider/Hayes/Spooner
THIRD LINE: Vesey/Howden/Fast
FOURTH LINE: McLeod/Chytil and the returning Vinni Lettieri!
That's right, after all my bitching, Vinni Lettieri was back in the line-up. No wonder why the Rangers won tonight!
And seriously, with how bad the PP was tonight, (0-4 on the night) it wouldn't kill Quinn to give Lettieri some PP time. I feel like this is Grabner all over again. With a rebuilding team, how could it hurt to give Lettieri some PP time?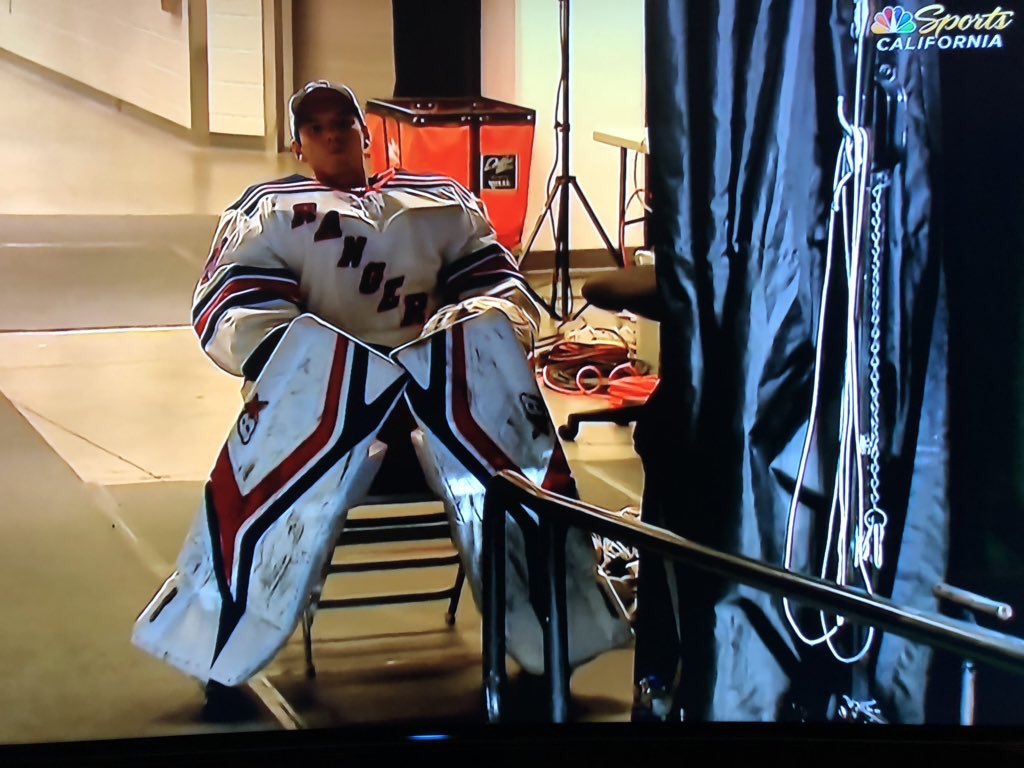 On the goalie front, Henrik Lundqvist played again. Granted, he had a solid game tonight, but again, if this is a rebuilding team, it doesn't make sense to keep Georgiev parked for long periods of time. With that mentioned, Quinn said that Georgiev will play on Thursday against Anaheim.
It's already 2:30am, so let me get right into this game while I'm still amped up. Yes, this game was that exciting.
As usual, here's the official box score from ESPN.com:
SCORING SUMMARY:
1st Period
3:22

Brent Burns

(3)

Assists: Marcus Sorensen, Melker Karlsson

0
1
4:21

Mats Zuccarello

(3)

Assists: Kevin Shattenkirk

1
1
2nd Period
No Goals Scored
3rd Period
1:13

Chris Kreider

(5)

Assists: Brady Skjei, Kevin Hayes

2
1
8:14

Timo Meier

(9)

Assists: Brent Burns

2
2
10:05

Chris Kreider

(6)

Assists: Mats Zuccarello, Mika Zibanejad

3
2
19:58

Tomas Hertl

(5)

Assists: Logan Couture, Timo Meier

3
3
OT Summary
No Goals Scored
Shootout Summary

Shootout GOAL scored by Kevin Shattenkirk on Martin Jones
1
0
PENALTY SUMMARY:
1st Period
13:01

Melker Karlsson:

2 minutes for Tripping

15:45

Timo Meier:

2 minutes for High-sticking
2nd Period
0:56

Mika Zibanejad:

2 minutes for Holding
3rd Period
15:06

San Jose Sharks:

2 minutes for Too Many Men/Ice – Bench (served by Kevin Labanc)
OT Summary
1:39

Kevin Labanc:

2 minutes for Tripping

3:16

Chris Kreider:

2 minutes for Slashing
GOALIES:
| | | | | | | | | | | |
| --- | --- | --- | --- | --- | --- | --- | --- | --- | --- | --- |
| SA | GA | SV | SV% | ESSV | PPSV | SHSV | SOSA | SOS | TOI | PIM |
| 37 | 3 | 34 | .919 | 30 | 1 | 3 | 0 | 0 | 63:01 | 0 |
| | | | | | | | | | | |
| --- | --- | --- | --- | --- | --- | --- | --- | --- | --- | --- |
| SA | GA | SV | SV% | ESSV | PPSV | SHSV | SOSA | SOS | TOI | PIM |
| 34 | 3 | 31 | .912 | 30 | 0 | 1 | 0 | 0 | 65:00 | 0 |
In sports, every great team has a bad team that is their kryptonite. For the San Jose Sharks, who many are predicting to either go deep into the Stanley Cup playoffs or perhaps win the Cup outright, the Sharks have struggled with these bottom of the barrel New York Rangers. While the Rangers played a strong game, team-wide, it can't be lost that the Rangers entered this game as the worst team in the NHL. Whatever the case, the Rangers just have the number of the Sharks.
Seriously, if the Sharks finish their season in third place or even worse, as a wild card, they can look to these two back-to-back overtime losses, to the New York Rangers, as points given away. Conversely, if the Rangers finish four points ahead in the overall league standings to whoever finishes last (Maybe Detroit), they can look to these two wins as a reason why they didn't get the number one overall pick in the NHL draft. That said, these are all hypotheticals and who knows how this season will turn out?
Seriously, it's a tough dilemma if you're a tank fan. When you watch a game like this, it's tough to forget the Rangers record and how losing is what's best. It's easy to get caught up in a game like this. Plus, as mentioned repeatedly, the team itself doesn't give a crap about tanking. They want to win. Tanking doesn't do anything positive for the current players on this roster.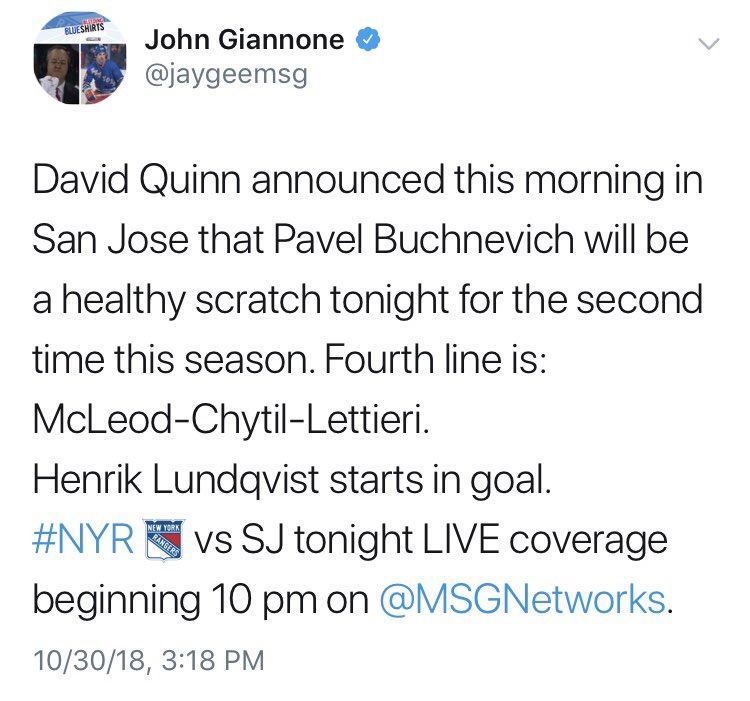 Perhaps Steve Valiquette and Bill Pidto are not men who like to burn the midnight oil. Perhaps the M$G Network wanted to save money on production. Whatever the case, for the first time this season, Giannone & Maloney hosted the pregame and post game shows, while Vally & Pidto stayed home. To be nice, it was a broadcast, but as mentioned in prior blogs, these pregame and post game shows have really took a dip, in both the quality and production departments, this season.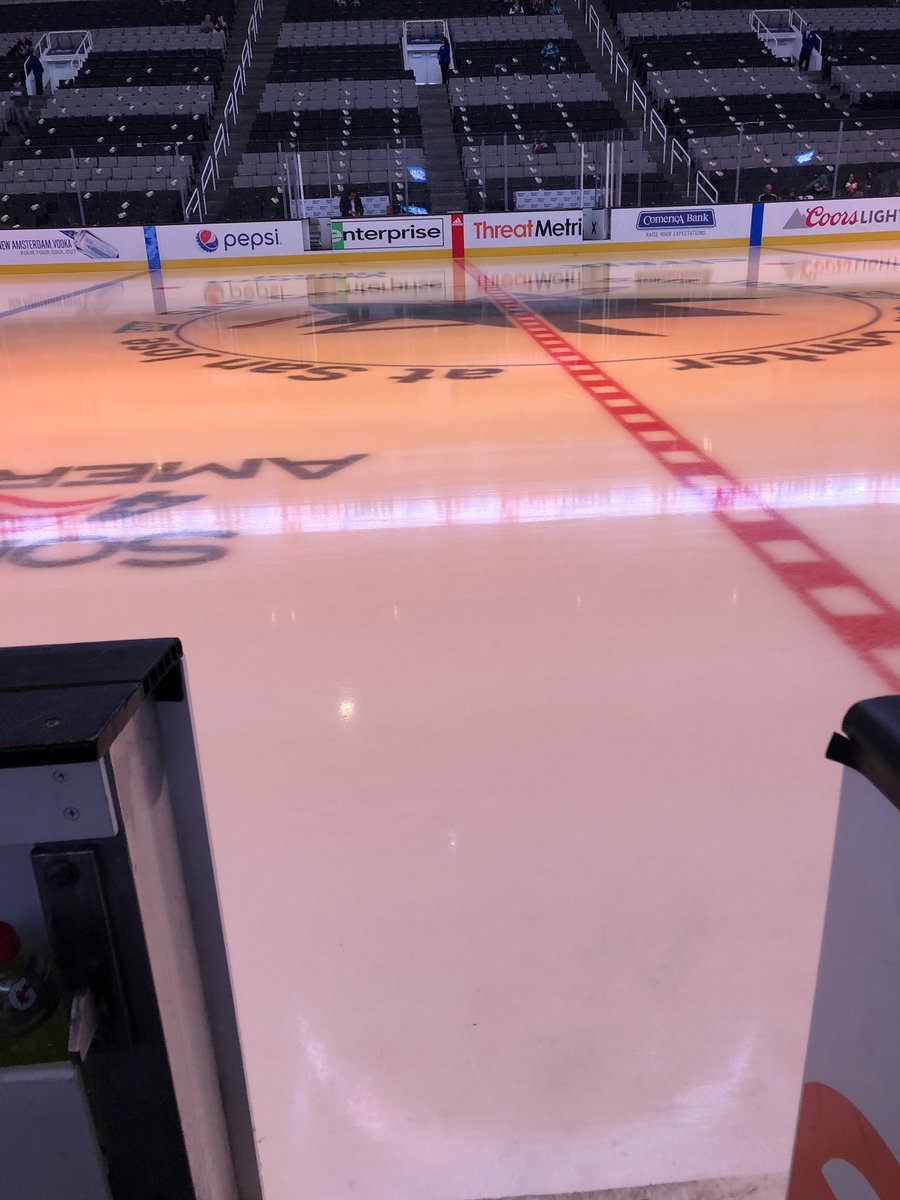 As far as the pregame show, there wasn't much. There was a good segment of Howden taking shooting drills from the Rangers shooting instructor. Funny enough, in the game, Howden had a chance to apply that drill, but came up empty handed. This was stuff that would've been on the "AV SHOW". On that note, it doesn't look like we will have a "DQ SHOW" this season.
The other BIG NEWS on the pregame show? Kevin Hayes doesn't like hot dogs and we found out about the fashion of Kevin Hayes. Hard hitting journalism here.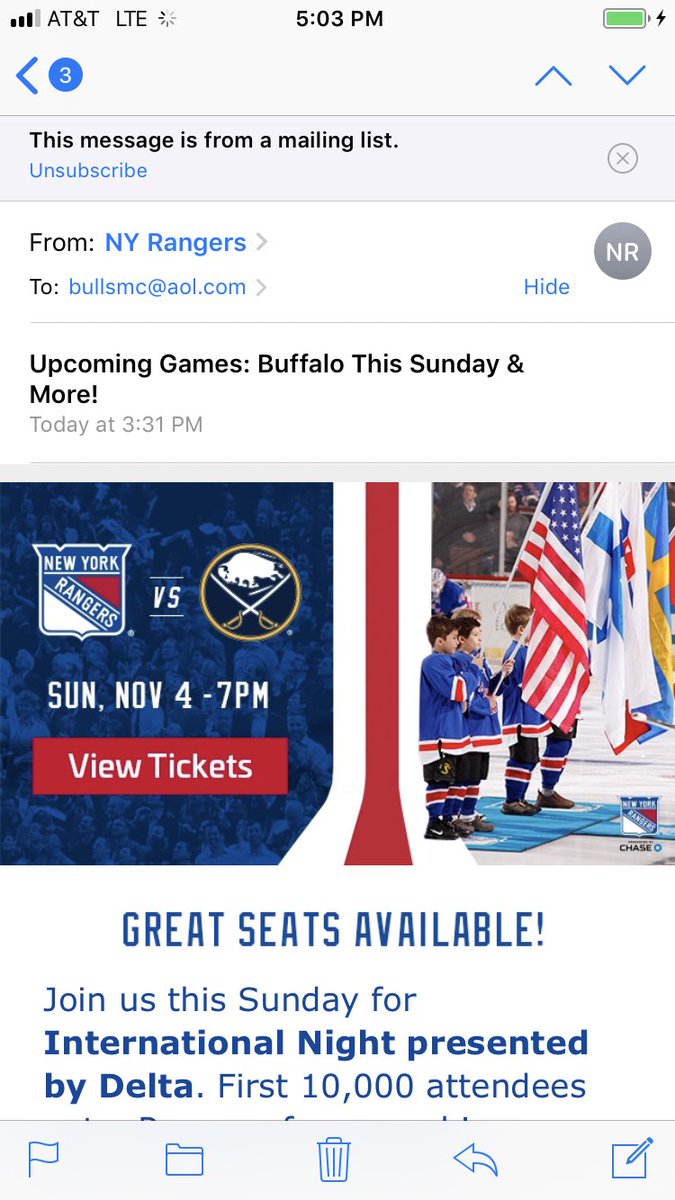 This game, as a whole, got progressively more exciting as the game went on. By the time the third period started, I actually found myself sitting on the edge of my couch, rather than laying down like a slob, like I was for the first two periods. When Hertl scored with seconds remaining in the third period, I was standing, wide-awake, in my living room, at 1:15 in the morning. I originally was going to skip doing a blog of tonight's game, but I was so wired after this game, so here we are!
Quinn, who was visibly and audibly upset with the team's lack of shots in the last few games, had to be happy about the team's shot production tonight, especially in the first period. The Rangers out-shot the Sharks 17-6 in the first period. However, the Rangers also had two power-plays in the period, and came up empty-handed on both attempts. While the Rangers did win this game, the Rangers need work on their special teams. If the Rangers lost this game, you would hear more about the bad special teams. In my eyes, Lundqvist's effort takes some heat off the bad power-play, at least for tonight.
I thought Kevin Shattenkirk had a terrible 60 minute game, especially on the power-play. I don't know what it is, but he seems hesitant to shoot, charge the puck and be aggressive. Maybe he doesn't want the abusive little league father of a goalie screaming at him or what, but as I've been saying in these last few blogs – the more and more Neal Pionk plays, the more and more Kevin Shattenkirk becomes expendable.
And yes, Shattenkirk did score the GWG in the shootout, but keep in mind, and yes I know the Rangers aren't a playoff team, but you don't win playoff games via the shootout.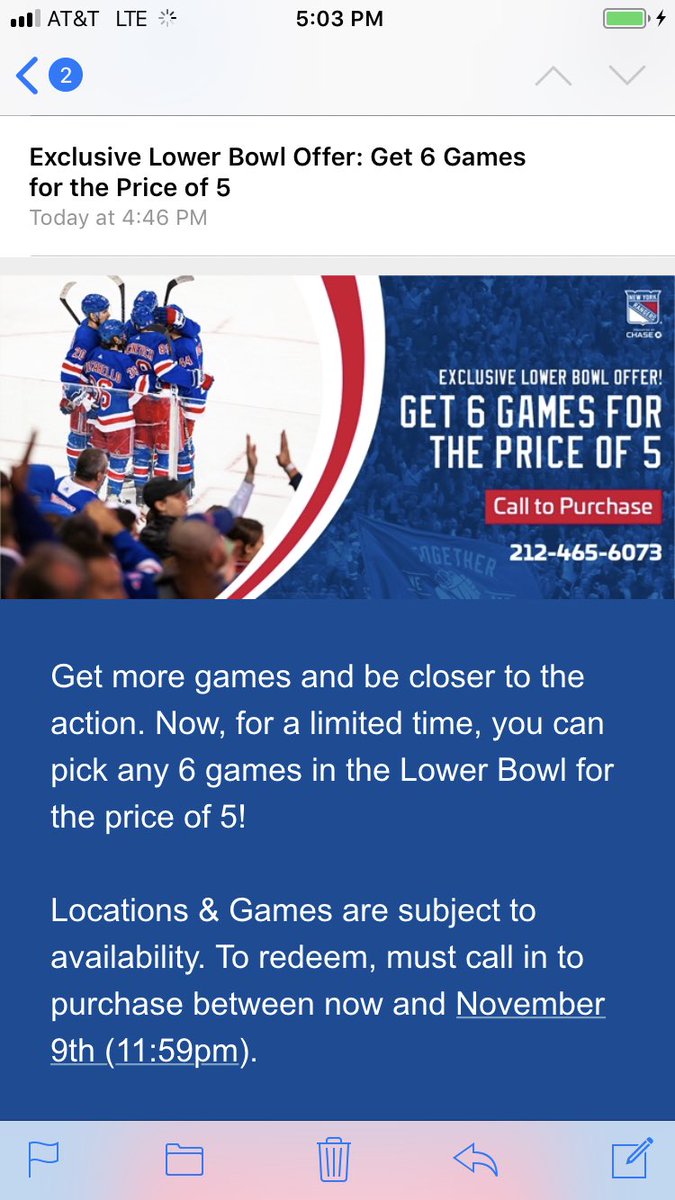 While Shattenkirk wasn't aggressive, Chris Kreider was. He logged a great shot early into the first period. Maybe it was an omen of what was to come, because with his mother & aunt in attendance, Kreider had his best game since the loss to Carolina. In both of those games, he would score two goals.
Going into this game, I thought the Rangers were going to get spanked. After all, in their last game together, the Sharks started their back-up goalie. Joe Thornton was also injured. The Rangers would win that game in overtime and would then celebrate in a way that a war-time wife would celebrate, when her returning husband came back home. Memories are long lasting in the NHL, (CTE aside) and I didn't think the Sharks would forget the Rangers having a Stanley Cup victory party at their expense. In fact, I thought the Rangers would get blown away tonight, in a 6-2 game.
Four minutes into the first period, it looked like my prediction would pan out. Here's Brent Burns:
BRENT BURNS OPENS THE SCORING THROUGH TRAFFIC!#SJSharks pic.twitter.com/vFuo6CXL7s

— NHL Daily 365 (@NHLDaily365) October 31, 2018
1-0, bad guys.
On the goal, Lundqvist had no clue where the puck was. Seems to be a trend lately.
However, instead of letting the Sharks gain any type of momentum, in what felt like a role-reversal, Mats Zuccarello immediately answered back, tying the game at one goal a piece:
Man, that Zucc can shoot it! #NYR pic.twitter.com/HpgcMLGP8x

— MSG Networks (@MSGNetworks) October 31, 2018
It was pretty ironic how two of the better goalies in the league, in both Lundqvist & Martin Jones, both gave up early goals. However, both would settle down and the game would remain 1-1, until the 1:13 mark of the third period.
The Rangers would get a couple of PP's in the period. Kevin Hayes looked solid and was making good passes. Again, Shattenkirk, the man paid to be the man on the PP, looked iffy to me. And I'll keep saying this until it happens – "PUT LETTIERI ON THE PP!"
Lundqvist had a quiet first period, and made 6 saves. Jones would make 16 saves on 17 shots. The roles would be reversed in the second period.
1-1, after one.
The Rangers, who played a monster of a game in this bout with the Sharks, got no credit from Micheletti tonight. Seriously, I'm waiting for the day where Micheletti says, "WHAT AN ARM RAISE BY LUNDQVIST TO GET THAT ICING CALL SAM!" (Joke credit: @Fixxser)
If you just listened to Micheletti and had no picture of this game, you would think the Rangers played like dog shit. The non-stop verbal tongue baths that Micheletti gives his Swedish diva takes away from what Lundqvist is actually doing. Lundqvist did have a good game here tonight, no doubt, but when every save is god's gift to goaltending, it all becomes white noise. When will Micheletti fawn praise on the other players, especially Vladislav Namestnikov and Vinni Lettieri, who both ate vicious pucks, when blocking shots in the third period?
And don't forget, every goal scored on Lundqvist were the fault of a screen, a deflection, an alien invasion, sun spots, a glare from the scoreboard, the West Nile virus, Saudi Arabia, the Bubonic plague, the Ozone layer, sharts and genital herpes.
I'm just amazed that Micheletti doesn't leave these games with cold sores and calloused hands.
This game really picked up in the second period and neither team looked back.
Like the first period with CK20, Neal Pionk had a GOOD LOOK and Jones made a nice save on Pionk's shot.
Zibanejad would get phantom holding call, a minute into the period, putting the Sharks on the PP. The Rangers PK, to their credit, played well. It's amazing that a team like the Sharks couldn't muster up a PPG here.
Once out of the box, Zibanejad had a wide open look at Jones but pulled a Kevin Hayes and shot high & wide.
Of note, Brett Howden just had a monster of a game, especially in this second period and it should be fun when he puts it all together.
Quinn, who preached the word "RELENTLESS" during the preseason/camp, found his Rangers playing relentlessly all game. They did a good job of meeting the Sharks at the blue line, forced outside shots, blocked shots, and just kept coming at Jones. On paper, this game suggested a fiasco. (Another reason not to buy the chart bullshit.) On ice, the Rangers gave the Sharks everything they had.
Later into the second period, there was a play where McLeod was trying to stop an oncoming Sharks rush, but skated ass backwards into Lundqvist. I mean that literally. I can't find a video of the play, but McLeod's ass hit Lundqvist in the head, and Lundqvist's head took a bounce like the way a football player's head takes a bounce off the turf. The game was stopped for a bit, but Lundqvist remained in the game. I'm surprised the concussion spotters didn't have more of a role here, as Lundqvist's neck/head took an awkward bounce.
And really, as if the McLeod haters needed more fuel, here it was, in the form of McLeod's ass.
After being out-shot 17-6 in the first period, the Sharks out-shot the Rangers, 14-6 in the second period.
At the end of two, and after what was an entertaining and great period of hockey, the score remained 1-1.
Chris Kreider, after being a non-factor in the last few games, and worthy of his "consistently inconsistent" label, woke up in the third period.
In what was turning into a goalie duel, at the 1:13 mark of the third, Chris Kreider ripped a perfect one-timer, in a goal that looked Martin St. Louisesque, to give the Rangers a 2-1 lead.
With the lead, the Rangers really amped the defensive pressure. Erik Karlsson was taking repetitive blue line shots, but couldn't get anywhere close to the net. The Rangers were eating rubber like a Thai hooker. However, a defensive mistake led to this two on one:
TIMO MEIER LIGHTS THE LAMP IN HIS FIFTH STRAIGHT GAME, THIS TIME ON THE ODD MAN RUSH!#SJSharks pic.twitter.com/HCP31XrldH

— NHL Daily 365 (@NHLDaily365) October 31, 2018
2-2.
Obviously, Micheletti wasn't going to blame his spank bank, Henrik Lundqvist, on the goal. Micheletti blamed Lettieri. To me, Skjei was more at fault than anyone, but what do I know?
This goal reminded me of something Vally said a few games ago. I wonder if Lundqvist was half expecting the pass, rather than the shot? In either event, tie game, with under 10 minutes to go.
However, as time was just getting under the ten minute mark, Chris Kreider scored an ugly goal. However, it doesn't matter what it looks like, as long as it goes in! Here it is:
CHRIS KREIDER! RANGERS LEAD AGAIN!#NYR pic.twitter.com/qGixMA7hxw

— NHL Daily 365 (@NHLDaily365) October 31, 2018
3-2, good guys.
I'm telling you, what will be forgotten because Kreider did score, was the fact that Zuccarello had a direct path to the net. His pass worked out. However, we've seen one too many times, where the Rangers, Zuccarello especially, flub these types of plays. However, when it works, it works, so all is good.
While Lundqvist and the Rangers defense stood tall, they got a ton of breaks, as San Jose kept shooting wide. On one play, Sorensen was left wide open in front of the net, but he over-skated and didn't get a shot off.
As time was ticking down, and as the Rangers were putting forth a tremendous defensive effort, the Sharks pulled Martin Jones.
Hockey fans, WHAT SAYS YOU? If you're winning a game by one goal, and there is a minute left in the game, what do you do when you're streaking towards an empty net? Do you…
— Shoot the puck into the empty net
or do you
— Make a backward pass and turn the puck over?
If you guessed make a backward pass and turnover the puck, then your name is Jesper Fast!
I couldn't believe my eyes. In what was the most exciting and hard fought game of the season, Jesper Fast, on a clear breakaway to an empty net, decided that sealing the deal himself wasn't worth it, and he made a backward pass, which became a Shark turnover.
Fast may think he's being unselfish here, but fucking win the game. Fast has done this shit before, so this needs to be nipped in the bud.
If the Rangers would've lost this game, Fast would've been the goat.
Despite Fast's boneheaded play, the Rangers were seconds from winning the game. However, the Rangers, being the Rangers, can never have anything nice and easy. Here's Hertl, with a second remaining:
TOMAS HERTL WITH 1.3 ON THE CLOCK! HOW DID HE GET SO OPEN!? TIE GAME!#SJSharks pic.twitter.com/ghQ6PjsOX3

— NHL Daily 365 (@NHLDaily365) October 31, 2018
3-3. I was surprised that Lundqvist didn't smash his stick over Fast's head.
In the overtime, the Rangers would get a power-play, but once again, squandered an opportunity to win. Jones made a few good saves, but while on the PP, the Rangers took a penalty, when Kreider got caught slashing. The Sharks would have a PP to close the overtime period.
In what almost felt like deja vu, Brent Burns blasted a puck and Lundqvist made a great save with .5 seconds remaining. If that puck went in, I think Lundqvist would've smashed the entire wooden bench over Fast's head.
In the shootout, the Sharks went first. I don't get why the home team always wants to shoot first. If I was the coach, I would rather have last licks. Lundqvist was flawless in the shootout. To make the win more dramatic, Jones, who previously stopped Zuccarello & Zibanejad, was beat by Kevin Shattenkirk, giving the Rangers a 4-3 shootout victory.
All I can say is this – if you missed this game and have the time, try to watch the replay. This was a hell of a hockey game.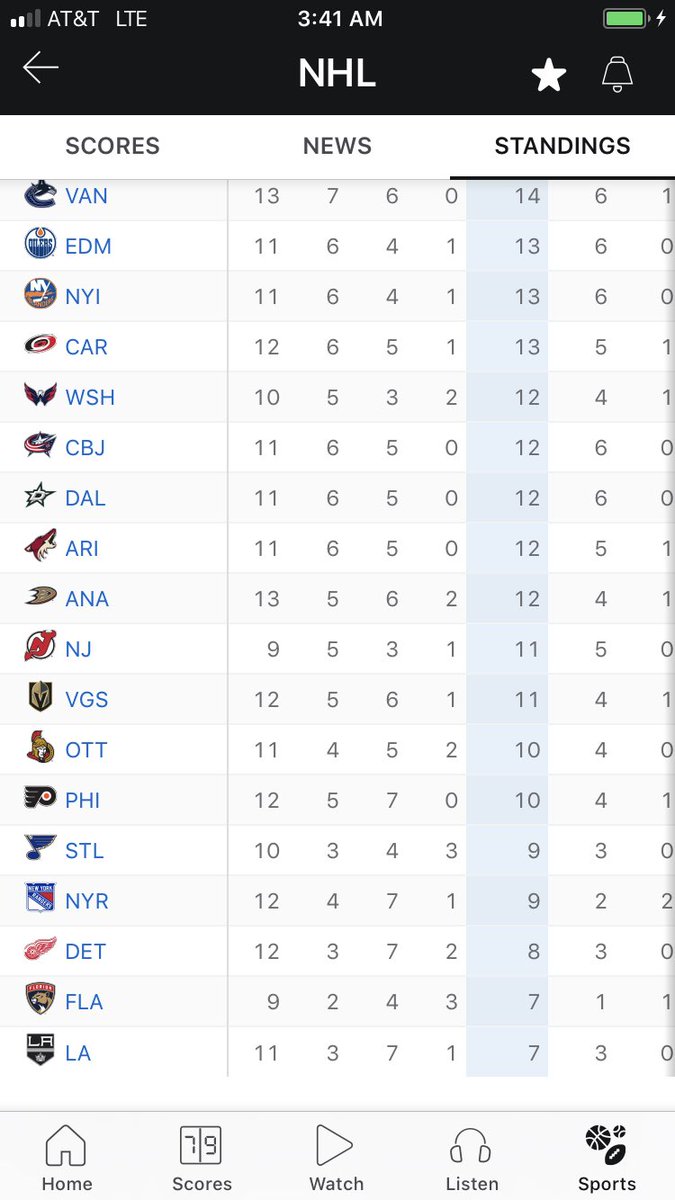 This was a great game and I can't stress that enough. Of course, if you're in the LOSE FOR HUGHES camp, this game did some damage. However, this is only game 12, so there are plenty of other games to lose, especially if the Rangers start selling off any time soon.
In the post game, you can see the relief in the faces of Lundqvist and Quinn. Their faces looked like two men who were holding a piss on a shaky two hour car ride and finally were able to urinate.
You can't over react to one win or one loss, but for one night at least, the Rangers executed an entertaining and winning brand of hockey.
Up next, the Rangers go back to the Los Angeles area, this time to play the Ducks, as the Rangers will finish up their California road trip on Thursday night. I'll try to get a blog up after that game, work schedule permitting. If not, I'll get something quick up before now and the fanny pack Sabres game on Sunday.
Sorry for going so short here, but it's late, it's Halloween and really, who else is recapping this game like I just did?
Furthermore, I just finished a great book on goaltenders from the 1960's. I hope to get a review of that done, hopefully sometime next week.
Until then, maybe see you with another blog on Thursday, or maybe I will see you on "Rainjizz Aftah Dawk" on the twitter.
As always, thanks for reading and…
"LET'S GO RANGERS!"
Sean McCaffrey
BULLSMC@aol.com
@NYCTHEMIC on the twitter machine