Greetings and salutations everyone and welcome to another blog here on BlueCollarBlueShirts.com. On Monday night, back at it at Madison Square Garden, the Rangers picked up another two points in victory, this time by defeating the Dallas Stars, by a score of 2-1.
For the New York Rangers, a team that many expected to stink all season, they are now the hottest team in the NHL, as they are now 8-1-1 in their last ten games. After coming up on the wrong side of many scores earlier in the season, the Rangers have now picked up 17 points out of a possible 20. Furthermore, with 21 games played, the Rangers have now played more than 25% of their games this season.
A generation or an era ago, fans, critics, players, and really everyone else, didn't really start to get invested into the standings until the Martin Luther King holiday. Once all the holidays passed, then it was time to start taking the standings seriously. Then, when football ended in the first week of February, you really started paying attention to the NHL standings.
In this new era of the NHL, this hard salary cap era of the NHL, which started after the 2012 lockout was settled, many fans, critics, players and everyone else, now considers American Thanksgiving as when you start worrying about and assessing the standings. With Thanksgiving just days away, there is a very good chance that the Rangers will hold a Top 3 seed in the Metropolitan Division.
As talked about in my most recent blogs, tough waters are ahead for GM Jeff Gorton. You can only say "it's early, blah blah blah" for so long. When do you put the belt around your big boy pants and strap on in? Is it worth exploring a trade for William Nylander? Is it worth trying to make a move for Artemi Panarin now, rather than waiting for free agency?
We all know this – the NHL Stanley Cup playoffs are like nothing else. While usually the juggernauts hoist the Cup, we have seen plenty of Cinderella runs to the Final. Will Gorton buy in on the idea of a playoff run or will he stay the course? As a Ranger fan, as the wins and points total keep increasing, I also have my eye on the trade deadline.
I didn't make this but I'm in tears #NYR pic.twitter.com/2IQQFnHPfL

— BlueCollarBlueShirts (@NYCTheMiC) November 18, 2018
Before tonight's game with the Stars, these last 36 hours or so have been brutal for me. I have been feeling sick for the last month, with an epic cough. I just figured it was something that would go away. At 36 years old, I think I have been to the doctor maybe three times in the last 20 years. There's no illness that a little beer and grandpa's whisky won't fix!
However, this cough and these dizzy feelings wouldn't go away. I finally went to one of those doc in a box's on Sunday. Turns out I have had walking pneumonia and a savage case of a post nasal drip. The post nasal drip thing cracks me up, because it sounds like such a sissy and foo-foo thing to have. I can hear Sol Rosenberg from the "Jerky Boys" right now, "OH BOY, I GOT A BAD CASE OF POST NASAL DRIP AND IT'S TEARING THE ASS OUT OF ME!"
Obviously, being sick sucks, and being sick before Thanksgiving and a week before I have a flight to Canada, isn't ideal. I'm hoping this medicine that was prescribed works. I still say Miller Lite and whiskey can cure anything. Seriously, when I'm drinking, I'm not coughing. It's like the body gets buzzed and forgets it's sick. Booze is the same thing as NyQuil really. That last sentence will either get me my PHD or will be used on my epitaph!
As I was sitting in the doctor's office coughing out a lung on Sunday, I checked my phone to find out that Vinni Lettieri was sent to Shartford. Double-whammy. More on Lettieri in a bit.
As someone who has placed a horse wager or two in my lifetime, the trifecta of bullshit hit me. This was proof that all bad things come in threes. On Monday, while listening to the "Bleeding BlueShirts" podcast, with John Giannone & Dave Maloney, I got two emails saying that I bought and sold Hamilton tickets. What?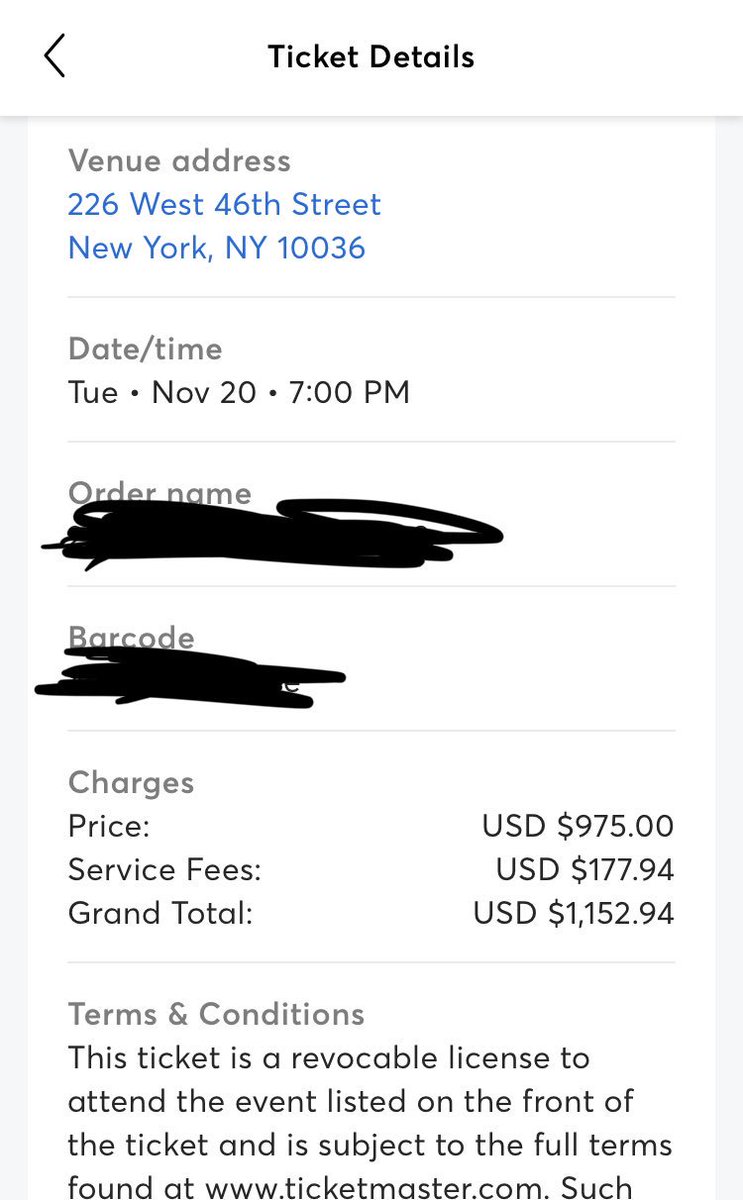 With Lettieri in Hartford, having these ailments (thus missing work and I don't get sick days in my line of work, so being sick costs me money) and also having a smidge of diarrhea, the last thing I needed was debit card fraud.
Turns out that someone got into my Ticketmaster account, bought four tickets at $1152.94 a pop on my saved debit card, and then resold a pair for less money. Whoever pulled this scam will be caught fairly quickly, as they wanted the refund to go to a new credit card, which they set up on my account. If you've ever seen the movie "Goodfellas", this is like when they bought liquor for face value at the front of the door, then sold it for half price out the back of the restaurant.
Luckily, my bank and Ticketmaster could see this was a fraud, and I got all my money refunded within minutes. However, this took up an hour of my day and it hurts to talk with this cough. I'm glad I write 10K words a night and not do a 9 hour podcast after games!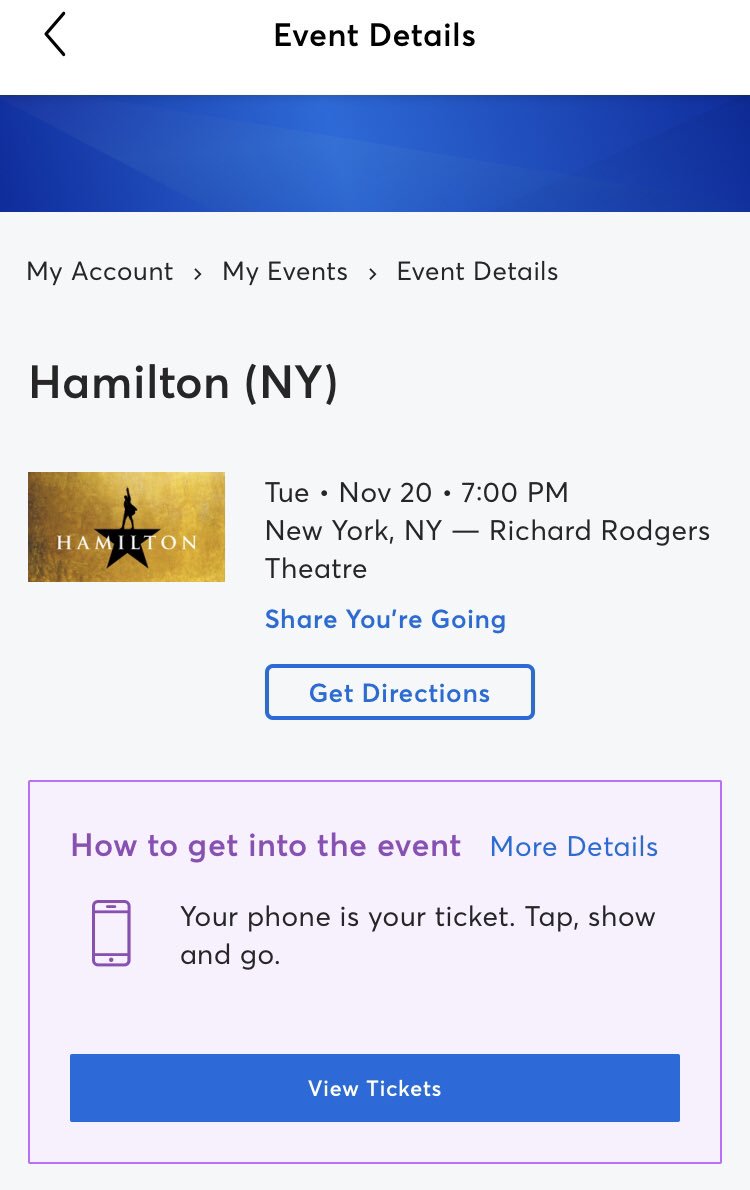 So to quickly recap, my last 36 hours consisted of the following:
Saw one of the Rangers I was rooting for get demoted.
Get diagnosed with some serious shit.
Have someone commit grand larceny with my debit card.
So yeah, this wasn't ideal.
However, do you know what makes me feel better and just lets the shit fade away? This: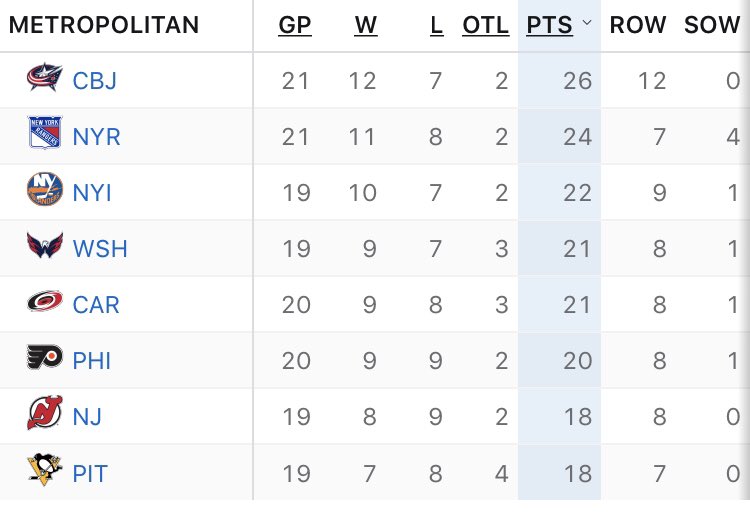 That's right, as a result of their 2-1 win over the Stars tonight, the Rangers are second place in the Metropolitan Division. And while it's hard to really talk shit about a team that has won 3 Stanley Cups in the last 10 seasons, how about those Penguins?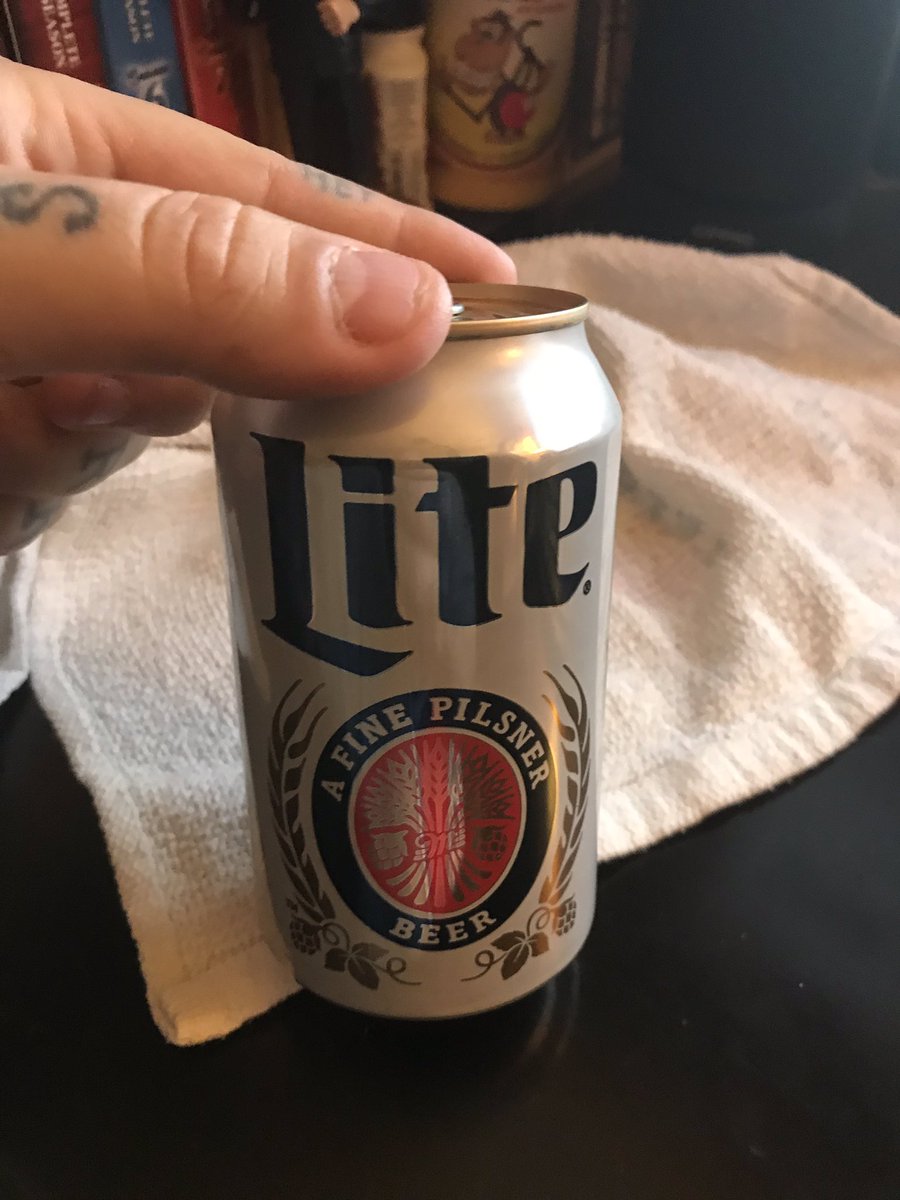 In my last blog, I talked about how Vinni Lettieri was on "thin ice", pun intended. I even said that in the case of Vinni Lettieri, that his best case scenario was that come Monday night, he was on the "Scratch List" of Quinn. However, as I thought, my worries and suspicions were confirmed on Sunday, as Vinni Lettieri was sent to Hartford.
As mentioned, I talked in-depth about Lettieri's play in my last blog. In case you missed that blog, or any of my most recent blogs, you can check them out below:
---
---
---
---
---
---
When it comes to Lettieri, I can't fault the Rangers, Quinn, Gorton or whoever made the final call, to send Lettieri down to Hartford. I still stand by my opinion that Lettieri isn't a priority to the Rangers and will never get the same treatment that Namestnikov or Chytil got. Lettieri just has the wrong last name & the wrong contract. He needs to earn his minutes more than others and there won't be much patience afforded to him.
History lesson time!
It's funny, in a different era, Lettieri, because of his last name, would be given time with the Top 6 and would have the team investing him. After all, this is the same team that changed the names of Lorne Chabot and Oliver Reinikka.
If you don't know, when the Rangers first started and were looking to attract customers to attend games, they changed Lorne Chabot's name to "Lorne Chabotsky", in an attempt to draw Jewish fans. They then changed Oliver Reinikka's name to "Ollie Rocco", as a way to draw Italian fans. The fraud would eventually be exposed, but it would take some time, as you didn't have Twitter in 1926.
Anyway, back to Lettieri!
The second Lettieri committed that interference penalty on Saturday, I could feel his time was up. Yes, he was stuck on the fourth line with McLeod, didn't get a lick of PP time and was used as a grinder, but he needed to log some points. They just never came. When the goaltenders have more points than you, it's an issue.
All you can do now is hope Lettieri gets it together in Hartford. However, if he does turn it around and is called back up, will it do it him any good by having him skate with McLeod every night?
With Mats Zuccarello still out with an injured groin and with Buchnevich remaining on the IR, the Rangers called up Steve Fogarty. With the injuries, the Rangers do not have a healthy forward in the press box. In my opinion, with the Rangers on a homestand, and the only away game in Philadelphia, I don't think there was any need for the Rangers to keep Lettieri around or to call up anyone else from Hartford. If they need someone, Hartford is only a two hour drive away.
Of note on Fogarty, David Quinn, on his off-day, traveled to Hartford to take in their Sunday afternoon game. While I don't know if Fogarty was the plan all along (he has been Hartford's hottest player) he must've done enough to have sold Quinn. To me, I do want to see what Tim Gettinger has, but I won't argue against a good old Notre Dame boy like Steven O'Fogarty!
So when it comes to the line-up, this is what Quinn put out there against the Stars: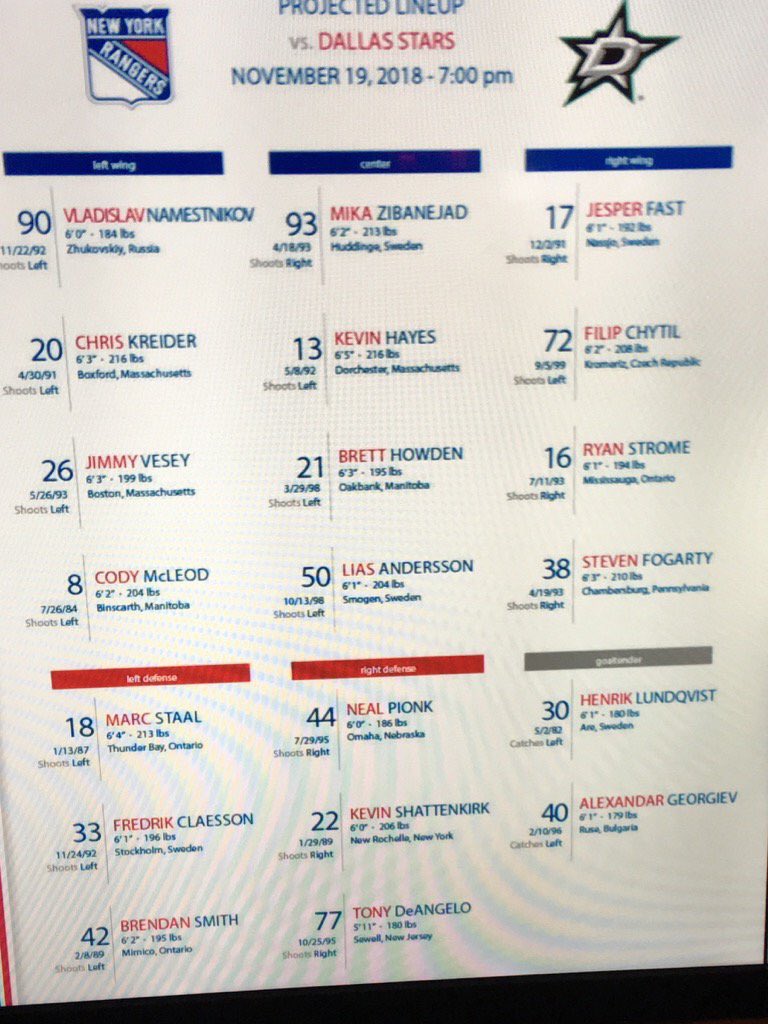 The only real change of note was that Chytil and Fast were flip-flopped. It worked out tonight, but I wonder why they switched places. I'll watch the Quinn press conference after I finish this blog, and if there is any thing of note about it, I'll throw up the news on my Twitter page.
As far as who made the "Scratch List" of David Quinn tonight, Brady Skjei is now the returning two time champion. I thought Quinn said something that made sense before the game. To paraphrase Quinn, Quinn said, "No one in February or at the end of the season is going to remember if you didn't play two games in November." Well stated, especially if Skjei is traded to Toronto in a package for Nylander!
As I've been saying all along, with the Rangers rocking and rolling, who am I to question Quinn? He's around these guys 24/7. He's pressing all the right buttons. When it comes to the lines and defense, I'm going with his calls.
However, for as great as Quinn has been so far, I do not agree with him starting Henrik Lundqvist tonight.
Before doing a Lunqvist diatribe, I just want to remind you of this, as fans have already forgotten that Quinn has said that Hank has control of his starts: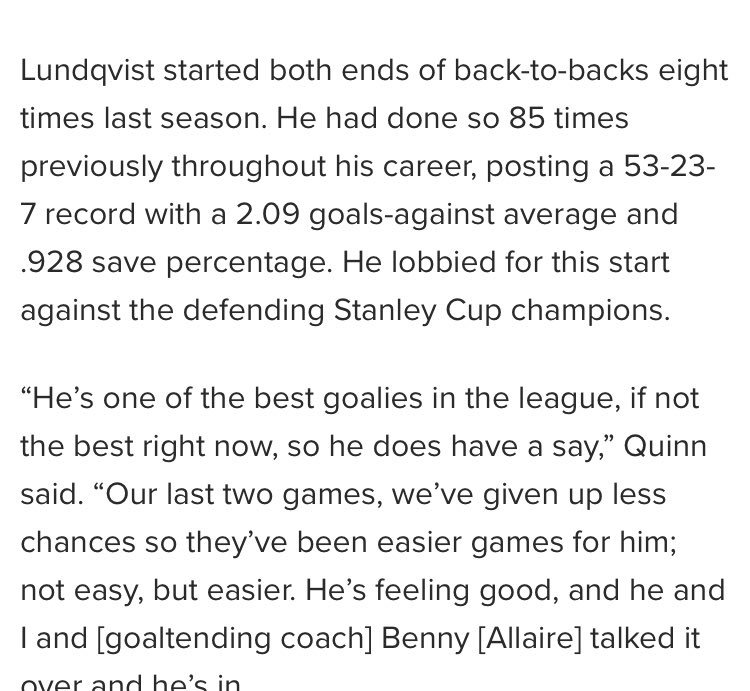 As I said in the Florida game review blog, what's the deal here with Hank? Are we here to pad numbers or what? Is this a rebuild or a team that wants to make the playoffs?
If you're a regular here, you know I want to make the playoffs. I know many fans want the tank. If you want the tank, you should want Georgiev to play more. If you want the playoffs, you should want Georgiev to play more. I don't want to criticize Quinn here, but does he really think Lundqvist is going to hold up in the playoffs after playing 65-70 games in the regular season?
I know that Georgiev isn't Talbot or Raanta when they were here, but you need to pick and choose his starts. I thought the Florida game would've been perfect to give Georgiev some work. Coach Lundqvist wanted to pad his all time wins. Fine.
However, in this game with Dallas, Dallas was on the second game of a back-to-back and were rumored to start their back-up. (Starter Ben Bishop wound up playing, but would leave the game, more on that in the game review portion of this blog.) Dallas just scored 6 goals the day before, when they crushed the Islanders.
When it comes to daily sports like hockey or baseball, I believe that when you have big offensive production in the first game of a back-to-back, you kind of shoot your load. Very rarely, do you see teams post a high number of goals in back-to-back games. Especially on the road.
Furthermore, I rather Hank fresh and rested, as he looks to get this Islander monkey off his back. The last thing we need is Hank looking like a turkey against the Islanders again, come Thanksgiving Eve.
I saw some fans write that Georgiev should play on Wednesday against the Islanders, because Hank, for lack of a better phrase, "FUCKING BLOWS" against the Islanders. I don't buy that, at least for right now. If Hank ducks the Islanders, that's cowardly to me. He needs to stop beasting on these crappy teams and he needs to beat these Islander low lives.
The bottom line here is that Alexandar Georgiev needs to play. I've done rants on all this stuff before, so refer back to my past blogs. With CZAR IGOR possibly coming here next season, the Rangers need to see if Georgiev is the goalie of the Wolfpack or if they can get anything back via a trade. The Rangers won't know what Georgiev can do if Hank is going to play 70 games & if Hank does play a crazy number of games, I don't see him holding up in the playoffs, should the Rangers get there.
Before diving into this game, here's the official ESPN.com box score:
SCORING SUMMARY:
1st Period
No Goals Scored
2nd Period
2:17

Tyler Seguin

(7)

(Power Play)

Assists: Esa Lindell, Jason Spezza

1
0
9:38

Jimmy Vesey

(7)

Assists: Marc Staal, Brett Howden

1
1
3rd Period
4:32

Filip Chytil

(4)

Assists: Brendan Smith

1
PENALTY SUMMARY:
1st Period
7:20

Dallas Stars:

2 minutes for Too Many Men/Ice – Bench (served by Valeri Nichushkin)

7:34

Vladislav Namestnikov:

2 minutes for Slashing

9:20

Brendan Smith:

2 minutes for Tripping
2nd Period
0:31

Mika Zibanejad:

2 minutes for High-sticking

4:05

Fredrik Claesson:

2 minutes for Tripping

7:19

Jason Dickinson:

2 minutes for High-sticking
3rd Period
No Penalties This Period
GOALIES:
| | | | | | | | | | | |
| --- | --- | --- | --- | --- | --- | --- | --- | --- | --- | --- |
| SA | GA | SV | SV% | ESSV | PPSV | SHSV | SOSA | SOS | TOI | PIM |
| 17 | 1 | 16 | .941 | 14 | 2 | 0 | 0 | 0 | 60:00 | 0 |
| | | | | | | | | | | |
| --- | --- | --- | --- | --- | --- | --- | --- | --- | --- | --- |
| SA | GA | SV | SV% | ESSV | PPSV | SHSV | SOSA | SOS | TOI | PIM |
| 13 | 1 | 12 | .923 | 10 | 1 | 1 | 0 | 0 | 40:00 | 0 |
| 10 | 1 | 9 | .900 | 9 | 0 | 0 | 0 | 0 | 17:43 | 0 |
I talked about this in my Florida game review blog, and I felt the same way about this game – I fully expected the Rangers to win this game. That's where I am with this team. I expect them to beat bad teams. I expect them to beat road teams on the second half of a back-to-back. The fact that fans are complaining about minutes and lines is a good thing. It means the team is doing well.
If you follow me on the Twitter or converse with me on the Book of Face, you could tell that I was completely overlooking this game. I did the one thing that no athlete should do – I took this game for granted. I'm just a fan and not a player. Can you blame me? To me, I thought the Rangers would handle business tonight and then all the focus would be on the Islanders.
Am I overrating a potential win over the Islanders? I don't think so. Not only are the Islanders the Rangers most heated rival, they are neck & neck with the Rangers in the standings. The Islanders have just dominated the Rangers these last few years. It's time for that shit to end and the Rangers can turn the tide on Wednesday.
One thing that did have me a little nervous at puck drop was that Ben Bishop, and not back-up goalie Anton Khudobin, was in net for Dallas. I don't need to give you a reminder about how many times the Bishop has taken the King in the past. With the way this game was going, it felt reminiscent of those final two games of the 2015 ECF too. However, Bishop would get hurt at the end of the second period, Khudobin would come in, Chytil would beat Khudobin with a great wrister and just like the days of old, Lundqvist made his old quote of "Give me two goals and I got this" stand up.
Keep in mind that I'm sick and battling through here. This was a well played hockey game, where defense and limiting opportunity was the story.
On the Rangers most recent wins, I thought my buddy Greg Rutherford made a great point:
#NYR We beat Florida 4-2, they won 6-3 against Ottawa tonight. Dallas beat the Islanders 6-2 last night. We beat them 2-1. People need to stop saying the Rangers defense is shit.

— Fixxser (@Fixxser) November 20, 2018
Credit the Rangers defense or credit Quinn for instilling the fear of the press box into them, but either way, the Rangers have been playing fairly well on defense lately.
Most of this game felt like the late 1990's NJ Devils. While this brand of hockey isn't the most exciting to watch for some, it's working and that's all you want. Combined, the two teams only took 40 shots tonight. On most nights, Lundqvist & Georgiev see 40+ shots alone.
As talked about in past blogs, the Rangers find different ways to games, and this game was another example of that. Jamie Benn of the Stars leads the league in the SOG stat. He would have 0 shots tonight. Radulov and Seguin, two huge offensive threats, combined for 3 SOG. In other words, the Rangers held the Stars top line to one shot a period. That's a recipe for success.
Oh, and because I've brought this up before, Steve Valiquette was jacked about the Rangers defense and limiting the Stars first line tonight. I can't lie – when I see Rangers alumni getting pumped up after wins, it gets me pumped up too. Yes, I expected the Rangers to win this game, but when I see ex-players get excited too, the feeling is like my walking pneumonia – contagious!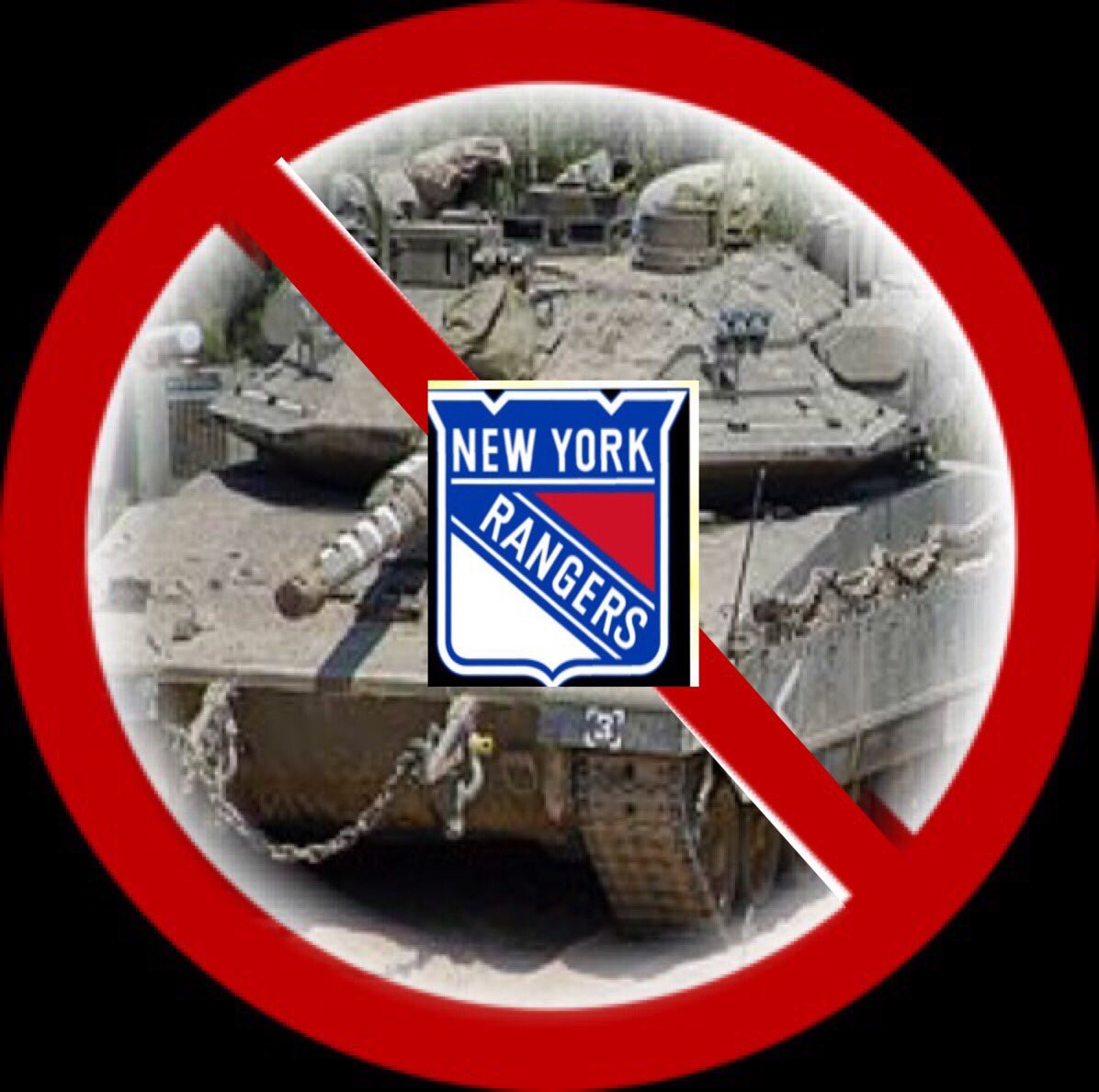 I didn't catch much of the pregame show, although I tuned in to hear how impressed Joe Micheletti was with Henrik Lundqvist. You don't say Joe.
Also cringe-worthy before puck drop, the MSG Networks plugged three different car companies within the first minute – Kia, Mercedes and Infiniti. Do the Rangers & MSGN expect fans to buy three new cars? Not of all us get paid seven figures to do nothing like we're Glen Sather.
Sam Rosen also talked about the Lettieri move and actually defended him & how it was tough to get offense going on the fourth line. Micheletti said the opposite. I wish I could've done a Lundqvist stick smash over Micheletti's noggin.
Most of this game was a defensive battle. If you were here for the goals or fantasy points, you were left disappointed. This also wasn't a game where the goalies really shined either. While there were a few good saves sprinkled in, this game was really a battle between the skaters. It was nice to see the Rangers win one of these types of games.
With Bishop in net, I almost looked like an idiot for thinking this would be an easy win, as the Stars first line kept the puck in the Rangers d-zone to start the game. The Rangers couldn't establish much of a forecheck. However, this initial play would fade, as the Rangers got back on their horse and limited Dallas.
In a game that was dragging a bit, and again I'm sick and sleepy, so this game didn't do much to pump me up (In other words, it wasn't like that great & exciting win over the Sharks from a few weeks back) the Stars took the first penalty of the game at the 7:30 mark, when they were caught with too many men on the ice.
Two things on that penalty. One, it's always going to be funny when the other team takes the too many men penalty after the Rangers struggle with that earlier this season. Two, besides seeing Lundqvist, nothing gets Joe Micheletti more erect than counting all the men on the ice on his telestrator:
"THAT'S 7 MEN ON THE ICE SAM. YOU'RE ONLY ALLOWED FIVE SKATERS AND ONE GOALIE SAM. THERE ARE 7 MEN ON THE ICE. THAT'S ONE TOO MANY. YOU SEE, IF YOU HAVE 6 PLAYERS ON THE ICE IT'S OK, BUT WHEN YOU HAVE 7 SAM, IT'S TOO MANY MEN. LET ME CIRCLE THEM FOR YOU. YOU SEE, THAT'S 7 MEN SAM AND THAT'S A PENALTY EVERY TIME. YOU SEE? 1, 2, 3, 4, 5, 6, 7. YEP, THAT'S 7 MEN SAM. SOMEONE IS GOING TO HAVE TO GO TO THE BOX. WAIT A MINUTE, 1, 2, 3, 4, 5, 6, 7, YES, THAT IS 7 MEN ON THE ICE SAM!"
Okay, while I'm exaggerating a bit, I'm surprised Micheletti didn't knock down the scoreboard with his raging boner when counting the men on the ice.
Radulov went off to serve the penalty. Four seconds later, Namestnikov got called for slashing Dickinson. Another early wasted power-play for the Rangers.
Both teams would skate four on four. When Radulov got out of the box, Brendan Smith was called for tripping Radulov, as Radulov took a dive. The Rangers and referees haven't been getting along lately.
On the Smith penalty, I think what hurts Smith is that he now has a reputation for taking bad penalties, so when Radulov sold the trip like Ric Flair taking a bump, the referees gave Radulov the benefit of the doubt. Needless to say, Quinn wasn't impressed with the call.
And for all my complaints about the Rangers PP, the Stars were one of the worst teams in the league on the PP. During two of their PP's tonight, they wouldn't register one SOG.
As the period was winding down, the Stars only had 7 SOG. The Rangers also blocked 6 shots. Holy John Tortorella Batman!
At the end of one period, which really had no flow to it (Jimmy Vesey would say the same thing in his interview with Gianonne), the score remained at 0-0. Interesting stat, in 16 out of 21 games, the Rangers have been tied after one period. It just goes to show you that they are in nearly every game they play.
The second period didn't start off great for the Rangers, as Mika Zibanejad took a foolish high sticking penalty while in the Rangers offensive zone. This set off a chain of events that saw the Rangers get a two on one on the penalty kill. On the two on one, Vesey made a gorgeous pass to Howden, but Bishop made the save with his right pad. On the ensuing rush, and with a man short, Tyler Seguin would score what would be the lone Dallas goal of the game, a power-play goal at that:
TYLER SEGUIN SNIPES ONE HOME FOR THE STARS ON THE POWER PLAY!#GoStars pic.twitter.com/yjFIKfdhZ0

— Hockey Daily (@HockeyDaily365) November 20, 2018
1-0, bad guys.
On the goal, Lundqvist was screened, but he didn't do much to fight it. With the goal allowed, the Rangers are still looking for their first shutout of the season. Nothing would make me happier than seeing Lundqvist get that shutout this Wednesday against the Isles.
Less than 90 seconds after the Seguin PPG, Frederik Claesson went Claessoff the ice, after he took a blatant tripping penalty. This time, on the PP, the Rangers held Dallas off and Dallas wouldn't get a SOG.
Vesey, previously robbed on a rush with Howden, would get another chance at Bishop, this time having a deflected puck stopped by Bishop. I didn't realize you could save deflected pucks, especially after listening to Micheletti after the game with the Isles on Thursday. I'm surprised Bishop wasn't inducted into the HHOF for making a deflected puck save, because according to Micheletti, saves like that don't happen.
With two points being taken away from him by Bishop, Vesey's third time was a charm, as he tied the game at the 9 minute mark, with a highlight reel goal:
Sam Rosen had every right to go crazy on this Jimmy Vesey goal! WOW!!! #NYR pic.twitter.com/xwAy7te4Vy

— MSG Networks (@MSGNetworks) November 20, 2018
What a hell of a goal for Jimmy Vesey. It's not every day that you see a fadeaway backhanded shot that goes through the goalie's five hole. Sure there is some luck involved, but you need to be skilled to even get that shot off too.
1-1.
After the goal, Sam & Joe started yukking it up like two friendly drunks at the neighborhood dive. "Hey now Joe, maybe that interview with Gianonne sparked that Vesey juice! <Elbow, elbow, elbow, wink, grin.> How about it Joe, maybe the juices are flowing after talking Harvard with Giannone, know what I'm saying buddy oh pal of mine?"
On Vesey, that was his 7th goal of the season. If he wasn't robbed so much earlier in the season, he would have 12 goals by now. He's really playing well.
With the teams really clamping on defense, like they were two teams trying to show off who had the better vise grip, the score remained 1-1 after two periods. Of note, Marc Staal was very impressive to me.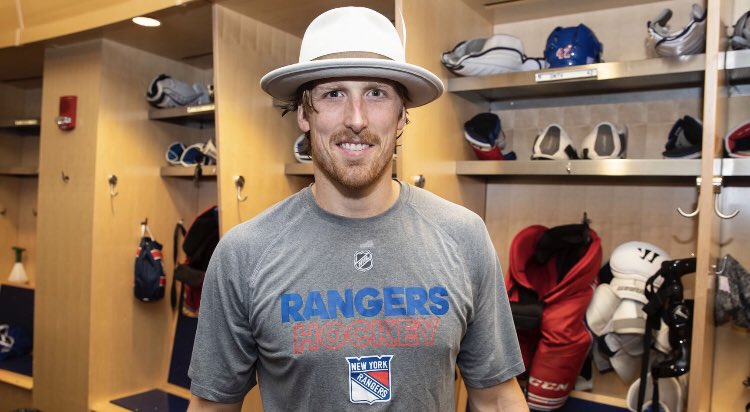 In a third period devoid of much offensive action, Filip Chytil, at the 4:32 mark of the third period, would score his fourth consecutive goal in as many games. We all know the "When you score one, it comes in bunches" cliche, but Chytil is heating up. Maybe his hot streak is why the ice is so bad at MSG these days. That could explain all the players falling down at opportune times!
Here's Chytil, who if you don't know, is only 19 years old:
FILIP CHYTIL! WHAT A SHOT! RANGERS LEAD! 4 GAME GOAL STREAK FOR CHYTIL!#NYR pic.twitter.com/qvJmtkQClh

— Hockey Daily (@HockeyDaily365) November 20, 2018
On the goal, as Chytil was rushing up the ice, all I was thinking was "He's going to pass to Hayes and it will be a turnover." Instead, Chytil, unlike most of the guys on this team, took a shoot-first approach, and beat Anton Khudobin, who entered the game after the lower-body (Diarrhea is my guess) injury to Ben Bishop.
2-1 good guys, and what a snipe.
Oh, and how can anyone make the argument, right now, that Andersson deserved to be drafted before Chytil?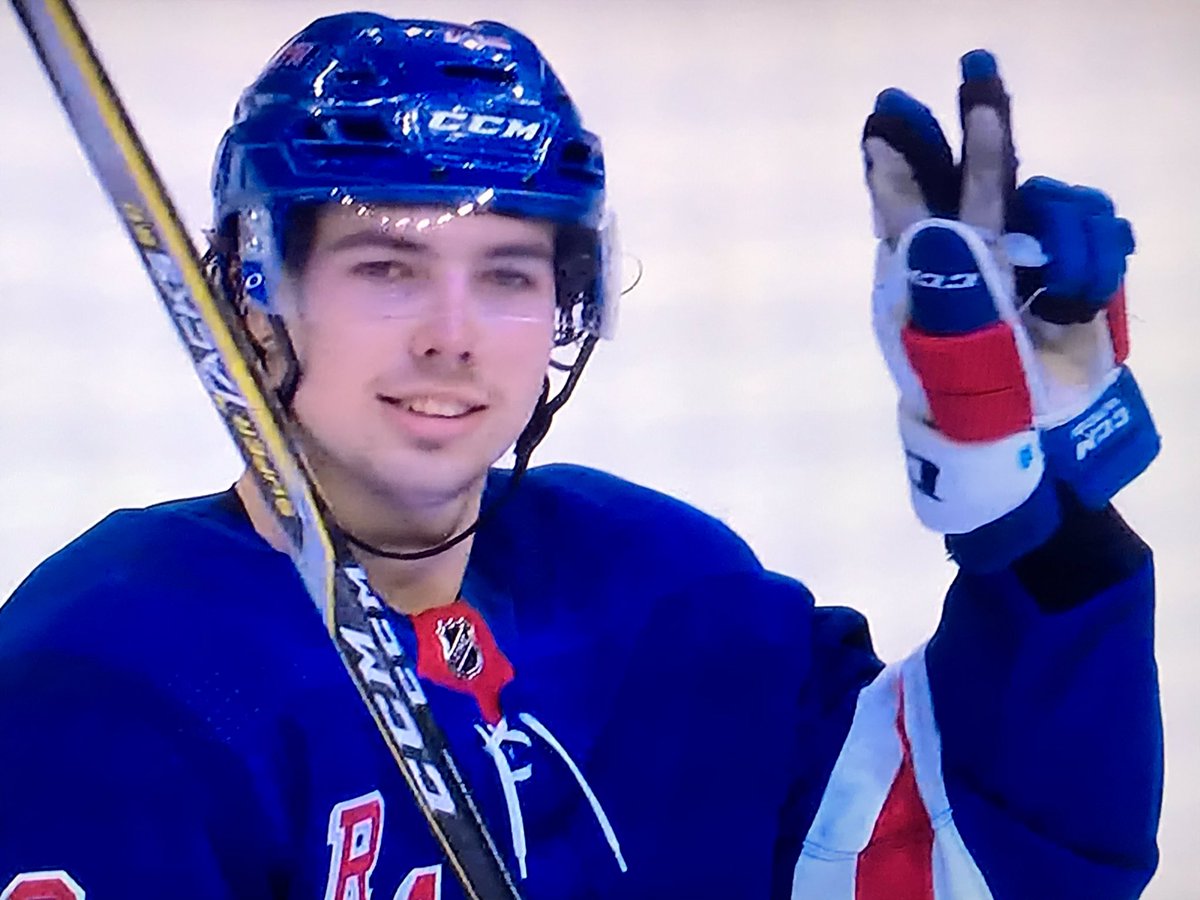 With the Rangers holding a 2-1 lead, Cody McLeod got into a little roughness. I loved this tweet from the person who gave us DEMAGANGELO:
I laugh every time I hear fans react to a nice big hit or a fight.
nO rOOm fOR iT iN tHE gAMe

— Kelsrardi (@NYRKelsMads) November 20, 2018
Oh and while on Tony DeMAGAngelo, I thought he, just like everyone else on this defense, had a great game tonight. And I gotta wonder, when you have these snowflake fans crying about hitting and fighting in hockey, what do they do when they are at the game, assuming that they do go to games? Do they run to the "CHASE" SAFE SPACE area of the game to eat vegan food and hug a standboard cut out of Steve Valiquette holding a chart?
When the Rangers got the go-ahead goal, which would eventually be the first ever GWG for Chytil, you could see them rev it up a bit. Not to say they weren't playing great defensively before, but they just wouldn't let Dallas get anything going.
With 2:17 remaining in the period, Dallas pulled their goalie. Dallas would have a sustained attack and Chytil would ice the puck. Some people were whining about that and even Quinn himself, after the game, said he wanted to put Strome out there, but Strome just came off a shift.
On the icing, it doesn't bother me, because we've seen Chytil do this before. Essentially, he's trying to airmail that puck to the net. Yes, you don't want to do this every time, and you have to pick your spots, but he's hungry for that empty net goal. I can't knock him for it.
What does boggle me is how Quinn uses Jesper Fast in these situations. He may be the worst Ranger whenever the opposition pulls their goalie. From making extra passes to turning the puck over to missing the net, there have been plenty of times this season where Fast just comes up short in these situations.
In this final 2:17, Lundqvist, who had an easy night, would be called to do his best work of the game. He came through and did his job. As the final horn went off, Rangers 2 – Dallas 1. Two more points for the good guys!
6 straight wins at home ✌️😁 #NYR pic.twitter.com/7wzX9zcLU2

— MSG Networks (@MSGNetworks) November 20, 2018
Is anyone loving life and more happy at their job right now than Filip Chytil?
While the scoreboard doesn't suggest this was an easy game, I thought the Rangers were very "mature", if you get what I mean. They didn't make mistakes really. They played hard. They played well. I thought they could've used their speed more, but sometimes, you gotta play with what the opposition gives you. The good teams always adapt and that's what the Rangers did.
I forget which game it was, but there was a game where I thought Quinn was just masterful & the key in the Rangers victory. I thought Quinn did another great job tonight. As someone who didn't want AV fired and would've liked Patrick Roy, Quinn has just sold me and I find myself rooting for him as much as I did when Torts was here. (I loved Torts.)

As I said earlier in this blog, I was overlooking this game and that's because I expected the Rangers to win. With this game finally over, we now look ahead to Wednesday night, Thanksgiving Eve, the biggest drinking night of the year, as the Rangers host the Islanders. I wish I could go to this game, but due to being sick, I'm quarantined at the home base. Oh – and you know you're old when you actually like being stuck in the house. I finished off three books already! Even sadder – I finished the story in "Red Dead Redemption 2".
There is no such thing as a "MUST WIN" game this early in the season. However, to me, the Rangers have to win this game on Wednesday with the Isles. They need to make a statement and beat the Islanders for once. They need to make some distance in the standings.
The Rangers have three straight Metro division games coming up. Winning two out of three would be ideal here, and 3 out of 3 would be great. However, to do that, the Rangers must show the Islanders that their domination is a thing of the past.
Yes, some readers of this blog told me it would be great if Georgiev played, so I could gloat a bit after a win on this blog. While that is true, Lundqvist must play this game, must exorcise these Islander demons and it wouldn't be too bad if the Rangers got their first shutout and first blow out win of the season here too!
And lastly, for fans looking for some good Rangers radio tomorrow night, check out the BlueShirt Underground Radio guys. They will have Ron Duguay as their guest. For more on that, check out @BSURadioJim on twitter and this tweet:
@RonDuguay10 is joining us live on #blueshirtundergroundradio Tuesday 11/20 at 7 PM! https://t.co/zQS8qtpy9q #nyr #NYRangers #NYRalumni
— Jim Schmiedeberg (@BSURadioJim) November 20, 2018
I'll see you after the game on Wednesday night. Until then, thanks for reading and as always…
"LET'S GO RANGERS!"
Sean McCaffrey
BULLSMC@aol.com
@NYCTHEMIC on tweeter