Greetings and salutations everyone and welcome to another manifesto here on BlueCollarBlueShirts.com. With my fifth blog in six nights, I feel like Joe Micheletti talking about the road schedule of the Florida Panthers! And if you don't get that reference, you missed another classic Micheletti moment tonight, where he just rambled on & on and was genuinely perplexed about the Panthers having to play six straight games on the road. The Mind of Micheletti is a most fascinating subject.
The Rangers, coming off that gut-wrenching and disgusting loss to the New York Islanders on Thursday, returned on Saturday night to host the aforementioned Florida Panthers. The Rangers, who previously had defeated the Panthers at MSG, back on 10/23, by a score of 5-2, would win this game tonight, by a score of 4-2.
One universal theory that applies to every professional sport is that good teams should always beat bad teams. The Panthers are a bad team, as they sit in last place in the Eastern Conference. The Rangers have now won both games against the Panthers, thus taking 4 out of 4 points. Does this mean the Rangers are a good team? I think it's too early to decide that.
The NHL standings are a funny bird in the present day. After all, only the Pittsburgh Penguins, (of all teams, go figure) are the only team in the Eastern Conference to not have a record over .500.
In the same vein, if the NHL season ended today, the Rangers would have the third seed in the Metropolitan Division, despite having only 6 regulation/overtime (ROW) victories. While I'm not trying to burst anyone's bubble here, as I'm rooting for this team to win and make the playoffs any way possible, with 25% of the season nearly complete, this stuff is worth taking a gander at.
These numbers are fascinating to me, because with their 6 ROW victories, the Rangers have the least amount of ROW wins in the Eastern Conference. However, if the season ended today, they would be a playoff team. Furthermore, if you break it down, 33.3% of the Rangers ROW wins are against the last place Florida Panthers.
While we all know there are no shoot-outs in the playoffs, because of the Rangers undefeated record in the shoot-out, the Rangers are now in third place in the Metropolitan division and only four points out of first place.
So, I ask again – are the Rangers a good team? After all, aside from the game with Chicago, in the Rangers first 20 games, they've been in every game they've played. They haven't had their doors blown off. They have wins over first place teams. They beat the Stanley Cup champs. They swept the Sharks. They have played neck-and-neck with some of the NHL elite. They seem to get better with every game.
If you're a numbers guy, the numbers may suggest that the Rangers are, for a lack of a better term, "paper champs". However, despite what the numbers may say, if you look at the team on the ice, which has always been my philosophy, I do think the Rangers are a solid hockey team. If there is anything I can say with 100% confidence, it is that this team is exceeding all expectations.
While most of the ink (and other fluids from Micheletti, the NY Post, MSG Networks, the Cult of Lundqvist, etc) are being spilt on the "vintage" (as always, the word vintage always cracks me up, because it implies he was playing horrible for a stretch)  Henrik Lundqvist, when you look at the roster, the other veterans are stepping up too. Chris Kreider is on pace to have the best goal scoring season of his career. Marc Staal is the best defensive defenseman the team has.
Yes, you can be happy for Lundqvist and the way he's played for most of this season. (Although, to me, he has to beat the Islanders on Wednesday.) However, the other two lone holdovers from the 2011-2012 team, the team that made the Eastern Conference Final, in both Kreider & Staal, also deserve praise.
I know it's impossible to expect the MSG Networks to praise anyone other than Lundqvist after a victory (just watch tonight's post game show for Exhibit A) but not only are some of the young kids stepping up, the veterans are also buying into David Quinn & his message. The team as a whole are clicking and Quinn is doing a great job of making that happen.
This season has been a roller-coaster, which I've said in past blogs. We went into this season with no expectations and now I've seen some fans talking the Stanley Cup. And you know what, I don't care if those fans do talk the Cup! After all, who had Ovechkin getting his first Stanley Cup last season? Who had Vegas in the Stanley Cup Final? Anything can happen in the playoffs, and I'll be nice and save you my rant about "how no top 5 paid goalie has ever won a Cup in the cap era" spiel!
Going into this season, we expected a long winter, many dreadful nights and growing pains. Instead, the Rangers, no matter how they racked up the points, are a playoff team at the quarter mark of the season. Many of us just wanted to press the fast-forward button, get to the trade deadline, pause, see what happens and then fast forward through the Stanley Cup playoffs and get to the 2019 NHL draft. In a nice change of events, we're now wondering if this team should be buyers, and not sellers, come the deadline.
And yes, while it's still early blah blah blah, if the team continues to roll & has a playoff spot come the deadline, is this team trading off the expiring contracts of Kevin Hayes & Mats Zuccarello? Will the Rangers even think long term, and trade Zibanejad before his NMC kicks in next season? Will the Rangers do what they did with Ryan McDonagh and trade Chris Kreider with a year remaining on his contract? I don't think anyone knows the answers to these questions, not even Jeff Gorton himself. I really see Gorton having a wait-and-see approach with the way everything is going right now.
It's not just the fans, the writers, the critics, or whoever that thought this would be a lost season. I mean, the team still hasn't replaced Ryan McDonagh as captain. If the Rangers weren't rebuilding, I think the "C" would've been on the sweater of Staal, Zuccarello or Kreider by now. However, when it comes to a captain, does that really matter on this team? After all, the 2013-2014 Rangers made a Cup run without a Captain. While the Rangers do have their veterans, everyone is held accountable on this team and perhaps without a captain, there is more team unity.
The one thing that I said, and many others said, at the beginning of the season was that this would be a stress-less and worry-free season. It was going to be fun to just sit back and enjoy the ride. 20 games in, I feel as invested as ever. I'll take that feeling rather than the feeling of "is it June yet?"
What makes these games and this season so fun is that even with 25% of the season down, no one knows what to expect or what will happen. I'm enjoying the ride and happy to have something to root for.
Now, as always, before getting into the game review and thoughts on tonight, here are my last few blogs in case you missed them:
---
---
---
---
---
---
I recapped the Strome/Spooner trade in the blog linked above, so check that out if you're looking for more on that transaction.
On Ryan Strome, Strome suited up for the Rangers tonight, just as Ryan Spooner suited up for Edmonton. I give credit to both of these guys. It's not easy being traded in the first place. It's even harder when you're traded to a different country and now having to play for a team that's a six hour flight away from your home. While these guys are paid millions to do their job, as anyone who's ever had to move before, it is stressful to have to find a new place to live, even if it's just temporarily.
In the case of Ryan Strome, the Rangers have a jam-packed schedule this week. They had the game tonight. They play Monday, Wednesday, Friday and Saturday of next week. You also have American Thanksgiving on Thursday, which I don't know if Strome celebrates. (Strome is Canadian.) However, if given the chance, I think we would all take $3.1M to deal with that stress!
While I wouldn't say "Strome was thrown to the wolves" tonight, the Rangers needed him to play, as Mats Zuccarello missed tonight's game after re-aggravating his groin, an injury that made him miss several games last week.
With 12 available forwards, due to the Mats Zuccarello and the broken thumb that will keep Pavel Buchnevich out for 4-6 weeks, Quinn had to juggle his lines again. Here's what he rolled out:
FIRST LINE: Kreider/Hayes/Chytil. All three of these guys played great tonight, at least in my opinion.
SECOND LINE: Zibanejad/Fast/Namestnikov
THIRD LINE: Vesey/Howden/Strome
FOURTH LINE: Lettieri/Andersson/McLeod
I got no complaints with these lines, Quinn had to make a decision and more times than not, he's been right this season.
Defensively, that is where the alarm bells went off. Here were Quinn's pairs:
FIRST PAIR: Staal/Pionk
SECOND PAIR: Claesson/Shattenkirk
THIRD PAIR: DeAngelo/Smith
Obviously, the noticeable omission here is Brady Skjei, who was once again subjected to William Nylander trade rumors today, this time from the newly minted HHOF scribe, Larry Brooks.
If the Rangers finished 82-0 and went 16-0 in the playoffs, there would still be players that fans would debate about with rage and intensity. It's just the cycle. If Twitter was around in the 1920's-1930's, people would be whining about Taffy Abel's Corsi and if Ching Johnson was a good defenseman. Shit, I would be probably crying about KING CHABOT! Although, to be fair, the Rangers moved on from Chabot after winning the Cup in 1928. Alas, as usual, I digress…
If you can brave the riptides and strong waters of Rangers social media, you will regularly see pockets of fans whining about DeAngelo, Pionk, Shattenkirk and Smith. Of course most crybaby debates are about the defensemen, and not the forwards, because most of these debates take place between the Cult of Lundqvist and sane Ranger fans. The Cult needs to find someone to blame after a loss, and if you read my Ranger/Islander blog from Thursday, you know all about the Ten Commandments! These never ending debates about the defensemen are not new. Just ask Marc Staal, Dan Girardi, Ryan McDonagh, Nick Holden, Michael Del Zotto, etc.
One player that's been taking it on the chin, not just on social media, but in the print media as well, is Brady Skjei. Without argument, after a strong rookie year, Skjei regressed last season. Vigneault haters will blame AV for Skjei's regression, but that is just lazy. The team as a whole didn't perform. You can't blame AV for everything.
As I've said in multiple blogs, I never got why Gorton gave Skjei that huge deal during this past off-season. He could've waited a year. I also don't think Skjei wants to leave New York, because he has a bond with the city and his BFF's are here. In other words, I don't think Gorton needed to rush into this deal, with the idea being that Skjei may leave if Gorton didn't re-sign him ASAP.
Twenty games into this season, it is tough to give Skjei any high marks. However, because of his bank account expanding, he seemed like he would get time to figure it out. After all, he's the only Ranger signed past the 2020-2021 season.
Earlier in the season, Quinn said that he didn't care about bank accounts and that he was going to play the players that he thought gave him the best chance to win. Skjei, like other high-priced defensemen before him, in Shattenkirk and Smith, was the latest Ranger to sit on his wad of money in the press box.
Of course, because of this one scratch, coupled in with the fact that the Rangers have a playoff seed, people already have Skjei shipped off to Toronto for William Nylander.
On Nylander, while I'm aware of his talent, is this a guy you want to spend a ton of dough on? At only 22 years old, he's already in the midst of contract issues and has a Leveon Bell type of thing going on. Plus, must I remind you of the Rangers history with high priced forwards, who were supposed to light the league on fire, for the Rangers?
Obviously, we will all be monitoring Skjei and where this all goes. I think Skjei is in a different boat than Spooner, but he isn't in a different boat that Derek Stepan was once in. As I said in my Strome blog last night, Jeff Gorton isn't afraid to admit his failures/bad deals, and will trade the bad contracts he gave out, if warranted. He did it with Stepan. He did it with Spooner. Will Skjei be next? With the December 1st deadline for a Nylander trade rapidly approaching, time will tell.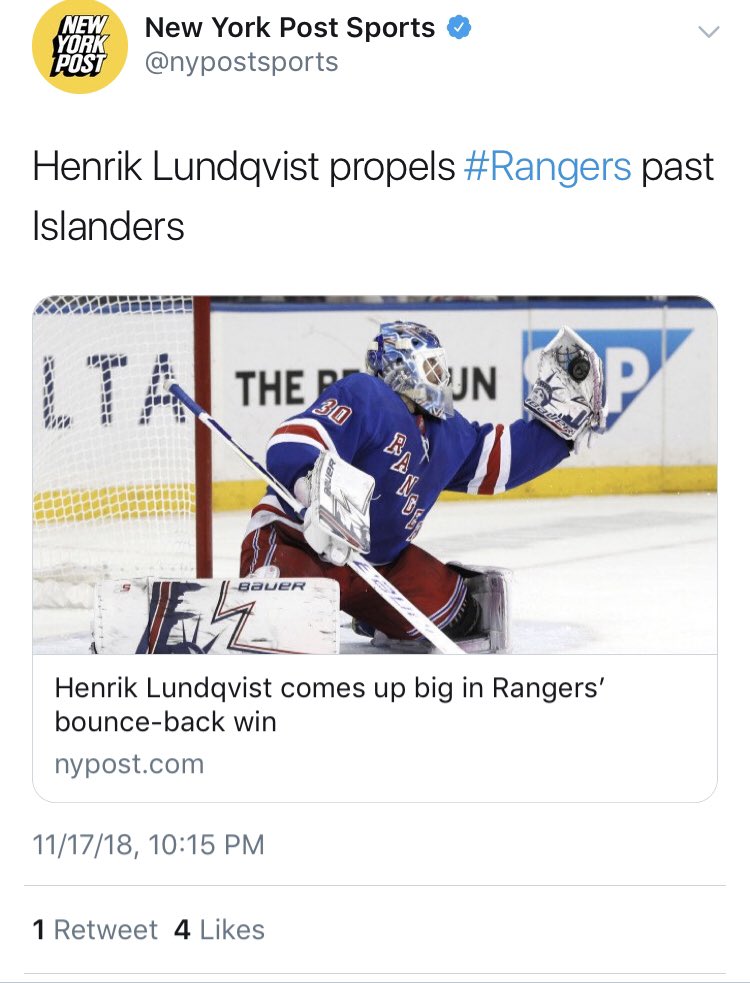 I missed the MSG pregame show tonight, as I was at my niece's/god-daughter's birthday party. When I turned the game on, I was surprised to see Henrik Lundqvist in net. As I said in previous blogs, I thought this was the game to give to Alexandar Georgiev. I thought "THE KING OF KINGS" should've started this one because of the following:
— The Panthers are the worst team in the Eastern Conference.
— The Rangers have played well after losses this season.
— Georgiev had his best game of the season against the Panthers on 10/23.
— Lundqvist needs to stop taking all the easy starts, as he previously lost to bottom of the barrel teams in the games against Chicago & LA.
— If this team really wants to make the playoffs, you can't have Lundqvist playing 70 games this season.
— Georgiev isn't Talbot or Raanta & needs his confidence boosted. (I omit guys like Vally & Biron here, because Talbot/Raanta were most recent and because Lundqvist was in his prime during the Vally/Biron years.)
— Lundqvist should take the Dallas and Islander starts, even if Hank is terrible against the Isles. He needs to get that monkey off his back.
Maybe Georgiev gets the nod against Dallas now. I don't know. I 100% think Georgiev will get the Philly road game on Friday, when everyone is fat, tired and hungover from Thanksgiving, with Hank getting the start against the Capitals, at home, on Saturday. Quinn has said that Coach Lundqvist can pick and choose his starts, and I guess racking up wins against bad teams is important to Lundqvist. There's no way you can tell me that Lundqvist taking this start over Georgiev tonight, was what was best for the team. It was what was best for Lundqvist.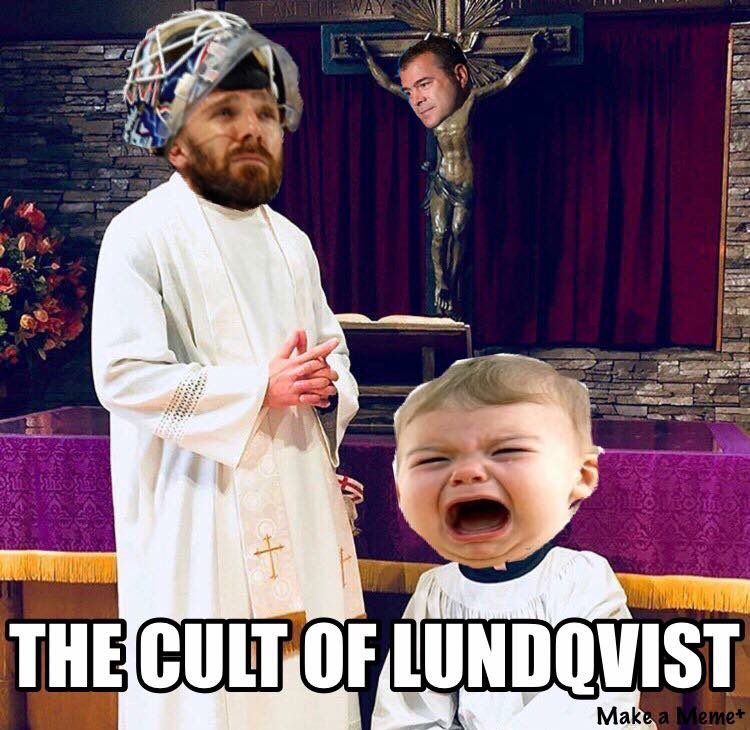 Many times in these blogs, I have said that I was jacked up after a win. While the Rangers did win this game, I wasn't as excited as I was after previous Ranger wins. And no, that's not because Lundqvist started. It's because I expected the Rangers to win this game. I don't buy into that trap-game bullshit. This was a game the Rangers should've won and they did. Quite frankly, that's a good feeling for me to have, because that means I believe in this team. If the Rangers would've lost to these last place Panthers, who were playing their third out of six straight road games, I would've done a blog crazier than the one I did on Thursday. However, the Rangers handled business and we move on.
As usual, before diving into the game, here's the official box score from ESPN.com:
SCORING:
1st Period
3:03

Filip Chytil

(3)

Assists: Kevin Hayes, Chris Kreider

0
1
4:40

Mike Hoffman

(8)

Assists: Evgenii Dadonov, Aleksander Barkov

1
1
10:11

Aaron Ekblad

(3)

(Power Play)

Assists: Michael Matheson, Mike Hoffman

2
1
11:49

Brendan Smith

(2)

Assists: Lias Andersson, Chris Kreider

2
2
2nd Period
2:37

Vladislav Namestnikov

(2)

Assists: Mika Zibanejad

2
3
3rd Period
7:56

Chris Kreider

(11)

(Power Play)

Assists: Neal Pionk, Henrik Lundqvist

2
4
PENALTY SUMMARY:
1st Period
4:50

Lias Andersson:

2 minutes for Slashing

8:34

Vinni Lettieri:

2 minutes for Interference

16:55

Vladislav Namestnikov:

2 minutes for Tripping

16:55

Michael Matheson:

2 minutes for Embellishment
2nd Period
9:44

Nick Bjugstad:

2 minutes for Interference

15:35

Kevin Hayes:

2 minutes for Interference
3rd Period
7:34

Vincent Trocheck:

2 minutes for Tripping
GOALIES:
| | | | | | | | | | | |
| --- | --- | --- | --- | --- | --- | --- | --- | --- | --- | --- |
| SA | GA | SV | SV% | ESSV | PPSV | SHSV | SOSA | SOS | TOI | PIM |
| 41 | 2 | 39 | .951 | 33 | 0 | 6 | 0 | 0 | 60:00 | 0 |
| | | | | | | | | | | |
| --- | --- | --- | --- | --- | --- | --- | --- | --- | --- | --- |
| SA | GA | SV | SV% | ESSV | PPSV | SHSV | SOSA | SOS | TOI | PIM |
| 24 | 4 | 20 | .833 | 17 | 1 | 2 | 0 | 0 | 56:14 | 0 |
It's funny, Lundqvist would win this game and get win number 438, good for 7th all time. I've already given you my spiel on the All-Time Win list before, so go back to previous blogs for my thoughts on that.
What I found ironic about this win, a win where Lundqvist surpassed Jacques Plante, is that Lundqvist passed Plante by beating Luongo tonight. Here is where it's good to know your hockey history and here is why this was ironic & funny to me:
— In his time, Jacques Plante had a diva reputation and always rubbed some of his teammates the wrong way.
— When you look at Luongo and Lundqvist, Luongo spent the majority of his career with bad small market teams, such as Vancouver & Florida. Luongo would record one Cup appearance with Vancouver, a series that team lost in 7 games. Conversely, Lundqvist has been on a big market team his whole life and has seen the team continuously go all-in and try to win.
— As the only two active goalies in the Top 10, both were tasked to carry bad teams. However, Lundqvist has seen his team build around him as the focal point.
— On June 4th, 1963, over 55 years ago, the Rangers traded Gump Worsley for Jacques Plante. At the time, the Rangers were one of the smaller markets for hockey in the six team NHL, similar to the situation Luongo has now. Plante at the time had multiple Cups & Vezinas because he played for the strong Montreal machine. Once Gump got to the big market, he would win several Cups & Vezinas himself. Plante, after coming to the Rangers (He would move on to St. Louis & Boston afterwards) would never win a Stanley Cup again.
— While Luongo and Lundqvist will soon be the duo known as the goalies with the most amount of wins without a Stanley Cup (Lundqvist just has to pass Curtis Joseph and with the rate of games Lundqvist is starting this season, he should pass CuJo this season) one can only imagine if their roles were reversed. How would Lundqvist handle Vancouver or Florida? Would Luongo be the KING of NY if he was a life-long Ranger?
— When it comes to all-time wins, (a stat that favors the modern era because of more games in a season/no ties)  would you rather surpass great names such as Worsley & Plante, or would you rather the Stanley Cup?
And lastly, when it comes to Luongo, after Ovechkin won the Cup, there were a ton of articles about how "Lundqvist is the most deserving player and everyone should root for him to get a Cup." No one has a made a peep about Luongo. That's the result of big market vs small market.
In any event, both Lundqvist & Luongo (and Curtis Joseph too) are future hall of famers, at least in my opinion. However, Lundqvist and Luongo would rather have a career that ended like Ray Bourque, than a career that ended like CuJo.
After scoring two goals in his last two games, Filip Chytil set an NHL record tonight when he became the first Ranger under twenty years old to score three goals in three consecutive games.
Between Sam Rosen talking about Chytil having a high school girlfriend (how old does that make you feel? Furthermore, how jealous is Woody Allen right now?) and Micheletti going on and on about Chytil being 19 years old, I wish I could move the hands of time to 9/5/19, just so these two buffoons could stop bringing up how Chytil is a teenager during every moment where Chytil touches the puck.
Ever since being promoted to Top 6 minutes, Chytil has really stepped up. The cliche thing to say is that he's scoring in bunches after breaking open the flood gates after his first goal. It's true. You can really see that Chytil is more comfortable and confident out there.
Chytil would get the Rangers on the board first in this game, scoring at the 3:03 mark of the first period:
Filip Chytil is feeling it #NYR pic.twitter.com/YgX6TEKAfp

— Dom Renna (@drennaESNY) November 18, 2018
1-0, good guys. I still wonder – if Chytil and Andersson were drafted in reverse order, would the expectation levels change for these two? I think so, at least in the case of Andersson.
Just over a minute later, Lundqvist gave the lead away:
*Mike Hoffman touches the puck*

Our Brain:
Don't say it
Don't say it
Don't say it
Don't say it
Don't say it
Don't say it
Don't say it
Don't say it
Don't say it
Don't say it
Don't say it

Us: "THE POINT STREAK CONTINUES" pic.twitter.com/to3kvm6BPG

— Florida Panthers (@FlaPanthers) November 18, 2018
1-1.
Two things on Mike Hoffman. One, I think it's sacrilege that he wears 68, especially since Jagr played for the Panthers. Two, I guess Hoffman and his woman really despise the Swedes. Just ask Erik Karlsson.
Lias Andersson would take a penalty immediately after this goal. There would then be a 4 vs 1 rush for the Panthers, which Kevin Shattenkirk, of all people, broke up, thus saving the Rangers from a potential goal allowed.
I guess I should address Vinni Lettieri here tonight, as I got some criticism about his game tonight. I won't argue with readers of this blog that called me out for hyping Lettieri, it's warranted and deserved.
As you know, I've been Lettieri's biggest fan, which is half because he shares the same last name as my niece's and half because I really enjoyed what I saw from him in the preseason last year. Like last year's preseason, he also had a strong preseason this year, even scoring an OT GWG.
However, preseason is the preseason.
After tonight's game, both Henrik Lundqvist and Alexandar Georgiev have more points this season (1 assist each) than Lettieri does. While I'm aware that Lettieri is on the fourth line and has had to be a grinder during some games, this is not good.
If the Rangers were invested in Lettieri, meaning that he was a high draft pick or making big money, I think there would be more of an effort to get him going. We saw Namestnikov struggle in the beginning of the season. If I recall correctly, he was the first player to be added to the "SCRATCH LIST" of Quinn.
I think that because #90 makes $4M a season, the Rangers wanted to help him get going. What did they do? They did the same thing that Tampa did with Namestnikov – the put him on the first line and with the best talent. While guys like Kreider, Zibanejad, Zuccarello or Hayes aren't Stamkos or Kucherov, Namestnikov is getting top minutes and playing with the best offensive players the Rangers have. Conversely, Lettieri is in and out of the press box and 99% of the time, is playing with the offensively challenged Cody McLeod.
However, to blame his fourth linemates and lack of playing time is an excuse. While he hasn't played all 20 games, Lettieri has played in the majority of them. As someone who hopes he lasts and flourishes here, I believe the clock is ticking. He is fortunate that Zucc and Buchnevich are out. If he continues to struggle to produce, it could be only a matter of time before the Rangers start looking at what else they have in Hartford.
Hurting Lettieri's stock tonight was when he took a dumb interference penalty at the 8:34 mark of the period. On the Panthers PP, Florida made the Rangers pay:
Aaron Ekblad sneaks into the circle and slams a one-timer off the defender and into the net!#FlaPanthers pic.twitter.com/vHTjckgzC7

— Hockey Daily (@HockeyDaily365) November 18, 2018
2-1, bad guys.
That penalty and the ensuing PPG marked the end of Lettieri, as he wouldn't play again until much later in the game. He would log a team low 9 shifts and was on the ice for only 4:29. In other words, the "SCRATCH LIST" of Quinn is probably Lettieri's best hope for Monday. With 20 games in and no points, a bus ticket to Hartford might be in his future. I still just wonder what would happen if Lettieri got a shot to play with the better players on this team, rather than kicking it with McLeod every night? Unfortunately though, in the case of Lettieri, he's not a priority to the Rangers.
Oh and on the Ekblad goal, here's Joe Micheletti: "Screen and deflection Sam, gargle gargle gulp."
The Florida lead would be short-lived. Nearly a minute later, Brendan Smith, back in the line-up and having that Quinndust sprinkled all over him, tied the game:
Un lancer absolument parfait de Brendan Smith! 🎯 NYRangers pic.twitter.com/NJYPxQZvC2

— Le Trio Hockey (@LeTrioHockey) November 18, 2018
What a sigh of relief for Brendan Smith. While he's paid to be strong defensively, this goal put wind in his sails. The Scratch List of Quinn works again!
And I want to be clear – this Smith goal was good. I'm happy for him. I'm just trying to say, like most defensemen, he will be held in higher regard for his defense and not his offense. After all, most defensive defenseman have longer careers than offensive oriented d-men.
Towards the end of the period, Namestnikov (who was not benched for taking a penalty) and Matheson would take off-setting penalties. Jesper Fast would get nicked by Ekblad and would bleed. No call. While the refs weren't terrible as they were on Thursday, I found it stupid that they had the same referee doing two consecutive games of the same team. This would lead to issues later on in the game.
At the end of 1, 2-2 game.
I thought Lundqvist looked shaky in the first period. It's the same things we've seen from him when he struggles. Losing the stick, bad rebounds, over playing the puck, turning to see if the puck went in the net, etc. From the second period on though, and with Florida mounting the most of their attack in the later 2/3rds of the game, Lundqvist buckled down and kept the Panthers scoreless for the remainder of the game.
As mentioned, we had the same referee from the game with the Islanders in this game. Hayes was blatantly taken down in front of this clown in black & white. No call. Keep in mind, this was the same ref that called that phantom penalty on Skjei on Thursday. Quinn got right in this ref's face, but the ref told him he had heard enough. When these refs aren't held accountable, they are given far too much power.
At 2:37 in the second period, Namestnikov was credited for this goal:
MIKA ZIBANEJAD WITH A GORGEOUS BEHIND-THE-BACK PASS TO VLADISLAV NAMESTNIKOV WHO SOMEHOW GETS THE PUCK ACROSS THE LINE!#NYR pic.twitter.com/r04Bfg3lsw

— Hockey Daily (@HockeyDaily365) November 18, 2018
Far be it for me to complain about a Rangers goal or the refs siding in favor of the Rangers, but I don't see how this was ruled a goal. The ref was so adamant about this being a goal too. On the replay, there was no evidence of the puck crossing the line. However, because it was ruled a goal on the ice, there was nothing conclusive to overturn the original call. 3-2 good guys and with Lundqvist channeling his inner Georgiev from three weeks ago against this team, the Rangers would go on to win this game.
With Lundqvist calming down, the Rangers playing well and the Panthers failing to capitalize on every opportunity afforded to them, Sam & Joe settled down. Half the time, they didn't bother talking about the game in front of them. They just started talking old war stories, like they were two old buddies sitting on rocking chairs on their porch, sipping a Corona, on a nice summer day in the country. You could see they were enjoying their serenity.
The Rangers would get a fortunate PP when Nick Bjugstad shoved Shattenkirk in front of Lundqvist. Most of the game saw the Panthers being their own worst enemy and this game exemplified why they are in last place. However, the Rangers wouldn't convert on the PP, despite moving the puck well. Luongo just did his job.
By the time the second period ended, the Panthers out-shot the Rangers 14-5 in the period and 27-17 overall.  Still, with twenty minutes to go, the Rangers took a one period lead into the locker room.
In the third period, I thought the Rangers played like a team that knew they had this game won. They didn't do anything crazy and let the game come to them.
One stretch of play saw Lundqvist make several great saves, the Rangers then taking the puck up ice and then Luongo making a great save on Chytil. Lundqvist would also be hurting on the last save he made during this Florida flurry, as the puck hit him in the elbow. After a TV timeout and a trip to the bench, Lundqvist was back in. Maybe at this point, he was wishing Plante introduced elbow pads to the NHL, to go along with the mask that Plante brought to the game.
At the 7:56 mark, the hottest goal scorer on the Rangers lit the lamp on a power-play. Here's CK20:
CHRIS KREIDER GIVES THE RANGERS THE 4-2 LEAD WITH A GORGEOUS SHOT!#NYR pic.twitter.com/HURdSIcVMf

— Hockey Daily (@HockeyDaily365) November 18, 2018
4-2, good guys.
Yes, it's early, blah blah blah, but Kreider is flourishing under Quinn. The most amount of goals Kreider has ever scored in a season is 28, when he did it in 2016-2017. He has 11 goals in 20 games and is now on pace for 45. Surpassing 30 goals would be a highlight for Kreider. Now he has a shot a 40. We'll see.
And if any other team in the league watched this game, I would expect a ton of more shots, short side, whenever Luongo is in net.
Quinn, probably familiar with Lundqvist's track record with two goal leads, was still pacing behind the bench and shouting instructions, as the Rangers had a two goal lead with under ten minutes to go. Tell me how this guy doesn't want to win!
At the 3:30 mark, the Panthers pulled Luongo. The Panthers sustained an attack for over a minute, and while that was stressful, it was entertaining to see Keith Yandle over-pass the puck at every opportunity.
The Rangers kept the Panthers off the board and would win the game 4-2. Because the Rangers won, there won't be much chatter about the Rangers inability to close the game out. However, with 3:30 of an empty net the other way, the Rangers must get that goal and put these games away with more ease. That said, I give Chytil all the credit in the world. That motherfucker wanted his first two goal game of the season, as he took 3 or 4 shots that were blocked by the Panthers.
The Rangers win and all is right in the world again. What just made me shake my head was the MSG Networks just giving Lundqvist all the credit for the win. Not mentioned was Georgiev having a better game against this same last place team. Not mentioned was Kreider. Not mentioned was Chytil. Not mentioned was Hayes. Not mentioned was the defense holding a two goal lead, which if the lead was blown, you know who would've took the hit for that. Not mentioned were shot blocks from Smith & Shattenkirk. Not mentioned was a puck ringing off the post. Not mentioned was Quinn managing his bench. The Ten Commandments of the Cult are real folks – "Thou shall must always credit Lundqvist after a win, and thou shall blame everyone else after a loss."
Seriously though, I thought this was a great team win from the coach, the goalie, the forwards and the defense. However, if you listened to the MSG post game show, you would think Lundqvist cured cancer, created peace in Israel and was the first person to find life on Mars. If you want to read about how great Lundqvist was, there are plenty of places for that. He did have a great game after a shaky first period. However, to ignore everyone else to suit an agenda is mind-boggling to me. People should be happy to see the veterans play well and seeing the youth pull their weight.
If the MSG Network crew wants to put their carpets down, kneel and pray in the direction of where ever Lundqvist is standing, do it when he beats the Islanders. I don't mean to go down this path that reader Jim Madden loves and adores here, but come on. They beat the Panthers. They should've. This was a team win. This wasn't the Lundqvist hour.
Vally even said it himself – "if the Rangers lost this game, I would've doubted the Rangers." That tells you the expectations are to beat a lowly team like the Panthers. And those expectations are totally understandable.
Maybe the Isles loss is still fresh and raw with me, so I'm still sour. Lundqvist still doesn't have a shutout this season. Shut out the Isles on Wednesday night and shut me up. Beat the Islanders. That's all I want this week!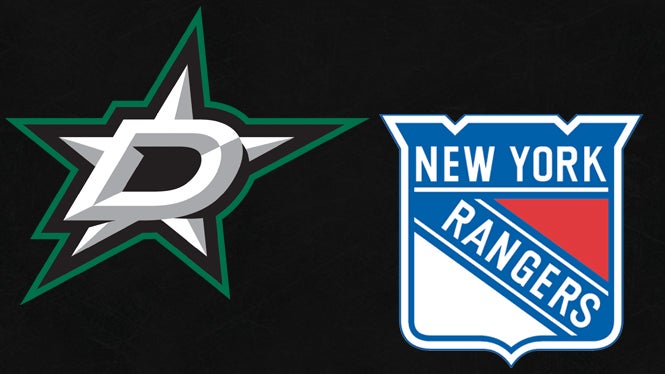 The Rangers get a chance to start a new winning streak on Monday night, when the Dallas Stars come to M$G. I think this will be a more competitive game than the one tonight. The Rangers, unlike myself, need to focus on Dallas and win this game. After that, it's the Isles on Wednesday, in the Thanksgiving Eve showdown. It's time to shut up the Isles and reverse this curse.
Work schedule permitting, see you Monday night.
As always, thanks for reading and…
"Let's Go Rangers"
Sean McCaffrey
BULLSMC@aol.com
@NYCTHEMIC on twitter