Greetings and salutations everyone and welcome to another blog here on BlueCollarBlueShirts.com. Following a victory over the Panthers on Saturday night, which came via an unnecessary shoot-out, the Rangers finished up their Florida mini-vacation by being doubled-up by the Bolts, losing 6-3.
While the Rangers are still missing key players in Mats Zuccarello and Pavel Buchnevich, (Don't forget Cody McLeod & Adam McQuaid are still out too), the Tampa Bay Lightning also went into this game without their number 1 goalie, who was a Vezina candidate just last year, in Andrei Vasilevskiy.
In Vasilevskiy's steed was Louie Domingue, a goalie who was considered so bad last year by one of the worst teams in the NHL, in the Arizona Coyotes, that they dumped Domingue to Tampa, for two non-NHLers. Keep in mind that Domingue is only a $1.15M cap hit, whereas Henrik Lundqvist is a $8.5M cap hit.
For the Tampa Bay Lightning, who seem to not only have mastered free agency, trading, developing players and the salary cap, they have also done a great job in Vasilevskiy's prolonged absence, which is due to injury. Vasilevskiy, who is on the IR and recovering from a fractured foot, has seen KING LOUIE go 14-4. While Domingue's GAA & save percentage leave much to be desired, the Bolts offense is so dominant, that they can carry Domingue to 14 wins in 18 games played.
To compare, in 24 games, the second highest paid goalie in the league, in Henrik Lundqvist, has 10 wins in 24 games played. How many more examples do you need on this site? You will never win a Cup when your goalie is your top paid player. This isn't the NFL where defense wins championships. In this new era of the NHL, offense wins Cups.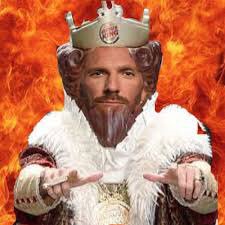 It's tough to say the Rangers "should've" or "could've" won this game. However, it was an eye opener. As we saw in the game against the Jets, another game that Lundqvist choked a lead in, the Rangers just aren't at the level to compete against top teams. It's what we thought at the beginning of the season, but the Rangers 9-1-1 streak had people second guessing.
I still believe that this is an "Any Given Sunday" league, where anyone can beat anyone on any given night, but if you look at the play on the ice, and not just the final score, it's obvious that the Rangers just aren't at the same level as the upper-echelon teams of this league. I doubt that surprises anyone. However, the Rangers have shown that they can compete against these teams for an extended period of time, but the bottom line is they just can't sustain a high level of play for a full 60 minutes against these teams. Tonight was no different.
When you struggle to beat a last place team like the Florida Panthers and give away multiple leads, a team like the Tampa Bay Lightning is not a team you want to see up next on the docket. The Bolts came into this game on a 6 game winning streak and are the best team in the NHL. If the season ended today, the Bolts would win the Presidents' Trophy.
Oh and on a quick aside – this 2018-2019 season for the Bolts is equivalent to the Rangers 2014-2015 season. This is it. They must win the Cup this season, as it's hard to see them having this much talent under this current salary cap next season. They've came close so many times before, but the time for excuses is over. The have to win the Cup this year or be destined to be a team that never was. The biggest issue for them will be staying healthy during the playoffs.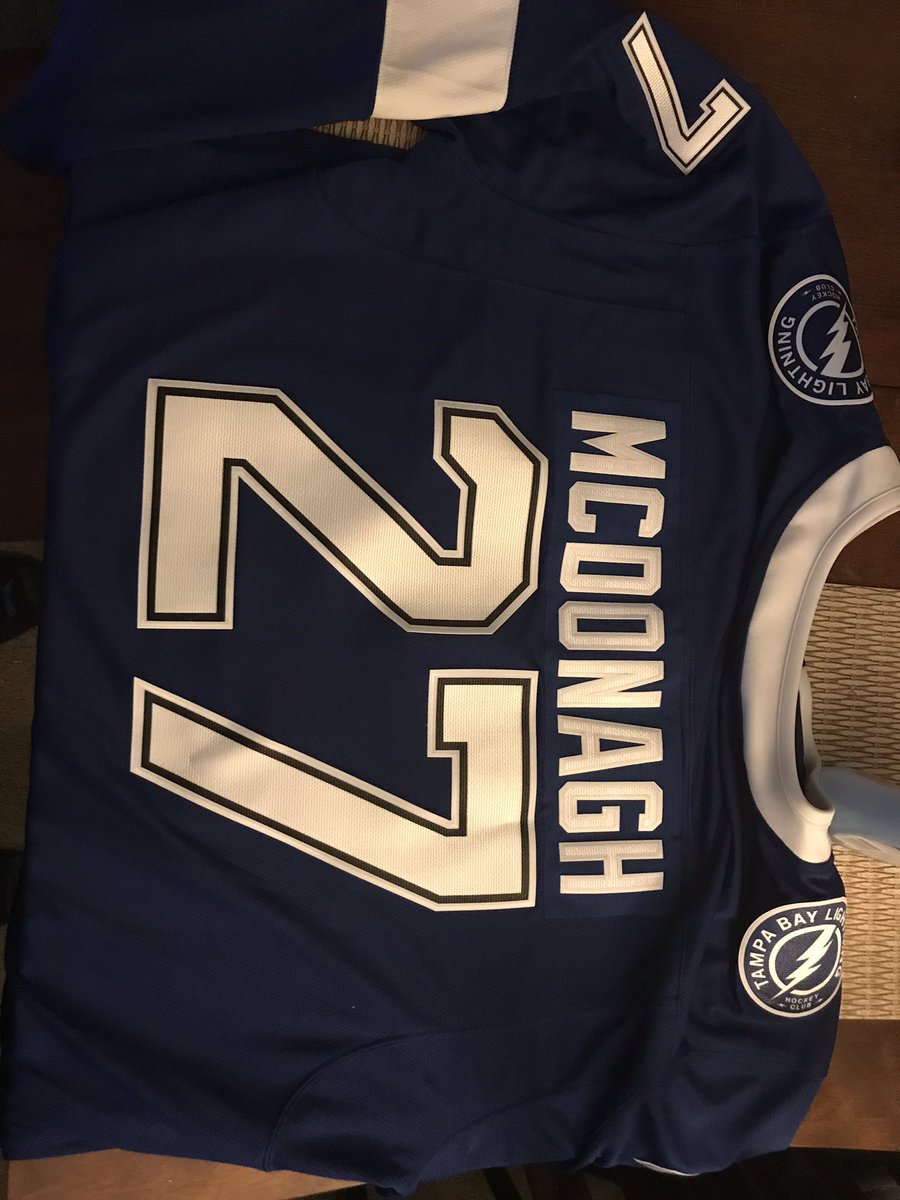 Obviously, whenever the Rangers play the Bolts, there is a lot of recent history there. The Bolts currently have two ex-Ranger captains in the line-up, in Ryan Callahan & Ryan McDonagh. You also have "Ironman" Dan Girardi and JT Miller. Also on the roster is Anton Stralman, who is currently out with an injury. On the Ranger side of things, you have Vladislav Namestnikov and Brett Howden. Of note, while acquired in the Raanta/Stepan trade of 2017 with the Coyotes, Tony DeAngelo is also former property of the Bolts.
When you really look at it, former Tampa GM Steve Yzerman (he stepped down and hand picked his replacement) really created a hell of a system there. You look at the talent that Tampa has drafted over the years and the way they have developed their players, and really, you gotta think – what team in the league has been better? Chicago, maybe? Again, it's all for naught if the Bolts don't win the Stanley Cup with this current core.
Before getting into this game and all the razzle dazzle, here are my last few blogs, in case you missed them:
---
---
---
---
---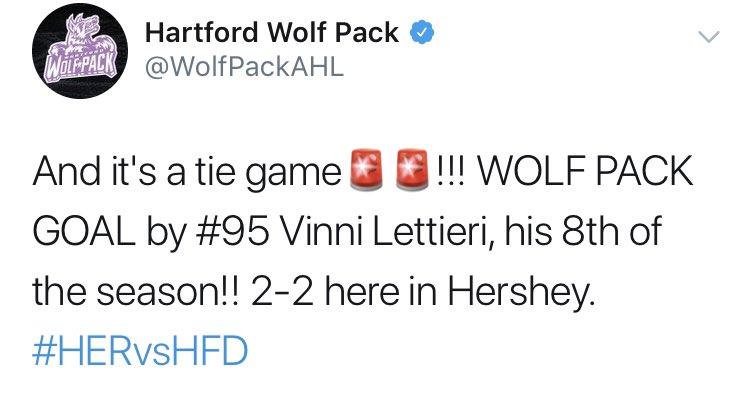 Despite calling up Cole Schneider on Saturday, David Quinn elected to dress the same players from the win on Saturday in today's game with the Bolts. While Zuccarello is skating with the team, he wasn't ready for either game in Florida, but it is being reported that he may play on Friday. With Zucc still not ready, Quinn decided to take a pass on giving Schneider a chance.
Speaking of chances, despite lighting the lamp repeatedly for the Wolfpack, Vinni Lettieri still remains in Hartford. I've talked about this topic to death on this site, but I'll say it one more time – I wonder how Lettieri would do if he played with the Rangers top six? It's tough to score goals when you're on the fourth line and playing with McLeod, Andersson and Fogarty. Oh, and with the way Fogarty played tonight, I'd be shocked if he played on Friday.
Defensively, Quinn kept the same six, despite Brendan's Smith's father being in town as part of the Dad's Trip. That's gotta sting a bit for Mr. Smith. Shattenkirk was injured in tonight's game and wouldn't return, so maybe Smith returns on Friday. Time will tell. As of this writing, I have no update on Shattenkirk's injury or how long he will be out for.
With that said, here was what Quinn put on the ice tonight. Note how Hayes was put back on the second line and as a center, as opposed to the first line wing he played on Saturday.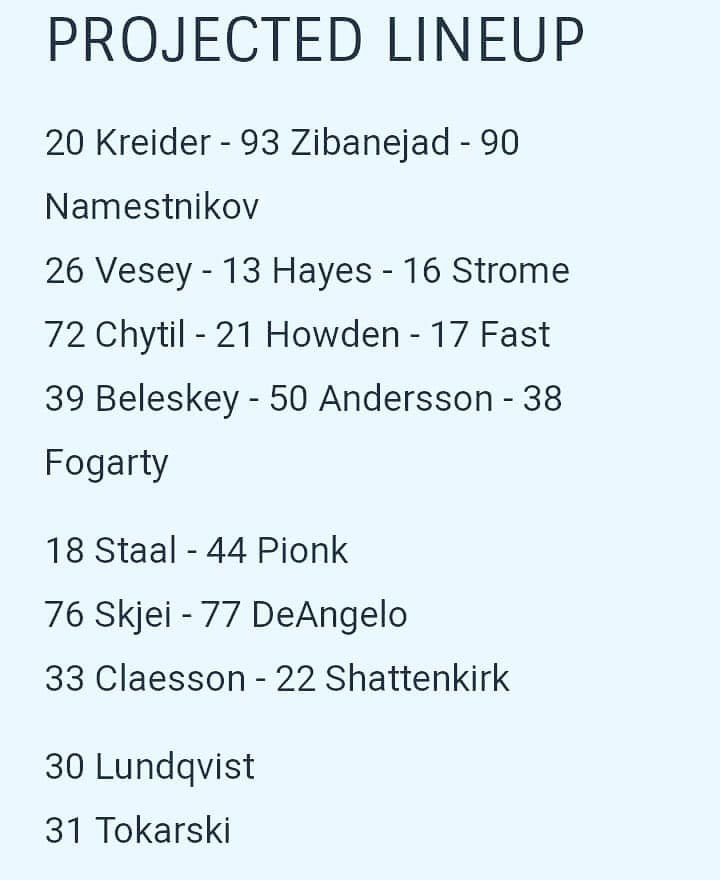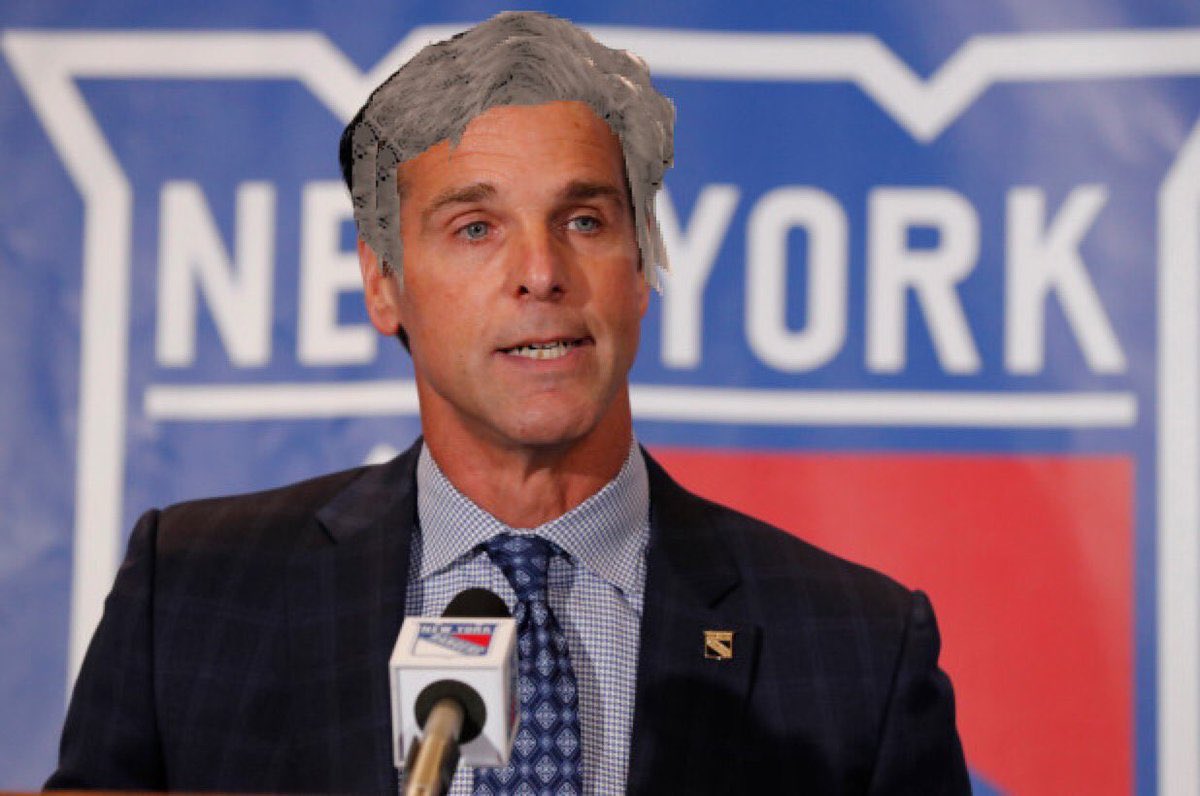 I know head coach David Quinn isn't into excuses, but this was going to be a tough game to win. I mean, look what the bookies in Vegas thought:

Even if you're not into gambling, it's not a bad idea to check the gambling lines of games, because the people who make the lines spend a ton of time and go through a lot of intricate detail to make these lines.
When you see the total goals over-under of 6.5, that tells you that the bookmakers have no faith in the goalies. With Henrik Lundqvist notoriously being Tampa's bitch and with Domingue not so hot either, the over-under line was inflated to 6.5. For comparison, most over-under lines are 5 or 5.5. This line was 1-1.5 goals over the usual.
The bookmakers also had the Bolts as a heavy favorite, demanding bettors to risk $250 for the chance of winning $100. That's some heavy juice and shit like that is what got Craig Carton in trouble. In comparison, the bookmakers made the Rangers enticing tonight, as if you risked $100 and the Rangers won, you would get back more than double your money. However, this wasn't a night for the underdog.
I don't think anyone should be surprised that Tampa won this game. If you looked at the schedule before the season or looked at it even as late as of today, this was a game that you probably didn't envision the Rangers winning. As they've done with upper-echelon teams in the past, most notably with Washington, Nashville and Winnipeg, the Rangers played well enough to win, but couldn't keep it going for 60 minutes. Ultimately, their goalie failed them too.
While a loss like this dampens the mood, even if the Rangers blow it up one more time at the trade deadline, this is a team that should still be able to compete for a wild card spot or third seed in the Metro. However, when you see how the Rangers fare against the better teams in the league, I think reality sets in. The Rangers are still ways away from knocking off top teams in a seven game series.
Tonight was the first of two "Garden of Dreams" nights this season. For some odd reason, this fundraiser was held very close to Christmas time. Maybe I'm recalling wrong, but I don't remember the Rangers/MSG/Garden of Dreams holding this fundraiser so close to Christmas before. Perhaps the thinking is that people are feeling charitable this time of year. I know Lundqvist was, especially with that goal he gave up to McDonagh tonight. HEYYO!
Truly speaking here, I think Christmas time is a bad time to do a fundraiser, as people are stressed out as it is and have already broken the bank. That's just my opinion.
While I know the fundraiser drive isn't about the raffle ticket that you get with a $100 donation, it cracks me up every year that A SIGNED JOE MICHELETTI STICK and a CHANCE TO MEET JOE MICHELETTI are two of the prizes. I mean, I'm not a Lundqvist fan, but I would venture to guess that his signed stuff is a little bit more valuable than the signed stuff of his cheerleader.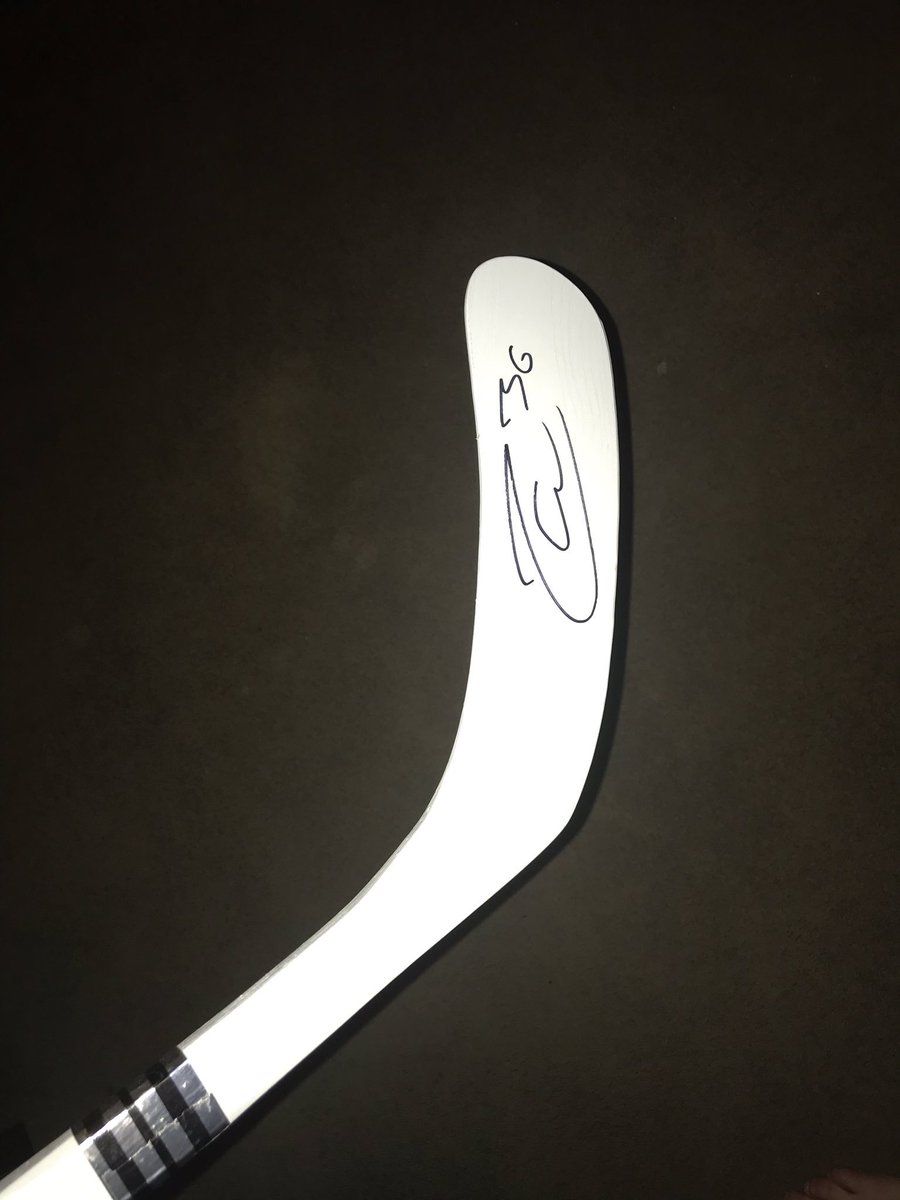 I'm telling you, if I ever won a Joe Micheletti signed stick, I wouldn't be a choir boy with it. I would smash that shit into a million pieces, just like how Micheletti's Swedish dreamboat smashes his stick after blowing a lead.
I would love to see the reaction of the person who is told that they won Micheletti's autograph on a stick. The face of disappointment would have to rival the face of a child who got coal in their stocking on Christmas Day.
That said, while talking about this blowjob, I wouldn't mind winning the prize where you get to go into the booth with these guys during a game. I would have a few choice words to say to both of them and I would probably talk about Frank Boucher during my time there!
And for those saying the Rangers are careful about who they select to win the prize to the booth, you're wrong. After all, little known fact – Joe Micheletti actually won the Garden of Dreams raffle to meet Sam & JD over 13 years ago. The only problem was, is that due to Micheletti's condition, no one in the Garden of Dreams or of the MSG Networks, had the heart to tell Joe that his appearance was just a one time thing. All these years later, and to this day, Micheletti shows up and the Rangers, Garden of Dreams and the MSG Networks consider Joe's presence as continued charity. I think they even write off Micheletti's Hi-C and animal crackers expenditures on their taxes.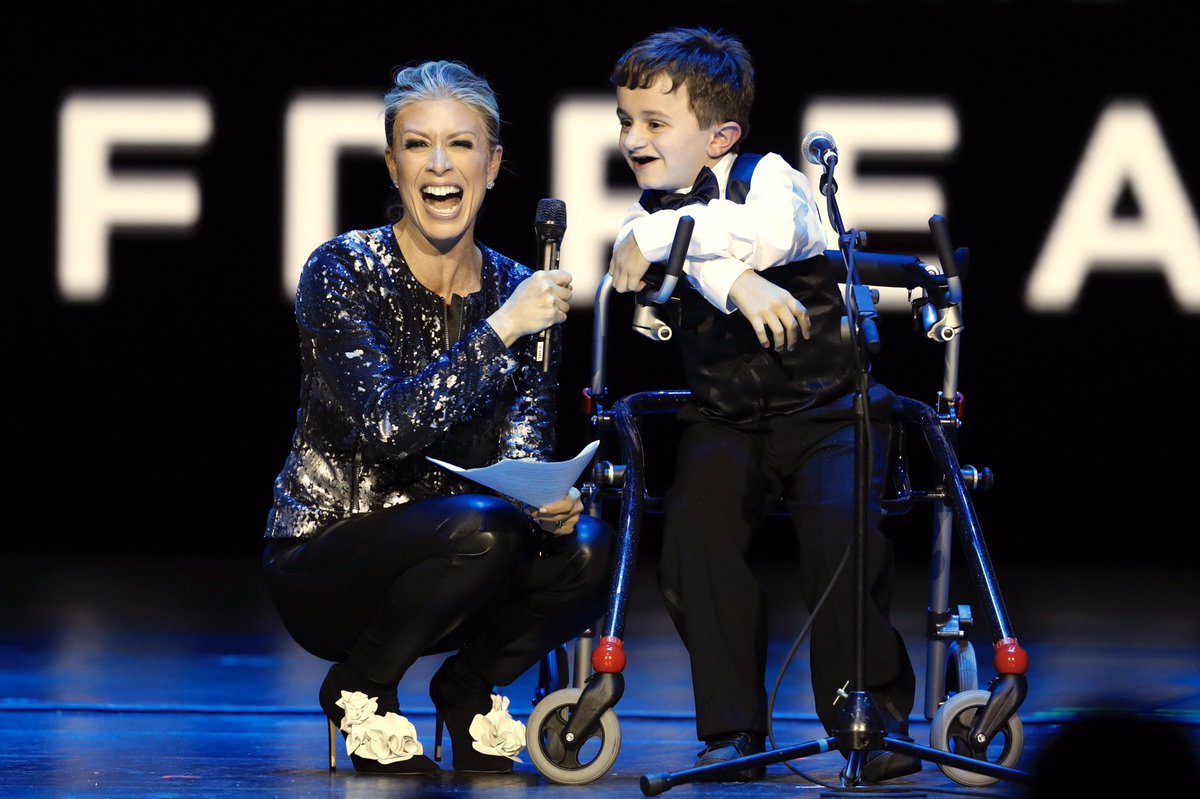 Jill Martin had a segment on the pre-show tonight, as the MSG Networks did a segment featuring a child named Max. I am blanking on his last name, so my apologies. Anyway, the kid was dealt a tough hand in life, as Max has had something like 50+ surgeries and was near-death. For older readers, as parents, you can only imagine what his family has gone through.
Through singing, Max has been able to live a fuller life, with the big payoff being that Max was invited to sing at Radio City Music Hall. To me, the kid looked fully there (mentally) and able, and he was actually kind of a smart-ass, and I mean that in a good way. Here's to hoping he gets a chance to sing the National Anthem at Rangers game at MSG this season.
Of note, Jill Martin does a great job in these segments and does a good job of bringing the human element into her stories. It's a shame that she's really a Knicks personality, as I rather listen to her than hear Micheletti's charity of excuses for a poor Lundqvist start. She's also easier to look at than whatever is going on with the teeth of Al Trautwig. Seriously, maybe the Garden of Dreams can get Trautwig a fucking dental plan.
Oh, and how did the MSG Networks follow up their human interest story? With this:
So yea, back to the hockey!
As always, here's the box score from ESPN.com:
SCORING:
1st Period
12:19

Kevin Hayes

(6)

Assists: Vladislav Namestnikov, Ryan Strome

1
0
14:09

Steven Stamkos

(13)

(Power Play)

Assists: Victor Hedman, J.T. Miller

1
1
15:07

Kevin Hayes

(7)

Assists: Jimmy Vesey

2
1
2nd Period
6:19

Steven Stamkos

(14)

(Power Play)

Assists: Victor Hedman, Brayden Point

2
2
12:42

Ryan McDonagh

(3)

Assists: Brayden Point, Nikita Kucherov

2
3
3rd Period
10:17

Anthony Cirelli

(7)

Assists: Erik Cernak

2
4
10:41

Steven Stamkos

(15)

Assists: Braydon Coburn, Ondrej Palat

2
5
17:34

Jesper Fast

(3)

Assists: Filip Chytil

3
5
19:21

Anthony Cirelli

(8)

Assists: J.T. Miller, Alex Killorn
PENALTIES:
1st Period
1:02

Ryan Strome:

2 minutes for Hooking Ondrej Palat

10:14

Victor Hedman:

2 minutes for Tripping Vladislav Namestnikov

13:25

Marc Staal:

2 minutes for Interference Nikita Kucherov

16:23

Chris Kreider:

2 minutes for Cross checking Erik Cernak

17:52

Neal Pionk:

2 minutes for Roughing Nikita Kucherov
2nd Period
5:45

Neal Pionk:

2 minutes for Tripping Steven Stamkos
3rd Period
3:57

Vladislav Namestnikov:

2 minutes for Slashing Mathieu Joseph

15:17

Erik Cernak:

5 minutes for Fighting (Major) Matt Beleskey

15:17

Matt Beleskey:

5 minutes for Fighting (Major) Erik Cernak
GOALIES:
| | | | | | | | | | | |
| --- | --- | --- | --- | --- | --- | --- | --- | --- | --- | --- |
| SA | GA | SV | SV% | ESSV | PPSV | SHSV | SOSA | SOS | TOI | PIM |
| 26 | 3 | 23 | .885 | 22 | 1 | 0 | 0 | 0 | 60:00 | 0 |
| 0 | 0 | 0 | .000 | 0 | 0 | 0 | 0 | 0 | 0:00 | 0 |
| | | | | | | | | | | |
| --- | --- | --- | --- | --- | --- | --- | --- | --- | --- | --- |
| SA | GA | SV | SV% | ESSV | PPSV | SHSV | SOSA | SOS | TOI | PIM |
| 0 | 0 | 0 | .000 | 0 | 0 | 0 | 0 | 0 | 0:00 | 0 |
| 35 | 5 | 30 | .857 | 24 | 0 | 6 | 0 | 0 | 58:27 | 0 |
If you're looking for some positives from this game, it is that Marc Staal played one of his best games of the season. That's not to say that Staal hasn't been solid all year, it's to stress the point that Staal played a great game against the best team in the league. In addition, Kevin Hayes had a great game as well. As far as everyone else, as the saying goes, "there's always room for improvement."
This was already going to be a tough game for the Rangers, as the talent disparity among these two teams is pretty wide. Since the invention of the NHL draft, the Rangers haven't drafted a player like Steven Stamkos, EVER. That's pretty sad when you think about it.
These two teams are obviously on different paths, so the Rangers went into this game at a disadvantage. Not helping matters were the referees. It's not to say that the Rangers didn't deserve some calls, but when Tampa gets six power-plays, as opposed to the Rangers one power-play, the Rangers barely had chance.
That said, while Tampa did go 2/6 on the power-play, the Rangers, for the most part, were solid on the PK. It's just that the Rangers were down a man so much, especially in the first period, that it changed the flow of the game for the Blueshirts. It eventually caught up to them, and Stamkos, the best player in the game, got both Tampa PPG's. I guess if you're going to get beat, at least get beat by the best player. (And yes, I'm aware that Brayden Point has more goals this year than Stammer, but this is still the team of Steven Stamkos.)
Kevin Hayes is having a solid contract year of a season, but one must wonder if he will be here past the trade deadline? I still don't think the Rangers even know what will happen, as they take a wait-and-see approach. Will Hayes ever be a 30 goal scorer, or are we seeing the very best of Kevin Hayes right now? Are these games leading the Rangers to give him the money or are these games just an audition for a true playoff contender? I don't think anyone can feel one way definitively, no matter how many "KEVIN HAYES MUST (Insert "GO" or "STAY" here)" social media posts you may read.
If you forget about the penalties, the Rangers played a solid first period in tonight's game. Marc Staal took a page out of the book of McDonagh and Girardi and was blocking shots left and right, logging a team high 3 blocked shots. For comparison, no other Ranger blocked more than 1 shot tonight.
The Rangers were forced to kill a penalty early, after Strome was boxed. Seriously, as the blog headline says, I have to wonder if the Rangers will be starring in a new "OZ" reboot?
I hate to blame the referees for games, and I won't blame them for this loss, but the referees had a direct impact on this game and severely damaged the Rangers chances of winning this game. I'm not saying that the Rangers didn't deserve penalties, but you can't give one team six times as many power-plays, and think you're calling a game straight down the middle.
The Rangers blew multiple opportunities to score in this game, none bigger when on a two-on-one, where Zibanejad fed Fogarty with a perfect pass, only for Fogarty to do something that didn't involve putting the puck on net. I heard Hartford is lovely this time of year. Seriously, this cost the Rangers a goal and Zibanejad an assist.
After 10 minutes of back and forth hockey, with the Rangers holding their own against an impressive Tampa team, Hayes got some puck luck. Funny enough, I tweeted before the game, "Which ex-Ranger will get the first point tonight?" While JT Miller would later assist on the Bolts first goal, McDonagh did score this one, even if Hayes gets the credit:
KEVIN HAYES BANKS ONE HOME OFF A DEFENDER'S SKATE!#NYR pic.twitter.com/48iLwdD65F

— Hockey Daily (@HockeyDaily365) December 11, 2018
1-0, good guys. Oh, and McDonagh would make up for this later on.
On the goal, as the saying goes, "good things happen when you put the puck on net." This goal was Exhibit A.
A topic of deep discussion on the broadcast tonight was about Henrik Lundqvist's pads. If you don't know, only Henrik Lundqvist has to deal with the new pad rules and with new pads in general. What a waste of time. I'll save you the easy maxi-pad joke here too.
With five goals allowed tonight, the pad discussion just kept heating up. It just always amazes me how these buffoons in the booth think that only Henrik Lundqvist is the only goalie in the league that has to deal with such issues as equipment, deflections, screens, defense, special teams, etc.
Less than two minutes after the Rangers scored, Marc Staal took a questionable penalty, putting the Bolts on the PP. Here's Stamkos channeling his inner Alex Ovechkin:
STEVEN STAMKOS ABSOLUTELY ROCKETS ONE HOME TO TIE IT UP!#GoBolts pic.twitter.com/mEf49mwNQu

— Hockey Daily (@HockeyDaily365) December 11, 2018
And like Ovi, Stamkos beat Lundqvist. 1-1. It's tough to stop that one. Also, if you're a Cult of Lundqvist member, take solace in the fact that Lundqvist blew a three goal lead on Sunday, blew a two goal lead on Saturday and blew a one goal lead tonight. What improvement!
Immediately after Stammer scored, the Rangers pulled a Rangers on the Bolts, as they got a quick one back. Here's Hayes, with his second of the contest:
KEVIN HAYES! WHAT A PLAY DEFENSIVELY TO SET UP THE REBOUND GOAL!#NYR pic.twitter.com/XKNxIkIo4q

— Hockey Daily (@HockeyDaily365) December 11, 2018
2-1, good guys. Oh, and while Hayes is playing well and I'm not trying to take anything away from him here, but Domingue is obviously the weak link on this team.
Towards the end of the period, Kreider & Pionk would go to the sin bin, ultimately giving Tampa 35 seconds of 5 vs 3 PP time. Miracuously, the Rangers killed all the penalties. Big props go to Marc Staal, who stood right up to Stamkos, denying Stamkos the Ovechkin blast from the dot.
Somehow, despite Tampa having four PP's in the first period, the Rangers led 2-1.  With the way that period went, that was a major victory for the Rangers.
The second period didn't exactly go the way of the Rangers. Jesper Fast would have a chance at a goal, making a nice effort while falling down, only to find the post. It's a game of inches Suzyn, and the curvature on this puck went the wrong way.
Later on in the period, Shattenkirk got smashed by Miller on what was a clean hit. This ended Shattenkirk's night, as he winced in pain, and audibly complained about his shoulder while on the bench. The Rangers would also give a status update on Shattenkirk in the middle of the game, when they tweeted out:

Often, I have been accused from the Cult of Lundqvist for being too hard on their Swedish demi-god. Those same humanoids would reply to this Shattenkirk news with the following: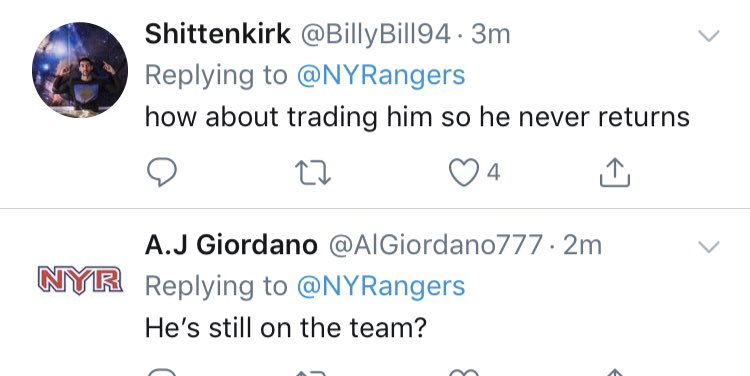 I would share more of these people dumping on Shattenkirk, but you get the idea. Ranger fans – always willing to kick an American man when he's down.
Pionk, at the 5:45 mark, would get boxed for the second time in this game, after tripping Stamkos. For Pionk, this was a horrendous game defensively tonight. If it wasn't for the Shatty injury, I could see him being scratched in the future. I guess I should restate again, that Tampa is a great team and maybe Pionk was in over his head tonight.
On the ensuing PP, Stamkos scored at the 6:19 mark to make it 2-2. Another lead blown from our regal King.
However, let's see what Ron Duguay, who no longer is handcuffed by the MSG Networks, had to say on that goal:
He goes down TOO soon !!!
High is available!!
You can't assume the shot is going to be low !!!! https://t.co/4wJpAClg3x

— Ron Duguay (@RonDuguay10) December 11, 2018
However, it was a PPG, so you can't really kill Lundqvist there. However, you can kill Lundqvist for this goal allowed at the 12:42 mark of the period:
RYAN MCDONAGH STREAKS INTO THE OFFENSIVE ZONE AND SLAMS ONE HOME!#GoBolts pic.twitter.com/LhQMCJkETq

— Hockey Daily (@HockeyDaily365) December 11, 2018
This is not a good goal to give up. It would almost be the game winning goal, but Fast would get a garbage time goal, late into the third period. However, this McDonagh goal was the goal that popped the Rangers bubble.
And if you're Ryan McDonagh, how great does this feel? Ask any player, they always want to play well against their ex-team. Making matters better for McDonagh, is that he beat Lundqvist, a player that he wasn't too fond of while in NY.
3-2 bad guys, and really, the wind just came out of the sails. Whatever happened to "give me two goals and I got this" or "I have to win the 3-2 games"?
Making matters worse, the Rangers previously failed on another two-on-one chance, this time when Chytil opted to shoot rather than passing it off to Namestnikov. Namestnikov did have a chance to get a rebound, but once again, the Rangers failed on another scoring opportunity.
Before closing the period, Joe Micheletti announced his save of the game. As if the "COORS LIGHT REFRESHING FINISH" segment in the first period wasn't bad enough, we got Joe stamping his approval on the save of the game, with over 27 minutes or so left to play in the game.
Micheletti showed a Lundqvist save as his save of the game (shocker) and then said, "Lundqvist didn't even know where the puck was." So the save of the game was a save based on pure luck. There are many mysteries in life, such as "How did Milbury last so long with the Islanders?", "Is God Real?" and "How does Micheletti have a job?"
Most telling stat of the second period? Tampa had 16 shots to the Rangers 5. Still, that McDonagh shot has to be saved.
3-2 bad guys, at the end of two periods.
The third period was hard to watch, because the Rangers didn't do much. Namestnikov would be called for a penalty early in the period and the crowd didn't even bother to cheer, because at this point, it was old hat to them. I hate to harp on this, but come on, one team gets six times as many powerplays at the other team? Something seems fugazi there.
The Rangers couldn't muster much in the period. Despite being down one goal, once McDonagh scored, you just felt that this game wasn't going to be a Rangers victory.
Anthony Cirelli would score at the 10:17 mark. 4-2 bad guys. 24 seconds later, Stamkos scored, as he got a hat trick. 5-2 bad guys, as he put the nail in the coffin. Quinn pleaded with his team that the game wasn't over, but it was.
Jesper Fast would add a late goal, pushing the score 5-3. However, Cirelli would score an empty netter, giving the Bolts a 6-3 edge, and that would score would hold, giving the Bolts the victory.
There's not much to talk about in this third period, as a good team did what they should do against a bad team.
The Rangers, at least for one period, played well enough to win this game, but this is a 60 minute game. I don't mean to beat up Lundqvist too much, but really, that McDonagh goal just deflated the team. The Rangers couldn't pick Lundqvist back up and this was another game against Tampa where the King was royally abused for five goals against. I mean, I saw it coming and even predicted that before the game, but it is still hard to watch it all unfold.
While I thought the Rangers had a fighting chance after the first period, all the penalties caught up to them. That said, unless you're the most cock-eyed of optimists, this wasn't a game that most thought the Rangers would've won anyway.
A game that I think the Rangers should win, will be their next contest, when the Rangers host the Coyotes on Friday night. As noted in my last blog, Antti Raanta is out and it's being reported that he could miss the whole season. That's truly unfortunate for the Coyotes, as Raanta has been incredible for them. The only issue with Raanta in his tenure with Phoenix, is that he's missed more games than played.
With the way the schedule is, I would imagine Lundqvist starts again on Friday night. As much as I like to break balls about Georgiev being the KING OF KINGS, and while Georgiev should be called up to get an NHL start here, I just see the Rangers going with what gives them the best chance to win.
That said, during the course of these most recent games, you can see Lundqvist starting to slip a bit, and as the season goes along, all these games played will catch up to him. If you're a team that's trying to develop talent, the Coyotes are a great team to start your back-up goaltender against. And really, it makes sense to give Georgiev the start here, and then let Lundqvist play Vegas (against MAF) on Sunday afternoon. Again, it still wouldn't surprise me if Quinn rolled out Hank for both games.
As far as tonight's loss goes, you have to remind yourself that this is a house money season. Losing to Tampa isn't the end of the world. This was a litmus test kind of game for the Rangers, and as fans, we see where they are. They can beat bad teams and play competitive against good teams, but they will have a tough time beating Cup contenders, even if they are stuck with their back-up goalie.
Moving forward, I hope to get a "Cyclone Taylor" book review up between now and the game with the Coyotes. Also, for fans looking for more Ranger talk, check out BlueShirt Underground Radio, as they will return on Thursday night, at 7PM.
See ya Friday night.
As always, thanks for reading, and win or lose…
"LET'S GO RANGERS!"
Sean McCaffrey
BULLSMC@aol.com
@NYCTHEMIC on tweeter