Greetings and salutations everyone and welcome to another book review, here on BlueCollarBlueShirts.com. After the "Cyclone Taylor: A Hockey Legend" book review portion of this blog, I'll get into all the latest Rangers news and everything Kevin Shattenkirk. And yes, I know I could've probably broken this up into two blog posts, but you know the drill, I don't care about artificial web traffic. One click, ten thousand words, no ads!
Oh and real quick, speaking of ads, I have had several advertisers reach out, and offer me small sums to place their ads on this blog. I have rejected every offer. Unless someone wants to talk five or six figures, there will never be ads on this site!
As always, before jumping into the meat and potatoes of this blog, here are my last few blogs, in case you missed them:
---
---
---
---
---
For many current hockey fans, when the name Cyclone Taylor comes up, sadly, their response is "who?" Cyclone Taylor is not a name you'll find in the NHL history books. Hell, you can barely find his name in the NHA history books, the league that predated the NHL. (For more on the NHA, check out this book review: Deceptions & Doublecross "How The NHL Conquered Hockey" by Morey Holzman – http://doinow.com/deceptions-doublecross-book-review-how-the-nhl-conquered-hockey/)
With the upcoming 100 year anniversary of Cyclone Taylor's retirement from professional hockey, I hope that with this book review, you will now know who Cyclone Taylor was and the legacy that he left on the sport. As time moves on, and as the old generation passes on, it is up to the newer generation to keep the memories alive. It is why a book such as "Cyclone Taylor: A Hockey Legend", written by Eric Whitehead, is such a treasure.
If you're familiar with this blog/website, you know by now that I'm an avid reader, with history being my favorite subject. Going into this quasi-autobiography about Cyclone Taylor, I knew the name. I knew he was a star. I also know that many old-timers of today, such as the Stan Fischler types and other hockey historians, refer to Taylor as the "Wayne Gretzky" of his era. What I didn't know was Taylor the player, Taylor the person or the life that Taylor led.
In "Cyclone Taylor: A Hockey Legend", readers not only get everything about Cyclone Taylor, but they are also transported to a different era of time. In this book, all the original hockey stars & the various trials & tribulations they had to go through, as they bounced from faltering league to faltering league, is all discussed in detail.
"Cyclone Taylor: A Hockey Legend" was written by Eric Whitehead and published back in 1977. Whitehead, who is also since deceased, was a personal friend of Taylor's. Prior to this book, Whitehead was the lead sports columnist of the Vancouver Province newspaper. While this book is technically considered a biography, it's somewhat of an autobiography, as Taylor was the singular source material for many of the stories in the book. The book also is written through Taylor's point of view. In other words, this book was a joint effort, with Whitehead doing the heavy lifting.
For me personally, this book was fascinating, informative and I was hooked from page one. This book catered to my interests – hockey & history. You get plenty of both here.
I've read many old time books, but this was the first book that I've ever read where you were getting first hand accounts of things happening pre-1900, as well as getting first hand accounts of the early days of professional hockey. It's one thing for an author to research old newspaper clippings or get second hand stories, but here in this book, Whitehead, through Taylor, was able to not only talk about this era, but get the inside scoop of all the major players, teams and leagues at the turn of the century.
While hockey is the main theme of the book, obviously, the book also looks at the world at the time. Taylor, who was in his 90's when this book was being put together, was still sharp, and was able to remember stories from 60, 70 and 80 years ago. Perhaps being a teetotaler (sober) his whole life played a part in that!
Little things about the world where sprinkled into this book. Stuff such as where was Taylor on New Year's Eve 1899? What Broadway shows were big during Taylor's trips to NY? What was the traveling situation like? How much did things cost? While some readers might not care about that stuff, I enjoyed it.
As mentioned above, the Komagatu Maru incident is discussed in-depth, as Taylor was the first responding officer when the ship arrived at the ports of Vancouver. There have been books and movies on just that incident alone. Here in "Cyclone Taylor", we get Taylor's first-hand experience and what it was like at the time.
For fans of today, while some of us like to think we live in "troubled times", unless you're in your late 80's today, none of us have experienced a true "World War". While in no way, shape or form am I downplaying the events of 9/11 in the USA, the fact is life went on.
Yes, after 9/11, our way of lives changed and for many people, loved ones were lost. However, in World War I (and later in World War II) the Great War would severely affect the sports world, as athletes traded in their athletic uniforms for military uniforms. I mean really, outside of Pat Tillman of the NFL, what big name professional athlete traded their sports career for a military career?
For many athletes during the World War's, they would put their country before their game. (You should also read Conn Smythe's autobiography, which I reviewed on this site for more on this, as Conn served in both World Wars.) Simply put here, for as tragic as 9/11 was, there was no national draft/conscription, like there was during World War I & World War II. And yes, I'm getting off-track here!
Taylor was one of the athletes that signed up to fight in World War I, but due to his job with the Department of the Interior (immigration) it was ruled that he would be of more value at his job in Vancouver, than being shipped out overseas. Yes, that's right, despite being the most famous athlete in Canada, Taylor still had to work a "real" job. That said, that "real" job was afforded to him because of his hockey career, as sweetheart government jobs were openly given out to star athletes at the time.
As mentioned above, this book was published when Taylor was 92 years old. Taylor's memory was amazing in recounting stories. To his credit, Eric Whitehead would also bring up how in press clippings of Taylor's time, sometimes things were exaggerated. After all, these games that Taylor played in weren't on radio or on television, so sometimes newspaper scribes took a little artistic liberty, in an effort to give their stories more color. The writers had to make money too!
That said, during Taylor's time in hockey, universally, in newspapers all across Canada, Taylor was considered the greatest player in the sport. In an era of one year contracts and multiple leagues, Taylor had his pick of the litter. While teams would try to claim his rights, Taylor did what was best for him. He would even miss two seasons of play, as he would not cave in to the pressures of draft rights. In fact, if it wasn't for Montreal Wanderer owner, Sam Lichtenhein, (Who comes off as an asshole in every hockey history book that I've ever read) then who knows if Taylor moves to Vancouver in 1912, a city where he would then spend the rest of his life.
While this is Taylor's book, the book also talks about all the other major players of the time and their personalities. The Patrick brothers, Lester & Frank (Author Eric Whitehead also wrote a book about them, which I have read and plan on reviewing soon) are talked about with great respect. It were the Patrick brothers that brought Taylor to Vancouver, for their new PCHA league. In fact, the Patrick brothers would change the game and their NHA talent raids would prove successful.
Another legendary name that gets a lot of ink in this book is Newsy Lalonde, who was quite the eccentric and frugal character. Lalonde would play with and against Taylor. Also discussed is Art Ross, the man who would make his name as the GM/Coach of the Boston Bruins. For more on Art Ross, check out this book review that I did: (Art Ross: "The Hockey Legend Who Built the Bruins" by Eric Zweig – http://doinow.com/8917/)
As usual, here are some pages from the book, reprinted without permission. Here's to hoping that the Whitehead and Taylor estates don't mind:
The Summit Series saw @RonDuguay10 's hero , @PhilEspo7 shine. In attendance was one of the first original legends Cyclone Taylor.
#CycloneTaylor pic.twitter.com/DwYWuQnSkO

— BlueCollarBlueShirts (@NYCTheMiC) November 26, 2018
---
Pretty amazing that #CycloneTaylor traveled from Vancouver to Russia at 88 years old. pic.twitter.com/7j8W8XanV6

— BlueCollarBlueShirts (@NYCTheMiC) November 26, 2018
< HR>
One of hockey's patriarch's didn't drink. No wonder he lived til 94. #CycloneTaylor pic.twitter.com/szpnrXlcFQ

— BlueCollarBlueShirts (@NYCTheMiC) November 26, 2018
---
I love these old stories #CycloneTaylor pic.twitter.com/IbMNDsFVck

— BlueCollarBlueShirts (@NYCTheMiC) November 26, 2018
---
The liberals have always been nutty, even in turn of the century Ottawa #CycloneTaylor pic.twitter.com/wZtsznGwDr

— BlueCollarBlueShirts (@NYCTheMiC) November 26, 2018
---
Lots of old time pics in this book. How about a young Lester Patrick? #CycloneTaylor pic.twitter.com/jSKXTRY8NP

— BlueCollarBlueShirts (@NYCTheMiC) November 26, 2018
---
Lots of HOFers here #CycloneTaylor pic.twitter.com/bb6tnE2AQu

— BlueCollarBlueShirts (@NYCTheMiC) November 26, 2018
---
Becoming the man known as #CycloneTaylor pic.twitter.com/0OPdCkwOxJ

— BlueCollarBlueShirts (@NYCTheMiC) November 26, 2018
---
First sentence #CycloneTaylor pic.twitter.com/OH5FgDqJOz

— BlueCollarBlueShirts (@NYCTheMiC) November 26, 2018
---
I have heard of several people buying this book online and finding their book to be autographed #cyclonetaylor pic.twitter.com/d64cbhM5k3

— BlueCollarBlueShirts (@NYCTheMiC) November 26, 2018
---
Many players from the turn of the century are discussed, including the Patrick brothers. Taylor would be the highest paid athlete in Canada when he took a $5250 salary (12 games) with Renfrew. #CycloneTaylor pic.twitter.com/HfEFuOl1z5

— BlueCollarBlueShirts (@NYCTheMiC) November 26, 2018
---
Selling the game #CycloneTaylor pic.twitter.com/NAkRkPd7rQ

— BlueCollarBlueShirts (@NYCTheMiC) November 26, 2018
---
Before the days of the NHA & NHL, Canadian teams would have exhibition games in NY, and then later in Boston.#CycloneTaylor pic.twitter.com/DMU8XESfOl

— BlueCollarBlueShirts (@NYCTheMiC) November 26, 2018
---
Every old time book I read has a Sam Lichtenhein is a dick story in it. #CycloneTaylor pic.twitter.com/ULgc8tKK47

— BlueCollarBlueShirts (@NYCTheMiC) November 26, 2018
---
East coast v West Coast…..and Lester Patrick has unpublished memoirs? #CycloneTaylor pic.twitter.com/a4mlxsf8tT

— BlueCollarBlueShirts (@NYCTheMiC) November 26, 2018
---
Look at Lester Patrick here #CycloneTaylor pic.twitter.com/fWHosq5rp2

— BlueCollarBlueShirts (@NYCTheMiC) November 26, 2018
---
#CycloneTaylor pic.twitter.com/pCg89tVSZ6

— BlueCollarBlueShirts (@NYCTheMiC) November 26, 2018
---
Guys like Cyclone Taylor created huge fan interest in hockey in NYC #CycloneTaylor pic.twitter.com/YrljAFCIhb

— BlueCollarBlueShirts (@NYCTheMiC) November 26, 2018
---
What a story #CycloneTaylor pic.twitter.com/QTMF2NS1Ao

— BlueCollarBlueShirts (@NYCTheMiC) November 26, 2018
---
This was a lesson in Canadian history for me. #cyclonetaylor pic.twitter.com/WhhGTFP8ul

— BlueCollarBlueShirts (@NYCTheMiC) November 26, 2018
---
The Cup goes West #CycloneTaylor pic.twitter.com/Vgn5ujKXsJ

— BlueCollarBlueShirts (@NYCTheMiC) November 26, 2018
---
Bing Crosby and Turk Broda #CycloneTaylor pic.twitter.com/lBoS0bI1UI

— BlueCollarBlueShirts (@NYCTheMiC) November 26, 2018
---
It's a shame the Patrick brothers never got to see this moment #CycloneTaylor pic.twitter.com/EAo2w0VgWb

— BlueCollarBlueShirts (@NYCTheMiC) November 26, 2018
---
"Cyclone Taylor" is a book that I think anyone that thirsts for history should read. I know many newer fans or younger people won't be interested in this book, especially Americans. For Canadian readers, this book also doubles-up as a book on Canadian history and what places were like at the time too.
As someone with a pro wrestling background, what I also enjoyed about this book was the talk about hockey leagues realizing they needed "stars" or "draws" for their box office. Hockey owners were their own best promoters, which is not something you see today. I mean, in today's world, can NY Rangers owner James Dolan even name three players on his team? Outside of Henrik Lundqvist, could Dolan even pick one of his players out in a police line-up?
Taylor was around every single top player and owner of his time. While his days of playing hockey predated the NHL, he was also there to see the start of it. It was great to see how the NHL had a great relationship with Taylor over the years, and Taylor would be a regular at Vancouver Canuck games once the Canucks gained entry into the league in 1970.
I would recommend "Cyclone Taylor" to anyone looking to either learn or brush up on their hockey history. For less than $5, how can you go wrong?
To pick up your copy of "Cyclone Taylor" visit Amazon.com or go to "Cyclone Taylor: A Hockey Legend" directly. You won't regret it.
And now, back to the present time and to the New York Rangers…
---
---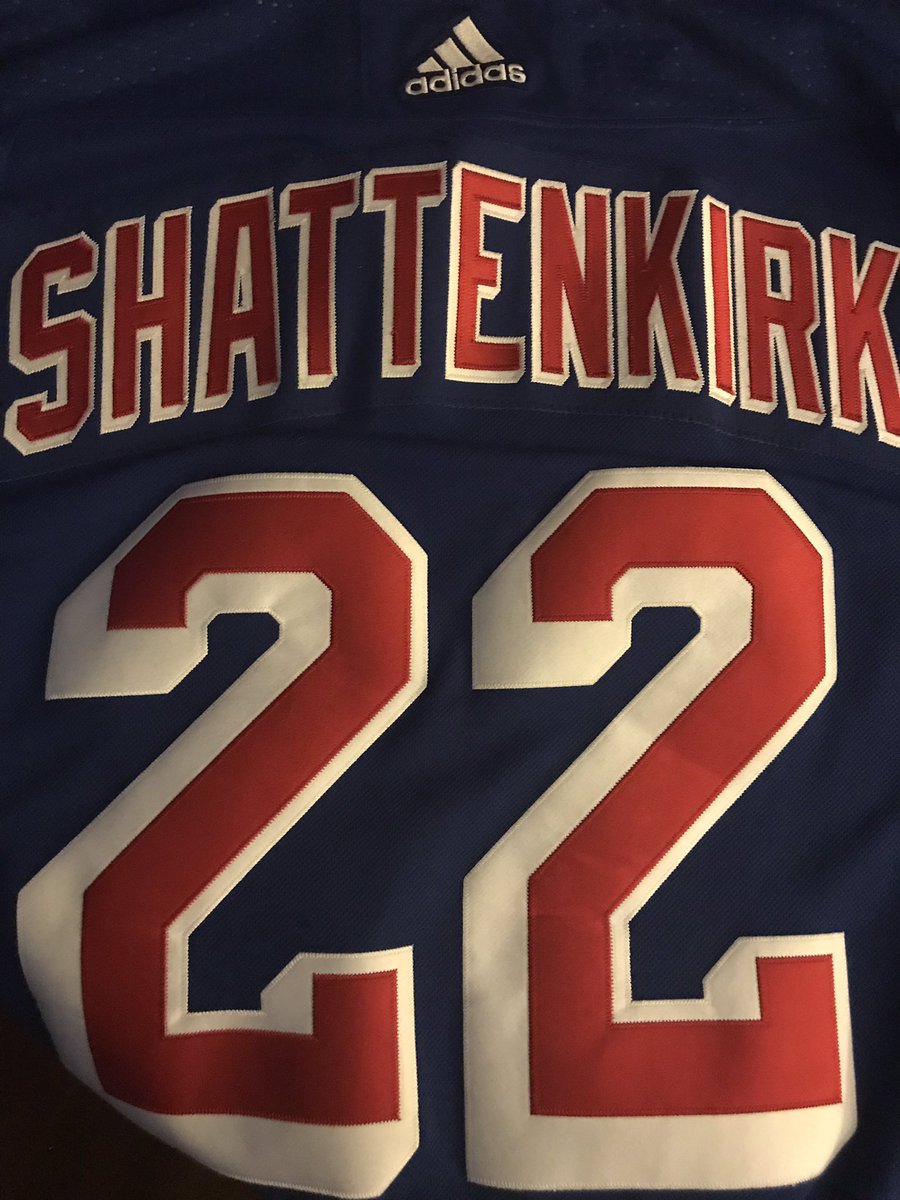 Murphy's Law. A rule that states, "If something can go wrong, it will." An addition to this law reads, "and usually at the worst time." The identity of "Murphy" is unknown, but the saying was first used during the 1940s and may have originated with members of the armed forces in World War II.
I got the above definition of "Murphy's Law" from Google. While you can use Murphy's Law to sum up many things during the course of the Rangers 90+ year history, Murphy's Law has defined Kevin Shattenkirk's tenure for the New York Rangers.
As talked about in Monday's blog, in the loss to the Tampa Bay Lightning, Kevin Shattenkirk took a hit from JT Miller, which knocked Shattenkirk out of the game. If you didn't see the hit, here it is:
Here's where Kevin Shattenkirk sustained a shoulder injury after a hit from J.T. Miller against the Lightning on Monday. pic.twitter.com/s5DPHeBcPy

— Shayna (@hayyyshayyy) December 12, 2018
On late Tuesday night, Larry Brooks reported that Shattenkirk would miss several games after absorbing this hit. On Wednesday morning, the Rangers confirmed the news when they tweeted out the following: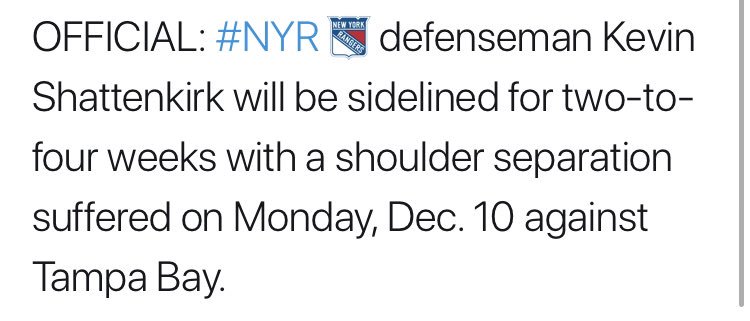 For Kevin Shattenkirk, who grew up a Rangers fan and wanted nothing more than to play for the Rangers, the hits have literally kept on coming. Shattenkirk, who was all smiles and full of life when he signed his "team-friendly" four year/$26.6M deal, which breaks down to $6.65M a season, thought that both his personal life and his career, would be on the upswing. While Shattenkirk did get married over the summer, his life on the ice has been rockier than the marriages of Zsa Zsa Gabor and Larry King, combined.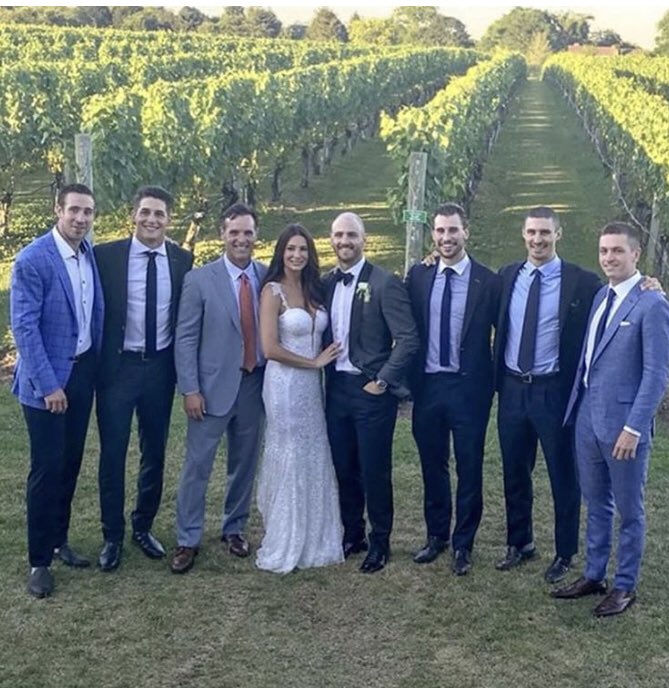 When Kevin Shattenkirk first signed with the Rangers, he said all the right things. He talked about his admiration for Brian Leetch. He talked about his respect for the team. He made sure to mention 1994.  He talked about the team making deep runs in recent years. He even made sure to kiss the ring of Lundqvist, as Shattenkirk called him an "elite goalie".
Make no bones about it, when you see the money Shattenkirk is making, some may question if this was a team-friendly deal. It is. Shattenkirk could've received more years and more money elsewhere. While he may have not got the no-move clause the Rangers gave him, the Rangers didn't mind giving him the no-move clause, because Shattenkirk, who will be 30 on January 29th, was thought to still be in his prime years. At the very worst, Shattenkirk would flame out, and the Rangers would move on.  Now, at the 112 game mark of his 328 game contract, Ranger fans are begging the Rangers to move on.
When you look at Shattenkirk's brief tenure with the Rangers, as he hasn't even hit the half-way mark of his contract, it's been a complete mess. Unfortunately for both Shattenkirk and Ranger fans alike, it's hard to blame Shattenkirk for any of his or the team's troubles.
In the present day, and in light of Shattenkirk's most recent injury, while Ranger fans are quick to dub him "Redden 2.0" (Or is it Redden 2.2-0?) to me, he reminds me a lot of Carl Pavano. However, the major difference between the ex-Yankee Carl Pavano and Kevin Shattenkirk is the fact that Shattenkirk WANTS to play and he WANTS to win here.
When Shattenkirk signed with the Rangers, he signed here with the hopes of winning a Stanley Cup and joining an organization primed to make another deep playoff run. Despite the Rangers failures at winning a Stanley Cup, in the Alain Vigneault era, the Rangers made a SCF appearance, made it all the way to a Game 7 of another Eastern Conference Final and were so close to making another Eastern Conference Final appearance, after a crushing 2017 semi-final loss to the Ottawa Senators.
On the Rangers end, the Rangers were hoping to sign their best offensive defenseman since the days of Shattenkirk's idol, in a one Brian Leetch. When you really think about it, who has been that player for the Rangers since the unceremonious trade of Leetch? Keith Yandle? It sure as hell wasn't another former number 22, in Dan Boyle!
Going into the 2017-2018 season, Shattenkirk thought he was signing with a team of stability. Captained by Ryan McDonagh and with a future Hall of Fame goalie in Henrik Lundqvist, Shattenkirk was thought to be the key in helping the Rangers offensively, especially on the anemic Scott Arniel power-play. Heck, it was thought that Shattenkirk could even quarterback the power-play and boost the offensive production of Rick Nash.
With Alain Vigneault at the helm for his fifth year, Shattenkirk thought he found a home with a solid foundation. Less than a year later, everyone besides Lundqvist would be gone. The foundation that was thought to be solid was blown to smithereens, as if it was a straw house being blown away by the big bad wolf.
In the 2017-2018 season, the Rangers struggled out the gate. Despite signing an extension on his contract, it was rumored that the Rangers may even fire Alain Vigneault. However, the Rangers caught a break on Halloween night, when down 4-2 and entering the third period, the Rangers scored four straight goals against a FOURTH string goalie playing for the expansion Vegas Golden Knights, in baby-faced Maxime Lagace. With a 6-4 victory, despite it happening under murky circumstances, the Rangers would then go 9-3 in the month of November. It looked like things were back to normal.
The Rangers would follow their best month of the season, in November, with a respectable December, going 7-3-3.  However, during this time, Kevin Shattenkirk didn't look particularly great. In fact, the Rangers looked like they were sold a false bill of goods.
As December moved along, Shattenkirk continued to struggle. In fact, Barry Trotz, then of the future Stanley Cup Champion Washington Capitals, tore into Shattenkirk a bit. To quickly recap, Shattenkirk was acquired by the Caps during the trade deadline of the 2016-2017 season. Check out this article from 12/7/2017: Barry Trotz on Kevin Shattenkirk: Everybody thought of him as a top-pairing defenseman and he really wasn't
In the article, Trotz was very frank in speaking about Shattenkirk. Now today, here on 12/12/2018, Trotz's words carry more weight, as he is now a Stanley Cup winning coach.
After the Winter Classic, Shattenkirk continued to struggle. Then, on January 19th, Shattenkirk revealed that he had been playing with a meniscus tear in his knee, which occurred at the end of the preseason. Shattenkirk would sit on the IR for a while, before ultimately requiring surgery, thus ending his season, a season where he only played in 46 games.
At the time where he revealed his injury, Shattenkirk said:
"It's tough. Thinking about this year, you want everything to go perfectly. I think I've been trying to battle through this for a lot of reasons . . . You have to think about yourself . . . I've been worried about more things, trying not to disappoint a lot of people, me included in that.
It's never easy to be sidelined . . . But I also feel like what I was putting out on the ice, I wasn't giving the guys on my team the best I had. That almost makes you feel even worse."
Shattenkirk would ultimately finish the 2017-2018 campaign with five goals and 18 assists. He also had a team worst plus-minus of -14.
For Shattenkirk, he knew what it meant when he signed that contract. He tried to tough it out. It didn't work out for him or for the Rangers.
On February 8th, and with the team flirting with a wild-card spot, Jeff Gorton and Senile Sather would release what's now known as "THE LETTER", where they announced that the Rangers would be rebuilding, without using the word "rebuild" in the letter.
By the time the trade deadline came, the Rangers said goodbye to Captain Ryan McDonagh, Michael Grabner, Rick Nash, Nick Holden and JT Miller. With Shattenkirk done for the season, the Rangers limped to the finish line.
Immediately after Game 82, Alain Vigneault was also given the pink slip, a pink slip that IN MY OPINION ONLY, wasn't deserved. After all, Lundqvist had the worst season of his career and that's the player the Rangers have built around. When you factor in the injuries, trades and AV getting the team to the playoffs in every other season that he was here, I thought AV was made to be the goat. I mean, you're going to blame AV when Sather has been here for 18 fucking years and hasn't won anything? However, for this Shattenkirk blog, that's neither here or there. I just get riled up about this!
In year one for Kevin Shattenkirk, his time with the Rangers was unfortunate. He tried to play through an injury and knew why he thought he had to do it, but at the end of the day, he and the team failed. Can you blame Shattenkirk for getting hurt? After all, he didn't have a history of being hurt and eventually, all players get sidelined with an injury.
On May 23rd, 2018, with the Stanley Cup playoffs still going on, the Rangers announced the signing of new head coach David Quinn. Immediately, his relationship with Kevin Shattenkirk was brought up, as Shattenkirk was recruited by David Quinn (then an assistant) to play for Boston University. Later on, Shattenkirk would play for Quinn in Colorado, for the Avalanche's AHL team, in the Lake Erie Monsters. Both Shattenkirk and Quinn wouldn't last long in Colorado, as Shattenkirk would go to St. Louis and Quinn would return to Boston University, this time as a head coach.
In the summer, David Quinn would attend Shattenkirk's wedding and both praised the other in the media. While the Rangers deconstructed their team, by no fault of Kevin Shattenkirk, things looked promising for Shattenkirk, as he had an ally and a friend in his head coach.
With the Rangers embracing a rebuild, even if they won't say the "R" word themselves, when discussing Kevin Shattenkirk, one must take a look at this situation through his eyes.
Let's put the facts on the table. When Shattenkirk signed with the Rangers, here is what he thought going in:
— Shatty would be playing with Ryan McDonagh. Instead, McDonagh was traded, where he is now currently a Norris candidate in the 2018-2019 season, which also admittedly speaks to how great the team in Tampa is.
— Shatty would be playing with an explosive power-play team. Instead, the Rangers have put rookies on their power-play and continue to tinker with it all season.
— Shatty would be playing with an established playoff contender. Instead, the Rangers blew it all up while Shattenkirk was injured.
A year after signing with the Rangers, many faces changed and the mission statement also was amended. The Rangers would be developing, the Cup would be out of reach and Shattenkirk was now expected to be a veteran voice, rather than playing with a group of veterans looking for a crack at the chalice.
Man, is it funny how time changes everything!
Let me get this out of the way for both my regular readers who may already know, and the new readers that find this blog. I was all-in on the Kevin Shattenkirk signing. Many of my friends HATED the signing. Even my "online friends", friends who I later met in "real-life", also despised the signing. For me, as usual, I was against the grain and all for this signing.
I don't hide it. I'm biased. I root for the Americans. If Shattenkirk was Swedish, it would be easy for me to bury him. However, I want the American players to do well. It's why I hope Brady Skjei figures it out, even though he looks more and more like another overpaid Gorton bust with each game.
I also think that Shattenkirk is likeable and does all the right things. However, that can only get you so far. I think Shattenkirk is someone I would have a good time with at a bar, bullshitting about hockey and pounding beers. I'm not sure if he's what's best for the Rangers, moving forward.
If you look at Shattenkirk's limited time with the Blueshirts, outside of his injuries and sometimes his play on the ice, how can you really bury the guy? The guy does every charity event possible. He says all the right things. He loves being here. He wants to be here. He wants to win a Cup here. He loves the city. He loves everything that comes with being a Ranger. However, and I can't say that I'm not guilty of this either, as I'm one of the biggest offenders of this thinking – the bottom line is the only thing that matters is WINNING. As of 12/12/2018, does Kevin Shattenkirk give the Rangers the best chance at winning? Even me, someone sympathetic to Shattenkirk's plight, I can't say that he does.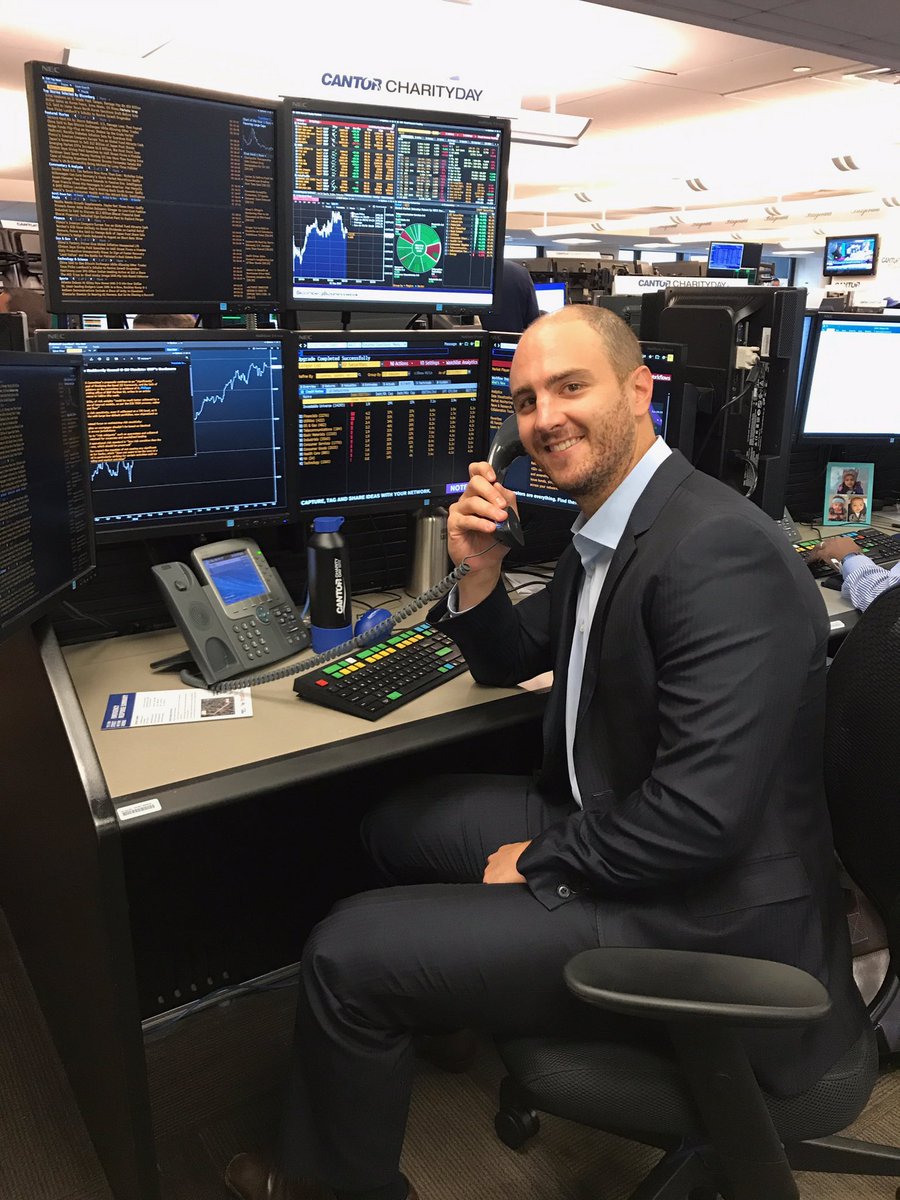 In this current 2018-2019 season, Kevin Shattenkirk has not been impressive. In fact, with every game played, Neal Pionk makes Shattenkirk and his skill set, more and more expendable. Think about it, what does Shattenkirk do that Pionk doesn't? Furthermore, Pionk is only 23 years old and is a $925,000 salary cap hit. And don't get it twisted – in today's NHL, salary cap hits are just as pertinent as any other stat.
What once made Shattenkirk worth the money was his explosiveness and speed as a defenseman. With the knee injury, like any other athlete recouping from injury, Shattenkirk looks hesitant and doesn't want to risk re-injuring his knee. For a player like Shattenkirk, a knee injury is devastating.
Even Shattenkirk's buddy, head coach David Quinn, has taken notice of Shattenkirk's diminishing play, and has put him on the "SCRATCH LIST OF QUINN", or as others call it, "THE QUINN BIN." (FULL CREDIT: BLUESHIRT UNDERGROUND RADIO, who came up with "THE QUINN BIN" first. I don't know if Jim or Eddie said it first, but I know they said it before everyone else was saying it!)
Once the Rangers announced that Shattenkirk would be out 2-4 weeks, Ranger fans brought the pitchforks. Many of my friends, even that miserable SOB Greg Rutherford aka @FIXXSER, reminded me that they were against the Shattenkirk signing and how I was for it. It's hard for me to argue with them now, but I still say this – "how is any of this Shattenkirk's fault?"
When the Rangers signed Shattenkirk, he didn't have an injury prone reputation. Now, for the second time in as many seasons, Shattenkirk will miss an extended period of time with an injury. Depending on how you fall on the "TANK" theory, this could be the second straight year that the Rangers start blowing it up, with Shattenkirk on the IR. I mean, it's not inconceivable that the Rangers trade off guys like Zuccarello or Hayes, while Shattenkirk nurses his latest injury.
Many fans are saying that Shattenkirk hasn't lived up to expectations and I would be hard pressed to argue with them. In the same vain, have the Rangers & management lived up to Shattenkirk's expectations?
With Shattenkirk on the IR and with fans having seen enough, once the Rangers announced that Shattenkirk would be sidelined for maybe a month with this latest injury, I saw Ranger fans all over the place saying "THE RANGERS MUST TRADE KEVIN SHATTENKIRK."
As someone who likes Shattenkirk, I have to wonder if this would be the best thing for him. After all, despite his love for the Rangers, this isn't what he signed up for. Plus, once you turn 30 in today's NHL, your best days are considered behind you, unless your name is Alex Ovechkin.
The real question is, "who would trade for Shattenkirk?"
When I responded to people begging for the Rangers to trade Shattenkirk, with "who would trade for him", I was met with vague answers. To me, the only GM who likes trading with the Rangers and likes making bad deals, is Oilers GM, Peter Chiarelli. And hey, if you look at the Oilers, the Oilers could use a scoring defenseman. However, is Shattenkirk that guy?
While Ranger fans have grand delusions when it comes to making trades, such as "MARK STAHL FOR CONER MCDAVID!", I think for the Rangers to trade Shattenkirk, he would have to be packaged with someone else, like a Zucc or a Hayes. Keep in mind, Shatty also has a no move clause, and who knows if he would be willing to waive it? Maybe he is like Lundqvist, and despite all the losing, is happy just to play here and wouldn't make that trade off.
In closing on Shattenkirk, I feel that he's had a rough tenure here, through a series of misfortunes, not necessarily of his own doing. However, while I think the "TRADE SHATTENKIRK" pleas are more from the fans, rather than in line with the Rangers thinking, I hope that Shattenkirk is able to rebound from this latest injury and able to turn it around. That said, with Shattenkirk near 30, hockey fans may have seen the best from Kevin Shattenkirk.
It's funny, often I criticize the Cult of Lundqvist for their "IT'S NOT HIS FAULT" mentality after every goal Hank gives up. I feel like I just wrote a "IT'S NOT HIS FAULT" blog on Shattenkirk. Damn me and my bias for American players!
And as we get to the end here (and who would've thought I could've done a blog on both Cyclone Taylor and Kevin Shattenkirk?) let me wind down here with the latest Rangers news.
On Tuesday, the Rangers sent Schneider (who never played a game) and Steven Fogarty back to Hartford. I figured Fogarty was done, which I said on the blog on Monday, once he muffed that Zibanejad pass against the Bolts. In the grand scheme of things, no big loss here.
David Quinn, in his press conference on Wednesday, said he hopes to have Zucc & Buchnevich back in the line-up on Friday. Time will tell on that.
Quinn also said that McQuaid may be ready on Friday against the Coyotes, which means either Smith plays or McQuaid will be healthy scratch. Unless McQuaid is unable to return, I don't see the Rangers recalling a defenseman from Hartford, as it isn't needed. The Rangers have a few home games coming up, so the need to call someone up won't be as dire, as if they were on the road.
I'll be back Friday night with a Rangers vs Coyotes review. Until then, as always, thanks for reading and…
"LET'S GO RANGERS!"
Sean McCaffrey
BULLSMC@aol.com
@NYCTHEMIC on twitter