Greetings and salutations everyone and welcome to another blog here on BlueCollarBlueShirts.com. Tonight's blog is a special entry on this site during this season, as it is sparked by the New York Rangers making a trade. Plus, as I told you in last night's blog, in the game review with the Islanders, I have my god-daughter/niece's birthday party taking place at 12:30PM on Saturday.
In other words, I'm staying in the house tonight as I don't want to be a barrel of beer gas for that party! I love the bar I go to by my house, but one beer turns into 20 beers and 10 shots real quick!
One of the fun things about doing this silly blog is seeing the reaction that I get from readers. You can't please everyone and I learned that a long time ago, during my days in the pro wrestling business. Another thing I learned, when it comes to writing, is that you can get ideas for material by talking to your readers.
As I mentioned in last night's blog, Al Demauro, who is a reader & a die-hard Ranger fan, had a conversation with me, discussing Rangers General Manager, in a one Jeff Gorton. It is Al's position that perhaps Gorton isn't as great as some fans think. Furthermore, we debated if Gorton is the right guy for this rebuild.
In tonight's blog, I will talk about the Spooner/Strome trade and take a look at Gorton a bit. I wanted to wait until the end of the season to really get into Gorton. However, with this trade, I figured it would be good to write something now, even if it's just for the sake at looking back at what I said at a future date.
And since I mentioned last night's blog twice in this opening intro, here is last night's blog, plus my most recent blogs, in case you missed them:
---
---
---
---
---
---
On Friday afternoon, the Rangers and Oilers announced a straight one-for-one trade, with Ryan Spooner going to Edmonton and Ryan Strome going to New York. As usual, what made me laugh was that the player salaries and their cap hits were announced by the teams and in the news reports of the trade. As I always say, Gary Bettman has created a league where fans have to be aware of player salaries. And really, that's been the basis of my "trade/move-on from" Lundqvist rhetoric.
I don't want to get too much into this, as I've done these rants before, but until Bettman realizes that the top markets can drive the league better than the sunbelt teams can, fans, critics, reporters, whoever; will always have to talk about player salaries when it comes to player transactions. Either increase the salary cap, add a Bird clause or add a luxury tax. I understand Bettman wants a league of parity, but we're now raising a generation of hockey fans that no longer look at stats on the back of hockey cards, they are googling player salary cap hits.
Here is the Rangers official press release on the trade:
New York Rangers General Manager Jeff Gorton announced today that the team has acquired Ryan Strome from the Edmonton Oilers in exchange for Ryan Spooner.

Strome, 25, has skated in 358 career NHL games over parts of six seasons (2013-14 – 2018-19) with the NY Islanders and Edmonton, registering 59 goals and 103 assists for 162 points, along with 170 penalty minutes. He established several career-highs during his first full season in the NHL in 2014-15, including goals (17), assists (33), points (50), and plus/minus rating (plus-23) in 81 games with the Islanders while helping the team advance to the Stanley Cup Playoffs. Strome played in 18 games with the Oilers this season, registering one goal and one assist for two points. Strome has also skated in 15 career Stanley Cup Playoff games, registering three goals and five assists for eight points, along with a plus-two rating and four penalty minutes.

The 6-1, 194-pounder has earned several awards throughout his hockey career. Strome was selected to the AHL's All-Rookie Team and played in the AHL All-Star Game in 2013-14, as he registered 49 points (13 goals, 36 assists) in 37 games with the Bridgeport Sound Tigers during the season. He recorded 295 points (105 goals, 190 assists) in 225 games during a four-year junior career in the Ontario Hockey League (OHL) with the Barrie Colts and Niagara IceDogs. Strome was selected to the OHL's Second All-Star Team and participated in the CHL Top Prospects Game in 2010-11, as he tallied 106 points (33 goals, 73 assists) in 65 games with Niagara. Internationally, the Mississauga, Ontario native has represented Canada in several tournaments, and he helped Canada earn a bronze medal at the 2012 IIHF World Junior Championship.

Strome was originally selected by the Islanders in the first round, fifth overall, of the 2011 NHL Entry Draft.

Spooner skated in 36 games with the Rangers over parts of two seasons (2017-18 and 2018-19), registering five goals and 13 assists for 18 points. He was acquired by the Blueshirts in a trade with Boston on Feb. 25, 2018.
And to get the other side, here's what the Oilers said in their press release:
EDMONTON, AB – The Edmonton Oilers have acquired forward Ryan Spooner from the New York Rangers in exchange for forward Ryan Strome.

Spooner, 26, has played in 289 National Hockey League games, registering 160 points (46G, 114A) and 61 penalty minutes. In 16 games with the Rangers this season, he has scored once and added an assist.

The 5'11", 191-pound native of Ottawa, Ontario is in his eighth professional season, spending time with both the Boston Bruins and the New York Rangers. He recorded career highs in goals (13), assists (36) and points (49) with the Bruins during the 2013-14 season.

Spooner was originally drafted by the Boston Bruins in the second round (45th overall) in the 2010 NHL Draft.
When I first saw this trade appear on my Twitter feed, the first thing I thought was that this was a trade to jump-start both players. Essentially, I thought this trade was made to give these players a new environment, because for whatever reason, what these two were doing just wasn't working. After reading up on this trade, it looks like most people agree with that assessment.
What is telling though, and keep this in the back of your mind as the season goes along, the Rangers traded Spooner for another veteran, and not for a draft pick or a prospect.
As you may know, because of my fandom of Cam Talbot, I follow the Oilers. I've gone to Edmonton. I talk to Oiler fans on a daily basis. While I'm not 100% plugged in on every on-going there, I do watch a majority of their games and I am pretty up-to-date with their issues. When I heard Strome was coming to New York, it made sense to me. It was only a matter of time before the Oilers moved on from him.
Oh, and while I'm going to get into Jeff Gorton in a bit, forget the Taylor Hall for Adam Larsson trade for a moment. Oilers general manager, Peter Chiarelli, has really been a complete failure for the Oilers. Save the one season where Cam Talbot played 73 games (he hasn't been the same since) the Oilers have had a ton of number 1 picks and not much to show for it.
When you look at the trade history between Chiarelli and the Islanders, the Islanders who are not known for their savvy GM's, have completely stuck it up Chiarelli's ass. In their most recent trades together, the Islanders have turned Ryan Strome, Griffin Reinhart and a 3rd round draft pick into Mathew Barzal, Jordan Eberle and Anthony Beauvillier. If you're an Oiler fan, can you imagine what it would be like to have a 1-2 punch of McDavid & Barzal? Sorry Oiler fans for even putting that thought into your head!
Now think about the Hall for Larsson trade with the Devils. When it comes to the Rangers biggest rivals (if you don't consider Philly a bigger rival than the Isles or the Devils) they are just raping Chiarelli like they are a Transformer made up of Bill Cosby & Harvey Weinstein DNA.
Before Chiarelli's time, you may be familiar with the name Senile Sather. To this day, the only good things Sather has ever done for the Rangers was when he traded Mark Messier to New York in 1991 and when he fleshed out the 1994 Stanley Cup Champion team. I can't name anything that Senile Sather did for the Rangers, from 2000 until today, that was ever more beneficial for the Rangers.
In recent times, in one of the last moves he ever made as GM of the Rangers, Glen Sather traded Cam Talbot for a bunch of draft picks. Sather would then trade some of those draft picks, with only goalie Adam Huska remaining in the organization today. And with the way the Rangers are, Henrik Lundqvist will still be here until he's 90 years old and Huska will never see the light of day.
Okay, I'm being funny with that last statement, but in reality, Cam Talbot could've brought back more than Adam Huska. Huska may never ever play for the Rangers as it is, with Igor Shestyorkin in the pipeline and with Alexandar Georgiev in the system. (One also must not forget Brandon Halverson, who was once anointed as the heir to Hank's throne.)
What just baffles me as a Rangers fan, is seeing the Isles & Devils pillage Chiarelli and the Oilers, while the Rangers make these ho-hum trades with a team that considers the 1994 Stanley Cup as their unofficial sixth world championship!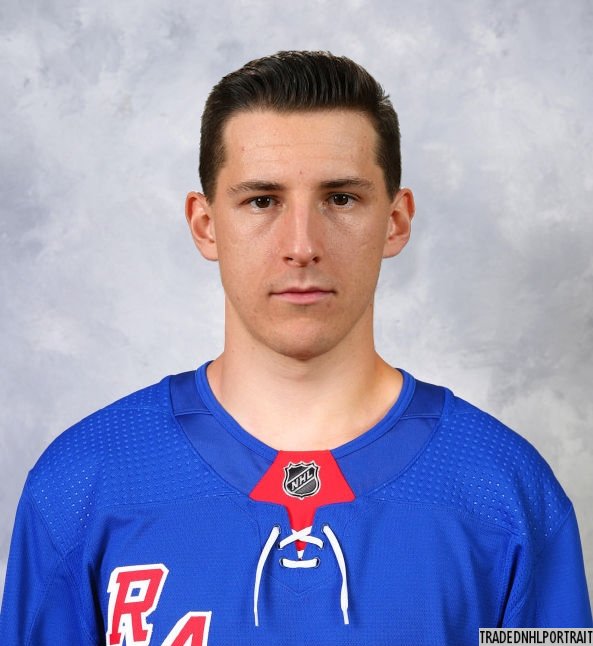 In the case of Ryan Strome, this is a light gamble for the Rangers. It's the equivalent of a $2 exacta bet with two long shots. As I'll get into when I start talking Gorton, the Rangers are basically giving up on a player, in Ryan Spooner, that they just gave a two year contract to, not even two months into that contract.
As I've been saying in my Ranger game review blogs, I don't think any Ranger is truly irreplaceable. Sure, you don't want to move the young guys like Pionk, Chytil, Andersson, Howden, etc, but it's not like the Rangers have that one superstar that is a huge offensive threat, like a McDavid in Edmonton, an Ovechkin in Washington, a Crosby in Pittsburgh, etc.
The Rangers, after years of being at the salary cap ceiling, are no longer there. They can afford to give up on Spooner, absorb an annual $900k cap hit and try to rejuvenate Ryan Strome. With what head coach David Quinn has been doing, this may be a great fit for Strome. It's also hard to envision Ryan Spooner turning into a superstar with Edmonton, so I think overall, this is a low risk trade, that could reap some benefits for the Rangers.
I will say, the Edmonton Oilers website seems happy about acquiring Spooner, as all his Boston relationships are explored in articles on the Oilers website. You can read those articles here: https://www.nhl.com/oilers/news/blog-old-connections-revived-for-spooner/c-302010360
Ryan Spooner's short tenure with NY will be remembered as Spooner coming here in the Rick Nash trade & having a torrid start. After that, he petered off. Spooner will lastly be remembered as a guy who fell apart in his first line audition and then was on the "Scratch List" of David Quinn. Speaking of the list…
For the Rangers, with Strome now in the mix, it looks like Cody McLeod, or perhaps Vinni Lettieri, will go back on the "Scratch List" of Quinn. You have to figure that once Strome is ready (I don't think he will be ready to play in Saturday night's game with the Panthers, but that's me speculating, I don't know that as a fact) that Strome will get some time to prove himself.  In other words, I don't see Strome playing one or two games and then Quinn giving up, in the event that Strome isn't tearing it up.
When GM Jeff Gorton gave Namestnikov and Spooner those two year contracts in the summer, I questioned those moves on this site. To sum up what I said then, I said I didn't see the purpose in keeping either of these two. I also said that I didn't see it being a big deal, considering the Rangers are rebuilding and they wanted to sprinkle veterans in the line-up.
Fast forward to today, and the Rangers are exceeding expectations. However, you can't forget that Spooner was signed for two years, with the thinking that he'd be able to help this rebuilding team. With that logic, I don't think Strome gets a free pass or anything, but he should get time to prove himself. The Rangers aren't just taking a chance with Strome, they are hoping that he can develop into a regular member of the roster.
With the Rangers hoping to jump-start Strome, I think McLeod, more so than Lettieri, will become the biggest victim of this trade. It should be interesting to see how Quinn juggles his lines. He's been doing a great job so far, so all we can do is sit back and relax.
And as far as a few final words on this trade, for anyone doing the "sky is falling" stuff, you crack me up. This is just a trade of two struggling players, both looking to get their careers going again. The only negative thing you can say about this trade is that by signing Ryan Spooner for two years, the Rangers had to find an equal salary to take back in a cap driven league.
Good luck & welcome to New York City Ryan Strome.
As said at the top of this blog, I really wanted to wait until the summer to dive into this topic. However, with the Strome for Spooner trade, it had me thinking – "Is Jeff Gorton the genius that everyone makes him out to be?"
When it comes to Jeff Gorton, I think he has two things going in his favor. He's not an idiot like James Dolan and he hasn't soiled this franchise like Glen Sather. Just seeing Gorton's face is much better than seeing Beavis Dolan and Butthead Sather.
At the same time, when Jeff Gorton became the general manager in the summer of 2015, he was also handicapped by the fact that Glen Sather wasn't leaving. Glen Sather was still his boss. Glen Sather still watches over him. To this day, many fans believe that Glen Sather is still the puppet-master. After all, we've heard Gorton, ex-coach Alain Vigneault and James Dolan, all say how they confer with Sather before making a move.
I've done plenty of blogs on Glen Sather's failures in NY, with the most in-depth one being this blog:
BCBS 6/26: Fully Examining The Era/Error of "Senile" Glen Sather at the Draft Year-by-Year, Taking a Look at Every Player Drafted & Ignored by Sather, The Greatest & Worst Picks in Sather's NYR Tenure, Sather's Terrible Trades, Why There's Extreme Cause For Concern For Ranger Fans, Sather's Highs & Many Lows, Looking At People Who Chart/Grade Drafts & More NYR/NHL News, Notes & Opinions
I still contend that Glen Sather should be kicked out of the Hall of Fame because of his failure with the Rangers. How this man has a job for 18+ years is baffling! It just goes to show you that owner Dolan doesn't care and isn't knowledgeable when it comes to hockey.
Having the dark overlord of Glen Sather over your shoulder can't be easy for Jeff Gorton. Hurting Gorton from day one was being saddled with all the bad contracts Glen Sather signed. Lundqvist, Staal, Girardi and Nash, no matter how you feel about those players, all got long-term deals, some deals that the team still can't get away from to this day.
In a weird way, when Lundqvist blew the 2015 Eastern Conference Final, Glen Sather must've knew that the run was over. He knew the window was shut. Sather would hurt the franchise some more by trading Cam Talbot for next to nothing and then trade Hagelin for nothing, when he landed Emerson "FUCKING" Etem.
(Oh and before the Cult of Lundqvist starts in with me, save me the Game 7 lack of scoring nonsense. If Lundqvist doesn't give up back-to-back touchdowns earlier in the series and is able to win a game where NYR scores 5 goals for him, then there is no need for a Game 7. There was just no reason for Lundqvist to play in that series as Tampa was his kryptonite that whole season. When you play .500 hockey and blow nearly every two goal lead you ever get in a seven game series, you put yourself into these unnecessary Game 7's.)
Ever since the Cinderella Cup appearance in 2014 and the 2015 ECF, it's been downhill for the Rangers. Sather went all-in and the team failed. Once the team was eliminated in 2015, Sather gave the reigns to Gorton. In that time, the Rangers got stomped by Pittsburgh in the 2016 playoffs, Lundqvist choked the second round series in the 2017 playoffs and the team missed the playoffs last season.
While Glen Sather never had to worry about job performance or job security, when it comes to not winning a Cup, these last three seasons fall on Jeff Gorton, at least officially.
When I first started debating Jeff Gorton's tenure with Ranger fan Al Demauro, I was, and still am, of the belief that you can't really judge Gorton in any definitive way. Sather is still his boss. He still has bad Sather contracts on this team. He's trying to rebuild this team. I really don't think you can particularly feel strong one way or the other on Gorton, until maybe 3-5 years pass. Just keep that in mind as you go along here.
However, with three full seasons under his belt, in the midst of his fourth season and his fifth off-season approaching in 2019, I think we can judge Gorton a little bit. I still think a few more years need to pass before feeling concrete one way or the other, but if there's anything we've seen from Gorton during his tenure, it seems that he's picked up the trait of handing out bad long term contracts. I mean, just look at the now. Would anyone say the signings of Shattenkirk, Smith or Spooner have worked out for the Rangers?
While I don't want to go through every single transaction while under Gorton's watch, let's take a look at some of the bigger ones, since Gorton became general manager of the NY Rangers on July 1st, 2015.
— Signed Magnus Hellberg and re-signed Dylan McIlrath in July of 2015. Neither of these players are in the NHL anymore. LOSS.
— Did retain Jesper Fast & JT Miller, and on the cheap in July of 2015. WIN.
— Gave Derek Stepan a 6 year $39 million contract on July 27th, 2015. Two years later, Gorton considered this a bad deal and traded Stepan. LOSS.
— Signed Jarrett Stoll on the cheap in August of 2015. Move didn't work out. EVEN.
— Traded Emerson Etem for nothing of significance on January of 2016. He was trying to make up for a bad Sather trade. EVEN.
— On February 28th of 2016, he traded draft picks for Eric Staal. It didn't work out. Staal went on to have a great seasons with Minnesota. I can't blame Gorton for AV putting Eric Staal on the third line and not playing him at his natural position. EVEN.
— Re-signed Antii Raanta for two more years in May of 2016. WIN.
— Traded Keith Yandle to Florida for draft picks in June of 2016. Gorton didn't want to give Yandle a big money deal. WIN.
— On June 25, 2016, he participated in his first draft as GM. Ronning and Gettinger have potential, but too early to judge this draft. EVEN.
— A day later, on June 26, 2016, trades for Nick Holden. Holden has some decent offensive games for NYR, but ultimately becomes a defensive nightmare. LOSS.
— Lets Eric Staal, Jayson Megna and Viktor Stalberg all walk in the summer of 2016. Staal becomes a stud again. EVEN.
— Re-signs Dylan McIlrath and signs Josh Jorris on July 15th, 2016. LOSS.
— On July 18th, 2016 trades for Mika Zibanejad in exchange for Derrick Brassard. Brassard may have peaked with the Rangers. Zibanejad has been solid, but is concussion prone. WIN.
— On July 22nd, 2016 he re-signs Kreider & Hayes. WIN.
— On August 19th, 2016 he wins the Jimmy Vesey sweepstakes. WIN.
— On November 8th, 2016 trades McIlrath to Detroit for Steven Kampfer. EVEN.
— On February 28, 2017, Gorton trades draft picks for Brendan Smith. LOSS.
— On May 1st, 2017, signs Neal Pionk. WIN.
— On June 14th, 2017, he buys out Dan Girardi. Girardi is playing great in Tampa. EVEN.
— On June 23rd, 2017, Gorton makes his biggest deal yet, trading for Arizona's first round pick and Anthony DeAngelo for Raanta & Stepan. Rangers draft Lias Andersson. Raanta has been one of the league's best goaltenders when healthy and Stepan has played well. DeAngelo has been up & down, and if it weren't for injuries on the big club, he may not even be playing right now. Andersson was only recently called up because of injuries and didn't make the roster in his first two camps. Right now, Arizona has won the trade, but more time needs to pass before fully evaluating it. EVEN.
— On June 28th, gives Brendan Smith a four year/$17.4M deal. 3 days later, he signs Kevin Shattenkirk to a 4 year/$25.6M contract. As of now, both deals look terrible. The same day he signs Shattenkirk, he also signs Pavelec. Pavelec is not Raanta or Talbot. LOSS.
— In mid July of 2017, signs his draft picks of Chytil, Andersson and Georgiev. As of now, this looks like a WIN.
— On January 25th of 2018, after letting Tanner Glass walk in the summer, Gorton picks up McLeod off waivers & would later give him a contract for this season. LOSS.
— In February of 2018, releases "THE LETTER" with Sather, announcing wholesale changes and how the Rangers will rebuild. Subsequently, he trades Michael Grabner to NJD for a prospect and a pick. Nick Holden & Rick Nash are traded to BOS for O'Gara, a third rounder, Spooner, Beleskey, a first rounder, Lindgren & a 7th round pick. Despite Spooner's trade today, these deals all look like WINS, especially the Nash deal.
— A day after moving Nash, on February 26th, 2018, he trades McDonagh and Miller to Tampa. This is a huge blow to NYR, as they lose their captain and a fan favorite. In return, Gorton gets Brett Howden, Libor Hajek, Namestnikov, a second round draft pick and a potential first round draft pick. Jury is out on this trade, but who knows, one day this trade may be referred to as the "HOWDEN TRADE" and not the "McDonagh Trade". EVEN.
— In April of 2018, despite a season full of injuries, trading off the veterans and Lundqvist having the worst season of his career, he fires head coach Alain Vigneault. He would later hire David Quinn. Jury is out on this, but it definitely looks like a WIN right now.
— On June 22nd, 2018, he participates in the NHL draft, with Vitali Kravtsov being the crown jewel of the litter. We won't know how this all panned out until 3-5 years from now. EVEN
— In late July of 2018, he re-signs Vesey for two years and Hayes for one year. He then prematurely (could've waited a year) gives Brady Skjei a 6 year $31.5 million contract. Vesey & Hayes are easy WINS. Skjei's deal can only be discussed over time. EVEN.
— Also in July of 2018, he gives a matching pair of two year/$8M deals to Namestnikov and Spooner. LOSS.
— On September 11th, 2018, he trades Kampfer, a 2019 4th round pick and a 2019 7th round pick to Boston for McQuaid. McQuaid was a healthy scratch and has missed more than half this season with injuries. Kampfer didn't have much of a future in NY, but with the draft picks included, this is a LOSS.
— On November 16th, 2018, he continues the Rangers tradition of trading Ryan's and trades Spooner for Strome. Time will tell how this deal does, but by giving up on Spooner, it cements Spooner's two year deal as a LOSS.
When it comes to hockey GM's, or GM's in general, no one bats a thousand. You're gonna have your hits and misses. You just want to have more hits than misses, obviously.  Sure, while I think Gorton has invested a lot of money into the wrong people (and I won't blame him for Shattenkirk because there were a ton of teams gunning for him) I think Gorton has done a so-so job so far. I'm not blown away in either direction and as stated, he had a lot of work to do to after the Sather Error/Era.
What I do like about Jeff Gorton, especially with this Ryan Spooner trade, is that it seems that he's willing to admit his mistakes. Sometimes, a GM will stay too long with a player, because they don't want to look foolish for having bet on the wrong horse.
This is a season unlike any other recent season in Rangers history. If the Rangers continue to win games and are in the thick of the playoff mix, will Gorton move on from Zuccarello, Hayes, Zibanejad or even Chris Kreider?
In something you may be aware of, I think Lundqvist has too much power on this team. Lundqvist wants to win more than anyone. Quinn wants to win. Will Gorton risk pissing off his star player and hand-selected coach, by trading off the veterans for draft picks & prospects?
While the Rangers are less talented now than the Capitals were last year, who ever thought Ovechkin was going to win the Cup last season? For Lundqvist, he believes, and as he should, that he can get that elusive Cup on his resume. Gorton is not willing to move Lundqvist, so will Gorton try to add a piece at the deadline if this team is playing well, or will he stay the course?
As we saw today, the Rangers weren't going to extend any patience for Ryan Spooner. Instead of trying to trade Spooner for picks or prospects, the Rangers went for another veteran. Will that be the thinking moving forward?
Gorton, ironically during this silly "MSG FOOD WEEK", has a full plate in front of him. It will be interesting and much debated about what he does next.
As mentioned in last night's blog, the Rangers host the Panthers at MSG on Saturday night. Depending on how I feel after my niece's party, I may or may not return with a blog. If not, I'll be back Monday.
As always, thanks for reading and…
"LET'S GO RANGERS!"
Sean McCaffrey
BULLSMC@AOL.COM
@NYCTHEMIC on twitter