Greetings and salutations everyone and welcome to another blog here on BlueCollarBlueShirts.com. This may be shorter than usual, because as I start this, I'm on hour 8 of my Miller Lite tour. Hey, it's Saturday night, a man has to live a little! Also, with that said, this blog may be all over the place and a little light on the in-game content. Just roll with it!
On Saturday night, the Rangers, playing their second game of this back-to-back road-trip, defeated the Columbus Blue Jackets via the shoot-out, by a final score of 5-4. For the Rangers, they extended their point streak to six straight games. In fact, the Rangers have now collected 11 points out of a possible 12 points during this streak.
#LOSEFORHUGHES ? More like #BUILDTHETENT , as in the Rangerstown playoff tent that has sat on the corner of 33rd and 7th during past Ranger playoff runs.
And yes, we haven't even hit Thanksgiving yet and this can all go up in smoke, but it's truly hard to envision this team regressing, especially with the way head coach David Quinn has this team playing. In other words, you see improvement in each game. It's not to say that the Rangers can't fall off, and this a streaky sport, but Quinn has done such a great job so far, that it's hard to see him accepting another three game slide.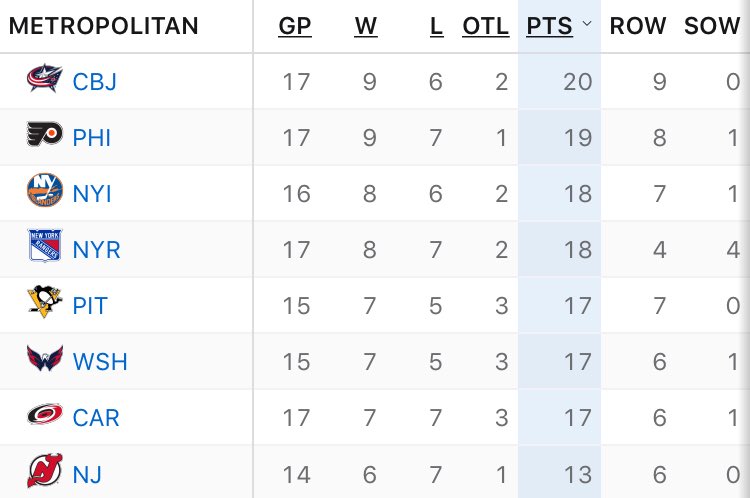 Yes, it's early, blah blah blah and yes, the Rangers have played two extra games, but when you look at these standings, who would've thought, that a month into the season, the Rangers would have more points than both the Capitals and the Penguins?
Granted, everything could change in a weeks time and it's the moaning & groaning stuff all over again, but you have to like what you're seeing so far. And while talking about the playoffs is getting way ahead of ourselves, one must also realize that playoff games aren't won via the shootout, a department that the Rangers have been excelling in, up to this point in the season. But hey, you take the points anyway you can get them and the Rangers seem to have a knack for playing (and now winning) one goal games.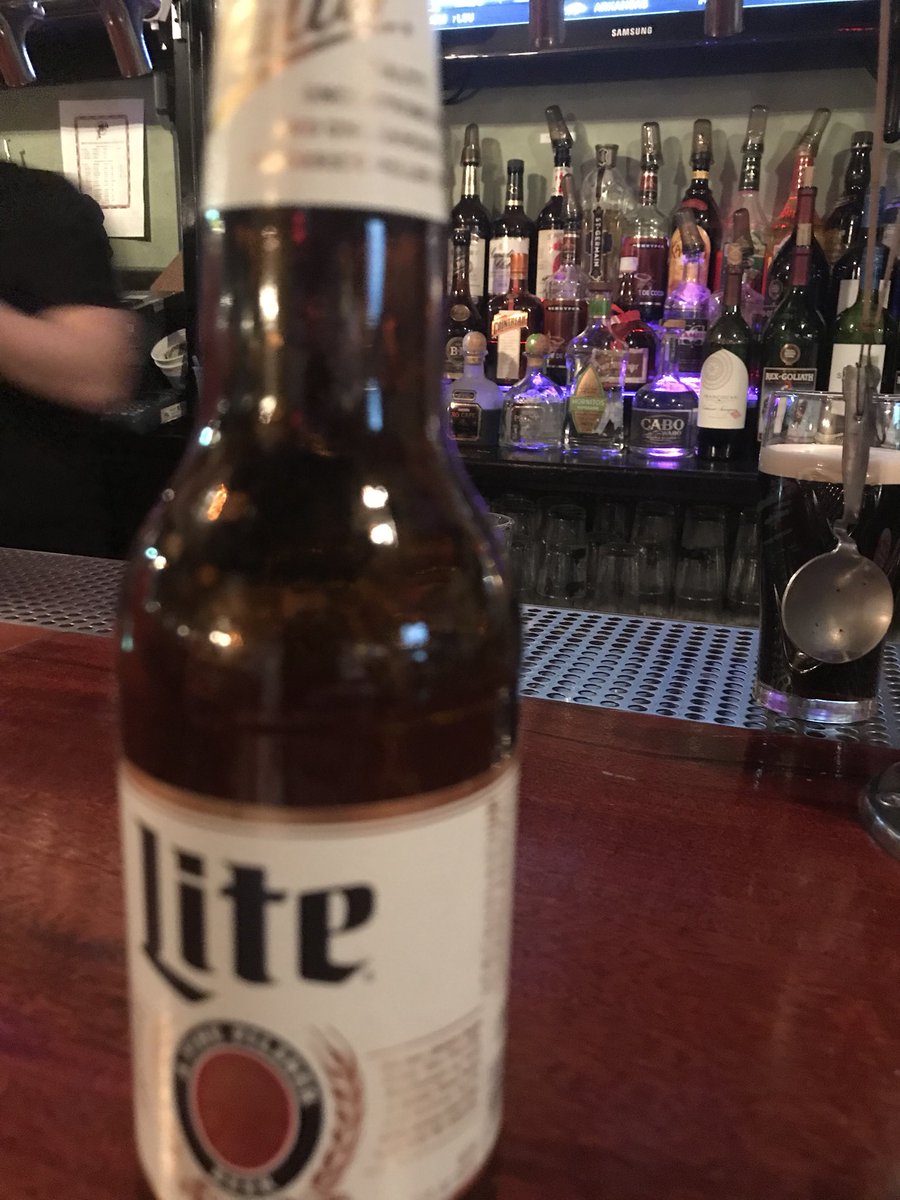 As I'll get into more below, I attended the Blue Shirt Underground Radio party tonight, which took place at Slattery's on East 36th street. That means I wasn't 100% focused on the game, so I won't pretend that I was. While I watched the whole game, I was also bullshitting with people, slamming shots and enjoying meeting people that I only previously knew by their social media handles.
I wasn't checking my phone or social media during the game, but as I was taking the LIRR back from NYC to Long Island, I started reading all the social media feedback about this game. I've ranted about this before, so I don't want to harp on this too much, but the faster some fans realize that this team doesn't care about your thoughts on tanking/losing, the better off those fans will be.
And really part I – I don't know how some of these people can invest 246 hours on this team and root for 82 losses. You're better off not watching at all.
And really part II: do you think a Henrik Lundqvist, a David Quinn or a Chris Kreider reads a tweet from Joe Schmo and says, "Shit, Joe Schmo says we should tank. We should listen to him!"
I don't know how many times I can say this – these Rangers on this 2018-2019 roster and David Quinn himself, do not give a crap about Jack Hughes. Can't say it any clearer than that. Will Jack Hughes make the Rangers great if the Rangers could land him? Most likely. However, these current players are playing for their financial futures, their jobs, their reputations and for a crack at the Cup.
While seeing Ron Duguay at the BSU Radio party was a highlight (more below) the biggest highlight of the party, for me personally, was seeing 50+ Ranger fans, all huddled around one big screen TV, screaming, cheering, booing and going through all the other roller coaster emotions that a shoot-out can illicit.
I know that during shoot-outs, ex-Rangers beat writer Rick Carpinello likes to act smug and say "now it's the skill competition of the broadcast" or whatever corny shit he says in between telling people to not text & drive, but for however long that shoot-out lasted, the upstairs section of Slattery's held their breath on every shoot-out attempt. What I took out of this is something I wrote in last night's blog – Ranger fans are back in and rooting for wins. This season is starting to feel as normal as any other season.
Oh and speaking of last night's blog, what a smooth transition to the plugs section of tonight's manifesto. In case you missed them, here are my most recent blogs:
---
---
---
---
---
---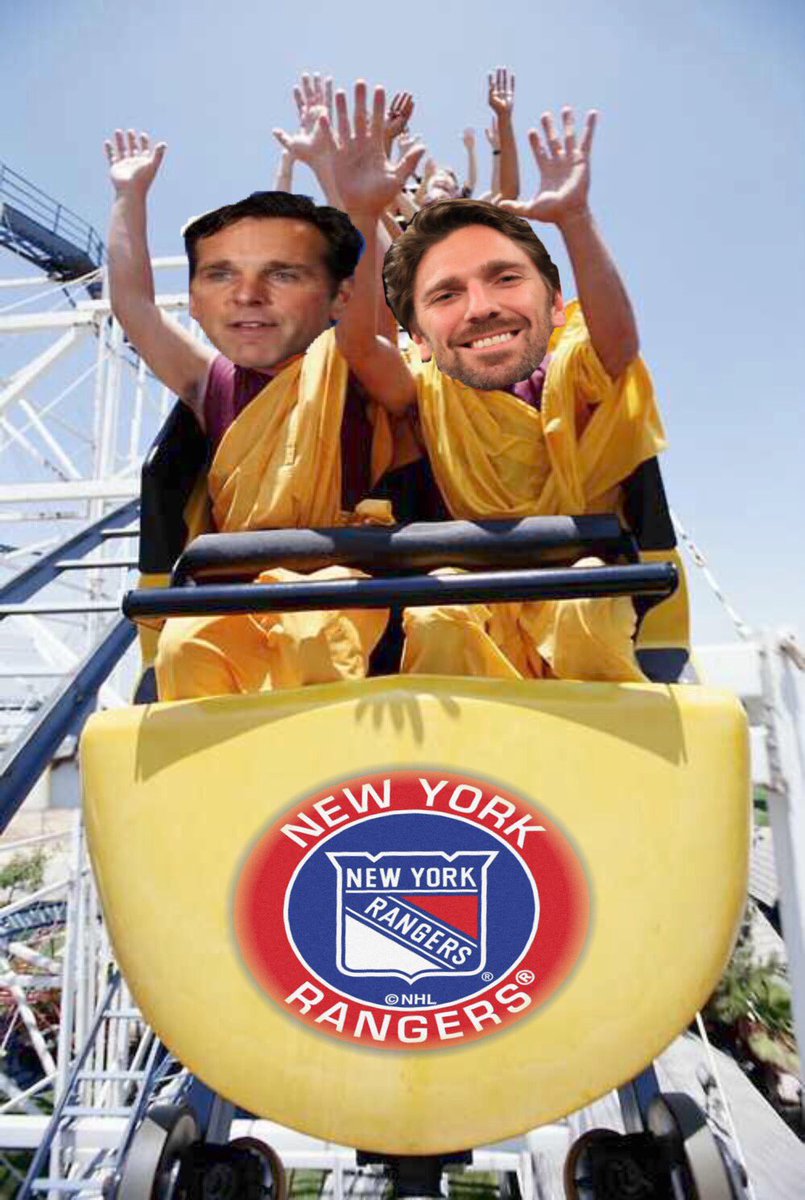 The Rangers have been playing a very Icarus style of hockey, meaning that they've been flying very close to the sun. However, they haven't gotten burnt too badly yet, as it seems that somehow, some way, the Rangers keep picking up points in all of these recent tight games.
As the calendar approaches 2019, the Rangers are finding different ways to get points and are seeing different people stand up. Neal Pionk has dominated a game. Ditto Kreider & Zibanejad. Vesey & Hayes are playing well. Buchnevich just had his best game of the season. Marc Staal, criticized more for his contract than anything else, is arguably the best defensive defenseman on the team. For the most part, Lundqvist has played well. The King of Kings, Alexandar Georgiev, now has a 3-1 record. For a team that didn't have much hope going into this season, all of a sudden, the Rangers are nearly the best team in NY again.
What's also been impressive on this road trip, is that one of the elder statesmen on this team, and a person who probably would've been named captain if there wasn't talk about trading him for prospects or picks, is that Mats Zuccarello missed both road games. Without one of their better players, the Rangers picked up three out of four points. Not too shabby. And really, what you're seeing are just other players stepping up.
Oh, and you gotta love the All-American goals! (An American goal is a goal scored by an American & assisted by two other Americans.) The Rangers would get two of those goals in this win over the Blue Jackets.
With the Rangers having less than a 24 hour turnaround, there isn't any news to get into that wasn't previously covered on this site already.
In Rangers news, David Quinn was busy with his "Scratch List of Quinn."
As expected after the stare from Coach Lundqvist on Friday night, Brendan Smith was scratched in this game. It's funny, on "The Bleeding Blueshirt" podcast, hosted by John Gianonne & Dave Maloney, both of them said how Smith gave them the stink eye at the hotel in Columbus on Saturday morning. I guess Smith was upset for being blamed for the loss, with Lundqvist getting none of the blame for blowing another two goal lead & losing in OT.
Oh and one of these days, I will do my "Ten Commandments of the Cult of Lundqvist." As Smith has learned, commandment number 1 is "Thou shall credit Lord Lundqvist with every win, but ye shall absolve Lundqvist for all his sins in every loss." Of course, because of one bad play, Smith is now Judas and he is the one feeling the crucifixion.
Remember folks – nothing is ever Hank's fault. Lundqvist could slaughter kids from a children's hospital at center ice and somehow, Dan Girardi will get blamed for it. I can see long-time Ranger fan & blog reader Jim Madden already ripping into Girardi now!
With Smith on the list, the returning from injury Frederik Claesson was put back into the line-up.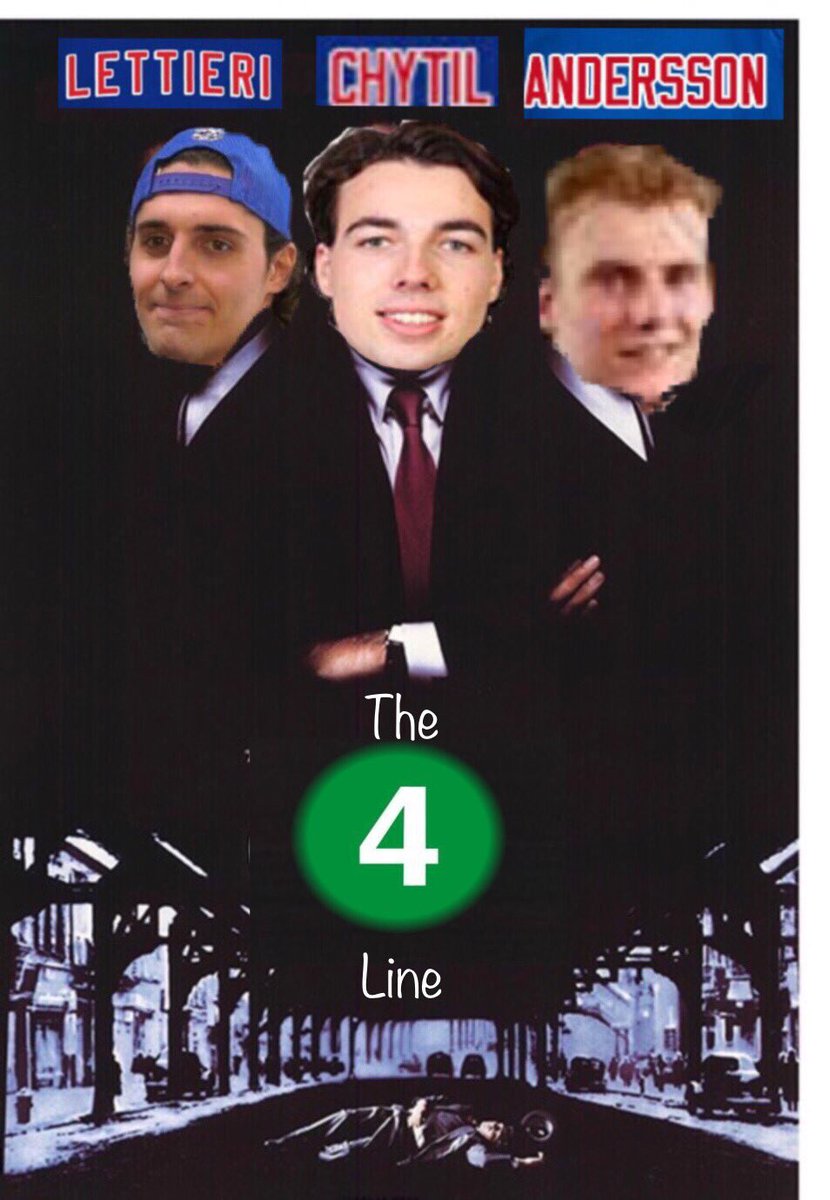 Ironically joining Brendan Smith on the List of Quinn, was Vinni Lettieri. I wonder if these two brawled over the last bag of pretzels in the press box?
If you're a regular reader here, you know my spiel on Lettieri already. I just don't get it. Especially when Cody McLeod is the replacement. For whatever reason, Buchnevich and Chytil will be given every chance in the world, but Lettieri doesn't get much time to grow. I was really hoping to see more out of the 95/72/50 line, but alas, Quinn said it wasn't meant to be.
With Zuccarello still out with a busted groin, here were the lines for tonight's extravaganza:
FIRST LINE: Namestnikov/Zibanejad/Buchevich. Of note, both #89 and #90 have been given chance after chance and to play with the better players on this team, a chance not given to #95.
SECOND LINE: Andersson/Kreider/Hayes
THIRD LINE: Vesey/Howden/Fast
FOURTH LINE: McLeod/Chytil/Spooner. Spooner is another that hasn't done much, but gets a chance to play a ton of minutes.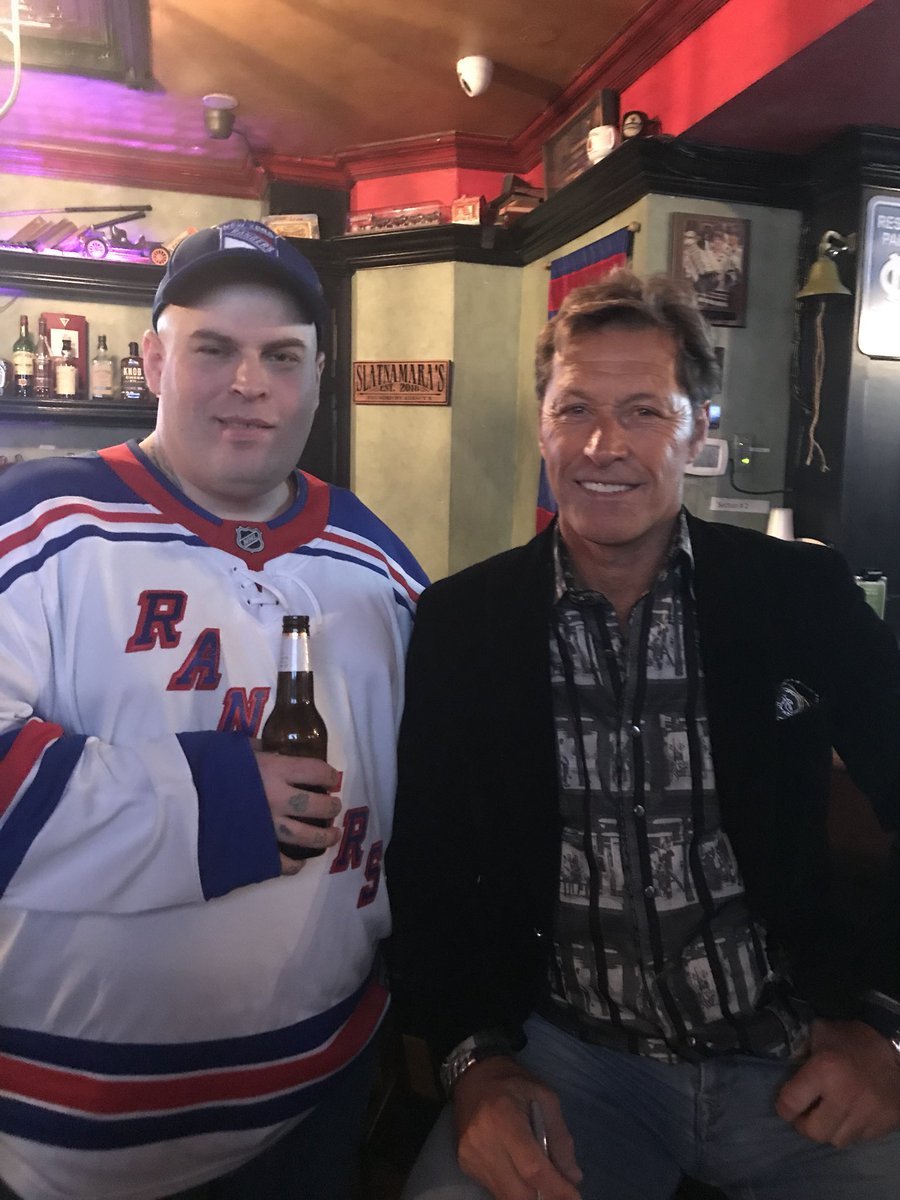 As mentioned at the top, for tonight's game, I attended the BSU Radio fan party. I gotta say, I had a blast. I've always said on these blogs, when it comes to other fan sites, blogs, podcasts, or in this case, a radio show, there is no such thing as competition. Anyone can click or listen to what they want. Everyone has different opinions and that is fine.
When it comes to the BSU guys, I find that I'm on the same wavelength with the hosts of the show, in both Jim Schmiedeberg and Eddie Gieck. I feel there's also some crossover fans, who both read this blog and listen to their show. As I've said in the past, the way I hope these blogs entertain you is the way I feel when I listen to their show – I'm entertained.
What I enjoy about their show is that I feel they are like me – they are just fans who don't take themselves seriously. Of course, their show sometimes isn't always about hockey, but that's the appeal of a show that has lasted as long as theirs. You get a feel for the hosts, their personalities and you get invested with their non-hockey stories. I know I do the same thing with this blog too. By telling you this story, I'm doing that right now.
I try to read and listen to everything. When it comes to straight Ranger news, I go to the NY Post, listen to the Giannone/Maloney podcast, check out Colin Stephenson and then get a summary of anything I may have missed on the Adam Rotter SNY site. While I don't agree with everything he says, I always try to read what Steve Valiquette puts out there and from time-to-time, I check out his CSAHockey.com website. While I'm not into the analytics, one can not ignore it either. Just because it's not for me doesn't mean it doesn't exist, so I rather know about it than not know about it.
When it comes to fan material, I tried listening to other podcasts and reading other sites. In the previous paragraph, I said I don't always agree with "Vally's View", pardon the pun, but I respect it because of where it's coming from. Vally played the game. He knows the game. He teaches the game. He knows how to breakdown a game. So even if I'm not eating everything up that he says, I respect where it's coming from and try to understand his view.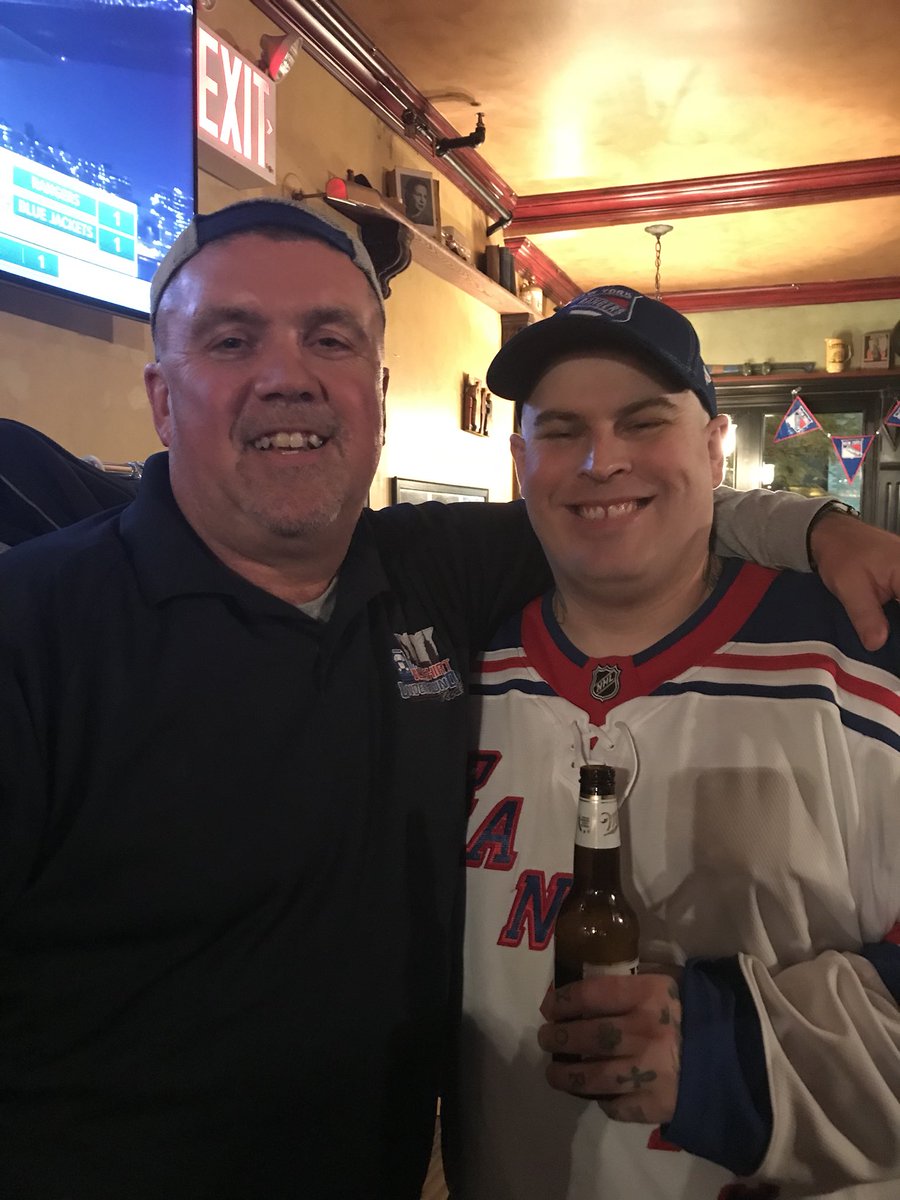 While I really try to see what other material is out there from other fan sites/media/whatever, I find myself just not checking out any of it lately, because I think that some fans think they are actually "more informed" or "better" than other fans. I'm sorry, but it's tough for me to take someone who wears mom jeans seriously. I don't see how other fans get enjoyment out of making pie charts, venn diagrams or hieroglyphics either. I'm not knocking it, it's just not for me. There's nothing you can say that will convince me that the games are played on paper and not on the ice.
When it comes to hockey, or sports in general, to me, nothing beats the eye test. I don't know about most of you guys, but give me an ice cold beer and a big screen TV. That's the way to enjoy sports. Pulling up a chair with a protractor, T-Square and a scientific calculator, while drinking some soy boy vegan drink, just isn't my style.
I have been told there was another Ranger fan gathering recently, where four fans, where I don't think any of them were even 30 years old, charged $20 to have other fans listen to their opinions. I mean, good for them that they could rube other fans into paying them, but I rather drink a warm beer on a hot summer day, than fork over $20 to hear four children, who never played an NHL game in their life, break down hockey for me. In the same vein, I would be embarrassed to charge anyone to hear or read my thoughts. Unless you have NHL experience, how can you really break down a game?
Can you imagine going out on a Saturday night, to pay to listen to four kids, who break down the idiosyncracy and minutiae of the New York Rangers, as if they are Neil DeGrasse Tyson talking astrophysics? Can you imagine paying $20 to do so, while a fucking fire truck was wailing in the background? Again, if that's for you, more power to you, but that's just not for me. Call me old school, but give me a beer and let's shoot the shit together.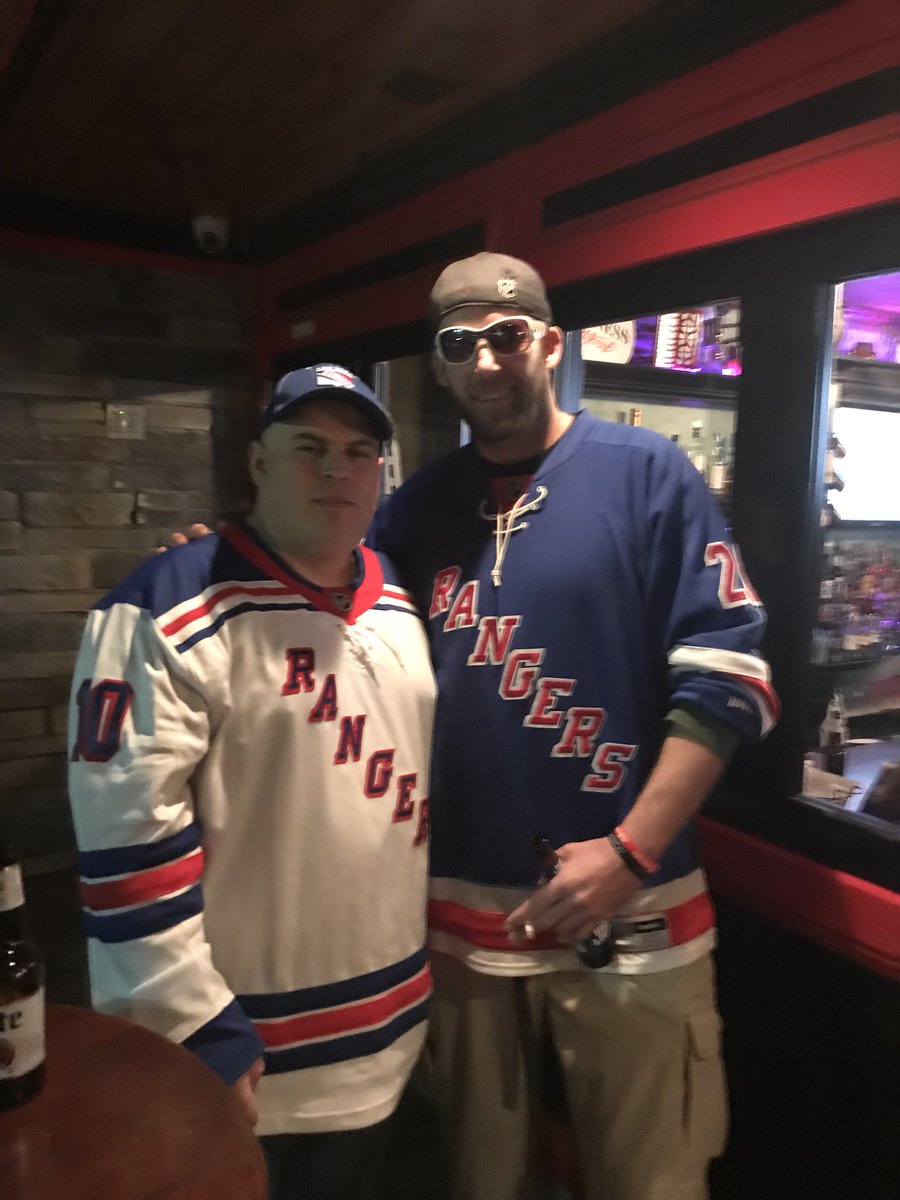 Tonight, at the BSU fan party, I found myself surrounded by similar minded people, with the exception of possibly Costa Ladeas! (On a side note, I haven't seen Costa in 10 years, and he's still a trip!) For the 50 or so people that were there (and if I'm under cutting the number, my bad, I'm just guessing here) everyone was having fun.
There was no silly forum. There was no admission fee. Instead of listening to four nerds pretend to be hockey analysts, you had two guys (and assist from their wives, who I'm sure also helped out) just having fun with everyone. I don't know what kind of deal or work that goes into throwing a party like this, but for a party at a bar in NYC, for a $40 tip, I drank like a king (and I even could've got a cup with that money!) and had a blast.
Even if Ron Duguay didn't show up, this party would've still been a hit. It was just a get together, just like any other pregame that goes on before any Ranger game at MSG. The only difference was that we didn't have to walk across the street to see the game, we all stayed in the bar and watched it together. This was just like being at the Molly Wee, but just for an extra three hours and with more diehard/hardcore fans.
And really, give it up for Ron Duguay. He showed up on his own when he heard about the event. This wasn't an NYR alumni scheduled appearance or anything. Duguay was going to see Billy Joel at MSG and hung out before the game and for the first period. Everyone got free pictures and got anything they wanted signed. It was also cool, as someone who started a petition for MSG Networks to bring back Ron Duguay, to see fans all tell Duguay that they missed him on the broadcasts.
Truly, I wish Jeff Filippi saw this party. He has no clue what Duguay means to this fan base and how people appreciate his take on the game.
One of the highlights for me was trying to pick Duguay's brain a bit and seeing how he saw the game. While it was only for a couple of minutes, there's stuff that a pro sees that a fan just can not, no matter how much money they charge you to listen to them.
Duguay said some stuff openly to all the fans in attendance and if you had any questions, he answered them. That was a nice bonus for fans. Duguay just showed up and bullshitted with everyone. You can see that he really loves the Rangers, respects the fan base and you can see that he's disappointed that Jeff Filippi is clueless.
I know Ron Duguay will be doing an in-depth interview with BSU Radio soon, so when they set that up, I'll plug it here. I know Ron will talk about the MSG stuff and all the stuff he's up to with BSU, so once that interview is ready, I'll give you the information.
I do have one HOT SCOOP to report about Duguay – he's never read "Thin Ice". If there is one person I would love to ever interview for this blog or talk to, it's Larry "Ratso" Sloman. I have so many freaking questions about that book.
Oh, and when it comes to one certain player that used to be with the Rangers but is now currently on Columbus, Duguay said when a young player gets traded frequently, there's usually an attitude situation behind it. I think that's what most fans thought and I believe that's what's been reported anyway, so that isn't really news. It's just different to hear someone who has played the game say it, rather than hearing it second hand online.
As a fan, I've been pounding my drum about Duguay's dismissal from MSG since day one. When you see Duguay coming to bullshit with fans like this, it makes you appreciate him a bit more. For more on my take on the MSG Networks and the current crew, just check out my last two blogs or really any other blog that I've done this season.
A party like this was what it was all about – just a bunch of fans enjoying a few belts and pops, all while rooting the Rangers on.
I will say, watching that shoot-out with everyone was great because in that moment, on 11/10, at 9:52PM, 99% of that bar couldn't give two shits less about Jack Hughes or the fucking tank. (And yes, Costa is the 1%!)
All in all, I want to thank the BSU guys for a great party and I thought it was really cool that Duguay showed up, just because Ranger fans were there. Often, we hear about athletes who are only in it for the money. No one can say about that Duguay.
And if you missed the party, I'm sure there will be another some day. It was a real fun time and I'm glad for those guys, it was a success.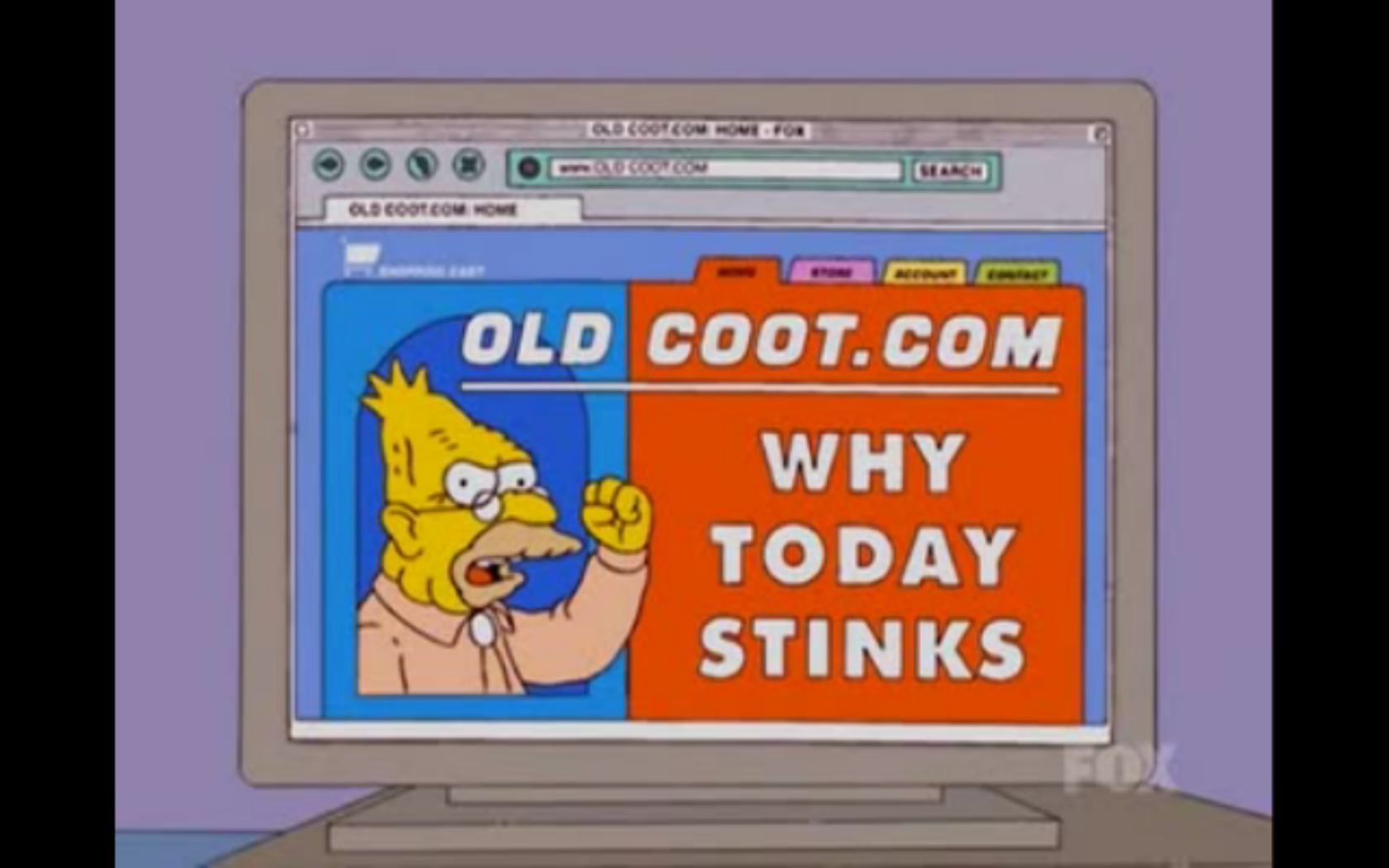 Enough about my night. Here's the official box score from ESPN.com:
SCORING SUMMARY:
1st Period
5:54

Mika Zibanejad

(7)

Assists: Pavel Buchnevich, Vladislav Namestnikov

1
0
19:26

Cam Atkinson

(7)

(Power Play)

Assists: Pierre-Luc Dubois, Seth Jones

1
1
2nd Period
6:57

Pavel Buchnevich

(5)

Assists: Jimmy Vesey

2
1
8:30

Chris Kreider

(8)

Assists: Kevin Hayes, Tony DeAngelo

3
1
11:49

Pierre-Luc Dubois

(7)

Assists: Seth Jones, Artemi Panarin

3
2
12:21

Nick Foligno

(6)

Assists: Boone Jenner, Markus Nutivaara

3
3
16:03

Alexander Wennberg

(1)

(Shorthanded)

Assists: Seth Jones

3
4
19:07

Jimmy Vesey

(6)

Assists: Kevin Hayes, Kevin Shattenkirk

4
4
3rd Period
No Goals Scored
OT Summary
No Goals Scored
Shootout Summary

Shootout GOAL scored by Cam Atkinson on Alexandar Georgiev
0
1

Shootout GOAL scored by Mika Zibanejad on Joonas Korpisalo
1
1

Shootout GOAL scored by Kevin Shattenkirk on Joonas Korpisalo
2
1

Shootout GOAL scored by Pierre-Luc Dubois on Alexandar Georgiev
2
2

Shootout GOAL scored by Jimmy Vesey on Joonas Korpisalo
3
2
PENALTY SUMMARY:
1st Period
11:43

Josh Anderson:

2 minutes for Boarding

17:58

Lias Andersson:

2 minutes for Tripping
2nd Period
3:05

Brady Skjei:

2 minutes for Holding

15:34

Pierre-Luc Dubois:

2 minutes for Hooking
3rd Period
10:15

Riley Nash:

5 minutes for Fighting (Major)

10:15

Anthony DeAngelo:

5 minutes for Fighting (Major)
OT Summary
No Penalties This Period
GOALIES:
| | | | | | | | | | | |
| --- | --- | --- | --- | --- | --- | --- | --- | --- | --- | --- |
| SA | GA | SV | SV% | ESSV | PPSV | SHSV | SOSA | SOS | TOI | PIM |
| 19 | 4 | 15 | .789 | 13 | 0 | 2 | 0 | 0 | 65:00 | 0 |
| 0 | 0 | 0 | .000 | 0 | 0 | 0 | 0 | 0 | 0:00 | 0 |
| | | | | | | | | | | |
| --- | --- | --- | --- | --- | --- | --- | --- | --- | --- | --- |
| SA | GA | SV | SV% | ESSV | PPSV | SHSV | SOSA | SOS | TOI | PIM |
| 38 | 4 | 34 | .895 | 30 | 0 | 4 | 0 | 0 | 65:00 | 0 |
| 0 | 0 | 0 | .000 | 0 | 0 | 0 | 0 | 0 | 0:00 | 0 |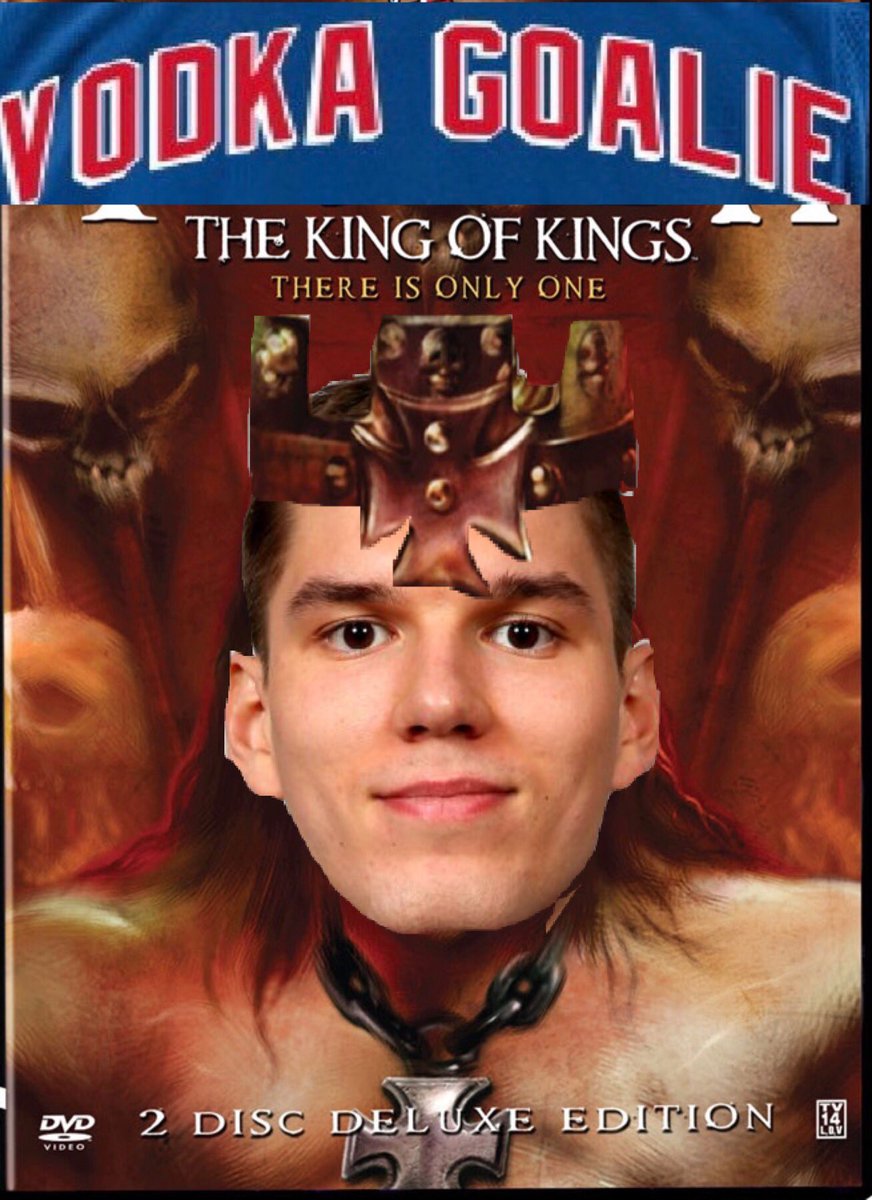 Usually during this part of the blog, I would recap the game, period-by-period with my thoughts and opinions. I usually tweet stuff out during the game, so I can include some stuff that I noticed as it happened. I didn't do that tonight, as I was just enjoying myself and it wasn't a time to be dicking around on the phone.
Instead of my normal style of recap, I'm just going to quickly give my thoughts on this game. Yes, I'm kind of mailing it in, but this blog is already 4000 words, it's getting late and if you can tell from my Asian eyes in my picture with Jim, the Sandman is coming for me!
THE KING OF KINGS Alexandar Georgiev got the nod tonight. As talked about in last night's blog, I would've flip-flopped these starts with Lundqvist. As luck may have it, the Blue Jackets played last night, defeating the Capitals. In that game, Sergei Bobrovsky started. As someone asked me before this NYR/CBJ game, I thought Bob took the game with WSH because let's face it, despite the current records, the Caps are the current Cup champs, the better team on paper and this was also their first game together since the Caps knocked the CBJ out of last season's playoffs.
As a result, in this NYR/CBJ game, both back-up goalies started. Joonas Korpisalo, who had 4-0-1 record going into this game, also had a save percentage of .884 and a GAA hovering near 4.00. Georgiev, who had a disaster of a game in his season debut, has been able to stop the bleeding a bit with his last two starts, both wins, over the Panthers and Ducks respectively.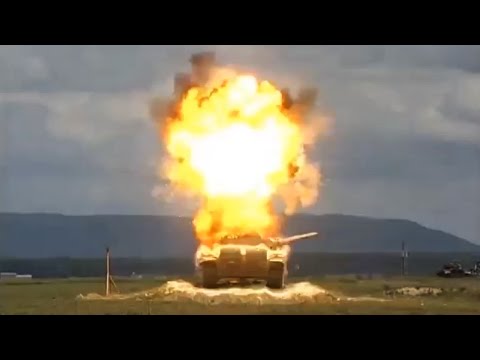 The Rangers sure have been going for the theatrics this season. This was another game where the Rangers got a two goal lead, coughed it up, played an ass-clenching overtime and then won the shoot-out.
Of course, because of my comments on Lundqvist, I was made aware that Georgiev gave up a two goal lead and almost choked this game away. That's fair. In response, Georgiev makes $8M less than Hank and isn't the highest paid goalie in the NHL. He's also playing first place Columbus, rather than a cellar dweller in Detroit, but facts like these are often ignored by the Cult of Lundqvist.
In no way am I defending Georgiev's shaky second period (and one of those shoot-out goals allowed, I believe the one by Dubois, completely undressed Georgiev) but the kid has to play and every position needs to be developed with time.
Seriously though, I think Georgiev needs regular work, but at the same time, I don't think he's as good as Cam Talbot was or as good as Antti Raanta was, when they were here. That said, Georgiev is here to be developed and to grow. He just needs regular playing time.
One stat I did find interesting, is that Georgiev has the third highest goal support in the NHL. With his 3-1 record, the Rangers have scored five goals in three of those games. Lundqvist does not get the same goal support, despite playing some easy teams such as Detroit and LA. I will always contend that the Rangers score more for #40 than #30 because the team is looser, willing to be more aggressive offensively and just more relaxed without Coach Lundqvist back there to hoot and holler at them. The Rangers also don't have to worry about getting hit with a shard of a smashed stick either with Georgiev.
Again, I'll go back to the period-by-period breakdowns and show you all the goals in my next blog. I'm just trying to vent all my thoughts about this game before I pass out!
I thought Pavel Buchnevich had his best game of the season tonight. I hate to keep saying "Granted, it's still early, blah blah blah", but yeah. Quinn has been sprinkling magic dust whenever he benches these guys. Whether it was Pionk, Tony DeMAGAngelo (Credit, as always goes to @NYRKELSMADS) and now Buchnevich, these three have been playing a whole lot better.
Side bar time. If this keeps up, and I'll get ready to duck after saying this, Coach Quinn might be a candidate for the Jack Adams.
Back to Buchnevich. Buchnevich made an intoxicating pass to Zibanejad to set up the first goal of the game. Worth mentioning, Korpisalo looked terrible tonight. It would've been really depressing if the Rangers lost this one on that fact alone.
Lias Andersson took another penalty in this game which would set up a Cam Atkinson PPG, which was scored with under a minute left. Someone pointed out to me that Georgiev gave up a last minute goal like Lundqvist. Maybe there is something to Micheletti saying Georgiev is being mentored by Lundqvist!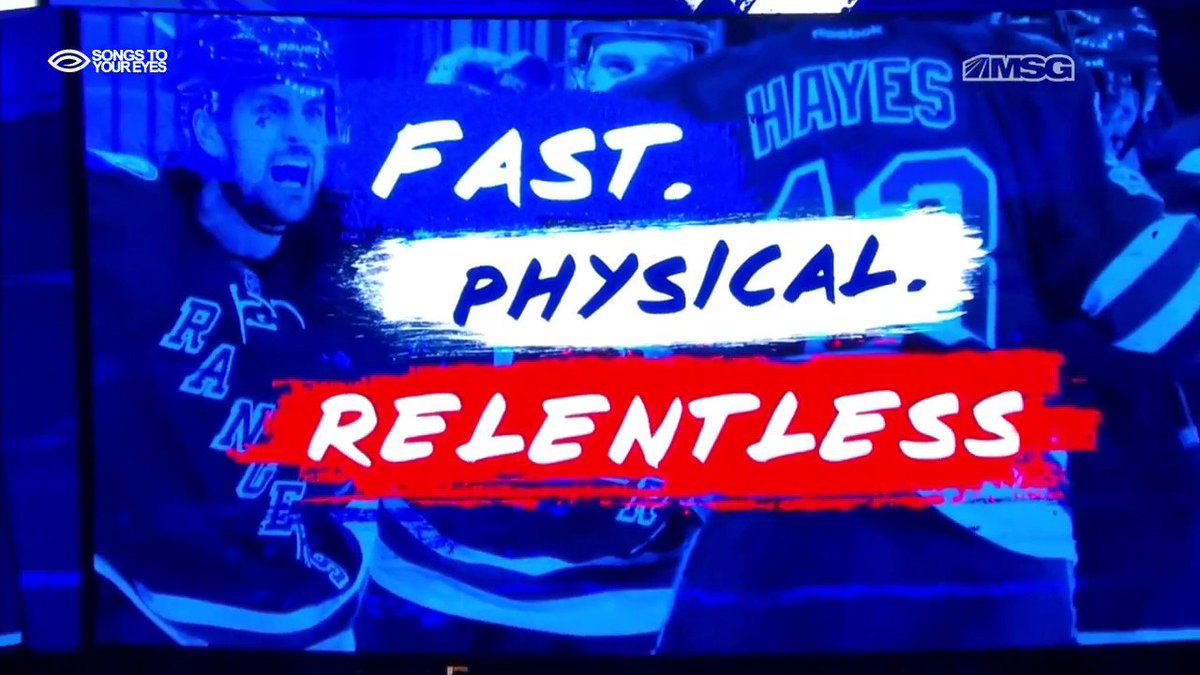 With a 1-1 score going into the second, both teams scored three goals a piece. Talk about a pendulum of a period.
Ranger fans won't like being up 3-1 and then seeing the score 4-3 the other way, but knowing the final result, these Rangers just have a flair for drama and are making these games exciting. That said, I wouldn't mind the Rangers blowing someone out 6-1, 7-2 or something like that. I don't know if it's in them. After all, 17 games played, and the Rangers still don't have a shutout this season.
The Rangers struck first in the second when Vesey found a flying-to-the-net Buchnevich to make the score 2-1. Vesey to Buchnevich. Isn't that the way we thought it would go two years ago? Maybe we got something here!
Kreider would then score on a perfect tic-tac All-American goal. It was a thing of beauty, with Hayes & TDA with the assists. 3-1, good guys.
Again, I was watching this game in the bar and would have to go back to watch the replay, but Georgiev then gave up three straight goals. I saw some people bitch about Marc Staal, but people bitch about Marc Staal when he isn't even on the ice.
Dubois scored. Then Foligno scored seconds after. Two goal lead gone and now it's 3-3. The bar, which was loud and rowdy, had a hush come over it. It was like John Giannone farted on them: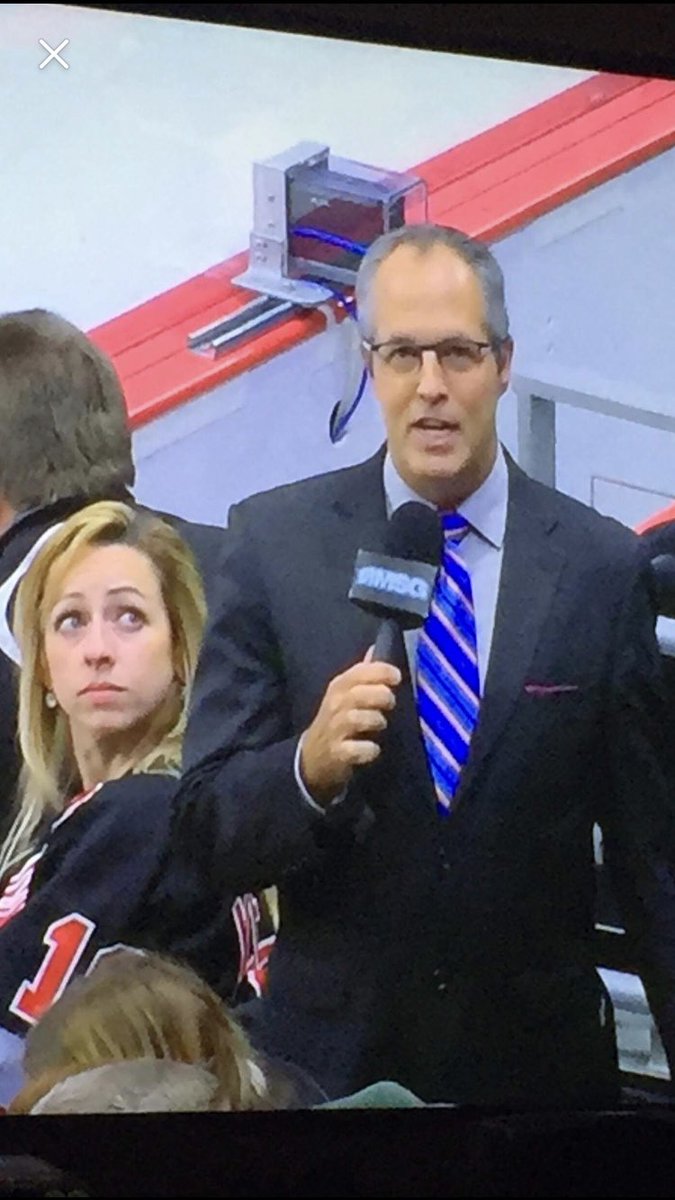 With the game 3-3, the Rangers went on a power-play and it looked like they could regain the lead. That wasn't the case, as Wennberg got a short-handed goal, his first goal of the season no less. 4-3 bad guys and all I could think of was "Poor Georgie Boy!"
In what is now hindsight, what may have been the biggest goal of the game, was when the Americans teamed up for another goal, this time with Jimmy Vesey getting his sixth goal of the season, with under a minute remaining in the second period. 4-4 game. Really, Vesey was another player who had a great game tonight and instead of hanging your heads in the locker room, the score was reset to a tied game again and all the Rangers had to do was win the third period.
In the third period, after six goals scored the period prior, neither team scored. I can't find the official stat, but if I recall correctly, the Rangers got only one shot off in the third period. I believe Columbus got 12 or 13. Give it up to Georgiev, after being shaky in the second, he did calm himself down and was able to keep CBJ off the board in a strenuous third period.
Also of note in the third, Tony DeMAGAngelo beat on Riley Nash. Both got five minute majors for fighting.
If the Rangers offense and erratic goaltending was the story of the second period, the lack of Rangers offense and strong goaltending was the story of the third.
In the shoot-out, the stress levels continued to rise. This was my favorite part of the game, not because I was sweating each attempt, but because of how the entire bar rallied together to cheer and boo. This is what sports is all about! No chart in the world can capture this emotion.
Atkinson scored first and you already got the "oh shit" feeling in you. Then Zibanejad answered back and the bar erupted. Clean slate.
A couple of stops were made, then Shattenkirk, King of the Shoot-Out, scored. Things were looking good, but then Dubois scored. However, Georgiev would get lucky with a stop. Enter Jimmy Vesey, and this is a GIF I did want to include in this blog:
#NYR bounce back behind @19Vesey's winner in the shootout! pic.twitter.com/X8gkm4gh3p

— MSG Networks (@MSGNetworks) November 11, 2018
Rangers 5 – Tortorella, who was looking snappy in his college professor sweater vest, 4.
Of note, when I saw Korpisalo slam his stick, all I could think of was Valiquette and this:
If there is anything to be learned by Korpisalo and that stick smash, it's that he should watch Lundqvist footage. Korpisalo almost gave himself a fucking concussion with his hissy fit of rage! I would've loved to hear Torts talk about that one!
Up next for the Rangers, a 1994 Stanley Cup rematch with, and yes, this isn't a typo – the first place Vancouver Canucks. I wonder how the Sedin's are feeling? And who knows, with the 25 year anniversary coming up, and with the way these two teams are playing, who knows? Okay, I'm just fucking with you, I'm still buzzed and dreaming!
Rangers/Canucks on Veteran's Day. On that note, thank a veteran if you know one. Very often, we use this day to celebrate a three-day weekend. I don't have to give you the soap-box speech, you know the deal. Thanks to any veteran reading this for your service.
See ya Monday night. At least with the Rangers playing on Monday, I don't have to pay attention to a team that really needs a rebuild, in the NY Giants!
Thanks again to the BSU guys, Ron Duguay, Carla from Slattery's for the ice cold Miller Lites and to everyone I talked to tonight. I had a great time.
Oh, and JEFFREY is a punk!
As always, thanks for reading and…
"LET'S GO RANGERS!"
Sean McCaffrey
BULLSMC@aol.com
@NYCTHEMIC on twitter
PS: Al Demauro must be furious with this game! #BUILDTHETENT