NOTE: This may take a minute to load, as there are a TON of pictures in this blog.
Greetings and salutations everyone and welcome to another blog here on BlueCollarBlueShirts.com. For many, this blog is one of your favorites, as this is a ROAD-TRIP blog!
As I start this manifesto, this may be a long blog, as there is a lot of stuff to get into. For me personally, despite the Rangers getting drubbed in one of their most pathetic performances of the season,  as the Rangers got shut-out by the Senators by a score of 3-0, Thursday in Ottawa was a day I'll never forget.
As mentioned in my last blog, I'm currently in Canada, as I attended the Rangers/Senators game on Thursday and will be attending the Rangers/Canadiens game on Saturday. I'm typing a majority of this blog on a cell phone and cleaning it up on a slow laptop. So if there are formatting errors, I apologize in advance!
When my pal BORGATA RAY and I booked this trip, I decided to fly into Montreal on Wednesday. Flights to Montreal are much cheaper than flights to Ottawa. Plus, the beer and bars are much better in Montreal than in Ottawa too!
While I always fly because I despise long car rides, my buddy BORGATA RAY drove here from New Jersey, as he usually does. With Ray driving to Canada, we decided we would drive to Ottawa from Montreal and come back to Montreal after the game. This was a sweet deal for me, as Ray was the designated driver and I was the designated drinker.  As the great Charlie Sheen used to say, "WINNING!"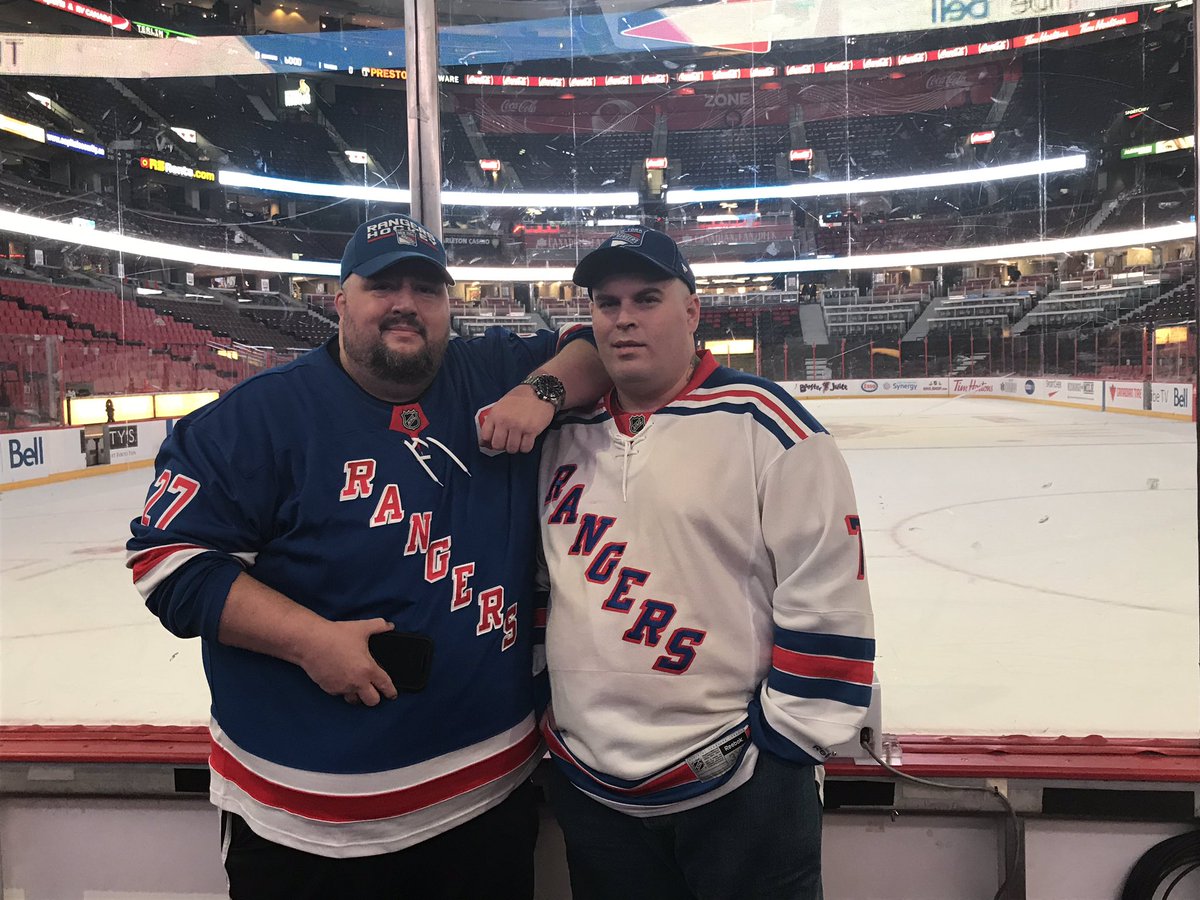 With Ray willing to drive and sacrificing drinking for the day, this would save us time as opposed to taking a bus or train. More importantly, with Ray willing to drive, that meant we could make pit-stops. Right away, I had my eyes set on the town of Kemptville.
Now, most people reading this blog are from the tri-state area in the United States and are probably wondering, "why Kemptville?" Others might be saying, "what the hell is a Kemptville?" And some people may be asking, "Why is this mook asking himself questions?"
For those who haven't figured out the significance of Kemptville yet, it is because that was the hometown of Frank Boucher. Furthermore, Boucher is buried in a small cemetery, in an even smaller town, which is just a stones throw from Kemptville.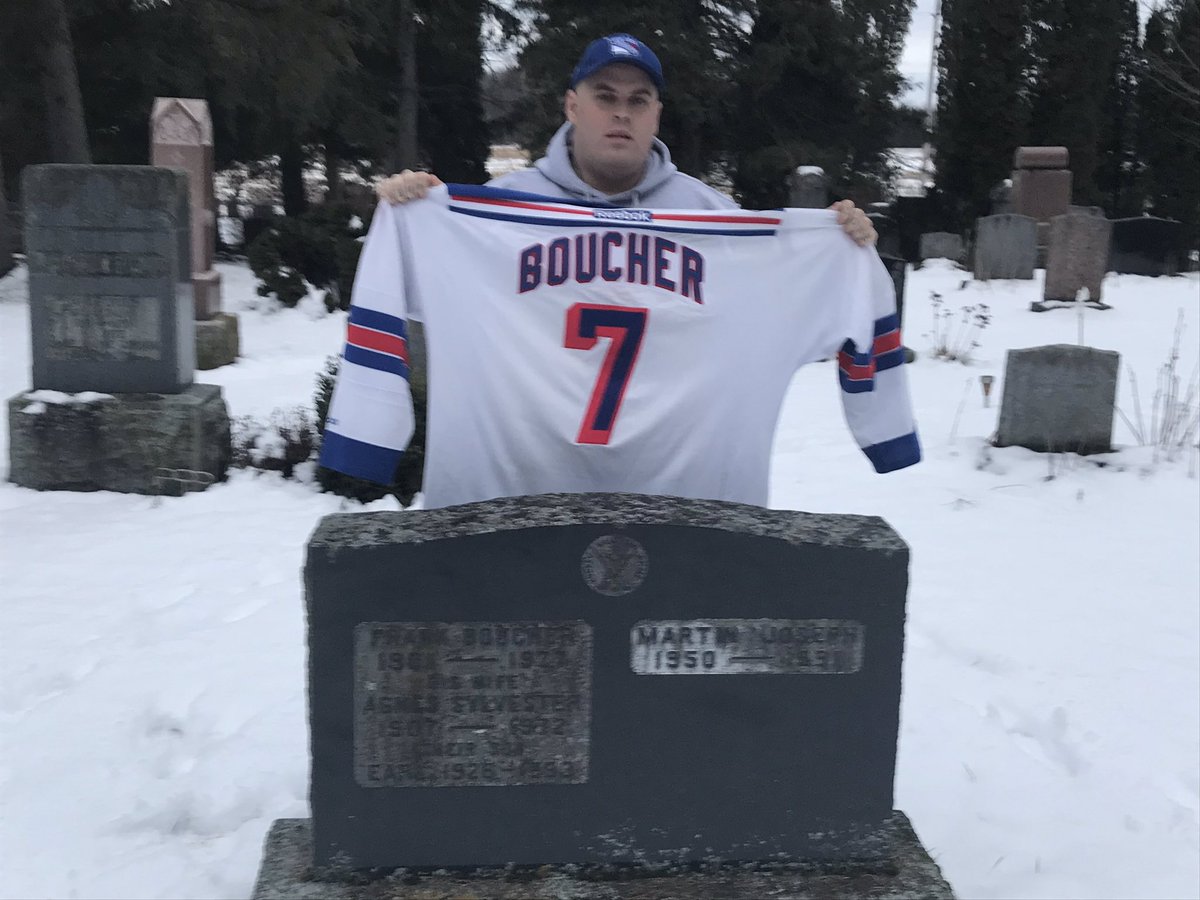 With how long these blogs usually go and with all the different topics covered, I probably could've broken up this blog into separate blogs, but that's never been my game. It's 10K+ words or nothing! One click, no ads and 10k+ words. What a bargain!
As you'll see as you move along on this blog, visiting Frank Boucher's grave was surreal for me. Yes, I never met the man, nor ever saw the man play, but I have a deep appreciation for history & for Boucher's accomplishments.
While I'm not trying to equate a hockey player to a globe-changing leader here, for me, this is like seeing George Washington's grave. You didn't need to know the man, at a personal level, to have admiration and respect for him.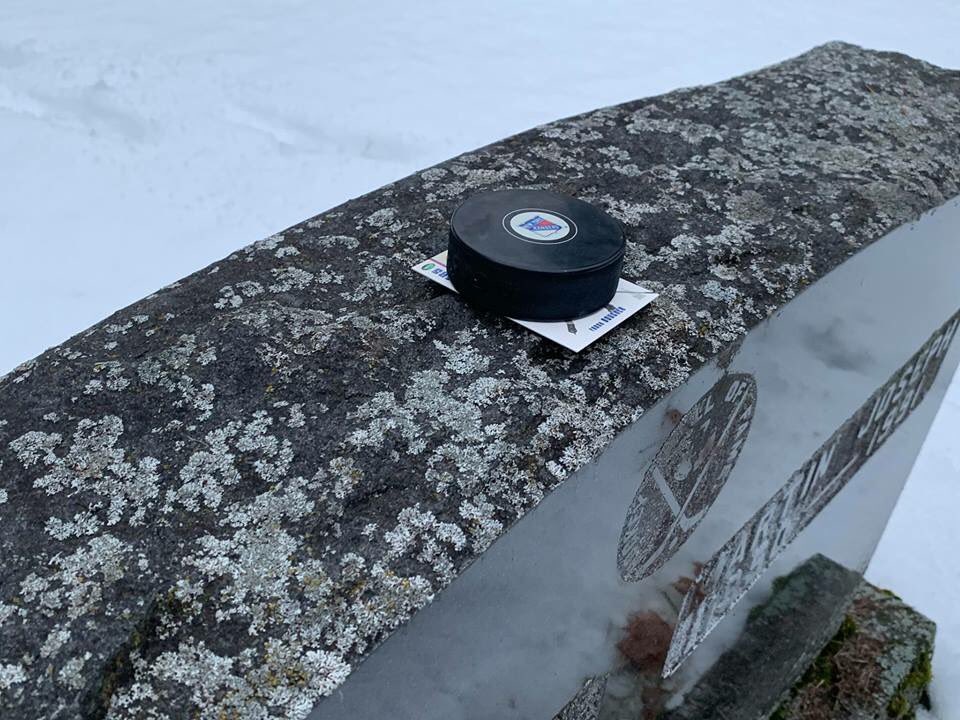 However, as I sit here and talk to you about Frank Boucher, I'd be remiss if I didn't talk about everything leading up to this game and about our drive from Montreal to Ottawa, with the diversion in Kemptville.
Let me rewind and give you all the Ranger news, my opinions and other random tidbits. There's a lot that happened and I want to hit everything before talking my trip to Ottawa and the terrible hockey game that was played there.
As usual, here are my last few blogs in case you missed them:
---
---
---
---
---
---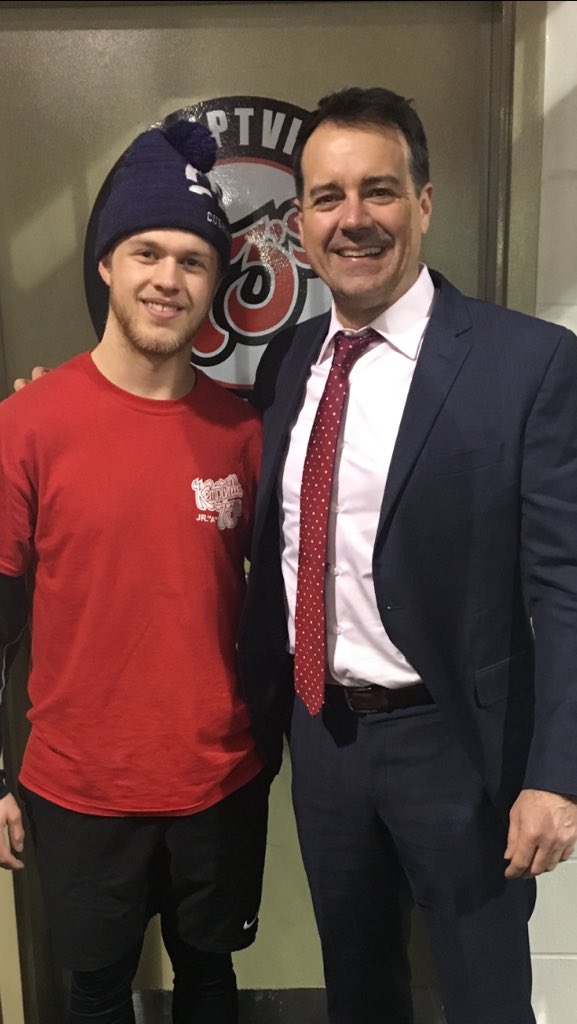 After the Rangers victory on Monday night over the Senators, it looked like it would be smooth sailing for the next 72 hours. Yeah right!
On Tuesday, November 27th, Jason York, during a segment on Sportsnet, took the CON side in the debate of – "Is Henrik Lunqvist a Hall of Famer?"
If you missed the clip, here it is:
Does 👑 Lundqvist belong in the HHOF?@jasonyork33 isn't so sure. #IceSurfing pic.twitter.com/wZOLjvgqHN

— Sportsnet (@Sportsnet) November 28, 2018
Two things happened immediately after this segment went viral to Ranger fans.
One – the millennial Ranger fans, who have grown up on the sugar-coated and Brokeback Mountain commentary of Joe Micheletti, were triggered and enraged.
Two – I went out and bought a Jason York jersey using one of my 52679862478562879658976729465926487875689 Fanatic discount codes. Seriously, from Thanksgiving until Tuesday, Fanatics emailed me about a million times.
Oh, and I can see the same millennial fans, who currently want York's head on a stick right now, screaming, "NYCTHEMIC ACTUALLY BOUGHT A JASON YORK JERSEY!"
A severe problem with these millennial Ranger fans, outside of living with their parents, being a tad slow, needing to be validated, etc, is that not only are they hypocritical ("I'M A LIBERAL AND EVERYONE SHOULD RESPECT EVERYONE UNLESS THEY DISAGREE WITH ME!") but they also lack a sense of humor.
And yes, that above paragraph is my way of telling you that I didn't really buy a Jason York jersey.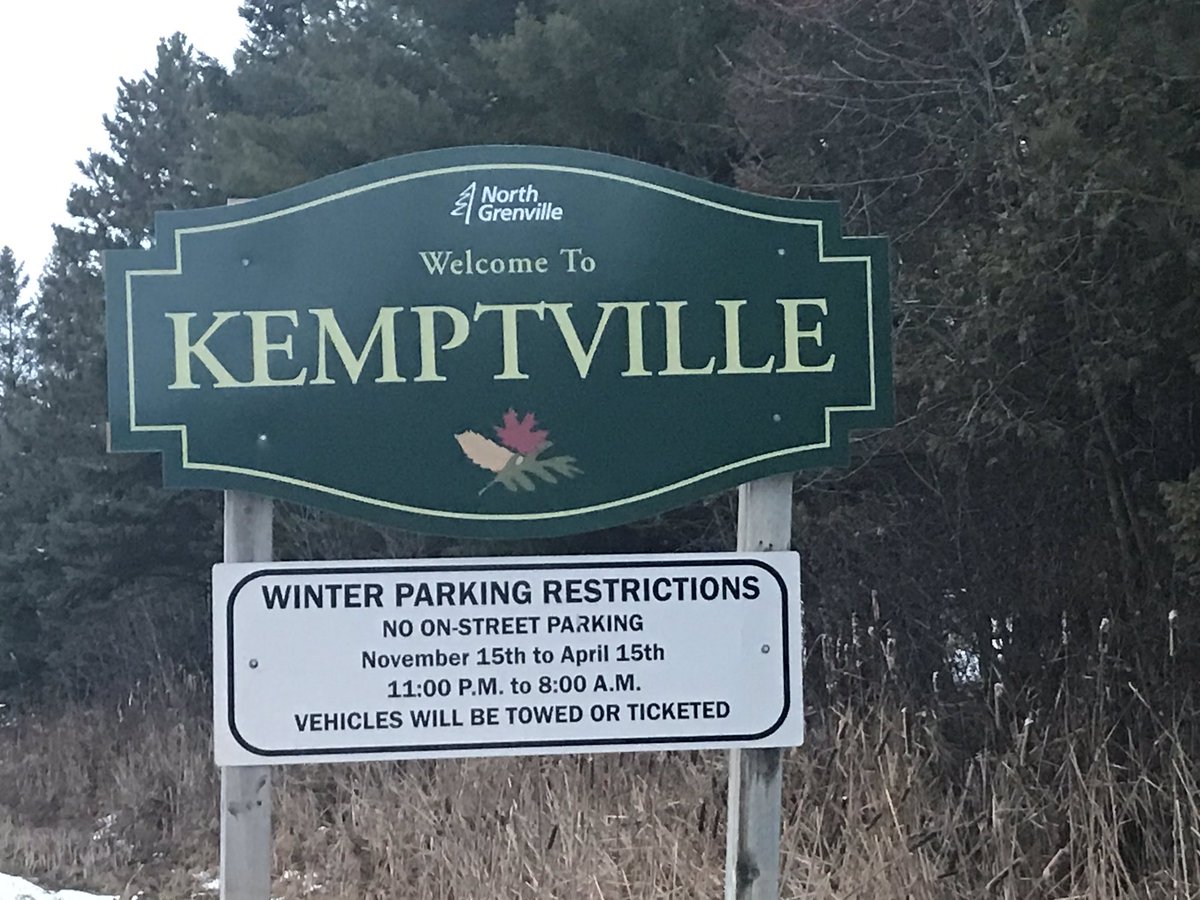 When it comes to Jason York's comments, obviously the crybaby millennials had me tagged in their tweet trail of tears. You see, for Jason York to have an opinion that didn't match theirs, that automatically made him the devils triangle love child of Hitler, OJ and Satan himself.
To me, part of me believes that Jason York took this side just to create buzz for his show and to get some publicity. However, like a true wrestling heel, I wish he would've hammed it up a bit on twitter and shot some of these snot-nosed punks down.
My favorite part about this, in all of this social media crying about this subject, is watching these chart-nerds, in between taking huffs from their inhaler and asking mommy what time will dinner be ready, is when these millennials would tweet chart graphics to Jason York. Like Jason York cares what some 22 year old kid that works at Walmart thinks of his opinion. And oooh, a chart that you need Neil deGrasse Tyson to decipher! Even better!
It's a shame that the same passion for a Cupless goalie wasn't put to better use, such as demanding the Rangers honor Frank Boucher in the rafters of MSG.
When it comes to the debate about Lundqvist and the Hockey Hall of Fame, I think everyone will agree on this – if Lundqvist won a Cup, or somehow wins a Cup from now until his retirement, he's a first ballot, no doubt about it, HHOFer.
It's very tough to compare goalies from era-to-era, but many young Ranger fans and Joe Micheletti  tend to overrate Henrik Lundqvist. When you get out of the New York bubble and travel around, you will see that many hockey fans don't consider Lundqvist a "Top 3" all-time goalie, which really cracks me up every time a millennial says it. He's not even a Top 3 goalie in the league today!
And as Jason York said, Lundqvist as even a top 10 goalie is laughable. Guys like Brodeur, Roy, Dryden, Worsley, Plante, Hall, Hasek, Bower, Parent, Sawchuk, Vezina, Broda, etc all had better careers. Furthermore, you can make the case that Jonathan Quick and Marc-Andre Fleury, have both had a better career than Lundqvist, here in the present day. Jason York feels that Corey Crawford even had a better career.
And lastly, if Lundqvist is a Hall of Famer, that means Luongo is too. As I always say on these blogs, flip-flop Hank and Luongo. Luongo is just Hank in a small market and vice-versa. Playing in NY gives Hank more prestige than Luongo, who spent the bulk of his career in tiny and unseen markets, in Vancouver & Florida.
When it comes to this Lundqvist debate, a career from the past that rivals Lundqvist's, is the career of Curtis Joseph. CuJo isn't in the HHOF right now. If CuJo isn't a HHOFer, I don't see how Lundqvist is. That said, CuJo should go in, and so should guys like Luongo, Quick, Fleury, and yes, the millennial man for the millennial fan, Henrik Lundqvist.
If anything, I thought York created a better debate when he said this:
Last tweet on this for night.
Rangers fans – who's career with the NYR was more important to you ?
Lundqvist or Matteau

— Jason York (@jasonyork33) November 28, 2018
Obviously, the millennial fan, a fan that didn't see the 1994 Stanley Cup, was also enraged that York had the AUDACITY to compare Lundqvist to Stephane Matteau.
However, when you break it all down – who gave you the better memory as a Ranger fan – Matteau or Lundqvist? To me, it's Matteau and that's not even a debate.
Matteau, and guys like Noonan, Wells, Anderson, etc, are just living proof that winning in New York makes you immortal. 25 years later, and these guys still get paid to talk about 1994.
I swear, I'll eventually get into this game tonight. However, truth be told, I've been told by loyal long-time readers that my road trip blogs are their favorite blogs. With the game the Rangers played in Ottawa, can you blame me for taking so long to get to the game review portion of this blog?
Roster-wise, after Larry Brooks was raving just two weeks ago about how the Rangers were healthy, the Rangers are now a mess. They are currently missing four starting forwards (Zucc/Buchnevich/McLeod/Namestnikov.) In addition, do you remember that Adam McQuaid was a thing? Seriously, I think Michael Kostka played more games for the Rangers!
And speaking of Larry Brooks, someone needs to tell him it's not summer time and he can put the flip-flops away. Just three weeks ago, he was telling everyone how the Rangers should trade off everyone ASAP. He even said the Rangers needed to trade Hayes immediately. Now, Brooks is writing articles about how the Rangers should give Hayes a 74 year/$10009M deal. Okay, I'm exaggerating, Brooks said a moderate 32 year/$130.4M deal.
Just reading Brooks this season gives validity to the Lundqvist for HHOF argument. After all, Brooks was just enshrined. If Larry Brooks can get into the HOF, then Lundqvist is a no-brainer!
The biggest roster news before this game with Ottawa was the status of Mats Zuccarello. Zuccarello, already missing 8 out of the last 10 games with a groin injury, was ruled out of this trip to Canada. Therefore, come Saturday night, Zucc will have missed ten of the last twelve Ranger games.
For those unaware, many European players, players that have a native tongue that is not English, frequently do candid interviews with journalists from their respective motherland. Henrik Lundqvist is one of the bigger names to do this, as he has a bond with a Swedish reporter that he gives juicier quotes to.
In the same vein, Mats Zuccarello has the same bond with a reporter in Norway, a reporter named Roy Kvatningen. On Thursday, a translation of a recent Zuccarello interview on Kvatnigen's podcast made the rounds to Ranger fans, as the interview was also picked up by a hockey site based in Norway.
For those who don't have the time to Google translate the entire interview, here is what Zuccarello said, courtesy of Rangers fan, Lars-Eric Tistelmo: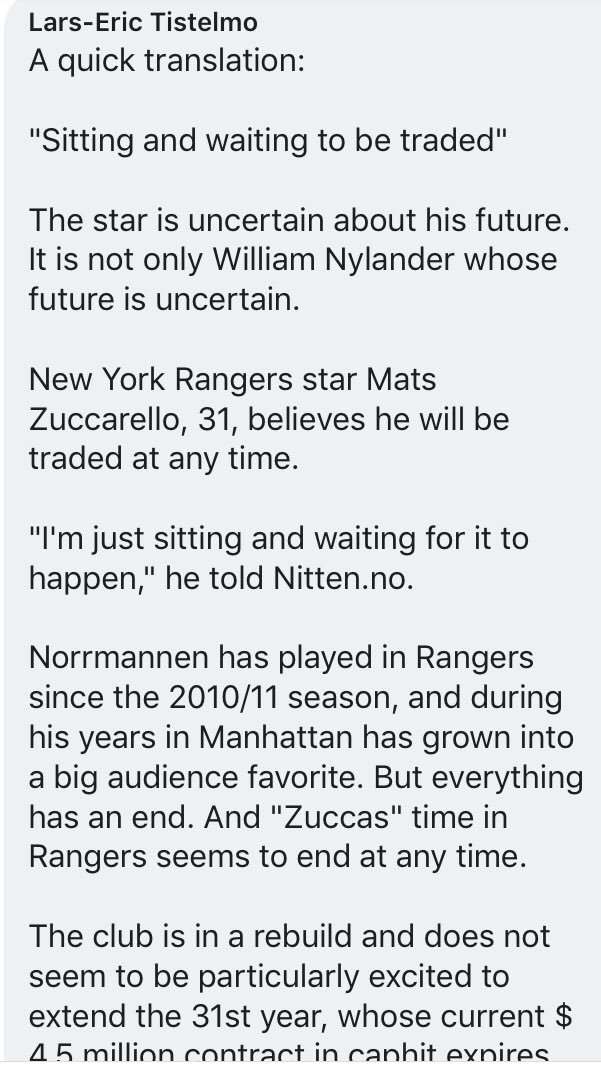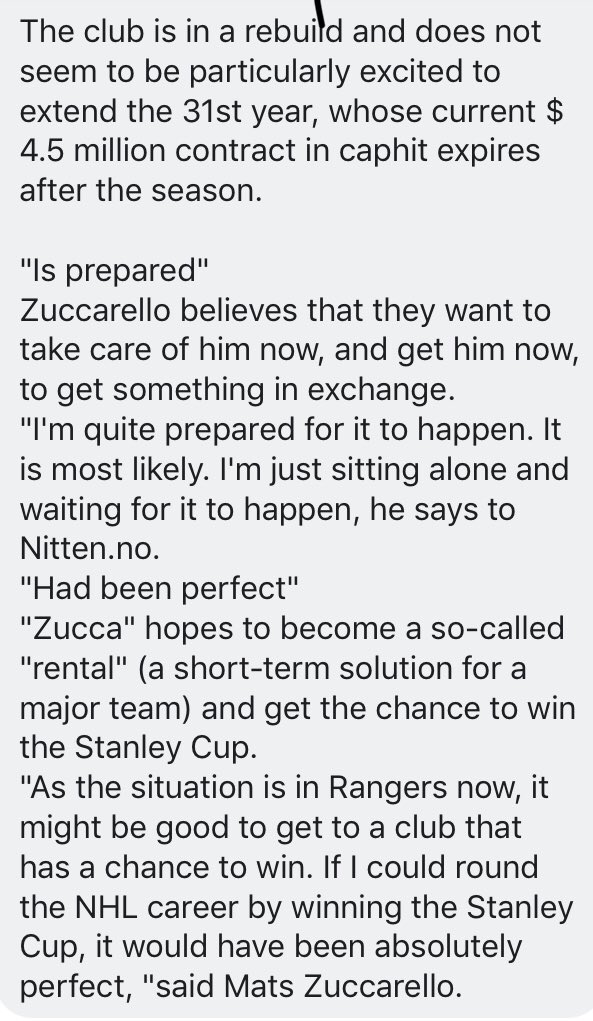 Hours after this interview was made public, Brett Crygalis, of the NY Post (who has really stepped up his game as of late) talked to Zuccarello. You can read Brett's article here: https://nypost.com/2018/11/29/mats-zuccarello-not-waiting-for-trade-but-prepared-for-anything/
The highlight of Brett's article was this quote: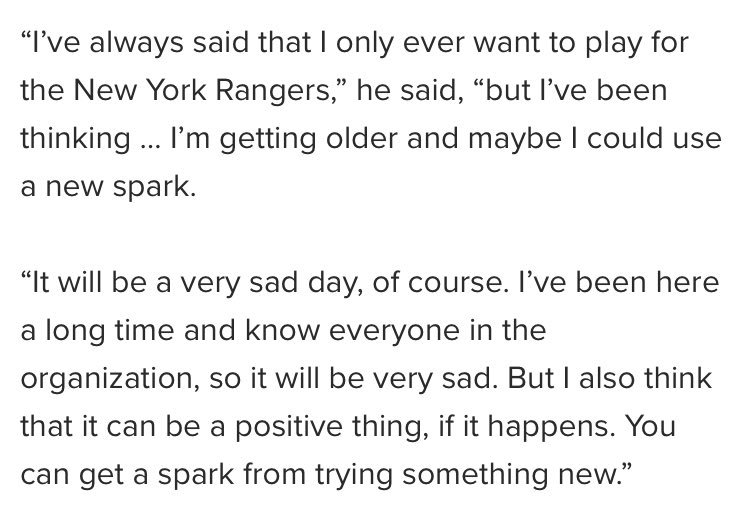 With hours remaining with the William Nylander situation, many Ranger fans are assuming Zuccarello, packaged with Brady Skjei, could be dealt to Toronto. While that deal would be great for the Rangers, I don't see how that benefits the Leafs.
Putting the loss to Ottawa aside, before this season started, we all assumed Zucc would've been traded this season. Now, with the Rangers playing better than expected, is it worth trading Zucc? Outside of a long-shot Nylander trade, what are you really going to get back for Zucc? A second rounder at best? A third rounder seems more probable at the current time.
If Zuccarello is to be dealt any time soon, his situation will be similar to Ryan McDonagh's. Just like McDonagh before him, with Zucc out with an injury, he is just waiting for the hammer to drop.
Who knows what happens next? With the Rangers loss to Ottawa, and now being 1-3 since Thanksgiving, maybe the Rangers move Zuccarello sooner than later. Time will tell.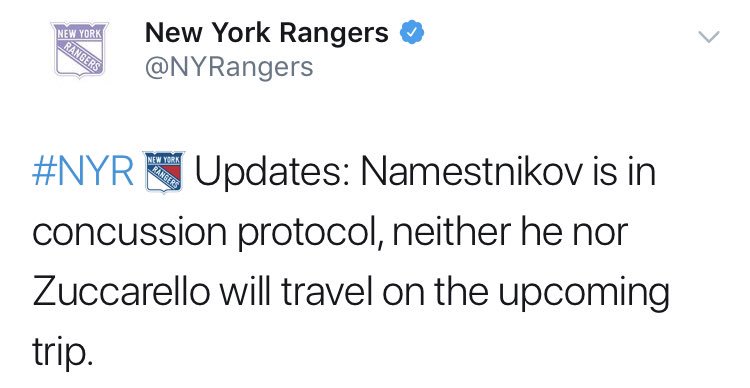 The Rangers announced that due to a freak accident in Monday's win over Ottawa, an accident that occurred with the game already in hand for the Rangers, that Vladislav Namestnikov wouldn't be making the trip to the Great White North either.  (And on an aside, is "great white" now a racist term in today's PC world? I mean, you got people up-in-arms about "Rudolph The Red-Nosed Reindeer" now!)
Concussion protocol is a tricky thing, with a recovery time table that is different for everyone.
What's been killing the Rangers recently is that all these players are getting hurt after playing some of their best hockey of the season. We saw it with Buchnevich. We saw it with McLeod. Now we're seeing it with Namestnikov, as Namestnikov has been excelling defensively and on the penalty kill.
With these two injuries, the Rangers recalled Timothy Gettinger, who has been moved around faster than a ping-pong ball off the paddle of Forest Gump.

With Gettinger back up, that left the Rangers with 11 Forwards and 7 Defensemen. As mentioned in my last blog, Vinni Lettieri has been lighting it up in Hartford, but it doesn't seem like he will get a chance to come back. However, after this game with Ottawa, his fortunes may have changed. Furthermore, it's not like Steve Fogarty has been that impressive either.
David Quinn only had the needed requirement of 18 healthy players going into this game with Ottawa. In turn, there was no one to be scratched. However, in a rarity, Quinn looked to a defenseman to play on the fourth line. Let's go back to Brett Crygalis, who reported the lines for this game with Ottawa first:
Brendan Smith playing forward. #NYR in warmups:
Kreider-Zibanejad-Strome
Vesey-Hayes-Chytil
Andersson-Howden-Fast
Smith-Fogarty-Gettinger

Skjei-DeAngelo
Staal-Pionk
Claesson-Shattenkirk.

Lundqvist.

— Brett Cyrgalis (@BrettCyrgalis) November 30, 2018
Brendan Smith, anchor of the fourth line!
When I saw this, I thought the Molson Canadian beer was hitting me. I mean, I know Canadian beer is strong, but I'm a savvy veteran in the art of beer consumption. I couldn't have been that drunk, could have I?
Again, and I've said this a lot this season, I WILL NOT question David Quinn, as all his moves have been working out more times than not. I just thought if you're going to use a D-man as a fourth liner, Kevin Shattenkirk would be the no-brainer. After all, it's not like Shatty is known for his defense. I guess Quinn wanted Smith out there to make the fourth line a check line.
I even said on the twitter, before the game, that I would've went with Shattenkirk. I'm not going to do the 20/20 hindsight and the "I told you so" thing here, because again, Quinn knows this team better than anyone. However, it's safe to say that none of these moves worked. By the end of the game, Shattenkirk wouldn't even play in the third period, Smith looked out of sorts and the Rangers played one of their worst games of the season.
One thing I will say, is that I didn't like breaking up Kreider and Chytil. And I did say that too before the game:
Won't argue with Quinn, but I like 20 & 72 together #NYR pic.twitter.com/XPfxEcUqua

— BlueCollarBlueShirts (@NYCTheMiC) November 29, 2018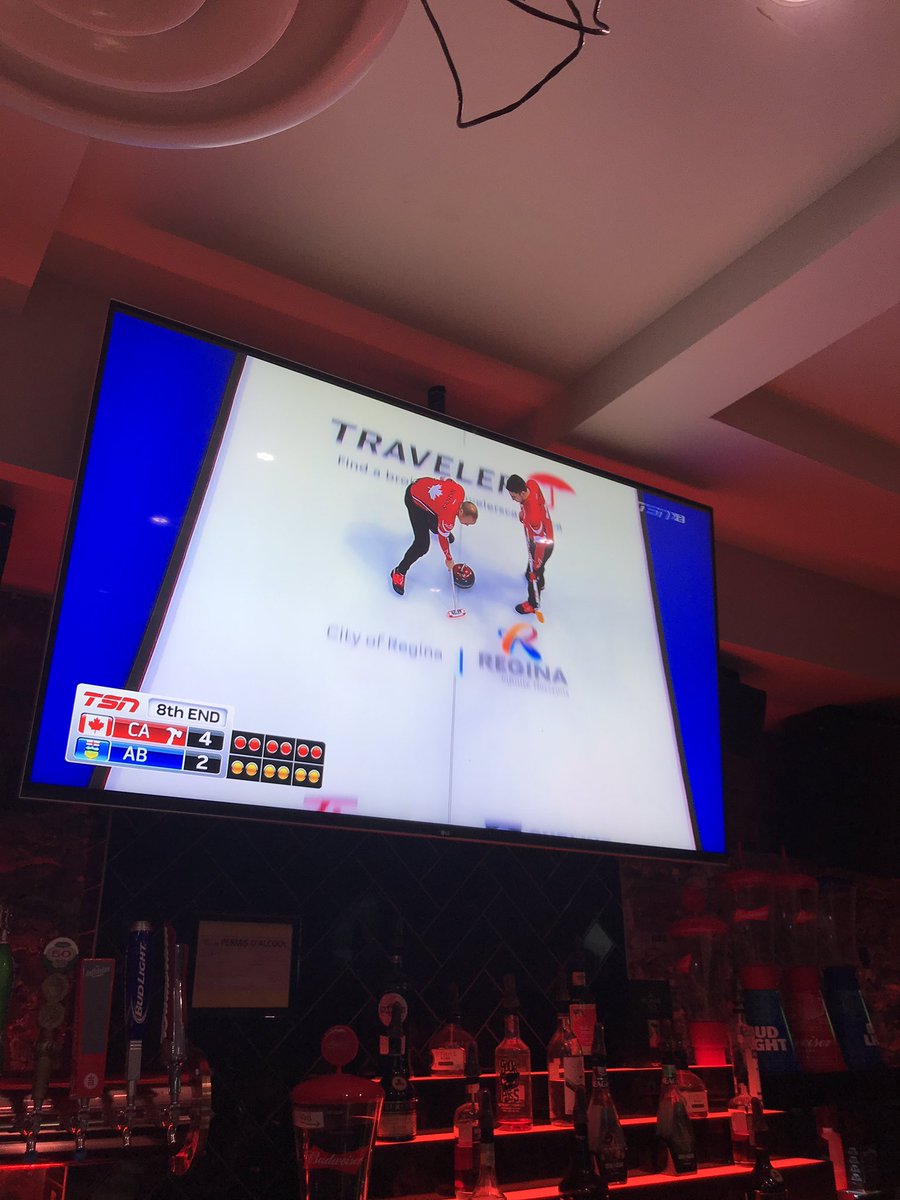 By now, you know about my campaign to get Frank Boucher's #7 retired by the Rangers. If you've been living under a rock or are new here, check out my past blogs on this subject: http://doinow.com/retire-frank-bouchers-7/
After arriving to Montreal on Wednesday, I couldn't wait to hit my favorite bar in Montreal. BORGATA RAY and I have done this trip to Montreal about 8-9 times now, and every time, I must visit this bar: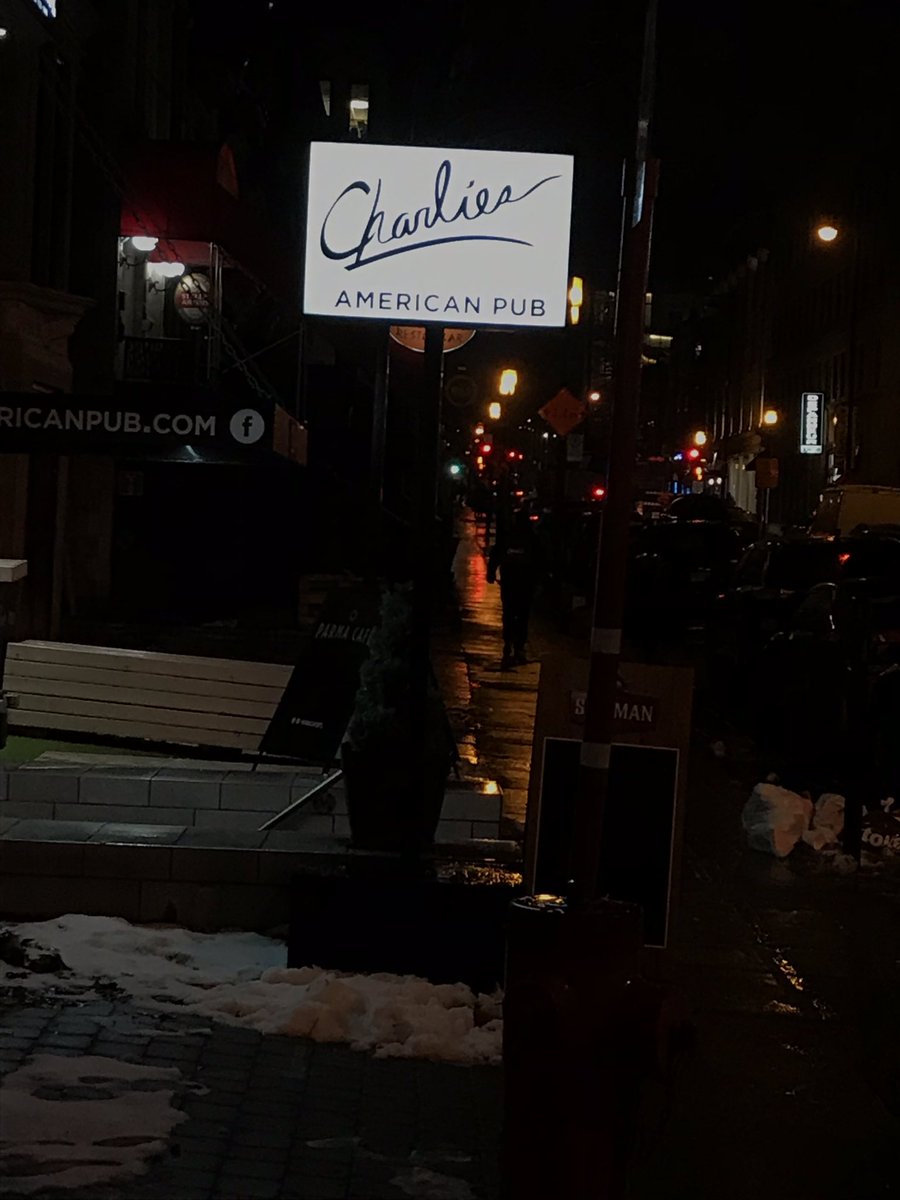 Every time I'm in Montreal, Charlie's is one of my first stops. I've been coming here so often during my trips here, that all the bartenders know me. Even when I walked in Wednesday night, Lee-Ann, the first bartender I ever met at the joint, said, "The Rangers don't play until Saturday!"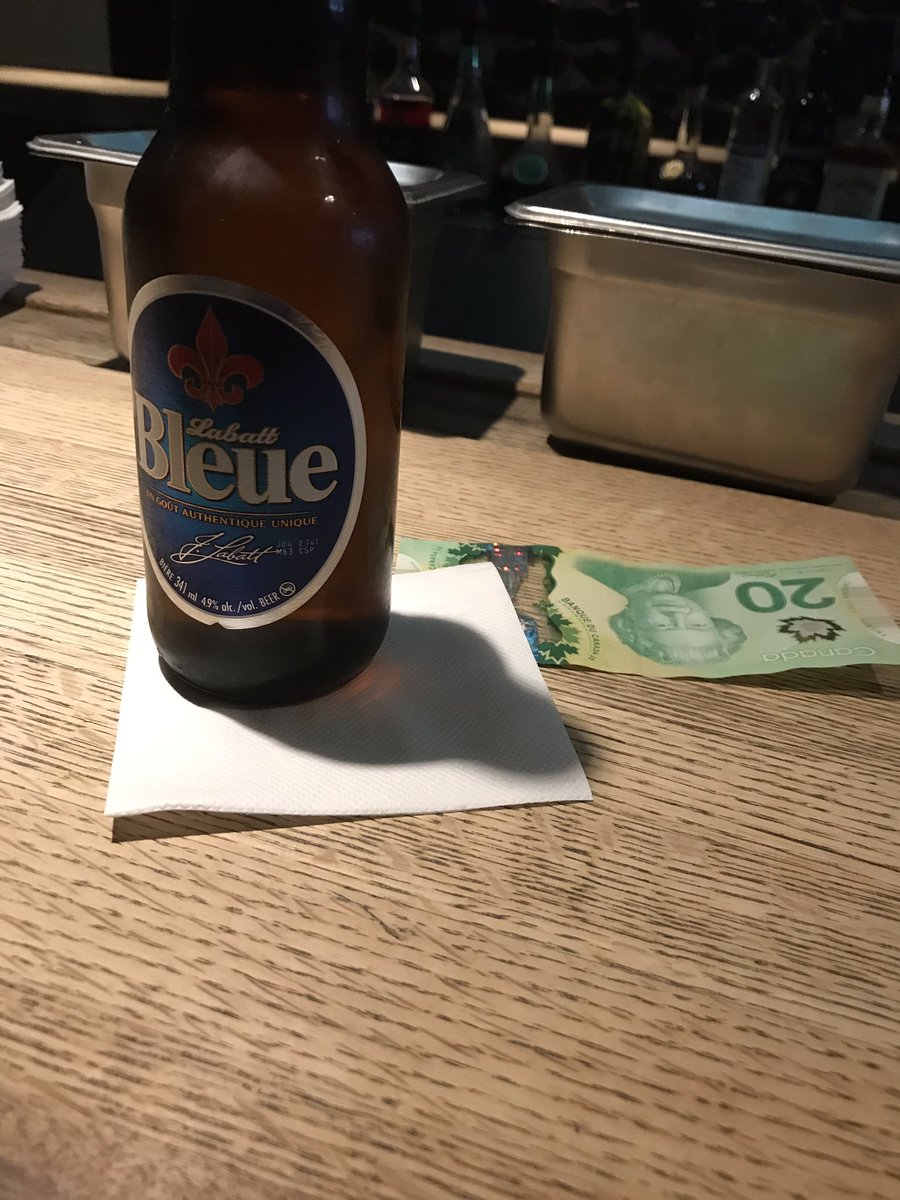 After a great Wednesday night, BORGATA RAY and I got ready to make the drive west to Ottawa, with a detour in Kemptville. In what was about a two hour drive, we finally reached our first destination, the South Gower Cemetery, Section AP, Lot 23. This is a memory that I will never forget.
Oh, and you know you have a true life-long friend when you ask your buddy, "Can we drive to Frank Boucher's grave before the game?" and without hesitation, your buddy says, "of course."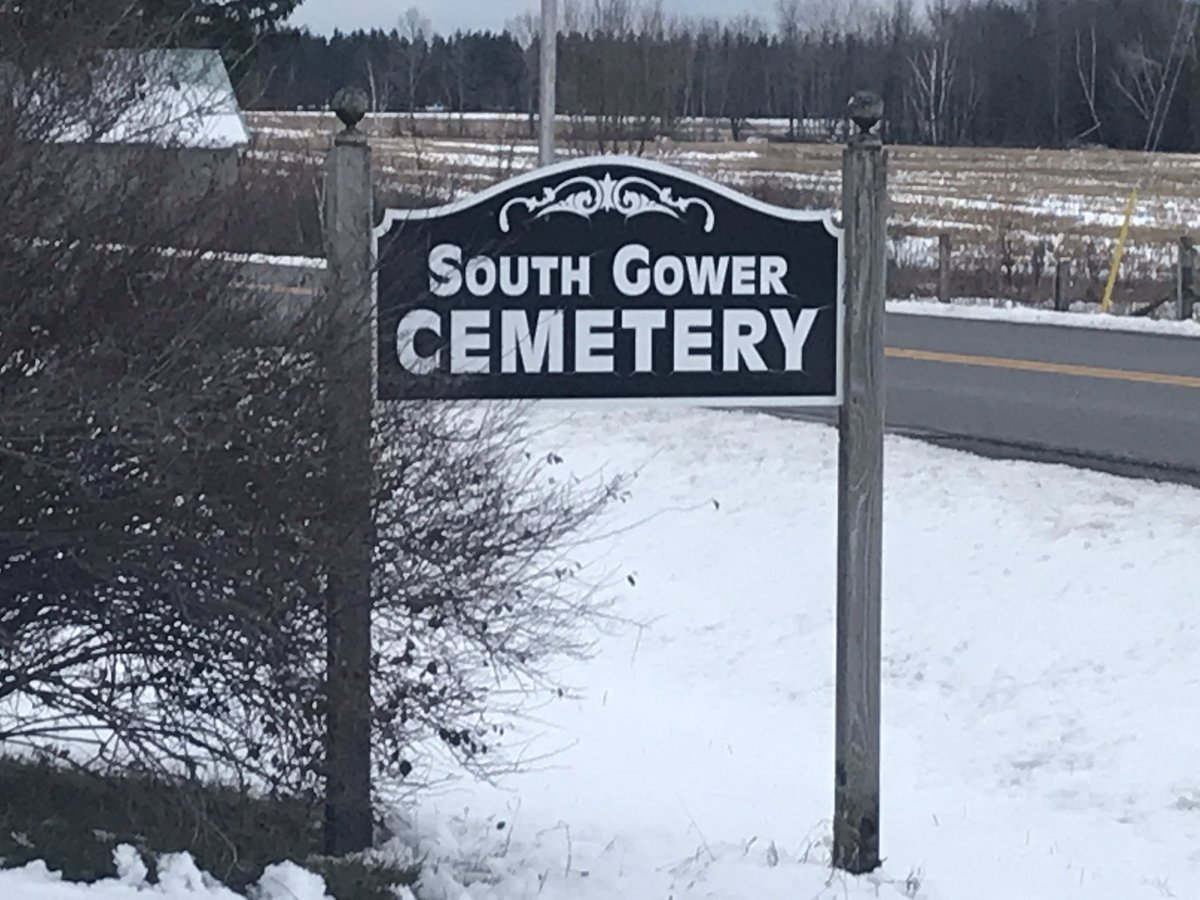 As I see the Rangers rev up the upcoming Vic Hadfield night, I just can't get behind it or support it. Nothing against Hadfield, but the fact that the Rangers give us this narrative that the Goal-A-Game line was the best line in Rangers history is just a complete fabrication and 100% FAKE NEWS.
I'm not going to do my "best-of" here or repeat myself, as I've gone in-depth on this plenty of times, but how does an Original 6 team ignore a HHOFer, a HHOFer that won two Stanley Cups as the star center and another as a coach of the 1940 team, a team that hockey historians consider the greatest Ranger team in Rangers history?
Sorry folks – the bullocks that the Rangers serve their fans about how Andy Bathgate & Harry Howell were around, then the Emile Francis Rangers had a run, then 1994 happened and then the Lundqvist era began, is such a disservice. It simply isn't true.
1994 wasn't the greatest Rangers team of all time, despite what the Rangers may lead you to believe. From all accounts, the 1940 team was. Furthermore, in 1950, Boucher's rag-a-tag Rangers, led by goalie Chuck Rayner, came within one goal of winning the Stanley Cup.
So, to quickly recap, without giving you all the details about Boucher's 29 year association with the Rangers:
— Won 2 Cups as a player. (1928 & 1933)
— Coached the team to a Cup. (1940)
— As the General Manager, saw the Rangers come within one goal of winning the Cup in 1950.
— Enshrined into the HHOF in his first year of eligibility.
You're telling me Vic freaking Hadfield is more deserving than Frank Boucher? As much as people don't want to hear it, the man whose number 7 that currently resides in the rafters of MSG, in Rod Gilbert, is not even more deserving than the number 7 that long preceded him, in Frank Boucher.
At this time, I'd like to share with you a few pictures from my visit to Frank Boucher's grave.
Of note, as mentioned in the past, I'm in contact with Frank Boucher's granddaughter, who is somewhat ironically named Frankie, and she gave me the permission to leave items at his headstone. As you'll see below, I left a puck and a card there. Obviously, I retained my jersey!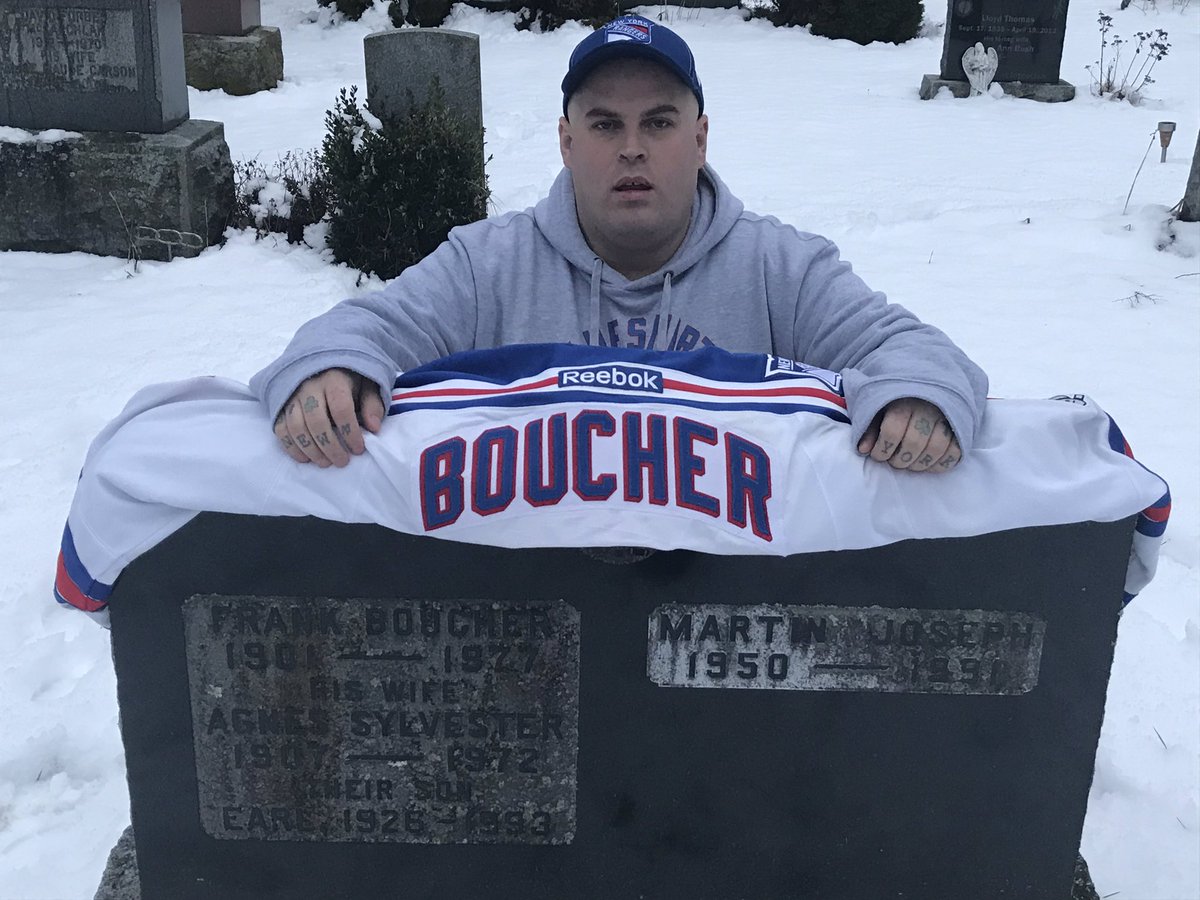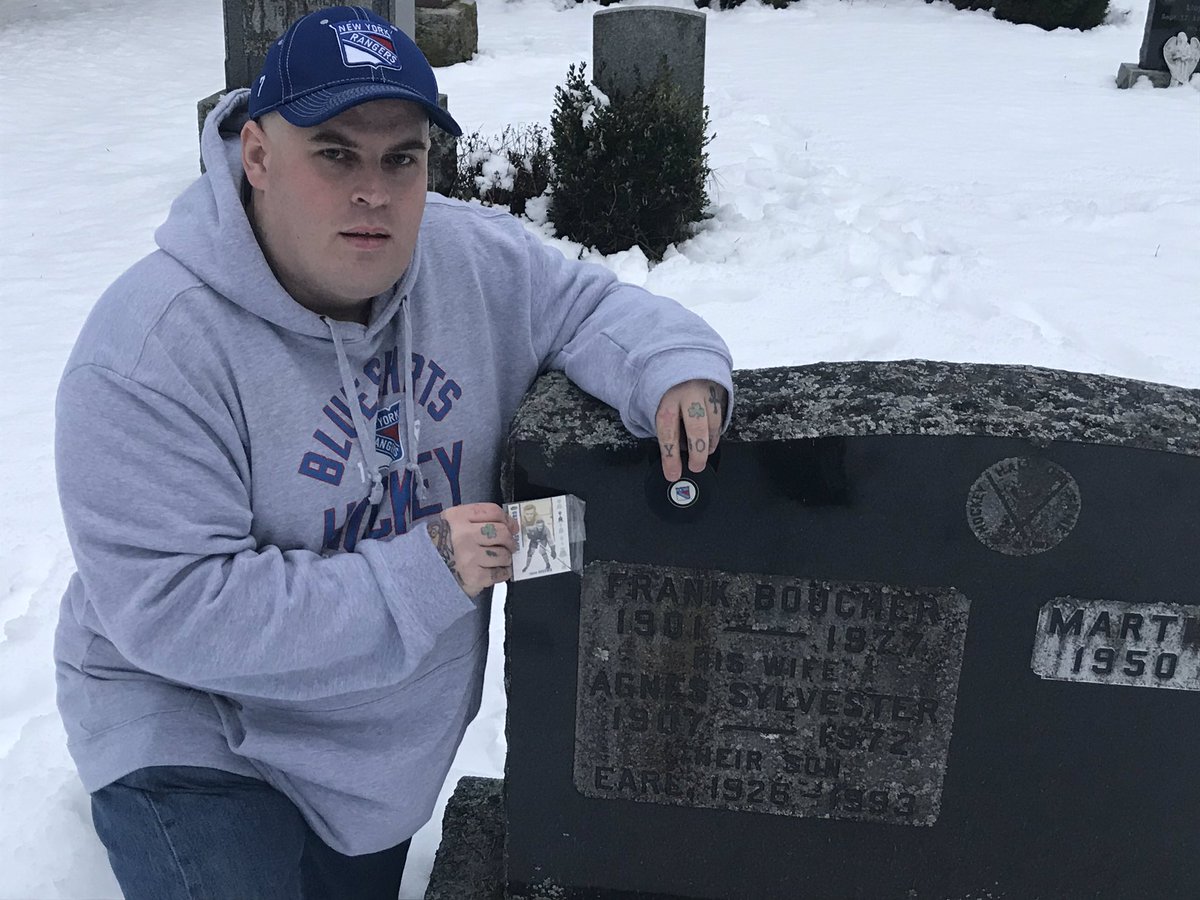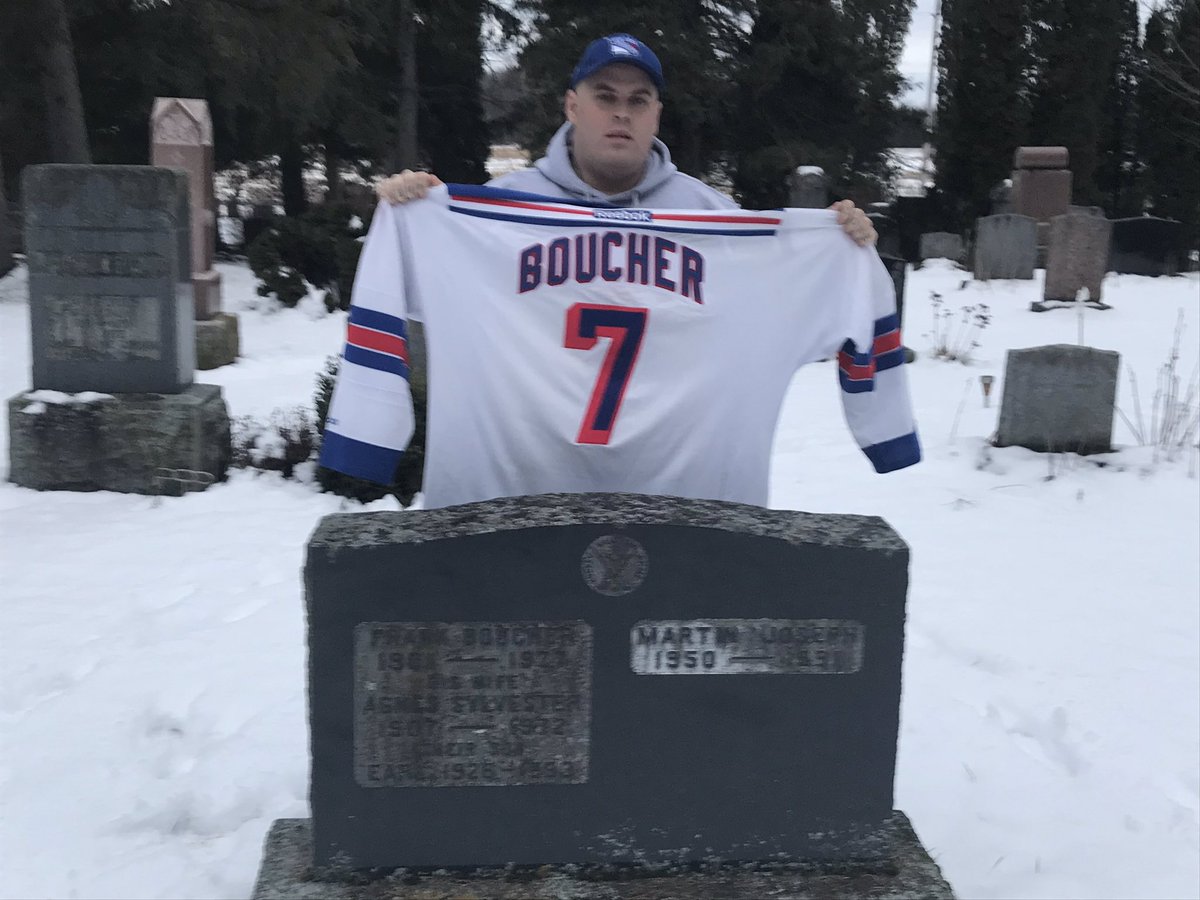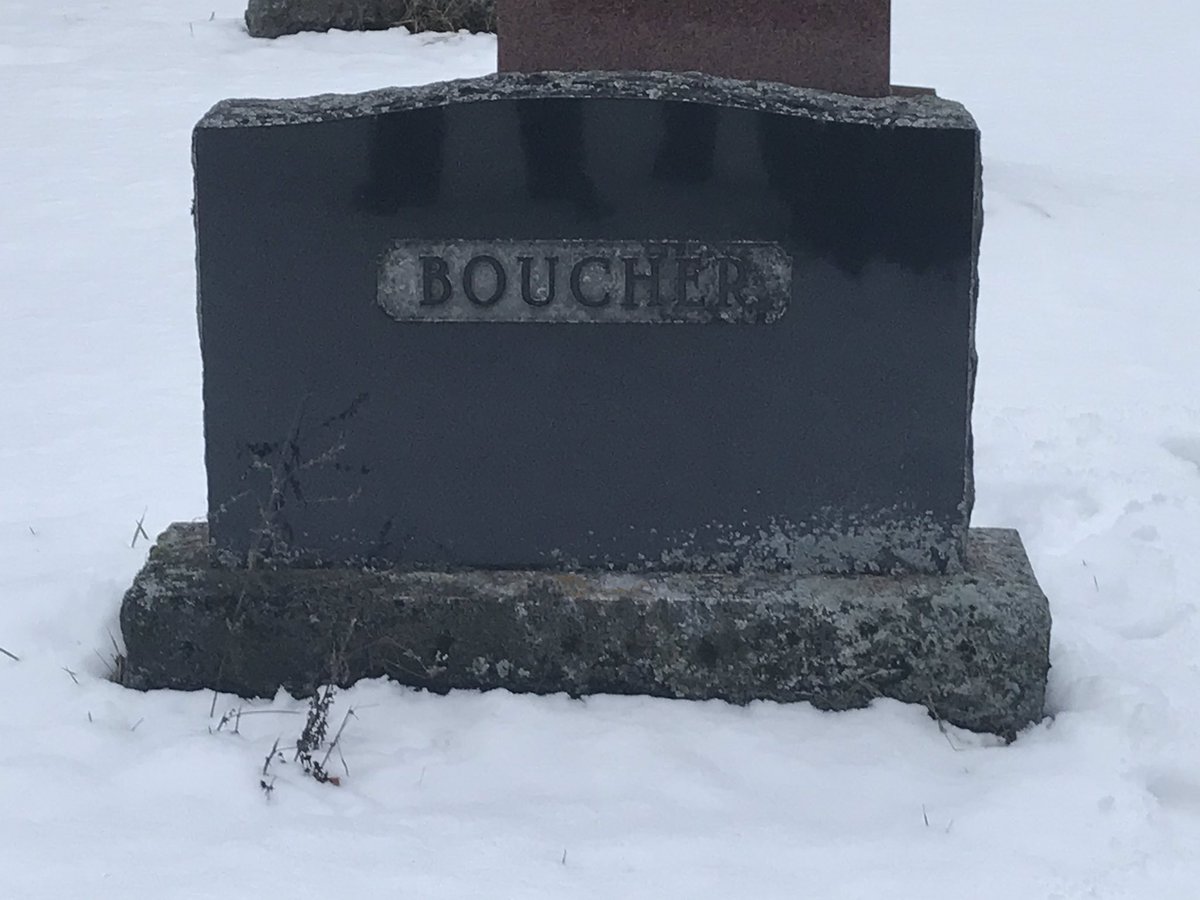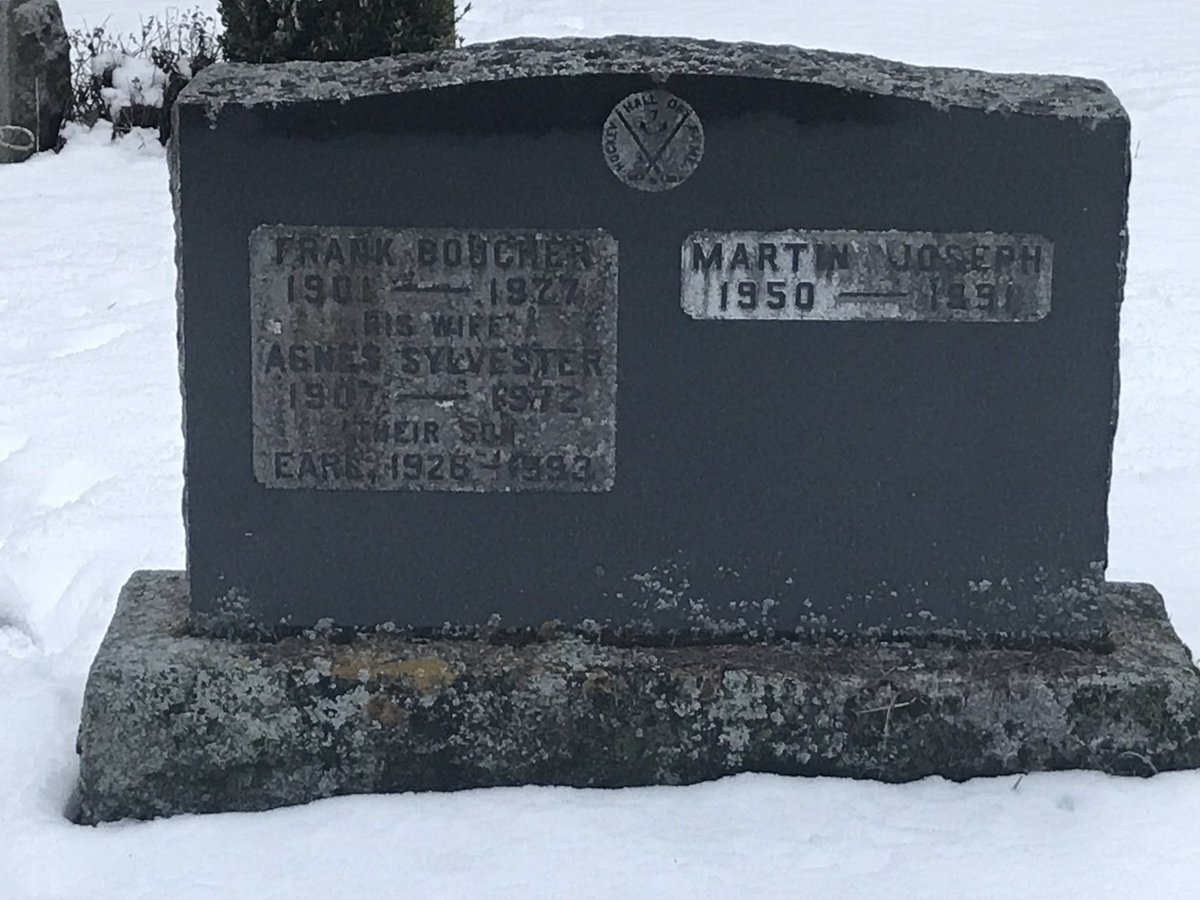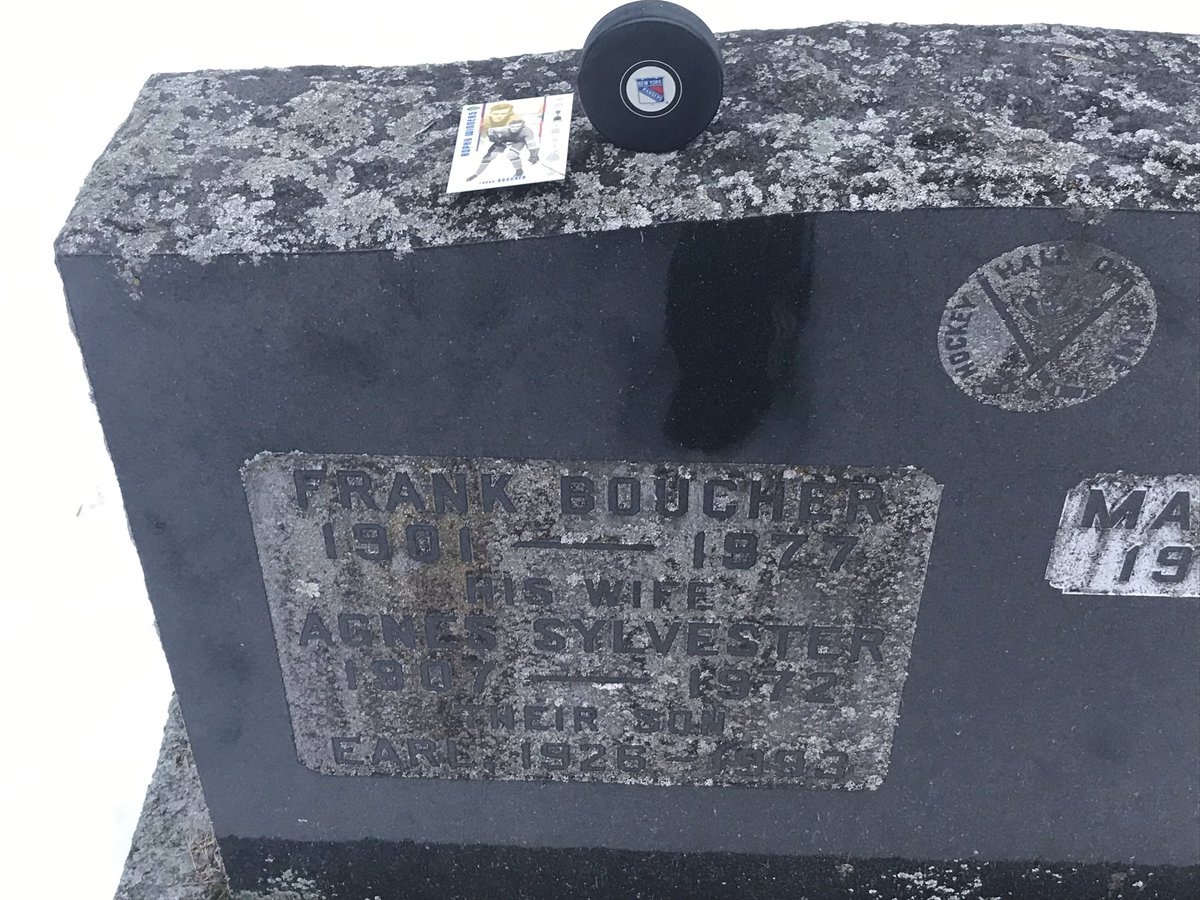 I'm telling you – this was just one of those lifetime experiences.
After visiting Boucher's grave, we then took a trip to Grahames Bakery, a bakery that Frank Boucher visited during his latter days in Kemptville. Located directly adjacent to the bakery, a bakery that has been around since 1885, is a mural of Frank Boucher. Here it is: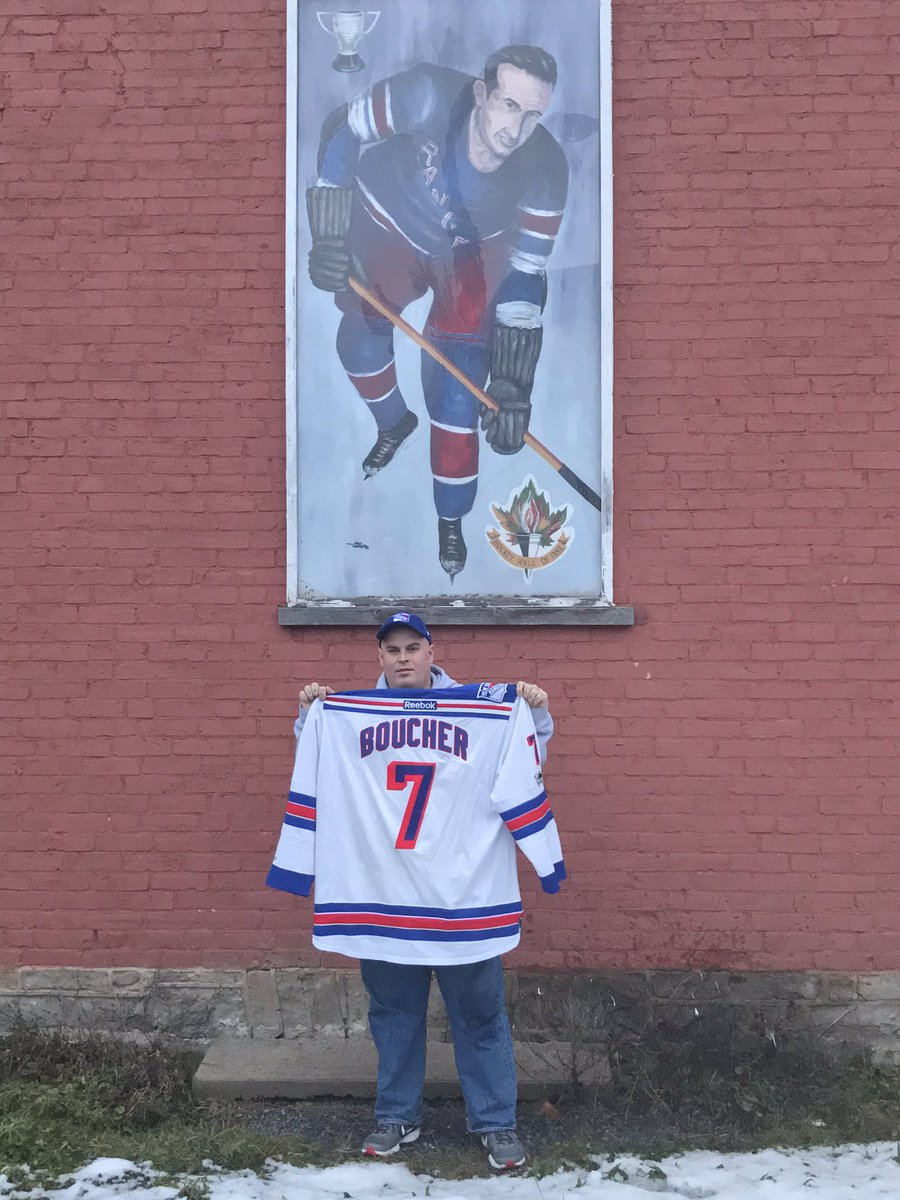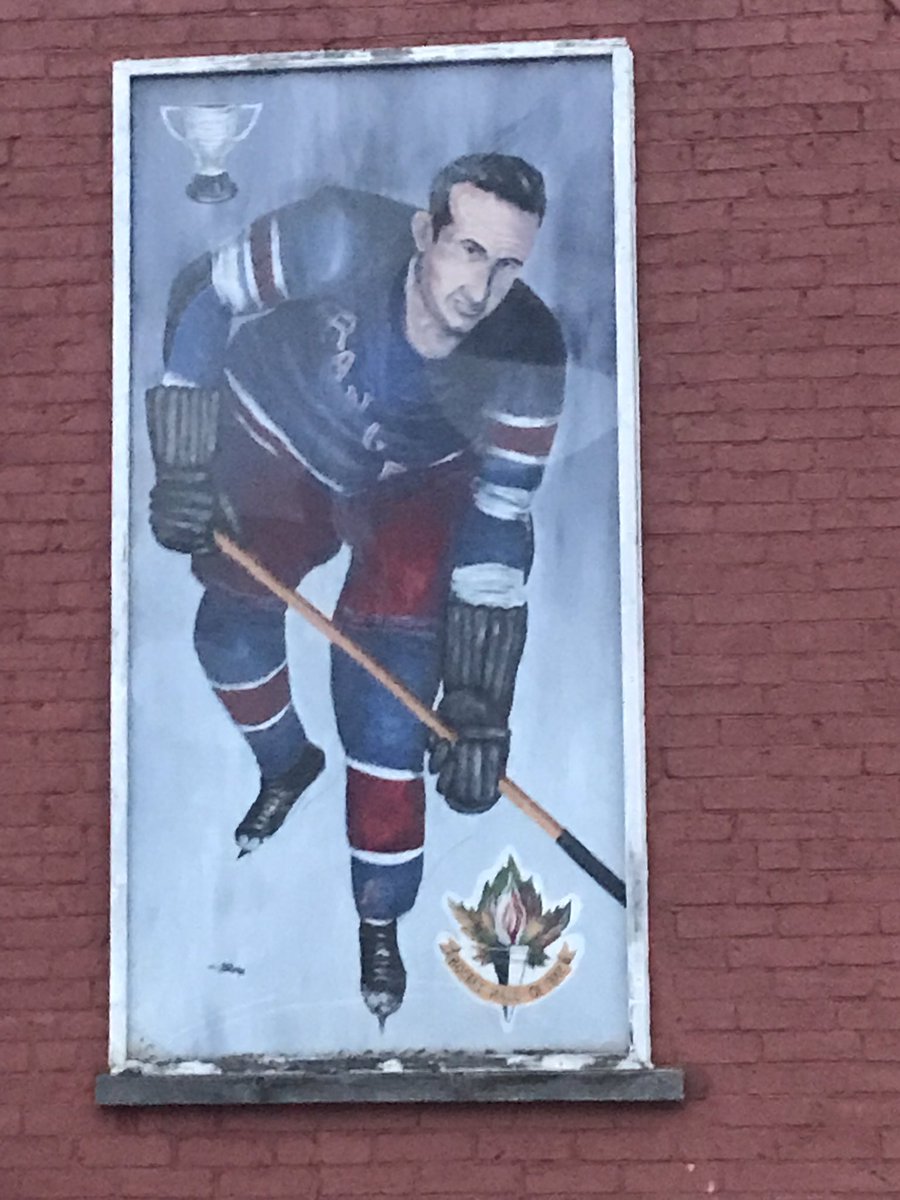 I gotta tell you, usually after a game the Rangers just had with Ottawa, I would be furious, going nuts with the four-letter words, and all the rest of the nuttiness, but just by visiting these two sites, my trip was made.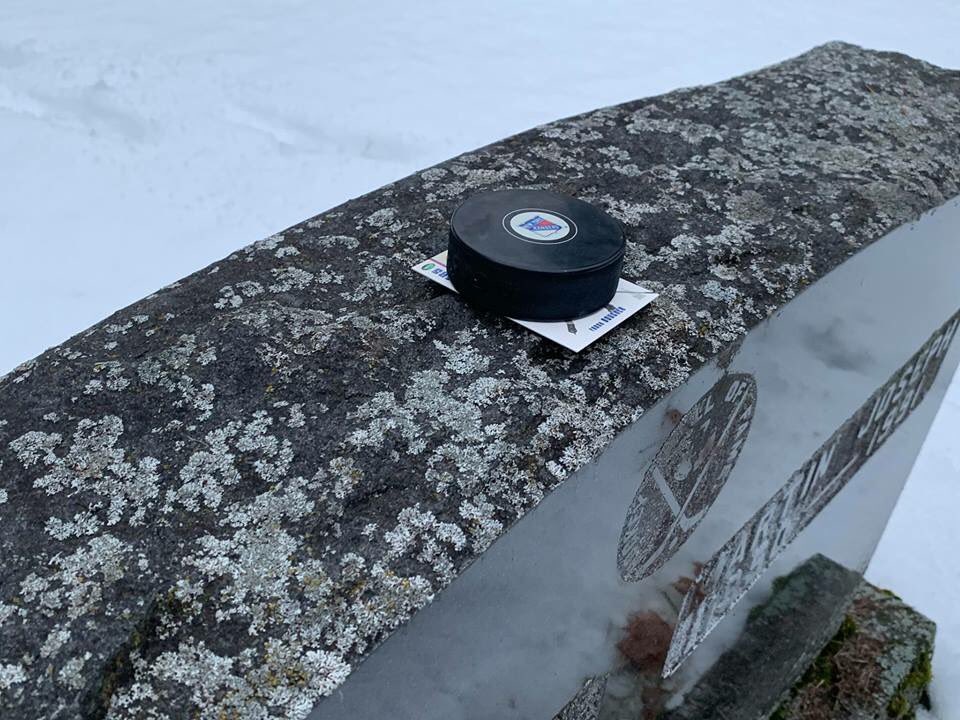 During our car ride from Montreal to Ottawa, I was thinking to myself how I could make a mock video, a video that I would non-stop spam the MSG Networks with.
Kemptville, to the Canadian Tire Centre Arena, where the Ottawa Senators play, is a 30 minute drive tops. Ranger fans make longer trips on the LIRR than Kemptville residents need to make to attend a Senators game.
If you had one forward thinking person in the MSG Networks board room, wouldn't it be interesting to have a John Giannone or a Dave Maloney or whoever, do the same exact trip that BORGATA RAY and I just did?
What would be more educational, beneficial and more substantial – covering Frank Boucher in his home town, or watching Sam & Joe slurp soup, in between various yankings of Henrik Lundqvist?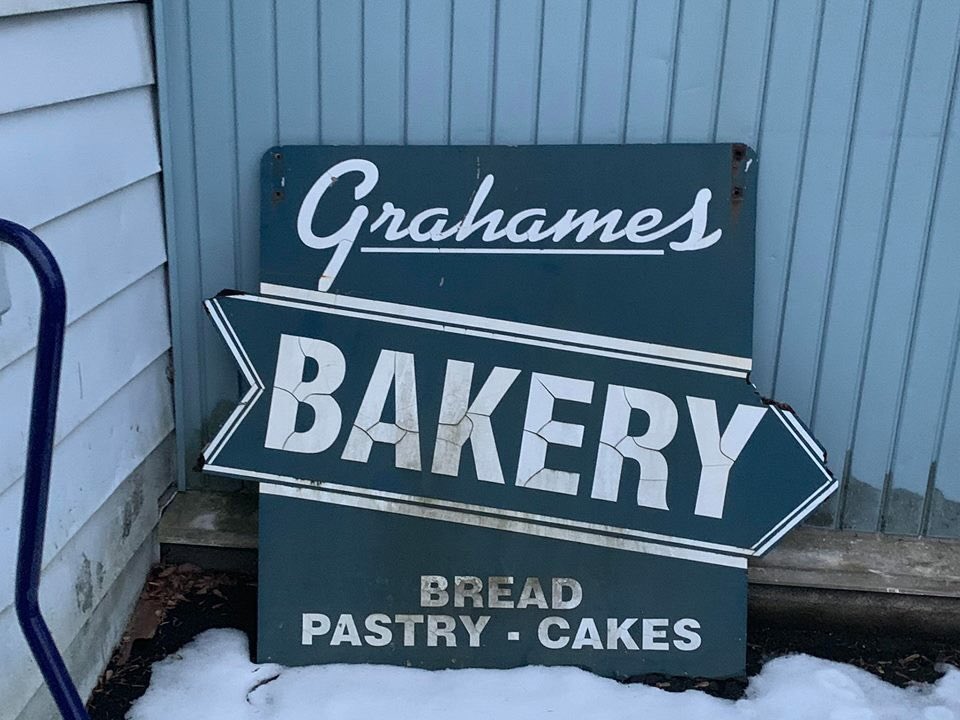 I was really thinking of a making a mock video of my trip, in a way to shun MSG Networks, but I decided not to, as I thought it would come off too self-serving to my cause and because it would take away the value from my trip.
However, just think about it, how hard would the following be to produce?
You open up with b-roll footage of Ottawa. Giannone, we'll use him here since he's the straight man, talks about a historical landmark in Ottawa, blah blah blah, it's the capital of Canada, blah blah blah. Then in a more stern voice, Giannone says, "Located just miles away, is Kemptville, where the greatest Ranger to have ever lived, called home."
With b-roll footage of the sign of "Welcome to Kemptville", Giannone continues. "With the upcoming celebration of Vic Hadfield's career, one Ranger that trumps them all, remains buried by the Rangers, with no fanfare. It is in Kemptville where the man who was responsible for 75% of the Ranger Stanley Cup victories, in a one Frank Boucher, lays forever."
From there, John Giannone is shown walking in the graveyard, and you show the tombstone. Giannone then runs down Boucher's accomplishments and ends with, "Ranger fans may not know who Boucher was, but he has been immortalized outside of his birth town of Ottawa, here in Kemptville."
We then pan to the Frank Boucher mural on the "Odd Fellows" building. Giannone gives facts on the painting – the date it was made, who painted it, etc. As the camera pans, Giannone then talks about the history of Frank Boucher and Grahames bakery. THERE IS YOUR FOOD WEEK TIE IN MOFOS!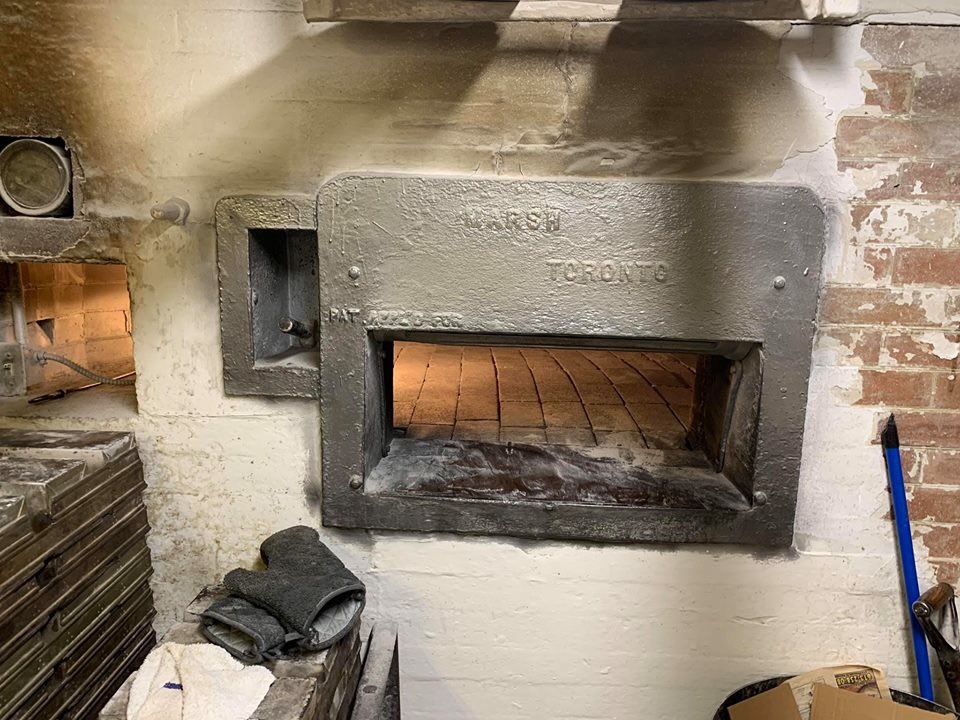 After talking to the Grahames family and a Boucher relative, we then go to Giannone to go home on the segment. Giannone finishes off with, "When will Frank Boucher finally get the respect he so truly deserves?"
I will admit to you right now, as I write these words, I'm still a little buzzed and I'm on no sleep. That said, I just came up with that in 5 minutes. If I really thought and blocked this out, I could've came up with something better. This segment would be easy to produce and would be better than the lame crap that MSG Networks features today. Micheletti can take his "Taco Bell Take" and shove it up his fajita hole.
As mentioned before, not just because of the name, but I really enjoy Gretzky's whisky. It's smooth and doesn't have that killer after-bite. However, you can't get it in America, as you can only get it in Ontario or in Alberta.
Needless to say, I needed a pick-up truck for my haul: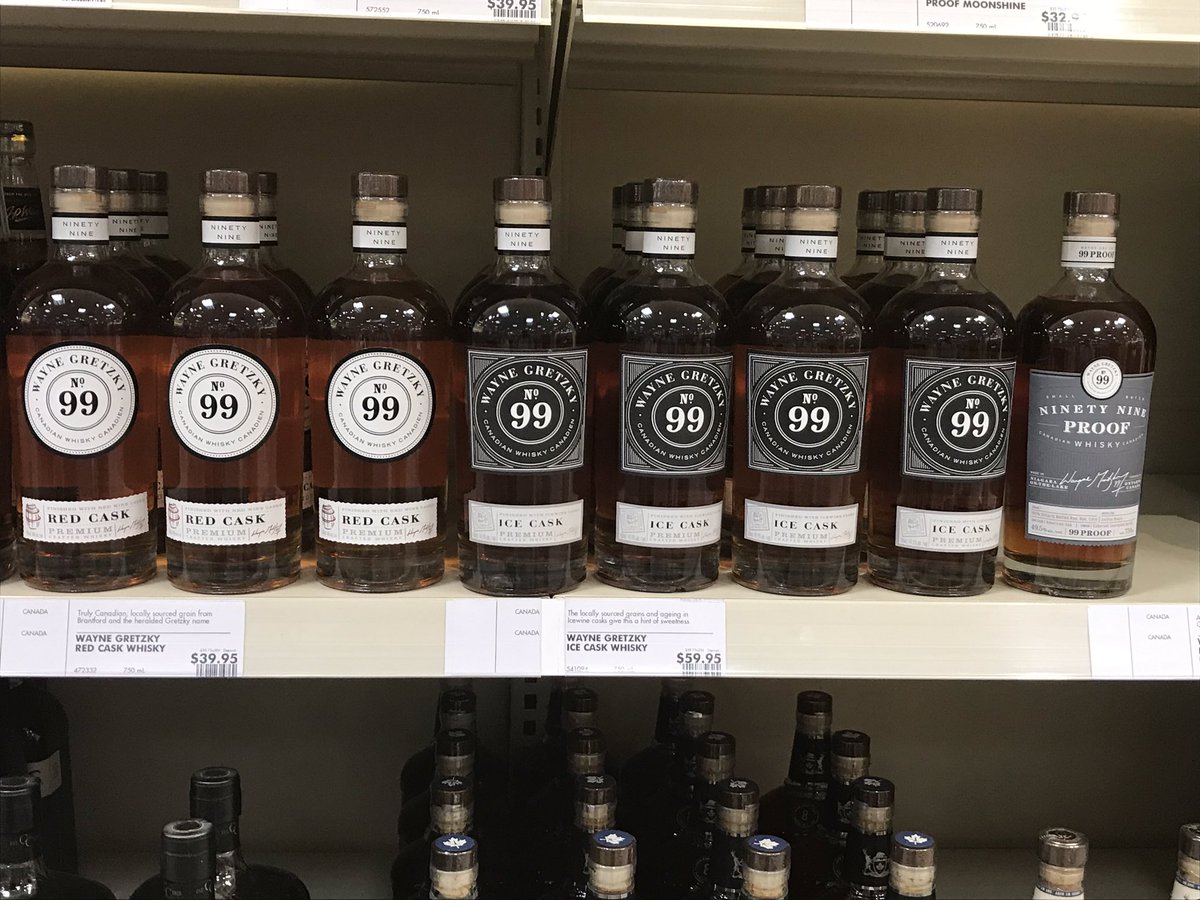 BORGATA RAY, not much of a whisky drinker (although he can throw down the JP Wiser's when needed) picked up the Gretzky wine. I'm not a wine drinker, and no offense to "The Great One", I'm not going to start drinking merlot now.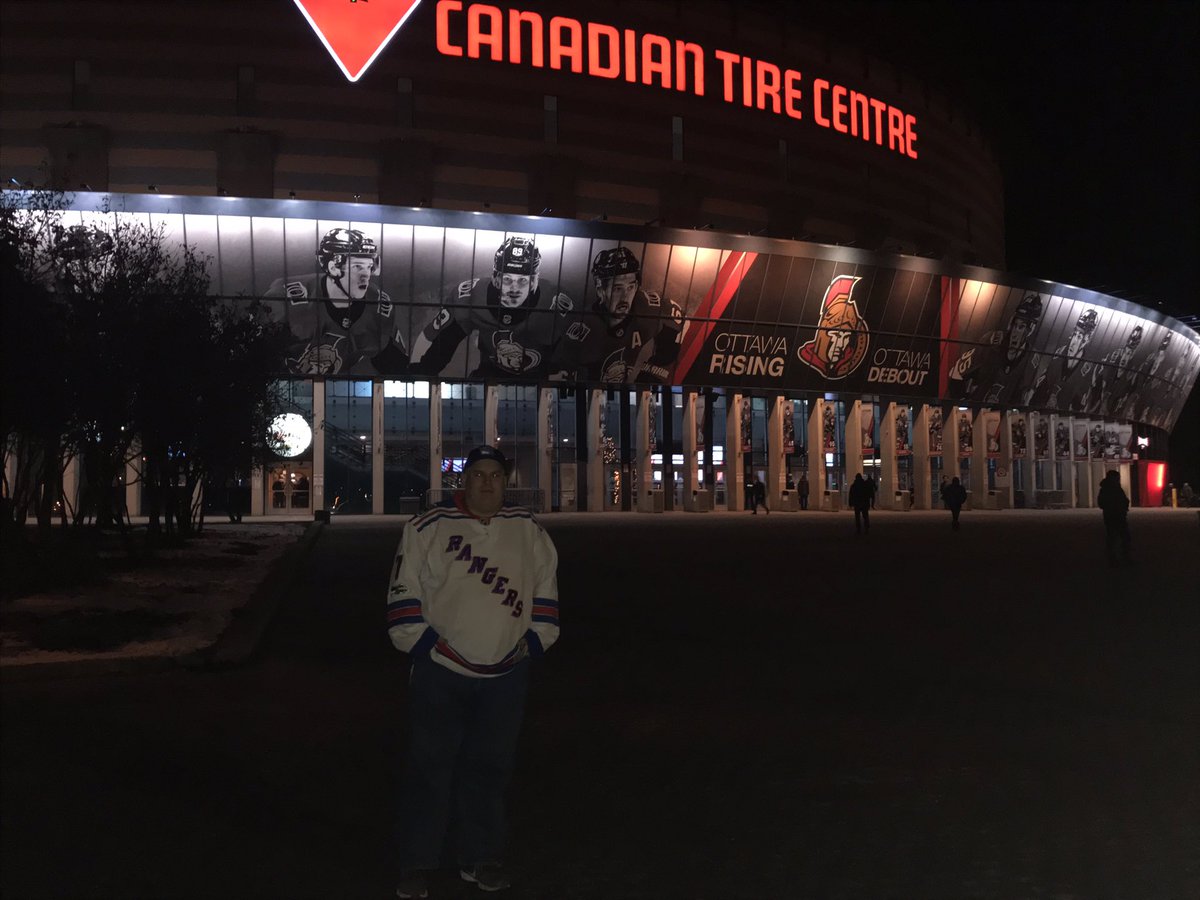 For some reason, we were under the impression that the gates opened up at 5:30PM. Turns out they opened at 6PM. However, since we had decent seats, we talked our way into the Lexus Lounge, a club that is reserved for high rolling season ticket holders: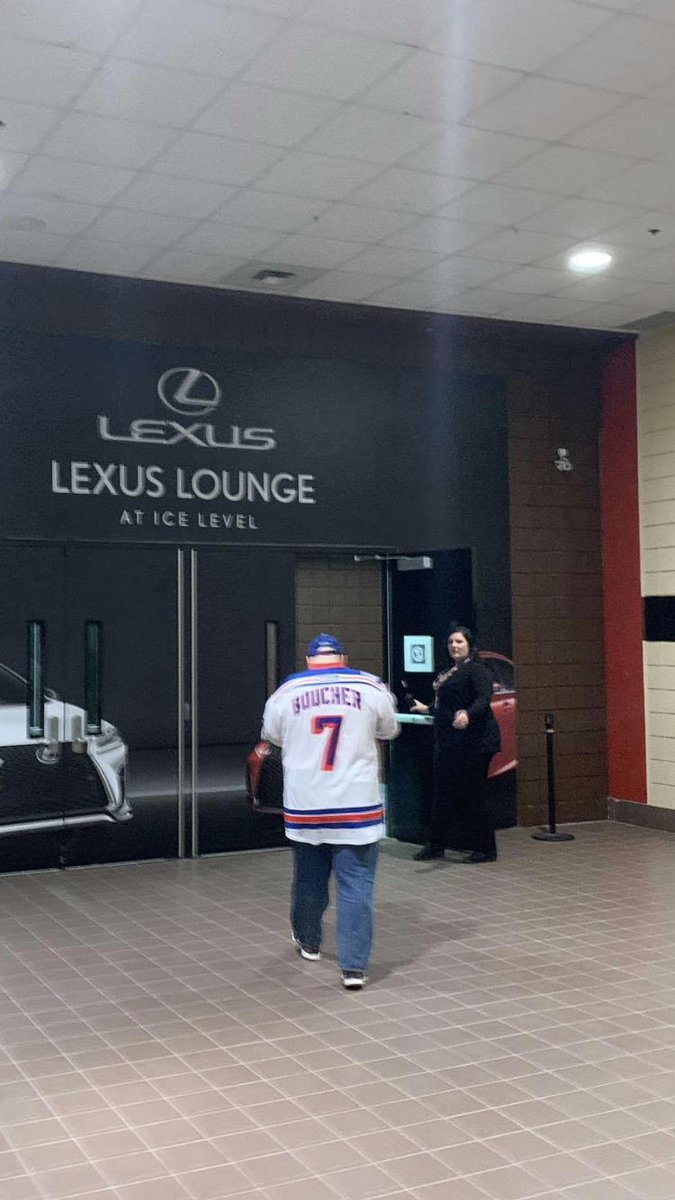 With an hour to kill before warm-ups, we had the arena to ourselves. Just a fun experience that I won't forget any time soon: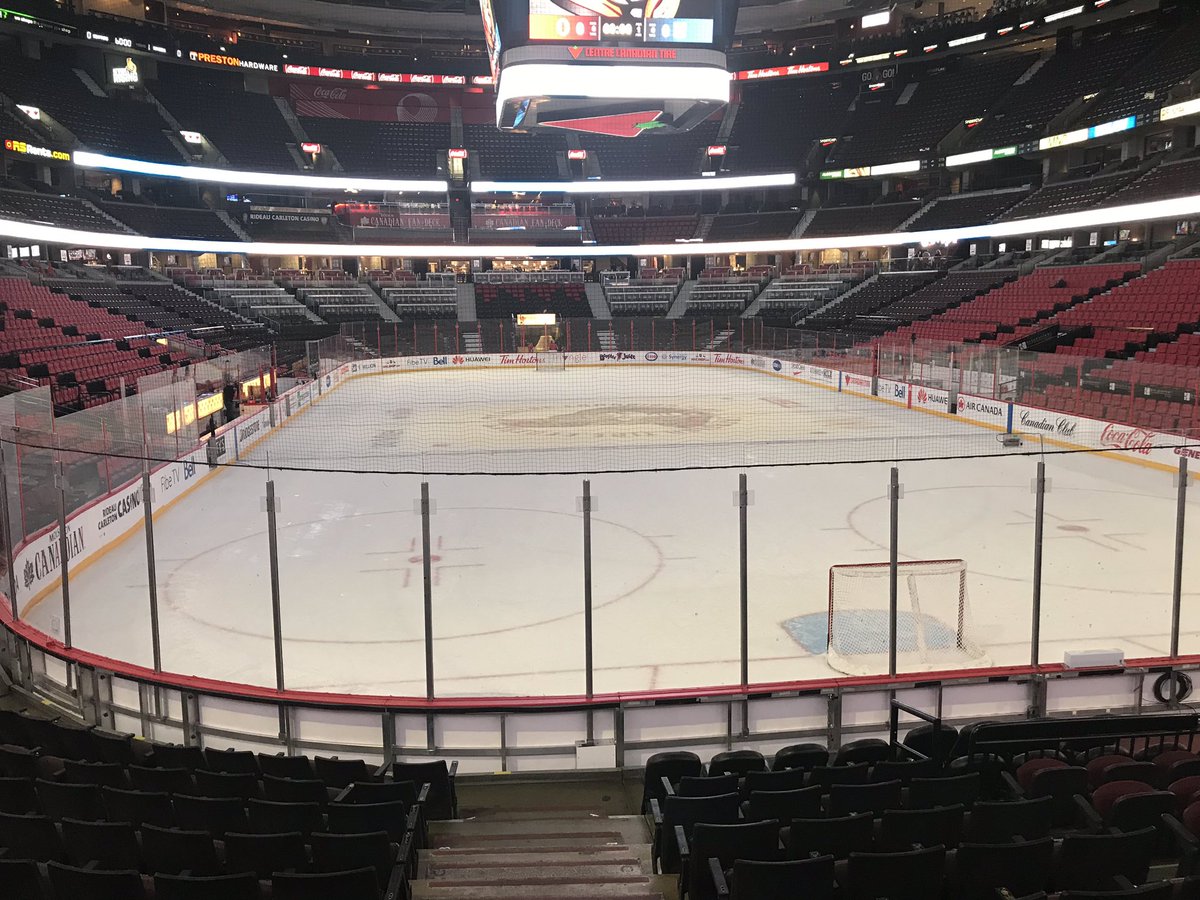 After marking out and taking a ton of pictures, we settled down for some food and some Molson Canadians. We then made our way to our seats, which were directly behind the Rangers bench. Turns out, David Quinn would be in front of us all night:
As many of you wrote to me, you saw me behind the bench for most of the game. I think it was BSU listener, Costa Ladeas, who asked me how much coin I dropped. I paid $90 (American) for this seat. At M$G, this seat is $1200+.
BORGATA RAY and I had seats next to each other, but since we are both barrel asses, we just alternated sitting front and second row, since the second row wasn't sold. And here lays the problem with Ottawa – the building was nearly half empty. The upper-bowl looked deader than the South Gower cemetery that we visited previously in the day.
I talked to a Senators fan, an old timer, and he told me that people have had it with the owner, the traffic is nuts (which is why Ottawa games start at 7:30PM rather than the customary 7:00PM) and how people are furious about the Karlsson situation.
I just can't believe in the capital of Canada, a city rich in hockey history, starting back to the days of the "Silver Seven" (Look it up if you don't know about it) and with so many junior leagues centered around the city, that the Senators do not draw. They are the Florida Panthers of Canada.
The same fan, along with others during my travels, would go on to tell me that it doesn't matter what day of the week it is. Even if this was a Saturday game, this game still wouldn't have drawn. Even worse, the only reason this game had as many fans as it had (about 60% capacity) is because Ottawa is a border town and many upstate New Yorkers, who are Ranger fans, made the trip up.
A fan that I talked to while getting a beer told me that he paid $27 to sit 15 rows up from me. Can you imagine that?
The bottom line is that the Senators don't draw, they aren't exciting to watch and the owner has turned off a large part of the fan base.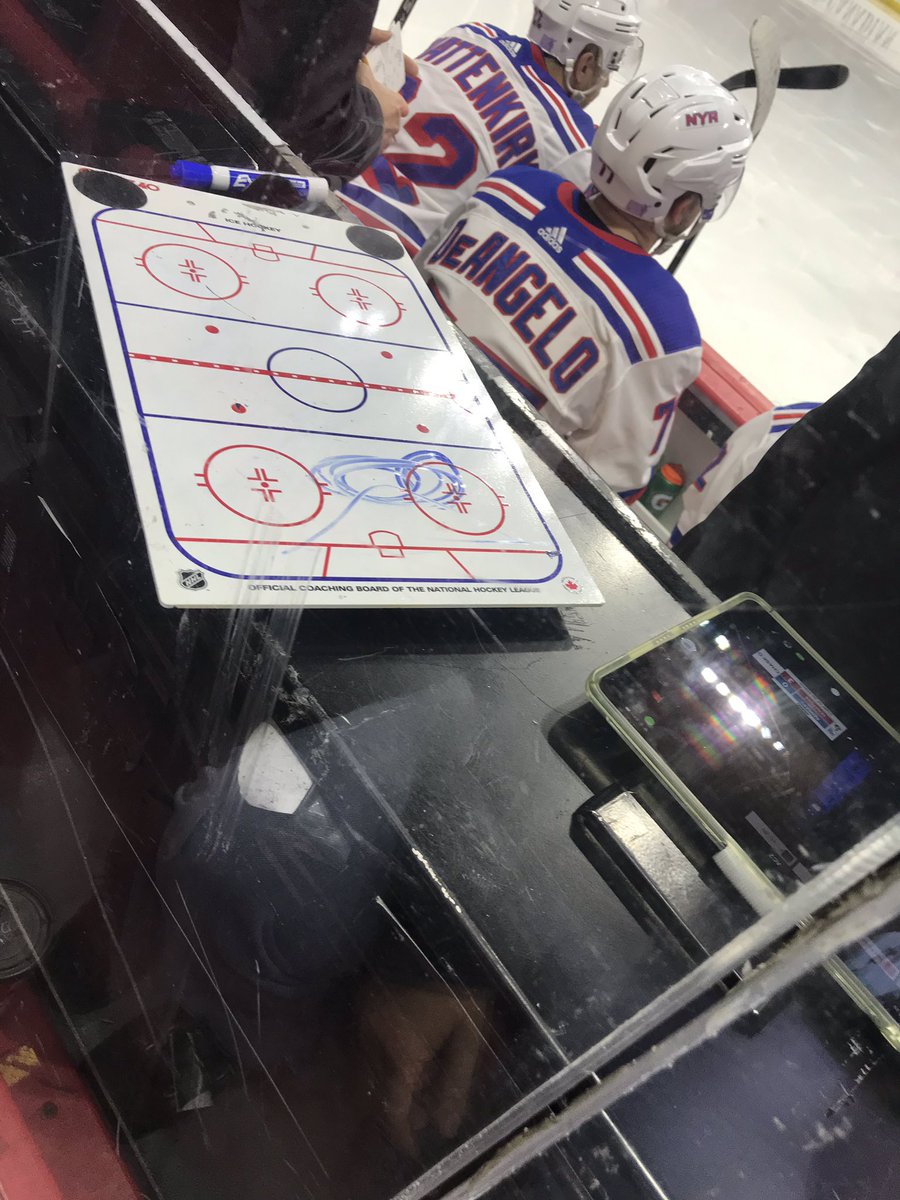 Wow, this blog is going long. Let's go straight to the ESPN.com box score:
SCORING SUMMARY:
1ST PERIOD
2:06

Drake Batherson

 (3)

Assists: Matt Duchene, Maxime Lajoie

0
1
14:35

Magnus Paajarvi

 (2)

Assists: Zack Smith, Tom Pyatt

0
2
2ND PERIOD
17:00

Matt Duchene

 (12)

Assists: Drake Batherson, Ryan Dzingel

0
3
3RD PERIOD
No Goals Scored
PENALTY SUMMARY:
1ST PERIOD
No Penalties This Period
2ND PERIOD
No Penalties This Period
3RD PERIOD
14:48

Anthony DeAngelo: 

2 minutes for Roughing
GOALIES:
| | | | | | | | | | | |
| --- | --- | --- | --- | --- | --- | --- | --- | --- | --- | --- |
| SA | GA | SV | SV% | ESSV | PPSV | SHSV | SOSA | SOS | TOI | PIM |
| 27 | 0 | 27 | 1.000 | 27 | 0 | 0 | 0 | 0 | 60:00 | 0 |
| | | | | | | | | | | |
| --- | --- | --- | --- | --- | --- | --- | --- | --- | --- | --- |
| SA | GA | SV | SV% | ESSV | PPSV | SHSV | SOSA | SOS | TOI | PIM |
| 34 | 3 | 31 | .912 | 29 | 0 | 2 | 0 | 0 | 60:00 | 0 |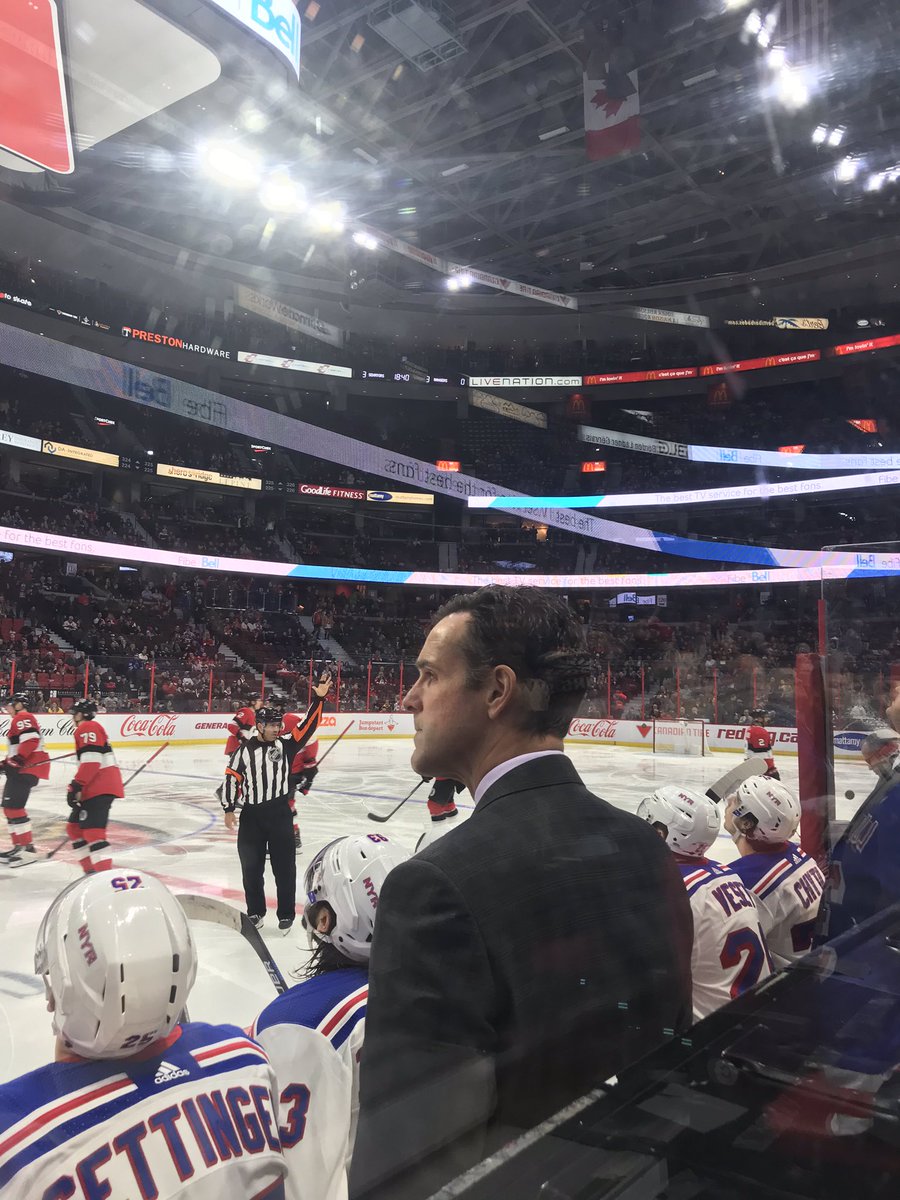 I'm not going to do one of my normal recaps here, because I have to admit, as this game progressed, the stuff on the ice was so freaking bad, that I found myself, just as I did when I sat behind the bench in Raleigh for a NYR vs Carolina game, fixated on David Quinn. And what a game to be sitting right behind Quinn.
For 60 minutes, Quinn looked infuriated. I thought he was going to OJ Kevin Shattenkirk and Brendan Smith, as he was yelling at them. Quinn's face got so evil looking during this game, that he reminded me of the original raptor from "Jurassic Park":
I always say that you can't overreact to one game, win or lose. However, these road losses are becoming a trend.
Fans told me after the game that Steve Valiquette called this the worst game of the season. Not having the TV experience, I really don't know. To me, that Philly loss from last Friday was worse, just because it was Philly. However, make no bones about it, this game was horrendous, at least through the eyes of a Rangers fan.
It's not like I can't say there was no effort, as the guys were hustling and sweating hard, but for whatever reason, the Ottawa Senators turned into the Marty Brodeur Devils.
Even worse, one Senator fan told me that just yesterday, on the local radio, the host was saying how the Senators were so bad that they wouldn't have one shut-out this season. Enter the Rangers, who gave Anderson his best game of the season. Hopefully he won't be cut immediately after his shutout, just as Calvin Pickard was after his shut-out against the Rangers on Friday.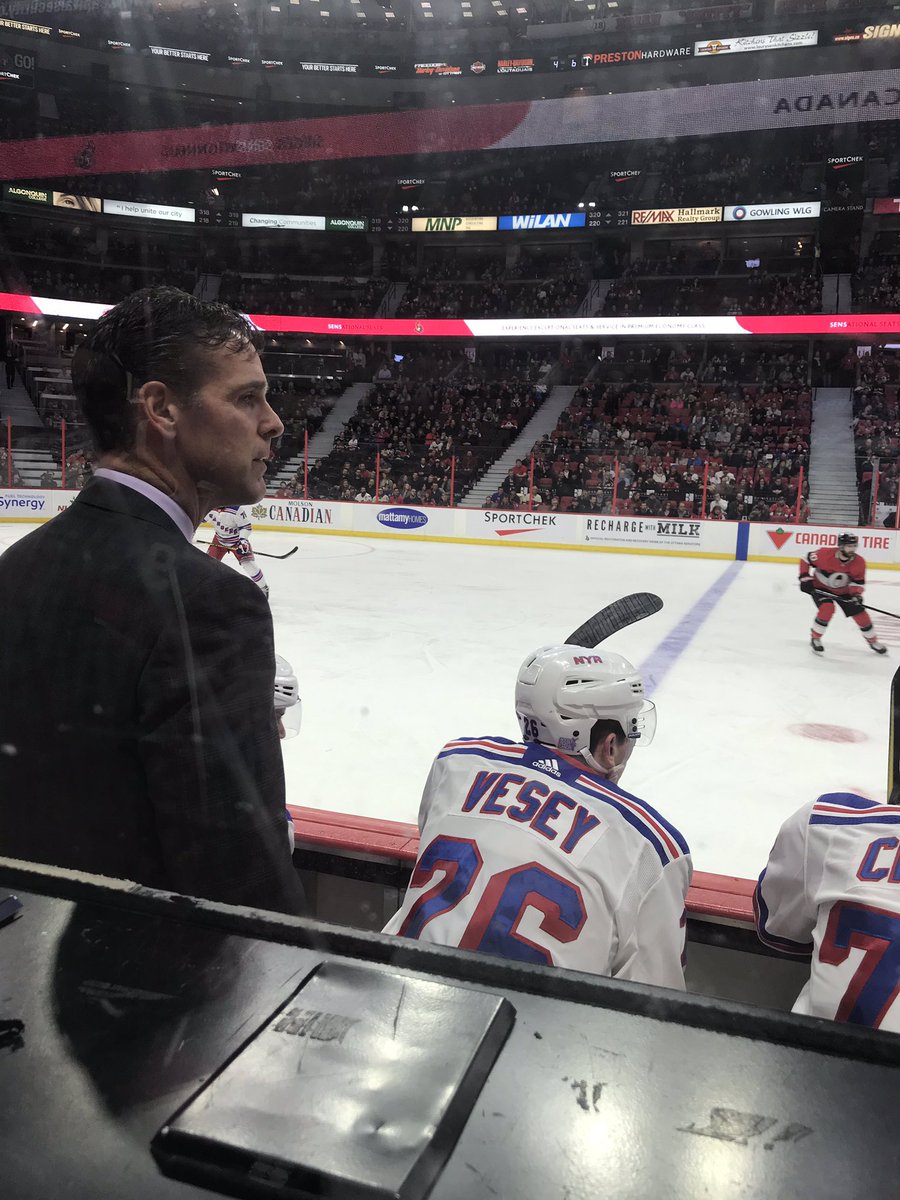 One thing to keep in mind with this Rangers loss is that the team is banged up and they played with 11 forwards and 7 defensemen. Still, it's not an excuse to get shut out.
This wasn't Lundqvist's best game either, but when you score zero goals, the goalie is the least of the problems.
I don't know what the cameras picked up on TV, but live, I didn't even see any questionable calls in this game that should've resulted in a penalty. The Rangers wouldn't have a power-play in this game, and sans a late call against DeAngelo, this was a pure 5 vs 5 game.
Batherson would get an early goal, just seconds after the two minute mark expired in the first period. 1-0. Who knew that would be the game winner?
With 5 minutes remaining in the first,  Paajarvi beat Lundqvist and badly. The Rangers would never fire up, and as the first intermission went into the second intermission, I was waiting for a David Quinn riled-up Rangers team to march out of the locker room and take control of this game. It just never happened.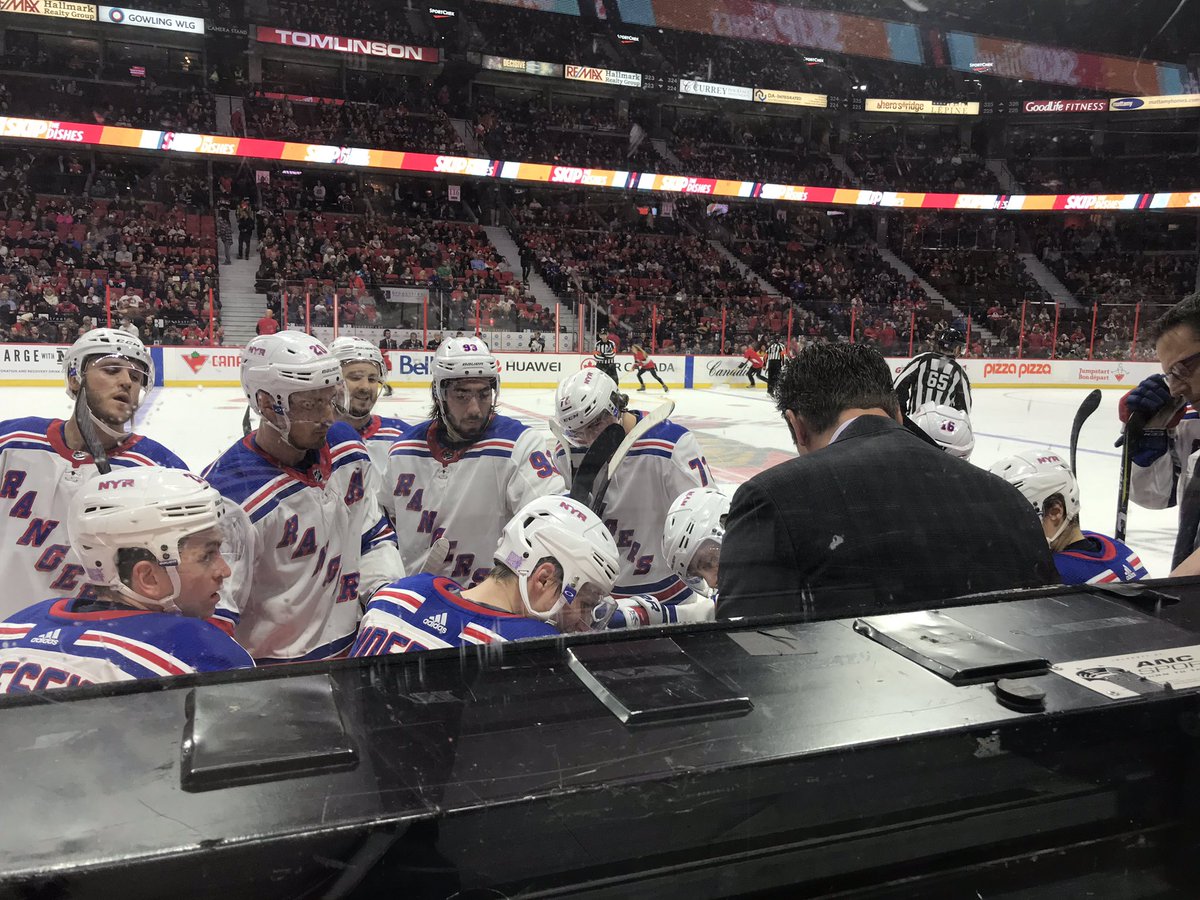 The Rangers looked like they had a goal (I believe it was Fast) against Anderson in the second period, but it was ruled the whistle blew, deadening the play. Instead of 2-1, the game remained 2-0 and the Rangers would never get a better chance.
Duchene would add a goal in an uneventful third period, outside of Quinn stapling Kevin Shattenkirk to the bench, in a game where the Rangers were limited in man-power to begin with.
I have been talking about "The Scratch List of Quinn" all season, and it wouldn't shock me if the Rangers called up Lettieri from Hartford for the game with Montreal on Saturday and Shattenkirk returned to the list.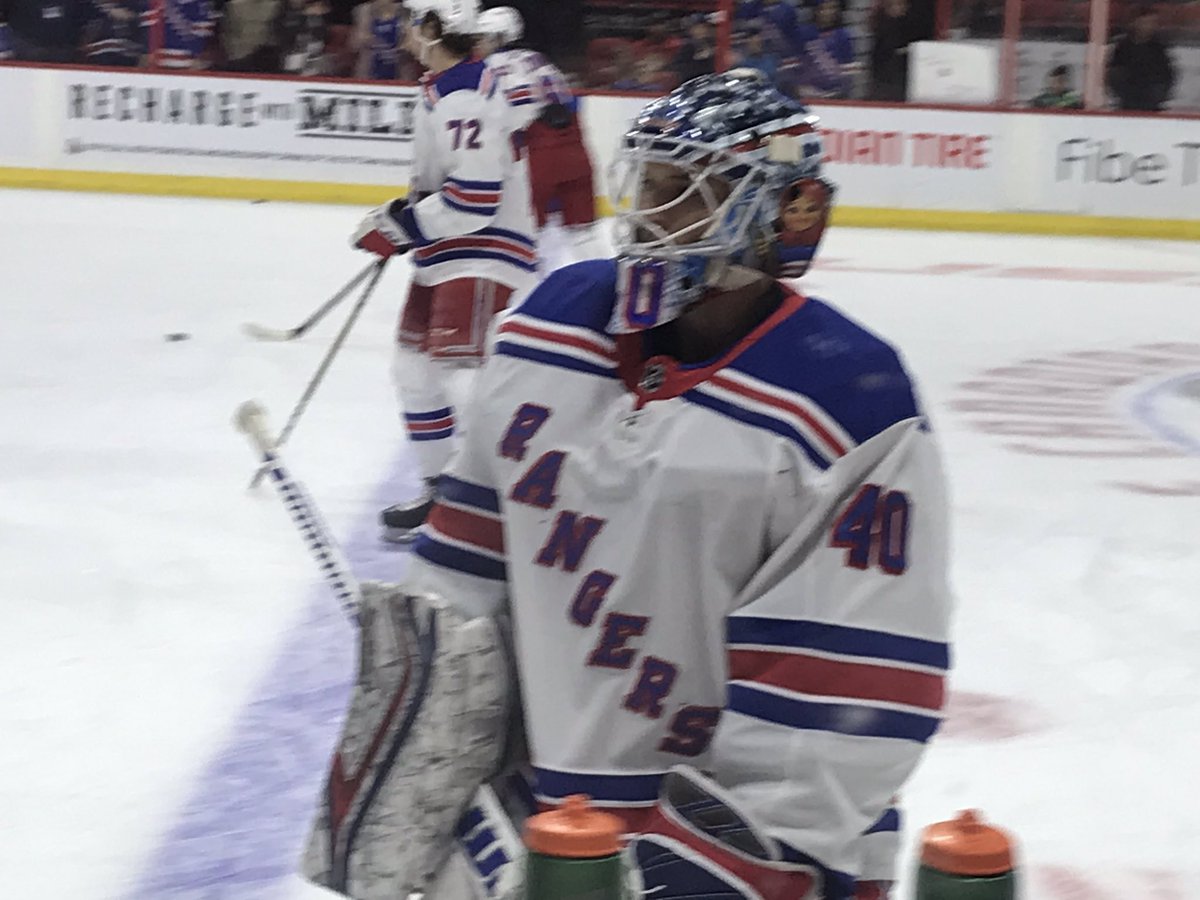 Going into this game, I thought Lundqvist should've started, as I would give Georgiev the start against Montreal, because of Lundqvist's history there. I can't do the hindsight is 20/20 thing here once again, but the Rangers do score more for Georgiev, as Georgiev is Top 3 in the league in goal support.
I just don't know what it is with the Rangers and Lundqvist, in these games against bottom feeder teams, such as Chicago, LA, Detroit, Philly and now Ottawa. Obviously, our expectations are higher than at the beginning of the season, which is why it is befuddling that the Rangers can't take care of the crappier teams on the schedule.
There's not much to say about this game, outside of saying the Rangers sucked. Ottawa played a great game and made the Rangers look like a junior varsity team.
I will say – when the Rangers got spanked and embarrassed in that game with Philly, I, and many others, including Quinn, chalked it up as "just one of those games." However, to me, you can't do that here, as you can't have "just one of those games" twice in a week's time. When you have two games like this, it's cause for alarm and concern.
I really don't have much to add, and I don't want to ruin what was a great day, before this game, by going on and on about how much the Rangers looked like a wet diaper in this game.
All I know is this – the Rangers better wake the eff up against Montreal, because with Winnipeg on Sunday, then five days off, it could be a dark and stormy time in Rangerstown, if the Rangers don't answer the bell.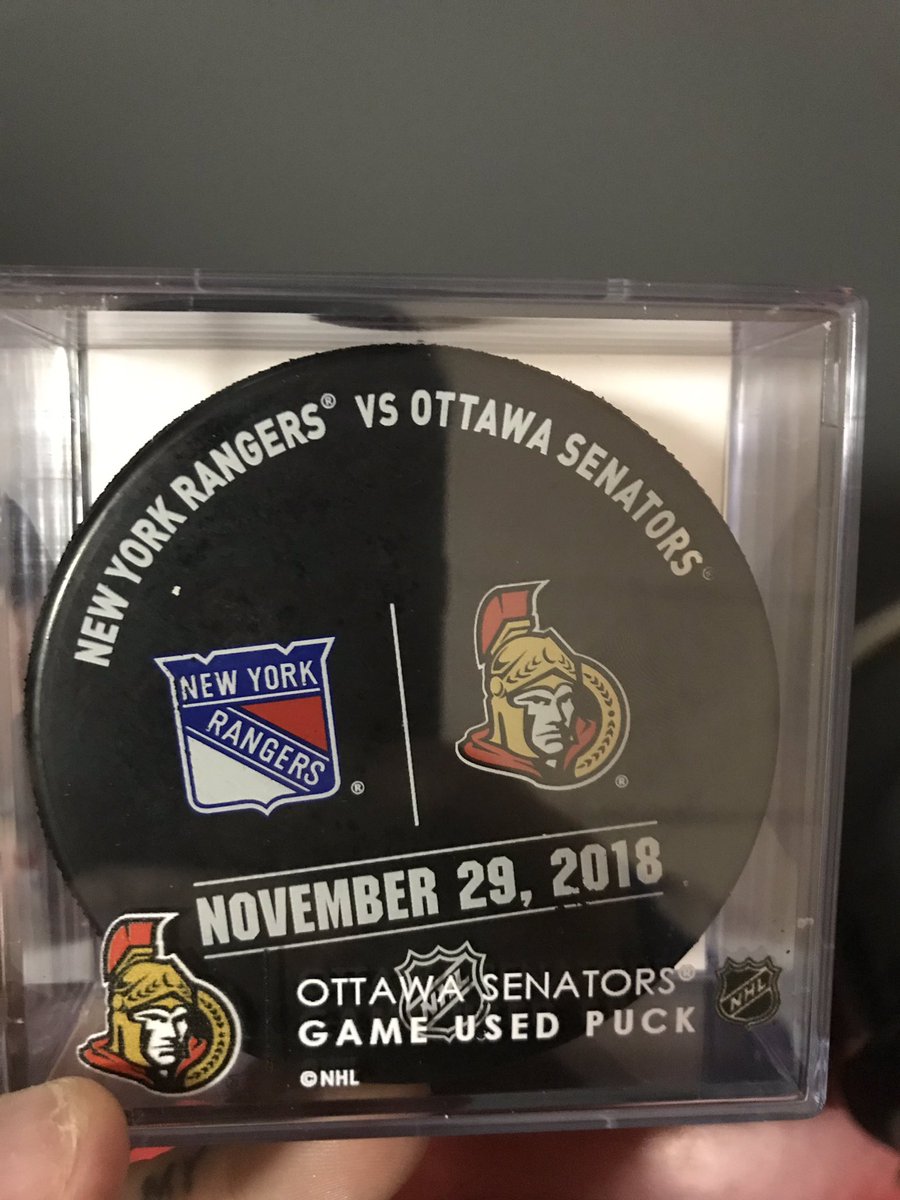 What can I tell you that you don't know already? Quinn and the Rangers gotta figure this out before things spiral.
Well I think this blog has gone on long enough. It's Friday in Montreal, which means we will be hitting the Casino, Schwartz's Jewish Deli, and of course, St. Catherine's Street.
I got an early flight home Sunday morning, so I may combine the Montreal road trip blog with the Jets game on Sunday night. If I can, I'll try to get something up after the Montreal game, but typing this out on a phone is not easy!
Until then, as always, thanks for reading and….
"LET'S GO RANGERS"
Sean McCaffrey
BULLSMC@aol.com
@NYCTHEMIC on twitter