Greetings and salutations everyone and welcome to another blog here on BlueCollarBlueShirts.com. Fair warning – if you're one of these people that drink the Henrik Lundqvist kool-aid by the gallon, you might as well go to the MSG website now. On that site, you can listen to Steve Valiquette struggle to make excuses for Lundqvist for twenty minutes. I will not be as forgiving.
On Friday night, with the Rangers playing their second home game after a 12 day layoff from Madison Square Garden, the Rangers dropped a 4-3 overtime decision to the bottom-feeding Arizona Coyotes. While there have been worse losses during this season, (Chicago and Philly come to mind) this loss was the most pathetic. Furthermore, this loss was the most embarrassing, the most inexcusable and more proof that Henrik Lundqvist is the most overrated player in the history of the Rangers.
When over twenty of the teams in the NHL are over .500, it tells you that you must really fucking suck when you're not a .500 team. Welcome to Glendale, Arizona, where the Coyotes have been one of those sub .500 teams in which seems like forever. In tonight's epic shit show, the Rangers once again had a three goal lead at home, and for the second straight home game in a row, Lundqvist coughed it up and lost the game in overtime. King my ass.
Let's face it – YOU CAN NOT LOSE TO THE ARIZONA COYOTES. Not at home and not like this. When the Rangers dropped the game to Winnipeg on 12/2, they were outplayed for the majority of the game, but somehow fluked themselves to a 3-0 lead before Lundqvist choked like David Carradine in a seedy hotel room. Well once again, Lundqvist must've been at that fleabag rat-trap known as the Pines Motor Lodge, because like Carradine in a seedy hotel room, he choked another three goal lead tonight, and under worse circumstances than the game with the Jets. PATHETIC!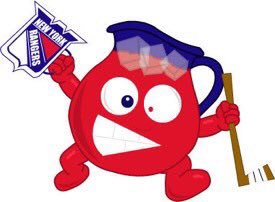 This is a tough blog to do, because like that Kool-Aid man, I'm seeing red. I have talked about this a lot during the season – it's good that we care about the results of these games, because it means all that tank nonsense is on hold. Many of you are like me – crossing their fingers and hoping for a playoff run. A game like this is a kick to the frank and beans.
And yes, the Rangers did gain a point tonight, but there were no morale victories as a result. This was TERRIBLE!
As usual, this is the part of the blog where I plug my past work. I am very serious in hoping Frank Boucher gets consideration by the Rangers to have his number retired, but I know it's hard for me to try to plug a serious cause right now. After all, at the present moment, I'm shaking in anger, like Michael J. Fox on a rickety roller-coaster.
That said, if you haven't read the letter from Frank Boucher's granddaughter yet, you can read it below. I also did a blog on Kevin Shattenkirk during the week and you can find both blogs here:
---
---
---
---
---
---
---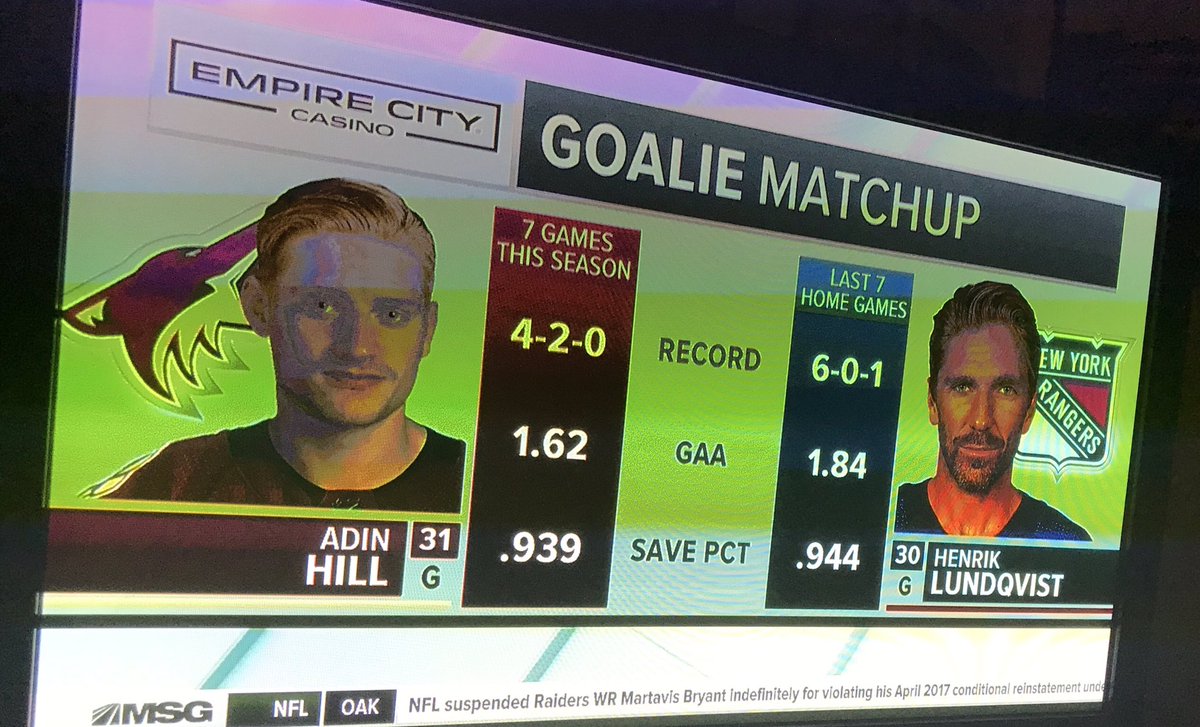 For those wondering right now, Adin Hill is a $725,000 cap hit. Henrik Lundqvist is a $8.5M cap hit. But yeah, tell me how Hank is worth the money and how much we don't deserve him. Get a fucking life!
Let me get to the news and the box score, before I unleash my fury about tonight. I'm telling you, after a game like this, doing this blog is therapeutic when it comes to releasing rage.
The biggest news going into this game was that Mats Zuccarello and Pavel Buchnevich returned to the line-up tonight. Both would log points in this game, as Buchnevich scored a beautiful PPG after an even better pass from Filip Chytil. Then, Zuccarello would make a great pass to Kevin Hayes, as Hayes would score a PPG as well. For a team that was lacking on PP attempts, PPG's and scoring in general, the "Zucc & Buch Connection" were greatly appreciated. However, Lundqvist had to waste their efforts and take away their heat.
Here was what Quinn rolled out tonight: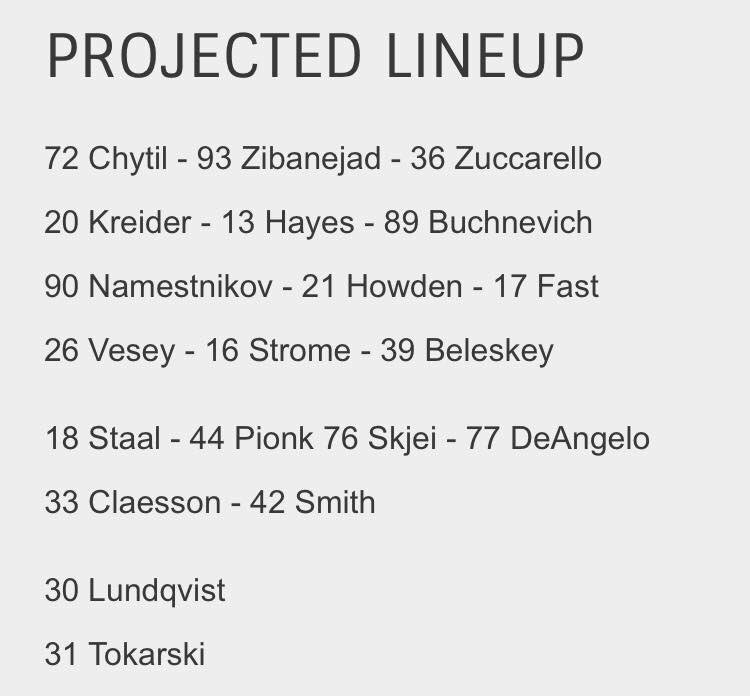 I've talked about the draft pick (which turned into Lias Andersson) & Tony DeAngelo for Derek Stepan & Antti Raanta trade a thousand times on this site. I've always maintained that the Coyotes look like they have won the trade in the present, but you can't really evaluate this trade for at least three years. Obviously, Lias Andersson is the wild-card in this trade. If he can develop into something special, the Rangers would have won the trade. However, currently, the Rangers were fleeced by a team that barely outdraws the low-life Islanders.
In all reality, do you know what would've made the Rangers look good in the trade with Arizona? If they drafted Chytil at number 7, and not another overrated Swede, in Lias Andersson. However, the Rangers, who always think they are the smartest person in the room on draft day, overreached once again, and went with Lias Andersson.
It's too early for the bust talk and while I like to joke and refer to Andersson as "Lias Jessiman" or "Lias Sanguinetti", the fact in the matter is that he still has time to develop. However, look around the league and you'll see other top ten draft picks quickly picking up the NHL game and being productive for their teams. Lias has struggled to pick up the NHL game. Making matters worse, at least to the eyes of the Rangers observer, is that Filip Chytil looks light years better than Lias Andersson. If the two were drafted in reverse order, Andersson wouldn't look as bad. However, as usual, the Rangers overrated another player at the draft and it's not looking hot right now.
Now you may be asking why the hell am I wasting so much time on Lias Andersson, a player who didn't even play in this game? That's my point exactly – LIAS ANDERSSON DIDN'T PLAY.
Here's what Quinn said before the game, when it came to the scratching of Lias Andersson:
"I think Lias needs to take a step back, and we're going to help him become a better player.

We've all talked about, is it better for him to be here or Hartford, and we think it's best for him to be here, whether he's playing every single game, or in and out, or doing extra stuff after practice. We just feel this is a big piece of his development."
Let me also go on a Vinni Lettieri side-bar. This gives credence to what I've been saying all season. Vinni Lettieri, who was not drafted, will not get the same chances or opportunity as the Lias Andersson's, Filip Chytil's or Vladislav Namestnikov's of the world.  The Rangers are willing to work with Andersson and hope to get him going. Despite Andersson scoring one goal this season, of the Forest Gump variety, "It bit me in the butt", the Rangers are holding off on deporting Andersson to Hartford.
I make no excuses for Lettieri. He doesn't have a point in nearly twenty games played. However, as I always say, look who he's playing with. He never got a chance to play with anyone in the top 6. While he's a scoring machine in Hartford, his role with the Rangers is always playing on a struggling and grinding mish-mash fourth line. Life isn't fair, and Lettieri needs to earn his time, as he won't be given a hand-out, as he isn't as heralded as the other young players on this team.
When you look at the trade of the 2017 draft, if it wasn't for the two injuries Raanta has endured, the Coyotes would have won the trade hands-down. Unfortunately, for as great as Raanta has been in the limited work he's had with Arizona, he hasn't been able to stay healthy. That fact gives the Rangers a temporary reprieve.
If you look at the Rangers rebuild, with hindsight being 20/20, you can say it started with this trade, when the Rangers gave up on Derek Stepan, who was their number one center. I won't argue with the pundits or fans who say that Stepan isn't a true number one center, but for the Rangers he was.
I've always said on this blog that salary cap hits are just as pertinent as any other stat in hockey these days. It's the only reason why the Rangers traded Stepan in the first place. However, when you watched this game tonight, in a singular vacuum, how much does it suck that it's Derek Stepan scoring the game winning goal in overtime, while Lias Andersson sits in the press box? It's a punch in the gut. I feel like Hayes after he hit the boards late in the third period.
And lastly, when it comes to the news, McQuaid, who is nearing return, was also in the press box tonight. With Shattenkirk also out, the Rangers still have six healthy defensemen, so there is no need to call anyone up at the present moment.
Many Ranger fans are clamoring for McQuaid's return, only because they hope to see what the Rangers get back for him in a potential trade.
Box score time.
As always, the following comes from ESPN.com:
SCORING SUMMARY:
1st Period
4:01

Pavel Buchnevich

(6)

(Power Play)

Assists: Filip Chytil, Jimmy Vesey

0
1
17:26

Kevin Hayes

(8)

(Power Play)

Assists: Mats Zuccarello

0
2
2nd Period
5:48

Mika Zibanejad

(10)

(Power Play)

Assists: Neal Pionk, Kevin Hayes

0
3
10:42

Jordan Oesterle

(2)

(Power Play)

Assists: Clayton Keller, Nick Schmaltz

1
3
3rd Period
13:11

Josh Archibald

(3)

Assists: Derek Stepan, Alex Goligoski

2
3
16:59

Oliver Ekman-Larsson

(3)

Assists: Clayton Keller, Nick Cousins

3
3
OT Summary
4:28

Derek Stepan

(7)

Assists: Nick Schmaltz

4
3
PENALTY SUMMARY:
1st Period
2:05

Jakob Chychrun:

2 minutes for Slashing

8:13

Chris Kreider:

2 minutes for Interference

17:00

Brad Richardson:

2 minutes for Hooking

19:11

Brendan Smith:

5 minutes for Fighting (Major)

19:11

Nick Cousins:

5 minutes for Fighting (Major)
2nd Period
5:41

Alex Goligoski:

2 minutes for Slashing

7:02

Brady Skjei:

2 minutes for High-sticking

9:14

Christian Fischer:

5 minutes for Fighting (Major)

9:14

Neal Pionk:

5 minutes for Fighting (Major)

9:14

Neal Pionk:

2 minutes for Unsportsmanlike conduct (served by Pavel Buchnevich)

11:12

Anthony DeAngelo:

2 minutes for Unsportsmanlike conduct

12:52

Jordan Oesterle:

2 minutes for Tripping

12:52

Richard Panik:

2 minutes for Unsportsmanlike conduct

14:33

Niklas Hjalmarsson:

2 minutes for Slashing
3rd Period
6:26

Oliver Ekman-Larsson:

2 minutes for Tripping

9:06

Marc Staal:

2 minutes for High-sticking
OT Summary
No Penalties This Period
GOALIES:
| | | | | | | | | | | |
| --- | --- | --- | --- | --- | --- | --- | --- | --- | --- | --- |
| SA | GA | SV | SV% | ESSV | PPSV | SHSV | SOSA | SOS | TOI | PIM |
| 34 | 4 | 30 | .882 | 19 | 3 | 8 | 0 | 0 | 64:23 | 0 |
| | | | | | | | | | | |
| --- | --- | --- | --- | --- | --- | --- | --- | --- | --- | --- |
| SA | GA | SV | SV% | ESSV | PPSV | SHSV | SOSA | SOS | TOI | PIM |
| 30 | 3 | 27 | .900 | 14 | 1 | 12 | 0 | 0 | 64:28 | 0 |
Do you know why I get so riled up after a game like this? It's because everything I predicted wound up happening.
On Monday's blog, I mentioned that I thought Georgiev should've got a start here. While I'm not saying that Georgiev has been better than Lundqvist this season (although Georgiev has the lone shutout of the Rangers season) I just thought that against a team like Arizona, if you're going to give a back-up goalie work, the Coyotes at home was a perfect scenario. I guess the same can apply to Tokarski here, but to me, long-term, I don't see Tokarski having a future with the Rangers.
In my last few blogs, while Lundqvist has been playing well this season, I have brought up that I didn't see it lasting long. In his last few games, he's been torched for 4+ goals repeatedly. While all the goals allowed are not 100% his fault, some of them have been.
The biggest problem with the Rangers is that they are somewhat in limbo. I've had this chat with several of you on social media and on the email. It boils down to this – are the Rangers rebuilding or are they trying to chase a playoff spot? Obviously, for the players and for David Quinn, they want the playoff spot. Georgiev isn't Talbot or Raanta. Hands down, Lundqvist gives this team the best chance to win. However, when he's on pace for 65+ games, Quinn is going to burn out his goaltender, and we're starting to see that a bit now.
The schedule is why Lundqvist has been playing so much of late. With all the days off between games, you would think this Rangers team is a team from 1926-1965, when the circus would bump games out of the Garden. With so many days off, the thinking is that Lundqvist is rested and can continue to play. I understand that.
However, if this is a team rebuilding, when you got lowly teams like Arizona on the docket, this is when you should give your back-up goalie some work. With the Vegas Golden Knights and Marc-Andre Fleury up next, I thought the best bet would've been giving the back-up goalie some work here and then giving a fresh Lundqvist a start against his old rival.
For Quinn and the Rangers, they want to amass as many points as possible, so that is why Lundqvist is playing against the bottom-feeder teams of the league. Whether it's Florida, Detroit, Chicago, LA or Arizona, we've seen Lundqvist take these starts. That's not the move of a rebuilding team. That is a move of a team trying to win games.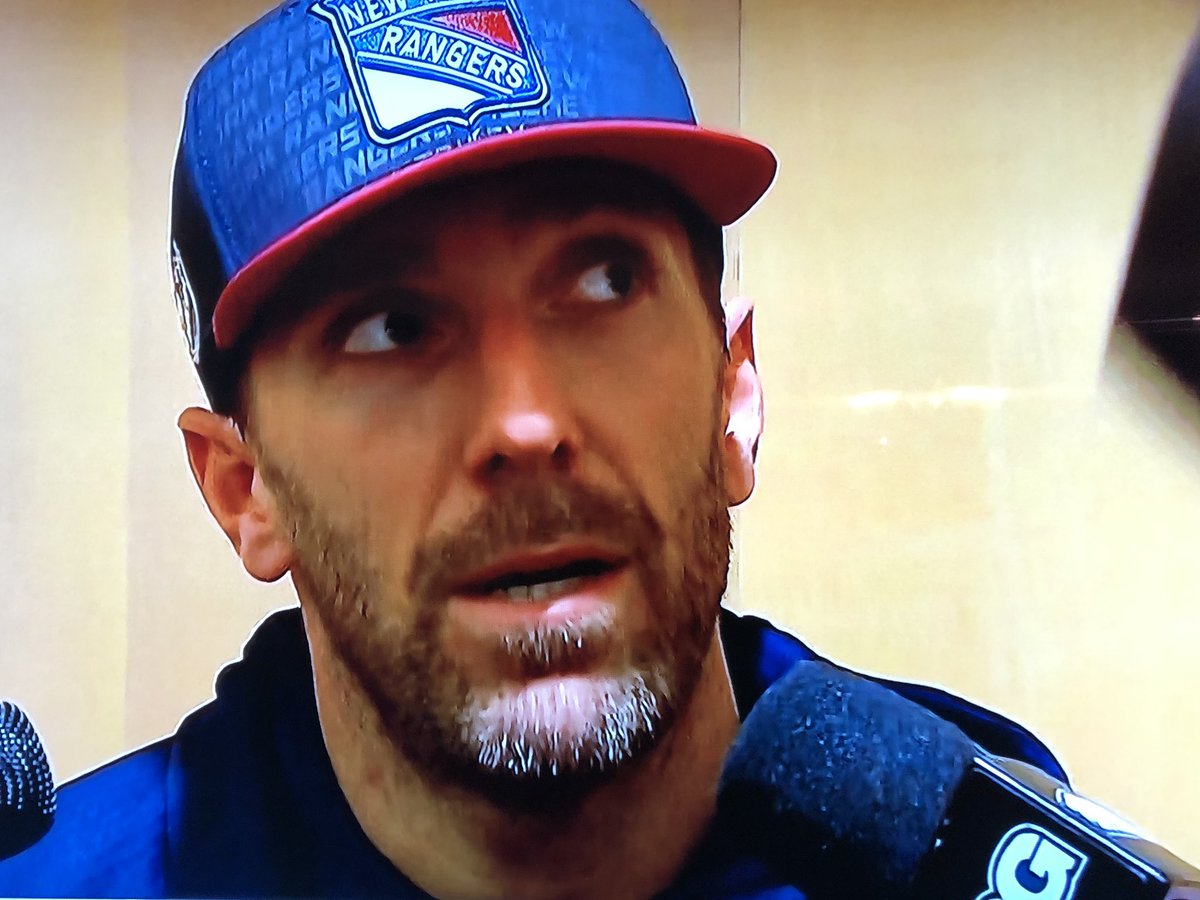 As I move along on this blog, I'll show you what I said at the time. However, before this game, I predicted the following:
— Stepan 1G, 1A
— Game goes over 6 goals
— Hank would blow a two goal lead (Bonus points, he blew a 3 goal lead.)
— A no-name goalie would outperform 30.
I know the Cult of Lundqvist is infuriated with me and will try to belittle my opinions, but if you go back on everything I've ever said on this site, have I ever been wrong when it comes to Lundqvist?
Joe Micheletti, who would take a bullet for Lundqvist, was the absolute drizzling shits tonight. Just the sight of his face on the broadcast makes my stomach do back-flips like a Russian gymnast. I will give Micheletti props though – he is consistent and has the best immune system in the business, as he never misses a game. You would think he would need his stomach pumped once in a while, considering all the swallowing he does.
In a new wrinkle to Micheletti's awfulness, during tonight's broadcast, he admitted that he watches Lundqvist during the national anthem. I mean, that's just mind-boggling and sickening to me. Instead of facing the flag, as many of us are ingrained to do since elementary school, Micheletti watches Lundqvist respect the American flag. I seriously think Micheletti is a half-half. And of course, as always, let me throw in the Seinfeld reference of, "not that there is anything wrong with that."
Seriously speaking though, unless a player on the ice is your son or family member, who the fuck watches someone else during the national anthem? Micheletti watches a non-American citizen and he openly admitted that during the broadcast. There is something deeply wrong with Joe Michletti and he should be shipped off to Guantanamo for just saying he obsesses with a Swedish man's reaction to the national anthem. Fucking freak.
When Henrik Lundqvist isn't doing charity on behalf of the other 30 teams in the league, by blowing every fucking lead he's ever had, Lundqvist does do a lot of charity for children in the New York area. For many kids, he's their hero. For those same kids, their hero has been just that for them, in their own individual personal experiences.
I don't know how many people have met their idols or heroes when they were a kid, but for some, a personal interaction with those people has been a letdown. I can't say the same about Lundqvist, as he does a lot of charity work, much of which isn't publicized. While tonight's stuff was publicized, very rarely, like Adam Graves, is Lundqvist's charity work brought up. I have to tip my cap to him on that.
One kid got to meet his hero tonight. However, the kid made a blooper when leaving the ice after the anthem, the same anthem that Micheletti was zoned in on Lundqvist:
Feels like how my week went…… pic.twitter.com/Yy4sDaXy6C

— Sick With It (@jsickles33) December 15, 2018
I don't want to allege this kid is unfortunate or battled with cancer, but many of these kids during "Garden of Dreams" week, are usually children, who are innocent victims of  horrible circumstances. I know it's ironic coming from me, but I thought it was in poor taste for Sam Rosen and Joe Micheletti to cackle about a kid falling down when trying to leave the ice. For all the shit I give Micheletti on these blogs, most of the time for comic effect, I truly thought Micheletti was a piece of shit for making fun of this kid.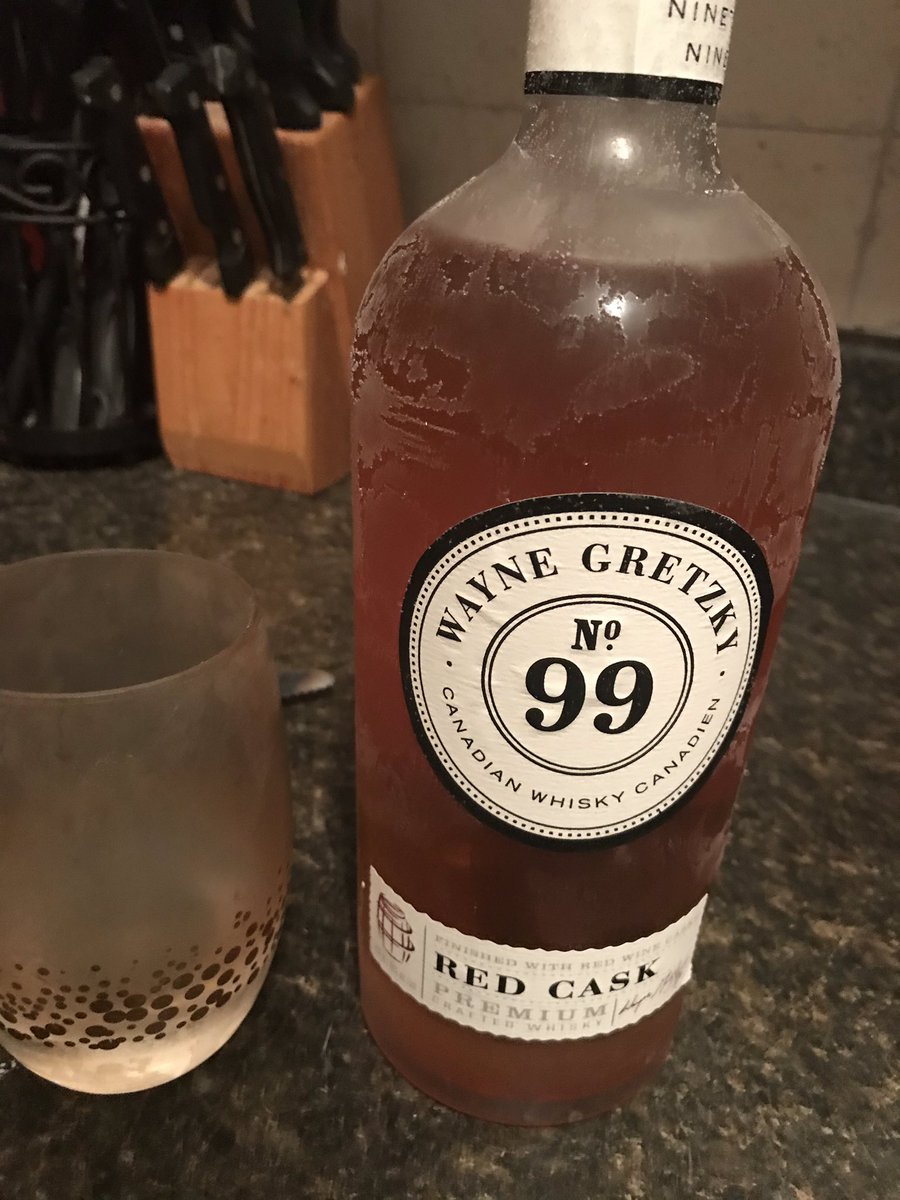 I don't care what anyone else says – this was a game the Rangers had in the bag and should've won. However, Lundqvist choked it away, as usual.
The Rangers had a 3-0 lead in this game, had the Coyotes on the ropes, but once again, Lundqvist gave up back-breaking and untimely goals, none worse than Derek Stepan scoring the game winner in overtime. As if Ryan McDonagh scoring a soft goal against Lundqvist on Monday wasn't bad enough.
How funny is it, that two guys who weren't fans of Lundqvist during their time here, had no problems beating him for big goals this week? And just like McDonagh, don't get it twisted- Stepan has to be ecstatic after this goal. Ex-players always love showing up their old teams. I just gotta wonder – did Stepan tell Lundqvist to calm down after blowing another lead and blowing another game? On the bright side, at least this wasn't a playoff game.
When Lundqvist blew the three goal lead against Winnipeg, during the last home game at M$G, at least the Jets were a good team and the Rangers were outplayed in that game. In this game, the Rangers dominated this game, especially in the first period and were just cruising all along. THIS IS A GAME THE RANGERS SHOULD'VE WON, but once again, the highest paid goalie in America couldn't hold it down when it mattered the most. He's like a brand new puppy, who wets himself at the first second of excitement.
Over the course of the last several games, the Rangers powerplay looked like the days of Scott Arniel. Even worse, they weren't getting many chances.
When the Rangers lost to Tampa last Monday, the silver linings were that Tampa is a Cup contender, the Rangers were banged up and it was a game where a great team beat a mediocre team. For the Rangers, getting a chance to host a bad team in Arizona, was just the perfect scenario for the Rangers to get their bearings back. It is why tonight's loss is so infuriating. This was a game that the Rangers should've took the two points in, get some confidence in, and then move on to the next one. Instead, while the Rangers got the loser's point in this game, this game left a horrible taste in your mouth.
Things started off great for the Rangers. After getting limited power-play opportunities, something Quinn and the Rangers talked about before the game, the Rangers would get a ton of power-plays in this game. In fact, they went 3-3 on their first three power-plays of the game.
At the 2:05 mark of the game, Jakob Chychrun was called for slashing. Towards the end of the power-play, the returning Pavel Buchnevich scored on a great goal-scorer's type of shot:
FILIP CHYTIL FEEDS PAVEL BUCHNEVICH! IT'S A POWER PLAY GOAL!#NYR pic.twitter.com/MYbLAn0eSU

— Hockey Daily (@HockeyDaily365) December 15, 2018
1-0, good guys. This was a huge goal, as not only did the Rangers score a PPG here, Buchnevich, who was heating up before his injury, got right back on the saddle with this goal.
One also can't overlook the pass made by Chytil. While Kevin Hayes was arguably the Rangers best forward in the game, Chytil had a tremendous game tonight. Too bad Lundqvist erased the positivity with another three goal blown lead. Seriously, for anyone who is HIV+, they should just rub Lundqvist on themselves, as he will always turn a positive into a negative. Where you at Charlie Sheen?
On another Micheletti aside, what did Ranger fans do in a past life to deserve this creep? Ranger fans were so spoiled with JD. At the time, we didn't know how good we had it. Right now, look at the other M$G broadcast teams. Islander fans get Butch Goring. Devil fans get Kenny Daneyko. Who do Ranger fans get? Some blowjob with no affiliation with the team. Even worse, the MSG Networks got rid of Ron Duguay, who was a huge fan favorite.
With an early Ranger goal scored, I was looking good in my gambling prediction:
Half goal drop from the game with Tampa. Hank is in net. Hammer the over tonight. #nyr pic.twitter.com/5QD3VVPa4v

— BlueCollarBlueShirts (@NYCTheMiC) December 14, 2018
Oh, and I also said this before the game:
Stepan has to be good for a goal an an assist tonight, right? #nyr

— BlueCollarBlueShirts (@NYCTheMiC) December 14, 2018
At around the 8 minute mark, Kreider was boxed for interference. The Coyotes PP unit, one of the worst in the league, looked like a well oiled machine. They would get four shots off. They wouldn't score which to his credit, speaks to Lundqvist and the PK. Even worse, Zibanejad & Namestnikov broke their sticks, yet the Yotes weren't able to score.
Even crazier, the Yotes entered this game with the league's best PK percentage, with a 90.7% success rate. However, as the first period unfolded, the Rangers would get their second power-play of the game, after Brad Richardson was caught for hooking. 26 seconds into the power-play, Zuccarello found the Rangers best forward of the season, in Kevin Hayes:
MATS ZUCCARELLO FEEDS KEVIN HAYES WHO TAPS ONE HOME! POWER PLAY GOAL!#NYR pic.twitter.com/ROzQXobPto

— Hockey Daily (@HockeyDaily365) December 15, 2018
2-0, good guys.
It was also this time in the game, where Sam & Joe reminded us, that for $1000, we could buy tickets to five games, and get a free piece of shit hat that was made by a 3 year old Chinese kid.
Oh, and after the goal, I smugly tweeted out:
Oh – and I'm sure Hank can hold a two goal lead. #nyr

— BlueCollarBlueShirts (@NYCTheMiC) December 15, 2018
Towards the end of the period, Brendan Smith won an unnecessary fight with Nick Cousins. When you're winning 2-0 and dominating the game, there is no reason to risk giving the other team a power-play. Fortunately, there was no instigator called and the 5 minute majors were off-setting.
At the end of one period, Rangers 2, Coyotes 0. This was a great start for the Rangers, especially after that game with Tampa.
Personally, my next road trip is to Colorado and Arizona, and I was just hoping the Rangers would play like this against the Coyotes when I go to Arizona next month. Instead, by the time the game was over, I felt like when Jim Carrey wigged out in "Me, Myself, Irene." (Of note: this was the first DVD I ever owned, as I bought this DVD a day before I bought "Goodfellas". Now you know!)
The second period was a complete shit show and pure havoc for the people keeping track of the stats & the box score.  There were 9 penalties called in the period, meaning there wasn't much five on five time in this period. In fact, when you look back at this game, while the Rangers played a lot of this game either a man-up or man-down, not scoring a five on five goal, wound up being crucial. That said, when you give Henrik Lundqvist a 3-0 lead, you expect the fuck to hold it.
Outside of all the penalties, the biggest part of this period was the $725k goalie, in Adin Hill, who after giving up a power-play goal to Mika Zibanejad, thus increasing the Rangers lead to 3-0, was just phenomenal in net. If it wasn't for Hill, the Rangers could've ran the score up to 4-0, 5-0 or 6-0. Instead, Hill saved his best work for this period and saved the Coyotes bacon.
At the seven minute mark, Skjei would get called for high-sticking. I swore, and this was one of the rare things I got wrong in this game, I thought this is when the Yotes would break up the shut-out. However, the Rangers killed the penalty and Skjei would live another day and avoid the QUINN BINN. (Credit: BlueShirt Underground Radio. Anyone else using this term either ripped it off or came up with it after BSUR.)
While I wouldn't say it was a turning point, the key part of the period was two-fold. In a play where both players were skating hard, Christian Fischer and Neal Pionk collided, with the end result being Neal Pionk slamming into Lundqvist. This was not a dirty play by Fischer at all. Fischer was driving to the net and Pionk was trying to stop him. Unfortunately, Pionk crashed into Lundqvist. Pionk then tried to compensate for his mistake and immediately went after Fischer. Fischer would easily handle Pionk in the fight. Even worse, Pionk got the instigator penalty, thus putting the Yotes on the power-play.
Just over a minute into the power-play, the Coyotes scored:
JORDAN OESTERLE SLAMS ONE HOME THROUGH THE SCREEN ON THE POWER PLAY!#OurPack pic.twitter.com/2ICrtm9nlc

— Hockey Daily (@HockeyDaily365) December 15, 2018
3-1, good guys.
I'm telling you, if Pionk is scratched Sunday, providing McQuaid is avaliable, I wouldn't be shocked.
In what would come back to bite the Rangers in the ass, was their special teams. The power-play was 3-3 at this point in the game.  It's hard to criticize the Rangers PP when they were already 3-3, but not scoring anymore PPG's in this game hurt them.
In a series of events, the Rangers would get a 5 vs 3 power-play, for about 1:40. No goals scored. Then, immediately after those Arizona penalties expired, the Rangers would get another power-play. No goals here either. Essentially, the Rangers had four straight minutes of PP time, with 1:40 of it being with a two man advantage. The Rangers couldn't score and that would ultimately play into the end of this game.
And as far as the Rangers not scoring here, Arizona netminder Adin Hill deserves all the credit in the world. He was stopping deflected pucks, shots while screened, shots on his door-step and point blank blasts. In other words, he stopped shots that you're not used to seeing the $8.5M cupless wonder stop.
Seriously, with all the penalties the Coyotes took in the second period, you had to wonder if they were giving out free handjobs in the penalty box. At one point, you had three Coyotes in the penalty box and the glass was fogging up like a car in the 1960's at a drive-in movie theater.
Oh and a funny ad ran here. In the Rangers next loss, when they play Vegas on Sunday afternoon, it will be "KIDS DAY." Nothing screams "kid-friendly" like Las Vegas. I'm sure Lundqvist will get lit up like the lights on the strip in that game too.
Oh, and in a new annoying trend, Micheletti does his "SAVE OF THE GAME" feature with minutes remaining in the second period. Of course, Micheletti said a pedestrian save by Lundqvist was the save of the game. I guess he closed his eyes when Hill was stopping everything during the four minutes of the Rangers power-play. Even stupider, by fawning over his Swedish demi-god all game, Micheletti looked like a fucking asshole, more so than usual, when Lundqvist blew the three goal lead and the game.
After a period that felt like it was an hour long, because of all the penalties, the Rangers would take a dreaded two goal lead into the third period.
The Rangers came out hot in the third period and it looked like it would be smooth sailing. However, Hill kept the Rangers off the board when it came to the five vs five game. I can't say the same thing about Lundswiss.
The Rangers were handling business as the period went along and dominated the puck. Chytil looked great. Hill just kept making the saves.
At the 13:11 mark and with the Rangers cruising, Derek Stepan found Josh Archibald, who easily beat Lundqvist to make the score 3-2. Enter the nerves.
As the period went along, Hayes got tripped up and crashed into the boards. He would need medical attention and I have no update on his status.
Then, at the 16:59 mark, and with your eye on the Arizona net, in anticipation of Hill being pulled, the thought of Hill being pulled would be moot, as Oliver Ekman-Larsson beat Lundqvist on a stop he needs to make:
OLIVER EKMAN-LARSSON GOES POST IN WITH A BEAUTY TO TIE IT!#OurPack pic.twitter.com/IQGmr0sfHZ

— Hockey Daily (@HockeyDaily365) December 15, 2018
3-3. This is unacceptable. Lundqvist is your highest paid player and the person you've built around. He is horrible in crunch time and this can not happen. Great goalies keep their teams in games and this is why you have people like Jason York saying that Lundqvist isn't a Hall of Famer. HE CAN'T EVEN HOLD A THREE GOAL LEAD AGAINST FUCKING ARIZONA!
The teams would skate out the regulation time and would then go into the overtime.
Blowing another three goal lead is just not acceptable, but it would've been easier to accept if the Rangers won this game. With Hill continuing to be a rock for Arizona and with Lundqvist once again playing great in the unnecessary overtime, Derek Stepan would eventually beat Lundqvist, with just 32 ticks remaining in the extra frame:
Derek Stepan.

He'll remember this one. pic.twitter.com/lGgxpvcjlq

— Arizona Coyotes (@ArizonaCoyotes) December 15, 2018
4-3, Coyotes, in overtime. DISGUSTING. HORRENDOUS. PATHETIC.
In just one week, two ex-Rangers, who were jettisoned from this organization, while the team still has this insane idea that building around Lundqvist is the right idea, beat Lundqvist on shots that the overpaid goalie should've saved. This team will never win a fucking cup as long as this $8.5M cancer is here.
What was aggravating and trolling, was when Valiquette was breaking down the game during the post-game portion of the MSG3 broadcast. It's not Vally that bothered me, it was the MSG Networks pumping in Christmas jingles over his words. The Rangers just lost a fucking back-breaker and that mutant Jeff Filippi decides that playing "The 12 Days of Christmas" over Vally's analysis was appropriate. Are you fucking kidding me?
That also inspired me to create a new song – "The 12 Days of Lundswiss." I'll save you all the build-up, and get right to the finish:
ON THE TWELFTH DAY OF CHRISTMAS, THE RANGERS REALLY FUCKED ME…
Twelve plus Cupless seasons;
Eleven crack addiction commericals;
Ten camera shots of Trautwig's teeth a teethin';
Nine Sam Rosen pardon me's;
Eight point five million dollars wasted;
Seven Pines Motor Lodges;
Six back-to-back goals given up to Tampa;
FIVE GOALS ALLOWED!
Four Vally pie charts;
Three goal lead a blowin;
Two goals and I don't got this;
And a one fucking stupid Joe Micheletti!
See you Sunday after the game with Vegas. As far as this game goes, I have had enough.
Sean McCaffrey
BULLSMC@aol.com
@NYCTHEMIC on twitter