Greetings and salutations and welcome to another blog here on BlueCollarBlueShirts.com. I don't see myself going too long today, as I have my eye on the Redzone channel and my fantasy football team. However, from the "woe is me" department, my fantasy football team found a hell of a job to not show up this week, which pretty much sums up the Rangers during the majority of this 4-3 OT loss to the Vegas Golden Knights.
If you didn't see this game, which had a rare 12:30PM start time, you might look at the score and thought this was a close game. It wasn't. Most of the game saw Henrik Lundqvist turn in his finest game of the season. Seriously, you may have heard I'm not the biggest Henrik Lundqvist or Joe Micheletti fan, but even I couldn't blame Sam & Joe for going on and on and on and on and on and on (you get the point) about Henrik Lundqvist. For nearly 40 or so minutes, there wasn't much else to talk about.
Lundqvist turned in some of his finest saves of the season in this game, making odd-man rush saves, sliding to make a stick save, flashing the cow and in what I thought was the best save (others will go with the stick save, because it's visually more impressive) was when Lundqvist stopped a deflected puck, while semi-screened and which took an odd "infield" bounce in front of him.
However, for as great as Lundqivst played, the same stuff that plagues Lundqvist was all there. The Rangers, who looked like the inside of a diaper of a baby that's corn-fed, would be down 2-1, but would tie the game. Of course, (and as I predicted at the time) Lundqvist immediately gave up a goal, thus putting Vegas back in the lead. Then, unlike other overtime games this season, Lundqvist brain-farted in the overtime, got caught going down too early and Alex Tuch would easily beat him for the game winning goal, despite having to take a bad angle shot. But hey, at least it wasn't Nick Holden with the game winner, right?
For most of the game, Vegas dominated the Rangers, but Lundqvist would deny them time and time again, with Wild Bill Karlsson receiving the bluest of balls. Karlsson would log 5 shots on Lundqvist today, with each shot looking extremely good. Two of the shots looked like slam-dunk goals, but Lundqvist denied the man in the number 71 jersey.
Where the Rangers lost their most pathetic game of the season on Friday, this game wasn't that. The roles were reversed. Instead of Lundqvist choking away a three goal lead to a bad team, Lundqvist held the Rangers in there against a good team. However, when it was all said and done, just like Winnipeg on 12/2 and Arizona on 12/14, the other team skated off the ice, in victory, after the free hockey portion of the game.
To me, Lundqvist was the scapegoat in the Friday game. In today's game, you would need some extra fingers on your hands if you wanted to finger-point at some goats. Perhaps the biggest finger, the middle finger, should go in the direction of Brady Skjei, who had just a horrid and terrible game. And yes, while he did score the first goal in the contest, that was more of being in the right place and at the right time, more than anything else. If anything, I was more impressed with Buchnevich's pass, which set up that goal.
If you want to play the blame game, you could start with most of the people on the ice and behind the bench. Skjei, to me, was the worst player of the game. You can look at DeAngelo and Pionk on certain plays. Yes, Chris Kreider showed up in the third period, but where was he the first forty minutes? Lias Andersson continues to teeter towards the Sanguinetti & Jessiman territory. This defense, which is the worst its been in some time, is still led by Lindy "Who knows why I'm here?" Ruff. Did Jimmy Vesey even play in this game today?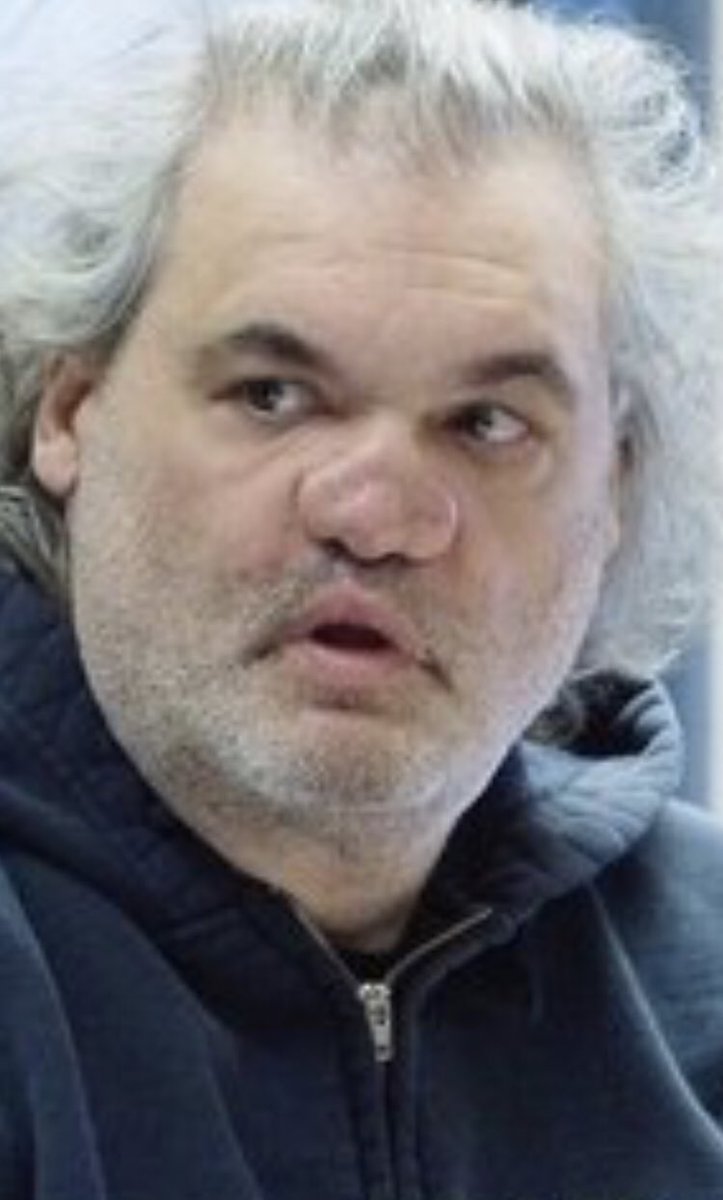 I don't mean to sit back and just bury everyone, but it was that kind of game. For two periods, the Rangers didn't do much and relied on Lundqvist. They showed up in the third, but this is a 60 minute game. That said, the Rangers had a chance to win, but is anyone shocked when Lundqvist gives up a bad goal late? After all, Lundqvist has lost his last 7 straight playoff overtime games in a row. I'm used to it by now.
If you're looking to heap praise on any Ranger skater today, I would look in the direction of Kevin Hayes. After Hayes, you're just trying to come up with something.
As this team continues to pull a Tom Petty and sees themselves"Free Fallin'" in the standings, you will see people start talking about Jack Hughes again. It's human nature and I guess it's inevitable. The Rangers are closer to the cellar than to a playoff spot. After this game, the Rangers are now 14-13-5 and still remain with the least amount of ROW wins in the NHL with 9. To put that into perspective, right now, there are nine teams in the NHL that the Rangers have more points than. However, all 9 of those teams, who standings-wise, are worse than the Rangers, have more ROW wins than the Blueshirts.
As the weeks move on, more and more, it's looking like that 9-1-1 winning streak was a fluke. Whether it was a combination of all the shoot-out victories, playing struggling teams or what, the Rangers have been more stuffed than a turkey ever since Thanksgiving Day. It's tough to watch.
I know that many of us have the "it's a house money/it's a rebuild season" attitude, but in the moment, you don't want to see the team lose three straight overtime games in a row. When Senile Sather is still the team president, it doesn't give you much faith that this team can build right anyway. And really, Jeff Gorton is questionable too, because after all, look at his "TRIPLE S" of high money defensemen. Shattenkirk, Smith and Skjei haven't even come close to earning the money or the years that Gorton gave them.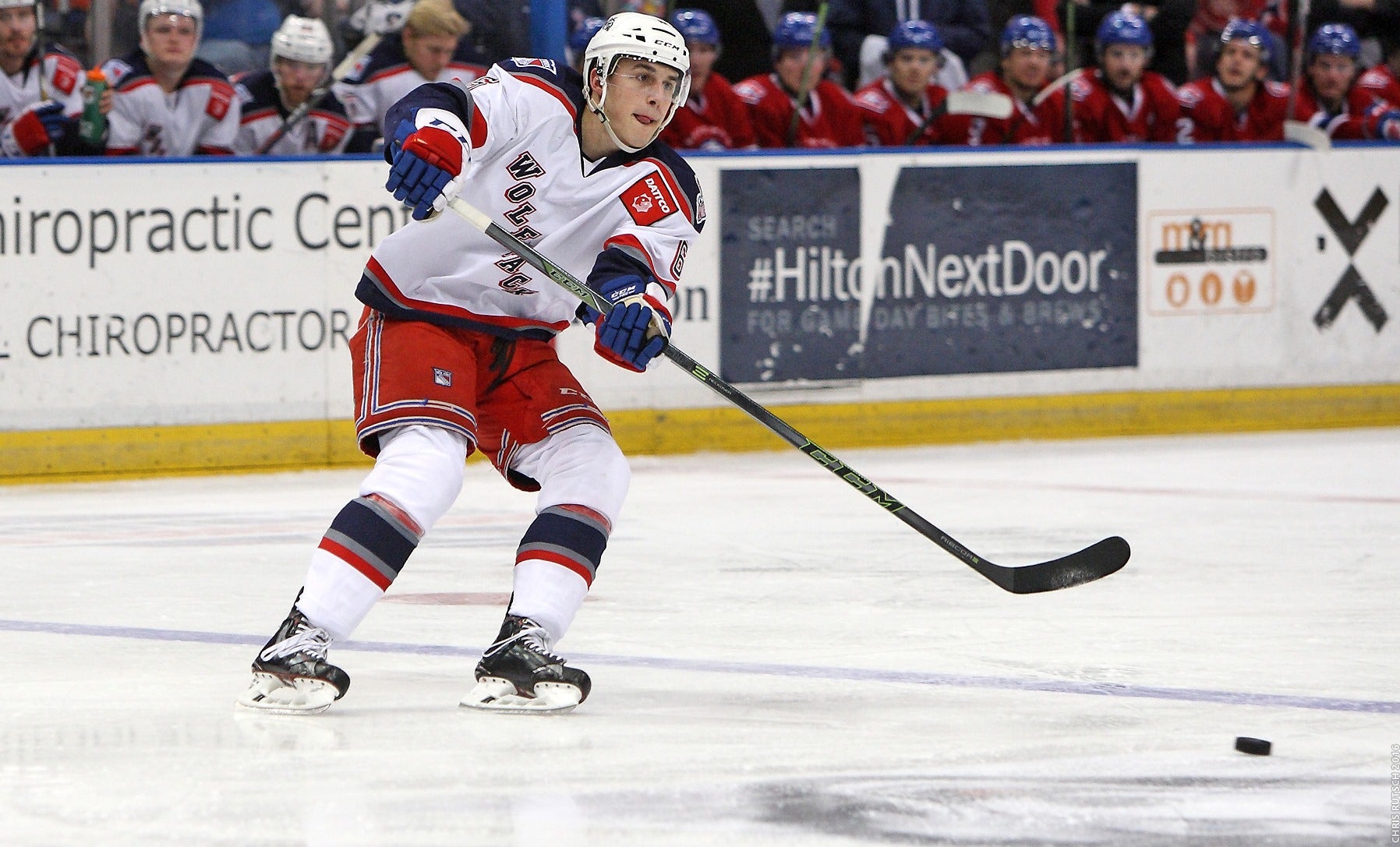 As usual, here are my last few blogs in case you missed them:
---
---
---
---
---
---
---
Another day has gone by and in what's becoming a trend, another Ranger will be missing a significant amount of time.
This graphic appeared on the broadcast today: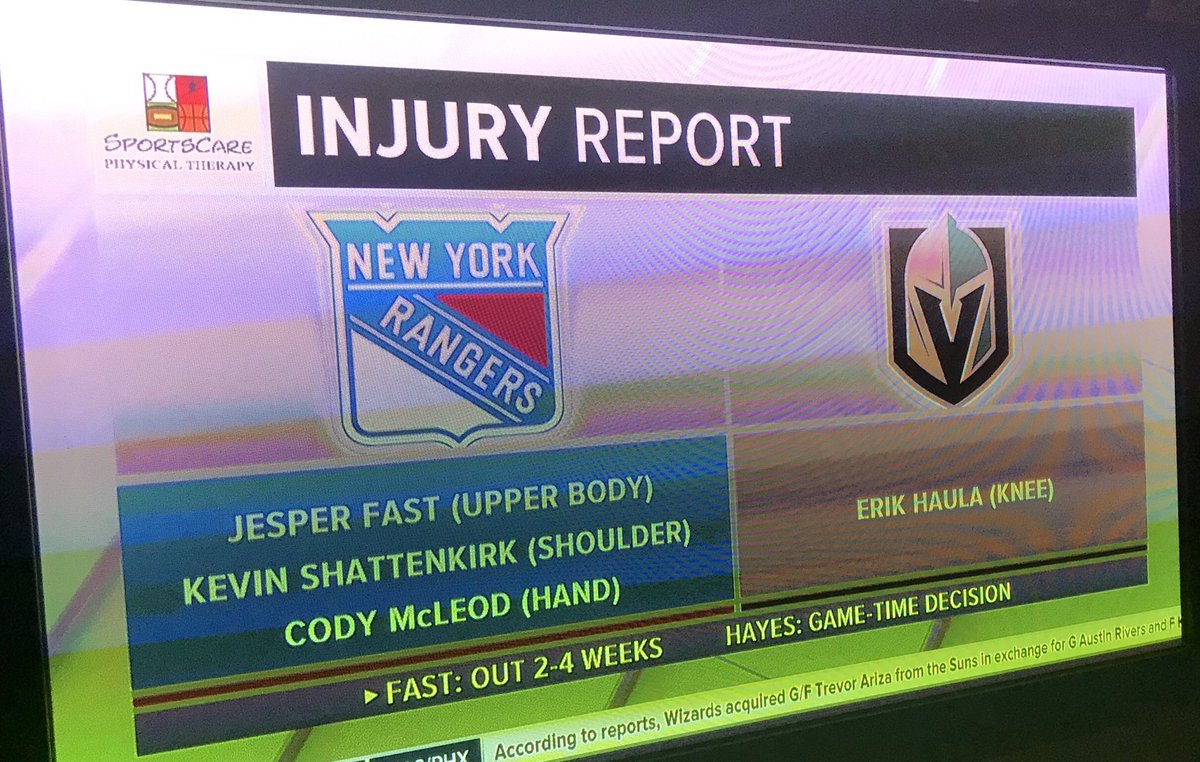 Jesper Fast is the latest member of the Rangers to join the walking wounded, as Fast was ruled out for the next 2-4 weeks, with a dreaded "UPPER-BODY" injury. I've talked about this vagueness before. It's about time, especially with the NHL pushing gambling and fantasy sports, to release specific injury information. This isn't the Original 6 era anymore. Furthermore, with replays, fines and wanting the sport to be clean, it's very tough for other teams to single out a specific body part of a player.
For example, if Fast hurt his shoulder, are teams really going to be running at his shoulder all game? If he has a concussion, then say it. Head-hunting is not part of the game.
The Rangers did get some good news, as Adam McQuaid returned to the team today. On McQuaid, he had a solid game today. However, he was just there. I still think he's gone at the deadline anyway.
Sitting in the press box was Brendan Smith, who didn't get a chance to play against his brother today, in Reilly Smith. I wonder how Brendan Smith feels about David Quinn, after being scratched from the dad's trip and being scratched in this game today against his brother?
In Fast's vacated spot, Boo Nieves was recalled from Hartford and he made his 2018-2019 debut today. I still prefer Lettieri, but to each their own. I guess it was about time that the Rangers see what they have with Nieves. I'm already on record – I don't see Nieves here, come the 2019-2020 season. This news also meant that Matt Beleskey sat in press box with Brendan Smith.
With all this said, here were the lines:
FIRST LINE: Chytil/Zibanejad/Zuccarello
SECOND LINE: Hayes/Kreider/Buchnevich
THIRD LINE: Vesey/Namestnikov/Howden
FOURTH LINE: Nieves/Andersson/Strome
FIRST D-PAIR: Staal/Pionk
SECOND D-PAIR: Skjei/DeAngelo
THIRD D-PAIR: Claesson/McQuaid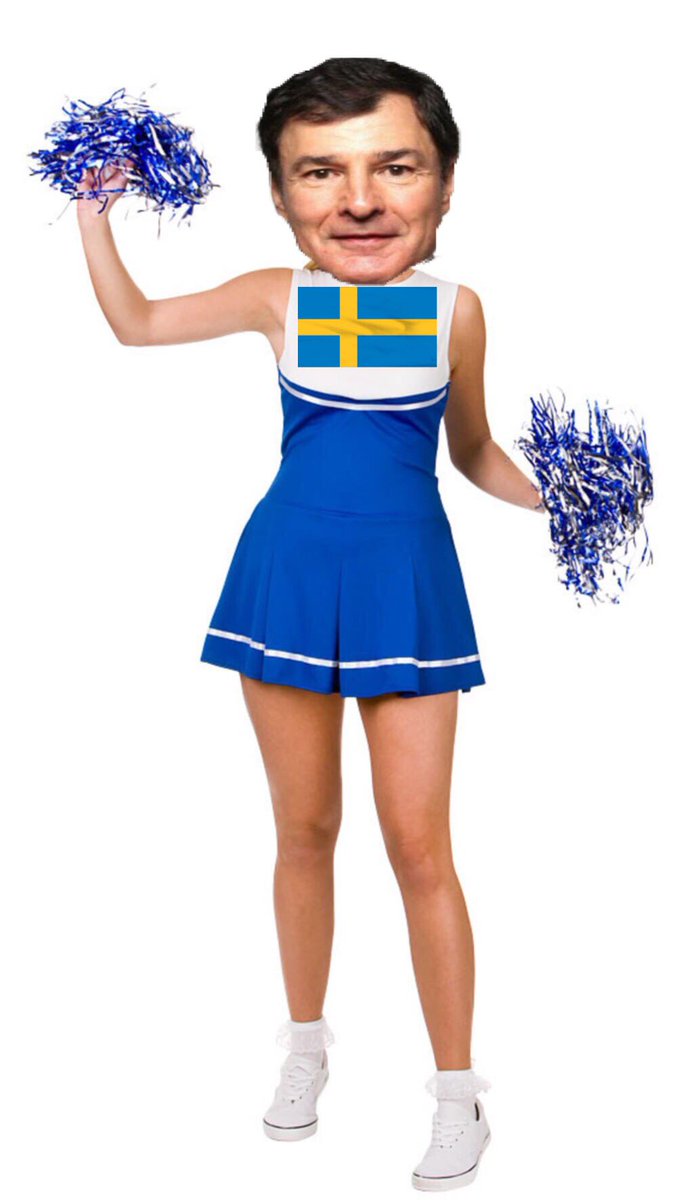 ESPN.com box score time:
SCORING SUMMARY:
1st Period
1:13

Brady Skjei

(3)

Assists: Pavel Buchnevich, Kevin Hayes

0
1
11:40

Reilly Smith

(7)

(Power Play)

Assists: Colin Miller, Jonathan Marchessault

1
1
2nd Period
6:09

Paul Stastny

(1)

Assists: Max Pacioretty, Alex Tuch

2
1
12:10

Mika Zibanejad

(11)

(Power Play)

Assists: Kevin Hayes, Mats Zuccarello

2
2
13:12

William Carrier

(7)

Assists: Tomas Nosek

3
2
3rd Period
3:29

Chris Kreider

(15)

Assists: Kevin Hayes

3
3
OT Summary
2:11

Alex Tuch

(12)

Assists: Paul Stastny, Colin Miller

4
3
PENALTIES:
1st Period
3:26

Jonathan Marchessault:

2 minutes for Slashing

10:35

Kevin Hayes:

2 minutes for Boarding

12:38

William Carrier:

2 minutes for Hooking
2nd Period
11:37

Reilly Smith:

2 minutes for Slashing

18:27

Anthony DeAngelo:

2 minutes for Holding
3rd Period
5:46

Oscar Lindberg:

2 minutes for Cross checking
OT Summary
No Penalties This Period
GOALIES:
| | | | | | | | | | | |
| --- | --- | --- | --- | --- | --- | --- | --- | --- | --- | --- |
| SA | GA | SV | SV% | ESSV | PPSV | SHSV | SOSA | SOS | TOI | PIM |
| 41 | 4 | 37 | .902 | 35 | 0 | 2 | 0 | 0 | 62:11 | 0 |
| | | | | | | | | | | |
| --- | --- | --- | --- | --- | --- | --- | --- | --- | --- | --- |
| SA | GA | SV | SV% | ESSV | PPSV | SHSV | SOSA | SOS | TOI | PIM |
| 30 | 3 | 27 | .900 | 20 | 1 | 6 | 0 | 0 | 62:11 | 0 |
When you see Fleury vs Lundqvist, you're reminded of their classic goalie battles and their playoff history. Fleury, who had a monster of a postseason last year, has struggled a bit this season. In today's game, despite the win and 27 saves, I thought Fleury looked shaky and very beatable. I would have to go back and count, but the Rangers probably had 7 or 8 loose pucks in front of Fleury, but just couldn't finish the job. I thought Fleury powered himself through this game.
While the play of the Rangers didn't help matters today, what did hurt them was when the Rangers finally woke up in the third period, so did Fleury, as he made a few highlight reel saves of his own. That said, there were times in the third period, especially during a Rangers power-play, where I thought the Rangers should've got one. Fleury got a bit lucky on that particular power-play.
Despite these two goalies playing, I felt that the over bet was the bet to make in this game. As usual, I was right with my prediction:
Hammer the over #NYR pic.twitter.com/lVckGaORgD

— BlueCollarBlueShirts (@NYCTheMiC) December 16, 2018
The reason I thought this game would go over six goals scored was because Vegas is on an East Coast road-trip and their body clocks had to have been thrown off. This was like a 9:30AM game for them. That could explain Fleury's jumpiness. Then again, the team in front of Fleury looked great today, so that might throw that theory out the window!
For the life of me, while I know not every Ranger fan is a football fan, I still don't get why they schedule games against the Giants or Jets when those teams are home. That said, on "KIDS DAY" (which means a one beer maximum at the beer vendors) the Garden had a decent turnout. However, when you promote something as "KIDS DAY", what does that mean about the other 40 home games on the schedule? Are the kids told to go fuck themselves on those days?
And not for nothing, every day should be kids day at MSG, as that is where you will get your future life-long fans. Let's just hope those kids get good jobs one day, because come twenty years from now, they won't be able to afford the $1000 seats in the 400's! Oh, and in twenty years, you will still have fans saying "WE DON'T DESERVE HENRIK LUNDQVIST", when the 56 year old Swedish cupless wonder takes his place in barrel for the Rangers.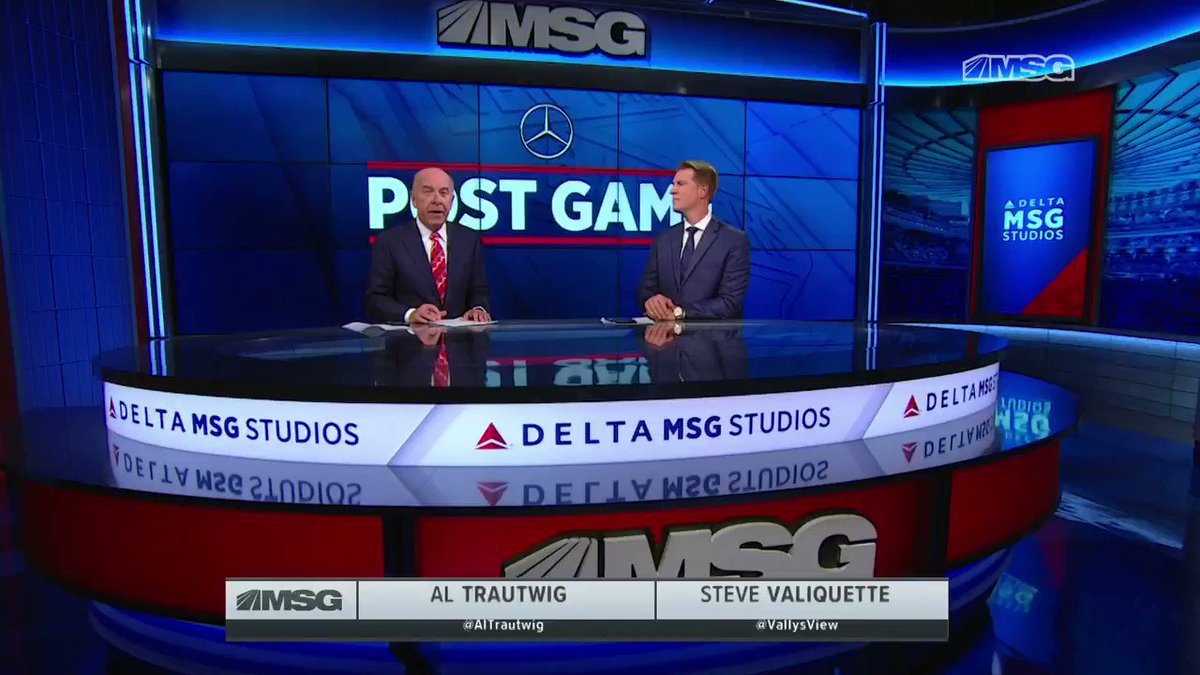 Over the last 18 months, we've seen Vally & Trautwig display their comedy stylings during broadcasts. However, when they are paired up together for a whole game, they are more serious, which means their banter is non-existent. I know Trautwig is coming off a tragic event, so maybe Vally is pulling back the horses a little. That said, it's just too much of these two and this was another game where you missed Ron Duguay.
I mean seriously, when Vally & Al were previewing this game and recapping the loss to Arizona, these two were blaming the Rangers power-play for the loss. I talked about the power-play in my last blog, so I won't rehash myself. They were 3-3 at one point and gave Lundqvist a 3 goal lead. What more do you want? NOT ONE PEEP was mentioned from these two about Lundqvist blowing his second three goal lead in a row. Instead, Vally and Trautwig just blamed the Rangers power-play for the loss. I get the MSG narrative that Lundqvist can do no wrong, but to not even gloss over that fact just makes this broadcast FAKE NEWS.
As this game went along, Joe & Sam fawned over Lundqvist all game. I really can't get mad about that because they had nothing else positive to say during the time. However, Sam & Joe had no problem burying the team for every little thing. They too, were also mute when Lundqvist was blowing that three goal lead to Arizona. I know it's ironic for me to be saying this, but how about some balance folks?
After fears of the Rangers playing in another ho-hum afternoon game, it looked like the fears would be alleviated, as early on, just 73 seconds into the game, Brady Skjei capitalized on a two-on-one chance, after this perfect feed from the intoxicating Pavel Buchnevich:
BRADY SKJEI SLAMS HOME THE PAVEL BUCHNEVICH DISH!#NYR pic.twitter.com/3PLEmIGaRe

— Hockey Daily (@HockeyDaily365) December 16, 2018
1-0, good guys.
However, after this goal, sans a Mika Zibanejad PPG, this game would be the Henrik Lundqvist show for 40 minutes. Who knows what Lundqvist thinks, but I gotta believe he wanted to make up for that game with Arizona. He was dialed in.
The Rangers would get a power-play two minutes after the Skjei goal, but wouldn't log a shot on goal. That can't happen on a power-play.
At the half-way mark of the game, Lundqvist made his most visually impressive save of the game. (As mentioned above, I thought the deflecting bouncing puck save was better, but I can't find a clip of it.) Anyway, here's the highlight reel save:
HENRIK LUNDQVIST SPRAWLS TO MAKE AN UNBELIEVABLE DIVING STICK SAVE TO ROB KARLSSON BLIND! OHHHH MY!#NYR pic.twitter.com/JacBzBC5Ye

— Hockey Daily (@HockeyDaily365) December 16, 2018
Seriously, Karlsson could've had a hat-trick today, but Lundqvist had a hard-on for him.
At the 11:40 mark and with Lundqvist already making a few good saves, Vegas scored a freaky power-play goal. VGK got the PP after Kevin Hayes was boxed. Here's Reilly Smith:
GOAL. Knights score on the power play. Unsure if the goal will be awarded to Colin Miller or Reilly Smith. pic.twitter.com/uMo6yQa7hA

— Ryan Quigley (@RP_Quigs) December 16, 2018
You can watch this goal a hundred times, and who knows how the puck went in? The puck richocheted off the back board, caught Lundqvist or maybe McQuaid or Skjei, and somehow went in. If anything, this PPG was the result of shooting at the net and hoping for good things to happen.
The Rangers didn't mount much offense, do any hitting and were scared to forecheck. By the time the first period ended, Vegas already doubled the Rangers up on shots, leading that stat by a tally of 15-7.  The score remained at 1-1 at the end of twenty minutes and the Rangers were very fortunate.
The second period was a defensive mess for the Rangers.
Lundqvist would make a ton of saves in this period and I thought this was his best period of the game. This is when Sam and Joe just started whacking themselves off.
Six minutes and change into the period, Paul Stastny made Brady Skjei look like an asshole:
PAUL STASTNY DRIVES TO THE NET AND SCORES THE EASIEST GOAL OF HIS CAREER! #VegasBorn pic.twitter.com/vhWxPYvZv1

— Hockey Daily (@HockeyDaily365) December 16, 2018
2-1, bad guys.
After the goal, and during a TV timeout, David Quinn was trying to talk to his players and you know, do his job. Instead, Henrik Lundqvist was screaming at his defense who were on the bench. I understand Lunqvist is frustrated during a game like this, but let Quinn do his job. It's not like the team screams at him when he's blowing every three goal lead possible.
And really, what the fuck does Lindy Ruff do here? Does he make a great coffee for Quinn? I don't see why Ruff is here at all. I've already shared pictures of his plays on this blog. WHAT DOES RUFF REALLY DO HERE?
When the goal was scored, for the next minute, Micheletti was ripping the team. He's such a parody of himself that I can't even get mad.
The Rangers would then get a break, when the defense fell apart again and Tuch scored a goal. However, the refs blew the whistle during a scrum, thus negating a goal.
Reilly Smith would take a penalty a little after the mid-way point of the second period, putting the Rangers on the power-play. This time they made the most of it, as Zibanejad scored after a wicked blast:
MIKA ZIBANEJAD WITH THE POWER-PLAY BLAST FROM THE POINT! #NYR pic.twitter.com/xAEAtomWlO

— Hockey Daily (@HockeyDaily365) December 16, 2018
2-2.
I've said it before, and I'll say it again, while I know Zuccarello and Hayes are the "sexy" names fans want traded, I would trade Zibanejad while his stock is high. I'm worried about that NMC that kicks in next season and about his history with concussions.
This goal gave the Rangers some momentum and it woke the Garden up. Here's what I tweeted after the Zibanejad goal:
This is where Vegas scores a softie #nyr

— BlueCollarBlueShirts (@NYCTheMiC) December 16, 2018
62 seconds later, William Carrier made this a 3-2 bad guy lead:
WILLIAM CARRIER WALKS IN UNTOUCHED AND WRISTS ONE HOME FROM THE SLOT!#VegasBorn pic.twitter.com/iNfhAvQT4h

— Hockey Daily (@HockeyDaily365) December 16, 2018
Ok, ok, ok – this wasn't really a soft goal, but this is a save Lundqvist should've made, especially the way he was playing. To be fair, I thought the same thing when Kreider would later beat Fleury.
However, my point here is that so many times, the Rangers get some momentum and then there is Lundqvist with the red light going off behind him. Even when Hank is having a great game, and I know some of the Hank Cult likes to use the word "vintage" here, which implies he plays bad in other games, these goals against always happen. It's the same movie over and over.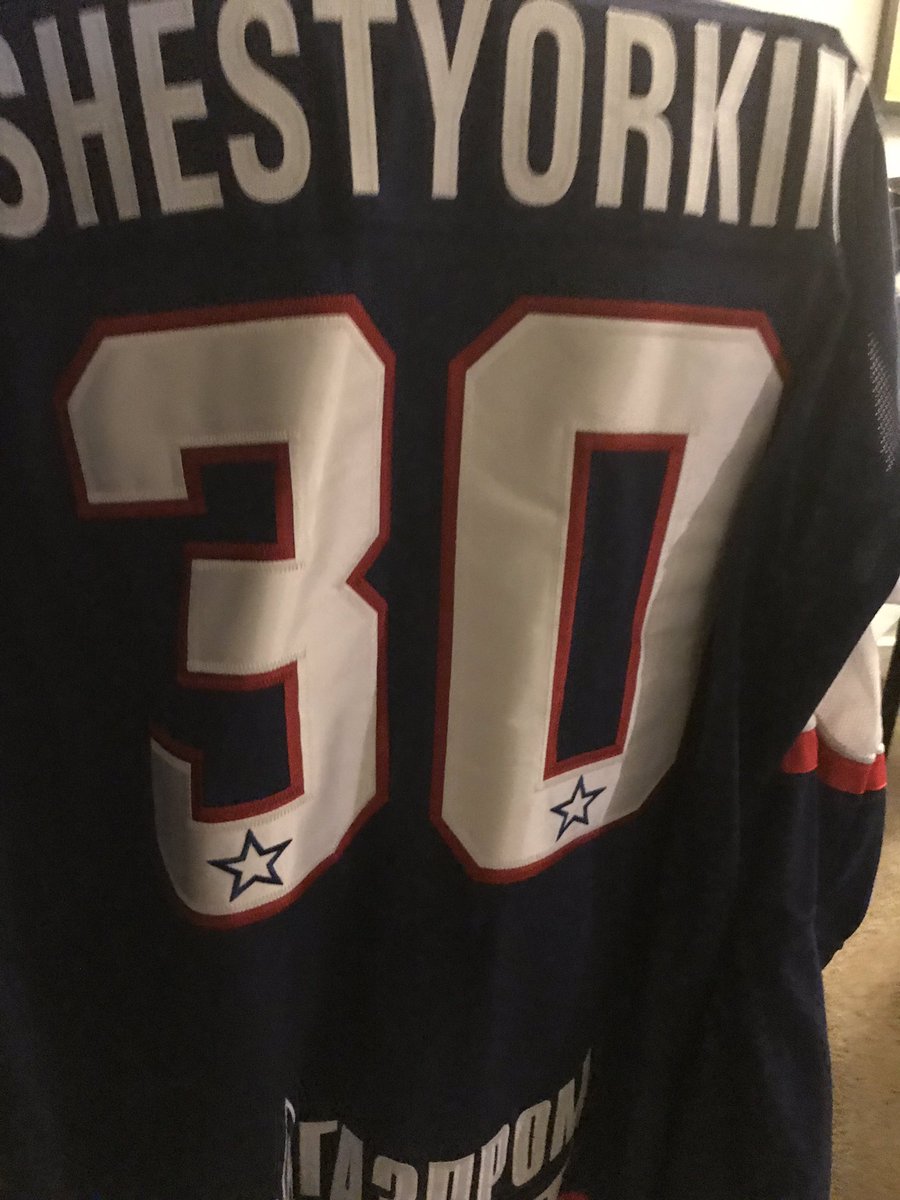 And yes, Lias Andersson is the goat on that goal allowed. He knew it too, as he hung his head on the bench after the goal.
Speaking of Andersson, how about this tweet from @3Rotts_NYR:
Gorton on Lias when they drafted him "we feel he is the most NHL ready player in the draft." Can barely crack the lineup, when he does he shows zero signs of potential! He isn't good and he is a whiny sore loser! #NYR

— 4RoTTs (@3ROTTS_NYR) December 16, 2018
3Rotts_NYR's commentary aside, while I know it's early to say Andersson is a bust, one can not forget that the Rangers drafted him thinking that he could be a player out the gate. As I said in my last blog, if the Rangers reversed their order in drafting Chytil & Andersson, Andersson's troubles wouldn't be an issue.
It was also this point in the game where the Cult of Lundqvist was crying about Lundqvist and how he doesn't deserve this. I guess those people forgot that he refused to waive his NMC and wants to be here. The Rangers 9-1-1 winning streak from earlier in the season aside, these are the types of games he signed up for. I know we get caught up when the Rangers are winning, but these recent games are what many expected at the start of the season.
DeAngelo would take a penalty at the 18:27 mark of the second period, but Vegas didn't score in the waning seconds. I was really expecting that back-breaking goal, but thankfully it didn't happen.
3-2 at the end of two periods.
After killing the remainder of the Vegas PP, the Rangers played their best period of the game. Just 3:25 in the period, Chris Kreider reminded us that he was suited up for this game:
CHRIS KREIDER TIES IT UP TO GIVE KEVIN HAYES POINT #200! 15TH OF THE SEASON FOR KREIDER!#NYR pic.twitter.com/W399efIq8B

— Hockey Daily (@HockeyDaily365) December 16, 2018
3-3.
I know I can't be the only one who was expecting Nick Holden or Oscar Lindberg to score the game winner. While on Lindberg, remember how Ranger fans were furious that the Rangers lost him in the expansion draft?
While Lindberg didn't score the game winner, I thought he gave the Rangers a chance to take the lead in this period, when he was penalized for cross checking, at the near 6 minute mark.
The Rangers would go on the power-play and Fleury would have to make four great saves. Despite making the saves, Fleury also got some luck, as there were plenty of loose pucks that could've been tapped or shot in his direction, but the Rangers weren't there to capitalize. This was just one of those good power-plays that just came up short of scoring. It would hurt the Rangers at the end.
With under six minutes remaining, I felt that my words on these blogs resonated with the MSG Networks. I've been bitching about the "SAVE OF THE GAME" segment airing in the second period. I've also been moaning about how it's always Henrik Lundqvist featured. In today's game, the "SAVE OF THE GAME" segment happened with under six minutes to go and Micheletti actually talked about the other goalie. For as condescending as I can be, I tip my hat and congratulate both the MSG Networks & Micheletti for getting this right.
Both goalies would keep the other team off the board, meaning overtime was needed. No matter who scored, my over bet was good!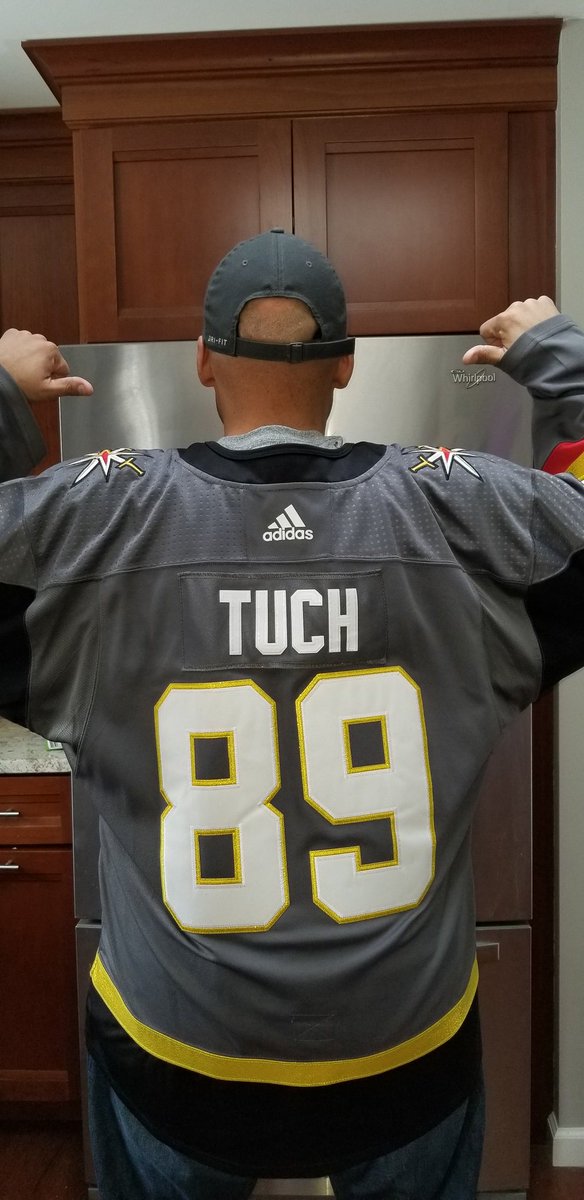 The Rangers would get the puck first in OT, do nothing with it, get the puck again, do nothing with it and then Alex Tuch ended the Rangers misery:
Alex Tuch's overtime winner looked like it came straight out of an @EASportsNHL game 😏 pic.twitter.com/DpX5fWmf5O

— Vegas Golden Knights (@GoldenKnights) December 16, 2018
It's just one of those "Two Halves of Lundqvist" things. Here he plays a tremendous game today and then he goes down too early on this shot and is beat on a terrible angle shot from Alex Tuch. Game over. Sometimes we remember movies for how they ended, not how they started.
That's now three straight losses for the Rangers. It's three straight home OT losses with a 4-3 score. It also means that the Rangers are now 2-5-3 since Thanksgiving and have only won two of their last ten games. So yea, that's not good.
Immediately after the game, the Rangers announced the following: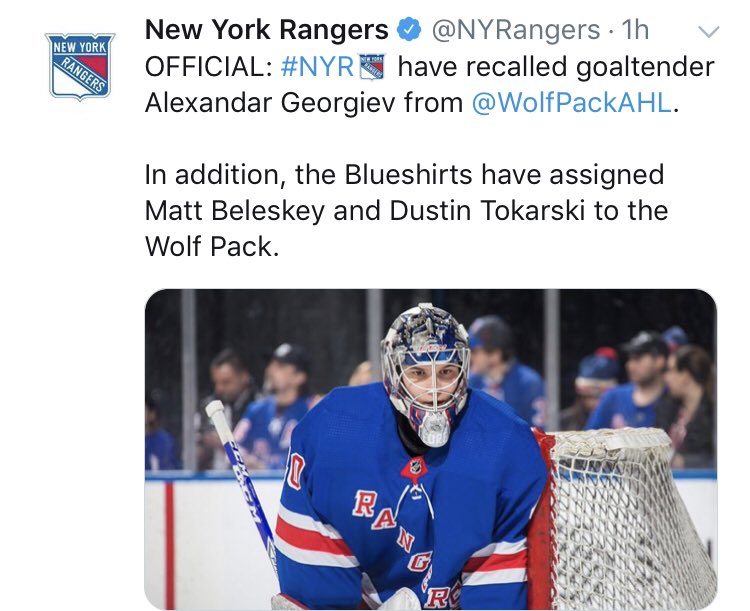 For Dustin Tokarski, we hardly know ye!
The Rangers have the Ducks on Tuesday night, a team that Georgiev previously beat earlier in the year. The Rangers then have three days off before heading off to Toronto on Saturday night.
With all the losing and with all the games played by Lundqvist, I'm assuming Georgiev is playing Tuesday night, as there would be no other reason to recall him.
As far as the Rangers go, maybe Quinn needs to punish these guys with a three night stay at the Pines Motor Lodge. I was going to do a whole comedy bit about Lundqvist staying at that shithole, but I think he got beat up enough today.
I know that the rebuild was the goal for the season, but I also know that the current players & David Quinn don't care about that crap. The Rangers have to figure it out and turn this around now, or even thinking about the playoffs will be a lost cause.
I'll be back Tuesday night for the next episode of "As The World Turns at Madison Square Garden."
As always, thanks for reading and…
"LET'S GO RANGERS"
Sean McCaffrey
BULLSMC@aol.com
@NYCTHEMIC on the twitter