Greetings and salutations everyone and welcome to another blog here on BlueCollarBlueShirts.com.
I guess before spewing my venom here, I should say Merry Xmas, Happy Holidays, Happy New Year and all that other heart-warming bullshit. So there, now that's out of the way.
What a difference 24 hours makes. After I raved about last night's loss to the Toronto Maple Leafs, the Rangers returned on Sunday night, to host the Philadelphia Flyers. Obviously, with this game being held on December 23rd, for the Rangers, this was their last game before Christmas.
After putting forth a great effort and giving Ranger fans some glimmer of hope against Toronto, the Rangers lost to the bottom-of-the-barrel Philadelphia Flyers by a score of 3-2, with a shoot-out determining the winner.
I know that the MSG Networks crew, such as Steve Valiquette, Bill Pidto, Al Trautwig and Dave Maloney were all trying to spin positive vibes after the game, but make no mistake – this loss was pathetic, crushing, uninspiring, inexcusable and downright infuriating. For the Rangers, this loss could've been their white flag. It's just getting harder and harder to envision this team making any type of run at playoff berth, especially because they can't handle last place or second to last place teams. Even Vally & Maloney, who were trying to remain up-beat, kind of admitted defeat on this season in the post-game.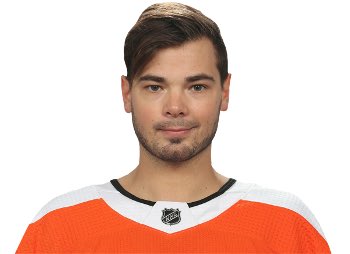 Whether it's Chicago (who fired a legendary coach after beating the Rangers), LA (who fired their coach after beating NYR), Philadelphia (who the Rangers lost to before & after the Flyers fired both their GM & head coach), Ottawa (a franchise in malaise), Detroit (a team that's almost as run down as the city the Wings represent), Carolina (who only draw big crowds when they wear Hartford Whaler jerseys) or Arizona (who were missing their starting goalie & top penalty killer), the Rangers find ways to lose to the league's worst teams. It's fucking incredible.
I just don't get how the Rangers can hold their own against the Winnipeg's, the Nashville's, the Toronto's or the Washington's of the world, you know, the upper-echelon teams in the league, but just can't finish games against the crappy teams. Watching the end of these Ranger games against bad teams is like watching the NY Giants on loop. THEY CAN'T FINISH!
While the schedule has been all over the place for the Rangers, this game was a fucking gift from Santa Bettman himself. The Rangers had the Flyers, who played just last night, and were going with their terrible fourth string goalie, in Michal Neuvirth. Furthermore, the Flyers are messier than a redneck trying to read a Chinese phone book, as the Flyers recently fired their general manager, in Ron Hextall and their coach, in Dave Hakstol. The Flyers are reeling right now. Despite the Flyers on the reel, the Rangers let them off the hook and instead of having some sort of X-Mas spirit going into Christmas, this game was the equivalent of Gritty taking an orange and black shit in your blue & red Rangers stocking. PATHETIC!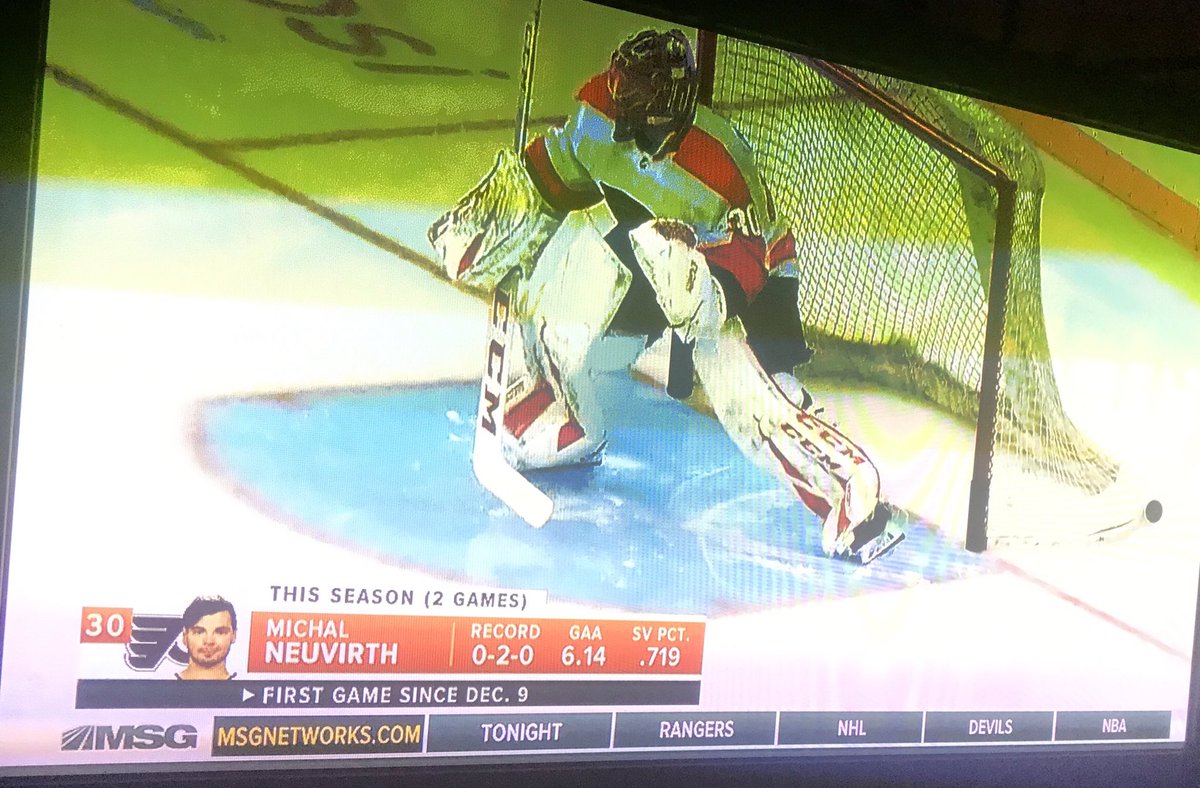 I feel like the tone of this blog is a complete 180 from last night's blog. In case you missed the Toronto game recap, you can find that blog, as well as my most recent blogs, right here:
---
---
---
---
---
---
---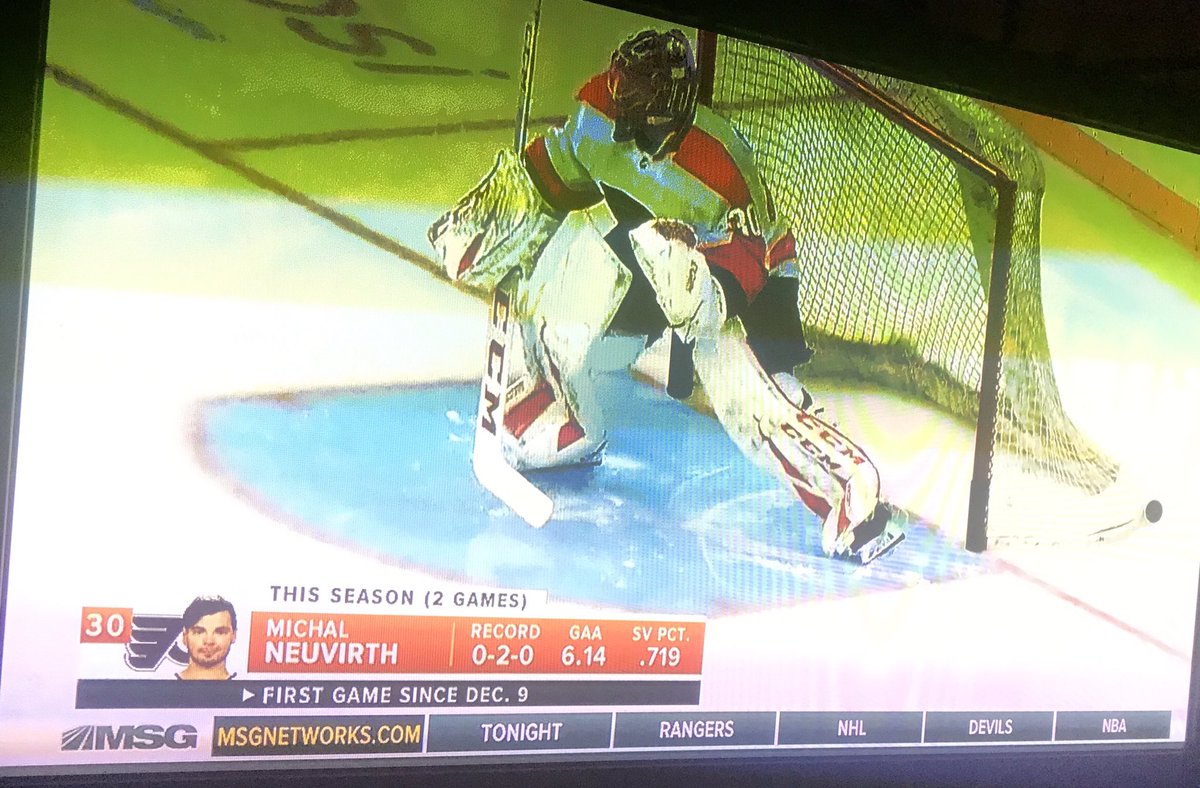 The Rangers played this game with the Flyers as if the Flyers were as strong as the Leafs. While the Rangers would have multiple "GOOD LOOKS" and chances, they could never capitalize. That said, a lot of this game saw the Rangers play keep away and play conservative. News Flash: THE FLYERS SUCK! You can be a little more aggressive with the Flyers than you can be with the Leafs.
I know the Cult of Lundqvist is not going to want to hear it, but the Rangers are not relaxed with Lundqvist out there. They don't want to hear his shit. They don't want to deal with the stick smashing. So instead of playing loose and aggressive, the Rangers have tight asses, which Lundqvist likes. After all, with all those clenched ass cheeks, Hank can shove some "Christmas Coal" up the asses of his teammates and turn that coal into diamonds for his ridiculous $2000 wrist watch that he's desperately shilling. SAD!
Granted, the Rangers got a point in this game because this loss came via the shoot-out. That's not good enough. While a point against Toronto would've been nice and a step in the right direction, losing to the Flyers, in any freaking fashion, is just unacceptable.
Save me the "it's a rebuild", "the team is young" and all that other nonsense. We've seen enough of this team, after 30+ games, to know that the Rangers should beat lowly teams like the Flyers. The Rangers have now won 3 of their last 13 games, after having a 9-1-1 streak before Thanksgiving. The wheels are coming off here and I don't know if the Rangers can fix it.
And yes – I know this is good for the "TANK" people, but I talked about that tank talk again last night. Even if you think losing is what's best, for as bad as the Rangers can be, it's hard to envision them finishing in dead last place, thus giving them the best odds at the number 1 pick. Furthermore, Hughes isn't McDavid or Crosby and even if the Rangers had the number one pick, they would pick some Swedish farm-boy dickhead anyway.
It's very rare, that before doing this blog, that I watch the post-game show and listen to the post-game interviews. I rather do this blog when my thoughts are still fresh. With these blogs being the longest hockey blogs on the internet, there's a lot racing in my mind and I don't want to forget anything! So usually, I'll do this blog, then go back and watch the post-game stuff.
Tonight, after Nolan Patrick (who by the way, isn't even old enough to legally drink a beer in the USA) beat Henrik Lundqvist for the game winning goal, I just sat there stunned. I don't know why I was stunned. You guys know I'm not a Lundqvist fan. I don't know why I was so shocked that he lost another game that he had a lead in. I don't know why I was baffled that a career back-up just had the best game of his life at MSG. I should be used to this shit. I don't know why I'm so invested in a team that obviously has its problems. Perhaps I'm too much of a fanatic.
As I sat there and watched Henrik Lundqvist answer questions about the loss, it has to be only a matter of time before Zoloft, Celexa, Lexapro, Cymbalta and Xanax start replacing the hooker hotel and crack addiction commercials. You want to talk about a man defeated. Just watch Lundqvist here:
If you watch the post-game interviews after every game (I do), for the first time this season, I think Lundqvist has finally reached the fifth and final stage of grief. For those who don't know, the five stages of grief are
denial, anger, bargaining, depression and acceptance.
In the beginning of the season, while the Rangers weren't winning, Lundqvist was in DENIAL and thought this team could make a playoff run. As the season went along, he got very upset and would smash his stick in ANGER. During the 9-1-1 win streak, which featured plenty of shoot-out wins, Lundqvist was BARGAINING and thought this team was for real. In his most recent games, Lundqvist blew several three goal leads, which put him into a tailspin of DEPRESSION. However now, at Christmas time and after losing to the shitty Flyers, I think Lundqvist has found ACCEPTANCE.
For Henrik Lundqvist, I personally offer you a seat on my couch, as I will disperse to you my advice. I took a psychology course during my college days at UNC (University of Nassau Community) and feel that I'm qualified to help you in your state of grief. For Mr. Lundqvist, the cure to end this depression, the rapidly growing gray hairs and the sulked head is very simple – WAIVE YOUR NO TRADE CLAUSE AND GET THE FUCK OUT OF TOWN!
Seriously, I don't even know how the most ardent member of the Cult of Lundqvist can think this Lundqvist/Ranger marriage makes sense for two more years. It's a lose-lose proposition. The Rangers can't grow the goaltender position with him here. Lundqvist isn't going to win a Cup here.
Jim Schmiedeberg of BSU Radio said it best – "whenever a franchise athlete is coming to the end of his career and the rumblings start, you hear that athlete say "I'll do whatever is best for the team." You don't get that with Lundqvist at all."
I really don't think winning a Cup is Lundqvist's number 1 priority. Obviously, his family comes first. After that, it's money, which I guess in a way, ties into his family. However, at this stage of his career, he has enough money for his great-grandchildren, so when do you buckle down and say "I WANT THE CUP!"
Again, if players like Leetch, Gretzky, Orr, Messier, and whoever else you want to list here can get traded, Henrik Lundqvist can move on too. Face it Ranger fans – Marty Brodeur meant much more to the Devils than Henrik Lundqvist ever will for the Rangers. Even the Fat Uncle Daddy left the Devils and played 7 meaningless games with the Blues. It's admirable that Lundqvist wants to be here, but this is no longer a contract thing – it just doesn't make sense for either party.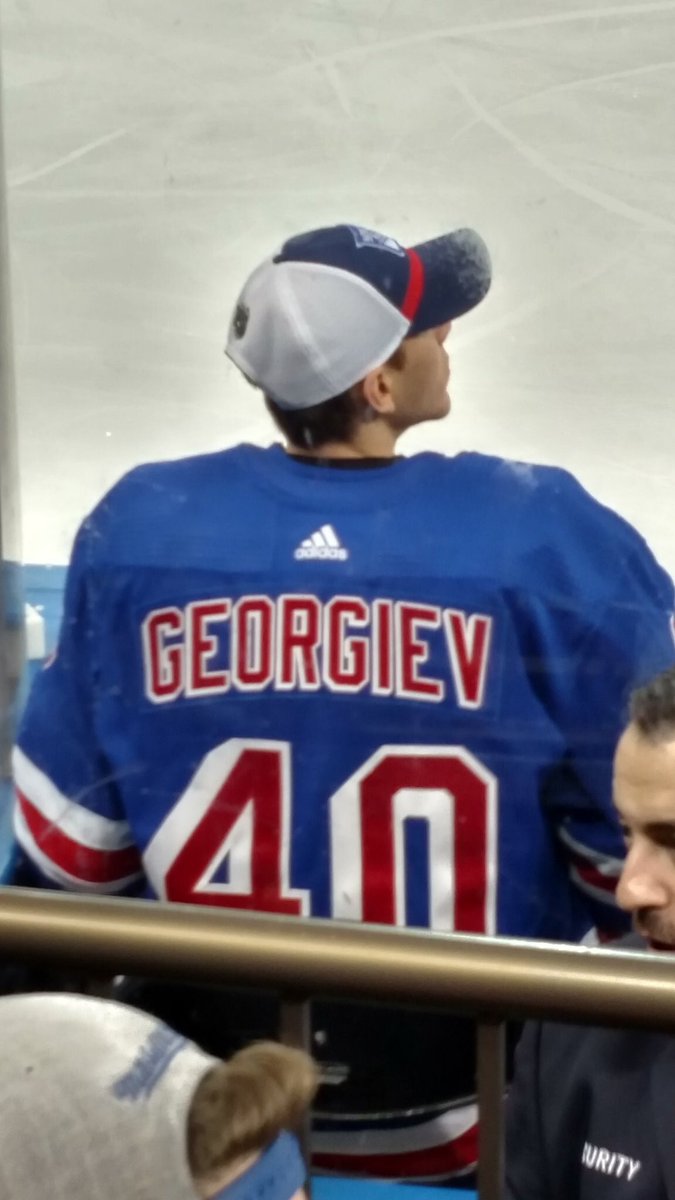 I hate beating up the team like this. For as much as people know me as the guy who doesn't like Lundqvist's contract and wants the team to move on from him, I much rather write about the team doing well. I totally get the rebuild and all that, but I have no faith in Senile Sather and Jeff Gorton to facilitate it.  It's why I do the Frank Boucher stuff, the history stuff, the Rink of Honor stuff, the book reviews, the Delorean blogs, the road-trip stuff and stuff that's not about the team in its present incarnation. It's not fun to be negative all the time.
At the same time, I also hate being lied to, and that is what the MSG Networks has become – big fat fucking liars. I know this is an edict from James Dol-Un, but when you got these guys all bubbly after losses, it's ridiculous. You had Bill Pidto smiling and eating Gritty cookies after the game. Are you serious? Then you have John Gianonne doing Christmas jingles explaining the loss. Even worse, Vally, who is not a dumbass and speaks very frankly when he's not on the MSG Networks, is throwing the corporate spin on this. He knows the Rangers can't lose a game like this. He's not an idiot. Ditto Dave Maloney, who is probably the harshest critic out of anyone who collects a MSG Networks paycheck.
If you're reading this blog, this means you're a hardcore fan, seeking an opinion and looking for more nonsense about this team. Even with the team sucking right now, you're here because you're a diehard. You guys are no dummies. You know what this team is. By lying and putting rainbow spins on this, it's just a grand disservice. This isn't Arizona or Carolina. This is fucking New York City, the greatest city in the world and with the smartest sports fans around. Don't bullshit us. Tell it like it is. This loss tonight was bullshit, preventable and inexcusable.
Ugh.
ESPN.com box score time:
SCORING SUMMARY:
1st Period
10:05

Chris Kreider

(17)

Assists: Kevin Hayes, Marc Staal

0
1
2nd Period
1:46

Michael Raffl

(1)

Assists: Travis Sanheim

1
1
3rd Period
5:01

Wayne Simmonds

(11)

(Power Play)

Assists: Sean Couturier, Jakub Voracek

2
1
5:23

Boo Nieves

(1)

Assists: Lias Andersson

2
2
OT Summary
No Goals Scored
Shootout Summary

Shootout GOAL scored by Nolan Patrick on Henrik Lundqvist
1
0
PENALTIES:
1st Period
No Penalties This Period
2nd Period
8:16

Michael Raffl:

2 minutes for Tripping

17:21

Brady Skjei:

2 minutes for Tripping

19:16

Nolan Patrick:

2 minutes for Holding
3rd Period
4:53

New York Rangers:

2 minutes for Too Many Men/Ice – Bench (served by Chris Kreider)
OT Summary
No Penalties This Period
GOALIES:
| | | | | | | | | | | |
| --- | --- | --- | --- | --- | --- | --- | --- | --- | --- | --- |
| SA | GA | SV | SV% | ESSV | PPSV | SHSV | SOSA | SOS | TOI | PIM |
| 31 | 2 | 29 | .935 | 26 | 1 | 2 | 0 | 0 | 64:58 | 0 |
| | | | | | | | | | | |
| --- | --- | --- | --- | --- | --- | --- | --- | --- | --- | --- |
| SA | GA | SV | SV% | ESSV | PPSV | SHSV | SOSA | SOS | TOI | PIM |
| 34 | 2 | 32 | .941 | 27 | 1 | 4 | 0 | 0 | 64:46 | 0 |
As far as the line-up tonight, not much changed from last night's game with the Leafs. Tony DeMAGAngelo (Credit: @NYRKELSMADS) remained in the press box. Lundqvist was in net instead of Georgiev. The only real change was Zuccarello and Buchnevich being flip-flopped, as reported first by Newsday's Colin Stephenson:
Not much to report off DQ's pregame. Same lineup as last night, meaning Tony D sits out a second straight game. The only change, the coach said, is he's flip-flopping Zuccarello and Buchnevich on the top two lines. So Buch with Chytil and Zibanejad, Zucc with Kreider and Hayes.

— Colin Stephenson (@ColinASteph) December 23, 2018
This game was frustrating as hell. The Rangers certainly played well enough to win, even if at times they held back a bit. Of course, as we've seen in the past, a no-name back-up goalie decided to submit his Vezina performance tonight. For 65 minutes and then going perfect in the shoot-out, Michal Neuvirth had one of the best games of his life. He was incredible tonight.
Oh, and for those wondering, Michal Neuvirth, a veteran of the league, is a $2.5M salary cap hit. Henrik Lundqvist is $6M more. Just more proof to my theory of that you just can't overpay your goaltender. When it comes to goalies, the talent disparity is tighter than ever. Plus, for every goal Lundqvist gives up, the Cult of Lundqvist is just going to blame the defense anyway. Unfortunately, ever since Jeff Gorton took over, he bought out Dan Girardi (playing great in Tampa), traded Ryan McDonagh (having a Norris contending season) and then handed out three huge money deals to Shattenkirk, Smith and Skjei. And you wonder why I don't trust Gorton & Sather to lead a rebuild.
The story of this game was that the Rangers made the Flyers look like the Rangers. What do I mean by that? Simply put, the Rangers challenged the Flyers goalie and defense all game, had tons of great opportunities, but at the end of the night, the best player on the ice was the Flyers goalie. Who the fuck had Michal Neuvirth carrying the Flyers tonight? I know I sure didn't.
In fact, look how stupid Neuvirth made me out to be:
Lundqvist v Bebe Neuwirth & the over-under is only -5.5?!?!?!?! HAMMER THE OVER! #nyr pic.twitter.com/zMwNoGJIk2

— BlueCollarBlueShirts (@NYCTheMiC) December 23, 2018
You have to figure with both teams playing yesterday, Neuvirth being terrible and the Rangers defense being suspect at best, that this would be a 4-3, 5-2, 6-3 type of game. Instead, when regulation was over, it was 2-2. It's amazing how good these odds-makers are. They wanted gamblers to smash the over tonight with a juicy -5.5 over-under line. It looked like free money. However, Vegas never loses. Once again, just like last night – "that's gambling Suzyn."
I saw some fans on Twitter call this game a snoozer. I can see why some fans thought that, but the Rangers have played in more boring games this season than this one. My biggest takeaway was how funny time works. 24 hours ago, at the end of the second period with Toronto, my heart was pumping like Artie Lange on a coke binge. When we hit the end of the second period tonight, I felt just as shitty as Lundqvist in his post-game interview.
I don't know how the players on the team feel, but as fans, we fucking hate the Flyers. I've said it before and I'll say it again –  I hate the Flyers more than the Islanders or the Devils. Dave Maloney pretty much said the same thing on Sunday's edition of the "Bleeding Blueshirt" podcast.
I figured after shitting the bed against the Flyers in their annual post-Thanksgiving game, that the Rangers would be swinging for the fences tonight. Instead, they played timid at times and tip-toed around like a mouse near a cat. Again, I truly believe it's because Lundqvist is in net and the team fears his tongue-lashings and constant berating in the media. They are walking on eggshells whenever he's around.
And really, let's face it – for a team that's predominately under the age of 27, it has to be hard for a near 37 year old Henrik Lundqvist to connect and bond with these guys at a personal or social level. I mean, once the game starts, the goalie is in his own world, but maybe the team has played better for guys like Talbot, Raanta and Georgiev, because the team in front of those guys connected with those players better. I mean, what does a 19 year old Filip Chytil have in common with someone who could be his dad? Chytil doesn't even make enough money to afford a Lundqvist watch.
I mean really think about it, when Kevin Hayes is telling you that he eats hotdogs of the streets, do you think Lundqvist is doing that? Of course not, he's eating caviar. When guys like Skjei and Vesey are hitting up strip clubs, Lundqvist is front row at Hamilton. Lundqvist is just much older than these guys and in a different stage of life. If these players were Ranger fans, Lundqvist is the suit and tie behind the Rangers bench, while most of the team would be sitting in the blues and pounding brews.
Oh and speaking of Chris Kreider, at least after this disgusting loss, he still had time for the fans: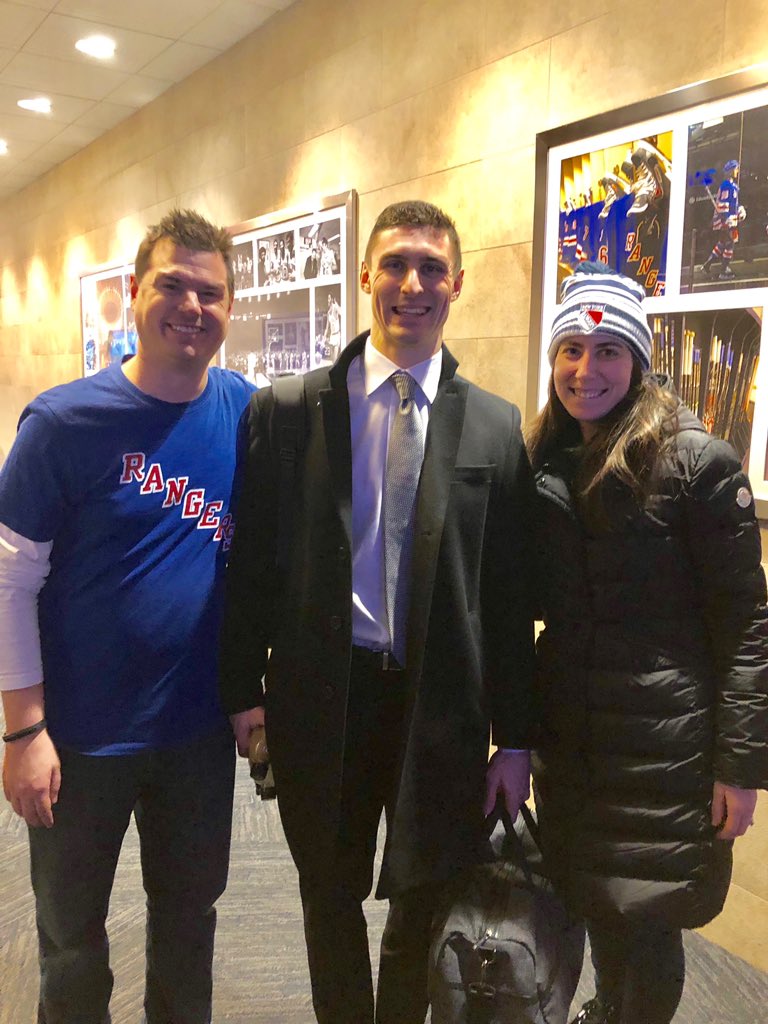 The first half of the first period saw the Rangers playing extremely conservatively. We finally saw some life in the Rangers, when Hayes made a great play and found Chris Kreider at the 10:05 mark, giving the Rangers the first goal of the game:
🚨GOAL🚨 CHRIS KREIDER (17) a great play by Kevin Hayes (20) and Marc Staal (7) pic.twitter.com/Bu4ue5rgtZ

— Rangers Report (@rangersreport) December 24, 2018
1-0, good guys. Before this goal, both goalies made several strong saves.
When Kreider scored, I thought this would be the goal to crack Neuvirth. However, instead, Neuvirth just got stronger as the game went on. Put it this way – Joe Micheletti, resident cheerleader and President of the Henrik Lundqvist fan club, gave Michal Neuvirth the "SAVE OF THE GAME". When does that ever happen?
Of note and to gloat a little bit here, the #CadillacTrivia question of the game was, "Who was the goalie before Flyers goalie Carter Hart, to win his first two games while being under the age of 21?" To me, this was a slam dunk question.  I quickly had the answer:
Mackenzie Skapski #nyr #cadillactrivia

— BlueCollarBlueShirts (@NYCTheMiC) December 24, 2018
While I usually do well with these trivia questions and sometimes I'm the first person to answer it, I was shocked when I checked the hashtag that no one else had it. Even Sam & Joe didn't have the answer. When they finally said Skapski was that person, I was more shocked to find out that no one besides yours truly had the answer. How can any Ranger fan forget the BUFFALO KILLER?
And again, to my point, it shows you that you should never overpay the goalie. In that season, Hank got hurt, Talbot killed it for the Rangers and Skapski won both his starts against the tanking Buffalo Sabres (The Sabres would land Eichel in the McDavid draft after that 2014-2015 season.)
It's a shame Skapski has never played in the NHL since. I always rooted for him, especially after hearing what he overcame. Here's to hoping, that one day, Skapski gets another crack at the big-time.
The Rangers really brought the pressure as the period went on, but Neuvirth must've been trying to impress someone tonight, as he stopped both Vesey & Buchnevich on really good opportunities. When the first period ended, the Rangers looked to be the better team and again, you thought they would eventually throw a five spot on Neuvirth. It just never happened.
At the end of twenty minutes, 1-0 NYR.
We had some FUNNY during the intermission here. Vally, who made an appearance at one of those Teddy Kalamaras signings before the game, may have had a few pops at the signing/meet & greet. While I don't think he drank as much as I do when I do these blogs, he seemed a little saucy. I mean, @Fixxser caught this:
@NYCTheMiC pic.twitter.com/zB4Bzqht9T

— Fixxser (@Fixxser) December 24, 2018
Ok, ok, ok – let's give Vally the benefit of the doubt. We all flub words and it's hard to be perfect on TV. So we'll give him a pass on "Stound and Stable." However, you can see Vally was feeling a little happy about himself here, as he was breaking Al's balls, making fun of Maloney's suit and to be honest, I loved every single moment of it. If this team is going to suck, I would give these guys a bottle of "99 Gretzky Whisky" and let the entertainment fly. If the Rangers have to lose, let's have some fun here!
I'm telling you, when Vally isn't playing the chart nerd on TV, he can be a great ball-buster. As a religious viewer of the MSG Networks, this is the shit that's in my wheelhouse. I still owe Vally a Labatt Blue for giving me a chart that pointed out Lundqvist's faults last season. And fuck it, even though I plugged it last night, check out Vally's chart site at http://www.csahockey.com
Oh, and if Vally wanted to really break balls, he could've pointed out that Trautwig had some green teeth tonight. Maybe that's just Al in the Christmas spirit? Man, am I an asshole when the Rangers lose games like these!
God damn pal, this blog is going way too long.
As soon as you started feeling a little bit good about the Rangers, you're reminded that old habits die hard. Here's Lundqvist, giving up a goal within the first two minutes of a period:
Michael Raffl scores his first of the season to tie the game at 1 a piece. Sanheim (8) had the helper. There's about 15 mins left in the 2nd period pic.twitter.com/85QhuHQ8p1

— Rangers Report (@rangersreport) December 24, 2018
I can't bury Hank here. This goal came after a two on one chance for the Flyers. 1-1. Still, if Hank can't make this save, you are led to believe that cheaper goalies couldn't either, right?
The Rangers would try to fire back and it seemed like Neuvirth was the kryptonite of Kevin Hayes. He stopped two great chances from Hayes. Unbelievable.
The Rangers would get a PP at 8:16 in, when Raffl was caught tripping. The Rangers employed their five forward power-play unit, but couldn't get the job of getting a goal done. Break for the Flyers here.
Towards the end of the period, Zuccarello had a GOOD LOOK, but Neuvirth made a visually pleasing glove save. I don't know if Zucc's shot was going to go wide, but fuck, it looked nice on TV.
The second period was like Ru Paul – a long drag. There wasn't much going on. I've seen my niece play "Duck-Duck-Goose" games that were more intense.
At the 17:21 mark, Brady Skjei took a penalty. However, at the 19:16 mark, Nolan Patrick took a penalty of his own, thus giving the Rangers the dreaded "wrap-around" power-play. Seriously, when is the last time the Rangers ever scored on the back-half on one of these wrap-around pp's? These PP's are tough to score on, as you lose your flow and don't have as much time to set-up.
The Rangers wouldn't score on the first half of the PP, so after two periods, 1-1. As I said above, you didn't have the same feeling after two periods here, as you did in the game with the Leafs.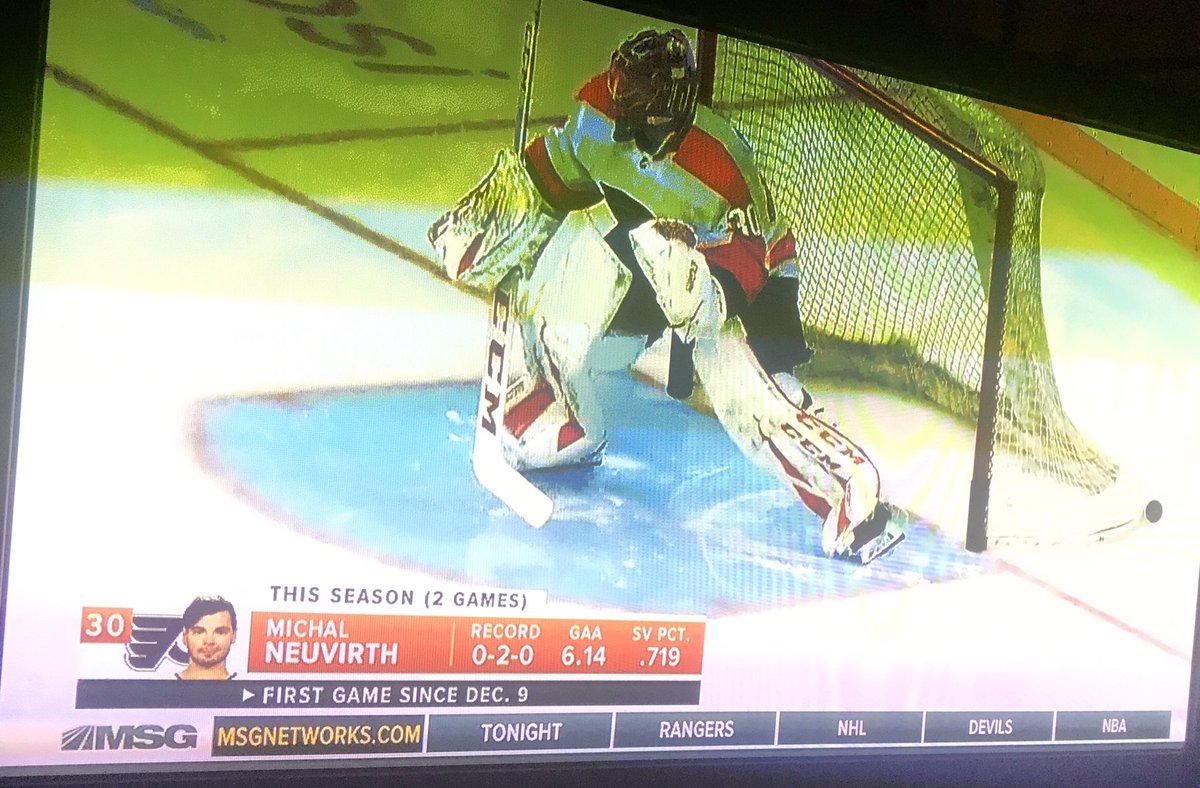 The Rangers finished up the second half of their powerplay at the start of the third period and wouldn't score. Then, at the 4:53 mark, the Rangers took their 7th "too many men on the ice" penalty of the season. This was the Rangers 35th game. I'm no math major, but that means that for every five games, the Rangers take one of these infuriating penalties. In this case, the Flyers made the Rangers pay:
WAYNE SIMMONDS GETS IN BEHIND THE DEFENSE AND TAPS ONE HOME ON THE POWER-PLAY!#LetsGoFlyers pic.twitter.com/mSfR8FdNQ1

— Hockey Daily (@HockeyDaily365) December 24, 2018
It only took 7 seconds for Simmonds to find the back of the net. 2-1 bad guys. Again, you can't blame Hank here. Even I, perhaps the leader of the "TRADE HANK" movement, had a little sympathy for the Swedish cupless wonder here.
However, right after this goal, the Flyers pulled a Rangers and Lias Andersson found Boo Nieves for his first goal of the season:
BOO-YAH!!!#NYR #LGR pic.twitter.com/KUaYj8HuPQ

— MSG Networks (@MSGNetworks) December 24, 2018
"They aren't saying Boo Joe…. oh wait!"
2-2. This was a huge goal, as right before this, Hayes rattled a puck off the mask of Neuvirth, which Neuvirth then gloved. Back in business.
The Rangers, who were more conservative than Mike Pence here, would do some little things wrong. While it didn't bite the Rangers in the ass, Ryan Strome iced the puck unnecessarily. If the Flyers won the faceoff and put one in, you would've been going nuts on Strome here.
The rest of the third period was played as carefully as someone defusing a bomb. While both teams would get chances, both goalies, with Neuvirth more under seige than Lundqvist, would keep the game tied at two goals a piece. We then went into overtime.
The overtime was a shit-show, if you're one to criticize the officials. The Flyers got away with assault and battery. It's like the rule-book didn't even exist. Again, both goalies were solid here, but I counted twice, where the Rangers should've had a power-play. That said, in the eyes of yours truly, this was a game that shouldn't have gone to overtime anyway. The Rangers should've handled business.
After a scoreless overtime, we then went to the shootout, where the Rangers were once 5-0. After this game, they dropped to 5-2.
What I did like, was that David Quinn elected for "last licks", meaning that the Flyers shot first. If I was a head coach, that's the strategy I would use too. If you make that first save, you put the pressure on the other team. At least that's what I think. For a team like the Rangers, who spend more money on a starting goalie than 29 other teams in the league, this is the right move in my eyes.
Lundqvist would deny Voracek, Giroux and JVR. Neuvirth would stop Zucc, Zibanejad and Buchnevich. Buchnevich had the best look of the three. Oh, and while on the shoot-out, Micheletti always says the same shit about Zucc and Zibanejad. I guess you never know when you have a first time viewer.
In the sudden-death fourth round, Nolan Patrick would beat Lundqvist. Neuvirth, who must've been injected with the DNA of an in-his-prime Terry Sawchuk, would stop Kevin Hayes. Flyers win the shoot-out, Flyers win the game 3-2.
Instead of going into X-Mas happy, the Gritty fucking stole X-Mas. The Rangers have no one to blame but themselves.
I hate to be one of those, but yeah, I'm pressing this too:
I can't say I'm at a loss for words when I do a near 10,000 word blog every game, but if you're a regular here, you know I'm rooting for the playoffs. I'm realistic and jaded, but I still want this team to win. The team has the X-Mas break, then will embark on their most important games of the season.
The Rangers must win 7 of their next 10 games to stay alive in the playoff hunt. If they don't, as I talked about last blog, while Zucc is the most likely to be a goner, we could see Hayes moved too.
I know I talk about him way too much on these blogs, but it's all the MSG Networks talks about as well. When does reality sink in for Lundqvist? The Cup isn't happening. Are you chasing the all-time win record? By the time this season is over, not only will Luongo remain ahead of him, but Fleury may surpass him too.
While I would love to see Hank waive the NMC and accept reality, I would love it even more, just to see who in the fan-base stays and personally, to see this franchise embrace a new era. However, if the Rangers can rip off a winning streak, Lundqvist won't be leaving.
The Rangers don't return until Thursday, when they host the red-hot Columbus Blue Jackets. To me, the CBJ are a great regular season team, but will never do shit in the playoffs.
As far as this blog, I'm still sitting on "Patrick Family" book review. I would also like to read the new "CUJO" book, but I may save that book for my flights to Colorado & Arizona, which will be my first road-trip of 2019.
As I mentioned earlier this season, I've skipped on going to as many home games as I used to go to. (The job site that I was on for three years, which was 8 blocks away from M$G, also finished up.) I rather save my money to see new places and new arenas. If the Rangers are going to lose, I may as well see new places, rather than attending the usual dead & quiet Madison Square Garden.
I'll try to get something up after X-Mas.
Until then, seriously, Merry X-Mas and all that happy horseshit.
More importantly, as always, thanks for reading and…
"LET'S GO RANGERS!"
Sean McCaffrey
BULLSMC@aol.com
@NYCTHEMIC on the twitter gimmick