Greetings and salutations everyone and welcome to another blog here on BlueCollarBlueShirts.com. After what seemed like endless days off, so many days off in fact, that you have to wonder if we're living in a different era, where the circus is in town, the Rangers finally returned to action on Saturday night. In a game that was the marquee game of "Hockey Night in Canada", the Rangers dropped a 5-3 decision to an Original 6 rival, in the Toronto Maple Leafs.
For the Rangers, while there really is no such thing as "morale defeats" or "good losses", this 5-3 loss didn't leave you feeling upset after the final horn. Far from it. The Rangers gave it their all for 60 minutes. The Rangers played well, especially in the second period. However, Toronto's talent was just too strong to overcome and the Rangers came up short. I think you would be hard-pressed to find any Ranger fan that was truly upset with this loss.
Obviously, when you lose, you didn't play a perfect game, but who plays a perfect game in the NHL anyway? Sure, the Rangers had some defensive lapses in this game, with Brady Skjei & Brendan Smith being the biggest offenders, but in the same regard, you have to credit Toronto and their skilled roster. The Rangers power-play went 0-2 tonight, but on the flip-side, their penalty kill was 2-2, as the Rangers killed a huge double minor in the second period. So for some of the bad stuff that happened, in the eyes of Ranger fans, the Rangers did plenty of good too.
The bottom line is this – if you were building a fantasy hockey team, and could use only players from these two rosters, how many Leafs would you select for your team before you selected a Ranger? The Leafs were just too talented in this game. However, the biggest takeaway for the Rangers is that they held their own. And really, if it weren't for two fluky goals, who knows what happens?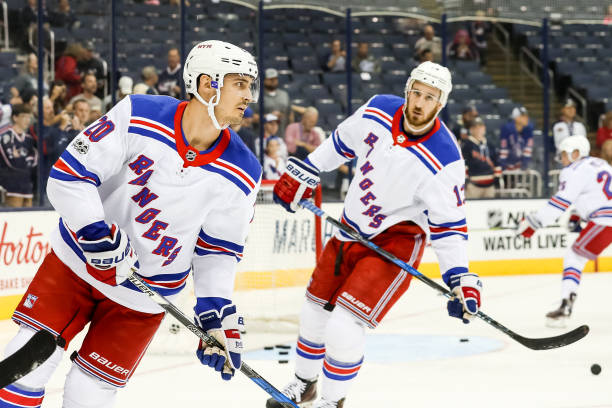 With all these days off in between games in recent weeks, it seems that Ranger fans, other Ranger bloggers and NHL reporters have little to talk about. All I see on social media and on other Ranger themed websites is talk about what "THE RANGERS MUST DO!" All these posts/blogs blend into each other, as they all start off with "(INSERT "PLAYER NAME" HERE) MUST BE (INSERT "TRADED/BOUGHT OUT/CLIPPED BY TONYA HARDING" HERE!)
I've said it before and I'll say it again – as we sit here two days before Christmas, I don't think Jeff Gorton even knows what he's going to do yet.
I'll get into this a bit when I get into the Lundqvist vs Georgiev stuff below, but as I've been saying all season, the Rangers are trying to rebuild, but at the same time, trying to win. We've been over this – David Quinn, Henrik Lundqvist, the veterans, the new kids, whoever – they are playing to win. They are playing for their jobs. They are playing for their money. They are playing for their reputations.
For fans to think that any of the players or coaches involved with these games wants to "tank", well that is purely asinine. After all, if the players & coaches embraced a tank, in the case of the players, they would hurt their stock and may never land a job in the NHL ever again. I mean, take a player like Cody McLeod. At this stage of his career and at his age, he's a borderline NHLer. Then you look at a guy like Boo Nieves, who wants to be a regular NHLer. Do you think these guys gain anything by losing and playing bad? Of course not.
Of course, in this era where salary cap hits are just as pertinent as any other stat on the back of a hockey trading card, there is both validity and high probability in thinking that the Rangers will make some trades. I still believe the Rangers are taking a "wait & see" approach, when it comes to deciding on what to do. If the Rangers are out of the playoff hunt by the deadline, perhaps the Rangers will be aggressive in moving more than just one or two pieces. However, while I think we all know that the Rangers will probably make trades at the deadline, I'm sick of reading all these proposals. When I see stuff like "MARK STAHL FOR CONER MCDAVID" and "ZUKARELLO FOR PATRICK CANE", it's just too much.
I think the obvious player that will most likely be moved is Mats Zuccarello. His contract is up. You guys all know the situation there.
Next up on the trade list is Kevin Hayes, who will finish up his one year deal at the end of the season and will look for that 5-6 year, big money deal. He could've tried his luck during this previous off-season, but decided to invest in himself. Of all the Rangers right now, his contract and play on the ice, is the most attractive to any potential Stanley Cup contender.
The Hayes situation could be a lose-lose deal for the Rangers. First off, who is replacing him as you move forward? Sure, the Rangers have plenty of centers, but can any of them replace the production that Hayes brings? Then, if you do re-sign him, can Hayes keep up this style of play when it's not a contract year? While I think Ranger fans are astute when it comes to Zuccarello, moving on from Hayes is not a slam-dunk.
Oh, and I will say, and as I've said before, while we all know Lundqvist will get the popularity vote for the All-Star Game, to me, no one deserves to go to the All-Star game more, as a representative for the New York Rangers, than Kevin Hayes. And if you're one of these people hoping that a Hayes trade brings a grand return, Hayes in the ASG would strengthen your case.
Someone who I personally would move, before his NMC kicks in next season, would be Mika Zibanejad. As mentioned before, his history with concussions worries me. I think it's harder to replace Hayes than Zibanejad.
Chris Kreider is another player some people have talked about moving. Again, if this is a rebuild, Kreider is in the same boat that McDonagh was in during last year's trade deadline. Kreider has one more season left on his contract and could instantly help a Cup contender. However, like Hayes, who is replacing Kreider? At some point, you do need some veterans on this team.
And not to go on another Lundqvist contract rant, if Lundqvist wouldn't give this team a team-friendly deal, why should Hayes or Kreider?
My own personal opinions on all these rumored moves is that I've had enough. Let it play out. I just think the Rangers are in limbo and won't know what they will do until the deadline gets here. And please, if I see one more "MARK STALL FOR JONATHEN TAYS" rumor, I may drink myself to death.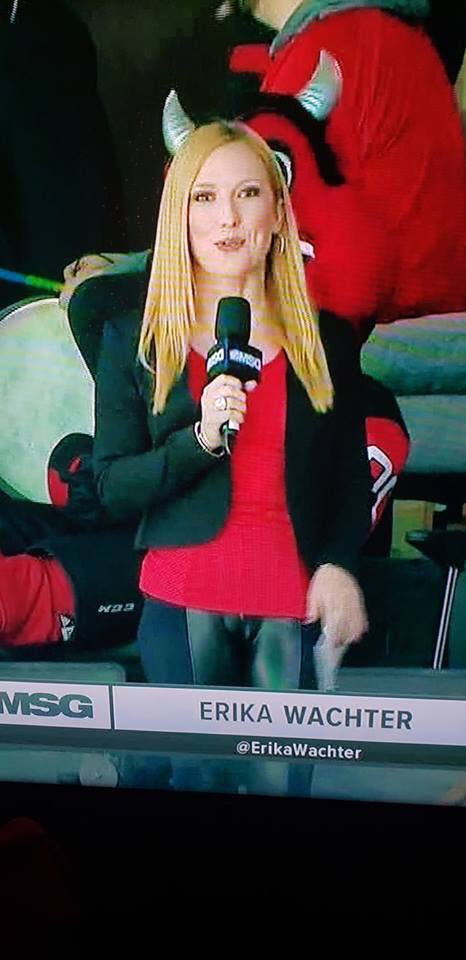 As usual, here are my last few blogs in case you missed them:
---
---
---
---
---
---
---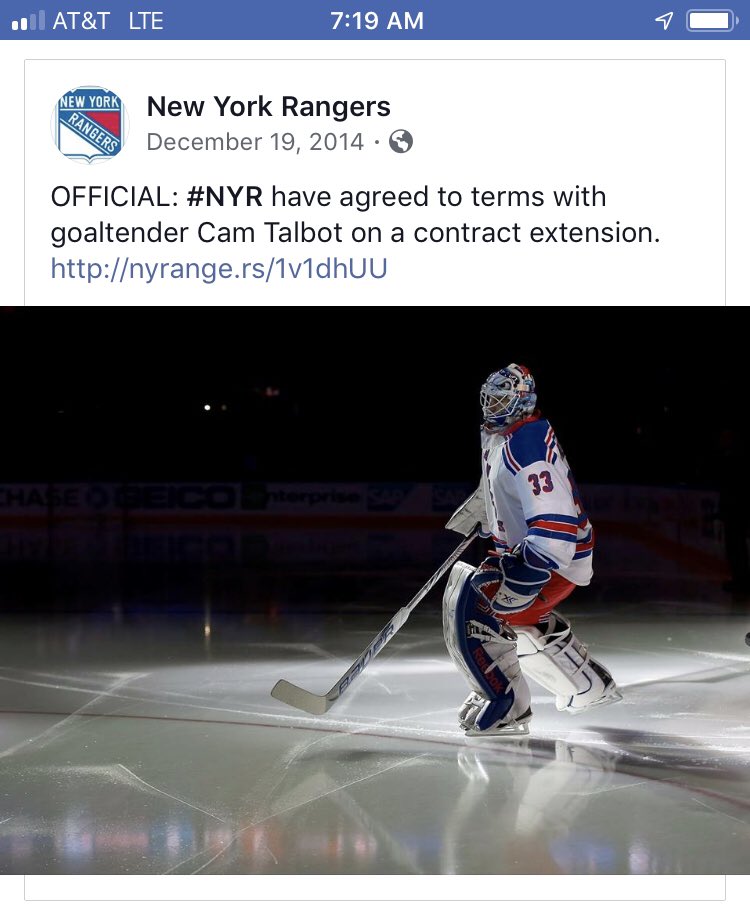 Let me get into the Lundqvist crap first, and then we'll go the game itself. In case you haven't heard, during the three days off, Henrik Lundqvist is now in the watch business: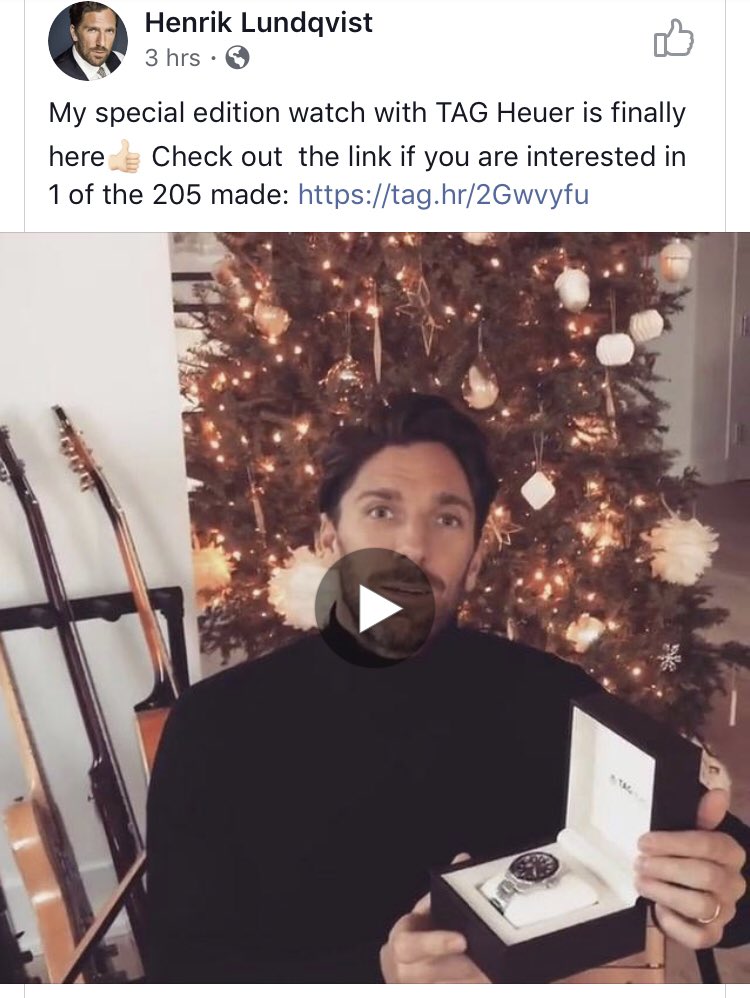 With this being a quiet three days, outside of Ranger fans making up their trades and other Ranger bloggers telling us WHAT THE RANGERS MUST DO, Henrik Lundqvist took advantage of the down time and shilled a new watch he's selling. For ONLY $2000, you can get some bullshit watch with his "King" insignia logo on it. You know, the same KING logo that the Cult tells me that Lundqvist doesn't profit from. If anything, this is more proof that Lundqvist profits by playing in New York. Can you imagine his peer, in Roberto Luongo, trying to sell a $2000 wrist piece to Florida Panther fans?
I mean really, who is buying this? I'm sure there will be some people, but Lundqvist's demo are mostly young males, who live at home with their parents, and don't have $2000 of disposable income. They already spent that money on a computer to make spreadsheets on. Furthermore, if you're an adult, and looking to buy an item that's a status symbol, are you buying a Rolex or a Lundqvist?
Just picture it. You're a ritzy Manhattan socialite and at some soiree. You're dressed to the nines and in a room full of beautiful women. (Sorry to my female readers, but this watch seems more geared to men than women, hence me using a male in my scenario here.)
As you sip your gin & tonic, you see the belle of the ball. She rubs up next to you and says, "Nice watch, is that a Rolex?" Now just imagine her face of disgust when you reply, "No, it's a Lundswiss."
I noticed I wasn't the only one who was laughing at Lundqvist and his watch. Here are some comments from Lundqvist's own facebook page: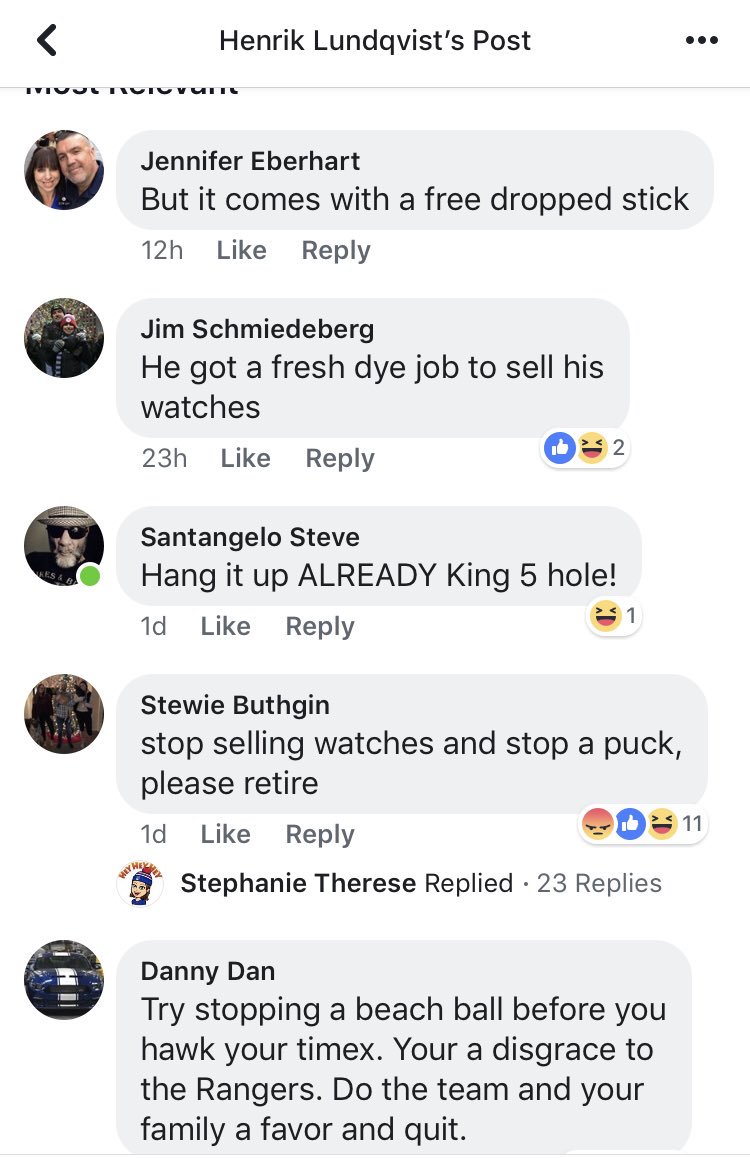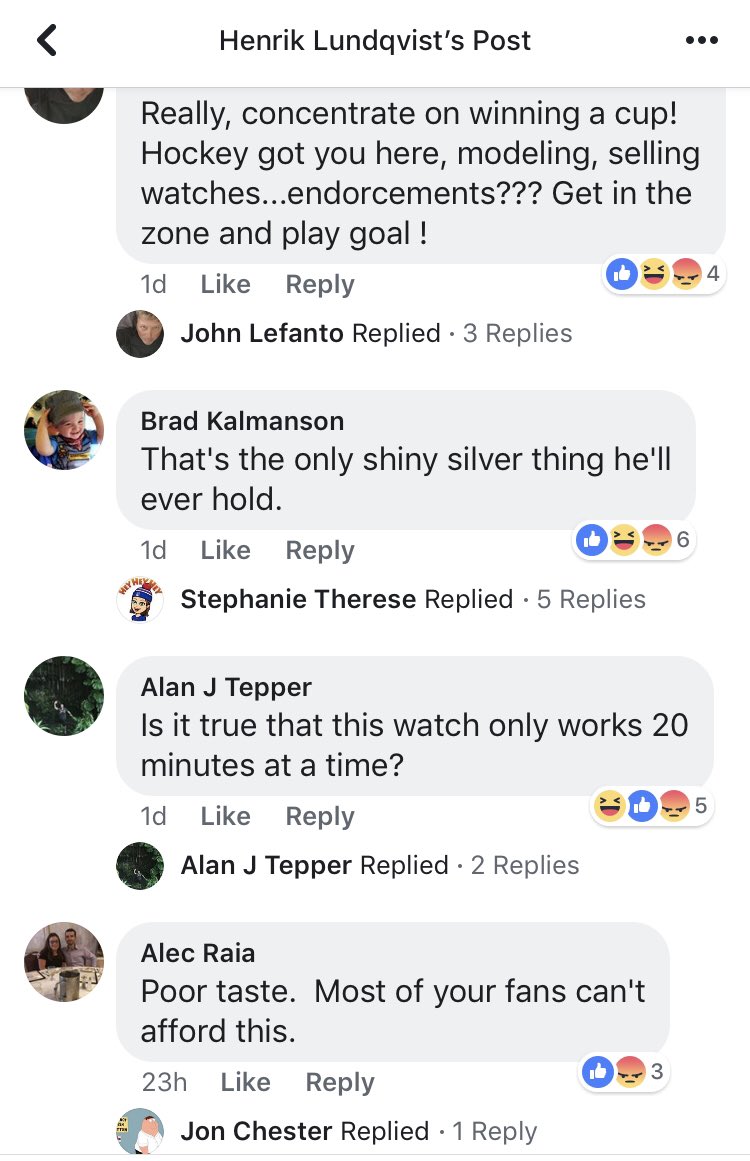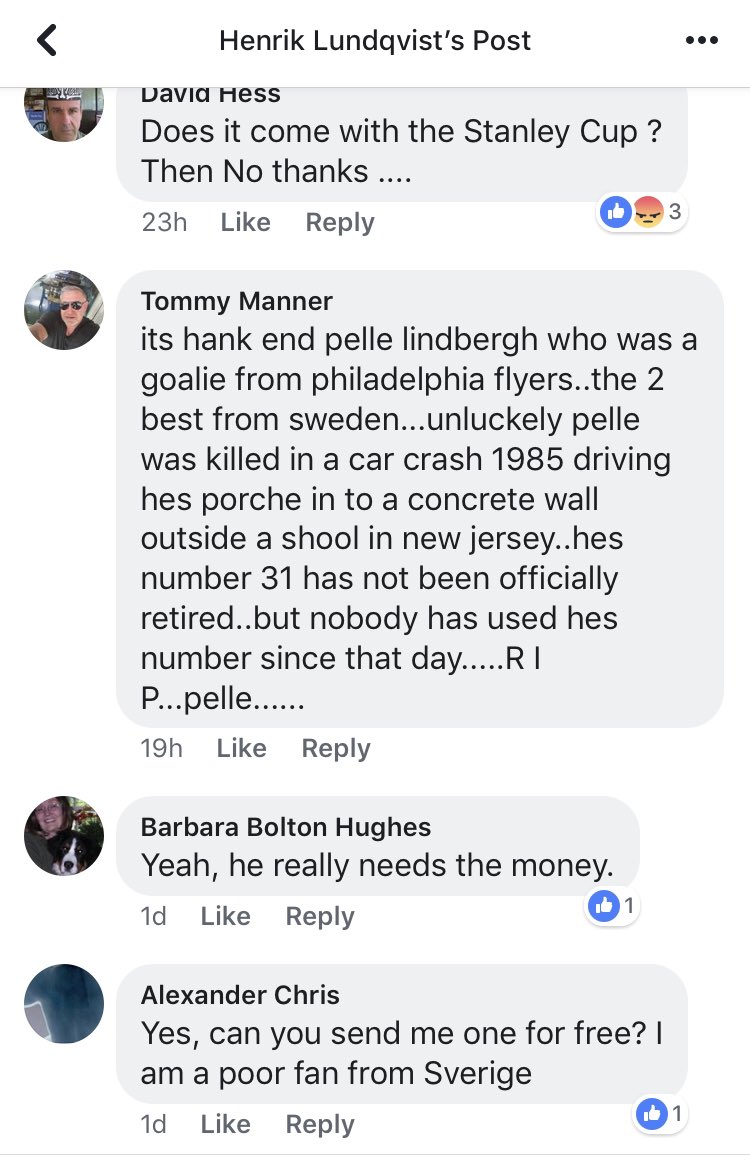 Of course, I'm going to my have my fun with this. So let me present to you the following:
THE TOP FIVE FEATURES OF THE HENRIK LUNDQVIST WATCH
1- Let's you know what top teams are on the schedule so you can feign mental anguish.
2- Features a red light that goes off as an alarm clock. The red light will go off five times.
3- To one-up Apple watches, the watch can monitor the heartbeats of other people. This is crucial for when the Cult of Lundqvist is going into over-drive.
4- Let's you know when you have a two goal lead, so you know when to give the lead up.
5 – Features a "Siri-like" feature called "The Micheletti" and features excuses on the face of the watch that you can make after a bad performance at work.
I could probably go on with this bit, but you get the point.
Seriously though, who is buying this watch, besides the most hardcore of Lundqvist fans and Joe Micheletti?
You're better off selling a $10 Bob Froese watch.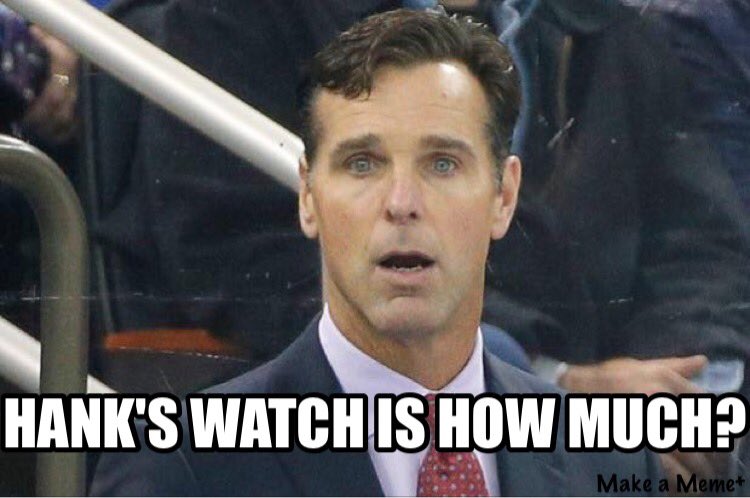 Going into tonight's game with Toronto, with Henrik Lundqvist having six days off, many fans, myself included, figured that Lundqvist would get the tough game with Toronto here on Saturday, with Georgiev getting a weak Philly team on Sunday. Most of us, including yours truly figured wrong, as Larry Brooks broke the news that Georgiev, and not Lundqvist, would man the pipes against the Leafs: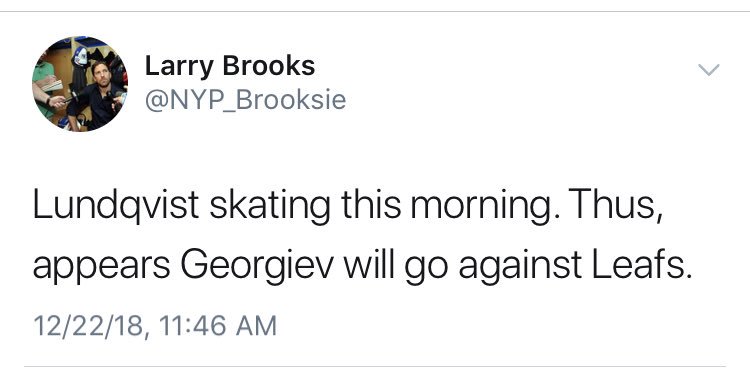 Let me share this fun fact with you, which I posted on my social media accounts:
For a rebuilding team in the New York Rangers, during back-to-backs or with two games in three days, Hank has played against LA, CHI, AZ, DET, FLA (2), and OTT. Hank has missed games against the Capitals, Columbus, Montréal, Anaheim (2) and Toronto. What a warrior! Always looking for the top competition! And let's not forget that Lundqvist missed a game with the Islanders, the same team that Georgiev posted the lone Ranger shutout of the season against.
There are two schools of thought here. First off, Lundqvist is still a coward, and just like he did with Talbot & Raanta, Lundqvist tries to cherry pick his starts when he can. And before you do the "LUNDQUISS HAS NO CONTROL OF HIZ STARTS" stuff, here's what Larry Brooks wrote in October: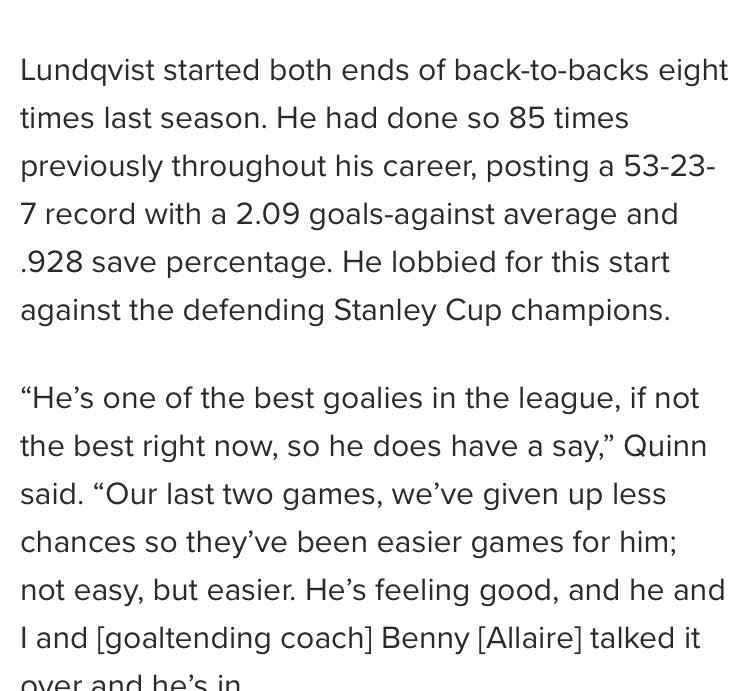 So yes, Lundqvist does have say in his starts. Apparently he's now blaming mental fatigue as the reason for missing this game. I guess watching the Rangers play a Cup contender in Toronto is the cure to mental health issues. Leave it to Lundqvist, as Lundqvist has the answer for #BellLetsTalk! What can't this man do, besides win a Cup, hold a two goal lead, beat the Islanders, etc.
The second school of thought is that this would be a huge test for not just the Rangers, but for Alexandar Georgiev too. Despite the 5-3 score, I thought the Rangers passed the test. Georgiev allowed four goals in this game, but two goals came from the deflected variety and one came after a bad turnover/odd man advantage. I also thought Georgiev kept his cool. I could just picture Lundqvist giving up the first two goals in this game, which came via deflections and watching him lose his shit, which then throws off the rest of the team. Instead, the stoic Bulgarian clamped down and made 31 saves.
Once again, the Rangers also played better in front of Georgiev than they do in front of Lundqvist. Sure there were mistakes made, but the Rangers gave it their all against Toronto. The Rangers were in this game until the last minute. It's not like Lundqvist and blowing a three goal lead to the fucking Arizona Coyotes.
And yes, I'm talking about Lundqvist way too much, but the watch stuff happened in-between blogs. Furthermore, I'm just mimicking the MSG pregame show, which had a 5 minute feature on Lundqvist. Not once during Sam & Joe's 10 minute pregame spiel, did they mention that Georgiev was starting, nor did they show highlights of his win over the Ducks. Funny how that happens.
Oh, and speaking of the MSG broadcast tonight, am I the only one who thought Sam & Joe treated this game as if they were the announcers for the Leafs? Seriously, they even ran spots where Matthews and Marner were in some dance recital. Joe could not stop gushing about the Toronto offense. And not once did Micheletti talk up a Georgiev save. To Sam's credit, he did.
As far as the "Scratch List of Quinn" or the easier to say "QUINN BINN" (credit: BSU Radio) goes, not much changed from the game with Anaheim and in this game with Toronto. The only change was that Tony DeMAGAngelo was scratched and Freddie Claesson was back in on defense. Everything else was the same. I don't have much else to add in this department from what I said in my last blog, outside of that I still continue to believe that Brady Skjei, because of his contract, gets more leeway than his peers.
Now let's get into the game. As usual, here's the box score from ESPN.com:
SCORING SUMMARY:
1st Period
2:58

Patrick Marleau

(10)

Assists: Morgan Rielly

0
1
2nd Period
15:00

Neal Pionk

(5)

Assists: Jimmy Vesey, Brady Skjei

1
1
3rd Period
1:37

Andreas Johnsson

(8)

Assists: John Tavares, Mitch Marner

1
2
5:26

Morgan Rielly

(12)

Assists: Andreas Johnsson, Frederik Gauthier

1
3
6:34

Kevin Hayes

(10)

Assists: Filip Chytil, Neal Pionk

2
3
12:53

Mitch Marner

(11)

Assists: Andreas Johnsson, John Tavares

2
4
16:19

Chris Kreider

(16)

Assists: Marc Staal, Kevin Hayes

3
4
19:40

Mitch Marner

(12)

Unassisted
PENALTY SUMMARY:
1st Period
No Penalties This Period
2nd Period
1:10

Patrick Marleau:

2 minutes for Holding Marc Staal

6:10

Adam McQuaid:

2 minutes for Cross checking Nazem Kadri

6:10

Adam McQuaid:

2 minutes for Holding William Nylander

15:33

John Tavares:

2 minutes for Holding Mika Zibanejad
3rd Period
No Penalties This Period
GOALIES:
| | | | | | | | | | | |
| --- | --- | --- | --- | --- | --- | --- | --- | --- | --- | --- |
| SA | GA | SV | SV% | ESSV | PPSV | SHSV | SOSA | SOS | TOI | PIM |
| 0 | 0 | 0 | .000 | 0 | 0 | 0 | 0 | 0 | 0:00 | 0 |
| 28 | 3 | 25 | .893 | 24 | 0 | 1 | 0 | 0 | 59:13 | 0 |
| | | | | | | | | | | |
| --- | --- | --- | --- | --- | --- | --- | --- | --- | --- | --- |
| SA | GA | SV | SV% | ESSV | PPSV | SHSV | SOSA | SOS | TOI | PIM |
| 35 | 4 | 31 | .886 | 25 | 1 | 5 | 0 | 0 | 57:45 | 0 |
| 0 | 0 | 0 | .000 | 0 | 0 | 0 | 0 | 0 | 0:00 | 0 |
For as much in-fighting there is among Ranger fans, and I'm as guilty of it as much as anyone, I think everyone can agree on this – the Rangers gave it 100% tonight. I know that's stuff you say when you lose, but really, these are two teams in different places in the NHL stratosphere.
There are teams I expect the Rangers to beat. There are games I expect the Rangers to win, especially when they have a three goal lead. While I wanted the Rangers to win this game, it wasn't exactly going to shock me if they lost this game. In fact, according to the bookies in Vegas, the Rangers were a huge underdog. In fact, for bettors, if you bet against the Rangers, you had to put up more money than any other game this season. That's how bad the line was.

Since looking at the lines as a way to add a new feature to this blog, if the Rangers would've won this game, you would've got the biggest payout of the season. As far as the over-under goes, for the first time in 9 games, I was wrong. I thought the game would go under. After two periods, and with a 1-1 score, I was looking good. Then we had a six goal third period and my streak was busted. That's gambling Suzyn.
I also very quickly want to talk about the "Bleeding BlueShirts" podcast. On the podcast, Dave Maloney said that many teams would line-up to sign Henrik Lundqvist right now. What? Who? In his next breath, Maloney said that he is worried about the Rangers paying Panarin the big bucks in the off-season. I don't get it. Maloney used to be one of us!
The reason I bring up the podcast is that Maloney also brought up how Toronto is huge with the analytics. I've mentioned this before on the blog. Do you know who Toronto has on their payroll? Why look no further than to Steve Valiquette and his CSA Hockey: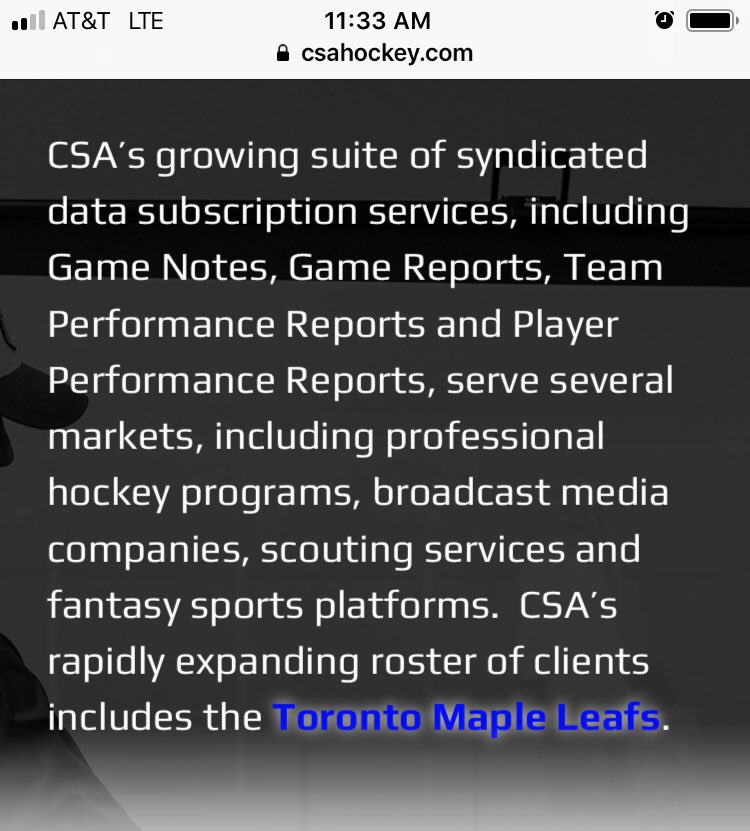 I've talked about this in-depth before, so real quick – you know I'm about the play on the ice and not the stuff you can make up with an abacus and protractor. That said, it can't hurt to at least have the information that Vally's CSA hockey provides. I find it baffling that the Rangers, who overspend on everything, won't give Vally a dime here, yet Toronto does.
And let's not get it twisted – it's not like Toronto is Billy Beaneing it up here either. When you sign John Tavares, you're not exactly doing "Moneyball" or in this case, "Moneypuck." However, Toronto just wants all the information they can possibly have, which I believe is an advantage. As of this writing, and to my knowledge, the Rangers still do not employ CSA Hockey, which is truly a head-scratcher.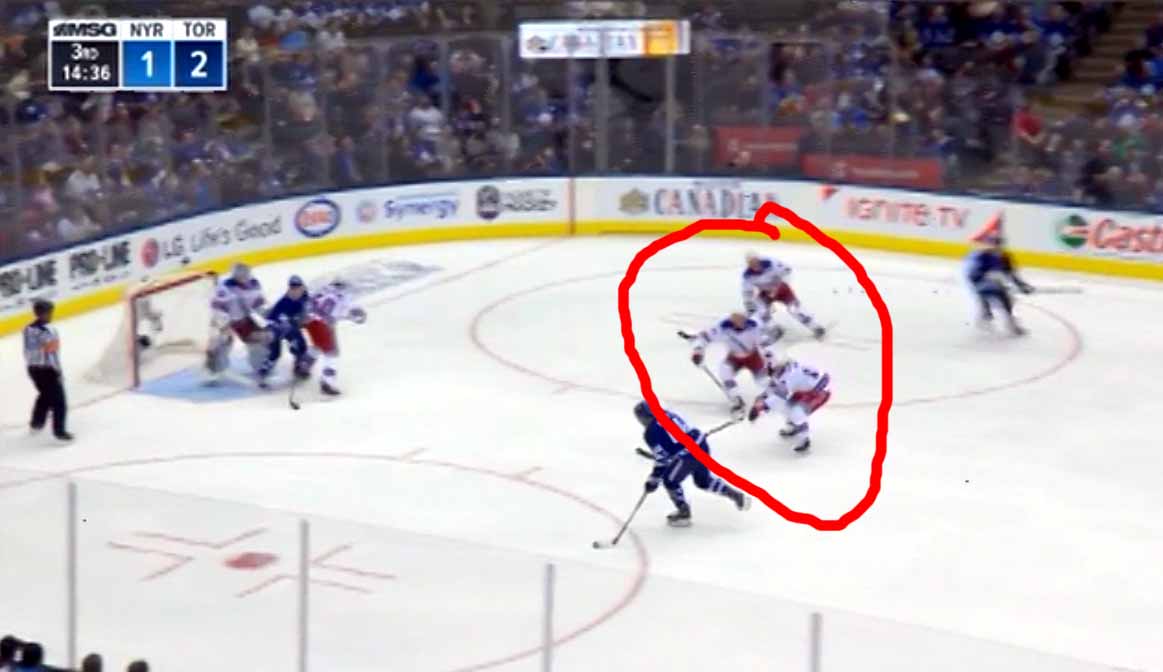 While the result didn't go the way of the Ranger fan, this was a great hockey game to watch. We've seen a few snoozers this season, even in victory. That said, this was not that. By the time the second period was over, I was all pumped up. I was a believer.
The Rangers owned the opening minute of the game and all you could hope for was 59 more minutes of that. However, with this game favoring speed over physicality, Toronto's speed made the Rangers pay, especially after a Mats Zuccarello turnover.
With the Rangers in the Toronto zone, Zucc tried making an impossible pass to Chytil, which he had no business making. Toronto took it up the ice and after a deflection, erased some Ranger good vibes, by scoring at the 2:58 mark. Here's long-time veteran, Patrick Marleau:
Maples leafs get on the board first as Patrick Marleau (10) deflects it in from Morgan Rielly (30) at 2:58 pic.twitter.com/308l6goyWP

— Rangers Report (@rangersreport) December 23, 2018
1-0, bad guys. And I won't lie, I was nervous here. In fact, the Rangers looked nervous as the period went on, only to storm back in the second period.
The Rangers would get chances at Toronto's Frederik Andersen, but despite Andersen leaving the net exposed on several occasions, the Rangers couldn't find that tap-in goal. Give credit to the Toronto defense and of course, to a little puck luck.
Most of the period saw the Rangers try to play keep-away with the Leafs. In a period devoid of any penalties, when it was all said and done, Georgiev would make 14 saves, which was the same amount of total saves he made in the game with Anaheim.
Really, while the Leafs looked like the better team in the period, if it wasn't for a fluky deflection goal, the score would've been tied after twenty minutes. I guess you can take something out of that, and the Rangers would, as they would then play amazing in the second period.
Of note, John Tavares (Remember him, Joe Micheletti sure did tonight) had five shots stopped by Georgiev, with most of them coming in the first period. Tavares would later log two assists in the game.
In the second period, Marleau would get banged a minute in, for holding Marc Staal. The Rangers couldn't get the PPG, although Zibanejad was gunning for it with his blasts from the point.
At the 6:10 mark, we got some real action:
Adam McQuaid just ragdolls Nazim Kadri after the Leafs' forward takes a shot at Alexandar Georgiev! #NYR pic.twitter.com/VrI3BVgaES

— MSG Networks (@MSGNetworks) December 23, 2018
I don't get this call, or rather, no call here. Kadri is shoving Georgiev. No call? I mean, if the Leafs scored there, it would've been goalie interference, right?
Then McQuaid, who is defending his goalie from cheap shots from Kadri, gets a double-minor. How do you figure that? At least McQuaid just completely rag-dolled the little bitch.
In what was a turning point in the game, Georgiev and the Rangers PK came up huge on the double minor. The Leafs, despite four minutes of PP time, couldn't even set up their power-play. The Rangers broke their fucking hole in this period and would deny Toronto at every opportunity.
I can't stress enough – killing this double minor was, and to quote Donald Trump here, "YUUUUUUUUGGEEEE."
After Georgiev made a big save, the Rangers went up the ice. In what was a team goal, Neal Pionk got the glory, as he absolutely blasted one by Andersen, with five minutes left in the period:
🚨GOAL🚨 NEAL PIONK (5) a powerful slapshot from outside the faceoff circle. Assists from Vesey (10) & Skjei (8) pic.twitter.com/QEnmVZTeQL

— Rangers Report (@rangersreport) December 23, 2018
1-1.
In perhaps what came back to bite the Rangers in the ass, Ryan Strome was left all alone in front of Andersen. However, the puck took a bad bounce and Strome missed the puck with his blade and wound up hitting the puck with the shaft of his stick. Not good enough. What could've been a dagger to Toronto, and what could've put the Rangers up 2-1 at the end of the second, wound up being a gift from the hockey gods on behalf of the Leafs.
I can not overstate this enough – the Rangers were amazing in the second period.
At the end of two, we were tied at 1 all.
Real quick – while speaking of the Hockey Hall of Fame, which is where I got this picture above from, I wonder if Quinn took his team there? I'm assuming no, as the Rangers were in New York on Friday. Not for nothing, we always hear about these hockey teams having bonding trips or practicing in Lake Placid, for "inspiration." I know this would mean the Rangers would have to acknowledge their history, but wouldn't be a cool team bonding thing, as well as a great feature for the MSG Networks, if the Rangers & Quinn visited the Hockey Hall of Fame? I guess looking at Al Trautwig's teeth and listening to Bill Pidto shill stale pretzels is more important.
Tied at 1-1 and with twenty minutes remaining, these Rangers were holding their own with another upper-echelon team. And they were doing it without their overpaid goaltender. What does that tell you?
At the 1:37 mark, Andreas Johnsson scored, as this goal was another deflection goal. 2-1 bad guys.
Four minutes later, Toronto made it 3-1, this time off the stick of Morgan Rielly:
MORGAN RIELLY WITH A FANTASTIC WRISTER!#LeafsForever pic.twitter.com/GNwyHa0DxA

— Hockey Daily (@HockeyDaily365) December 23, 2018
It looked like the Rangers couldn't keep it going for sixty minutes. However, the Rangers didn't give up and kept on fighting, as just a minute later, Filip Chytil made a hell of play, which then led to Kevin Hayes making this a one-shot game again:
🚨GOAL🚨 KEVIN HAYES! His 10th of the season assisted by Chytil (7) & Pionk (14). He answered back a minute after Morgan Reilly's goal and it's a 1 goal game now pic.twitter.com/TBq5C6kvKz

— Rangers Report (@rangersreport) December 23, 2018
I'm telling you, expect a ton of "THE RANGERS MUST DO THIS WITH KEVIN HAYES" articles during the X-mas break.
3-2, bad guys.
At the 12:53 mark, the Leafs doubled-up the Rangers, seemingly putting the game out of reach, when Marner handled Georgiev:
JOHN TAVARES FEEDS A BEAUTY TO MITCH MARNER WHO DEKES OUT GEORGIEV TO SCORE!#LeafsForever pic.twitter.com/zIib2fYezB

— Hockey Daily (@HockeyDaily365) December 23, 2018
4-2, bad guys.
However, the Rangers wouldn't wave the white flag.
At the 16:19 mark, CK20 would be credited with a deflection goal, even though I thought Hayes scored. 4-3, bad guys.
With the game 4-3, I was hoping for some "Buffalo Wild Wings" magic and that the Rangers would score the tying goal.
The Rangers would pull Georgiev from the net, with around two minutes remaining. They had some chances, but couldn't find the back of the net. With 45 seconds or so remaining, the Rangers couldn't pull the trigger and a pass jumped over the blue line. Mitch Marner would race up, score the empty netter to ice the game and give the Leafs a 5-3 victory. Losing fucking sucks, but this isn't a loss to hang your head about either.
I watched a little of the MSG post-game show after this game, and really, if you saw it, my thoughts echo both the thoughts of Anson Carter and Steve Valiquette. This was a fun game to watch, but Toronto was just better. I don't want this blog sounding like a "participation trophy", but for all intents and purposes, if you're looking for the positive, the Rangers hung in there with a Cup contender.
Tomorrow (or tonight, by the time you read this), the Rangers host the rebuilding and made-over Philadelphia Flyers. The Flyers shut-out the Rangers in their last tilt. I would assume back-up goalie Michal Neuvirth gets the start.
The game with the Flyers will be an interesting one. It's a game that I believe the Rangers should win. We're now, for the first time, starting to hear about "mental health" issues with Henrik Lundqvist. If the Rangers play the way they did with Vegas, Lundqvist may go through a window like the Indian in "One Flew Over the Cuckoo's Nest."
The Rangers are coming off back-to-back games in front of Georgiev, where they played well defensively. Again, yes, there were some lapses with the Leafs, but Toronto is a good team and no one is perfect. If tomorrow is another odd-man rush fest in front of Lundqvist, I would expect Lundqvist to lose his shit. It's up to the Rangers to play as well as they have in front of Georgiev, here in this game with the Flyers. It's also up to Lundqvist to keep his cool and make the saves when needed. The slamming the stick stuff gets old quick.
No matter who is in net, the Rangers are now starting to slip in the standings, as they are now 7 points out of a playoff berth. Either the Rangers rip off a winning streak or we will be subjected to endless trade rumors up until the deadline.
I know many of you guys want the draft pick, but I'm still rooting for the playoffs.
See you tomorrow night.
As always, thanks for reading and…
LET'S GO RANGERS
Sean McCaffrey
BULLSMC@aol.com
@NYCTHEMIC on tweeter