Greetings and salutations everyone and welcome to another blog here on BlueCollarBlueShirts.com. A week ago, right before Christmas, the Rangers looked absolutely horrendous and gave everyone a nice turd of coal in their stockings. Now, a week later, as we head into 2019, the Rangers are the authors of a two-game winning streak. Has much changed in a week? In short, no, but hell, a win is a win and you'll take a win by any means necessary.
On Monday night, New Year's Eve in St. Louis, the Rangers won "one of those types of games" over the St. Louis Blues, by a final of 2-1. For the Rangers, who just won their first ROW game on the road, on Saturday night in Nashville, they now have two ROW victories in a row. To quote John Sterling, "Isn't that amazing Suzyn? Lowes, let's build something, togethaaaaaaa."
As far as what has changed, from the games before Christmas to the games after Christmas, the Rangers are now 100% healthy for the first time this season. (Boo Nieves was on the main roster at the start of the season, but was out with a concussion. Once he cleared concussion protocol, he was sent to Hartford.)
With the Rangers at 100% and with a "vintage" game from Henrik Lundqvist tonight, the Rangers closed 2018 with an impressive win over Nashville on Saturday, and then eked by the last place St. Louis Blues on Monday.
While Henrik Lundqvist fans have every right to be happy right now, what Ranger fans can't lose sight of, is that once again, the Rangers played down to the level of competition, here in this game with St. Louis. I've been saying this all season – it's amazing how the Rangers can step up against the better teams in the league and play close games with the Nashville's, the Winnipeg's, the Washington's and the Tampa Bay's of the league, but when it comes to crappy teams, like the Flyers, the Blackhawks, the Kings, the Coyotes or here tonight with the Blues, the Rangers either out-right lose to these bad teams or hold their heads above water just enough to win.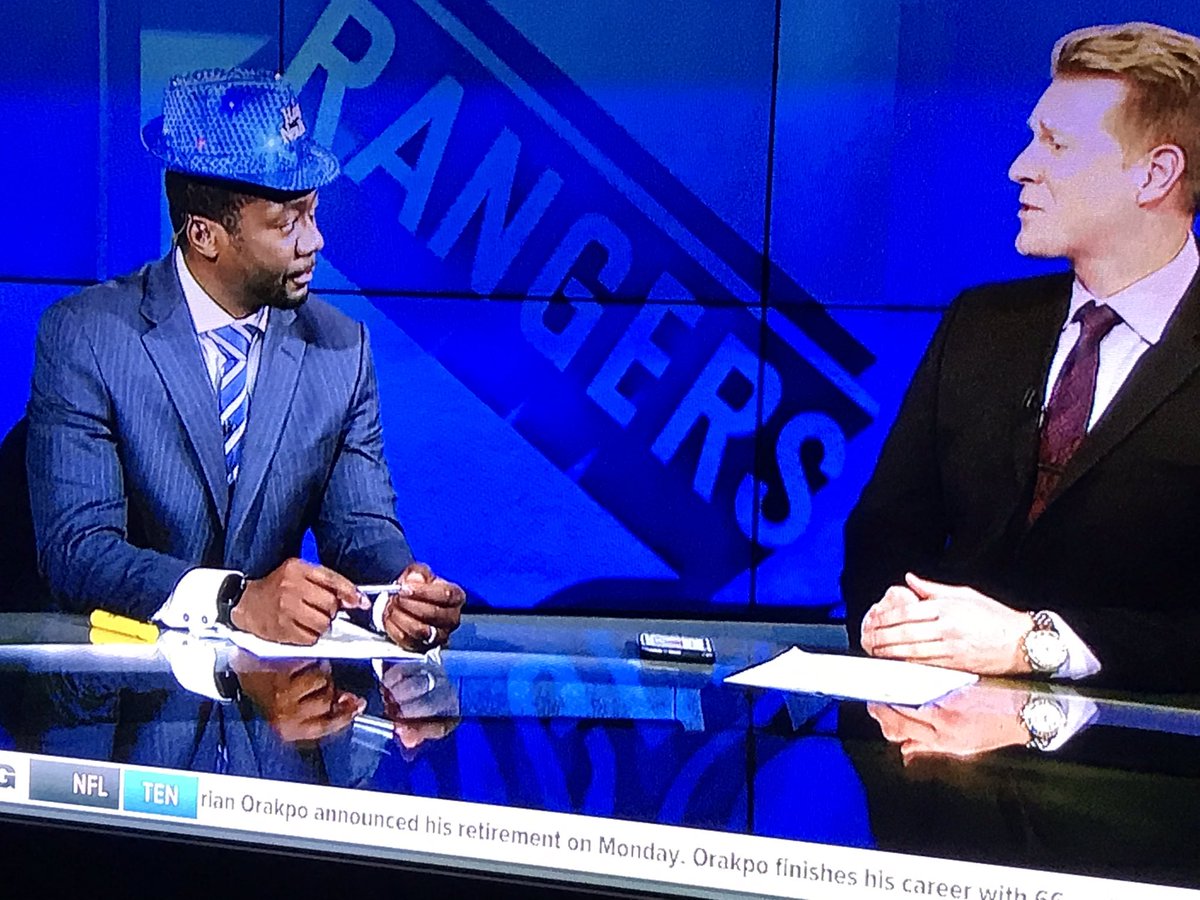 It's New Year's Eve, so I don't want to go too long tonight, so let's dive right into it. As usual, here are my most recent blogs, in case you missed them:
---
---
---
---
---
---
On Sunday, the day in-between the games with Nashville and St. Louis, it was reported that Filip Chytil would be scratched for the first time this season. Of course, there's two schools of thought here. The first theory is that the Rangers are rebuilding, so Chytil should play every game. The other theory, David Quinn's theory, is that ice time is to be deserved and sometimes a young player can learn a thing or two by watching a game upstairs. In cases like this, you have to trust that Quinn is around these guys 24/7 and knows what's best.
With Chytil out, the lines looked like this:
FIRST LINE: Kreider/Zibanejad/Fast
SECOND LINE: Zuccarello/Hayes/Namestnikov
THIRD LINE: Howden/Nieves/Buchnevich
FOURTH LINE: McLeod/Strome/Vesey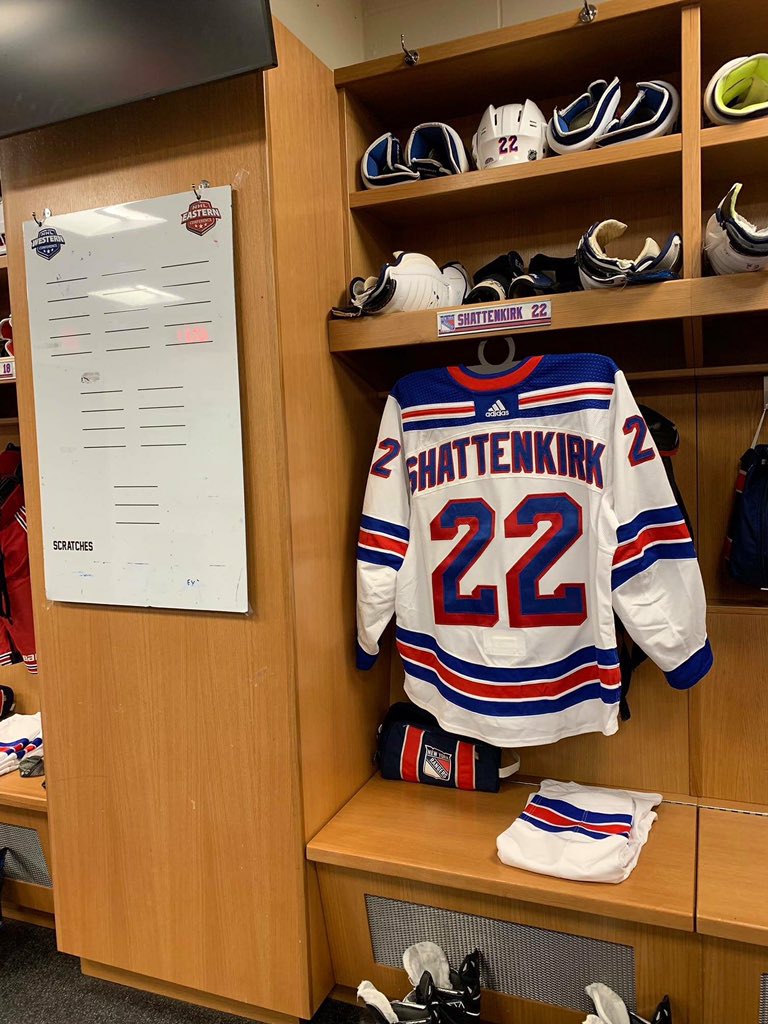 Defensively, with Kevin Shattenkirk ready to return, meaning the Rangers were back to having 8 healthy defensemen on the roster, Quinn scratched Brendan Smith and Frederik Claesson. When you look at it, kind of like how when the Rangers traded Derek Stepan, when the Blues traded off Shattenkirk to the Capitals, it was the beginning of their rebuild too. They just didn't know that at the time! And seriously, as we'll get into below, the Blues are freaking awful. Just terrible.
With Shatty back and with the thinking that not only does he have to play, but usually players have a little more pep in their step against their ex-teams, Shatty was paired with Tony DeMAGAngelo. (Credit as always, to @NYRKELSMADS)
Here's what Quinn put out there on D:
FIRST PAIR: Staal/Pionk
SECOND PAIR: Skjei/McQuaid
THIRD PAIR: DeAngelo/Shattenkirk
In goal was Henrik Lundqvist, which to me, despite the win tonight, made no sense. Every other team in the league, especially the ones rebuilding, play their back-up goalies against bad teams. Only the Rangers trot out their starter against every bad team possible. Thankfully, for the first time since the game with the Panthers, Lundqvist & the Rangers picked up two points against a crappy team.
Speaking of Lundqvist, how about this quote from Brett Crygalis, of the NY Post: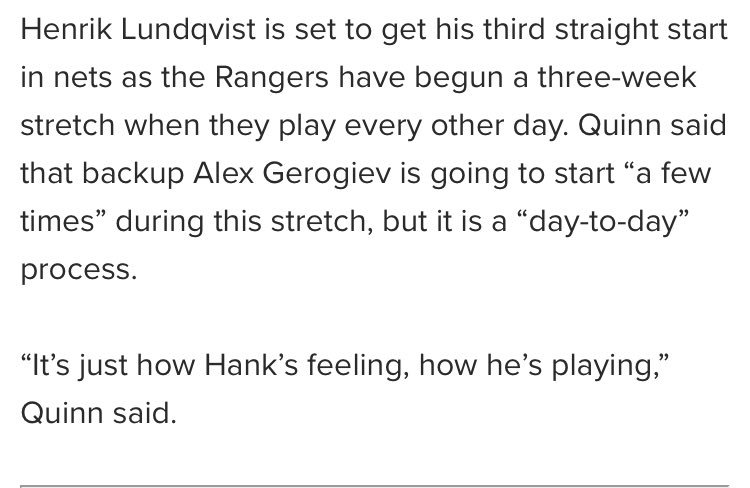 If Georgiev starts against Pittsburgh, while Lundqvist took this game with St. Louis, I will cry laughing. Selfishly, I'm hoping Lundqvist plays against Pittsburgh and then we get the KING OF KINGS, in Alexandar Georgiev, during the games against Colorado and against Arizona, just because I'm going to both of those games!
What this quote also tells you, is that Quinn could give two shits less about the silly "tank" talk or the word "rebuild."
One thing that will be overlooked by many, because of Lundqvist's strong performance tonight, is the fact that Cody McLeod (1 blocked shot, 3 hits and +/- of 1 in tonight's game) has been a spark that the Rangers desperately needed. Since his return, the Rangers are now 2-0, and are now 13-5 on the season with McLeod in the line-up.
As I have always said, I would've preferred Tanner Glass over McLeod. However, McLeod is earning his keep with the team. (Glass wouldn't work out with Quinn, as Glass was always an AV guy anyway.)
When you look at the Rangers as a team, has there been any other player that's been more perfect at his role this season than Cody McLeod? I guess you can make a case for Marc Staal, and while Hayes & Kreider have had good seasons, there's been games where you don't notice them. Every time McLeod plays, you notice him.
Granted, McLeod only played 7 minutes tonight, but as I've been saying all season, he maximizes his minutes and doesn't take a shift off. One of the key plays in this game saw McLeod eat a huge St. Louis power-play shot from the point. Who knows if Hank saves the shot or not, but McLeod was there to take the pain. And when he's not absorbing pain, he has no problem dishing it out either.
While McLeod isn't Doug Glatt from "The Goon" movies, McLeod is near the end of his career and just seems to cherish being on the ice more. It's noticeable. It's impressive. While there wasn't much to write home about last year in regards to McLeod, and while yours truly and other Ranger fans didn't like Gorton re-signing him for this season, you'd be hard-pressed to find anyone complaining about McLeod during the first half of this 2018-2019 campaign.
As usual, before going into the meat & potatoes of the blog, here's the box score from ESPN.com:
SCORING SUMMARY:
1st Period
10:08

Ryan O'Reilly

(15)

Assists: David Perron

0
1
19:40

Mats Zuccarello

(4)

(Power Play)

Assists: Chris Kreider

1
1
2nd Period
3:11

Boo Nieves

(2)

Assists: Kevin Shattenkirk, Ryan Strome

2
1
3rd Period
No Goals Scored
PENALTY SUMMARY:
1st Period
3:50

Alex Pietrangelo:

2 minutes for High-sticking Jesper Fast

11:16

Robert Thomas:

2 minutes for Hooking Anthony DeAngelo

15:36

Adam McQuaid:

2 minutes for Holding Alex Steen

18:18

Oskar Sundqvist:

2 minutes for Tripping Anthony DeAngelo
2nd Period
0:16

Chris Kreider:

2 minutes for Interference Brayden Schenn

6:40

Anthony DeAngelo:

2 minutes for Hooking Vladimir Tarasenko

17:16

Ryan Strome:

2 minutes for Illegal equipment
3rd Period
No Penalties This Period
GOALIES:
| | | | | | | | | | | |
| --- | --- | --- | --- | --- | --- | --- | --- | --- | --- | --- |
| SA | GA | SV | SV% | ESSV | PPSV | SHSV | SOSA | SOS | TOI | PIM |
| 23 | 2 | 21 | .913 | 14 | 0 | 7 | 0 | 0 | 56:51 | 0 |
| | | | | | | | | | | |
| --- | --- | --- | --- | --- | --- | --- | --- | --- | --- | --- |
| SA | GA | SV | SV% | ESSV | PPSV | SHSV | SOSA | SOS | TOI | PIM |
| 0 | 0 | 0 | .000 | 0 | 0 | 0 | 0 | 0 | 0:00 | 0 |
| 40 | 1 | 39 | .975 | 29 | 1 | 9 | 0 | 0 | 60:00 | 0 |
In the over-under total goals segment of the blog, here's what I predicted before the game:
Vegas is begging you to hammer the over tonight with a minuscule o/u line of -5.5. Lundqvist gives up three goals on the regular by himself. Blues are favored, but smart money is on #NYR. Bet the over without worrying & if you're feeling lucky, parlay NYR & the over. pic.twitter.com/FtIOl2rXN3

— BlueCollarBlueShirts (@NYCTheMiC) December 31, 2018
This is why the house never loses. The bookies wanted you to take the over with a low line of -5.5. Of course, only 3 goals were scored all game, so I take the "L" here.  That said, I'm still 10 for 14 since giving my over-under predictions. Not shabby. I was shocked to see that the Blues were the favorite in this game, but I guess Vegas somewhat had that right. After all, the Blues were all over the Rangers for the last forty minutes of this game and it took a ton of saves from Lundqvist for the Rangers to enjoy their New Year's Eve flight back to New York City.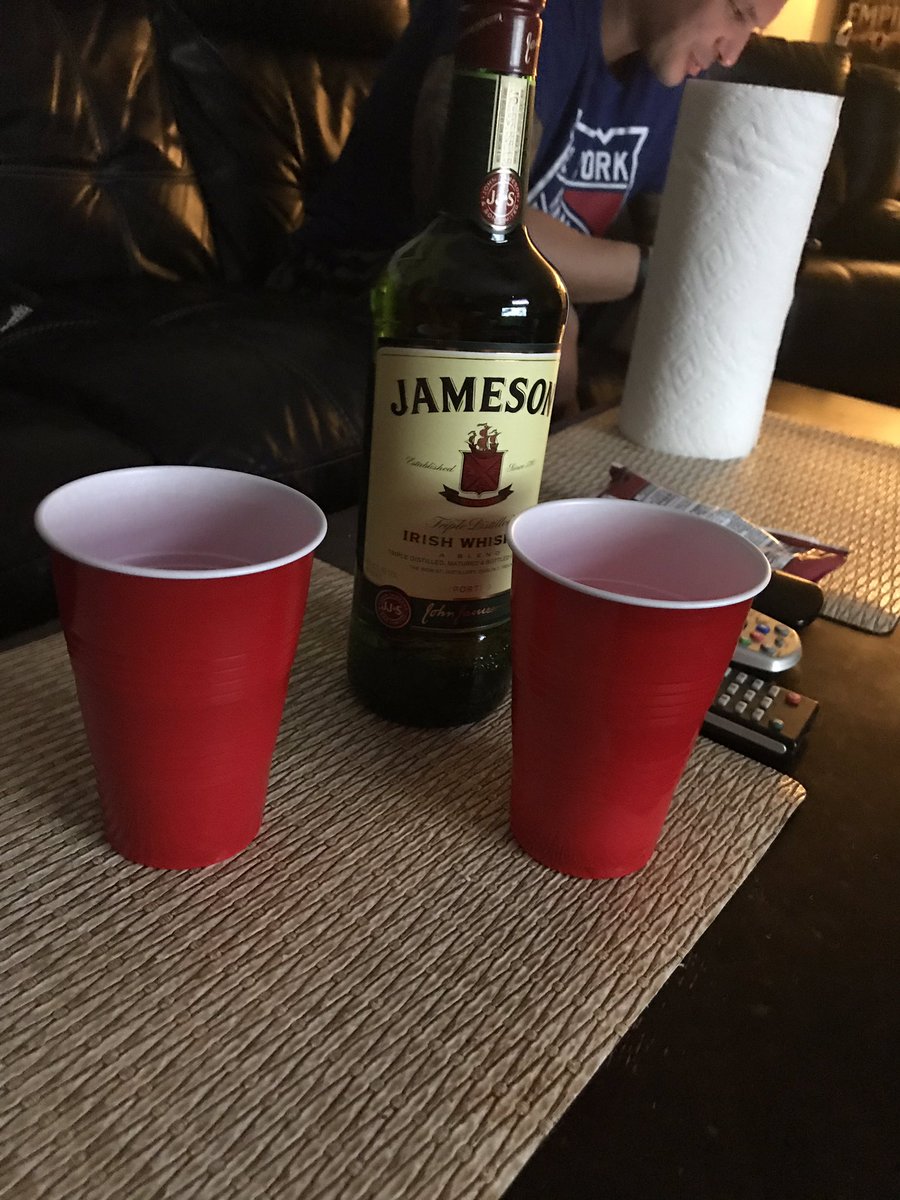 As usual, the MSG Networks pregame show didn't have much to talk about outside of Henrik Lundqvist and how bad the Blues were. The same went for Sam & Joe. I can't wait for Lundqvist to leave, just so there is something else to talk about before these games. Also, of note, has anyone else noticed how much Sam & Joe have been talking up the other teams lately? I've heard more good things about the opponents lately than the Rangers themselves!
Speaking of that parasite, in a one Joe Micheletti, I wanted to share something that I found on one my favorite NYR facebook groups, in the Garden of Ill Repute: The Skjeidy End of Rangerstown , which you can also visit by checking out: https://www.facebook.com/groups/1335046173270249/
The following comes from Ranger fan, David A. Morehouse:
So I decided to watch the game via St Louis Blues TV feed, and wouldn't you know it, 10 minutes into the first period the play by play guy says (I'll quote as close as I can) "according to Joe Micheletti, NYR TV commentator, Lundqvist gets better and better each year. And his goalie coach is one of the best ever….."
Even when. I don't watch MSG feed, this guy still gets mentioned. Can't escape his presence.
As talked about in my last blog, Micheletti is dying to eat Hank's dick like Kobayashi:
That all said, the Lundqvist praise was earned tonight. However, because it happens in every game and because it's so exaggerated all the time, when Lundqvist actually has an amazing game, just like he did here against St. Louis, some of that is lost because of all the hyperbole. After all, it's just non-stop, especially with the 30-40 minutes of fellatio, that the MSG Networks performs on Lundqvist, before the puck is even dropped.
I don't really know what you can take out of this game tonight. The Rangers got the two points, but boy was it ugly and really, I left this game wondering how come the Rangers can play strong against good teams and look like shit against bad teams?
We had the 2011-2012 Henrik Lundqvist tonight, who made 39 saves on 40 shots, with many of them coming during crunch time and with a man down. If we had the shaky Henrik Lundqvist, this would be another game where we would hang our heads and moan & groan. The win helps the good vibes, but this was a win where you hightail it out of town, like a wrestling heel who cheated to win a match. "BE FAIR TO FLAIR!"
The Rangers had ample opportunities to put some distance between themselves and the Blues tonight. The Rangers went 1-3 on the power-play tonight, as the 5 forward PP unit picked up their third goal in their third straight game together. I thought the Rangers should've got another PPG in this game, but it didn't happen.
The Rangers had some odd-man rushes in this game, but couldn't capitalize. Then, the Rangers had some point-blank looks at Blues goalie, Jake Allen, but Allen had a strong game too. As the game progressed into the second and third periods, it felt like the Rangers could never get control of the puck, nor have any sort of chance on the 5 vs 5 and couldn't get a clear if their lives depended on it. Allen would make 21 saves in this game, and without looking at the official stats, if he had to make more than 10 saves in the last 40 minutes of this game, I would be shocked.
While the Rangers were anemic offensively, they were solid on defense and on their penalty kill. However, I also chalk up some of that to the fact that St. Louis Blues, for lack of a better word, SUCK. The Blues had over 50 chances to get two goals in this game, but a combination of Henrik Lundqvist, the Rangers defense and the fact that Blues couldn't score in a Thailand whorehouse with a fistful of $100 bills, kept the Blues to only one goal.
In what I thought was a telling stat after this game, the Rangers had as many shots on goal as they did blocked shots. Holy Tortorella Batman. The Rangers had 23 SOG and 23 BS's. The Blues would also get 40 shots off on Lundqvist, so that's 63 attempts at the net for the Blues and all they got was one goal. Again, and this is a Lundqvist vs Georgiev thing, the Rangers just seem to be more conservative and not as aggressive offensively, when Lundqvist starts. When you win games, everything is good, but if the Rangers lost this game, you would question their lack of offense too. Seriously speaking, this truly felt like a game out of the Torts era, particularly from the 2012-2013 season.
The Blues are just a freaking mess. I can't bullshit here and tell you that I watch every Blues game, as I think I've watched about 3 of their games all season, including this one, but they stink to high heaven. If there is ever an example of this being a young man's league, just watch the Blues & all their veterans.
I don't know if it was me or if anyone else thought this, but even when the Blues were dominating the latter stages of the game, winning every face off and controlling the puck, I felt that they just looked off. The little things weren't working out for them and the Blues looked awkward.
For example, right-handed players were in the position/spot on the ice where you would normally see a left-handed player and vice versa. So when the Blues, who treated this game like it was "NHL '94" on Sega Genesis and just kept going for one timers, they couldn't get some of their shots off quickly or effectively.
While I mentioned how strong Lundqvist was in this game and how the Rangers blocked an incredible 23 shots, the Rangers were also like Micheletti all alone in his hotel room and logged into "SwedeTube", as they were masters of their own stick. The Rangers just kept breaking up passes and chances. That was great. Unfortunately, while they were doing that, they did have a tough go of clearing the puck and getting anything going offensively.
This was a weird first period, which was full of whistles and for the most minor of infractions. Even before the game went the way it went, the Blues couldn't even do the little things right, like you know, stay onside. There were three offside calls early into this game. These guys are professionals, so this just really stuck out for some reason to me.
At the 3:50 mark, Blues Captain, Alex Pietrangelo, got caught high sticking Jesper Fast. The Rangers wouldn't score on their PP opportunity, as Jake Allen, who had a monster of a game for himself too, would make two huge saves on both Vesey and Howden. This truly was a goaltender's duel, with Lundqvist getting the better of Allen. That said, Allen was no slouch in this game either.
At the 10:08 mark of the game, the Blues struck first and I had thoughts of "here we go again." However, this would be the lone Blues goal of the contest:
RYAN O'REILLY FINISHES DAVID PERRON'S FEED!#STLBlues pic.twitter.com/9g6CrIxINY

— Hockey Daily (@HockeyDaily365) January 1, 2019
1-0, bad guys.
Oh, and just for the people who enjoy my live-tweets during games, here's what I said after the goal:
For those who need a friendly reminder, Alexandar Georgiev is the only goalie with a shutout for the Rangers this season. He is also the only goalie with a shutout for the Rangers in 2018! #nyr

— BlueCollarBlueShirts (@NYCTheMiC) January 1, 2019
Of note, the MSG Networks ran some stats about 2018, and stuff like who scored the most goals, who had the most assists, blah blah blah. Not mentioned was who had the most shutouts in 2018. Little bit of selective news by the MSG Networks, as usual!
After the goal, St. Louis would take another penalty. The Rangers would fail to capitalize yet again, thus going 0-2 on the PP up to this point in the game. Then, at the 15:36 mark, Adam McQuaid would be boxed. The Rangers would then kill their first of four penalties and they looked good doing it. Again, the Blues suck, as they could barely set their PP up and when they did, they looked amateurish.
At the 18:18 mark, Oskar Sundqvist would get penalized for tripping DeMAGAngelo. On TDA, he drew two penalties tonight, which is something worth mentioning. With the Rangers getting a "wrap-around" penalty, the Rangers, who have not scored on the second half of any of these wrap-around penalties all season, would score before the first period concluded, as Chris Kreider found Mats Zuccarello with only 20 seconds remaining in the period:
MATS ZUCCARELLO WIRES HOME CHRIS KREIDER'S DISH!#NYR pic.twitter.com/0VVHBMykzW

— Hockey Daily (@HockeyDaily365) January 1, 2019
I can't lie. I saw this play developing the whole time and when I knew the pass was going to go to Zuccarello, I 100% expected him to make the extra pass to nowhere. To my shock, he shot it and easily beat Jake Allen. 1-1. After twenty more ticks, the period ended and we were tied after twenty minutes.
At the 3:11 mark of the second period, Boo Nieves gave the Rangers a 2-1 lead. This would wind up being the last goal scored in the game, thus doubling up as the game winning goal:
BOO NIEVES BACKHANDS ONE HOME OFF OF CODY MCLEOD!#NYR pic.twitter.com/3Gdq3L6I8l

— Hockey Daily (@HockeyDaily365) January 1, 2019
2-1, good guys.
Two things, and I'll start with the least important thing first. I thought this was McLeod's goal. The official scorers went back and forth and at one point, credited McLeod with the goal. Eventually, it was ruled a goal for Nieves. Personally, I was hoping it was McLeod's goal, as I'm rooting for the guy. No big deal, Rangers scored and the Rangers took the lead.
Secondly, and more importantly, for the rest of the game, the Rangers looked like crap. The Blues just dominated the game and controlled possession of the puck. You know I'm not one to get on his hands and knees and do the "WE'RE NOT WORTHY" stuff out of "Wayne's World", but make no bones about it, Lundqvist may have played his best hockey of the season in these 36+ minutes. While there have been more exciting games (The road win over the Sharks stands out) and games where I thought Lundqvist played strong, for the rest of the game, if you're fan of the goaltending game (and I am) Lundqvist would put on a show.
To the Rangers credit, they were there to block shots and deflect loose pucks, but there were so many times where the Blues would be a man-up and Lundqvist would make a flurry of saves. He was divin' & strivin' and jukin' and dukin'. My bad Walt Frazierisms aside, he protected a one goal lead, which is all we want from him for his money. And really, not to rain on his parade a bit, because he was excellent here, St. Louis just fucking sucks. I can't believe how many GOOD LOOKS that they had and how they just loused it up.
While Allen would make a few saves as the rest of the game went on, stopping Kreider on a three vs one and Hayes from point blank, the rest of the game was the Lundqvist show.
The Rangers PK unit would kill three penalties in the second period. Of the penalties the Rangers took, I thought the first one was bogus, as Kreider was boxed for interference. Brayden Schenn was skating into CK20 and CK20 braced himself and let Schenn know what was up. Would you really call that penalty in a playoff game? Puck don't lie I suppose, and the Blues would be held off the board during their PP.
At the 17:16 mark of the period, Strome would get boxed for playing with a broken stick. A valid call, just not a call you see every day. I thought this is when McLeod came up huge for the Rangers, as he blocked a huge blast from the point. The ice tub will get a work out on New Year's Day, as the Rangers had to be leaving this game with more welts than bad fruit.
As the second period went along and then finally reached its conclusion, all you were hoping for were for the Rangers to get out of this period without giving up a goal. Lundqvist held up his end of the bargain. When the third period came, you just hoped the Rangers would get out of whatever malaise they were in after the Nieves goal.
At the end of two periods, 2-1 good guys.
The third period was more or less the same as the second period, except the Rangers didn't score any goals and obviously, things were more magnified and intense, because you had your eye on the clock. Triple 0's couldn't come soon enough for the Rangers. And if you've been watching every game this season, the Rangers and a one goal lead in the third period, doesn't usually produce two points in regulation. So yea, there was a bit of the old ass clench when watching this period.
I feel like Joe Micheletti right now, but really, Henrik Lundqvist was the star of the third period. I know the Cult is doing somersaults and back-flips right now, but just keep this in perspective – the Blues fucking suck, and much like the Rangers on most nights, were their own worst enemy. If Lundqvist has a game like this on Wednesday against Crosby and the Penguins (I will cry & die of laughter if Lundqvist skips the Pens game) then I will really be impressed.
And just so I can feel un-Michelettish, Micheletti gave the save of the game to Lundqvist when he looked into the back of his net, as a Blue shot a puck at Lundqvist's chest. In all seriousness, the real save of the game came with 1:21 remaining in the game, with the Blues on a 6 vs 5 attack, and Lundqvist stopped Jaden Schwartz at the doorstep of Lundqvist.
On the non-Lundqvist end of things, Pavel Buchnevich would have a GOOD LOOK at Allen, but flubbed it. Buchnevich then skated to the bench, where he made sad Russian faces. Then, in what was a huge defensive play, Brady Skjei stole a puck right off the stick of a Blue (whoever it was escapes me) and cleared the puck out of the d-zone. This was probably Skjei's best play of the season. And here I was, saying that I thought Skjei should've been scratched before this game!
As the game wound down, my friend TEN O CLOCK TOMMY (We both are pumped for our road trip later this week) and I were wondering how many faceoffs the Rangers had won. Turns out the Rangers won 33 faceoffs compared to the 29 faceoffs the Blues won. I was shocked, as it seemed like the Blues could do no wrong at the dot in this third period.
In the crunch time, previously known as THE FOXWOODS FINAL FIVE, the game would go like this – The Blues would win the faceoff, the Blues would play keep away with the puck, the Rangers chased like a donkey chasing a carrot and Lundqvist would make a save. Rinse, wash, repeat.
In the game with Nashville, I remarked how Zuccarello had two chances to put the Predators away, with the Preds net empty. The Blues pulled Allen at around the 2:20 mark. For the rest of the game, the Rangers wouldn't even sniff an empty net chance. This is where you miss guys like a Carl Hagelin or a Michael Grabner.
However, when it was all said and done, between the strong goaltending of Lundqvist and the immense amount of shot blocking & broken up passes from the Rangers, our beloved Blueshirts skated away with a 2-1 win. The "Lose To The Blues For Hughes" mission was aborted.
This blog and the tone of Rangerstown right now, could've been very much different tonight. I hate to be "that guy", but this was not a good win for the Rangers. This was a win. Two points are two points, so you take them and move on. However, don't get it twisted, we've seen the Rangers lose these types of games before, and where the Rangers were "Singing the Blues" after. (I hate making that joke, but I couldn't help myself.)
Up next, the Rangers get a true litmus test, when they take on the Pittsburgh Penguins. Despite the Rangers taking 5 of the last possible 6 points afforded to them, the Rangers aren't making headway in the standings, because the teams ahead of them, such as the Penguins, keep on winning.
This upcoming game with the Penguins, is a game where the Rangers kind of need to pick up a win, (I won't use the word "MUST" here) just so they can gain an inch of ground in the standings.
I know I've said this in my last two blogs, but Wednesday night might be a tough night for me to do a blog once the game is over. I have a 7AM flight to Denver on Thursday, so that means I either do a quick blog after the game and sleep on the plane or get a full night's rest for my flight. Ah fuck it, I just won't drink as much as I normally do when I do these blogs. See ya Wednesday night.
Oh, and Happy New Year. I'm not one for the sappy bullshit, so I'll leave you with this – "Only two more years remain on Lundqvist's contract!" Where's the confetti and champagne?
Enjoy 2019.
Oh, and always, thanks for reading and…
"LET'S GO RANGERS!"
Sean McCaffrey
BULLSMC@aol.com
@NYCTHEMIC on the tweeter gimmick