Greetings and salutations everyone and welcome to one of three blogs posted today, here on BlueCollarBlueShirts.com. Before plugging all the new blogs that were posted today, I would like to apologize in advance for going "blue" here, during this particular Blue Collar Blue Shirt blog. This was one of those games & I use these blogs to vent it all out!
In case you missed the links on the main page, I've posted three separate blogs today, with one of them being this New York Rangers vs New York Islanders 1/10 Game Review. The other two blogs are my "2018-2019 New York Rangers Mid-Season Report Card" and a book review of "CuJo: The Untold Story of My Life On & Off the Ice".
To check out the "2018-2019 New York Rangers Mid-Season Report Card" blog, you can find it here: http://www.doinow.com/1819rc
To check out the "CuJo: The Untold Story of My Life On & Off the Ice" book review, you can find that here: http://www.doinow.com/cujo
And while I'm plugging everything, here are my latest blogs, in case you missed them:
---
---
---
---
---
---
As I start tonight's game review blog, I am utterly disgusted and extremely furious. Not that the Rangers lost. They are a bad team. This is a rebuild. This season is about the draft. We all know that. What has me pissed off after this 4-3 loss to the Islanders on Thursday night, is the fact that the egomaniac goalie had the audacity to blame his teammates for the loss.
Throw out the money that Lundswiss makes. You all know my rants and arguments about that.
This is the guy who has said stupid shit over the years, such as "Give me two goals and I got this" or "I will win the 3-2 games." THEN HOW THE FUCK DO YOU EXPLAIN LOSING 4-3 AND GIVING UP ONE GOAL ON ONE SHOT FACED IN THE THIRD PERIOD?
If you didn't see this game, here is what it came down to. With Lundqvist already blowing a lead in this game and with Lundqvist doing his normal shit of giving up a goal immediately after his team scores (Lundswiss gave up two of these type of goals tonight) the score was 3-3 in the third period. This is where your money goalie needs to clamp down.
In the third period, the Rangers were out-shooting the Islanders by a tally of 16-0. Islanders goalie Robin Lehner, was under constant attack, with the most pressure coming during a Rangers 5 vs 3 PP. Lehner would deny the Rangers from taking the lead in the third period, as the Rangers kept amassing their shot total. And let me be clear here – the Rangers had a ton of quality chances. Lehner just held it down.
As the clock wound down in regulation, and as the Islanders were playing for the overtime point, the Islanders would take their first and only shot of the third period. With less than 90 seconds remaining, Josh Bailey would beat Henrik Lundqvist for the game winning goal.
Immediately after the game, Lundqvist blamed his team for the loss. WHAT MORE DO RANGER FANS NEED TO SEE TO REALIZE THAT HENRIK LUNDQVIST IS A SELF-SERVING EGOMANIAC OF THE HIGHEST DEGREE?
Put it this way – even if script was reversed, and Lundqvist had to face nearly 20 shots in the third period, enroute to a loss, how does it help a developing and young team for Lundqvist to blame them solely for a loss?
The Rangers played their fucking balls off tonight, especially in the third period. They broke their holes. They gave it their all. Lehner was just on top of his game. For Henrik Lundqvist to sit there after the game and immediately start the finger-pointing bullshit, well, for me, someone who has wanted this egomaniac off this team since 2015, well I'm even more furious than usual with the diva.
Oh and for Steve Valiquette and the other Lundqvist minions that have to abide by the edict of the MSG Networks – please stop the bullshit of "Lundqvist was cold because he didn't face any shots in the third." WHAT MORE COULD A GOALIE WANT? DO YOU THINK SAWCHUK, BRODEUR, DRYDEN OR WHOEVER ELSE YOU WANT TO NAME HERE WOULD BE UPSET AT THEIR TEAM FOR LIMITING SHOTS AGAINST? STOP WITH THE BULLSHIT!
IN WHAT WORLD IS IT OK FOR ONE PLAYER TO BURY HIS TEAM AFTER THIS GAME, A GAME THAT THE GOALIE BLEW? How many free passes will Lundqvist get from this organization? It's been time to move on for a long time, and if head coach David Quinn is okay with his goalie trashing his team after tonight, then Quinn may as well lube up and let Lundqvist fuck him in the ass, like his name is Joe Micheletti. WHOSE TEAM IS IT?
Henrik Lundswiss, with his sparkling .800 save percentage and 4 goals allowed tonight, was outplayed by Robin Lehner, a goalie who admitted to having depression issues in the off-season. After tonight's game and after hearing Lundqvist's delusional interview, I think it's time for Lundqvist to go to a mental home. He's more mental than a Season 2-going-into-Season 3 Diane Chambers from "Cheers".
We've heard a lot about Lundqvist and his mental anguish during these last few weeks. Talking about Lundqvist and the Rangers mental issues has grown so tiresome to Dave Maloney & John Gianonne, of the "Bleeding Blueshirts" podcast, that just today, they said they will no longer talk about the "mental fragility" (Their words, not mine) of Lundqvist and the New York Rangers.
Seriously speaking, this guy is more sane than Lundqvist:
Since the beginning of the 2014-2015 season, KING NOTHING is now 1-11-2 against the Islanders. For shits & kicks, the bitch hasn't even won a game at the Barclays Center. Big time athletes come up big against their rivals. Not the diva though! It's always everyone else's fault. Time and time again, Henrik Lundqvist continues to lose games to the Rangers biggest rivals and time and time again, it's everyone else's fault besides his own. I have never seen an ego like this in all my time watching sports, especially from a guy who has never won a World Championship/Stanley Cup.
By the way – does anyone know how to prevent a keyboard from smoking?
Let me take a break from the Cupless wonder and hit some other topics.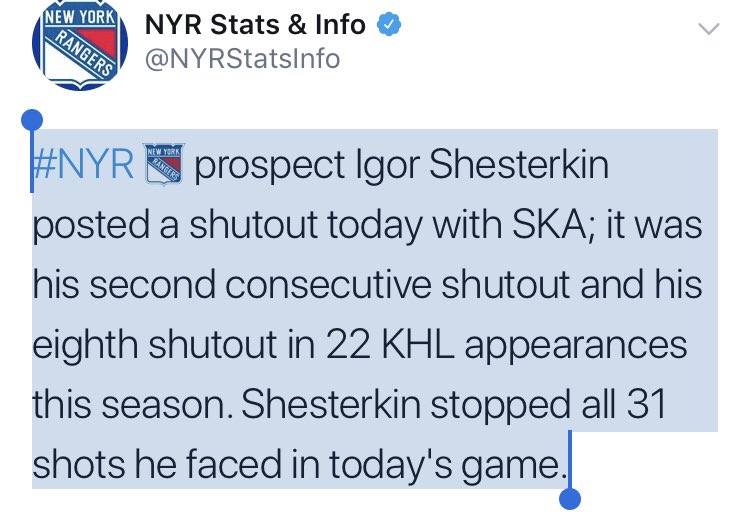 If there is any positive news out of the Rangers goaltending department, it is that CZAR IGOR SHESTYORKIN is continuing to have a great season for SKA out of the KHL. While I'm sure there will be an adjustment period, should CZAR IGOR leave Putinville, I can't wait to see what Benoit Allaire can do with this kid.
I really want to stop talking about Lundqvist, but just think of a Lundqvist free team. You could have Kravtsov, Shestyorkin, a top draft pick, possibly Panarin and/or Karlsson, and a few role players signed through free agency next season. I know some say the rebuild may take years, but if you look up-and-down the league, there's always a turnover in playoff teams from season-to-season. Just get me out of this Lundqvist Era of Error and let me enjoy Rangers hockey once again!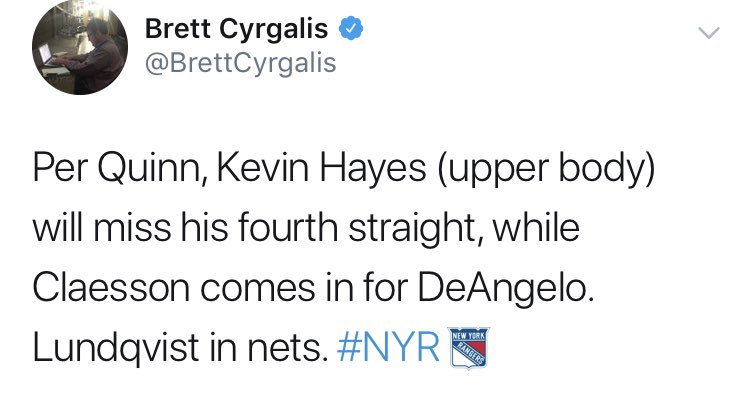 With Hayes missing four out of the five games, here in 2019, the Rangers have been winless without him. I'm telling you, this is good news for the agent of Kevin Hayes, as without him, the Rangers are now on a five game losing streak and playing their worst hockey of the season. He's been missed greatly, and as said on previous blogs, come the trade deadline, Kevin Hayes is going to be Jeff Gorton's toughest decision.
As mentioned in previous blogs, everyone on this team plays under one set of rules, except for the overpaid goalie. Tony DeMAGAngelo (credit as always, to @NYRKELSMADS) is one of those players that will be easily punished if he does something wrong. I know I've said it before, but when you're a young player on your third team, there is an issue there.
TDA took a 10 minute penalty in the game with Vegas, which once again, has people questioning his maturity. I get it. He retaliated and it hurt the team. That said, he may feel that he has to do more and do some rough stuff, in an attempt to get noticed and earn his spot.
What I found really telling, was how Quinn, in his pregame press conference, said that Frederik Claesson gives the team the best chance to win, here in this rivalry game against the Islanders. That can't help TDA's confidence. It also shows you that Quinn has a different set of rules for Lundqvist, because in what world does Lundqvist give the Rangers the best chance to win against the Islanders? He doesn't. In fact, in case you forgot, Georgiev has the lone shut-out of the season, and that shut-out came against the Islanders. (And for those wondering, the highest paid goalie in America hasn't had a shut out since November of 2017.)
With the Rangers entering this game on a four game losing streak and with the Hayes injury, I thought the Rangers would call someone up from Hartford. That didn't happen. However, David Quinn did change his lines, as here's what he rolled out tonight: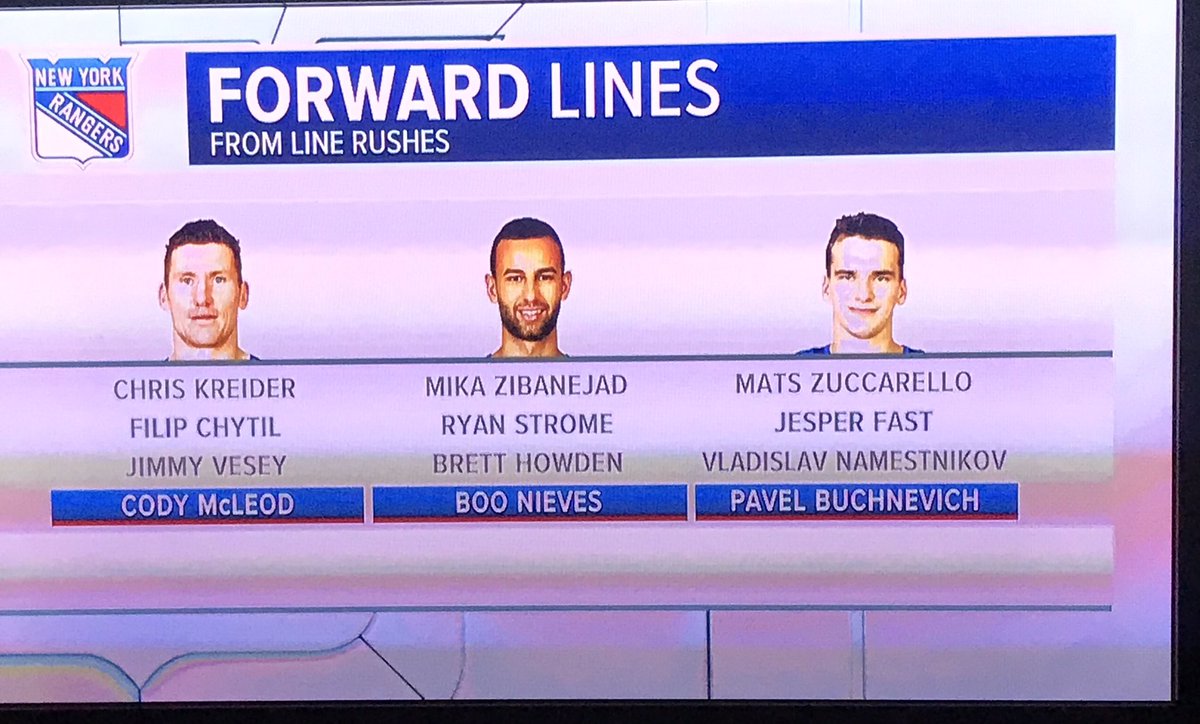 What was most telling to me was that Mats Zuccarello was on the first line. To me, that screams of a trade/audition for scouts. That said, it also helps that Zucc is a feisty player and usually turns it up a notch against the Islanders. To his credit, in what's been a tough season for Zucc, I thought he played one of his better games of the season tonight. You certainly noticed him out there.
Defensively, Quinn went with this:
FIRST PAIR: Staal/Pionk
SECOND PAIR: Skjei/McQuaid
THIRD PAIR: Shattenkirk/Claesson
And now, for your regularly scheduled gambling segment of the blog. Here's what I said before the game:
Two Swedish goalies playing tonight. Bet the over in confidence. This could be an 8, 9 or 10 goal game. #nyr pic.twitter.com/kXz7YHdHPn

— BlueCollarBlueShirts (@NYCTheMiC) January 10, 2019
While this wasn't a 8, 9 or 10 goal game, this was a 7 goal game, meaning that I hit my over bet. That now brings me to 13-5-1 with my over-under bets this season. Sadly, and as I'll show you as I go along tonight, all my predictions would pan out, including Lundqvist blowing this game.
I mean, I was just on fire with my in-game predictions, if I say so myself. Even dumb shit, like talking about the Islanders line-up, I was right on the money with. I talk regularly with Andy Graziano, who is an Islanders reporter. He tweeted out the following before the game:
I don't make a habit of questioning future hall of fame coaches, but….Johnston for Dal Colle is questionable. #isles

— Andy Graziano (@AndyGraz_WFAN) January 11, 2019
I replied with:
Sparring partner for McQuaid or McLeod?

— BlueCollarBlueShirts (@NYCTheMiC) January 11, 2019
What happened? Right at the start of the game, Johnston got into McLeod's face and would take a penalty for unsportsmanlike conduct. In fact, for some reason, Cody McLeod was the center of the Islanders attack, as the Islanders were all over him and goading him all game. It's like the Isles didn't give two shits about guys like Kreider and Zibanejad and thought that by taking out McLeod, it would stifle the Rangers.
At this time, let's go to the ESPN.com box score:
SCORING SUMMARY:
1st Period
1:38

Ryan Strome

(6)

(Power Play)

Assists: Jimmy Vesey, Filip Chytil

0
1
2:31

Mathew Barzal

(13)

Assists: Johnny Boychuk

1
1
8:51

Jordan Eberle

(9)

(Power Play)

Assists: Anders Lee, Mathew Barzal

2
1
2nd Period
1:11

Kevin Shattenkirk

(2)

Assists: Fredrik Claesson

2
2
3:08

Anders Lee

(16)

(Power Play)

Assists: Nick Leddy, Mathew Barzal

3
2
3rd Period
8:40

Jesper Fast

(7)

Assists: Neal Pionk, Pavel Buchnevich

3
3
18:34

Josh Bailey

(9)

Assists: Cal Clutterbuck, Johnny Boychuk

4
3
PENALTY SUMMARY:
1st Period
0:17

Ross Johnston:

2 minutes for Unsportsmanlike conduct

7:41

Matt Martin:

5 minutes for Fighting (Major)

7:41

Cody McLeod:

5 minutes for Fighting (Major)

8:09

Jimmy Vesey:

2 minutes for Tripping
2nd Period
1:38

Marc Staal:

2 minutes for Holding

17:34

Vladislav Namestnikov:

2 minutes for Hooking
3rd Period
3:07

Adam Pelech:

2 minutes for Hooking

4:13

Leo Komarov:

2 minutes for Delaying the game
GOALIES:
| | | | | | | | | | | |
| --- | --- | --- | --- | --- | --- | --- | --- | --- | --- | --- |
| SA | GA | SV | SV% | ESSV | PPSV | SHSV | SOSA | SOS | TOI | PIM |
| 0 | 0 | 0 | .000 | 0 | 0 | 0 | 0 | 0 | 0:00 | 0 |
| 20 | 4 | 16 | .800 | 13 | 0 | 3 | 0 | 0 | 58:38 | 0 |
| | | | | | | | | | | |
| --- | --- | --- | --- | --- | --- | --- | --- | --- | --- | --- |
| SA | GA | SV | SV% | ESSV | PPSV | SHSV | SOSA | SOS | TOI | PIM |
| 30 | 3 | 27 | .900 | 24 | 0 | 3 | 0 | 0 | 60:00 | 0 |
| 0 | 0 | 0 | .000 | 0 | 0 | 0 | 0 | 0 | 0:00 | 0 |
This game started off chippy, as Matt Martin tried to incite McLeod into a fight. Immediately after, Martin backed down and let Ross Johnston do his dirty work. Johnston, as mentioned above, would then get a penalty. Of note, Matt Martin is a pussy.
At 1:38 into this game, the Rangers took advantage of the Islanders bone-headed mistake, and made them pay, via a Ryan Strome PPG:
RYAN STROME OPENS THE SCORING FOR THE RANGERS!#NYR pic.twitter.com/yJA1D1k66d

— Hockey Daily (@HockeyDaily365) January 11, 2019
For the first time in what feels like forever, the Rangers took the lead off a power-play goal. 1-0, good guys.
Before the game started, I said this:
Isles score within the first 3 minutes – yes or no? #nyr

— BlueCollarBlueShirts (@NYCTheMiC) January 11, 2019
I then said that Hank would cough up this lead immediately. Lundswiss didn't let me down, as less than a minute later, new Ranger killer, in Matt Barzal, tied the game up:
MATHEW BARZAL GETS IN ALL ALONE AND TALLIES ON THE BREAKAWAY!#Isles pic.twitter.com/CbYlvDH0r5

— Hockey Daily (@HockeyDaily365) January 11, 2019
$8.5M folks, and Henrik Lundswiss still hasn't learned how to close his legs. Easy five hole goal for Barzal. 1-1.
Here's Quinn enjoying his All-Star goalie:
#NYR pic.twitter.com/yi2FUgxIhi

— – (@blueshirts92) January 11, 2019
Johnston, who I've been told is nothing more than another Dylan McIlrath, kept trying to instigate fights with the Rangers. The Rangers wouldn't oblige. Anthony Beauvillier would have two great chances to score in this game, but would fuck up each time, thus preventing the Islanders from running away with this game.
At 7:41, Cody McLeod and Matt Martin got into a fight that isn't even worth finding the video of. I've seen Micheletti hug his Lundqvist blow-up doll harder. Both went to the box for five minutes.
At the 8:09 mark, Jimmy Vesey was nailed for tripping. Here's what I predicted after the call:
Here comes an Isles PPG and a Micheletti excuse #nyr

— BlueCollarBlueShirts (@NYCTheMiC) January 11, 2019
Without fail, Lundswiss wouldn't let me down and would give up a PPG just 30 seconds into the Isles PP. Here's Eberle:
JORDAN EBERLE WHIPS ONE HOME ON THE POWER-PLAY!#Isles pic.twitter.com/e3fFIQw84I

— Hockey Daily (@HockeyDaily365) January 11, 2019
The Cult of Lundswiss must've been blaming Nick Holden, Dan Girardi and Michael Del Zotto for that one. 2-1 bad guys, just like that. Another blown lead for the KING!
Oh and as @Bozfirstsince81 said, "Sam Rosen: "Lundqvist got a piece of that". In Sam language that equals Lundswiss goal." What Boz omitted was the fact that every time the Islanders hit the post in this game, Sam and Joe referred to those pucks off iron as saves.
The story of the game was that Lehner, who gets paid $7M less than Lundswiss, was phenomenal throughout the game. He would constantly deny the Rangers on chance after chance. So when the Cult of Lundswiss tries blaming the defense for everything, look at the game Lehner had and what he had to put up with his defense, especially in the third period. Then look at the crybaby twunt goalie, you know, the highest paid goalie in America.
Also of note, in the period, Ruff took a puck off his fat head:
Don't worry about Lindy Ruff. He's a hockey player. #NYR pic.twitter.com/yfQ33Uw1xU

— Elite Sports NY (@EliteSportsNY) January 11, 2019
We wouldn't know it at the time, but with this puck off of Ruff's head and with Georgiev gloving an errant puck in the third period, both of these men made more saves than Lundqvist did in the third period. SAD!
The Rangers would close the period with a sustained 45 second attack, but Lehner came up big in crunch time, something I can't say about Lundswiss. 2-1, bad guys, after twenty minutes.
Kevin Shattenkirk, a Ranger who has been struggling this season, tied this game up 1:11 into the second period. This had to be a great feeling for him:
KEVIN SHATTENKIRK SNIPES ONE HOME WITH A TOP SHELF BEAUT!#NYR pic.twitter.com/hBHJYF8xEo

— Hockey Daily (@HockeyDaily365) January 11, 2019
2-2.
Immediately after, I said Hank would give it back. Marc Staal would take a penalty 17 seconds after this Shatty goal. Within two minutes, the Islanders took a 3-2 lead, off this Anders Lee PPG:
NICK LEDDY BLISTERS ONE HOME THROUGH THE SCREEN!#Isles pic.twitter.com/uDofFf5mDs

— Hockey Daily (@HockeyDaily365) January 11, 2019
3-2, bad guys. Oh, and I know the video above credits Leddy for the goal, but it was later ruled that Anders Lee touched the puck.
Oh, and what did I say on the tweet-tweet at the time? Here you go:
Told ya Hank would give it back

— BlueCollarBlueShirts (@NYCTheMiC) January 11, 2019
On this goal, it's a PPG and it's a goal off a screen. However, how many times must we see Lundswiss surrender a goal right after the Rangers score? It's so predictable. It happens like clockwork. And it's only him. Ever since signing his fat deal, this has been a Lundswiss thing. This didn't happen with Talbot, Raanta, Pavelec or Georgiev. It only happens with his highness.
As CuJo said in his book (which I reviewed today and the link for that is on the main page) goalies must be able to anticipate what the other team is doing and where the puck is going, while being screened. Lundswiss doesn't have the ability to do that.
Most of the second period saw both teams play a defensive game. The Rangers would actually kill a late penalty at the end of the period, and the score remained 3-2 after two periods. The Rangers were right in this game.
Two things on commentary stuck out in the third period and both of them were from Lundqvist's number one cheerleader.
Joe showed the first goal that Lundqvist gave up and was talking about the +/- of the defensemen. He then went on to say that the plus/minus stat is a meaningless stat and how you can't judge talent based on +/-. Two minutes later, Joe was raving about how great Nick Leddy was and how great his +/- was. You can't make this up.
Then right after, Micheletti started talking about the Columbus Blue Jackets and the current problems with their number 1 goalie, in Sergei Bobrovsky. Joe mentioned how Bobrovsky went to the locker room after being pulled from a game, didn't talk to the media and had a bad attitude. Joe thought Bobrovsky was wrong. HOWEVER, Joe had no problem with Lundqvist DOING THE SAME EXACT THING on Sunday, in the game with Arizona! Fucking hypocrite.
No joke – Joe Micheletti is the worst analyst/commentator in all of New York sports. I don't know who second is, but whoever it is, Micheletti is light years ahead of that person.
The story of the third period was the Rangers absolutely dominating the Islanders. Before Hank coughed the game away, the Rangers had the puck in the Isles zone for most of the period. They would out-shoot them 16-0 before the choke job.
What hurt the Rangers was that Lehner was on fire. He would stop a Buchnevich NHL 94 wrap around attempt. Lehner was then flawless during a Rangers 5 vs 3 PP.
However, after battling and grinding, the Rangers hard work finally paid off, when Jesper Fast scored this highlight reel goal, at 8:40:
Oh what a play by Jesper Fast. 3-3 game at the Garden. #NYR pic.twitter.com/06qBX3ymxR

— Elite Sports NY (@EliteSportsNY) January 11, 2019
The Rangers really deserved this goal, because they were on-top of the Isles the whole time in this period.
As the period went along, McLeod and Martin both got minors for roughing, which meant the game turned into 4 vs 4.
During the 4 vs 4, and with ten minutes remaining, you could see the Isles, who are chasing a playoff spot, were trying to get to overtime, where they would at least get a point. The Isles were being dominated by the Rangers. The Isles sat back with the puck and didn't press the situation at all. They were more than happy to watch the clock run out. If they could've taken a knee and run the clock out, they would've.
The time just kept creeping to triple zeroes and the Isles still couldn't get a shot off. With 4:30 remaining, here were the SOG during the third period:

With 90 seconds to go, Josh Bailey would get the first Isles shot of the period. AS EVERY RANGER FAN AND AS EVERY ISLANDER FAN WITH A BRAIN PREDICTED, the Isles scored. No joke, my Facebook and Twitter were full of people who said something along the lines of, "You know the Isles will score once they get their first shot off." Needless to say, King Crybaby didn't disappoint:
Josh Bailey. What a feed from Cal Clutterbuck. #Isles pic.twitter.com/EWgEAEQHSL

— Rob Taub (@RTaub_) January 11, 2019
4-3, bad guys. The over hit at least.
With less than 90 seconds left, the Rangers pulled the regal one from the net but the Rangers couldn't muster anything up on the 6 vs 5 attack. Isles take this one, 4-3. For Lundqvist – go fuck yourself.
Speaking of King Tampon, here he is throwing his team under the bus after the game:
Usually, when doing these blogs, I don't watch the post-game stuff until after I'm finished. However, after this game, I got a phone call from my good buddy, Jen Imperato, who runs several NYR Facebook groups. While on the phone, I was watching this video with her. Both of us were shocked beyond belief.
Instead of saying, "I cost us the game", Hank starts blaming the defense, the special teams, and everything else under the sun. This is the same guy who called his team "unskilled", just several games ago. What would've happened if someone on this team called Hank "unskilled", because of the final goal allowed? Ask Steven Kampfer about that one.
I can't even pretend to try to be fair to Lundqvist here. I'm sick of his shit. I'm sick of his attitude. I'm sick of seeing him on this team. I'm sick of his contract. I'm sick of the excuses. I'm sick of him burying his teammates. He needs to go away. The Rangers should press box the fuck out of him until he waives his NMC and then hope that a playoff team has a goalie injury, so they can unload this surly bitch to them. Lundqvist is a cancer on a rebuilding team. He should not be here. It's going to be sad on 2/8, on 1994 night, when the 1994 Stanley Cup Champions watch this asshole get blown out of the water.
And for the Cult of Lundswiss, I know many of you don't have jobs. However, just imagine if you had a job. No one wants to be blamed for everything that goes wrong by a co-worker, only for that co-worker to take all the credit when things are going good.
I can't wait until the Rangers retire Lundqvist's number. That will mean that he's finally gone. It's just a shame the Rangers will honor this egomaniac before honoring people who deserve it, like Frank Boucher, Bill Cook, Bun Cook, Bryan Hextall and even someone like a Ching Johnson.
THE RANGERS WILL NEVER WIN A CUP WITH HENRIK LUNDQVIST.
A while back, Jeff Gorton was asked about moving Lundqvist. He said, and I quote, "that decision is above my head." The guy is the fucking general manager. Just this past week, we saw James Dol-Un, who is friends with sexual predator Harvey Weinstein and who employs Isiah Thomas to this very day, speak out on behalf of Lundqvist.
Don't get it twisted – the reason Lundqvist remains here is because of James Dol-Un. Keep in mind, Dol-Un loved Torts, and was sad he had to fire Torts because of the Cupless bitch. Dol-Un keeps Lundqvist around because MSG/NYR is a stock and a business for Dol-Un. Because of the Cult, Lundqvist does sell merch. I don't know how many tickets he's selling these days though, as MSG & NYR seem as desperate as a drug addict homeless person, when pushing all the available tickets every broadcast.
This is the Rangers being short-sighted. In fact, maybe they realized they made a mistake running Messier out of town in 1997 and that's why they hold on to Lundqvist as tight as Micheletti holds his Lundqvist hair doll. The Rangers, just like the Knicks, want that superstar to market, even if it means no championship. I just don't get how Dol-Un realized that it was time to move on from Ewing, and later Carmelo, but has no problems with Lundqvist.
Instead of realizing that a Stanley Cup means more revenue for the stock, the brand and the team, Dol-Un is happy with the status quo. After all, how can you blame him? The Rangers are the most profitable team in the league. Why fix what's not broken? It's not like Dol-Un cares about winning – he has 50+ combined seasons with no championships, but is one of the richest owners in sports. His fans will flock to his arena and buy all the crap that he gives them. It's not like the fans are going to stop watching/buying shit. Furthermore, even if one person gives up their season tix in protest, there will be 10 more people signing up.
And if you're Lundqvist, why would you give up the cushiest job in sports? He made his bed long ago – money comes first. Not winning.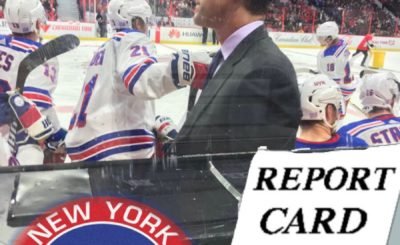 Okay – I think I vented everything out tonight. As mentioned, check out the two other blogs I posted tonight.
And really, I hate being so negative on these blogs. I know what this season is. What really drives me up a wall is the blame game stuff. Take your loss like a man. I hate watching Lundqvist blame his teammates after losses. It just fires me up. I despise hearing it. For all the people who tell me it's a team game, only Lundqvist finger-points after games. I've had it.
As far as Saturday's afternoon game goes with the Islanders, I would expect Georgiev to start that game, as Lundswiss has never won at Barclays. Barring another Georgiev shutout, I would expect Lundswiss to play against Columbus on Sunday, on the second half of the back-to-back.
As far as this blog, I have plans on Saturday, so it might be tough for me to do a blog after the game. I'll try, but I did throw up three blogs tonight! If I'm not around Saturday, I'll be back on Sunday after the game with Columbus. Don't forget, you can always subscribe to this blog for notification updates.
Until next time, as always, thanks for reading and yes…
"LET'S GO RANGERS"
Oh and Donald Trump – please deport Henrik Lundqvist and build a wall around Sweden!
Sean McCaffrey
BULLSMC@aol.com
@NYCTHEMIC on twitter