Greetings and salutations everyone and welcome to one of three different blogs today, here on BlueCollarBlueShirts.com. In case you missed the two other blogs that were posted today, you can find my New York Rangers vs New York Islanders 1/10 game review here: http://www.doinow.com/11019
You can also find my Curtis Joseph autobiography book review here: http://www.doinow.com/cujo
And since I'm throwing out plugs left and right, here are my most recent blogs, in case you missed them:
---
---
---
---
---
---
Okay, okay, okay, just one last plug. In case you forgot, here is what I wrote before preseason started: http://doinow.com/1819/
When you look at where the Rangers are now, here on January 10th, 2019 and with more than 50% of the season complete, I think in my preseason blog, I pretty much predicted where the Rangers would be.
While I didn't get everything right (Marc Staal has been great for the Rangers and is easily their best defenseman) for the most part, the Rangers are the team that I thought they would be. As predicted in September, this defense may be the worst core of the Lundqvist era. Lundqvist is struggling because of it. Zuccarello and Hayes remain question marks. Quinn is having growing pains. There is a divide between the owner and management when it comes to playoffs vs rebuild.
When you really break it down, while I thought this season was always going to be about the 2019 NHL draft, the Rangers did surprise us with that 9-1-1 streak right before Thanksgiving. However, that streak was a house of cards and like a bad magic trick, was easily exposed once the Rangers played better teams. With that winning streak feeling like it occurred ages ago, the Rangers are right back in the drivers seat when it comes to the NHL draft. What they decide to do at the trade deadline could mean the difference between a Top 3 pick or a 7, 8 or 9 pick. Jeff Gorton will be in the unenviable position of having to trade off some fan favorites, for the Rangers to be a winner at the 2019 draft.
I have been doing these report card blogs for five seasons now. For the first time since I started doing these report card blogs, the mission statement from the Rangers has changed. This report card is no longer about giving grades to a team that hopes to make a playoff run. Furthermore, these grades won't be as impactful as they once were. After all, this is a team about development and a team undergoing a rebuild. For example, how can one truly assess a player like Filip Chytil, as opposed to say a Rick Nash from recent seasons? You really can't.
When it comes to giving out grades on this 2018-2019 mid-season report card, I admittedly judged the veterans harder than I did with younger talent. I would hope that you, John Q. Reader, would agree with me that expectations for a Kevin Shattenkirk, are just a little bit higher than expectations out of someone like a Neal Pionk.
If anything, for the first time since doing these report cards, I think the grades of the coaches and management may be more important than the players themselves. Players will come and go, but it seems like Jeff Gorton and David Quinn will be here for the long haul. Their performances, especially as time goes on, are much more critical & important than the performances from players such as Cody McLeod, Adam McQuaid, etc.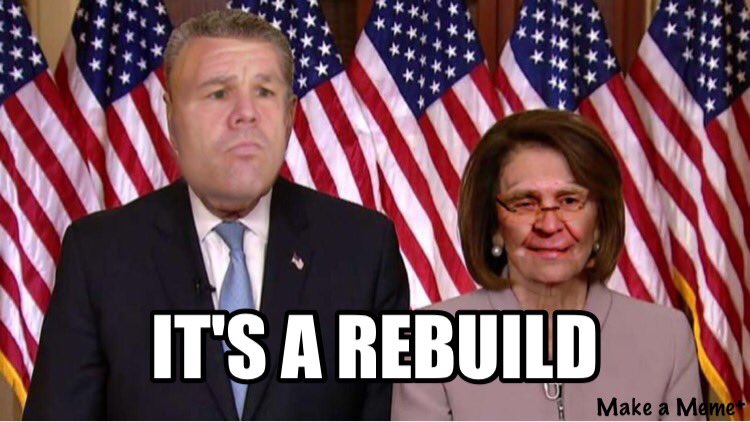 In another first from these report card blogs, as you'll see below, there was no Ranger that deserved the grade of an "A+" or an "A", at least in my opinion. The highest grade I gave out was an "A-", and giving Marc Staal & Kevin Hayes an "A-" may have been generous. There's truly no A to A+ player on this team anymore, and really, I think we all knew that heading into this season. Again, this team is in a different spot and has different expectations than teams during the Alain Vigneault era.
When it comes to giving out grades, here's the criteria I used, which is the same criteria I've been using ever since doing these report card blogs:
Grades are given based on production, playing to their role on the team and to the contract of a player. For example, I expect less from a fourth line player than someone like Brendan Smith. After all, we are playing in a salary cap world, where teams are constantly giving up quality players, even players they drafted, to compete. To ignore the cap hit of a player would be foolish, which is why it's considered in these grades. Keep in mind, to me, the salary cap hit is a stat that belongs on the back of a hockey card, here in this new era.
Players who have played less than 10 games with the team, players who have been traded and players who were sent down to Hartford, are all listed in the "Incomplete" section.
I also want to say here, these grades are just my opinion only, so don't get so bent out of shape about them. I'm grading players on a bad team after all, and on a team that is looking forward to a brighter future. That said, it's just tough to be rah-rah about the team in its current state.
Without further ado, I present to you "The 2018-2019 New York Rangers Mid-Season Report Card".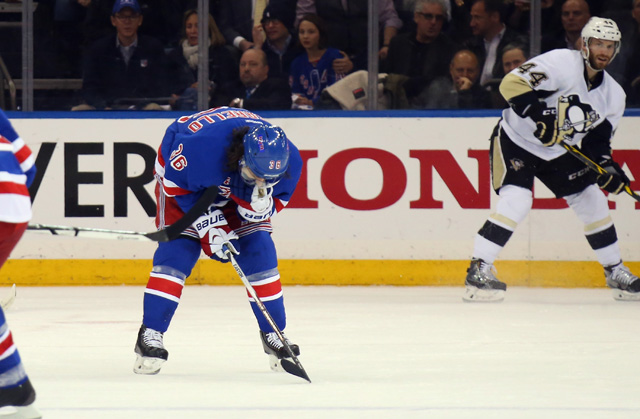 FORWARDS
PAVEL BUCHNEVICH. GRADE: C+
With 12 points in 26 games played, for all the talk last season that "AV IS RUINING BUCHNEVICH", well that's what it was – talk. Buchnevich has been hit or miss this season. Sometimes he will show you glimpses of his skill and sometimes he will pout and even get lazy defensively. Like many, he's been on the scratch list of Quinn during this season. An injury slowed him down, just when it seemed that Buchenvich was about to heat up. The Russian, now in his third year, needs to show more, especially when on a bad team. After all, someone has to be the points leader on a bad team. Why not Buchnevich?
---
FILIP CHYTIL. GRADE: B-
As said at the top of this blog, and not that you are, but you can't live or die with these grades. Chytil is in his real rookie year this season. At times, he's been explosive offensively. Other times, he gets lost. As Sam & Joe always tell us – he's only 19. You just hope that Chytil hasn't even scratched the surface yet. When coming up with this grade, I took his contract and draft positioning vs Andersson into account. Chytil has 13 points in 41 games (He was scratched once this season) and you hope 2018-2019 is the stepping stone for better things to come.
---
JESPER FAST. GRADE: B-
One of the longer tenured Rangers on this club, Fast's best work comes on the defensive end. I still think his offensive numbers need to be up, as he only has 6 goals in 37 games. This is a bad team, so Fast needs to put up better numbers. I wonder how Fast would do on a Stanley Cup contending team? He seems like he would be a fourth line grind/penalty killer for a team like a Tampa, Toronto, Pittsburgh, etc. Fast does a lot of little things right, but if the Rangers moved on from Fast too, would he truly be missed?
---
KEVIN HAYES. GRADE: A-
If it wasn't for his recent injury, Hayes would probably be tops on the team in points. With the games missed, he's currently second on the team with 33 points in 39 games. He's arguably the best Ranger on the team, although others may make case for Kreider, Zibanejad or Lundqvist. In a year with his name swirling in trade rumors, Hayes has been the anti-Zuccarello. When the trade deadline comes, Hayes will be the toughest decision that Jeff Gorton makes. How do you let a guy that's been great all season and who is still young, just go for unproven draft picks? Then again, is Hayes shooting his load in a draft year? Gorton is in a very tough spot here.
---
BRETT HOWDEN. GRADE: C
Remember when Howden looked like a potential Calder candidate? I guess that's why they play more than 10 games in the regular season! For Howden, who came over in the McDonagh trade from last season, this is a development year. He's shown to have a nose for the puck, but lately he's sputtered around and hasn't done much. He has been good at the dot though. Howden currently has 14 points through 41 games and again, he's one of the young players on this team. Ranger fans can only hope that he makes his mark in the future.
---
CHRIS KREIDER. GRADE: B+
I toyed with giving Kreider an A-, which would've been tops on this list. Kreider leads the team in goals, with 20 goals. He's also third on the team in points, with 32 points in 42 games. Let's face it, during many games this season, Kreider is the best Ranger on the ice. However, the knock I've always had on Kreider, and it's happened several times this season, is that he's inconsistent. Yes, I know what his stats are, but someone is going to lead a bad team statistically. I just think there are too many games where you still have to check the box score to see if he even played. I know it's tough to be at your best, during every game in an 82 game season, but for Kreider to make the league take notice, he needs to be more consistent. After all, if anyone deserved to go to the All-Star game more than Lundqvist or fan-vote Zuccarello, it's either Kreider or Hayes. In 2019, Zuccarello is still considered the bigger star or name around the league. Consistent play from CK20 would change that.
---
CODY McLEOD. GRADE: C+
It's tough to judge McLeod, who is here to protect the young kids, play strong defensively and to give the team some grit. McLeod has only 1 goal through 22 games played, but even if he had 3 or 4 goals, would it really make that much of a difference? Unlike his first season in NY, McLeod has been more willing to battle and fight. Up until recently, the team was much better with him in the line-up too. It wouldn't shock me if the Rangers moved on from McLeod, but he's been serviceable this season.
---
VLADISLAV NAMESTNIKOV. GRADE: B-
At the beginning of the season, Namestnikov was on the scratch list of Quinn. As time went on Namestnikov has grown and has become more comfortable on the Rangers. He's also developed a mean streak and isn't afraid to throw down or get in someone's face either. With 15 points in 38 games, you would like to see Namestnikov have 10 or so more points, but he's been valuable defensively, where he may have prevented 10 or so goals too. With a year left on his deal, he may be of some value to Cup contending teams.
---
BOO NIEVES. GRADE: C-
Nieves has 3 points in ten games and one of his goals was a phantom goal. I still don't see Nieves here for the long haul. At 6'3″, I think Nieves has to use his size more and get a little bit more physical. However, for all I know, David Quinn may not want that out of Nieves. I really don't know. I just think Nieves is one of those Hartford experiments and once his turn is up, someone new will join the fray.
---
RYAN STROME. GRADE: C+
Strome has 9 points in 23 games with the Rangers, which is good for someone in the middle of the pack. Strome is another player I don't see here for the long term, as he was only acquired in a "shake-up the environment" trade. Strome plays hard, but as time goes on, the fifth overall pick of the 2011 draft seems to be more of a role player than a play-maker.
---
JIMMY VESEY. GRADE: B-
Vesey has 21 points in 41 games, which means he's getting a point in every other game. He also was most recently put on the scratch list of Quinn too. Vesey, who to me, will always be compared to Buchnevich because they started their Ranger careers at the same time, seems to have more value than Buchnevich. While Buchnevich may be more skilled, Vesey seems to have adapted to the NHL game better. Vesey has also shown a willingness to get physical when needed, which is something you need in the American game. When it comes to both Vesey & Buchnevich, both of these players are players that Quinn needs to get more out of.
---
MIKA ZIBANEJAD. GRADE: B+
Zibanejad leads the team with assists (23) and points (35). So how come I don't have with the highest grade on this list? Simply put, I think Zibanejad misses way too many open shots, especially on the power-play. Furthermore, I don't think he's shown the ability to swing games as much as Hayes or Kreider have been able to do when they are hot. Put it this way, and I know many people have tried to put down the +/- stat in recent years, but Zibanejad is a -15, while Kreider has a 0 and Hayes has a +6. Zibanejad also has a worse shooting percentage than the two Americans as well. In no way am I downplaying what's been a good season for Zibanejad, I just don't think he's the best player on the team.
---
MATS ZUCCARELLO. GRADE: D-
Let me say this first – I am a Zuccarello fan. However, his time is up. He knows it. The Rangers know it. The fans know it. Where someone like Hayes is capitalizing on his contract status, Zuccarello has done anything but. Zucc has four goals in 29 games played, as he missed a bunch of games with a groin injury. While no one can ever question the heart of Zuccarello and what he's meant for this team during his tenure here, this has easily been his worst season as a Ranger. Zucc has been a turnover machine this season and sadly, mentally, it looks like he's given up.
---
DEFENSEMEN
FREDRIK CLAESSON. GRADE: B-
I can't lie – I didn't see the point in the Rangers signing Claesson in the off-season, especially with an abundance of defensemen at both the big show and AHL levels. While Claesson has been a healthy scratch for nearly half the season, he hasn't been bad either. He's done a good job. When it comes to defensemen, the old adage is if you don't notice them, that means they are doing well. There haven't been many times this season where you're throwing your arms up in disgust with Claesson, as you've been with Shattenkirk, Skjei or Smith. I don't think Claesson is a difference maker, but he's also not hurting the team.
---
TONY DEANGELO. GRADE: C
It's really hard to grade TDA, because like Claesson, he is scratched a lot by David Quinn. What hurts with TDA, is that the Rangers gave up a starting goalie & a number 1 center for TDA & Lias Andersson. As Ron Duguay told me, there's something wrong when a young player has been on three different teams. With the way this Rangers season is going, TDA may be on his fourth team, come next year. I'm not around these guys full-time, obviously, and I hate to use the word "maturity" in regards to TDA, because I don't have any sort of inside access. However, it seems that TDA takes a lot of penalties, usually in retaliation. They aren't all his fault, but sometimes, you need to keep a level head, as that's what's best for the team. TDA has also been on the ice for some bad turnovers, but when you're a bad team, good teams will do that to you too.
---
ADAM MCQUAID. GRADE: D+
It's really hard to judge McQuaid, as he has missed most of the season with an injury. Out of the 8 starting Ranger defensemen this season, he's been the most replaceable. I would be shocked if he's with the Rangers in 2019-2020. McQuaid has shown that he will throw down when needed, but so was Dylan McIlrath. While McQuaid is more skilled than the player known as "The Undertaker", McQuaid's best days are long gone. He would be better suited on a Cup contender, as a sixth or seventh defenseman.
---
NEAL PIONK. GRADE: B
Pionk's grade is inflated a bit, because of his contract and being part of the youth movement. Here's what I've said about Pionk all season – is there any difference between Pionk and Shattenkirk except for the fact that Shattenkirk makes a lot more money? Pionk has made Shattenkirk expendable. Pionk leads all defensemen in points, with 19. He's even fifth on the team in scoring! What hurts Pionk is his defense at times, but that goes for any Rangers defenseman on this report card, outside of Marc Staal.
---
KEVIN SHATTENKIRK. GRADE: D+
I like Shattenkirk. I really want him to succeed. As I've been saying ever since he got here, I love everything that he does and says… off the ice. He just hasn't produced to his contract and some of that is because of "Murphy's Law", as anything that could go wrong for 22 has gone wrong for 22. A season and a half into his contract with the Rangers, I don't think the Rangers have ever had Shattenkirk at 100%. The QB of the PP has been anything but. The Rangers didn't give Shattenkirk a ton of money for only 10 points this season. This is a league of results, and as much as I like what Shattenkirk says and the charity work that he does, he's not producing.
---
BRADY SKJEI. GRADE: C-
This grade could've been a lot worse. However, after a tough start to the season defensively, Skjei has gotten better as the season has gone along. That said, he's still not out of the woods yet. Skjei is a player the Rangers have deemed as a player of the future, as he has the longest contract of any Ranger on the team. Skjei has a respectable 13 points in 39 games, but at times, he's been a nightmare defensively and perhaps a target on the dartboard of Henrik Lundqvist. Skjei needs to tighten up defensively for any fan to think that Skjei is earning his money.
---
BRENDAN SMITH. GRADE: F-
Smith has been a bust and a frequent name on the scratch list of Quinn. Ever since signing his big money contract because of solid work in the playoffs of 2017, Smith has been one of the biggest misses during Gorton's tenure. I don't even know if the Rangers could get back a third round pick for him at this point. For what you're getting out of Smith, I rather call up someone from Hartford and let a kid get experience.
---
MARC STAAL. GRADE: A-
To me, not only was Staal the best defensemen of last season, he's the best defenseman this season too. He's somewhat the defacto captain of the Rangers, but the Rangers don't want to put the "C" on him and we all know why. Staal has been great defensively all season for the Rangers and has even worked on his offensive game this year too, as he has 3 goals and 7 assists this season. He's the only Rangers defenseman to avoid the scratch list of Quinn and has played in every game this season. It's hard to deem a player who's making top money with the team as an "unheralded and unsung hero", but Staal has been better than anyone expected.
---
GOALIES
ALEXANDAR GEORGIEV. GRADE: B-
While Georgiev doesn't have impressive numbers, outside of two bad games (Carolina and Columbus) he's been solid in his role with the Rangers. His numbers really aren't that far off from Lundqvist and as outlined in past blogs, he's played against tougher teams than Lundqvist has played against. Most of Georgiev's starts are against playoff teams, while Lundqvist has beasted on bottom-of-the-barrel teams. Oh, and he's the only Ranger goalie with a shutout too, in case you haven't heard! Seriously speaking, while Georgiev isn't Talbot or Raanta, he has the potential to reach their level, but he needs to play more. If this is a rebuild, it does the Rangers no favors for Georgiev to play as infrequently as he has. In the second half of the season, I would expect Georgiev to play more.
---
HENRIK LUNDQVIST. GRADE: B-
The "DefALLt Star", because of his name, Lundqvist is having what's been the norm for him in recent seasons. Lundqvist starts off great, carries the team, and sometimes is the best player on the ice. However, as the season goes along, Lundqvist starts to fall apart and has his usual mid-winter slide. We're seeing it now. You all know my feelings on Lundqvist already, so I won't rehash that here. In what's been a new wrinkle, for the first time this season, we're starting to hear about his mental anguish. With the Rangers looking to experience more darkness before they see light, you have to wonder how Lundqvist will hold up, as he plays behind the worst defense of his career.
---
INCOMPLETES
TIMOTHY GETTINGER. THOUGHTS:
I haven't seen many Wolfpack games in whole this season. In fact, I've only seen two. In his limited four game stint with the Rangers, Gettinger didn't capitalize on his opportunity. He's too big to be quiet. He's a work in progress, so the jury is out on him.
---
MATT BELESKEY. THOUGHTS:
The Rangers had to take him in the Rick Nash trade and he's just one of those players that I don't think is destined to be with the big club. From what I heard, he's a good locker room guy, but that can only take you so far.
---
STEVEN FOGARTY. THOUGHTS:
Fogarty had a ten game stint with the Rangers that produced no points and he wasn't a factor. He's back in Hartford and again, he's just one of those players to me that won't be with the big club in the future.
---
VINNI LETTIERI. THOUGHTS:
If you're a regular reader of these blogs, you know I have high hopes for Lettieri. He's been a scoring machine in Hartford, but in 16 games with the Rangers, he didn't produce a point. That won't cut it. I still believe that Lettieri needs to be on the second line, and playing with better players for him to succeed. However, the Rangers didn't invest a top draft pick or money in him, so he's not a priority for the Rangers.
---
RYAN SPOONER. THOUGHTS:
I never understood why the Rangers invested two years and $8M into Spooner. After 16 games, the Rangers traded him to Edmonton. This is a miss for Jeff Gorton.
---
LIAS ANDERSSON. THOUGHTS:
There are two schools of thought on Andersson, one being that he needs time to develop and the other being that Gorton selected him to play now. He hasn't cut it and ex-players, like Dave Maloney, have questioned his skating. While you can't call him Lias Jessiman yet, he's also done nothing to prove that he was the crown jewel of that 2017 draft day deal with Arizona.
---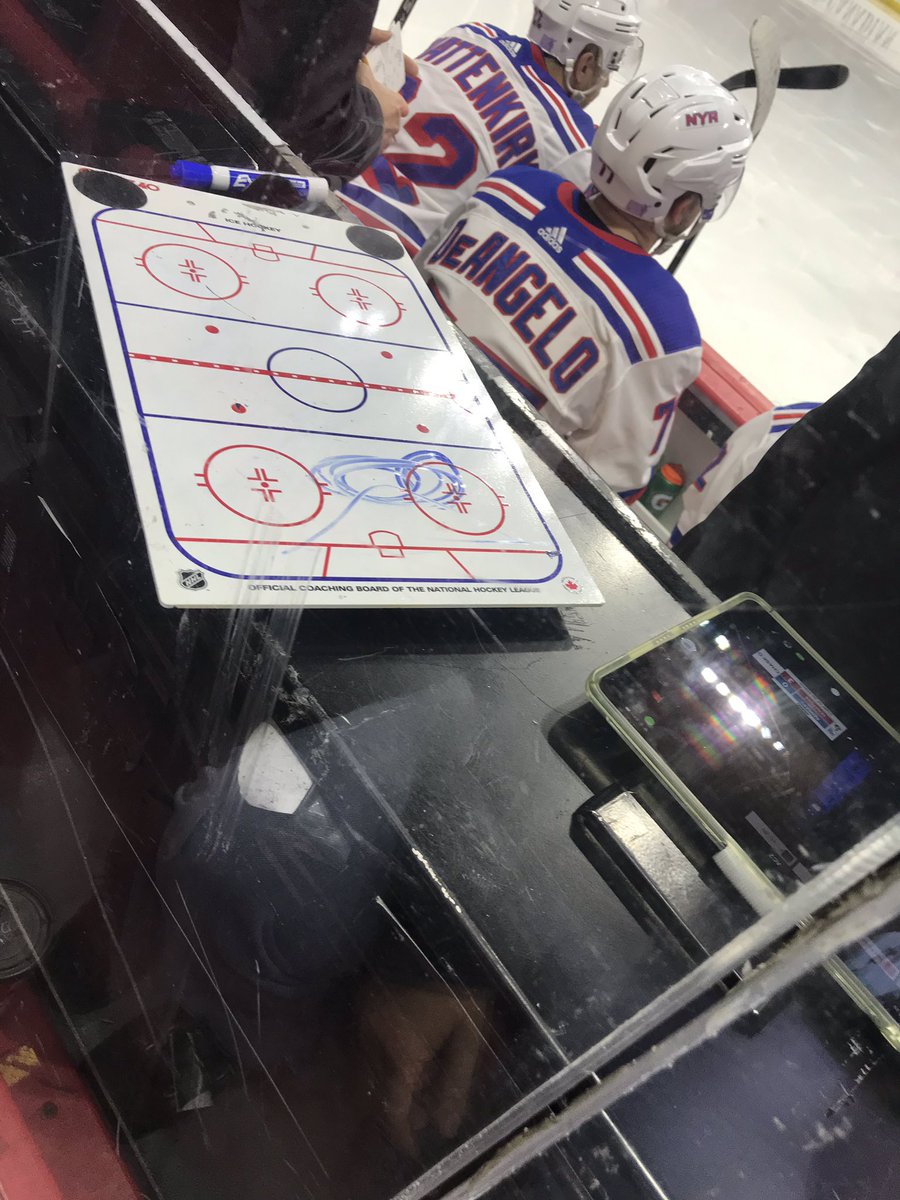 COACHES/STAFF
GENERAL MANAGER JEFF GORTON. GRADE: C+
It's tough to grade Gorton, as you won't really be able to judge him for three more years. However, as stated in recent blogs, he's had way more misses than hits. We will have to see what he does in the deadline, the 2019 draft and in the upcoming off-season to really get a feel for him. However, as of right now, his big money contracts have all been failures, Andersson hasn't panned out yet and with his defense a mess, why is Ruff still here? To be fair, he was burdened by bad Sather contracts, so Gorton deserves more time to see what he can do. That said, it doesn't help that Sather is still around.
---
HEAD COACH DAVID QUINN. GRADE: B+
Quinn is another tough one to judge, as he isn't here for the now, he's here for the future. I do like his message and the way he acts with the media. I think the bloom is off the rose with him a bit and the honeymoon is now over, especially with the the 9-1-1 winning streak being a thing of the past. However, once again, like other names on this list, you can't truly judge him based on this season and with this roster.
---
ASSISTANT COACH (OFFENSE) DAVID OLIVER. GRADE: C+
The powerplay continues to struggle for the Rangers. I will say, it has looked better than when Arniel was running it. Again, you need more time to get a grasp of what he can do.
---
ASSISTANT COACH (DEFENSE) LINDY RUFF. GRADE: F
Unlike the other coaches on this team, I don't know what the hell Ruff does here. The defense stinks and I don't see it getting better. The penalty kill is 27th in the league. To Ruff's defense, it's not his fault he has some bad veterans with bad contracts on his defense. That said, WHAT DOES RUFF DO HERE?
---
GOALTENDER COACH BENOIT ALLAIRE. GRADE: A+
Allaire is still tops in the NHL and I can't wait for the day that he gets his hands on CZAR IGOR SHESTYORKIN!
---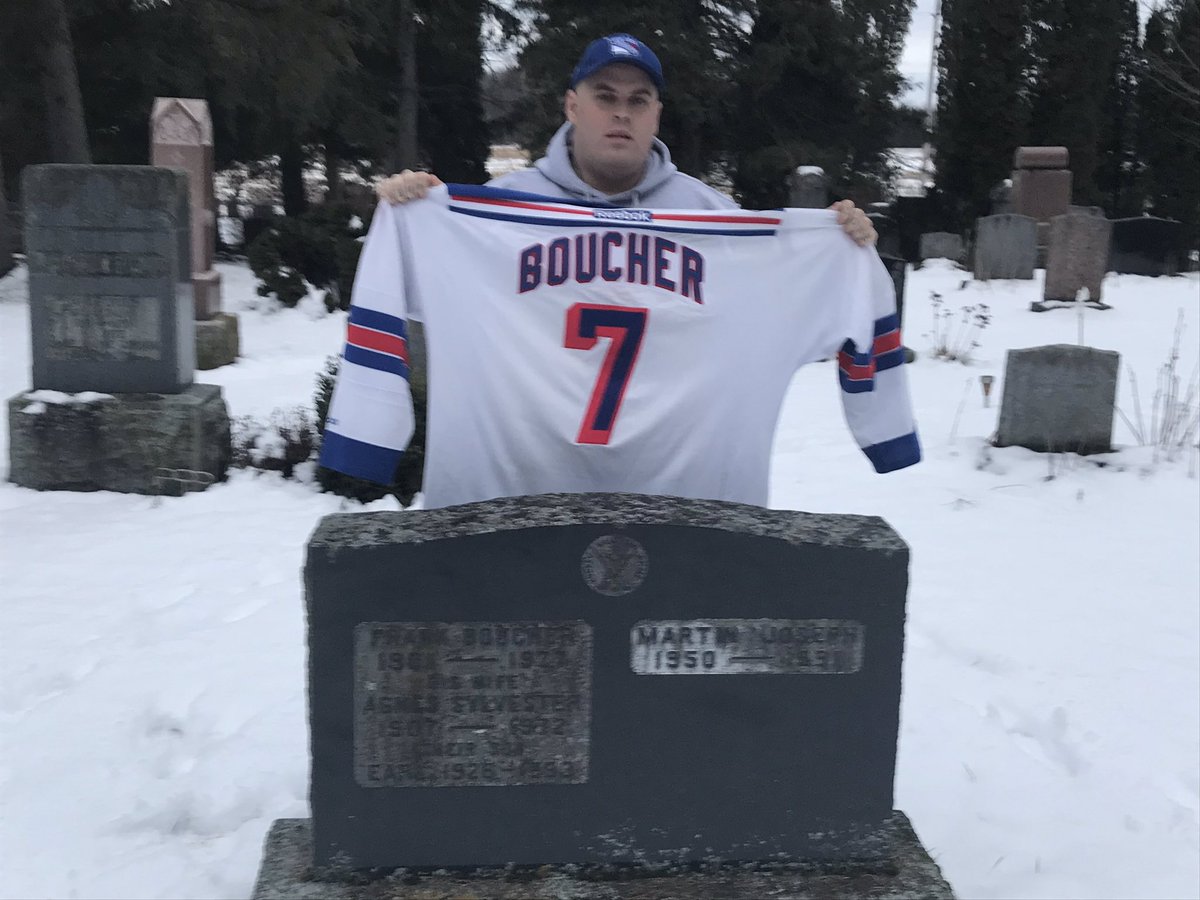 That concludes the 2018-2019 New York Rangers Mid-Season Report Card.
Looking forward, dark days will remain ahead for the Rangers. 1994 night will be fun, but it's also a painful memory that the Rangers haven't won a Cup in 25 years.
Unlike the dark ages of 1998-2004, at least the Rangers have a plan for the future. It will just take patience for Ranger fans to see it through. You can't live or die with every game result this season. You have to take it for what it is, or else you'll wind up in a rubber room.
Thanks for reading everyone and if you haven't already, check out my CUJO book review, as well as my NYR/NYI 1/10 game review.
Oh, and as always…
LET'S GO RANGERS
Sean McCaffrey
BULLSMC@aol.com
@NYCTHEMIC on twitter