Greetings and salutations everyone and welcome to another blog here on BlueCollarBlueShirts.com. On Tuesday night, and while on a major losing streak, Rangers head coach David Quinn turned to "THE KING OF KINGS", in a one Alexandar Georgiev, to help the Rangers reverse their fortunes. It wouldn't be an easy task either, as the Ducks entered this game as the hottest team in hockey, as they were 9-1 in their last ten games and were riding a four game winning streak.
However, despite the Rangers losing their last three games (and their last three home games too) behind Henrik Lundqvist, the fearless Alexandar Georgiev fears no team, and the stoic Bulgarian protected the Rangers net for a full 60 minutes. In fact, if it wasn't for an errant puck that went off the skate of Mika Zibanejad, Georgiev would've had his second shutout of the season, which would've given him two more shutouts than the overpaid Henrik Lundqvist.
All Georgiev trolling aside, (and there will be more to come) Lundqvist has to feel like shit after this game, right? I'm not saying Hank is kicking himself because of Georgiev. I think Hank has to be a little frustrated after tonight's game because the Rangers played a full 60 minutes. This seems to be the norm for the Rangers, as they played a complete 60 minutes, once again, for another goalie not named Henrik Lundqvist. This has been going on ever since Lundqvist signed that huge contract. You can't even say it's a sporadic thing either, as Talbot & Raanta had significant stretches of playing time, where they never had the lack of effort in front of them.
In tonight's 3-1 victory, while the scoring didn't come until very late, the Rangers limited the Ducks offense. Georgiev, in all honesty, didn't have much work to do, especially in the third period, but in the few times he was called upon, Georgiev did his job. Georgiev would make 14 saves on 15 recorded shots, with the lone goal allowed being due to friendly fire.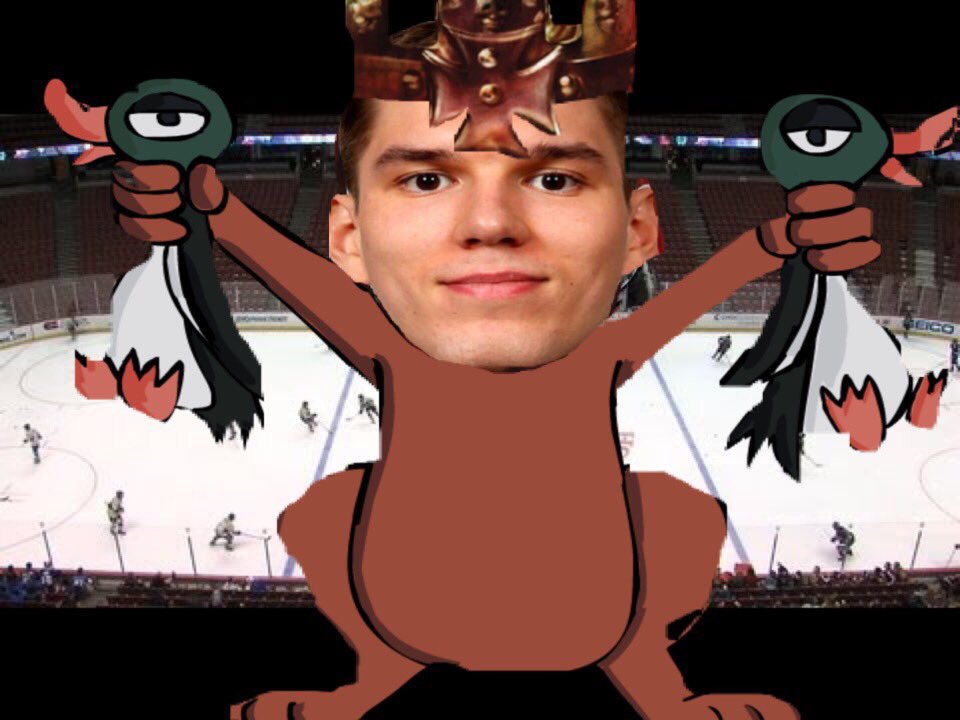 This was a game the Rangers needed to win. In what was a defensive battle all game, the Rangers would spot the Ducks a goal, when a puck accidentally hit Zibanejad's skate and went by Georgiev. Down 1-0 in the third period, the Rangers would get a video game goal, when Brett Howden perfectly set up Vladislav Namestnikov. From there, it was 1-1, and in a third period that the Rangers were completely dominating.
As the clock started to wind down in the third period, the Rangers really deserved the two points. Losing another game in overtime would've been another heart-breaker. Despite the referees causing havoc for the Rangers, the Rangers found a way to overcome the zebra adversity and Kevin Hayes would score a shorthanded goal with 40 ticks remaining. Chytil would ice the game soon thereafter, giving the Rangers a 3-1 lead & the much needed victory.
While some fans want the Rangers to lose, for draft purposes, as I've been saying all season – the Rangers & the coaching staff can give two shits about that. I will never understand the Cult of Lundqvist, as these fans will cry about the team after every Henrik Lundqvist loss, but at the same time, they will champion tanking. Then again, when you think Henrik Lundqvist is the greatest goalie in the league today, your brain is already damaged.
With the way the standings are, the Rangers are still very much alive when it comes to making a case for a playoff berth. There are still 49 games left, so there is plenty of time for the Rangers to rip off a winning streak. Of course, in the same vein, a slew of losses could put the Rangers in a position where they just can't catch up. Tonight's win was a step in the right direction and it's up to this team to keep playing this way, as we head into the New Year.
It's always great to listen to the "KING OF KINGS" after a great performance from Alexandar Georgiev!
Before moving along, as always, here are my last few blogs in case you missed them:
---
---
---
---
---
---
---
When the Rangers announced the recall of Alexandar Georgiev on Sunday, after the game with Vegas, I figured Georgiev would be starting in this game with the Ducks. With the way the Rangers schedule is, there would've been no reason to call him back up, just to sit on the bench.
I also gotta mention this – while I know the idea of sending Georgiev to Hartford is to give him work, I wonder if he misses out on valuable learning time with Benoit Allaire? Every time you hear a goalie talking about their time with Allaire, they always talk about how Allaire helped their game.
Giving Georgiev the start was the right call. You can see that Lundqvist is fried a bit and perhaps mentally drained. I know that I'm probably one of the few people that listens to the "Bleeding Blueshirts" podcast religiously, but Dave Maloney said something interesting to John Gianonne in Tuesday's episode. Maloney said that when Lundqvist skated to the bench to berate his defensemen, the defensemen were tuned out. I've been saying this forever. It's great that Lundqvist wants to rile up the troops a bit, but he did it when Quinn was speaking.
Furthermore, Lundqvist was coming off two home games, where he blew three goal leads in both of them. After those games, in his post-game interview, Lundqvist spread some blame on the team. Who wants to put up with that?
I told you a while ago, that one of the reasons why Steve Kampfer was traded, is because he called out Lundqvist for doing this last season. To understand this in the most basic of terms, just think of yourself at your job. Now think of a co-worker who fucks up, yet blames you for everything. That's what the Rangers deal with Henrik Lundqvist, a Henrik Lundqvist who signed up to be part of a young and struggling team.
While on "Bleeding Blueshirts", and Ranger fans saw this side of Maloney tonight on the MSG broadcast too, Maloney usually blows up when talking about millennials and PC culture. Maloney's theory is that the young kids need to be coddled a bit. Take that as you want. However, think about it. If you got some egomaniac goaltender blaming you for everything, do you think these young kids want to hear it? It's not hard to fathom why these kids tune him out. When you had guys like Talbot or Raanta here, and now with Georgiev, the Rangers never had/have to worry about being berated by their goaltender. It is why I have always thought the team is more relaxed, and plays better, whenever Lundqvist isn't around.
And don't get it twisted – I understand why Lundqvist is the way he is. He wants to win. He is very competitive. Goalies are eccentric by trade. However, in this league, in these times and with this team, his daily tirades will fall on deaf ears. Once in a while is okay, but when it's night in, night out, the team will throw their "Beats by Dre" headphones on, and ignore his whining.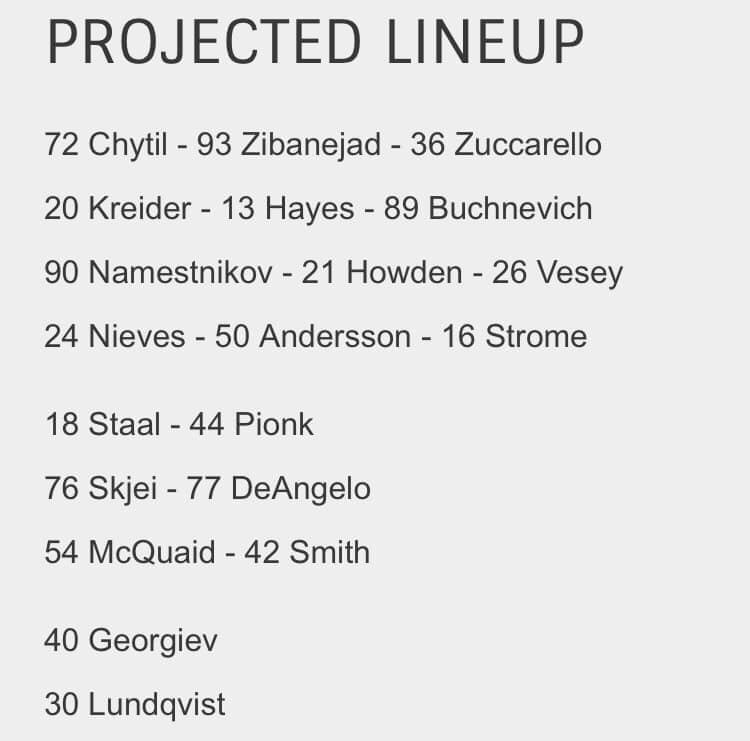 I was surprised that after the terrible game on Sunday, that Skjei didn't feel the wrath of the "QUINN BINN", here in this game with Anaheim. (Credit: BSU Radio for "QUINN BINN".) I was surprised to see that Claesson had to sit upstairs, because while the Rangers didn't play well on Sunday, I didn't see anything that Claesson did which hurt the team more than Skjei. I'm starting to question Quinn and his comments about not looking at player salaries!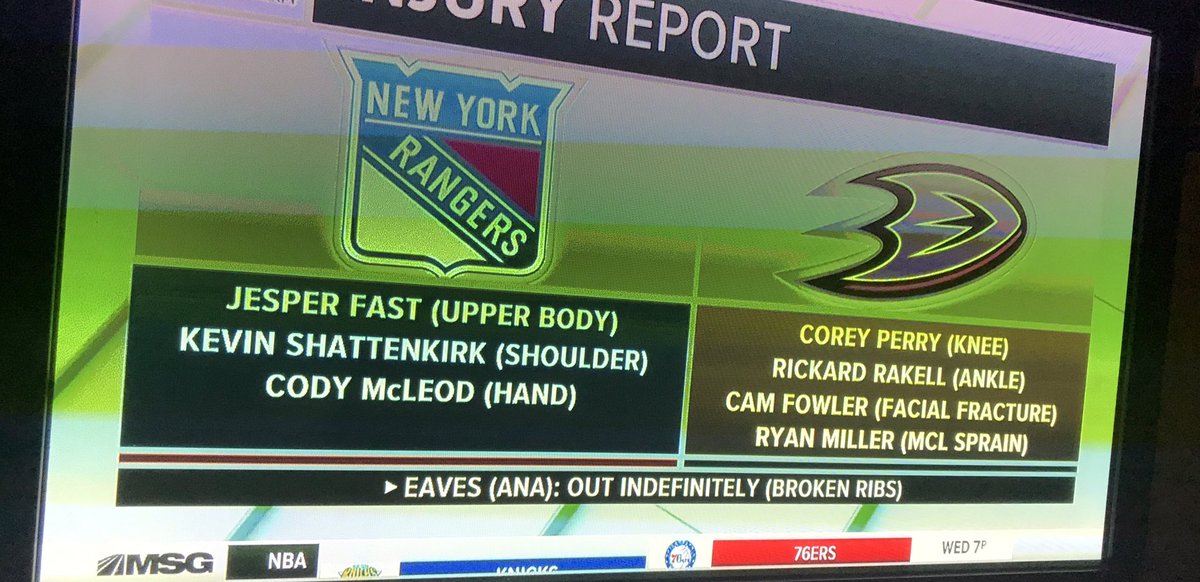 As far as injuries go, there are no new injuries to report, at least on the Ranger side of things. For the Ducks, back-up goalie Ryan Miller remains out, which is why the Ducks picked up journey-man goalie, Chad Johnson.
The Rangers caught a break with the Ducks in this game too, as John Gibson, one of the best goalies in the league (and much better than Lundqvist) played last night, in the Ducks win over the Penguins. The Rangers would avoid Gibson tonight and would have the rest advantage as well. By the time the third period went down, it looked like the Ducks were feeling the effects of playing two games in a row. That said, the Rangers also went with their back-up goalie, and the Ducks didn't muster much up against Georgiev.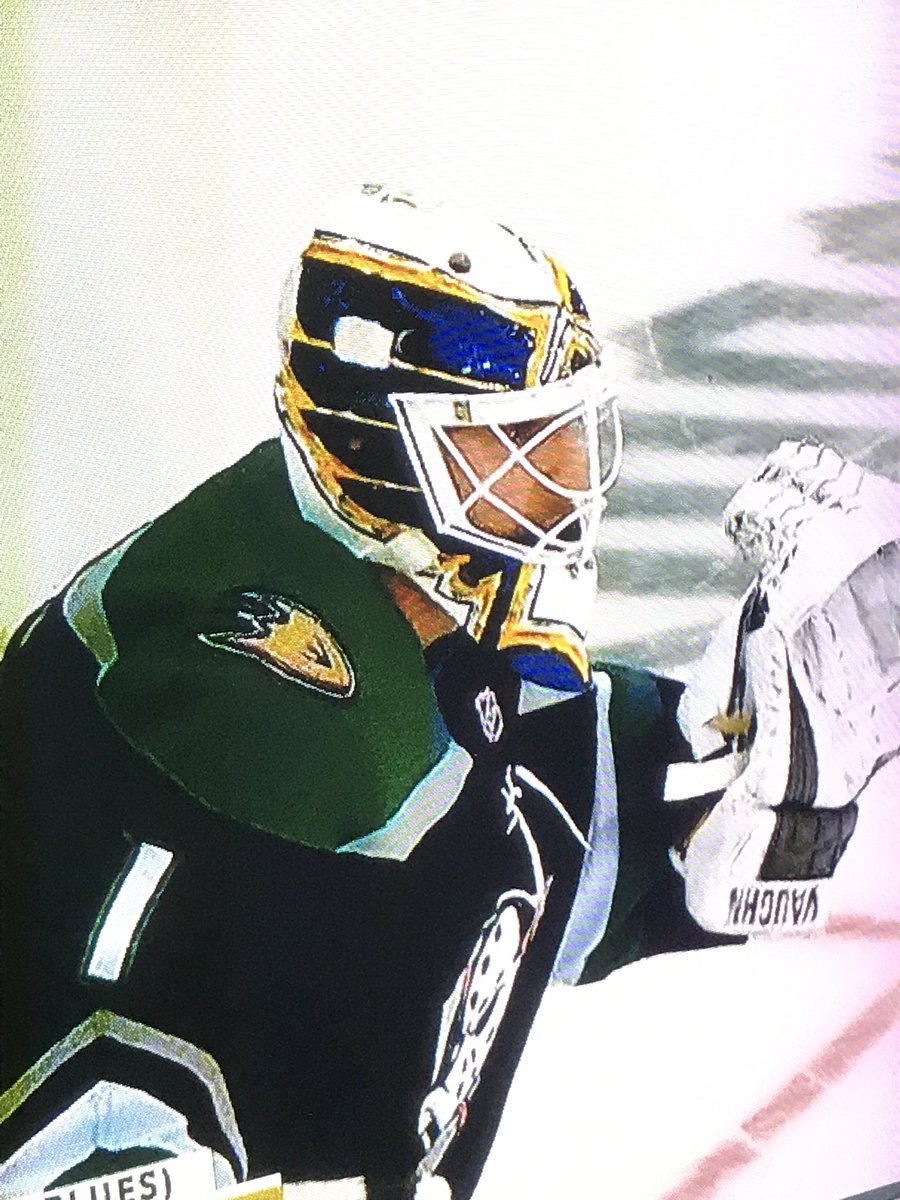 Of note, Chad Johnson is one of four goaltenders to play with 8 different teams. This was a #CadillacTrivia question tonight, a trivia question that I couldn't come up with the answer to. The official question was "Chad Johnson is one of four goaltenders to play with 8 different teams. Who are the other three?"
You would think this question would be easy to answer, as you knew it had to be goalies that played after 1967. Furthermore, you knew it had to be goalies from the modern era, because you didn't have much free agency after the great expansion. The answer to the question wound up being Alex Auld, Sean Burke and Ron Tugnutt. Speaking of Tugging Nuts, let's get to Joe Michletti & the rest of this MSG broadcast.
Oh, before getting into the game, I'd be remiss if I didn't share conversation I had with a Rangers representative today.
Like many of you, I'm sure you guys get emails, text messages and phone calls from the Rangers, begging you to buy season tickets for this current season. Of course, it's almost Christmas, but if you take one look at the expensive lower bowl at the Garden, you can see plenty of empty seats at every Rangers home game. I've discussed this in detail already – flex pricing and inflated ticket prices have finally ran a large majority of fans from the Garden.
After getting texts about the "All For One Pass" for tonight's game, I got a phone call from this number, at 2:18pm today:

This call was from a Rangers representative, asking me if I wanted to buy season tickets. He led off with, how do you attend home games? I said "By sitting in the seat." When he further pressed, I told him about my Stubhub trick, which I've previously discussed in length, and which you can read here: http://doinow.com/the-stubhub-trick/
When this representative was shocked to find out about the Stubhub trick, he kept pressing. I then asked him, "Do you know who Frank Boucher is?" He said no. I then said, how about "Bill Cook?" Again, he said no. I then asked him about Lester Patrick and Emile Francis, and received two more no's. I then said, "if you don't know who these guys were, what makes you a qualified representative of the New York Rangers?" He then hung up on me.
Moral of the story: if you want these phone calls to stop, ask the Rangers who Frank Boucher is.
Now, let's talk a little bit about gambling!
Bookmakers are telling you they have confidence in Georgiev and a Rangers win tonight. I'll take the Rangers and the UNDER. Rangers always play better when the crybaby isn't around. #nyr pic.twitter.com/RZZFsZuwlu

— BlueCollarBlueShirts (@NYCTheMiC) December 18, 2018
As I've been showing you in my latest blogs, when it comes to over-under's for total goals scored in these Ranger games, during Lundqvist starts, the line is set at either -6 or -6.5. With THE KING OF KINGS starting, the line dropped to -5.5. Keep in mind, John Gibson, one of the elite goalies in this league, wasn't playing for the Ducks either. With two back-up's playing, the Vegas bookmakers not only dropped the over-under line by a goal, they also had the Rangers favored to win. Maybe these bookmakers are reading this blog, because nearly everything I predicted came true tonight. (The only thing that didn't come true was Georgiev getting a shutout, and if it wasn't for a fluke mistake by Zibanejad, Georgiev would've got the shutout.)
For some reason, before tonight's game, a big topic of discussion was about the Rangers wearing their white jerseys at home, rather than their normal "Blue Shirts". No joke – what the Rangers were wearing was a heated topic of debate, as Ranger twitter fashionistas dissected this move with intricate detail.
Here's my take – who gives a fuck? I don't care if the team comes out wearing pink Liberty Head jersey's with matching tutus, as long as the team fucking wins. That's all I care about – winning. So if you're looking for HOT TAKES on what the Rangers are wearing, seek opinions elsewhere!
And yes, while this intro is going a bit long, I would also be remiss if I didn't mention Vally & Al talking about the 2003 draft. The two mentioned Ryan Getzlaf and Corey Perry, and how both were drafted in the first round by the Ducks in that 2003 draft. What they omitted, was who the Rangers took before them. In one of the deepest NHL drafts of all time, the Rangers drafted Hugh Jessiman, who went on to never play an NHL game with the Rangers. (He would play 2 games overall, both with the Florida Panthers.)
The 2003 draft is a trigger phrase for me, and why Vally would bring up the 2003 draft, is beyond me. This was a dark day in Rangers history!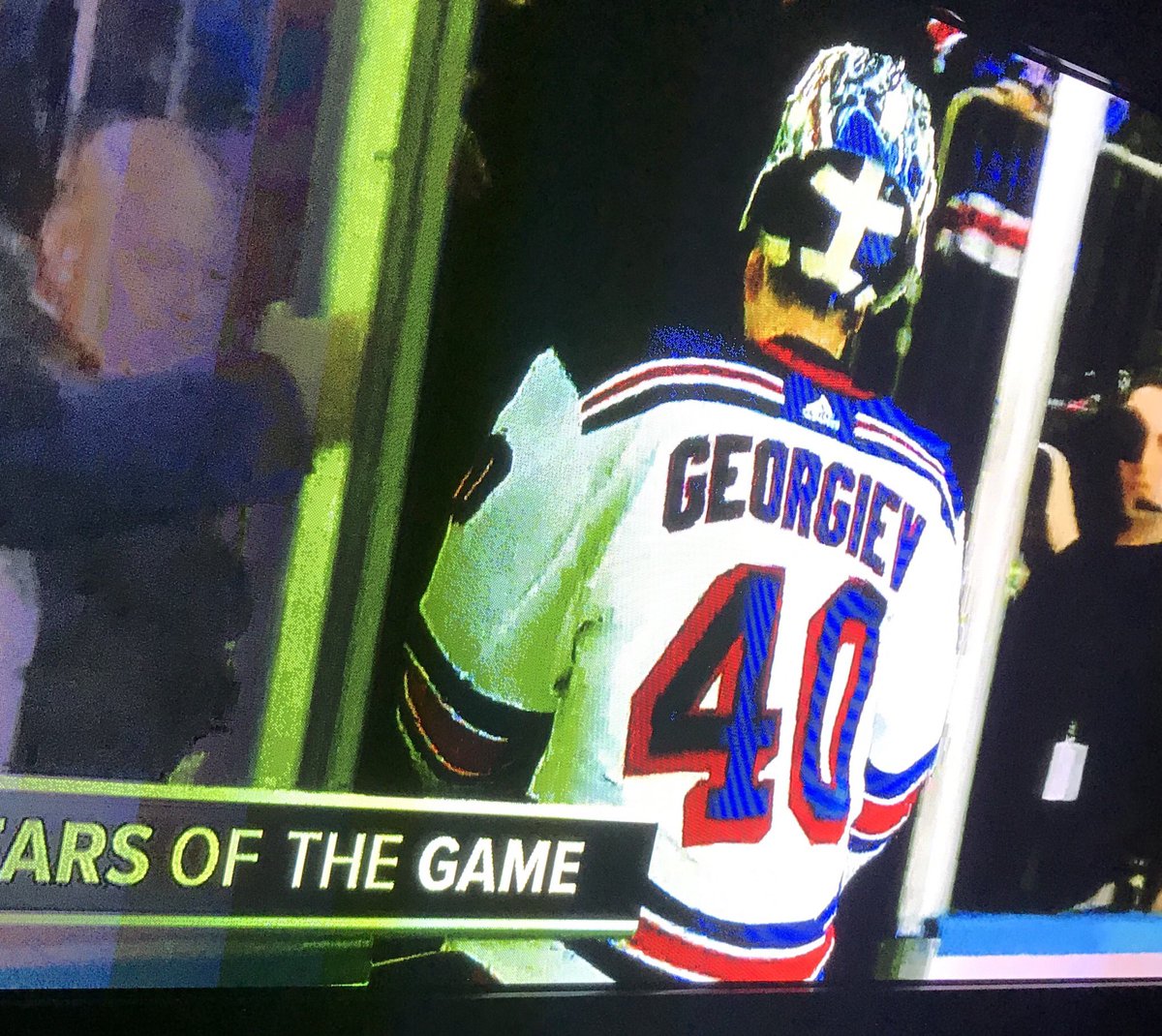 ESPN.com box score time:
SCORING SUMMARY:
1st Period
No Goals Scored
2nd Period
14:09

Pontus Aberg

(11)

Assists: Ryan Getzlaf, Ondrej Kase

1
0
3rd Period
9:52

Vladislav Namestnikov

(4)

Assists: Brett Howden, Jimmy Vesey

1
1
19:20

Kevin Hayes

(9)

(Shorthanded)

Assists: Vladislav Namestnikov

1
2
19:41

Filip Chytil

(6)

Assists: Vladislav Namestnikov, Mika Zibanejad

1
3
PENALTIES:
1st Period
3:17

Boo Nieves:

2 minutes for Holding

13:04

Ryan Strome:

2 minutes for Hooking

14:15

Ryan Getzlaf:

2 minutes for Roughing

14:15

Vladislav Namestnikov:

2 minutes for Roughing

14:15

Vladislav Namestnikov:

2 minutes for Roughing

14:15

Ryan Getzlaf:

2 minutes for Roughing

14:15

Ryan Kesler:

2 minutes for Cross checking

19:11

Jake Dotchin:

2 minutes for Hooking
2nd Period
9:52

Mika Zibanejad:

2 minutes for Tripping

15:07

New York Rangers:

2 minutes for Too Many Men/Ice – Bench (served by Chris Kreider)

16:38

Jakob Silfverberg:

2 minutes for Holding
3rd Period
17:25

Filip Chytil:

2 minutes for Interference – Goalkeeper
GOALIES:
| | | | | | | | | | | |
| --- | --- | --- | --- | --- | --- | --- | --- | --- | --- | --- |
| SA | GA | SV | SV% | ESSV | PPSV | SHSV | SOSA | SOS | TOI | PIM |
| 15 | 1 | 14 | .933 | 10 | 1 | 3 | 0 | 0 | 59:53 | 0 |
| | | | | | | | | | | |
| --- | --- | --- | --- | --- | --- | --- | --- | --- | --- | --- |
| SA | GA | SV | SV% | ESSV | PPSV | SHSV | SOSA | SOS | TOI | PIM |
| 23 | 2 | 21 | .913 | 16 | 3 | 2 | 0 | 0 | 59:44 | 0 |
On the Rangers end of things, the fourth line recorded the most amount of shots in the period. In fact, the Rangers would only have 10 shots after two periods played. The Rangers were once again victims of terrible officiating in this game.
Boo Nieves would take a penalty early in this game, which was a legit penalty. As he's been for the last 18 months, Marc Staal was the best defenseman for the Rangers in this game, and broke up a few chances by the Ducks.
Filip Chytil looked goal-hungry all game, but it would be Boo Nieves and Lias Andersson who would just throw anything on net in this first period. I have no problem with the shoot-first mentality, especially with Chad Johnson in net.
Speaking of Chytil, I tweeted this out at 7:17PM:
Chytil is gonna get one tonight #nyr

— BlueCollarBlueShirts (@NYCTheMiC) December 19, 2018
Ok, ok, ok, while I thought Chytil was going to score one in the first period, he ultimately did get a goal tonight. Survey says… one more for "da bad guy". (Points if you get that reference.)
Andersson, who was just shooting at will, would get praise from Micheletti in this game, which I found comical. Micheletti trashed Andersson, along with everyone else, in the game with Vegas. Here, in this game, Micheletti was being sympathetic for Andersson. Good old Micheletti, never afraid to flip-flop like a dime store politician.
In what was a defensive game, the talk of the first period came during a Ducks PP, which was the result of a good call on Strome for hooking.
Let's go to the gif, so you can see this for yourself.  Vladislav Namestnikov got a double-minor for this:
.@Vladdy18 & Ryan Getzlaf will not be on each other's Christmas lists. #NYR pic.twitter.com/cTO9ehNWWN

— MSG Networks (@MSGNetworks) December 19, 2018
Are you fucking kidding me? This was the first of two major bullshit calls against the Rangers in this game. NAMESTNIKOV DID NOTHING. AND HEY, HOW ABOUT BRADY SKJEI GETTING SLAMMED TOO? NO CALL!
Instead of me sharing my rage, let's go to Dave Maloney, who I think we can all agree, knows this game, this sport and this league better than me:
.@DaveMaloneyMSG was FIRED UP that Vlad Namestnikov got a four-minute penalty for basically getting jumped by Ryan Getzlaf in the 1st period. #NYR pic.twitter.com/vTZ2Dgb5wE

— MSG Networks (@MSGNetworks) December 19, 2018
Maloney also said something at the end of the clip which I've been saying all season long on this blog – David Quinn does not get any calls because of his non-status in the league. I think calls will come with time, but as a rookie coach, like Rodney Dangerfield, David Quinn gets NO RESPECT.
Despite all the bullshit calls, the worst part about this was that the Rangers didn't score on this opportunity.
With all the penalties killed, the Rangers would get a call, when at the 19:11 mark, Jake Dotchin was called for hooking. I hate these wrap-around powerplays, as you lose flow/momentum and have to set things up quickly. The Rangers wouldn't score on either the first half or second half of the power play.
At the end of one period, with all the action occurring on the bullshit Namestnikov penalty, we remained scoreless. However, if you know the old basketball adage, "BALL NEVER LIES", the puck never lies either, and Namestnikov would make these referees pay for their sins of fecal matter from a bull.
In the second period, the period was devoid of much action. That doesn't mean the Rangers didn't work hard, but they didn't log many shots and played a strong defensive game. Both teams struggled to get anything going offensively.
Zibanejad would take a tripping penalty at the 9:52 mark of the period. It was a legit penalty, but Zibanejad just stopped playing and was waiting for the referee to box him, rather than playing through and acting like nothing happened.
On the Ducks PP, Georgiev would make his best save of the game:
Straight up robbery from Alexandar Georgiev! #NYR pic.twitter.com/hvBfPEMHMO

— MSG Networks (@MSGNetworks) December 19, 2018
Like the Cult of Lundqvist says, "WE DON'T DESERVE GEORGIEV!"
For all the moaning and groaning Hank does during games, just imagine if this happened to him:
PONTUS ABERG PINBALLS ONE HOME OFF THE DEFENDER!#LetsGoDucks pic.twitter.com/uB2M8EKUYw

— Hockey Daily (@HockeyDaily365) December 19, 2018
Despite being six minutes away from the third period and still holding on to a shutout, Zibanejad actually kicked a puck into Georgiev's net. Shit happens. And that's the attitude Georgiev had. There were no stick smashes. No crying. No screaming at the bench. Georgiev just rolled on. Even worse, before this goal, the Rangers had a three on one that didn't produce a goal. However, at the end of this game, this would be the only goal allowed by the KING OF KINGS.
Either way, bad guys 1, good guys 0.
At the end of two periods, the score remained 1-0, in favor of the Ducks. During the intermission, Trautwig and Rosen reminded us how the Ducks were the hottest third period team in hockey. The Rangers must've gave a shit about that, because they then went on to out-score the Ducks in the third, by a final tally of 3-0.
As mentioned earlier, the Ducks played last night. That was never as evident than it was in this third period. The Rangers only had 10 shots up to this point in the game, but would log 13 shots on goal in this third period alone.
The Rangers just dominated the third period and were like a shark sniffing blood. It was only a matter of time before the Rangers tied the game up.
The tying goal came at the mid-way point of the period, as Namestnikov buried a perfect pass from Howden:
This was an NHL 94 goal. Vesey made the big-play at the d-blueline. Howden with the NHL 94 pass. Namestnikov finishes. 1-1 game. #NYR pic.twitter.com/tXY52A6hzu

— Elite Sports NY (@EliteSportsNY) December 19, 2018
1-1.
The Rangers just owned the game here, as I think the Ducks only had one shot in the period at this point.
However, with the game on the line and with under three minutes to play, Chytil would be checked into goalie Chad Johnson. HE WAS PUSHED INTO THE GOALIE BY A DUCK! However, the refs called Chytil for goalie interference.
THIS WAS FUCKING BULLSHIT. For starters, CHYTIL WAS PUSHED INTO THE GOALIE! Secondly, if the refs weren't sure what happened, HOW DO YOU CALL A PENALTY LIKE THIS, WITH UNDER THREE MINUTES REMAINING, IN A 1-1 GAME?
Essentially, the refs handed the Ducks a one man advantage to close the period. THESE REFS NEED TO BE INVESTIGATED! Tim Donaghy motherfuckers!
However, the Rangers wouldn't take this slap in the face laying down. Here's Kevin Hayes, flipping the bird to the Ducks & the Zebras, with a shorty:
What a play by Namestnikov. Kevin Hayes wins it shorthanded. 3-1 final. #NYR pic.twitter.com/WUOuebpqLm

— Elite Sports NY (@EliteSportsNY) December 19, 2018
2-1, good guys, and with 40 seconds remaining.
Man oh man, is Kevin Hayes making Jeff Gorton's job tough. Hayes gambled on himself with a one year deal and now Gorton is in the unenviable position of giving Hayes a big deal or trading him. If Hayes is moved and becomes a stud elsewhere, Gorton looks bad. If Hayes stays and this is his peak, Gorton looks bad. You're really gambling by giving Hayes the money & the years, but he's been the best skater this season for the Rangers. He's the most consistent player on the roster. If you let him walk, I don't know. When it comes to Hayes, the right answer will only be determined with time.
If I'm Gorton, I'm hoping that I can sign Hayes for a team friendly deal (5 years/$6M per) and hoping I don't have to include a NMC.
With 40 ticks remaining, the Ducks pulled their Johnson, which is what Micheletti usually does during these games.
Chytil would score 21 seconds after Hayes, giving the Rangers a 3-1 lead and the game.
Make no bones about it, if you're like me, and want the Rangers to win, this was a huge victory and a big two points.
This was a huge TEAM win for the Rangers. I like to break balls on the social media and on these blogs, but don't let my Georgiev trolling get to you – this was as big of a team win as any. I still think the Rangers play better in front of Georgiev, but I would 100% expect Lundqvist to play against the tougher Maple Leafs on Saturday, and then have Georgiev close against Philly on Sunday. After that, it's X-Mas, New Year's and 40+ games remaining.
The Rangers picked up two huge points tonight, and with the Islanders winning their game, it keeps the Rangers at pace. The Rangers need a nice little winning streak, but it won't be easy, with Toronto next on the docket, as the Rangers head north of the border on Saturday.
As far as this blog, I'm going to try to sneak in a book review about the Patrick Family. I also received the new CUJO book, and I'd like to get a review of that up soon.
Until next time, as always, thanks for reading and…
"LET'S GO RANGERS!"
Sean McCaffrey
BULLSMC@aol.com
@NYCTHEMIC on the twitter