From an NHL.com article, which was originally posted on July 23rd, 2012:
Rick Nash is a New York Ranger. Finally.

In a deal that has been brewing since February, the Columbus Blue Jackets traded their captain to the Rangers on Monday along with defenseman Steven Delisle and a conditional third-round selection in the 2013 NHL Draft in exchange for forwards Brandon Dubinsky and Artem Anisimov, defenseman Tim Erixon and the Rangers' first-round selection in the 2013 Draft.

If the Rangers advance to the 2013 Stanley Cup Final, Columbus will retain its third-round pick.

Nash waived his no-move clause prior to the trade. The trade is conditional on all players passing a physical by 5 p.m. ET on Wednesday.

"There was a lot of limbo for sure," Nash said. "It was a tough time and a tough period of five months. But the thing now is it's over and I can look forward to next year."

---
When Rick Nash was traded to the Rangers on July 23rd, 2012, there was much hope from both the New York Rangers and from fans of the team, that the Rangers finally got the consistent scoring threat that they hadn't had ever since the departure of Jaromir Jagr. After a run to the Eastern Conference Final during the 2012 playoffs, Rick Nash was also thought to be the piece that would ultimately help the Rangers win the Stanley Cup. I mean, just look at the trade itself, as there was a stipulation on the chance that the Rangers made the 2013 Stanley Cup Final.
During Jagr's tenure with the New York Rangers, Jagr played three plus seasons with the Rangers. Jagr, who was traded to the Rangers from the Washington Capitals during the 2003-2004 season, would play 31 games for the Rangers that season. Playing 38% of that season with the Rangers, Jagr tallied 15 goals and 14 assists, which was good for 29 points overall.
After the NHL lockout, which canceled the 2004-2005 season, Jaromir Jagr would then play three complete seasons with the Rangers, starting with the 2005-2006 season and ending his time with the Rangers after the 2007-2008 season.
In the three post lockout seasons that Jagr spent with the Rangers, Jagr would average 36.3 goals a season and would average 96.6 points per season. To this day, Jaromir Jagr currently has the single-season records in goals (54) and points (123) for the New York Rangers, as he accumulated those totals during the 2005-2006 season.
When Senile Sather and Jaromir Jagr parted ways after the 2007-2008 season, Rangers goaltender, Henrik Lundqvist, had become a league-wide star. However, while Lundqvist's game was getting better and peaking, the Rangers never replaced Jagr & his scoring. The Rangers went from a balanced team to a team that relied heavily on defense.
In Jagr's last season with the Rangers, he posted totals of 25 goals and 46 assists, good for 71 points overall.
In the seasons between Jagr's departure and Nash's arrival, here were the top Ranger scorers:
2008-2009 season: Markus Naslund with 24 goals (46 points overall) and Nikolay Zherdev & Scott Gomez with 58 points each.
2009-2010 season: Marian Gaborik with 42 goals and 86 points overall. Of note, statistically, this was the best season of Gaborik's career.
2010-2011 season: Brandon Dubinsky with 22 goals and 54 points overall. Of note, a year after the best season of his career, Gaborik's totals dropped down to 22 goals and 48 points.
2011-2012 season: Marian Gaborik with 41 goals and 76 points overall. Of note, this was Gaborik's second best season of his career.
When Jaromir Jagr and the Rangers parted ways, as you can see, Marion Gaborik, who was signed in July of 2009, was signed to fill the void that Jagr left. Obviously, Markus Naslund's production wasn't going to cut it. With former Stanley Cup Champion head coach, in John Tortorella, heading into his first full season as HC of NYR, the Rangers were starting to build a core.
In the 2009-2010 season, not only was John Tortorella ready to win, so was the team. Henrik Lundqvist had emerged. Dan Girardi and Marc Staal were becoming pillars of the defense. By the time the 2011-2012 season came, the Rangers were ready to seriously compete for the Cup. Ryan Callahan, who was already an alternate captain, became captain of the team, after the buyout of previous captain, Chris Drury.
In that 2011-2012 season, led by Henrik Lundqvist, whom won the Vezina that season, the Rangers would go all the way to the Eastern Conference Final. While the Rangers would fall short in the ECF, it wasn't all for naught, as guys like Callahan, Girardi, Staal, Ryan McDonagh, Derek Stepan, Carl Hagelin, Chris Kreider and the newly acquired big name free agent, in Brad Richards, all made a name for themselves. With this new nucleus and era of Rangers, it seemed that the Rangers were just one "Jagresque" star away from winning it all. Enter Rick Nash.
---
Oh, and at this time, I'd like to say "Greetings and salutations, and welcome to another blog here on BlueCollarBlueShirts.com!" Before continuing on about Rick Nash, here are my last few blogs, in case you missed them:
---
---
---
---
---
The NHL had its first season in 1917-1918. For the next 87 seasons, the NHL had no player salary cap. After the lockout, which canceled the 2004-2005 season, the NHL instituted its first salary cap. However, by the next time the next contract bargaining agreement came around, the league and the players couldn't come to terms once again.
When Rick Nash was traded to the Rangers on July 23rd, 2012, little did everyone know that the 2012-2013 season would be in jeopardy of being completely canceled too. Instead of making his Rangers debut in October of 2012, Rick Nash and the Rangers would start the 48 game 2012-2013 season on January 19th, 2013. With the long layoff and limited training camp, how Nash would do would be anyone's guess.
When the 2012-2013 season ended, it would be the newly acquired Rick Nash, leading the team in goals with 21 goals scored. With his 21 assists added to his hockey card, Nash would be second on the team in points, with 42 points. Needless to say, it looked like Nash had made the transition to New York.
However, it wasn't all rainbows and gumdrops for Nash and the Rangers, as Nash would only score one goal in the 2013 playoffs. This would lead to five game, second round ouster, to the Boston Bruins. After having issues with Henrik Lundqvist, this would also end John Tortorella's time with the franchise as well. Replacing John Tortorella, would be ex-Vancouver Canuck coach, Alain Vigneault. Ironically, Tortorella would succeed AV in Vancouver.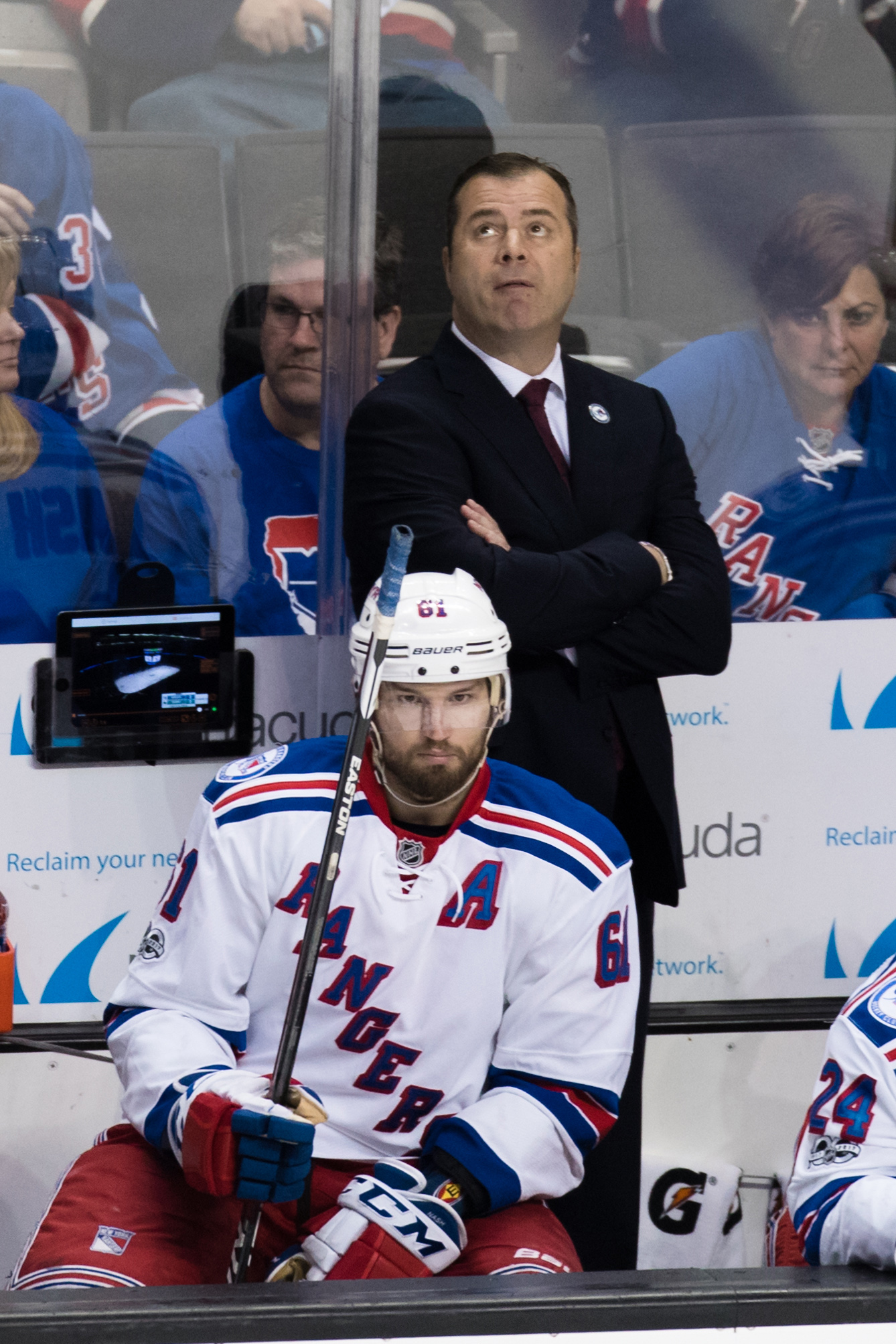 The 2013-2014 season brought upon a lot of changes not just for the New York Rangers, but in the National Hockey League. For the first time in the history of the NHL, the league had a solid hard cap with teams having the opportunity to amnesty themselves from bad contracts. Each team was allowed two amnesty buyouts, where buyouts wouldn't go against the cap. The final amnesty deal would take place after the 2013-2014 season.
With the new salary cap, the league was changed forever. You already know my arguments about Henrik Lundqvist and goaltenders, when it comes to the salary cap. Without the salary cap, I really wouldn't have had anything to say about Henrik Lundqvist from this point in time until now.
For the Rangers, knowing that the salary cap would 100% be in effect for the first time in a full season during the 2013-2014 campaign, they decided to trade off Marian Gaborik, right before the 2013 playoffs. Gaborik was big money and in a league where you now had to be fiscally responsible, Gaborik was considered too streaky and inconsistent for the money.
On April 3rd, 2013, a month out from the 2013 playoffs, the Rangers would flip Marian Gaborik to Columbus, where the Rangers received Derek Dorsett, Derrick Brassard, John Moore and a 2014 sixth round draft pick. (Of note, the Rangers traded that pick and that pick wound up turning into Chase Lang, who never made the NHL.) The Rangers and fans of the Rangers didn't know it at the time, but the three players the Rangers received from Columbus, would become important cogs in an eventual 2014 Stanley Cup appearance.
Many of you readers know me for my talk about the contract of Henrik Lundqvist. It's always been my contention, that in this new salary cap era of the NHL, that you have to invest your money in an elite forward, and not in a goalie. When you look at the teams that are winning Cups in the salary cap era, they are the teams with the elite forward and the teams that possess the strong 1-2 scoring punch. To this day, there hasn't been one top 5 paid goalie to win a Stanley Cup in the salary cap era.
During Rick Nash's tenure with the Rangers, his $7.8M cap hit was usually the knock on him. Like Henrik Lundqvist or even a Marc Staal, who was another high cap hit on the team, the biggest criticism of Rick Nash, during the regular season, was the money he makes. If Rick Nash's Rangers career didn't coincide with the salary cap era, Ranger fans would consider Nash as one of the best/Top Ten Rangers of the last 40 years.
Away from the salary cap talk, what hurt Nash's value to Ranger fans the most, was his playoff production, or should I say lack of, playoff production. When compared to his peers, especially the ones making the same money as Nash, when it came to the playoffs, Nash was more A-Rod than Derek Jeter.
In his five postseasons with the Rangers, here are Nash's numbers:
2013 postseason: 1G, 4A in 12 GP
2014 postseason: 3G, 7A in 25 GP
2015 postseason: 5G, 9A in 19 GP
2016 postseason: 2G, 2A in 5 GP
2017 postseason: 3G, 2A in 12 GP
What hurt Nash the most in the eyes of Ranger fans, was Nash's 0 goals and 0 assists in the 2014 Stanley Cup Final with LA. Those Rangers, after that crushing SCF loss, and who were somewhat a Cinderella team, would then lose Brad Richards in an amnesty deal, saw Sather foolishly give up on Anton Stralman and saw other role players leave the team.
However, one has to wonder, what if instead of building around Henrik Lundqvist, what would've happened if the team built around Rick Nash? When you look at the teams that were winning Cups, such as LA, Chicago, and Pittsburgh, each of those teams had a 1-2 scoring punch. Of course, even if Nash had more offensive help around him, it's not guaranteed that Nash would've been a scoring tsunami either. This is just food for debate.
When it comes to Nash in the playoffs, only in the 2016 postseason, was Nash nearly a point per game type of player. However, perhaps it was too little too late, as the Rangers got housed by the Penguins in that 2016 first round series.
So what happened to Rick Nash? Did he just choke in the playoffs? Was he "soft" as Mike Milbury called him? Or was it something else? To me, the biggest enemy for Rick Nash were his concussions.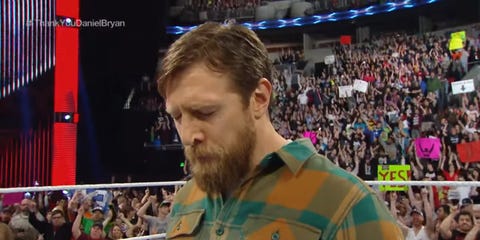 During Rick Nash's regular season tenure with the Rangers, if there was one thing you can say about him, he was always great on both ends of the ice. After being used as a penalty killer by Head Coach Mike Babcock for Team Canada during the 2014 Olympics, Alain Vigneault would then use Nash on the Rangers penalty kill unit. Nash was the best two way player that the Rangers had during Nash's time in New York. Nash could be lethal on the power-play and he could kill penalties too.
What hurt Nash, outside of the playoff inconsistencies, was the fact that when it came to scoring goals, which he was paid to do, he could be extremely streaky. Nash would miss time here and there with concussions, but would never miss any substantial amount of time because of them.
That said, I would bet my life savings that Nash had more concussions than the public ever knew about. I'm sure he's had a ton of undocumented concussions. We now have NHL concussion spotters today, but we all know that these athletes will try to play through anything and will feign being in perfect health when they have to.
Furthermore, in the case of Nash and other athletes like him, how many times did Nash have his bell rung when he wasn't at the NHL level? How many concussions did Nash endure before even making it to the NHL?
To me, Nash's career was "ruined" by concussions. Maybe "ruined" is the wrong word, but concussions certainly sped up Rick Nash to his retirement.
In 2019, we don't know everything we need to know about concussions and CTE. This is science that's still being researched. We still can't 100% ascertain if someone living has CTE. While that science may get there one day, for the now, we can only speculate on who and who doesn't have CTE. We can only 100% determine CTE in the dead. Plus, it's not like you can take a "concussion pill" and be magically cleared of the symptoms, as if a concussion was the common cold.
During Rick Nash's 6 year career with the Rangers, he never really took time off. Sure, he'd miss a game or two here and there, but he never was out for 10, 15, 20+ games at a clip because of concussions. That said, he would miss the most amount of games in his career during the 2015-2016 season, missing 22 games because of muscle spasms. Who knows if it was more than that?
Concussions are not experienced by everyone the same. Like a snowflake (a real winter-time snowflake, not the crybabies on social media) no two concussions are the same. Everyone recuperates and handles them differently. When you look at other high profile athletes, it took WWE's Daniel Bryan over two years to get over his concussion issues, and that was with extreme therapy and new age science. Sidney Crosby missed chunks of two years after winning his first Stanley Cup because of concussions. You just never know how you're going to recover from a concussion.
Making matters worse, just because you got a doctor's clearance after a concussion, that doesn't mean you're out of the woods. Far from it. In fact, once you receive your first concussion, you're more vulnerable and more likely to experience another concussion.
To give you a picture, having a concussion is like being in a UFC fight against a karate guy. The karate guy may kick your leg and you shake it off. However, as the karate guy keeps kicking and kicking, your leg welts up, turns black, blue or purple and eventually, the littlest thing will have your leg buckling.
With each concussion, your brain gets rattled in the cage and once the rattling starts, even with time off to recover, any little bump or fall could lead to another concussion. And usually, the second concussion is worse than the first, the third is worse than the second and so forth.
During Nash's time in New York, because of his cap hit and perhaps because he kept several of his concussion issues to himself, there was fan negativity about him. I can't lie, I would groan during the playoffs too. I mean, we're probably all familiar with this picture: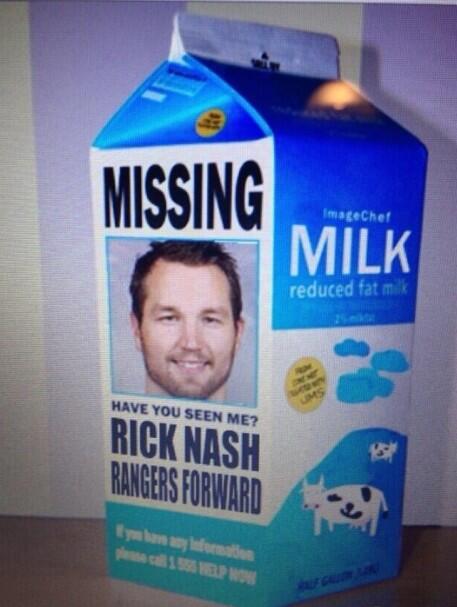 What fans didn't know was how Nash was doing, on a day-to-day basis. I'm sure the migraines were unbearable. I'm sure he lost sleep. I'm sure Nash was disoriented. As an elite athlete, Nash gutted through it, putting his health on the back-burner, for the sake of his team and in his quest for the Cup.
In what I can't state enough, during Nash's tenure with the Rangers, he was absolutely the best two-way forward the team had. Off the ice, he was a great family man and always made time for the fans. Despite being the captain in Columbus, Nash took a step back and let the longer tenured Ranger, in Ryan McDonagh, assume the captaincy when Ryan Callahan was traded to Tampa Bay. It's just truly a shame that Nash didn't start getting the respect and credit that he deserved, until his time in New York was almost up.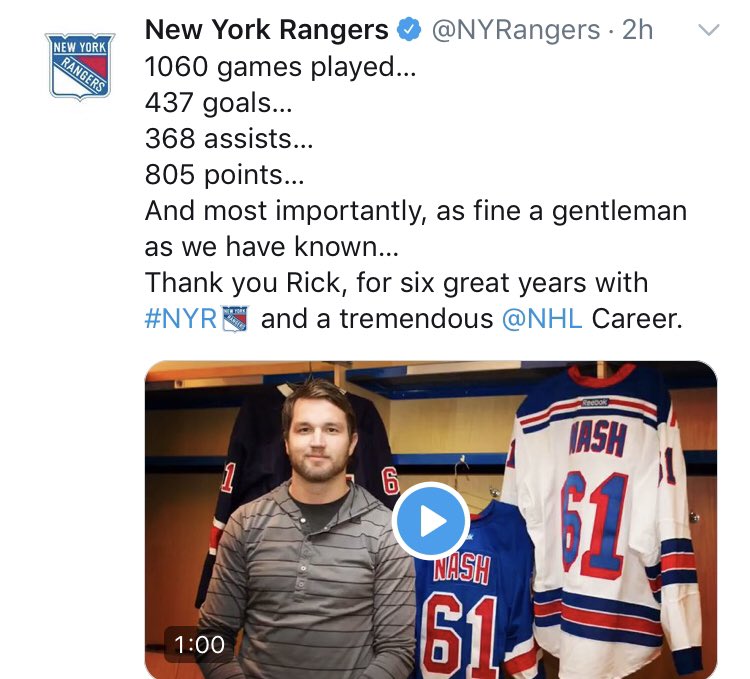 Without question, because of concussions, the Rangers never had Rick Nash at 100% for 100% of the time. At times, Nash would wow us with his offensive brilliance, but as his career went on with the Rangers, he embraced a new role of being a special teams monster. Nash always wore the blue proudly and was always a class act, on and off the ice. He was a great representative of the organization.
And really, when you think about it, while Rick Nash was originally brought to the Rangers to be a scorer, he morphed into the best two-way player they had. While he would never have that 50 goal season, he also prevented a ton of goals too.
During Nash's time with the Rangers, because of his contributions, the Rangers enjoyed the most success they ever had since the 1994 Cup winning team. During Nash's time with New York, he was part of a team that made a Stanley Cup run, appeared in another Eastern Conference Final and was part of a team that won the Presidents' Trophy.
While there will be critics who will say that Nash never got the Rangers over the hump, one can not question Nash's drive and dedication to the Rangers. It's quite possible that concussions not only robbed Nash of a few more extra years in the league, but perhaps it robbed the Rangers of a Stanley Cup victory too.
Here is what Rick Nash's agent announced on Friday afternoon: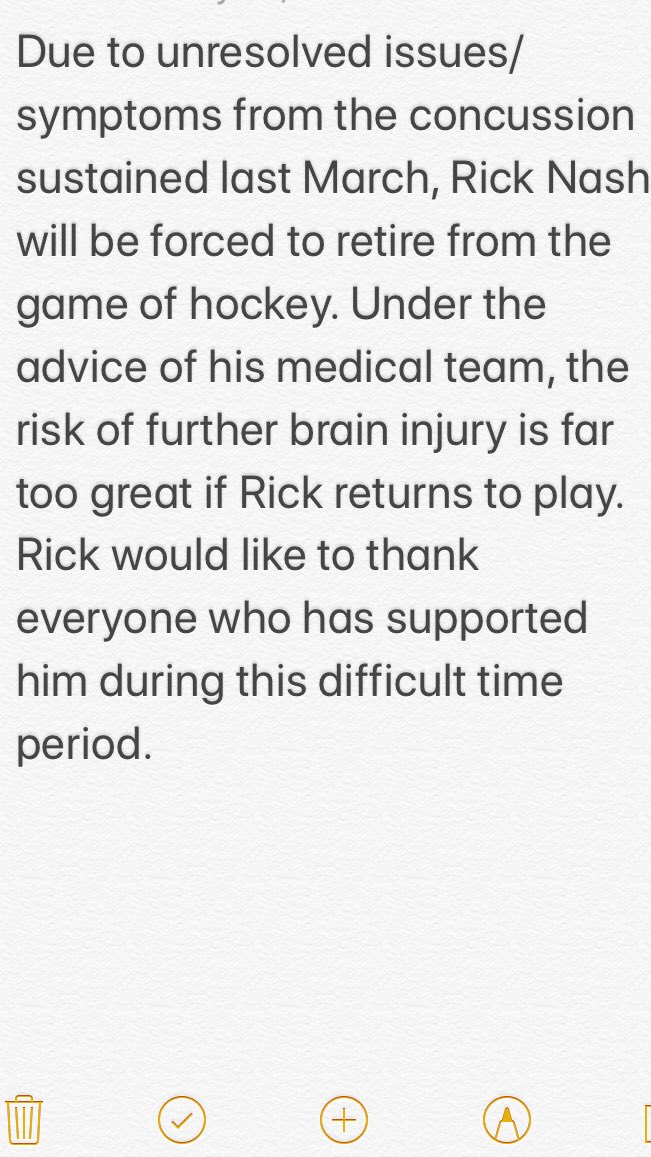 Nash, who was traded by the Rangers to the Boston Bruins, right before the 2017-2018 trade deadline, would finish his career with the Bruins. Another concussion would force him to miss 12 games with the Bruins. Once July of 2018 came, Nash took himself out of the free agency pool, as he wanted to take time off because of his concussions.
I'm sure Rick Nash will eventually speak out on his own about this. In the meantime, with a youngster at home, I'm sure Rick Nash, who has made over $70M in career earnings, will be set for life. At 34 years old, Nash's biggest priorities are his health and to his family.
While I do not know where Rick Nash spends his days currently (I've heard that he maintains his New York residence, but for all I know, he's back in Canada) I hope to see the Rangers keep a working relationship with Rick Nash. While Rick Nash probably never needs to work another day in his life, it would be nice to see Nash included at Ranger alumni events.
Obviously, I don't know Nash's current mindset, but I do know that other athletes find it hard to return to the game, especially when their careers were robbed from them. Perhaps Nash needs time before doing anything NHL/hockey related. I just hope the Rangers keep the door open.
As the older generation of Rangers pass on, it would be nice to see Rick Nash at Ranger-themed charity events and/or meet & greets, as part of the Rangers alumni. I'm sure, that as a great two-way player, Nash could be an asset to a coaching staff too. Selfishly speaking, with Nash being an elite player, it would be nice to see Rick Nash replace Joe Micheletti on Ranger broadcasts!
In the next few days, there will be a lot written about Rick Nash. I'm sure most of it will be positive. He was that type of person. It's a shame the Rangers never used my Rink of Honor idea, as Nash would be a perfect candidate for that.
I just hope that for anyone who was disappointed in Rick Nash's career with the Rangers, that they can realize how significant concussions played into Nash's career. At 34 years old and with his skills, Nash could've played until he was 40. However, Nash played through concussions his whole career and opted to never miss a significant period of time because of those concussions. Instead of possibly extending his career by taking a mini-break during his playing days, Nash is now retired at 34. While the money & not having to go to work is nice, Nash, who has a young family, must worry about what damage he's done and if CTE will affect his life in his later years. That's not an easy hand to deal with.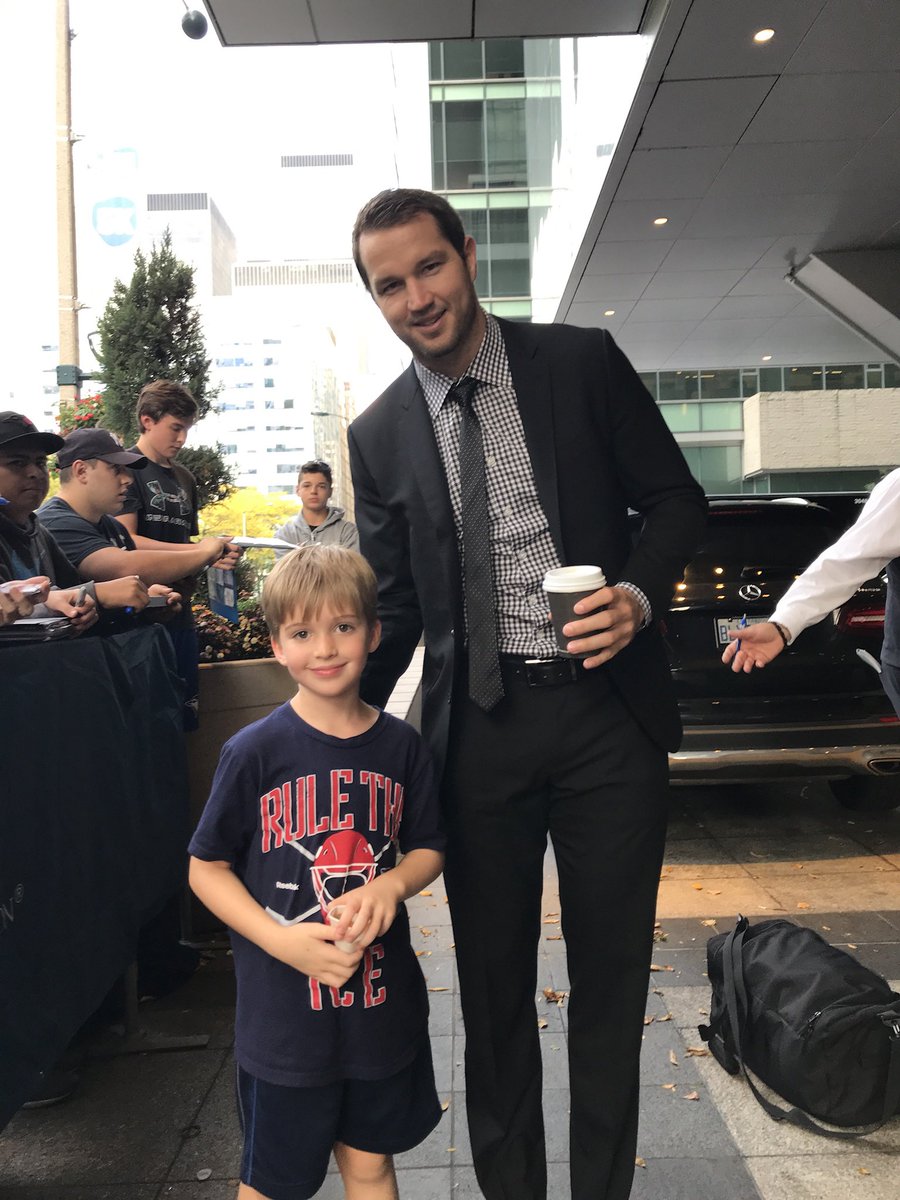 In closing, #ThankYouNash. Thanks for being a great Ranger. Thanks for giving it your all. While I know why Columbus fans had to boo you every time you touched the puck, I hope at this time, bygones can be bygones and Columbus can now celebrate your career, with a spot in their rafters for your jersey.
As fans, we all have different memories and we remember things differently. Here is one of my favorite Rick Nash goals. The reason this sticks out to me is because I attended this game and was right in front of Nash when he scored this game winning goal on 1/10/2014:
#ThankYouNash
---
Moving forward, I have a family event tomorrow, but will be DVRing the Rangers/Isles game. If I can't get up a blog after that game (I just posted four blogs in two nights, so that's not shabby!) I'll be back on Sunday night, as the Rangers ironically take on Nash's original team, in the Columbus Blue Jackets.
As always, thanks for reading and…
"Let's Go Rangers"
Sean McCaffrey
BULLSMC@aol.com
@NYCTHEMIC on twitter