Greetings and salutations everyone and welcome to another blog here on BlueCollarBlueShirts.com. Originally, I was going to skip this blog, as I had a lot going on during Saturday's game & on Saturday in general. However, with the Rangers impressive 2-1 victory over the Islanders, an historic victory at that, I figured I'd pump something out quick. So in advance, this won't be as long as usual. Things will be back to normal on Sunday. Plus, if you know me – you know I have to gloat about the KING OF KINGS!
Before moseying on along here, I just posted four blogs in the last two nights. The #ThankYouNash & the "2018-2019 New York Rangers Mid-Season Report Card" got a lot of good feedback. I think the "Cujo" autobiography review got lost in the shuffle a bit. In case you missed these blogs, you can check them out, as well as all my most recent stuff, below:
---
---
---
---
---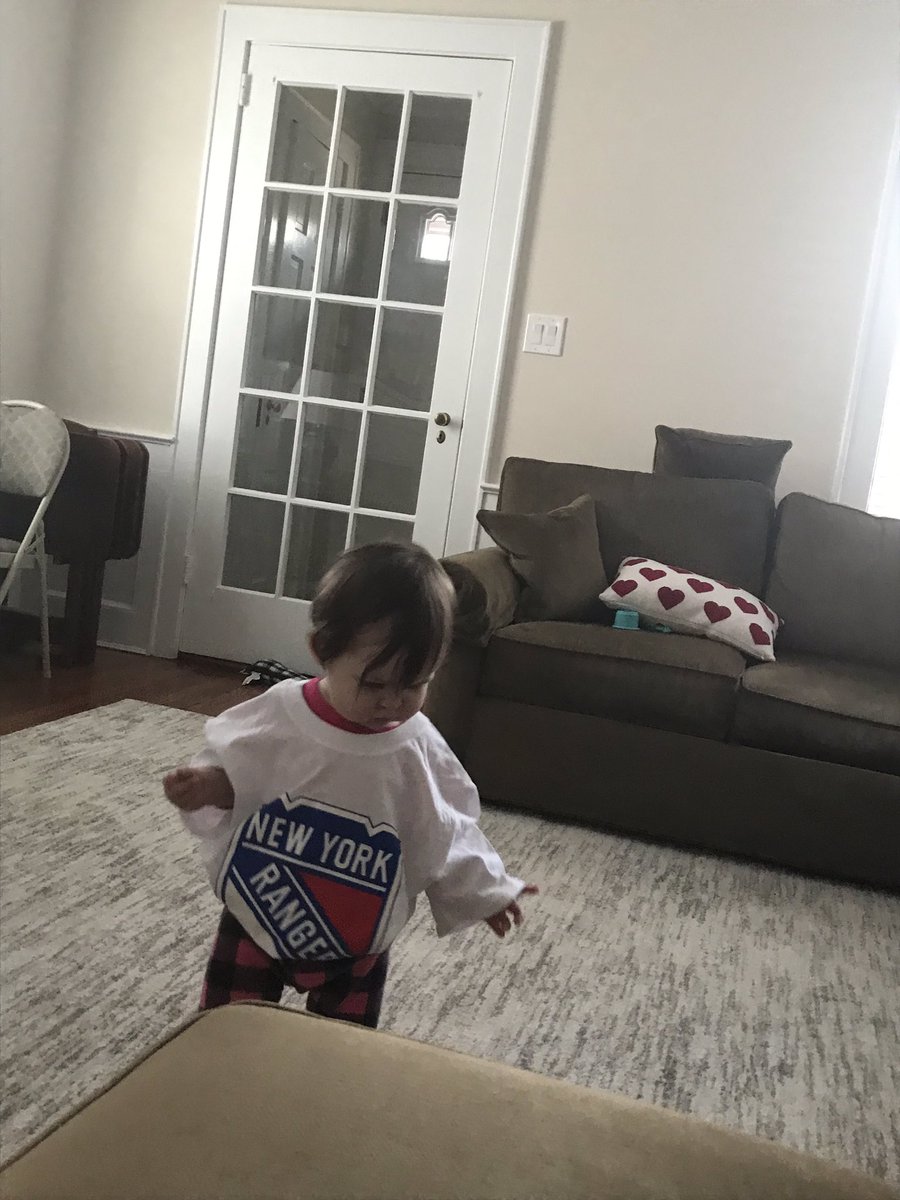 As mentioned in my last blog, I had a family thing to do on Saturday afternoon. I caught the first period of this game at the bar/restaurant and then watched the final two periods at my sister's house. While in the bar, I didn't have any volume. At the house, the volume was on, but I wasn't paying much attention to it.
Originally, I was going to watch this game with no volume, then go back and re-watch the game on DVR, with the volume on. However, as I tried doing that, the sight of Joe Micheletti and just the first five minutes of the broadcast had my stomach turning and I could feel a rash breaking out. I saw the game when it aired live, so despite Georgiev's great performance today, I just couldn't torture myself by listening to the buffoon known as Joe Micheletti. So for one blog, I don't have a running counter of all the "Micheletti-isms" that occurred during the broadcast.
I'll be fair with you here – if the Rangers lost this game, this blog would've been easy for me to skip. However, for the sake of site prosperity and because I'm not one to say, "I hate to say I told you so, but I told you so", I must take my victory lap here tonight, via the medium of blogging!
So let me shout it from the rooftops here:
"ALEXANDAR GEORGIEV IS THE KING OF KINGS! HE DID MANY THINGS TODAY THAT LUNDQVIST CAN'T DO."
Now, are you ready for my Georgiev vs Lundswiss list? Here we go!
— Georgiev shut out the Islanders this season in his previous start against them. Henrik Lundqvist hasn't shut out the Islanders ever since signing that ridiculous contract that made him the highest paid goalie in the NHL. (For the record, Lundqvist's last shut out against the Isles was on 4/13/2013. Funny enough, I was at that game and that was one of the best goaltender duels I've ever seen live. Thank you Dan Girardi for winning that game, at the Nassau Coliseum, in OT.)
— Since his first season as the league's highest paid goalie, (Hank is now currently the second highest paid goalie in the league, as a result of Carey Price's new deal kicking in) Lundqvist is 1-11-2 in his last 14 games against the Islanders. Alexandar Georgiev is undefeated against the Islanders.
— Lundqvist has never won at the Barclays Center, despite numerous attempts. Georgiev is the only goalie in the history of the Rangers to win in that dump.
— In his last game against the Islanders, Henrik Lundqvist gave up the game winning goal after seeing only one shot in the third period. That means that he had a third period save percentage of .000. In his last game against the Islanders, Alexandar Georgiev made 7 saves in the third period, none bigger than the one he made with 13 seconds left in the game, to preserve the Rangers one goal lead and eventual victory.
— With Lundqvist starting, the Rangers have lost two games to the Islanders this season. With Georgiev starting, the Rangers have beaten the Islanders twice this season.
— In his two starts against the Islanders this season, Lundqvist has posted remarkable save percentages of .706 and .800. In two starts against the Islanders this season, Georgiev has posted save percentages of 1.000 & .960.
— In his two starts against the Islanders this season, the $8.5M cap hit goalie has GAA's of 7.51 and 4.09. In his two starts against the Islanders this season, the $792,500 goalie has GAA's of 0.00 and 1.00.
— Henrik Lundqvist has not won a game in 2019. (0-3). Alexandar Georgiev is the only goalie to win in 2019 for the New York Rangers.
Get my point? I could go on and on here, but I'll leave you with this last fun fact. Henrik Lundqvist has never worn one of these after a Rangers/Islanders game: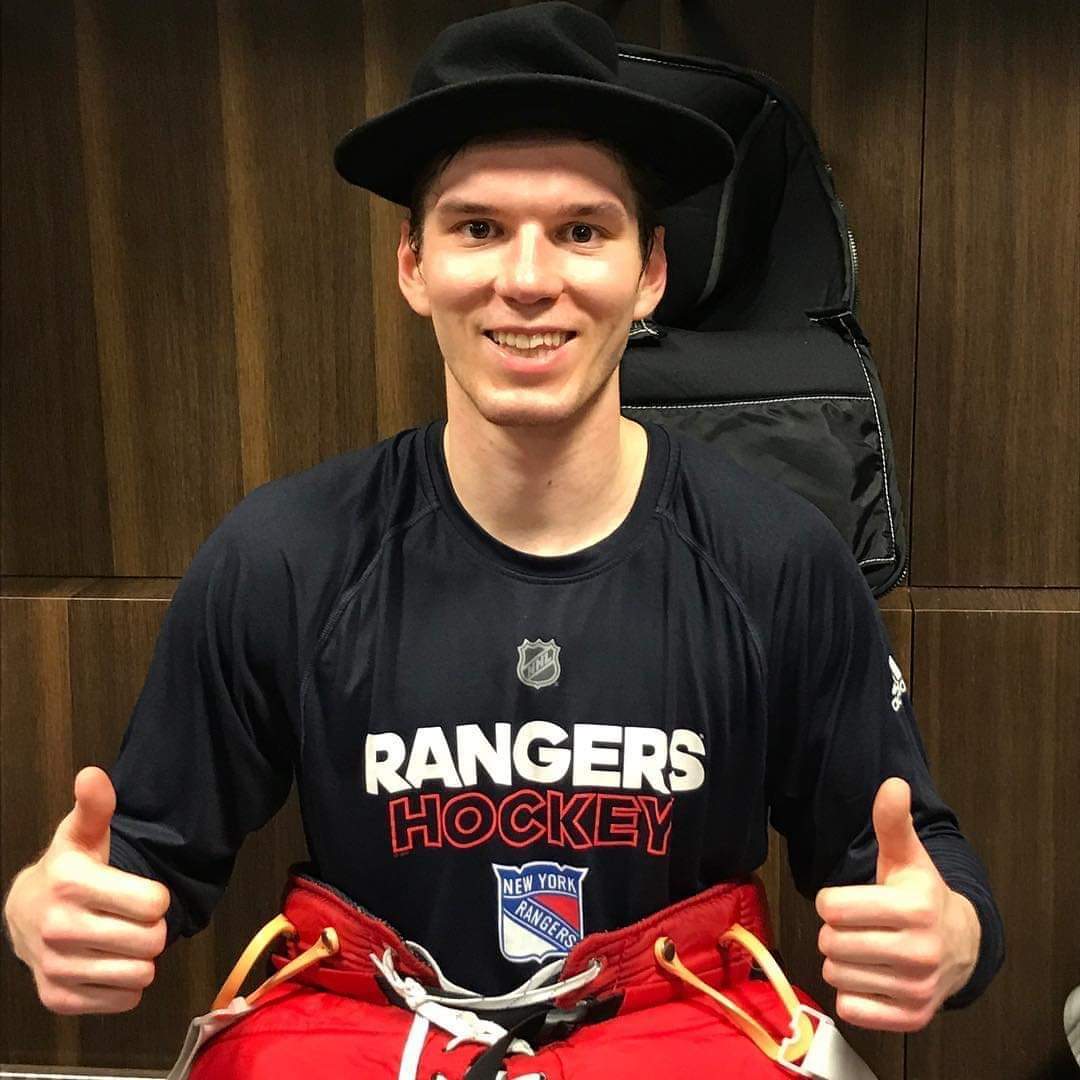 So as you sit back and read the rest of this blog, let me give you a little background music to help set the mood:
I'll tell you what, as I've been saying all season, it's going to suck when Alexandar Georgiev is traded off or sent to Hartford next season, while King Egomaniac remains here. Even worse, the Cupless Wonder will hurt the development of Igor Shestyorkin too. Again, not one member from the Cult of Lundswiss can explain to me how keeping Lundqvist here makes sense for a team rebuilding.
If you want to forget about the Islanders for one second, take a look at the season stats between the two goalies this season:

Seriously- explain to me how Lundqvist's contract is worth it and why he's here during a rebuild? Georgiev has statistically played against tougher teams this season too, while Lundqvist has played a lot of bottom feeders.
Furthermore, Georgiev had mop-up duty games too. And not to make excuses, but Georgiev had that one horrible game against Carolina, where he gave up 8 goals, hence negatively skewering his stats. It's not like Lundqvist would come in to relief Georgiev in that game, where Georgiev has had to come into plenty of lost causes this season. In what world is Lundqvist worth $8M more? How is this helping a team rebuilding?
Okay, okay, okay – I think I've made my point on how much Lundqvist is overpaid, overrated and completely useless, especially against the Islanders, for one blog!
In the SCRATCH LIST OF QUINN department, Kevin Hayes remains out with an upper-body injury. Neal Pionk, who Lundswiss defenders are now blaming for every Lundqvist goal allowed ever, is now out with a lower-body injury. Pionk's injury is listed as day-to-day. I just wanted to make that clear, as Pionk wasn't scratched because of anything that happened in Lundqvist's embarrassing loss to the Isles on Thursday.
With Pionk out, Tony DeAngelo returned to the line-up. Here were Quinn's D-pairs:
FIRST PAIR: Staal/DeAngelo
SECOND PAIR: Skjei/McQuaid
THIRD PAIR: Shattenkirk/Claesson
Offensively, Quinn rolled out these lines:
FIRST LINE: Kreider/Zibanejad/Zuccarello (Zucc remains on the first line. While it paid off today, this just screams as an audition for a potential trade partner.)
SECOND LINE: Fast/Strome/Chytil
THIRD LINE: Namestnikov/Howden/Vesey
FOURTH LINE: McLeod/Nieves/Buchnevich
And now for the gambling segment of the blog! Here's what I said once I found out that Georgiev was starting in this game:
The King of Kings starts. BET THE UNDER. #nyr 3 #isles 2. pic.twitter.com/M4ymXoTY3r

— BlueCollarBlueShirts (@NYCTheMiC) January 12, 2019
While I didn't get the score right, I got my over/under bet right. As I've been saying all season, the over/under bet is free money this season. I'm now 14-5-1 since starting this segment on these blogs. Stu Feiner who? What a cuck!
ESPN.com box score time:
SCORING SUMMARY:
1st Period

No Goals Scored
2nd Period
8:40

Anthony Beauvillier

(12)

Assists: Josh Bailey, Ryan Pulock

0
1
14:09

Filip Chytil

(7)

Assists: Boo Nieves

1
1
3rd Period
14:55

Mats Zuccarello

(5)

Assists: Tony DeAngelo, Mika Zibanejad

2
1
PENALTY SUMMARY:
1st Period
1:17

Ryan Pulock:

2 minutes for Tripping

7:58

Mats Zuccarello:

2 minutes for Holding

11:48

Adam McQuaid:

2 minutes for Interference

13:39

Fredrik Claesson:

2 minutes for Slashing
2nd Period
6:40

Chris Kreider:

2 minutes for Holding

10:23

Brock Nelson:

2 minutes for Hooking

11:35

Luca Sbisa:

2 minutes for Hooking

16:21

Jesper Fast:

2 minutes for Tripping

17:06

Ryan Strome:

2 minutes for High-sticking
3rd Period
17:43

Valtteri Filppula:

2 minutes for Hooking
GOALIES:
| | | | | | | | | | | |
| --- | --- | --- | --- | --- | --- | --- | --- | --- | --- | --- |
| SA | GA | SV | SV% | ESSV | PPSV | SHSV | SOSA | SOS | TOI | PIM |
| 26 | 2 | 24 | .923 | 20 | 2 | 2 | 0 | 0 | 59:04 | 0 |
| | | | | | | | | | | |
| --- | --- | --- | --- | --- | --- | --- | --- | --- | --- | --- |
| SA | GA | SV | SV% | ESSV | PPSV | SHSV | SOSA | SOS | TOI | PIM |
| 25 | 1 | 24 | .960 | 16 | 1 | 7 | 0 | 0 | 60:00 | 0 |
Again, this isn't a normal period-by-period review, so bear with me.
There are two stories to this game, in my eyes. The first story is that both goalies were solid. The second story is that both power play units sucked ass. The Rangers were 0-4 on the PP in this game. The Isles were 0-6. Even worse, both teams had a minute plus of 5 vs 3 time and neither team could score. Shit, they couldn't even get a good shot off.
However, conversely, I guess you can say that the penalty kills were good in this game, but when it comes to the power-play, both teams looked to have pulled a Plaxico Burress, as they shot themselves in the foot. I don't think the penalty kill units were ever under much duress for any substantial length of time either.
If there is anything that shocked me about all these penalties, it is the fact that there was no fighting/five minute majors dished out. After the game on Thursday, I thought we would get a McQuaid/Johnston or a McLeod/Martin tilt. It didn't happen.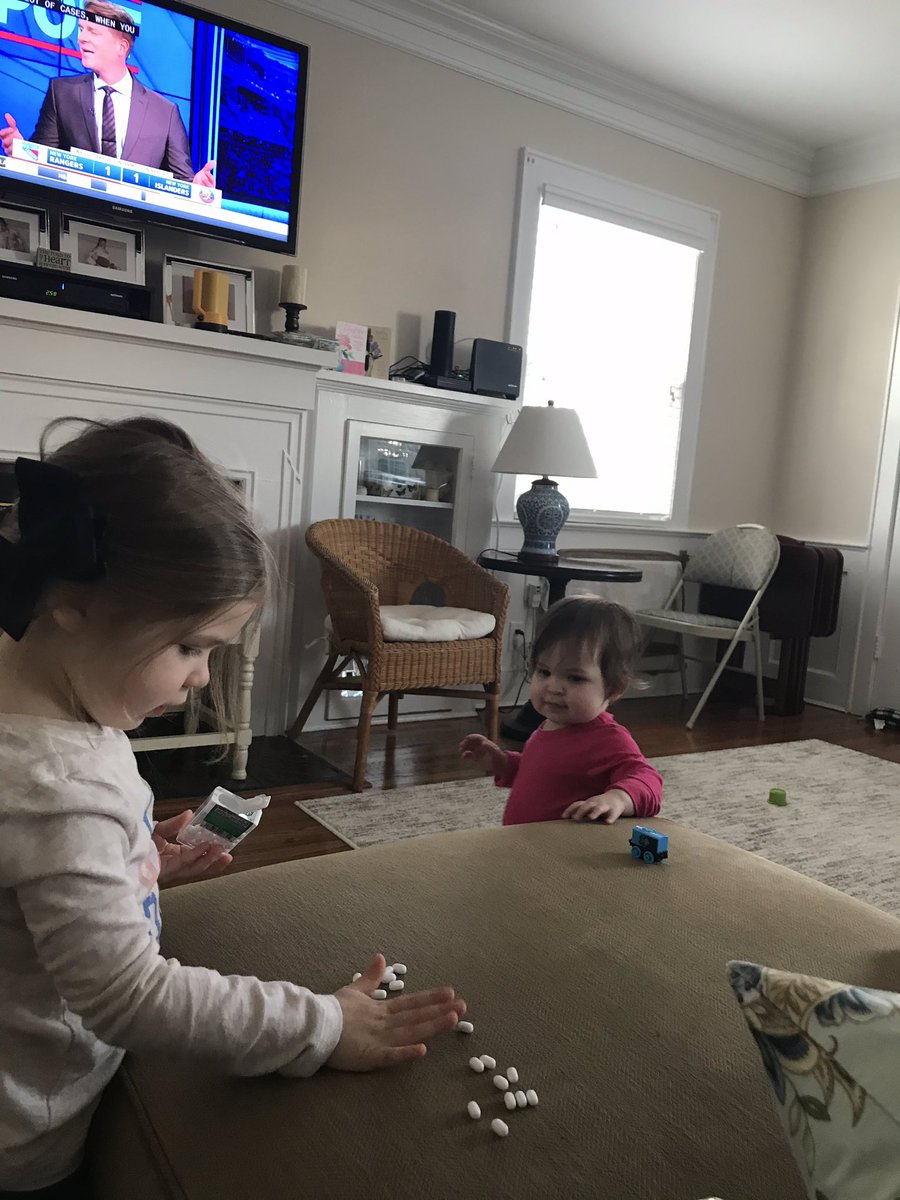 The first period, despite four penalties (3 on NYR, 1 on NYI) flew by quickly. I got to the bar/restaurant at 12 and next thing I know, the first period is already over and so was our meal. Georgiev made one huge save in this time, but this was a defensive battle, as I believe the total shots between the two teams for the period was 14 – 7 shots a piece. I could be wrong on that number, as for some reason, the box score doesn't show you period-by-period shots. Either way, the shots were even and the game could've went either way.
After killing off an Islander PP in the second period, a second after the PP expired, at the 8:40 mark, the Isles struck first in this game. After shitting the bed twice in Thursday's game, Anthony Beauvillier redeemed himself here:
ANTHONY BEAUVILLIER POWER MOVES PAST MARC STAAL AND TUCKS ONE HOME!#Isles pic.twitter.com/A6hP8MamAm

— Hockey Daily (@HockeyDaily365) January 12, 2019
1-0, bad guys. Needless to say, this was the lone goal Georgiev gave up all game. I'm not calling for the heads of the defense like people do when Lundqvist gives up these types of goals. The other team is paid to score and play too. Nice goal for the Isles and even better – Georgiev wasn't rattled and remained a beast for the rest of the game.
With this looking like another game where Ranger goals were going to be scarce, if any at all, Filip Chytil tied the game at 14:09:
BOO NIEVES DANGLES THROUGH LEDDY AND FEEDS FILIP CHYTIL WHO TIES IT UP!#NYR pic.twitter.com/qkQMGNuuii

— Hockey Daily (@HockeyDaily365) January 12, 2019
1-1. And hey – good for Boo Nieves for getting an assist on this. I don't think he has a long career in store for him, at least as a Ranger, but I got a soft spot for the fourth line guys. This was a huge goal, because not only did you tie the game and flip the momentum, you changed the third period. Rather than going into the third period down a goal, it was now a tie game and up for grabs.
In a period where both teams failed on their 5 vs 3 PP attack, the score remained 1-1 after forty minutes.
For those wondering, entering the third period, NYR had a three shot on goal advantage on the Isles.
The third period saw more of a back and forth affair. Unlike the first two periods, outside of a late penalty, this was a relatively clean period, at least on the stat sheet.
Outside of Georgiev and Zuccarello, the biggest thing to happen in this period was when Matt Martin crushed Claesson into the boards. This wasn't boarding, but Martin forced Claesson into the boards. Claesson had to go to the locker room and wouldn't return. After the game, David Quinn said that it didn't look good for Claesson, which means he may miss a chunk of games now. If you're an optimist, the Rangers still have 7 other defensemen on the roster.
With just about five minutes remaining in this 1-1 game, Zuccarello was in the right place and at the right time:
MATS ZUCCARELLO TIPS ONE HOME AND THE RANGERS LEAD!#NYR pic.twitter.com/5xdEKjb9uN

— Hockey Daily (@HockeyDaily365) January 12, 2019
2-1, good guys, with the Isles SUV having the best seat in the house for this goal!
For Zuccarello and for Ranger fans, this felt good. Yea, this isn't a snipe or anything, but hey, good things happen when you go to the net.
The Isles would take a penalty at 17:43. The Isles would kill the penalty, while having goalie Robin Lehner on the bench. Then with their 6 vs 5 attack employed, Georgiev made the save of the game, with 13.9 seconds, robbing Isles captain Anders Lee of a game tying goal:
If you don't agree with what I'm about to say here, don't even bother arguing with me. I'll never agree with you.
100/100 TIMES, THIS IS A GOAL AGAINST HENRIK LUNDQVIST. NO IFS, ANDS OR BUTS ABOUT IT.
If you think 2019 Henrik Lundqvist makes this save, that means you haven't watched any Ranger games in the last 5 seasons.
No finger-pointing from Georgiev here either. No crying about his teammates. No crying about his defense. No blaming his defense for this shot. No hanging of the head. GEORGIEV GOT IT FUCKING DONE. NO EXCUSES. MAKE THE SAVE AND JUST WIN BABY!
2-1, your final, in what may have been the last ever NYR/NYI game at that shithole in Brooklyn.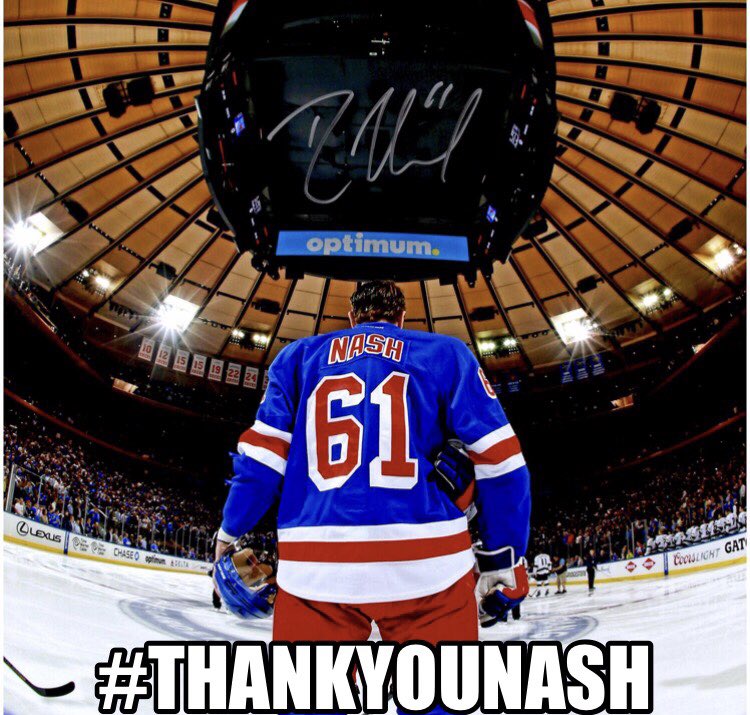 By the time you read these words, the Rangers are in Columbus, Ohio, as they await their 6PM Sunday tilt with the Blue Jackets. Of note, it's been announced that Rick Nash will drop the ceremonial opening puck. I really hope CBJ fans can now embrace Nash as the legend he was for that team. I think they will.
For the Rangers, it's been announced that Hayes & Claesson are out for this game with CBJ. Pionk's status will be announced on Sunday afternoon. Also of note, CBJ played at 7PM on Saturday, where they beat the Capitals by a score of 2-1 in OT. Korpisalo was in net for Columbus. We'll see if Bobrovsky makes his return for this game with the Rangers.
If I'm David Quinn, I'm riding the hot hand. Start Georgiev tomorrow and let's see what he can do with back-to-back games. This is supposed to be a development season, right? Then again, if you want to tank, you go with Hank!
See you tomorrow night. As always, thanks for reading and…
"LET'S GO RANGERS!"
Sean McCaffrey
BULLSMC@aol.com
@NYCTHEMIC on twitter