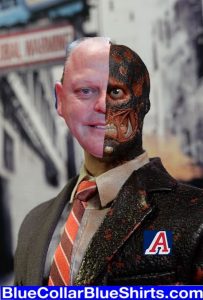 Greetings and salutations everyone and welcome to another "sleep-is-the-enemy" blog here on BlueCollarBlueShirts.com. Never a slow news day, am I right?
Before getting into everything that took place on Monday, October 11th, if you haven't already, check out my 2021-22 NHL Season Preview blog here: https://bluecollarblueshirts.com/preview22/
I was going to combine this blog with the season preview blog, but since the season preview blog has a lot of media, which creates a longer load time, I figured I'd separate the two pieces, especially for the non-NYR fans that read this site.
Back to the Rangers.
As talked about on this site all summer long and into the preseason (and anywhere else that covers the Rangers), the biggest question surrounding this team was – "who is going to be the captain?"
We've all talked about this topic until we were blue (shirted) in the face. If there was any topic that got tiresome, as if it were the topic of Jack Eichel, it was this team captaincy topic.
On Monday, October 11th, two days before the start of the Rangers 2021-22 campaign, Rangers head coach Gerard Gallant, who previously promised to name a captain prior to the commencement of the regular season, gave us our answer – there will be no captain!
Instead of having someone wear the "C", the Rangers will open the 2021-22 season with six alternate captains (yes, you read that right, SIX), where presumably, these six men will also alternate with the "A" on their jerseys on the road and at home.
The six alternate captains for this 2021-22 season are Artemi Panarin, Chris Kreider, Mika Zibanejad, Jacob Trouba, Ryan Strome and Barclay Goodrow.
Before continuing on, if you haven't seen it already, you owe it to yourself to hear about this topic from the horse's mouth yourself. Here's Gallant's press conference from Monday:
---
There are so many different ways to attack this story, where I feel what Gallant said at the on-set of this press conference being of the utmost importance, when he told the NYR beat reporters, "I'm not going to tell you the truth every time."
You can pick apart that statement any way you want. However, I think you can also understand the gist of what Gallant meant here, as he doesn't want everything about his team being known to the public, nor to opposing teams either. As you'd suspect, Gallant isn't the first NHL coach to bend the truth to the media and he certainly won't be the last.
That stated, prior to Monday's six alternate captains announcement, Gallant, and Rangers General Manager Chris Drury, both said during the off-season that the plan was to name a team captain. In addition, both men talked about the importance of having a team captain, where they stressed it was imperative to have one.
During Monday's press conference, Gallant said this captain decision, or lack thereof, was his. In addition, and as I'll cover after this segment, Gallant also said that Chris Drury has full control over the roster, when talking about the cuts that were made on Monday. And spoiler alert – not too many people are happy about Vitali Kravtsov not making the cut. Again, more on that in a bit.
When you break it all down, not having a team captain isn't the end of the world, but I do question the indecisiveness and the 180 that Gallant displayed with this decision.
If there's anything that truly concerns me about not having a team captain, it's the fact that the last team to win a Stanley Cup without a team captain were the Boston Bruins teams from the early 1970s, teams that featured Bobby Orr and Phil Esposito.
As previously mentioned on this site, Jacob Trouba and Chris Kreider aren't Orr and Esposito. And with the risk of besmirching my Rangers fan card – neither are Adam Fox and Artemi Panarin (at least not yet).
---
As talked about on Sunday, when the Rangers and Mika Zibanejad agreed to a contract extension; I thought the Rangers were going to announce on Monday that Mika would become the new captain of the club. I know some fans and media members said, "let Mika just focus on hockey", but for $8.5M a season, where Mika will soon be paid handsomely – Mika can add the responsibility of being the team's captain.
I mean, just think about it. If your employer was willing to give you $8.5M a year, wouldn't you accept more responsibilities for that salary? I know I would!
You can look at this announcement (or non-announcement of a team captain), in many different ways.
Outside of the 180 that Gallant pulled here, hence my joke photoshop of Gallant as "Two-Face" from "Batman"; I do wonder if this means that Gallant didn't feel like a true contender emerged for this role. That said, I do get what Gallant meant, when he said that most captains listen to 6-7 other players before going to the coach about an issue. Conversely, I'm also reminded of season five of "The Sopranos" and the war in NY, following the death of Don Carmine Lupertazzi! This isn't a democratic government – you need a true bonafide leader! Need proof? Ask Mark Messier!
(Maybe I should've photoshopped Johnny Sack tonight instead of "Two Face"!)
To me, while I don't want to overreact, because certainly, I don't think this is a "sky is falling" issue like others are making it out to be; this does feel like something out of this new millennial generation, "the participation trophy" era of American history.
As many said on Monday, this also feels like Oprah Winfrey handing out "A's" to everyone, as if she was giving out toaster ovens to her studio audience. In fact, one blog reader even sent me this updated picture of the Rangers logo:
This all just feels like a giant "Rick-Roll", a troll job if you will, only because Gallant and Drury both stressed how important it was to have a team captain.
If you're into conspiracy theories, many fans are suggesting (especially after Gallant told the media that he will play around with the truth), that Adam Fox, or someone else, will wear the "C" on opening night, in an attempt from Gallant to have some fun with the fans, fans who he deems to care more about this issue than the organization themselves. While that idea sounds nice, I just don't see it happening, because what's the point in that?
In addition, if you are a believer in this theory, is this what you want Gallant focusing on? Playing a prank on the fans? I will say, if this turns out to be the case, I guess I'll have to photoshop Gallant's head on another "Batman" villain instead – "The Joker"!
I'd also like to mention, while we as fans care about this captain issue, come game one in Washington, no one will care about this. We care about this crap more in the off-season than during the season, or at the very least, we don't care about this stuff when the Rangers are actually playing. (And doesn't it feel that ever since the pandemic, we talk more about off-the-ice stuff than what's actually happening on the ice? Hopefully that changes in a few days.)
Come game time, we're focused on the Rangers winning. On Wednesday night, should Ryan Reaves fight Tom Wilson (Reaves looks like he will be playing, as he dodged a major injury after the P.K. "Slewban" incident), Kaapo Kakko lighting it up, or more importantly, the Rangers winning the game – no one is going to care about "C's" and "A's" on these jerseys. Just win!
There's a reason why "the captain of the ship" is both a literal thing and a common expression in American lexicon. While I have adopted a positive mentality, and will give both Gallant and Drury the benefit of the doubt, I still think the Rangers should've named a captain rather than going down this route – especially after the previous comments they've both made.
However, just like anything else, I'll support this team regardless.
As fans, we have to realize these guys (Drury and Gallant) are in the room and with these players 24/7, which gives them access and insight that we'll never have. At the same time, this just feels like another example of the Rangers trying to "buck the system", and as Jim S. of "The Blueshirt Underground Show" always says – another example of the Rangers trying to prove that they are the smartest people in the room. History doesn't favor teams without captains, but damn it, the Rangers will try to be the one team to go against the grain.
And oh, if you're a glass half-empty person, even the Seattle Kraken has a captain now, as on Monday, following the Rangers "Six A" announcement, the newest NHL franchise named Mark Giordano as team captain. I guess you can say that even Ron Francis, a former player like both Gallant and Drury, knows the importance of having a team captain – even when you're only an expansion team.
More surprisingly, while this captain issue got a lot of ink and talk out of fans today, this wasn't even the top discussion of the day. The Rangers 2021-22 opening night roster was. However, before getting into that – THE PLUGS SEGMENT! I'll get into everything else on the other side of this PLUGS segment.
---
The first plug of tonight's blog – the mandatory plug for my new book, "The New York Rangers Rink of Honor and the Rafters of Madison Square Garden". And let me say this – thank you to everyone who has bought one, as my Amazon sales have exceeded all expectations, where for a limited time (that damn Mark Messier who just released a book!), my book was number one on the Amazon hockey book sales charts.
As mentioned previously, the book is now available in hardcover, in paperback and in Kindle formats. To purchase a copy of the book, visit this link:
https://www.amazon.com/Rangers-Rafters-Madison-Square-Garden-ebook/dp/B09CM5N2WD
For those still looking for signed paperback versions of the book, I have 18 copies left for sale for $25 (includes shipping price) through me directly. Here is all the information on that:
---
Lastly, before getting into the meat and potatoes of tonight's manifesto, here are my last few blogs in case you missed them, including my 2021-22 NHL Season Preview tome:
---
---
---
After the captain squabble, the Rangers then announced their roster for game one in Washington – an announcement that didn't receive much praise.
Let's get through the Rangers press release first, and then get into my thoughts and opinions.
Here's the Rangers official press release, regarding the roster, courtesy of https://www.nhl.com/rangers/news/rangers-finalize-opening-night-roster/c-326738986?icmp=int_web_nyr_news_subnav :
The New York Rangers announced today that the team has assigned Morgan Barron, Vitali Kravtsov, and Greg McKegg, to the Hartford Wolf Pack of the American Hockey League (AHL).

Barron, 22, played in four games for the Rangers this preseason, recording four shots. Kravtsov, 21, scored one goal, on the power play, in three preseason games.

McKegg, 29, skated in four preseason games for the Rangers, recording two shots.
As New York opens the regular season on Wednesday in Washington, below is a list of the Rangers 23-man roster:
---
Let's get the easy stuff out of the way first.
As expected, Greg McKegg, previously called up for the final preseason game against the Islanders, due to the injury that Reaves received earlier in the week, has been sent back to Hartford. This was elementary, my Dear Watson!
Also expected, was the demotion of Morgan Barron to Hartford, and for two reasons. One, Barron was waiver-exempt. Two, Barron doesn't have a spot on this roster right now. While he's been vocal about wanting to make this team, it was just never going to happen.
However, like a "Law and Order SVU" or "Scooby Doo" reveal that you didn't see coming, Vitali Kravtsov has been sent to Hartford, and at least on paper, in favor of Libor Hajek and/or Dryden Hunt – with Hajek being the big surprise here. Obviously, the demotion of Kravtsov to Hartford has Rangerstown, USA ablaze.
---
As we all know – Hajek is not long as a resident of Rangerstown, USA. (I gotta get a new go-to expression here!)
It's been reported, and as we've known for some time, that the Rangers would like to trade Hajek, and get something back, rather than waiving him and risk losing him without compensation.
As I've been saying on this site all off-season, no matter how long this franchise tries to defend that horrendous Ryan McDonagh trade, a win for the Lightning; sometimes you just have to cut your losses. Plus, with Chris Drury now in the seat, no one will shed a tear if he admitted that Gorton made a mistake and then lost Hajek for nothing.
Had the Rangers sent Hajek to Hartford where he belongs, it would've decreased Hajek's value. Like a good fantasy football general manager, Drury is keeping Hajek in a starting role (at least on paper), thus increasing his perceived value to potential trading partners. (FYI: a well-known fantasy football tip, if you're trying to trade a player, you should always keep that player in your starting line-up. Optics count!)
This blog is being posted almost 24 hours after this news, where by now, you may have read already that this doesn't mean that Kravtsov will have to find an apartment in Hartford. All of that stuff is true.
Simply put, the Rangers could recall Kravtsov for game two of the season, at home against Dallas, as the Rangers try to trade Hajek away. However, that may be easier said than done. After all, every GM in the league knows that Hajek isn't cracking into this Rangers line-up, barring multiple injuries. In other words, the Rangers are at a disadvantage in their attempts to move Hajek for something, whether it's for a draft pick and/or a prospect.
In addition, unlike a Julien Gauthier, Dryden Hunt or Libor Hajek himself, Vitali Kravtsov is waivers-exempt. The Rangers can ping-pong Kravtsov from Hartford to NY all they want, although I'm not sure if that's the best road to go down.
After all, as we saw two seasons ago, Kravtsov had a near mental-breakdown after being sent to Hartford in his first go-around. This led to Kravtsov high-tailing it to Russia, where fortunately for Ranger fans, Kravstov failed, as he was sent to hockey's Siberia, the VHL – the American equivalent of the AHL, although more severe.
I'd imagine that Kravtsov will be recalled sooner than later. If he isn't, this may be catastrophic for him. It's my opinion and estimation, that Drury and/or Gallant, talked to Kravtsov, where they gave him assurance that this move to Hartford will only be temporary. Still, knowing this new generation of millennials, I'm sure this news doesn't sit well with Kravtsov, especially when you consider the difference between an AHL and an NHL paycheck.
With Kravtsov now in Hartford, the Rangers also held practice on Monday morning, where Gallant revealed his line-up for opening night in Washington.
---
Here were the practice lines from Monday, where we are to assume this is what we'll see on Wednesday, but not necessarily see on Thursday at MSG during the second half of the back-to-back set of games:
FIRST LINE: Lafreniere/Zibanejad/Kreider (as expected)
SECOND LINE: Panarin/Strome/Kakko (also as expected)
THIRD LINE: Blais/Chytil/Goodrow (Blais is now where Kravstov was, which to be fair, isn't anything anyone should cry about, as Blais had a tremendous preseason.)
FOURTH LINE: Hunt/Rooney/Reaves (With Kravtsov now in Hartford, the more experienced and bigger Hunt gets the nod on the fourth line, with the promotion of Blais to the third line. Better news – Reaves is practicing and looks to be ready for (at least what we presume), a heavyweight tilt with Tom Wilson, despite Gallant suggesting such a fight won't happen. (Gallant says he will lie, as mentioned!))
FIRST D-PAIR: Lindgren/Fox (duh)
SECOND D-PAIR: Miller/Trouba (ugh)
THIRD D-PAIR: Tinordi/Nemeth (Looks like Nils Lundkvist will sit this one out, as Gallant is going with toughness and size for this particular game. Like Kravtsov, I wouldn't be surprised to see Lundkvist play at home in game two.)
Goaltending wise, it's expected that Igor Shestyorkin will start the season, but that isn't 100% confirmed yet. I think Gallant will go with his best hand, where additionally, I think Gallant will go with Igor on back-to-back nights, and then go with Georgiev in Montreal during the third game in four nights.
---
That pretty much wraps up the news on the current Rangers. However, I also have an alumni note to share with you here.
Rod Gilbert, the one member of the Rangers alumni that the Rangers actually did take care of, and continue to promote after his passing, now has a pop-up tribute space in NYC.
On Monday, after the captain and roster announcements, the Rangers announced this Gilbert pop-up tribute exhibit. You can read the press release about it here: https://www.nhl.com/rangers/fans/rod-gilbert-pop-up-tribute?icmp=int_web_nyr_rod-trib_hwny-lp_211011
In what's so fitting for the franchise that ignores the bulk of their legacy players, this exhibit isn't located close to MSG, as it's three miles away. Three miles may not sound like a lot, but for native New Yorkers, this exhibit may as well be located in Connecticut or New Jersey.
What really gets my goat here, is that this exhibit, which I'd like to visit, is only open from 12PM-2PM on Thursday, which is opening night. Two hours? And during work-time for most people? Had this exhibit been open from 12PM-6PM, I would've, and I'm sure other Ranger fans too, visited this "Rod Gilbert Tribute Space".
While it's nice this limited-time only exhibit exists, I feel the Rangers really took another swing-and-a-miss here, as this should've been placed near MSG, or at the very least, have extended hours so all fans could attend.
---
Some personal and programming notes before closing out.
I'll have a recap/review of game one, which is airing on the TNT Network, late Wednesday night/early Thursday morning. After that, I'm attending the home opener, where my game review/recap will be posted early Friday morning, if not later than that.
I know many Ranger fans, who don't live in New York anymore, read this site. I'll be in Nashville next week and in Seattle at the end of the month. Maybe I'll carry some spare books around, in the event that you want one!
As a reminder, my new NHL 2021-22 season preview blog is now up on the main page of this site.
Additionally, my newest article for Stan Fischler and his Fischler Report website/e-newsletter should be posted on Wednesday. The toughest thing about writing for Stan? My word count and style of writing, as I have to adapt a news-reporter mentality when writing for him, rather than doing these long-form blogs, blogs that tend to be wordy! You should see the edits I have to make, edits that I'm not complaining about, as I try to tighten-up my writing style there. Maybe I'll include longer versions of the topics I write about there on this site. That said, having Fischler as a coach means the world to me. There's no one better.
And yes – a big thank you to Stan Fischler, who doesn't owe me anything, and who is trying to promote my writing. I know I said this before, but to have someone who should be in the Hall of Fame, and at the age of 89, try to help a blogger out – well that means a lot. This new opportunity may go nowhere, but as someone who grew up and has read a ton of Fischler books (Fischler's writings influenced my book as well), it's an accomplishment for me.
Even better – Fischler allows me to pick his brain on Rangers history, which means more to me than anything else. Hands-down, he's the greatest Rangers historian around – past or present. It's a damn shame he's not in the Hall of Fame. (As previously mentioned, he'll be inducted into the U.S. HOF later this year – well deserved.)
Lastly, on Tuesday night, at 7PM, "The Blueshirt Underground Show", who in my opinion, have the best audio/video show out there, returns. You can listen to the show live by visiting: https://www.youtube.com/watch?v=MW6v3q6W7H4
(Of note, and as a reminder, I'll plug any Rangers endeavor on this site. Just email me your project and I'll include it in this space, whether it's a Facebook Group, a podcast, a blog, or whatever. It's always been my belief and opinion that anyone can click anything they want, and I have no problem promoting someone else's stuff.)
---
If you haven't already, subscribe to this blog for the next update:
---
Back at it Wednesday night, where for the first time in a long time, I'll be talking about a hockey game that matters!
Also, Rest In Peace Scotty Burke, a personal friend of mine and a reader of this website, who passed away on Monday.
Until next time…
Stay FABULOUS my friends.
As always here, thanks for reading and…
LET'S GO RANGERS!
Sean McCaffrey
BULLSMC@aol.com
@NYCTHEMIC on Tweeter