Greetings and salutations everyone and welcome to another blog here on BlueCollarBlueShirts.com. WOW!
Before beginning – a thank you to all of our veterans.
You guys have done something that I never did – and I appreciate it and thank you for it.
---
I've used the phrase, "I don't even know where to begin" a lot recently, and for the first time in what feels like a long time – I can now say, "I don't even know where to begin" – in a positive manner!
The reeling Rangers, now under the watchful peepers of their fathers (and a flight with them to Nashville after this contest) didn't disappoint.
Not only did the Blueshirts pick up a much-needed victory, and two-points in the standings too; but like Al Pacino at the end of "Scarface" – they used an eight-ball of goals during the process.
Hell, the Rangers' offense looked like it was as coked-up as the 1986 Mets! They couldn't be stopped!
There are lot of amazing things to talk about tonight, but let me get all of the negativity out of the way first – and then celebrate with you after.
Above all else, and this is the most important thing that I'll say tonight – THIS CAN NOT BE A ONE-OFF.
I don't mean to piss in anyone's cornflakes here, but while I don't expect eight goals every night – I do expect a winning streak.
Is that too much to ask?
Simply stated – after tonight's game, the Rangers can't revert to their bad habits and play like molasses on Saturday.
The Rangers must learn from this victory, capitalize off of it and use this win to propel themselves into a major winning streak – and all the way through to the next time they'll most likely see their fathers again following this road trip – Thanksgiving.
And as brought up during last night's blog (you can read it here: https://bluecollarblueshirts.com/11922/ ) – the upcoming schedule is in the Rangers' favor. Mightily so at that.
While sure, five of the next six games are on the road – the Rangers aren't exactly going to see any world-beaters between now and T-Day.
Up next are Nashville, Arizona, Seattle, San Jose, Los Angeles and Anaheim.
Call me eager, call me demanding, call me what you want – but with this new line-up (all details located in the link posted above) – there's no reason why you SHOULDN'T expect a seven-game winning streak – road-games be damned.
It's time to show the league what's what.
---
As far as anything else negative from Thursday night, nothing major, including:
— My daily 4-0 bet didn't hit. However, I'll live!
— Eight goals means a lot of writing for anyone who recaps these games. Again, I'll live!
— Seeing that smarmy goof, Sieve Vagistat, on the broadcast. I think I'll live!
— The immediate futures of Ryan Reaves, Ryan Carpenter and Zac Jones, the three healthy players of twenty-three who were scratched tonight.
There's just no way that Gallant can fool around with this line-up now – the head coach has to use this same line-up from Thursday night on Saturday night – and I don't think that I'm breaking any news here!
Aside from all of that – and maybe I'm overselling this win (after all, it's only one game out of eighty-two) – you did get the impression that this was the start of the Rangers righting their ship, a vessel that was beginning to draw comparisons to "The Titanic."
Instead, the Rangers made a titanic statement themselves – now keep it rolling!
---
Before proceeding into what will be a lengthy GAME REVIEW; I first want to share with you my latest for Stan Fischler, as some sort of the following article will appear in "The Hockey News," either on Friday or on Monday.
This piece is also timely, because as recently mentioned on this site, even as of last blog – I told you that I was receiving some feedback from you guys and gals, where some of you were suggesting the firing of Gerard Gallant, in lieu of the hiring of Barry Trotz.
How do you now feel about "THE TURK," you know, the second runner-up to the Jack Adams' Award last season?
Here's the article, one that I'm sure Stan will chop/edit, in order to fit his own specific space constraints – constraints that I don't have to worry about on this site!
---
HOW COACHES TURN SOUR — OR SWEET
On Friday's edition of "Bluelines," Gus Vic accurately assessed the current coaches on the proverbial "hot seat," with Craig Berube (STL) and Bruce Boudreau (VAN) as the two with the reddest of rear-ends.
Vic also brought up Lindy Ruff (NJD) and how the popular vote once had the bench boss out of Newark. Today, those "FIRE LINDY" chants feels like something from a bygone era.
Furthermore, in this same space a week ago, I talked about the great jobs that both Bruce Cassidy (VGK) and Jim Montgomery (BOS) have been doing.
Just like Ruff; heading into the 2022-23 campaign, there wasn't much faith attached to either coach.
It makes me think – isn't it funny how an NHL head coach, and in the way that they are viewed, can change – and with the speed of a drop of a dime?
Heck, just ask Berube himself.
After all, just under four years ago, he took over for Mike Yeo, whose team was "Singin' The Blues." Come June 2019, Berube was a Stanley Cup Champion. Today, the stiffest of all fingers are pointed at him.
Just like any other business, the NHL is results-based, where perhaps unfortunately – the job of an NHL head coach is on public display.
Think about it – can you imagine blood-thirsty fans assessing you at your daily 9-5?
In a league where only one of thirty-two teams will win it all – fans can be fickle – and they demand results too – especially with the costs of NHL tickets being higher than ever before.
Due to the salary cap, and more times than not, the brunt of the blame of all failures falls on the head coach.
It's easier to fire a head coach than it is to trade a player these days – and general managers usually go through several coaches before seeing the pink slip themselves.
In a "what-have-you-done-for-me-lately" NHL, not only is Berube hearing the noise, but so is Mike Sullivan, the two-time Stanley Cup champ in Pittsburgh.
As the second-longest tenured coach in the league (only Jon Cooper in Tampa has served in his position longer), Sully's black-and-yellow haven't advanced past the first-round during the last four years. Currently, the Pens are second-worst in the ultra-competitive Metro division.
Even Gerard Gallant, following the Rangers' Cinderella run to the 2022 Eastern Conference Final, is hearing some boo-birds.
"The Turk," now in Year 2, isn't going anywhere, but some fans are treating him as if he were Sheldon Keefe in Toronto – a coach, who unlike the one from the Big Apple, has no successful track record to speak of.
Of course, Barry Trotz, and his public desires of wanting to coach an Original Six team, isn't making things easy either!
Wins and losses, among all else, will always be the biggest factor when determining the fate of an NHL head coach.
One big winning streak – and you're a hero.
A long losing streak – especially when coaching a team that was thought to have playoff aspirations – enjoy your head start at the golf course.
Fortunately for the 32 head coaches in the league – while their jobs aren't always guaranteed – their contracts are!
---
As noted above, I posted a blog last night that covered all of Gallant's latest moves, where finally – the team is now cooking with gas. (Read it here: https://bluecollarblueshirts.com/11922/ )
Here's what we saw in this 8-2 Rangers' blowout, including a six-goal third period:
FIRST LINE: Kreider/Zibanejad/Vesey
SECOND LINE: Panarin/Trocheck/Kravtsov
THIRD LINE: Lafreniere/Chytil/Kakko
FOURTH LINE: Blais/Goodrow/Gauthier
FIRST PAIR: Lindgren/Fox
SECOND PAIR: Miller/Trouba
THIRD PAIR: Hajek/Schneider
STARTING GOALIE: CZAR IGOR
BACK-UP GOALIE: THE HALAKNESS MONSTER
---
BOX SCORE time.
The following graphics and information come from ESPN.com:
SCORING:
PENALTIES:
TEAM STATS: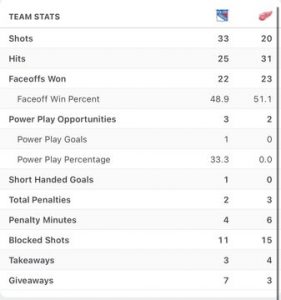 GOALIES:
| | | | | | | | | | | |
| --- | --- | --- | --- | --- | --- | --- | --- | --- | --- | --- |
| SA | GA | SV | SV% | ESSV | PPSV | SHSV | SOSA | SOS | TOI | PIM |
| 33 | 8 | 25 | .758 | 20 | 4 | 1 | 0 | 0 | 59:45 | 0 |
| | | | | | | | | | | |
| --- | --- | --- | --- | --- | --- | --- | --- | --- | --- | --- |
| SA | GA | SV | SV% | ESSV | PPSV | SHSV | SOSA | SOS | TOI | PIM |
| 20 | 2 | 18 | .900 | 18 | 0 | 0 | 0 | 0 | 60:00 | 0 |
---
---
The M$GN broadcast was much improved when compared to Tuesday night's debacle with the Islanders.
Not only were the visual/picture issues rectified; Lundqvist was back too.
With the Ranger dads on the two-game road-trip; Lundqvist talked about his memories from previous trips.
Lundqvist said the best time he ever had was when he was injured, which meant that he could hang out with the dads in the suite – and perhaps imbibe in one or two adult beverages too!
Right after, Vagistat portrayed his father as a drunk (I mean I drink a lot too – but I'd drink myself to a coma if Vagistat was my son – so I don't judge Mr. Vagistat at all – instead – he has my sympathies), and brought up how his dad once got so bombed that he missed the team's bus the next day – kind of like how Vagistat missed all of those pucks against Dallas when he gave up ten goals in one game.
Of all of Vagistat's never-ending war-stories, he never brings up that game. Hmmm….
Also not addressed, one of the missing father's on this road-trip, Vitali Kravtsov's dad.
M$GN wouldn't even touch this subject – but I didn't expect them to do so anyway.
(If you don't know, Kravtsov's dad is a huge Russian national and a Vladimir Putin supporter. I don't care about politics or however people vote – but with everything going on – there was no way M$GN was going to bring this up. And again, I don't judge Mr. Kravtsov – I'm sure he's a nice guy – I'm just giving you the facts.)
As M$GN ran down tonight's line-up, Lundqvist, like all of us, was excited to see the third line back together, and added how this line could shoulder the load on the nights when the new top-six run into a wall.
(He basically said what I said last night – this gives you three lines who can score – rather than two – ice time be damned.)
Speaking of the top-six, Lundqvist also praised Kreider, and his former teammate's response after his recent demotion – you know, a four-period message that #20 received loud-and-clear.
In two games since that hiccup, and after he proclaimed to the media that he'd score more goals – Kreider has since added two more goals to his ledger, six in all this season. (I still think he'll finish with 35+.)
CZAR IGOR's struggles, now a daily talking point on these broadcasts, were addressed.
For whatever reason, Vagistat led this segment and talked about Benoit Allaire, while you know, the guy who actually worked with the goalie whisperer for fifteen years, Lundqvist himself, had to listen to the braying jackass go on-and-on.
When Vagistat finally shut up, Lundqvist mentioned that Allaire doesn't only coach you – he befriends you.
As he always does whenever speaking of his former goalie coach, you can tell how much Allaire means to Lundqvist.
As M$GN talked about the lines again, I did wonder if Reaves on the fourth line, Gauthier on the second line, Kravtsov in the press box and Carpenter in Hartford would be best.
After tonight, and once this dad's trip ends, I think one of the four will soon happen – Carpenter howlin' in Hartford.
Maybe Carpenter can borrow a t-shirt that I have to believe that Gauthier wears under his jersey (and in the style of the popular "I LOVE NY" shirts) – "I HATE HARTFORD."
And really, ever since Nick Fotiu, who last wore #22 in 1985 (and to a lesser extent, Mike Knuble, who also wore the number in 2000) – that #22 jersey has been cursed.
Whether it were the Boyles', Shattenkirk, Holden, Curla or whoever else you want to name here – not much production has come out of many Rangers while wearing the #22 on their backs.
As M$GN continued to remind us and show us shots of the dads (a good thing); I was hoping that we'd get an ISOLATION camera on the dads – in the same vein whenever M$GN does this with a Rangers' star, like Fox or Panarin.
To close the broadcast (aside from the 789567867895667957676857685765685 ads for Caesers and various other gambling outfits), Vagistat pulled out his compass, fiddled his ball-bag and then talked about east-west passing.
The seven-foot jackass then gave us some numbers that he made-up, useless ANALytics that had nothing to do with tonight's affair.
After all – what ANALytic covers the nagging injuries that Trouba is currently experiencing?
Furthermore, with all of the Rangers' lines changed – all of Vagistat's bullshit, which exclusively covered all of the previous games (when this line-up wasn't in effect) – was rendered useless – the usual.
And don't get it twisted – the reuniting of 13/72/24 was PURE EYE-TEST – and not because of some sort of made-up ANALytic by the guy with the bad hair dye.
Once Sam and Joe entered the picture (who did go on this trip, as opposed to the last one, when the Rangers played Dallas and Arizona), they conducted two good interviews with the fathers of both Trocheck and Lindgren.
Mr. Lindgren's interview was the better of the two, as when talking about his son, he said the equivalent of:
"I don't care when he bleeds. I'm only concerned when he goes down and stays down."
I think Mr. Lindgren spoke for all of Rangerstown, USA.
Following a shot of Mr. Zibanejad reading the line-up to the Rangers while in the locker room (I still think Mrs. Strome did this the best – but who cares?), we finally had puck drop.
Pour yourself a drink (just like Mr. Vagistat did whenever watching his son play) – this is going to be fun.
---
FIRST PERIOD:
Here's a reversal from the opening sentence of recent game reviews:
"It wasn't all good!"
Now facing Ville Husso (instead of Alex Nedeljkovic, who the Rangers saw on Sunday at M$G), and a net-minder who entered this game with the second-best stats amongst all NHL goalies in the league (a 1.86 GAA which was absolutely decimated tonight); Husso made his first save of the game at the forty second mark, after stopping Trouba.
It would take the Rangers nearly twelve minutes later to record their second shot on goal.
I thought Sam and Joe were on-point early (they'd later do their usual act, where they talked-up the other team for what felt like hours, including Rosen doing his best into willing Mo Seider into scoring his first goal of the season – thankfully, that never happened); when they said that the "Kids Line" moniker has to go.
You know how I don't like that name (check out last night's blog for more), and Sam & Joe dove deeper and mentioned that they aren't exactly kids anymore.
Just like anyone else on the team – they have to show up every night too – and show up they did.
In fact, prior to the six-goal explosion from the third period – this was the best line of the game.
And heck, even after the game, they were still the best line – the other lines just narrowed the gap.
Following Igor's first save of the game at the 3:00 mark (on Hronek); I couldn't believe all of the empty seats inside of what was a quiet arena. So much for that "Hockeytown, USA" branding.
I mean, I can understand the seating vacancies when Detroit was bad, but they've had a good season thus far; this game excluded.
The majority of the first ten minutes of this game was a feeling out process, where not much went on, sans a Shestyorkin save on a Rasmussen wrap-around try. However, you also saw a lot of physicality and puck battles being won at the boards by both Chytil and Gauthier – and you know that doesn't go unnoticed by the head coach.
Down to 9:10 remaining, the SOG statistic read as 6-1, in favor of the home team. That would soon change.
Following Igor putting the bracelets on "OLD FRIEND JOE" Andrew Copp with 8:00 to go; thirty seconds later, Panarin fed Trocheck in the slot. They are going to have to repaint the boards to remove the rubber marks that Trocheck left on this attempt.
Ben Chiarot, who plays very physical, bumped Kravtsov off of a puck (and with ease) with 6:40 remaining.
More on Kravtsov to come, but this was his best game yet (that doesn't say much either – but as expected – he looked much better with Panarin & Trocheck – as any other player would look).
There were also several times where you saw #74 trying to avoid contact, as he tries to play safer and smarter following his three early injuries.
Down to 6:00 to go, Gauthier missed a one-timer from two feet away.
Like everyone else, Gauthier would soon redeem himself and continue to distance himself from those two words that have plagued him since first arriving to New York – "can't finish."
As mentioned, the third line, best in my eyes, had the best shift of the period with under five minutes to go, as they kept the puck in the Wings' zone for over a minute. In fact, this shift was so long that Zibanejad was able to come on for Chytil.
Following the long possession and with Mika taking over for Chytil; Zibanejad smoked Husso with 4:20 remaining:
Fox ➡️ Mika pic.twitter.com/ZaOYTZ8MEg

— Rangers on MSG (@RangersMSGN) November 11, 2022
---
1-0, GOOD GUYS.
This was a goal scored in a simple fashion – and in a way that you'd like to see more of.
Following Husso freezing the puck (his team needed a change after their long shift where all they did was chase the third line); Mika won an o-zone draw, the puck went to Fox, Fox waited for Mika to set-up in the slot, and bada-bing-bada-boom – Zibanejad scored his first even-strength goal of the season in the room!
Better than that factoid? Zibanejad would soon score his second five-vs-five goal of the season too!
As Micheletti said what I said during last night's blog ("Sam, there's a reason why the dads are on this trip – Nashville is next!" "OH JOE, GETTING SHITFACED ON BROADWAY JOE!"); the Rangers continued their attack, as they had more pep in their step once attaining the lead.
However, and in the lone mistake from the period (the Rangers played a patient and conservative game prior to this play), a third line shot missed the net, Detroit raced up the ice, and boom – fourth liner, Joe Veleno, scored from the slot, on a point-blank shot and with 1:14 to go.
1-1.
More on Igor at the end of this – but this was a shot that we've seen him stop before (and consider Veleno's status too) – but this was also as GOOD OF A LOOK that you'll get.
Here's what I said at the end of twenty minutes, and with the game at 1-all:
1-1 after 1. 1P Thoughts:
— Good to see Mika get his first 5×5 goal.
— Only one mistake, and of course it goes into the #NYR net.
— Third line lookin' good – even if I do think we are willing that.
— SOG 7-7, FO's 7-7, Hits 11-10
— Sam said this is fast paced. It's not.

— BlueCollarBlueShirts (@NYCTheMiC) November 11, 2022
---
SECOND PERIOD:
Following our standard, "SECOND PERIOD, WHAT DO YOU LOOK FOR HERE JOE?" question from Rosen, the affable announcer also brought up how these two Original Six clubs, in 25 of their last 31 games played, finished with a difference of one-goal.
That stat now reads as 25 of 32 – where both Henrik Lundqvist and Jimmy Howard were a huge reason for all of those one-goal games.
(I don't know if I'd consider Howard as a "Villain" for my next book – but he was most certainly a Ranger killer during his career.)
Right away, Zibanejad (8-16 at the circles – 50% – a major improvement from what we have seen lately), beat Copp at the dot to start the period. Kreider then set-up his BFF two feet away from Husso, but Mika went wide.
Once returned to the bench – Zibanejad looked at an I-Pad. This time, Kreider didn't heave it into the twentieth row.
Come 17:19 remaining, Filip Chytil streaked towards Husso. While Husso stopped the shot, Chytil was hooked by Erne.
The Rangers' power-play had several GOOD LOOKS, but didn't do much.
I thought Trocheck put a SOG during the first ten seconds, but for whatever reason, the Blueshirts weren't credited with a SOG during these two minutes. (And in a world where gambling operators are taking bets on SOG – these stats are more important than ever.)
Down to 13:00 remaining, the returning Lindgren made a pair of strong defensive plays, where on each, he prevented Perron from scoring.
Igor, who admittedly, hasn't been that strong with his rebounds this season (only when compared to last year), gave up a weird rebound to Seider.
As K'Andre Miller (who is still struggling defensively – a fact that will get lost tonight because of the final score), went to clear the puck around the boards, he passed it directly to an awaiting Larkin on the half-wall. Larkin then fed Raymond in the slot, and Raymond shot the puck with the speed of a cheetah.
2-1, bad guys, with 12:27 remaining – and the last goal afforded to the home team.
The Rangers received a break with 9:58 to go, when Sundqvist slashed Kakko.
Of note, this means that the third line drew all of the Rangers' power-plays at this point.
Fifty-seven seconds into the power-play, this happened:
BEAUTIFUL passing from Fox and Bread on this one 🙌 pic.twitter.com/PRsl6Gy0Y4

— Rangers on MSG (@RangersMSGN) November 11, 2022
---
2-2!
This was a heck of a goal.
Following a monster stop on Trocheck; Fox kept the puck at the blue line, found Panarin to the left of Husso and "The Breadman" then whizzed the puck to an all-alone Chris Kreider awaiting in the paint.
There was nothing Husso could do here but watch Kreider score his second goal in as many games.
As Rosen told us that "the third line likes their threesome" (it's not even Pride Month yet!); with 6:48 to go, the Rangers may have gotten away with a delay of game, following Gauthier's airmailing of a puck.
(The officials ruled it went over the benches and not over the glass. I'm not so sure that I agreed with that assessment – but that's not for me to worry about!)
Chiarot, who took one of the most blatant penalties that you'll ever see on Sunday, when he cross-checked Sammy Blais; took another blatant and bone-headed penalty tonight, when with 6:29 to go, he tripped Kreider while "CK20" was skating behind Husso's net.
This was the worst Rangers' power-play of the game, as the best scoring chance during these two minutes is when Detroit had a two-vs-one, only for Mika Selke to break it up.
Following Detroit's kill, they spent over a minute in the Rangers' zone, only for both Kakko and Lafreniere to end it.
Now with 3:11 to go, Lindstrom tackled Lafreniere and sat on him. This all took place in front of an official. The ruling? Offside.
Yeah, the Rangers already had three power-plays at this point, as opposed to the Red Wings having none; but I thought that this was a make-up call, after not calling a delay of game earlier.
Either way, another textbook case of horrendous NHL officiating.
As we approached ninety seconds remaining, Panarin was stopped by Husso, but the goalie gave up a rebound – a common occurrence we'd later see during the final frame.
Kravtsov couldn't cash in the loose change, and instead – tripped Seider. This was a questionable penalty too, as Seider may have lost his balance, but Kravtsov's stick was there.
Put it this way – if the situation was flip-flopped – you'd want the Rangers to receive a power-play.
With the player that many fans treat as the next "Russian Rocket" in the box (you should see my Twitter mentions – but I enjoy all of the varying opinions that I receive – if we all agreed on everything it would be boring – and I don't want to live in an echo chamber either); the Rangers' killed off 1:23 of a Detroit power-play.
Once again, the Rangers found themselves tied while heading into a third period.
This time – not only did they break the tie – they broke the other team's spirit too!
Here's what I said at the time:
2-2 after 2. Wings open 3P on a 37 sec PP. Thoughts:
— Third line most noticeable line – even if I do feel that's the narrative.
— SOG 16-11 #NYR; Hits 23-19, FO's 16-12 DET
— Another tied game at INT, need a different result
— Another game where Trocheck has been robbed.

— BlueCollarBlueShirts (@NYCTheMiC) November 11, 2022
---
THIRD PERIOD:
This was the best period of Ranger hockey since the home opener.
I know that since Tampa, the Rangers scored seven against Minnesota and six against Anaheim – but this was the best all-around period yet.
While not only did the Rangers score a touchdown this period – they didn't give up an inch of ice defensively either.
And when CZAR IGOR, following what equated to a fifteen minute siesta, was tested? He made a pair of saves, meaningless in the grand scheme of things, but two late saves that bailed him out of finishing this game with a save percentage of under .900 (which he finished with, .900 on the dot).
The first five minutes of this period was all Detroit – but only because they dominated the puck – where the remainder of their power-play also played into it.
After killing the thirty-seven seconds left on the Wings' PP and three even-strength saves made on Sundqvist, Suter and Czarnik; with 14:15 remaining, Detroit had their "last best shot," as a Kublik-to-Perron one-timer sailed about an inch or two high.
That was that for the Wings.
With 13:58 remaining, the first goal of six:
FOXY GETS US THE LEAD! 3-2 #NYR pic.twitter.com/gL3f86tQTD

— Rangers on MSG (@RangersMSGN) November 11, 2022
---
3-2, GOOD GUYS, on what was essentially a "puck luck" goal, where the Rangers haven't been receiving much puck luck lately.
On this play, the third line had a 3 x 2 odd-man rush, but Kakko couldn't handle Chytil's pass. However, the puck went right to Fox, and from the top of the right circle, Fox, known to be pass-happy at times, wasted no time – BOOM, game-winning goal.
Sixty-one seconds later, and now with the lead, the Rangers found something they had lost for a while now – an insurance goal:
GOODY! 4-2 #NYR pic.twitter.com/5m2BUpkDnx

— Rangers on MSG (@RangersMSGN) November 11, 2022
---
4-2, GOOD GUYS, following some sweet hands from Goody himself!
Somewhat similar to the third line (who we all want to see succeed – where at times – and I'm guilty of this too – I think we invent stuff to praise them – although that's not the case at all tonight); there are some fans who do the same thing with Kravtsov.
I get it though – I want to see every Ranger do well – but I do believe there's a lot of stretching going on too!
Seriously, at one point, I saw fans of the "RUSSIAN ROCKET" talk about how great it was that he didn't get injured. If that's your main talking point – then I think that tells me all that I need to know!
In other words – I saw some fans credit Kravtsov, who did register his first point of the season with a secondary assist here, as the driving force of the goal.
Please – that's invented, wished, made-up and forced.
In reality, Kravtsov happened to touch the puck before Goodrow scored.
This goal was 95% Goodrow, 5% Panarin, as after #10 drove the play, #21, with the puck all to his lonesome, went forehand-to-backhand and deftly beat Husso. Husso was expecting a straight shot, but Goodrow took his time, made his move and bang!
In a span of 2:11, the Rangers picked up their third goal of the period:
MIKA GETS ANOTHER! pic.twitter.com/DzxquWBLyd

— Rangers on MSG (@RangersMSGN) November 11, 2022
---
5-2, GOOD GUYS! Game over Detroit, as Zibanejad buried a rebound from Vesey past Husso.
But wait K-Mart shoppers, there's more!
Forty-six seconds later (four goals in a time-span of 2:56), it was Julien Gauthier's turn to join the rebound party:
🐐🐐🐐 6-2 #NYR pic.twitter.com/2tdMa2UOpY

— Rangers on MSG (@RangersMSGN) November 11, 2022
---
6-2, GOOD GUYS, as the fourth line all picked up points on the touchdown goal!
As all of Rangertown, USA exhaled and could finally enjoy the end of a game (and with over eleven minutes to go to boot); we had a brief four-minute delay in the scoring. What gives? I kid, I kid!
Come 7:13 remaining, the puck luck Rangers got another goal, now from the unlikeliest of all suspects, Libor Hajek himself:
LIBOR HAJEK. 7-2 #NYR 🥵 pic.twitter.com/78BVunNA2z

— Rangers on MSG (@RangersMSGN) November 11, 2022
---
7-2, GOOD GUYS, following a fortunate deflection!
As mentioned at the top of this – the Rangers never sat back. Instead, they kept on pressing and wouldn't allow Detroit to do anything.
One unfortunate consequence of the aggressiveness (which you don't mind at all – so don't take this as a negative), is when with 3:53 to go, Chytil was boxed for cross-checking Seider.
No matter, as it was now time for the Rangers' penalty kill to score:
VESEY WITH THE SHORTY! 8-2 #NYR pic.twitter.com/OPQZUlO4hQ

— Rangers on MSG (@RangersMSGN) November 11, 2022
---
8-2, GOOD GUYS, as Jimmy freakin' Vesey buried one past Husso while on a breakaway.
Aside from the two saves Igor would make during garbage time, that was that.
8-2, GOOD GUYS, your final – and while this is an exaggeration, there is some truth to it too – a season-saving win.
Had the Rangers lost this game, it's a four-game losing streak – and four losses with three different line-ups.
Thankfully, we don't have to think like that.
Instead, the focus is on starting a new winning streak.
And who knows, perhaps come April, we'll be looking at this win as the catalyst of the Rangers' turnaround.
---
As far as final thoughts, and stuff that I haven't said already – CZAR IGOR still isn't the same goalie from last season – yet.
While the two goals he allowed were the end result of turnovers and point-blank shots; we have yet to truly see him make that game-defining highlight reel save.
In other words – I'd go right back to him on Saturday, and keep feeding him games as he continues to try to defend his Vezina title.
With the crappy Coyotes on the second-half of a back-to-back (like the Rangers, they are playing three games in four nights – they beat the Islanders at the IBS Arena tonight – and will play the red-hot Devils on Saturday), I'd let Halak start at home.
I can't stress this enough – it's imperative that the Rangers go on a winning streak.
Hell, I'd keep the dads around until the Rangers lose a game – you can never have enough luck in your favor!
And while Seattle is a shit-hole – I'm sure the dads would love an all-expenses paid to the sunny skies of California!
This was a team-wide effort.
While I thought that Adam Fox was the best player tonight – there was no weak link either – aside from the Miller turnover.
(It also says something, that in an eight-goal game, that neither Miller, nor the ailing Trouba, picked up a point. They were also two rarities tonight, as while nearly everyone else finished with positive plus/minus ratings – they both finished with a goose-egg.)
I just bring this up because I know in the ecstasy of this win, some things will be glossed over.
The Rangers, now 7-5-3 (17 points) after fifteen games played, now have a line-up that works.
As mentioned last night – it's a line-up that Gallant had originally had planned to use during the preseason.
With everyone healthy (and I still think Carpenter will soon become the odd-man out); "The Turk" has a line-up that can make a go of it.
Let the good times roll in "The Music City" – where as I write these words late Thursday night/early Friday morning – I hope the Rangers are doing their partying in Nashville now.
You don't want to see a hungover team on Saturday – despite the temptations – as "NashVegas" has certainly earned that nickname. (And I can tell you this from first-hand experience!)
I hope the Rangers enjoy "Tootsies" tonight – and their second win in a row on Saturday.
LGR!
PLUGS TIME!
---
My first plug of tonight's blog – the mandatory plug for my book, "The New York Rangers Rink of Honor and the Rafters of Madison Square Garden."
As mentioned previously, the book is now available in hardcover, in paperback and in Kindle formats. To purchase a copy of the book, visit this link:
https://www.amazon.com/Rangers-Rafters-Madison-Square-Garden-ebook/dp/B09CM5N2WD
For those still looking for signed paperback versions of the book, I have re-ordered more copies. I now have a few signed copies for sale at $25 a pop (includes shipping price) through me directly. Here is all the information on that:
---
My four-volume set of books, "One Game at a Time – A Season to Remember," is a game-by-game recount of the Rangers 2021-22 campaign.
My second title as an author, "One Game at a Time – A Season to Remember," is now available in eBook, paperback and hardcover formats.
To obtain signed copies, visit: https://bluecollarblueshirts.com/onegamebook/
To purchase all four volumes on Amazon, visit: Amazon.com – "One Game at a Time."
---
"Tricks of the Trade – A Century-Long Journey Through Every Trade Made In New York Rangers' History," a four-volume set of books that meticulously covers every trade made in franchise history, is now on sale.
All four volumes of the title can be purchased on Amazon.com and are presented in three different formats – eBook, paperback and hardcover.
To purchase Volume I: Conn Smythe (1926) – Craig Patrick (1986), visit Amazon.com
To purchase Volume II: Phil Esposito (1986) – Neil Smith (2000), visit Amazon.com
To purchase Volume III: Glen Sather (2000-2015), visit Amazon.com
To purchase Volume IV: Jeff Gorton (2015) – Chris Drury (2022), visit Amazon.com
To purchase signed copies of all four volumes, visit https://bluecollarblueshirts.com/tricksofthetrade/
---
Here are my last few blogs, in case you missed them:
---
---
---
If you haven't already, subscribe to this blog for the next update:
---
Don't forget to order my new four-volume set of books, "Tricks of the Trade!"
If you don't order through me, all four volumes are now available on Amazon.com
For more details, check out: https://bluecollarblueshirts.com/tricksofthetrade/
Thanks for reading.
LET'S GO RANGERS!
Sean McCaffrey
BULLSMC@aol.com
@NYCTHEMIC on the Tweeter machine