Greetings and salutations everyone and welcome to another blog here on BlueCollarBlueShirts.com. After what's felt like a month of Ranger shellackings, the Rangers finally smacked someone around for once, picking up a 6-2 victory over the Carolina Hurricanes on Tuesday night. While I have seen some people in the Rangers fan base do cartwheels, back flips and the Macarena (remember when "The Macarena" was a thing?) to me, this win was independent of anything else that's occurred this season.
I don't mean to come off so negative after the Rangers best win of the season, but when I see people hurting themselves by trying to do math, such as "The Rangers need X many points and Y many wins to get a playoff spot", I gotta laugh.
To me, I tried staying positive all season and hoped for a run. However, the Rangers lost to too many bad teams this season and their post Thanksgiving stretch buried them. To me, ever since the crushing losses to Colorado and Arizona, it's all about development and hoping that Quinn can hold on to his hair.
That all said, a win is a win and it's not like the Rangers are giving fans many wins these days. Furthermore, this was arguably their biggest win of the season, as they scored more goals in this game than in any other game this season.
As shown in the headline picture, this game was like the Twilight Zone. After watching the Rangers fail and look inept on so many things in recent games, EVERYTHING went right tonight for the Rangers, sans a shut-out from the overpaid goalie. And yes, to be clear, I'm joking about Hank right now. He had a tremendous game and neither goal allowed was truly his fault.
In this one game alone, after failing on the PP repeatedly, even having a recent streak of three 5 vs 3 PP's with no goals, the Rangers went 3-3 on their PP tonight.
After being torched numerous times on their PK, the Rangers PK went 3-3 tonight.
Mats Zuccarello, who some wondered if the Rangers could even get a third round pick for him, continued to shine and picked up three assists tonight, with one of his assists being a highlight reel pass.
After talk about if Tony DeAngelo would even be here past this season, TDA had a two goal game. Ditto Zibanejad and the fourth liner, Pavel Buchnevich.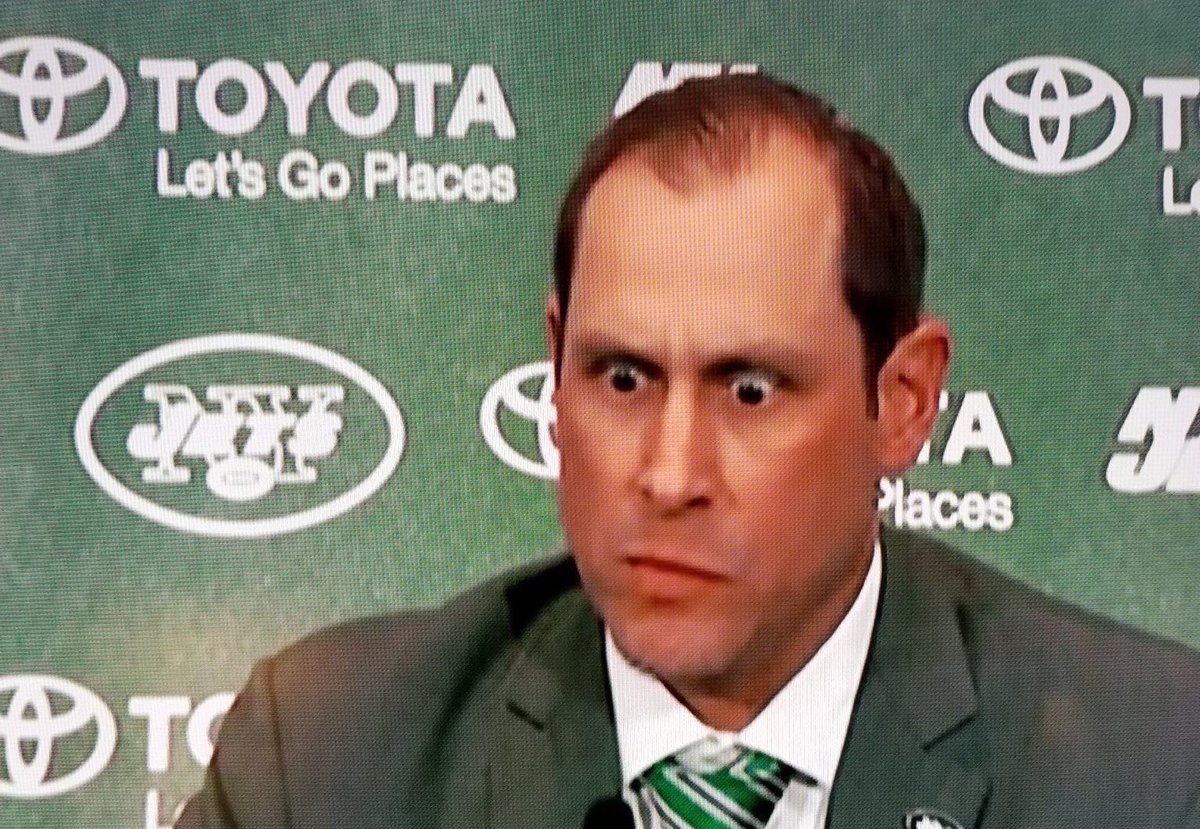 David Quinn has been very emotional and outspoken this season, with his voice coming across the loudest after the Sunday night loss to Columbus. 48 hours later, the Rangers were at their best and looked better than they have during any other point in the season.
Now, one must wonder, was Quinn's message received loud and clear? Or did everything just happen to go right? I think it was a combination of both, as the Rangers were much better defensively in this game. In front of their mentally drained goaltender (more on that to come) the Rangers even blocked 21 shots. Helping matters for the Rangers was that while Carolina had 36 shots on goal, they probably took 36 more, with those 36 shots all going wide, high or being blocked.
For a team named the Hurricanes, it was a perfect storm for the Rangers, as Carolina continued to miss passes, wiff on open looks, shoot high and wide and couldn't match the Rangers intensity. Making matters better for the Rangers, was that Carolina started back-up goalie Curtis McElhinney, who was just a sieve all game. When you're a goalie that has played for 11 teams, it tells you two things – you're reliable and serviceable, but you can't sustain any type of success for any elongated period of time.
Oh and let's not forget this statistic – prior to this game, the Hurricanes had lost 15 straight games (0-12-3) at Madison Square Garden since Jan. 5, 2011. In that time, they were outscored by a grand total of 52-20. That's 8 consecutive years of losing at MSG for the Hurricanes. 8 years is a long time to be win-less at a venue. And now, after tonight, the Canes have lost 16 straight games at MSG (0-13-3) and have now been outscored 58-22. So yea, if you're a Canes fan, that's not good numbers against a division rival!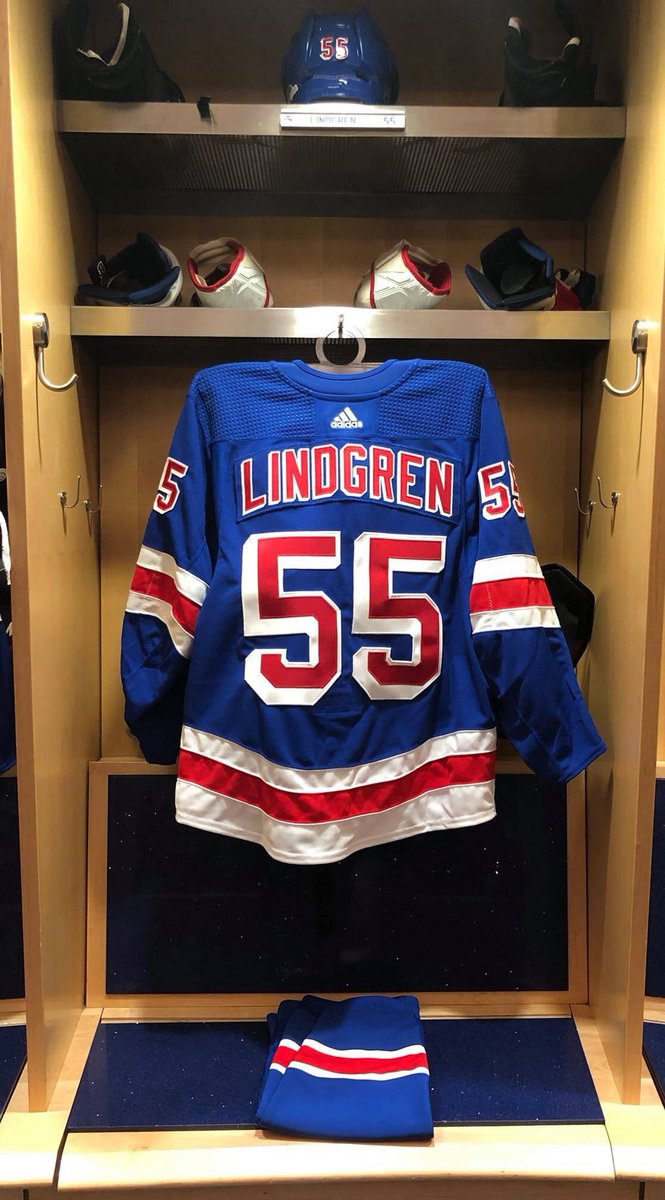 As far as the NEWZ goes, the Rangers made two transactions on Monday. For some reason, the Rangers traded their captain of their AHL team, in Cole Schneider of the Hartford Wolfpack. The Rangers sent Schneider to Nashville, in exchange for forward Connor Brickley. This is an AHL player for AHL player trade, so in the grand scheme of things, it doesn't make much of a difference right now.
I talked to the people I know that cover and watch the Wolf Pack and they were shocked that the Rangers traded Schneider, as he's been playing well this season. (13 goals and 25 points in 36 games.) Brickley's numbers aren't as impressive. It seems odd to trade your captain mid-season, but I guess the Rangers are known to do that. I really can't comment more on this, because I would be lying if I told you I knew anything about Connor Brickley.
After Sunday's game with Columbus, I said this:
Bring up Lindgren and Gilmour, can't be any worse pic.twitter.com/oNApMcgoXd

— BlueCollarBlueShirts (@NYCTheMiC) January 14, 2019
Then, in Sunday's blog, I said this: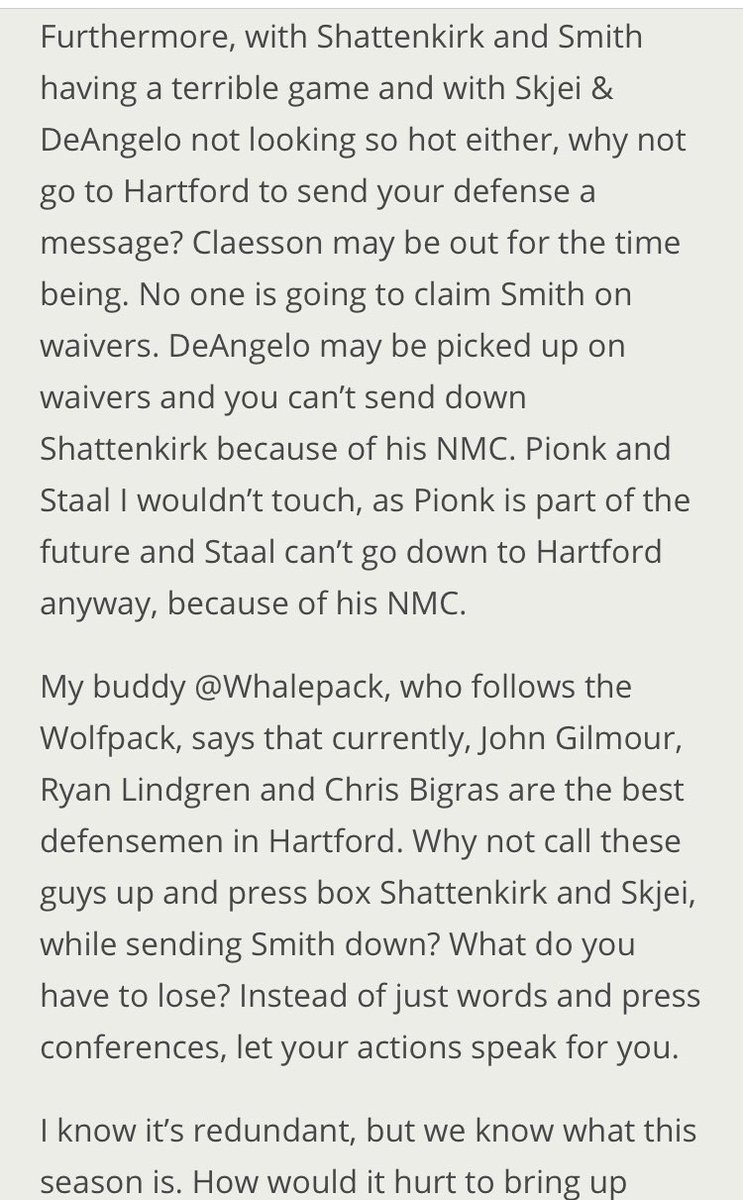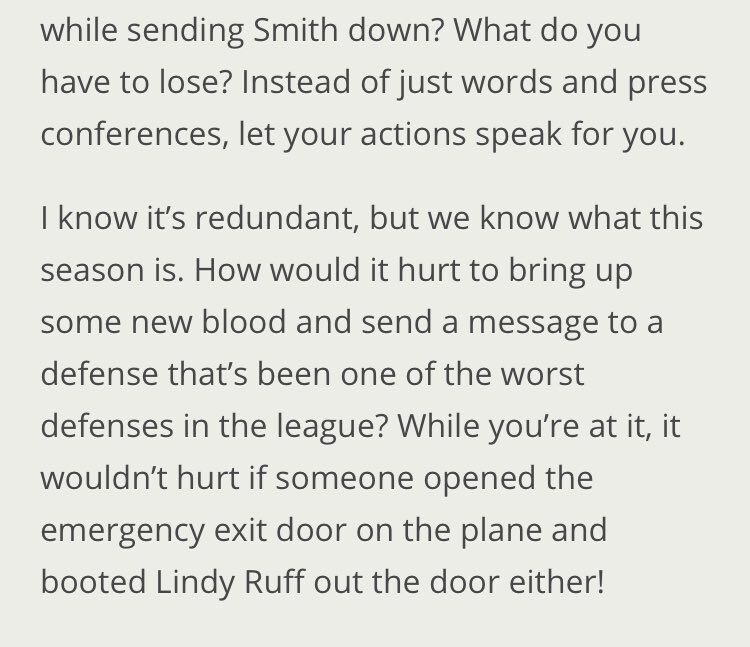 In fact, speaking of Sunday's blog, here's that blog, as well as my most recent ones:
(By the way, how do you like that transition to the plugs section of tonight's blog?)
---
---
---
---
---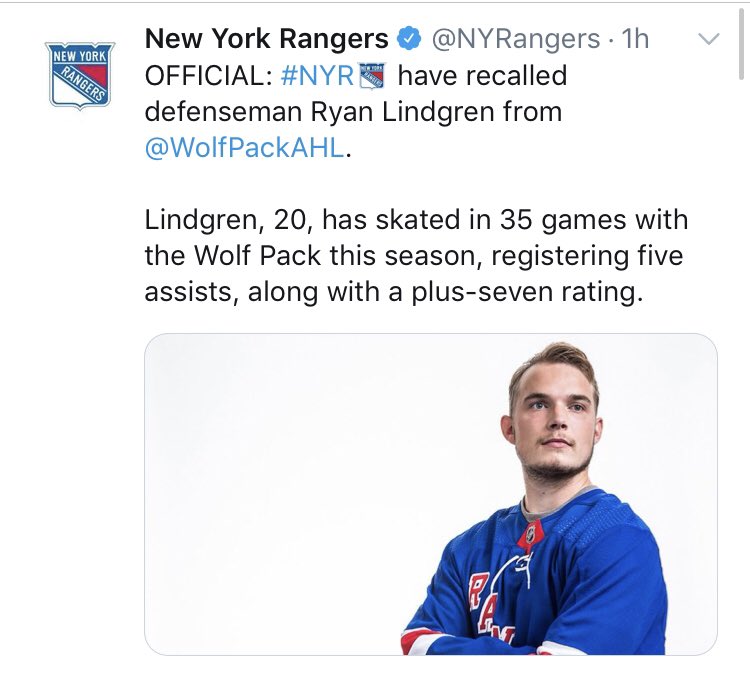 With injuries to the Rangers defense (all that covered in the next segment of this blog) and with the Rangers defense playing atrociously, the Rangers finally made the move to the AHL. Due to the injuries, the Rangers didn't have to send anyone down. If it was me, I would send Smith down ASAP, cross my fingers that someone takes him on waivers and call up John Gilmour, who also happens to be the lone AHL All-Star for the Hartford Wolf Pack.
I really enjoyed the pregame press conferences from both David Quinn and Ryan Lindgren. Lindgren obviously kept it simple. He described himself in cliches, stating that he was a "hard-nosed defensive stay-at-home defenseman." That's fine. The Rangers need a guy like that.
In what I really liked, David Quinn said this call-up was coming for some time and this call-up had nothing to do with injuries. Quinn then said what I was hoping to hear – Lindgren is here for the time being and only his play will determine if he goes back down or not. In other words, Lindgren has been given a chance and if he can deliver, he will earn more time with the big club. So if you're Ryan Lindgren, take the ball and run with it.
Oh, and before closing on Lindgren, how about another round of applause for Rick Nash? After all, in perhaps Gorton's best trade of his career, Gorton fleeced the Bruins when he traded Nash to Boston during last year's NHL trade deadline. Ryan Lindgren is one of the seeds of that trade and you hope to see that seed develop into a major oak tree for the Rangers blue line. Good luck to Lindgren. I know what I was like at 20 years old. I can't imagine what it's like to be in the NHL at 20 years old.
And god damn it, Sam Rosen & Joe Micheletti have subconsciously taken over my brain – I'm babbling on about the ages of the players! "OH BOY, HE'S ONLY 20 JOE!"
Before the game, this graphic appeared on the MSG pregame show: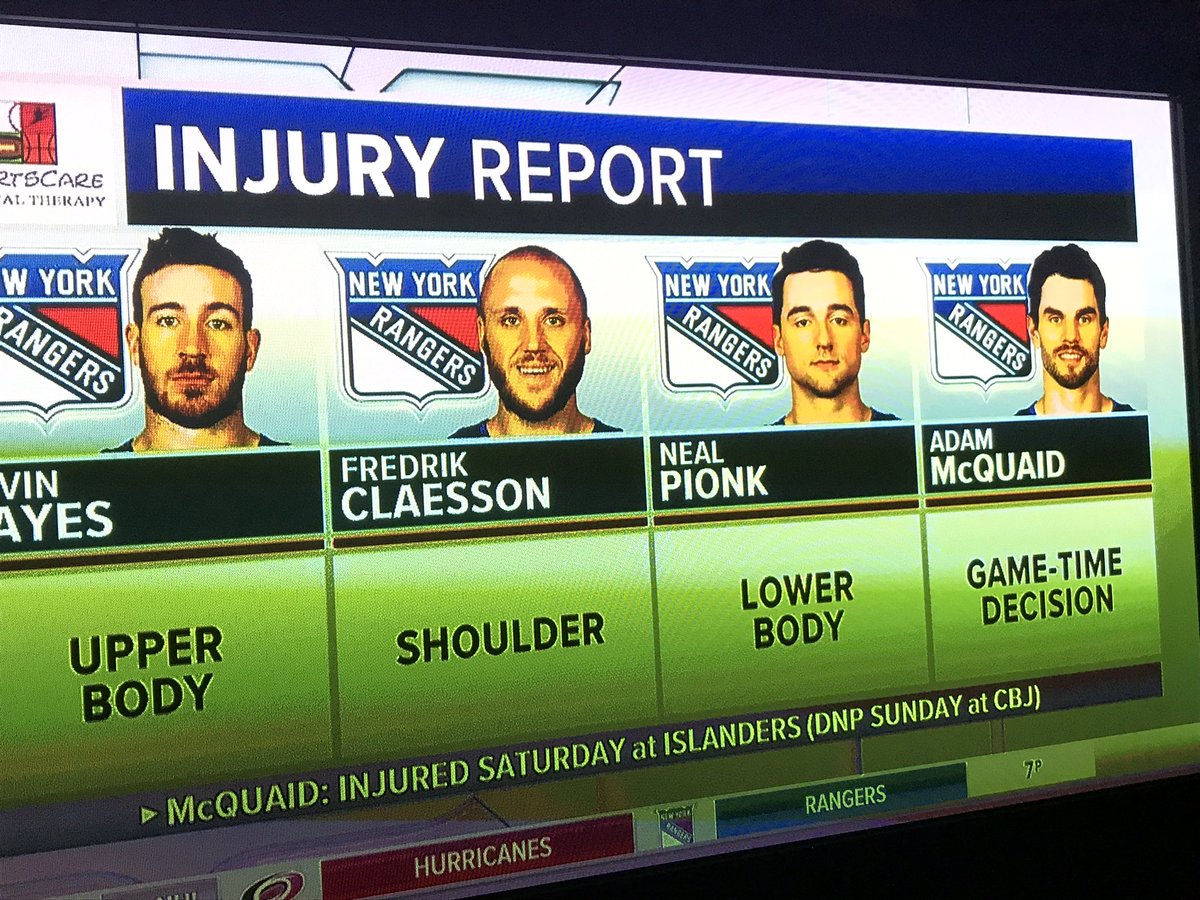 With Hayes still out and Claesson now reportedly out for 2-3 weeks (he may be able to come back for the first game after the bye week) the Rangers have not called up an extra forward, as they continue with the same 12 that they've been using since Hayes went out.
Defensively, Pionk, who Quinn said "stepped up" by playing hurt against Columbus, was ruled out for this game. McQuaid, who blocked a blast of a shot in the Islanders game on Saturday, was a game-time decision. Once it was ruled that he was okay to go, Smith returned to the press box. You have to wonder if there is a seat in the MSG press box that has Smith's ass cheeks indented into the seat.
Offensively, Quinn used the same lines that he used against Columbus:
First Line: Zucc/Zibanejad/Kreider
Second Line: Fast/Strome/Chytil
Third Line: Nieves/Vesey/Namestnikov
Fourth Line: Buchnevich/McLeod/Howden
With the new face on defense, Quinn went with:
D-Pair 1: Staal/DeAngelo
D-Pair 2: Skjei/McQuaid
D-Pair 3: Lindgren/Shattenkirk
In what was a common trend from everyone employed by the MSG Networks, everyone raved about how much better Skjei is when he's with McQuaid. What wasn't said was how bad Skjei is when he's paired with Smith or Shattenkirk. What the MSG Networks is trying to say is that because McQuaid is more of a traditional d-man, he can help clean up Skjei's mistakes. When Skjei is with defensive nightmares, in 22 & 42, Skjei sinks into a black hole.
Again, I know Smith is guaranteed the money, but for a team rebuilding, why even keep him up here? Put him on waivers and hope for a nibble. Calling up Lindgren was a move to light a fire under the asses of the Rangers. Sending someone to Hartford will have those ass cheeks redder than a butthole that is pushing out a White Castle dinner.
Oh and as mentioned, Henrik Lundqvist was in net tonight. In fact, let's go to the gambling segment of the blog:
Hank is in net. Bet the over. I'm surprised Carolina is favored in MSG. Shows you the bookies have no faith in the defALLt STAR goalie, even in his own barn. #nyr pic.twitter.com/gv0UkGfast

— BlueCollarBlueShirts (@NYCTheMiC) January 15, 2019
With a 6-2 score, the Rangers gave me six goals to just push my bet. The two Carolina goals put the game into the over territory. My over-under record now improves to 15-6-1. My win-loss record blows away the Rangers win-loss record!
And lastly, before getting into the stuff on the ice itself, I have to vent and get this "Pride Night" rant out of my system:
I know, I know, I know – every time you talk politics or a hot-button issue, you're guaranteed to piss off 50% of your readers/audience. However, I don't take ads on this site, have no sponsors to answer to and this is my blog, and I'll blog if I want to! Furthermore, this stuff is brought into our living rooms and into our life from the Rangers, so talking about this is fair game to me. After all, I talk about EVERYTHING that airs on the MSG Networks & I have five years of blogs to back me up on that!
Hockey isn't for enforcers anymore https://t.co/larpUkeKm1

— BlueCollarBlueShirts (@NYCTheMiC) January 15, 2019
Tonight was "Pride Night" at MSG, which has been a controversial topic for some fans in the past. I know I've written two prior blogs on this subject. Here's the one I wrote last year: http://doinow.com/31418/
I know some people will read what I'm about to say here, and say "oh, he's an extreme right-wing nut-job." Sorry folks, I'm just a nut-job.
My political and social views can't be labeled. I can't even be considered a "Republican". After all, I'm a heathen – I'm an atheist! More importantly, I can't be a right-winger, because despite being near 37 years old, I've never shot a gun in my life!
When it comes to the topic of homosexuality,  my opinion is what one does is what one does. It doesn't bother me. I believe in gay marriage, equal rights and all that other stuff. That sentence is where I piss off my right-wing readers! When it comes to sexual orientation/preferences, I just don't care. I care about me. I don't care what others do or what others are into.
At the same time, while I'm pro-gay rights, I 100% believe that transgender people have a mental disease. I think most transgenders are rich people who think a psychologist is too good for them. After all, how many poor transgenders are there? It's not like you're seeing fundraisers for "Transgenders in Somalia."
My personal feelings aside, I do believe in my right to have my opinions, just like how I believe in the rights for people to disagree with me. It's America, and that is what this country is based on – free speech and diverse opinions.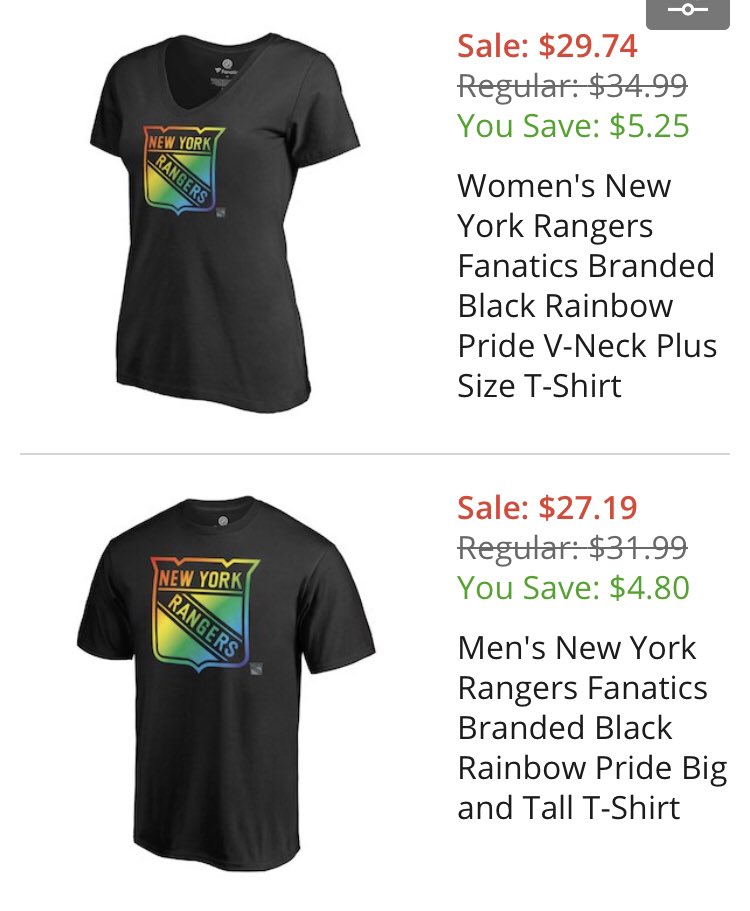 I don't know why, but somehow, along the way, transgender people and all these other freaky sex labels got grouped in with gays & lesbians. How does a surgery for the mentally diseased have anything to do with a sexual preference? Being gay/lesbian doesn't cost money. Being transgender does.
To me, people are born gay. Homosexuality happens in nature. Shit, me and my girlfriend have two cats that are gay. For anyone who thinks homosexuality is a learned trait, just look at other species. There are gay dogs, gay pandas, gay bears, and of course, gay humans. I think most of the anti-gay rhetoric comes from people who take a book of mythology way too seriously. I mean, if you believe the Bible preaches hate against gays, do you also believe that some guy put two of every animal on an ark? Do you believe that a guy lived in a fish for three days? I mean, think about it – Jack & The Beanstalk sounds just as credible as most of the stories in the Bible.
(And yes, I know I'm pissing off a lot of people here, but fuck it, this won't be the first time and it won't be the last!)
What is not natural to me, despite the MSG Networks letting someone on their air to describe a transgender person as "authentic", are sex organ surgeries. And please, explain to me how a science made penis or science made vagina, is "authentic"? Those fake tallywhackers and beehives are as authentic as Lundqvist & a Stanley Cup win!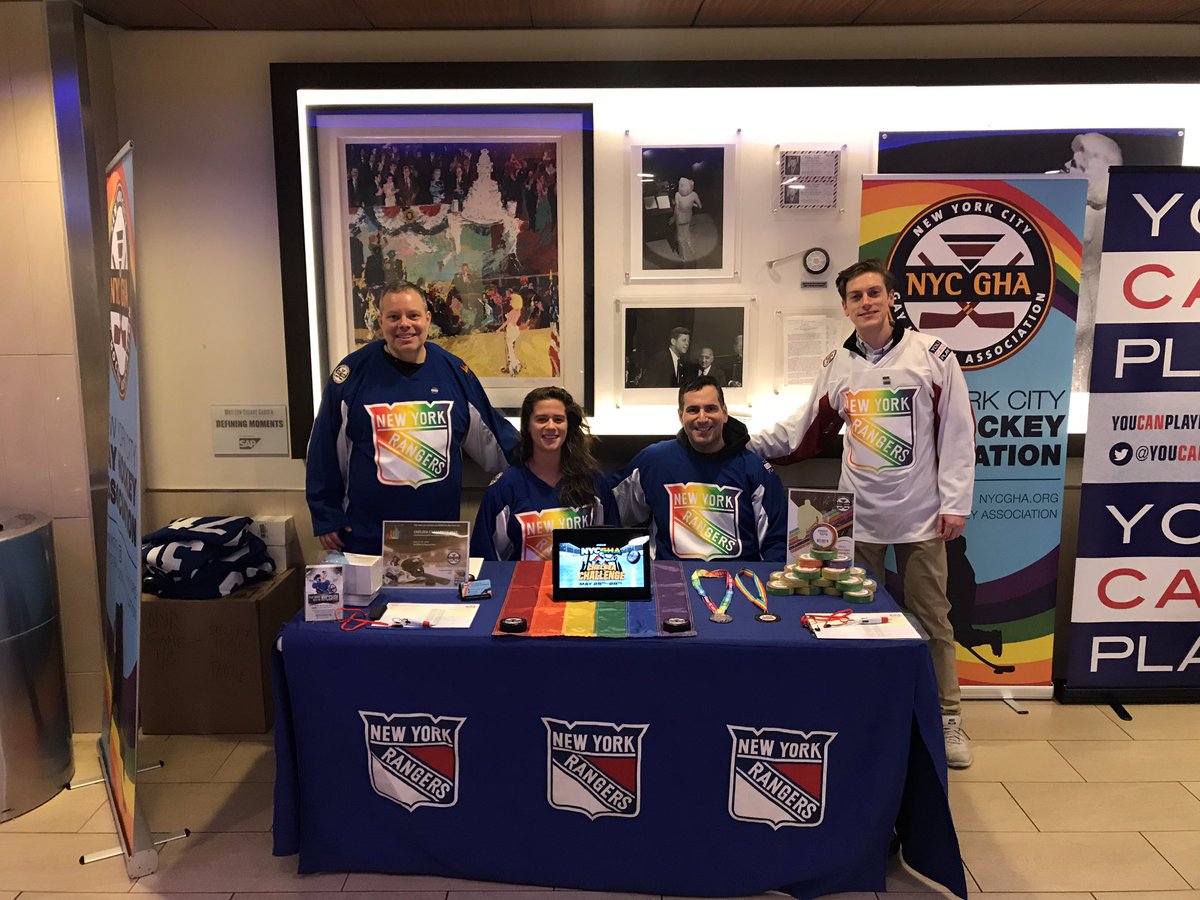 I think it's great gay people play hockey, but when I see this pride night stuff, can someone tell me when gays or anyone else of any religion, creed or color is banned from MSG? WGAF if someone is gay or not? What does that have to do with anything? Gays are welcome at any game during any point of the season. And just how I think it's cool that the Rangers let little kids play on their ice, I'm cool with the Rangers letting the Gay Hockey League play games on their ice. I have no issues with that at all.
And let me tell you something right here, before the people who jump Donald Trump's throat start calling me a bigot or whatever label they use – I have gay & lesbian friends and readers of this blog. One of my lesbian friends is one of the most die-hard hockey/Ranger fans you will ever meet. I don't feel like she's ever been discriminated from talking hockey, watching hockey or going to MSG to see the Rangers play hockey.
To me, all this gay pride stuff is just a cash grab and the Rangers trying to alert everyone how "woke" and hip-to-the-times they are. To me, gay pride night is nothing different than St. Patrick's night, Hockey Fights Cancer, Military Night or any other night the Rangers do – it's a way for the Rangers to sell you new merchandise.
It's 2019. I really don't see the majority of Americans having any issues with gays or lesbians at all. I mean, this isn't 1982. If you want to applaud someone for defending gay rights, go applaud "Cheers" and the first season episode where Sam Malone stood behind his gay ex-teammate. That episode took balls to do, especially for that time and with "Cheers" yet to be the ratings smash it would later become. (And hey @whalepack and @fixxser, how do you like how I'm working "Cheers" references into every blog now?)
If anything, I would like to see the Rangers do two more nights – "Frank Boucher Night" and "Draft a Canadian Night", with the latter night happening during the NHL draft. And oh yea, on a sidebar here, I was cracking up today, when Dave Maloney, of "The Bleeding Blue Shirts" podcast, said the Rangers needed more Canadians on this team. Where's the liberal outrage for this one? Where are the Europeans with their pitchforks and pickets?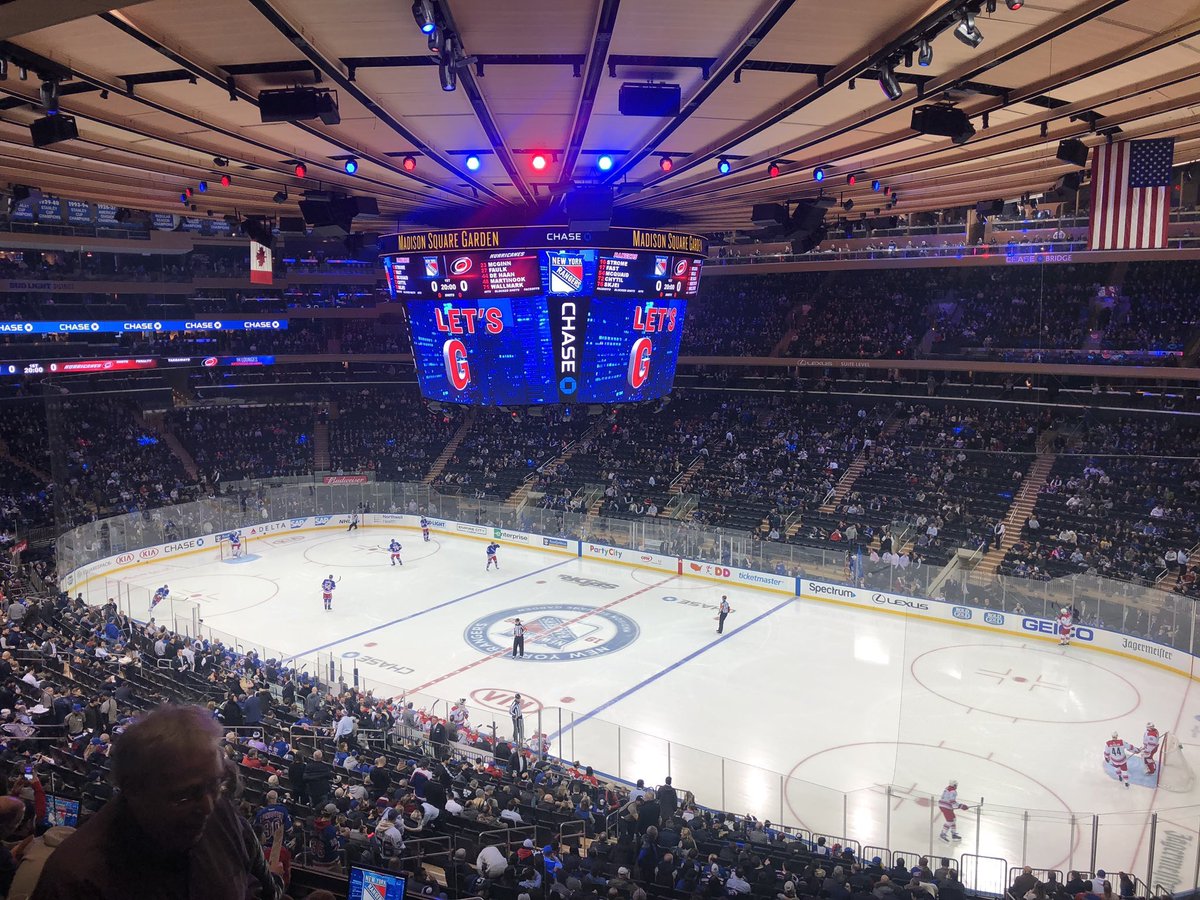 To me, especially in New York, where you know, the Rangers play, I would venture that the majority of the fan base doesn't care who sleeps with who. All we care about is winning the Stanley Cup.
For some reason, transgenders are dumped in with gays & lesbians, and that's something I will never understand. Sexuality is natural. Sexual organ mutilation is not. Furthermore, I don't understand why people who have a sex change operations are lionized like heroes, as if they did a tour of Afghanistan or were a cop or fireman during 9/11.
Here's just one tweet where the NHL was celebrating one of these lab experiments as a hero:
Harrison Browne dropped the ceremonial puck for @NYRangers Pride Night, but not before getting an inspirational message from a fan on his Twitter account, @Hbrowne24, writes @drosennhl https://t.co/AkfSR5hGQE

— NHL.com (@NHLdotcom) January 16, 2019
What is so inspirational about a sex change operation?
To me, what is even more disgusting about these transgender people, are the parents that allow it. I've read stories online about kids as young as 5 years old going through these operations or being prepared to convert. WHAT? I hate to use the word "pedophile" here, but what are these parents teaching these kids about sex?
I know I'm from a different time. I was born in 1982 and I lived through a time called "the 90's", which was the last period of time in American history where one could speak their mind without being labeled. Creativity, diverse opinions and pushing the envelope was encouraged. This country was built on rebellion, starting all the way back with the Revolutionary War.
In society, things stayed the status quo for a long time and people were set in their ways. Even after the Civil War, there was serious discrimination in this country. The 1950's was probably the last decade where discrimination was accepted by the majority of the population. It truly wasn't until the 60's and 70's that the old way of thinking was eradicated.
The 80's would continue the movement and by the 1990's, everyone would explain everything different with "it's the 90's." Now, in 2019, we have gone too far and we are at a reversal point, where if you don't agree with something, you're automatically the bad guy. We are supposed to stand up and applaud children for having sex change operations. I hate to think I'm from some old guard or from some bygone era, but don't you think we've gone too far? It's why I can't stand liberalism – everything is okay, unless you disagree.
Let children be children! They are not science experiments to show how "woke" you can be to your douchebag leftist friends. This is child abuse masquerading as progressivism. https://t.co/Em2xd7LyuR

— Mindy Robinson 🇺🇸 (@iheartmindy) January 16, 2019
Can kids be kids anymore? How does a kid know he/she needs a sex change operation? Again, I grew up in a different time, but I don't even think I knew what homosexuality was until I was in middle school. Now, kids are learning about this stuff at a much younger age. The younger kids of today know about homosexuality and sex change operations before knowing the truth about Santa Claus and the Easter Bunny.
Again, I have nothing against homosexuality. I do admit to thinking transgender people are mentally diseased & need help. Regardless of my opinions or your opinions on this matter, is there a reason why sexual orientation and sex change operations needs to be discussed during a hockey game? Save it for a documentary, away from the game.
I think I'm more vocal and concerned more than ever on this topic, because now I have young nieces in my life, one that watches Ranger games from time-to-time. Any parent will tell you this – little kids are tape recorders and will repeat whatever they say. They are also very inquisitive and will ask questions about any topic that comes up. I thought the TV show "I'm Sorry" just did a great episode on this. (Season 2, episode 1.)
Here is where my issue lies with all of this – all this sex stuff shouldn't be exposed to young kids who watch these games or brought to these games by their parents. If the Rangers want to work with LGBTQ groups, I got no problem with that. If you want to do a documentary or highlight individuals, I'm fine with that. However, parents and kids should be able to watch these games without having to talk about sex or operations. And to be clear – that includes straight sexual relations too!
All this said, I wonder if fans of the WNBA have this problem when WNBA has their Heterosexual Pride night?
Seriously and in closing, I'm sure not all of my opinions will land with you and that's fine. Some of you may say – stick to hockey, but when this stuff is promoted endlessly and all over the broadcast, I'm not going to ignore it.
While I understand Pride Night is just another cash grab from the Rangers and how the Rangers can care less about the rainbow, as all they care about is the color green, I just feel that making people out to be heroes because of what they do or don't do with their penis or vagina, is just not something that belongs on a sports broadcast. If there is going to be any talk of fucking on the broadcast, keep it to James Dolan fucking Knick & Ranger fans over for the last 25 years.
I know my opinions about transgender people will offend some, but it is my right to have my opinions. To be honest, I don't think about transgenders or care what they do on a daily basis, but I also don't want to see it promoted as a healthy & normal thing, when watching my Rangers. The crux of my hatred about this topic boils down to that I don't think kids should be exposed to this. In this world, kids are losing their innocence and childhood at a much younger age. That depresses me.
I will say, this is a hard topic to discuss, and I know there is a wide range of opinion on this. I have no problem with the Rangers or anyone else working with any sort of LGBTQ group, I just think it should be kept away from the broadcast. The best charity is when you don't publicize it.
I am now off my soap box!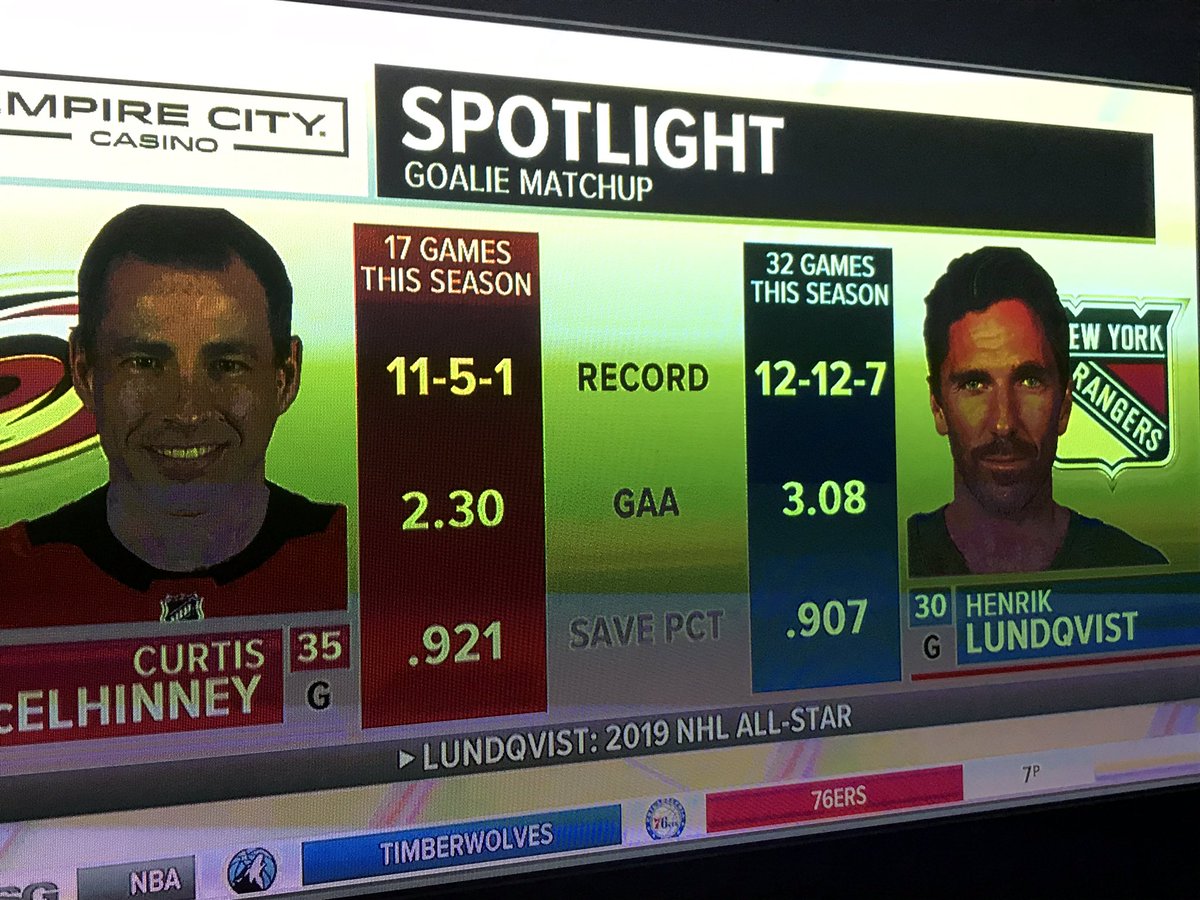 Back to hockey and this game.
As always, here's the box score from ESPN.com:
SCORING SUMMARY:
1st Period
1:16

Tony DeAngelo

(3)

Assists: Jimmy Vesey, Boo Nieves

0
1
9:24

Saku Maenalanen

(3)

Unassisted

1
1
12:41

Mika Zibanejad

(13)

(Power Play)

Assists: Chris Kreider, Kevin Shattenkirk

1
2
14:22

Mika Zibanejad

(14)

Assists: Mats Zuccarello, Chris Kreider

1
3
2nd Period
3:41

Pavel Buchnevich

(8)

(Power Play)

Assists: Mika Zibanejad, Mats Zuccarello

1
4
3rd Period
4:19

Pavel Buchnevich

(9)

(Power Play)

Assists: Mika Zibanejad, Mats Zuccarello

1
5
11:51

Saku Maenalanen

(4)

Assists: Victor Rask, Justin Faulk

2
5
12:55

Tony DeAngelo

(4)

Assists: Vladislav Namestnikov, Boo Nieves

2
6
PENALTIES:
1st Period
11:49

Greg McKegg:

2 minutes for Tripping

17:08

Ryan Lindgren:

2 minutes for Slashing
2nd Period
3:05

Andrei Svechnikov:

2 minutes for Hooking

5:06

Adam McQuaid:

2 minutes for Holding
3rd Period
3:19

Dougie Hamilton:

2 minutes for Tripping

14:24

Adam McQuaid:

2 minutes for Cross checking

14:24

Brock McGinn:

2 minutes for Slashing

18:16

Cody McLeod:

2 minutes for Hooking
GOALIES:
| | | | | | | | | | | |
| --- | --- | --- | --- | --- | --- | --- | --- | --- | --- | --- |
| SA | GA | SV | SV% | ESSV | PPSV | SHSV | SOSA | SOS | TOI | PIM |
| 36 | 2 | 34 | .944 | 31 | 0 | 3 | 0 | 0 | 59:44 | 0 |
| | | | | | | | | | | |
| --- | --- | --- | --- | --- | --- | --- | --- | --- | --- | --- |
| SA | GA | SV | SV% | ESSV | PPSV | SHSV | SOSA | SOS | TOI | PIM |
| 28 | 6 | 22 | .786 | 19 | 1 | 2 | 0 | 0 | 60:00 | 0 |

If you're looking for a quick summary of this game, obviously, you're in the wrong place. However, I'll try – "the Rangers did everything right for 60 minutes."
The Rangers would jump out to a 3-1 lead by the time the first period was over in this game and would never look back. In fact, this game felt like the Rangers & Carolina switched jerseys, as it was Carolina chasing the Rangers a lot. It was Carolina's special teams looking horrendous. It was Carolina's goalie getting lit up. It was Carolina losing the one-on-one battles. It was Carolina getting blown out. It was Carolina taking early penalties. It was Carolina flubbing the puck. Shit, maybe the Rangers should do more pride nights!
Keeping to the theme that it felt like the teams switched jerseys, it was the Rangers, and not the Hurricanes, that scored the early goal in this game. Here's Tony DeAngelo, at 1:16 into the first period:
TONY DEANGELO TALLIES THE WRISTER THROUGH TRAFFIC IN HIS 100TH NHL GAME!#NYR pic.twitter.com/OnFUPS4Mmb

— Hockey Daily (@HockeyDaily365) January 16, 2019
1-0, good guys, just like that. A long wrister from Tony DeAngelo. I joke here about TDA and use the DeMAGAngelo nickname, because many idiots of this fan base hate number 77, because he's a Trump supporter. That's their sole basis for not liking him. He voted differently than some fans. For TDA to score the first goal on pride night, that was hilarious to me and if there was a way to lick up liberal tears, like the way Eric Cartman did to Scott Malkin on "South Park", I would've!
The Rangers would get two good chances on a shaky McElhinney, but couldn't convert. At this point in the game, I felt it would be one of those games, especially after Howden made a bad turnover, which led to this goal allowed, at 9:24:
BRETT HOWDEN TURNS THE PUCK OVER TO SAKU MAENALANEN IN THE SLOT AND THE CANES TIE IT UP!#TakeWarning pic.twitter.com/qWjOggb59X

— Hockey Daily (@HockeyDaily365) January 16, 2019
1-1, lead blown by Lundqvist.
Seriously speaking, Hank had a 50/50 shot on this. The only real criticism I can say as someone who drinks a lot of beer and watches these games is that Hank went down way too early. Still, if you're blaming Howden for this goal, I won't stand in your way.
Two minutes after this goal, Carolina would take a penalty. The Rangers would score quickly into it:
KEVIN SHATTENKIRK WITH THE BEAUTIFUL PASS TO CHRIS KREIDER, WHO SETS UP MIKA ZIBANEJAD FOR THE TAP IN!#NYR pic.twitter.com/M1dTHrvKxJ

— Hockey Daily (@HockeyDaily365) January 16, 2019
2-1, good guys. On this goal, McElhinney overplayed CK20 and Zibanejad had the easiest non empty net goal of his career. Let me say this – we've seen the Rangers fuck up these chances before, so I was glad to see Zibanejad finish.
Later on, and with the Rangers already having 10 blocked shots, McQuaid blocked the 11th Carolina shot of the game. It looked like to me, the puck just took the air out of him and he was down for a while. However, in shades of Dan Girardi, McQuaid went to the bench. I don't even think he missed a shift. Say it with me, "that's hockey Suzyn."
And really, McQuaid is blocking cannon like blasts on a lottery bound team. Sure, you can say he's auditioning for a trade to a playoff team, but in this moment, McQuaid has all my respect. Laying down in front of 100MPH shots is no easy task.
After the block, Zibanejad would make this a two goal game:
MATS ZUCCARELLO WITH A GORGEOUS BETWEEN THE LEGS, NO-LOOK PASS TO MIKA ZIBANEJAD WHO TALLIES HIS SECOND!#NYR pic.twitter.com/CGzKpDUahR

— Hockey Daily (@HockeyDaily365) January 16, 2019
3-1, good guys. Of course, the story of the goal was the beautiful pass made by Mats Zuccarello. He's really turned it on as of late after having what's mostly been a lame duck season. We are going to miss him when he's gone, but it's business, not personal.
Lindgren would make the box score when he took a questionable slashing call. I don't know if that was really a penalty or not, and I certainly don't think what he did would've been called in a playoff game. That said, it was a good penalty to take, as he took a penalty with a Hurricane streaking to Lundqvist.
On the PK, the Rangers would kill the Carolina PP and Carolina was their own worst enemy. They had Scott Norwooditis, as they just kept shooting wide. They even blew a 4 vs 2 opportunity. What was that about me saying it looked like the teams were wearing different jerseys?
After twenty minutes, the score remained 3-1. This was a team wide effort and the best period of 2019.
The second period was kind of a drag, and pardon me for using the word drag on pride night. (Settle down, it's a joke.)
The second period saw the Rangers score within the first four minutes. The period then lulled along, before an action-packed final two minutes.
The Rangers would get a PP at 3:05. Less than 40 seconds later, Buchnevich was in the right place and at the right time:
Buchnevich's power-play goal – National Hockey League News – https://t.co/XGR590ErxS pic.twitter.com/mJdFjAwrcl

— MLB &NHL News Now (@MLB_News247) January 16, 2019
4-1, good guys.
I'm not going to get into the whole Pavel Buchnevich debate tonight. Some fans think he's the greatest Russian since Federov and Ovechkin. Some already have his spot carved out in the HHOF. Yes, he would score two goals tonight, but keep in mind – Carolina sucked, the goalie was even worse and both of 89's goals were of the mop-up/clean-up variety. I saw some people whining about Buchnevich playing on the fourth line and how it hurts him. Those same people didn't have anything to say about Lettieri being in the same position. All I will say here, is that the AV criticism of his usage of Buchnevich, was just a bunch of bullshit.
Oh, and before Buchnevich's goal, Zibanejad rang one off the post. When this game was over, both Zibanejad, Buchnevich and TDA had two goals a piece. I was told this hasn't happened since 1996. I'm telling you, I would've loved if TDA got his hat trick tonight. I know his family was rooting for it too:
Same lol

— Vienna DeAngelo (@ViennaDxo) January 16, 2019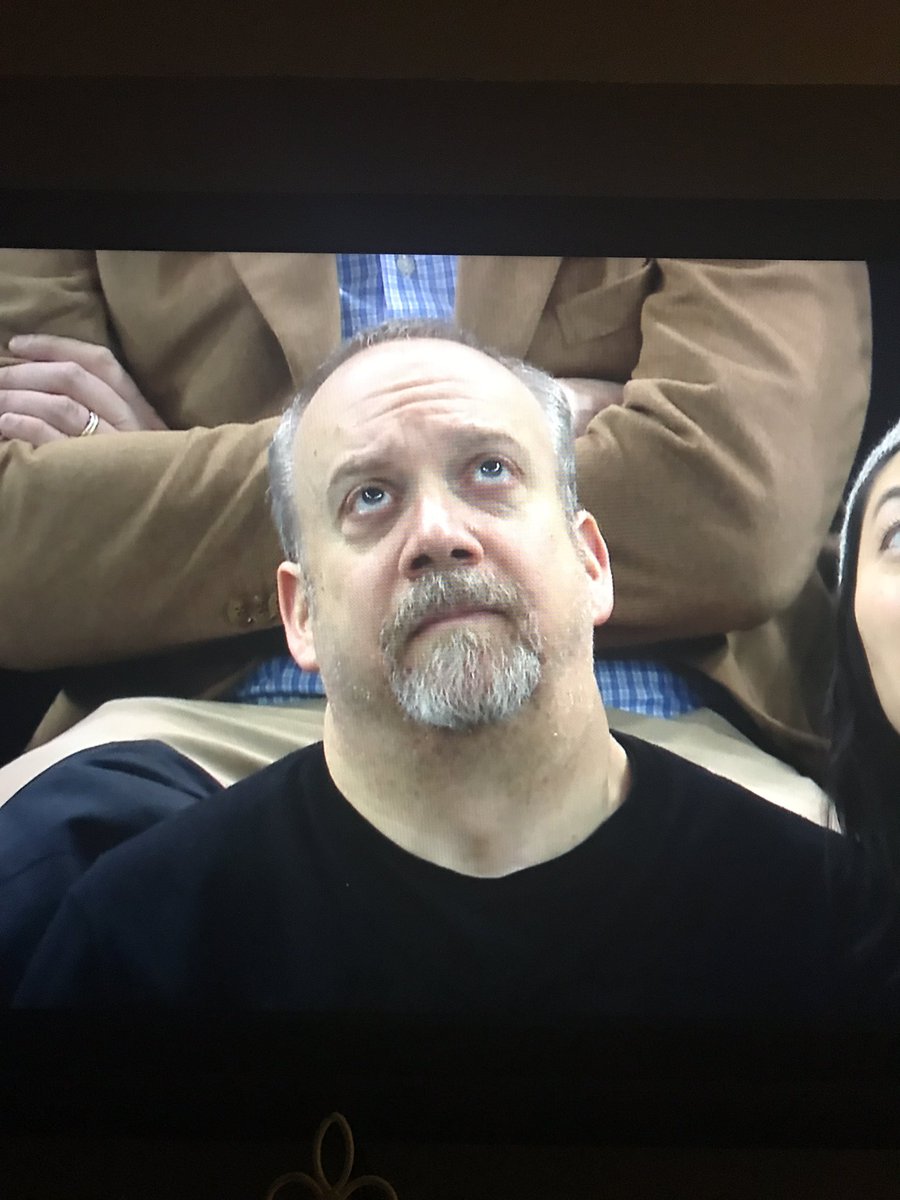 As mentioned above, I am a nut-job, so the highlight of the second period for me was seeing Paul Giamatti, or as I know him as, "PIG VOMIT".  You know, the guy from "Private Parts". DOUBLE YOUUUUUUUUUUU ENNNNNNNNNNNNN BEEEEEEE CEEEEEE!
I'm a big Giamatti fan. After all, can you name something that he was in that sucked? He was awesome as John Adams. Now he's kicking ass in "Billions". The best part about all of this – Sam Rosen trying to explain "Billions" to the buffoon known as Joe Micheletti.
Oh, and while on Micheletti, after my praise for him last game, I will admit again, he wasn't bad tonight either. That said, Joe & Sam are obsessed with player ages.
After the goal from the commie, the period was slow to me. Carolina made it interesting late, but Lundqvist held them off the board.
And isn't it funny how Lundqvist was miracuoulsy healed from his mental health issues when Carolina came to town? The Carolina Hurricanes at MSG – the cure to all mental health issues. Maybe people who are thinking about transgender surgery should play the Hurricanes. It might cure them as it cured Lundqvist!
4-1 after two periods.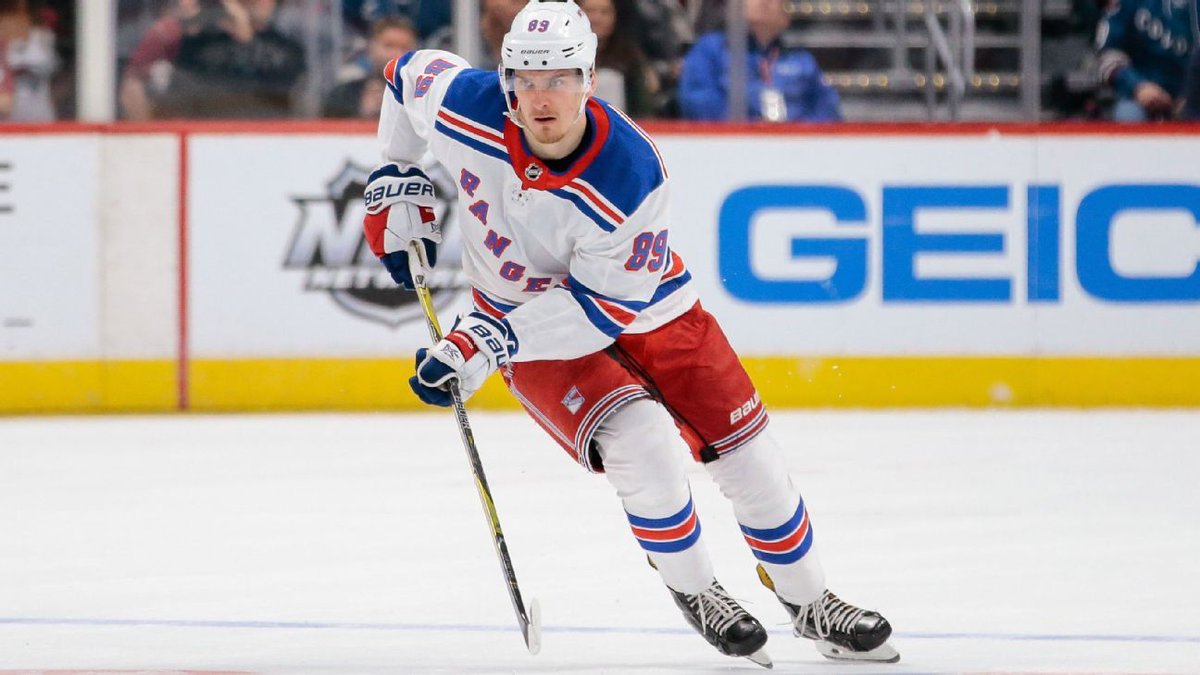 The third period was important to me, because with the Rangers holding a 4-1 lead, I wanted to see them slam the door and finish. They did just that.
The Canes took a penalty at 3:19. A minute later, 89 scored again, his second and the team's third PPG of the night. 5-1, good guys.
At 5-1, it was all about the clock expiring. However, with under ten minutes to go, Saku Maenalanen got some bullshit goal off a deflection and a screen – and that's me saying that. 5-2, good guys.
Just a tad over a minute later, on a 4 vs 2, after it looked like the Rangers were gonna louse it up, TDA, the fourth man in the mix, barrelled into the action and beat McElhinney. 6-2, good guys. You want to talk about a guy playing for his roster spot, a job in the NHL and his career? That's TDA, who had a remarkable game tonight.
Oh and with TDA's goal, we had this stat:
Pavel Buchnevich, Mika Zibanejad and Tony DeAngelo each scored 2 goals for the Rangers tonight, the first time the Rangers have had three multi-goal scorers in a game since December 22, 1996 (Mark Messier, Alex Kovalev, Niklas Sundstrom). pic.twitter.com/ZlPgjevXGv

— ESPN Stats & Info (@ESPNStatsInfo) January 16, 2019
The Rangers and Lundqvist held it down and the 6-2 score was your final. A much needed win for both Lundqvist, Quinn and the Rangers.
This was a great all around team win tonight, from the coaches to the goalies to the defense to the forwards.
Now, here's something that may piss you off more than my rant on transgenders – Georgiev should start Thursday vs the crappy Blackhawks.
Seriously – the majority of Georgiev starts are against playoff bound teams, while the majority of Lundqvist starts are the opposite. Who are we trying to develop here? While Lundqvist had a good game tonight, let him have that, rest and be ready for the playoff bound Bruins on Saturday. Let Georgiev get what will hopefully be a confidence boosting game, in the Blackhawks.
It's time to see what we have with Georgiev and he needs to play more, especially with the playoffs being a pipe dream.
As far as when you'll see me next, I'm 50/50 on attending the Shattenkirk charity event tomorrow. If I go to that, I'll put up a blog about it. If not, see you Thursday night after Chicago.
As always, thanks for reading and…
"LET'S GO RANGERS!"
Sean McCaffrey
BULLSMC@aol.com
@NYCTHEMIC on tweeter