Greetings and salutations everyone and welcome to another blog here on BlueCollarBlueShirts.com. Bring on the Bruins.
The Rangers, fresh off of another embarrassing loss to another bottom-of-the-barrel team of the league (Montreal), rebounded on Monday night in Columbus, where behind goals from Mika Zibanejad, Barclay Goodrow and Vitali Kravtsov – Gallant's Gang handled business – and as they should have done.
While the Rangers did accomplish their main objective, and really, that is the lede story tonight; a lot of the negativity that has plagued the team was on display again during this contest, including the following:
— Alexis Lafreniere can't buy a goal to save his life. And yep, he gets this following treatment too, as I use his name in one of my often recycled quotes:
"Even if Lafreniere had a fistful of $100 bills in his hands, he still couldn't score in a 1800s whorehouse!"
— I don't want to rehash everything about Lafreniere, because after all, you can just read all of the blogs that have been posted on this site over the past month or so (or just read last night's here: https://bluecollarblueshirts.com/11523/ ); but needless to say – if you thought that Trocheck was previously snake-bit this season, following his 101 paint chips off of the iron – then look no further to Lafreniere as the most-poisoned Ranger.
And just like a snake, Lafreniere is obviously rattled too.
— Between being robbed, missing empty nets, and now taking bad penalties – Lafreniere remains as an all-out mess – and has done nothing but hurt himself during this most recent audition on Gallant's top line – and on the team's first power-play unit too.
— Speaking of the top power-play unit; this quintet upped their scoreless streak tonight, as they are now 0-16 in their last sixteen tries. When it comes to both power-play units combined, a second unit Barclay Goodrow power-play goal snapped what would've been an 0-fer their last sixteen tries – and a five-game power-play drought too.
— So duh – the powerless play needs major improvement.
— Artemi Panarin, the most polarizing player on the team, where even the word "compiler" has been associated with his name; the $11.6M man, against the worst team in the East, couldn't score a goal – much less hit the net.
On no less than six separate occasions, "The Breadman" failed to find the "Bread Basket," and in turn, finished tonight's match with zero shots on goal.
— In what seems like a never-ending trend; once again, the Rangers allowed another bad team to hang in there all game. Rather than blowing a bad team away, the Blue Jackets, who looked dead-and-buried after forty minutes, then played their most inspired period during the final frame. It wasn't until the final horn where you could exhale.
— However, and as opposed to previous times this season when this had occurred; at least the Rangers may have had several excuses tonight – their recent bouts with both the flu and diarrhea – and the fact that this was the second game of a back-to-back too, where a flight was also required.
— And while this doesn't mean as much as the items that have preceded it; the Rangers, now with 45 games played under their belts, only have one shutout this season.
For the second time in as many games played, a major defensive lapse prevented tonight's starter, Jaroslav Halak, from finishing this game with his first no-no as a Ranger – and what felt like complete deja vu from his previous start from eleven days ago (4-1 win in Montreal).
That all said, and maybe in a act of hypocrisy from yours truly too (as I do frequently claim to have a glass half-full perspective); admittedly, I'm talking about the negative stuff first, rather than talking about the positive things that we saw on Monday.
Let's get into them.
---
Among the positivity, from both a team and individual perspectives, the following:
— Mika Zibanejad scored his 20th goal of the season tonight. For a team that needs their FAT CATS to show up; Zibanejad, who now has eight straight seasons of 20+ goals (six of them as a Ranger), kicked off the scoring. And perhaps if the Rangers didn't tire out a bit – then maybe DJ Mika would've finished this game with the game-winning goal.
— Kaapo Kakko, hands-down, the team's best right-winger, continues to shine on the top line. He picked up two assists tonight – the sixth multi-point game of his career. And despite no matter how bad anyone wants to see it – the idea of the "KID LINE" has to be considered as dead-and-buried. You just can't waste Kakko on that line anymore.
— Barclay Goodrow, the team's best jack-of-all-trades/Swiss Army Knife player, continues to enjoy another excellent season; where following his first year in New York, the 2021-22 campaign, where he set career-highs in goals, assists and points – he's now on pace to break all of these career-highs this season.
— Vitali KravtSOFT, at least for one game, shed those four letters from his surname tonight.
In what I considered to be the best goal of his career (not that I have many to choose from); during the second period, Kravtsov drove to the net and finished Columbus net-minder, Elvis Merzlikins, right from the goaltender's paint. This wound up being the insurance goal, that at the time, no one thought would have been needed – but by the end of the game – this gave the Rangers some breathing room.
— Ryan Lindgren, who remains held together by duct tape, glue and spit; continued his role as the team's "ULTIMATE WARRIOR," where during the final seconds of regulation, he made three consecutive blocks and didn't allow the Blue Jackets to come off of their life-support machine.
— Gerard Gallant, who did a little line-up tweaking tonight (he flip-flopped second line Kravtsov to the third line, in exchange for Jimmy Vesey), was rewarded again. As noted, Kravtsov scored, while Vesey, as usual, was strong defensively.
— The Rangers' newest fourth line combination, Sammy Blais, Jake Leschysyhn and Jonny Brodzinski, all played well too, where really, until Zibanejad scored his goal, this line produced the most offense for the team. That said, and much like the first-line Lafreniere; Brodzinski's daily bouts with bone-headed penalties remain.
— Jaroslav Halak, who if you can recall, many idiots who currently reside in Rangerstown, USA (including the worthless Sieve Vagistat) wanted off of this team – is now 5-0 during his past five starts. While I don't mean to pat myself on the back here – as stated during Halak's losing streak, and as I'm repeating here now – he never got goal support. Now that the team is scoring more than one goal a game for him – he's picking up wins left-and-right.
— And then there is K'Andre Miller, presently playing his best hockey of the season, who made Rangers' history tonight – even if it's somewhat of a "stretch" stat.
Following his assist on Goodrow's power-play goal, MILLER TIME joined both Brian Leetch and of all people, Neal Pionk, as the only three defenseman of franchise history, and at the age of under 35-years old, to record a seven consecutive game scoring streak.
I told you that stat was a "stretch," as M$G/NYR really dug into the annals of franchise history to find that stat!
Still, when you consider names such as Harry Howell, Doug Harvey, Brad Park, Ron Greschner, James Patrick, Sergei Zubov and oh yeah – that Adam Fox guy too – it is a nice and neat little footnote for #79.
— Last but not least (and yes, as Joe L. loves to hear about – I do have that damn 5AM train to catch on Tuesday morning); this was another team-wide win – that is – only if you consider Lafreniere as a contributor of the team.
Boom.
Let's now get into the quick pregame news & notes, followed by tonight's GAME REVIEW.
---
Since the Rangers played last night, the team held an optional practice on Monday morning in Columbus, where only the spares participated.
However, and surprisingly enough, Jaroslav Halak also played around with Libor Hajek and Ryan Carpenter, which at the time, led many to assume that CZAR IGOR would be receiving his second back-to-back start of the season.
However, come 5PM, during Gallant's daily "TURK TALK," the head coach announced that "THE HALAKNESS MONSTER" would get the nod. With hindsight – the extra work sure paid off for the back-up goaltender tonight.
In addition, Double G also stated that the same line-up that had played on Sunday would play on Monday night, where he alluded to the fact that this was somewhat a "revenge game" (he didn't use those words verbatim) for Halak – as previously, #41 had his worst game of the season on M$G ice against these very same Blue Jackets.
As previously mentioned; while Gallant didn't say this at the time – we found out during pregame warm-ups that Vesey and Kravtsov had been flip-flopped.
Finally, Gallant also revealed that Chris Kreider, who did skate with Hajek, Carpenter and Halak on Monday morning, was almost ready to return, but tonight wasn't the night just yet.
A game against Boston sounds like the perfect time for CK20's return.
Here was Monday's "TURK TALK":
---
As far as anything else from this short-and-sweet pregame chat; the head coach once again reiterated that he has no issues with Libor Hajek, but similar to Zac Jones – was waiting for someone to nab the third left defenseman spot all to himself. This was Gallant's way of praising Ben Harpur, as the head coach is currently happy with his current third LD.
Furthermore, Gallant, who spent seven years of his career in Columbus, as both an assistant and head coach, glowingly spoke of the city and mentioned that he still has friends in town.
---
Here was Monday's late matinee line-up:
FIRST LINE: Lafreniere/Mika/Kakko
SECOND LINE: Panarin/Trocheck/Vesey
THIRD LINE: Goodrow/Chytil/Kravtsov
FOURTH LINE: Blais/Leschyshyn/Brodzinski
FIRST PAIR: Lindgren/Fox
SECOND PAIR: Miller/Trouba
THIRD PAIR: Harpur/Schneider
STARTING GOALIE: THE HALAKNESS MONSTER
BACK-UP: CZAR IGOR
---
OF NOTE: Libor Hajek remained a healthy scratch for the fifteenth consecutive game and where he was joined by Ryan Carpenter in the press box for the second night within a time-span of 48-hours.
---
BOX SCORE time.
The following graphics and information come from ESPN.com:
SCORING:
PENALTIES:
TEAM STATS:
GOALIES:
| | | | | | | | | | | |
| --- | --- | --- | --- | --- | --- | --- | --- | --- | --- | --- |
| SA | GA | SV | SV% | ESSV | PPSV | SHSV | SOSA | SOS | TOI | PIM |
| 33 | 3 | 30 | .909 | 25 | 3 | 2 | 0 | 0 | 56:54 | 0 |
| | | | | | | | | | | |
| --- | --- | --- | --- | --- | --- | --- | --- | --- | --- | --- |
| SA | GA | SV | SV% | ESSV | PPSV | SHSV | SOSA | SOS | TOI | PIM |
| 25 | 1 | 24 | .960 | 19 | 5 | 0 | 0 | 0 | 60:00 | 0 |
---
Come 6:30PM, and while watching the Devils vs Sharks game at the time; I tuned into M$GN.
Once I saw the worst analyst in hockey today, Sieve Vagistat, all by his lonesome, I quickly lunged for my remote.
However, before I could leave the channel, I heard Vagistat say these words, "if I could take a pole…"
<CLICK>
As Sam Rosen has mentioned during the last two broadcasts; "PRIDE NIGHT" is coming up soon.
(Settle down, it's a joke. Sorry if you don't like my Artie Lange inspired humor – then again – maybe I don't care!)
(And listening to Sam struggling to rattle off "LGBTQIA?!" has been humorous – just like any other "ROSENISM" – and there were plenty of those tonight too – and as we'll soon get into!)
Speaking of the seven-foot doof with the bad CVS hair-dye; following my Rangers/Canadiens GAME REVIEW from Sunday night, I received the following response from Ray D., a long-time Habs' supporter:
"Watched the game on the Rangers' MSG network, some idiot (Steve Valiquette) is a supposed analyst for them. He was making a bunch of belittling remarks about Les Habs. Saying things like they had no chance against the Rangers and Montreal was a "bad" team (they have played some bad games but are not a bad team). During the 1st intermission Valiquette said that the Rangers had too much skill to lose to Montreal (he forgot to mention heart). Anyway he was totally disgusting in his views. I remember him when he played Junior for Burlington, only reason he played was because at 6'6" he covered a great deal of the net."
In other words, it's not just me, you or any other Ranger fan – people north of the border can't stand Vagistat either!
---
Come 7PM, now returned to M$GN, and following another Lundqvist "WE ARE ALL CAESERS, BET YOUR LIFE SAVINGS ON THIS GAME" commercial (I wonder if he gives this advice to his children?); the two Blue Jacket boosters, Sam Rosen and Joe Micheletti, did their spiel – where they did all of their usual reverse curses and juju jinxes for the Rangers' opponent.
"OH JOE, PATRICK LAINE JOE! HE'S HAVING A BAD SEASON JOE!"
"SAM, THE FABULOUS JOHNNY GAUDREAU IS WITHOUT A POWER-PLAY GOAL ALL SEASON!"
"OH JOE, COLUMBUS PRETTY MUCH SUCKS, BUT THEY WORK HARD JOE!"
And I think you get the rest.
However, our favorite befuddled duo did come up with two items of interest.
Sam stated the obvious – the Rangers miss Chris Kreider – and the sooner he gets back, the better.
Micheletti then reported that Filip Chytil had been playing with wrong sticks all season, where the lay of his blade was off and never flush with the ice. Micheletti then said that Chytil has found new twigs, where the blades are now flush with the ice, which in theory, means that the Czech wouldn't fan on anymore shots.
True to form – Chytil later whiffed on a wide-open shot tonight.
These two never fail!
GAME REVIEW time.
---
FIRST PERIOD:
As a generality, the first forty minutes of this game were owned by the Rangers.
Not only did the Blue Jackets finish with only four shots on goal during this period (and eight SOG during the second); but during each period, it took a long time for the home team to record their first SOG.
Of course, the Rangers being the Rangers, then allowed CBJ to run buck-wild during the third period – the Rangers' way!
As stated earlier when I was gushing about the positivity from this game; the Rangers, both individually and as a team (sans Lafreniere), were rolling.
Elvis Merzlikins, who entered this game with a 5-11 record, a .857 save percentage and a GAA of 4.67; actually saw his latter two statistics improve following this game – where yep – it was because of the Blueshirts' final twenty minutes.
That said, for the first forty minutes – he was challenged – and early and often.
After an opening save on Schneider (1:50 mark); Elvis was then caught off-guard by Chytil (2:40 mark), but made the save.
Following these two saves, the Rangers' third line remained on the ice. They soon changed for the fourth line. In total, the Rangers spent nearly three minutes on the attack here, where CBJ defenseman, Erik Gudbranson, was absolutely spent, following his shift of 3:14.
And that's how it went, as the Rangers should have paid rent during this time, because they spent nearly forty minutes living in Columbus' d-zone.
Of course, Some Things Never Change Part One: Following another bad turnover from Lafreniere and another patented Panarin cross-ice pass to nowhere; at the 4:54 mark, the center who The Breadman has no chemistry with, Vinny Trocheck, slashed Jack Roslovic as the Blue Jacket was streaking towards Halak's net.
Of course, Some Things Never Change Part Two: Right away, Rosen went into his reverse curse rolodex, and told us that JOHNNY HOCKEY is without a power-play goal this season.
Some Things Do Change Part I: The Rangers' penalty kill, after affording some power-play goals as of late, were phenomenal here – and didn't allow Columbus to register a shot on goal. Furthermore, CBJ were still looking to challenge Halak for the first time too.
Some Things Do Change Part II: Instead of JOHNNY HOCKEY from Columbus scoring, JONNY HOCKEY, from New York, almost did – but Elvis denied the Hartford captain, on a play where it looked like Brodzinksi was also slashed (no call).
In another example of "when you're hot, you're hot; when you're not, you're not;" the two players that most personify this adage, Lafreniere and Panarin, failed to produce a goal once the team returned to full-strength.
On this play, Lafreniere made a perfect pass to the slot, but on his first of six separate occasions; Panarin aimed for the cannon inside of the arena at the 100s level, rather than at the net on the ice level.
This should've been a Breadman goal – and a much needed point (assist) for the 2020 first-overall pick too.
At the 7:50 mark, Mathieu Olivier boarded Ryan Lindgren at the corner boards to the right of Halak.
I thought this could've been assessed as a five-minute major, but of course, I am biased too.
This dangerous infraction forced Lindgren to Jim Ramsey's table in the Rangers' locker room, which tells you how bad this dirty hit truly was – as #55 never leaves the bench unless it's something serious.
However, Ryan Lindgren, noted HOCKEY PLAYER, would later return with 3:00 remaining in regulation.
Again – HOCKEY PLAYER.
This power-play was pretty shitty, and by the end of it, the Rangers were now without a power-play goal in their last twelve tries – and during a stretch of four plus games too.
To close out these two minutes of nothingness; Panarin, while wide-open, stalled, hesitated and then shot wide – where to his credit, Joe Micheletti then went bonkers in his criticism of #10's frequent delays with shooting the puck – and missing the net too.
This latest Panarin misfire also led to CBJ's first SOG of the contest and with only 9:51 remaining; as following the miss – CBJ went on an odd-man rush, with the released-from-the-box Olivier leading the way – which then led to Halak's first save.
Down to 8:10 remaining, and with the bottom six out-performing the top six; the newest Ranger, Leschyshyn, was hooked by Nick Blankenburg.
Just nine seconds into their second power-play – Lafreniere hooked Gudbranson following the face-off in the Rangers' o-zone.
Micheletti was irate about this – and so was I.
Needless to say, this was a stupid penalty – again, of the o-zone variety – and one that quickly negated the Rangers' man-advantage.
However, now with 1:51 of foreplay to be played; just 39 seconds following Lafreniere's latest loss against hockey IQ, this happened:
MIKA! MIKA!!

Rangers lead the Jackets 1-0 pic.twitter.com/UpJyzKPsXf

— Rangers on MSG (@RangersMSGN) January 17, 2023
---
1-0, GOOD GUYS, as Fox got the puck to Kakko, the Finn then made a deft pass that sprung Mika loose – and boom – following a rattle job around the iron – the puck went in – a much needed opening goal for the Blueshirts.
And isn't it amazing Suzyn, that just seconds after Lafreniere was sent to the box, thus removed from this line – Kakko and Mika hooked up for a goal?
I know my pal and reader Doug I. has accused me of making Lafreniere my new "whipping boy;" but as stated to him – I take no joy in this – I'm just stating the truth, and above all else – I'm trying to mimic Rosen's success with the "reverse curses" – and get Lafreniere going!
However, Rosen has been doing this for a long time – and has been much more successful than me with these juju jinxes. He's also been more successful than Lafreniere too! (HEYO – shout out to Johnny Carson!)
Following Mika's four-vs-four goal; the second line came on and I think Panarin was aiming for Sam Rosen's toupee – rather than at the vacated net afforded to him by Elvis.
As the foreplay wound down; Elvis made a good stop on a Fox-to-Miller try. Right after that, and now just one second remaining on their brief nine second power-play – Halak robbed Laine. This was pretty impressive, because Halak could've had a few beers, chowed down on some hotdogs and then blow some farts afterwards, during this anemic period for the home team.
As repeated a lot tonight, as I really want to hammer this point home – the fourth line continued to play strong – again, very impressive since they've never played together before.
As Lindgren returned to the game, which deserved high praise (which he received) from Sam & Joe; with 2:10 remaining, Goodrow drew Kirill "Not The Thrill" Marchenko for interference.
For good measure – Goodrow then scored the power-play goal on the power-play that he created:
IT'S A POWER PLAY GOALLLL!!

GOODROW makes it 2-0 pic.twitter.com/IZdmhFLx5n

— Rangers on MSG (@RangersMSGN) January 17, 2023
---
2-0, GOOD GUYS, and with just 58 seconds remaining in the period!
Kakko picked up his second assist here; but in my eyes, this was all Miller and Goodrow.
As the first power-play unit failed again (Lafreniere went wide, Mika hit a post, Micheletti pulled his remaining hairs on his forehead out); the second unit came on – where of note – Miller – and not Trouba – is getting more ice time here. This has worked out to say the least.
Miller, from dead center at the blue line, fired a shot from the point, which then led to Goodrow's tip/deflection job.
A pure skilled goal, as you know that every player in the league practices these tips/deflections.
For as strong as the Rangers had played, it wasn't until the latter stages where they were rewarded with goals on the scoreboard.
2-0, good guys, after twenty. Here's what I said at the time:
2-0, GOOD GUYS, after 20. 1P Thoughts:
— Really impressed with the fourth line.
— Leave it to Goodrow to snap the PP schneid.
— Lindgren is a warrior.
— Halak not challenged much, but good when needed.
— SOG 14-4, Hits 5-4 #NYR; FOs 11-7 CBJ
— Poor Lafreniere.
LGR!

— BlueCollarBlueShirts (@NYCTheMiC) January 17, 2023
---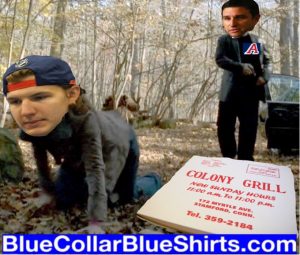 SECOND PERIOD:
Following our daily inquisition of, "SECOND PERIOD, WHAT DO YOU LOOK FOR HERE JOE?"; Rosen then informed us that Goodrow had scored his first playoff goal in his 455th career game.
That's pretty impressive. After all, how many players score playoff goals during the regular season?
Of course, Rosen meant that this was Goodrow's first PPG – and not a playoff goal.
Bless Sam's heart.
Again, and in the interest of saving time here (I hate that 5AM train); this period was all Rangers.
At the 5:30 mark, Elvis, whose numbers resemble the toilet that "The King" died on; came up with a pretty good save, when he denied Lindgren, after being set-up by Fox, from scoring his first goal of the season.
Seriously, the Rangers just imposed their will on the Blue Jackets – but it was still only a two-goal game – and we know how that goes for our favorite team: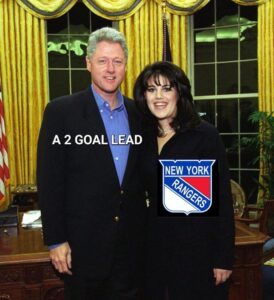 ---
Down to 12:39 remaining, and with Columbus still seeking their first SOG of the period; Kuraly hooked Chytil.
Just sixteen seconds in, two things happened:
One – Lafreniere was absolutely robbed by Elvis. I mean, you have to feel bad for the guy.
Two – after pleading for Rosen to do this for the past week on this site – the HOF announcer finally waved his magic wand and did his voodoo – and REVERSE CURSED Lafreniere, when he said, "OH JOE, LAFRENIERE HASN'T SCORED A GOAL IN 25 GAMES JOE!"
Sadly, not even Rosen's black magic could help Lafreniere. He remains without a goal since December 7th.
End result? The PP1 unit was now 0-fer their last sixteen, and for good measure, this is when Chytil, with his new blade, absolutely whiffed at a vacated net, following a perfect one-timed pass from Miller.
This should've been another goal for the PP2 unit, a unit that after not scoring at all for 100+ games, has been scoring in bunches lately.
Just as the ten-minute mark was set to hit – Halak made his first save of the period – his fifth overall.
Down to 8:13 remaining, Chytil, with his new blade, kept the blade on ice this time and found Kravtsov for #74's best goal of his career:
anddd now it's 3-0!

Kravtsov tips it in!!! pic.twitter.com/CqYlj0KzDK

— Rangers on MSG (@RangersMSGN) January 17, 2023
---
3-0, GOOD GUYS!
These are the goals that Gallant wants. It's also a goal that Kravtsov should keep seeking, and maybe he will – especially since he had success here when crashing the net.
And this too – this goal doesn't happen without Goodrow, who made a play near the side boards and got the puck to Chytil, which then set up this sweet looking goal.
Of course, this assist was later ignored by both the Rangers' beat reporters, and in a way, John Giannone too.
(During the second intermission segment, Giannone's first question to Goodrow, who now had a two-point game, and currently on pace for a career-high season in all three scoring categories? This one: "What did you think about Kravtsov's goal and can he keep improving?")
No word if Giannone has yet to pay his dues to the KULT OF KRAVTSOV.
Six minutes to go, and with the arena in Columbus sounding as somber as a vet's office whenever you're sadly forced to put down a pet (I've gone through this nearly ten times and it never gets any easier); the SOG stat read, Rangers 22 – Blue Jackets 7.
A minute later, Trouba prevented "BRUCE JENNER" (Sam really called Boone Jenner this last season) from scoring.
Following Panarin going wide again; Kravtsov was denied of his first multi-goal game of his career, as Elvis put down the peanut butter and bananas and stopped #74 with 1:05 remaining.
And then the reverse curse shit reared in its ugly head.
As Sam and Joe were going on-and-on (and to be fair – they were 100% right) about how the Rangers, now with a three-goal lead, shouldn't do anything stupid, play conservative, and march themselves to victory; Schneider was forced to stop a CBJ 3 x 2 odd-man rush.
Six seconds later (14 ticks remaining in the period), Brodzinski was boxed for slashing Rosolovic.
Then, with just five seconds left on the clock, Halak came up with another robbery save, this time on Nyqvist.
Of note – Zibanejad lost back-to-back d-zone draws during these final twenty seconds. I'd use Trocheck in these situations.
Despite some late hairiness, we remained at 3-0, GOOD GUYS, after forty minutes.
Here's what I said at the time:
3-0, GOOD GUYS, after 40. 2P Thoughts:
— Until the final 20 seconds & maybe "boring" isn't the right word, but that's what this period was. Of course, "boring" is good in this case.
— SOG 26-12 #NYR ;Hits 12-9, FOs 22-14 CBJ
— NYR PP 1-4, PP1 0-4, 0 for last 16
— Finish!

— BlueCollarBlueShirts (@NYCTheMiC) January 17, 2023
---
THIRD PERIOD:
The collapse – but at least not on the scoreboard – even if the Rangers lost this period 1-0.
With 1:21 remaining on the CBJ PP, and 19:34 in the game; the Rangers killed off the Brodzinski penalty when Kakko drew Boqvist for high-sticking.
However, just a few seconds later, it was Columbus' turn to score a foreplay goal, and as Andrew Peeke did at the 1:21 mark of period.
3-1, good guys.
This was Peeke's fourth goal of the season – which means that he's now scored 75% of his goals against the Rangers.
This goal, which broke up Halak's shutout (and my daily 4-0 bet too!), was the end result of porous defense – something that plagued the Rangers for the rest of the game.
As mentioned earlier, perhaps their recent illnesses and back-to-back was part of this.
At the five-minute mark, and with a chance to regain the three-goal lead; Trocheck set-up Panarin for a perfect one-timer look at a vacated net – but once again – Panarin missed the net. Even Micheletti threw his hands in the air and laughed about how bad Panarin was tonight.
Thirty seconds later, and what wasn't funny, is when Nyqvist seemingly had scored, but upon replay – he had smashed the post instead.
In other words, despite the Rangers dominating the majority of this game – it could've been a one-goal difference – but this puck went one inch wide.
Whew.
Right after this, Columbus had a 4 x 3 odd-man rush, but Laine flubbed the puck.
What should've been a cruise-control victory was anything but.
The rest of this period was the HALAK SHOW, where he totaled twelve saves in all – the same amount of saves he recorded in total during the first two periods.
As you were just clock-watching at this point; Halak made save-after-save. Then, with 5:20 remaining, Lafreniere got crushed, where for some reason, really woke up the previously dead crowd.
Lafreniere's misery wasn't over yet.
Down to 3:05 remaining, Elvis had left the building which then allowed CBJ to employ their 6×5 empty net attack.
Just seconds into it, Mika forced a turnover.
Rather than putting the game away; instead, Mika set up Lafreniere for an easy empty net goal. Lafreniere then shot a puck right into a Blue Jacket.
You can't make this up. When it rains it pours.
And I'm not criticizing Mika – I totally get what he was doing. I think we all do.
However, since Lafreniere failed again; Columbus then spent nearly the next two minutes attacking, where with 1:28 remaining; Halak made a save, got the freeze, and then allowed his tired skaters to change.
For whatever reason, and now following a CBJ timeout – Panarin was out there. I didn't get this move, because one, Panarin isn't a defensive forward and two, he couldn't hit the net if his life depended on it tonight.
To extend the drama, with 21.4 seconds left, Trouba interfered with Kuraly, which then gave Columbus a 6 x 4 PP to close the game.
That said, I didn't think the Rangers could blow the game at this point; but of course, if any team could blow a game under these circumstances, then it would be them!
Fortunately, that's not what happened!
What did happen was Ryan Lindgren preserving Halak's one-goal allowed game, as he made three consecutive blocks in the final seconds.
3-1, GOOD GUYS, your final – a win that was harder than it needed to be. But that's irrelevant. The only thing that matters is the WIN!
And this too – I was happy that Halak didn't get tagged for another late bullshit goal allowed too. All of his numbers improved tonight and he needed that.
Here's your favorite coach and mine, Gerard Gallant, getting peppered with non-stop questions regarding Kravtsov, and where Goodrow's name was never mentioned:
---
Like Rodney Dangerfield; Goodrow gets no respect!
And I'm sure Mollie "I Don't Give a Shit" Walker is saying, "Who's Rodney Dangerfield?"
To update a classic Dangerfield one-liner, I give you this:
"I haven't spoken to Mollie Walker in years. I didn't want to interrupt her laughing!"

I think this homage to the greatest comedian of all-time is a nice way to end tonight's manifesto.
The Rangers will host the Bruins on Thursday night.
I'll return to this site before that – after boarding this 5AM train!
LGR!
PLUGS TIME!
---
My first plug of tonight's blog – the mandatory plug for my book, "The New York Rangers Rink of Honor and the Rafters of Madison Square Garden."
As mentioned previously, the book is now available in hardcover, in paperback and in Kindle formats. To purchase a copy of the book, visit this link:
https://www.amazon.com/Rangers-Rafters-Madison-Square-Garden-ebook/dp/B09CM5N2WD
For those still looking for signed paperback versions of the book, I have re-ordered more copies. I now have a few signed copies for sale at $25 a pop (includes shipping price) through me directly. Here is all the information on that:
---
My four-volume set of books, "One Game at a Time – A Season to Remember," is a game-by-game recount of the Rangers 2021-22 campaign.
My second title as an author, "One Game at a Time – A Season to Remember," is now available in eBook, paperback and hardcover formats.
To obtain signed copies, visit: https://bluecollarblueshirts.com/onegamebook/
To purchase all four volumes on Amazon, visit: Amazon.com – "One Game at a Time."
---
The greatest volume-set of books on Rangers' history today!
"Tricks of the Trade – A Century-Long Journey Through Every Trade Made In New York Rangers' History," a four-volume set of books that meticulously covers every trade made in franchise history, is now on sale.
All four volumes of the title can be purchased on Amazon.com and are presented in three different formats – eBook, paperback and hardcover.
To purchase Volume I: Conn Smythe (1926) – Craig Patrick (1986), visit Amazon.com
To purchase Volume II: Phil Esposito (1986) – Neil Smith (2000), visit Amazon.com
To purchase Volume III: Glen Sather (2000-2015), visit Amazon.com
To purchase Volume IV: Jeff Gorton (2015) – Chris Drury (2022), visit Amazon.com
To purchase signed copies of all four volumes, visit https://bluecollarblueshirts.com/tricksofthetrade/
---
Here are my last few blogs, in case you missed them:
---
---
---
If you haven't already, subscribe to this blog for the next update:
---
Don't forget to order my new four-volume set of books, "Tricks of the Trade!"
If you don't order through me, all four volumes are now available on Amazon.com
For more details, check out: https://bluecollarblueshirts.com/tricksofthetrade/
Thanks for reading.
LET'S GO RANGERS!
Sean McCaffrey
BULLSMC@aol.com
@NYCTHEMIC on the Tweeter machine