King Plante recorded two shutouts during the Rangers miserable 1964-1965 season. On November 7th, 1964, Plante would deny the Toronto Maple Leafs on every single one of their 27 shots on goal. At the time, the Leafs were the three time defending Cup Champs. They also featured the legendary ex-Ranger, in a one Andy Bathgate, in their line-up. Photo Credit: HHOF/NHL
Greetings and salutations everyone and welcome to another blog here on BlueCollarBlueShirts.com!
For the first time during this Summer of 2019, I will be doing one of my "Delorean" blogs. For those new here or for those who forgot, a Delorean blog is essentially yours truly going back in time and pretending I'm watching the game at my current age, during that particular period of time. Along the way, I will give you news, notes, facts and opinions from that time period.
These Delorean blogs are something I try to do every summer on this site, especially in August, when current New York Ranger news is slow. These blogs are fun for me to do for several reasons. It allows me to go back in time and see players I never saw play before. As someone who loves history, both American and of the NHL variety, it allows me to see the stuff that I've read about so many times over, especially when it comes to the opposing team of the Rangers.
The purpose of these blogs are to expose a new generation of fans to the legendary names in the rich history of the New York Rangers. While I won't deny that out of the Original Six teams, the Rangers have the worst win/loss record of them all, I can also understand why the Rangers have had such a murky past.
As written about previously on this site, (check the archives for more) during the Rangers inception into the league and throughout the Original 6 era, the Rangers had the biggest disadvantage out of any Original 6 team.
For starters, teams had draft rights on any player that played within a 100 mile radius of their city. In other words, the Rangers, in New York, were the most "southern" team in the NHL. Obviously, 99.9% of the best NHL talent came from Canada, giving the Rangers a huge disadvantage in a league that didn't have a balanced drafting system. This is why teams like Montreal, Toronto and Detroit (who play a stone's throw from the United States/Canada border) dominated the league for so long. It's also why teams like Boston, Chicago and New York struggled for so long as well.
When Germany invaded Poland in September of 1939, America wasn't apt to hop right back into War. However, Canada, once subjects of England just like the United States, immediately showed support for their motherland and immediately joined the war-time efforts of the Allies. America would later join the Allies after the December 1941 bombing of Pearl Harbor.
With the North American contingent of the United States and Canada in war, many NHLers of this time traded in their hockey sticks for guns. Just like today, patriotism and a strong feeling of pride for their nation were instilled in these players. For many NHLers, serving their country was their duty and something they would not shy away from.
While obviously human life and a better world is more important than the Stanley Cup (Come on guys, it is!) no team was more affected by World War II than the New York Rangers.
The Rangers, playing in New York, had the least amount of available talent during World War II. While teams like Montreal and Toronto would lose significant names too, those teams were in a much better position to fill out their rosters because of the talent that lived in those cities.  (Of note, Conn Smythe, the then owner of the Leafs, even went to battle at the age of 45. He previously served in World War I as well.)
Things were so bad for the Rangers during World War II, that the legendary Frank Boucher, who was coaching the team at the time, came out of retirement and played during the 1943-1944 season.
For a team that won the Stanley Cup in 1940, a team that was arguably the greatest team in franchise history; in 1943, that Cup victory from 1940 felt like ages ago. That really puts things into perspective, when you look at the 54 years between 1940 and 1994!
The Rangers were just dreadful during World War II. Things didn't get any easier after World War II, as the returning players weren't the same. (As mandated by the government, any person who served was guaranteed a return to their job after receiving an honorable discharge.)
What also hurt the Rangers during this time was the fact that Madison Square Garden and their ownership put no value on the hockey team. It's kind of like today. However, at least the Rangers of the present don't have to worry about having their playoff games bumped for the circus, like the Rangers of this era.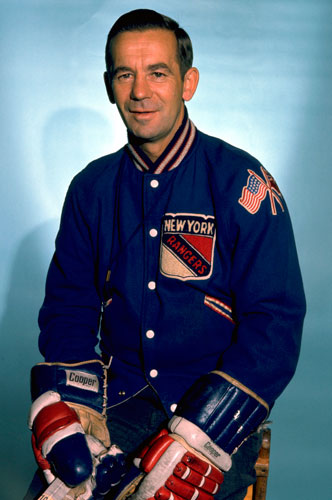 The Rangers, from the inception of their franchise until Emile Francis took over the General Manager job during the 1964-1965 season, played most of their playoff games on the road. To MSG, the circus and the profits were more important than a Stanley Cup win.
To be fair, the Rangers were horrible in the World War II and post WWII eras. However, because of the miraculous carry job of the Hart Trophy winning goalie Chuck Rayner, during the 1949-1950 season, the Rangers found themselves up three games to two in the 1950 Stanley Cup Final. However, Games 6 and 7 wouldn't be played at home in New York. Instead, citing some freaky rule from the NHL rule book that said Stanley Cup Final games couldn't be played at neutral site (Games 2 & 3 were played in Toronto, a neutral home site for NYR) Games 6 and 7 were played in Detroit. The Wings would win the Cup after a double OT GWG in Game 7. The Rangers wouldn't return to the SCF again until 1972, losing to the Orr & Esposito led Boston Bruins.
When Emile Francis was offered the general manager job of the New York Rangers in 1964, he said he would only take the job under one condition – all Ranger home playoff games would be played at MSG. The employers of Francis agreed with him and Barnum & Bailey would be put on hold during the Spring months. This would be one of the Cat's many unforgettable contributions to the New York Rangers.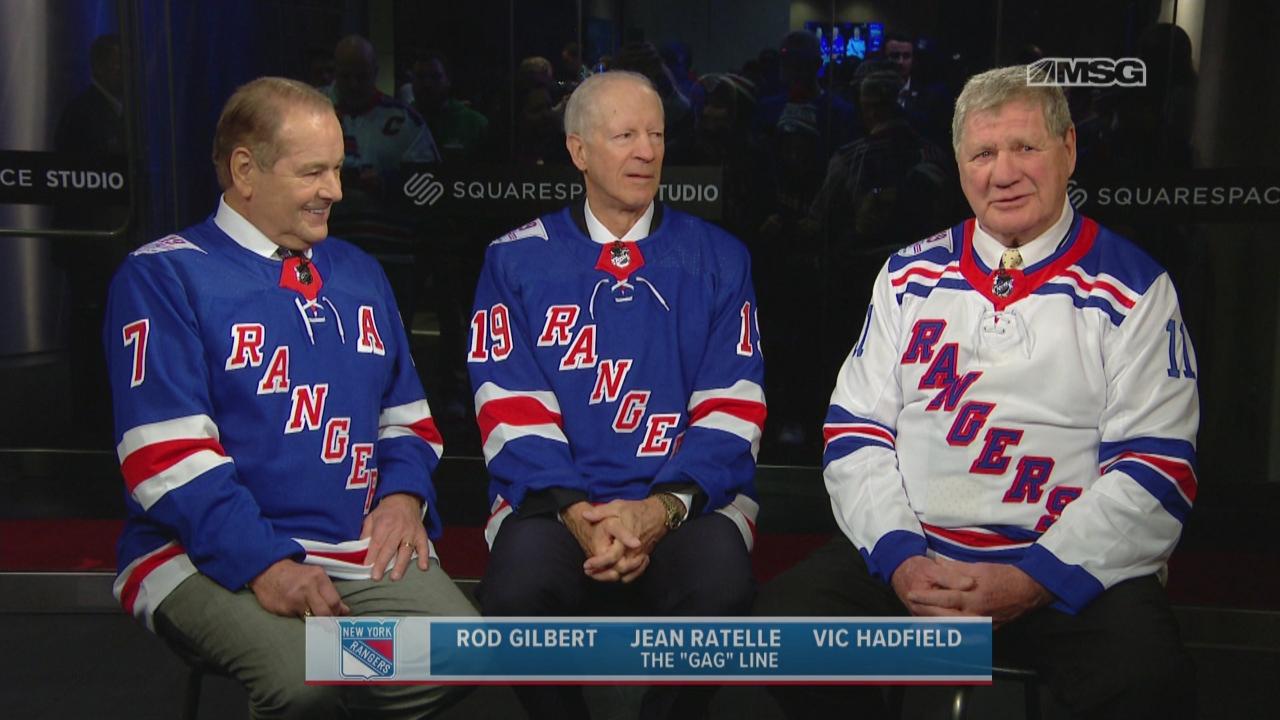 The 1963-1964 season saw Muzz Patrick as the GM of the Rangers, Red Sullivan as the Coach of the Rangers and Andy Bathgate as the captain of the New York Rangers. A year later, Muzz was out and Emile Francis was in as GM. Red Sullivan remained as the coach of the Rangers, but he would be replaced a year later by Francis himself. With Bathgate being traded at the end of the 1963-1964 season to Toronto (where he went on to win the Stanley Cup), Camille Henry would take over as the next captain of the Blueshirts. Henry himself would later be traded during the 1964-1965 season, with Bob Nevin then replacing him as Captain of the Rangers.
With the Rangers in a state of transition, (in net, the Rangers had already replaced the legendary Gump Worsley with his rival, Jacques Plante) the Rangers were forming the seeds of one of the best lines in franchise history, in the GAG line. While the GAG line would be more explosive, thus earning the "Goal-A-Game" moniker in later years, Gilbert, Ratelle and Hadfield were enduring these bad times during the season of 1964-1965. While the trio would never win the Stanley Cup, they would go on to put together monster seasons in the late 1960's and early 1970's.
At this time, before jumping into the Delorean and going back to November 7th, 1964, I would to share with you my past "Delorean" blogs:

---
---
---
---
---
---
---
---
---
---
On November 7th, 1964, the Rangers went to Toronto to play their 12th game of the 1964-1965 season. While this game was held in Canada, over in America, the country was a year removed from the JFK assassination. The country was also fighting in the unpopular Vietnam War. To make matters even worse, the country was also dealing with racial issues in the South. This was a contentious period of time in American history, which to me personally, makes it comical when people call the Donald Trump era the most contentious period of time in American history. Do your homework folks! We aren't exactly living in the times of the Civil War here!
Unlike World War II, where NHL players readily signed up to fight and serve their country, the sentiment wasn't the same during the Vietnam War, which without question, is the least popular war in American history. Canadians, which primarily made up the Rangers roster, were in no rush to serve in this war either. While Canadians did fight in the Vietnam War during this period of history, Canada was more known to harbor American"draft-dodgers" than anything else. That isn't to take away from any Canadian who served in that war, it's just what happened.
Under President LBJ, America was navigating through some rocky waters. While you really can't compare world affairs to something that boils down as a kids game for adults, the fact of the matter is that the NHL, just like other sporting leagues of this era, were an escape from reality for both children and adults alike. In the two plus hours spent at a rink watching a hockey game, for those two hours and change, fans were able to be transported to a calmer reality than the world around them.
As usual, just to give you more information from this time period, let's take a look at America in 1964. The following time capsule has been brought to you by ThePeopleHistory.com:
Cost of Living 1964
How Much things cost in 1964
Yearly Inflation Rate USA 1.28%
Year End Close Dow Jones Industrial Average 874
Average Cost of new house $13,050.00
Average Income per year $6,000.00
Gas per Gallon 30 cents
Average Cost of a new car $3,500.00
Loaf of bread 21 cents
United States Postage Stamp 5 cents
Average Monthly Rent $115.00
Ticket to the movies $1.25
For those who care about such things, a bottle of domestic beer at a bar would set you back 73 cents. A pack of Marlboros went anywhere from 25 cents to 35 cents. Of note, in 1964, Marlboro launched a huge ad campaign, which boosted the amount of smokers in America by 10%. The more you know!
---
Music wise, this is what Americans were listening to:
Billboard Top 10 Songs Week Ending November 7th, 1964
1. BABY LOVE –•– The Supremes
2. LAST KISS –•– J. Frank Wilson and the Cavaliers
3. DO WAH DIDDY DIDDY –•– Manfred Mann
4. LEADER OF THE PACK –•– The Shangri-Las
5. LET IT BE ME –•– Betty Everett and Jerry Butler
6. HAVE I THE RIGHT –•– The Honeycombs
7. COME A LITTLE BIT CLOSER –•– Jay and the Americans
8. THE DOOR IS STILL OPEN TO MY HEART –•– Dean Martin
9. CHUG-A-LUG –•– Roger Miller
10. WE'LL SING IN THE SUNSHINE –•– Gale Garnett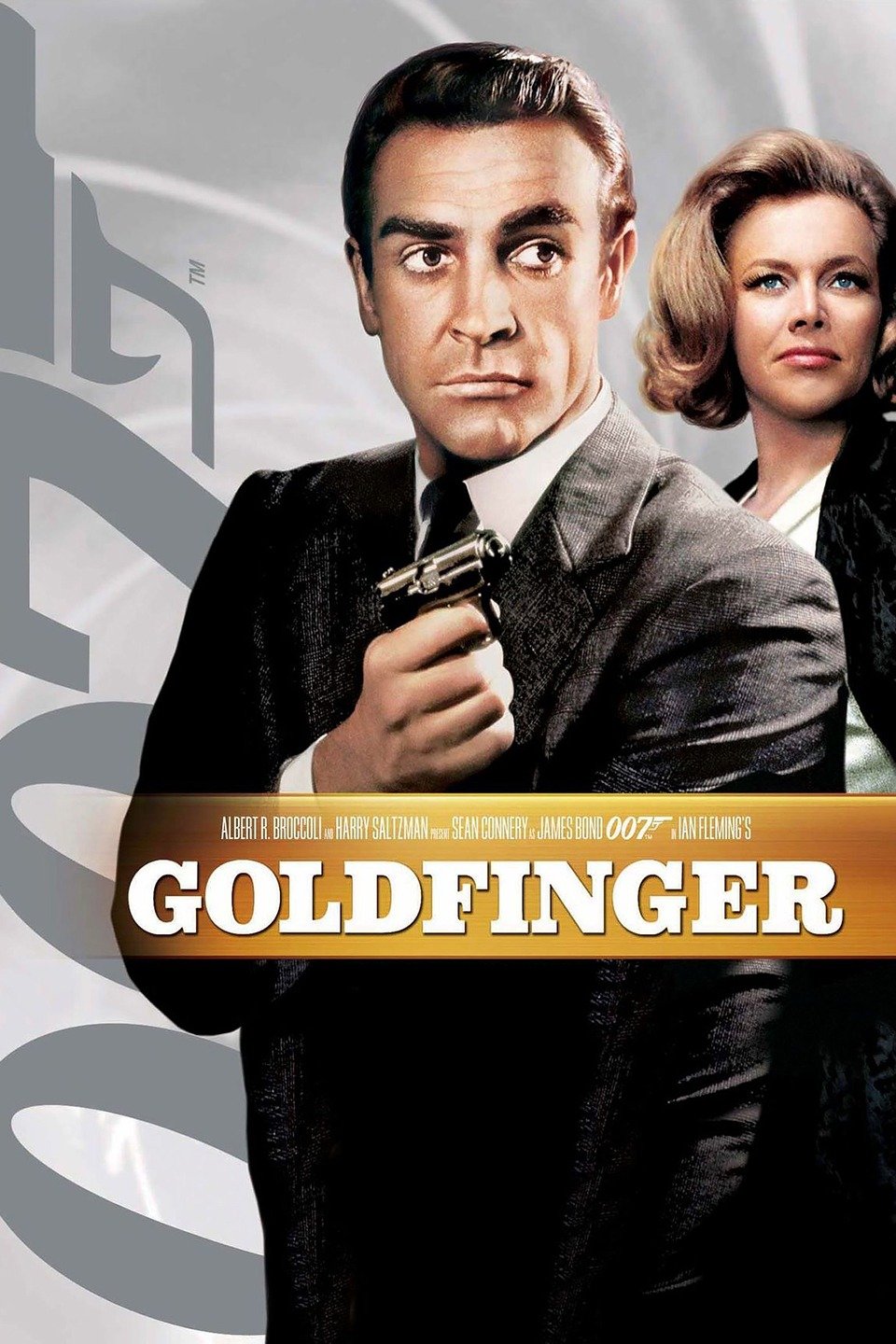 And lastly, this is what Americans were watching on the silver screen in 1964.
Top Grossing Movies of 1964 (Courtesy of Wikipedia.com):
Rank
Title
Studio
Gross
1.
My Fair Lady
Warner Bros.
$72,000,000
2.
Goldfinger
United Artists
$51,081,062
3.
Mary Poppins
Disney
$31,000,000
4.
The Carpetbaggers
Paramount
$28,409,547
5.
From Russia with Love
United Artists
$24,796,765
6.
A Fistful of Dollars
$14,500,000
7.
Father Goose
Universal
$12,500,000
8.
A Shot in the Dark
United Artists
$12,368,234
9.
A Hard Day's Night
$12,299,668
10.
The Night of the Iguana
MGM
$12,000,000
---
Entering this 1964-1965 season, the Leafs were the defending Cup Champions. In the season prior, the Rangers traded Andy Bathgate and Don McKenney to the Leafs for Dick Duff (great porn name), Rod Seiling, Arnie Brown, Bill Collins and Bob Nevin. Of the players the Rangers got back for Bathgate, Nevin was the biggest name of the bunch. He would later serve as captain of the Rangers for six seasons.
On 11/7/1964, the Rangers hadn't sniffed a Stanley Cup Final playoff game for over 14 years. They were 24 years without a Stanley Cup Championship as well. These were the real lean and mean years. From the start of America joining World War II until this date in 1964, the Rangers were the absolute worst franchise in the NHL. In a six team league, the Rangers usually found themselves at fifth or sixth place. In fact, in this 1964-1965 season, the Rangers would finish in fifth place for the third year in a row.
So now you may be asking yourself – why in the hell am I wasting my time going back to one of the worst periods, if not the worst period, in Rangers history? I've got several reasons. Let me list the easiest reason first – the game is available and for free on YouTube! Trust me, I rather watch games from 1928, 1933, 1940 or 1950, but I can't find full length games from any of these seasons anywhere. If you know where I can, feel free to spread the word!
It's just a shame, that just like the Rangers and honoring their legends themselves, the NHL does a piss-poor job in marketing their old footage. From what I've read, there are cans and cans & reels and reels of footage in the Hockey Hall of Fame. With all the money the NHL doles out on stupid stuff such as "Pride Night" (When is anyone ever excluded from attending a hockey game?) and hiring rappers to use the n-word non-stop during All-Star or Winter Classic games (See Snoop Dogg or Cee-Lo) you think they could hire someone to digitize and preserve these old gems. SAD!
While this period of time for the Rangers was horrible, it is fun to go back and see some of the great players to don the iconic sweater of the Blueshirts. As of this writing, this is the oldest full-length game I can find on the internet. Again, if you know of something older, please shoot me an email. (Contact info listed at the end of this blog.)
And lastly, before diving into this game, I wanted to mention one last thing about this 1964-1965 season. For some reason, there isn't a team photo available ANYWHERE. I checked the Google. I checked the eBay. I checked the Firefox. I checked the twitter, the snapgram, the Instabook, the Faceamazon and everything else. Zip, zilch, zero.
From what I can ascertain, with all the front office changes the Rangers had this year, perhaps they overlooked the team photo. The 1963-1964 and 1965-1966 team photos are all over the internet. Maybe the 1964-1965 team photo, like Jeffrey Epstein & countless others, had dirt on Hillary Clinton and that's why I can't find it anywhere!
As I gas up the Delorean and go to 88 miles-per-hour, here's the YouTube link of the game I'm watching, in case you want to watch it yourself or follow along here on the blog:
And now, let's enter the Delorean. As always, I'm writing the next part of this blog as if I'm my current age today (37) and living in the year 1964. Enjoy!
---
Greetings and salutations everyone and welcome to another article here on the BlueCollarBlueShirts Rangers fan club newsletter! Today, I'll be looking at the Rangers 1-0 shutout victory over the defending Stanley Cup Champions, in the Toronto Maple Leafs.
Listen, as Ranger fans, we know the deal. The Rangers stink. The Leafs are coming off three straight Stanley Cup victories, while our Rangers are always battling to not finish in sixth place. The only solace I can take in the Leafs, is that at least Bathgate finally got his Stanley Cup.
Personally, I was born on June 13th, 1927. I have been alive for every Rangers Stanley Cup win. While I can't say I remember the Cup win in 1928, as I was still in diapers, I can still remember bits and pieces of listening to the 1933 Stanley Cup Final over the radio. As a teenager, I can remember the great 1940 New York Ranger club hoisting the most coveted chalice in all of sports. What I would give to go back to those days of 1940!
As I sit here in November of 1964, it's been 24 years since the Rangers last won the Cup. Sure, we had some hope in 1950, but without KING CHUCK RAYNER, that team would look very much like this Rangers team – a fifth place squad.
That all said, after tonight's victory over the Leafs, I have some hope. While I have always made my opinions known as being a huge fan of Gump Worsley, I am warming up a bit to Jacques Plante. Tonight's shutout makes that easier to say. While Plante does have all the hardware, I do have a hard time connecting to him, as a fan, as I did with the Gumper.
And how come I have this strange feeling, that just like Bathgate, that Worsley will go on to win the Cup too some day, while our beloved Blueshirts listen to the Stanley Cup Final games from home? To quote President LBJ, "SAD!"
At this time, let me share you the box score of this game, courtesy of the N.H.L.: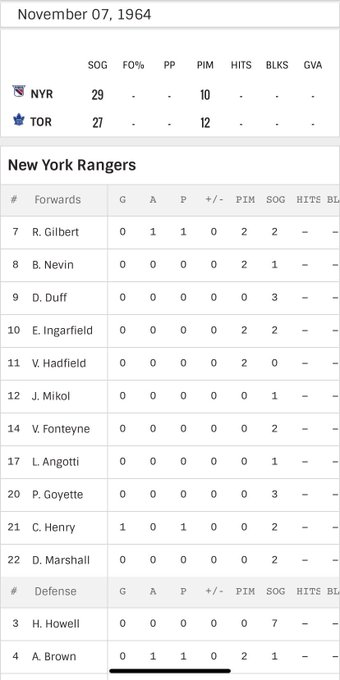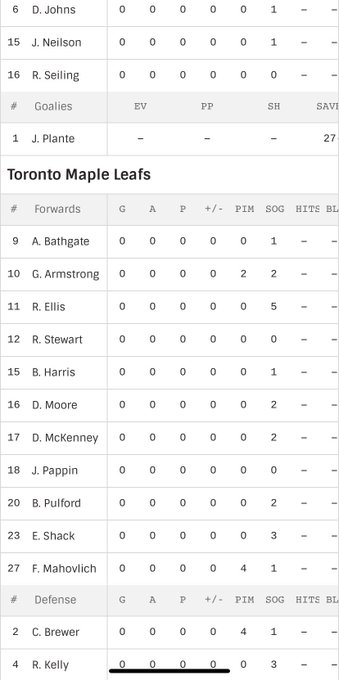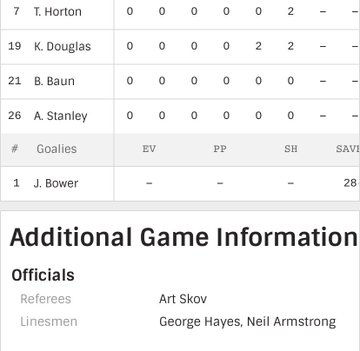 In tonight's 1-0 victory over the Leafs, we saw a true goalie battle, as two future Hall of Famer netminders plied their craft. Jacques Plante, now with the Rangers but with a ton of hardware from his Montreal days, bested Johnny Bower, once with the Rangers and now with a ton of hardware because of his time with the Leafs. I know the Rangers are at a major disadvantage when compared to the Canadian teams, but damn, I just wish the Rangers had a team like the Leafs or Habs, just once. At least I got the Yankees! (And I bet Yogi Berra takes them back to the World Series this year too!)
As a result of this win tonight, the Rangers now have a 4-5-3 record. One more win to .500! It's still early in the season and we've seen this script before, but it would be nice if the Rangers could rip off a 5 game win streak. After all, more impossible things have been done in this league before!
After stopping at the market earlier in the afternoon, I picked up some beers in preparation for this game. I don't know how this happened, but somehow, I got the Toronto Maple Leaf broadcast on my television. Instead of hearing Win Elliot and Bob Wolff on WPIX, I got the son of Foster Hewitt, in Bob Hewitt. I guess Foster was covering something else during this match. I guess it was cool to see something different and something from a different country. One of these days, I'll take the train to Toronto and visit the haunted halls of the Maple Leaf Gardens, which is where this game was played.
I must also mention here, before diving into the game portion of tonight's recap, is that unlike here in the States, the broadcast opened up with a picture of the Queen of England. You don't see that every day.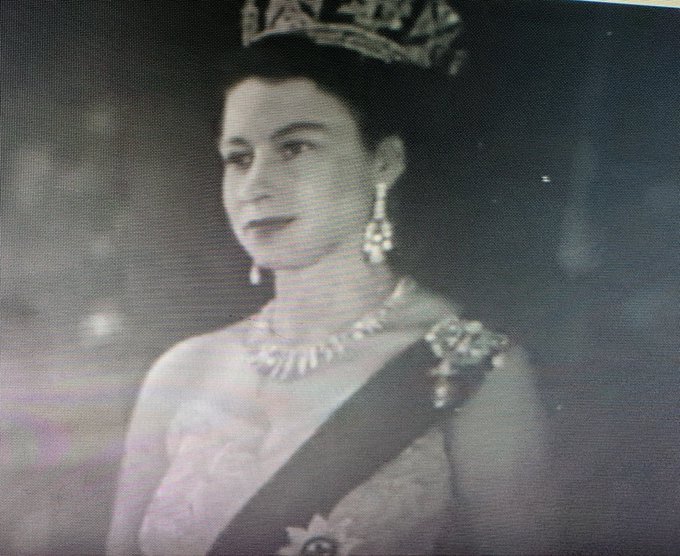 Not being at the game, it's tough to make out who's who on this small black & white TV. however, on the wings, it looked like Bob Nevin and Dickie Moore lined up against each other, with Earl Ingarfield & Don McKenney taking the opening faceoff.
In the opening action, Johnny Bower came out of the net, but was able to stop a rush that was initially started by Harry Howell.
In the opening two minutes, Bob Nevin took a penalty, putting the ferocious Maple Leaf powerplay unit to work.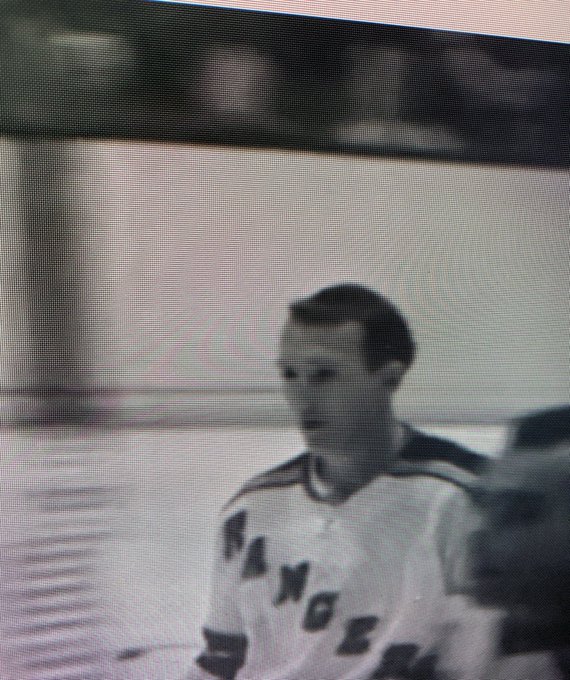 Have I mentioned before how much I hate that you can't see the clock on television? Makes me miss being at the rink.
On the Leafs PP, I gotta say, it's so odd seeing Andy Bathgate as a driving force, as he played alongside these Leaf greats Red Kelly (I know, I know, he's associated with Detroit more) and Frank Mahovlich. The Rangers PK, not exactly the best in the league, did a good job to keep Toronto off the board here, coupled in with some timely saves from Jacques Plante.
So odd to see Bathgate as a Leaf. And what a save by KING PLANTE! @StanFischler #nyr pic.twitter.com/FEsmGxJiw5

— BlueCollarBlueShirts (@NYCTheMiC) August 13, 2019
After killing off the Leafs PP, George Armstrong took a penalty of his own, to put the league's worst PP on the ice. The Rangers did nothing with this two minute opportunity.
On defense for the Leafs, I can't say enough about Carl Brewer, who was constantly in the mix and breaking up several Ranger attacks.
At around the 6:00 mark, Jacques Plante put on a show, making several key saves. While we wouldn't know it until the end of the game, Plante was in the zone all night.
After some rough stuff after these Plante saves, Mahovlich took a two minute penalty for interference at 6:51 of the first period. Once again, the Rangers didn't do anything with the PP, and were now 0-2 in the game. In fact, Stewart got off a good shot at Plante during the Leaf PK.
Just a suggestion – when watching these games on TV, it would be cool if the players had their names on the back of their jerseys. It would make it easier to see who's who while watching on television, especially in regards to the Rangers opponent.
After the Rangers PP concluded, Bower shrugged off a nice shot from Rod Gilbert. This kid has something. Unfortunately, after the save from Bower, Gilbert took a slashing penalty at 9:53, thus putting the Leafs on the PP. Fortunately, the Rangers PK came up big again and both teams were now 0-2 on their respective PP's. Let's take a look at one of Plante's saves on this PK:
King Plante #nyr pic.twitter.com/S4e3MNCWCe

— BlueCollarBlueShirts (@NYCTheMiC) August 13, 2019
Like Worsley and Rayner before the Gump, Plante must be thinking that the Rangers give him the most trouble in the NHL! I know Plante had a rough exit out of Montreal, but he must miss that C & H on his chest with this Rangers team.
After the Toronto PP, Plante got a fortunate break when a Red Kelly shot found the wrong side of the iron, at least the wrong side of the iron if you support the Maple Leaf crest.
Oh, and should you be in Toronto on 11/22, there will be some Championship Rodeo taking place at the Maple Leaf Gardens. At least the rodeo doesn't replace Leaf home playoff games!
(2019 Sean checking in here: what I've found most impressive about this game was how fast these guys move. I was expecting a slower product, but that isn't the case for this era. It's not today's NHL of course, but these guys could still move and haul ass.)
At 14:45, Carl Brewer took a penalty giving the Rangers their third PP of the game. Stop me if you heard this before – the Rangers didn't score on the PP. Here's some footage of Bower stopping NYR:
Bower stops a #nyr pp from 11/7/64 pic.twitter.com/0dZOYEldSM

— BlueCollarBlueShirts (@NYCTheMiC) August 13, 2019
At 18:17, Arnie Brown took a penalty. Just like the Rangers, the Leafs would go scoreless on this PP, making both teams 0-3 on their PP at this point in the game.
With under a minute to go in the first period, Kelly went high on Plante. Close, but no cigar. Plante would then stop Dickie Moore. Plante was earning his paycheck tonight.
Timmy Horton, who I've been told is a coffee addict, tried to set up a scoring chance late into the Toronto PP in the first period. Once again, the Rangers were able to hold the Leafs off the board.
At the end of the bell and at the end of 20 minutes, Leafs 0, Rangers 0.
As we started off the second period, Hewitt made sure to remind us that the Leafs had a sold out crowd. Shocking.
With the Leafs PP over, the Rangers continued their dump and chase attack. I have to say it again – seeing Bathgate stop the Rangers was a surreal sight. At 1:30 into the period, Johnny Bower split the legs and made a big save on Marshall. That had to hurt.
At about the four minute mark, Red Kelly set up some Leafs offense, but once again, Plante was there to negate it. On the ensuing faceoff, the Leafs would have a sustained attack, only for Howell to make the clear.
During a Rangers attack, Vic Hadfield took a hooking penalty. The Leafs would go on their fourth PP of the game. Once again, the Rangers and Plante denied the Leafs PP attack. A big play saw Howell block a shot, with Marshall lifting the puck out of the zone.
Despite committing a penalty earlier in the game, Arnie Brown had a strong game here. His best work was featured during the Rangers penalty kills.
Later on in the second period, with the teams at even strength, Plante made a huge save on Red Kelly. Take a look:
Two hall of famers – Plante stops Kelly #nyr pic.twitter.com/BM9WogkE8M

— BlueCollarBlueShirts (@NYCTheMiC) August 13, 2019
Right after this save, Camille Henry made a long two line pass to Rod Gilbert, who bombed one off the post. Like me after Mexican food – what a rip.
This broadcast didn't feature many commercials. In fact, the first ad I saw was this:
Oh baby @Molson_Canadian #nyr #tmleafs pic.twitter.com/OhmraGFCB5

— BlueCollarBlueShirts (@NYCTheMiC) August 13, 2019
Do you know that I'm 37 years old and have never seen a Molson beer in the United States? Put "downing a cold Molson beer" on my bucket list.
Right after the commercial break, Bower made a big stop on Ingarfield:
Wow , look at Ingarfield on Bower #nyr pic.twitter.com/KkWKMzgqhM

— BlueCollarBlueShirts (@NYCTheMiC) August 13, 2019
At the 9:30 mark, the maskless Bower made another huge stop. With nearly the game half-played, we saw both Bower and Plante stand on their heads. That would remain true throughout the match.
With 9:02 left in the period, Plante made another big stop:
Plante continuing to make the stops #nyr pic.twitter.com/vY3C5k7Fpz

— BlueCollarBlueShirts (@NYCTheMiC) August 13, 2019
In perhaps some foreshadowing or being lucky, Hewitt talked about how strong Camille Henry was looking in this game. Little did Hewitt know – Henry would score the GWG.
Later on in the period, the Rangers would go on their fourth PP of the game at 13:25, after a high-sticking penalty called on Brewer. You can guess how this PP ended – with no goal. And of course, once again, the Leafs would get some good looks while on their PK.
At the end of the Toronto PK, Plante would make a desperate save. The puck ricocheted back into the Toronto zone, where Bower would be called on once again to make the big save. He did.
With three minutes and 35 second remaining, we were treated to a Molson Big Ale Export beer commercial. What's the difference between Molson Export and Molson Canadian? If anyone reading this Rangers fan newsletter knows, feel free to shoot me a letter, or call me at Klondike 3-1940.
Not for nothing, for a team coming off two road games with Chicago and Detroit, the Rangers were skating pretty well in this game with Toronto.
Towards the end of the period, Kent Douglas took a slashing penalty on behalf of the Leafs at 17:58. FINALLY, THE RANGERS POWER-PLAY SCORED:
Rangers PPG! Camille Henry, the Captain! #nyr pic.twitter.com/N6MGIKPqNb

— BlueCollarBlueShirts (@NYCTheMiC) August 13, 2019
1-0, GOOD GUYS!
On the goal, Brown played with the puck, got it deep, Gilbert then got some wood on it and Henry cleaned up for the goal. Needless to say, this was huge, especially for a struggling power-play. With Jacques Plante strong in net, this goal gave the Rangers what they needed to win this game!
At the end of two periods, the score remained 1-0 Rangers. The Rangers would even get another PP opportunity early into the third period, but couldn't do anything with it. However, with Plante in net, it didn't matter from this point on.
With the lead in the third, the Rangers had some new-found confidence. They played more aggressively, as they looked to double their lead against the desperate Leafs. In other words, the Rangers played to win, and didn't play to hold the lead.
Four minutes into the third period, Billy Harris almost got one past Plante. Denied.
At 5:11, Earl Ingarfield got caught for hooking, giving the Leafs another PP. Once again, the Rangers PK and Plante were stellar in holding the Leafs off the board. As what seems to be the norm these days, both Howell and Brown did a great job in distracting the Leafs offense. It was just clear after clear for the top duo of the Rangers PK/D.
At the half-way mark of the third period, the Rangers continued to apply the pressure of a tourniquet on the blood-thirsty-for-a-goal Leafs. It's tough to tell from television, but it seems like Howell was double-shifted by head coach Red Sullivan, as he was on the ice for an extended period of time. While we couldn't see it on TV, Leafs HC Punch Imlach had to be wondering what would it take to beat Jacques Plante and these Rangers.
With 9:15 left in the period, Plante kept making the stops. Take a look at this save on Kelly:
Plante continuing his shutout #NYR pic.twitter.com/UH51IJnxla

— BlueCollarBlueShirts (@NYCTheMiC) August 13, 2019
Worsley who? I kid, I kid.
Not for nothing, too bad they don't sell Ranger sweaters at the Garden. I would buy that number 1 Blueshirt jersey! I'm sure I would never regret that!
With seven minutes to go, Plante picked up two quick saves, including a long distance save on Douglas. It seems the camera man knew what was going on too, as we saw more close-ups of Plante here.
With six minutes to go, Duff had a great chance against Bower, only for the defending Cup champion goalie, like a good nun, to deny that Dick. (Yes, a penis joke here in 1964. Go with it.)
Later on in the period, another ex-Ranger, in Eddie Shack, promoted offense on behalf of the Leafs. Once again, there was Brown and Howell to break up any sort of scoring chance.
Of note, with five minutes remaining in the game, we were told that the Hawks were beating the Habs, 3-0.
With under five minutes to go, the Rangers played like the team down a goal. It was Bower, and not Plante, who had to make some key saves during this time of the game. Also at this time, you could see the front row seats emptying at the Maple Leaf Gardens. I guess those Leaf fans wanted to jump in their new 1964 Mustangs', and forget this game ever happened!
With under two minutes to go, at the 1:49 mark, Brewer took a shot from the right of Plante, only for Plante to make another big save. If I hadn't said it enough here, Plante owned this game. If the Rangers could only play like this every night…
The Rangers, who were playing to win this game the entire third period, seemed happy to ice the puck in the final 90 seconds. We were then shown Punch Imlach, who was ready to pull Bower for the extra attacker. Imlach wouldn't be able to pull Bower immediately, as Howell pushed the Rangers offense into the zone of the Leafs.
And in another DID YOU KNOW segment, did you know that it was Frank Boucher who came up with the idea of pulling the goalie for an extra skater?
Bower would finally get out of the net, with 50 seconds to go. However, the Rangers sustained their attack. Then this would happen in the final 10 seconds:
Plante gets the shutout #nyr pic.twitter.com/YZELQayRqA

— BlueCollarBlueShirts (@NYCTheMiC) August 13, 2019
What a save for Plante to preserve the shutout and to get the Rangers the win! WE WANT THE CUP!
What a win for the Red Sullivan New York Rangers! I don't know what the future holds for Jacques Plante, but after tonight, he looked like the goalie the Rangers traded for just over a year ago. Let's hope we get more performances like this. If this keeps up, perhaps the Rangers will qualify for the playoffs once again.
All in all, this was a great team win for the Rangers. Any time you can knock off the three-time defending Stanley Cup champs, you know you did something special, especially when you shut them out in their own barn!
Stay tuned to the BlueCollarBlueShirts Rangers fan newsletter for more Ranger recaps.
That concludes this report of this game. I have to be up early Monday. After all, the Verrazano-Narrows Bridge isn't going to build itself!
---
All in all, if you have two hours of free time and call yourself a Rangers fan, you owe it to yourself to take a look at this game. While it's in black and white, it's easy to adapt to. After all, some of the best television shows in history are in black and white, whether it be this game, "The Three Stooges" or "The Twilight Zone." In fact, the Rangers getting a shutout victory in Toronto in 1964 is "Twilight Zone" material in itself!
What you'll also notice if you know your stuff, is that this Rangers/Leafs game features many legendary and Hall of Fame players. You have Harry Howell, Jacques Plante, Andy Bathgate, Johnny Bower, Red Kelly, Frank Mahovlich, Dickie Moore, Punch Imlach (HC), Terry Sawchuk (on the bench in this game), Rod Gilbert, Jean Ratelle, Dickie Duff, Emile Francis (HC) and others involved in this contest. All of these men are in the Hockey Hall of Fame.
For history buffs and Ranger fans, you get a 1-2 punch here, as you see Andy Bathgate in the later stage of his career with the Leafs. While he's out of his prime, Bathgate is no dud here either. You also get to see a rare great performance from Jacques Plante, during his brief Rangers stint. This is arguably Plante's best game as a Ranger. (I HAVE TO PUT THIS IN CAPS. IF ANYONE HAS A TERRY SAWCHUK RANGERS SHUTOUT VICTORY ON TAPE, PLEASE HIT ME UP!)
I've said this before on this site and I'll say it again now – the reason I do these Ranger history flashback blogs is because no one else does. In a weird way, because no one else is doing it, I feel it is my obligation, my duty in my Rangers fandom, to illuminate these legends and bring them back to life. By doing these blogs on Rangers history (not just these Delorean blogs) I hope to spark an interest about Rangers history in others.
I know the saying is, "if we forget history, we are doomed to repeat it." However, I am not looking to doom & gloom anyone (especially with the Rangers bottoming out during this 1964-1965 season). I am just hoping that people go back and look at these teams from Rangers past. If anything, by knowing your history, you can appreciate the present.
---
In conclusion of this Delorean blog, I would like to share with you my most recent blogs, here in the Summer of 2019. These following blogs cover a smorgasboard of material:
---
---
---
---
---
---
I mentioned Gump Worsley a few times on this blog today, as his story always fascinated me. (Check out the book review tab of this blog for my review of his autobiography.)
In closing here tonight, I want to send my condolences to his daughter Lianne, who recently lost her mother/Gump's wife, when Doreen Worsley passed away on August 1st. Doreen was a widow for 12 years, after Gump's passing in 2007. Their daughter, in Lianne Worsley, seems to be taking this well, as both of her parents led long and productive lives. You wouldn't think it, but 2019 has seen many hockey-related deaths. To Lianne, who I'm friends with on the Book of Face, all I can say is RIP and remember the good times.
As far as this blog, I have so many books that I'm behind on to review. I'd like to sneak in one more Delorean blog this summer, but time is the enemy. While speaking of life and death, on the bright side, at least for me, I have welcomed a new niece into the world on 8/9. I'm expecting another niece, this time from my brother, sometime this week. In other words, with two nieces prior to all this news, the budget of my Christmas gifts has doubled!
And I'll say this with my final words here tonight – it's better to be an uncle than a parent. After all, you can always leave and be the good guy!
Stay tuned to BlueCollarBlueShirts.com for more Ranger and NHL blogs! Before you know it, the season will be here. I had a pretty good record at predicting Ranger games last season. Let's see if I can do it again this upcoming season. I know I'll be checking out https://www.bestsportsbooks.co/USA-online-sportsbooks-list.html this season to shop around for the best odds. After all, I need some extra scratch to pay for all the new people in my life! With this Best USA Sportsbook site, I can also get free bonuses in addition to my profits. Like Charlie Sheen says, "WINNING!"
Oh, and always, thanks for reading and…
"LET'S GO RANGERS!"
Sean McCaffrey
BULLSMC@aol.com
@NYCTHEMIC on the tweeter gimmick