Greetings and salutations everyone and welcome to another blog here on BlueCollarBlueShirts.com. Call it fate, destiny, being a mooch, bad luck, unexplained phenomena or something straight out of "The Twilight Zone", but for whatever reason, when attending Ranger games in this 2018-2019 season, I have record of 0-9. Furthermore, in the last five games I've attended, the Rangers were shutout three times and have been outscored by a grand total of 22-3.
With free tickets being offered to me for tonight's game, I didn't want to jinx "The King of Kings", in a one Alexandar Georgiev, in tonight's game with the Toronto Maple Leafs. Plus, with an early alarm clock going off in my future and with the MSG experience being the shits, I figured I would be better off watching this game from the couch rather than at the Garden.
And while speaking about how bad the experience is at M$G these days, you can get more details on that topic in my last blog. You can find my last blog, as well as my most recent blogs, below:
---
---
---
---
---
Going into tonight's game, while I saw many Ranger fans predict the Rangers getting blown out in a high scoring affair, I actually felt the opposite. While it is no secret that Henrik Lundqvist is a compiling coward who cherry picks his starts against losing teams, for the most part, when Alexandar Georgiev starts, the Rangers usually come up a bit. In fact, the Rangers seem to play to the level of their competition more than any other team in the NHL, as they usually hang in there with good teams and usually play bad against non-playoff teams.
As mentioned in prior blogs, Henrik Lundqvist leads all NHL starters with starts against non-playoff teams this season. Alexandar Georgiev leads all back-up goalies in percentage of starts against playoff teams this season. Makes you wonder why Lundqvist gets $8M more in salary, doesn't it?
Furthermore, with Georgiev now knocking off two playoff teams in back-to-back starts, you have to wonder a bit. What would've happened if David Quinn allowed Georgiev to start against last place teams instead of letting Henrik Lundqvist start exclusively against every last place team in the NHL? Who knows, maybe the Rangers are a playoff team right now?
And really, that's not that far out of the realm of thinking, because look at the Blues, Flyers and the Blackhawks. Those three teams sucked for most of the season. Today, the Blues are a playoff team and the Flyers & Hawks are in the thick of things. Look what happens when you don't marry yourself to an overpaid and overrated Swedish diva. (Of note, all three of those teams went younger and cheaper in net & in turn, all three of those teams are playing their best hockey of the season. Funny how that works.)
I know more people are seeing it every day and this is true – when you break it all down, Henrik Lundqvist is just a better looking man than Roberto Luongo and a man that happens to play in a bigger market than Luongo. There is virtually no other difference between Luongo and Lundqvist. You flip-flop these two future Hall of Famers (at least in my opinion they are) and you would have the basement chart brethren shrieking about "KING LUONGO" every night and about how much they don't deserve him.
While tonight was a light night from the cult of Lundqvist, meaning that I wasn't tagged in a million of their silly tweets, the new thing tonight from these people, including from Mike Francesa producer Brian Monzo, is that "Georgiev isn't any good." It's amazing what lengths Ranger fans will go to when defending their faux King.
Speaking of Monz, here was one of his anti-Georgiev tweets tonight:
Georgiev doing to Toronto what hundreds of no name goalies have done to the Rangers over the years… career game out of no where, while own team is getting massively outplayed.

— Brian Monzo (@BMonzoRadio) February 11, 2019
Don't get it twisted, I'm a huge Mike Francesa fan and I think Monzo does a great job with the show. Monzo is a diehard NYR fan like anyone else out there. The guy even goes out of his way to write hand-written notes about every game.  It's just a shame Monzo can't influence Mike to talk the Rangers on the program! I mean really, what has a bigger audience in NY – the NHL or horse racing?  That said, what I'm about to say about Georgiev here is a direct response to Monzo and people like him – how do you know what Georgiev truly is? Conversely, I've seen the anti-Lundqvist crowd, a crowd that many people consider me the defacto leader of, saying that Georgiev should be the starter. To both crowds, I say this – "WE DON'T KNOW WHAT GEORGIEV IS YET!"
Admittedly, I like to rile it up about Georgiev. Do I really think he's "THE KING OF KINGS?" Of course not. I just like saying that because people who have no sense of humor go bat shit about that. It's fun to get a rise out of those snowflake momos.
To be honest, I really don't know what the Rangers have with Georgiev. Furthermore, I don't even think the Rangers know what they have with Georgiev. How would they? He's spent half the season playing behind the worst defense in the AHL, playing for Chris Drury's woeful Shartford Wolfpack. Then, when he plays for the Rangers, he's always playing against top playoff teams, while the compiler cherry picks his starts against the LA's and Arizona's of the world. (Fun fact, Lundqvist is 0-4 against those two dreadful teams.) Let's not also forget that Georgiev is kind of thrown in cold into these games, as most goalies like a regular schedule of starts, not one start every 7-10 days.
In a season that was supposed to be about a rebuild and development, Lundqvist has been spoon fed bad team after bad team (where he's lost more times than won) while Georgiev makes most of his starts against the upper-echelon teams. In addition, the Rangers defense isn't exactly known for their elite defensive skill either.
Even tonight, while I'm going rah-rah like Micheletti about Georgiev's 55 saves, let's face it – the Rangers defense gave up 56 fucking shots tonight! To even hammer the point home more about the defense, more than 50% of these shots were of the high quality variety. Tonight was a great night for Georgiev. It wasn't a great night for the defense.
I've gone plenty in-depth about this on past blogs and by now you know my take – I would go with a commie goalie tandem next season, with Georgiev and Igor Shestyorkin. Let them duke it out for the number one spot. It's supposed to be a rebuild, right? Then how come only the goalie position is ignored during this rebuild stage? And let's not forget, the Rangers have one of the best goaltending coaches in the league. I'm sure by working with Allaire full-time, that both Georgiev and Shestyorkin, will only get better with time.
Simply put, Georgiev needs to start more and he needs to start for a stretch of games. How can you truly assess Georgiev and his potential as a starter if he plays one game a week? Georgiev needs to rip off a stretch of 4-5 starts multiple times, and then you can get a true feel for him and his future with the Rangers.
And to be fair, while I will go overboard with the Georgiev praise tonight, this was only one game. This one game isn't any indication in either direction of what he can be. Granted, tonight strengthens his case, but he also gave up 8 goals to Carolina earlier this season too. All I'm saying here is that he just needs to build up more of a sample size for anyone to truly judge him. That can only happen with more starts and he needs consecutive starts to show us what he has.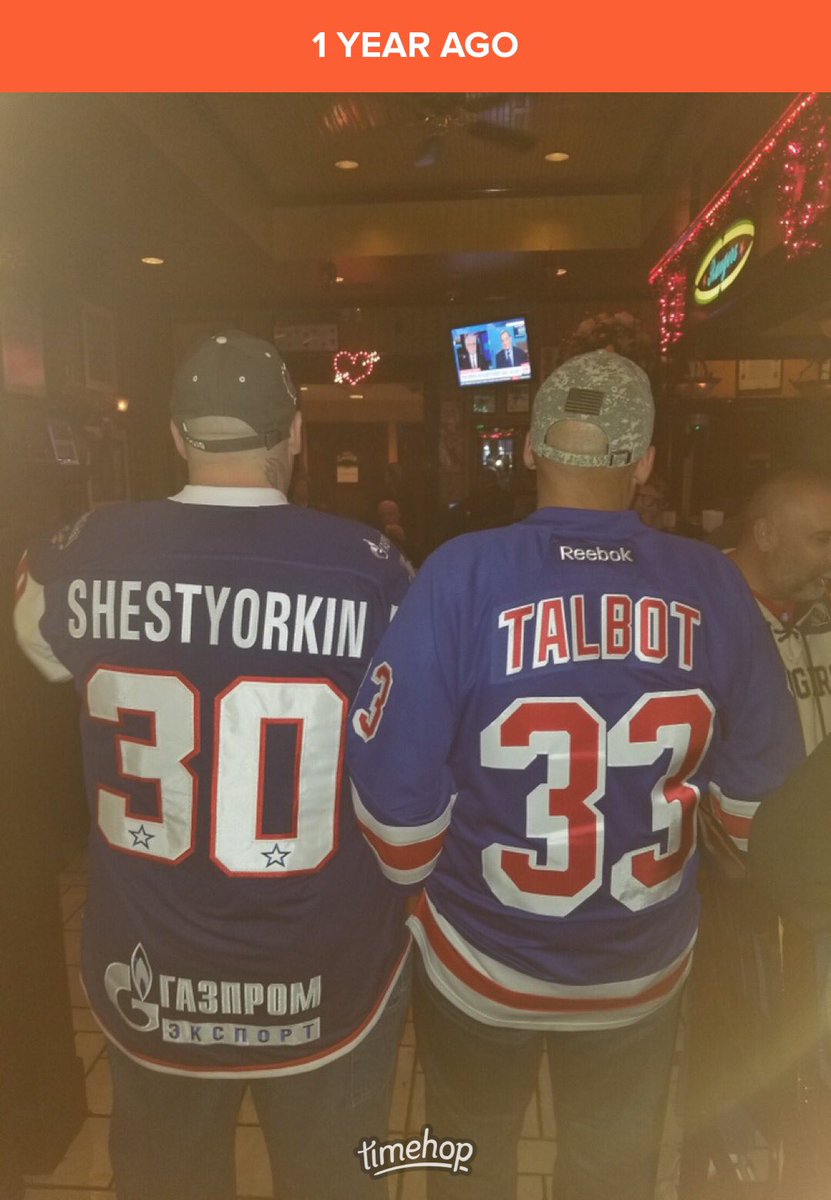 After the embarrassing 3-0 loss to the Carolina Hurricanes in front of the 1994 Rangers on Friday night, there wasn't much news outside of what the Rangers tweeted out on Sunday morning:

If you're a regular reader of these blogs, you know my take on David Quinn. I would've never fired AV, just like I would've never fired Torts. That said, AV was fired and I did want a proven coach for this team. In fact, I was championing for Patrick Roy. That didn't happen. The Rangers hired Quinn and in turn, I've been supporting Quinn and his decisions. That said, some of what he does and says baffles me.
For instance, in his pregame press conference, when asked about going with 11F/7D again, Quinn said this line-up tonight gives the Rangers the best chance to win. Fine. Does that mean he's admitting that Georgiev gives the Rangers the best chance to win too? Furthermore, the Rangers have lost all three games when going 11F/7D, so what evidence did Quinn have that this system would work tonight? And yes, I'm aware it did work, but let's be fair here – if Georgiev doesn't have a game for the ages, then this result could've been much different. Again, is Quinn saying that Georgiev gives them the best chance to win?
Moving away from Georgiev, my bias for Vinni Lettieri is well known. After all, I'm only aware of one other fan in the fan base that also has this jersey: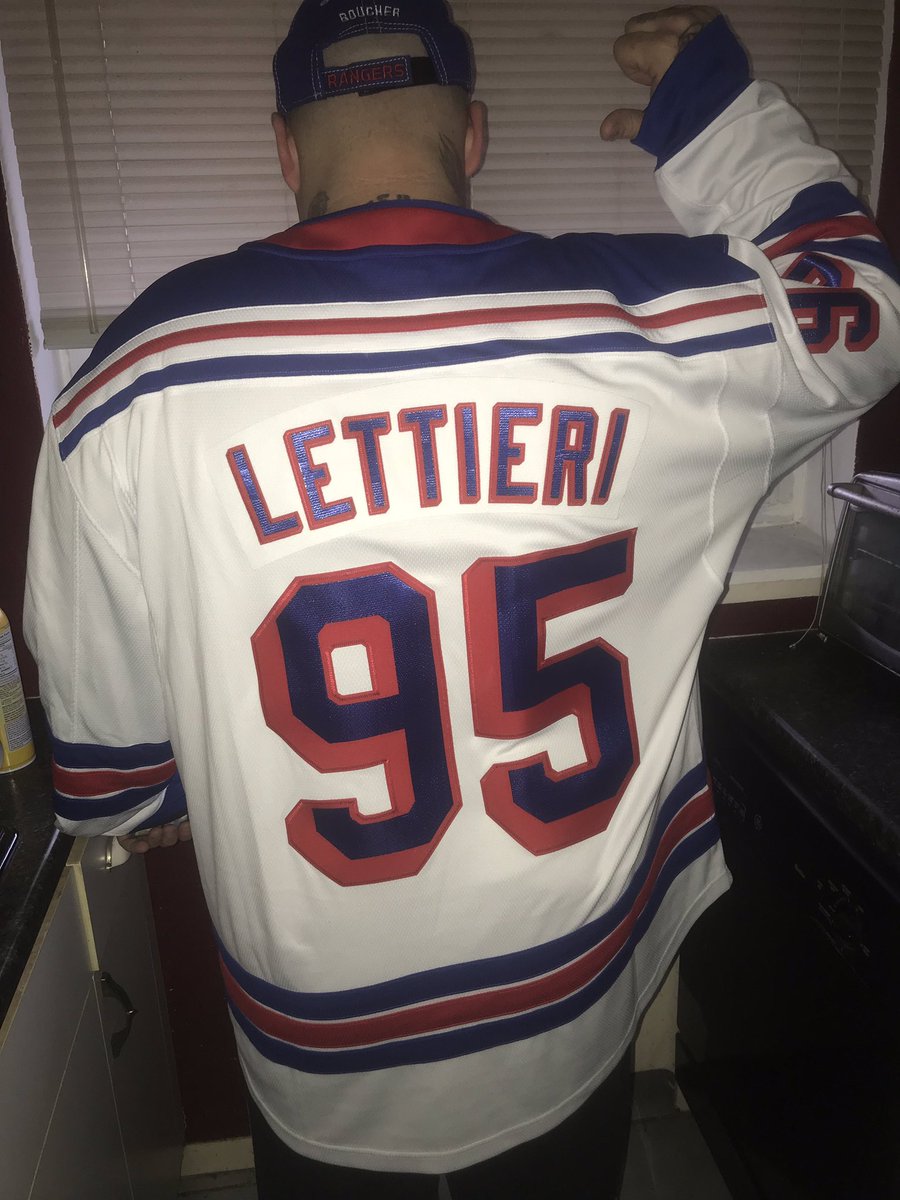 In two of the three times that Quinn has gone 11F/7D, he's done it to punish someone, most recently with Pavel Buchnevich being a victim of the wrath of Quinn. In this game, he was punishing Vinni Lettieri.
Let me get this straight. The Rangers lose 3-0 to the Carolina Hurricanes, where the team goes 0-2 on the PP and doesn't get a shot off on either PP opportunity. This is the same PP that Lettieri doesn't play on. In addition, Lettieri, since being recalled from Hartford, has averaged 6 minutes of ice time on the fourth line, a fourth line that's expected to grind. While I'm not disparaging Vesey or Nieves here, Lettieri is also playing with the two worst forwards on the team. As I've said countless times, let's see what Lettieri can do and let's give him some time on the second line.
I'm not saying Lettieri has been great or even good this season for the Rangers. I'm saying he hasn't been given the same opportunities as other young players on this team, like Howden, like Namestnikov, like Buchnevich, like Chytil, etc. That's because the Rangers have no true investment in him. Lettieri isn't a highly touted draft pick. He doesn't have a big money deal. The Rangers didn't give up a major player to acquire Lettieri. In essence, Lettieri is a house money player, which means the Rangers don't feel they have to invest in Lettieri's growth like they have to with other players. Lettieri needs to make his own breaks.
I just don't see how scratching Lettieri tonight, thus going 11F/7D, gives the Rangers a better chance to win games. And keep in mind, all Quinn has said this season is how much he wants to win games and make the playoffs.
Anyhoo, SCRATCH LIST OF QUINN time.
With the uneven lines and defensemen, Quinn went with the following tonight:
FIRST LINE: Kreider/Zibanejad/Zuccarello (Just imagine if the Rangers had a wild card spot right now. Would the Rangers be thinking of trading any of these three right now?)
SECOND LINE: Hayes/Buchnevich/Vesey
THIRD LINE: Chytil/Strome/Namestnikov
FOURTH LINERS: Nieves and Fast (Anyone else think that Fast's stock has dropped this season?)
Defensively, we saw this:
FIRST PAIR: Skjei/McQuaid
SECOND PAIR: DeAngelo/Staal
THIRD PAIR: Shattenkirk/Smith
Pionk, who was previously scratched for the last two games, rotated in and out of the defense.
Before jumping into the game review, here was what I predicted, gambling wise:
Bet the under!!!!!!! #nyr pic.twitter.com/9yKbp66VZz

— BlueCollarBlueShirts (@NYCTheMiC) February 10, 2019
I would later go on to say on social media that I thought the Rangers would win this game and that the score would be under 7 goals. While I wouldn't bet the Rangers with real money, I did put real money on the under. I just had a feeling that this was somewhat a trap game for Toronto, Toronto would be hurt because they played the night before and that because Toronto just won four in a row, they were due for a loss. I also thought that with the way Georgiev has been playing, he would be able to keep this game low scoring. I didn't realize how much my theory would be tested in tonight's 4-1 victory!
Let's go to the ESPN.com box score:
SCORING SUMMARY:
1st Period
0:28

Mika Zibanejad

(23)

Assists: Mats Zuccarello, Chris Kreider

0
1
10:35

Kasperi Kapanen

(16)

Unassisted

1
1
14:05

Jimmy Vesey

(12)

Assists: Chris Kreider, Ryan Strome

1
2
2nd Period

No Goals Scored
3rd Period
11:59

Adam McQuaid

(2)

Assists: Mats Zuccarello

1
3
19:40

Kevin Hayes

(13)

Unassisted

1
4
PENALTY SUMMARY:
1st Period
2:26

Brendan Smith:

2 minutes for Tripping

11:58

Chris Kreider:

2 minutes for Interference

18:09

Jake Gardiner:

2 minutes for Tripping
2nd Period
5:01

Anthony DeAngelo:

2 minutes for Tripping

7:45

Ryan Strome:

2 minutes for Slashing

13:53

Neal Pionk:

5 minutes for Fighting (Major)

13:53

Zach Hyman:

5 minutes for Fighting (Major)
3rd Period

No Penalties This Period
GOALIES:
| | | | | | | | | | | |
| --- | --- | --- | --- | --- | --- | --- | --- | --- | --- | --- |
| SA | GA | SV | SV% | ESSV | PPSV | SHSV | SOSA | SOS | TOI | PIM |
| 56 | 1 | 55 | .982 | 32 | 0 | 23 | 0 | 0 | 60:00 | 0 |
| | | | | | | | | | | |
| --- | --- | --- | --- | --- | --- | --- | --- | --- | --- | --- |
| SA | GA | SV | SV% | ESSV | PPSV | SHSV | SOSA | SOS | TOI | PIM |
| 29 | 3 | 26 | .897 | 23 | 0 | 3 | 0 | 0 | 57:30 | 0 |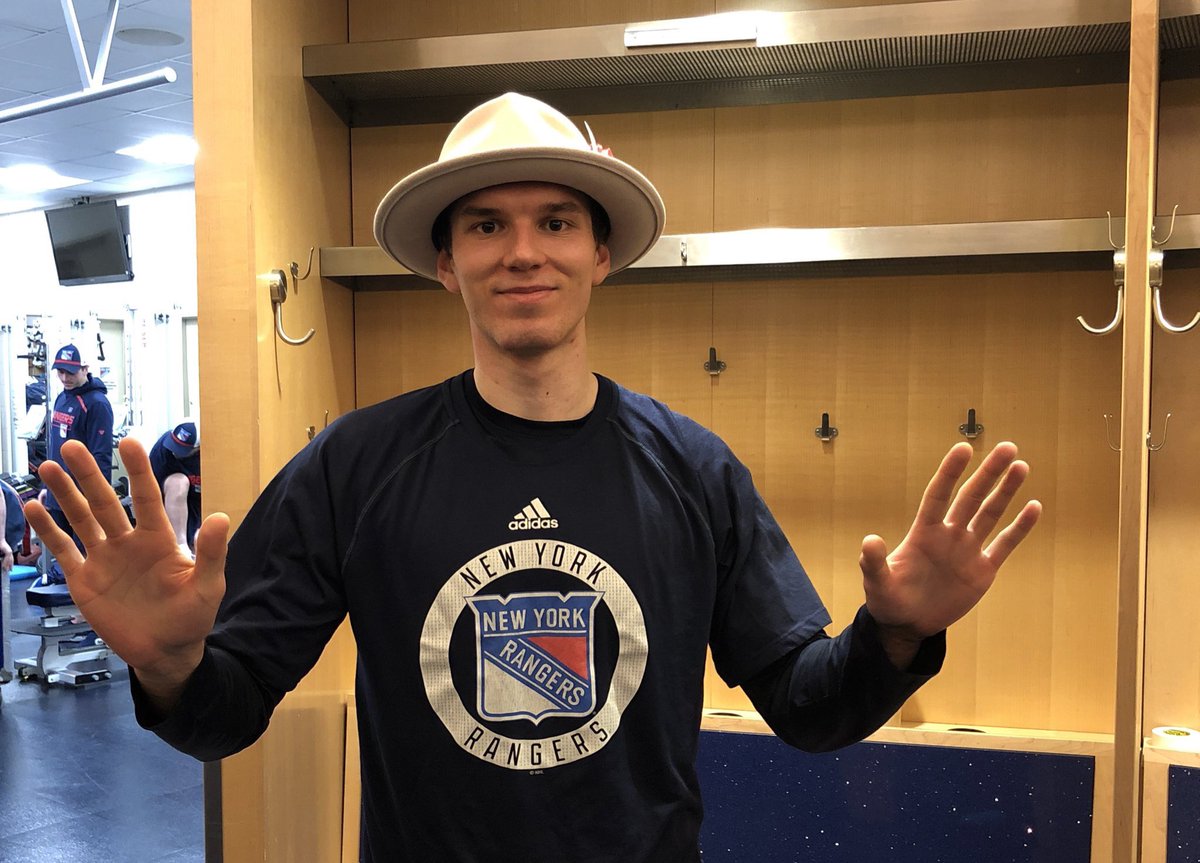 The Rangers would score the first goal of this game, just 28 seconds in. Look what happens when I don't go to games. They score within a half a minute. I haven't seen a goal in the last 9 periods of Rangers hockey that I've seen live!
On the first goal, it was the first line again. Kreider found Zucc. Zucc took two shots. On the second rebound, Zibanejad slammed it home:
MIKA ZIBANEJAD STAYS HOT, WHIPPING ONE PAST GARRET SPARKS OFF THE FEED FROM MATS ZUCCARELLO!#NYR pic.twitter.com/8acDmfDFMy

— Hockey Daily (@HockeyDaily365) February 11, 2019
1-0, good guys, just like that. Of note, if you didn't watch the clip above, this was an NBC game, with Kenny Albert and Brian Boucher on the call. What a breath of fresh air from the usual bozos we're used to, such as Joe Micheletti and Doc Emrick. That said, can you imagine how much squirming and downplaying of Georgiev we would've got tonight if Micheletti was calling this game?
To me, this was the best Ranger game of the season, even better than the 5-0 win over the Islanders. 55 saves, a great job in the booth from Kenny Albert and a huge team win over a Cup contender? That checks all the boxes for me!
In the game's first 28 seconds, the Rangers had three shots on goal. They wouldn't get another shot off for the next 10 minutes. The next ten minutes belonged to Alexandar Georgiev and the frustrated Toronto offense.
Georgiev would set the tone of the game immediately after Zibanejad's goal. Brendan Smith would take a penalty at 2:26. During the Rangers PK, Georgiev made a Ranger goalie season high of 7 saves on one two minute penalty kill. Here's the best video I could find of Georgiev's work during this time:
Some of Georgiev's 7 saves with the Rangers shorthanded #NYR #LGR pic.twitter.com/0teUV47VAv

— Forever Blueshirts Gameday (@4BNYRGameday) February 11, 2019
Seriously, if you didn't see this game, see if you can find the first two Toronto powerplays of this game. Georgiev would make 7 saves on each NYR PK, with his best saves coming during this first Ranger PK. Toronto had 14 combined shots on these two powerplays, with 75% of them being tough high quality saves. Georgiev would later go on to make 23 short-handed saves. That's a team high this season. Incredible. Even more impressive, throughout the game, Kadri would log 12 shots. Tavares would take 8 shots. Matthews would add 5 shots. In other words, Georgiev came up big, time and time again, against the best players Toronto has to offer.
Georgiev just kept making big save after big save. At the halfway mark of the first period, I think Toronto was out-shooting the Rangers by a tally of 15-3.
Toronto would get their lone goal of the game at the 10:35 mark, after a brutal Tony DeMAGAngelo (Credit, as always, to @NYRKELSMADS) turnover. Suffice to say, this wasn't TDA's best game of the season. Far from it. It may have been his worst, as he had this huge turnover here, let a puck bypass him and go over the blue line on a NYR PP, and would later fan on a wide open one-timer. Based on what we've seen this season, that means TDA will most likely be scratched on Tuesday.
Anyway, here's Kasperi Kapanen tying the game:
TONY DEANGELO HANDS THE PUCK OVER TO KASPERI KAPANEN, WHO SNIPES ONE HOME TO TIE IT!#LeafsForever pic.twitter.com/qCZFO5FnTc

— Hockey Daily (@HockeyDaily365) February 11, 2019
Who knows what would've happened if TDA didn't make this turnover? Hindsight is 20/20. You can only go by what happened and this turnover may have been the difference between a 56 save shutout and a 55 save, 1 GA performance.
1-1.
A little over a minute later, Chris Kreider took a dumb penalty while in the Toronto defensive zone. This led to another Toronto PP. When it was over, and after Georgiev coming up huge again, with 7 minutes remaining in the period, Georgiev had already made 20 saves. Insane.
Kreider would make up for his dumb penalty, as when leaving the penalty box, he helped set up Jimmy Vesey, for what would eventually become the game winning goal of the contest:
JIMMY VESEY RIPS HOME KREIDER'S DISH! GREAT SHOT!#NYR pic.twitter.com/00XEqkXdno

— Hockey Daily (@HockeyDaily365) February 11, 2019
2-1, good guys. For Jimmy Vesey, he needed a goal like this badly. Nice to see him finish on this, especially after being demoted in the line-up by Quinn.
The whole first period was all Toronto, but somehow, it was the Rangers ahead on the scoreboard. Again, all the credit in the world goes to THE KING OF KINGS. Speaking of, here's some celebration music:
The Rangers would get a PP at the end of the period, but as usual, the SOUR play came up short. For some reason, Brian Boucher said that Kevin Shattenkirk was the leader of the Rangers PP. I don't know what games he's been watching this season.
2-1, good guys, after one. The goals helped, but this period was all about Georgiev and stopping the lethal Toronto PP. I really felt at this point in the game, all the Rangers had to do was get to the end of the period and Toronto would slow down. After all, they just played the night before.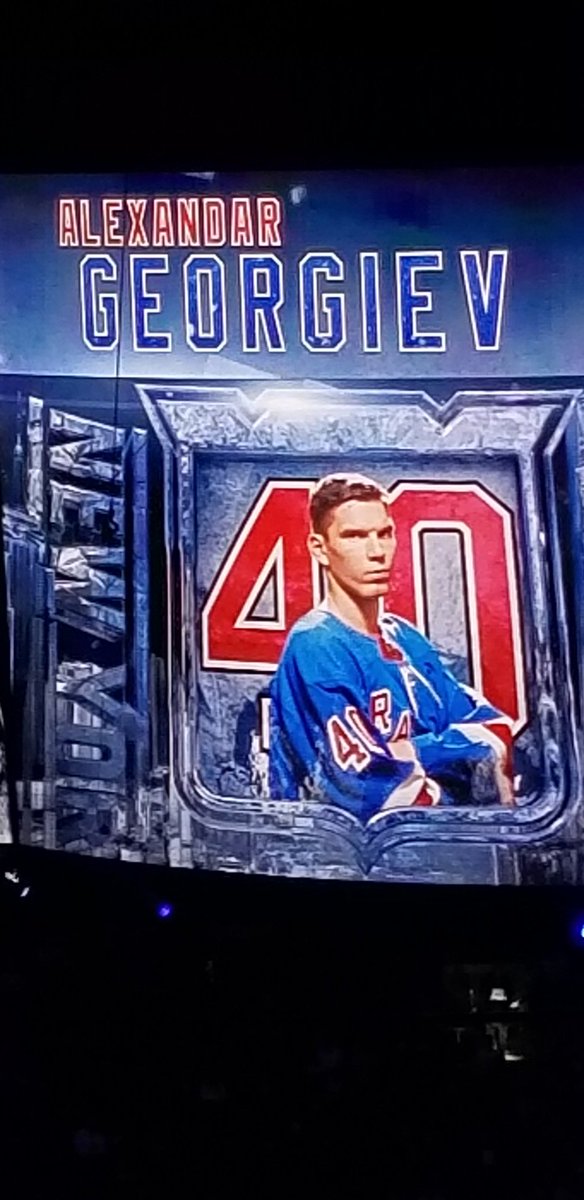 The second period was much like the first, but while Toronto would get off 19 more shots, the quality of shots weren't as great as they were in the first.
The Rangers would give Toronto two more powerplays in this period, but Georgiev and the Rangers held the Toronto PP off the board. When it was all said and done, the Rangers PK finished 4-4, with Georgiev being the biggest star of the Rangers kill. When you make 23 short handed saves, you know you're dialed in big time.
I gotta mention this – David Quinn looked as white as a ghost tonight. I don't know if he's skipping tanning sessions or if this Rangers defense gave him a near stroke tonight, but I've never seen Quinn so pale before:
At the 13:53 mark, Neal Pionk was skating around innocently and Zack Hyman instigated a fight between the two. (And yes Steve Santangelo, you're not the only one who makes Hyman jokes or snickers when the announcers say his name either!) Instead of breaking Zack's Hymen, Pionk and Hyman just danced around with each other and pulled at each other's clothes/jerseys, as if they were two women wearing the same dress at a fancy gala. Somehow, this garnered a five minute major for each man. Bob Probert must be rolling in his grave.
(Oh, and if you think that a women fighting over a dress joke was offensive or sexist, you can go fuck yourself. I've never seen two men fight over clothing.)
Jokes aside, this should've been an additional two minutes for Hyman, but with NHL officiating, it's the NY lotto tagline – "hey, you never know." On the bright side, with 7 defensemen dressed, the Rangers didn't lose manpower, defensively, because of this.
As the period went along, Georgiev just kept making save after save, with Tavares being the biggest victim. Tavares was all over the Rangers tonight, creating offense at every opportunity and having many chances right in front of Georgiev. Every time, Georgiev was there to stop the guy who used to play for a minor league team in Brooklyn.
2-1 after twenty. Of note, at this point in the game, Georgiev had 38 saves on 39 shots. I was crossing my fingers for 50 saves and hoping for 60. Then again, I was just hoping the Rangers would get out of this with a win!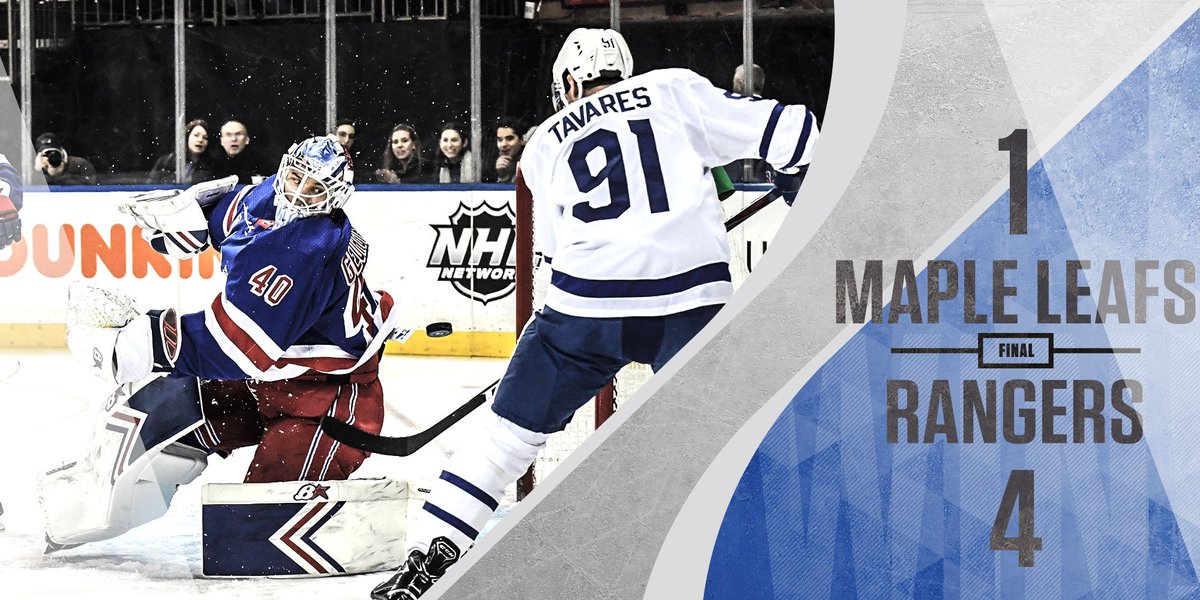 In the third period, the Rangers did tighten up defensively and forced Toronto to the boards a bit. Toronto wasn't getting the point blank looks they got in the first forty minutes, nor were they getting the shots on the doorstep either.
With 38 saves already on the books, Georgiev would add ten more saves in the next 12 minutes of play. Then, at 11:59 of the third period, Adam McQuaid would give the Rangers some breathing room, by scoring off a shot that looked very similar to his only other goal of the season:
ADAM MCQUAID HAMMERS HOME THE TURNOVER!#NYR pic.twitter.com/gLzMOhZLz3

— Hockey Daily (@HockeyDaily365) February 11, 2019
3-1, good guys.
With 8 minutes to go, call it a team game or call it the Rangers wanting to get Georgiev this monumental win, but the Rangers wouldn't let Toronto get to the net for about five minutes or so. Granted, they already gave up 49 shots, but who's counting?
I thought the biggest defensive play of the game came late, as Adam McQuaid blocked a huge slap shot. Put this into perspective – McQuaid is probably going to get traded. He's already been hurt this season. He has no reason to be diving in front of pucks for a losing team going nowhere. When I see a veteran, like McQuaid, giving up his body to help a 23 year old goaltender whose NHL career isn't guaranteed, I really respect that. I know that McQuaid may not be long with the Rangers, but I appreciate and respect his effort & game. He does remind me of a Dan Girardi.
With 2:30 remaining in the game and down by two, Toronto head coach, Mike Babcock, pulled his goalie. This is when Toronto went nuts again, as they would tally 8 more shots in this time. This would eventually bring Georgiev to 55 saves. If it wasn't for the shot blocking and the Rangers rushing to loose pucks, Georgiev may have had a chance to log 60 saves!
This part is funny and sad – it took Georgiev to get to 50 saves before a "GEOR-GEE" chant broke out. This is the same crowd that chants "HEN-RIK" after a 30 foot meaningless routine save in the first period. Even sadder, half the crowd tonight were Leaf fans. I don't know if Toronto fans came out just for this game or because the Toronto Raptors were in town the night before, but there was a heavy Toronto presence in the crowd tonight. There were multiple "GO LEAFS GO" chants throughout the game.
With twenty seconds remaining in the game, the Rangers got a rare empty net goal, off the stick of Kevin Hayes. While it was nice that the Rangers finally got an ENG, it took them 2:10 of playing time to get it. This is where you miss the Carl Hagelin and Michael Grabner types, as the players with speed really helped the Rangers over these recent years, when it came to closing out games.
4-1, good guys.
At the final horn, the Rangers beat one of the best teams in the league in an impressive fashion and their young goaltender had the best game of his career. Again, this was the best win of the season, at least for me. (Keep in mind, I don't buy into the tank shit and I don't trust this team to draft right anyway.)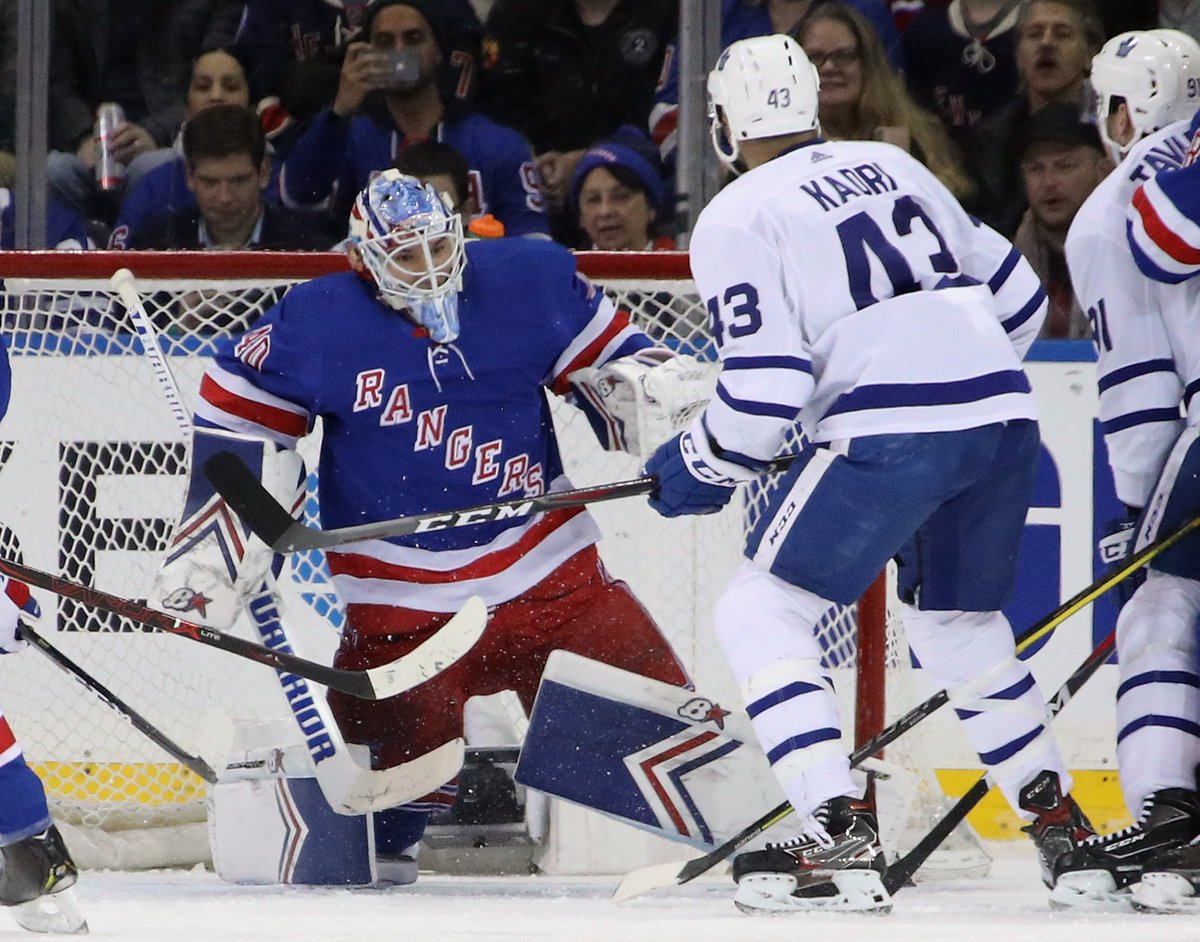 Let me share some stats about Georgiev's monumental night.
Before going to the official statisticians, here's stuff I have for you:
— Georgiev holds the record for most saves this season with 55.
— Georgiev holds the record for most PK saves this season in one game with 23.
— Georgiev holds the record for most PK saves during one PK this season with 7.
Here's what the official guys have:
Alexandar Georgiev is the sixth rookie goaltender since 1955-56 to record 55+ saves in a regular-season game and second to do so with the @NYRangers, joining Mike Richter on Jan. 31, 1991 (59). #NHLStats #TORvsNYR pic.twitter.com/dj1kMqVxLF

— NHL Public Relations (@PR_NHL) February 11, 2019
Alexandar Georgiev is the seventh Rangers goaltender who has made at least 50 saves in a game since the NHL began tracking the statistic in 1955-56 (along with Gump Worsley, Jacques Plante, Gilles Villemure, Glen Hanlon, Mike Richter, and Henrik Lundqvist). #NYR

— NYR Stats & Info (@NYRStatsInfo) February 11, 2019
Only two NHL goalies stopped 50+ shots on their birthday in the last 32 years:
Henrik Lundqvist 2018
Alexandar Georgiev 2019 @NYRangers @MSGNetworks (thanks @ehornick)

— Kenny Albert (@KennyAlbert) February 11, 2019
Alexandar Georgiev of the @NYRangers is the second goaltender since 1955-56 to record 55+ saves in a game while celebrating a birthday, joining Al Rollins on Oct. 9, 1955 (57). #NHLStats #TORvsNYR pic.twitter.com/B1ofhaM4O1

— NHL Public Relations (@PR_NHL) February 11, 2019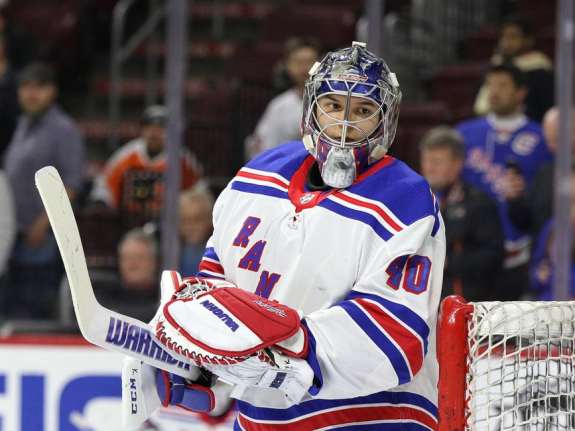 It's funny, after this game, I had some members of the Cult of Lundqvist messaging me privately saying, "You were right about Georgiev."
As I said at the top, out of this demented, twisted, cut-throat Rangers social media fanbase, no one is happier than me about Georgiev's performance tonight. That said, it's one game. I know Georgiev has shown us glimpses of greatness, but he really needs to log more starts here and he needs stretches of starts.
The Rangers have tinkered with their forwards and defense all season, but when it comes to the goalies, Hank is logging the bulk of the starts and only sits when he sees a playoff team on the schedule.
What made Talbot a starter in the NHL (I know he's struggling now, but this is also four years later and Edmonton sucks ass as a whole right now) was he got time to play a stretch of games because of an injury to Lundqvist. What made Raanta a starter in the NHL is because Lundqvist sucked and AV would give Raanta 3-4 starts in a row during various times during Raanta's tenure here. Georgiev just needs the starts to not only prove it to himself that he has it, but to prove it to the Rangers organization themselves.
What I unfortunately know what will happen is that the Rangers will eventually give Georgiev starts, but these games will not be an audition for Georgiev's NYR future, it will be an audition for a potential trade partner. Then we'll go through the same cycle with Shestyorkin next year, as the Rangers continue to be the only team in the league to build around an aging and out-of-his-prime goaltender.
I will say, for all the bellyaching I do about Sather and NYR management, ever since Marty Biron retired, they have done a great job finding starting goalies. The only problem is, they've held on to the wrong one for the last few years.
The Rangers now go on a four game road trip, which means that we may have possibly seen the last Rangers home game for Zuccarello and Hayes. If it is, they leave on a high note. Obviously, Hayes has more upside moving forward, but Zuccarello will be remembered as a great Ranger, in the same vein as guys like Big Walt, Ryan Callahan, Edgar Laprade, etc.  Time will tell on the fate of these two Rangers.
The Rangers start their road trip off in Winnipeg. In their first meeting of the season, the Jets dominated the game, but the Rangers had a 3-0 lead. When it was all said and done, the $8.5M man was on the losing end of a 4-3 game.
If it was up to me, YOU REWARD Georgiev with a start in the cold and depressing city of Winnipeg. However, Quinn told the media that Lundqvist would start this game. Quinn said this before tonight's game, so maybe Quinn reconsiders. I know I would. You simply have to give Georgiev multiple starts in a row to see what you have. I can't stress that point enough.
Based on tonight's game and Quinn's history, come Tuesday night, I would imagine TDA gets scratched and Lettieri returns. Then again, Quinn likes to go with the same line-up after wins, which then again, would lead me to saying Georgiev should start. However, Quinn doesn't treat his goalies like other players on this roster. If he did, the Rangers may be a playoff team right now.
See ya Tuesday.
As always, thanks for reading and…
"LET'S GO RANGERS"
Sean McCaffrey
BULLSMC@aol.com
@NYCTHEMIC on twitter