Greetings and salutations everyone and welcome to another blog here on BlueCollarBlueShirts.com. On Tuesday night, two nights after Alexandar Georgiev had the greatest goaltending performance of the 2018-2019 New York Rangers season, David Quinn went back to his overpaid and overrated goaltender, in a one Henrik Lundqvist. The result? A 4-3 loss to the Winnipeg Jets.
What was even more concerning and depressing about this loss, was that this was another game that the Rangers should've won, but because of poor goaltending from King Cupless, the Rangers lost again. And even if you're the most devout drinker of the Henrik Lundqvist kool-aid, so much that even Steve Valiquette and Joe Micheletti envy your spot in the "Cult of Lundqvist", you have to admit, this loss is 100% on Henrik Lundqvist. We'll get more into that as this blog moves along.
The Jets have now swept the season series against the Rangers. In both games, Henrik Lundqvist started and Henrik Lundqvist choked. In the first meeting between the two teams, the Rangers had a 3-0 lead. Despite having a 3-0 lead going into the third period, that wasn't enough for the choKING goaltender. The Rangers lost that game too, with the same 4-3 score.
In tonight's affair, Lundqvist gave up three bad goals in the contest. The Rangers would come back from a 2-0 deficit and give Lundqvist a 3-2 lead early into the third period. Once Andrew Copp scored at the 7:22 mark of the third, to make the score 4-3 Jets, you just knew the Rangers weren't coming back. This was an all too familiar script. The Rangers play well enough to win, but the highest paid goaltender in America doesn't have it anymore. Sure, he can make some routine saves look flashy, but over the course of a 60 minute contest, Lundqvist has not only lost a little bit on his fastball, he's lost the whole fucking ball.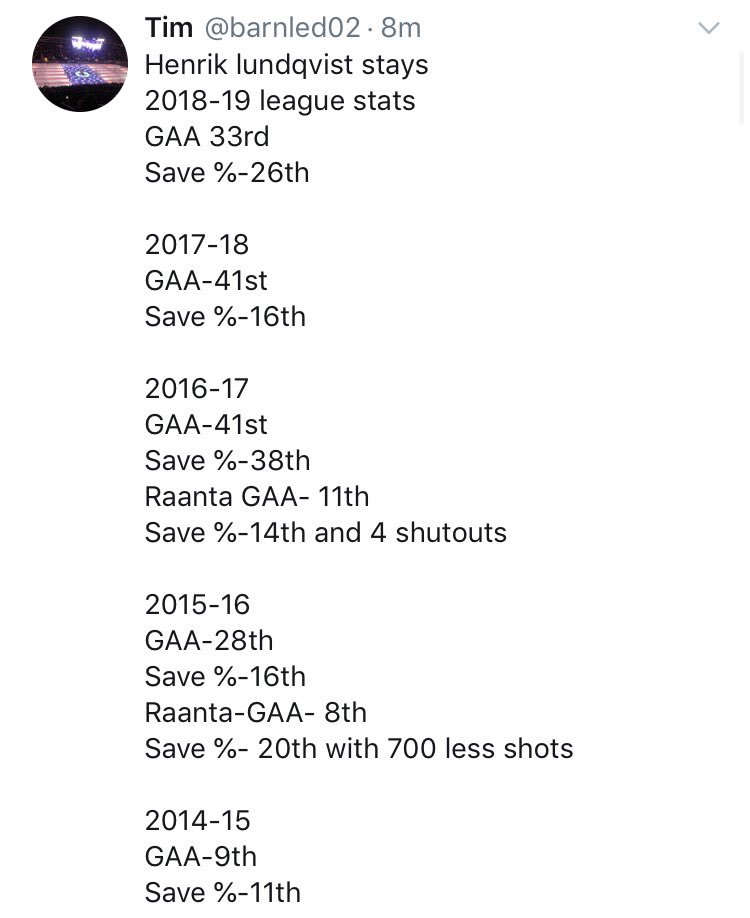 There's a lot to get into tonight, so let me dive right in. However, as usual, to start off, here are my most recent blogs, in case you missed them:
---
---
---
---
---

On Tuesday afternoon, the Rangers announced the trade mentioned above. As a result of this trade and the trade of McLeod to Nashville, the Rangers now have three different seventh round picks in the 2020 NHL draft. Whether the Rangers hold on to all three picks or trade some of them down the line in potential future trades; well that remains to be seen.
To me, obviously, trading away Marek Mazanec is no big loss. If anything, I think this is a vote of confidence for goaltender Brandon Halverson. Halverson, once anointed as the heir to Hank's throne (which is starting to look like a throne made of porcelain and not gold these days) has struggled in recent seasons.
Halverson did work his way up to the AHL and logged 30+ games for the Hartford Wolfpack during the course of these last three seasons. However, recently, Halverson found himself juggled between the AHL and the ECHL. Last year, Halverson was stuck in Greenville, South Carolina, playing for the "Swamp Rabbits". You know you're having a rough hockey career when not only are you playing in South Carolina, but when you're playing for a team called the "Swamp Rabbits." When you think of logos, having a rabbit with swamp ass isn't the most intimidating thing in the world.
The Rangers ended their affiliation with the Swamp Rabbits last season. For some reason, the full story of why the Rangers terminated the affiliation never hit the papers. It was a story ignored, just like the story of "what led to the fight between Vinni Letteri and Brendan Smith?", which also occurred last season.
Starting with this season, the 2018-2019 season, the Rangers named the Maine Mariners as their ECHL affiliate, which is where Halverson was spending most of his time this season. In mid-January, Halverson, who was playing great for the Mariners, was called back up to the Wolfpack. With Dustin Tokarski already in tow, Mazanec was deemed expendable.
To the Rangers good fortune, the Canucks have had some injuries to their goaltenders, which is why the Rangers were able to get something back for Mazanec. This trade is an automatic win for the Rangers, with Brandon Halverson looking like the biggest winner.
Halverson, who the Rangers once considered the goalie of the future, now has steep competition in front of him. For starters, and as I'll get into below, Henrik Lundqvist looks like he will never leave this team and the organization would rather lose with him, than win without him.
Moving away from the overpaid diva, Alexandar Georgiev has shown much more promise and potential than Halverson. Then, over in Russia, you have CZAR Igor Shestyorkin posting video game numbers night in and night out.
In a perfect world, meaning that the Rangers made my dreams come true, and they got rid of Lundqvist, Halverson would need to outplay both Georgiev and Shestyorkin, to even get a back-up role with the Rangers. This is no easy feat.
Anyway, I know I'm spending too much time on this trade, but keep the name Brandon Halverson in the back of your mind. He is the one that benefits the most from this trade.
After the win over Toronto, as usual, David Quinn rolled out the same line-up after a victory. Two things here:
— Why even have Lettieri on the roster if you're going to continue to go 11F/7D? How is this developing Lettieri? Furthermore, while on 11D/7F, the Rangers are now 1-4 while employing this system. If it wasn't for Georgiev making 55 saves on 56 shots on Sunday, the Rangers would be 0-5 when going 11F/7D. So to me, this is a double-whammy of dumbassery.
— As many fans said before the game, why not reward Georgiev with a start here tonight? After all, the Jets are a playoff team and we know how much Lundqvist hates those starts. (You'll get a full rant on that later on in this blog.) If you want to do everything that made you win in your last game, why not keep the goalie that brought you that win? And I don't want to hear that Georgiev is tired. He's 23 years old and has only made 16 starts this season. He could've handled this start tonight.
With that said, here was the line-up for this 4-3 loss to the Jets:
FIRST LINE: Kreider/Zibanejad/Zuccarello
SECOND LINE: Hayes/Buchnevich/Vesey
THIRD LINE: Chytil/Strome/Namestnikov
FOURTH LINERS: Nieves and Fast
Defensively, we had this:
FIRST PAIR: Skjei/McQuaid
SECOND PAIR: DeAngelo/Staal
THIRD PAIR: Shattenkirk/Smith
Pionk, once again, rotated in and out of the line-up.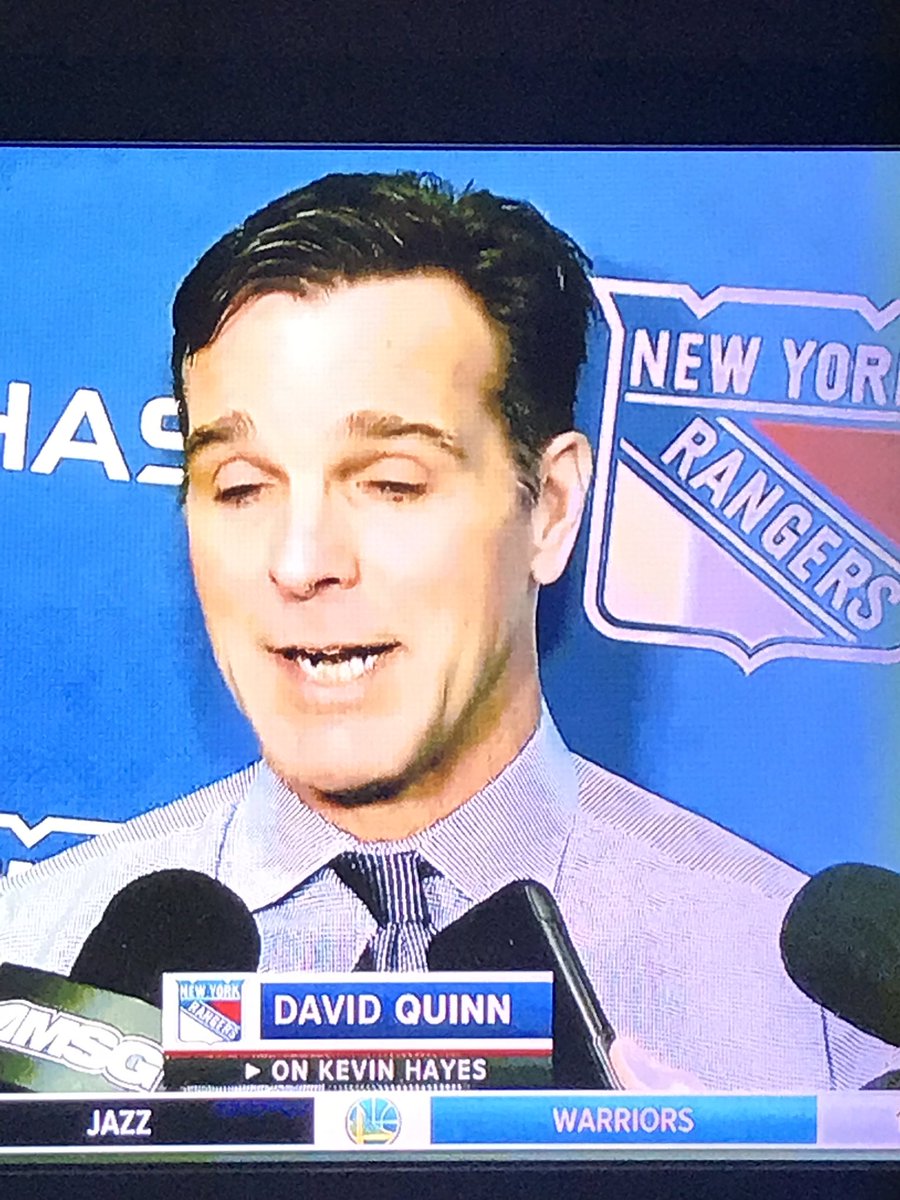 Now, for the gambling section of this blog! Here's what I predicted before the game:
Hank's in net – bet the over. He gave up four goals alone from the third period on in the last meeting between these two. #nyr pic.twitter.com/e4iPtlZ5uB

— BlueCollarBlueShirts (@NYCTheMiC) February 12, 2019
Quite frankly, I usually do a bit of research before doing my over/under picks. Now, I just see if Lundqvist is in net. If he is, I just bet the over. 9/10 times, the game always hits the over when Lundqvist starts. It takes two to tango, but Lundqvist is always good for three goals allowed by himself, if not 4+. It's only a matter of time before Vegas boosts these over-under lines to 7 or 7.5 goals.
With my win tonight, my season record improves to 24-8-1. For the people who hate my opinions on Lundqvist, I put my money where my mouth is and as you can tell, with a super-human record of 24-8-1, I know my topic inside and out. That's what happens when you don't have Swedish blinders on.
Before tonight's game, I wrote the following Lundqvist vs Georgiev comparison on social media. Some get tired of the Lundqvist stuff, but if these people want to put their heads in the sand, that's on them. The only way any Ranger fan should want Lundqvist to start is if they are rooting for the team to lose.
As mentioned on prior blogs, while I understand the "tank" and the implications on the upcoming draft, I'm not in that tank camp. For starters, a top draft pick isn't guaranteed and even if the Rangers got a great pick, I don't trust them to make the right pick anyway. And to expand even further, even if the Rangers got Jack Hughes or whoever, with the way this franchise has selected players over the years, I just envision some major catastrophe or injury happening to whoever the Rangers drafted. That just seems to be their luck/fate.
Additionally, keep this in mind – as mentioned on BlueShirt Underground Radio/Video last night, Carolina had the 13th worst record last year. They wound up with the second overall pick in the draft. In other words – tanking doesn't guarantee shit!
Here's my rant on Georgiev vs Lundqvist, which was written hours before this Rangers/Jets game:
The Rangers have played 55 games this season. In a rebuilding year, the highest paid goaltender in America has started in 39 of those games, compiling a record of 16-14-8. The lone note in Hank's record is that he was pulled from a game against the Islanders on 11/15/18, where he gave up five goals, in a 7-5 loss to the Islanders. Georgiev would give up the 6th goal, but because the Rangers would come back from 6-3 and make it 7-5, the game winning goal & loss counted against Georgiev. Thus Hank's record should really be 16-15-8, while Georgiev's record should really be 8-8.
To be clear here and in the interest of my time, I am treating all overtime/shoot-out wins and losses as a regulation win or loss.
Prior to tonight's game with Winnipeg, Lundqvist has a record of 10-10 against playoff teams. He has a 6-12 record against non-playoff teams. Furthermore, with these numbers, Henrik Lundqvist leads all starting goalies in the NHL with the most amount of starts against non-playoff teams. There isn't even another starting goalie that comes close, percentage wise, in starts against non-playoff teams, as 47% of Henrik Lundqvist starts come against non-playoff teams. Funny how you don't hear this mentioned on the MSG Networks!
The only starting goalie that comes close to playing against as many non-playoff teams as Henrik Lundqvist is Marc Andre Fleury of Las Vegas. However, MAF has also started in ten more games, logging 49 starts in 57 games played. The sheer volume of starts means MAF will play against a bunch of non playoff teams.
Conversely, the Rangers back-up goaltender, in Alexandar Georgiev, who makes just shy of $8M less than Henrik Lundqvist, currently has an 8-9 record.
In Georgiev's 16 starts, he is 5-7 vs playoff teams and 3-2 against non-playoff teams. With 12 of his 16 starts, which comes out to 75%, Alexandar Georgiev leads all back-up goalies with not only percentage of starts made against playoff teams, but he leads all back-up goalies with the most amount of starts against playoff teams in total too.
For a sick comparison, Tampa Bay back-up goalie, Louie Domingue, who has an 18-4 record (Starting goalie Andrei Vasilevskiy was injured earlier in the season) has only STARTED against FOUR playoff teams this season. That's a percentage of 18%!
While David Quinn has publicly said on numerous occasions that Henrik Lundqvist has a say in determining his playing time, the Rangers are the only team in the league to allow their back-up goalie to start against more playoff teams than non playoff teams. For a coach and starting goalie who have been talking about wanting to make the playoffs all season, HOW DOES THAT MAKE SENSE?
If I haven't written enough over the years how Henrik Lundqvist is overpaid and overrated, can someone please explain to me, based on this data above, why Henrik Lundqvist is worth being the second highest goalie cap hit in the NHL? Even with 47% of his starts coming against non-playoff teams, his 2.99 save percentage is 33rd overall in the league. There's only 31 starting goalies, so that means two back-ups qualified in this statistic and have posted a better GAA. Furthermore, Hank's .907 save percentage is 26th in the league overall.
Now, I know what the Cult of Hank will say – "The Rangers defense, waa, waa, waa!" Fine. However, keep this in mind – Hank has started against playoff teams 47% of the time. Georgiev has started against playoff teams 75% of the time. That's a 28% difference, so that means Georgiev's starts are usually a bit tougher than Hank's.
With Georgiev playing against tougher competition, Georgiev has a 3.11 GAA. Worth mentioning about Georgiev's GAA, which is .12 higher than Lundqvist's – Georgiev has had to do mop-up duty for Hank in several games. Georgiev doesn't have that luxury, as Lundqvist will never come in for relief of Georgiev, barring injury. If Georgiev is getting blown out, there's no one to tag out to.
Georgiev currently has a .905 save percentage, which is .02 less than Hank's. One goalie gets paid nearly $8M more and takes the easier starts. How the hell does that make sense?
In conclusion, as I said in my last blog – is Alexandar Georgiev the answer? To me, the jury is out. Georgiev just needs a larger sample size and he needs multiple starts in a row. Lundqvist has the gift of getting into a routine and getting into a rhythm. Georgiev has been ping-ponged between Hartford and NY and sometimes is lucky if he gets one start every 7 days. I think the only thing we can 100% say, is that Georgiev is doing great under the conditions he's under.
When you break it all down and look at the history of the Rangers goaltending in this last decade, when it comes to goaltenders, Benoit Allaire has turned his last two young back-ups into starters. (In the cases of Biron and Pavelec, both were older and in their final season with NYR.) That's three starting goalies in this league that  have came from under his tutelage. What more do the Rangers and Ranger fans need to see? Like the Renaissance sculptors of old (or Ninja Turtles, if that's how you remember them) Benoit Allaire has molded and sculpted previous unknowns into multi-millionaire starting goalies.
In other words, tell Lundqvist it's the press box or to waive his NMC. Bring on Igor and let Igor & Georgiev duke it out. I mean, what's the point of developing every forward and defensemen on this team, if you're not going go to have a ready-to-go goalie when the team in front of them is ready?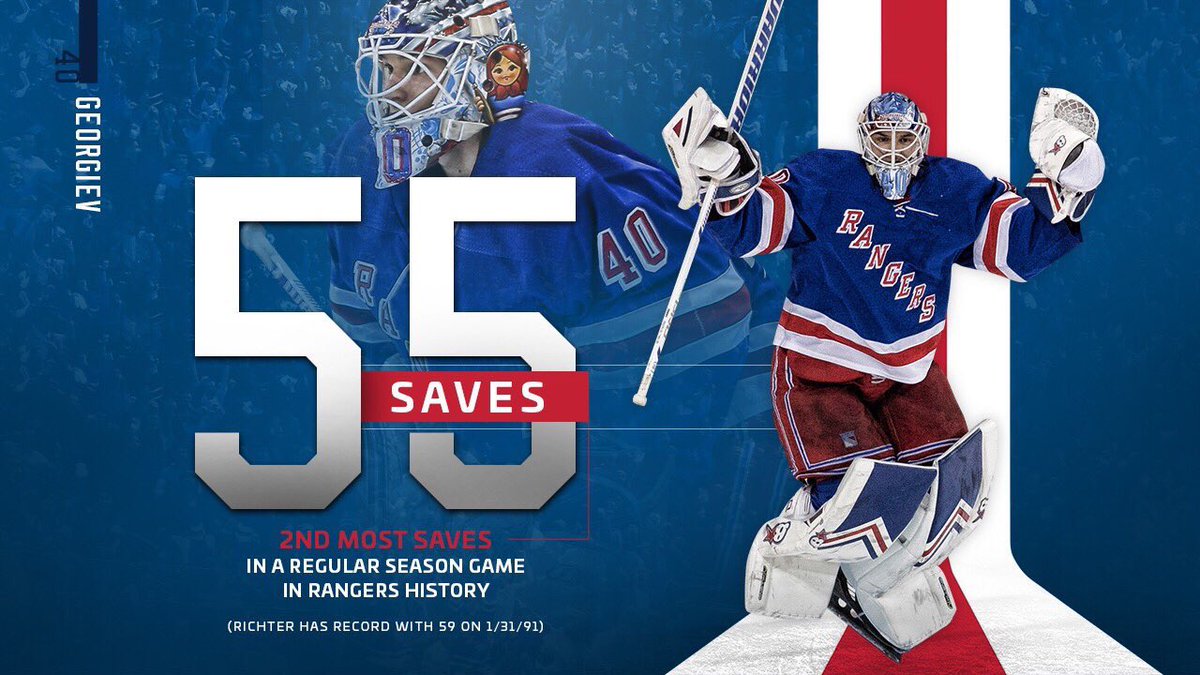 As mentioned in the past, I truly do hate talking about this crap all the time, but when the number 1 narrative from the MSG Networks & the Rangers themselves is "Henrik Lundqvist is the greatest goalie of all time", I can't ignore it.
Tonight's MSG Networks broadcast was a complete joke. Steve Valiquette turned in his worst performance of the year and came off like a bigger fraud than a used car salesman. Now, I know the MSG Networks has their narratives and forces their guys to tow the company line, but it's one thing to be a company guy, it's another thing to just flat out lie.
Valiquette's new go-to lie is to say that "Henrik Lundqvist is sharper than ever." In what world is Vally living in? If I was parent looking to enroll my kid in goaltender school, I would cross Vally's name off my potential list for him saying this crap alone. If Henrik Lundqvist is still god's gift to goaltending to Steve Valiquette in 2019, then Steve Valiquette does not understand good goaltending in 2019.
Let's break down Vally's "SHARPER THAN EVER" lie. For starters, just read the above segment! Secondly, if Lundqvist is sharper than ever, then how come none of his numbers come close to Lundqvist's 2011-2012 Vezina season? In fact, ever since Lundqvist signed that albatross of a contract, it's just been a straight decline to the bottom of the league standings in both GAA and save percentage. And don't even get me started on Hank's 61-65 Cupless playoff record. He's never been clutch for a complete Spring. In fact, to me, his best playoff run was during the 2012 playoffs, which ironically, was the same year he won the Vezina.
I don't mean to bust out the shovel on Valiquette here, because I do enjoy most of what he says, but he's so far off here, that he needs to be called out on his bullshit.
In 2019, Lundqvist is 4-7. He gave up 6 goals to Pittsburgh. He gave up 5 goals and was pulled against the FUCKING ARIZONA COYOTES! A shitty team that he's lost to twice this season! He also lost to Islanders as usual. He then lost Tampa, what a shocker! Then, for the second time this season, he lost to the last place LA Kings, giving up the game winning goal late into the game. For good measure, he lost to Carolina and then gave up four goals to the Jets tonight.
In his four wins of 2019, Lundqvist beat Carolina, a non playoff team. Let's give him a round of applause for that. He also picked up wins against a crappy Chicago team and then it took four Ranger goals to bail out Lundqvist against the last place Devils. Of his four wins, the only playoff team he beat was the Boston Bruins, the same team that Georgiev would later go on to beat himself.
But yea, SHARPER THAN EVER! Even Ray Charles is calling bullshit on Vally's FAKE NEWS.
Between Sam & Joe sucking off Lundqvist for 60 minutes, Anson Carter jumping onto the Blow Hank brigade and Vally smooching Hank's ass 24/7, the only person on the MSG Networks that has an ounce of integrity is Dave Maloney. To be fair, Maloney does fly under the radar a bit, as I doubt anyone involved with the Rangers listens to his great podcast or his work on the radio. However, when featured on the MSG Networks broadcast, Maloney stays true and never bites his tongue.
Funny thing after this game. After 60 minutes of Micheletti pounding his excuse rolodex hard, harder than he pounds his Swedish blow-up doll at home, they then went to Valiquette, who rigorously applied extra strength chap-stick and went right to work on Hank's ass. Then, the MSG Networks cut to Dave Maloney, and just like he did on the radio, Dave Maloney tore Lundqvist to shreds and blamed him for the loss. Vally was as speechless as Helen Keller.
Based on Vally's post game comments before Maloney's appearance, the way Vally was defending Hank on some of these goals allowed, it sounded like he was watching the game with the eyes of Helen Keller too.
However, after Maloney slapped everyone on the MSG Networks with a face full of truth, Vally and everyone else changed their tone. All of a sudden, Vally was blaming Hank for three of the four goals allowed. What changed? Dave Maloney busted through the fake news door and the Hank snowflakes started shaking and changed their tune after the ex-captain spoke. I was in tears. Speaking of being in tears, let me talk about these fake news degenerates before the game even started!
During the 30 minute pregame show, despite making 55 saves just 48 hours ago, the name "Alexandar Georgiev" wasn't mentioned once. Every pregame show, they recap the game prior and show highlights. Instead of talking about Georgiev and the Rangers win over Toronto, these clowns just recapped the game against Carolina. The first words out of the mouth of Valiquette were "Henrik Lundqvist." Are you kidding me? I guess 55 saves means shit next to $8.5M!
Oh, and if Valiquette considers himself a fan of goaltending, I just don't know how you ignore Georgiev.
Even sadder, the MSG Networks mailed in another "Black History" month segment. These segments are so transparent. By parading Anson Carter out there, he looks more like an affirmative action hire than someone hired for his knowledge. To be clear, this is not a shot at Anson. This is a shot at the MSG Networks for coming off as fake.
Oh, and while speaking about black history month, I guess it's Georgiev's fault that he's Bulgarian and not black. Maybe if he was black, then maybe he would've got some lip service from the MSG Networks? I just don't get how you ignore what he did on the team's own broadcast.
I'm telling you, if I had control of the MSG Networks, I would boot all these clowns, bring back Ron Duguay and hire Glen Healy as my goalie guy. Valiquette simply can not talk about Lundqvist without bias. At least Healy tells it like it is. Ditto Duguay. I would give Vally a second chance after Lundqvist retires, because Vally has done nothing to show us that he can talk about Lundqvist objectively. It took Dave Maloney to verbally pimp slap Vally for Vally to put any type of blame on Hank tonight.
From the "you'd only believe it if you saw it" department, Sam Rosen brought up Georgiev's performance at the two hour mark of the broadcast. IMMEDIATELY AFTER, Joe Micheletti said this, and I am quoting him word-by-word here: "Let's focus on Henrik Lundqvist a bit." ARE YOU FUCKING KIDDING ME? EVERY FUCKING GAME IS A THREE HOUR HENRIK LUNDQVIST CIRCLE JERK!
I don't know if Jeff Filippi, President of the MSG Networks is gay. I don't know if James Dolan is gay. I don't know if Glen Sather is gay. What I do know is that Joe Micheletti must give one hell of a fucking blow job, because there is no other way to explain his employment on the MSG Networks, especially when guys like Kenny Albert and Eddie O. are around.
Seriously, with the way Micheletti talks about Lundqvist, Micheletti should be teaching the technique of oral sex to aspiring porn stars. Then again, maybe my original theory about Micheletti's employment is correct – Micheletti won a Garden of Dreams charity auction, never left and now no one has the heart to tell him that it was supposed to be a one time thing.
Before getting into this game, I just wanted to show you that I can be complimentary towards these guys. I attended the game on Friday against Carolina, but after hearing rave reviews about the broadcast, I went back and re-watched the MSG broadcast on Saturday. Yes, I'm insane like that.
Here's what I said after watching that broadcast:
I finally caught up on all the 1994 interviews on the @MSGNetworks and as much as I have buried them for getting rid of @RonDuguay10 , last night's coverage of 1994 Night was Emmy worthy. Great stuff from Trautwig particularly & @VallysView too, especially Vally's point on a C.

— BlueCollarBlueShirts (@NYCTheMiC) February 9, 2019
I'm telling you, the MSG Networks went from their very best to their very worst, all in a span of one game. (The Toronto game was an NBC game.)
As much as people hate me talking about Lundqvist all the time, this is another reason why I want Lundqvist gone – just so the MSG Networks are forced to talk about someone else too. "Sharp as ever." Get the fuck out of here.
And lastly on this, I'm not the only fan who said this on social media, so this should've been a valid question or topic of debate on the MSG Networks – didn't Georgiev deserve this start tonight?
Ugh!
Espn.com box score time:
SCORING SUMMARY:
1st Period
4:58

Mark Scheifele

(29)

Assists: Joe Morrow, Kyle Connor

0
1
18:36

Mark Scheifele

(30)

Assists: Blake Wheeler

0
2
2nd Period
0:38

Mika Zibanejad

(24)

Assists: Chris Kreider, Mats Zuccarello

1
2
19:19

Pavel Buchnevich

(10)

(Power Play)

Assists: Ryan Strome, Tony DeAngelo

2
2
3rd Period
0:57

Mika Zibanejad

(25)

(Power Play)

Assists: Kevin Shattenkirk, Mats Zuccarello

3
2
5:22

Joe Morrow

(1)

Assists: Mark Scheifele, Ben Chiarot

3
3
7:21

Andrew Copp

(6)

Assists: Mason Appleton, Tyler Myers

3
4
PENALTY SUMMARY:
1st Period
16:16

Ben Chiarot:

2 minutes for Cross checking
2nd Period
4:49

Jesper Fast:

2 minutes for Interference

9:54

Neal Pionk:

2 minutes for Interference

17:37

Dustin Byfuglien:

2 minutes for Elbowing

19:42

Blake Wheeler:

2 minutes for Tripping
3rd Period
13:03

Jacob Trouba:

2 minutes for Slashing
| | | | | | | | | | | |
| --- | --- | --- | --- | --- | --- | --- | --- | --- | --- | --- |
| SA | GA | SV | SV% | ESSV | PPSV | SHSV | SOSA | SOS | TOI | PIM |
| 37 | 3 | 34 | .919 | 30 | 1 | 3 | 0 | 0 | 60:00 | 0 |
| | | | | | | | | | | |
| --- | --- | --- | --- | --- | --- | --- | --- | --- | --- | --- |
| SA | GA | SV | SV% | ESSV | PPSV | SHSV | SOSA | SOS | TOI | PIM |
| 36 | 4 | 32 | .889 | 27 | 0 | 5 | 0 | 0 | 59:00 | 0 |
This game followed a script we've seen so many times before with Lundqvist in net, especially against a good team. The Rangers started off slow and were dominated early. Then, the Rangers take control of the game. Then, with a lead, Lundqvist chokes it away and then gives up a back-breaking goal, enroute to another brutal loss. Rinse, wash, repeat.
In the first period, it was all Winnipeg Jets. Then in the second period, the Rangers fought back and tied the game. The Rangers would take the lead in the third but despite making good saves along the way, when the game got into crunch/clutch time, Lundqvist gave it away and threw away a great effort from the team in front of him.
I can't even say hindsight is 20/20, because I'm not the only person in the fan base that thought that Georgiev should've been rewarded with the start tonight. With this type of loss, it just gives ammo for the Georgiev crowd to get louder. Lundqvist did himself no favors in trying to fan those flames, but then again, when management and the network is buried head first up his bleached asshole, I guess it doesn't matter anyway.
Two things about the first minute of this broadcast, as if I haven't gone on enough about this terrible broadcast!
It was mentioned that Lundqvist is 8th in the league in total saves. When you play nearly every game, of course you're going to be high on that list. Of course what wasn't mentioned was stuff that matters, like where Lundqvist is in the league with his save percentage and GAA, both which are at the bottom of the league.
Micheletti, not even a minute in, brought up the last game against the Jets and blamed everyone else besides Lundqvist for the loss. Incredible.
In the opening stages of this game, Boo Nieves continued to show off his playmaking, set up Namestnikov for a shot on net, but Hellebuyck stopped it. Later on the game, Nieves would have a GOOD LOOK, but couldn't finish. That seems to be the story on him. However, ten minutes into this game, Nieves, Namestnikov and Vesey were the best Rangers line, offensively.
Also worth mentioning, because everyone loves to kill the guy, is Kevin Shattenkirk, who made three great defensive plays early in this game. He would later assist on what should've been the Rangers GWG, but you know, Lundqvist doesn't like nice things. I thought this was one of Shattenkirk's better games of the season.
Not even five minutes in, Mark Scheifele beat Lundqvist on a bad angle shot for a bad goal allowed:
Video: NYR@WPG: Scheifele beats Lundqvist five-hole
1-0, bad guys. Sharp as ever!
As @Frizzvisions30 said about this horrendous goal allowed, "That was a karma goal saying Georgiev should've started."
After the goal, only John Giannone had the balls to blame Hank. In unrelated news, John Giannone was fired by the MSG Networks after the game. (Oh and because some people take everything I say literally, I'm JOKING here.)
As the game continued, Hank would make a few good saves that Sam Rosen made out to be saves out of a triple OT Stanley Cup Game 7. Of course, these are routine saves for anyone else, but when Lundqvist makes them, they are extra special.
Of course, left out of Sam and Joe's raving is when Lundqvist couldn't glove a puck cleanly, and while beating their pud to Lundqvist, the puck laid right in front of an empty net. Brady Skjei cleared the puck from near the goal line, to prevent a Winnipeg goal. Skjei's play wasn't mentioned once by Sam, Joe, Vally or Carter.
After playing great against Toronto in the five vs five game, in this first period, the Rangers were at the mercy of the Jets. The Rangers would get a PP at 16:16, but couldn't convert. Then with under two minutes left, Lundqvist gave up the Lundqvist special, as Mark Scheifele got his second goal of the contest at 18:36:
MARK SCHEIFELE POTS HIS 30TH OF THE SEASON!#GoJetsGo pic.twitter.com/iW5OAHEpqS

— Hockey Daily (@HockeyDaily365) February 13, 2019
On the goal, this was one of the rare times the Jets odd-man rush produced a goal. After this goal, they would get other attempts, but like the Rangers of old, the Jets were happy to make the extra pass to nowhere. Instead of taking shots, they created their own turnovers.
2-0 after twenty. This was not a good period for the Rangers.
Away from scorers and goaltenders, the biggest factor in tonight's game was Dustin Byfuglien. Buff has a history of being a very physical and dirty player. I can remember a classless hit on Ryan McDonagh a few seasons ago, as well as a dirty cross check on JT Miller during the 2014-2015 season. In fact, the dirty cross check on Miller led to a four game suspension.
In tonight's game, Bfyuglien was a driving force. He laid into Vesey and Pionk with huge hits, where both of these hits would've resulted in a penalty if competent officials were on the ice. The hit on Pionk alone was straight boarding 101. As the game went on, with no Ranger trying to keep Buff in check, Buff just ran amok and was hammering any Ranger he saw. Where have you gone Tanner Glass?
Seriously, it seemed like even the refs were scared to call a penalty on Buff. Other infractions saw him drop his stick on purpose, which should've been a penalty. Another infraction saw Buff grab Brendan Smith's stick, but again, no call.
At 38 seconds into the second period, Mika Zibanejad scored. More on him soon. 2-1, bad guys.
For the rest of the period, and really the game, the Rangers were the better team. Put it this way, in the first period, the Jets were outshooting the Rangers 19-9. With under five minutes to go in the second period, the Rangers closed the gap, as the Jets were out-shooting the Rangers 27-22 overall. The Rangers would later go on to out-shoot the Jets, by a final tally of 37-36.
The Rangers would have plenty of chances to tie the game, but came up short every time. Again, Nieves was right there, but nada. The Rangers would also kill two penalties in the period.
The biggest play of the period, and perhaps the turning point of the game, was when Buff elbowed Jesper Fast head first into the boards:
Right after this dirty hit from Buff, Fast went to the locker room, assumingly having to undergo NHL concussion protocol.
On this dirty hit, which was about his third of the game up to this point, Buff only got a two minute penalty. Are you fucking kidding me? Just a game ago, Neal Pionk and Zach Hyman had the most pathetic fight in the history of hockey. I've seen moms during "Black Friday" sales put up more of a fight than those two. Both of those players got five minutes for the most embarrasing fight in the history of the NHL.
With this dirty hit by Buff, he only got a two minute penalty. Again, tell me what's the point of NHL Player Safety?
Even worse, while Vladislav Namestnikov, who's been playing with more of a mean streak of late, did try to jump in, it's not like he challenged Buff one-on-one either. Not one Ranger tried to square up with Buff tonight. I'm not saying that's the difference in this game, but the Rangers looked meek out there.
Listen, I know McQuaid is getting older, but this is why here's here. You don't have Tanner Glass anymore. You don't have Cody McLeod anymore. While I won't say this for McLeod, when you saw shit like this in the past during the Glass years, Glass would step right up and challenge anyone one-on-one. With no Ranger challenging Buff, Buff just ran roughshod and hit anyone in sight all game. No one held Buff accountable.
As a Ranger fan, I'm pissed off about Buff. As a hockey fan, I'm glad to see some old school shit. That said, for a team that preaches toughness, none of Quinn's guys had the balls to go after Buff. Save me the shit about the score too, sometimes pride is more important than a one goal game in February. You just can't have Buff beating up your team like he's a one man wrecking crew. Where's McQuaid? Where's Smith? Who wants to step up?
With Buff in the box, the Rangers did capitalize, and would score their first of two powerplay goals. Here's the intoxicating commie tying the game at 19:19:
It's a power-play goal!#NYR tie it late in the 2nd period after a Pavel Buchnevich deflection. Watch the 3rd period on MSG & https://t.co/9032j80fse! pic.twitter.com/UBMdTAc8Pz

— MSG Networks (@MSGNetworks) February 13, 2019
2-2. Don't get it twisted – I'm happy the Rangers scored and all, but I really would've liked to see someone go after Buff to let him know that his shit wasn't going to fly.
30 seconds after this goal, and with less than 20 seonds remaining in the period, Blake Wheeler got a penalty, giving the Rangers one of those dreaded wrap around penalties. However, for the first time this season, at least that I can remember, the Rangers would capitalize on this powerplay at the start of the third period.
At the end of two, 2-2, anyone's game, with the Rangers having the momentum.
Just like the second period, the Rangers got a goal in the opening minute, as Zibanejad scored a PPG:
Lucky #25 for Zibanejad. Three unanswered for the Rangers. #NYR pic.twitter.com/krvijoO7SV

— Rob Taub (@RTaub_) February 13, 2019
Good things happen when you put the puck on net. 3-2, good guys.
On the goal, Zibanejad passed Chris Kreider for the most amount of goals on the team.
This Rangers team needs a captain and a leader. I don't know what goes on in the Rangers locker room or if Zibanejad will even be here past the deadline, but the man is playing like a leader. My only criticism about Zibanejad is well known – I just worry about his concussions. Put it this way, if Buff hit Zibanejad the way he hit Fast, who knows if Zibanejad would've been out for the season? That said, Zibanejad has been pure fire and is the Rangers most valuable asset right now.
I know, I know I know, "YOU HAYTE LUNDQUISS!" That said, it's a shame Hank choked this game, because the Rangers loss will be the headlines and not Zibanejad's great game tonight.
One last thing on Mika Zibanejad. This comes from @NYRStatsInfo:
"Mika Zibanejad is the first Rangers center who has recorded 25 or more goals and 56 or more points through the team's first 56 games of a season since Mark Messier in 1996-97."
I don't think I have to say anything more. That's some pretty impressive company and puts Zibanejad's season into a better perspective.
Oh, and that should've been the game winning goal.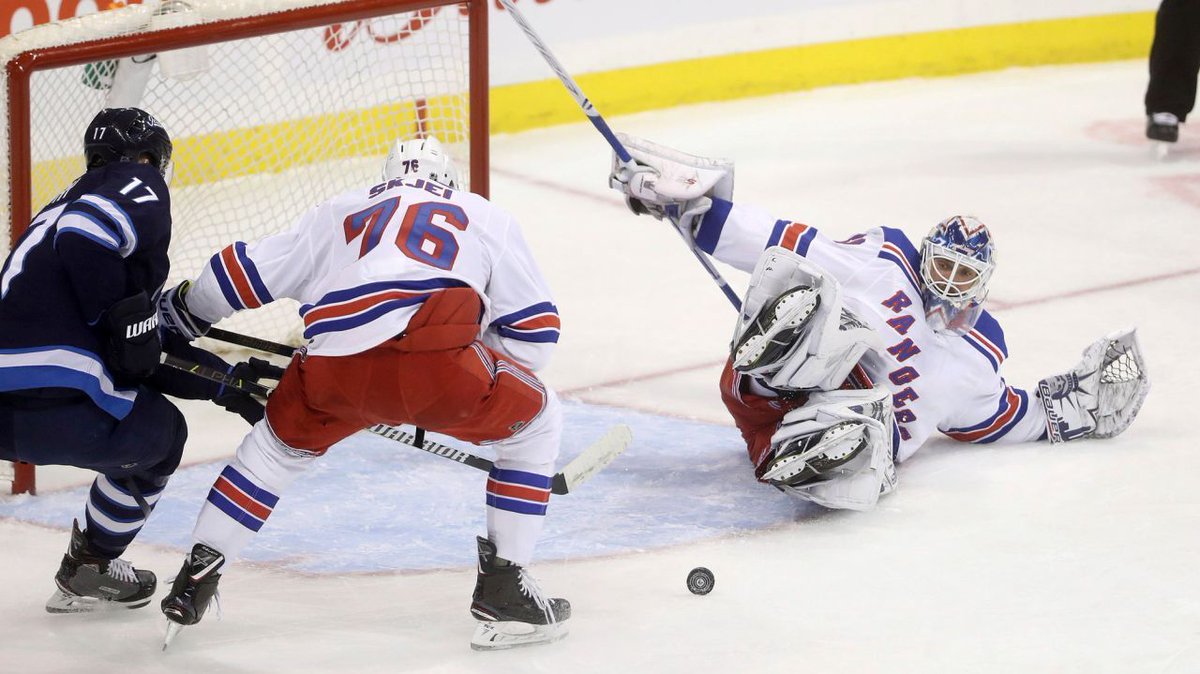 At the 5:22 mark of the third, Joe Morrow, who has been scoreless all season, in something like 43 games played, got his first goal of the season. Lundqvist makes memories. 3-3.
Less than two minutes later, Andrew Copp scored the game winning goal:
Video: NYR@WPG: Morrow blasts one-timer past Lundqvist
4-3, bad guys.
As I said on social media at the time, the second Lundqvist was falling to his ass and and as the puck went in the net, I knew this game was over, despite there being 10+ minutes on the clock.
Jacob Trouba would later take a slashing penalty. On the Rangers PP, Kreider was all alone in front of the net, but missed a chance at deflecting the puck in for a tying goal.
The refs also started letting anything go, as Buff boarded Pionk. Then, with Henrik finally pulled, Zuccarello would get away with a hook. The Rangers couldn't muster much up on their 6 vs 5 attack and when the final horn went off, the score remained Jets 4 – Rangers 3. This loss is solely on Lundqvist and don't let anyone else tell you otherwise.
The next two games will be on Friday, when the Rangers go to Buffalo, followed up by a Sunday matinee game in Pittsburgh. Who wants to bet that Lundqvist takes the start against Buffalo while Georgiev plays against the Penguins?
If it was up to me, and by now you know it's not, I would give Georgiev both games. I've seen enough of Lundqvist and his bullshit this season. I rather see the Rangers send Lundqvist to the press box and call up Halverson for a start. Let's see what the kids have. We know what Lundvqist has – a Fort Knox contract with a goalie dam that has more breaks than the levees of Hurricane Katrina.
With two days off, it should be interesting to see if the Rangers make a major move. It seems like they are building up to one, as they are slowly moving away from lesser pieces, such as McLeod and Mazanec.
We are under two weeks away from the trade deadline and quite frankly, it can't get here soon enough. It's getting tiresome and boresome reading all the "RANGERZ MUST TRADE THIS GUY" and "ZUCC WILL BE GOING HEAR!" clickbait articles.
In all honesty, I'm just waiting for October 2019.
See ya Friday night.
As always, thanks for reading this montrosity of venting and of course, no matter what…
"LET'S GO RANGERS!"
Sean McCaffrey
BULLSMC@aol.com
@NYCTHEMIC on the twitter machine