Greetings and salutations everyone and welcome to another blog here on BlueCollarBlueShirts.com. Due to this being a late game and due to the fact that I have to be up at 4:30 AM for work on Thursday, this blog is going to be a lot shorter than usual. Don't worry, you'll live! On the other hand, I will be groggy tomorrow, but after a game like this, it will be worth it! WHAT A WIN!
On Wednesday night in prime-time and with Henrik Lundqvist ducking Massa Halak & the playoff bound Bruins, the Rangers turned to the KING OF KINGS, in Alexandar Georgiev. As mentioned in previous blogs, Alexandar Georgiev leads all back-up goalies when it comes to percentage of starts against playoff teams. (NOTE: I was SHOCKED that John Giannone brought this up in his podcast today.)
While most starts for every other back-up goalie in this league come against lesser teams, it's Alexandar Georgiev having to shoulder the load against the league's best. Out of all the starting goalies in the NHL, Henrik Lundqvist has logged more starts against the league's worst teams than the league's best. $8.5M. What a joke!
In tonight's contest, behind a stellar performance from THE KING OF KINGS, the Rangers defeated the Boston Bruins, 4-3, via the shoot-out.
No matter what you think about the shoot-out (as mentioned in past blogs, it doesn't bother me, because I understand why they occur. You just can't have triple OT games up and down the schedule) this was an exciting win for the New York Rangers.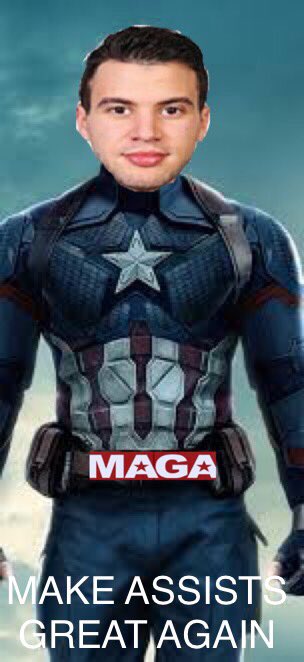 I really wish I could do a full-length blog tonight, but time is of the essence here. While this is a season of rebuilding and development, tonight's win was a highlight and a step in the right direction. The Rangers really impressed me tonight.
What made this game so great to me, besides some of my favorite players delivering, was the fact that if you look at Alexandar Georgiev, this was a huge test. As the game went along, he got a ton of experience and he was able to handle major crunch time minutes.
When you look at the rest of the younger players on the roster, the socialist Pavel Buchnevich had a great game. It was certainly his best game since the All-Star break. Tony DeAngelo had a great game. Brady Skjei was laying the hammer all over the ice and I thought he had his best defensive game of the year. Filip Chytil continued to awe and scored a goal tonight. Now if only my GOOMBAH Vinni Lettieri could get on the board. Oh and while speaking of Lettieri, let me get into all the news of the day.
Before tonight's game with the Boston Bruins, the Rangers made some moves. At around 1:00PM, it was reported that the Rangers traded Cody McLeod to Nashville. At 1:32PM, the Rangers officially announced the trade: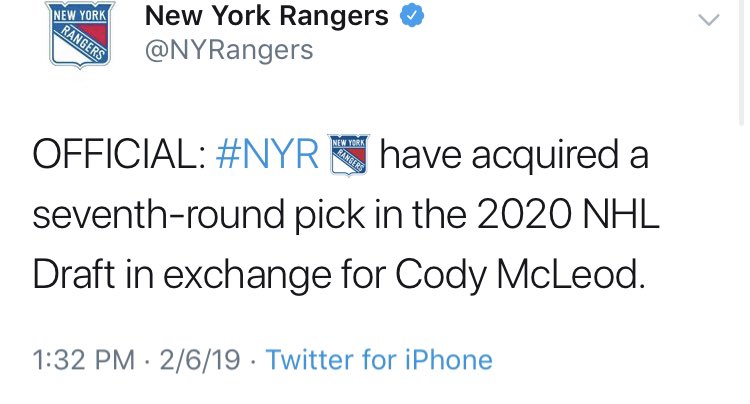 Going into this season, I didn't understand why the Rangers kept McLeod around in the first place. If you recall, during McLeod's first game with the Rangers last season, the Rangers played his ex-team, in the Nashville Predators. In that game, two Rangers would take huge hits and would have to go into concussion protocol. McLeod, unlike Tanner Glass, the role that McLeod was now filling, stood by.
During this 2018-2019 season, McLeod fully embraced his role and position with the Rangers. He was fighting. He was hitting. He was overly physical. Some of this stuff is a lost art, as these are things the NHL kind of wants to get away from. For older fans, who miss their roughshod hockey, it's unfortunate. For newer fans, who like "Disney on Ice", McLeod was never going to fit in.
In this trade, the Rangers return McLeod to Nashville, as the Predators hope to make a run back to the Stanley Cup Final this season. In return, the Rangers get a 2020 7th round draft pick. It's something. Who knows, with their 7th round draft pick, maybe the Rangers will select their next goalie of the next 15 seasons? Maybe they will overpay that goalie too!
While the McLeod era in New York is now over, the Predators made another trade today, that may be of more significance to Ranger fans.
With Brian Boyle going to the Predators, the Devils were able to get a second round pick for a fourth line center. In other words, the trade values of Mats Zuccarello, Kevin Hayes, Mika Zibanejad, Chris Kreider and even the ghost of Lester Patrick, all went up ten-fold. Whatever Jeff Gorton decides to do from now until the trade deadline, with Brian Boyle fetching a second round pick, Gorton should be able to increase his cabinet of draft picks and prospects in a tremendous fashion, especially if Gorton is able to creating a bidding war for his products.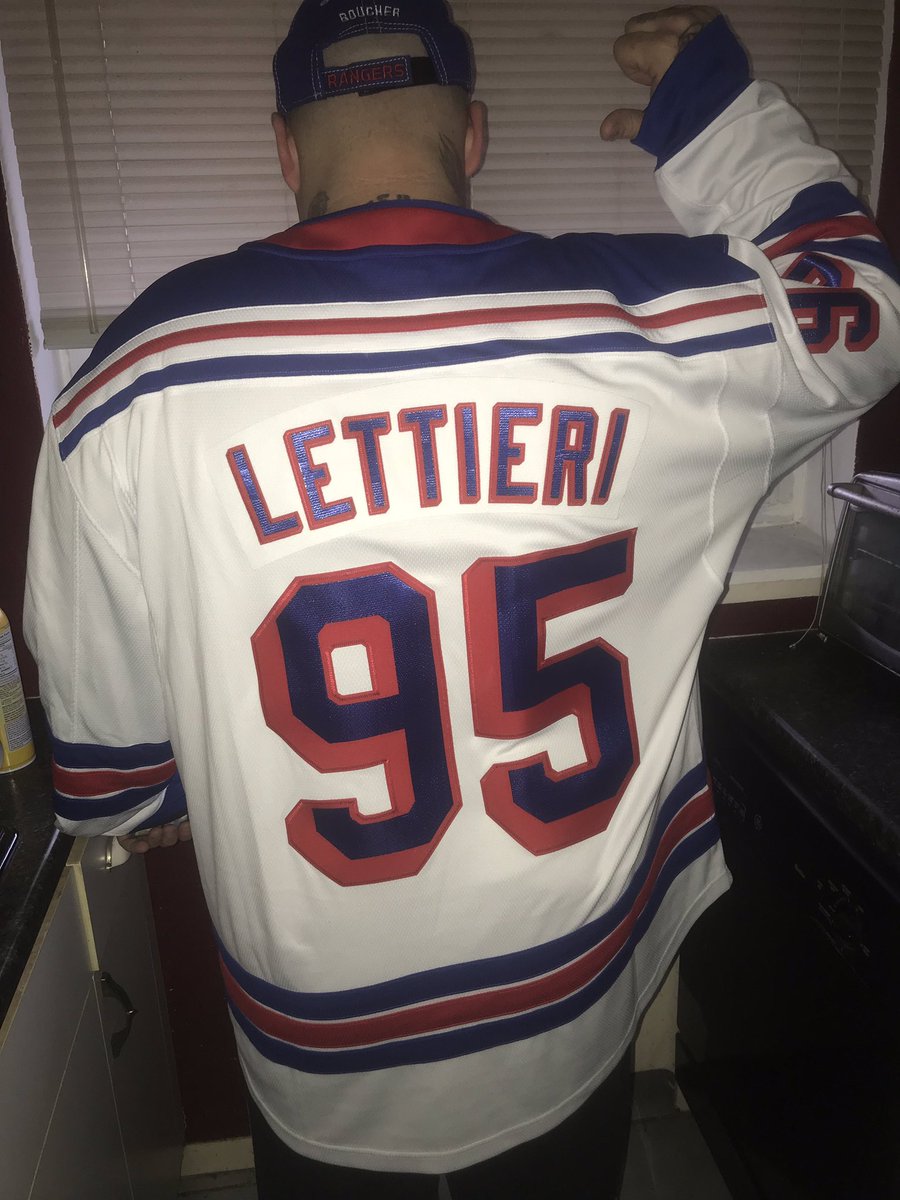 With McLeod back to Tennessee, the Rangers were potentially facing another 11 forward, 7 defensemen line-up. However, on his birthday, Vinni Lettieri finally got the call he was waiting for from the Rangers, as the Rangers recalled Lettieri back from Hartford. Here's the official tweet from the Rangers: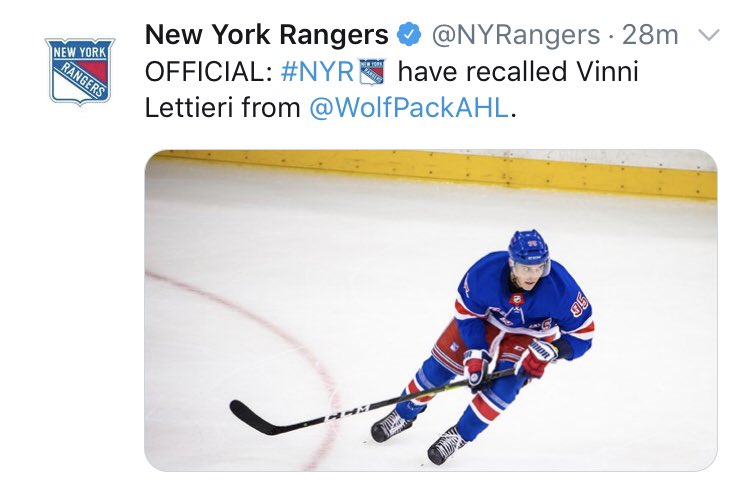 For Vinni Lettieri, who has made the most of his time in Hartford since being sent down earlier in the season, it's still hard to truly judge him as an NHLer. In tonight's game, you had four Ranger powerplays, two Ranger penalty kills and two situations of four vs four hockey. You also had a five minute 3 vs 3 overtime.
Lettieri played on the fourth line with Vesey & Nieves, so he's not playing with playmakers here. Furthermore, because of his role on the team, he's not getting special team minutes either. In fact, Lettieri logged a game low 7:12 of ice time. In Hartford, Lettieri was playing top 6 minutes and was playing with the best skaters in Hartford. With the Rangers, he's in a fourth line/grind type of role and playing with the least talented forwards on the club. His role in Hartford and his role in New York are night and day.
Yes, I'm a big advocate of Vinni Lettieri and I never hide my biases or opinions on this blog, but I just don't know how you can get a true NHL feel for Lettieri when he's not afforded the best opportunity. If this is a season of development and rebuilding, I'd like to see Lettieri at least get one game playing top 6 minutes.
Time for the plugs.  In case you missed them, here are my most recent blogs:
---
---
---
---
---
With Neal Pionk struggling ever since coming back from injury, it seems that, as Dave Maloney put it on the "Bleeding Blue Shirts" podcast, "Pionk has hit a wall." Maybe it's all the games, maybe he's not 100%, but whatever it is, the guy who was doing the coast-to-coast spinorama's earlier this season, seems to be missing. Pionk has also been unreliable defensively, so Quinn scratched Pionk for this game. I don't think it will be a season-long thing, but I don't think this scratching hurt the Rangers or Pionk's stock with the team.
With McLeod out and Lettieri called up, the Rangers rolled out the traditional 12F/6D line-up. Here is what Quinn put out there:
FIRST LINE: If you don't know by now, get lost. (It was Kreider/Zibanejad/Zuccarello)
SECOND LINE: Buchnevich/Hayes/Fast (#89 continues to improve since his scratching.)
THIRD LINE: Chytil/Strome/Namestnikov
FOURTH LINE: Vesey/Nieves/VINNI LETTIERI (And yes, Lettieri needs to get a point this season, no matter what line he plays on.)
Defensively, we had:
FIRST PAIR: Skjei/McQuaid (This may have been Skjei's best D-game of the season. Playing with McQuaid has done wonders for him.)
SECOND PAIR: Staal/DeAngelo (A great complementary pairing.)
THIRD PAIR: Smith/Shattenkirk (The Rangers would be better off trading both of them.)
Gambling wise, this is what I predicted before the game:
Tough one tonight. When in doubt, take the over. It's a 4-3 league. #nyr pic.twitter.com/q8kGcGtSwB

— BlueCollarBlueShirts (@NYCTheMiC) February 6, 2019
Ahem. Do I know my shit or do I know my shit? The Rangers won 4-3. I'm now 22-7-1 since giving out my predictions. I need my own "TWO FOR THE MONEY" movie.
ESPN.com box score time:
SCORING SUMMARY:
1st Period
17:45

Mika Zibanejad

(22)

Assists: Mats Zuccarello

0
1
2nd Period
10:37

Danton Heinen

(7)

Assists: Matt Grzelcyk, Brad Marchand

1
1
11:49

David Pastrnak

(31)

Assists: David Krejci, Kevan Miller

2
1
15:11

Patrice Bergeron

(19)

(Power Play)

Assists: Brad Marchand, Torey Krug

3
1
3rd Period
9:24

Kevin Hayes

(12)

Assists: Pavel Buchnevich, Jimmy Vesey

3
2
12:41

Filip Chytil

(10)

(Power Play)

Assists: Pavel Buchnevich, Tony DeAngelo

3
3
OT Summary

No Goals Scored
Shootout Summary

Shootout attempt by Mats Zuccarello MISSES
0
0

Shootout attempt by Peter Cehlarik saved by Alexandar Georgiev
0
0

Shootout attempt by Kevin Shattenkirk saved by Jaroslav Halak
0
0

Shootout attempt by David Pastrnak MISSES
0
0

Shootout GOAL scored by Mika Zibanejad on Jaroslav Halak
0
1

Shootout GOAL scored by Brad Marchand on Alexandar Georgiev
1
1

Shootout attempt by Kevin Hayes saved by Jaroslav Halak
1
1

Shootout attempt by Charlie McAvoy MISSES
1
1

Shootout attempt by Filip Chytil MISSES
1
1

Shootout attempt by Jake DeBrusk saved by Alexandar Georgiev
1
1

Shootout attempt by Jimmy Vesey MISSES
1
1

Shootout attempt by Danton Heinen saved by Alexandar Georgiev
1
1

Shootout GOAL scored by Anthony DeAngelo on Jaroslav Halak
1
2

Shootout attempt by David Krejci saved by Alexandar Georgiev
1
2
PENALTY SUMMARY:
1st Period
1:11

Patrice Bergeron:

2 minutes for Tripping Mika Zibanejad

13:39

Marc Staal:

2 minutes for Cross checking Sean Kuraly

19:08

Sean Kuraly:

2 minutes for Roughing Boo Nieves

19:08

Jimmy Vesey:

2 minutes for Cross checking Chris Wagner
2nd Period
2:16

Kevan Miller:

2 minutes for Cross checking Vladislav Namestnikov

12:12

Patrice Bergeron:

2 minutes for Slashing Mats Zuccarello

14:22

Anthony DeAngelo:

2 minutes for Tripping Patrice Bergeron

16:34

Mats Zuccarello:

2 minutes for Roughing Brandon Carlo

16:34

Brandon Carlo:

2 minutes for Roughing Mats Zuccarello
3rd Period
12:05

Charlie McAvoy:

2 minutes for Boarding Mika Zibanejad
OT Summary

No Penalties This Period
GOALIES:
| | | | | | | | | | | |
| --- | --- | --- | --- | --- | --- | --- | --- | --- | --- | --- |
| SA | GA | SV | SV% | ESSV | PPSV | SHSV | SOSA | SOS | TOI | PIM |
| 30 | 3 | 27 | .900 | 21 | 2 | 4 | 0 | 0 | 65:00 | 0 |
| 0 | 0 | 0 | .000 | 0 | 0 | 0 | 0 | 0 | 0:00 | 0 |
| | | | | | | | | | | |
| --- | --- | --- | --- | --- | --- | --- | --- | --- | --- | --- |
| SA | GA | SV | SV% | ESSV | PPSV | SHSV | SOSA | SOS | TOI | PIM |
| 0 | 0 | 0 | .000 | 0 | 0 | 0 | 0 | 0 | 0:00 | 0 |
| 39 | 3 | 36 | .923 | 30 | 1 | 5 | 0 | 0 | 65:00 | 0 |
Off of puck drop, this was just one of those games where despite how great you were playing, the other team was still right in it. There were portions of this game where the Rangers were dominating and dictating the pace, and then BOOM – Boston scores three goals & the Rangers look dead to rights. Conversely, with a two goal lead and in a third period where they were just pummeling & pounding the Rangers, the Bruins got GOT, and BOOM – the Rangers score two goals and tie the game.
From a Rangers perspective, what I found most impressive was that there was some stat out there, where the Bruins, since 2011-2012, were something like 200-19 when leading by two goals going into a third period.
Furthermore, in this season particular, the Rangers aren't that great. The second Boston got off three goals in the second period and with the way Boston opened up the third, I figured this was going to be one of those games where afterwards, David Quinn would sit there and say the usual stuff – "We gotta win the one-on-one battles. We gotta get the loose pucks. We gotta be more physical. We gotta finish." Instead, the Rangers pleasantly surprised me, as they didn't give up and fought hard to comeback. When it was all said and done, they picked up two points against one of their oldest rivals.
This was an NBC game, so no MSG crew tonight. That said, that didn't stop the overly talkative Doc Emrick from telling us that Filip Chytil was 19 years old. Oh, and if you didn't know, Charlie McAvoy grew up rooting for the Rangers. That fact was only mentioned 7364737894637896389463789649634 times tonight.
The Rangers would get an early PP to start the first period, but it was a mess. The biggest mess out there was Kevin Shattenkirk, whose decision making can only be called questionable at best. I think it's time to put TDA on the first unit and let the "QB of the PP" play with the second PP unit.
A lot of the first period, a period that the Rangers looked to be the better team in, felt familiar – play well but don't finish.
Later on in the first, Marc Staal would be called for a phantom cross check penalty. Luckily, the Bruins wouldn't capitalize on this favor from the stripes.
With the period winding down and in a period where it looked like the Rangers wouldn't capitalize on any of their chances, Mika Zibanejad kicked off the scoring at the 17:45 mark:
MIKA ZIBANEJAD OPENS THE SCORING UP FOR THE RANGERS! ZIBBY STAYS HOT!#NYR pic.twitter.com/g7vevx2rH8

— Hockey Daily (@HockeyDaily365) February 7, 2019
1-0, good guys, after a beautiful pass from Zucc for the one-timer. I know all the talk is how much Lundqvist is going to miss Zuccarello, but really, Zibanejad is going to miss the guy much more.
When the period ended, the Rangers held on to their one goal lead. Of note, Georgiev was fantastic in the period, stopping multiple odd-man rushes.
In the second period, the Rangers would get two more power-plays, but just like the first NYR PP, Georgiev, and not Halak, was making the tougher high quality saves. The Rangers gave up way too many odd-man rushes on their PP tonight. Another theme was that Halak was stopping Kevin Hayes all game too, as Halak did make two great saves on Hayes during this period. However, Hayes would later break through in the third.
When the half-way mark of the game hit, the Rangers held on to their 1-0 lead. However, from 10:37 to 15:11, a span of under five minutes, the Bruins would score three straight goals to make the score 3-1, bad guys.
Danton Heinen would score the first goal, on a seeing eye and raising shot, while Georgiev was screened by his own man and a Boston skater. 1-1.
Pastrnak would score just over a minute later, after a Smith turnover. On the goal, Lettieri couldn't get to the puck in front of him and Shattenkirk ate popcorn and watched Georgiev get beat. 2-1, bad guys. Then to cap it all off, Patrice Bergeron scored on a Boston power-play. 3-1, bad guys. It looked like the game was over.
The saddest thing about this was that Georgiev was playing really well, but the Rangers had this mini-implosion. That's all it took, as just like that, after having a shutout going for thirty minutes, Georgiev had three goals against him and a save percentage under .900. To Georgiev's credit, he kept calm, cool and collected. Even better, the PPG would be the last goal he gave up for the remainder of regulation and in overtime.
After two periods, 3-1, bad guys.
In the third period, before getting into the goals, I want to reiterate my praise for Brady Skjei tonight. I thought he was superb on defense and it was great seeing him hit anything that moved. The Rangers need that.
The third period started off as a one-sided affair, on behalf of the Bruins. The way the period was going, 3-1 was looking like it would be 5-1, 6-1. However, because of the great stops from Georgiev, the Rangers were still alive. With Georgiev making big stops, it gave the Rangers the time to turn the tide.
At the 9:24 mark, Pavel Buchnevich would pick up the first of his two assists. On Rangers goals two and three, Pavel Buchenvich was the instigator on both of them. I've been hard on the commie, but I must give credit where credit is due – the socialist was sizzlin' tonight. Putin would be proud.
Here's Hayes benefiting off of the hard work from Buchnevich:
KEVIN HAYES BRINGS THE RANGERS WITHIN 1!#NYR pic.twitter.com/GnssfYaRtI

— Hockey Daily (@HockeyDaily365) February 7, 2019
3-2, good guys.
Then, after a sustained period of time in the Bruins zone, the Rangers top line drew a penalty on Charlie McAvoy. On the Rangers fourth power play of the game, the Rangers finally converted one:
FILIP CHYTIL TIES IT UP ON THE POWER PLAY IN TIGHT!#NYR pic.twitter.com/I6Snvmhs7t

— Hockey Daily (@HockeyDaily365) February 7, 2019
Once again, Buchnevich put the puck on net and there was Chytil to slam home the rebound. 3-3. Oh, and as they always say – "GOOD THINGS HAPPEN WHEN YOU PUT IT ON NET!"
With under ten minutes to go, both teams tightened up defensively, but both Halak & Georgiev would make game saving stops. When triple 0's hit, we were tied at three. Up next was the 3 vs 3 shoot out.
I'm going to say this and I don't care what you think – The Rangers lose this game if Lundqvist is in net. There is not a fiber in my being that doesn't believe this. Too many times, have we seen Lundqvist just give up once shit gets out of control. Georgiev kept his calm when down 3-1. I don't think Hank would've done the same. Then when it came to the overtime and the shootout, based on what I've seen, there's just no fucking way Hank makes these saves because he's too old and too slow now.
The 3 vs 3 portion of the game was pure BANANAS. Just insanity. Both goalies had heart rates similar to Artie Lange & Chris Farley at a cocaine buffet. Both goalies just made extraordinary and heart-pounding saves. Yes, I know – 3 vs 3 isn't in the playoffs and it isn't really hockey. However, it does test your goaltenders and Georgiev and Halak looked like studs here.
After both goalies robbed their opponents, we went to the shootout. For the Rangers, this was their longest shootout of the season, as the Rangers would win the shootout in the eigth round, 2-1, to win the game by a final of 4-3.
Here's TDA's GWG:
TONY DEANGELO WINS IT FOR THE RANGERS IN THE SHOOTOUT!#NYR pic.twitter.com/Oo9t0SvhJY

— Hockey Daily (@HockeyDaily365) February 7, 2019
Of note, you all know about the reputation and the maturity talk concerning TDA. The league knows it too, which is why if you notice, during these games, TDA is constantly being chirped. It's been going on for a while, as the other team tries to goad him. Knowing that, I was laughing hysterically after TDA scored, as he skated towards the Bruins bench and talked a little shit. TDA gives a fuck and he gets emotional because he wants to win. I can't hate on that!
After the TDA goal, Georgiev stoned David Krejci to protect the lead and to win the game.
There's been better Georgiev games out there this season, but this may have been the game to really test his mettle. I think Georgiev will take a lot out of this one. Granted, it's just one game, but Georgiev really rose to the occasion. Anyone saying other wise has a belly full of Swedish semen.
Again, real life beckons, so sorry for not going as detailed as usual.
The Rangers host their bitches on Friday night, as the Rangers will play the Carolina Hurricanes. On this night, every fan in attendance will get a free 1994 Stanley Cup ring, which will probably turn your finger green. I will be in the building for this game and will be meeting up with a bunch of blog readers before the game. Should be a fun night. Depending on the alcohol intake throught Friday night, the NYR/CAR blog may be delayed until Saturday morning. We will see!
Thanks as always for reading and of course, I bid you goodbye with a…
"LET'S GO RANGERS!"
Sean McCaffrey
BULLSMC@aol.com
@NYCTHEMIC on twitter