Greetings and salutations everyone, and welcome to another blog here on BlueCollarBlueShirts.com. It's funny, for some reason, about two years ago, I started using the "greetings and salutations" line to open up every blog here on this site. I don't recall what triggered me to use this opener. The line must've seeped into my subconscious.
On Saturday night, after watching football and Bellator, I was still pretty wired at 1AM. That's the residual factor of coming off of working the graveyard shift. Plus, I'm a night owl by nature anyway. Looking for something to watch on Netflix, I saw the movie "HEATHERS" featured as something "I might enjoy", by the powerful forces known as the Netflix algorithms. Leave it to Netflix to know my love for Winona Ryder movies!
In "Heathers", which is considered a cult-classic by some movie buffs, the movie pairs up the aforementioned Winona Ryder with a baby-faced Christian Slater. In this dark comedy, Christian Slater uses the line "Greetings and Salutations", several times throughout the flick.
While I know I've seen "Heathers" in the past, probably in the mid-1990's on HBO or something, I didn't remember much of the movie. However, as I sit back today, I wonder if this line was sitting in the back of my brain as a result of this movie.
And for those who care, "Heathers" is a movie worth your time. In what is sad and eerie, the movie somewhat predicted the real-life deaths of two of the actors in the movie. One actress in "Heathers" was threatened with a brain tumor. That's what Kim Walker, who played Heather Chandler in the movie, died of in 2001. Actor Jeremy Applegate, who plays Peter Dawson in the movie, laments about the topic of suicide, which is the central theme in this movie. He would go on to blow his brains out in 2000.
Only on this blog will you find an intro about the opening line of this very site and some talk on "Heathers". Don't worry, hockey season is right around the corner and you will soon be spared my love of Winona Ryder movies & the 1980's.
In case you're just getting back into the swing of things, or need a reminder, before getting into the meat & potatoes of today's manifesto, here are my last few blogs, in case you missed them:
---
---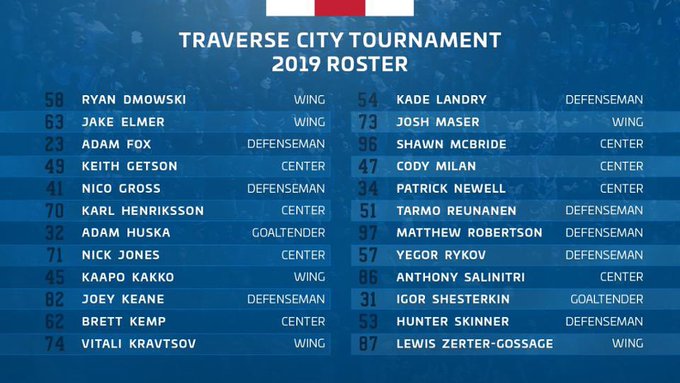 When it comes to current Ranger news, the biggest Rangers news since the last time I checked in here is that the Rangers announced their entire roster for the 2019 Traverse City Tournament. In other words – there's no update to give you on Chris Kreider, Tony DeAngelo or Brendan Lemieux. However, don't fret, I'm sure Jeff Gorton will make the deals that need to be made.
Located approximately four hours away from Detroit, sits Traverse City, a city located at the northwest tip in the great state of Michigan. During the past twenty years (the 2019 tournament will be the 21st annual extravaganza) the Detroit Red Wings have held/hosted this tournament of NHL Prospects.
According to the Detroit Red Wings, in the 20+ year history of the tournament, nearly 600 players have went on to play in the NHL. When you look at the roster the Rangers are entering in this years tournament, that number will easily rise.
In its current format, the Traverse City tournament of NHL prospects features 8 NHL teams. In this year's rendition, the host of the tournament, in the Detroit Red Wings, are one of the teams. Three other Original 6 teams will be entering the tournament, in the Toronto Maple Leafs, the Chicago Blackhawks and of course, the New York Rangers.
The four other teams rounding out the field are the Stanley Cup Champions, in the St. Louis Blues, the Dallas Stars, the Columbus Blue Jackets and the Minnesota Wild.
When it comes to the tournament format, here is the official wording from the Red Wings:
"The tournament divides the eight-team field into two four-team divisions. Teams will play each team in their division during the round robin before a crossover on the final day of the tournament, capped off with the first-place finishers in each division meeting for the championship on the final day of the tournament. A complete tournament schedule and rosters for each team will be released at a later date."
While the schedule for the tournament hasn't been released yet, the tournament will start on Friday, September 6th and will conclude on Tuesday, September 10th.
The Traverse City NHL Prospect Tournament has a unique place on the hockey calendar. While none of the games are "official" or have real no bearing on the NHL season, this tournament does give teams a chance to look at their draft picks and prospects. Teams also field free agents/unsigned youths to their roster. This allows the whole league to look at these members of the hockey talent pool.
Again, while wining or losing the tournament doesn't matter in the grand scheme of things, for the players in the tournament, this gives these men their first chance at impressing their current (or future) employers.
For hockey fans, while there are a myriad of hockey tournaments and charity games throughout the summer, the Traverse City Tournament is the first official indicator that NHL hockey is right around the corner. Shortly after the tournament winds up, NHL teams head to camp and before you know it, the NHL preseason is here. For fans who can't stand the hockey-free months of July & August, the Traverse City Tournament is the light at the end of the tunnel.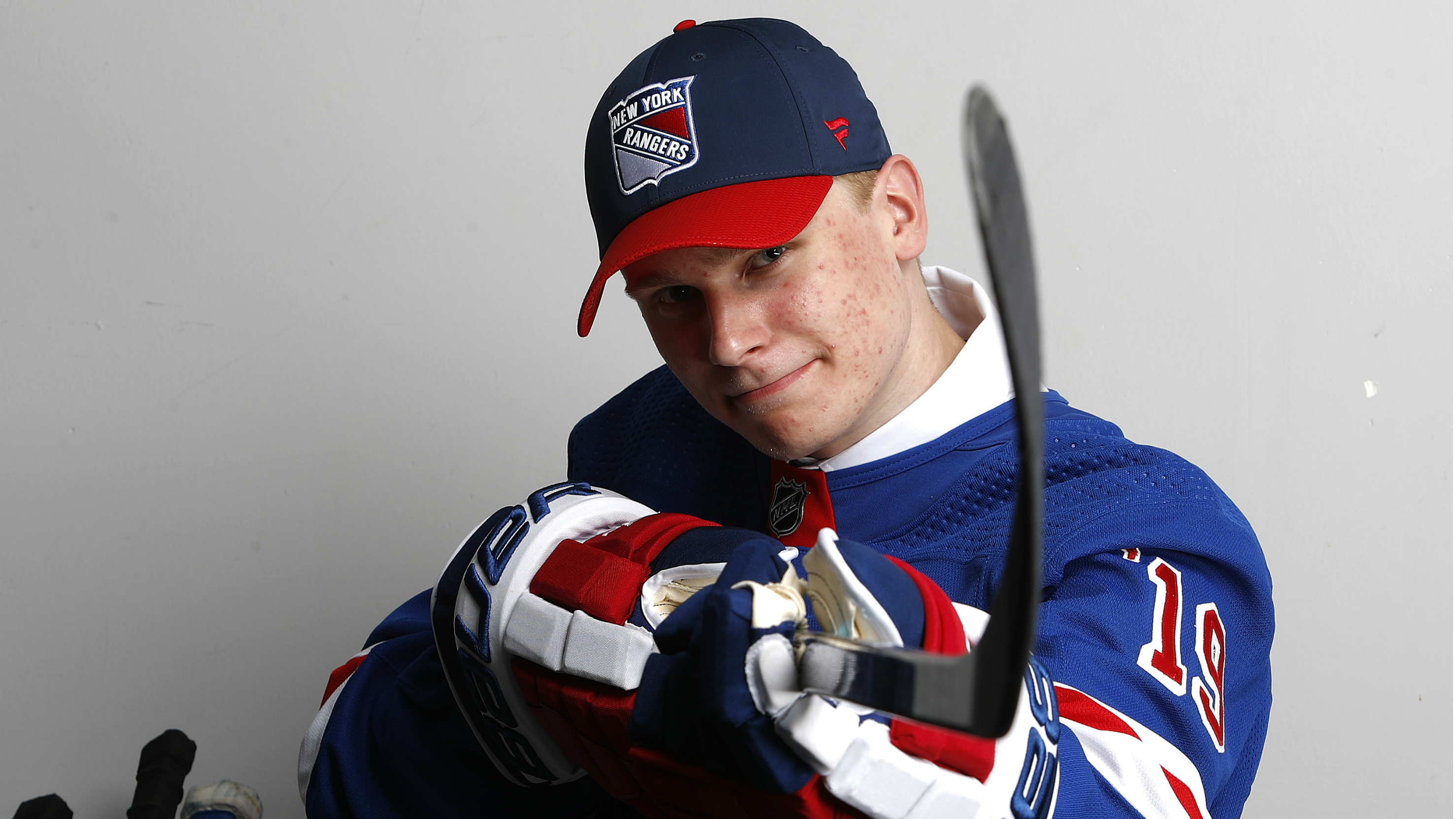 Just for shits & kicks, and again, let me stress that winning this tournament isn't life or death here, the Rangers once won this tournament, back in 2007. However, since 10 is a round number, a number that has some weight if you will, let's take a look at the men that represented the Rangers during the 2009 installment of this tournament:
2009 NY RANGERS TRAVERSE CITY PROSPECTS TOURNAMENT ROSTER
Forwards
No.
Player
POS.
HT
WT
Age
2008-09 Team (League)
63
Daniel Bartek
C
6-3
195
20
Everett (WHL)
60
Ryan Bourque
C
5-9
175
18
USA Under-18 Team
57
Chris Chappell
LW
6-4
209
21
Saginaw (OHL)
58
Paul Crowder
C
6-3
202
24
Alaska-Anchorage (WCHA); Hartford (AHL)
56
Craig Cunningham
LW
5-9
175
19
Vancouver (WHL)
59
Evgeny Grachev
C
6-4
220
19
Brampton (OHL)
64
Roman Horak
C
6-0
189
18
Ceske-Budejovice (Czech)
67
Luke Pither
C
6-0
183
20
Guelph-Belleville (OHL)
53
Justin Soryal
LW
6-2½
209
22
Hartford (AHL)
55
Luke Walker
RW
6-2
175
19
Portland (WHL)
65
Dale Weise
RW
6-2
206
21
Hartford (AHL)
61
Ethan Werek
C
6-1
199
18
Kingston (OHL)
Defensemen
47
Mike Berube
D
6-0
215
21
Vancouver (WHL)
43
Michael Del Zotto
D
6-0½
191
19
Oshawa-London (OHL)
48
Tysen Dowzak
D
6-5
226
21
Kelowna (WHL); Hart. (AHL); Charl. (ECHL)
51
Mitch Gaulton
D
5-11
206
19
Erie (OHL)
70
Trevor Glass
D
6-0
187
21
Spokane (WHL)
72
Sam Klassen
D
6-2
199
20
Saskatoon (WHL)
46
Tomas Kundratek
D
6-2
190
19
Medicine Hat (WHL); Hartford (AHL)
52
Daniel Maggio
D
6-2½
205
18
Sudbury (OHL)
Goaltenders
96
Chad Johnson
G
6-3
200
23
Alaska-Fairbanks (CCHA)
94
Scott Stajcer
G
6-3
195
18
Owen Sound (OHL)
As mentioned in my numerous Glen Sather blogs on this site, the Sather era of Rangers didn't exactly produce the best drafts. While Chad Johnson had some NHL success, the biggest name on this 2009 roster is Michael Del Zotto. That is why this 2019 class of Rangers is so freaking impressive. Just ten years ago, the Rangers best prospect was Michael Del Zotto. While he started off okay, we know how that all worked out. Now, here in 2019, the Rangers are fielding a potential all-star team of talent.
In goal, you have CZAR IGOR SHESTYORKIN, who could be the next franchise goalie of the organization.
Playing defense, you have Adam Fox, who hopefully will be the next stalwart of the Rangers blueline. Playing beside him is the promising Yegor Rykov, who was acquired in the Michael Grabner trade with the Devils.
On one wing, you have the new crown jewel of the organization. You have the guy that everyone hopes can smash every franchise record that Rod Gilbert has. Of course, I'm talking about Kaapo Kakko here. And yes, as I've said before, while I think it's tough to put these somewhat unrealistic expectations on Kakko, I understand the excitement behind it. I can't hate on anyone who has dreams of grandeur, in regards to Kakko. We're supposed to be excited.
However, there's one more player to talk about here, and that's this man:
The other major Ranger name competing in this tournament is Vitali Kravtov, who was the Rangers first round pick of the 2018 NHL Draft. In my opinion, Kravtsov has flown under-the-radar a lot, especially with the way things went this off-season.
I've brought this up before – I wonder what jersey you'll see more of this season, Kakko or Panarin? There are arguments in support of both players. However, what isn't being argued or talked about, is the sale of Kravtsov jerseys.
In a historic off-season, a historic off-season that produced the second overall pick of the NHL draft in Kakko, the Rangers also landed the biggest & best player in free agency, when they locked up Artemi Panarin to a long-term deal. Before that signing, the Rangers traded for Jacob Trouba, who is one of the best defensemen in the NHL today. If that wasn't enough for you, you may have head about JD taking over for Senile Sather, the trade with Carolina for prospect Adam Fox and oh yeah – CZAR IGOR SHESTYORKIN made it official with NYR.
While I don't want to say or imply that Kravtsov "slipped through the cracks" or anything of that nature, the fact of the matter is that it is very easy to forget that the Rangers have him on the roster. There's just so much attention, glee, joy and excitement about the future of this team, that for every 100 times you hear the names "Kaapo Kakko" or "Artemi Panarin", you might hear the name "Vitali Kravtsov" just once.
I don't pretend to be some buff about prospects. My game is the history of the franchise. I rather watch old games and read books than watch children play hockey. However, you need perverts like Pierre McGuire and the others that get their rocks off on watching teenage kids play hockey. It's the only way to assess the future.
Admittedly, my knowledge on Kravtsov is limited. I can't bullshit you and tell you that I've watched his games. I've watched some footage, but I'm not some asshole who will whine about his "cross-over strides", like some pompous bloggers do.
All I can tell you is this. From the people I read and trust, the professional scribes and scouts, the word on the street is the Rangers got Kravtsov at a bargain. While many people at the time wanted the Rangers to go with Oliver Wahlstrom (I did too, ONLY because he was American and that suits my rooting interests) the fact of the matter is that the people who know these kids, prefer Kravtsov not only over Wahlstrom, but prefer Kravtsov in front of several of the other players drafted before Kravtsov, in that 2018 NHL draft.
Heading into not only the 2019 Traverse City Tournament, but the 2019 NHL season itself, I think Kravtsov has the least amount of pressure on him than anyone else wearing the Rangers uniform.
Just take a look at the Ranger veterans:
Henrik Lundqvist – there's tons of pressure on him to deliver after the worst season of his career, especially with two goalies who deserve and need the playing time more.
Marc Staal – he is the longest tenured skater on the team and will be asked to lead by example and in the locker room more than ever before.
Chris Kreider – currently in contract limbo, Kreider enters his walk year this season. A bad season will cost him millions of dollars in the future.
Mika Zibanejad – can he continue to progress and post the best stats of his career? If anyone deserves the "C" on their sweater right now, it's him.
Pavel Buchnevich – while not truly a "make-or-break" year for him, considering his age, he's playing with the hopes of making big money in the future. The Rangers already gave up on Jimmy Vesey. Can Buchnevich save himself?
Brady Skjei – a recipient of a huge contract last off-season, Skjei needs to pick up his game.
When you look further down the list, there are major playing time issues & future contract factors in regards to guys like Jesper Fast, Brendan Lemieux, Tony DeAngelo, Ryan Strome, Brett Howden, Vladislav Namestnikov, Boo Nieves, Vinni Lettieri (who is clinging on by a thread) and of course, Alexandar Georgiev, who is trying to avoid Hartford and a trade, all while trying to prove that he's a number 1 goalie in this league.
When you look at the 2017 draft class, it is obvious, that in the present day, Filip Chytil is tracking much better than Lias Andersson. Of course, with parts of two seasons under his belt, you can't call Lias Andersson a bust yet, but if you were a gambling man, I think the money is on Andersson flaming out. From day one as a Ranger to the games he played last season, you don't see that much improvement from Andersson, especially when compared to the other player drafted in 2017, in Chytil.
Andersson has a ton of pressure on him coming into the 2019-2020 season. Forget that he became the key piece in a trade where the Rangers traded not only a number 1 goalie, (Antti Raanta) but the Rangers also traded a number 1 center, in Derek Stepan. What makes Andersson look bad is that Chytil, who was drafted way later in the first round, has out-played him at every step. That said, Andersson isn't dead yet, especially with the Rangers not being that strong up the middle. After all, and no offense to Ryan Strome, but Ryan Strome is the second center on the Rangers centermen depth chart. In other words, Andersson still has a shot.
While I'm here to talk about the 2019 prospects, the bottom line is this – Andersson's story will be one to watch as well. I don't even think it's guaranteed that he makes the Rangers out of camp, which would be telling. After all, after selecting him and making that trade with Arizona, at the time, Jeff Gorton said, "he's the most NHL ready player of the draft." Oops. No one bats 1.000 though!
When you look at the new baby Rangers, the most pressure is on Kakko, whether that's right or wrong. Fans certainly have him as the second coming of Rod Gilbert. Shestyorkin will be looking to avoid Hartford, as Lundqvist continues to hold down the maturation of any young goalie in this organization. Adam Fox will not only have professional pressure on him, he will also have the pressure of delivering for his hometown team, where his parents once held season tickets for years. (They too, like most, were also priced out. Good job M$G!)
(Side note: please spare me any talk of the Seattle expansion draft. Anything can happen there, from under-the-table deals to trades. Furthermore, in the Vegas expansion draft, the Rangers gave up Oscar Lindberg, a player that's no longer in the NHL. To further explore that point, even the Ottawa Senators, the last team that paid Lindberg, didn't want him. Worrying about that Seattle expansion draft is a fruitless endeavor.)
In the case of Vitali Kravtsov, I think there is so much going on with the Rangers, that he won't feel the pressure that others on this team will feel. Sure, he will have pressure on himself, just like any other athlete, but I think fans will give him that learning curve and will be more apologetic, in the event that he doesn't come bursting out of the gate like a Kentucky thoroughbred.
When watching a Rangers game during the 2019-2020 season (and it isn't a guarantee that Kravtsov makes the team on opening night, although you hope he he does) your eyes will be all over the place, as you track the new toys. What's Panarin doing? What's Trouba doing? What's Kakko doing? You might also be infatuated with how old man Lundswiss is doing. Then again, you might be focused on Zibanejad and Kreider. With eyes diverted all over the ice and attention spread elsewhere, I think Kravtsov will fly under the radar a bit. He won't be the center of any media attention, unless he's really good or really bad. If he's somewhere in the middle, everyone will be okay and ho-hum and about that.
Going into this 2019 Traverse City Tournament, the bulk of the attention will be on Kakko. There will also be attention on CZAR IGOR SHESTYORKIN and how he handles the American version of the game. There will also be some focus on Adam Fox, a player that wanted to be here in NY. If Kravtsov is able to outshine them all, it will be a huge first step in the beginning of his Blueshirts career.
And lastly, in regards to the Traverse City tournament, I plan on watching every game, work-schedule permitting. At the very least, I'll watch the games on DVR or on the internet. I'll try to do a recap of the Rangers after the tournament.
Moving forward, or perhaps to the past…
As mentioned a bunch of times on this blog during this summer, this off-season was the most historic in Rangers history. While the rebuild will never be complete to me until the Rangers move on from Henrik Lundqvist and accept the new era of New York Rangers hockey, with the addition of guys like Panarin and Trouba, the Rangers are certainly closer to their goal of a Stanley Cup than they were during the trade deadline of the 2017-2018 season.
Of note: I originally wanted to a Delorean blog about this season, but couldn't find any full-length games from this season. It's amazing how the Rangers and the NHL avoid promoting their history.
When trying to draw a comparison to these Rangers to Rangers teams of the past, I look to the 1975-1976 Rangers. Those Emile Francis era of Rangers, while built differently (remember, no salary cap back then) have a lot in common with the Lundqvist Era of Rangers. This is just another reason why I want Lundqvist gone, as I've made well known over the years.
During that 1975-1976 season, the Rangers had already experienced their peak during the Francis era. Prior to this season, the Rangers traded off 1/3 of the GAG Line, when they sent Vic Hadfield to Pittsburgh. Before that trade, the Rangers gave Hadfield an amazing contract, in a successful effort to prevent him from jumping to the WHA. Ironically, by the end of the 1975-1976 season, Hadfield would hurt his knee, which would signal his eventual retirement.
With failed Stanley Cup playoff appearance after failed Stanley Cup playoff appearance, including a loss in the 1972 SCF, the Emile Francis era of Rangers started to come off the tracks. They weren't good enough to beat the Montreal powerhouse teams. They weren't good enough to beat the Bobby Orr & Phil Esposito Bruins. When the league started to get more physical, they couldn't hold their own with the Flyer teams, which were known as "The Broadstreet Bullies", of the mid-1970's. In short, as George Grimm said in his book, "they did everything but win." That pretty much sums up the Lundqvist Era of Rangers as well.
During this point in Rangers history, in the 1975-1976 season, not only were the Rangers competing for talent among NHL players, they were also competing against the insane contracts that the WHA were handing out. Of course, this created several major league defections, with the biggest WHA names being Bobby Hull and Gordie Howe. (Hull went for the money, Howe wanted to play with his sons.)
The start of this mid-70's rebuild started with Hadfield the season prior. In the off-season before the 1975-1976 season, the Rangers traded a heart & soul sandpaper type, when they traded Teddy Irvine to St. Louis. However, acquired in that trade was John Davidson, who had the fortune or misfortune, depending on how you look at it, of replacing Eddie Giacomin.
On October 26th, the Rangers found themselves with an unimpressive 3-5-1 record. Two days later, Emile Francis traded career-long Ranger, in Gilles Villemure, a co-winner of the Vezina with Eddie Giacomin in 1971, to Chicago in exchange for Doug Jarrett. Two days after that, on October 30th, the Rangers gave up on Derek Sanderson and traded him to St. Louis for the first round pick of the 1977 NHL draft. Guess who the Rangers drafted in the first round of 1977? A man who went on to have a great Rangers career and a key part of the eventual 1979 Stanley Cup Finalist team, in a one Ron Duguay.
However, the biggest move came on Halloween night of 1975. The Rangers WAIVED, yes WAIVED, as in gave up on for free, when they said goodbye to Eddie Giacomin. At the time, you could argue that Giacomin was the most beloved Ranger in Rangers history. Some may say he was even the best goalie in Rangers history at that point in time, although I would say that Dave Kerr and Chuck Rayner were more impressive. In any event, it's all a matter of opinion. What's not opinion is Giacomin's popularity – to this day, he's one of the most popular people to ever wear a Rangers jersey.
In my 7864789637894637896357896th reminder on this site, in regards to Lundqvist vs Giacomin, THE RANGERS WAIVED EDDIE GIACOMIN IN AN ERA WHERE THERE WAS NO SALARY CAP. Today's Rangers continue to build around an eventual (as in come the 2020 playoffs) 38 year old Henrik Lundqvist, a Lundqvist that has been on the decline for some time. Even worse, the Rangers are rebuilding, yet still subscribe to the principle of insanity, where they think Lundqvist can bring this team to a Cup. INSANITY! SAD!
With Giacomin gone, the heart and blood supply was ripped out of the Rangers. While I can't find full game footage, there are clips on YouTube where Giacomin returned to MSG as a Red Wing. The "EDDIE" chants were deafening. If you consider yourself a Rangers fan, you owe it to yourself to check it out.
However, as opposed to what's going on today, the Rangers realized that they had to build to the future. Eddie's time was up. It was time to embrace JD. It was a cold and calculated business move, but it was a move that paid off. (Again, the Rangers went to the SCF just three seasons after this trade.)
The biggest trade was yet to come. Now, please don't take the following serious here or as disrespectful to any lives lost. I'm just trying to make a comparison with shock and real value here. I understand this is hockey and not human life here. Go with it and understand that I'm not saying that these are events are equivalent.
On November 7th, 1975, the Rangers had their own D-Day. They had an event in franchise history that was as big as the JFK assassination in American history. On that day, the Rangers traded Jean Ratelle and Brad Park for Ranger hater Phil Esposito and Carol Vadnais, a trade that TO THIS DAY, is considered the biggest trade in the history of the NHL. (The only other NHL trade that gets as much talk is the Gretzky trade to LA.)
Again, TO THIS DAY, Phil Esposito hated the trade and still laments about going to the Rangers. He even buries Rod Gilbert to this day, saying that Gilbert cared more about partying than winning. Also hating this trade was Brad Park, who just wrote a book during this era talking about his disdain for the Bruins. For Jean Ratelle, the Rangers pretty much ended the GAG line for good and gave up on one of the classiest guys in the NHL. To many Ranger fans, this trade was sacrilege.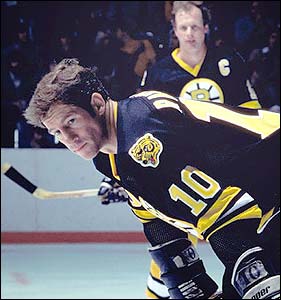 In another modern-day comparison that's not 100% true, but illustrates the point, the trade of Ratelle was like the Rangers trading Mats Zuccarello. Okay, not quite. Ratelle was a much better player, no question about it. However, especially in this age of social media where opinions are stronger and more prevalent, Zucc was just as popular as Ratelle was in his day. Giving up on Brad Park was not exactly the equivalent of the Rangers giving up on Ryan McDonagh, but in both points in time of different Ranger rebuilds, the Rangers were giving up on their best defenseman. (And to make it clear, Park was much better than McDonagh.)
After all of these moves, moves that were lambasted by the fans and NY media alike at the time, and with the team bottoming out in the standings, Emile Francis was fired by the Rangers in January of 1976.
If you thought those trades were bad, the worst trade was yet to come. After failing to make the playoffs at the end of the 1975-1976 season, the new Rangers GM, in John Ferguson, on May 26, 1976, traded the promising & youthful Rick Middleton to Boston, in exchange for Phil Esposito's linemate in Boston, in an on-his-last-legs Ken Hodge.
Okay last time here, TO THIS DAY, this is considered the worst trade in the 100+ year history of the NHL. Again, who knows how it would play out, as we don't have a Delorean and an alternate timeline to visit, but maybe the Rangers win the Cup in 1979 with Rick Middleton. You can argue that point, but regardless, we will never know.
With the team in a state of agony, little did everyone know, the Rangers would make the 1979 SCF, just three years removed from all these moves. Does Francis get some credit here for making the tough moves? In hindsight maybe. At the time, no.
The 1976 NHL draft proved eventful for future success, as the Rangers drafted three men of the 1978-1979 team. Those players were Don "Murder" Murdoch, Mike McEwen and Dave Farrish.
In the following season, the 1977-1978 season, the Rangers, who already moved on from Ferguson, Ron Stewart and Emile Francis as guys behind the bench, employed Jean-Guy Talbot as HC of NYR. He would last one season.  However, the biggest news of this time, was after a contract dispute with the Rangers, Rod Gilbert would play his last game as a New York Ranger. Gilbert was the last key Ranger of those Francis Era of Rangers. (Big Walt Tkaczuk remained, and while he had a great career, he wasn't Gilbert, Ratelle, Hadfield, Park or Giacomin.)
In the biggest moves at the end of Ferguson's tenure as GM of NYR, Ferguson recruited Swedish sensations, Anders Hedberg and Ulf Nilsson away from the WHA. This was after previously drafting Mario Marois and Lucien Deblois. Ironically, Ferguson would be fired by the Rangers before the 1978-1979 season and would wind up with the Winnipeg Jets, the same WHA Jets that Ferguson lured Hedberg & Nilsson from.
In 1978, after a rotating door of head coaches and John Ferguson now fired, just like in the old days, the Rangers hired a dual General Manager/Head Coach, when they hired Fred Shero, the architect of the two-time Stanley Cup Champions, in the Philadelphia Flyers. I don't want to go too deep into Shero here, but suffice to say, he was very different than previous hockey men who held this job. He just wasn't as connected as previous dual Ranger HC/GM's were, such as Lester Patrick, Frank Boucher, Muzz Patrick or Emile Francis.
In the Spring of 1979, and after cutting the core of so many deep Ranger playoff runs from seasons prior, these new look and brand new Rangers, would make it all the way to the Stanley Cup Final. Unfortunately, they ran into the end of the the latest Montreal dynasty and would see their season end in five games. However, while no one knew it then and let me say FUCK THE ISLANDERS here, the Rangers had instilled life and hope back into the fan base. New fan favorites were born. Respect was given to the past, but the franchise took a step into the future.
Until recently under Jeff Gorton, this 1970's rebuild under three general managers and a handful of head coaches, proved to be the biggest rebuild in Rangers history. As time went on, from 1975 until the end of the salary cap era (and even into the cap era a bit) the Rangers were considered mercenaries. They would shy away from no dollar. While the Rangers would win the Cup in 1994, that's only one Stanley Cup out of four Cups won in 92+ years. In other words, the Rangers have invested a ton of money into losing.
At this time, I could go into another one of my 7896347896378946789634 rants on why the Rangers should move on from Lundqvist. I'll save you the time. Just read the archives of this site. However, what I do want to say here, is what stings me more than anything, is that I am EXTREMELY OPTIMISTIC about this team. I love everything Jeff Gorton has done, sans from keeping Lundswiss. I see where Gorton is going. I'm excited. Drop the effing puck!
I spend somewhere near $10K a year on the Rangers, whether it's going on road-trips, going to MSG, buying old stuff for my collection, purchasing merchandise, etc. I spend another $10K on beer to watch these games! You may know me as the guy who wants to move on from Lundqvist and that's fine. However, I love the rich history of this team and I love where this team is going. That said, I just know that with Lundqvist here, I know how it ends – with Lundqvist on his belly and blaming everyone else after in his postgame interview.
If I called myself a "Rangers historian" or something of that ilk, it would come off as braggadocious and egotistical. However, I do know my shit. History and charts don't lie. The Rangers should've bought Lundqvist out or force a trade by telling him he's done playing. You want Georgiev and Shestyorkin to get as much time with Allaire as possible and to be ready for big game competition when the team in front of them are ready. You're not going to get better by watching Lundqvist give up 8 goals to the Ottawa Senators on a Saturday night. To even suggest someone as egotistical as Lundqvist, the same Lundqvist who admitted he was struggling with mental issues last season, can be a tutor, well that's just laughable. The only thing he can teach is the art of contract negotiations.
This now brings me to the next topic of this manifesto, the lists the NHL Networks have been spewing out.
First off, let me share with you the NHL Network's list of the top ten goalies, as we enter the 2019-2020 season: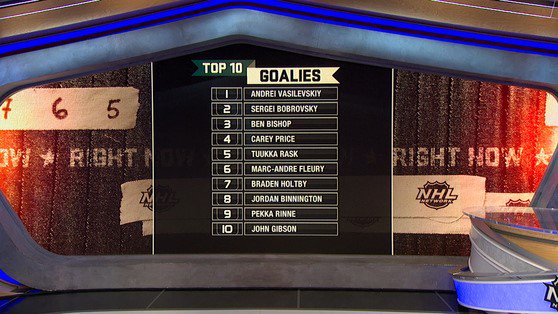 Conversely, here's what the fans of the NHL Network voted for, in regard to the top netminders in the NHL today: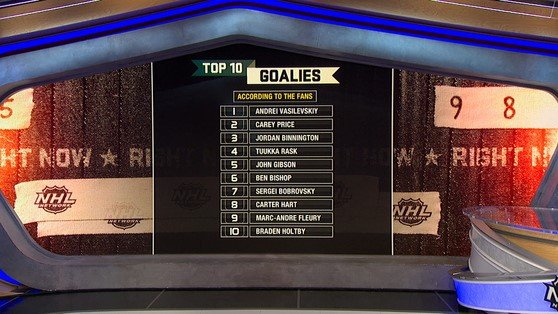 Let's get the easy stuff out of the way first. It doesn't matter if you agree with these lists. Like the other lists the NHL Network has been churning out all summer, or like a Mount Rushmore list, all these lists, despite who makes them, are created for one reason – to create conversation and to drive up web traffic during the slowest point of the hockey year. There's no right or wrong answer. All these lists are in the eyes of the beholder.
What I do find funny, is when I see Rangers selected in the "best forward" or "best defenseman" lists (Panarin and Trouba, respectively, who funny enough, have never played a game for NYR yet) or when I see the Rangers ranked as having the best prospect pool in the entire NHL, I see Ranger fans going bat shit crazy. They share those lists. They pump their chests up. I get it. It's nice to see your team get some burn by a global network.
However, when Henrik Lundqvist is omitted from the goalie listings, these cult of Lundqvist fans that live in a bubble, you know, the Lundqvist fans who can tell you all about the 2015 Game 7 with Tampa, but forget about Games 2 & 3 where Lundqvist gave up a touchdown in each game, bedlam and rage is spewed from these folks.
The bottom line is this – Lundqvist has peaked. It's over. It's done. He had his time. It just makes no sense for a team rebuilding to keep Lundqvist around, just like it didn't make sense for the Rangers to keep Giacomin around when they had a young John Davidson. It's even worse now, when you consider the salary cap and the fact that the Rangers have not one, but TWO goalie prospects ready to earn their keep. Plus, in the current day, the Rangers have the best goalie coach in the league, which will help the progress of both Georgiev and Shestyorkin. Even the King of Chart Boy Nation, in Steve Valiquette, has admitted how Allaire changed his life and career for the better.
As a passionate Rangers fan who just wants to see this team hoist the Cup, I don't want to waste and wait two more years until Hank's contract is up. Shit, knowing the Rangers, they may extend him!
Just think about life. Think about the people or pets you know that have died. Think about where you were two years ago. TWO YEARS IS A LONG TIME. As was shown to us by the St. Louis Blues, ANYTHING CAN HAPPEN in the NHL. That even goes for the Cup that Washington won two years ago, when everyone had them written off after all their failures.
I know how it ends with Lundqvist. It's time to move on and embrace the new era. Siding with Lundqvist is like opting to drive a Pinto over a Lamborghini. Even worse, you pay Lundqvist $8M more to drive that piece of shit lemon car.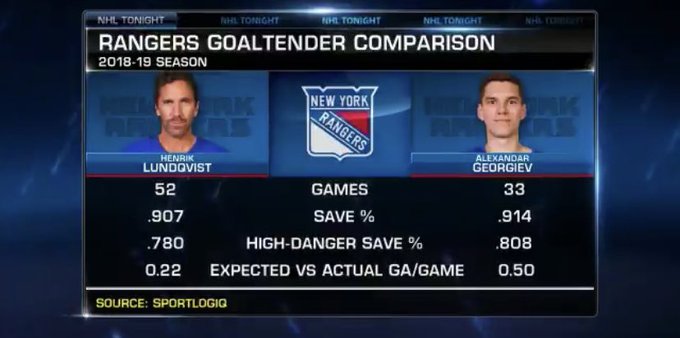 One day in the future, Lundqvist will have his night at MSG. The number will be raised into the rafters, while guys who deserve it more, like Frank Boucher, Bryan Hextall and Bill Cook remain ignored. I can accept that, even though that sucks. However, if Lundqvist remains here, the story will be that he stayed here too long and stunted the Rangers growth. His prime was 8 years ago and it's just been a steady decline since.
It just amazes me, for all the geek data and charts that are out there, it's ignored that two rookie goalies, who replaced their starter mid-season, went on to win a Stanley Cup during the past four seasons. Not one top five paid goalie has won a Cup in the salary cap era. For all the talk about analytics, it's outstanding that this fact is ignored.
You must be on the heroin and cocaine if you think Lundqvist can win a Cup or as is said every season since he signed his extension, "can have a bounce back season." Speaking of cocaine…
In the last few days, two prominent NHL names found themselves in trouble, due to cocaine. If you missed the stories, here they are:
https://sports.yahoo.com/former-nh-ler-donald-brashear-arrested-for-cocaine-possession-193351831.html
https://www.washingtonpost.com/sports/2019/08/23/evgeny-kuznetsov-suspended-four-years-by-iihf-testing-positive-cocaine/?noredirect=on
While I wouldn't consider myself a liberal by today's standards, when it comes to drugs, I have a laissez-faire and liberal attitude about them. Simply put, I don't care what you ingest or do in your free time. Just don't drive or do something stupid when using.
During this blog's near 6 year history, I've had the opportunity to talk to several past and current NHLers. I've also read a ton of books and watched many interviews. Cocaine in the NHL is not a breaking story.
I don't care what players do. In regards to the Rangers, if they want to do a toot or take a blast, as long as it doesn't affect their play on the ice, I don't care. Who am I to judge? After all, I drink and smoke too much. I'm no messiah of morality. (Full disclosure: I don't do any drugs. No pills. No pot. No cocaine. No anything. I have too many licenses and I care about my job. Failing a drug test would ruin me. Furthermore, I just have no interest. Beers and whisky (aka BELTS and POPS) is enough and satisfies me.)
That said, it doesn't phase me when I see Evgeny Kuznetsov using cocaine. He just won a Stanley Cup. People do silly shit when they are celebrating.
When it comes to Brashear, it does concern me. When guys in their twenties are doing cocaine, their bodies can handle it better than a 47 year old Brashear, a man who may or may not have CTE. I'm no scientist, but come on – you can rebound better physically, from drugs and alcohol, when you're in your twenties rather than when you're near 50 years old.
I'm not calling for an intervention here or anything of the sort. I just hope Brashear makes better decisions. Plus, he lives in Canada. You would think Gretzky 99 whisky and 10.4% Labatt Bleue Dry's would do the trick. I wish him the best.
One last topic before we go home here.
It's being rumored by people who would know, that the Rangers are opting not to have a third jersey this year. Frankly, I don't give a fuck what the Rangers wear, as long as they win. They can skate naked for all I care, although you wouldn't want to take a slashing on your third leg.
I will say, it does surprise me that the Rangers, a team that would sell officially licensed Ranger dildos and crack-pipes if they could, would pass on making this type of money. Look at it this way, not only do the Rangers have all this new talent to sell jerseys, by adding a third jersey, that's three different options for their consumers. You also have consumers/fans who buy every jersey of their favorite player, so that's three sales instead of two sales.
With the Rangers desperate to sell season tickets (as outlined in previous blogs) the Rangers could even offer season-ticket holders first crack at these jerseys.
In any event, I've seen fans argue for the return of the 2012 or 2018 Winter Classic jerseys. I've seen fans argue for the Liberty Head or Ferguson era jerseys. In my opinion, if the Rangers were to come out with a third jersey (and they eventually will, as this will create millions of dollars in revenue, in not just jerseys, but in shirts, hats and other merch) I hope they do something new to embrace the new team & new era. It doesn't matter what it is, as long as it's new.
The only "old" jersey I would accept, would be this:
If the Rangers wore a jersey like this, at least it's a shout-out to the teams & players of the past that actually won a Cup. Why wear retreads of teams that didn't win?
The jersey issue is a topic I can really give two fucks about, but I see people talking about it. Just win baby!
That about wraps up this latest manifesto. I would like to do one Delorean blog before we ramp up for the 2019-2020 season. I've also sitting on this Jay Baruchel book that I just read and want to review.
As far as current Ranger stuff, I'll be back once a decision is made on TDA, Lemieux and/or Kreider. I will also be back, work-schedule permitting, with a recap of the Traverse tournament. I can't stress this enough – for the first time in forever, this tournament appeals to me like never before. There are just so many story-lines to watch here and so much to be excited about.
Until next time, as always, thanks for reading and…
"LET'S GO RANGERS!"
Sean McCaffrey
BULLSMC@aol.com
@NYCTHEMIC on the tweet tweet