Greetings and salutations everyone and welcome to another blog here on BlueCollarBlueShirts.com. Today, I will be doing my second "Delorean" blog of the summer, as I flashback to October 17th, 1970. On that date, the Rangers traveled to Toronto for the first meeting between these two Original 6 teams, of the 1970-1971 season. Spoiler Alert: Things went very well for the Rangers on this day!
As always, the purpose of these Delorean blogs is for older fans to share their nostalgia and re-live some good times. These blogs are also for newer fans, who live in this ADD society, where history is rarely talked about. While I don't profess to be some major hockey historian, I do think I can teach younger fans a few new things, through these blogs.
Before diving into the year 1970 and into the Delorean for this game from the 1970-1971 season, here are my last few blogs, in case you missed them:
(Of note: if you haven't already, check out the Delorean blog listed two links below. In my intro to the game from 1964, I recapped all the history going into that particular game. In today's blog, I'm talking about a game that was played six years later from that game in 1964, so I'm not going to repeat all that particular history in this blog.)
---
As talked about in my last Delorean blog, the blog from 1964, World War II and the aftermath of the war crippled the Rangers franchise. Aside from a Chuck Rayner carry job in 1950, from 1941 until 30 years later, here in the 1970-1971 season, Ranger fans didn't have much to cheer about. In the 30 years since the Rangers last dance with the Stanley Cup in 1940, the Stanley Cup was pretty much dominated by Toronto, Montreal and Detroit. This should come as no surprise, since these three markets had first dibs at the best talent around. (Again, check out the 1964 blog or other blogs from this site, for more on why those markets had advantages over the Rangers.)
If you consider the start of the 1950-1951 season as the start of the decade, (as opposed to the Stanley Cup Final the Rangers played in during the Spring of 1950) you can say that the 1950's was the worst decade in the 92+ year history of Rangers hockey. Between the Rangers geographical location, the Rangers not being allowed to have playoff games at home and because they were still rebuilding their roster after war-time, the Rangers were just a mess.
While the Rangers did have some great and future Hall of Fame players in the 1950's and 1960's, they didn't have enough of them to compete against the super-teams from the north. The only goalie in Rangers history to win the Hart Trophy, in Chuck Rayner would retire. By 1955, Edgar LaPrade would retire too. However, the biggest Rangers story of 1955 was Frank Boucher walking off into the sunset. For 30 years, Frank Boucher was the Rangers. He won two Cups as a player, another as a coach and was the general manager of a team that went to a double OT in Game 7 of the 1950 Stanley Cup Final. That said, in 1955, at 53 years old, he didn't think he could turn the ship around one more time.
The Muzz Patrick era of Ranger history is pretty much a dark cloud. While Muzz wasn't in over his head as General Manager, he still had the tough task of trying to put together a team that could compete. In his near 10 years as GM of NYR, the Rangers only made the playoffs four times. Keep in mind, there were only 6 teams at the time. The Rangers would also only win six combined playoff games during the Muzz Patrick era. Even more pathetic, they didn't win one playoff series during Patrick's tenure as GM.
While Muzz would have some future Hall of Famers under his watch, such as Gump Worsley, Andy Bathgate and Harry Howell, again, like Boucher before him, he just couldn't get enough talent to match-up with the teams from Canada & the team that plays right on the US/Canada border, in Detroit.
What also hurt Muzz was his revolving door of coaches. Unlike today, coaches would last in a place for a while. During Muzz's run, he would make six head coach changes. On two of those occasions, he would coach the team himself. Muzz also has the distinction of hiring the most hated coach in team history, in a one Phil Watson.
Phil Watson, who played with Muzz Patrick, was part of the 1940 Stanley Cup Champion team. As was common in those days, and just like today, the Rangers usually gave coaching and GM jobs to ex-players. While Watson got along with his teammates at the time, as a coach, he was unbearable. Put it this way, the iconic Stan Fischler told me that he could not stand Watson. This is coming from Stan Fischler, who never has a bad word to say about anyone. Fischler also had a few more choice words about Watson, but I think you get the point!
Watson not only bag skated his players non-stop, he was also feuding with the two biggest names on his team at the time, in Bathgate and Worsley. It also didn't help that the players thought that "Fiery" Phil only had the job because he was best friends with Muzz Patrick. Watson would berate his players publicly and not only would this turn the players off, it turned off the fans too.
When Phil Watson passed away in 1991, his buddy Muzz Patrick talked about the day he fired Watson. The following comes from the NY Times:
Muzz Patrick recalled yesterday that as the Ranger general manager he had hired Mr. Watson as coach and been forced to dismiss him, not, Patrick said, because the team had failed to make the playoffs the season before, but because Mr. Watson "sometimes talked too much," refusing to play private to the team's president, Gen. John Reed Kilpatrick.

"He was my best friend, but I had to fire him," Patrick said.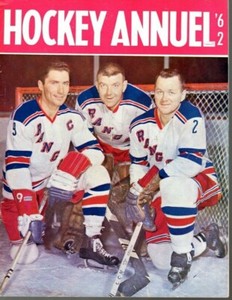 When Watson was canned, Muzz took over the team for a short time. Alfie Pike would then take over and find no success either. Upon acquiring Montreal Canadien legend Doug Harvey (The best defensemen in league history at this point in time. To this day, many consider him to be the second best defenseman of all time, only second to Bobby Orr) Patrick made Harvey a player-coach. While the Rangers would have one of their better runs of the Patrick Era here with Doug Harvey as coach, Harvey wasn't comfortable in the dual-role and Patrick found himself back behind the bench.
Finally, Muzz would find some stability with former Rangers captain, in George "Red" Sullivan. While Sullivan was well liked and respected, none of his teams would make the playoffs. Finally, in 1964, Muzz had enough of the losing and would re-sign. Enter Emile "The Cat" Francis.
I've recapped the history of Emile Francis on this site before. In fact, I even reviewed a great book about Emile Francis, which you can read here:
George Grimm's "We Did Everything But Win: Former New York Rangers Remember the Emile Francis Era (1964-1976)" In-Depth Book Review. Tons of Famous NYR Alumni Speak All Things Rangers, Many "Close, But No Cigar" Seasons, Comparison With Today's Era & Much More
With Emile Francis now at the helm of the Rangers, it signified many changes. For starters, Emile Francis was the first GM in team history without a Stanley Cup. While he played for the Rangers, he never achieved the success that former coaches in Lester Patrick, Frank Boucher,  Neil Colville, Bill Cook, Muzz Patrick and Phil Watson did during their playing careers. He wasn't thought to be a leader on the ice like George Sullivan or Doug Harvey were either. However, when it was all said and done, to this day, Francis is considered to be a Top 3 Coach & General Manager in franchise history.
By the time Emile Francis took over the Rangers, the Rangers already had three young men on their roster, in Rod Gilbert, Jean Ratelle and Vic Hadfield. The trio would later form one of the best lines in Rangers history. (Some say the best, although I would take the Bread Line of Boucher & the Cook brothers.) Francis would then go out and trade for Eddie Giacomin. Francis would also bring Brad Park into the fold. After 25+ years of rebuilding, it looked like Emile and the Rangers were finally in the right direction.
In the final season before the league doubled their membership, during the 1967 playoffs, the Rangers would be swept by the powerhouse known as the Montreal Canadiens. However, on the bright side, it was playoff experience for a young team.
In the first three years of weighted divisions, where all the Original 6 teams were in one division and the Blues were the best team out of all the new expansion teams, the Rangers would lose in the first round each and every single year. On two occasions, the Rangers were knocked off by the eventual Stanley Cup champion, just like they were in the year before expansion. In other words, the Rangers were good enough to make the playoffs, but not good enough to knock off a great team in a playoff series.
In the off-season before the 1970-1971 season, the Rangers and Emile Francis were in the news. The man considered to be the greatest goalie of All-Time, in a one Terry Sawchuk, passed away on May 31st, 1970, after a freak injury sustained in a drunken brawl with teammate Ron Stewart. I've covered Sawchuk's story before – just check the Book/Movie reviews tab of this site.
With Sawchuck deceased, Emile Francis had to find a new back-up goalie. Emile Francis found the perfect person, when he called up Gilles Villemure for good.
Where Terry Sawchuk was long past his prime and 40 years old when he passed, Gilles Villemure was in his prime and ten years younger.
I've recapped the story of Gilles Villemure in the past. In fact, I reviewed his autobiography, which you can read here:
Gilles Villemure's "Tales from the Rangers Locker Room" Book Review: A Former Vezina Winner Recounts The Emile Francis Era of Rangers with a Symposium Feel, NYR Rink of Honor, Rafters of MSG & More Rangers History From the Early 1970's
In the effort of not trying not to repeat what I've previously written on this site, Villemure was a perfect fit for the Rangers at the time. Unfortunately, if you're Villemure, he was born 10 years too early. If he was born ten years later, he would've been a starting goalie in a 12-14 team NHL. However, Villemure was born in 1940, and would have to make his name in the AHL, just waiting for the day for an Original 6 goalie to either get injured, hang it up or have a mental breakdown. In an era where teams weren't carrying back-ups, this was the only way for a new goalie to break-in.
By 1970, the league was much different than when Villemure first started playing professional hockey. Not only were there more 6 teams, (there were 14, with the addition of the Sabres & Canucks) each team was also carrying a back-up goalie. Long story short: the NHL used to only employ 6 goaltenders. Now they were employing 28. It would only get better for players as time moved on, as the league expanded and with the inception of the WHA.
To this day, Gilles Villemure's place in Rangers history is an interesting one. He probably could've been the starter, if it wasn't for Eddie Giacomin. If Villemure wanted to leave New York, he probably could've been a starter elsewhere as well. I think one can make the case that Villemure was the best back-up goalie in Rangers history, if you don't consider the other goalies that eventually supplanted the starter. (Richter/Lundqvist.)
Entering the 1970-1971 season, Emile Francis made it known that he was going to give Villemure a ton of starts. The year prior, Giacomin played 70 games, while back-up Terry Sawchuk played in 8 games. A season later, Giacomin played in 45 games, while Villemure played in 34. Francis thought by cutting down Giacomin's regular season work-load, it would give Giacomin an edge in the playoffs. As I'll get into at the end of this blog, come the end of the 1970-1971 season, Giacomin & Villemure would share the Vezina Trophy together.
And yes, I know I'm nearly 3500 words in and haven't talked about the game at hand. Bare with me. These blogs are fun to write so these always go long!
Before diving into the 1970-1971 season and this game itself, I want to give you a frame of mind of what this period of time was like. Let's take a look at America in 1970. The following time capsule has been brought to you by ThePeopleHistory.com:
Cost of Living 1970
How Much things cost in 1970
Yearly Inflation Rate USA 5.84% 
Year End Close Dow Jones Industrial Average 838
Average Cost of new house $23,450.00
Average Income per year $9,400.00
Average Monthly Rent $140.00
Cost of a gallon of Gas 36 cents
Shaefer Pen $9.95
United States postage Stamp 6 cents
Sports Illustrated 15 cents
Mans Westclox Watch $18.00
AMC Gremlin $1879
Head and Shoulder Shampoo 79 Cents IMAGINE HOW MUCH SHAMPOO LUNDQVIST COULD BUY IN 1970!
Car 8 Track Stereo Tape Player $38.99
Chair La-z-Boy Rocker Recliner $188.00
Mens Leather Shoes $6.99
Back To College Typewriter $28.88
Barbie Doll $4.77 IS IT ME, OR DOES THIS SEEM LIKE WAY TOO MUCH MONEY FOR A DOLL IN 1970?
25″ Cinema Screen Color TV $739.99 THIS WOWED ME. YOU CAN GET ONE TODAY FOR $20 AT WALMART!
---
In 1970, the Kinks had the number 12 song in America, with "Lola".
Music wise, this is what Americans were listening to when this game was played:
Billboard Top 10 Songs Week Ending October 17th, 1970:

Number 3
And for those who want to know, this is what Americans were watching on the silver screen in 1970:
Highest-grossing films of 1970
Rank
Title
Studio
Domestic gross
1.
Love Story
Paramount
$106,397,186[1]
2.
Airport
Universal
$100,489,151[2]
3.
MASH
20th Century Fox
$67,300,000[3]
4.
Patton
$61,749,765[4]
5.
Woodstock
Warner Bros.
$50,000,000[5]
6.
Little Big Man
$31,559,552[6]
7.
Ryan's Daughter
MGM
$30,846,306[7]
8.
Tora! Tora! Tora!
20th Century Fox
$29,548,291[8]
9.
Chariots of the Gods
Constantin Film
$25,948,300[9]
10.
The Aristocats
Disney
$20,222,599[10]
---
At this time, before jumping into the Delorean and going back to October 17th, 1970, I would like to share with you my past "Delorean" blogs:

---
---
---
---
---
---
---
---
---
---
---
And now without further ado, let's fire up the Delorean, go to 88MPH and travel back to 10/17/1970. For those who want to watch this game as well, you can find it here:
And in case this is your first Delorean blog, the format is as follows. I recap the game as if I'm my current age in the year the game is being played. With this game being played on 10/17/1970, that means I was born on June 13th, 1933, when this game was played! Ironically, the Rangers also won the Cup in 1933, but alas, I digress! Away we go…
Greetings and salutations everyone and welcome to another report on here, the Blue Collar Blue Shirts Newsletter. Tonight, I will be looking at the game that was just played by the New York Rangers and the Toronto Maple Leafs, where the Rangers thumped the Leafs, by a final of 6-2.
For the Rangers, who somehow lost to the St. Louis Blues in Game 1 of the season, the Rangers have now strung back-to-back wins, after previously defeating the new Buffalo Sabres on 10/14. Obviously, raking up the Leafs is much more impressive than beating an expansion team. Let's hope that St. Louis game was opening night jitters and this game against Toronto is a sign of things to come.
As mentioned in previous newsletters, with the passing of Terry Sawchuk, it looks like "new" goaltender, in Gilles Villemure, will finally have his shot in the NHL this season. While I'm aware that Villemure has had a few spot starts in the past, never was he ever considered for an NHL job before. In Game 1 of perhaps this new path for Villemure, I thought Villemure did a good job in the barrel. It remains to be seen if this Giacomin/Villemure split will pan out like Emile Francis wants it to, but for one game, Villemure was more than serviceable. He also has one bad-hiney mask too!
I will say, while it's only one game, I did hear a lot of good things from fans in Buffalo, where Villemure played during the last two seasons. Obviously, the NHL game is a lot different than the AHL game, but as a goalie, all you have to do is stop pucks. If I can offer any criticism from my plastic lined couch, it is that Villemure should try to limit vacating the net so much. Let Plante do that.
Offensively, as usual, the Rangers will only go as far as the GAG line takes them. When Emile Francis put this line together two years ago, in 1968, I don't think he even knew how much offense they would put up. At the time, Hadfield was only added to the mix to give Ratelle & Gilbert some production. Nearly two years to the date of their formation, the GAG line more than lived up to their name tonight. Gilbert, the new perennial All-Star, scored two goals. Ratelle assisted on another. And hey, how about Big Walt Tkaczuk, the number 1 star of this game, with a 2 goal and 1 assist performance?
I know, I know I know – I say this every year, but damn it, I got a good feeling about the Rangers this year. The dark days are done!
As always, here were your line-ups and box score of the game, courtesy of the N.H.L.: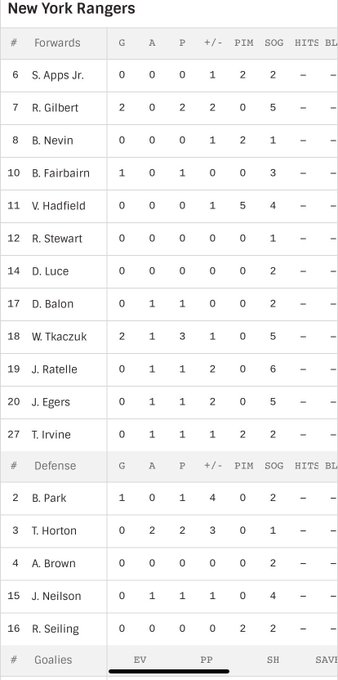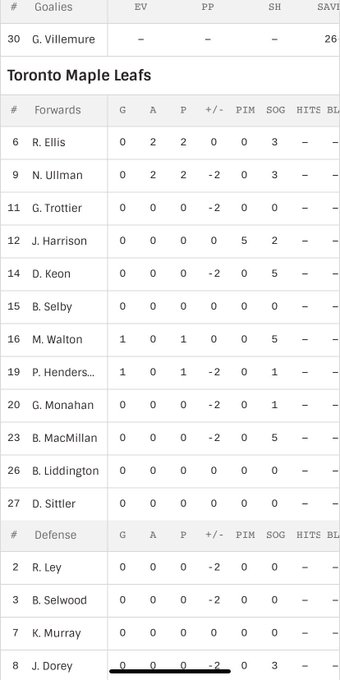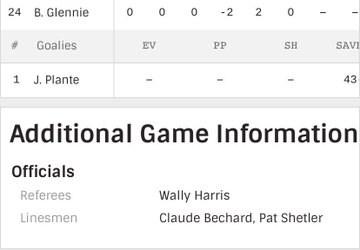 Going into this game, I didn't know what to expect. Unlike other Ranger fans, I harbor no ill-will towards Plante. Too much time has passed. It just didn't work out. I will say, I never wanted the Rangers to trade Gump Worsley. That said, I'm sure Gump is happy with all his Cups & hardware in his hometown of Montreal.
It truly is amazing how the Rangers have had all these stars that couldn't win the Cup here, but were able to win the Cup elsewhere, like Worsely, Bower, Bathgate and everyone else. It's amazing the Rangers also had Plante & Sawchuk (I know, he was only a back-up) but couldn't win. It makes me wonder that if the Rangers don't get it done sometime soon, will the GAG line, Brad Park and Eddie Giacomin take notice? Let's hope that's a question that will never have to be answered. In other words, let's win the damn Cup this season!
While I know the Leafs finished in last place last season, they are a team I'll never count out, especially with Dave Keon and Norm Ullman there. That is why I was so impressed with this Rangers win on the road tonight. This was a great game for every Ranger fan, as we had great scoring, great goaltending and oh yeah, a great fight:
Vic Hadfield easily took care of Jim Harrison here. As mentioned at the top of this newsletter, this is why Francis put Hadfield with Gilbert & Ratelle in the first place. What a nice and happy (and violent) accident!
Before getting into the game itself, I should mention, for whatever reason, I didn't get the WPIX broadcast tonight. Something must've happened with my rabbit ears, as I was brought back to the Toronto "Twilight Zone" and got the Hockey Night in Canada broadcast. In other words, on the call were Bob Goldman and Bill Hewitt. They were pretty good together and on the rare chance I hear the opposing team's broadcast, it is nice to hear something different.
Big Walt and Dave Keon took the opening faceoff in this game. Right after the initial draw, the Rangers were able to get the puck deep into the Toronto zone. Of course, we then had two quick whistles for offside, as this game tried to find its flow. What I liked early in this game, were that both teams weren't shy to hit each other. This would eventually lead to the Hadfield TKO, as talked about above.
Villemure was tested early and often in the beginning of the first period. Here was the first of his 26 saves:
King Villemure #nyr pic.twitter.com/Zpmp7rPvq5

— BlueCollarBlueShirts (@NYCTheMiC) August 22, 2019
After a few more dicey saves, Ratelle would then challenge Plante, who made a great stop.
In the opening 10 minutes, I thought Ron Stewart played well, as he moved the puck nicely and was strong defensively. This is going to be a tough season for him, in light of Sawchuk's death.
At around the 6 minute mark (remember, for whatever reason, these broadcasts do not put the clock on the screen) Jacques Plante made a big save:
Glove Save Plante on the coffee boy #NYR pic.twitter.com/PCPTMmKzFd

— BlueCollarBlueShirts (@NYCTheMiC) August 22, 2019
I gotta say, it's nice to see that Hockey Night in Canada has replays in between whistles. Sometimes you miss stuff and the slow-motion replays are a huge help.
For those who care, the Maple Leaf Gardens will be hosting All-Star Wrestling on 10/18. I wonder if Bruno Sammartino will be there?
After Plante showed off his glove, Villemure reciprocated with a nice glove save on Mike Walton. Right after that save, Hadfield and Harrison had their melee. This was Harrison's second tilt of the season, as he previously fought Plager on Wednesday.
After the fight, we were treated to a commercial from Esso. Of note, I have no clue what I just watched. WHATCHOO TALKIN' ABOUT ESSO:
So I'm watching an old Rangers game & look who's doing a commercial in Toronto in 1970. WHATCHOO TALKIN' ABOUT WILLIS!?!? #nyr pic.twitter.com/6wZhPZm2jJ

— BlueCollarBlueShirts (@NYCTheMiC) August 22, 2019
You should see my high octane gas after a dirty water dog purchased in front of MSG!
Ahem.
At 6:42, Hadfield and Harrison were boxed for the fight. The Rangers put some pressure on the faceoff after commercial, but Toronto was able to move it up ice. Villemure was forced to stop Garry Monahan after a great pass from Keon. Gilbert would then push the Rangers offense to the other side of the ice, but Plante held it down.
I gotta say, the refs were pretty quick with the whistle, whenever the puck and the players were pinned to the boards. After a questionable stoppage, the Leafs got a two on one break. Henderson got past Horton and scored the first goal of the game at 8:53. 1-0, bad guys. Tough break for Villemure.
The Leafs got some confidence after breaking the nil nil tie, but Villemure kept his composure and kept the deficit at one. The Rangers would then get right into Plante's crease, but Plante would poke-check Ratelle to break up the Rangers scoring chance. What a move from Plante. He still has it.
The Rangers continued to apply pressure, but Monahan kept breaking up chances. However, at 11:17, Rod Gilbert finally put the Rangers on the board:
What a goal from @rodgilbert7 ! Ratelle maybe makes a move he doesn't want to make but Gilbert stays with the play and beats Plante. For the record, Plante had one of his best seasons with @MapleLeafs this year, but hey, Gilbert was no slouch either! #nyr pic.twitter.com/o3NSCA7Qsh

— BlueCollarBlueShirts (@NYCTheMiC) August 22, 2019
1-1 game. On the goal, Ratelle loses the puck, but Gilbert stayed with the play and boom; beat one of the best goaltenders of all-time.
After the goal, the Rangers continued the pressure. It was a hell of a game for Billy Fairbairn too, as he was all over the place. Plante was on his stomach here, on more than one occasion. Plante must've felt like he was playing with the Rangers again!
After leaving the box after his five minute major, Hadfield created offense, but the Leafs stifled him.
Of note, the Rangers will be on Hockey Night in Canada again next Saturday, when they go to the Forum in Montreal.
At around the 14 minute mark, Villemure made a huge save on Dave Keon. Away from the puck, the play on the ice got more physical. Irvine would eventually get boxed, putting the Leafs on the PP. The Leafs would employ a five forward PP attack. Brad Park would be the key penalty killer here, but after some sloppy defensive Ranger play on a Toronto entry, Villemure found himself out of position and Walton would bury the puck after an assist from Ellis at 15:59. A Toronto PPG. 2-1, bad guys. Fortunately, this would be the last Toronto goal of the game.
Worth mentioning – we don't have ESSO here in the U.S. However, it's huge in Canada, as they advertised all over this broadcast.
In the final minutes of the period, the Rangers got more aggressive, but Toronto was able to break up the Rangers offense. The GAG line, who already had one goal in the game at this point, were the biggest aggressors.
At the end of one period, Toronto 2, Rangers 1.
In the second period, Syl Apps Junior (Doesn't that make you feel old?) took the opening draw with Keon. The Rangers iced the puck and we were back with another faceoff in front of Villemure.
Villemure would have to make a stop early, after a loose puck squirted past Rod Seiling.
Has anyone noticed how much gum Emile Francis chews during these games? Must be stressful looking for his team to get some GOOD LOOKS.
The GAG line set up a scoring chance at around the three minute mark, only for Plante to deny the opportunity. Once again, it was Gilbert blasting the puck with his deadly right-handed shot.
I know I've talked about him before, but Teddy Irvine is a huge asset to this team. He has a great nose for the puck and isn't afraid to mix it up. He really breaks the walls down.
How about this beer commercial:
What a beer commercial! Fuck Bud Light and that white claw crap! #molson pic.twitter.com/me2Glotfzs

— BlueCollarBlueShirts (@NYCTheMiC) August 22, 2019
While I still have yet to have a Molson beer as an American, I'm not sure if drinking beer and going skiing makes sense!
Oh, and have I mentioned that for TV purposes, just like the Brooklyn Americans of old, it would be cool if the teams had the last names of the players on the back of their jerseys.
Five minutes and 45 seconds into the period, captain Bob Nevin fed Hadfield right in front of Plante. Plante, is who we thought he was, and denied the chance. It still amazes me how Plante wanders so far from his net, yet is always able to make the save. I also can't say enough good things about Arnie Brown, who made his presence felt on every shift.
Before the Rangers eventual offensive output in this game, Plante was challenged, enroute to his 43 saves on 49 shots. The Toronto defense didn't give Plante that much help in the second and third periods.
There was another commercial for Molson Export Ale during this game. What's the difference between Molson Export Ale and regular Molson Canadian beer? Help me out, my readers from Montreal and Toronto! (And now, hopefully Vancouver!)
I talked about Jack Egers earlier in this newsletter report. According to Emile Francis, Eger has the hardest shot on the team.
Near the half-way mark of the period, Villemure would make a skate save on Ellis. Villemure was caught out of position, but was able to bail himself out.
The Rangers would then rush the puck up the ice. In their own offensive zone, it looked like Hadfield took an interference penalty, but for whatever reason, the refs called two minutes on Apps for charging. I don't know about that one. In any event, Toronto went on the PP.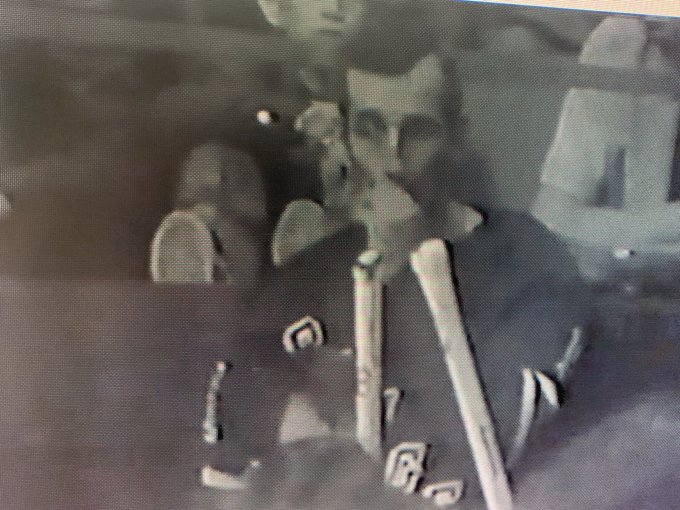 On the penalty kill, the Rangers would hold the Leafs off the board. Jean Ratelle made a great clear while on the PK.
We were told with 42 seconds left on the Toronto PP, that we had some nerdy and geeky computer talk to look forward to. Listen, I'm all for computers, but I'll take my typewriter any day. Furthermore, I don't trust some machine to predict hockey scores:
Computers and charts in hockey? F that noise, NERDS! pic.twitter.com/8A5c9Uq6cE

— BlueCollarBlueShirts (@NYCTheMiC) August 22, 2019
Emulating Plante, towards the end of the Rangers PK, Villemure left his own net and made a save on Walton. This save would also conclude the Toronto PP.
At the 13:03 mark of the second period, Big Walt took a shot and Fairbairn was right there to poke the puck past Plante. Tie game, at two goals a piece.
Later on the period, Glennie was caught for tripping Nevin at 14:50. This put the Rangers on the PP.
Immediately, while on the PP, Brown found the post. Toronto would then clear the puck.
At 16:38, and in the waning minutes of the PP, Big Walt found some twine and beat Plante:
BIG WALT pic.twitter.com/EfwFjrIG1C

— BlueCollarBlueShirts (@NYCTheMiC) August 22, 2019
3-2, GOOD GUYS!
Immediately after Walt's goal, Brad Park, second only to Bobby Orr, made it 4-2 GOOD GUYS:
Brad Park opens the floodgates! #nyr pic.twitter.com/kJpoMesFGm

— BlueCollarBlueShirts (@NYCTheMiC) August 22, 2019

What a goal from Brad Park! Bobby who?
After this goal, we went to another Molson commercial. I'm sure these mothercanuckers needed a beer after the way this game was going!
The Rangers offense was really clicking like an Ethiopian here, as the GAG line applied tourniquet-like pressure.
At the end of the period, the score remained Rangers 4, Toronto 2. Of note, Giacomin was still standing behind the bench!
Moving into the third period, Gilles Villemure was able to keep the Leafs off the board as the Rangers continued to pour it on. I guess that's a Molson Export Ale offense? You can't say the Leafs gave up in this game either, as Plante made 40+ saves and Keon continued to challenge Villemure.
55 seconds into the period, Seiling took a penalty for holding the puck. No worries, the Rangers PK kept the Leafs off the board.
At full-strength, the Leafs crowd would try to make some noise, but the Rangers weren't affected by it.
With 3/4 of the period expired, the Rangers kept their forechecking game going, which in turn, slowed down any offense from Toronto.
At 14:00 minutes left in the period, a fat and lucky spectator caught a puck one-handed. Nice little memento for that fan. Immediately after, Toronto would rush up the ice, but Villemure was locked in. It also helped that the Rangers defense smothered every attack.
With 11 minutes left, Brad Park turned the puck over, but Ellis went offside before Toronto could possibly convert on the turnover.
With ten minutes and 55 seconds to go, we were told that that Habs were dominating the Hawks, at a score of 6-1.
Even with a two goal lead, Rod Gilbert would not give up and would keep firing pucks in Plante's direction. At 9:52 it would pay off, as Gilbert deflected/tipped one in past Plante, to make it 5-2, GOOD GUYS:
And here is @rodgilbert7 scoring his second goal of the game. What a nose for the puck! #nyr pic.twitter.com/J2uMzdEpCo

— BlueCollarBlueShirts (@NYCTheMiC) August 22, 2019
With a three goal lead, all the Rangers had to do is wait the clock out.
As the clock approached five minutes remaining, the Rangers kept the pressure on. However, Bob Nevin took a tripping penalty, thus giving Toronto some glimmer of hope, even if the penalty taken wasn't intentional.
With just minutes remaining, Irvine drove to the net. Plante made the stop. However, Big Walt was right there, at 16:52, to put in the final goal of the game, thus making the score GOOD GUYS 6 , Toronto 2.
Then, with 21 seconds remaining, the Rangers denied the Leafs from a faceoff in the Rangers zone. Hadfield would get one more crack at it with 8 seconds left, but Plante made the save. No matter, as the Rangers won the game 6-2!
All in all, this was a great Rangers victory. Yes, it's only Game 3, but the Rangers got production from everywhere. That's all you can ask for. Perhaps the latest team from Emile Francis has finally turned the corner. I don't want to get too giddy after a Hockey Night in Canada win, but if you're like me, and you're a Rangers fan; you have to love what you saw tonight.
I'll have a new newsletter after the game with Montreal tomorrow. Until then, thanks for reading and LET'S GO RANGERS!
---
And now…. we are baaaaaaaaaaaaaack from 1970! Welcome back to 2019!
As you may have heard, the Emile Francis Rangers of 1970-1971 didn't win the Stanley Cup. In fact, as George Grimm said in his book, the Rangers did everything but win during the Francis Era.
The Rangers, in the Emile Francis Era, would find their most team success during this season and the three seasons that followed. Villemure and Giacomin, as a tandem, would win the Vezina in the 1970-1971 season. The Rangers would even finish in second place during this season, which brought hope to Ranger fans of this era. Unfortunately, the Rangers would lose a 7 game series to the Chicago Blackhawks in the playoffs. The Canadiens, behind Ken Dryden, would then go on to beat the Hawks in 7 games in that Stanley Cup Final.
The season after, the Rangers would make it to the Stanley Cup, only to lose to the Bobby Orr & Phil Esposito led Bruins.
In the 1973 playoffs, the Rangers would once again lose to Chicago, who then went on to lose again in the SCF to the Montreal Canadiens.
In the 1974 playoffs, the Rangers would lose a 7 game series to the eventual Stanley Cup champions, the Philadelphia Flyers.
The most embarrassing playoff series in the Emile Francis era came in 1975, when the Rangers were embarrassed by the NY Islanders. That would be the beginning of the end for not only Emile Francis, but for this era of Rangers. Giacomin would be waived and picked up by Detroit. In perhaps the BIGGEST trade in NHL history (You can argue Gretzky to LA here) Ratelle & Park were sent to Boston. Gilbert would soon retire and a new era under goalie John Davidson & the Rock & Sock Rangers would be ushered in. Under HC Fred Shero, those Rangers would make a SCF appearance in 1979. You may be aware of how that ended.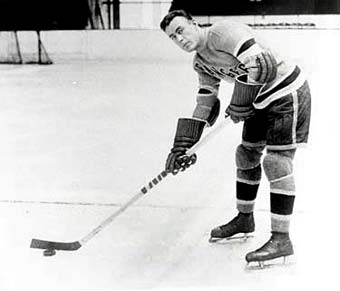 As a Rangers fan, it's hard to puff the chest out. You know the story – 4 Cups in 93+ seasons. There's not that many bright spots here. Even worse, 75% of those bright spots aren't available to watch, which is partly the fault of both the Rangers and the NHL.
I've talked about this before. The Emile Francis Era of Rangers have a lot of similarities with the Lundqvist Era of Rangers – "close, but no cigar."
As someone who loves history and has watched and read about a bunch of games from this era; it's a shame – these Emile Francis Era Rangers were so close to winning the Cup, but couldn't it put it all together. You can blame injuries or whatever, but really, every team has injuries during a Cup Championship campaign.
In this game, Rod Gilbert was an absolute beast. I don't "hate" on anyone who considers him the best Ranger of all-time, but it's hard for me to agree with that, especially when Bill Cook won two Cups, went to other SCF's and was the first team captain in history. As I've said 76378946734789678963 times on this site, I've read so much negativity about Gilbert, and how he put partying above winning. I mean really, even "Looney The Gratoony", in his own book, talked about how Gilbert would rather do sophomoric pranks than practice. And Gilles Gratton was defending Gilbert in his book!
Gilbert stories like this is why I've begged Stan Fischler and Rod Gilbert to do a book. Let's face it, Gilbert isn't getting any younger. I really want to read his stories, hear his thoughts and rebut what's been said about him, especially the stuff Esposito has said about Gilbert. No one would or has questioned the character about Gilbert's GAG linemates. From what I've read and seen, I can't say the same about the second greatest number 7 in team history.
As I try to close this latest manifesto, if I can convey anything to you, I hope that it's this – I want Rod Gilbert to do a tell-all book or documentary!
When you look up and down hockey history, and Rangers history specifically, there are two Ranger names that probably "DESERVED" a Cup more than anyone else. Those two names are Rod Gilbert and Henrik Lundqvist. Even as big of a critic of Lundqvist that I am, I could never question his will. I could never say that Lundqvist put partying above winning. Perhaps he put money in front of winning, but his focus and heart was always there. I've heard peers and contemporaries of Gilbert say otherwise. That's why I want that damn tell-all book!
I also want to mention, in regards to Brad Park, who has to be a Top 5 defenseman on anyone's list, isn't it ironic that he wore #2, was second to Bobby Orr in his time, and is second in Rangers history to another #2, in Brian Leetch? Isn't that amazing Suzyn?
In closing, I hope you enjoyed this trip either down memory lane or this new found history lesson. The Rangers have such a rich history. It's a shame they don't embrace it. RETIRE FRANK BOUCHER'S #7 ALREADY!
As far as current Ranger news, I've recapped everything in my previous blogs. Check the links above.
That said, as always, thanks for reading and…
"LET'S GO RANGERS!"
Sean McCaffrey
BULLSMC@aol.com
@NYCTHEMIC on the twitter machine