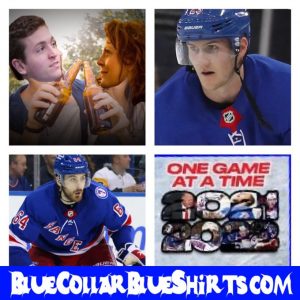 Greetings and salutations everyone and welcome to another blog here on BlueCollarBlueShirts.com. I can't believe we're already into the "dog days" of August. It feels like just yesterday, I was hearing July Fourth fireworks blasting around all over my neighborhood. Today, I'm now seeing "Spirit of Halloween" stores pop-up in my town!
Since I last wrote you (seven days ago) – not much has gone down – a good thing for someone who is currently trying to publish two books, and for someone who doesn't need anymore outside distractions!
Put it this way, when a rumor of Jimmy Vesey returning to the Rangers is the top story – it's safe to say that nothing is going on! Who will disagree with that?
Aside from where a potential fourth-liner/AHLer goes; everything else remains status quo.
There are no updates on neither the rumored to be Long Island bound Nazem Kadri; nor is there an update on the future of Tyler Motte. However, I'm sure that once I hit the publish button on this blog, the news will roll in with all of the thunder and explosions of a "Fast and Furious" movie.
Tonight's blog will be different from the norm. With not much news to talk about, I'll give you an update on my two book projects, a sample chapter from "Tricks of the Trade – A Century-Long Journey Through Every Trade Made In New York Rangers' History," and a quick Adam Fox vs Cale Makar piece that I did for "The Hockey News."
Before getting into all of that; let's quickly blow through the latest news making the rounds in Rangerstown, USA.
---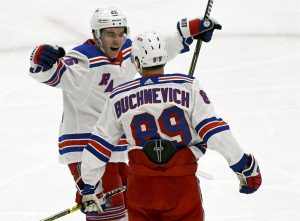 On Saturday, August 6th, Larry Brooks posted his latest "Slap Shots" column for the New York Post, a column that had more to do with the Islanders than the Rangers.
You can read Brooks' complete article here: https://nypost.com/2022/08/06/islanders-should-honor-ed-westfall-for-laying-dynasty-foundation/
As the only reporter on the beat that breaks real news (unless you count one of his "peers" confirming the fact that Adam Sykora, the Rangers' top pick of the 2022 NHL Entry Draft, is remaining in Slovakia for the 2022-23 season – something we knew the second once Sykora was drafted), the Hall of Fame scribe included this throwaway one-two combination in his article:
"There won't be quite the pomp and circumstance as the first time, but Slap Shots has learned that a reunion between the Rangers and Jimmy Vesey is on the horizon.
"Presumably signing a free-agent deal for around the $750,000 minimum that would not count against the cap if assigned to AHL Hartford, Vesey — who went 50-40-90 in 240 games for the Rangers his first time around — will compete for the kind of fourth-line, bottom-six role that Tyler Motte filled so well last spring, but has priced himself out of."
---
Let's talk the facts first, then get into the rumor.
As of this writing, Jimmy Vesey remains as an unrestricted free agent. Not one reporter, nor the quick-to-the-beat CapFriendly.com, has reported any sort of an official signing. That said, Brooks is more in the know than anyone else, so if he's hearing such chatter – it won't come as a surprise if Vesey's return is confirmed sometime next week.
Since August is usually the slowest month of the NHL calendar; any rumor, morsel of insignificant news, or anything else NHL-related, is usually blown up and over-analyzed. I get it, and I think you get it too. There's just not much else to talk about – especially for a society that foams at the mouth over the 24/7 news cycle.
This is my way of telling you that if Vesey returns to the Rangers, great. If he doesn't, who cares? I can't pretend to have some extreme hot take on this rumor like other fans/bloggers/podcasters/writers/whoever have.
I think the real piece of information to pull from Brooks' report, is that according to L.B., there will be no Tyler Motte reunion on Broadway.
I think deep down, we all knew that Motte's chances of returning were minimal (especially after hearing his exit interview), but we still held out with an abundance of hope anyway. And who knows? Maybe something happens at the eleventh hour and Rangers' general manager, Chris Drury, finds a way – just like how his 2021-22 team always found a way.
I know I've said this before, but I'll say it one more time here – while I won't question Drury or throw a fit about this (he knows the game much better than me – and every fan too – despite what other fans may feel!) – I don't get why the general manager retained Libor Hajek and Julien Gauthier, two players that will need to clear waivers, if the intention is to assign them to Hartford.
In other words – I just don't see how Hajek and Gauthier fit on the Rangers' 2022-23 roster.
In my opinion, the money assigned to these two players could have been better used to retain either Kevin "ROON DOGS" Rooney or Tyler Motte. That's all. Feel free to disagree.
---
One more time – we're talking about a rumor right now. Vesey's return to the organization isn't a done deal – yet.
I'll have the full rundown of Vesey's career for you during "The Tricks of the Trade" sample chapter (at the end of this blog); but for now, all you really need to know is that following his trade from the Rangers to the Sabres in 2019 – Vesey hasn't cracked seven-figures in salary since.
After earning $2,275,000 per season during his last year with the Rangers; Vesey has since gone on to sign a pair of six-figure deals, worth $900,000 (Toronto) and $800,000 (New Jersey) overall. While that is boffo money for most of us; for Vesey, it's a disappointment – especially when you consider how prior to the start of his NHL career, you had half of the teams in the league vying for his services. Today, he's lucky if he can find one team to throw him a one-year deal worth $750,000 overall.
Since Vesey and the Rangers haven't officially agreed to terms, who knows what Drury is thinking here. Maybe Drury, born in Connecticut and who played college hockey for Boston University, wants to throw a fellow New Englander a bone, in the form of the Boston native and Harvard alum, the former #26 of the Rangers, Vesey himself.
Should Vesey's return become official, I don't think it will matter in the grand scheme of things. Most likely, he'll sign a contract that will allow him to bounce from Hartford to New York.
For what it's worth, after two blah seasons on either end of Canada, Toronto and Vancouver, Vesey had a decent 2021-22 campaign while playing for the red-and-black across the Hudson River.
The 2016 Hobey Baker winner, who is no longer known for his scoring, has developed the cliched "physical presence" to his game.
During his days with the Rangers, at one point, he was in the team's top six. Should he return, at best, he'll most likely be a fourth-line forward. And if it don't work out? Hello Hartford.
"DIARY TIME!"
---
All summer, during my weekly blog entries, I've been giving you updates on my other writings. What's another update?
"One Game at a Time" is pretty much done.
All that's left to do is print out the physical versions and check them for errors/formatting issues. I don't expect any, but yours truly and "my team" (I know "my team" sounds so douchey and egotistical, but go with it!) will double and triple check anyway, as we do our quality control. (Too bad I have no one doing quality control on all of these horrible photoshops, which some of you do love, and photoshops that are all included in the volume set!)
Sometime next week, I'll post preorder information for anyone who wants signed copies.
I know I should've put up preorder links earlier, but I didn't want to take anyone's money until the project was at the finish line. For those who don't need my silly autograph; all of the books, in e-Book, paperback and hardcover formats, will all be available on Amazon.
To be clear, and to reiterate (as I've said this before) – this four-volume set is a compilation/compendium of my blogs from this site which covered the 2021-22 season. I don't want to mislead anyone into thinking that this volume set is 100% original material.
While there is original material included, I want to be honest with everyone, as you guys and gals are the target audience – about 10% of the book is original content. Again, I just don't want to deceive anyone.
Once the books go on sale, I'll include the introduction to the four-volume set on this site.
To give you a spoiler on why I felt I had to put this four-volume set out there; basically, I believe that the 2021-22 season needed to be put into book form – even if it's just for Ranger historians of the future, when I'm long-and-dead. (I say this from first-hand experience, as when I do my own research about the Rangers from yesteryear, it's not that easy finding books, articles, interviews, etc about those early teams.)
Lastly while on this title; very often, I am asked some form of the following question, "how do you run your site with no ads, spyware and/or Patreon links?"
If you're one of these people who ask me about this, this is how: book sales!
Rather than asking you for your money via Patreon, GoFatherFinkMe, or whatever other crowd-funding/sourcing sites that other bloggers/fan sites use (any donations are appreciated, but I'd feel like a bum asking for financial contributions without giving anything back in return), I say this – if you want to support the site, buy my books – even a compilation set! They look great on a bookshelf!
And honestly, I know that you guys and gals will. The way you supported my first book tells me all that I need to know! Thanks again!
---
As I continue to be transparent and honest with you here; while I'm proud about "One Game at a Time;" "Tricks of the Trade – A Century-Long Journey Through Every Trade Made In New York Rangers' History," has truly been my passion project during the last year.
If I never write again, I will be satisfied in just releasing "Tricks of the Trade."
When I first published "The New York Rangers Rink of Honor and the Rafters of Madison Square Garden," that was my pride and joy. I also thought it would be my first-and-last book. However, due to sales and the opportunities that came from the book, I wanted to write the biggest and best Rangers' history book ever. I know that sounds cocky, but I'm confident about this.
Furthermore, when Stan Fischler, the greatest Rangers' historian of all-time, is wowed about this book (he wrote the foreword to "Tricks of the Trade," a foreword you'll hopefully soon have in your hands) – then I know I must have done something right.
In other words, I can't wait to get this book done and see what you guys and gals think about it.
---
As mentioned during my last update, "Tricks of the Trade" is about four-times as long as my first book, a book that clocked in at 540 pages.
As a result, and just like "One Game at a Time" – I'm going to have make the physical versions into a volume-set – which will be easy to do, after enduring this painstaking experience with "One Game at a Time."
Currently, I'm still in my proof-read phrase of "Tricks of the Trade." I'm also fleshing out the book some more, since I'm no longer worried about trimming the book down for size specifications/page limits.
In other words, this book may not be ready by September 1st as I originally intended; but I think I should have it out before the first puck drop of the 2022-23 season. I just don't want to rush the book for some self-imposed target date – I want to put out the best product possible.
Like anything else one does in life, the more repetition and experience you get, the better you are at that task/job.
I was very elated with the way my first book turned out. Based on the reviews and sales, everyone else was too.
I can tell you this, "Tricks of the Trade" is easily my best work yet – again, confidence, not cockiness!
I'm not exactly sure how I will chop-up "Tricks of the Trade" into volumes just yet; but hopefully, within two weeks, I'll find a way and then share with you the cover art of each volume.
And before sharing you a sample chapter of this book, let's talk about my other writing endeavors that I have going on!
---
As mentioned on this site numerous times before, and as you are all probably aware of already; I've been writing short pieces for Stan Fischler, articles which are either published in "The Hockey News" or on NHL.com.
Once again, I can't thank Fischler enough for trying to promote my work to a bigger audience.
(He's also become a good friend and an even better editor. While these blogs may not show it, as I write in a different style whenever writing these manifestos; he really has improved my writing. Also, a shout-out to Alex Shibicky Jr., who made Fischler aware of my first book, which then led to these opportunities.)
If there's one on-going joke that Fischler and I have, it's about my uncanny ability to never get straight to the point and then write 79566756767785785 words before getting to such said point. What works on this site doesn't work (and understandably so) for Fischler's space constraints.
More times than not, Fischler will give me a topic/subject that he needs covered and I'll shoot him an article.
Anything that I've ever sent him then appears on one of his outlets. (And the fact that he's now over ninety years old, and still doing this, always awes me.)
By the time you read these words, my latest assignment for Fischler will appear in "The Hockey News," where I break down Adam Fox v. Cale Makar. (I also have a bit on K'Andre Miller too, which covers the good that he did at "Da Beauty League.")
Since I know that Fischler shortened my original article on Fox v. Makar, I now present to you the unedited "extended cut" version. (Keep in mind, I usually have an 8-10 paragraph limit, which is why this "extended cut" is short for me!) Enjoy!
---
Since the 1926 founding of the New York Rangers, Blueshirt backers have become very used to the age-old question of "who's better?" – especially when it comes to NHL defensemen.
Whether it was Eddie Shore vs Ching Johnson, Doug Harvey vs Harry Howell, Bobby Orr vs Brad Park or Ray Bourque vs Brian Leetch; there have been many great debates over the years. The latest? Cale Makar vs Adam Fox.
Fox and Makar, who share the same birth year of 1998 (Fox is eight months older), had different paths to the NHL – but both players made their official rookie debut during the 2019-20 season. (Makar made his NHL debut during the 2019 Stanley Cup Playoffs.)
The pair of rearguards each play a similar style of game, as not only do they log an insane amount of ice time per game, but they are also leaders on their respective team's first power-play and penalty kill units.
It was the American, #23 in Rangers' blue, who picked up NHL hardware first, as a result of his 2021 Norris Trophy win. Not to be outdone, it was the Canadian, #8 in Avalanche burgundy, who then went on to win a Norris Trophy himself in 2022 – in addition to his more important Conn Smythe and Stanley Cup trophies.
The two blueliners, who are now earning $9,000,000 plus a season, are the future of the league. While Fox experienced success first, Makar has completely transformed the offensive-defenseman position with his electric brand of hockey.
There will be plenty of time to revisit this debate over the next decade, but for now, it's the more explosive Makar that's the better player among the two Norris winners.
And should Makar continue his domination over the NHL – unlike Park – at least Fox has won his Norris already!
---
Note: the following is unedited copy of "Tricks of the Trade – A Century-Long Journey Through Every Trade Made In New York Rangers' History." There are still edits to be made. It's also somewhat timely, considering the top rumor in Rangerstown, USA!
---
DATE OF TRADE: July 1st, 2019
RANGERS ACQUIRE: Third Round Pick of the 2021 NHL Entry Draft (#65 – Jayden Grubbe)
BUFFALO SABRES ACQUIRE: Jimmy Vesey
At one point, Jimmy Vesey, a left winger from Boston, Massachusetts, was thought to be a superstar of a new generation, and the face of a future Rangers' Stanley Cup victory. Instead, he wound up becoming Pavel Brendl 2.0.
Okay, perhaps I'm exaggerating when comparing Vesey to Brendl, in order to illustrate a point (and I am); but needless to say, the once lofty expectations bestowed upon the former #26 in Rangers' blue were never met.
Put it this way – when Vesey first became a free agent during the Summer of 2016 (and I'll explain how this happened in just a bit), you had New York City bar owners promising the 2016 Hobey Baker winner free drinks for life should he sign with the Rangers. (I wonder if these deals are still on the table?)
It wasn't just the bar owners politicking for Vesey to sign with the Rangers either. Local New York celebrities, including ones that had Ranger season tickets, such as Boomer Esiason, Susan "Oh, Oh, Oh" Sarandon, Noah Syndergaard, Muhammed Wilkerson, Justin Tuck, Jerry Ferrara and others, all made their pitches, in their attempts to sway Vesey to New York.
In the end, Vesey chose the Rangers and signed a two-year deal worth $7,550,000 overall ($3,775,000 per season) on August 19th, 2016.
Not even three years later, he was traded for a meaningless third-round pick.
It were the Predators who first drafted Vesey during the third-round (#66th overall) of the 2016 NHL Entry Draft.
Similar to Adam Fox; once drafted, Vesey decided to pursue a college career at Harvard University, rather than turning professional.
Once arriving at the Ivy League school in 2012; Vesey then spent the next four years of his life there and graduated in 2016. During his four years playing for the Crimson, he received a laundry-list of accolades, including the aforementioned Hobey Baker Award, MVP's, first team selections, and more.
As the 2015-16 collegiate season was approaching its conclusion, Nashville general manager, David Poile, came knocking again. Poile offered Vesey a contract, a roster spot, and a chance to compete during the 2016 NHL Playoffs.
Just as Fox would later do, Vesey wanted to call his own shots. By not signing with Nashville during this time, all Vesey had to do was wait a few months, and then he could sign with any NHL team that he wanted to sign with.
Obviously, Poile was upset, pissed-off and disappointed with Vesey. (And once Vesey joined the Rangers, he would always be booed whenever playing in Nashville.)
At the time, it was thought that Vesey wanted to play for his hometown Boston Bruins. Despite already spurning Nashville and knowing that Vesey had his eye on the black-and-gold – the Sabres traded for him anyway – as they gave up a third-round pick of the 2016 NHL Entry Draft (#76 – Rem Pitlick) in order to get an exclusive crack at him.
The Sabres must've really wanted Vesey, because prior to this trade, Vesey's agent informed them that he wasn't going to sign with them. His agent also told the Sabres that his client wanted to become a free agent once legally being able to do so. (And the irony that the Sabres would get their man in this particular trade – especially since Vesey, as he was in Nashville, was always booed whenever the Rangers were in Buffalo.)
Vesey stuck to his plan, and on August 16th, 2016, and after denying both the Predators and the Sabres of his services – became an unrestricted free agent.
Once becoming a player for hire, twelve teams, not including the Predators and the Sabres, lined up at Vesey's door. Vesey turned down seven of them right away and then whittled his choices down to five teams. It was during this time when you had the NYC bar owners and celebrities making their coos to Vesey; successful coos at that.
Now with the Rangers, and the spotlight on both he, and fellow rookie Pavel Buchnevich; Vesey went on to win the Lars-Erik Sjöberg Award – an award that honors the best rookie of a Rangers' training camp.
Things were looking good.
Vesey would have the best years of his career in New York. Following this trade, he became a struggling NHL journeyman. However, despite all of that, it's tough to explain why the Rangers quickly gave up on Vesey, as he had been playing well. The only reason that anyone could come up with is that the Rangers were trying to create more cap space to accommodate Panarin's deal.
Less than a year prior to this trade; on July 18th, 2018, Vesey signed a two-year deal with the Rangers worth $4,550,000 overall ($2,275,000 per season.) That meant that he was approaching the last year of his deal when going into the 2019-20 season.
At the time of this trade, where you must remember "The Letter" and "The Rebuild;" Vesey was only 26 years old and thought to be a piece for an eventual Stanley Cup run.
In his three years with the Rangers, Vesey scored 90 points in 240 games. While not hitting the expectations that many had of him, it wasn't like he was a total bust either. (For a comparison, in three seasons with the Rangers, Kaapo Kakko has scored 58 points in 157 games played. Do you want to give up on him?)
Once traded, Vesey said the following to NHL.com:
"I'm really excited to be a part of the Sabres and look forward to contributing to the team and seeing what we can do. 
"There's definitely been a little bit of evolution in my game. The past couple of years I've tried to work on my consistency and try to be more impactful on a nightly basis. Last year, something people might not know, and something that I'm proud about, is that I was able to work on the penalty kill aspect of the game and I saw regular minutes on the PK. I think that was just part of my maturity, now in my third year in the NHL and kind of knowing a little bit more about the defensive zone.
"At the end of the day, I still consider myself a goal-scorer and I think that's my trademark."
After posting goal totals of 16, 17 and 17 during his three seasons in New York City; now upstate in Buffalo, New York, Vesey only scored nine goals during the 2019-20 season, where to be fair – was the pandemic-shortened season. Had the season not been shut-down, he most likely would've cracked double-digits again.
That said, Vesey didn't shine as a Sabre. Come the off-season, the Sabres opted to move on from him. In turn, Vesey then signed a one-year deal with the Maple Leafs worth $900,000 – a far cry from the millions he had been making with both New York teams.
After only scoring seven points (five goals and two assists) in thirty games played during the 2020-21 season; Toronto waived him. The Canucks then claimed him on St. Patrick's Day of 2021, but Vesey didn't have much success in his new Canadian locale either.
During his twenty games as a Canuck, Vesey only picked up three assists. For a guy who was proud of his goal scoring, he only scored five goals during this season between his time on either side of Canada.
On September 14th, 2021, Vesey took another pay-cut, when he accepted a one-year deal worth $800,000 with the Devils – his fifth NHL franchise in a span of four seasons.
During the 2021-22 season, Vesey bounced back a little bit, as he scored eight goals and picked up seven assists for a total of fifteen points in his 68 games played for the red-and-black. However, he also finished with a career-low plus-minus stat of -24.
As of this 2022 writing, Vesey, who has scored 135 points in 422 NHL contests, is an unrestricted free agent. However, unlike the Summer of 2016, there won't be fourteen teams vying for his services; nor will a seven-figure deal be had.
Oh yeah, I almost forgot. Whatever happened to Jayden Grubbe?
Grubbe, a center from Calgary, Alberta, hasn't received an NHL contract – yet.
Currently, Grubbe is playing for the Red Deer Rebels (WHL), where as of this 2022 writing, is a team that he has played for during the last three seasons.
The nineteen year old is expected to play the 2022-23 season with the club.
When it comes to deciding a winner and a loser in this trade, once again, this is tough.
Vesey did have the best seasons of his career with the Rangers, but he never lived up to the hype. He then bombed his way out of three different NHL franchises following this deal, where soon enough, he may be signing with his sixth NHL club – if not with an AHL team or a European team.
On paper, if you consider the fact that the Rangers moved on from Vesey and put the money elsewhere and what happened to the Bostonian afterwards – this is a win. At the same time, who knows what would've happened had Vesey stayed in New York?
With Grubbe's immediate future undecided; at the end of the day, this was a win, even if you can speculate on what would've happened had Vesey stayed in an environment that he was doing well in.
Enjoy the free drinks.
---
PLUGS TIME!
---
My first plug of tonight's blog – the mandatory plug for my book, "The New York Rangers Rink of Honor and the Rafters of Madison Square Garden".
As mentioned previously, the book is now available in hardcover, in paperback and in Kindle formats. To purchase a copy of the book, visit this link:
https://www.amazon.com/Rangers-Rafters-Madison-Square-Garden-ebook/dp/B09CM5N2WD
For those still looking for signed paperback versions of the book, I have re-ordered more copies. I now have a few signed copies for sale at $25 a pop (includes shipping price) through me directly. Here is all the information on that:
---
Here are my last few blogs, in case you missed them:
---
---
---
If you haven't already, subscribe to this blog for the next update:
---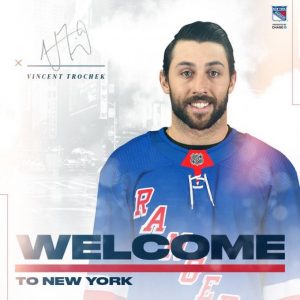 Up next for yours truly: a few articles on The Hockey News and NHL.com, while I wait for my proof-readers to get through the physical sample/test copies of "One Game at a Time." And as stated, I'm continuing to do my best in order to bring "Tricks of the Trade" to the finish line!
Enjoy the rest of your summer. Barring anything truly breaking, I'll be back next Monday.
Thanks for reading.
LET'S GO RANGERS!
Sean McCaffrey
BULLSMC@aol.com
@NYCTHEMIC on the Tweeter machine