Greetings and salutations everyone and welcome to another blog here on BlueCollarBlueShirts.com.
After being blown out in two straight games, by scores of 7-2 and 6-1, the Rangers continued two streaks on Sunday afternoon in their 5-0 loss to the Coyotes. For the third straight game, the Rangers were blown out. To show some consistency, the Rangers were also blown out by five goals for the third game in a row. So yea, at least they are consistent when they lose!
As mentioned in my last blog, I'm currently in Glendale, Arizona and attended this latest diarrhea show on ice. Unfortunately, as predicted, instead of turning things around, the Rangers were puppy-chow for the Desert Dogs. Oh, and for those who care about such things, I'm now 0-9 when watching this team play this season. SAD!
Since I mentioned my last blog, which recapped my ROAD TRIP to Denver, you can find that blog, and my most recent blogs, by checking out below:
---
---
---
---
---
---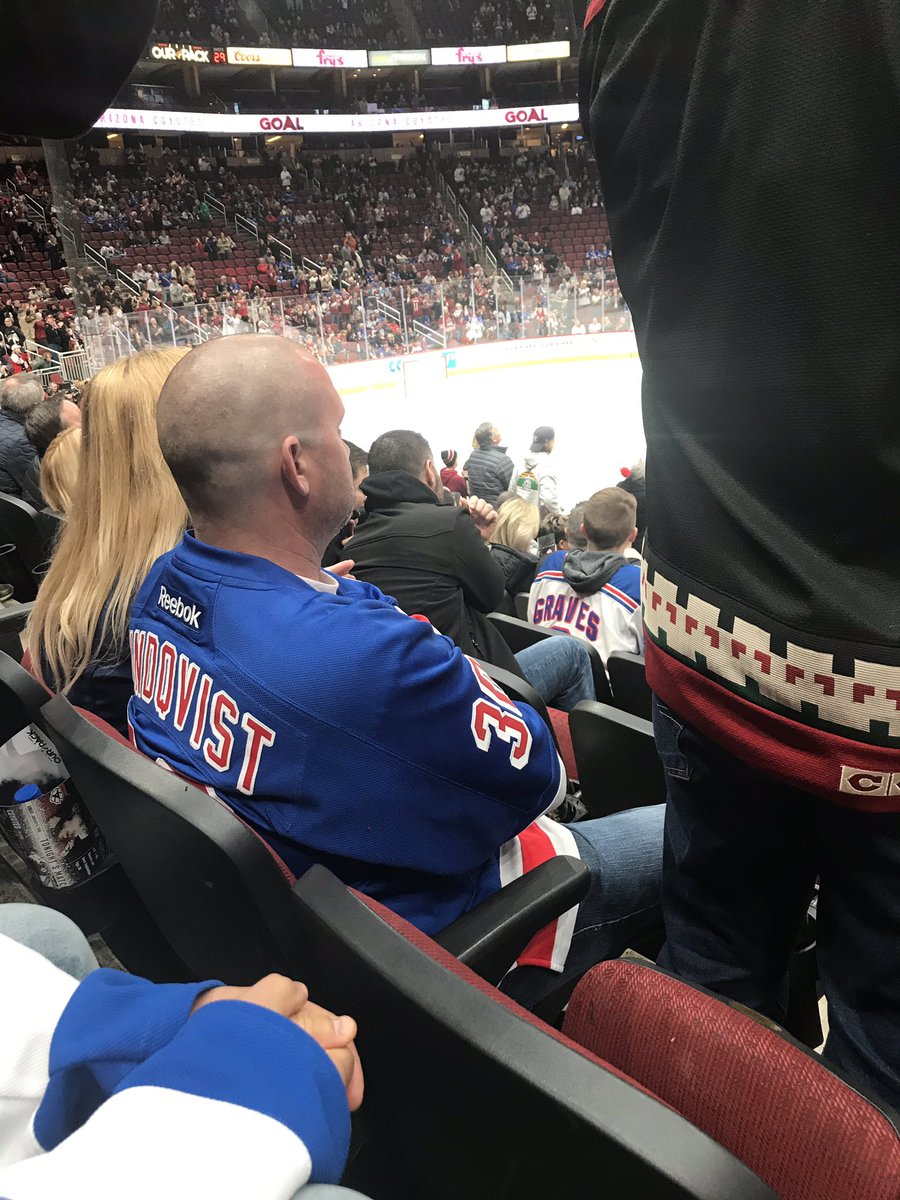 If the games against Pittsburgh and Colorado didn't have you throwing in the towel already, after watching this game with Arizona, I think it's safe to say that any playoff hopes, or rather delusions, are now over. The season is finished. This team isn't making the playoffs. They are done. Kaput. Over.
Plainly speaking, as you all know by now, this season was never about the playoffs anyway. It was nice to talk about the playoffs and think that this team could potentially pull off a run like the 2017-2018 Vegas Golden Knights or the 2017 New York Yankees. However, those dreams, just like Lundqvist's dreams of winning a Stanley Cup in New York, are just that – dreams, and not reality.
I tried holding the faith and believing that NYR head coach David Quinn could will this team to a playoff berth. While I never thought the Rangers would do damage in the playoffs, I thought it would be a good thing if they over-achieved and qualified for the annual Stanley Cup tournament.
While I know that for many fans, that this season was all about the "TANK"/a lottery draft pick, I wasn't thinking that way as the season started. After all, the players on this current team do not care about that crap and furthermore, what makes you think that Senile Sather & Gutless Gorton could even handle a draft correctly? How's that "Most NHL Ready" Lias Andersson doing?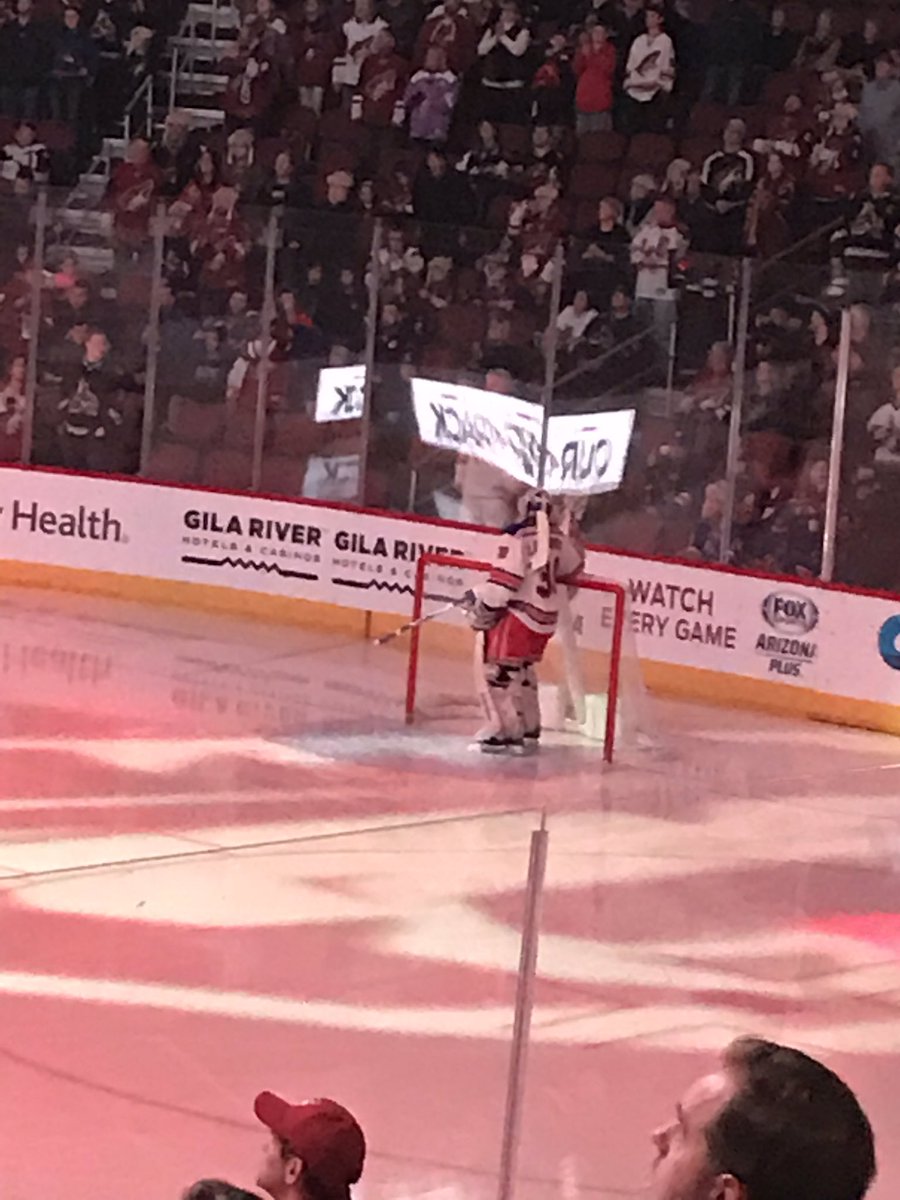 Obviously, from now until the deadline, all you're going to hear about is Mats Zuccarello and where he will be traded to. Then you'll hear murmurs about role guys, like McLeod & McQuaid. Of course, Kevin Hayes will remain the hottest name debated about, while some may even talk about Chris Kreider, who has one more year to go on his deal. (Again, I'm surprised more people aren't talking about trading Zibanejad, who has a NMC that kicks in next season and who has a history of concussions.)
However, as these games and losses start to pile up, and as Steve Valiquette alluded to during the post-game show, the fattest and most cupless fish of them all, in Henrik Lundqvist, may even reconsider his stance. In a season that started off with a dream, I may get my dream, which would be the overrated and overpaid goaltender finally waiving his No Movement Clause.
I know Lundqvist doesn't want to leave and thought that maybe this team could be a surprise, but we just hit the half-way mark of the season, and I've never seen Lundqvist more shell-shocked than he is right now.
As I've said ad-nauseam on this site, a Rangers divorce from Lundqvist is the best thing possible for every party involved. The Rangers, Lundqvist and the fans, are all just spinning their wheels with this egomaniac here. The longer he stays, the longer he delays the rebuild. You can't half-way rebuild a house and you can't rebuild a hockey team by trying to build around a 37 year old selfish twunt, a player who is there for all the glory, but ducks out on the media after he loses.
(For those who don't know, Lundswiss refused to do a post game interview after this latest shellacking. The crybaby bitch didn't even sit with his teammates after he was pulled. WHAT A TEAM PLAYER! WHAT A LEADER! This is just another example of the rules not applying to everyone on the team, as Lundqvist marches to the beat of his own drummer.)
And oh yea, for anyone who is going to bitch and moan about my takes or opinions on Lundswiss, you can blow it out your five-hole! When you fly all over two countries to see this team play and you see Lundswiss look like shit time & time again, I have every right to speak my mind! Furthermore, until this season, I never saw a Rangers back-up goalie lose in regulation, while on the road. That includes Raanta winning in Montreal, Raanta shutting out Chicago, Talbot clinching the Presidents' Trophy at a hostile "Rock" and countless other games.
Just to be fair with my statement above, I'm not counting road games against the Islanders or Devils, as I don't consider those games to be "road-trips". If I did, I could say I've seen Healy, Cloutier, Dunham, Blackburn etc, all lose on the road.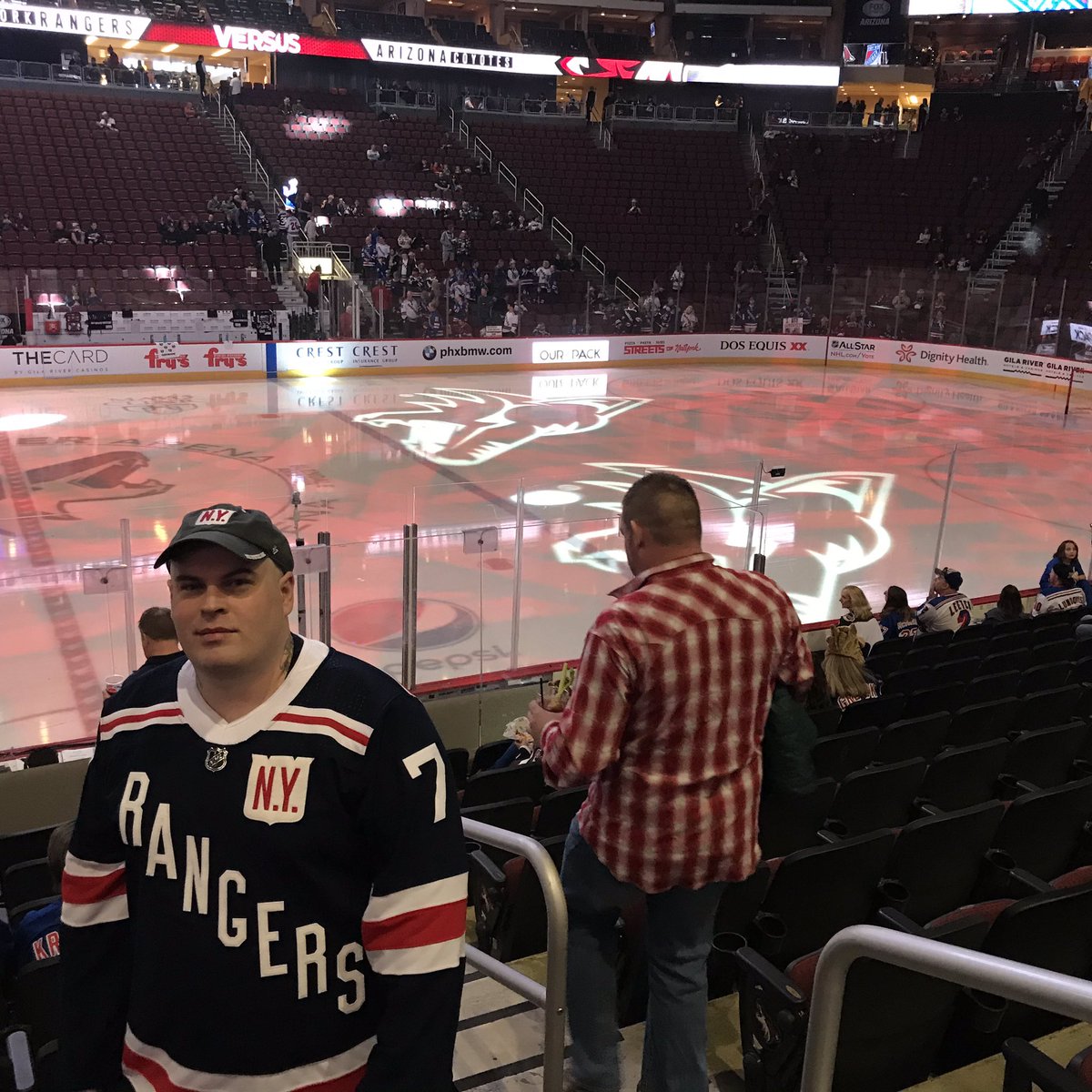 Since this is a ROAD-TRIP blog, this blog will be different than the norm. Things will resume to usual with the next game, when the Rangers get spanked by the Vegas Golden Knights. That's right, I'm not going to this game, despite being a short flight away.
When "TEN O'CLOCK TOMMY" and I booked this trip, we originally booked all our travel for Colorado and Arizona. We left Vegas open-ended, as I can always get free rooms at a Harrah's property. We also could've switched our flight back home for $100, which really isn't that much for us. Of course, that would've meant taking a few extra days off of work, but as the kids say, YOLO! (You Only Live Once.)
However, after watching the Rangers get their dicks kicked in twice in a row, the price of tickets in Vegas and the fact that we got our gambling fix in Arizona, we didn't feel the need to go there. I went to Vegas last season, so I pretty much know the feel and vibe there. As much as I'd like to go to Vegas, when you like gambling and drinking, it can get pricey.
With the way these games went and with what Vegas would've cost us, despite the losing and udder crap we witnessed, we decided to save the money we would've spent in Vegas and will put it towards another road trip this season, in a game where I'm sure the Rangers will lose again.
As far as where we might end up next, we are thinking about Minnesota, Pittsburgh, Buffalo or Washington. We were debating about a Saturday night in Boston, but we've done Boston before and as we continue our bucket-list of visiting every NHL arena, we may skip a return to "Cheers-town" for the time being. Plus, I can't deal with Red Sox fans right now!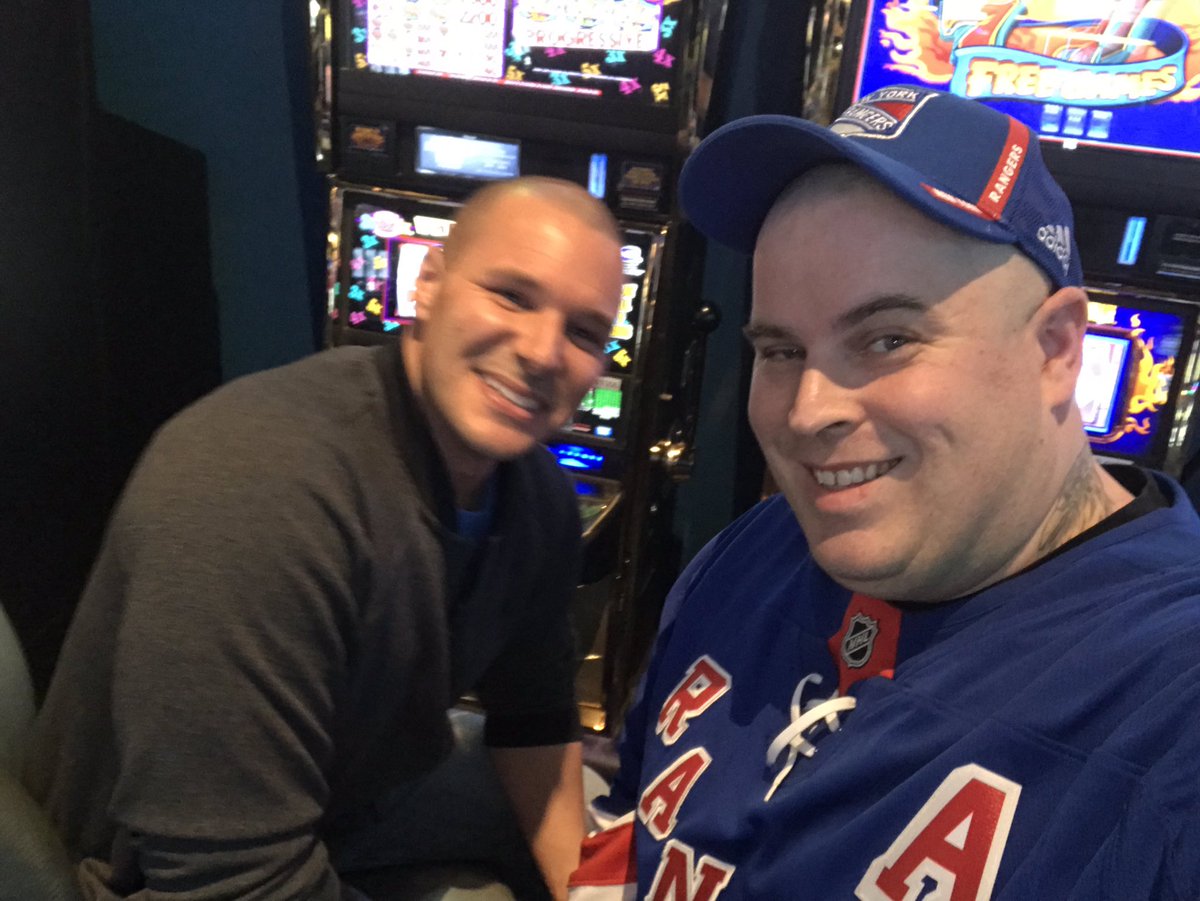 After watching the Rangers getting smashed by the Avalanche, I wrote a blog about my time in Denver. Three hours later, Tommy and I were off to the Denver airport, as we took the two hour flight to Phoenix. By 3PM, Tommy and I were in Glendale, Arizona.
On Saturday night, Tommy and I wanted to explore the bar scene of Glendale, which pretty much is located at the Westgate Mall. For those not familiar with this area, picture a Tangers outlet shopping center. Now picture it with a ton of bars & restaurants. Got it? Now picture all that, and then picture a hockey arena and an NFL stadium located on the same property. That's what the Westgate looks like.
I'm telling you, if you're a resident of Glendale, this Westgate is a great area. You got the Cardinals of the NFL and the Coyotes right next door to each other. You also got numerous places to choose from, when it comes to pre-gaming. There is also a mini ice rink located on the property, so kids can skate around for fun. There's also plenty of shopping, and fuck you if you think this is sexist, but this is also perfect for disinterested women who are dragged to a game by their beau. (And yes, this doesn't apply to everyone, just go with it. I'm aware of all the great female hockey fans that are out there.)
Best part about all of this for us? All this action was located across the street from our hotel. No joke, our hotel was a five minute walk from the arena.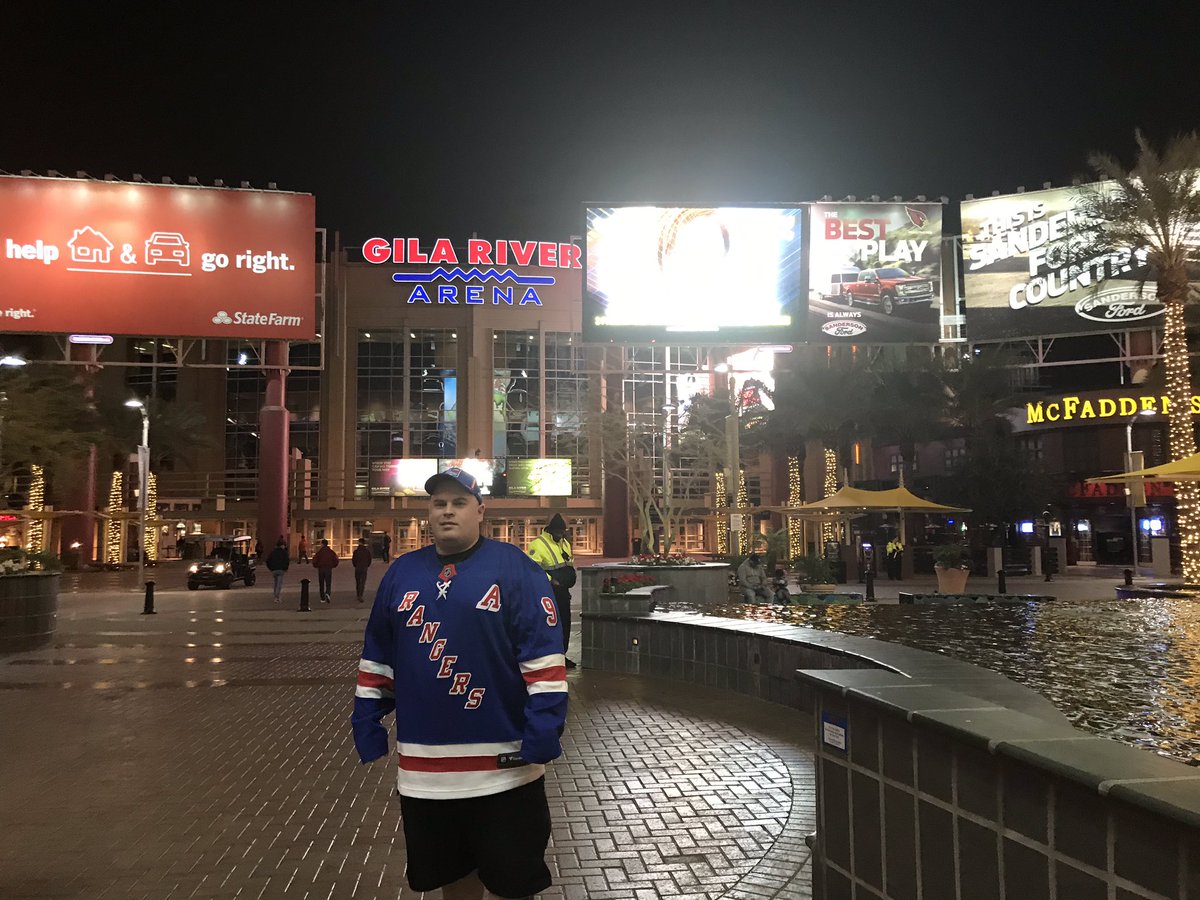 Here are some pictures of things in the Westgate: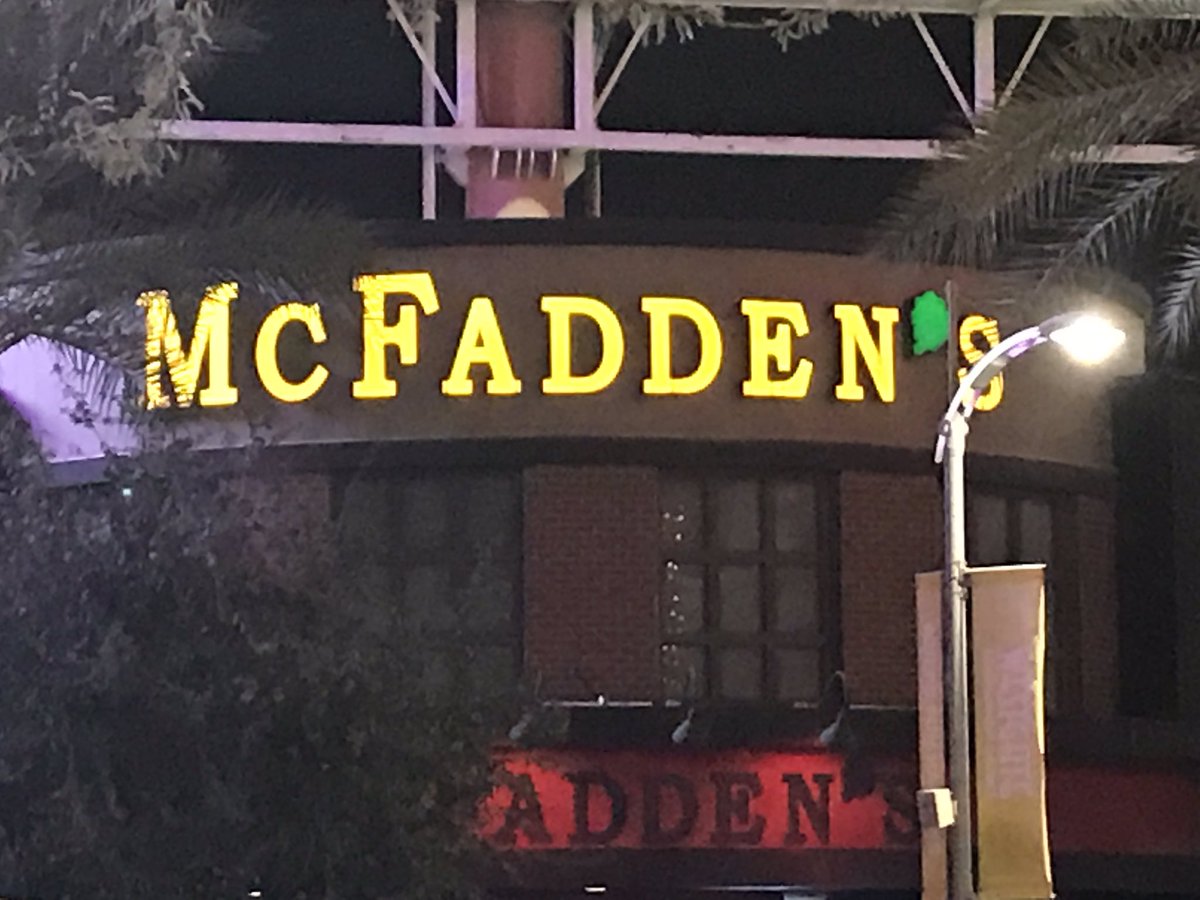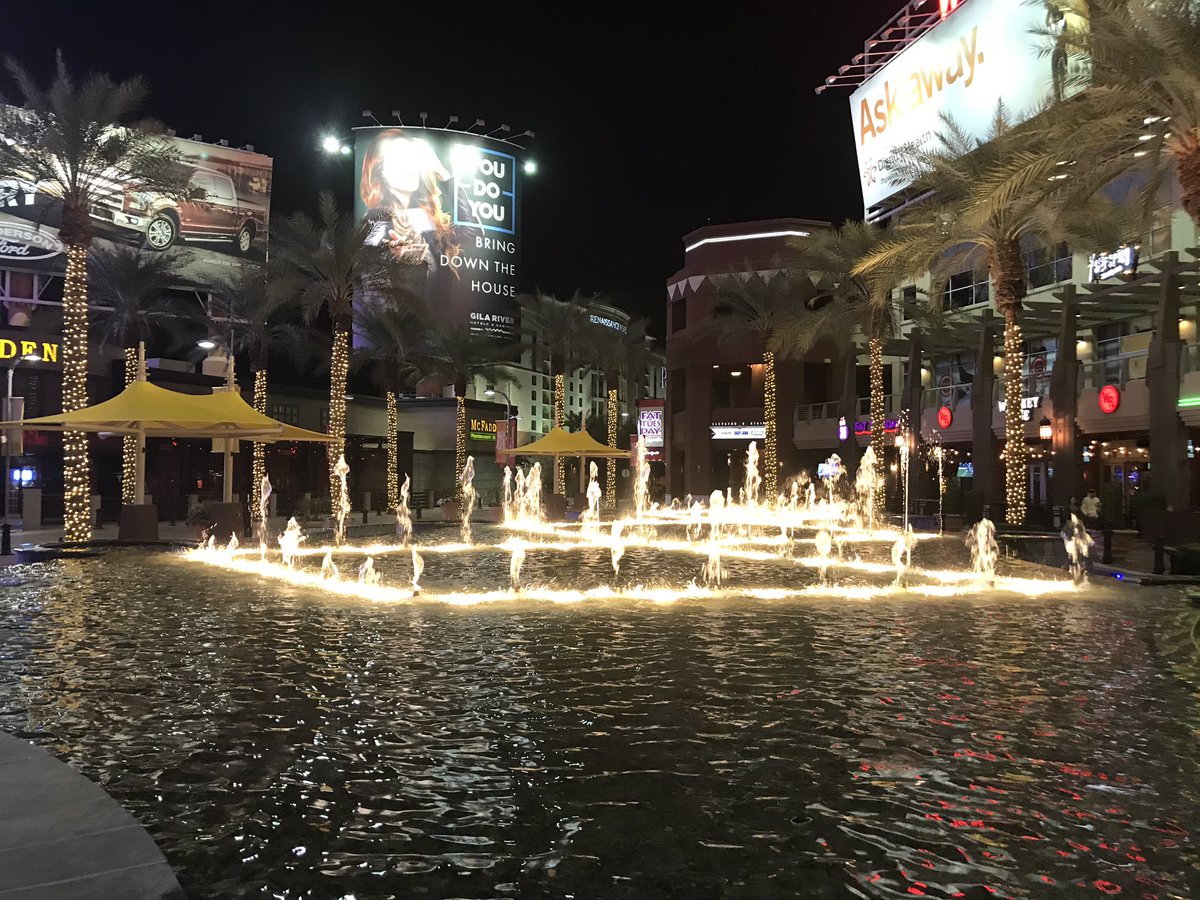 Here's "The Yardhouse" in Glendale, which features a yard beer glass. Suffice to say, I partook in a beer or two:
The Yardhouse in Glendale pic.twitter.com/mwLb5KX8XW

— BlueCollarBlueShirts (@NYCTheMiC) January 6, 2019

It's always important to put food in your system while consuming alcohol. Here was my dinner from the Yardhouse: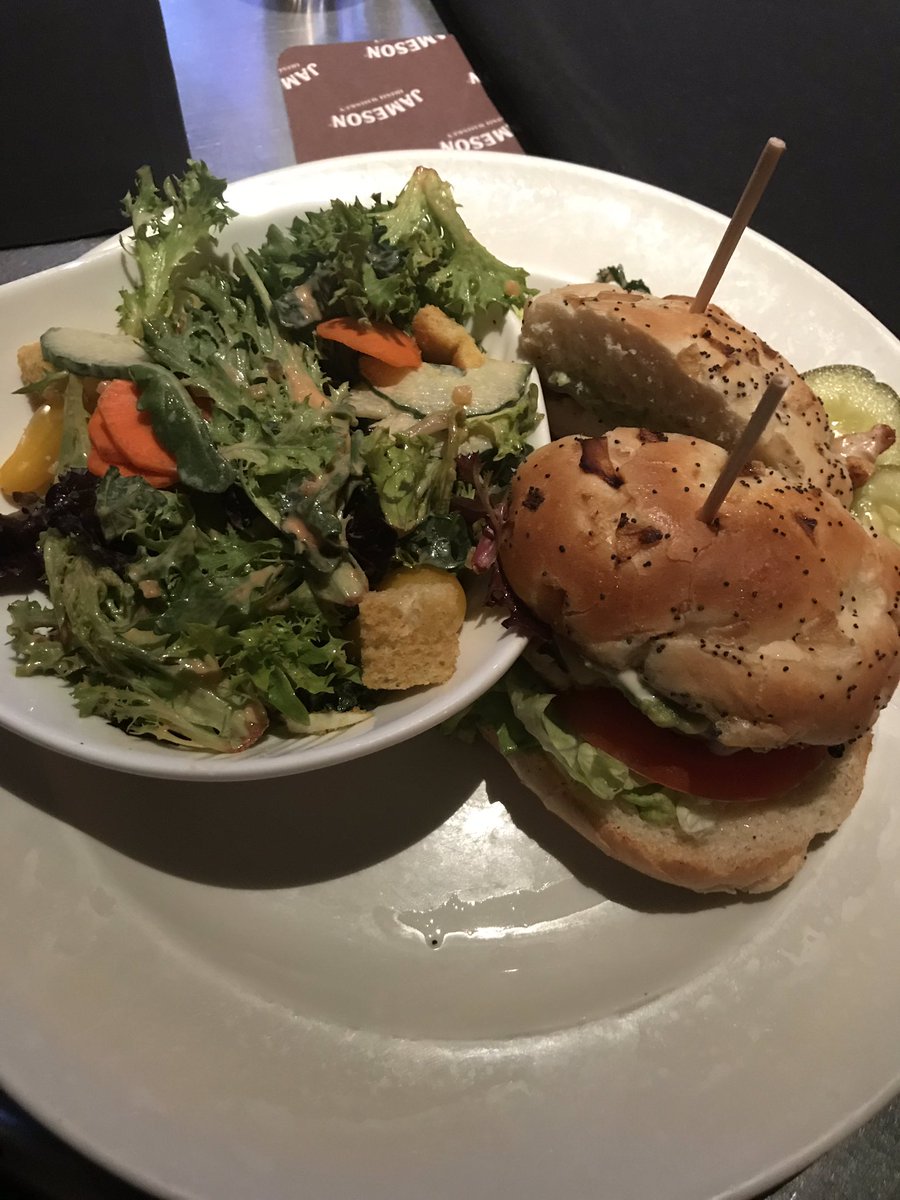 After eating and drinking a bit, we heard about a brand new casino, which is still under-going construction, and that was 5 minutes away. Of course, being no stranger to "Wheel of Fortune" and "Willy Wonka" slot machines, Tommy and I took a stroll to the casino: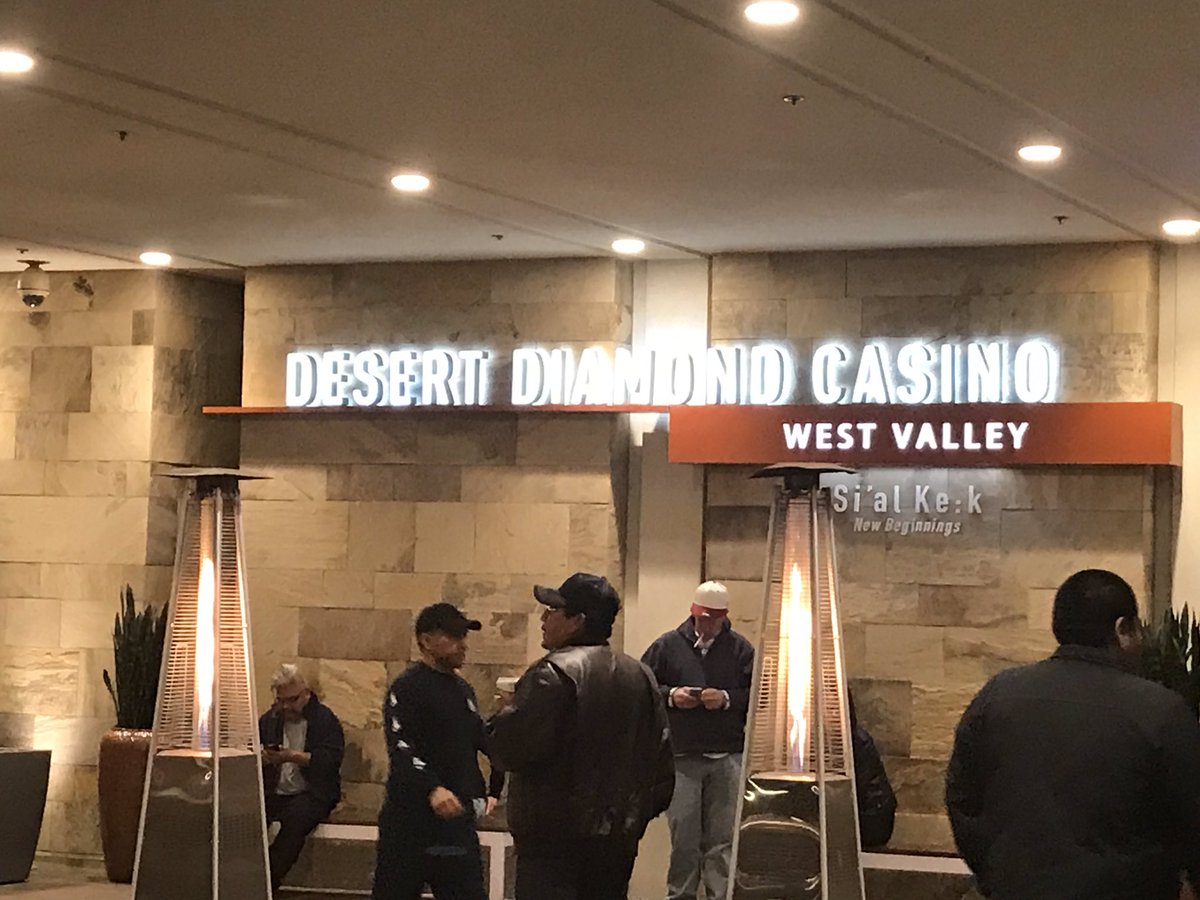 This casino is very tiny, as you could easily throw a football from one side of the casino and hit the wall on the other side. However, that wasn't a deterrent for us. After watching the Cowboys and the referees rob the Seattle Seahawks, Tommy and I hit the machines. This would be the highlight of our trip!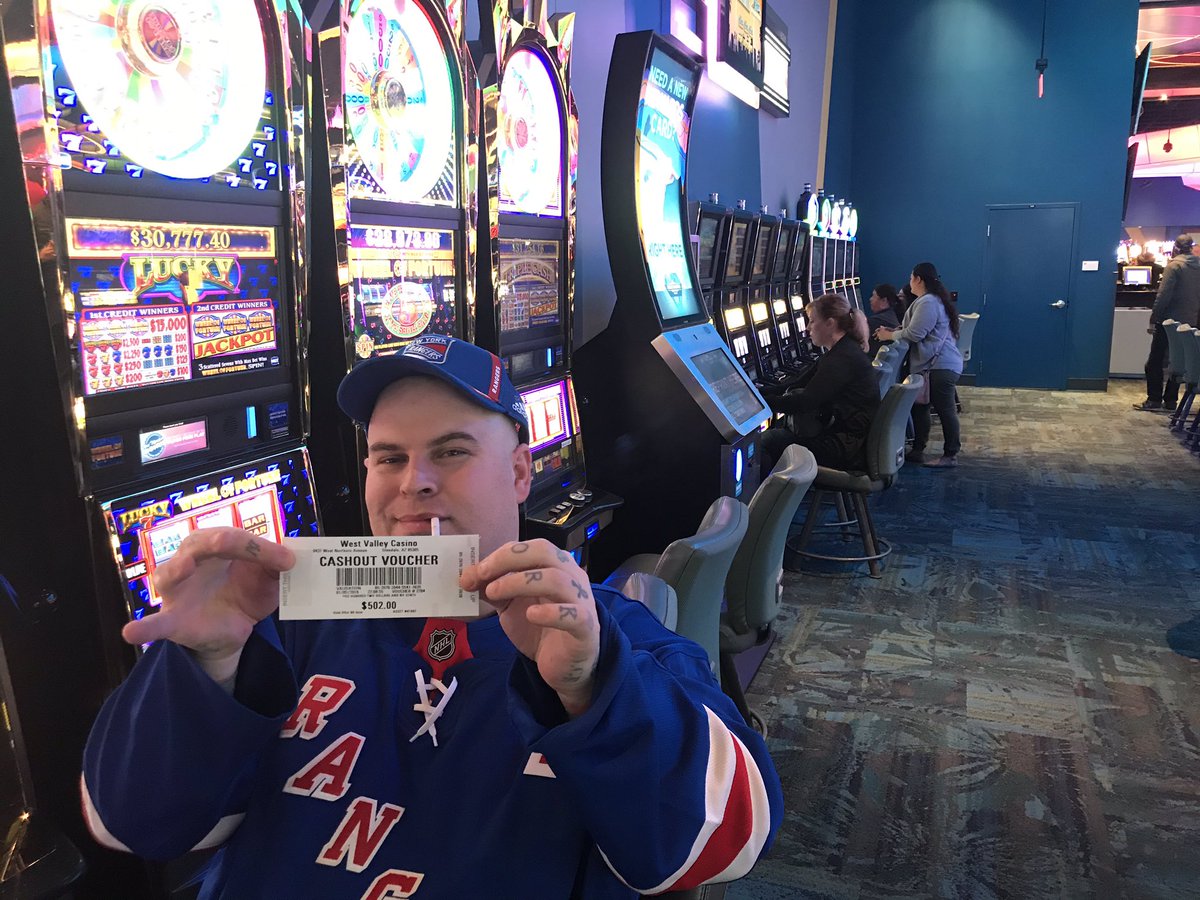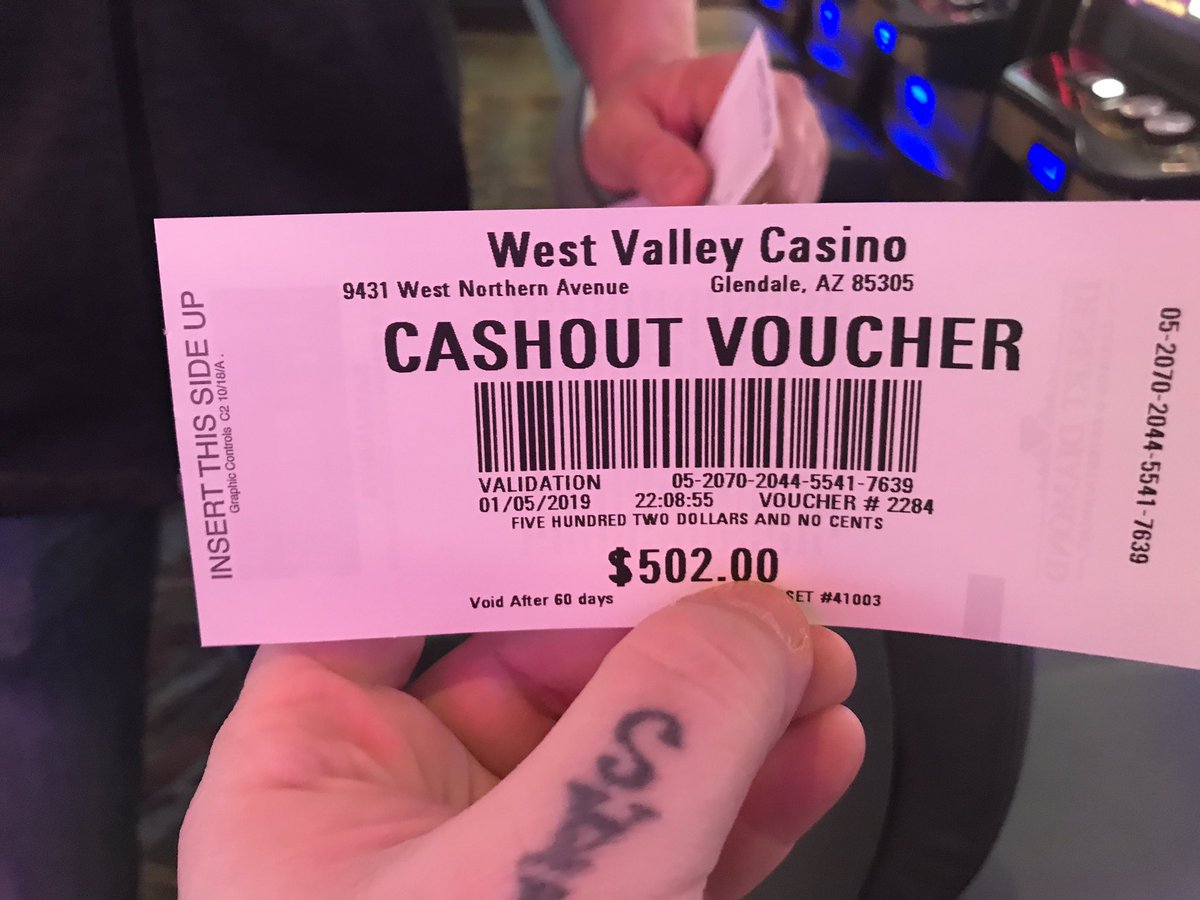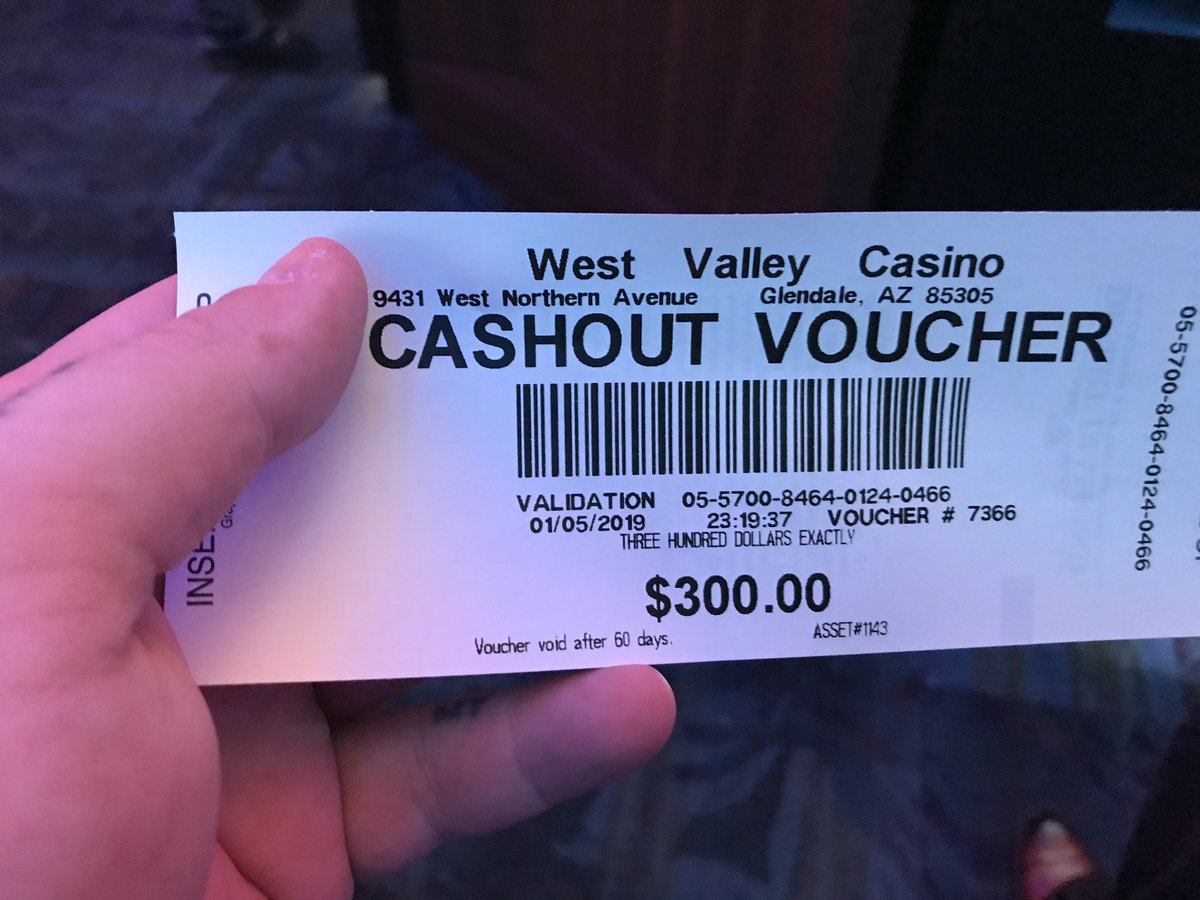 After a long night at the casino and bars, (and a mistake meal at "Denny's") Tommy and I decided to call it a wrap at 3AM. After all, we had a game in less than 12 hours to attend, as this Rangers vs Coyotes game started at 2PM!
Tommy always jokes that when they do the "veteran" of the game segment, they should honor me. Not because I served or anything like that, but for my uncanny ability of avoiding hangovers and being able to drink the next day. In our circle of friends, we call that a "veteran move."
I will say, because of all the winning, the oxygen pumping in the casino and all the booze, we were feeling good when we got back to the hotel. Not so much when we woke up on Sunday! I never get hangovers, but even I was feeling a bit groggy and gassy. It took me a few Molson's to get back into the swing of things!
And before getting into the game, I gotta admit, despite the two terrible games that we saw, these four days were really fun and did include a touch of drinking. As I write these words at 8PM, and with a Miller Lite next to me, here's my buddy Tommy:
After a much needed hot shower and after clogging the toilet for the second time in less than 16 hours (For a Marriot hotel, the toilets couldn't handle the shit we gave them!) we made our way to the game. And not for nothing, a clogged toilet pretty much sums up this Rangers game with the Coyotes.
I thought the Colorado Avalanche did a horrible job in marketing their team. As I said in my Colorado blog, unless you were looking for it, you wouldn't even know that a hockey team played at the Pepsi Center.
The complete opposite applies here in Glendale. There were huge bobblehead statues of Coyotes from the past and present, such as Shane Doan, Keith Tkachuck and Oliver Ekman-Larsson. The Coyotes also had their cheerleaders walking around, both outside and inside the venue. There were Coyote flags on some street signs and there's also a street called "Coyote's Way".
For as much as the Coyotes are having trouble with making money, how they are having problems with the Gila River Arena and how they are subjected to relocation to Houston rumors, you can't deny that the Coyotes have a presence here. I don't know what the Coyotes do outside of this Westgate area, but from what I saw, they did a tremendous job in marketing and promoting their team during my visit to Arizona.
From talking to Arizonians, both natives and NY transplants alike, every one told me that hockey isn't a major factor in Arizona, despite Tommy & I joking that Glendale was the new HOCKEYTOWN, USA.
We were told that football, like many other markets, is king in Arizona. We were also told that Arizona, much like Florida, is also a college town, with major support behind ASU. When it comes to the pro teams, the city is a fair-weather city. If the teams are doing good, the fans will come out. If the team sucks, it's just a field day for the @EmptySeatsPics twitter account.
Oh, and speaking of the EmptySeatsPics twitter account, they shared my photos from the game:
50% #nyr fans 25% #yotes fans 25% @EmptySeatsPics pic.twitter.com/pXgEZh8xIx

— BlueCollarBlueShirts (@NYCTheMiC) January 6, 2019
From talking to people who live in Arizona, as we expected, we were told that the Rangers, because of the NY transplants, were the top draw for the Coyotes. That said, and keep in mind this was a 2PM game, rather than a night game, I pegged the arena at 50% Ranger fans, 25% Coyotes fans and 25% empty seats. So despite the Rangers presence, the arena wasn't sold out.
Oh, and a funny story about the Rangers presence…
After the game, Tommy and I went to this bar called "Louie's", which was pretty much filled with people who attended the hockey game, with a few NFL fans sprinkled in. There were two extremely drunk Coyote fans, who were trying to pick a fight. When people wouldn't take their bait, they would start doing the Coyote howl, a HOOOOOOOWWWWWL that echoed around the arena five times during the game today.
These two drunk assholes (and I hate drunk people like this, because it gives drinking a bad name) were over-the-top annoying and were trying to goad anyone in a Rangers jersey to fight them. When people, including us, told them to back off and we weren't interested, they would just do their HOWL.
The bar, which was pretty much 90% Ranger fans, just ignored these idiots, because after all, these athletes don't fight over our jobs, so why would we fight over the jobs of these athletes?
It finally got to the point where the two managers of the place told the two idiots to leave. Just to make you think here, can you imagine a Rangers bar, like a "Molly Wee", a "Flying Puck", a "Hudson Station" or whatever watering hole you frequent, kicking out Ranger fans for starting a "Let's Go Rangers!" chant after a win?
To put this into perspective for you, that's how many Ranger fans were here, that two Coyote fans, albeit extremely hammered & extremely irritating, were kicked out of their own team bar! The bar realized the money was with the Ranger fans and kicked these two rednecks out of the place.
And really, this was business 101. Two mo-mo's drinking Bud Light couldn't come close to touching the business that the 100+ Ranger fans were giving the joint.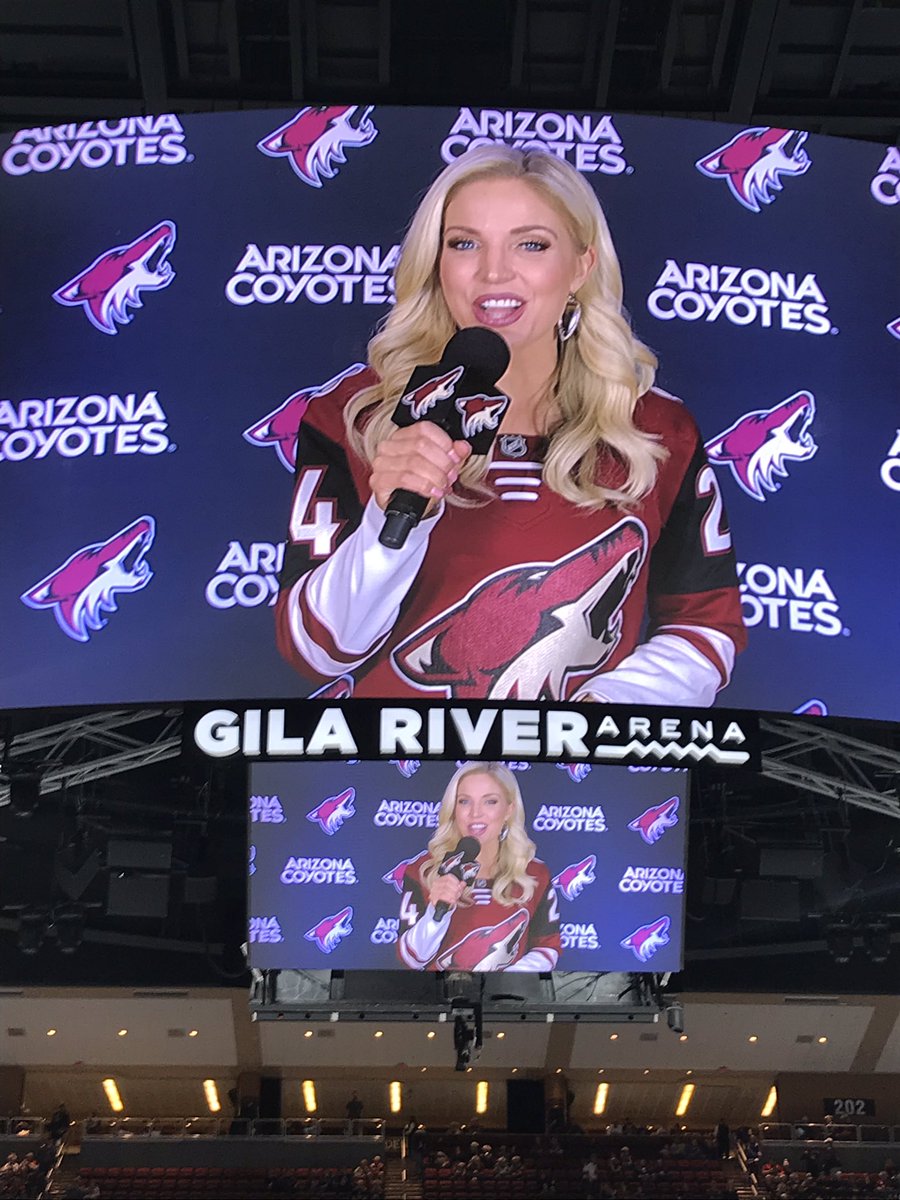 To celebrate the birthday of "HOWLER", who is the Coyotes mascot, there were several other mascots in attendance to celebrate this momentus occasion. Of course, the NJ Devil was there: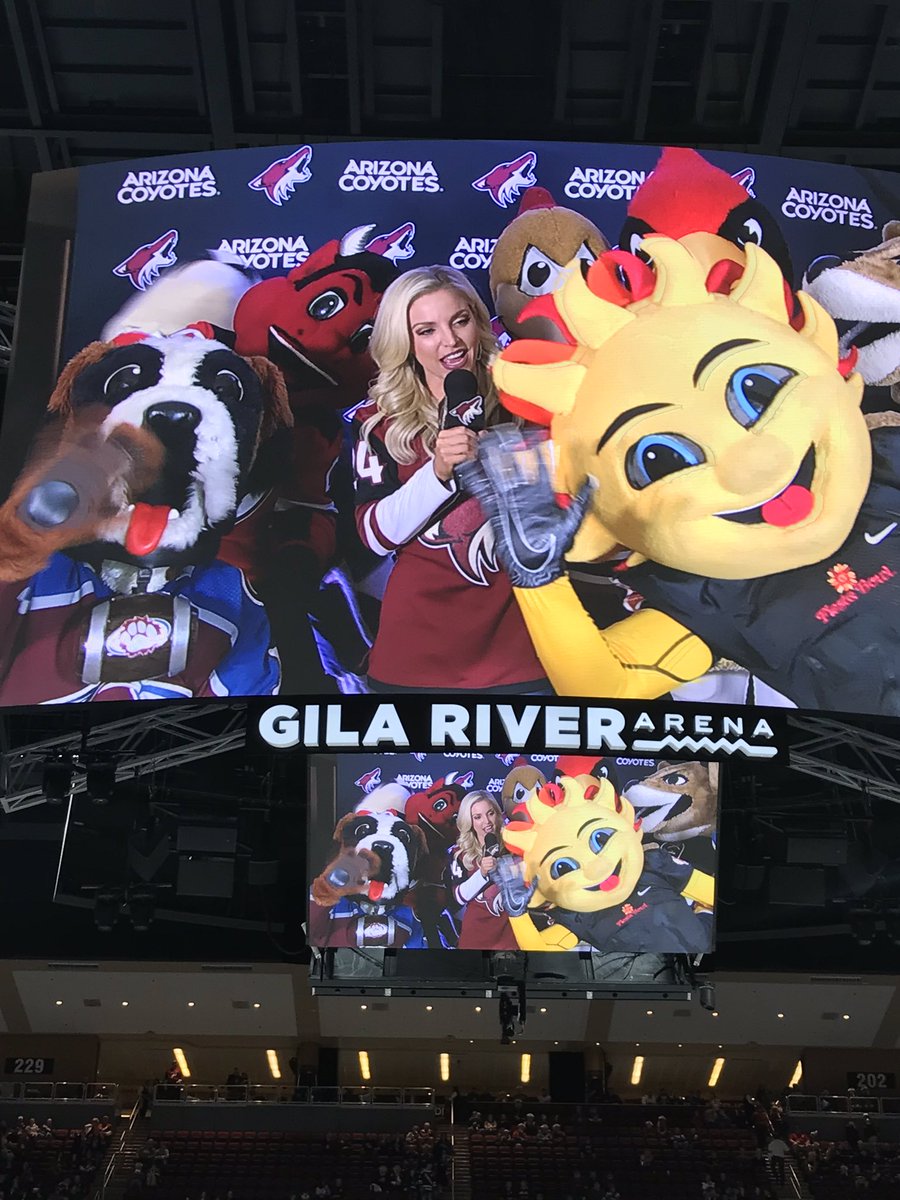 While I could give two shits about meeting/taking a pic with a mascot, this was a great move from the Coyotes, as there was a huge line of kids waiting to get pictures with the mascots. There was also a line of men trying to get picture with this blonde woman, whose name escapes me as I write this manifesto. Little shit like this goes a long way, when making new fans, as the kids were genuinely excited to meet these mascots, as if they were Walt Disney characters.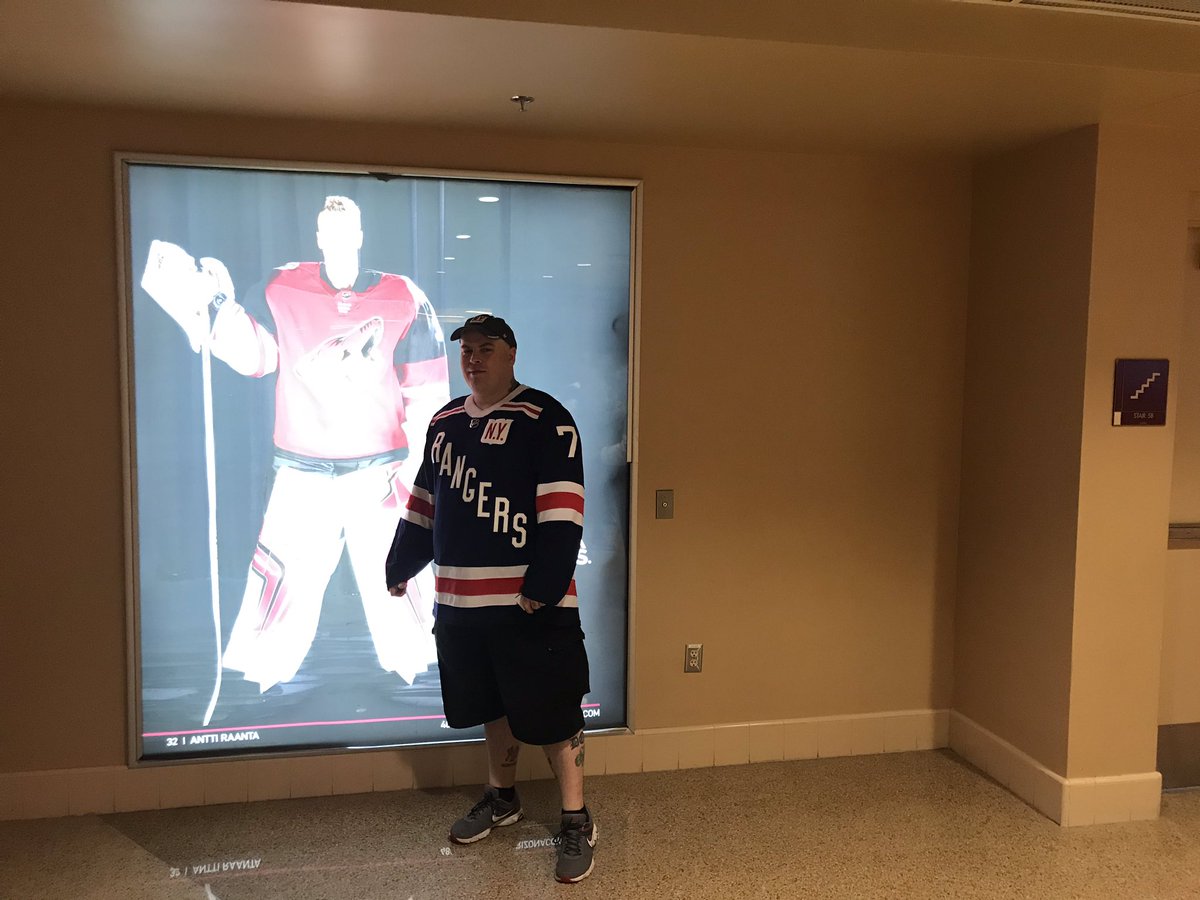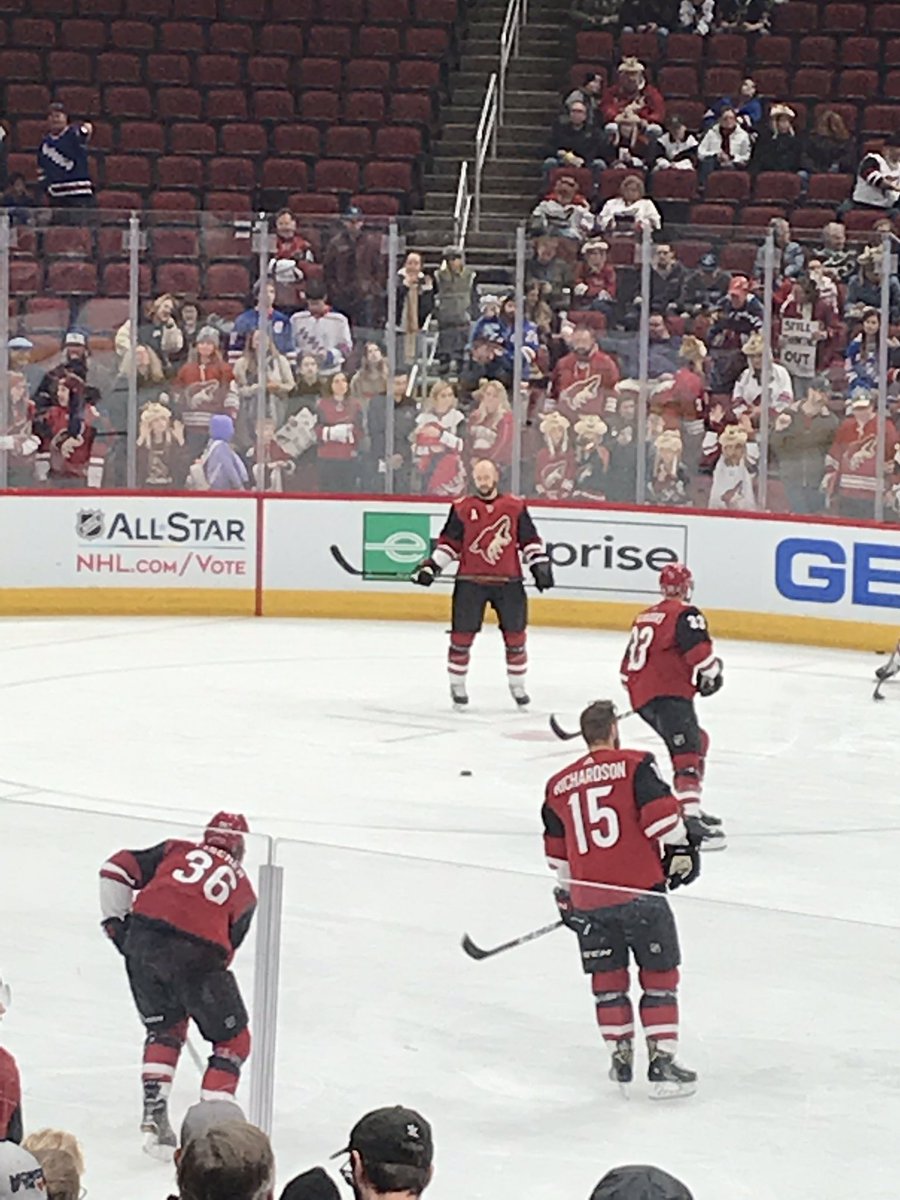 Without further ado, as this blog is going way long and I have a really early flight tomorrow, here's the box score, courtesy of ESPN.com:
SCORING SUMMARY:
1ST PERIOD
7:19

Conor Garland

 (4)

 (Power Play)

Assists: Oliver Ekman-Larsson, Alex Galchenyuk

0
1
9:19

Mario Kempe

 (2)

Assists: Josh Archibald, Lawson Crouse

0
2
2ND PERIOD
6:34

Conor Garland

 (5)

Assists: Nick Cousins, Alex Galchenyuk

0
3
15:12

Clayton Keller

 (9)

Assists: Derek Stepan, Jakob Chychrun

0
4
16:38

Alex Galchenyuk

 (7)

Assists: Jordan Oesterle, Alex Goligoski

0
5
3RD PERIOD
No Goals Scored
PENALTY SUMMARY:
1ST PERIOD
6:37

Brendan Smith: 

2 minutes for Elbowing
2ND PERIOD
7:30

Josh Archibald: 

5 minutes for Fighting (Major)

7:30

Neal Pionk: 

5 minutes for Fighting (Major)

7:30

Neal Pionk: 

2 minutes for Cross checking (served by Chris Kreider)

10:02

Chris Kreider: 

2 minutes for Boarding
3RD PERIOD
13:50

Lawson Crouse: 

2 minutes for Hooking
GOALIES:
| | | | | | | | | | | |
| --- | --- | --- | --- | --- | --- | --- | --- | --- | --- | --- |
| SA | GA | SV | SV% | ESSV | PPSV | SHSV | SOSA | SOS | TOI | PIM |
| 23 | 0 | 23 | 1.000 | 22 | 0 | 1 | 0 | 0 | 60:00 | 0 |
| | | | | | | | | | | |
| --- | --- | --- | --- | --- | --- | --- | --- | --- | --- | --- |
| SA | GA | SV | SV% | ESSV | PPSV | SHSV | SOSA | SOS | TOI | PIM |
| 8 | 0 | 8 | 1.000 | 7 | 0 | 1 | 0 | 0 | 23:22 | 0 |
| 32 | 5 | 27 | .844 | 21 | 0 | 6 | 0 | 0 | 36:38 | 0 |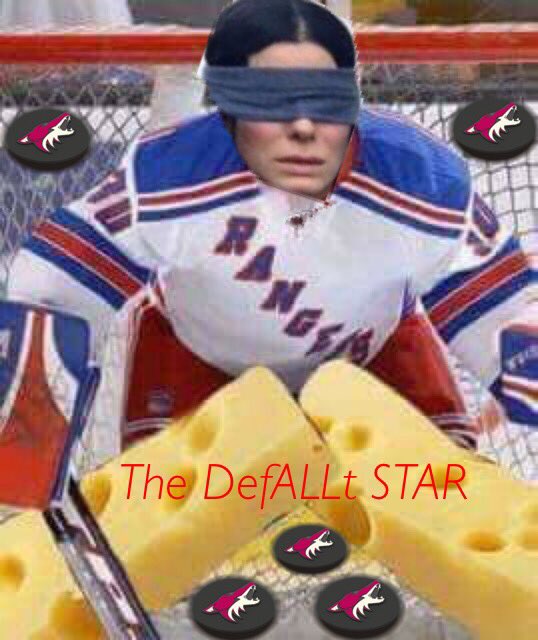 Quinn time.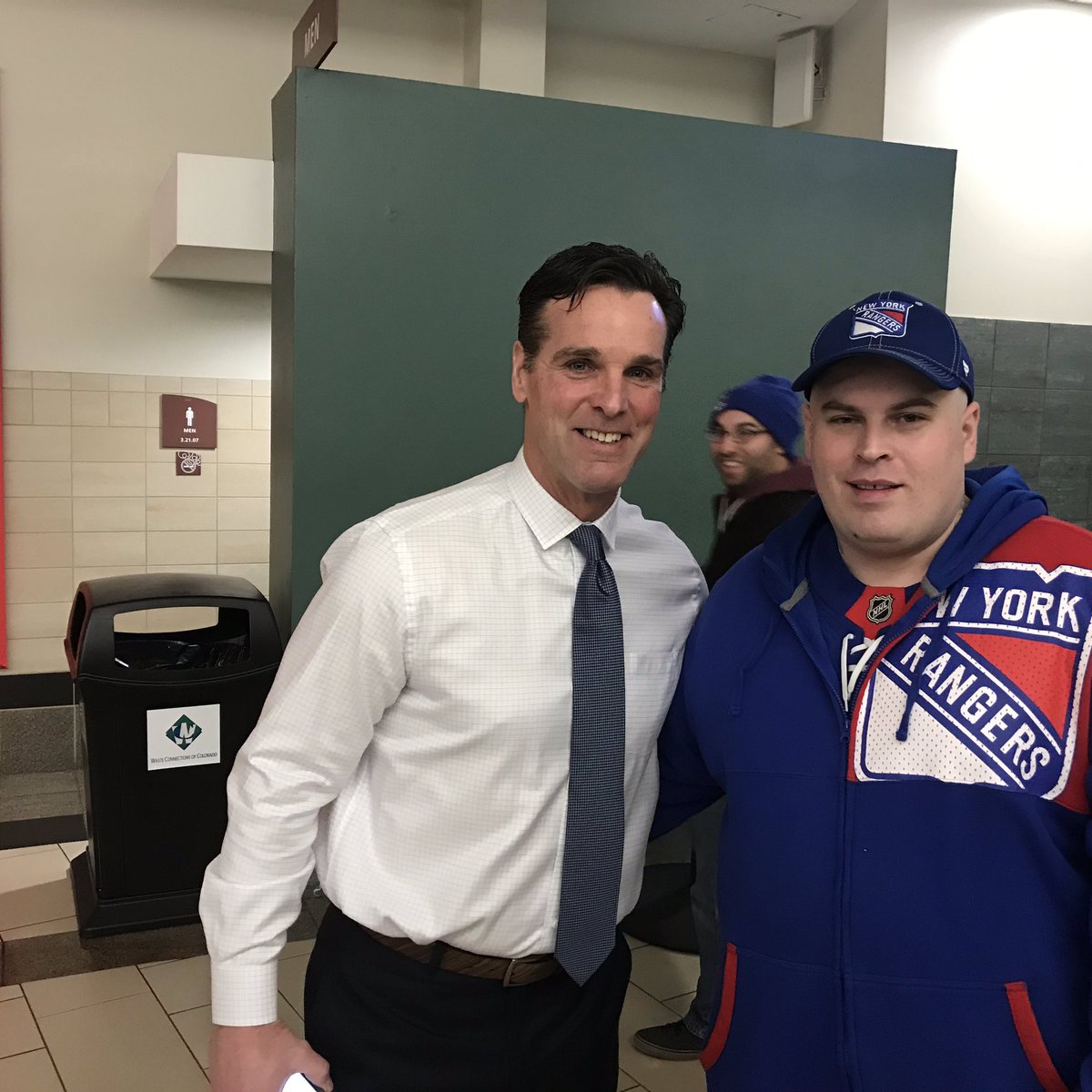 Quickly, in the SCRATCH LIST OF QUINN segment of the blog, Kevin Hayes remains out with an upper-body injury. If you're the agent of Kevin Hayes, you must be grinning ear-to-ear right now, as the Rangers have looked absolutely awful without him. Not that Hayes swings a game by five goals, but you can see the Rangers miss him. I mean, look at Zuccarello, who like his buddy Hank, is whining to the NY Post about being mentally drained.
In other words – Hayes is handling his status by breaking his ass every night and trying to get a huge payday. Zucc is moping around and feeling sad for himself because he might be traded. At this point, to me, Zucc is worth a third round pick, at best. Why would any team give the Rangers a bounty for Zucc right now?
With Hayes out and no extra forward on the roster, the lines remained the same from the game with Colorado. Here they are:
FIRST LINE: Fast/Zibanejad/Kreider
SECOND LINE: Zuccarello/Chytil/Namestnikov
THIRD LINE: Buchenvich/Howden/Vesey
FOURTH LINE: Nieves/Strome/McLeod
Defensively, Brendan Smith was inserted into the line-up, with Frederick Claesson returning to the press box.
Tony DeMAGAngelo (Credit as always, to @NYRKELSMADS) remains scratched for whatever reason. As Kelly said, maybe Quinn is a Hillary supporter or took a dump in Quinn's Sam Adams' Boston Lager, because really, why else is TDA being scratched?
Think of it this way – guys like McLeod, Zucc and McQuaid have to play every game, because the Rangers will try to trade these guys. If you think TDA is a bust (which would mean Gorton flubbed another transaction) then why not play him and showcase him for a potential trade?
And of course, as previously noted, Henrik Lundqvist got the nod here tonight, where once again, he made another garbage team, a team that was decimated by injuries, look like the second coming of those great Montreal Canadien teams of old. King my ass.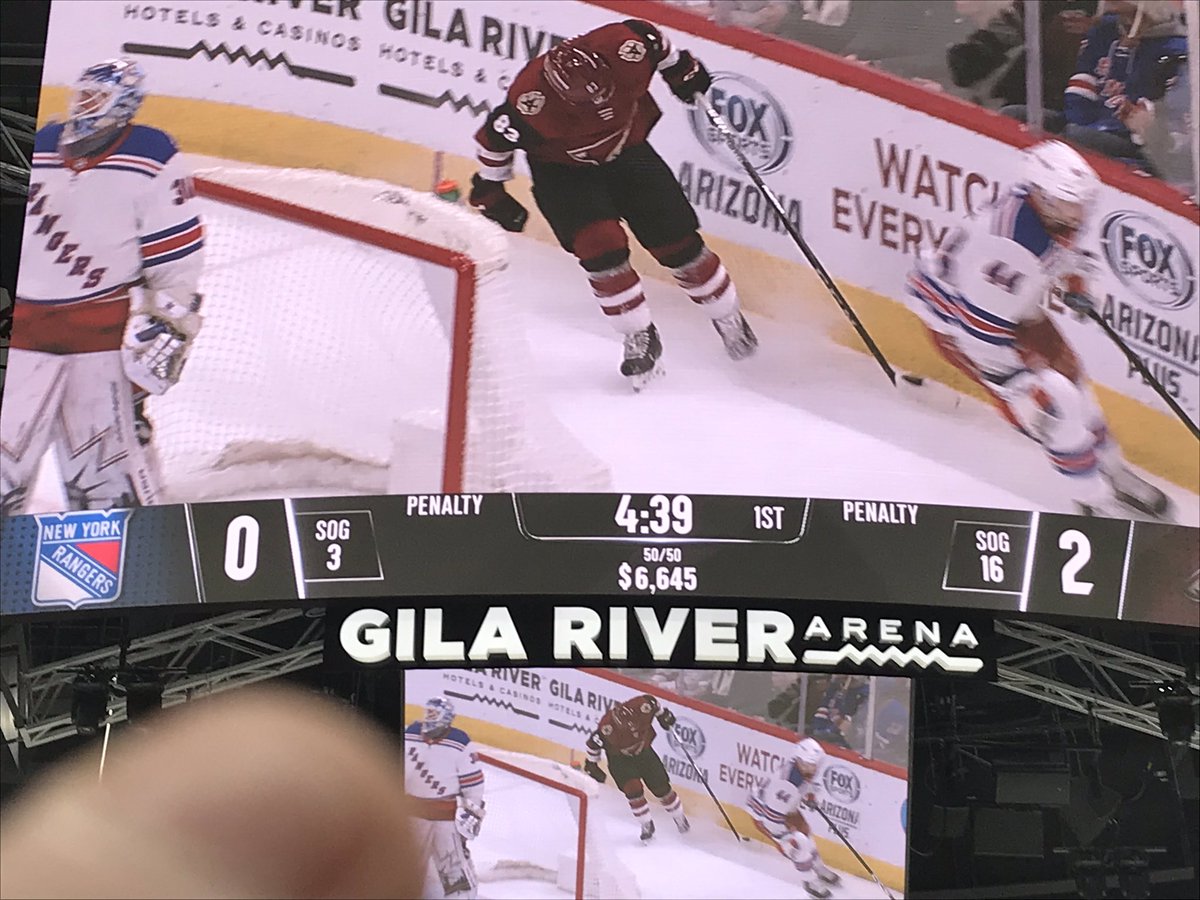 This game felt like the Rangers decided to pick up where they left off with Colorado, but decided to see if they could get any worse. Mission accomplished. It's amazing, that just a few nights ago, on Wednesday, that the Rangers were actually the better team for nearly 30 minutes in that game with Pittsburgh. What the fuck happened? I don't even think Quinn knows at this point. It just feels like the team has given up and has resigned to the fact that this season is kaput.
In all my years of watching the Rangers, this was one of the saddest losses that I've ever seen. It's like they aren't even trying anymore. I know fans want to compare this losing to the losing post 1994, when we had the dark ages from 1998-2004, but at least those teams were competitive. They just couldn't win. Plus, are you going to describe any Mark Messier or Wayne Gretzky team as "lazy" or "unmotivated"?
I didn't think it was possible to give any more less of a fuck than what the Rangers displayed on Friday in Denver. Somehow, they managed to "top" themselves and look completely dreadful and uninspired today.
For as much as Lundqvist sucked in this game, and he SUCKED, the Rangers sucked just as bad. It's a whole huge fat fucking ball of SUCK right now for the Rangers, and the Rangers can't seem to figure out what's wrong.
And yes, before you chime in with the "IT'S A REBUILD, THEY ARE SUPPOSED TO BAD" nonsense, keep in mind that the Rangers had a 3-0 lead against this terrible Arizona team just a few short weeks ago, a lead that Lundswiss blew and then got beat by Derek Stepan in the overtime.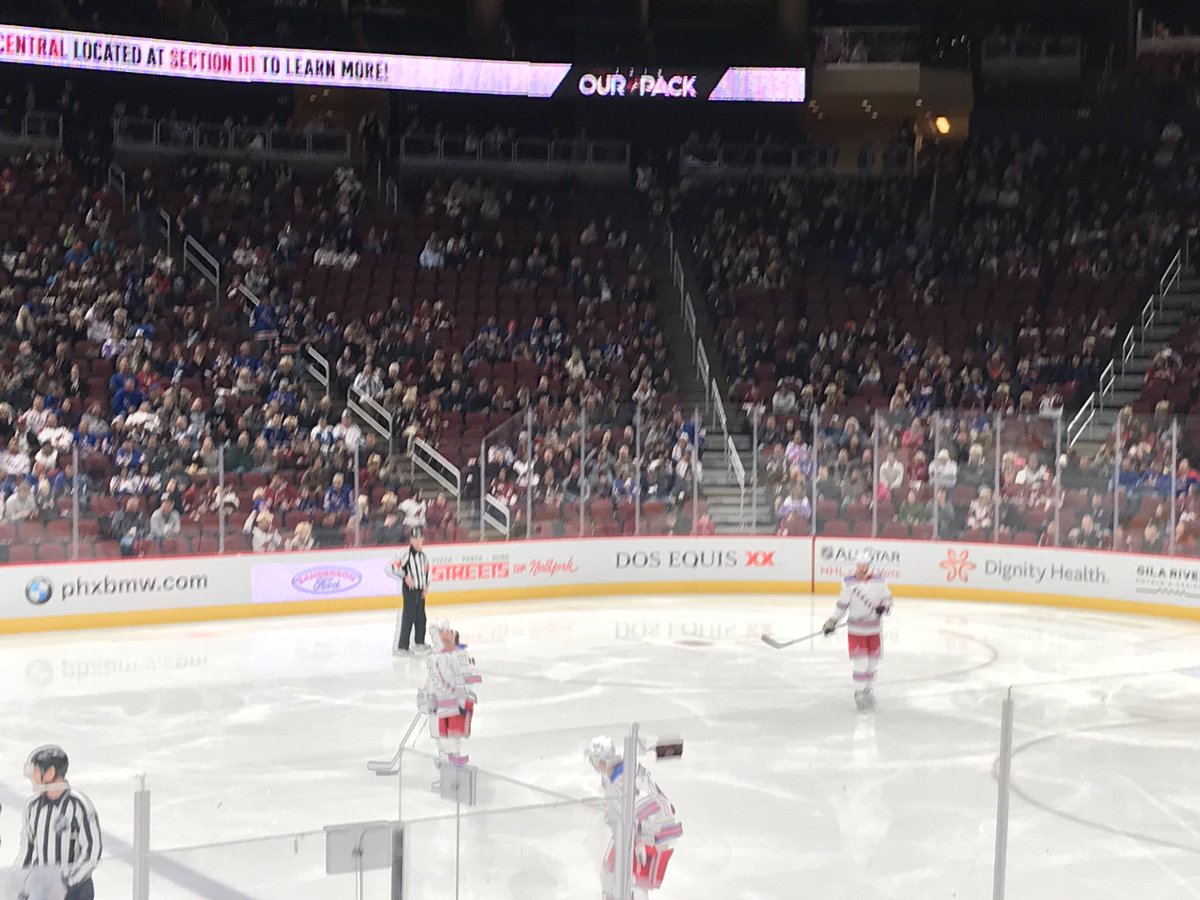 I'm not one to make excuses and I don't think David Quinn is either. However, if you want to say the Rangers got smashed by Pittsburgh and Colorado because those two teams are way better than the Rangers, then fine. I won't argue that. However,  THE COYOTES SUCK! These are the games the Rangers are supposed to win.
During this game, I was sitting next to a die-hard Arizona Coyotes season ticket holder. Her husband is an usher. Her son runs the social media account for the Coyotes. She goes to everything Coyotes related – season ticket holder events, charity drives; you name it, she's there.
She ran me down a laundry list of injuries, which include two former Rangers, in Raanta and Grabner. She told me about how bad the Coyotes looked when they lost to an even worse NJ Devils in the last game the Coyotes played. Going into this game, she didn't have much hope for her Yotes.
However, if you're a team that's struggling, the Rangers are just what the doctor ordered. They will kill your losing streak. They will end your futility. They will make you look like the 1984-1985 Oilers. (Look, two Messier & Gretzky references in this blog!)
For three periods, including the final period, where Georgiev had to show mercy on the overpaid goaltender (Lundqvist doesn't finish what he starts, thank you very much and he also doesn't do post game interviews when he's embarrassed) the Rangers looked like the AHL team, and not the Coyotes. The Rangers looked like they were treating this game as a preseason game. It seemed that all they cared about was partying in Vegas.
And on Vegas, if you're Quinn, do you let these guys party in Vegas tonight or tomorrow? I've referred to Quinn as "Torts-Lite" on these blogs before, and Torts thought it was a good idea to let his team to blow off steam in Vegas. However, will Quinn let his team try to get loose in Vegas or should Quinn punish these guys for looking like a wet diaper on a hot summer day in the desert? Tough decision.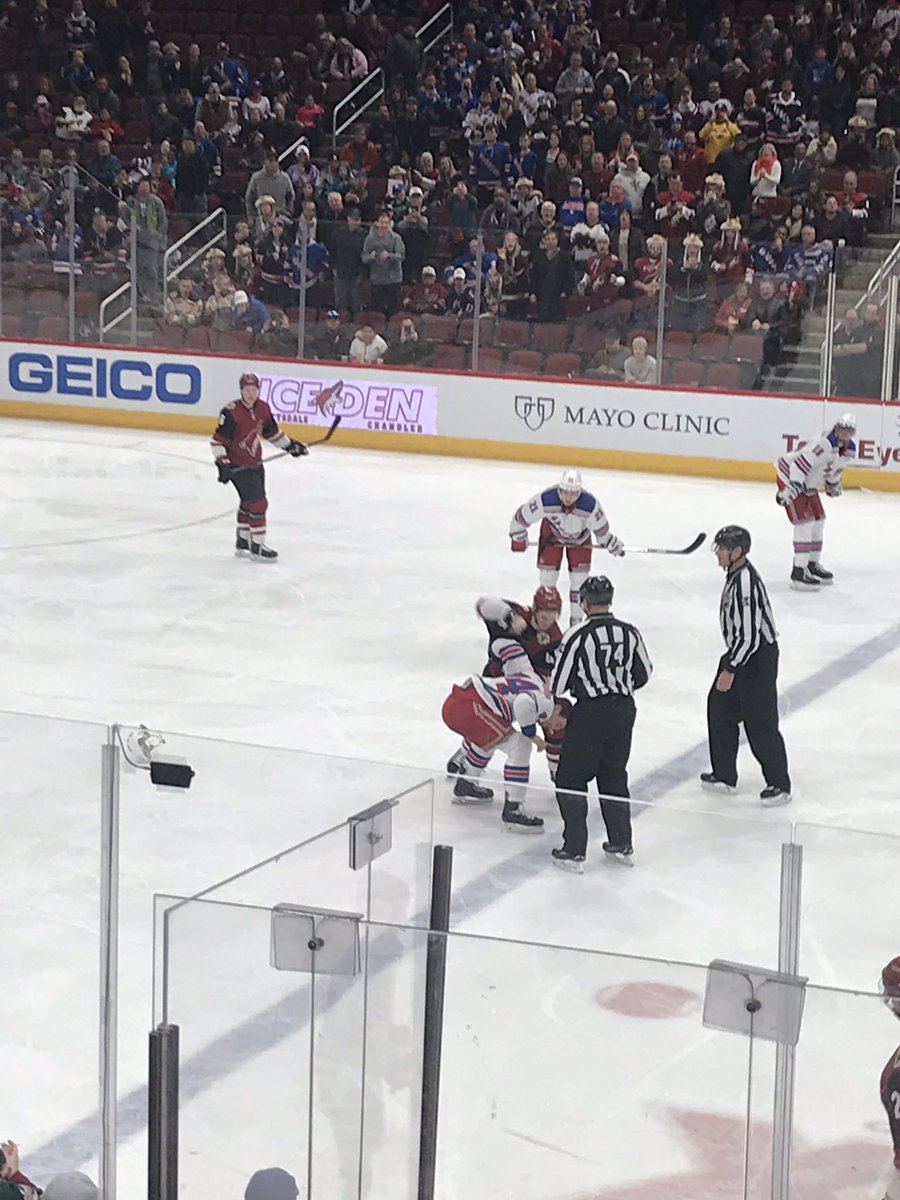 Within the first two minutes of this game, I knew the Rangers were going to lose. That's how bad they've become, where you can just tell that they don't have it in them. When this game ended, I didn't know what was worse – Lundqvist blowing a three goal lead to this team or Lundqvist giving up 5 goals and being pulled in the second period. I guess this game was worse, because the team as a whole were terrible.
Oh, and in my normal over-under segment of the blog, I said tweeted this out before the game, as it wasn't announced who was starting. Even the public address announcer didn't know who was starting, as he announced Georgiev as the starter:
Tough to bet this game right now without knowing the goalie situation and if Hayes is still out. Betting without that information, I would take the under. If Hank & Hayes are in, I would take the over. #nyr pic.twitter.com/Tso4Zg8Xnf

— BlueCollarBlueShirts (@NYCTheMiC) January 6, 2019
Well Lundqvist did play, while Hayes did not. However, I would've bet the over anyway, thinking the Rangers would at least score against Kuemper. Some prediction that turned out to be. With my over-under loss, that brings me now to 12 for 17, ever since I started doing this segment.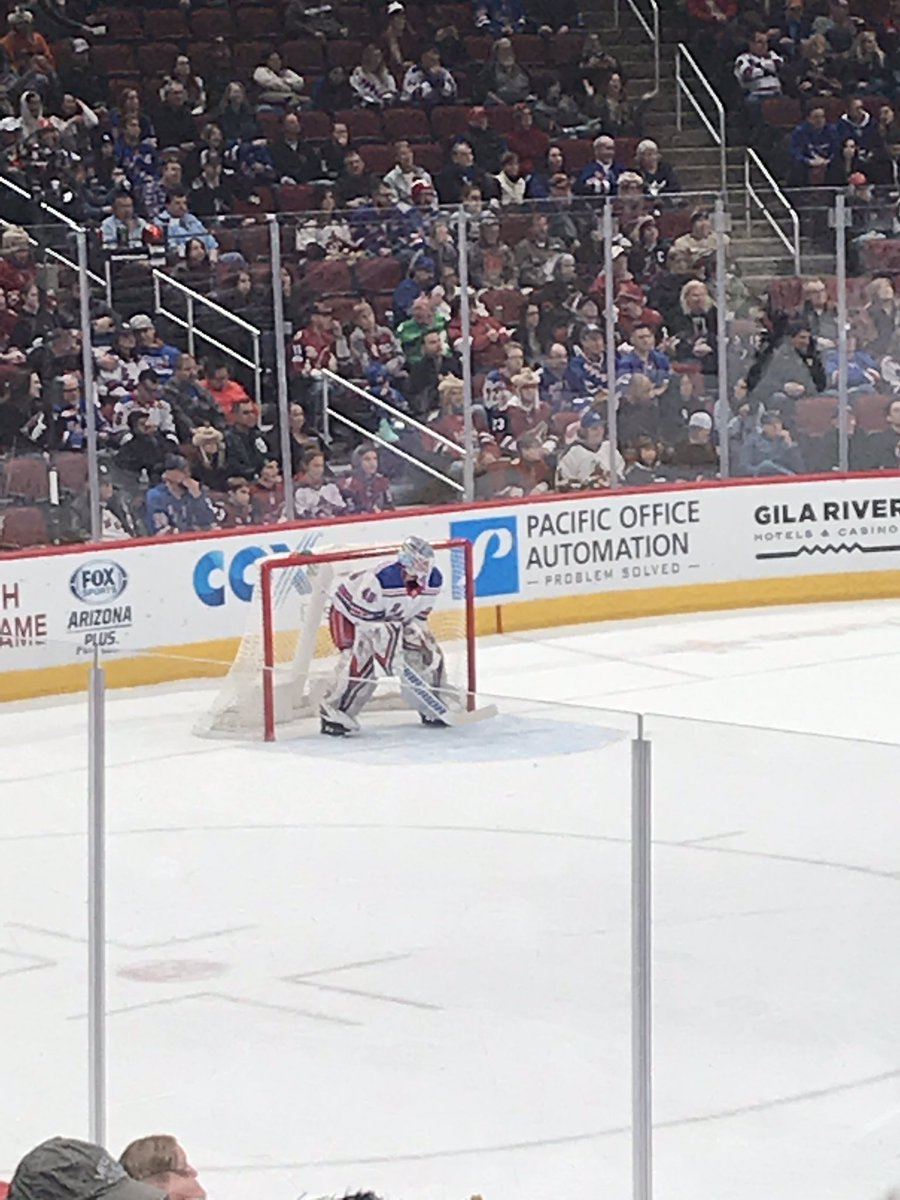 The Coyotes dominated the Rangers from the jump and never looked back. It was like the Rangers were downing booze and beer last night. At 6:37, Brendan Smith was called for elbowing, which looked questionable to me from my vantage point. Conor Garland would score less than a minute into the PP. Right away, Tommy and I looked at each other and said "here we go again." 1-0, bad guys.
Oh and since it's getting late and I have an early flight, no videos or gifs tonight. Not that you probably want to see them anyway!
And yes, this was the game winning goal. SAD!
Two minutes later, Mario Kempe beat Lundqvist. 2-0, bad guys. This goal cemented the fact that the Rangers were done.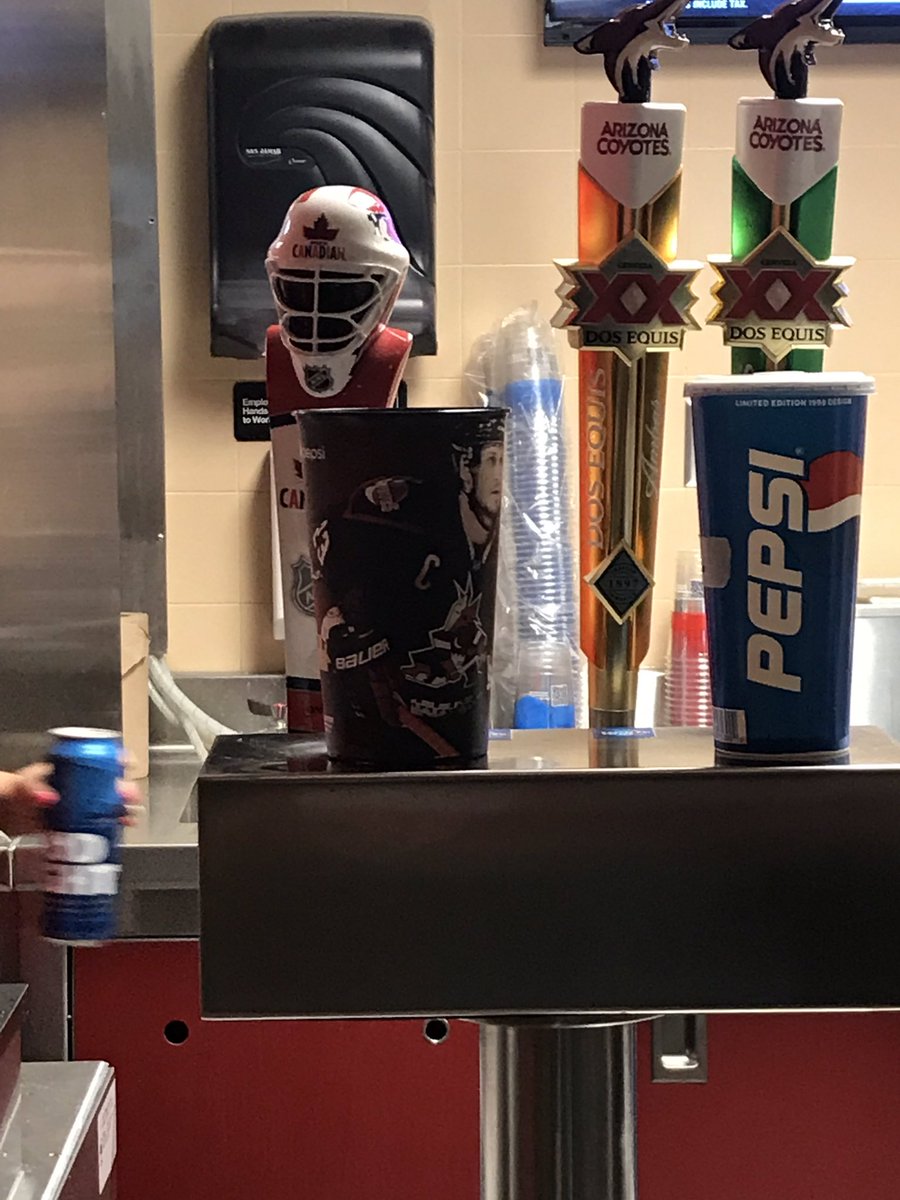 If there was any Ranger doing anything today, it was Chris Kreider, who got two good shots off, but was stoned on both attempts. Later on, Kreider would get a breakaway, only to be denied by the left pad of KING KUEMPER.
Defensively, the Rangers looked like they'd rather be anywhere else. I can't recall how many times I was watching "The Triple S" of bad contracts, in Skjei, Shattenkirk and Smith and wondering what their thought process was. I'm not an NHL player, nor ever will be. I'm a guy who drinks beer and talks shit. However, even a child would have to question what these three were doing for most of the game.
The Rangers were badly out-shot after one period and the game remained at 2-0 Coyotes, as we went into the first intermission.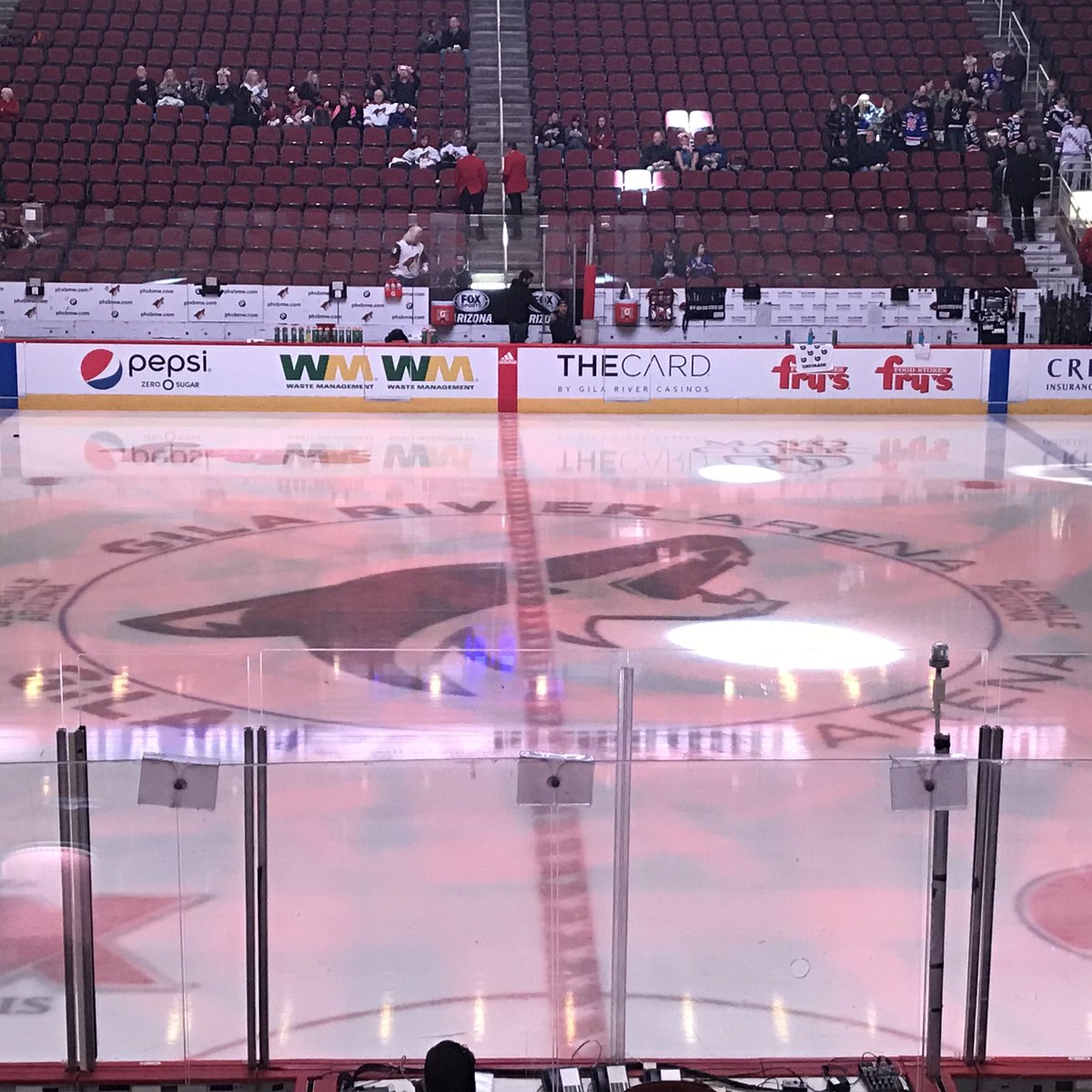 The second period remained dull and lifeless as the first, that is, until Neal Pionk and Josh Archibald had a scrap. This was one of the best fights of the season, as these two were wailing one each other and sustained their fisticuffs for an extended period of time. However, the fight did not put any fight into the Rangers, as they continued their malaise.
Oh, and for some reason, Pionk got an extra two minutes, because hey, these refs don't give a fuck anymore.
And I forgot to mention that before this fight, the second coming of Mario Lemieux, you know, Conor Garland, scored his fifth goal of the season to make the score 3-0. Lundqvist giving up bad goals is so routine and so expected; that sometimes I forget when they happen. 3-0 bad guys.
Chris Kreider, who has been a penalty machine as of late, would get called for boarding at the half-way mark of the game. The Rangers killed this penalty. What happened to the Rangers PK? It used to be decent. However, it seems like they have given up about 10 powerplay goals in the last 5 games.
At 15:12, Clayton Keller fooled the overpaid goalie. 4-0 bad guys. Less than 90 seconds later, Alex Galchenyuk ran Lundqvist out of the game, making the score 5-0 bad guys.
From here, Lundqvist ran to the locker room, where I'm assuming he cried like a little bitch and was screaming for either his mommy or Micheletti. I know it has to be one or the other.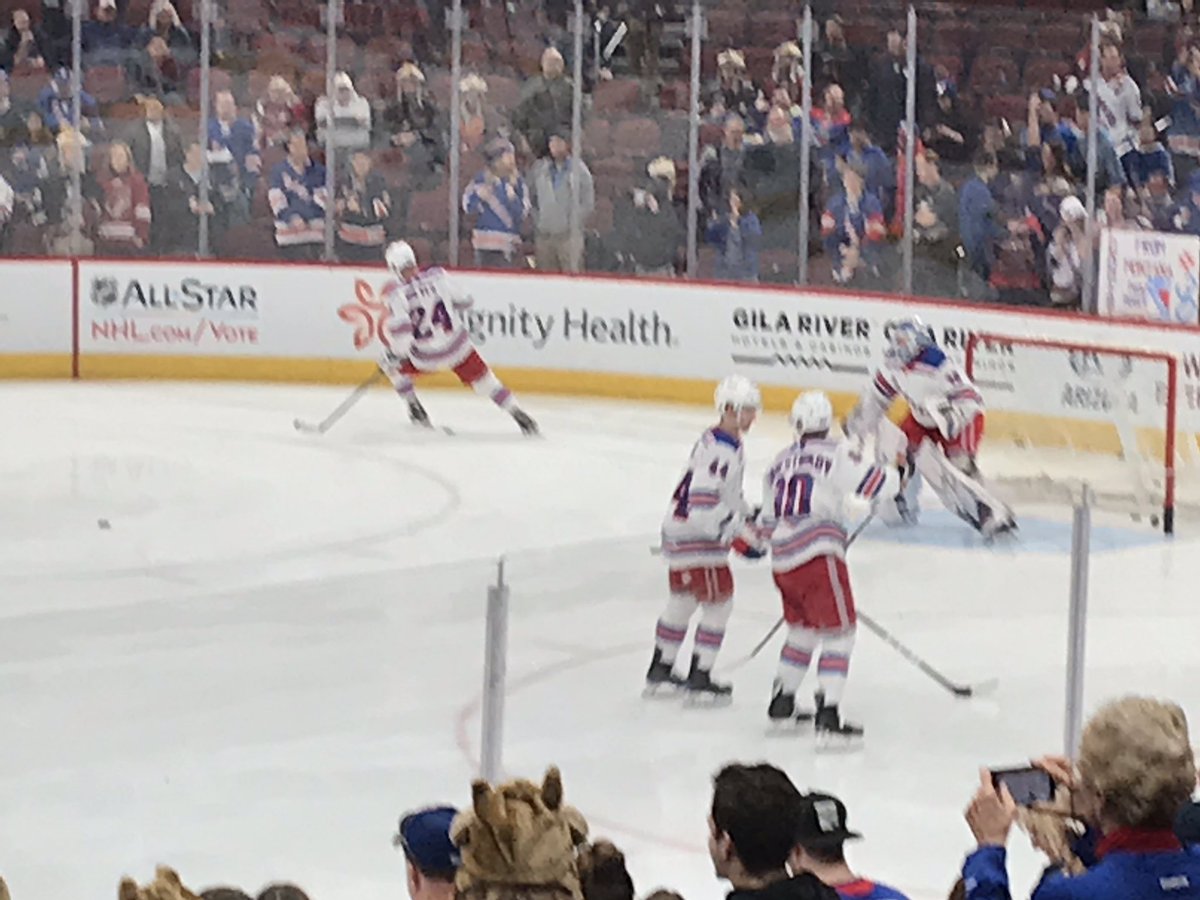 While on the NMC, remember the video I made back in July? Here it is:
Jersey burnings are all the rage. Here's my Lundqvist video: @BSURadioJim @JimCerny @TRCSPN @Fixxser @CordUpTime @Bozfirstsince81 @zgamer1O9 @travjax71 @TitanMech @AndyGraz_WFAN @RTaub_ @BackAftaThis @melissa710 @FreddiePickles @SantangeloSteve @BlGOLAF @AveryGS18 #nyr #tavares pic.twitter.com/iwbxTpeYFG

— BlueCollarBlueShirts (@NYCTheMiC) July 2, 2018
As this season continues to spiral out of control, despite the same fans that wanted a rebuild complaining the most about losing, the Rangers fan base will be at each other's throats, even more so than usual. That's fine by me, as I've been through it, and enjoy watching everyone get riled up. I love when Lundswiss fans turn on each other too, as that's always entertaining.
Once Georgiev came into the game, the usual Lundqvist vs the back-up talk started. I'm not going to rehash all my opinions on this topic and all the history. If you're not familiar with all that, there are nearly 5 years of blogs you can go back and read, and you will find out that I was the first "blogger"/idiot fan with an outlet, to say that Lundqvist needed to go, as I first said it during the 2014-2015 season.
While in the past, I thought Lundqvist needed to go because of cap reasons (isn't it funny how all these stat nerd soy boys have every corsi and all these other fugazi stats, but ignore salary cap roster construction when making their pie charts?) now, it just doesn't suit either party.
After a game like this, you will have the Cult of Hank blame the team, you know, the same team they are rooting for to lose, so the Rangers get a good draft pick. These same morons will then say, "LUNDQUISS DOESN'T DESERVE THIS" and ignore that Hank could've waived his NMC, and still can at any time, but refuses to. Right now, Lundqvist doesn't deserve the Rangers and the Rangers are doing him charity by not strong-arming him out of here.
Put it this way – during the Talbot and Raanta years, were the Rangers worse when Lundqvist wasn't around? NO. The Rangers were actually better.
When it comes to Georgiev, he's not Talbot or Raanta, as I've said in past blogs. However, THIS SEASON, is he any different than Lundqvist? If Georgiev isn't the best player on the ice, the Rangers aren't winning many games. Sure, Georgiev has had some stinkeroos in there, but he's much younger and much cheaper. If this is a rebuild, he needs to take his lumps. In what world does it serve the purpose to let Lundqvist get "Pulp Fiction" raped every night?
Simply put – the Rangers are just as good or just as bad with Georgiev, as they are with Lundqvist.
For the first time on a MSG broadcast (my twitter followers told me to check out the video on the MSG site, so I saw this) a MSG employee, in Steve Valiquette, brought up the idea of the Rangers moving on from Lundqvist.
Does Vally have any inside info, considering the fact that he works for MSG and is friends with a player that has less highlights this season than the highlights in Vally's hair? I don't know that part of it, but the fact that Vally is putting the idea of moving on from Lundqvist out there, well, that's a great thing for me.
After all, you know me – I'm just a fan that desperately wants this team to move on and get into the next era. The Lundqvist Error needs to be finished!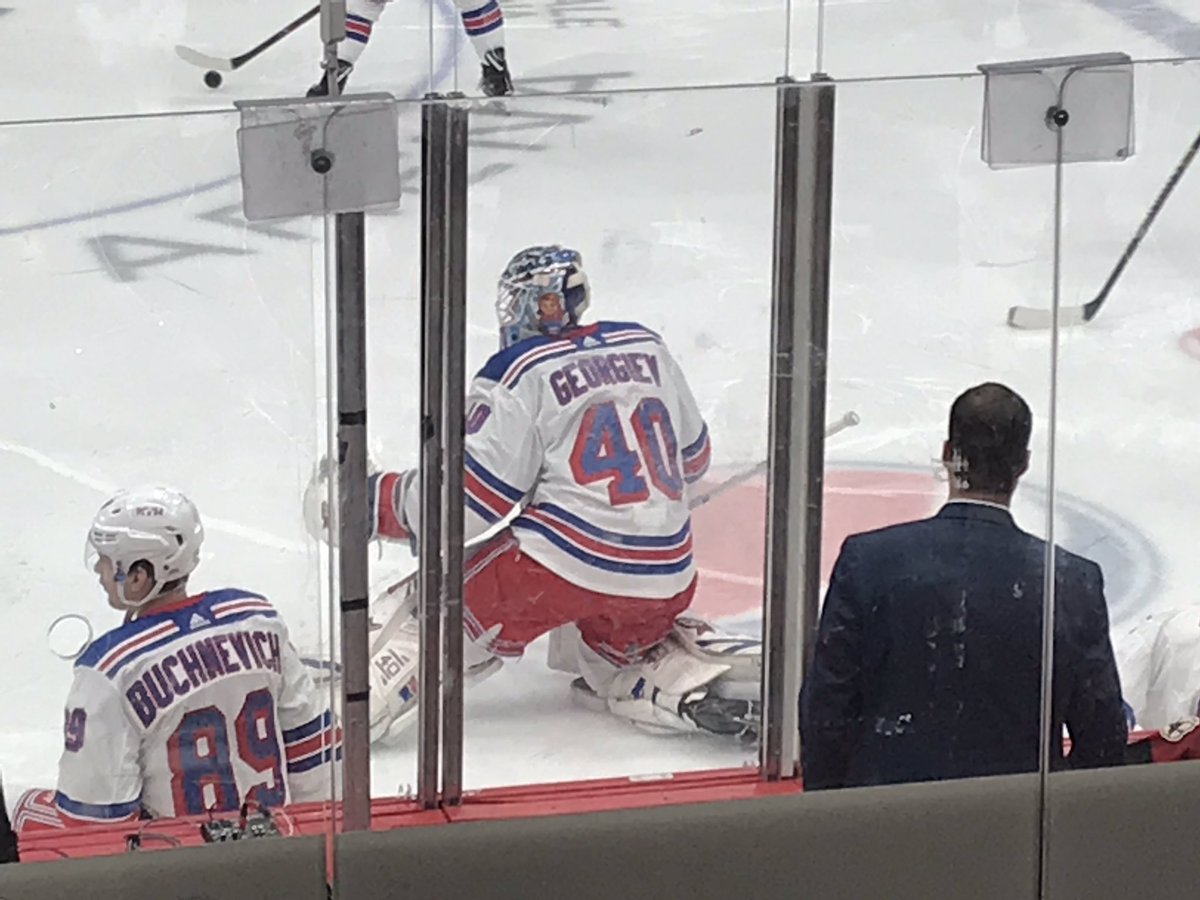 Anyway, the third period was like watching an open practice. Nothing happened, outside of the KING OF KINGS, in Alexandar Georgiev, making 8 great saves. This game sucked. 5-0 Yotes. I feel like getting a t-shirt that says, "I flew across the country to watch the Rangers play & all I got was this shitty t-shirt."
I think I went long enough tonight about a shitty game and I have to be up in mere hours. Things will return to normal here after the game with Vegas.
As always, thanks for reading, and win or lose…
"LET'S GO RANGERS!"
Sean McCaffrey
BULLSMC@aol.com
@NYCTHEMIC on twitter