Greetings and salutations everyone and welcome to another blog here on BlueCollarBlueShirts.com.
As these words reach you, I'm currently in a hotel room two blocks from the Pepsi Center, where the Rangers were just crushed by Colorado, by a final of 6-1. Personally speaking, this has not been my season, as I have not seen the Rangers win once in person this season. In fact, this is the fourth time I've seen the Rangers lose on the road. (I've also seen them lose at home four times too.) And honestly, it wouldn't shock me if they lost to the Arizona Coyotes on Sunday, which I'll also be in attendance for.
In other words, if you're about the tank, just get me to the game!
For the Rangers, this 6-1 loss to the Avalanche pretty much seals the deal on the season. What really stings as a Rangers fan and for head coach David Quinn, is that the Rangers have shown promise this season. They've held their own against the upper-echelon teams. They have beaten playoff bound teams. For whatever reason, after Thanksgiving, where the Rangers took a 9-1-1 streak into the break, it's just been a mess ever since.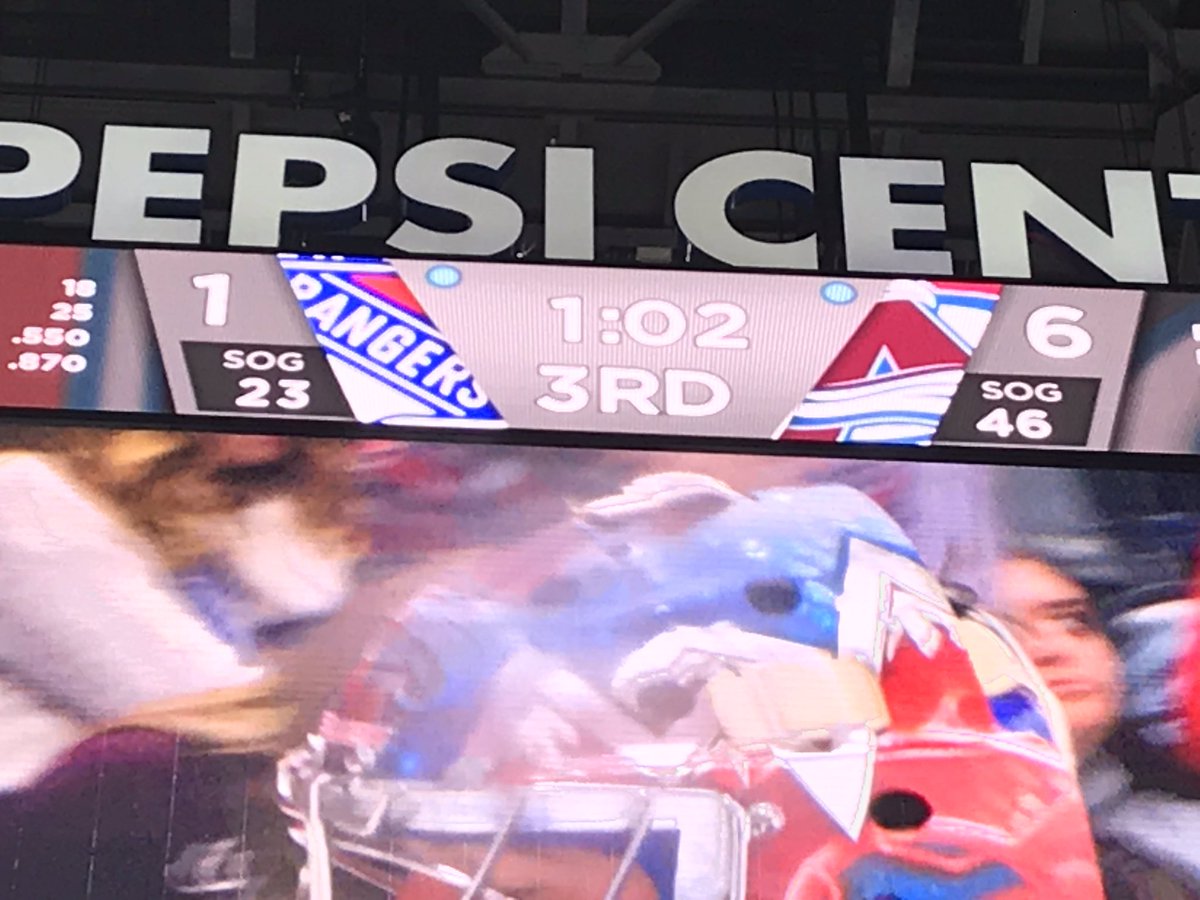 After dropping a ton of games from Thanksgiving to Christmas, things looked somewhat promising when the Rangers picked up an impressive win over a Stanley Cup contender in the Nashville Predators. The Rangers then beat a terrible St. Louis team, where Henrik Lundqvist basically carried the team. However, after those two games, here in 2019, reality has sunk in.
The Rangers were pummeled on national television on Wednesday night, losing 7-2. They were then shamed and disgraced here in Denver, by a final of 6-1. For a team that even in losses, were holding their own, this is now two straight blow-outs. Instead of progressing, the Rangers are regressing.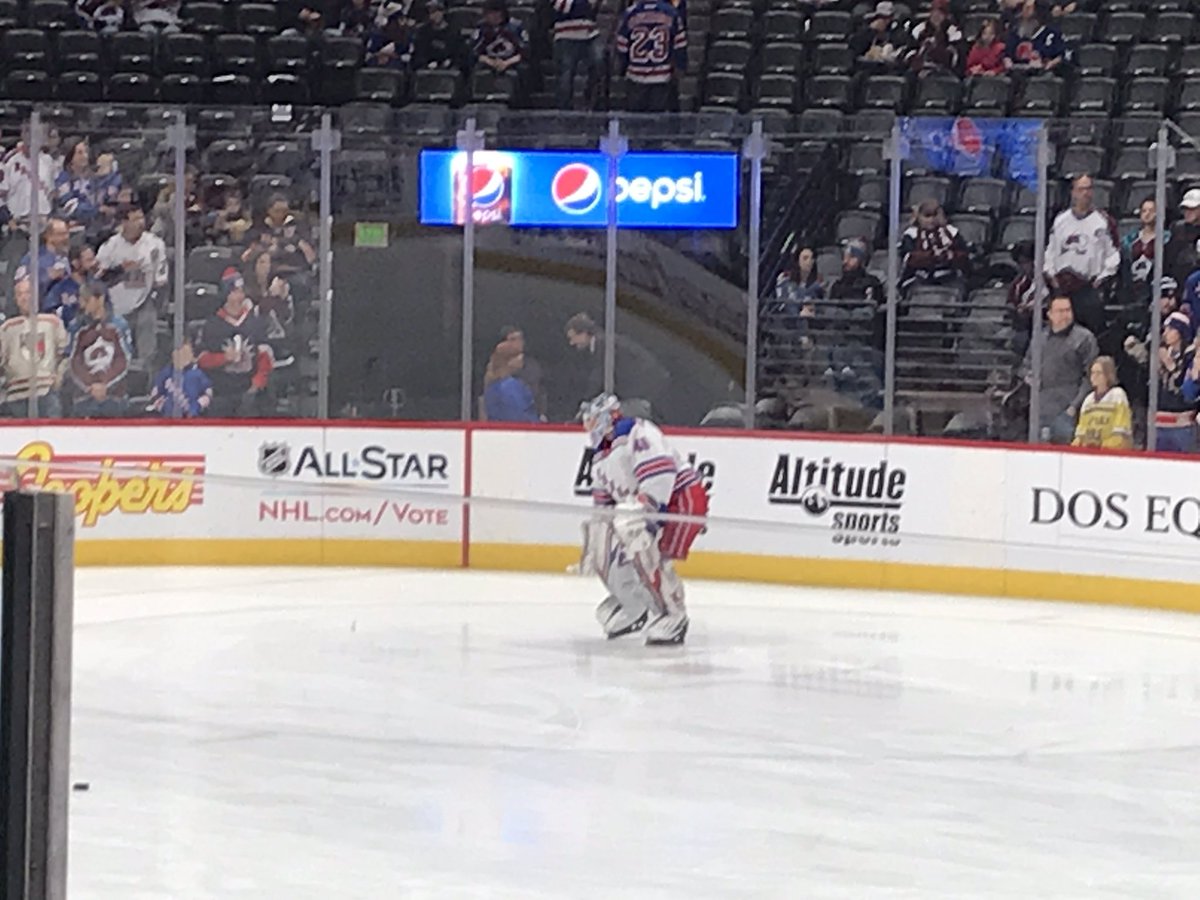 When the Rangers got trashed by Pittsburgh on Wednesday at M$G, I thought the Rangers played strong for nearly half the game, only for Lundqvist to fall apart mid-way through the second period. Compounding troubles for the Rangers, was the fact that Matt Murray stood on his head for the Penguins.
In tonight's loss with Colorado, the Rangers came out like a pile of shit. The pile of shit just kept on growing and by the time the game was over, the Rangers looked like Dino Doo-Doo:
As someone who invests a lot of time and energy into this team, I have picked some horrible games to go to this season. My road trips alone haven't been fruitful, as I saw the Rangers play one of their worst games of the season in Ottawa. I saw the Rangers get mauled by Montreal. I saw the Rangers lose 8-5 to Carolina. In tonight's latest fiasco, to me, this was the worst loss of the season.
After the loss to Pittsburgh, you would think the Rangers would give two shits. You would think they would be motivated. You would think they would want to get the stink off their ass. Instead, for three periods, the Rangers smelt worse than the skunk pot that surrounds all of Denver.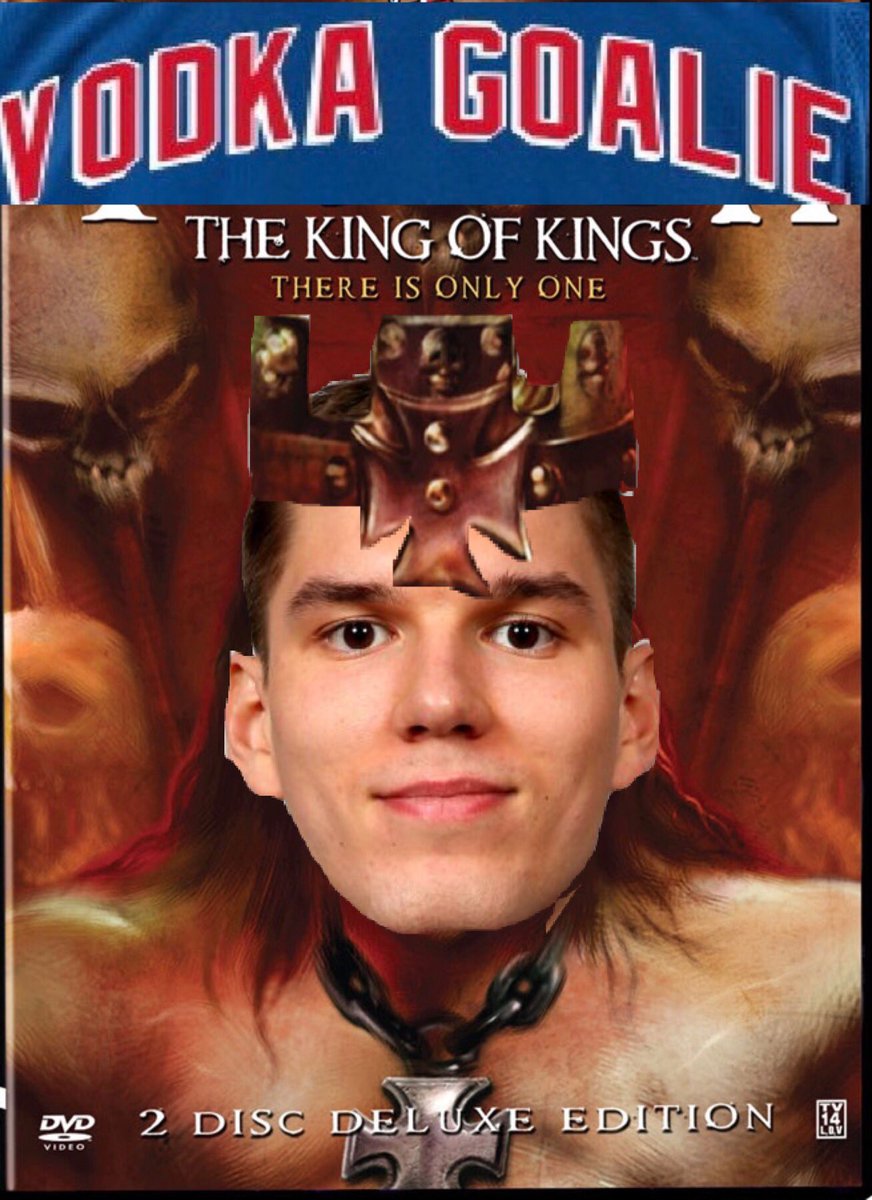 Since this is a ROAD TRIP blog, let me start with my arrival to Denver on Friday, before getting into tonight's diarrhea-fest. However, before that, here are my last few blogs, in case you missed them:
---
---
---
---
---
---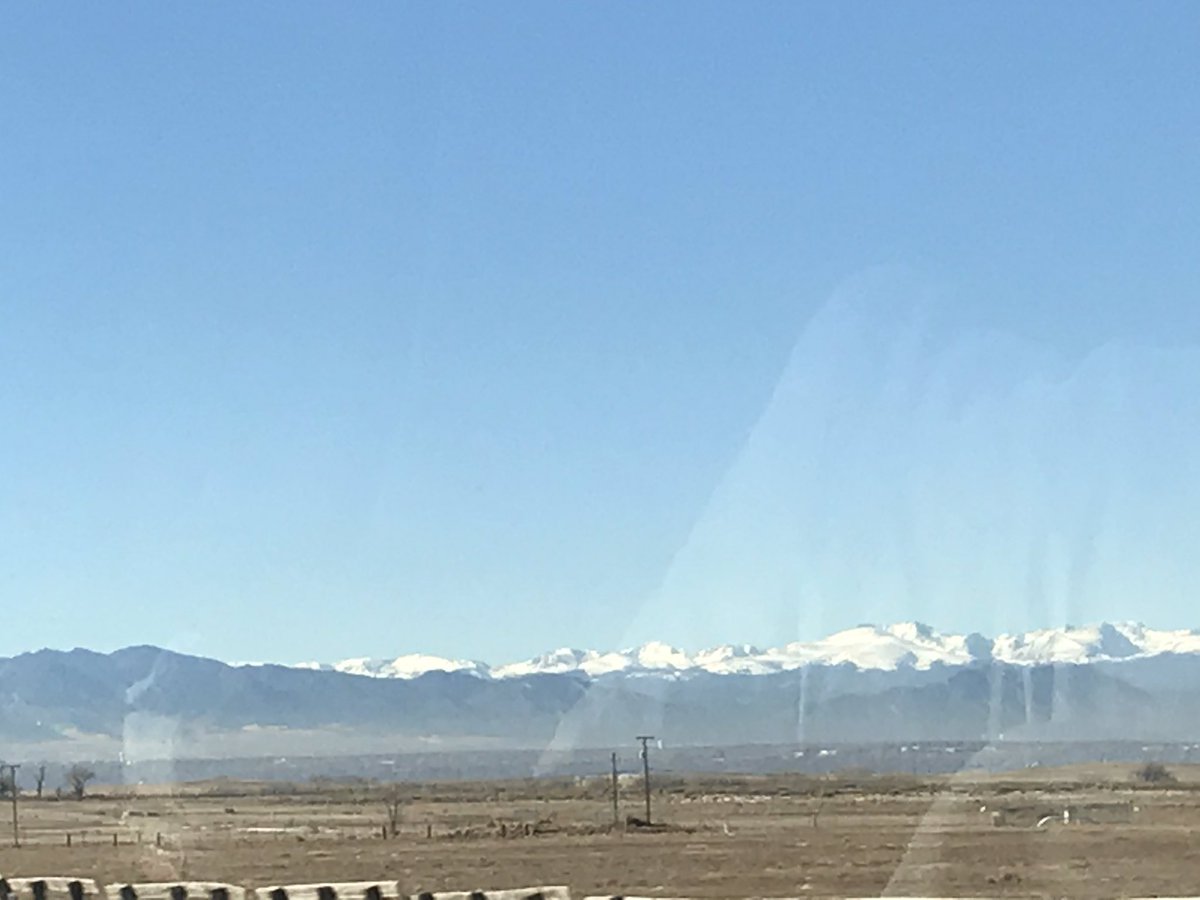 For some reason, I booked this flight with Delta, after previously being screwed by them during my flight home from Montreal. My friend, "Ten O'Clock" Tommy and I, originally booked a direct flight. However, weeks out, we were told the flight was canceled and we were now forced to make a stop in Minnesota. Of course, no voucher or credit was given. You just can't win.
However, I did make the best of a bad situation during the layover in Minnesota, as I had a delicious Bacon Bloody Mary at "Twins":
Bacon Bloody Mary pic.twitter.com/qFtGM4DG1x

— BlueCollarBlueShirts (@NYCTheMiC) January 3, 2019
I'll tell you what, that Bacon Bloody Mary was 10/10. And for those who don't know, the Minnesota airport has been named the best airport in America by someone who judges these types of things. I only know that because that fact was plastered all over the airport.
That said, for an airport that brags about being the best in the country, I'm not sure about this heroin establishment: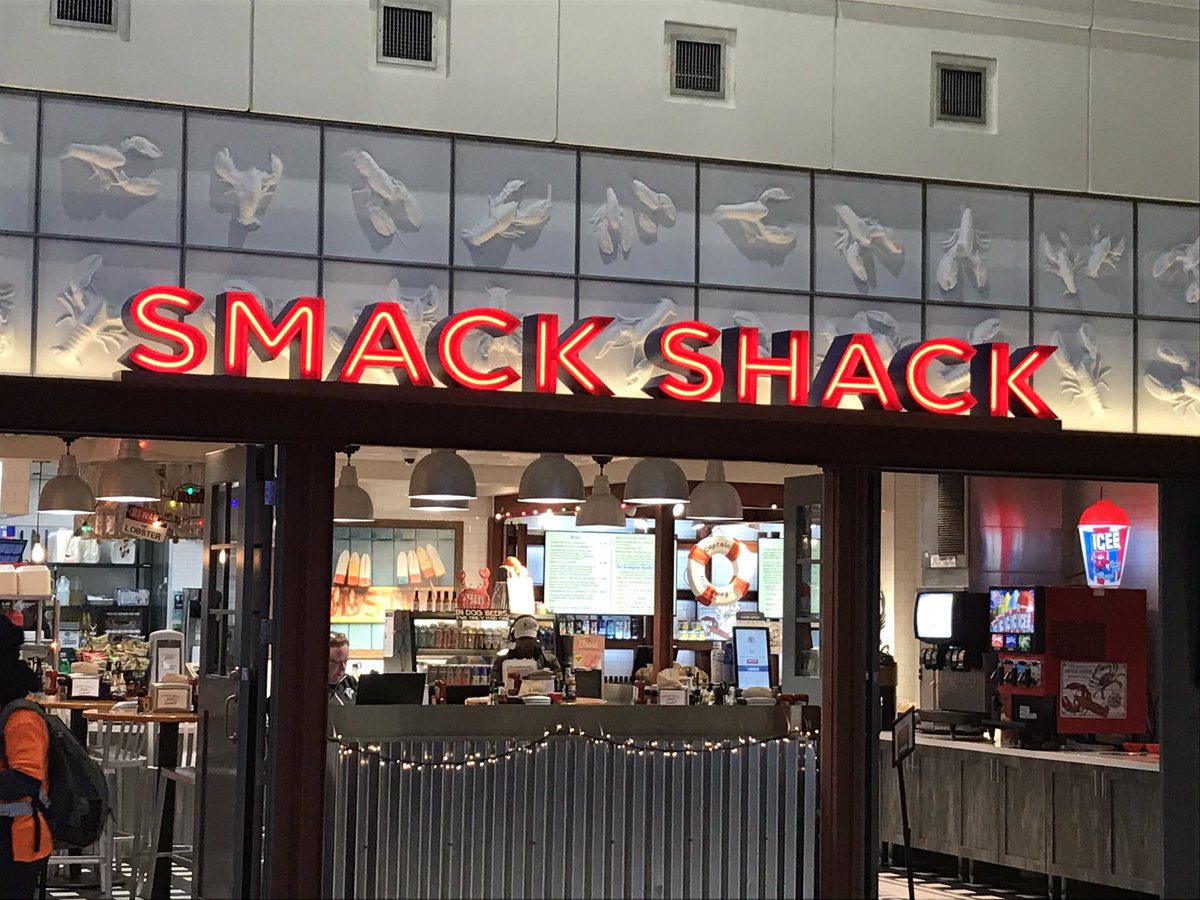 After 8 hours of traveling, we finally reached our hotel in Denver. I know the big tourist draw here is the legal weed. Even long before I was getting drug tested because of my job, I never liked it, never liked the smell of it and it just wasn't for me. I was always happy with beers and shots. That said, to each their own, and if you love marijuana, Denver is the place for you.
As our Uber took us down the highway, to our hotel in downtown Denver, from the car, we could smell the weed wafting through the CLOSED car windows. Of course, we were passing some growing facilities, hence the strong smell. That said, no matter where we went in Denver, the stench of pot fills your nose like a fart in a crowded elevator.
I will say, I found it funny that sports gambling isn't legal here in Denver, but drugs are. Sports gambling, the silent killer!
Oh, and before I get the emails from the hippies and potheads – yes I'm 100% for the legalization of pot at a federal level. I'm making a joke here. You would think these potheads would be more relaxed, but as I found out during my travels, they are not!
After getting settled down, we decided to hit up Denver's number 1 hockey bar, which is called "Sobo 151". It is a Czechoslovakian bar and grill, with hockey on every TV and hockey paraphernalia all over the place. Here are some pics:
Number hockey bar in Denver pic.twitter.com/Ke6xMZHx38

— BlueCollarBlueShirts (@NYCTheMiC) January 4, 2019
Of course, when in Rome, or in this case, when in "Prague", Colorado, you gotta drink the signature beer, which in this case, is a Pilsner Urquell: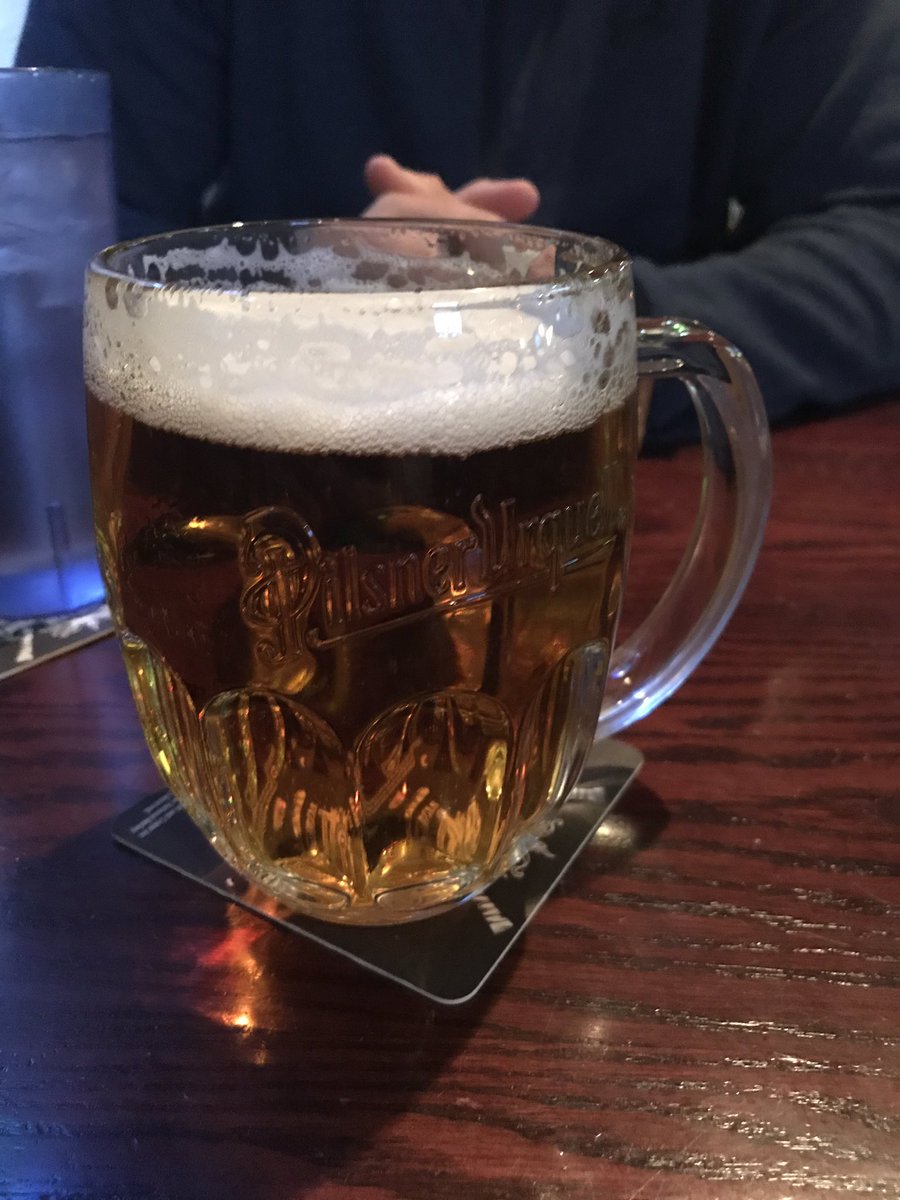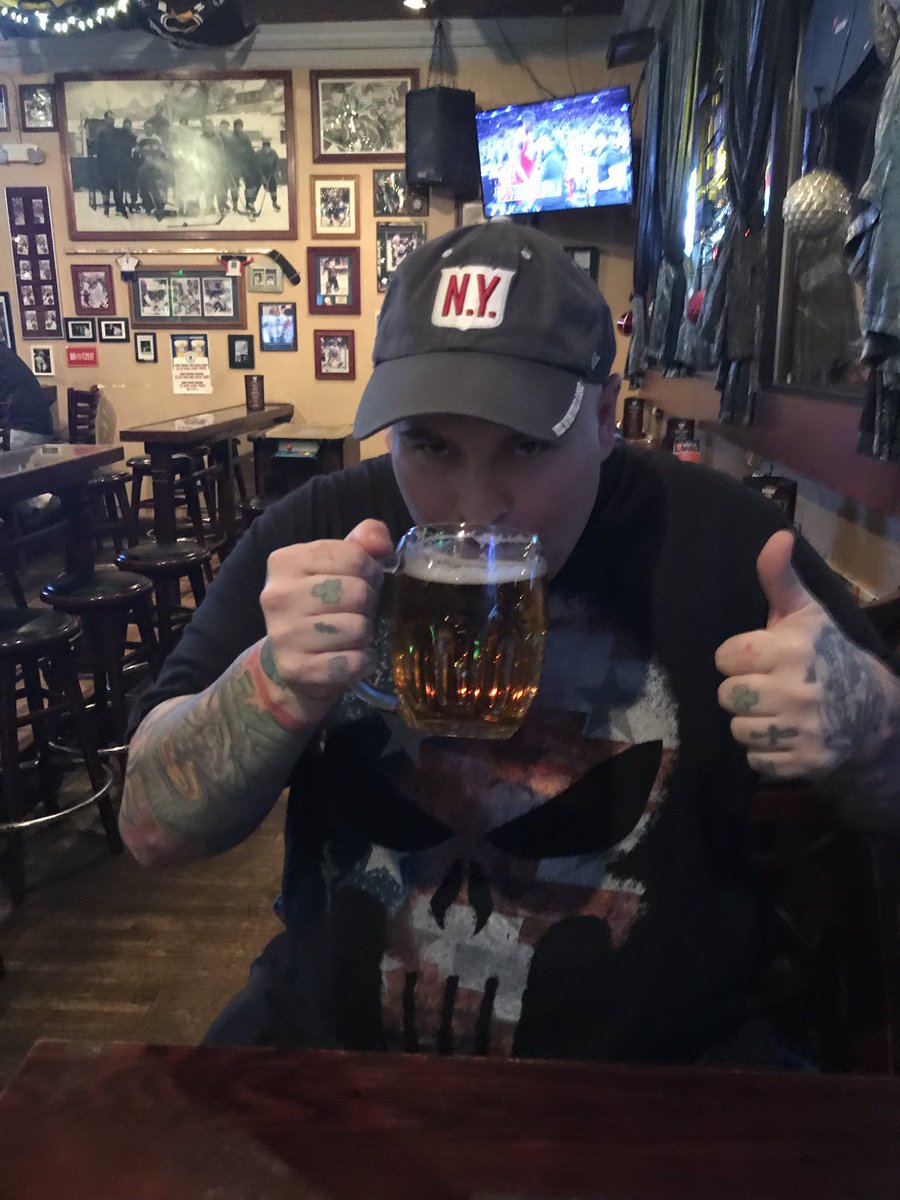 Speaking of Pilsner Urquell, it was a good beer. I've never had it on draft before, as I've only had it in the bottle. When I said that on Twitter, the official account of Pilsner Urquell replied:
Na zdravi! 🍻

— Pilsner Urquell (@Pilsner_Urquell) January 4, 2019
I'll tell you what – if Miller Lite won't sponsor me, I'll be more than happy to drink Pilsner Urquell kegs when doing these blogs!
Once finishing up at Sobo 151, we bar-hopped up and down Broadway, which features tons of bars. However, there were just too many bougias places, meaning that instead of a regular Miller Lite or even an import like a Molson or a Heineken, were hard to find. There were too many bars featuring double IPA's with a hint of lavender and monkey ball sweat glands. Fuck that fancy shit, give me a nice cold Miller Lite Pilsner Urquell.
After belting and popping from bar-to-bar, (I think we hit 9 overall, but who's counting?) we Ubered our way back to the hotel, where we listened to "BLUESHIRT UNDERGROUND RADIO" and had a few more beers:
Very quick, while on Blueshirt Underground Radio, co-host Eddie Gieck said something that I agreed with before this game and something I agreed with after this game. In fact, here's what I said on their Facebook page before this game:

I mean yeah, guys like Chytil and Pionk are progressing I suppose, but there seems to be more regression RIGHT NOW, than any sort of progression. Just to quickly look at it, here's what we've seen this season:
— Lundqvist starting more than 75% of the games. How are you developing the goalie of the future this way? How will you truly know what you got with Georgiev if he's just sporadically tossed into games? Georgiev needs a 4-5 game starting streak, just to see what he's made of.
— The Triple S of bad contracts are all worse right now than where they were at the start of the season. Brady Skjei is teetering Wade Redden territory. Kevin Shattenkirk personifies "Murphy's Law". Brendan Smith is lucky if even plays.
— Lias Andersson, dubbed as the "Most NHL Ready Player" in the 2017 draft, by NYR GM Jeff Gorton, is anything but. Filip Chytil helps take some heat away from Andersson.
— Not that Zuccarello is someone in mind when you hear the word "development", but this is his worst season of his Rangers tenure.
— Jimmy Vesey & Pavel Buchnevich, both in their third years, have both been on the scratch list of Quinn and haven't broken out as any sort of real league-wide threat. On a crappy Rangers team, they are lucky if they even get Top 6 minutes.
So I ask you, what's really being developed here?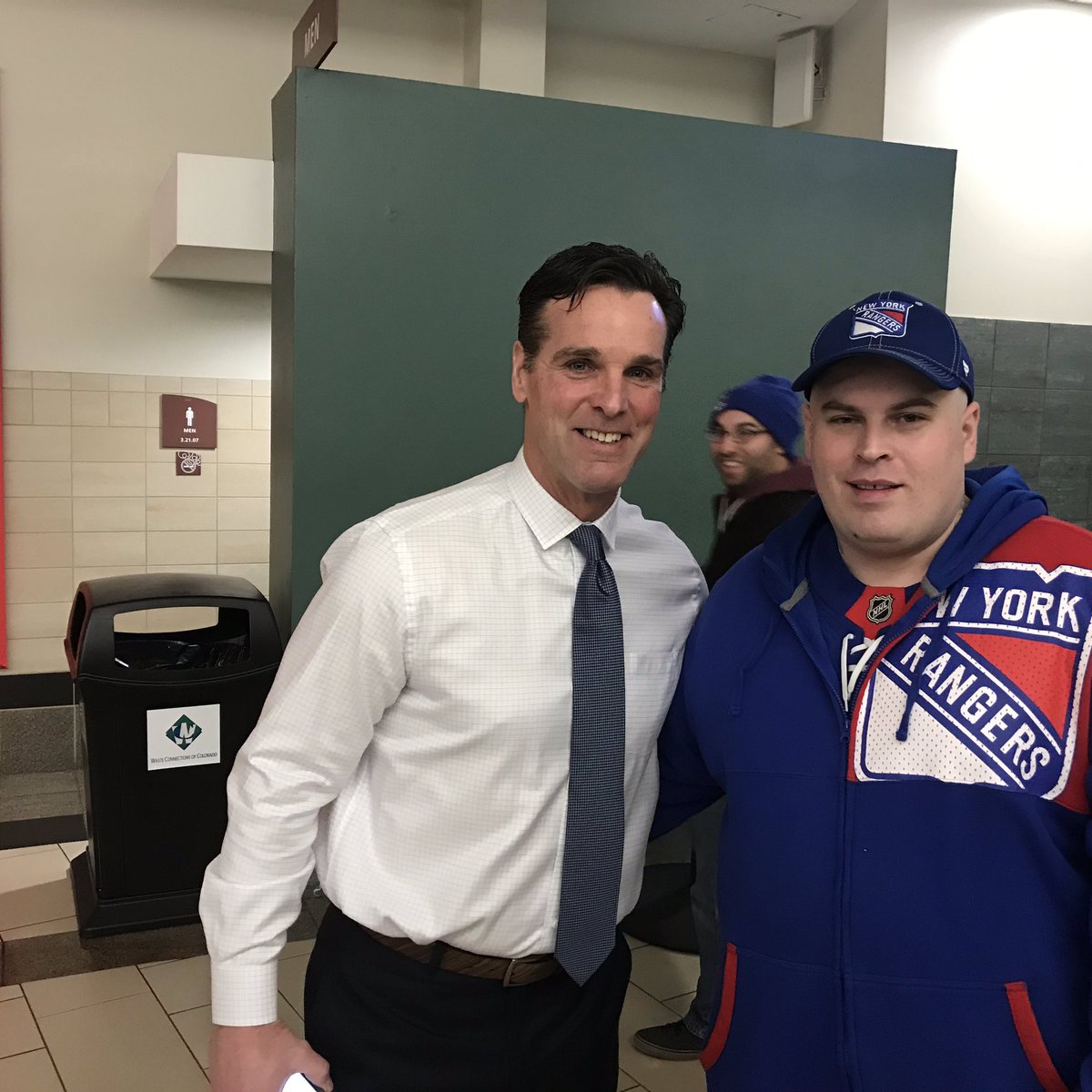 Also on this chance encounter with Quinn, the only reason I got this picture off was because I had my phone on camera mode already. After I got my picture with Quinn, other Ranger fans noticed him. Quinn had to blow them off, as he had to get back to the locker room. I don't know where Quinn was coming from, but he does have ties here in Colorado, and perhaps he was meeting someone from his previous stint here.
Speaking of David Quinn, let's go to the "SCRATCH LIST OF QUINN" segment of the blog.
Kevin Hayes, who didn't practice yesterday for "maintenance" reasons, did not play in this game. The Rangers tweeted the following out, two hours before game time:
Of course, because 99% of Ranger fans (I don't know if it's really 99%, but like I said, don't let the truth get in the way of a good story) believe that Kevin Hayes is a pothead, many Ranger fans joked that Hayes skipped this game so he could get stoned. I'm going to assume that ganja didn't play a part in Hayes missing this game.
With Hayes out, here were the lines for this mess:
FIRST LINE: Fast/Zibanejad/Kreider
SECOND LINE: Zuccarello/Chytil/Namestnikov
THIRD LINE: Buchenvich/Howden/Vesey
FOURTH LINE: Nieves/Strome/McLeod
The defense remained the same, and of course, THE KING OF KINGS in Alexandar Georgiev, was in net.
And before jumping into this review, as usual, here was what I predicted before the game:
Over – under down a full goal with KING GEORGE playing and Lundswiss yanked. Take the Rangers and the over. #NYR will pump goals and play better offensively without the crybaby screaming at them all game. 5-2 Rangers! pic.twitter.com/TjvkjJOqKu

— BlueCollarBlueShirts (@NYCTheMiC) January 4, 2019
Well, I had the 7 total goals part right. So that now makes me 12 for 16, good for being right 75% of the time, ever since I started doing my over-under predictions on this blog. Not too shabby. Suck on that Stu Feiner!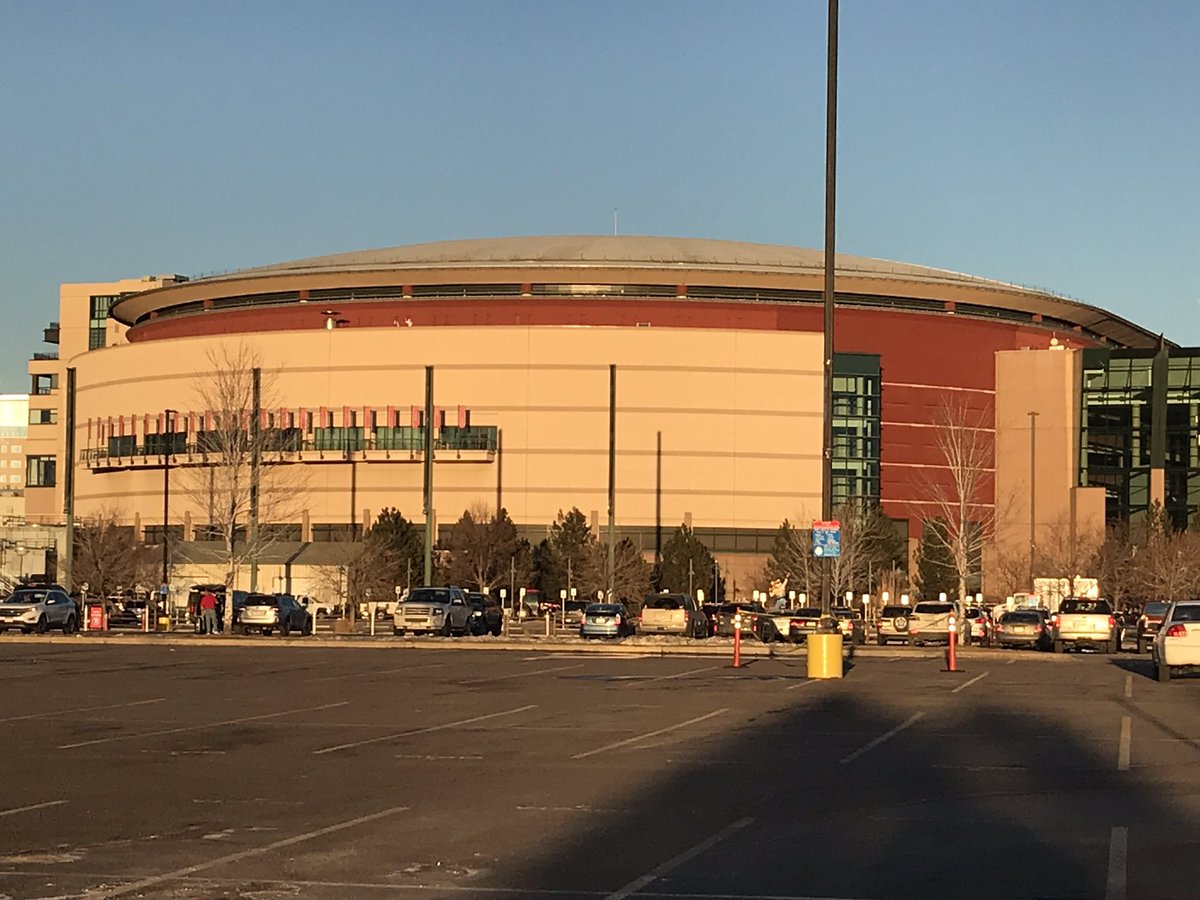 I've been to over 20+ NHL arenas, past and present, and for a building that was built in 1999, I found the Pepsi Center and just the Avalanche's branding to be horrible.
When it comes to the venue itself, there's not one Avalanche logo on it. You wouldn't even know hockey was being played there. There are no statues and the Avalanche do have a lot of great history to celebrate.
Even little things, like Avalanche flags in the parking lot, were non-existent. When the Florida Panthers and Carolina Hurricanes market and promote their teams better than you, you know you have a problem.
I found the Pepsi Center to be another lost soul, a soul that's been raped and pillaged by corporate America. While there were plenty of Pepsi logos all over the place, you didn't find any logos of the Avalanche, nor their co-tenant, in the Denver Nuggets, anywhere on the building, outside the building and really, inside of the building. Even the Barclays has light signage to promote Islander games. There wasn't even that, here at the Pepsi Center.
By visiting bars and taking Ubers all over the city, from my conversations, I was told that the Broncos are king here in Denver. The Nuggets are the second biggest team here. The Rockies are the third and the Avalanche bring up the rear.
Maybe it's because I've romanticized the Avalanche, because of their feud from the turn of the century with the Wings, that I thought the Avalanche would be a bigger deal here, but quite frankly, it seemed that the town could give two shits less about the Avalanche.
(Oh and for more on that epic Avalanche vs Red Wing feud, check out the "BLOOD FEUD" book review that I did about 18 or so months ago: http://doinow.com/bf/ )
During my time in Denver, I visited 10+ bars and restaurants, all within proximity of the arena. Outside of "Brooklyn's" (Located right next door to the Pepsi Center) and the previously mentioned Sobo 151, there was no Avalanche signage anywhere.  You didn't even see dumb shit, like a Coors Light (which is brewed 15 minutes away) Avalanche neon sign in some random bar. There just seemed to be a huge disconnect from the team and the city, at least from what I saw during my two days here in Denver.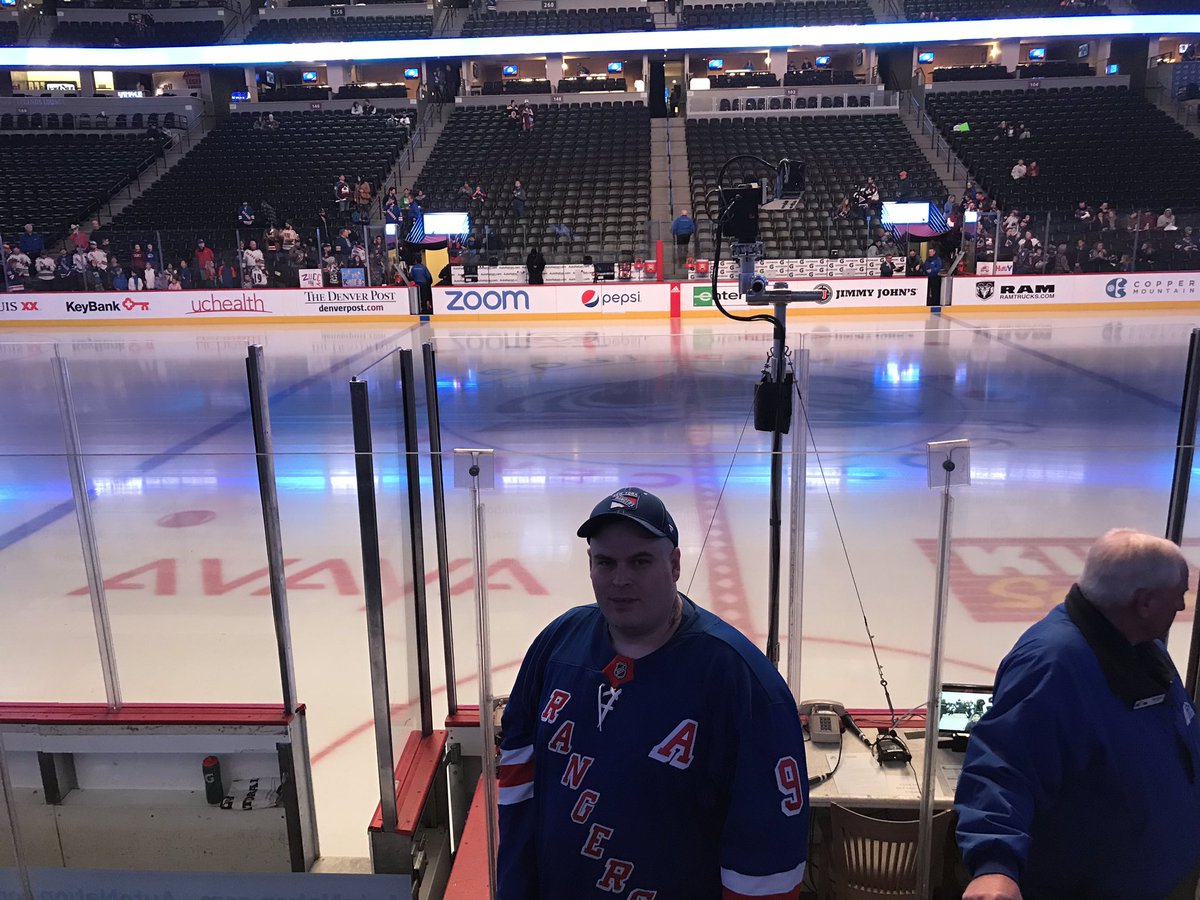 Let's go to the ESPN.com box score:
SCORING SUMMARY:
1ST PERIOD
4:40

Nathan MacKinnon

 (25)

 (Power Play)

Assists: Tyson Barrie, Gabriel Landeskog

0
1
6:53

Mikko Rantanen

 (18)

 (Power Play)

Assists: Nathan MacKinnon, Tyson Barrie

0
2
2ND PERIOD
12:34

Gabriel Landeskog

 (25)

Assists: Erik Johnson, Mikko Rantanen

0
3
3RD PERIOD
5:18

Alexander Kerfoot

 (7)

Assists: J.T. Compher, Tyson Jost

0
4
7:53

Mikko Rantanen

 (19)

 (Power Play)

Assists: Tyson Barrie, Nathan MacKinnon

0
5
9:21

Ryan Strome

 (5)

Unassisted

1
5
13:28

Ryan Graves

 (1)

Unassisted

1
6
PENALTY SUMMARY:
1ST PERIOD
2:29

Cody McLeod: 

5 minutes for Boarding (Major)

9:55

Alexander Kerfoot: 

2 minutes for Hooking

11:46

Pavel Buchnevich: 

2 minutes for Holding

16:02

Brady Skjei: 

2 minutes for Tripping

17:20

Mikko Rantanen: 

2 minutes for Roughing

17:20

Vladislav Namestnikov: 

2 minutes for Slashing

19:03

New York Rangers: 

2 minutes for Too Many Men/Ice – Bench (served by Chris Kreider)
2ND PERIOD
3:41

Erik Johnson: 

2 minutes for Holding

3:59

Chris Kreider: 

2 minutes for Boarding

5:11

Vladislav Namestnikov: 

2 minutes for Tripping

6:39

Marc Staal: 

2 minutes for Slashing

15:58

Mikko Rantanen: 

2 minutes for Tripping

20:00

Mats Zuccarello: 

10 minutes for Misconduct (10 min)

20:00

Patrik Nemeth: 

10 minutes for Misconduct (10 min)
3RD PERIOD
6:49

Chris Kreider: 

2 minutes for Cross checking

12:14

PS- Penalty to Ryan Graves for PS-Interference on breakaway
GOALIES:
| | | | | | | | | | | |
| --- | --- | --- | --- | --- | --- | --- | --- | --- | --- | --- |
| SA | GA | SV | SV% | ESSV | PPSV | SHSV | SOSA | SOS | TOI | PIM |
| 25 | 1 | 24 | .960 | 22 | 0 | 2 | 0 | 0 | 59:51 | 0 |
NYR

| | | | | | | | | | | |
| --- | --- | --- | --- | --- | --- | --- | --- | --- | --- | --- |
| SA | GA | SV | SV% | ESSV | PPSV | SHSV | SOSA | SOS | TOI | PIM |
| 47 | 6 | 41 | .872 | 24 | 2 | 15 | 0 | 0 | 60:00 | 0 |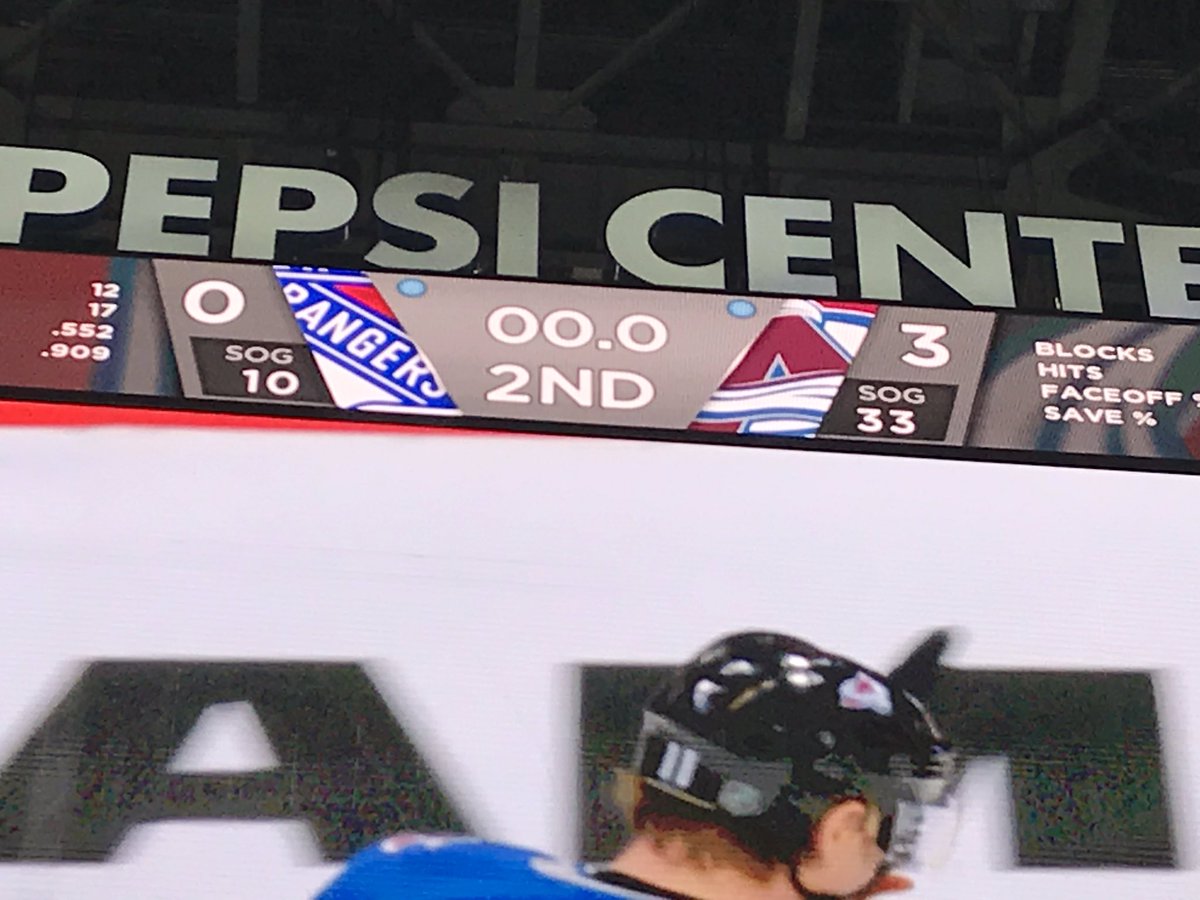 Since I was at the game and wasn't taking my usual notes, (aka posting crap on twitter for me to refer to later) this will be a different type of review from the norm.
As said, this was a terrible game and just made you think – what went wrong? Sure, maybe the 9-1-1 streak was a bubble that was eventually going to burst. Yes, maybe the streak was the equivalent of a house of cards. That said, very rarely, have the Rangers been blown out during this season. For the most part, this team doesn't have you questioning their lack of effort, drive or motivation. After tonight, I left this game as if someone tattooed "WTF?" on my forehead.
Seriously – for most of this game, the Rangers highlights were whenever they could clear the puck while on the PK.
Making matters even worse, wasn't the fact that I paid to watch this game, it was the dickhead that was sitting in front of me: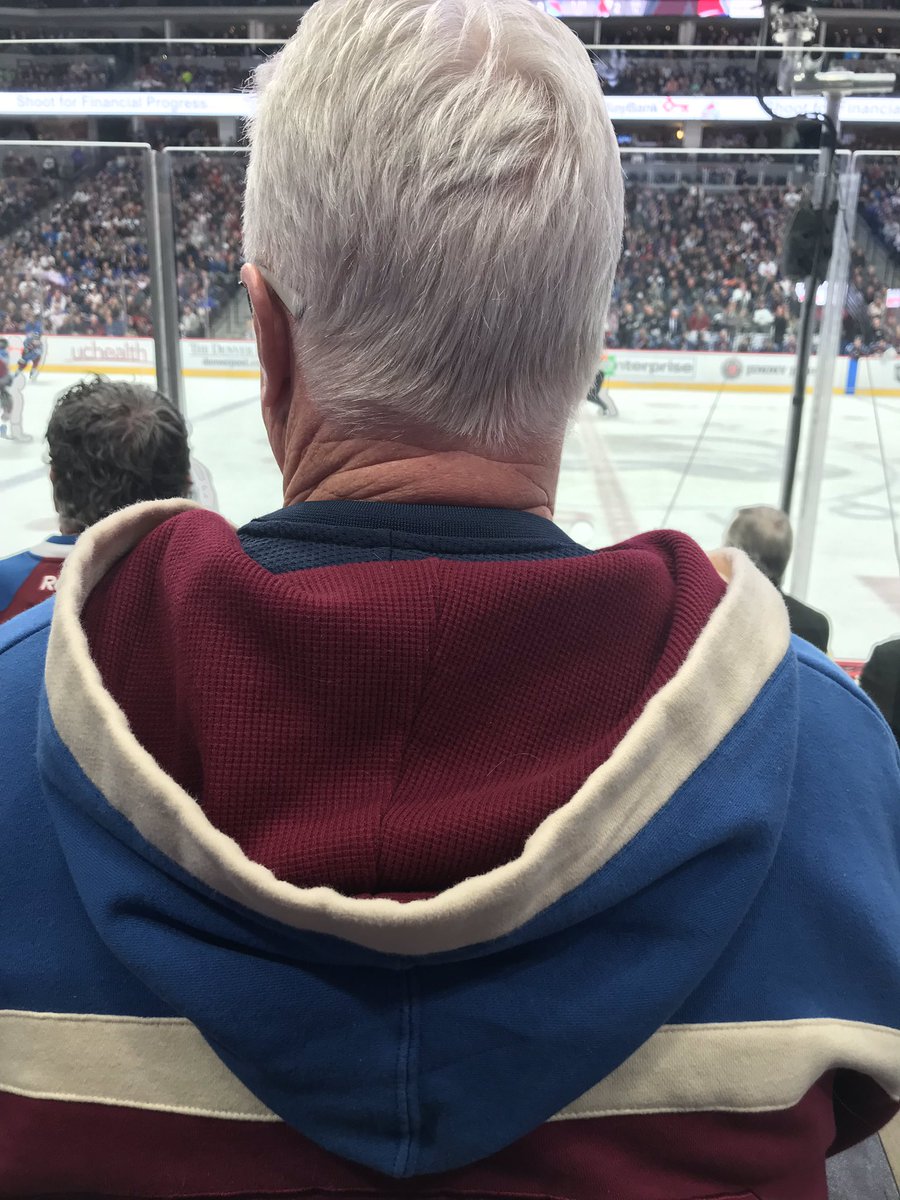 This douchebag pictured above was just unbearable all game, as he would not shut the fuck up all game. All game, he was treating this game as if he was the play-by-play guy, as he was announcing the game to his wife from his seat. He was also over-the-top when cheering the Avalanche.
What really sucks as a Rangers fan, is that you can't talk shit. EVER. Seriously, four cups in 92 seasons? What the fuck can you talk shit about? You go to any barn around the league, and if the other fans are talking shit, there's just nothing you can do about it. I guess to make up for this, just attend Yankee road games, so you can flap your gums back!
This guy was brutal all game, talking shit about the Rangers, doing his inane commentary and screaming like a jackass at any Ranger in the penalty box.
Oh, and fuck you Sidney Crosby. Now that it's known that Crosby gave a signed stick to a Ranger fan that chirped him, now every fan is chirping players in the penalty box. Copy cats are contagious!
Of course, because this blog is known for its tangents, I gotta share the McLeod story!
The usher screamed at an Avs fan for calling McLeod an asshole #nyr pic.twitter.com/MfJeftr1lS

— BlueCollarBlueShirts (@NYCTheMiC) January 5, 2019
After McLeod's five minute major penalty in the first period, a fan in front of this jackass was heckling McLeod and started the "ASSSSSSS-HOOOOOOOOLE" chant. The usher quickly sprung into action and told the fan to knock it off or SHE would be kicked out. That's right, a woman was heckling McLeod for hurting her guy, and the usher told her to pipe down!
When the woman said, "We do this at Broncos games", the usher replied, "You're at an Avalanche game." She said, "It's hockey, this is what we do!" The usher retorted, "This is family friendly hockey." I was in tears.
Oh, and family-friendly hockey describes this game perfectly, because either the refs had their family in the crowd tonight and wanted face time or the refs are now just calling these NHL games as if toddlers, and not grown men, are playing. This was one of the worst officiated games of the season, in the eyes of the Rangers, and that says a lot.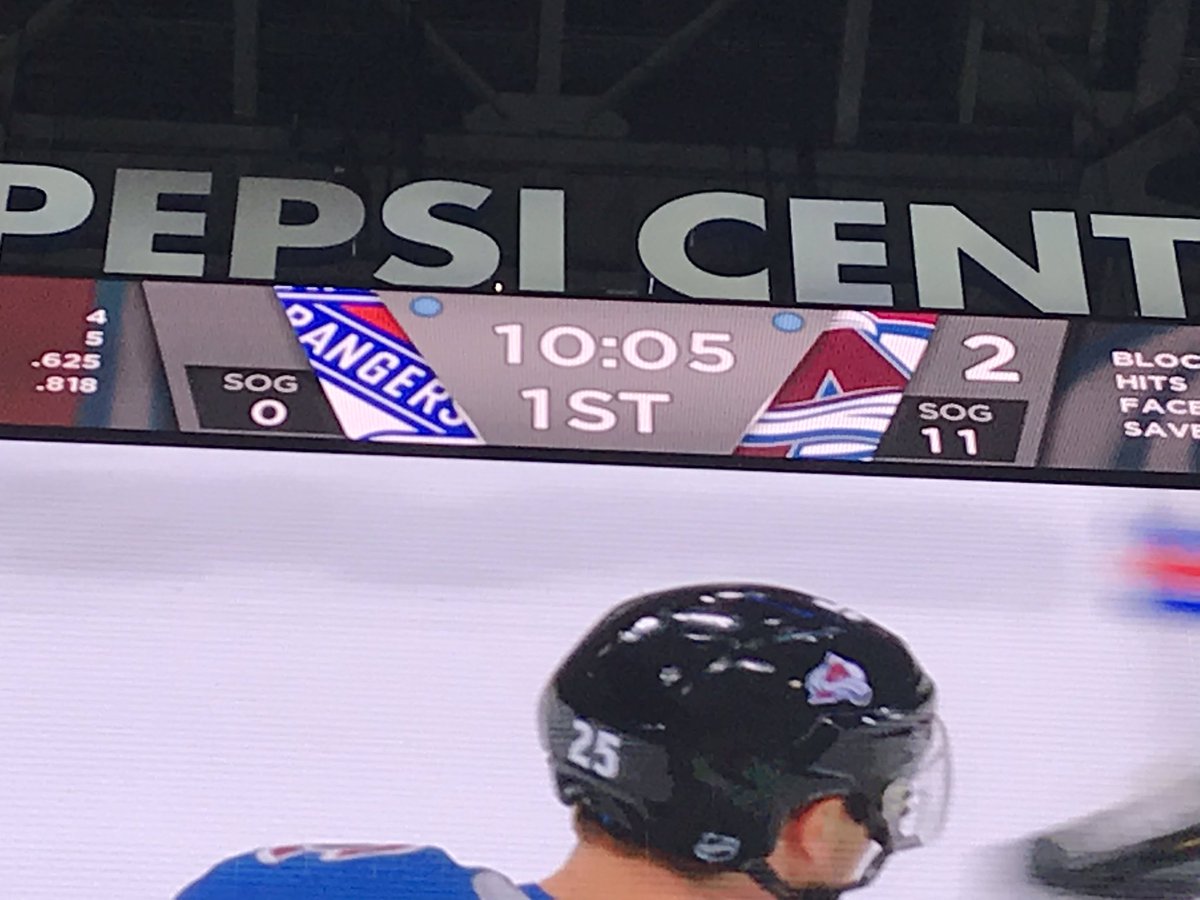 Oh, and speaking of that twunt that was sitting in front of me, when I posted the picture on twitter, people were telling me to spill beer or throw food in his hoodie. I do not advocate nor promote such behavior!
Plus, for all I know, this guy could be a veteran or something. That's what I need in my life, a NY Post headline of:  "Rangers fan arrested for assaulting a war veteran at a hockey game that the Rangers got their asses kicked in."
If someone is a jackass at a game, unless he starts to get violent with me or hits a woman or something, I'm not provoking an argument. I will be 37 in 2019, have a job, a home and have too much to lose. Furthermore, I'm not doing something stupid out-of-state either. I don't need to be in a Denver jail cell because some Avalanche fan has a fat mouth.
As I always say, these athletes don't care about our jobs, so why in the world would I fight over their jobs? It's bad enough that I fly, spend money and take time out of my life, just to watch them do their job thousands of miles from home!
That said, this guy was an asshole. I did jazz him a bit, right after Strome scored. Keep in mind, this goal made the score 5-1, in favor of the Avs. I said "GRUBAUER CAN'T SHUT OUT THE RANGERS BECAUSE HE SUCKS!" I saw the ears of this fan get red. His wife did crack up though (because she knew what I was doing) and she was laughing when I all I had left to root for was Georgiev getting 40 saves. Always looking for the positive!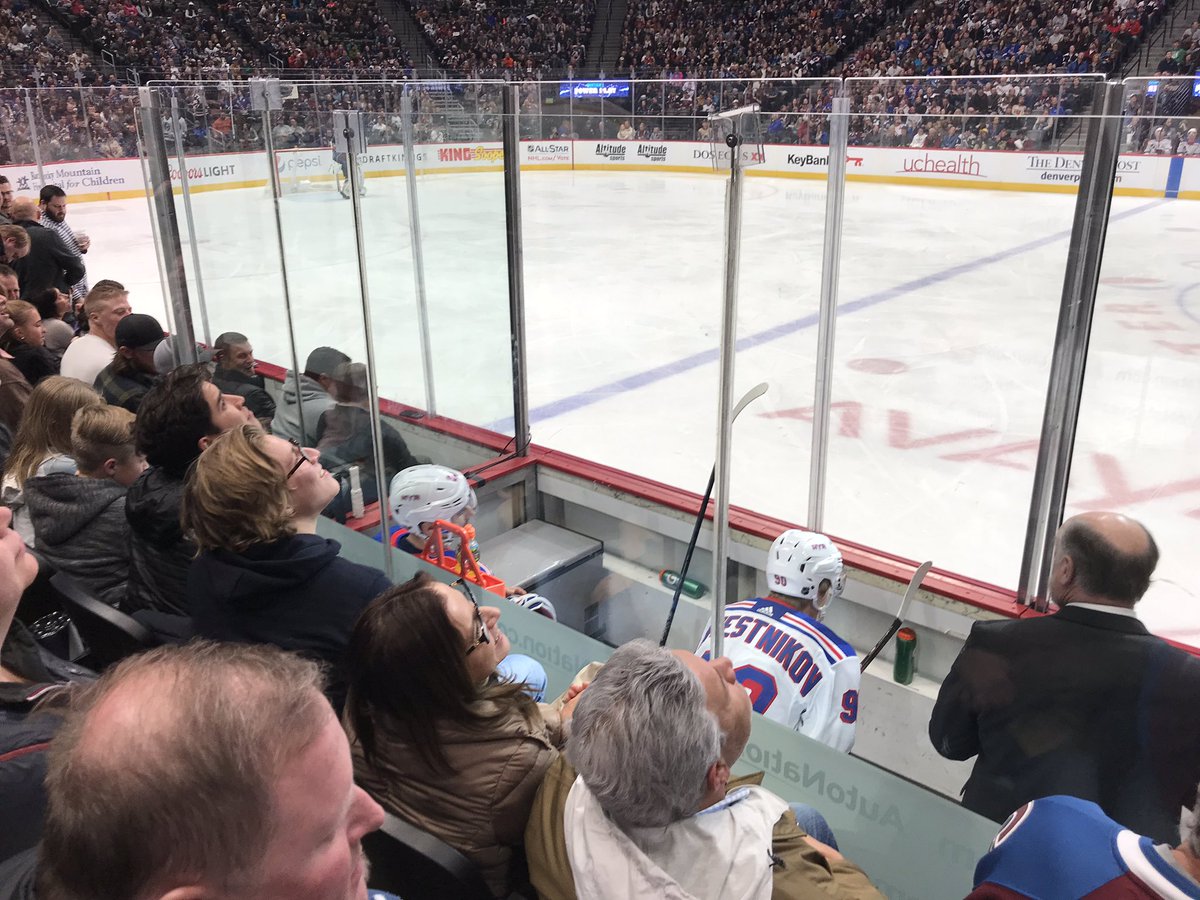 Obviously, as stated, this isn't my normal style of review because I was at the game and this is a road trip blog. No videos or gifs tonight!
As far as this game, it sucked. McLeod got a five minute major early. That penalty, which was debatable, cost the Rangers. The Avalanche would score two goals on their PP, one goal with Fast without a stick and the second coming off Neal Pionk, who deflected the puck in his own net.
If you're looking for any good here, it was Colorado's name-brand guys scoring here, as Nate MacKinnon scored the first PPG and Mikko Rantanen got credit for the second one. This wasn't like some random schmuck from Staten Island lighting up Lundqvist.
However, at 6:53 into the game, it was 2-0. Making matters worse, was the never-ending parade of Rangers going to the box for the silliest and most minor of things. The refs were very one-sided in this game and it got ridiculous. Not helping matters, was that despite all the practice, the Rangers couldn't kill penalties for shit. Even worse, even when they had their PP's they couldn't score there either.
Speaking of the NYR PP, Quinn scrapped the 5 forward unit and went back to the 4F/1D traditional system. Shattenkirk was on the first unit tonight.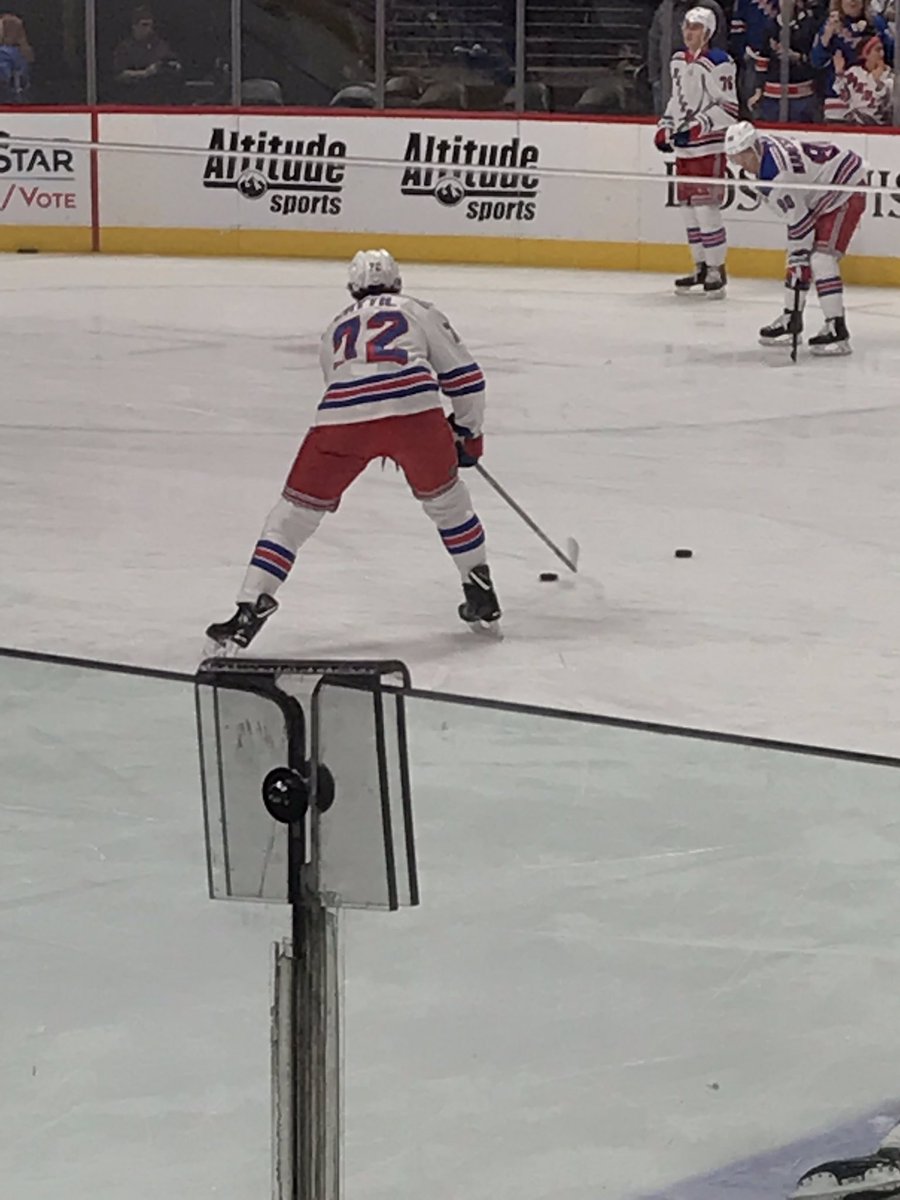 Since the Rangers were a man-down for nearly 50% of this game, the Rangers couldn't get anything going. They had maybe two sustained forechecks in this game. Most of this game saw me looking at the scoreboard and being amazed at the Rangers ineptness in the SOG department. When I wasn't looking at the scoreboard, I was looking at Alexandar Georgiev, who was just fantastic tonight.
Oh, and when I say I was looking at Georgiev, this isn't a Micheletti/Lundswiss thing. What I mean by that sentence, is that all the action was in Georgiev's end and he had a non-stop barrage of pucks to stop in this game. It's not like he could give up 6 goals off of 18 shots in this game and then run to the bench. The King of Kings was in it for the long haul and had to weather the storm.
Now I know what you're going to say – "YOO WOOD BE KILLING HENRICK IF HE GAVE UP SIX GOLES IN DIS GAYME!"
Let's get into that. For starters, Hank gave up 6 goals against Pittsburgh in his last start. Those goals were on Hank. Let's also not forget that he's paid $8M more than Georgiev and expectations are different.
In this game, it's hard to blame Georgiev. He was stopping odd-man rushes and break-aways all game. The Avs scored 3 PPG's here. The Rangers defense left much to be desired.
I know it's tough to rave about a goalie that gave up 6 goals, despite his 41 saves, but this wasn't like the Carolina game where Georgiev got absolutely torched. The Rangers just sucked tonight and like many Lundqvist starts this season, Georgiev was the best player on the ice for the Rangers.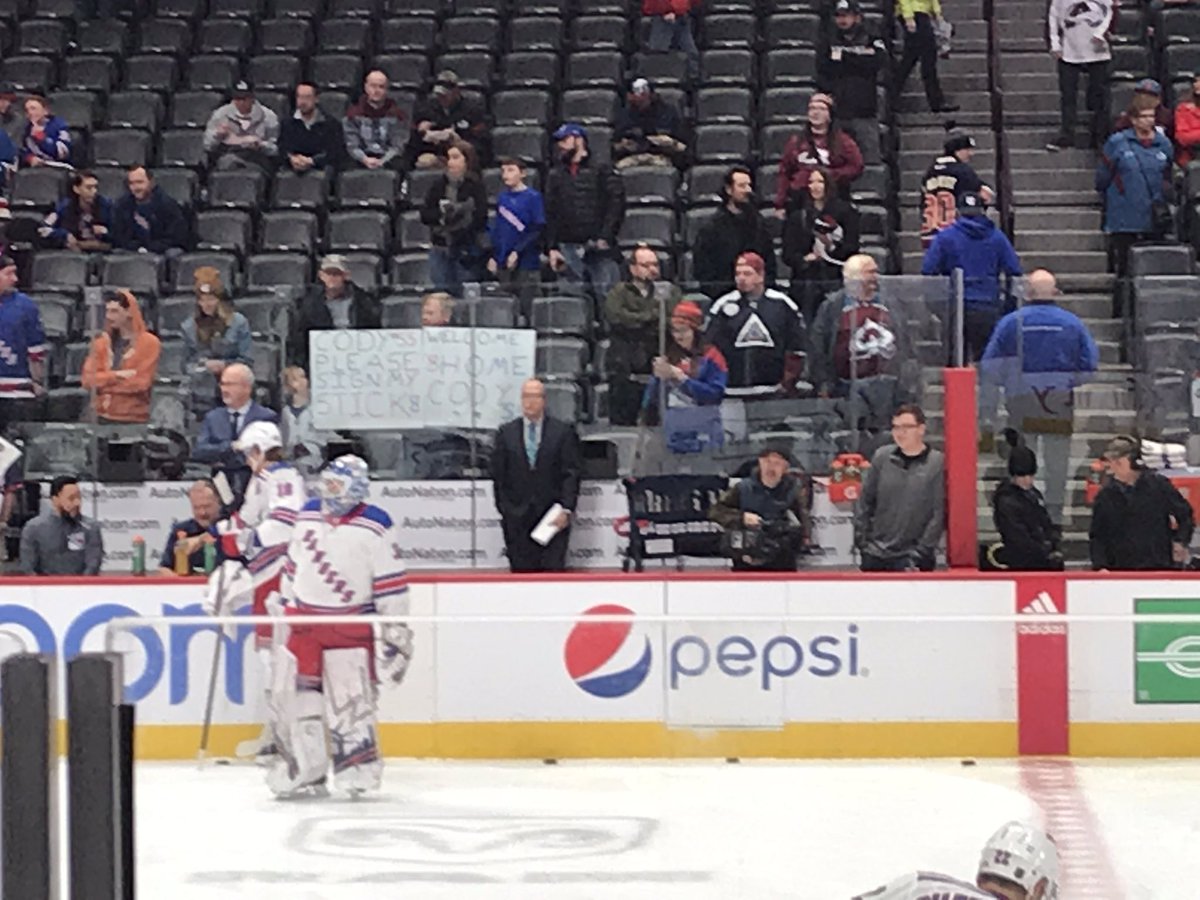 For lack of a better word and to make the cheesy pun, Colorado just "Avalanched" the Rangers. All the penalties didn't help, but even when 5 vs 5 (and that means some players rest/time on ice was thrown off) the Rangers just looked way over their heads.
We all know about the rebuild, draft picks, and blah blah blah, but I'm not used to seeing this team, in this season, just look like they don't care. It's like they gave up after the McLeod penalty. I mean, how else could you explain this: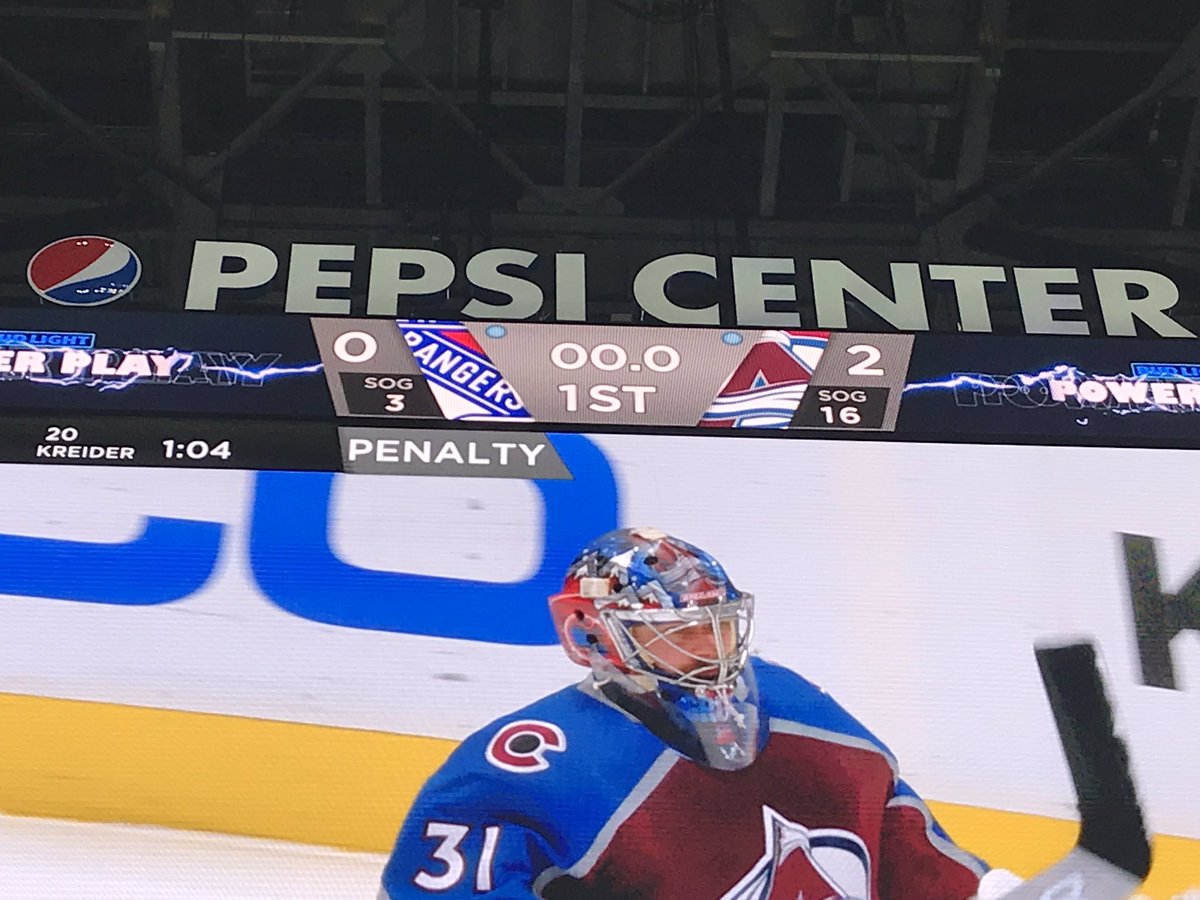 There's only so many times you can say "forget this game and move on" or "it's just one of those types of games." No, this game was indicative of something else. With the playoffs looking like a fantasy now, are the Rangers just disinterested? You're not seeing the same fight that you saw from this team earlier in this season.
You know what was really sad – even down 2-0, at any point in this season, I never counted the Rangers out of a game. Maybe it's being a fan, maybe it's from seeing this team fight, even in losing; I just never count them out. As this game went along, I just knew they wouldn't make a comeback and the Rangers were content with laying an egg. Where is the passion? Where is the pride? What happened to this team?
And again, if you're not familiar with my opinions, I'm aware about the "LOSE FOR HUGHES" campaign, the tank talk and all that crap. That's fine if that's what you're behind. However, even if you're one of the fans rooting for the Rangers to lose right now, can you remember them just not showing up like they did here tonight?
There's really not much more to say about this game, and with an early flight, why should I waste my time too?
All I will say is this – CAN I PLEASE SEE THIS TEAM WIN LIVE, JUST ONCE THIS SEASON?
I'm off to Arizona, where the Rangers hopefully aren't puppy chow for the Desert Dogs.
See ya Sunday.
As always, thanks for reading and…
"LET'S GO RANGERS!"
Sean McCaffrey
BULLSMC@aol.com
@NYCTHEMIC on twitter
PS: Great seeing you tonight Avery! Sorry we didn't have more time.
PPS: I apologize for any typos/grammar errors. I'm writing this on a tiny laptop and after a huge amount of beers consumed! LGR!