Greetings and salutations everyone and welcome to another blog here on BlueCollarBlueShirts.com. I originally wasn't going to do a blog after the NHL All Star Game, especially since I just did a long manifesto on Thursday night, but with this Bellator MMA show ending early, I figured what the hell? I mean, what else am I going to watch right now? Saturday Night Liberals? "WE DON'T LIKE TRUMP, WE ARE FUNNEEEEEEEEEEEE!" As a life-long fan of SNL, it's a damn shame what SNL has turned into. SNL has never been worse than it is right now. I would do a cartwheel to just see something silly like "Drunk Uncle" again!
And speaking of that blog from Thursday, let me transition very quickly to the PLUGS section of this blog. In case you missed that blog, or any of my recent blogs, you can find them here below:
---
---
---
---
---
---
---
---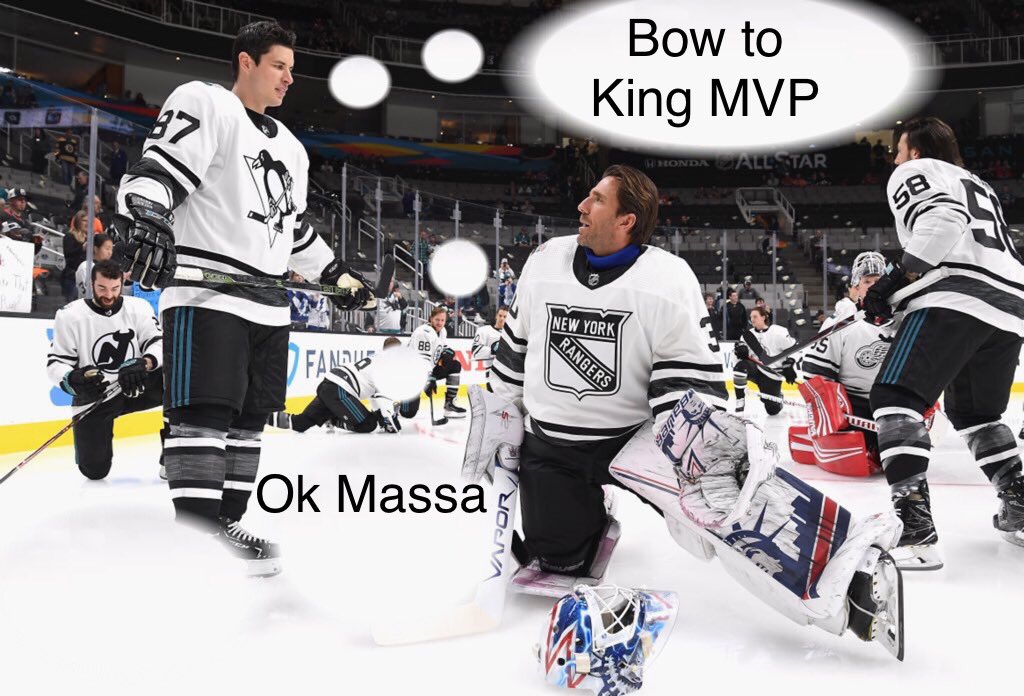 On Saturday night, there were a variety of options for couch potatoes. You had WWE's NXT, the Bellator MMA World Title Fight, the NHL All-Star Game and the Adult Video News Awards all being broadcasted either on television or on streaming services. Of the four broadcasts, the AVN awards show was probably the most physical. More Vaseline and blood too!
With many entertainment options available on Saturday night, while multi-taking by drinking cold beer and getting the grease & grime out of my work clothes via the magic of a washing machine, I opted to watch the NHL ASG & the Bellator show. For hockey fans who just watched the NHL ASG without doing anything else, you have my sympathy.
When it comes to the NHL ASG, the ASG was originally created as a way to raise funds. It was a charity event. The game first raised money for Ace Bailey, then raised money for the family of Howie Morenz and would then raise money for the family of Babe Seibert. It wasn't until the 1947-1948 season where the All-Star Game became an annual NHL event.
Over the course of time, the NHL ASG has morphed in different ways. During the Original 6 era, the NHL ASG started off as the Stanley Cup Champions playing against a team made up of All-Stars from the five other teams in the league.
With the advent of free agency, the Great Expansion of 1967 and players leaving the NHL for the WHA in the early 1970's, the game would change again, as we would see two different teams made up of All-Stars, rather than seeing the Cup Champions playing against a stacked team.
As time went on, the NHL ASG continued to change. Six team conferences became six team divisions. The player pool grew. The league grew. Eventually, a player from every team had to be represented. The format would change routinely too. We went from the East Division vs the West Division to the Campbell Conference vs the Wales Conference. When that became redundant, the league adopted another new format in 1998, embracing a North America (Canada/US) vs everyone else (the World) game. When that grew old, the league reverted to a Conference vs Conference game.
The NHL would continue to reinvent the wheel so to speak, when they held three consecutive ASG's via a "fantasy" draft. Team captains were selected ahead of time and the two captains would select their teams as if they were in a schoolyard playground. Come 2016, the league changed the ASG format once again, going with a series of three vs three games, where all four divisions would be represented.
With this All-Star Game format now in its fourth incarnation, I gotta say – it's time for this 3 vs 3, four team spectacular, to go the way of the dodo bird too.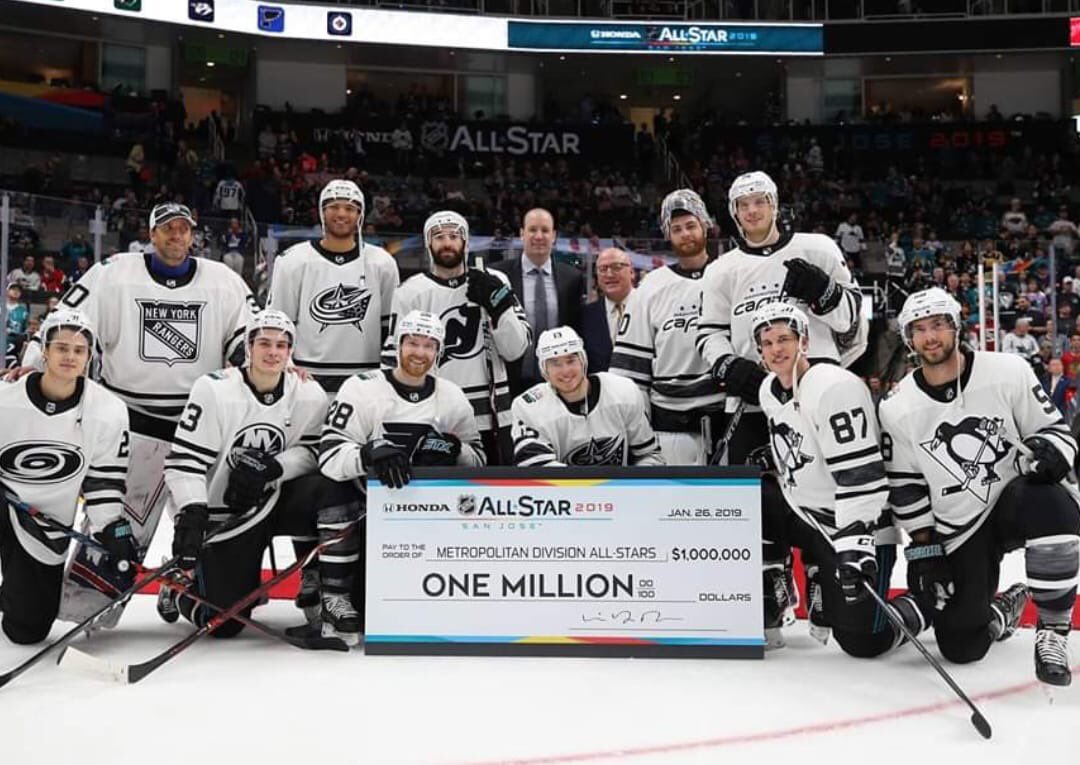 As I talked about in my blog from Thursday, the number 1 problem with this ASG format isn't the fact that it isn't truly hockey. We all know it's a gimmick. That said, I really don't have a problem with that, because as a league, I can understand the league wanting to market a faster and sexier brand of hockey to a mainstream audience, on a national channel in America, while on prime-time. Again, $ and ratings is what moves the needle, as much as purists hate to hear that. Let's face it – hockey isn't American, so the NHL has to come up with new ways to reach as many eyeballs as possible.
What bothers me the most is that these games are completely unfair to the goaltenders. Keep in mind, I said this on Thursday night too, so before the Cult of Lundqvist sends me emails with verbal cartwheels in them, I've been consistent with this opinion. And I'll get into this later, it's amazing how one lone ASG weekend can make this fan base flip-flop faster than Mitt Romney in room full of right and left wingers.
The reason why these three vs three games take place is because these games, in theory, will lead to higher scores. High scoring games are good for TV. Just ask any TV executive that's been tasked with the job of trying to promote soccer in America. The number 1 reason why Americans don't care for soccer – low scoring games. No one wants to invest 90 minutes in a 0-0 tie.
While these three vs three games promote offensive outputs, what's not mentioned is that these games are nightmares for goalies. These goalies are playing in front of a defense going half speed and these defenders really don't care if a goalie gets peppered. Furthermore, there are no body checks, just light defensive stick checking. If you're a goalie, these games can wreak havoc on your pysche. Just look at John Gibson in tonight's game – he just gave up. He wasn't going to break a sweat or risk getting hurt, certainly not in a game where the team in front of him wasn't going to give him an ounce of help.
For an All-Star Game in this incarnation, the goalies are at the biggest disadvantage out of any other position on the ice. No matter what a goalie does in these games, it's not indicative of how they are during an 82 game season. Again, I go back to Gibson, who should be a Vezina candidate this season. He had a horror show of a performance tonight. Then you look at Lundqvist, who by merit, shouldn't have been in the ASG to begin with. In tonight's All-Star showing, Lundqvist was the best goalie of the lot, and that was because he had the best team in front of him & he didn't have to see as many shots as the other goalies. And to be fair, he was also zoned in.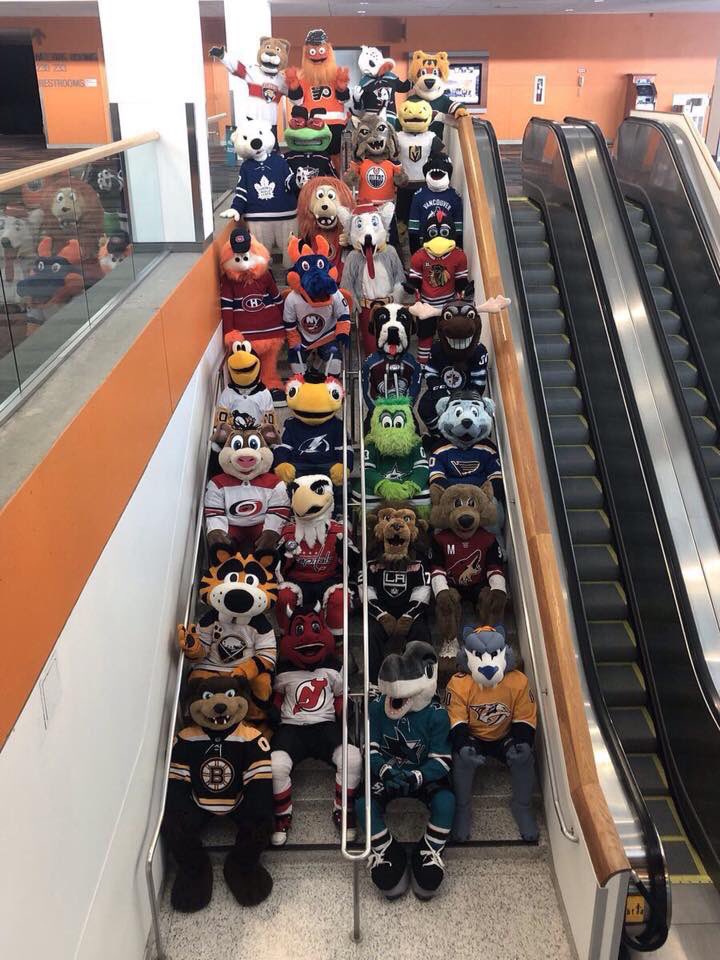 The NHL has not been adverse to change when it comes to the ASG. If it was up to me, I would scrap this video-game-on-ice tournament completely. Instead, I would go back to teams of nationalities. Hockey is the most international sport of the four major sports in America, so why not embrace that again? I think you would get a more intense game and a better quality of game, if the NHL went back to teams of nationalities.
While everyone is motivated by money, there's a good chance that if you're an All-Star, then you're pretty much set for life when it comes to money. I know that doesn't apply for everyone, but for the majority, it does. For hockey players, they are a very proud group when it comes to their flag. That's why they want to play in the Olympics for free and why the Olympics is such a big issue during CBA time. It's why guys go play in the IIHF Worlds tournament after their team is eliminated from the Stanley Cup playoffs. These players are very patriotic. By playing on that, you will get a better game.
I truly believe these three vs three games have run their course. It's not entertaining anymore. I'm going to use the "less is more" expression later on in this blog, and I know that's ironic coming from me, considering that I write the longest hockey blogs on the internet, but I think LESS IS MORE applies here. Three vs Three is fun in doses. I don't need an hour of it.
I wouldn't mind having four teams in a nationality-themed ASG & having a three game tournament, but granted, if you did that, you would be watering down the teams and forcing guys onto the All-Star team. These All-Star selections are already a popularity contest, so you don't need any more of that. Do a Canada vs the World game. After all, hockey is Canada's game. When it comes to story telling, whether you're talking sports, TV or movies, the biggest and most marketable theme is good vs evil. Canada vs the World would establish that. This is pro wrestling 101, heels vs babyfaces. Then, maybe down the line when you have more commies playing at a high level, you can do Russia vs the World. Any casual sports fan in North America would tune in to root against Russia!
As I close on the topic of the ASG format, I'd be remiss if I didn't mention the human interest factor. When watching this ASG, what is there to root for? The player representing your favorite team? While I know some Canadian fans can root for Sidney Crosby, how is an American Ranger fan supposed to be rooting for Crosby? I'm supposed to be happy if an Islander scores a goal? Again, the whole format is flawed.
Outside of your team representative, there's nothing to root for. It's a shame the NHL went nuclear on preventing another John Scott story from ever taking place again. Granted, the same story wouldn't land as strong the second time around, but at least it's something to get behind. I just had nothing to get behind when watching these three games. For a casual fan, there was no incentive to stay tuned in. The NHL ASG has no human interest factor at all. I would be shocked if these TV ratings even came close to the 2016 game with Scott.
I'm telling you – go back to a nationality driven game. It's a winning scenario all around and marks all the check boxes for good television & for a good game. These 3 vs 3 fiascos just seem like an extension of the Skills Competition.
Speaking of the skills competition…
If you're a Ranger fan that thinks Henrik Lundqvist can do no wrong, well this was the weekend for you. This All-Star weekend was the best weekend of Lundqvist's season. Of course, the ASG is a joke and not indicative of anything, but if you're going to be part of it, you might as well shine. And Lundqvist shone brighter than most. I can't stress this enough – out of every goalie that was selected to this game, Lundqvist was the best goalie of the weekend. And that's coming from me, someone who doesn't ride Hank's jock like many Ranger fans do.
Let me get the popularity contest stuff out of the way first. As mentioned in prior blogs, the ASG is a popularity contest. Case in point – Mats Zuccarello, before his recent hot streak, was a candidate for the ASG, as deemed by the NHL. To me, not only was Chris Kreider or Kevin Hayes more deserving for the nomination than Zuccarello, you could've also made a case that both Kreider & Hayes belonged in this game more than Lundqvist.
Furthermore, when you look at the goalies in JUST the Eastern Conference, Henrik Lundqvist is ranked 26th overall with a 3.01 GAA. He's 19th overall in save percentage, as he currently sports a .908 save percentage.
To break it down a bit further, as these numbers aren't the end-all/be-all, there are 8 starting goalies in the Metropolitan Division. Lundqvist and Braden Holtby of Washington, were both named to the game.
Let's take a look at the six other starting goalies that are in the division.
The Flyers goaltending situation is a mess. No goalie from the Flyers deserved to go to the ASG.
The Devils are also a mess. No goalie from the Devils deserved to go to the ASG either. And while I'm at it, you can say the same exact thing about the Hurricanes too.
That now brings me to Pittsburgh. Starting goalie Matt Murray missed a bunch of games this season. However, both Murray and his back-up, Casey DeSmith, have better numbers than Lundqvist this season. Lundqvist played 35 games thus far to DeSmith's 28. DeSmith has a 2.68 GAA and a .917 save percentage. Both of these numbers are better than Hank's. However, remember, every team needs a representative and Pittsburgh already had Crosby & Letang.
To me, the two strongest cases or perhaps snubs, comes down to the Islanders Robin Lehner (27 GP/2.02 GA/.931 sv%) and Sergei Bobrovsky of Columbus (34 GP/2.91 GAA/.904 sv%). Both goalies have been better than Lundqvist this season, but they don't have the name brand recognition that Lundqvist does. Furthermore, unlike Lundqvist, and depending on your opinion of Kreider & Hayes, both of these goalies have a stud in front of them, as Lehner has Mat Barzal and Bobrovsky has defenseman Seth Jones & forward Cam Atkinson.
So yea, to me, Lundqvist is this…
Now that I've said my piece on that, Lundqvist didn't create the All-Star selection system, he was just a beneficiary of it. However, you gotta admit, when you're inundated with thousands of "DID YOU SEE LUNDQVIST'S HAIR?" or "DID YOU SEE WHAT LUNDQVIST WAS WEARING?" articles, which were all penned by allegedly grown men this weekend, it just strengthens my theory of that this is a popularity contest more than a game where players are selected because of merit. Seriously, Kreider was robbed.
And lastly on this, let me share a picture with you which hangs on my wall to this very day:
You know what's funny about this picture of the "Core Four of 94" All-Star Rangers? Not once do I remember reading or hearing about their hair or clothes. It was all about what they did on the ice. I guess I'm the proverbial old-man-on-the-lawn here, and wishing that All-Stars were truly All-Stars. Perish the thought!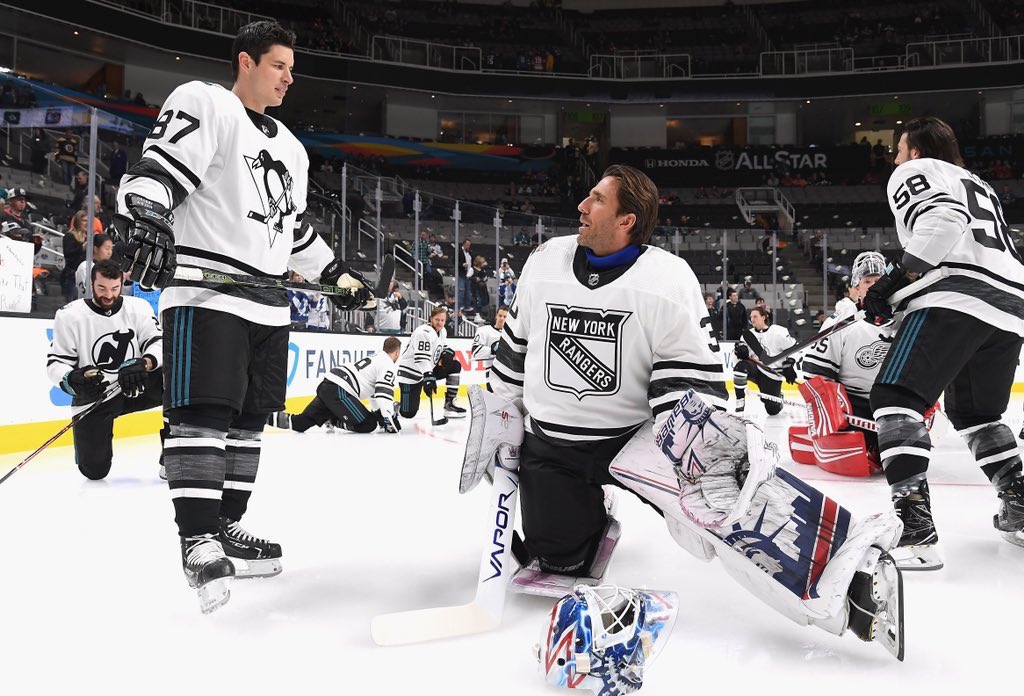 When it comes to goaltending, Henrik Lundqvist owned the goalies skills competition, making 12 consecutive saves to set the "save streak" bar. Yes, I could rile up the Hank cult a bit and say that half of the shot attempts went wide and that guys were going at 50%, but that also applied for every goalie that participated.
What I do want to say here, and stay with me here – HOW DOES LUNDQVIST MAKE 12 STRAIGHT SAVES AGAINST ALL-STAR PLAYERS BUT COULDN'T MAKE ONE SAVE IN THE THIRD PERIOD AGAINST THE ISLANDERS?
Okay, that's out of my system now.
Of course, me being me, the most vocal member of the "TRADE LUNDQVIST" movement, my social media feed was blown up by Ranger fans pounding their chest violently, as if they were King Kong on steroids and sprouting a 100 foot dick. Eh, it's a role I embrace, and I can't say that I blame these fans, which also include my good buddy, and former NYPD officer, Michael Broderick!
That said, it's amazing how these same people that were blowing up my social media pages about this latest Lundqvist feat, were also the same people who told me that this competition didn't matter in previous years, when you know, Lundqvist lost in it. Funny how winning a silly competition makes people do a 180! KING!
I know this is coming from me, so some of you may blow this off, but did anyone else feel because of the camera work and all the extra face-time that he received, that the NHL kind of treated this weekend as if it was Lundqvist's swan song? Again, I know it's me, but even in the goalie competition, I felt guys weren't going as hard at Lundqvist as they did with the other (and younger) goalies. Lundqvist was the oldest player in the ASG, and I just felt that the other All-Stars were paying their respect to an old lion on his way out. Maybe I'm looking too deep here.
That said, Lundqvist represented the Rangers well and he was the most dominant goalie of the whole weekend. He set the tone for that in this skills competition. I truly felt he was the only goalie taking it seriously, as the other goalies were laughing a bit (most noticeably, Marc-Andre Fleury) while Lundqvist approached each shooter with a fierce intensity. And no, I'm not knocking him for that. That's what makes great players great – they never take a minute off.
Lundqvist was all smiles after he won this competition, but even with this victory over his peers (and peers that were younger and fresher) the best was yet to come.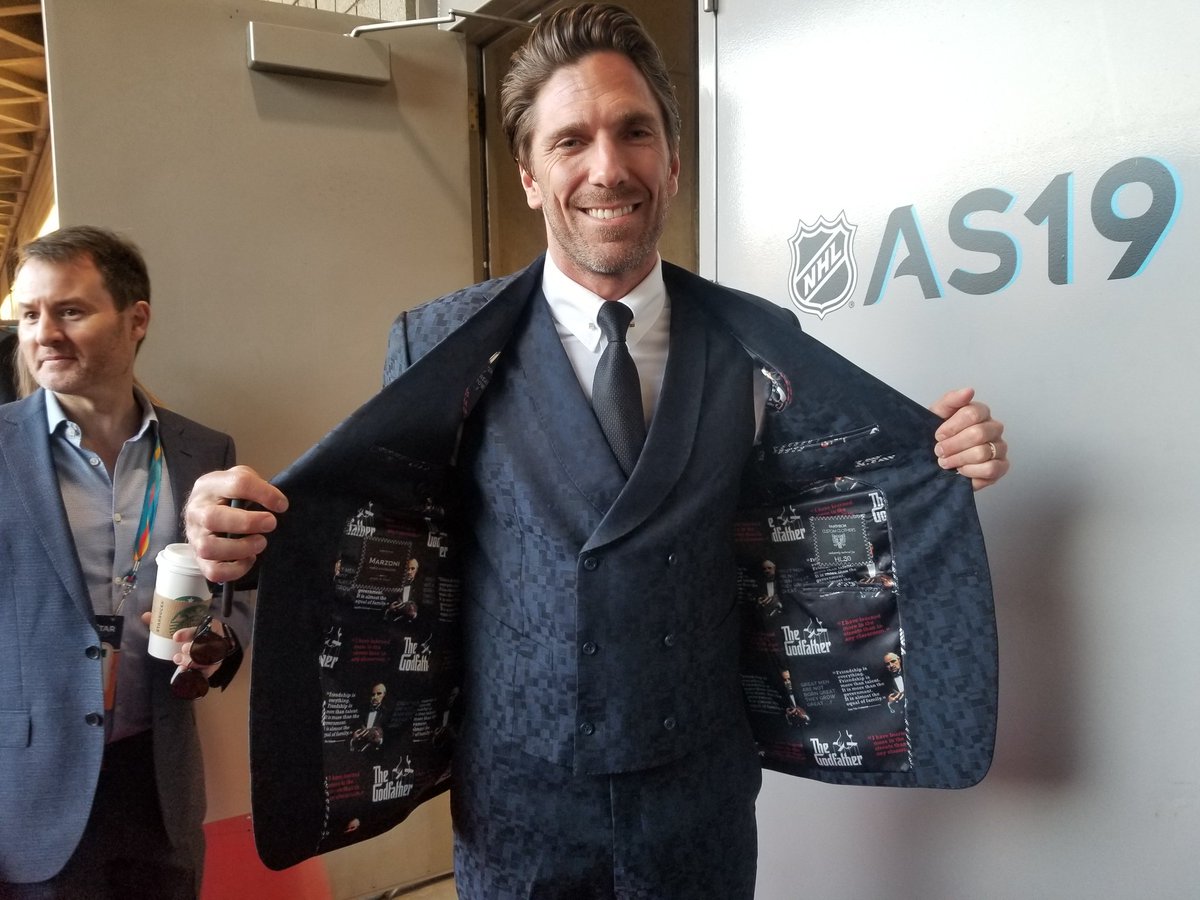 The All-Star game was a complete train wreck to me. The day before, during the skills competition, there was much debate about Kendall Coyne Schofield's inclusion. Schofield, who is NOT an NHL player, but won gold while playing for the US Women's team, participated in the fastest skater competition.
To me, I really don't give a shit. That said, if the NHL is going to bend over backwards to make sure another John Scott thing never happens again, I find it ironic that the NHL wanted to appease snowflake America by adding a non-NHL player, who just happens to be a woman, to their weekend.
IN MY OPINION, (I always feel that I need to stress that I'm opining in these blogs, as some people try to make it out that I claim all my opinions are facts) adding Schofield was a move straight from the political correctness department. I don't mind it, but let's call a spade a spade here. To imply that she's "breaking barriers", as some claimed, that's a load of horse shit. This isn't Jackie Robinson. This is a woman who is a good skater and took part of a fan-friendly competition. Nothing more, nothing less.
What would've made sense, IN MY OPINION, is if the NHL actually worked with one of the professional women hockey leagues, in either America or Canada. And yes, IN MY OPINION, the top women's league in Canada should merge with the top women's league in America. They also need to find their Ronda Rousey or Serena Williams too, because you need STAR POWER to be successful.
If the NHL had a working agreement or a big-brother deal with a women's league, like the NBA has with the WNBA, adding Schofield would make complete sense. It would be cross pollination. It's branding. It's developing your product.
Again, IN MY OPINION, this just came off as the NHL saying, "We know about women's hockey, but we aren't going to invest in it either. However, please pat our backs for being WOKE!" Seriously, I'm surprised the NHL didn't seek out a transgender African-American to showcase during this weekend!
And let me be clear before you misinterpret my words – I have no problem with the inclusion of women or anyone else. I just think if the NHL is going to do that, they should have some official affiliation with whatever they are trying to promote. They got the money. Why not help/develop a women's league? And yes, the same applies in regards to pride night. Why not help/develop a gay league too? If Hockey is For Everyone and if the NHL wants to grow the game, why not help out across the world? Helping one player on one night, then forgetting about it, what purpose does that serve?
Schofield would look commendable in this skills competition and would actually out-skate several of the men. What does that mean? Nothing. It's just a PC talking point. I don't take anything away from Schofield here. The only thing that I thought when watching this was – "When will the NHL work with the professional women's leagues?"
To me, the only offensive female of the entire weekend was Lauren Jauregui. Lauren Jauregui sang the US Anthem before the game and tried to make the song her own. Do that on your own time. As someone who loves the anthems, both the Canadian and the American anthems, Jauregui made Roseanne Barr's rendition look commendable.
In case you missed it, you can form your own opinion by watching her performance below:
Maybe this is me being old-school a bit here, but sing the song in the key that it was meant to be sung in. And to be fair, I hate the Jimi Hendrix version too. I rather hear the Oiler fan acapella version than this. And if you missed the Oiler fan rendition from a few years back, check out this:
20,000 Canadians singing the US National Anthem. It still brings a tear to my eye.
Moving forward here, the first game between the Pacific and Central divisions was absolutely terrible. The second John Gibson, of the Ducks, saw that there was no defense being played, he gave up. For an excruciating and elongating twenty minutes, we had to wait until the Central were deemed the winners. This also took out the wind out of the crowd, as their hometown players (Pavelski/Karlsson/Burns) were eliminated in the first 20 minutes of this tournament.
The Atlantic vs Metro game was more competitive and in fact, the two teams did hold each other accountable by playing what felt like a late 1990's Devils defense, in comparison to the defense we saw in the Central vs Pacific game.
The funniest thing about the second game, at least in my eyes, was predicting that Lundqvist would blow a two goal lead. He did. You know what else he did? He would be the winning goalie, on record, in both of the Metro's victories. See, the reverse jinx works!
I've always said on these blogs that Lundqvist is motivated more by money than anything else. With a piece of a $1M payout on the line, as opposed to the guaranteed millions he earns, Lundqvist was remarkable when the Metropolitan division easily handled the Central division in the final game of the All-Star tournament.
Granted, the Metro offense was powerful, giving Lundqvist a 5-0 lead, but when called upon, Lundqvist did his job. Lundqvist was all smiles in the second half of the game, when Holtby came in. For the first time in a long time, Lundqvist looked to be actually enjoying his job. It made me wonder, when playing behind the Metro division, which was led by an MVP performance by Sidney Crosby and an extraordinary performance by Kris Letang, did Lundqvist, at any time this weekend, reconsider his commitment to NY?
Let me be clear –  I KNOW I KNOW I KNOW! Lundqvist has a NMC and doesn't seem to want to waive it. That said, tell me how this potential trade doesn't work for every party involved:
The Rangers trade Henrik Lundqvist and assume 50% of his salary for the remainder of the 2018-2019 season to the Pittsburgh Penguins, in exchange for Derrick Brassard.
If a trade like this was made, it truly benefits everyone and would also work from a salary cap perspective. Let me break it down.
For Henrik Lundqvist – he goes to a Cup contender and could split starts with Matt Murray, who was at his best when another future HOFer, in MAF, was challenging him. This is Lundqvist's chance to "Ray Bourque" it and finally add a Cup to his resume.
For the Pittsburgh Penguins – this gives them a goalie who proved he can still win games when playing behind a great team. This is goalie insurance for a team that hopes to win 16 games in the Spring. (And as I said at the beginning of the season, the Penguins are who I predicted to win the Stanley Cup this season.)
For the New York Rangers – they get out of Lundqvist's contract and now have $8.5M available for free agency. With the money they've already saved, that's Panarin AND Karlsson, plus another role player.
For Derrick Brassard – it's a short reunion with New York, as he will be an unrestricted free agent at the end of the season. I guess he's the only "loser" here, but Pittsburgh is going to trade him anyway, and it's not going to be to a contender.
Before continuing on Lundqvist, I wanted to mention the new NHL on NBC broadcast:
Sidney Crosby, ladies & gents.#NHLAllStar | #HiTechHockey pic.twitter.com/H1y99YG5E5

— NHL on NBC (@NHLonNBCSports) January 27, 2019
In what felt like something ripped out of the "NHL on FOX" era, NBC and the NHL are now experimenting with new graphics and technology. As alluded to above – LESS IS MORE.
During portions of the broadcast, and I know I'm sounding as cantankerous as Phil Mushnick here, the broadcast was littered with inane graphics. My television screen was cluttered and looked like something out of an episode of "Hoarders".
NBC experimented with a "comet trail" on the puck, which looked like a shit smear every time they did it. They would then also show graphics of every player on the ice. Half the time, these graphics hid the puck and just made things more confusing than they needed to be. Then, if that wasn't enough, we were alerted to the speed of the puck. Do I really give a fuck if someone passes a puck at 38 MPH?
All of these changes are directly because of millennials and the new chart/analytics fan of hockey. I can see who's on the ice. I don't need these big graphics to tell me. I don't need a trail on the puck, as if it was a tail on a rat. However, with younger people replacing the old guard in TV production, people are getting away from the eye test and going with protractors and T-Squares.
Let me state here, I know that anything new, meaning change, is always opposed to right away. People don't like new. However, you don't need to fix what's not broken either. As television changes (will we even have cable in 10 years, or will we be subjected to a television full of apps?) people will try to alter how we consume sports. I get that. However, these changes make the broadcast harder to watch. I felt like I was reading "War & Peace" and found myself getting distracted from what was actually going on. I don't need that shit, especially if the NHL is going to start doing this during playoff games.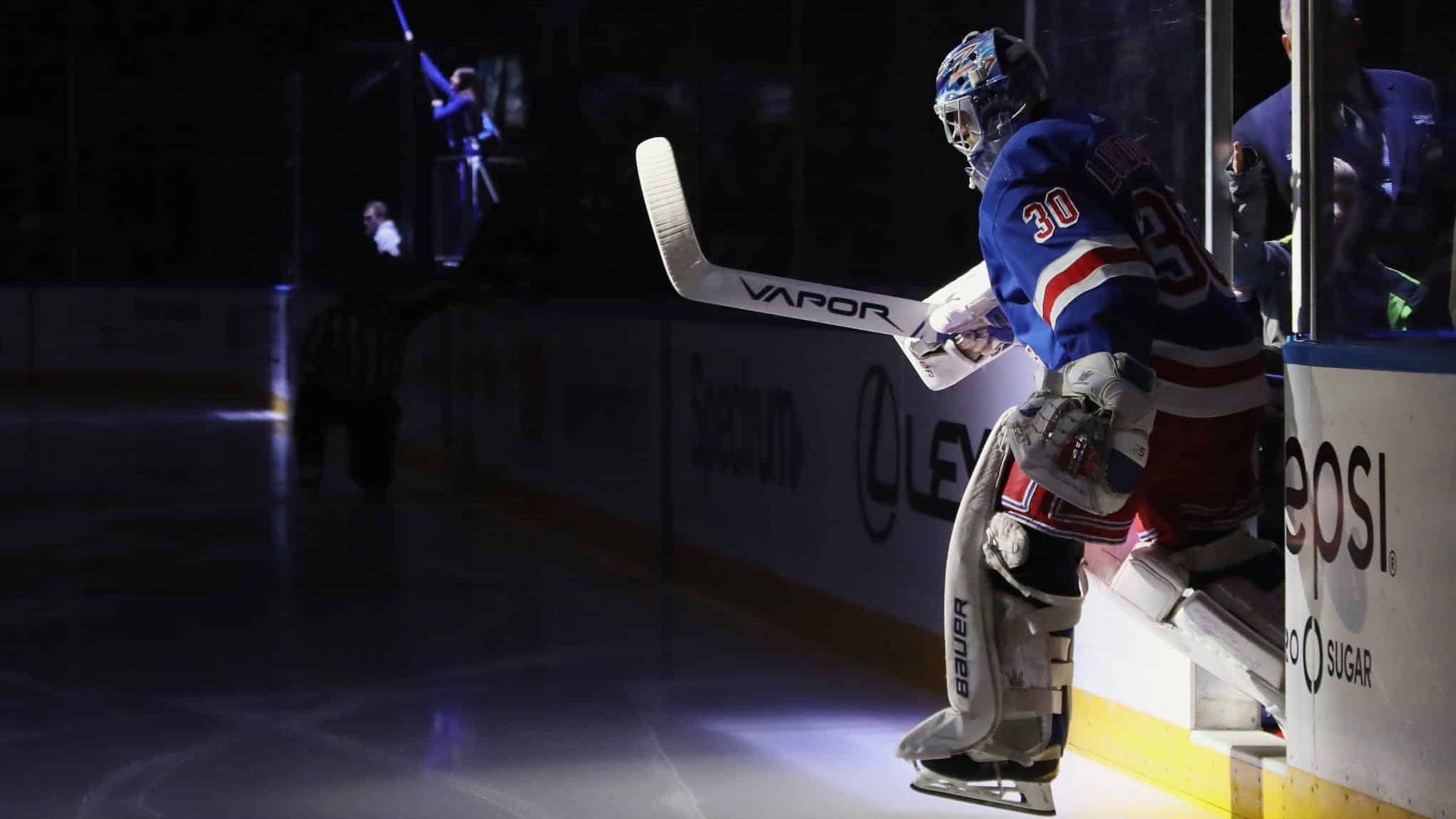 Moving ahead, is there any All-Star that doesn't want this weekend to end more than Henrik Lundqvist?
As Lundqvist sits on a plane back to New York, he just finished having the greatest weekend of his season. Now, it's back to reality. While the Rangers are on a three game winning streak and do a host a shitty Philly team in their return game on Tuesday, the next three months won't be easy. Lundqvist will most likely lose his only friend on the team in Mats Zuccarello and will be subjected to his normal defense. There's also a good probability that the Rangers don't make the playoffs and Lundqvist isn't getting any younger.
In the past, I've compared Lundqvist to ex-Ranger goalie Gump Worsley. While Worsley had way worse defenses than Lundqvist ever had (keep in mind, Lundqvist did have a good defense for several years and did make 3 ECF's) Worsley knew when it was time to leave. He saw what happened to his predecessor, in Chuck Rayner.
When put into a good situation in Montreal, Worsley would win 2 Vezinas and 4 Stanley Cups. If anything, this All-Star Game could've been a wake-up call for Lundqvist. Time is running out. It's not going to happen for him in New York. It's still not too late to try to chase a Cup elsewhere and put that cherry on top of a future HOF career.
Put it this way, deep down, does Lundqvist want this 2018-2019 season to be highlighted by a weekend in San Jose? Or does he desire more?
See you Tuesday after the game with Philly.
Until then, thanks for reading and as always…
"LET'S GO RANGERS!"
Sean McCaffrey
BULLSMC@aol.com
@NYCTHEMIC on tweeter