Greetings and salutations everyone and welcome to another blog here on BlueCollarBlueShirts.com. In today's blog, I will be looking at the new "Before 94: The Story of the 1978-1979 New York Rangers" book and then get into all the latest news before the 2018-2019 New York Rangers resume their season on Tuesday.
In case you took a break from the Rangers, just like the Rangers themselves had, I posted two blogs during the Rangers bye week. You can find those two blogs, as well as my most recent blogs, below:
---
---
---
---
---
While much is being made of the upcoming 25 year anniversary of the 1994 Stanley Cup Champion New York Rangers, 40 years ago, another group of men wearing Rangers blue also competed for the Stanley Cup. While the 1978-1979 Rangers wouldn't break the then 39 year Cupless drought in New York, they were one of the most memorable teams in franchise history.
Oh, and furthermore, if you're into numerology and numbers, ironically enough, 25 years after the 1978-1979 New York Rangers came up three games short of the Stanley Cup, the 2013-2014 Rangers would also have the same fate.
As an avid reader and as a fan of history, when I first heard about the release of "Before 94", I was excited to pick up a copy. While it is my belief that many younger fans and the franchise themselves ignore the history of the Rangers (don't get me started on one of my Frank Boucher rants) many of the players on the 1978-1979 Rangers team are names that younger fans should at least know of. I'm sure even newer fans of the New York Rangers have heard of men such as Phil Esposito, John Davidson, Dave Maloney, Ron Grescher and Ron Duguay, all players who were staples of the late 1970's/early 1980's New York Rangers.
When you read this book review, please consider who I am, your source of this review. I'm someone who reads a lot, knows the team's history, seeks out the unheard of stories & tales of the team and when reading a book, I find myself comparing the book I'm currently reading to previous books that I've read.  I'm also very fanatical about the team and the great players who have played for this team. In fact, I think I'm the only fan to have visited Frank Boucher's grave: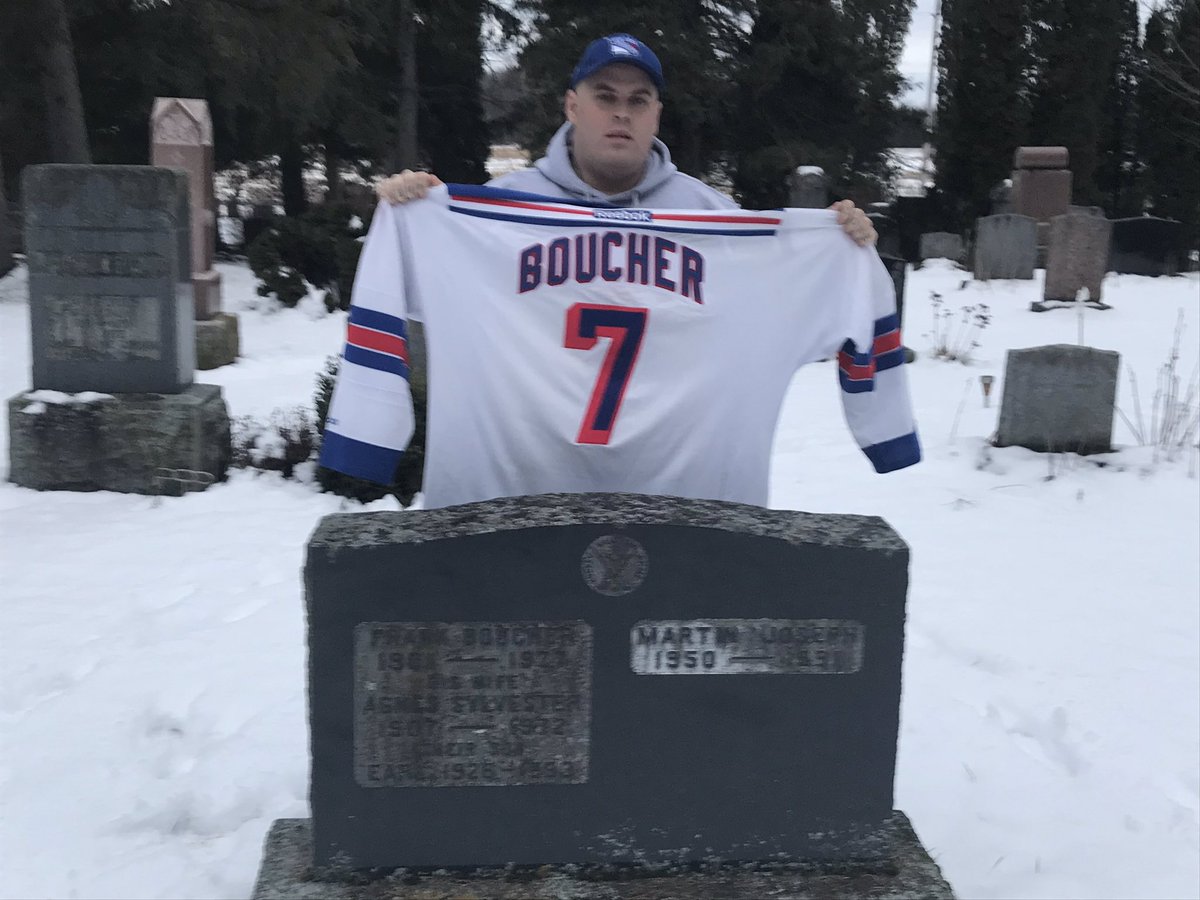 Off puck drop, I thought "Before 94" was a good read. However, I did leave the book feeling disappointed, but that is because of who I am and what I know. I know that sounds conceited a bit, so let me explain to you where I'm coming from.
As someone who reads a ton of books, "Before 94" just doesn't compare to the other great hockey books I've read. I've read great hockey biographies and autobiographies. However, "Before 94" isn't a book about one player, so comparing "Before 94" to say the Sawchuck biography or the Curtis Joseph autobiography that I've reviewed on this site isn't fair. It's apples and oranges.
I really went into this book thinking "Thin Ice: The Prequel". I had lofty expectations for "Before 94" but that is because I'm someone who also reads "Thin Ice" 2-3 times a year. (If you're not familiar with "Thin Ice", that book covers the 1979-1980 season in an explosive, no-stones-left-unturned type of fashion.)
Obviously, different authors have different styles, so it was my mistake for thinking that authors Mark Rosenman & Howie Karpin would emulate Larry Sloman's bluntness and rawness. That is why I think other readers will enjoy "Before 94" much more than I did, because I pumped myself up and expected something different.
Again, I want to be clear what I'm saying here is MY OPINION and based on my experiences, but I found "Before 94" to be lacking in substance, especially when compared to other hockey books. Again, for someone else, this book will be a homerun and I'm not trying to discredit this book at all.
What I found disappointing was the lack of the behind-the-scenes stories. And yes, once again, that's partly because I was expecting another "Thin Ice" and partly because that's what I've seen in other books of this nature, most notably and most recently, in the "WE WANT FISHTICKS" book that I also reviewed on this site. (By the way, all book reviews can be found here: http://doinow.com/book-reviews/)
The bulk and majority of "Before 94" recaps the 1978-1979 season via box scores. It's something that anyone could've got off a Google or Wikipedia search. While there were quotes sprinkled in from time-to-time, I felt the authors failed to bring the characters and personalities to life. Again, I'm stuck on "Thin Ice".
This book was also funny to me, because it seems like it was written by hardcore fans for hardcore fans. So while I knew the importance and significance of the topics, players and games discussed, for newer fans, the authors don't really set the table for you, so to speak. You really kind of have to either know your stuff here or have lived through it.
Once again, I want to stress that your source of this review is me, someone who writes lengthy manifestos on any given night. For a book like this, while discussing the 1979 Cup run, I thought the authors could've done a better job explaining all the frustrations in franchise history and what led to this moment. In other words, the authors, in my opinion, should've "sold" their story better. The way the book gets into the topic at hand is by spending two pages on the firing of Ferguson, and then it's off to the races.
While Rod Gilbert leaving the Rangers was brought up, there was no back-story about "THE TRADE". How do you write a book on the 1978-1979 Rangers and not bring up how Espo came to New York? Furthermore, how do you omit talking about how the Emile Francis era didn't produce a winner and how the Rangers were rebuilding after moving on from guys like Giacomin, Ratelle, Park, Hadfield, Villemure, etc? That's what made the 1979 team so special in the first place, it was a new era.
This book is also extremely short, clocking in at 168 pages, 168 pages which are all double-spaced and primarily full of box scores. If you had crave case at "White Castle", you could finish the book in one sitting while on the throne.
I know the common tone of this blog is me reiterating that THIS IS ME, THESE ARE MY OPINIONS and I'm talking about MY PERSONAL KNOWLEDGE, but I felt that I could've wrote a blog that was longer than this book. The only difference between one of these blogs and this book is that I haven't interviewed every player on that team.
Seriously, this book was so lacking in substance, that from a hardcore fan's point-of-view, I wonder if the book was rushed to get it out just in time for the 40th Anniversary of this team? And yes, Thin Ice, Thin Ice, Thin Ice, but "Thin Ice" is out there. There were so many stories in that book about these players and this team, that it just felt like there was so much stuff left out in "Before 94". While there was one good Esposito story in this book, I know of 679697696 other stories that were not talked about. And yes, while this isn't a book 100% about Esposito, to not dig deeper into his role & his quotes about the team, well to me, that made the book feel as if it were incomplete.
When I read a book recapping a season, box scores shouldn't be the meat and potatoes of the book. Give me the stories, give me the juice, paint me a picture of what it felt like to be in the arena during any given game.
In fact, the best parts of this book is when the authors took a break from the box scores and got into the stories and quotes from the players themselves. Now that I think about it, after reading Maloney's foreword, this book may have been better if Maloney was the narrator of the entire book.
At this time, I would like to share with you what really stood out in this book to me. The following pictures are all pages from "Before 94" and are the property of Mark Rosenman and Howie Karpin:
This book covers the Cup run of 1979 & predates "Thin Ice" by one season. #Before94 #NYR pic.twitter.com/f7PSl120ap

— BlueCollarBlueShirts (@NYCTheMiC) January 28, 2019
---
Captain @DaveMaloneyMSG writes the foreword of #Before94 #NYR pic.twitter.com/F6gR6OFhCf

— BlueCollarBlueShirts (@NYCTheMiC) January 28, 2019
---
High praise from Maloney for JD#Before94 #NYR pic.twitter.com/qCDhCHJopJ

— BlueCollarBlueShirts (@NYCTheMiC) January 28, 2019
---
At times #Before94 #NYR comes off like a long Wiki article and has just as many typos & grammar errors too. pic.twitter.com/OZBWCplorJ

— BlueCollarBlueShirts (@NYCTheMiC) January 28, 2019
---
The Rangers today treat Lundqvist better than they treated @rodgilbert7 . That said, Frank Boucher's 7 belongs in the rafters of MSG! #Before94 #NYR pic.twitter.com/Jlc6X6Whns

— BlueCollarBlueShirts (@NYCTheMiC) January 28, 2019
---
There's a story about a couple having a baby at MSG. Nice human interest story but doesn't add much to the story being told. #Before94 #NYR pic.twitter.com/lDo9xBjYfo

— BlueCollarBlueShirts (@NYCTheMiC) January 28, 2019
---
I know the stories about how Canadian players felt about Swedes. Idk if everyone else knows them too tho.#Before94 #NYR pic.twitter.com/SG2LPNNkXG

— BlueCollarBlueShirts (@NYCTheMiC) January 28, 2019
---
I thought Shero got the Fog nickname because he was an alcoholic #Before94 #NYR pic.twitter.com/1zYPO77ps0

— BlueCollarBlueShirts (@NYCTheMiC) January 28, 2019
---
One of the highlights of this book – interviews with Don Murdoch#Before94 #NYR pic.twitter.com/pDARKMjhxv

— BlueCollarBlueShirts (@NYCTheMiC) January 28, 2019
---
Season breakdown#Before94 #NYR pic.twitter.com/bSFzBa7s1g

— BlueCollarBlueShirts (@NYCTheMiC) January 28, 2019
---
Espo and Talafous #Before94 #NYR pic.twitter.com/BStqnz2FJg

— BlueCollarBlueShirts (@NYCTheMiC) January 28, 2019
---
The Rockies would become the Devils. Here's @RonDuguay10 who is covered in #Before94 #NYR pic.twitter.com/xpULcEEmp9

— BlueCollarBlueShirts (@NYCTheMiC) January 28, 2019
---
Don Maloney joins the mix #Before94 #NYR pic.twitter.com/G7HFbdT16h

— BlueCollarBlueShirts (@NYCTheMiC) January 28, 2019
---
I wish the Potvin Sucks chant would die #Before94 #NYR pic.twitter.com/pvC1E9QNZS

— BlueCollarBlueShirts (@NYCTheMiC) January 28, 2019
---
40 years ago #Before94 #NYR pic.twitter.com/u1yewAzp0d

— BlueCollarBlueShirts (@NYCTheMiC) January 28, 2019
---
After 100 pages of box scores and quotes, we get to the playoffs #Before94 #NYR pic.twitter.com/1HzrujhqD5

— BlueCollarBlueShirts (@NYCTheMiC) January 28, 2019
---
Phuck Philly #Before94 #NYR pic.twitter.com/S8A1Fv2uaf

— BlueCollarBlueShirts (@NYCTheMiC) January 28, 2019
---
Before Marchand, there was Linseman#Before94 #NYR pic.twitter.com/JkOalG0LLE

— BlueCollarBlueShirts (@NYCTheMiC) January 28, 2019
---
The Rangers kicked the shit out of the Flyers in 1979, blowing them out in four different victories #Before94 #NYR pic.twitter.com/lKDV7Yaxae

— BlueCollarBlueShirts (@NYCTheMiC) January 28, 2019
---
After this ECF win over the Isles, it was all down hill afterwards#Before94 #Nyr pic.twitter.com/cPY54bzens

— BlueCollarBlueShirts (@NYCTheMiC) January 28, 2019
---
Wow#Before94 #Nyr pic.twitter.com/YP3JqxyOkj

— BlueCollarBlueShirts (@NYCTheMiC) January 28, 2019
---
See ya Isles #Before94 #Nyr pic.twitter.com/Q0evHt8NKF

— BlueCollarBlueShirts (@NYCTheMiC) January 28, 2019
---
Last win of 79#Before94 #Nyr pic.twitter.com/7x7WT8Vf0q

— BlueCollarBlueShirts (@NYCTheMiC) January 28, 2019
---
Great line#Before94 #Nyr pic.twitter.com/OUWgjRnF7M

— BlueCollarBlueShirts (@NYCTheMiC) January 28, 2019
---
In #Before94 #Nyr @PhilEspo7 claims he wanted the Rangers to stay out of Montreal. @RonDuguay10 agreed with 77 in hindsight. pic.twitter.com/FUaJDY7YYw

— BlueCollarBlueShirts (@NYCTheMiC) January 28, 2019
---
My favorite chapter #Before94 #Nyr pic.twitter.com/Pl0m7bQGMJ

— BlueCollarBlueShirts (@NYCTheMiC) January 28, 2019
---
You don't see much on Big Walt these days #Before94 #Nyr pic.twitter.com/OwW4MZeUSq

— BlueCollarBlueShirts (@NYCTheMiC) January 28, 2019
---
Despite my background and knowledge going into this book, "Before 94" is a fun read and I think others will get more enjoyment out of it than I did. It's well researched, but just when the authors got into something good, instead of expanding, they quickly moved on. There was also a chapter about a couple who had a baby at MSG, which after reading the book, meant nothing to the story at hand and just seemed like a story to beef up what was a thin book.
The two best parts about the book, in my opinion, were at the end of the book. The authors looked at why the Rangers didn't ultimately win the Cup in 1979. When I tweeted that page out on twitter, Ron Duguay responded:
Hard for me to admit, but I did go out in celebrate that first win ,I also believe the Montreal Canadians set me up with having women follow me after the game knowing my weakness 👠👠🤷🏼‍♂️ https://t.co/1QiOHUbIBA

— Ron Duguay (@RonDuguay10) January 28, 2019
This Ron Duguay quote is something that should've been in the book! Instead, the authors quickly talked about Espo's quote and that was that. Again, knowing what I know, what the authors could've done was brought up how Espo hated coming to New York, thought New York didn't create a winning environment and through the player interviews they did, ask the other Rangers if they agreed with Esposito.
One part of the book that was absolutely flawless to me was the "Where Are They Now?" chapter. There are two guys in Rangers history that were the complete opposite, yet both have provided lasting memories for Ranger fans. Those players are Big Walt Tkaczuk & Don "Murder" Murdoch. Oh, and see how I used those two nicknames? Neither nickname was used in the book. This just illustrates my point that a lot was left out and why I felt the book was incomplete.
In "Before 94", the authors actually got Tkaczuk and Murdoch to do an interview for the book. Tkaczuk is happily retired and living his life away from the public eye. It's a shame the Rangers ignore their history. As mentioned in my "New York Rangers Rink of Honor" blog, Tkaczuk should have a plaque at MSG.
Murdoch was the more impressive "get" to me, as you rarely hear anything about him in the present day. It's nice to see that Murdoch turned his life around, but again, here's a great human interest story and the authors didn't dive more into Murdoch and his past. I would love a full length interview with Murdoch and to hear if he felt like he wasted the prime years of his life. I'd also like to hear how he turned it around.
In conclusion on "Before 94", I know this review comes off as negative a bit, but that's because I had high expectations and was hoping for a real full length book on this season. I wanted a deeper look at the team, who were friends, who didn't get along, the rivalries, what made the guys tick, etc.
I think for other fans, especially newer ones, you will have a deeper appreciation for this book. Older fans will also like this book, as it's a walk down memory lane. However, and I know many of you have based on the feedback that I received at the time, if you read "Thin Ice", this "Before 94" book will come off as a blog that's shorter than this review!
I do want to make it clear that I enjoyed this book and would recommend it to any Ranger fan, but I feel the whole story still hasn't been told.
I paid $11.99 for this book. You can pick up this book on Amazon by visiting: https://www.amazon.com/Before-94-Story-1978-79-Rangers/dp/0692189289/ref=sr_1_1?s=books&ie=UTF8&qid=1548695526&sr=1-1&keywords=before+94. Last I checked, it was up to $12.28, so get it now before the price goes up even more! Also, if you're a kindle person (I am not, I need the book in my hands and I like flipping through pages) you can get a kindle version for $9.99.
All in all, you can read this book in an hour, but for hardcore fans, you will be left with wanting more.
And now, let's return back to the 2018-2019 Rangers…
---
Let me tell you something – wait an hour after eating before googling "Nasty Feet". This was the least offensive and least grotesque picture that I found. And why am I talking about feet anyway? That's because the Rangers tweeted out the following on Monday morning: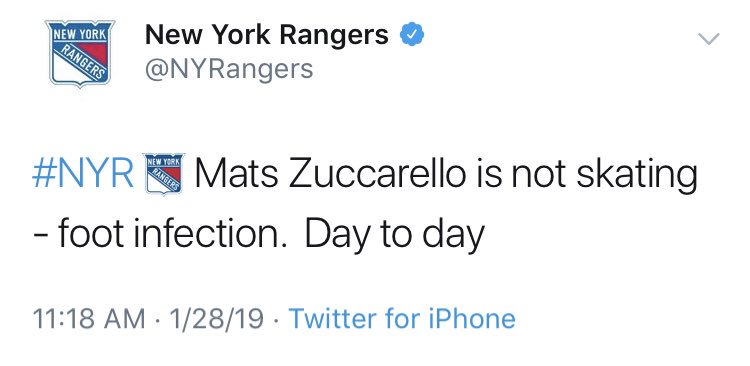 As friend of the blog Ricky Otazu said, when it comes to foot infections in regards to hockey players, it's common because of blisters, skating without socks, dirty locker room floors, stanky shower floors, etc. However, Zucc got this infection during the Rangers bye week, which tells me either he was walking upon the aids-infested needles that litter the front of Madison Square Garden, or he was toe-deep in some shit-sand at some far away beach.
Due to his fucked up feet, Zucc will now miss the Rangers return game on Tuesday against the Flyers. It's a shame too, as Zucc has really turned it on as of late. That Rangers first line of 20/93/36 has been on fire. Let's hope Zucc gets Dr. Scholls, Tinactin and some Gojo on his hoofs and is 100% for Thursday with the Devils.
I might be looking too much into it, but I wonder how much of this falls on Zuccarello for being irresponsible? How the fuck do you get a foot fungus during the bye week? Maybe Zucc was at the AVN Awards on Saturday!
Moving along.

On Sunday, the first day back at practice, the Rangers brought back Nieves & Georgiev, who were both getting playing time during the bye week in Hartford. Hartford wasn't too kind for Georgiev, because if you thought the Rangers defense was bad, you should check out the Wolfpack. The Wolfpack are currently in last place in the entire AHL Eastern Conference and are the third worst team in the AHL overall. What the hell is Chris Drury doing there anyway?
Larry Brooks is reporting that Georgiev will start tomorrow night against Philly, which makes all the sense in the world. Philly is a last place team, so that's a team Georgiev should play. Furthermore, Lundqvist is just getting back to New York after his two days of light work in San Jose.
In fact – if Georgiev plays well against the Flyers on Tuesday, I would let Georgiev play the crappy Devils on Thursday too. That should give Lundqvist all the rest needed for a Saturday night prime time game with the Tampa Bay Lightning.
In other news, Ryan Lindgren wasn't called back up, which doesn't make a lick of sense to me. Forget that the Rangers are 3-0 with Lindgren this season. When Lindgren was first called up, David Quinn said that Lindgren could keep the job based on merit. So I ask you, what did Lindgren do to not deserve to be called back up?
The reason for the hold-up on Lindgren is because Neal Pionk, who missed the last three games, should be ready to go on Tuesday. That said, this does look like David Quinn is going back on his word a bit. And really, I'm not trying to make a mountain out of a molehill here, but if you're Lindgren, you were told the spot was yours to earn and now a week later, you're being told the complete opposite.
As the season continues, the Kevin Hayes saga continues. I feel like I've said this a billion times on this blog, so I'll just share my latest tweet about this never-ending Hayes story:
Simply put- there is no right answer on Kevin Hayes. You don't know what's gonna happen. Is this the peak or no? Either way, this moment in Hayes career will be discussed for the next several years and #NYR usually is on the wrong end of these things lol

— BlueCollarBlueShirts (@NYCTheMiC) January 28, 2019
As the trade deadline approaches, the longer Hayes is here, the more you will see these "THE RANGERS MUST KEEP KEVIN HAYES" or "THE RANGERS MUST TRADE KEVIN HAYES" articles. As mentioned a bunch of times, I really don't know what happens here and I don't have a strong opinion one way or the other. It all depends on what the team's mission is.
If it was me, you know what I would do. Force Hank to waive the NMC. Trade off Zucc. Trade Zibanejad before the NMC kicks in. I would keep Kreider. Go hogwild in free agency, whether it be Panarin, Karlsson, both and whoever else is out there. I would do a commie goalie tandem with CZAR IGOR & Georgiev. I would bring over Kravtsov. With big name talent, young kids and a goalie of the future, I would like my shot in the playoffs next season. However, all this is shot to shit because Hank and his contract will never leave.
When it comes to Hayes, if the Rangers think they can compete next season, they may lean on re-signing him. If they think they can't make the playoffs, they will let him go. And for the tank people, the rebuild must take 3-5 years people, all I got to say is look at the playoff turnover from season-to-season. It's not unfathomable to think that this team could be a playoff contender next season.
That's it for me in this special bonus blog. I'll be back tomorrow night with a Rangers/Flyers recap. Until then, thanks for reading and as always…
LET'S GO RANGERS
Sean McCaffrey
BULLSMC@aol.com
@NYCTHEMIC on twitter