Greetings and salutations everyone and welcome to another blog here on BlueCollarBlueShirts.com. Needless to say – the home opener didn't go as I imagined.
Off puck drop here, I'm starting this blog very late following Thursday night's Rangers 3-2 overtime loss to the Dallas Stars. In addition, I attended this game, so I didn't really take any notes like I usually do. Most of this blog will be about the live experience rather than what actually happened on the ice itself. That said, like Adam Fox on Thursday night, I got both ends of this game covered for you.
Instead of doing my normal style of review in the recap section, I'm just going to comment on the game and move on to Saturday night, when the Rangers travel to Montreal. And after seeing that Montreal lost to the Buffalo Sabres (of all teams) on Thursday night, if the Rangers can't get their first win of the season at the "Poutine Palace" – then there will be a lot of grumbling throughout Rangerstown, USA.
I use the phrase "Rangerstown, USA" both in the blog header photo and the sentence above, because without question, it's Adam Fox – and not the fat cats or anyone else, that's driving this team in any sort of positive direction.
We all know about Adam Fox. He's the 2021 Norris Trophy winner. He's emerging as a league-wide superstar. As this season continues, he'll just continue to earn respect throughout the league, as the 24 NHL teams (and their fan bases) who didn't see him last year get a glimpse of him.
When it comes to Adam Fox, the last time I saw him play live was during the 2019-2020 season – his rookie season. I didn't attend any games during the COVID-19 impacted season, as this home opener, which took place on 10/14/21, was the first time I saw the Rangers play a regular season game in-person since February of 2020.
While perhaps comparing Adam Fox to Connor McDavid may be a stretch and an exaggeration; no joke, after seeing Fox play in front of my own two eyes on Thursday night, it reminded me of the first time I saw McDavid play live. Yes, the two players do different things and play different positions too, but when it comes to one player just standing heads-and-shoulders among the rest of his teammates – I've now seen both Fox and McDavid do so.
Perhaps even more impressive? When I first saw McDavid play in his rookie season (and I'm using McDavid as an example here, as he's the most recent superstar I've seen early into his career), I was blown away. Television cameras can only capture so much. It's at the arenas where you get a deeper appreciation for natural-born talent.
As I've always said on this site, if you're truly a hockey fan (and not just a Rangers fan), you should always try to catch the league superstars play live if you have the opportunity to do so. My advice? Watch these players play against the Devils, since ticket prices are cheap as dirt in Newark. You can always see the Oilers at The Pebble for under $50. (And more on ticket prices, in regards to M$G, in just a bit.)
In McDavid's rookie season, he wasn't exactly surrounded with a ton of talent, which is why Edmonton was able to draft him in the first place. When it comes to Adam Fox, he's playing with stars such as Mika Zibanejad, Chris Kreider, Artemi Panarin and others. Despite playing with a talented group, Fox, at least during these past two games (and really, all of last season too), is on a whole different level. I'll even go as far to say that Fox does what he does better than what Panarin does. And that's a bold statement, yet my truthful opinion.
For as good as both Mika Zibanejad and Artemi Panarin can be when they are at their best; the fact of the matter is that they have stinker games/performances too, where they don't even play a factor in some games.
As noted in last night's blog, the two superstars combined for zero shots on goal during the first game of the season in Washington. During the home opener against Dallas, the two fared a little better, picking up an assist each. However, once again, the two were held scoreless on the Rangers power-play, a power-play that finished 0-4 overall.
Adam Fox, now in Year Three of his career, hasn't had a stinker yet. The Rangers, whether it's Gerard Gallant now, or David Quinn previously – neither coach has relied on any other player like they have done so with Adam Fox.
Not only does Adam Fox play in all three zones and is part of the team's top special team units (PP1 and PK1), he also logs the most amount of minutes per-game among all Rangers. (Fox averaged the most minutes played last season for the Rangers, which first started after the Tony DeAngelo dismissal. In the home opener, Fox played twenty-five minutes. The Rangers who finished with the second-most and third-most amount of minutes (ironically, Panarin and Zibanejad) played nearly five minutes less than Fox. (Panarin 20:53, Zibanejad 20:45.)
Yes, Fox is still relatively young and there's always that chance of experiencing regression – but has he given any fan any reason to think that he'll fall off anytime soon? At what point does Fox get the same treatment and respect, that other greats that I have witnessed play in my life, such as Wayne Gretzky, Mark Messier, Brian Leetch, Sidney Crosby, Alex Ovechkin, Victor Hedman, Ray Bourque, Connor McDavid and other players of that ilk? The only thing against Fox right now, when compared to other perennial NHL All-Stars and Hall of Famers, is experience/games played. And that will come with due time.
Now I know what some of you must be thinking. If you're screaming "PUMP THE BRAKES" right now, I get it. After all, the Rangers haven't won a game this season yet, although they now have a point in the standings with their 0-1-1 record. However, make no mistake, Adam Fox was the team's best player in this game, as he often is whenever the Rangers play.
After a piss-poor first period out of the team, where they failed to score on the power-play and only mustered up four shots on goal, Fox, who already was making defensive plays in this first frame, energized the team once the second period began. Fox was creating turnovers left-and-right, found his teammates and scored the first Rangers goal of the game. During other shifts of the game, Fox was like a man possessed, as he created multiple scoring opportunities, wouldn't let the Stars clear the puck/get a change, and pretty much went into full-blown superstar mode, as if this was a video game.
Unlike other people, no matter who they are; I've been very careful to not make the Brian Leetch comparisons. I know everyone gets excited in the present. Sometimes, the past gets fuzzy, especially for people who didn't see it. In addition, I don't think it's fair to put insane expectations on players, especially young players still finding their way.
I will say, perhaps Fox does go on to have a career like Brian Leetch. However, I think the two, while both great in their own right, were a little different and definitely played under different circumstances. That said, if Fox ever adds a Conn Smythe Trophy and a Stanley Cup to his name – then I'm onboard with the Leetch comparisons.
---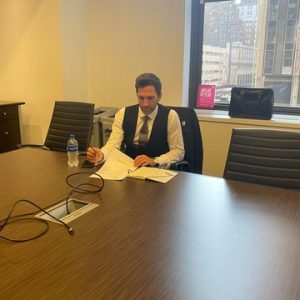 Sticking with theme of positivity here (before I pull a 180), Henrik Lundqvist made his debut on the MSG Networks for the home opener. As of this writing, while I plan to watch the broadcast on my DVR, I've only seen clips from the pregame, but I did watch the entire post-game during my train ride home.
Based on the feedback that I received from you guys and from my Twitter page, Lundqvist's debut was a smashing success. From the little of what I saw, I thought he was good too. He came off like a natural.
It's funny, I never really pictured Lundqvist getting into television, just because he has so much money already. Very rarely do you see tippy-top players as talking heads on TV, only because they have better things to do with their life and with their money. However, that's now starting to change all over the place, whether it's Peyton and Eli Manning doing Monday Night Football, Wayne Gretzky and Shaquille O'Neal on TNT or Mark Messier on ESPN.
In a way, even Michael Jordan, the greatest retired and living athlete of our time, has opened up the door, with his "Last Dance" documentary from last year. This is great for the fans, as we're now starting to hear from the cream of the crop, as these superstars embrace these new gigs.
Additionally, I heard Valiquette wasn't as bad as he was last year, because Lundqvist was there to keep him in line. Again, I didn't see the entire broadcast myself, but I didn't really hear anything about Vally going on-and-on with his made-up war stories or fake news charts.
While I don't think one thing had to do with the other, at least not yet (especially since the Lundqvist announcement was only made yesterday), I haven't seen a lesser attended home-opener ever since MSG went under their latest construction project. (I've attended all of those home openers, except for last season, if you count that season.)
I heard that Sam Rosen said on television that this was a sold-out game. I don't know about that one. While it's true that sometimes people buy tickets and don't show up (especially the suite seats), I checked Ticketmaster at 6:59PM, one minute before Ticketmaster stops selling tickets, and there were plenty of seats available.
For your own two eyes, here are some pictures of the crowd. Of note, look at all the unclaimed Rod Gilbert T-Shirts on the seats. (I'll get more into Gilbert shortly.) Here are the pix: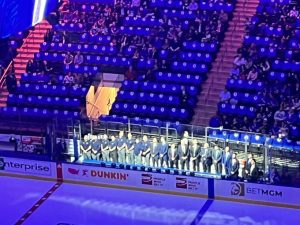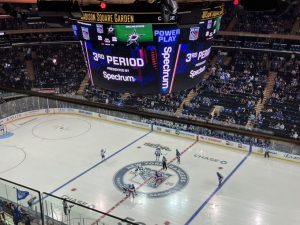 For what it's worth, while Sam Rosen towed the company line and said that the game was sold out, the NHL reported an attendance of 17,173 – which is 95% of M$G's capacity. Previous home-openers have been sell-outs with a 100% capacity.
There are many things you can look at when trying to explain why this game wasn't sold out. Those reasons, and in no order, are:
— Fans must be vaccinated. No matter what your opinion is on vaccinations, the fact is if you're not vaccinated then you can't attend – unless you pull an Evander Kane and bust out a phony vaccination card. Whatever the case, this just limits the pool of fans that can legally attend.
— NYC is a dump and is in its worst state since the days of Mayor Dinkin. In my adult life, Manhattan has never been more of a homeless and drug infested warzone. With Penn Station also under construction, the place looks like something out of "The Walking Dead", where instead of zombies making gurgling noises, you have people saying, "got change?" Many people don't want to deal with that.
— Many people, especially the corporate/Wall Street people, are working from home. They aren't attending these games like they normally would since they aren't in NYC. This has hurt the NYC economy big-time, from the hot-dog street vendor, the magazine vendors, the breakfast spots and everything else that relies on working people, white collar or blue collar, for an income.
— Ticket prices remain sky-high, which hurts fans more so than ever before, especially for fans struggling to make ends meet after incurring lost wages during the pandemic. As has been the case for a while, many hardcore fans are priced out and this don't help.
Lastly, and most importantly, hockey was always the one sport where the live experience blew away the television experience. Now, I'm not so sure if that's true anymore, especially for the younger fan base, who don't have much of a disposable income and who grew up with Henrik Lundqvist.
As we learned during the pandemic, these broadcasts, no matter what the sport, are getting better and better. Why pay insane money, deal with the harassment of travel, wait in thirty minute bathroom lines, and above all else – pay $18 for a flat tap beer like I did on Thursday night? Really M$G, first game of the season and you're using the kegs from last year? You slimeball scumbags!
And how about this too:
When I asked an usher about getting the monitor fixed, especially since I buy bridge seats so I can watch the TV broadcast replays too – I was told, "ah that sucks, it's out of our hands."
These same ushers, who pretty much also double-up as the "bathroom gestapo", where they won't allow anyone to use the closest bathroom in the section, since it's a bathroom for media members only (you're not stealing a square of toilet paper from Joe Micheletti while he drops a FABULOUS deuce), didn't even try to make an attempt to rectify this issue, despite other people besides me asking about getting the monitors fixed.
This all goes in line with everything else with the Rangers & MSG and how they treat their fan base – they know they can get away with it, because if you don't go, someone else will. However, this may no longer be true, and I hope that becomes the case. I'd love to see M$G have to work to draw fans for once.
As long as people sell-out M$G, there's no incentive for the Rangers or M$G to fix their issues, even if it's dumb shit like stale beer, where fans can go to the bathroom or having a functioning TV monitor for the fans who pay for it.
With the pandemic teaching us that we weren't really missing out by not attending games, and now with a true Rangers legend on the network, the urge to attend games may not be as strong as it was before.
In fact, after tonight, I could take-or-leave M$G, especially after spending nearly the last two years at home. I enjoy not having to wait in line to squirt. I enjoy my cheap beer. I enjoy having my replays. I enjoy not dodging over drug addicts with needles in their arm. I enjoy not being harassed for loose change. I enjoy not having to wear a mask when traveling to my TV set to watch the game. (You have to wear a mask on the LIRR or else risk getting popped with a $50 fine.)
For me, and if you're a regular reader of this site, you know that I've always enjoyed my road-trips more than going to M$G to see the Rangers play. I've never felt stronger about this than today. If there's anything I missed during the past two years by attending games at MSG, it was not seeing my friends and buddies at the bar before the game. However, I can talk to them on social media or another medium instead.
For my money, I'll be allotting the bulk of my hockey/Rangers fund towards road-games. For the money, I can enjoy Adam Fox play live – and for much less than money for the price of a ducat at M$G. Even better – I can sit just rows off of the ice for this experience on the road.
---
If there was one nice touch about the M$G experience from Thursday night, it's that every fan in attendance received one of these:
And oh, one more thing about the ushers. They watched the empty seats like a 1980s teenager trying to watch scramble-vision porn, as they didn't want anyone touching the unused Rod Gilbert shirts. However, when the ushers were fulfilling their role as bathroom monitors, I snagged an extra one from an empty seat (to be clear, I didn't take anyone else's shirt, I'd never do that), to give to my buddy Jim S. of "The Blueshirt Underground Show".
I wonder what happens with all of the unclaimed Gilbert shirts, as there were hundreds of them untouched around MSG. Perhaps they get donated to clothing drive. More likely, M$G will sell them.
And yes, this is the only type of stuff you can get on this site!
One last thing on these t-shirts, and free t-shirts in general. I know I've talked about this in the past, but if you're male and over the age of 18 years old, and act like a "Price is Right" contestant whenever the T-shirt cannon comes out – you belong in Guantanamo with the grown men who make cardboard signs, signs such as "I LOVE YOU MIKA", "I'LL BAKE YOUR BREAD ANY DAY ARTIE", or "YOU'RE SO FOXY!"
Even worse when it comes to this particular game; every fan got a free t-shirt already, yet I still saw GROWN MEN jumping up-and-down for another free shirt. Worse than that? These men don't even fit into the shirts that were being given away in the first place!
(And before you come at me, there are two exceptions here. Those exceptions are if you're a grown man trying to catch a free t-shirt to give to your kid or if you're a man on a first date, looking to impress someone (male or female, before the PC Police come at me) you want to mate with. Anything else is creepy and pathetic.)
Anyway, the Rangers had Rod Gilbert's family in the house, where Judy Gilbert, Rod's wife, dropped the ceremonial first puck. I thought this was a great touch and very well done.
---
After introducing the 2021-22 New York Rangers and the Rod Gilbert ceremony, we finally had puck drop.
Of note, in my opinion (and this is all subjective based on where you're sitting), in order, Panarin, Mika, Fox, Kakko and Reaves received the biggest reactions from the fans. Again, this is all subjective, but the only player I heard receive some boos was Georgiev.
And I may as well say this now too, (especially after telling you what I heard may not be the same thing someone else heard on the other side of the building), for some reason, a "F— Joe Biden" chant broke out during the second period. I don't know what triggered that at all. Maybe it was out of boredom. Maybe something happened in the news at that time. I really don't know. I do know that (after talking to some of you before writing this blog), this chant wasn't heard on TV.
Before getting into my thoughts from this home opener, here's my recap of game one from the season, as I get this mini-PLUGS segment out of the way:
---
One last note, as expected, CZAR IGOR was in net and Nils Lundkvist made his NHL debut, as Tinordi watched this one as spectator. (Hopefully Tinordi wasn't harassed by any ushers or subjected to skunk beer!)
Unexpected was Sammy Blais being out, after it was announced that he had a"lower-body injury". Ah, that silly and stupid Vitali Kravtsov. Playing for Blais tonight was Julien Gauthier.
---
As noted at the top of this blog, I'm going to breeze through this game, rather than doing my normal style of review.
The first period was pretty much a snore-fest, as the Rangers finished up the stanza with four shots on goal. Not that exciting. It felt like a continuation from the game played 24 hours prior, especially since the fat cats weren't doing anything. And to put a little salt in the wound, with just 34 seconds remaining in the first period, Jacob Peterson scored an unassisted backhanded goal on CZAR IGOR. So not only were the Rangers looking like molasses, they were now down a goal entering the second period.
The start of the second period was just as bad as the first period. However, an early shot off of the post from Kaako woke up the crowd, as this crowd (and yours truly), was looking for any sort of offensive play to cheer for.
After another failed Rangers power-play, their second of the game at this point, there was a battle of wills, featuring Ryan Reaves and Jamie Benn, after Benn hit Hunt. Of note here, I thought the Rangers fourth line played really well tonight, a fact which may get lost as a result of the final score. As I said last night, it might take some time for the bottom six to gel, but they didn't look half-bad, especially whenever they were on the ice with Adam Fox.
During this scrum, Jacob Trouba also got involved. In-person, I thought this was another example of Trouba doing his act of playing tough, only engaging once the referees get there and then that's where Trouba shows up to his safe-space as if it were his OBGYN appointment. However, to be fair, I wanted to watch this play back before making such a statement on this site, and Trouba, to his credit, got there a lot faster than I thought he did so initially.
If I've said it once, I've said it a thousand times – I always feel that Trouba plays better whenever someone pisses him off. He needs someone to pop him to get him going. That, or maybe he should my recent thoughts about his games!
In fact, while Trouba is still an overpaid albatross that will create cap chaos for the Rangers over the next few years (and the Rangers are lucky that Fox will most likely take a discount, because if he didn't, Fox's agent would have a field day when using Trouba's contract and game film in comparison while negotiating), this was his best game of the eight games the Rangers have played thus far (including the preseason.) It was nice to see Trouba lay the body too, as he recorded five hits, second-best to only Chris Kreider (7).
That said, he's still "Trouba the Terrible" to me, and that won't change until he can change the course of a game in a positive manner, puts more than one of his 7678678967867896896789 power-play slapshots on net, makes a teammate better like Fox does, and can play consistently pissed-off. And yes, despite this being Trouba's best game yet, I'm still down on him, as I'll get into at the end of this game.
---
I don't know how many times I have to say it, but once again – "special teams swing games, special teams swing games and special teams swing games".
Yes, Kakko rang a shot off of the post during a Rangers power play, and yes, Stars goaltender Braden Holtby (who later left the game in the third period for "dehydration" reasons, as Anton Khudobin came in to finish this one out), made some good saves too, but the bottom line is the Rangers power-play still has issues like electricity problems in Newark. Even worse, the Rangers penalty kill during this short sample of games hasn't been as good as it was last season. This may be a system issue, but it's costing the Rangers games and points.
All of this is my way of telling you that Radek Faska scored 6:11 into the period, to make the game 2-0 bad guys. Ugh.
Thankfully, two minutes after the Rangers found themselves in a two-goal deficit, Adam Fox scored from downtown, cutting the Stars lead in half. Of note, I thought Kakko may have gotten a piece of this one, as he was in front of Holtby, but I guess not, as Fox was credited with the goal. And really, it was all Fox who made this happen anyway.
Right after this, Dryden Hunt went on a breakaway. No good, and the crowd popped like a balloon. However, the crowd would soon get gassed up again, as Adam Fox just went into video game mode. He was like that "The Who" song, "Pinball Wizard", as he was all over the place (in a good way), and on both ends of the ice. I haven't seen a defenseman move around like this in some time, but I won't do the Leetch comparisons quite yet!
With under five minutes to go in the period, after a play set up by K'Andre Miller, Chris Kreider scored his second goal of the season, which erased the Stars advantage on the scoreboard. 2-2 game. Of note, Kreider is now on pace to score 82 goals this season, which would be a career high! More likely? Fox finishes the season averaging over a point a game.
---
The third period was a back-and-forth scoreless affair, as the Rangers squandered another power-play while Dallas blew some easy chances. Of note, with Khudobin entering the game with 11:50 remaining, he wouldn't allow one goal. That was huge for Dallas and it's really the Rangers fault that they couldn't finish this game in regulation. If they had, I would've got the earlier train home!
I'm telling you, one of these days, Gauthier, after all of his great work to the net, will finish a goalie. Thursday, 10/14/21 wasn't that day though.
You could really feel the anticipation for the potential Rangers game-winning goal, especially when the fans screamed "Shooooooooooooot!" as Reaves had the puck, but like Gauthier (or Trouba, ha!) scoring a goal – it never came.
Aside from the Rangers failing to score, and despite having the opportunity to do so; the most controversial call in this game occurred with a minute and change remaining in regulation, as the Rangers were banged for icing – despite Barclay Goodrow winning a foot-race with some Star whose name is escaping me right now.
With the score still tied at 2-2 after regulation, we went to overtime where Fox/Kreider/Mika started. For whatever reason, Jacob Trouba was the next defensemen sent out there, rather than the more offensive-oriented Nils Lundkvist. However, after the game, head coach Gerard Gallant said that Lundkvist had some nerves. And hell, if you're asking for a rookie defenseman, in his first game nonetheless, to handle this assignment over a veteran making $8M a season – then you have a problem.
98 seconds into the overtime, Heiskanen won the game:
MIRO CALLED GAME! 🚨

Miro Heiskanen gives the @DallasStars the win with his @SUBWAYCanada OT winner! #NHLonSN pic.twitter.com/qr4sBYknz4

— Sportsnet (@Sportsnet) October 15, 2021
Brutal.
As you can see, Panarin got too loose and turned over the puck, Dallas raced up the ice and boom, game over.
To his credit, after the game, Igor Shestyorkin took full responsibility and said he needed to stop that shot. A moral victory perhaps, because as you may know, the goalie in the studio would've used the word "we" in that situation. I'll leave it at that.
The thorn in my ass here was Trouba, who in-person, seemed to give no effort at all during this play, as if he was a teenage kid playing street basketball at some park who didn't want to play defense (ala Kobe), as he glided while reading the back of Heiskanen's jersey.
For you Trouba defenders, and I'm getting some brush-back for my opinions on Trouba lately (and as I've said all along, that's fine, everyone is entitled to their own opinions. Plus, I want Trouba to do well. I'm not rooting against him. I'm just calling it as I see it, and as I see it, during the past two seasons and this preseason, I've seen four different RHD out-play Trouba and for 1/8th the money), I'll give you this – this play looked much worse live than it did on TV. However, there's no way you can tell me that Trouba gave it his all on this play. This looked lazy, right down to the "eh, let me wave my stick at him" useless attempt at the end.
I also want to say here (and I promise I won't do this all season-long, but I want to get this out of my system and then forget it), Tony DeAngelo, exiled by Jacob Trouba and the Rangers last season, had two-points tonight, both of them power-play assists at that, in Carolina's 6-3 drubbing of a Stanley Cup contender, the New York Islanders. Here, against a middle-of-the-pack team in Dallas, Trouba couldn't record a point and seemed to give up on this game-winning goal.
And oh yeah – Tony DeAngelo, while with the Rangers, was one of those defenseman who played the same position as Trouba, and significantly out-played Trouba for 1/8th the money. Yes, it's very early and the two players have different games, but will it shock anyone if DeAngelo, who is still making 1/8th the money as Trouba, does the same this season?
I'm glad I purged that out of my system. Time to move on.
---
See you Saturday night, unless something truly crazy happens tomorrow. I'm on no-sleep and don't even know how I got this blog done tonight! And oh, for those of you following my new gig on Stan Fischler's "Fischler Report", my newest piece on NHL officials came out this week. I have two more pieces that will run shortly, but I have to write them first. Hello Friday night!
---
If you haven't already, subscribe to this blog for the next update:
---
I hope I didn't sound too down tonight, because I do understand this will take a little bit of time before this team starts clicking. However, this was a winnable game and a point in the standings was lost.
Until next time…
Stay FABULOUS my friends.
As always here, thanks for reading and…
LET'S GO RANGERS!
Sean McCaffrey
BULLSMC@aol.com
@NYCTHEMIC on Tweeter