Greetings and salutations everyone and welcome to another blog here on BlueCollarBlueShirts.com. How about them systems and structure!?!?
Off puck drop, and in case you missed it, I covered all of the Rangers' news from the past two off-days here: https://bluecollarblueshirts.com/101823/
If you haven't yet read last night's blog, then I'd urge that you do, as I'll be referencing stuff from that blog tonight.
---
Prior to devouring the latest Rangers' debacle, your daily disclaimer for this 2023-24 season – and where I have read these words ten-times over before even writing tonight's manifesto:
"WHATEVER THE RANGERS DO IN THE REGULAR SEASON DOESN'T MATTER. THEY CAN ONLY BE JUDGED BY WHATEVER THEY DO IN THE 2024 STANLEY CUP PLAYOFFS!"
Do you know what?
This game was so bad that I have to run this disclaimer twice:
"WHATEVER THE RANGERS DO IN THE REGULAR SEASON DOESN'T MATTER. THEY CAN ONLY BE JUDGED BY WHATEVER THEY DO IN THE 2024 STANLEY CUP PLAYOFFS!"
---
Whenever writing one of these GAME REVIEWS, I always give you my usual opening sentence of "Greetings and salutations everyone and welcome to another blog here on BlueCollarBlueShirts.com," and then follow that up with some sort of a snarky quip, where tonight, I used, "How about them systems and structure!?!?"
(I was originally going to use "dem" instead of "them," but I'm not so sure how many people would've understood the "Brooklynese.")
Tonight, I had many passive-aggressive, if not just all-out aggressive, snide remarks, to kick off this GAME REVIEW blog – comments that all raced around my mind like Kenyans at the annual NYC marathon, including, but not limited to, the following:
— Imagine paying $300+ for this shit?
— More and more, that opening night win against Buffalo is looking like an anomaly.
— On "Hispanic Heritage Night," the Rangers decided to pay homage to the Latino community with a sixty-minute siesta.
— "Hispanic Heritage Night?" This should've been the annual "PRIDE NIGHT" game as the Rangers took it up the five-hole all game!
(And yes, you don't have to tell me, there are straight women who like ass-play too – and I guess there are also several men out there who like their prostates massaged too – men who are most likely fans of Sieve Vagistat's Clear Sighted ANALytics!)
— "Hispanic?" More like "HIS PANIC," where the "his" in this equation is Peter Laviolette!
Ugh.
And no – I won't quit my day job in my horrible attempts to become the hockey world's version of Rodney Dangerfield.
"Take my hockey team – won't ya!"
---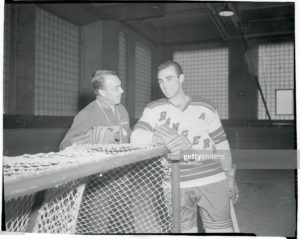 As brought up in recent months on this site, my next book project is tentatively titled "RANGER ICONS: The Fiery Phil Watson Story."
And yep, I know – this book is a niche of a niche project (and did I mention that it is niche yet?) – but it's a story that needs to be told – and where I have the Watson family providing me with never-heard-before stories and exclusive photos.
Why bring up Watson, aside from the shameless self-promotion shilling, and who last coached the Blueshirts during the 1959-60 season?
Simple.
After watching tonight's fiasco, one that was nearly as bad as the way the Rangers treated their season ticket holders on Tuesday night – I was reminded of how Watson once immediately bag-skated his Blueshirts following a loss to the Montreal Canadiens – an incident that took place towards the end of the 1958-59 season.
Not only did both Ranger fans and the media from that era watch Watson punish his team on the ice; but these conditioning drills took place after the Blueshirts had squandered a third period lead to one of the greatest dynasties in all of sports.
Tonight?
The Rangers were down 4-0 in the middle of the second period, and with 26:07 remaining – CZAR IGOR's night was complete.
A fluky and puck-luck 5 x 3 power-play goal scored at the end of this frame by Adam Fox, which was scored in the same exact fashion as the 5 x 3 power-play goal that he scored against the Devils in their preseason match (more on this in the GAME REVIEW), was the only reason why Nashville netminder, Juuse Saros ("OH JOE, GEORGE SOROS JOE!") didn't finish tonight's game with a shutout.
In other words, if there was ever a time for Laviolette to become the second head coach in franchise history to immediately bag-skate his team after a game – then tonight was the night.
And let me be clear and BOLDFACE this for the people in the back:
THERE WERE NO EXCUSES FOR THIS PUTRID PERFORMANCE.
---
Granted, while tonight's defeat doesn't fall on the shoulders of CZAR IGOR; at the same time, a lot of what I've been saying recently played out in this wretched 4-1 loss.
And for those unaware, yours truly is a ten-time award winning author (hello Billy W.!) and have contributed to both NHL.com and The Hockey News.
I only bring this up again just to say that I can look at the Rangers from both objective and subjective perspectives – and I'm not rah-rah-rah – nor am I of the "we'll get 'em next time" mindset.
Those days are long gone.
I know that this opinion (but it's really a fact) gets me heat amongst Ranger circles, but it's true:
The Islanders' Ilya Sorokin has no problems closing the door on anyone – and as is evident by his career total of seventeen shutouts on a team much worse than the Blueshirts – and the most donuts recorded in the league during the past three seasons. Shestyorkin has eleven no-nos, and where six of them took place during his 2021-22 Vezina Trophy winning season.
So what am I getting at here?
Several things.
For starters, if CZAR IGOR has an off-night, and as he did tonight (where again – YOU CAN'T BLAME HIM FOR THIS LOSS – BUT THIS WASN'T A GOOD GAME FOR HIM EITHER – AS THIS IS AN EXAMPLE OF TWO CONFLICTING THINGS BOTH BEING TRUE), then the Rangers are screwed.
But I think we all knew that anyway.
However, and unlike his BFF Sorokin; while CZAR IGOR can make 9876786696 game-changing saves, at the same time, there's always that one little blah goal that goes in – and whenever that happens before the Rangers strike first – it's like the team completely unravels.
The topic of CZAR IGOR vs. Sorokin is a major one in New York, where my current assessment is the following:
CZAR IGOR is the bigger personality and can make the flashier saves; but it's Sorokin who can buckle down better.
For two teams that both rely on their goalies in order to have success; there needs to be a time where CZAR IGOR, and much like his buddy, just shuts the freakin' door.
Then again, when you can't score goals, you can't win anyway – but I guess you can play for all of the overtime loser points!
And no, I don't know why I went on this rant either – but I guess it's because I want to vent every negative vibe, feeling and thought from my soul prior to Saturday night against Seattle – when I then can do it all again.
After all, if I let all of my anger and frustrations all pent and pile up, then I'll explode – and in the likely event that ever happens – then have the Rangers lower my casket so they can let me down one last time!
---
I know that I have to limit myself from dissecting the efforts and showings of everyone that played tonight, but let me get this off of my chest too:
What did I say all summer about Mika Zibanejad?
I was nervous about how he would begin the 2023-24 campaign.
As written 9867867679696789667 times during the hot months on this site – Zibanejad is prone to slow starts – and where he's had seasons with only two goals scored at the quarter-mark.
And yes, I know that all of this is "conspiracy-theoryish," and perhaps invading his personal life a little bit too (but it's not personal anymore once you publicly post pictures on social media); but I did wonder how having a new child at home would impact the start of his season.
After all, we saw how slow CZAR IGOR got out of the gate last season with his new sire at home.
And because I know that some idiot will try to twist my words around, let me be crystal clear:
I AM NOT SAYING THAT THESE PLAYERS SHOULDN'T HAVE PERSONAL LIVES. I AM NOT SAYING THAT THEY SHOULDN'T START FAMILIES. I AM JUST SAYING THAT LIKE ANY ONE OF US, PEOPLE WHO DON'T PLAY PROFESSIONAL SPORTS FOR A LIVING, HAVING A NEW CHILD AT HOME COMPLETELY CHANGES YOUR LIFE!
Shit, I feel like Laviolette with all of these disclaimers, prefaces and qualifying statements tonight!
Four games into this 2023-24 season, and the Rangers' first line center still remains without a goal – a story that we've read several times before.
And for the love of the hockey gods – that Mika power-play one-timer, and just like Frank Boucher's #7 jersey, needs to be retired.
One thing is for sure – that one-timer isn't like Alex Ovechkin's – and where I'm surprised that Zibanejad hasn't hit a few fans in the Blue Seats with all of his erratic shooting.
Maybe he should get some shooting lessons from Artemi Panarin, who is no stranger to the world of firearms?
Then again, Panarin, who has a knack for "A-Rod Goals," only has one goal himself this season – and of course – a freshly baked goal during a Rangers' blowout victory against the Sabres.
What's my disclaimer again?
Oh yeah:
"WHATEVER THE RANGERS DO IN THE REGULAR SEASON DOESN'T MATTER. THEY CAN ONLY BE JUDGED BY WHATEVER THEY DO IN THE 2024 STANLEY CUP PLAYOFFS!"
But even so, and this is more dramatic and concerning following the events of the 2023 Stanley Cup Playoffs – when are these two going to take over games – and consistently at that?
Heck, it's these two, and whether they score 100 goals or zero goals this season, is why my disclaimer is needed.
That said, in the now, it's hard to shrug off this loss – but it's what we have to do.
Last parting salvo before getting into the pregame news and the GAME REVIEW itself?
Under David Quinn, Adam Fox won a Norris Trophy and Panarin had the best season of his career.
Under Gerard Gallant, CZAR IGOR won a Vezina Trophy, while Zibanejad, Trouba and Kreider had the best seasons of their veteran careers.
What will Laviolette's legacy be?
I can only hope it's not just saying the words of "systems" and "structure," and that these past three games, where the team hasn't looked any good in, are just the "growing pains" that were expected at the start of the campaign.
If not, and should the crux of the issue be what I think it is – the core group – then this will be a l-o-o-o-o-o-o-o-o-ng season – and where both Patrick Kane and Brennan Othmann (who their fans can make stronger cases for after these past three games), won't be able to save this sorry sack of Blueshirts.
And oh – I'm still waiting for Sean Avery's response to this game!
Let's now get into the pregame news and notes, where as mentioned at the top of this, I covered the past two off-days here: https://bluecollarblueshirts.com/101823/
---
On Thursday morning, game day, the Rangers held their newly dubbed "RISE AND SHINE SKATE" at M$G.
I brought this up prior to the first game of the season (https://bluecollarblueshirts.com/101223/ ), but man, oh man, is the former collegiate star turned beat reporter, Johnny Lazarus, absolutely killing it.
I think he deserves some praise on this site – especially since I always call out the birdbrains of the beat for routinely crapping in their cages.
But just don't take my word for it – look at all of the beat reporters' Tweeter/X feeds from the morning skate, and once there – you'll see that no one can compare to the "content" (I hate that word too, but it is what it is!) that Lazzy is producing.
While the Wince's of the world are tweeting out pictures of their Hal-Al Lamb Gyro Parmesan sandwiches, and while the Mollie's of the world are still trying to figure out the difference between onside and offside; Lazzy continues to find new angles to share with his readership.
(And please – for the employees of the NY Post – stop emailing me and asking me to tone it down. After all, Phil Mushnick has made a career in your rag by criticizing every member of the media. What, turnabout isn't fair play? If anything, then critique my stuff – and it's not that hard to do so!)
I'm not going to copy-and-paste all of his tweets, so you can find them for yourself on his Tweeter/X account, @Jazzy23.
However, here's one of them, as once again, while the rest of the beat reporters didn't notice this aside from Newsday's Colin Stephenson – Lazzy picked up on Rangers' head coach, Peter Laviolette, coaching up each player on a one-on-one basis:
#NYR Laviolette on those 1-on-1 convos:

"Some are just conversations, casual. Some are 'how you feeling'. Some are maybe you're looking for something more in a player or maybe they're doing really good things out there. See what they're having to say. Those conversations I think…

— Jonny Lazarus (@JLazzy23) October 19, 2023
---
Here's what Lavy had to say for himself following the morning skate:
---
Really, and despite talking for nearly three-hours during each interview – not much of real substance came out of this lengthy chat, as the only thing worth noting was that similar to Ryan Lindgren prior to the home opener, Nick Bonino was going to be a game-time decision.
And yep – following this game – whatever positivity he was promoting was shot to shit as a result.
One last thing about this press conference?
This has nothing to do with the head coach, as instead, it's about the organization themselves.
---
I don't know if it's just me, and maybe this has happened to you too – but for the past several months, I've been receiving three emails a day from Mattress Firm – where despite unsubscribing to their mailing list, marking all of their emails as junk, and everything else that one can do to combat such spam – their nonsense still hits my email box on a regular basis.
Funny enough, it were the Rangers who looked like they were sleeping on a mattress tonight.
And maybe Vincent Trocheck's (alleged) relatives should take some of these players to the mattresses too, ala Peter Clemenza in The Godfather!
Now that we've offended both Italians and Hispanics tonight, let's continue!
Anyway, aside from these trio of daily emails, I've also received phone calls from Mattress Firm – and where not once in my life have I ever shopped there, signed up for anything or had any sort of dealings with them.
It all hit me on Thursday morning after watching this press conference.
Mattress Firm sponsors the Rangers.
I have never signed up for any of the Rangers' giveaways before – but I have donated $100 many times over to the Garden of Dreams during their fundraising drives that are featured on Blueshirt broadcasts.
In other words, I'm left to assume that the charity, which is founded and operated by James Dolan, is selling my private information to their sponsors.
How classless – and borderline illegal too.
While I understand that whenever a company promotes a giveaway where they ask for your information, that they are using it to compile their own mailing list and/or sell your information; for a team-sponsored charity to do it?
Just freakin' low – but I guess that's to be expected – especially following the events of the season ticket holder meet-and-greet from Tuesday night.
Be better Blueshirts.
Sometimes, I wish that I could shelf my fan card – because really – this organization doesn't give one shit about their fans.
And apparently, neither does the team.
After all, how can you justify asking fans to pay insane prices to see the horse shit that was plopped on the ice on Thursday?
---
Here was Laviolette's line-up for the fourth game of this 2023-24 season – a line-up that went through the blender during the third period – and where I was surprised about that.
After all, I was told by the mooks out there that only Gallant did such a thing! The horror!
FIRST LINE: Kreider/Zibanejad/Kakko
SECOND LINE: Panarin/Chytil/Lafreniere
THIRD LINE: Cuylle/Trocheck/Wheeler
FOURTH LINE: Goodrow/Bonino/Vesey
FIRST PAIR: Lindgren/Fox
SECOND PAIR: Miller/Trouba
THIRD PAIR: Gustafsson/Schneider
STARTER: CZAR IGOR
BACK-UP: Quick
HEALTHY SCRATCHES: Jones and Pitlick
---
BOX SCORE time.
The following graphics and information come from ESPN.com:
SCORING:
PENALTIES:
TEAM STATS:
GOALTENDING:
| | | | | | | | | | | |
| --- | --- | --- | --- | --- | --- | --- | --- | --- | --- | --- |
| SA | GA | SV | SV% | ESSV | PPSV | SHSV | SOSA | SOS | TOI | PIM |
| 24 | 1 | 23 | .958 | 19 | 4 | 0 | 0 | 0 | 59:33 | 0 |
| | | | | | | | | | | |
| --- | --- | --- | --- | --- | --- | --- | --- | --- | --- | --- |
| SA | GA | SV | SV% | ESSV | PPSV | SHSV | SOSA | SOS | TOI | PIM |
| 18 | 4 | 14 | .778 | 13 | 1 | 0 | 0 | 0 | 33:51 | 0 |
| 9 | 0 | 9 | 1.000 | 9 | 0 | 0 | 0 | 0 | 26:07 | 0 |
---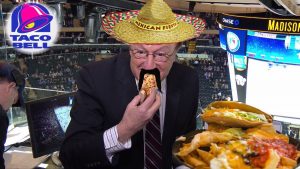 God damn pal, was Sam Rosen at his all-time worst tonight – and that says a lot.
Then again, I guess he just sunk to the same level as the team did during this game.
Even so, was he more worse and senile than usual, where at this rate, he's making Joe Biden look lucid.
Between blowing multiple goal calls, calling out phantom penalties, stumbling over words – you name it, it happened – this was another example of his legacy taking a hit.
For real – I wonder how many fans only know this version of Rosen, a parody of himself – and not what led him to the Hall of Fame in the first place.
That said, I will miss him when he's gone, especially after a game like this.
After all, no one is better for comic relief other than Senile Sammy.
---
Henrik Lundqvist, who was in the building tonight, where he sat alongside that little weasel Jimmy Fallon, did not do the broadcast.
Rather than "THE KING OF COMMENTARY;" instead, Ranger fans were saddled with the smug seven-foot jackass, Sieve Vagistat.
Once I saw that the arts-and-crafts & charts-and-graphs bozo was flying solo, I muted my television with this broadcast on and then put up the volume on my other television, where I watched the NHL Network instead.
But no joke, I occasionally looked at the M$GN broadcast, and where no less than three times, did I see Vagistat plug his crappy fake news ANALytical company.
And as mentioned last season – I refuse to watch and recap these broadcasts whenever the worst goalie in franchise history is by himself. He can't be restrained and he's just full of junk.
However, I did catch the end of the broadcast, where just like last time (https://bluecollarblueshirts.com/101623/ ), Bill "KILL YOUR GRANDMA AND GET THAT INHERITANCE" Pidto, and the (alleged) ragin' meth addict, Alex "TIE-UP AND GAG YOUR MOTHER AND ROB HER PURSE" Monaco, pushed gambling on children.
They also took it one step further, as they spoke about prop-betting as if they were doing the work of Mother Theresa.
Promo Code: SellYourKidney
I wonder if Monaco and Pidto were offering refunds after begging and pleading fans to bet on the Rangers tonight?
---
Come 7PM, Senior Sammy and Jose Micheletti welcomed us to "HISPANIC HERITAGE NIGHT," where funny enough – there was no "Taco Bell Take" tonight.
Are they really that sensitive and concerned about political correctness?
After Rosen praised the "Hispanish community" (he really said "hispanish"), it was off to puck drop – and for the next sixty-minutes – it looked like the Blueshirts had a bad case of burrito-induced diarrhea.
Ugh, I'm really killing these Mexican food jokes.
And ugh, GAME REVIEW time.
---
FIRST PERIOD:
One last time in case you haven't already figured it out – this game SUCKED.
You just have to hope that this game becomes the anomaly – and not the win over Buffalo.
Filip Chytil, and with his one point attained in four games this season, actually started the game – and crazier than that – actually won the contest's opening faceoff too!
His former linemate, Kaapo Kakko, and who also only has one assist this season in twelve periods played, turned over the puck on his first shift – but fortunately, both K'Andre Miller and Jacob Trouba were able to cover up this boneheaded mistake.
As Rosen usually does at the start of the game, he started fawning over the other team, where he actually said this: "We're still waiting for Cody Glass to cum."
Okay, maybe he really meant, "We're still waiting for Cody Glass to come," but even so, with how horrid he's been in recent years – you never know.
But in a rare event, Rosen actually cursed a Rangers' foe, as Glass only played 1:46 tonight, received an injury and that was that.
Saros, who was pummeled for six goals against the Oilers in his last outing, gave up a big rebound early into the contest, as with 17:45 remaining, Trocheck set-up Blake Wheeler for a shot from deep. However, there was no Dennis Rodman on the ice, so no Ranger could slam home this juicy rebound that was afforded.
As Sam and Joe gave us a detailed history of the Nashville Predators, and where they must've broken their pants while talking about new GM Barry Trotz and his head coach, the drinkin'-and-drivin' Andrew Brunette; the Rangers' fourth line had a strong shift during their first whirl on the ice – and where who knew – this wound up becoming one of the best Blueshirt shifts of the contest.
Down to 15:45 remaining, and prior to this game getting out of hand – captain Trouba went for a backhanded wraparound try – and where he almost scored.
Last game, he tried a traditional wraparound attempt.
Either way, who knew that he had this in him? What a positive new wrinkle to his game – even if the Rangers were soon folded up themselves.
Following Trouba's try, Wheeler was horribly burnt in the Rangers' d-zone slot, and as if he was standing in a Las Vegas desert sun – but as was the case with Kakko earlier – one of his defenseman, this time Ryan Lindgren, broke up the Preds' scoring chance.
No less than thirty-seconds later, Lindgren, one of the few Blueshirts that you can't rag on and/or criticize tonight, broke up another Nashville scoring opportunity.
Down to 13:44 remaining, the first of four Ranger penalty kills, as Adam Fox was boxed for hooking the neck of Yakov Trenin.
While this was a blatant penalty; what the referees missed was that Fox was tripped and in an act of human instinct, tripped Trenin in order to break his own fall.
With the Predators now on the power-play, and where their man-advantage unit entered this game as the second-worst power-play in the league – the Rangers killed off these two minutes.
Once the penalty kill was complete, it was around nine-minutes into the game where Nashville Hockey Historian Sam Rosen noticed that former Ranger captain, Ryan McDonagh, now wears the "A" for the Predators.
Down to 10:41 remaining, Sean Avery's favorite player, Vincent Trocheck, set-up two scoring plays but neither set off the red lamp. However, these were two smart plays – they just didn't get the desired end result.
Once returned out of a TV timeout, we were shown RANGERS LEGEND BOO NIEVES giving away $10,000 to a fan of Hispanic descent.
I mean good for Nieves and all – but this is who the Rangers have working for them amongst their vast alumni?
Needless to say, Rod Gilbert, Adam Graves and Henrik Lundqvist, three people who have played this role in the past – Nieves is not.
But I'm being a complete asshole (or is it CULO on this night?) here in an attempt to make you laugh.
In all seriousness, good for Nieves for wanting to work with the club and doing charitable endeavors on behalf of the Blueshirts.
We were also told around this time from Jose Micheletti that Lundqvist and McDonagh had dinner together on Wednesday night. In other words, the two players from the last great generation of Ranger history still keep in touch.
Come 8:36 remaining – the beginning of the end.
Following another brutal turnover from Chytil – boom – 1-0, bad guys.
On this goal, Tyson Barrie blasted a puck from deep, and as Braden Schneider and Erik Gustafsson watched – there was NOTED SNIPER Cole Smith, a man of only four goals in his NHL career prior to tonight, scoring his first goal of the season on a rebound.
Ah, the New York Rangers: Allowing fourth-line bums and no-name goalies to have the best games of their careers against them – a tradition since 1926!
At the time, I thought this bad turnover, defense and rebound afforded would wake up the Rangers.
Instead, the Blueshirts found a new sponsor – AMBIEN – as this game turned into a complete snoozer.
Down to 5:44 remaining and with the Rangers only with three SOG to their ledger; Fox drew the lone goal scorer of the game, future Hall of Famer Cole Smith, for interference.
As the Morgue $quare Garden crowd woke up a bit following the call, M$GN cameras also caught Lavy screaming, "WAKE UP!"
In a response – the Blueshirts hit the snooze button.
As Zibanejad continued to look like a chicken with its head lopped off with all of his looney-bin one-timers; following the disjointed power-play – boom – the Wayne Gretzky of our generation, Cole Smith, scored his second goal of the game – and the sixth of his career.
However, and if you were as blind as Sam Rosen, then you were led to believe that this breakaway was a save for CZAR IGOR:
What a save by Igor! #NYR pic.twitter.com/HTzfJ5YU5M

— David 🏒 (@DaveyUpper) October 19, 2023
---
2-0, bad guys.
(And I always love how M$GN edits out these Rosen botches during their replays of the game too!)
To end the period, Kakko, when wide-open, shot wide at an empty net.
On brand for this game.
2-0, bad guys, after twenty.
Here's what I said at the time:
2-0, bad guys, after 20. 1P Thoughts:
— #NYR should get ambien as a sponsor to join the rest of the 87686786876 "official" products.
— A period almost as bad as the STH meet and greet.
— Wonder what Sean Avery thinks?
— Five SOG, not very "systemy" and "structured."
—…

— BlueCollarBlueShirts (@NYCTheMiC) October 19, 2023
---
SECOND PERIOD:
The disaster carried over into this second stanza – and where CZAR IGOR was forced to make his first save of the frame just sixteen-seconds in.
No less than thirty-seconds later, CZAR IGOR stopped Trenin too, and for whatever reason, both Sam and Joe had a hearty chuckle about Trenin scoring the first goal of his career against the Rangers last season.
Pendejos.
As CZAR IGOR had already accumulated his fourth save of the period just two-minutes in; his comrade, Aturnover Panarin, made one of the most laziest and god-awful offensive zone turnovers that you'll ever see, and as "The Breadman" baked with 17:26 remaining.
A minute later, Fox took his second penalty of the game, a hook committed on Forsberg.
Just six-seconds into the Nashville power-play, where somehow, they not only won the o-zone draw – but they made four consecutive passes too – boom – 3-0, bad guys – this time following a rocket from Ryan O'Reilly.
Worth considering, especially with Trocheck losing a bunch of d-zone draws tonight?
Having Nick Bonino take them – and after winning them – change.
As Rosen started making up penalties or was just watching another game; this dreck continued.
The Rangers were doing absolutely nothing here – and where I felt bad for anyone who paid to see this game – especially for people who can only afford to go to one game a season.
I think the players sometimes forget that people don't share the same bank account status as them – and to give no effort at all as they did tonight – that's why I'm so harsh in my commentary about this game.
The fans deserve better.
I'm not saying that they have to go 82-0 (but I wouldn't be opposed – "Presidents' Trophy Curse" be damned) – but show me that you care.
I just didn't see anyone really caring, outside of Lindgren, Quick and to a lesser extent, Trouba.
Come fourteen-minutes and change remaining – a glimmer of hope – as CZAR IGOR made a robbery save on a Juuso Parssinen breakaway attempt.
At the time, you were hoping that this big-time stop would spark the team.
However, hope wasn't reality on this night.
As we crossed the half-way mark of the game/period, Kreider got into the Nashville zone, and once there, he was left all alone – one versus five against the Predators – like an altar boy attending a retreat for Irish priests.
(Man, I'm offending everyone tonight – or maybe I'm just working on my stand-up – or in this case – sitting down on my ass-cheek indented computer chair, comedy career!)
(Another horrible joke? He was left all alone with predators, like a Rangers' prospect being stalked by Stalk Boy Steven!)
Come 6:44 remaining – ball game over.
Panarin had high-sticked Kiefer Sherwood, and on the Predators' power-play, you know, the one that entered this game second-worst in the league, scored again.
4-0, bad guys, following the Filip Forsberg "Golden Sombrero Goal" – and one that CZAR IGOR would have probably liked a second chance at.
Following the slapper from the dot left to CZAR IGOR, and where the puck landed top shelf in the opposite corner of his net – that was that – as Lavy threw in the white towel and pulled his starter.
It's just a shame that CZAR IGOR will be remembered for the four goals allowed – and not the breakaway saves.
Something else that will be remembered?
On the heels of the worst season in his career, and an even worse preseason to boot – Jonathan Quick was flawless in his 26:07 of relief.
Granted, he never had to make a save for the remainder of this period – but he did make nine saves in the third period – and where most of them were tough ones.
This was encouraging – and yep – this is also a silver lining to take away from this mess.
As we got under four-minutes remaining, and as the boo-birds vocalized in harmony – M$G actually had their house dee-jay play Backstreet Boys' music to pump up the crowd.
Really?
Ever hear of Motorhead?
You tell me what's better when down 4-0 – "I Want It That Way" or "Ace of Spades."
The only rare flaw out of Nashville took place at the end of this period.
Parssinen tripped Gustafsson in the Rangers' d-zone with 1:41 remaining. Twenty-six seconds later, O'Reilly tripped Fox – and where it should also be mentioned that the R.O.R. penalty happened just seconds into the Rangers' 5 x 4 power-play – yet the Blueshirts wouldn't give up the puck in order to get as much of a 5 x 3 power-play as possible.
That's not a well-coached team.
Anyway, with 42-seconds remaining, Fox scored a carbon-copy replica of the 5 x 3 power-play goal that he scored during the preseason – you know – the Rangers' 1-21 preseason power-play (0-20 on the 5 x 4) – as an attempted pass across the crease hit McDonagh's skate and then went past the goal line – Captain Mac's last goal as a Blueshirt.
This is the same thing that happened to Devils' d-man Jonas Siegenthaler during a New Jersey 5 x 3 kill.
In other words, the Rangers got some puck-luck here – as this wasn't the intended motive of the power-play.
4-1, bad guys – and a score that would also hold up as the final.
Here's what I said at the time, once this middle frame mercifully reached its end:
4-1, bad guys, after 40. 2P thoughts:
— Rangers look like poo.
— Nashville found a bad time to get sloppy, should've walked out of this period with a SO going.
— PPGs are being scored by puck luck.
— Gotta score on the backhalf of this 3P PP to have any chance.#NYR

— BlueCollarBlueShirts (@NYCTheMiC) October 20, 2023
---
THIRD PERIOD:
We can warp-speed through this final frame, as outside of saying that these guys better have went home and directly to bed tonight, as you have to expect that Laviolette is going to bag-skate the shit out of them during Friday's practice – there's not much else to say.
The "highlights," or "lowlights," if will:
— The Rangers' power-play didn't score here. Nor did they score three-minutes later when Mika drew Fabbro for hooking. In other words, 0-4 on the traditional 5 x 4 power-play tonight.
— During the Fabbro penalty, Panarin hit the post which then led to Sam & Joe praising #10 for the rest of the game. You see, making contact with the iron is the stuff of legend.
— Once the PP1 unit changed; Lafreniere, on the PP2 unit, tripped over that pesky blue line.
— Once returned to full-strength, the pair of wonderkids, #13 and #24, had an odd-man rush, but for whatever reason, both of them slowed down, allowed Nashville to catch up – and that was that – no shot on goal. Impressive.
— Anyone have Kane's number?
— And Othmann? Don't get too comfortable in Hartford.
— Jonathan Quick, and as mentioned, looked really good. Not only did he come into this game cold, he must've made at least 6-7 saves on shots that you thought would pump-up the Preds' lead.
— This game got so depressing and boring that Rosen started talking about everyone in the crowd, where even the bathroom attendants got face-time – which was fitting – because the film of this game belongs in a toilet.
— Down to 8:00 remaining, you lifted your head up a bit, as Trocheck had seemingly scored. However, he was blatantly offside, and following a quick review – the goal was correctly overturned. And unlike the two reversals in Columbus – this review and overturn WAS in the spirit of the rule.
— As we hit the FOXWOODS FINAL FIVE, and later, the two-minute warning, I was wondering – why not pull the goalie? You're down by three goals anyway, so what do you have to lose? At best, maybe you score one goal and get some momentum for your extended left coast road-trip.
— Plus, this team could sure use some man-advantage work.
— Trouba, and I guess because he wanted to keep the goose egg next to Quick's name in the box score, hooked Gustav Nyquist with 13.7 seconds remaining.
4-1, bad guys, your final.
One of the worst games that I have seen in recent memory.
Sure, the Rangers have lost before (and badly at that), but you really questioned their passion tonight.
---
Here's the head coach, and for the first time this season, facing some adversity:
---
If there's anything that I did like (and this is a stretch – similar to Vagistat's five-hole), is that both Laviolette and his players didn't make any excuses, blame the systems or whatever else that you could conjure up.
Lavy also confirmed that this game sucked and that pulling CZAR IGOR had nothing to do with him – as he figured with this game long gone – it would be a good time to get Quick some work – especially since he will start at least one game on the upcoming five-game trip.
Speaking of the early in-season team-bonding trip, which could be a hockey godsend for both a team and head coach looking to find their way (Seattle, Edmonton, Calgary, Vancouver and Winnipeg – and with the latter two cities two of the few that I've never been too – but hopefully one day for my upcoming book which will cover them all); I'm to assume that after tonight, CZAR IGOR gets Seattle.
From there, I guess Lavy and Benoit Allaire will ask Quick what team he feels most comfortable against – and then get that start – and as talked about last night on this site.
But if this team continues to not show-up – then it doesn't matter who is in net.
---
See ya early Sunday morning, with a review of the late Saturday night Krakheads/Rangers game.
And unlike tonight – should this game be played in a similar fashion – it will be relegated to "second television status" – as there is a huge UFC PPV going on at the same time.
And should you be in Tarrytown, NY on Friday – wear rubber galoshes – as there may be some puking.
Speaking of puking, it's time for me to physically purge myself from this game, which means…
PLUGS TIME! (Buy a book and support my Rangers' induced therapy bills. After all, I don't run ads on this site!)
---
"The Top 100 Villains of New York Rangers History," is now available for preorder.
For complete information, please visit: https://bluecollarblueshirts.com/rangerkillers/
---
My second plug of tonight's blog – the mandatory plug for my book, "The New York Rangers Rink of Honor and the Rafters of Madison Square Garden."
As mentioned previously, the book is now available in hardcover, in paperback and in Kindle formats. To purchase a copy of the book, visit this link:
https://www.amazon.com/Rangers-Rafters-Madison-Square-Garden-ebook/dp/B09CM5N2WD
For those still looking for signed paperback versions of the book, I have re-ordered more copies. I now have a few signed copies for sale at $25 a pop (includes shipping price) through me directly. Here is all the information on that:
---
My four-volume set of books, "One Game at a Time – A Season to Remember," is a game-by-game recount of the Rangers 2021-22 campaign.
My second title as an author, "One Game at a Time – A Season to Remember," is now available in eBook, paperback and hardcover formats.
To obtain signed copies, visit: https://bluecollarblueshirts.com/onegamebook/
To purchase all four volumes on Amazon, visit: Amazon.com – "One Game at a Time."
---
The greatest volume-set of books on Rangers' history today!
"Tricks of the Trade – A Century-Long Journey Through Every Trade Made In New York Rangers' History," a four-volume set of books that meticulously covers every trade made in franchise history, is now on sale.
All four volumes of the title can be purchased on Amazon.com and are presented in three different formats – eBook, paperback and hardcover.
To purchase Volume I: Conn Smythe (1926) – Craig Patrick (1986), visit Amazon.com
To purchase Volume II: Phil Esposito (1986) – Neil Smith (2000), visit Amazon.com
To purchase Volume III: Glen Sather (2000-2015), visit Amazon.com
To purchase Volume IV: Jeff Gorton (2015) – Chris Drury (2022), visit Amazon.com
To purchase signed copies of all four volumes, visit https://bluecollarblueshirts.com/tricksofthetrade/
---
Here are my last few blogs, in case you missed them:
---
---
---
---
If you haven't already, subscribe to this blog for the next update:
---
Don't forget to order my recently released four-volume set of books, "Tricks of the Trade!"
If you don't order through me, all four volumes are now available on Amazon.com
For more details, check out: https://bluecollarblueshirts.com/tricksofthetrade/
Thanks for reading.
LET'S GO RANGERS!
Sean McCaffrey
BULLSMC@aol.com
@NYCTHEMIC on the Tweeter machine