Greetings and salutations everyone and welcome to another blog here on BlueCollarBlueShirts.com. The Rangers remain status-quo, following Sunday night's victory over Arizona.
As brought up over the weekend on this site, I'm still surprised that the Rangers have done nothing in regards to accruing extra salary cap space.
The team remains as a 23-man roster and now with two days down prior to playing the Seattle Kraken – it's believed that entire crew will board the flight to Frasier Crane's home city.
I was recently talking about this topic with a Hall of Famer who is close to the team. When I asked this person what he thought about the Rangers staying idle, rather than waiving a player/assigning a player to Hartford, that person replied, "Vitali Kravtsov is the hold-up."
I know – I'm sick of those two words too – "Vitali Kravtsov." However, I'm not sick enough to miss work – something #74 has never said!
While Kravtsov did practice on Tuesday, according to head coach Gerard Gallant, the mercurial Russian hasn't been officially cleared by the team's medical staff just yet.
However, since Kravtsov was on the ice in Tarrytown on Tuesday – it feels like a formality. In other words, by the time you read this – Kravtsov will be cleared.
That said, it's not a lock that Kravtsov will be in the line-up on Thursday either.
Since Kravtsov can't stay healthy for 48 consecutive hours, and because general manager Chris Drury wants to keep this experiment going; with a four-game road-trip on the left coast to close out the schedule prior to Thanksgiving – the Rangers will continue to carry their full-boat – rather than looking at the seas ahead (the 2023 NHL Trade Deadline).
---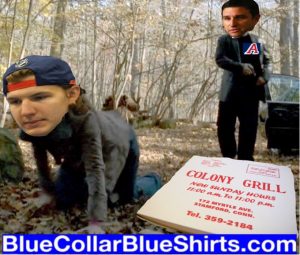 Following the team's off-day on Monday, the team reconvened for practice on Tuesday – where not much happened, outside of the usual.
Jacob Trouba was held out of the practice for maintenance.
While getting a rest after playing three games in four nights is good for everyone; these three days off in-between games most likely benefits the captain more than anybody else.
As mentioned a few nights back – of all NHL defensive pairs – it's the Miller/Trouba pairing that's been on for more goals than any other duo. (It should be mentioned that since they eat up a lot of minutes – that also factors into the equation.)
Their plus/minus numbers (Trouba is -5, Miller is -3) would be even worse if it weren't for the two goaltenders, CZAR IGOR and Jaroslav Halak.
(And yes, I know that Igor and Halak don't exactly have the best numbers in the world right now – but they've made plenty of big saves on breakaways, odd-man rushes, etc.)
Yes, we all know that Trouba is currently playing through injuries (I broke this all down a few blogs back), but whatever is going on with Miller is a mystery.
Following a strong preseason, and whether he's trying to overcompensate for his captain or what – Miller hasn't been the same player once these games started to count.
While who knows what's ailing Trouba (nor how long it will take for him to get back to 100%), and when these injuries first occurred; by the two-week mark of the season, this pair was rotating with Ryan Lindgren and Adam Fox as the team's "first-pair." (Gallant just praised the four players as a unit, rather than saying "first pair.")
Today, now a month into the season – there's no longer any question – Lindgren/Fox, and has been the case ever since the 2021 exile of Tony DeAngelo – remains as the top pair of the team.
As far as anything else taking place at practice that I haven't mentioned yet, here were your lines, lines that we've seen recently:
FIRST LINE: Kreider/Mika/Vesey
SECOND LINE: Panarin/Trocheck/Goodrow
(Kravtsov also subbed in on this line and wasted a roster space.)
THIRD LINE: Lafreniere/Chytil/Kakko
FOURTH LINE: Blais/Carpenter/Gauthier
(Reaves also subbed in, and where the following the practice, Gallant admitted that whenever "The Grim Reaver" doesn't play, as #75 has been scratched in four of the team's last five games, it's because he's going for speed over anything else.)
Here's Tuesday's edition of "TURK TALK":
---
Gallant didn't really say anything else that hasn't already been covered and/or of importance.
The Rangers will practice one more time on Wednesday morning prior to Thursday's game.
Up next, my two latest articles for Stan Fischler and "The Hockey News."
(And as always mentioned – I also run these articles here, because due to space constraints, Fischler edits these pieces for length.)
Enjoy!
---
MONEY DOES GROW ON JACK CAMPBELL'S TREES
What does Cam Talbot, Anders Nilsson, Laurent Brossoit, Jonas Gustavsson, Al Montoya, Nick Ellis, Mikko Koskinen, Anthony Stolarz, Mike Smith, Stuart Skinner, Troy Grosenick, Dylan Wells, Alex Stalock, and now Jack Campbell, all have in common?
The answer: all fourteen of these men have suited up for the Edmonton Oilers, ever since the arrival of the first-overall selection of the 2015 NHL Entry Draft, #97 himself, Connor McDavid.
Furthermore, these fourteen goalies were also around during another major blue-and-orange debut from the 2015-16 campaign, the German-born third-overall pick of the 2014 NHL Entry Draft, Leon Draisaitl.
Branding the dynamic duo of McDavid & Draisaitl as "Batman and Robin" would be erroneous. Instead, they've been "Batman and Superman" during their seven-plus seasons in Oil-Town.
Combined, the best 1-2 punch in the league have won five Art Ross Trophies, four Ted Lindsay Awards and three Hart Trophies. They've also earned eight All-Star nominations during their time together.
Perhaps crazier than all of that? More times than not, whenever McDavid or Draisaitl win a major NHL Year-End Award/Trophy – it's the other player of this offensive-tandem that finishes as first runner-up.
Despite all of their feats and scoring acumen – the most elusive and prestigious trophy in hockey eludes them – the Stanley Cup.
Outside of Talbot, who had a historic 2016-17 season for the franchise, where he even broke several records set by Hall of Famer, Grant Fuhr; prior to last season, when Edmonton was swept by the Colorado Avalanche in the Western Conference Final – no other Oiler goalie has been able to make it out of the first-round during the McDavid & Draisaitl Era.
It's true – during the salary cap era – you don't need a high-priced goaltender to win a Stanley Cup.
Where once expensive goalies such as Henrik Lundqvist, Carey Price and others have failed; inexpensive and young goalies, such as Matt Murray, Jordan Binnington and others, have succeeded. (And now look at both Murray and Binnington today – after receiving their big-time deals!)
Despite shoddy goaltending from both Koskinen and Smith last season (and what does it tell you that neither are playing in the league this season, just months removed from the Conference Final appearance), general manager, Ken Holland, who took over on May 7th, 2019 after one of the most strenuous stints ever by an Oilers' g.m., Peter Chiarelli; perhaps "over-compensated" when addressing his roster's biggest weakness – goaltending.
This isn't hindsight being 20/20, because I said these very words in this space during the off-season – both Darcy Kuemper and Jack Campell were in the right spot and at the right time.
As opposed to previous off-seasons, where there were many passengers on the proverbial "goaltender's carousel;" during the summer of 2022, both Kuemper and Campbell were the only starting goalies available on the free agent market.
(And what does it tell you that Colorado didn't mind letting their Stanley Cup champion goalie walk? Similar to Campbell, the now expensive Kuemper hasn't been a miracle worker in his new home in Washington.)
Similar to a weak NHL draft – Holland didn't exactly have a strong crop of goalies to choose from. However, he had to do something and somewhat by default, Campbell became the man in Edmonton.
After ten games played this season, the thirty-year old Campbell, who signed a whopping five-year deal worth $25,000,000 overall with Holland on July 13th, is one of the worst goalies in today's NHL.
Among all 73 goaltenders who have made a start this season, Campbell's .873 save percentage ranks 67th overall in the league. His sky-high goals allowed average of 4.27 ranks him 69th.
His winning record of 6-4 is only propped up, by yep, you guessed it, McDavid (32 points) and Draisaitl (28 points) – the two top scorers of the league.
Conversely, Stuart Skinner, Campbell's 24-year old back up, and on a salary that only pays him $750,000, is currently 3-3 with a .932 save percentage and a GAA of 2.53.
It's no wonder why fans of the Oil want to see Skinner skin Campbell out of the net.
To be fair, hockey is a team game, and sometimes, goaltender stats aren't necessarily reflective of their play. However, in this case – it is.
In a league where salary cap hits are just as important as any other stat – Campbell has done nothing yet for an Oiler club that's been plagued by goaltender issues for years – especially during these prime years of McDavid & Draisaitl.
Unless Skinner can become one of the league's biggest success stories or Campbell turns it around – the eighth year of McDavid & Draisaitl will conclude just like the first seven seasons – without rings on their fingers – and perhaps with a raise of an eyebrow towards Holland's decisions.
---
One of most anticipated releases prior to the start of any NHL season is "The Hockey News" annual Yearbook. THN, as they have been doing ever since 1947, packs this issue with a punch akin to a right-hand from Bob Probert.
Among the topics covered in the 2022 edition were THN's Top Rookies to watch.
One month into the season, here's a progress report and early grades (and don't take these grades to heart – I beg of you) on the top sextet that were profiled:
1 – Owen Power (BUF)
Power, the first-overall pick of the 2021 NHL Entry Draft, decided to play one more season at the University of Michigan following being selected by the swordsmen.
At only nineteen-years old, the decision to delay his NHL rookie season has looked to have already paid off.
A left-handed defenseman, Power plays on the Sabres' top-pair, with another first-overall pick of the franchise by his side, 2018's Rasmus Dahlin.
The Sabres, who once again started an NHL campaign strong, have run into some top teams lately, where the Hurricanes, Lightning, Golden Knights and Bruins now have them skidding a bit – perhaps an all too familiar story.
However, the Dahlin/Power duo continue to excel.
Dahlin is currently second-best on the club in points (17), while Power has scored 7 points in 15 games played. The rookie is also playing over 23 minutes a night. He'll be a Calder Trophy candidate come Spring.
GRADE: A-
---
2 – Shane Wright (SEA)
By now, everyone is familiar with the center's story.
Once thought to be the no-doubt-about-it, first-overall pick of the 2022 draft; instead, Wright slipped to fourth and into Seattle.
The Kraken are one of the league's early surprises, as they are currently one of the better teams of the Western Conference, where through nearly twenty games played, they have more points than both of last year's finalists, the Oilers and the Avalanche.
However, Wright isn't part of the team's new-found success – yet.
Wright has been a healthy scratch more times than not, and after seven games played, is still seeking his first goal. He's also receiving eight minutes of ice time per game – a topic of much debate by the "Krakheads."
Also discussed – sending Wright down to the AHL.
GRADE: F+
---
3 – Matty Beniers (SEA)
Going into the season, everyone had their eyes on the two young studs in Seattle. Of the two, it's center Matty Beniers, the second-overall pick of the 2021 draft, that's exceeding expectations.
While the "it's still early" disclaimer applies, Beniers is currently the odds-on favorite to win the Calder Trophy. It's easy to see why.
As Seattle's second-line man-in-the-middle, Beniers already has 9 points in 16 games played. However, his team-worst plus/minus rating of -9 impacts his grade, a grade that should improve the next time we revisit these rookies.
GRADE: B-
---
4- Juraj Slafkovsky (MTL)
The Slovakian forward, the first-overall pick of the 2022 draft, recently made headlines, following his two-game suspension for boarding Matt Luff of the Red Wings.
The Canadiens, winners of last year's draft lottery, were thought to be contenders for the 2023 incarnation. Instead, they've been able to put together a winning record thus far.
In his first ten games, the left-winger scored three goals and has already received loud ovations from the rouge-blanc-bleu faithful.
Due to his status, he'll be one to watch all season.
GRADE: B-
---
5 – Shane Pinto (OTT)
A product of Long Island, NY (Franklin Square), the center was drafted in the second-round (32nd overall) by a struggling Ottawa franchise.
Despite a heavily-praised off-season, the Sens have continued to struggle and are currently one of the worst teams of the league. Pinto shouldn't shoulder any of the blame. Far from it.
In his first fifteen games of this season, Pinto has already scored eight goals – best amongst all NHL rookies.
It should be mentioned that Pinto has a leg-up on the competition, having played 12 games in 2020-21 and 5 more games in 2021-22.
GRADE: A
---
6 – Mason McTavish (ANA)
The Ducks' third-overall pick of the 2021 draft is already a Canadian hero, following the center's performance during the gold medal game of the 2022 IIHF World Championship tournament.
Named as the MVP of that international competition, his Fall of '22 hasn't been as successful as his Summer, as the Ducks are currently dead-last in the league.
Of course, the obvious should be stated here – there's a reason why these rookies were drafted so high in the first-place – their teams weren't so hot prior to their selections!
Similar to the other young ducklings (Troy Terry and Trevor Zegras), McTavish has been able to pick up points. However, in his first fifteen NHL games, he only has one goal to go along with his six assists.
GRADE: C
---
Barring something major taking place on Wednesday, back at it late Thursday night, with a Kraken/Rangers review – work schedule permitting. (My hours are still in a state of flux and have been rotating, but soon enough, I expect to be on that 3PM-11PM swing-shift.)
Until then, I'm back to working on my "100 Rangers' Villains" book. However, while I write that, I do have a new book out there, and you can find out all about it below, which brings us to…
PLUGS TIME!
---
On Monday, November 14th, our buddies at "The Blueshirt Underground Show" returned with a new episode. You can watch/listen to it here:
---
My first plug of tonight's blog – the mandatory plug for my book, "The New York Rangers Rink of Honor and the Rafters of Madison Square Garden."
As mentioned previously, the book is now available in hardcover, in paperback and in Kindle formats. To purchase a copy of the book, visit this link:
https://www.amazon.com/Rangers-Rafters-Madison-Square-Garden-ebook/dp/B09CM5N2WD
For those still looking for signed paperback versions of the book, I have re-ordered more copies. I now have a few signed copies for sale at $25 a pop (includes shipping price) through me directly. Here is all the information on that:
---
My four-volume set of books, "One Game at a Time – A Season to Remember," is a game-by-game recount of the Rangers 2021-22 campaign.
My second title as an author, "One Game at a Time – A Season to Remember," is now available in eBook, paperback and hardcover formats.
To obtain signed copies, visit: https://bluecollarblueshirts.com/onegamebook/
To purchase all four volumes on Amazon, visit: Amazon.com – "One Game at a Time."
---
"Tricks of the Trade – A Century-Long Journey Through Every Trade Made In New York Rangers' History," a four-volume set of books that meticulously covers every trade made in franchise history, is now on sale.
All four volumes of the title can be purchased on Amazon.com and are presented in three different formats – eBook, paperback and hardcover.
To purchase Volume I: Conn Smythe (1926) – Craig Patrick (1986), visit Amazon.com
To purchase Volume II: Phil Esposito (1986) – Neil Smith (2000), visit Amazon.com
To purchase Volume III: Glen Sather (2000-2015), visit Amazon.com
To purchase Volume IV: Jeff Gorton (2015) – Chris Drury (2022), visit Amazon.com
To purchase signed copies of all four volumes, visit https://bluecollarblueshirts.com/tricksofthetrade/
---
Here are my last few blogs, in case you missed them:
---
---
---
If you haven't already, subscribe to this blog for the next update:
---
Don't forget to order my new four-volume set of books, "Tricks of the Trade!"
If you don't order through me, all four volumes are now available on Amazon.com
For more details, check out: https://bluecollarblueshirts.com/tricksofthetrade/
Thanks for reading.
LET'S GO RANGERS!
Sean McCaffrey
BULLSMC@aol.com
@NYCTHEMIC on the Tweeter machine