Greetings and salutations everyone and welcome to another blog here on BlueCollarBlueShirts.com. I may be cranky by the time you read these words, but as I write this sentence – I'm elated.
To give you some personal information and background about my Tuesday; prior to tonight's game, I worked from 6AM-3:30PM. Once leaving Manhattan for my humble Long Island abode; around 4:45PM, and now returned home – I showered, set the alarm for 9:30PM and went to bed.
It's now 2:00AM as I write this intro – and I have a train to catch in just three hours.
In other words, I am pulling an all-nighter tonight – but with Thanksgiving ahead – my work Wednesday shouldn't be too bad. (Plus, I can't sleep after a big Rangers' win anyway!)
As the great Dave Puddy from "Seinfeld" once said (even if it was in support of the disgusting Devils) – "you gotta support the team."
However, as my buddy Eddie "Whistles" would say – "you're demented – but I respect it!"
Finally, before getting into this contest and providing you with the GAME REVIEW – I wish I had more time tonight, as I'm going to be glossing over some things – but I'll hit all of the big stuff.
(And I apologize in advance for any poor grammar and/or typos. I had to speed-write this one – editing be damned!)
Let's roll.
---
While you can't say that the Rangers' 5-3 win over the Kings was "the turning point of the season" (as that maroon, Sieve Vagistat, said during the post-game show – and for the tenth time this season to boot); what is true is that this was the most impressive victory in some time – solely because of the competition and circumstances.
To just skip-ahead for a second; following this win, and combined with Saturday night's win over the Sharks – should the Rangers handle business against one of the worst teams in the league on Thanksgiving Eve, the Anaheim Ducks – then the Rangers will have swept the three Californian teams on this annual road-trip for the first time since the historic 2014-15 Presidents' Trophy winning season.
While that's a nice little stat, better than that? The following:
Should the Rangers down the Ducks (and a loss to the not-so-mighty team from the pond would kill a lot of the good vibes – and the flight back to New York too) – then Gallant's merry men will have taken 7 out of a possible 8 points from this trip. That would be a nice feather for "THE TURK."
Around the mean streets of Rangerstown, USA, you may hear the phrase "Tale of Two Halves" being haphazardly thrown around when describing Tuesday's late game in L.A.
While it's easy to understand what that means – this game was pretty much what we've seen from the Rangers all season – another Jekyll & Hyde performance.
Following one of the most listless periods of the season (there have been worst periods, but this one is up there), the Rangers found themselves down by two goals after twenty minutes.
Come the first intermission, and whether Gallant threatened to slap around his team that looked like they had overdosed on tryptophan or what – the Rangers pulled a complete 180.
Of course – nothing is ever easy.
Once scoring three goals in the second period to go up 3-2; the roller-coaster Rangers continued to play heart-attack hockey.
It wasn't until Chris Kreider scored one of the most casual "whatever brah" empty net goals that you'll ever see, with 49.7 seconds remaining, where you could finally exhale and celebrate the victory.
If you were an unbiased hockey fan, one without a dog in the fight, and who watched this game – you probably enjoyed it.
For Blueshirt backers – this was another game where you questioned your sanity, as the team put you through the proverbial wringer.
The will of Ranger fans will be tested again in just less than 24 hours – where hopefully, the Rangers will can the dramatics for one night – and blow the Ducks out of water with ease.
Of course – that's easiser said than done.
Let's get into all of the pregame news and then into the GAME REVIEW.
---
Following the Rangers' Saturday night victory over the San Jose Sharks, the team took Sunday off.
A day later, on Monday, and now in Los Angeles, the team reconvened for practice.
Nothing out of the ordinary took place during the light skate, where head coach Gerard Gallant, as he alluded to late Saturday night (early Sunday morning for my fellow east coasters) – went back to the same line-up from the previous two games (sans the Hajek and Jones switch).
In other words – both Ryan Reaves and Vitali Kravtsov remain as healthy scratches – but hey – how can you take Julien Gauthier out of this line-up right now?
Here was Monday's edition of "TURK TALK:
---
Vitali Kravtsov, who despite accomplishing nothing (I have as many goals as he does this season), continues to be the first player asked about during Gallant's chants with the media.
When asked about Kravtsov for the 98767896789678967896896th time this season, "The Turk" reiterated that he wants to go with the best line-up that he thinks will win.
I know this is boring and redundant, but yep, these two points/opinions:
1 – As mentioned when it first happened, when "TEETHGATE" first broke; Gallant's had it with #74. (Refer to my previous blogs for the full explanation.)
2 – With the Rangers currently treading water for a playoff berth – the head coach isn't going to force a square peg into a round hole. Instead, and as he's said from day one – he has to answer to 22 players (or in this case, 23) – not one.
A third "bonus" point/opinion? I still can't believe that the Rangers continue to carry a 23-man roster. But I've been talking about this topic to death – so no need for another rant on this subject tonight – especially considering the hour. (Plus, I have to be at work in less than three hours as I type this sentence!)
---
On Tuesday night, two hours before puck drop, Gallant met with the media one more time, where he confirmed there would be no changes to his line-up.
Here was tonight's final line-up in LaLa Land:
FIRST LINE: Kreider/Zibanejad/Vesey
SECOND LINE: Panarin/Trocheck/Goodrow
THIRD LINE: Lafreniere/Chytil/Kakko
FOURTH LINE: Blais/Carpenter/Gauthier
FIRST PAIR: Lindgren/Fox
SECOND PAIR: Miller/Trouba
THIRD PAIR: Jones/Schneider
STARTING GOALIE: CZAR IGOR
BACK-UP GOALIE: THE HALAKNESS MONSTER
---
BOX SCORE time.
The following graphics and information come from ESPN.com:
SCORING:
PENALTIES: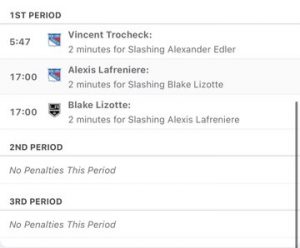 TEAM STATS:
GOALIES:
| | | | | | | | | | | |
| --- | --- | --- | --- | --- | --- | --- | --- | --- | --- | --- |
| SA | GA | SV | SV% | ESSV | PPSV | SHSV | SOSA | SOS | TOI | PIM |
| 24 | 4 | 20 | .833 | 20 | 0 | 0 | 0 | 0 | 59:03 | 0 |
| | | | | | | | | | | |
| --- | --- | --- | --- | --- | --- | --- | --- | --- | --- | --- |
| SA | GA | SV | SV% | ESSV | PPSV | SHSV | SOSA | SOS | TOI | PIM |
| 38 | 3 | 35 | .921 | 35 | 0 | 0 | 0 | 0 | 59:32 | 0 |
---
Once arising from my pregame slumber, where I then turned on the M$GN pregame show – I was ecstatic to see Mr. Valiquette, all there by his lonesome – and then enjoyed his never-ending words of wisdom.
Yeah right – I'm just checking to see if you're still awake too!
Come 10PM, I changed the channel faster than an in-his-prime Carl Hagelin streaking down the ice.
Around 10:29PM, I clicked the "EAST-WEST" return button on my remote control, where I heard Vagistat's final parting pregame words: "…and this is why I thought Los Angeles would be the toughest game of this road-trip."
I later found out on Twitter that Vagistat's ANALytics told him that LA would be tough.
Not mentioned by the seven-foot braying jackass? The fact, that you know, LA has the best record among the four teams on this Rangers' current road-trip.
I will never understand how these mooks will come up with all of these never-ending bullshit stats, but will always ignore the only stats that matter – wins and losses.
Once Sam Rosen & Joe Micheletti popped up on my screen, I was wondering what player the bumbling duo would fawn over tonight. Turns out, and as friend of the blog, Linda H., predicted – it was Kevin Fiala.
Just thirty-five seconds into the game – Fiala scored.
These two never fail.
I wish I could place daily wagers on their "reverse curse" success rate! If I could, I'd have a mansion in Hawaii by now.
GAME REVIEW time.
---
FIRST PERIOD:
In a word, this period was "SHIT."
There have been worse periods (the one against Arizona immediately comes to mind and blowing the lead to the Islanders is also not forgotten); but these twenty minutes were just excruciating to endure.
Thankfully, and after spotting the Kings a two-goal lead – the Rangers were able to turn things around and rebound with a victory – but I still don't understand these slow starts – especially after having the previous two days off.
In something that I thought was telling, Kings' head coach, Todd McLellan (who Gallant can't stand), went with Cal Petersen in net (.880 save percentage and a 3.49 GAA), instead of two-time Cup champ, Jonathan Quick.
More times than not – we usually see the opposing team's starter against the Rangers (especially with a day of rest) rather than the back-up.
Maybe I'm looking too much into this – but I thought by going with Petersen, McLellan didn't think highly of his rival's team.
After Zibanejad lost the first draw of the game to Danault (#93 finished 9-22 at the dots, for a percentage of 40.9%), it looked like the Kings had iced the puck. I didn't think it was icing, but CZAR IGOR may have. However, and as any athlete or fan knows – you play until you hear a whistle.
At just the 35 second mark, Fiala found himself one-on-one with Trouba, following a rebound afforded to Kempe. Fiala then soccer kicked the puck behind Trouba, made a move, and boom – 1-0, bad guys, just like that.
This was probably a goal that Igor would like back – and since I haven't seen any of the post-game interviews yet – I'm just assuming he thought it was icing. At the very least, it's what Sam & Joe thought.
Again – no excuses – you play until you hear a whistle.
BREAKING NEWS: At just the 1:58 mark of the period, Panarin registered his first SOG of the contest – and his first SOG in over nine periods played.
When's the parade?
In total, Panarin finished the match with three shots on goal – but a lot of the stuff that has lately plagued the moldy Breadman still remained – including turnovers and opting to force passes rather than shooting at wide-open nets.
However, as Dr. Leo Marvin once said in "What About Bob?" – "Baby Steps."
If there was anything "good" about this first period, then it was the Rangers' fourth line – which really doesn't say much, due to how listless the rest of the team played.
At the 5:07 mark, and following a Chytil turnover – Sean Walker, who had a hell of a game for himself – hit iron.
In other words – it could've been 2-0, bad guys.
As the game progressed, even the smiling Sammy Rosen was going after Panarin and his scoring drought. Also apparent at this time – the Rangers couldn't string two passes together.
With 14:13 to go, Trocheck slashed Edler. Fourteen seconds later, Vilardi scored an easy power-play goal, as he was left all alone next to Igor.
2-0, bad guys, as most Ranger fans were now starting to regret their decision of staying up late.
Down to 11:25 remaining – Kakko got knocked down by a King. This is when I noticed that the third line was actually playing tonight.
However, they, along with everyone else – would become noticeable – and in a grand fashion. (Although Kakko would continue to create infuriating emotions.)
And yep, I'm starting to race through stuff here, due to the hour and my work schedule.
Moving ahead; with 9:40 to go, Kupari was left all alone with Igor, and from a foot out, after a puck squirted/took a bad bounce behind Lindgren. CZAR IGOR came up with a monster robbery save – thus preventing the Kings from going up by a field goal.
As we hit five minutes left on the clock – I think the Rangers' longest attack in the Kings' zone was about twenty seconds – by the fourth line.
Two minutes later, Lafreniere and Lizzo (Blake Lizotte) took off-setting slashing penalties. This was the first time that you noticed that #13 was dressed.
During the foreplay; Chytil blew a tire and Rempe landed on his head.
Just as you were saying, "oh no, not again" – #72 returned to the bench – and not the tunnel – and finished the game without issue.
As we approached the two-minute warning, the Kings went on a 3 x 2 odd-man rush. Fiala went wide from eighteen inches out.
In other words – this could've been a 5-0 Kings' first period – but due to CZAR IGOR, and some help along the way – the Rangers were very fortunate to only be down by two goals.
2-0, bad guys, after twenty.
Here's what I said at the time:
2-0, bad guys, after 20. 1P Thoughts:
— You know it's bad when even Sunny Sammy sounds sour.
— Two days off & this is how they come out.
— Could be 5-0 LA
— SOG 13-6 LA, Hits 19-10 #NYR, FO's 13-all
— Another tough night for 8/79
— 13/72/24 are ghosts
— 4th line ok

— BlueCollarBlueShirts (@NYCTheMiC) November 23, 2022
---
SECOND PERIOD:
This period, and really, from this point of the game and on – was completely night-and-day from the first period.
After we saw Sieve Vagistat do his forced sad face, and after being told about the amazing Rangers' Black Friday sale (no "convenience fees" on tickets – where how is it convenient for any fan to be charged an insane amount of money to download a ticket to their phone in the first place?); we then heard Sam Rosen belt out his famous line of – "SECOND PERIOD, WHAT DO YOU LOOK FOR HERE JOE?"
I was waiting for Micheletti to respond with, "an enema Sam, a fabulous enema."
Whatever was said in the locker room completely changed the game.
Of course, you still have to wonder why the team came out like shit to start – but at least they didn't give up.
This period was all Blueshirts.
Thirty-four seconds in, Petersen was forced to rob Jimmy Vesey from the circle.
A minute later, Panarin had a wide-open net in front of him, but somehow caught the tip of Petersen's glove – rather than depositing the puck into a net that looked like the size of the ones currently in Qatar.
As the third line, who were complete ghosts in the first period, were motoring and fore-checking; at the 2:22 mark, Schneider, from Downtown Julie Brown, put the Rangers on the board:
Schneid's 1st of the year and Bread loves to see it! pic.twitter.com/zNPzKlsBlT

— Rangers on MSG (@RangersMSGN) November 23, 2022
---
2-1, bad guys, following B-Schneids' first goal of the season.
Chytil and Lafreniere received assists on this goal too – so if you go with the ghost analogy – they soon haunted the Kings.
Ryan Lindgren, who I wish I had more time to praise tonight, was ABSOLUTELY FANTASTIC in this game.
Not only was #55 his usual self from a defensive aspect – he was charging to the net and trying to score goals too.
I know that some people don't value the plus/minus stat anymore, but I thought that Lindgren's +3 was an accurate depiction of the way he played tonight.
We all know how the "Three Stars of the Game" is meaningless in the grand scheme of things (only scorer's and goalies are represented), and how the Broadway Hat is a nice trinket of appreciation too – but if anyone deserved the first star and the hat (outside of Igor) – it was the Rangers' first-pair left defenseman.
Or so I say – but that's my story and I'm sticking to it!
The fourth line, the most consistent line of the game, continued to press Petersen, where the goalie was forced to make a pair of tough saves on Gauthier and Carpenter with 7:30 to go.
Thirty seconds later, and as Sam & Joe were waxing poetically about the 2014 Kings – Igor made a pair of tough saves himself.
With 7:59 remaining, the Rangers erased a lot of bad trends – and received some puck luck too:
a little puck luck never hurt anybody pic.twitter.com/xLdz1Ri5OE

— Rangers on MSG (@RangersMSGN) November 23, 2022
---
2-2!
Vincent Trocheck, after hitting what feels like 9786578956789567956785675 posts this season (I think he's hit the iron more times than my word counts during these daily manifestos), and thankfully at that – scored a puck luck goal.
To his credit, #16, and as he usually does, was going to the net to challenge another goalie. This time, Drew Doughty happened to deflect the puck and the rubber took a weird bounce and landed softly into the roof of Petersen's net.
Trocheck has been good this season, but he's been snake-bitten a lot. You could see Panarin share that sentiment with his over-the-top celebration following this goal – where maybe one day – we'll see #10 score a goal himself – and do a leg kick too.
As I've been saying ever since the recall of #12; down to 5:00 remaining – what has been obvious since his return to the team rang true again – the city of Hartford, Connecticut is Julien Gauthier's least favorite town in the world.
In other words – there's just no effin' way you can take him out of this line-up – where again – that's tough for the pair of players wearing the consecutive #74 and #75 jerseys.
As we hit the two-minute mark, Edler got away with a blatant high-sticking penalty on Goodrow. To the credit of the officials – they immediately gave the Rangers' a make-up call.
Now on a 6 x 5 delayed penalty attack, which was all generated by the third line; the trio of 13/72/24 were seemingly in the Kings' zone for about ninety seconds.
As Mika joined the attack (he hit a post), the third line continued to fight and of all people, it was Kaako who was rewarded, with a great puck-luck bounce – and the go-ahead goal to boot:
What. A. Period. pic.twitter.com/oq3a4Xg2Uq

— Rangers on MSG (@RangersMSGN) November 23, 2022
---
3-2, GOOD GUYS!
When Kakko scored, Sam Rosen said, "finally, Kakko scores."
Kakko would have four more chances during the final frame to get a hat trick – but we'll get there in just a minute.
Now up by a goal, and with under a minute remaining; CZAR IGOR cleanly stopped Kempe. Kempe tried to get cute with Lindgen and every Ranger jumped him. That told you that the Rangers were united as one and weren't going to take any shit – a complete reversal from the first twenty minutes.
3-2 through forty minutes. Here's what I said at the time:
3-2, GOOD GUYS after 40. 2P thoughts:
— Complete 180, but which version of Jekyll & Hyde #NYR come out for the third?
— The Ghost third line haunted the Kings 20 minutes later.
— Will Panarin score?
— SOG 23-19, FOs 21-19 LA; Hits 31-19
— NYR finally getting breaks.
— BlueCollarBlueShirts (@NYCTheMiC) November 23, 2022
---
THIRD PERIOD:
As noted a few times – this game a was a roller-coaster.
After staying at the ground level for twenty minutes; the Rangers accelerated, full-speed, to the top of the joy-ride.
The final twenty minutes – a series of ups-and-downs, where by the end of it, and if you didn't puke a few times during this frenetic action – you walked off the ride with a smile on your face – but with butterflies in your stomach too.
Once returned to play, Rosen went right to his reverse-curse third period stats. Someone needs to muzzle him whenever he does that.
The Kings tried to respond, where in the first four minutes, Igor had made four saves, while Miller prevented a Kempe breakaway.
Down to 14:50 remaining, and if any one individual play embodied the word "roller-coaster" – then it was this one:
Kakko "Kakko'd" three times in a span of ten seconds.
As Petersen lost his stick, Kakko had a wide-open net to shoot at. He didn't. Failed chance – one.
Kakko then looped around the net, where again, Petersen didn't have his stick and was out of position. Kakko had another net to shoot at. He didn't. Failed chance – two.
Finally, Kakko realized that Petersen was flopping around like someone with a seizure. He finally shot. This attempted shot was wacky, because it looked like the puck rattled around the cage, but upon replay, Petersen made his best save yet, just stabbing his glove out at the last second. Failed chance – three.
And of course, because this always happens – right after this triumvirate of failure – where Kakko then turned over the puck too for good measure – Sean Walker raced up the ice and boom – 3-3, and with 13:48 remaining.
You could strangle Kakko after watching this.
And really, from an unbiased perspective – after watching Kakko dick around – the Kings deserved to make the Rangers pay.
However, the Rangers wouldn't allow these failed opportunities to derail them from this roller-coaster.
Just 56 seconds later, and following a home-run pass from Mika while inside the Rangers' d-zone – the Kreider from last season returned:
WHAT A PLAY! KREIDER GETS THE LEAD BACK! pic.twitter.com/KJ6Srq0Cav

— Rangers on MSG (@RangersMSGN) November 23, 2022
---
4-3, GOOD GUYS! And the game winning goal too!
What I really enjoyed about this goal, aside from the Rangers regaining the lead; was that right after the puck went into the net, the M$GN cameras went to the Rangers' bench. Once there, we saw Trocheck coaching up and consoling Kakko. That's leadership and playing as a team.
Following Trocheck's message of "shake it off young buck;" Kakko looked at an I-Pad. My advice? SHOOT THE PUCK!
(Also worth mentioning? Fox picked up his second assist of the game, which means he's now on a nine-game scoring streak. NORRIS!)
The roller-coaster didn't stop there.
As the two goalies exchanged saves, and as Lindgren continued to make great plays; with 7:04 to go, Kakko had a chance to redeem himself with a breakaway. As usual, the Finn didn't "Finnish" (har-har-har), and did his standard Harlem Globetrotter act, where he makes one move too many, gets right to the goalie and doesn't have enough space to lift the puck.
In other words – Petersen kept this game alive on this one-vs-one play.
Following a mini TROO TROO TRAIN hit on Moore; the stage was set for a crazy finish.
Down to 1:47 remaining, Petersen left his net.
Up next, the Mika Zibanejad Show.
I got lost in the moment here, but I'd reckon to guess that he made four monumental plays during this, including three clears. SELKE!
With the second defensive pairing now on the ice, Miller got the puck to Vesey. The Rangers' first-line right winger found Kreider, and CK20, as if he was an old man enjoying a casual smoke in the park, skated the puck towards the empty net.
Akin to a pro golfer tapping in a putt from a millimeter away from the hole; Kreider scored and walked away like he's done this a million times before.
In other words – no crazy over-the-top celebration, you know, the ones that you see in the NFL, when some moron sacks a QB and dances the Macarena – despite his team being down by 28 points.
Like a true pro – Kreider acted like he's done this before.
In fact, he did it 52 times last season, and this was his 9th goal this season in the Rangers' 20th game played.
In other words – he's on pace to score nearly 40 goals this season. Not too shabby.
5-3, GOOD GUYS, your final.
Down the Ducks.
Here's Double G. following the game:
---
This could've been a disaster tonight. Instead, the Rangers picked up a hard-fought two points after putting themselves at a big disadvantage.
This was a good win – they beat a good team, did it on the road and overcame everything.
Let's hope for an easier win tomorrow!
And oh shit, what's that sound? CHOO-CHOO! All aboard the LIRR!
See you tomorrow night – where I hope my power-nap once returned from work does me good again!
PLUGS TIME!
---
On Monday night, the Rangers' off-day, our pals at "The Blueshirt Underground Show" returned with a new episode. You can watch/listen to it here:
---
My first plug of tonight's blog – the mandatory plug for my book, "The New York Rangers Rink of Honor and the Rafters of Madison Square Garden."
As mentioned previously, the book is now available in hardcover, in paperback and in Kindle formats. To purchase a copy of the book, visit this link:
https://www.amazon.com/Rangers-Rafters-Madison-Square-Garden-ebook/dp/B09CM5N2WD
For those still looking for signed paperback versions of the book, I have re-ordered more copies. I now have a few signed copies for sale at $25 a pop (includes shipping price) through me directly. Here is all the information on that:
---
My four-volume set of books, "One Game at a Time – A Season to Remember," is a game-by-game recount of the Rangers 2021-22 campaign.
My second title as an author, "One Game at a Time – A Season to Remember," is now available in eBook, paperback and hardcover formats.
To obtain signed copies, visit: https://bluecollarblueshirts.com/onegamebook/
To purchase all four volumes on Amazon, visit: Amazon.com – "One Game at a Time."
---
"Tricks of the Trade – A Century-Long Journey Through Every Trade Made In New York Rangers' History," a four-volume set of books that meticulously covers every trade made in franchise history, is now on sale.
All four volumes of the title can be purchased on Amazon.com and are presented in three different formats – eBook, paperback and hardcover.
To purchase Volume I: Conn Smythe (1926) – Craig Patrick (1986), visit Amazon.com
To purchase Volume II: Phil Esposito (1986) – Neil Smith (2000), visit Amazon.com
To purchase Volume III: Glen Sather (2000-2015), visit Amazon.com
To purchase Volume IV: Jeff Gorton (2015) – Chris Drury (2022), visit Amazon.com
To purchase signed copies of all four volumes, visit https://bluecollarblueshirts.com/tricksofthetrade/
---
Here are my last few blogs, in case you missed them:
---
---
---
If you haven't already, subscribe to this blog for the next update:
---
Don't forget to order my new four-volume set of books, "Tricks of the Trade!"
If you don't order through me, all four volumes are now available on Amazon.com
For more details, check out: https://bluecollarblueshirts.com/tricksofthetrade/
Thanks for reading.
LET'S GO RANGERS!
Sean McCaffrey
BULLSMC@aol.com
@NYCTHEMIC on the Tweeter machine