Greetings and salutations everyone and welcome to another blog here on BlueCollarBlueShirts.com. Well that was wretched.
Prior to discussing tonight's horrible Rangers vs Bruins game and the M$GN broadcast too; I'd like to thank everyone for all of their feedback to yesterday's "PRIDE" blog – which wound up being one of the most viewed manifestos ever posted on this site (within a time-span of 24-hours).
Due to my busy "real-life" work schedule; I will answer all emails and messages received over the weekend.
And if you're one of the few that missed last night's tome, you can check it out here: https://bluecollarblueshirts.com/pride/
---
Just to give you some follow-up information, before sharing our common misery over the New York Rangers performance from Thursday night at "The World's Most Expensive Arena;" I present to you these two tweets that went viral on January 19th:
NHL analyst says on the NHL Network! that if Philly Flyers Provorov doesn't want to wear a pro-LBGTQ uniform he should leave America, go back to Russia, and fight in the war against Ukraine. The tolerant left! Holy shit: pic.twitter.com/wWLFBy2stC

— Clay Travis (@ClayTravis) January 19, 2023
---
Ivan Provorov's jersey is now completely sold out on NHL Shop and Fanatics with the exception of extra smalls. pic.twitter.com/qEb3qF0IIN

— Greg Price (@greg_price11) January 19, 2023
---
The clip of the NHL Network's EJ Hradek stating that an immigrant should just go back to his home country if he doesn't subscribe to liberal politics – and then go to war with Ukraine too – was a perfect example of what I said last night – all of this negativity about PRIDE NIGHT/MONTH is media driven.
If it weren't for the media, then I believe that most fans – and just like me – wouldn't care either way.
(Read last night's blog to truly understand what I mean by this, as I don't have the time to explain what I wrote yesterday right now.)
Rather than uniting and promoting a cause that he allegedly believes in; this clueless bozo posing as an unbiased reporter, EJ Hradek, just divided – and gave every critic of PRIDE NIGHT/MONTH a full arsenal of ammunition.
Heck, this moron also gave people who fully support PRIDE NIGHT/MONTH headaches too. I had one lesbian reader message me today, who said, "Hradek just made things tougher for us."
And after hearing what this hypocritical idiot said – it's no wonder why Ivan Provorov currently has the hottest and best selling jersey in the NHL right now – as protesting fans are now speaking with their wallets.
Perhaps to capitalize on this Provorov story, and to go back to what I said last night, where I proclaimed that the only thing that the NHL cares about is money – maybe the NHL can now have a "RUSSIAN ORTHODOX NIGHT" too?
(Personally, I rather a "LATVIAN ORTHODOX NIGHT" – but of course, that's due to my fandom of Seinfeld!)
In the event that this ever happens (it won't, but just go with it so I can make my point here); I'm sure that if some players decide not to wear these suggested RUSSIAN ORTHODOX jerseys – then the media members who are currently personally attacking Provorov today, will then pull a complete 180 – and support any player who chooses not to wear them!
Tolerance? "Only if you agree with me" – the official slogan of the NHL media!
Me personally?
While I support all freedoms, whether it be speech, what gender you want to sleep with, or who you want to pray to; I'd never be caught dead wearing a Flyers' jersey!
Simply put: I don't support the freedom of Ranger fans wearing Flyers' garb!
Heck, regular readers of this site know all too well about my long-time and day one fandom of Cam Talbot – and may also be aware that I have a jersey from every team that he's ever played for – except for one – the Filthadelphia Flyers!
Sadly, this won't be the last time where we will talk about articles of clothing tonight – but more on Sam Beavis and Joe Micheletti-Head in just a bit.
---
The Rangers, following their two-days off, hosted the Boston Bruins, who were playing their second game in as many nights.
Despite a rest advantage against the league's best team, and a B's squad that's currently enjoying an historic winning season; the Rangers were out-everything'd – out-classed, out-played, and most important above all else – out-matched.
Also woefully apparent? How much better the Bruins were than the Rangers at every position, where <gulp> including in net.
However, that's not what really bothered me – because as stated – the Bruins are flirting with NHL history right now.
Furthermore, while the Blueshirts played the role of "pretender," while the Bruins starred in their role as "contender" – there was never one time where I questioned the Rangers' effort and/or hustle.
Simply stated – the Bruins are just the better team – and their stars show up too – something you can't say about the Rangers – but more on Artemi Panarin, Mika Zibanejad and Jacob Trouba later.
What just completely aggravated me, to the point of punching pillows and screaming at my television, was the commentary presented by the two jackals in the booth, Sam and Joe.
I am not making any of this up – for sixty minutes, these two pulled their pants down and said to every Beantown player, "enter me."
Okay, maybe they didn't really say that, but you get the point – if you didn't know any better, then you would've thought that you were listening to the Bruins' hometown announcers.
Do you know how bad it was? (HOW BAD WAS IT?) The fact that only Sieve Vagistat, where you may have heard that I'm not exactly his biggest fan, was the only person on the M$GN that was bearable tonight.
Put it this way: Not once did I ever question who signs Vagistat's paychecks, nor did I ever doubt the team he's loyal to.
Sam and Joe?
Forget about it – and I'll bring up every instance of these two braying Boston homers during the GAME REVIEW.
After all, I know most of you are here for my thoughts on the Rangers – and not here for my opinions regarding a senile old man and his early bird Sizzler dining buddy.
---
As stated up top – I'm really not upset or rattled about this loss. While I wouldn't say that I expected it; I'm not surprised either.
And since I always claim to have a "glass half-full perspective" on this site, here were your silver linings from this 3-1 drubbing – where the final score doesn't indicate what this game truly was:
— The effort was there. The talent just couldn't match-up.
— The Rangers' penalty kill went 4-4, including killing over 1:40 of a Bruins' 5 x 3 power-play – a man-advantage unit that ranks third overall in the league.
— The Blueshirts didn't piss a point away – and as they have done repeatedly all season to the league's bottom-feeders.
— Another goal scored by a Rangers' defenseman (Harpur) – where this is true too – it's great that the Rangers' blue-liners are one of the most effective sextets in the league, but that's also an indictment on the lack of production from the forward group.
— For Rangers' general manager Chris Drury, he got a real look at his team and how they compare to the current odds-on favorite to win the 2023 Stanley Cup. His team's weaknesses were certainly on display tonight, and as the trade deadline approaches, he knows the areas that needs addressing. (Cough, second right wing, cough!)
If there was anything eye-brow raising, sans the now accepted brutal powerless play; then it was Gerard Gallant's post-game interview – where had no problem calling out both Vincent Trocheck and Artemi Panarin.
However, we'll get into that following the GAME REVIEW.
Prior to getting there, up next – the pregame news and notes.
---
I covered all of the off-day news last night, so refer to the link above for everything from Wednesday.
Prior to puck drop, Gallant held his daily pregame "TURK TALK."
Here's what the head coach had to say:
---
Gallant confirmed all of the assumptions from yesterday – Sammy Blais was going to join Libor Hajek in the press box, while CZAR IGOR would return to the Rangers' net.
As far as anything else, Gallant praised Adam Fox; as at the time, the 2021 Norris Trophy winner wasn't confirmed for the 2023 All-Star Game just yet.
Fox, along with Panarin, were later named All-Stars following tonight's 3-1 loss.
And yep – I can think of five different Rangers more deserving for the All-Star game than Panarin. (Zibanejad, Kreider, Lindgren, Schneider and Goodrow!)
---
Here was Thursday's line-up:
FIRST LINE: Kreider/Mika/Kakko
SECOND LINE: Panarin/Trocheck/Kravtsov
THIRD LINE: Lafreniere/Chytil/Goodrow
FOURTH LINE: Vesey/Leschysyhn/Brodzinski
FIRST PAIR: Lindgren/Fox
SECOND PAIR: Miller/Trouba
THIRD PAIR: Harpur/Schneider
STARTING GOALIE: CZAR IGOR
BACK-UP: THE HALAKNESS MONSTER
---
OF NOTE: With Ryan Carpenter sent to Hartford on Wednesday, Libor Hajek celebrated his "sweet sixteenth" consecutive game in the press box with Sammy Blais instead.
---
BOX SCORE time.
The following graphics and information come from ESPN.com:
SCORING (or lack thereof from a Rangers' perspective):
PENALTIES: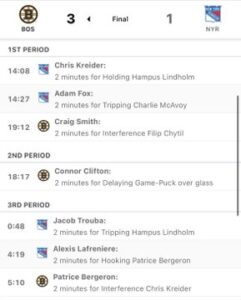 TEAM STATS: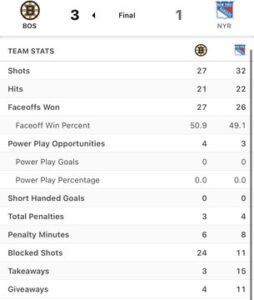 GOALIES:
| | | | | | | | | | | |
| --- | --- | --- | --- | --- | --- | --- | --- | --- | --- | --- |
| SA | GA | SV | SV% | ESSV | PPSV | SHSV | SOSA | SOS | TOI | PIM |
| 32 | 1 | 31 | .969 | 27 | 4 | 0 | 0 | 0 | 59:54 | 0 |
| | | | | | | | | | | |
| --- | --- | --- | --- | --- | --- | --- | --- | --- | --- | --- |
| SA | GA | SV | SV% | ESSV | PPSV | SHSV | SOSA | SOS | TOI | PIM |
| 27 | 3 | 24 | .889 | 21 | 3 | 0 | 0 | 0 | 56:27 | 0 |
---
Once seeing that Vagisat was there, with all of his homemade arts & crafts and charts & graphs fully at his disposal; I flipped on the NHL Network – where yep – Ivan Provorov continued to be discussed.
While that was going on, and to show you how cheery I was at around 6:30PM, I tweeted the following:
Really looking forward to this litmus test/gut check #nyr game tonight. LGR!

— BlueCollarBlueShirts (@NYCTheMiC) January 19, 2023
---
I guess a boy can dream, no?
However, the next three hours were a nightmare.
Once returned to the M$GN, who were having a NESN "PRIDE NIGHT" themselves; the harbinger of what was to come – as no joke, here's how Sam Rosen, you know, the Rangers' play-by-play guy for over four decades, opened the broadcast:
"OH JOE, THE FANS OF THE BRUINS ARE IN THE HOUSE. IT'S GOING TO BE A GREAT NIGHT!"
Why would any Ranger fan think that having Bostonians inside of M$G is a great thing?
After that, Sam & Joe, for the first of what would be 806786789678967896789678967896 times, mentioned how Charlie McAvoy grew up in Long Island – and yes – was/is friends with Adam Fox.
You know, stuff we've only heard about once or 987678678967896896 times before.
After that, Sam and Joe then verbally fellated David Pastrnak, Brad Marchand and Patrice Bergeron – where I was surprised they were even able to get the words out of their mouths.
No joke, the way these two talked about the Bruins' stars all night – they were as excited as Jason Biggs' character from "American Pie" – with a warm apple pie sitting on a kitchen counter.
Ugh.
Let's now share tonight's misery together – where need I remind you – I do have a 5AM train to catch on Friday morning. In other words, I'll try to make this as quick and painless as possible! (Hi Joe L.!)
GAME REVIEW time.
---
FIRST PERIOD:
With perhaps the best back-up goalie in the league in Boston's net, Jeremy Swayman; the Rangers had their 2022 Vezina Trophy winner in theirs, CZAR IGOR.
And while #31 in blue has been playing better lately at M$G these days, following a tough stretch of games – this was another game where all of his numbers took a beating – and where he was outplayed by an inferior fellow backstop.
In no less than the first opening twenty seconds of this game, Bergeron beat Zibanejad on two separate draws.
Right after that, as Sam Rosen has to be spending his summers in New Orleans under the tutelage of various witch doctors and voodoo queens; the man with the bad toupee started singing the praises and virtues of Pavel Zacha, Pavel Zacha, dormez vous.
Just three seconds later, and at the 1:19 mark of the game – Pavel Zacha, Pavel Zacha, dormez vous, scored.
1-0, bad guys, just like that.
On this goal, David Krejci (someone can now inform Michelle Gingras that he's back in the NHL – that's a callback to last season); fired a shot from the point, and Zacha deflected it right past Igor.
This goal allowed is tough to hang on Igor, especially since Zacha was all alone and in front of the goalie; but still – we've seen him make these saves before – and routinely at that.
In fact, he'd soon make a save on a tougher shot just two minutes later.
And oh yeah – just 1:19 in, my daily 4-0 Rangers' final score bet was shot to shit!
Thanks Sam.
Surprisingly, and somewhat to the Rangers' credit (or at least to the penalty killers) – the Bruins didn't score again for the rest of the period.
However, neither did the Rangers – but they did have their chances.
At the 2:48 mark, Swayman misplayed a puck, which then allowed the newest Ranger, Jake Leschyshyn, to crash the net and try to jam the puck home – a save for the B's net-minder.
And just like last game, and despite Vesey in and Blais out (more on this to come) – the Rangers' fourth line was the most consistent and best line of this period.
Heck, in general, the Rangers' bottom-six were far superior than the FAT CATS skating on the top-six – where perhaps these high-priced players should wear ski masks when depositing tonight's game check.
In an example of what I was just talking about in regards to CZAR IGOR, and how he usually makes deflection saves; at the 3:20 mark, he made a save on a tougher deflection than the one he had previously faced, when he stopped a Marchand chance – while "The Rat" was just standing (all alone – of course) from two feet within his paint.
Following the freeze, Bergeron beat Zibanejad at the circle for the fourth consecutive time.
Not even four minutes in, and in tonight's central theme – it was already apparent – Sam and Joe were not going to stop talking about the Bruins tonight.
Seriously, at one point, I was waiting for them to start speaking with a "Bahstan" accent and then tell us how the Bruins were "wicked good."
At the 5:57 mark, CZAR IGOR was forced to make another tough save, one that he had to come out of his net for. On the ensuing rebound, the 2023 NHL All Star, Igor's fellow member of the NHL elite, Adam Fox, saved a goal.
In a response, and again, I'm not making any of this up – Sam and Joe told us how they had brunch with Bruins' bench boss, Jim Montgomery.
I wonder if they dined on salad, because it was very clear that Sam and Joe were only here tonight to toss the Bruins' salad.
At the 7:31 mark, Swayman stopped a weak shot from Kreider. In a response, Rosen recited Swayman's Wikipedia page to us, where he gave us every Swayman fact known to man, including how he grew up in Alaska, attended Sarah Palin Junior College and once farted on a road-trip.
Okay – he only said that Swayman grew up in Alaska, but at this rate – he could've said the two other things and you would've believed it.
With 10:39 remaining, it was Trouba's turn to take a weak shot, where silver lining – it actually reached the net unmolested – but an easy save for Swayman too.
Down to ten minutes remaining, Barclay Goodrow kicked off the best Rangers' shift of the period, when he forced a turnover at center ice, got the puck deep, made a keep, got the puck deep again and then put a shot on goal – another save for Swayman.
A minute later, CZAR IGOR denied Marchand again, but almost scored on himself.
On this play, Ryan Lindgren thought that his goalie was going to freeze the puck, and as he turned around, Igor sent the puck to the back of #55's skate. Thankfully, the puck didn't bounce the wrong way – and into Igor's net.
With 7:10 left on the clock, Fox made a rare turnover but his fellow All-Star bailed him out by stopping Pastrnak – another player that Sam had a raging hard-on for all night.
As we wound down to the final minutes, this much was true – while Harpur and Schneider were laying the body and making big hits – Vitali Kravtsov was no match for the big bad bears – as he was getting creamed left-and-right.
He was later demoted too – but more on that to come.
With 5:52 to go, what should've been the turning point of the game – and for both teams.
At this moment, Kreider was boxed for holding Hampus Lindholm – a defenseman that was no where near Igor's net.
Nineteen seconds later, Fox tripped his "OLD FRIEND JOE" Charlie McAvoy, as the B's d-man was streaking towards Igor.
End result?
After Rosen listed every article of clothing and team-apparel in McAvoy's closet (again – I AM NOT MAKING THIS UP) – the Bruins had a 1:42 5 x 3 power-play.
Between Mika, Goodrow and the goalie – the Rangers' penalty kill survived.
And you know what I always say about these situations – "if you can't score on a long 5 x 3 power-play, then you don't deserve to win."
The Rangers, nor the Bruins for that matter, saw it that way.
At the end of the kill, CZAR IGOR made a complete robbery save on Charlie Coyle, when he charged the center and afforded the shooter no room.
This then sprung Panarin, who was then robbed by Swayman himself. I guess to allow us to know that he's still cold – Panarin then shot wide on the rebound.
As opposed to last game, when Panarin missed the net six separate times; tonight, he put five shots on goal – but also put five shots into the boards too.
Down to 1:34 remaining, and with some momentum after their penalty kill; Craig Smith tripped Chytil at center ice.
The Rangers then employed their delayed penalty attack, where a whiff from Zibanejad on his patented one-timer with the 1.8% success rate ended that.
As Sam and Joe asked for lotion to relieve themselves with; the duo then raved about how the Bruins had the best penalty kill in the league.
With just a second remaining in the period – the Rangers had seemingly put a dent in the Bruins' PK success rate – but Swayman made another hell of a save – this time on a Panarin-to-Kreider deflection/tip-in try.
1-0, bad guys, after twenty.
Here's what I said at the time:
1-0, bad guys, after 20. 1P Thoughts:
— Could be much worse. #NYR PK biggest highlight.
— Sam and Joe need muzzles or a paycheck from NESN – not M$GN.
— SOG 13-11, FOs 11-7 B's; Hits 10-9 NR
— It will be a great day whenever Panarin starts scoring goals. Laffy too.
LGR!

— BlueCollarBlueShirts (@NYCTheMiC) January 20, 2023
---
I also said this:
With the way Sam & Joe have been talking all game, I'm expecting them to pull a George Costanza, and drive around with the Rangers' 1994 Stanley Cup down the pothole heavy streets of NYC. #NYR

— BlueCollarBlueShirts (@NYCTheMiC) January 20, 2023
---
SECOND PERIOD:
To open the second period (and say it with me – "I'M NOT MAKING THIS UP"), Sam and Joe narrated over a Marchand graphic, dedicated to the greatness of "The Rat."
1:17 later, the Rangers' abysmal power-play was now 0-1.
If you include the first half of this power-play, and then the final 1:17 here, this meant that the Rangers' PP1 had two separate chances – and failed on both.
In other words, this unit was now 0-fer their last 17 – or 0-fer their last 18 – only if you consider these two shifts as separate opportunities.
Alexis Lafreniere, whose favorite song must be "COLD AS ICE" by Foreigner; then had a GOOD LOOK at Swayman. Instead, he dished the puck to Goodrow – and the puck was sent out of play.
Micheletti immediately buried the 2020 first-overall pick for not shooting.
As we hit 17:46 remaining, Bruins' d-man, Brandon Carlo, who had previously blocked a shot, was shown being assisted to the locker room.
I was surprised that Sam and Joe didn't run downstairs in order to massage Carlo's gimpy leg.
And don't lose sight of this either – Carlo never returned to the game – which meant that the Bruins played nearly two-thirds of this match with only five defensemen.
The Rangers never made them pay.
Following Pastrnak beating Trouba during every puck battle imaginable; Micheletti, in a rare moment, actually talked about the Rangers – and said what I was saying all game – the Blueshirts' fourth line was the best trio of the game for the home team.
Right after saying that, the second line came on and boom, Patrice Bergeron, from the high slot, absolutely ripped a shot that went past the Rangers' goalie.
2-0, bad guys and with 15:18 remaining. This was the eventual game-winning goal too.
Micheletti tried to make a screen excuse, but upon replay, he said what it was – Bergeron is a future Hall of Famer and perfectly executed on this shot.
And yep, while you can't question Bergeron's acumen – we've seen CZAR IGOR make these saves before.
Down to 14:50 remaining, Kravtsov blasted a slap shot – a save for Swayman.
And this much is true – and as Gallant would later allude to – if you go back and read my Rangers' season preview, then you'll know that I said the following:
"I don't expect Panarin and Trocheck to have instant chemistry. However, as the season moseys along, and as the team hits the 50% mark of the season, I totally expect this duo to gel as Panarin and Strome once did."
Oops.
Nothing could be further from the truth, where worse than that – you can argue that these two have even less chemistry now than they did at the start of the season.
As the game progressed; Pastrnak skated towards Igor's net. Lindgren shoved him into it. In other words, this was the first thing that a Ranger put into a net – even if it was into the Rangers' own net!
As we hit 13:30 remaining, Trouba made his best pass of the season, from deep, to a camped-out Panarin. Panarin shot the puck right at Swayman's mask.
$11.6M folks – and for a player where many are boldly stating and opining, "THE RANGERS MUST GET PANARIN HELP."
Guys and gals, and children of all ages – Panarin is paid $11.6M, tops on the team, TO HELP HIS TEAMMATES.
While yes, you want to better your stars too – this much is also true – Panarin hasn't done anything to get his linemates, nor the Rangers' power-play either, going at all.
In fact, you can say that his play has been a detriment – as Trocheck is in a slump, Kravtsov scores once every fifteen games, the power-play stinks and so on and so forth.
And when Panarin played on the top line with Zibanejad? Mika had his coldest streak/slump of the season.
Seriously, for an All-Star, and as one of the highest-paid players in the league – is there anyone less dangerous with the puck right now than Panarin – sans his 4-4 performances during shootouts – you know, gimmick contests that you won't see during the playoffs?
I think we all feel the same – we wish that the 2019-20 version of "The Breadman" will return – and stat.
Following all of this – Gallant flip-flopped Kravtsov and Vesey – and right around the half-way mark of the game/period.
While I'll soon have "The Turk's" post-game comments for you; I do want to say this – Kravtsov did nothing wrong – and where need I remind you for the 986786786786786th time – I am nowhere near a card-carrying member of the "KULT OF KRAVTSOV."
However, Gallant won't punish Panarin, so Kravtsov is the fall guy here – as this line needed defense – and that's what Vesey provides.
For whatever reason, with 8:30 remaining, Sam and Joe spent the next three minutes lamenting over the state of the Vancouver Canucks. And when the Rangers play them, as they will do following their bye week and the All-Star break – you know that Sam and Joe will pump them up to victory.
Down to 7:20 remaining, Panarin continued battling his severe disease known as "Lafreniereitis," as he missed the net again.
Two minutes later, and following a TV timeout, the NESN crew reported that Swayman was singing along to the Backstreet Boys, as for whatever reason, M$G plays boy band music to get the team going.
And I'm not making this up either – Sam, Joe and Giannone then had a two-minute riveting conversation about the "I Want It That Way" song.
That's how bad this game was.
Down to 1:43 remaining of both an exhausting game and broadcast; the Rangers' received their second power-play, following Clifton sailing a puck over the glass.
You know how it goes – oo-gatz on the power-play.
We remained at 2-0 after forty minutes.
Here's what I said at the time:
2-0, bad guys, after 40. 2P Thoughts:
— Not really upset, Bruins are historically great for a reason.
— Panarin & Lafreniere can't score at all
— SOG 22-21, Hits 18-17 #NYR ; FOs 20-14
— Swayman is good – not like the other scrubs who blank NYR at M$G.
— Not dead yet.

— BlueCollarBlueShirts (@NYCTheMiC) January 20, 2023
---
THIRD PERIOD:
The Rangers opened up the final frame by going 0-3 on their power-play, where following a Kreider-to-Zibanejad turnover; Clifton, now out of the box, scored on his two-vs-one odd-man rush with "The Rat" by his side.
3-0, bad guys.
This goal was also scored 15 seconds after the Rangers' power-play had expired and at just the 28 second mark of this period.
Very impressive – no one lets the other team score more after failing on their own power-play like the Rangers.
The Rangers' Way!
Let's bullet-point the rest of this meaningless period, since I have to be up in three hours, I'm already fading especially after listening to Sam & Joe all night, and not much good of note took place.
Here we go:
— Twenty seconds after Clifton's goal, Trouba tripped Lindholm. Not exactly the best idea when trying to erase a three-goal deficit.
— The Rangers' killed this Bruins' power-play, so the home team's PK was now 3-3.
— Two minutes following after being returned to full-strength; Lafreniere continued his streak of taking horrid penalties, when he received one of the 42nd Street variety – hooking – and as he did to Bergeron.
— The Rangers' PK soon went to 4-4, as 51 seconds into the Bruins' man-advantage; Bergeron joined Lafreniere in the box after interfering with Kreider.
— End result? The Rangers' PP1 unit extended their drought to nineteen – or twenty – for reasons as mentioned earlier.
— You'd think just based on the law of averages, this $50M quintet would be able to score at least one power-play goal – but you'd be wrong.
— As the game progressed, all I could say to myself was the following, something you were probably thinking too – "this game can't end fast enough."
— The Rangers did nothing while the Bruins maintained their lead, where during this time, Sam and Joe gave us their "Ode to Pastrnak," this time via a video package.
— Come the FOXWOODS FINAL FIVE MARK, and as Sam & Joe were still lamenting over the injured Carlo; I was lamenting myself – it sucks that the team is off for the next three days and won't have a quick-turnaround to distance themselves from this loss. Instead, it will be 72 hours of how the Rangers aren't a contender.
— At the 4:23 mark, the guy in the ghost outfit traded that in for a Rangers' #13 jersey, as Lafreniere made a cross-ice pass to Harpur, and #5 then scored his first goal as a Ranger from long-distance.
— 3-1, bad guys.
— This was kind of a fluky goal, but hey, they all count – but at the same time – this goal, except for breaking the shutout – was meaningless. This game was long decided by this point.
— The Rangers tried to muster a comeback, where Swayman almost afforded another first – Lindgren's first goal of the season – but the goalie buckled down.
— Down to 2:50 remaining – an absolute laughter of an affair.
— Following a Gallant timeout, and with a hat firmly affixed to CZAR IGOR's head on the bench; Swayman immediately made a save on a double-deflected puck.
— For the next 2:48 – not one Ranger shot on goal.
— This was an interesting strategy. Down by two goals, and with your net empty, all the Rangers did was pass-pass-pass, and when the moment behooved them, they shot a puck or two at the legs of the Bruins.
— 3-1, bad guys, your final – and with Sam & Joe in a complete state of euphoria.
Here's Gallant following this mess:
---
For the first time this season, and really, throughout his short tenure as head coach of the Rangers – Gallant finally called out Panarin.
Perhaps not so ironically – the timing of all of this.
Just last week, Panarin, following the road win over lowly Montreal, was laughing and saying how he doesn't listen to his coach but it's been working.
Yeah right. His turnovers and failure to score goals suggests otherwise.
While I'm not suggesting a rift between the two; I do think this was Gallant's salvo as a response to Panarin saying he doesn't do what the coach asks him to do.
And let's face it – this isn't new. Players and coaches butt heads all the time.
Like most negativity – this too shall pass.
For the sake of posterity, here's what Gallant said verbatim, courtesy of https://nyrangersnews.com/2023/01/19/what-gerard-gallant-said-after-the-loss-to-boston-2/#more-196502; as Adam Rotter was the first person to post the transcript:
On swapping Vesey for Kravtsov on the second line and do you have the lines the way you want them,  "No, not at all. I've talked about our second line all year long, about playing better, harder defensively, not giving up the odd-man rushes and it continues to happen so I have to put somebody over there…and it's not Kravy's fault. He's part of the line, but they got to be better than what they are. They create offense and they get good chances, but we're not going to beat good teams if they continue the chance for them, chance for us, two for them, one for us."
---
On the chemistry between Trocheck and Panarin, "It better get better. It's a good line offensively, but we need a lot more defensively and they are our top players and you need them. They should have scored 3-4 goals tonight, but they could have given up 4-5 just as easy and that is not what coaches want."
---
Was the difference that they finished their chances and you didn't, "Pretty much, yea. I thought we played them pretty well, they are on back-t0-back nights and you jump on them a little bit, but I thought overall the game was good. Again, for five minutes we gave them some, I don't know how many odd-man rushes they had tonight, but it seemed like a lot, but we created some chances too and had some odd-man rushes too and a couple of real good chances, Bread on the side of the net. We just didn't bury them and Swayman made some big saves and our goalie was excellent too. It probably should have been a 5-4 game."
---
As you'd imagine, I am siding with "THE TURK!"
I wish I had more time to get into all of this, but we have 72 hours between games, and I'll return prior to Monday's match with Florida.
Let's close on a high-note.
---
The following comes from https://www.nhl.com/news/2023-nhl-all-star-game-fan-vote-winners/c-340185526?tid=277549086:
"In the Metropolitan Division, New York Islanders goalie Ilya Sorokin was voted in by the fans, as were New York Rangers forward Artemi Panarin and defenseman Adam Fox. Each of the three players will be making his first All-Star Game appearance."
Congrats to Panarin and Fox, who will join CZAR IGOR in Florida on February 4th.
---
All in all, while tonight's game was a tough three-hours – it's one game of 82 and the Rangers still have a firm grasp of a playoff berth.
Similar to my faith in Gallant – I also believe in Drury's abilities.
I'm sure this game was an eye-opener and the brain-trust will make the right moves at the deadline.
I have to be up in two hours, so until next time, Let's Go Giants, LGR and I'll be back over the weekend.
PLUGS TIME!
---
My first plug of tonight's blog – the mandatory plug for my book, "The New York Rangers Rink of Honor and the Rafters of Madison Square Garden."
As mentioned previously, the book is now available in hardcover, in paperback and in Kindle formats. To purchase a copy of the book, visit this link:
https://www.amazon.com/Rangers-Rafters-Madison-Square-Garden-ebook/dp/B09CM5N2WD
For those still looking for signed paperback versions of the book, I have re-ordered more copies. I now have a few signed copies for sale at $25 a pop (includes shipping price) through me directly. Here is all the information on that:
---
My four-volume set of books, "One Game at a Time – A Season to Remember," is a game-by-game recount of the Rangers 2021-22 campaign.
My second title as an author, "One Game at a Time – A Season to Remember," is now available in eBook, paperback and hardcover formats.
To obtain signed copies, visit: https://bluecollarblueshirts.com/onegamebook/
To purchase all four volumes on Amazon, visit: Amazon.com – "One Game at a Time."
---
The greatest volume-set of books on Rangers' history today!
"Tricks of the Trade – A Century-Long Journey Through Every Trade Made In New York Rangers' History," a four-volume set of books that meticulously covers every trade made in franchise history, is now on sale.
All four volumes of the title can be purchased on Amazon.com and are presented in three different formats – eBook, paperback and hardcover.
To purchase Volume I: Conn Smythe (1926) – Craig Patrick (1986), visit Amazon.com
To purchase Volume II: Phil Esposito (1986) – Neil Smith (2000), visit Amazon.com
To purchase Volume III: Glen Sather (2000-2015), visit Amazon.com
To purchase Volume IV: Jeff Gorton (2015) – Chris Drury (2022), visit Amazon.com
To purchase signed copies of all four volumes, visit https://bluecollarblueshirts.com/tricksofthetrade/
---
Here are my last few blogs, in case you missed them: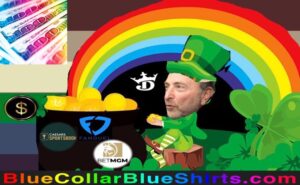 ---
---
---
If you haven't already, subscribe to this blog for the next update:
---
Don't forget to order my new four-volume set of books, "Tricks of the Trade!"
If you don't order through me, all four volumes are now available on Amazon.com
For more details, check out: https://bluecollarblueshirts.com/tricksofthetrade/
Thanks for reading.
LET'S GO RANGERS!
Sean McCaffrey
BULLSMC@aol.com
@NYCTHEMIC on the Tweeter machine