Greetings and salutations everyone and welcome to another blog here on BlueCollarBlueShirts.com. "Same old shit," where this time, I'm talking about the NHL's officials' raging hard-on for the Penguins – and not about the Rangers themselves.
Then again, we did see a lot of that "same old shit" that we saw prior to the Rangers' recent seven-game winning streak, a streak that was snapped tonight, following this 3-2 loss.
Whether it was Mika Zibanejad's adamant refusal to shoot the puck, Artie Panarin's never-ending issues with turnovers, Trouba on the ice for two goals allowed, an anemic power-play, and a penalty kill that only maimed their goaltender's stats – we've seen all of this before.
If it wasn't for a horrific no-call with just 42.7 seconds remaining, then you'd say that tonight's 3-2 loss was inexcusable.
You'd also remark that the Penguins wanted it more and converted on their chances, while the Rangers did not convert on their abundance of goal scoring opportunities.
Furthermore, I don't know if you'd be too upset about this loss had the officials done their job as they are paid to do; but the officials, once again, and as is always the case – swallowed their whistle during another Penguins' blatant infraction.
While losing always leaves a piss-poor taste in your mouth – the final minute of this game left your mouth extra sour and salty.
Simply stated – these Foot Locker employees posed as referees created "reasonable doubt."
Like a dog seeing a fire hydrant – the officials lifted up their leg and pissed on the Rangers – something that's been going on ever since Mario Lemieux first arrived in Pittsburgh.
---
Truth be told, the Rangers were the much better team between these two rivals for the first thirty minutes or so.
Up 1-0 just twenty-two seconds into the game, following a flukish goal scored by Chris Kreider; the Rangers had plenty of chances to extend the lead to two, three, four or more goals – but never could.
Whether it were two posts, the 0-3 power-play and Mika Zibanejad just refusing to shoot the puck until there was only a minute left in regulation – the Rangers, who largely dominated the first period, allowed the Penguins to hang in there.
During the latter stages of the second period and with the Penguins looking lifeless; the home team soon received two power-plays within a time-span of five minutes.
The Rangers, who entered this contest with the league's best penalty kill on the road, then gave up two power-play goals.
Evgeni Malkin and Bryan Rust, who scored these man-advantage goals, then watched Sidney Crosby put the Penguins up 3-1 with just 11:20 remaining in the third period.
While Chris Kreider (along with CZAR IGOR) would keep the Rangers alive, when CK20 scored his team-leading sixteenth goal of the season; none of the other FAT CATS, nor anyone else, joined him as a goal scorer tonight.
In other words, while the Penguins' top three stars all scored; the Rangers' heralded 1-2 punch, Zibanejad and Panarin, were blanked. Ditto everyone else.
You can argue about how bad these officials were tonight, as prior to the Zibanejad no call, the refs also ignored a blatant cross-checking penalty committed by Jeff Carter on Ryan Lindgren too – when the Pens' center sent #55 right into Igor's left post, in what was a dangerous foul.
And while there is no doubt that the officials were horrendous tonight – the Rangers had already hit two posts and were 0-3 on the power-play prior to the zebras swinging the game.
You can't ignore how terrible these officials were, but at the same time – you can't solely blame them for this loss either.
---
As we wind down this introduction and get into all of our usual segments here; yes – I do have my patented/trademark 5:00AM train to catch on Wednesday morning.
However, when compared to these last seven game reviews on this site – I don't wish I had more time to recap this game tonight!
I want to hit the "PUBLISH" button as fast as possible, move on and get ready for the Rangers final game prior to the Christmas break – a Thursday night tilt at "The World's Most Expensive Arena," when the Blueshirts will host their most-hated rival, the New York Islanders.
Let's roll, where up first – the PREGAME NEWS.
---
The Rangers, following their seventh consecutive win on Sunday night in Chicago, took Monday off – and as mandated by the league's CBA. (Teams always have off after playing a back-to-back set, as the Rangers just did over the weekend.)
With the team idle for 24 hours, that meant that no media member had access to Gerard Gallant, or for that matter, anyone else from the team either. In turn, prior to Tuesday morning's "TURK TALK;" the Rangers' beat, fans, and everyone else & their mother too, all speculated on the status of Filip Chytil.
Heck, I joined this party myself – although I shared my thoughts about Chytil's immediate future on Sunday night, rather than on Monday! What a trendsetter!
Put it this way: even the only reporter on the beat with a clue, the Hall of Fame scribe Larry Brooks, wrote an article early Tuesday, where he went as far to opine on Chytil's long-term future, with #72 due for a new contract.
As you'd expect, the article concerned Chytil's frequent bouts with injuries, where Mr. Brooks even used the word "brittle" – an adjective that Eddie G., of "The BSU Show," first made popular with his "Filip Brittle" nickname.
As Brooks would state – following Chytil leaving the game on Sunday night, and through no fault of his own (although Brooks was open to the suggestion that perhaps Chytil left himself vulnerable to Sam Lafferty's late hit) – is the Czech worth a long-term deal?
After all, as mentioned in this space both on Sunday and many times before to boot – there is something to "The Cycle of Chytil;" where #72 gets hurt, returns cold, finally gets hot again, and rinse-wash-repeat.
While there is weight to both "The Cycle of Chytil" and what Brooks wrote – come late Tuesday morning, and with the Rangers back on the ice for a pregame skate – Chytil was out there practicing – with neither a scratch, nor a concussion, to be found.
As mentioned on this site before, the "c-word," as in concussion, is the dirtiest word in the NHL. The media is pretty much forbidden from using that word whenever talking to coaches or players.
In other words, with Mollie "I don't give a shit" Walker as the lone regular Rangers' beat reporter at the practice; you can't blame the clueless birdbrain, and perhaps the queen of asking the most ridiculous and worthless questions imaginable, for not asking Gallant and Chytil if a concussion was suffered on Sunday.
Instead, Walker spent nearly thirty minutes asking Vincent Trocheck about what he had for dinner on Monday night, where of course, she did her hyena hysterics during Trocheck's response.
For Walker, apparently someone saying that they ate spaghetti and meatballs is the equivalent of catching a Rodney Dangerfield stand-up comedy special.
"You dipped your bread in fra diavolo sauce? HAHAHAHAHAHAHA!"
Okay, okay, okay – I'm making up the thirty minutes part. It was only 29 minutes!
Seriously – she really asked Trocheck to list the food items that #16's grandmother, who lives in Pittsburgh, cooked for the team, during the Rangers' team dinner at "La Casa Nonna."
Knowing that Trocheck and company dined on chicken parm, rather than wolfing down veal parm, sure made me feel more informed!
I'm surprised that the line for this game didn't jump after this riveting information was brought to the light!
Once again – someone clear mantle space for Miss Walker's future Pulitzer Prize!
(Funny enough – the M$GN were also completely enamored with the Rangers' Monday night meal – as no less than ten times during this broadcast, did John Giannone, Sam Rosen and Joe Micheletti bring up the chow that was devoured.)
Long story short, and my bad jokes aside (comedy that Walker probably isn't cackling through) – both the Rangers and Chytil dodged another bullet.
For a player that spars with injuries as often as an old man wakes up to go to the bathroom in the middle of the night – Chytil, Gallant, the Rangers and the fans were able to rest easy.
Here was Tuesday's "TURK TALK," where Gallant left the door open to line-up changes, without giving specific details:
---
When it comes to his roster and line-up, Gallant said that he was waiting word from the Rangers' training/medical staff if Chytil, and two other players, would be cleared.
Gallant used the word "limping," when discussing his unnamed players.
At the same time, Gallant also said that he expected to deploy the same line-up that he has recently been using – as long as he got the a-okay from the doctors.
And that's what happened, as the line-up that played on Sunday night in Chicago played tonight.
As far as anything else, Chytil himself said that he expected to play – following what he described as a "cheap hit" from Sunday.
---
Here was tonight's line-up:
FIRST LINE: Panarin/Mika/Goodrow
SECOND LINE: Lafreniere/Chytil/Kakko
THIRD LINE: Kreider/Trocheck/Vesey
FOURTH LINE: Blais/Brodzinski/Kravtsov
FIRST PAIR: Lindgren/Fox
SECOND PAIR: Miller/Trouba
THIRD PAIR: Harpur/Schneider
STARTING GOALIE: CZAR IGOR
BACK-UP: Jaroslav Halak
---
BOX SCORE time.
The following graphics and information come from ESPN.com:
SCORING:
PENALTIES: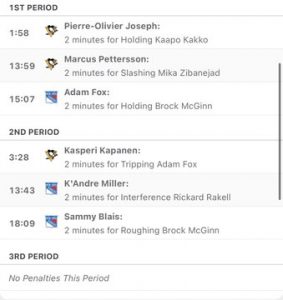 TEAM STATS:
GOALIES:
| | | | | | | | | | | |
| --- | --- | --- | --- | --- | --- | --- | --- | --- | --- | --- |
| SA | GA | SV | SV% | ESSV | PPSV | SHSV | SOSA | SOS | TOI | PIM |
| 28 | 2 | 26 | .929 | 21 | 4 | 1 | 0 | 0 | 59:57 | 0 |
| | | | | | | | | | | |
| --- | --- | --- | --- | --- | --- | --- | --- | --- | --- | --- |
| SA | GA | SV | SV% | ESSV | PPSV | SHSV | SOSA | SOS | TOI | PIM |
| 24 | 3 | 21 | .875 | 20 | 1 | 0 | 0 | 0 | 58:08 | 0 |
---
Come 6:30PM, when I tuned into the M$GN, I was surprised that Henrik Lundqvist wasn't there. After all, he's the franchise's ambassador, and after raising over $100,000 last season with "The King" in-studio – I thought #30 would be there.
And to be clear – this isn't a knock on Hank's absence. I have no clue what he had going on tonight.
If anything, I would've just done this fundraiser during his next scheduled appearance, as Sieve Vagistat is such a turn-off that it probably hurt the drive.
While I don't know the final EXPECTED STATS of how much money the M$GN raised tonight; during the third period, it was reported that $60,000 had been donated – significantly less than last year when Hank was pushing the noble cause.
I didn't watch one second of the pregame show once I saw that Vagistat was there by his lonesome, but I heard it was the same, you know: "east-west passing," "I called Lundqvist," "I once played in the NHL," "Royal Road & Gerbils," "I know more than Igor," and blah-blah-blah.
However, I still got my donation in:
Once returned to the network at 7PM; Micheletti mentioned how the Garden of Dreams have helped 425,000 families through $70,000,000 in donations. Wow.
Of course, right after this heart-warming fact – Sam and Joe went right into cheerleading for the Rangers' opponent.
We were immediately told that Sidney Crosby is "FABULOUS," the Penguins are "AWESOME," and how Tristan Jarry had been playing extremely well.
(And by the end of the night – the Rangers found out that Jarry was no Arvid Soderblom – the Hawks' goalie who the Rangers torched on Sunday – and a net-minder who is now currently plying his wares in the AHL.)
Sam and Joe then closed their brief face-time segment by reminding us of what happened the last time these two teams played and how to expect boos for Jacob Trouba – who is not only a villain for some Ranger fans – but all around the league too.
GAME REVIEW time.
---
FIRST PERIOD:
We're back to this – "it wasn't all bad."
As M$GN missed the opening face-off (Trocheck, due to being a native of Pittsburgh, took and lost it); CZAR IGOR soon had to make two saves in a span of ten seconds.
Following the pair of stops, just twelve seconds later, this happened:
It just took Igor and Kreider :22 for some magic #NYR pic.twitter.com/t5MBlwBpas

— Rangers on MSG (@RangersMSGN) December 21, 2022
---
1-0, GOOD GUYS, on goal that was confusing in real-time.
When this puck went past Jarry, it was tough to tell if Trocheck got a piece of it or not.
As Sam and Joe went back-and-forth on who scored – it didn't matter. The only thing that mattered is that the Rangers scored a quick goal and got the lead.
Later on, during slo-mo replay, it was revealed that while Trocheck was there, he never touched the puck. Kreider was then awarded his fifteenth goal of the season, while the hometown player in the Rangers' white #16 jersey was credited with the primary assist.
Even better? Once the puck was dropped and just prior to this goal; Penguin fans tried trolling CZAR IGOR again, with the mocking "I-GOR" chants. Those chants soon died down, sans one drunken fan screaming it like a 2:00am polluted dive-bar patron shouting "FREEBIRD" at a jukebox.
Sadly, the chants would return – and where this one bozo was no longer alone.
At just the 1:58 mark of the period, Kakko drew Pierre-Olivier Joseph for holding as #24 was going towards Jarry. The Rangers' power-play did nothing here, nor did they register a shot on goal. The power-play was now 0-1.
To close the man-advantage, Brock McGinn blocked a TROUBA BOMB.
Similar to CZAR IGOR, there was light booing for the Rangers' captain at the time, only for those boos to increase in volume as the game went on.
Following the Pens' successful kill, Sam and Joe hiked their skirts and sang the praises of the home team.
No joke, Ryan Callahan, during the ESPN broadcast of the Rangers/Blackhawks game, praised the Blueshirts more during those sixty minutes than Sam and Joe have done all season.
Artemi Panarin, who has been better lately, reverted back to his turnover machine status. However, his early turnovers, often of the cross-ice to nowhere variety, didn't backfire.
At the 6:30 mark, Trocheck, who hadn't hit a post during this winning streak, heard that familiar <DING> sound. That was an omen.
"THE IRON MAN" is back, as Nonna Trocheck's bambino leads the league in <DING's>.
I'm also wondering if Nonna Trocheck served POSTa, instead of pasta, at the team's dinner. Har-har-har.
Down to 12:45 remaining, Braden Schneider, the best "KID" on the team; made his first of two excellent and stellar defensive plays, when he blocked a Pens' shot from the slot while CZAR IGOR was scrambling in net. Without this shot block, who knows, this game could have been tied.
Jarry, a stud in net all night, came up with a big save on Schneider with ten minutes to go. A minute later, Adam Fox broke up a Penguins' 3 x 2 odd-man rush at the Rangers' blue line.
This much was evident, until the team fell apart during the latter stages of the second period – the Rangers' defense had came to play. Every rearguard was playing well and stood out via both their individual and team efforts.
And this was a shame, as the Rangers looked good, only to fade like a Fanatics' tee-shirt after one wash.
In a theme that would continue all game; with 8:10 to go, Zibanejad was wide open in front of Jarry. For whatever reason, and whether Mika is against the NRA or what – he wouldn't shoot. He was trigger-shy for 59 minutes tonight.
Following this Mika debacle, a turnover; Miller bailed out the Rangers' first line center and prevented the Penguins from scoring on an odd-man rush.
Down to 7:15 remaining, "Trocheckitis" was spread to his own line, as following a pass from the center – Jimmy Vesey's backhanded attempt found iron.
If you're counting, the Rangers were now 0-1 on the power-play and had hit two posts.
As we hit 6:01 left on the clock, Mika streaked towards Jarry. Before he could get a quality shot off, he was slashed by Marcus Pettersson.
Now back on the power-play and trying to extend a lead that should've already been up to either two or three goals; Jarry stopped Trocheck, Kreider and Fox within the first twenty seconds.
About thirty seconds later, and with 4:53 left on the clock – Fox was boxed for holding McGinn.
As a result, after 1:08 of foreplay, the Pens had an abbreviated 52 second power-play.
And oh yeah – the Rangers' power-play was now 0-2.
Once the Pens' short power-play began, Schneider then made his second spectacular defensive play of the period, which prevented Sidney Crosby from tying the game. The Rangers' PK survived.
Following a save from CZAR IGOR on Rust with 2:02 to go; Sam and Joe finally started praising Rangers – Schneider and the goaltender himself. All of this praise was warranted.
During the final minute, Miller (who arguably had his third-best game of the season tonight), forced a turnover and then blocked a Pens' shot for good measure.
With three seconds remaining, Kakko, who also had issues shooting the puck tonight, was stopped by Jarry.
In what was a good period for the Rangers, but one that should've produced more goals; we remained 1-0, GOOD GUYS, as the horn went off.
Here's what I said at the time:
1-0, GOOD GUYS, after 20. 1P Thoughts:
— Great road period, but this should be more than a one goal lead (2 posts, 2 bad PP's)
— Igor doing Igor things.
— SOG 8-7, FO's 9-5, #NYR; Hits 10-9 Pens
— The Rangers sextet of d-men have all made big plays
— B-Schneids WOW!
LGR

— BlueCollarBlueShirts (@NYCTheMiC) December 21, 2022
---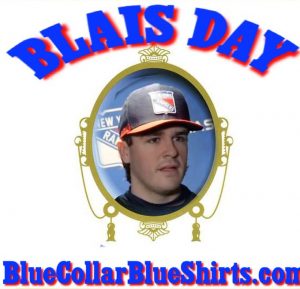 SECOND PERIOD:
One more time – "it wasn't all bad."
The Rangers began this frame much like how they played during the first period.
In his most egregious act of shooting defiance; within the first minute, Zibanejad found himself all alone in the slot. He didn't shoot and turned the puck over instead. At this point of the game, this was the third time that Zibanejad didn't even look at Jarry.
Come the 3:28 mark, Adam Fox drew Kapanen for tripping.
The Rangers, now hoping that "third time would be a charm" on this man-advantage, didn't receive such luck.
Despite this power-play, the Rangers' last, being the best of the trio – the Rangers had one of those power-plays that we saw a lot of prior to this winning streak – they did everything but score.
Following a Jarry save on Chytil at the end of the delayed penalty call; twenty-six seconds into the power-play, "The Breadman" shot the rubber into Jarry's "bread basket."
To Panarin's credit, who like Mika tonight, has been timid to shoot pucks more times than not; he shot the puck four times in the opening minute of this power-play. Two missed the net, the other two pucks were stopped by Jarry.
When Jacob Trouba and the rest of the PP2 unit took the ice, this is when the crowd at the PPG Arena really started to get on number eight.
While fans of the yellow-and-black would get louder in their derision of Trouba; there was never one point where the decibel levels ever reached the sound of whenever Tony DeAngelo is playing at M$G – or in Philadelphia right after his grandmother dies – as we saw & heard on Saturday night.
Jarry, who finished with four short-handed saves tonight, improved the Penguins' penalty kill, as the Rangers were now 0-3 on their power-play.
Let's reset, because a lot happened after this.
At the 5:28 mark of the second period, the Rangers were up 1-0, hit two posts and were 0-3 on the power-play.
While the officials were done with calling Penguin penalties for the night – and that can't be ignored – the Rangers had blown every opportunity up to this point.
Also of note? It wasn't until nearly the seven minute mark when the Penguins put their first shot on goal of the period – an easy save for CZAR IGOR, as he stopped a weak shot from Rutta.
With 12:17 remaining, this is when the game started to turn.
In what was CZAR IGOR's best save yet, his ninth of the game; the 2022 Vezina Trophy winner robbed Rust with a BESSIE save.
Here's what I said at the time:
CZAR IGOR, save of the game, absolutely robs Rust with a BESSIE save. 12:17 to go. Pens have looked flat prior to that, #NYR gotta bury these chances before they wake up.

— BlueCollarBlueShirts (@NYCTheMiC) December 21, 2022
---
Approaching ten minutes remaining, Panarin continued his theatrics with long distance cross ice turnovers.
On the next Rangers' possession, this is when Carter cross-checked Lindgren:
Jeff Carter with the cheap shot on Ryan Lindgren behind the Refs backs. #NYR pic.twitter.com/BPepfQa9l9

— David 🏒 (@DaveyUpper) December 21, 2022
---
This was a double-whammy of ineptness.
Not only did the officials miss this blatant penalty; with the net off of the moorings, the men in stripes blew their whistle to fix the net – as the Rangers were streaking towards Jarry on an odd-man rush.
I will never understand how these officials are immune to fines, suspensions and league criticism.
Yes, the Rangers had the lead at the time and had blown several other scoring chances too – but that doesn't excuse these mooks from doing their jobs.
And with gambling ads plastered throughout this broadcast – it makes you wonder.
Down to eight minutes remaining, Miller kept a puck alive while the Rangers were attacking and then had a shot of his own stopped by Jarry.
Fifteen seconds later, Fox neutralized a major Pens' attack, which soon set up Chytil for a good scoring chance – another redundant save for Jarry.
Now down to 6:55 remaining, and again, with the Rangers maintaining their slim lead; the Penguins found their second wind.
Igor stopped Malkin, and on the rebound, Zucker missed a vacated net. While this was going on, "Rakell, Rakell, The Musical" absolutely crushed Chytil by the boards behind CZAR IGOR. However, as opposed to the Lafferty hit from Sunday – this was a clean hit – and that can't be disputed.
With Chytil down on the ice (although temporarily, as Jim Ramsey didn't have to take his usual walk to attend to the Czech); Miller took an interference penalty on Rakell.
If you've been watching this franchise for any amount of time, and this 2022-23 team all season – then you knew what was going to happen next.
The Rangers had been playing with fire for too long and it was now time for them to get burnt.
Just forty seconds into their power-play, and following a feed from Crosby; Geno Malkin put the Penguins on the board.
1-1. All of the failed chances had come back to haunt the Blueshirts.
The Penguins never looked back – and the Rangers found out that Pittsburgh wasn't Chicago or Philadelphia either.
They could screw around against those bottom-feeders, but that wouldn't work against an upper-echelon team.
As the Rangers never put another shot on goal for nearly the remainder of the period; with 1:51 to go, McGinn hit Blais near the boards by the benches. In retaliation, Blais took a swipe at the ice bird in front of an official.
Apparently, a soft mitt to the mouth is a penalty – being thrown into iron is not.
The Rangers had a chance to swing this game, as early into their penalty kill, Zibanejad and Kreider had a two-vs-one odd-man rush. Despite being wide open, Mika refused to shoot and opted to make a long lateral pass to Kreider instead. With the extra seconds it took to make the pass; Jarry positioned himself and easily stopped Kreider.
Had Mika went for a puck on pads play, or even just looked for twine – then who knows?
What we do know is that with just 12.7 seconds left on the clock, Rust deflected a Joseph shot past CZAR IGOR.
2-1, bad guys.
As the horn went off to signal the end of the period, and throughout the second intermission too – this is when Ranger fans really got on Sammy Blais.
In my opinion, and I've said this so many times to the point where I'm now blue in the face – I just don't rail on 12th forwards and 6th defensemen.
By the league's design – no team is perfect and every team has their flaws – and usually at these positions.
Was Blais' penalty horrible? Sure. Has Blais been a disappointment ever since being Slewbann'd? Sure. Do the Rangers need their sixth-round pick of the 2023 NHL Entry Draft to become something, in order to salvage the Buchnevich trade? Yes, yes and yes.
(If you don't know, the Rangers originally acquired a 2022 second-round draft pick in the Buchnevich/Blais trade, but later traded that pick to Winnipeg in the Andrew Copp deal from last season. The end result of that trade tree is that 2023 sixth-round pick.)
However, to sit here and tell me that Blais was the reason for this loss, as so many are claiming – well that's ridiculous to me.
And I get it – as fans, we all have our likes and dislikes. We are all biased in some form.
I'm not above this either.
If you've been reading these blogs and/or my social media feeds for any amount of time, then you already know this – as I don't hide who I'm a fan of and who I'm not a fan of.
That said, you can't use your biases to suit your own personal narratives – something I'm always aware of whenever compiling these manifestos.
For the 987678686789678967896789678967896 comments I saw and/or received that blamed Blais for this loss after taking this penalty – conversely, not one peep about Miller taking a penalty that set up the Pens' first goal.
There was nary a sound regarding Zibanejad and Kakko not shooting the puck either. And there weren't much talk about the two posts and three failed power-plays.
And while "THE TURK" benched Blais for the remainder of the game after this boneheaded penalty – I just can't tell you that #91 was the sole reason for this loss.
Did this penalty help? Of course not, but how many times do I have to say it – the Rangers had already squandered a bunch of chances prior to this infraction.
2-1, bad guys after two periods.
Here's what I said at the time:
2-1, bad guys, after 40. 2P Thoughts:
— #NYR were the better team for 30 minutes, Pens were flat & everything changed in last 10 minutes.
— Two posts are bad, special teams have been horrendous.
— Mika refuses to shoot
— SOG 18-17 NYR; Hits 24-13, FOs 19-18 Pens
COMEBACK!

— BlueCollarBlueShirts (@NYCTheMiC) December 21, 2022
---
THIRD PERIOD:
It's getting late, I have that train to catch and I don't want to go to bed any more angry than I already am.
Let's blaze through this final frame.
Following an uninspiring first three minutes; at the 3:30 mark, Gallant looking to replicate the success he had on Sunday night, put Kravtsov with Mika & Panarin. A shift later, Goodrow was right back on the top line.
I get what Gallant was going for here, but I don't understand why he made this change for only one shift.
At the 5:00 mark, Jarry stopped Kreider, a CK20 who was on a mini-breakaway.
Down to 11:20 remaining, Sidney Crosby got behind the Miller/Trouba pair and beat CZAR IGOR with the toughest shot any goalie can face – a high-rising backhander.
3-1, bad guys.
To the Rangers' credit, they didn't fold now down by two.
Just eighty-three seconds later, and with 9:57 remaining, Trocheck found Kreider for a picture-perfect odd-man rush goal.
3-2, bad guys – and with the Rangers having a shade under ten minutes to tie the game.
The Rangers sure looked for that equalizer goal, but to Jarry's credit – he never would allow it. He is no Soderblom.
Gallant also tinkered around with his lines some more, but similar to his first change – he only had these new lines out there for one shift, including a line of Lafreniere/Chytil/Vesey – who did play well during their forty seconds or so of action together.
Down to three minutes remaining and with the momentum in their favor; Gallant put Miller and Fox together. At the time, Rosen remarked, "Gallant is doing this for more offense." To me, I thought it was more about not having Trouba out there for a potential Pens' fourth goal.
Of course, right after Rosen said that; Miller, while waiting for his team to change, had Crosby pick the puck off of his stick, which then forced CZAR IGOR to keep the game alive with 1:51 remaining – following his game-changer save on Rust. Had the Pens' top line scored here – it would've been game over.
Down to 1:32 remaining, Gallant took his timeout and pulled CZAR IGOR.
This is when Mika started shooting the puck – about 59 minutes too late.
In one of the most blatant, biased and rigged no calls that you'll ever see; this happened:
Wes McCauley has to call that 🤦 What the heck was he thinking. 100% clear trip right in front of McCauley. No Call. #NYR pic.twitter.com/tYH62mpws6

— David 🏒 (@DaveyUpper) December 21, 2022
---
The Rangers, who should've had a 6 x 4 empty net power-play attack to close the game; instead, were left in a state of bewilderment.
And again, as stated at the top of this – while who knows what the Rangers would've done had this penalty been called, and as it ought to have been – we never got the chance to see it.
I much rather see the Rangers lose a game without questioning the officiating. I don't like making excuses but this no-call opened that Pandora's Box.
If there's a silver-lining to this act of 100% pure bullshit; I guess it gives the Rangers an out – as long as you ignore everything else that had transpired.
Jarry stopped Panarin at the of the period/game.
3-2, bad guys.
The bromance between the Penguins and the officials continues to be the most torrid love affair in all of mankind.
Here's Gallant, who wasn't happy about the no call either:
---
Gallant, who rarely calls out the officials, did so after this game. Good for him, but for what it's worth, I'm more irate than he was – but then again, I've been rooting for this team my whole life, and have seen this stuff with the Penguins countless times before. Conversely, "The Turk" hasn't even been here for two years.
I agreed with the other comments that Gallant made – the Rangers played well for the most part, but special teams and bad penalties did them in.
As mentioned earlier, this was a stark reminder that you need to play full sixty minute games.
While that's impossible to do during every game of an 82-game season – it's always going to come back and bite you in the ass whenever you fall apart against the better teams of the league.
The Rangers will look to start a new streak on Thursday night, in the final game before Christmas, when they host the disgusting New York Islanders.
The Blueshirts will also try to salvage this season series, as the Isles have already won the two previous meetings between these rivals.
We'll see if these Rangers, who are much better now than they were during the first two games, can give their fans an early Christmas gift.
A loss to the Islanders, which would mean a two-game losing streak, will put Rangerstown, USA into a state of "Grinchness" during the break.
Let's hope the Rangers can avoid all of that – and start a new winning streak of seven games or more too!
See ya Thursday night.
PLUGS TIME!
---
My first plug of tonight's blog – the mandatory plug for my book, "The New York Rangers Rink of Honor and the Rafters of Madison Square Garden."
As mentioned previously, the book is now available in hardcover, in paperback and in Kindle formats. To purchase a copy of the book, visit this link:
https://www.amazon.com/Rangers-Rafters-Madison-Square-Garden-ebook/dp/B09CM5N2WD
For those still looking for signed paperback versions of the book, I have re-ordered more copies. I now have a few signed copies for sale at $25 a pop (includes shipping price) through me directly. Here is all the information on that:
---
My four-volume set of books, "One Game at a Time – A Season to Remember," is a game-by-game recount of the Rangers 2021-22 campaign.
My second title as an author, "One Game at a Time – A Season to Remember," is now available in eBook, paperback and hardcover formats.
To obtain signed copies, visit: https://bluecollarblueshirts.com/onegamebook/
To purchase all four volumes on Amazon, visit: Amazon.com – "One Game at a Time."
---
The greatest volume-set of books on Rangers' history today!
"Tricks of the Trade – A Century-Long Journey Through Every Trade Made In New York Rangers' History," a four-volume set of books that meticulously covers every trade made in franchise history, is now on sale.
All four volumes of the title can be purchased on Amazon.com and are presented in three different formats – eBook, paperback and hardcover.
To purchase Volume I: Conn Smythe (1926) – Craig Patrick (1986), visit Amazon.com
To purchase Volume II: Phil Esposito (1986) – Neil Smith (2000), visit Amazon.com
To purchase Volume III: Glen Sather (2000-2015), visit Amazon.com
To purchase Volume IV: Jeff Gorton (2015) – Chris Drury (2022), visit Amazon.com
To purchase signed copies of all four volumes, visit https://bluecollarblueshirts.com/tricksofthetrade/
---
Here are my last few blogs, in case you missed them:
---
---
---
If you haven't already, subscribe to this blog for the next update:
---
Don't forget to order my new four-volume set of books, "Tricks of the Trade!"
If you don't order through me, all four volumes are now available on Amazon.com
For more details, check out: https://bluecollarblueshirts.com/tricksofthetrade/
Thanks for reading.
LET'S GO RANGERS!
Sean McCaffrey
BULLSMC@aol.com
@NYCTHEMIC on the Tweeter machine