Greetings and salutations everyone and welcome to another blog here on BlueCollarBlueShirts.com.
Last night, I recapped and ran down the Rangers loss to the Leafs. You can find that blog here:
At the end of last night's blog, I concluded the blog by saying, "Bearing anything crazy tomorrow, I'll be back Sunday after the game."
Well I'm here on Saturday afternoon, which means something crazy happened.
As usual, a major Rangers news story was broken in Canada & by a Canadian reporter. This is always the case, as the guys in New York, covering the Rangers beat, never break any stories. They just regurgitate and relay the news the Rangers give them. It's like the NY Ranger beat reporters are a flock of messenger pigeons.
At around 1:30PM, on Saturday, 12/21, Darren Dreger, of TSN, tweeted out the following: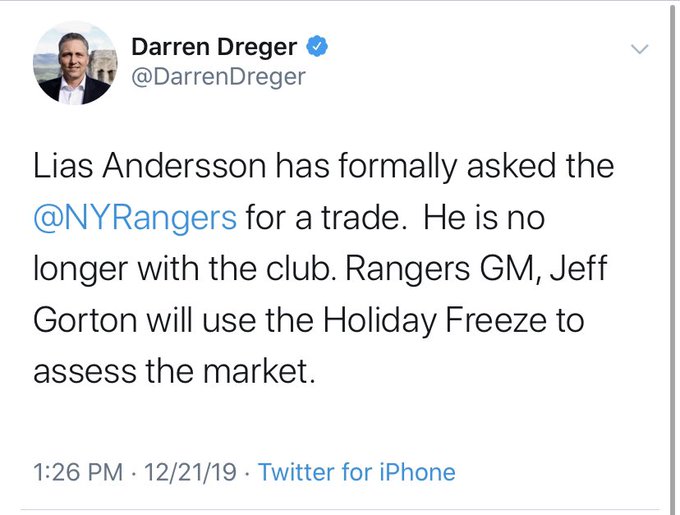 Before getting into everything Lias Andersson, do you want to know the funniest thing about this? To me, it was how the NYR beat reporters then scurried around and tried to pretend that they broke the news.
I mean, just check out this tweet from Vince Mercogliano, who in my opinion, is the hardest working reporter on the beat right now:
I've confirmed that Lias Andersson has requested a trade and is no longer with AHL Hartford.

I knew he couldn't have been happy with getting sent down (who would be?), but I'm honestly surprised it got to this point.

The Rangers aren't commenting at this point. #NYR

— Vince Z. Mercogliano (@vzmercogliano) December 21, 2019
Come on now! Are you telling me that Dreger's word wasn't good enough for Mercogliano, the rookie beat reporter? It always comes off so petty and vain to me, when these Ranger beat reporters feel the need to tell us that they have "CONFIRMED" every story that's broken in Canada, about the team that's right in front of their face, day in and day out.
I have talked about this stuff before and I don't want to go into another long thing about this. That said, I'm calling it as it is. These NYR beat reporters should just say, "as reported by Darren Dreger, blah blah blah." These beat reporters, who pretend that they got the scoop & ignore the reporter who actually broke the story? Well that comes off ESPNish to me.
Moving along.
I've talked about Lias Andersson plenty on these blogs. I most recently looked at him, in-depth, on November 19th of this year, when the Rangers demoted him to Hartford. In case you need a refresher, here's that blog:
Over the last two seasons, I have joked around and have referred to Lias Andersson as "Lias Jessiman". To prevent comments soaked in tears, I would then immediately say how there's plenty of time for Andersson to rebound, he's not officially a bust yet, and all that other positive rah rah jazz. However, and truth be told, while Andersson still isn't exactly a NHL bust or a flame-out just yet, when it comes to the Rangers, Andersson is a bust and a flame-out. It just remains to be seen if he can catch on somewhere else and get his career going.
Like a cold front meeting a warm front, there's just so much to take in here with this news. When I really look at this news, I don't think you can solely fault Lias Andersson. While Andersson is not absolved of some of the blame, the Rangers didn't help him much either and it all started on the day he was drafted.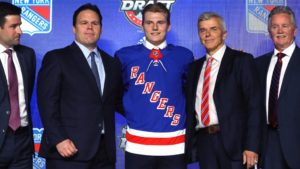 When the Rangers traded Antti Raanta & Derek Stepan for Tony DeAngelo and the seventh overall pick of the 2017 NHL draft, it was thought that the crown jewel of the trade would be whoever the Rangers selected with that pick. Instead, of the four men in this trade, Lias Andersson has provided the least amount of production and now holds the least amount of value.
In the present day, despite a Coyotes career riddled with injuries, ironically, Antti Raanta is back as the number 1 goalie in Arizona, due to an injury suffered by Darcy Kuemper. His teammate, in Derek Stepan, has become a leader in Arizona and is playing well.
On the Rangers, Tony DeAngelo currently leads all Rangers defensemen in goals and points. Offensively, as a defenseman, he is putting up numbers for the Rangers that haven't been seen since the days of Brian Leetch. (For more on DeAngelo, check out last night's blog.) And really, I don't think I'll find much of an argument here – Tony DeAngelo's stock can't be matched, when compared to the other three players in this June of 2017 trade.
In June of 2018, I recapped the Glen Sather Error and all of his drafts while as GM of the NY Rangers.  You can read that blog here:
When Glen Sather stepped down as GM and when Jeff Gorton took over, despite Gorton having the title of GM, this team was still very much influenced by Senile Sather himself. As time went along, Gorton would inherit more power and would talk to the media, a media that Sather very rarely talked to.
In June of 2017, after making the trade talked about above, Jeff Gorton would go on to select Lias Andersson with the seventh overall pick of the draft. At the time, Jeff Gorton said, "Lias Andersson is the most NHL ready player of the draft." Now, with the benefit of hindsight, this quote is Gorton's version of Sather's quote of "If I had the Rangers payroll, I would win the Stanley Cup every year."
From day one, when Gorton deemed Andersson as the "Most NHL Ready Player of the Draft", he did Andersson no favors. Gorton immediately put pressure on Andersson. This pressure was unnecessary and unwarranted. Even worse, according to all of these experts that scout prospects and cover these drafts, the 2017 NHL Draft class was a weak class. To me, it just seems that Gorton built up Andersson to a status that Andersson could never reach.
That said, when you draft someone seventh overall, there are going to be expectations. Of course, there are the insane expectations of Andersson being a superstar and all that. I get that hysteria from fans. However, realistically, I thought Andersson should've at least been an every day third line player. He didn't have to light lamps left right, he just needed to be a solid NHL player, a player that lasts in the league for 10+ years.
After anointing Andersson as the most NHL ready player of the draft, come the 2017-2018 season, Andersson was sent to Hartford. Even worse, as time went on, the player that the Rangers selected 14 picks later, with their 21st overall pick of the draft, went on to out-perform Lias Andersson in every which way. Of course, I'm talking about Filip Chytil here.
Andersson had a few short stints with the Rangers during these last three seasons, where he pretty much did next to nothing. Conversely, Chytil is now an everyday player for the Rangers and you can see positive progression with each day, each game and each season. When you look at Chytil vs Andersson, we can say the following:
— Chytil is better than Andersson.
— While you could've took other players, if you look at the two first round picks that the Rangers selected in that 2017 draft, Chytil should've been the 7th overall pick.
— Andersson could never live up to expectations, which admittedly, some were falsely bestowed on him by Gorton himself.
— Andersson doesn't have the make-up to deal with pressure.
— Chytil, who did a stint in Hartford earlier this season, rebounded and used the demotion as motivation and drive. The Rangers hoped the same thing would happen to Andersson. Instead, Andersson is taking his ball and going home.
I guess I should state the following – as of right now, Andersson is still property of the NY Rangers. While Andersson has asked for a trade and Dreger is reporting that Andersson has left Hartford, Andersson isn't gone just yet. After what we've seen from Vitali Kravtsov this season, I guess we should leave open the possibility of the Rangers & Andersson squashing their beef. However, that doesn't seem to be the case. All I'm saying is that it's possible that the Rangers & Andersson find a resolution.
And truth be told, while it was reported that the Rangers tried to move Andersson earlier this month (talks with the Oilers for Jesse Puljujarvi were discussed, but never materialized) Andersson kind of shot himself in the foot here. By allowing it to be known that he wants out, he put the Rangers at a disadvantage when it comes to moving him.
While this isn't exactly a Taylor Hall situation here, the Rangers enter all Andersson trade negotiations as the weaker party. What team is going to give up anything of significance for Andersson? I mean, it's not like any team was going to give up anything good for Andersson in the first place, but if Andersson was worth a sixth round pick before today, he's now worth a seventh round pick today. It seems that the Rangers best chance of getting anything decent back for Andersson, is if they package Andersson with someone or with draft picks.
If anything, Jeff Gorton should just pick up Lias Andersson, treat him like a silver medal, and toss him six rows back. Wash your hands of him. "Goodbye & Good Riddance" I say!
During this 2019-2020 season, it was thought that Andersson would finally connect and see the light. Despite starting and playing with the Rangers on Opening Night, Andersson never caught on. However, Andersson supporters can argue that perhaps Andersson didn't get the best chance possible. After all, Andersson was skating with the worst forwards on the team, in Gregg McKegg, Micheal Haley & defenseman-turned-forward, in Brendan Smith. Andersson never logged the most minutes either. Again, at the same time, and this Andersson situation really has so many different sides to it, Andersson never did anything to warrant more playing time.
Think about it. In three years of watching Lias Andersson, was there ever once where he was a game changer? Was there ever one time where you said, "if only the Rangers played this kid more, we'd have a shot here!?"
I think another thing that hurt Andersson this season is when the Rangers landed Kaapo Kakko in the 2019 Draft. No longer was Andersson the major Rangers prospect of the future. Kakko swept Andersson under the rug. Andersson became an after-thought. I even said this at the beginning of the season. I thought this would help Andersson a bit, because I thought some of the weight would be lifted off his shoulders. Instead, Andersson opened up the 2019-2020 season by having a wire thrown in front of his skates and he wound up becoming a viral sensation:
#NYR forward Lias Andersson trips on cord as he's introduced to the MSG faithful. Recovered like a champ. 🤣 pic.twitter.com/L2RHDNNi4I

— Grady Sas (@GradySas) October 3, 2019
As I said on Opening Night, the Rangers were at fault for this. Who puts a wire in the path of a skater? That said, doesn't that above video pretty much sum up Andersson's career with the Rangers?
With Andersson unhappy and looking to be out the door, his situation opened up not just one can of worms, but several can of worms. I told you there was a lot to unpack here. Let's just blaze through some questions that need to be asked as a result of this Andersson news.
Question One: Why is Gordie Clark still employed by the Rangers?
If you read my blog on Sather's Error, you will see how I recapped all the drafts during that time. Sather's eyes during most of these drafts were the eyes of Gordie Clark. Gordie Clark has had employment with the Rangers for some time now, starting off as a scout. He was then promoted to head amateur scout. In July of 2007, Gordie Clark was promoted again, this time as "New York Rangers Director of Player Personnel". While all draft selections are a team front office effort, for the most part, Clark's opinion weighs heavy on these drafts.
In just these last few weeks alone, we saw the Rangers have problems with both of their first round picks of the 2017 and 2018 drafts. After the Andersson draft, in 2018, the Rangers selected Vitali Kravtsov with the 9th overall pick of that draft. I have talked about Kravtsov ad-nauseam on this blog, so check out the archives of this blog for more on him.
While Kravtsov is now back, because he failed in Russia, he almost slipped through the cracks. That said, it still remains to be seen if he ever amounts to anything. Who knows, maybe I'll be writing a blog about Kravtsov demanding a trade in a year from now!
However, you look at these premium picks (Kakko is excluded here because he fell into the Rangers lap) the Rangers have bombed with them. Even worse, their hype of these players magnifies the struggles of these players. What's Gordie Clark doing here? Furthermore, Clark was part of the old regime. It's time for JD & Gorton to get their own people here.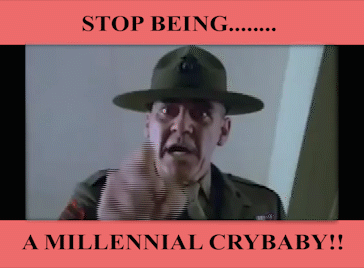 Question Two: Are these players just soft crybabies?

Seriously, when you look at the situations of both Andersson and Kravtsov, they come off as crybabies and perhaps products of living in an age where millennials whine about everything and anything. Even David Quinn and Dave Maloney have alluded to millennials in hockey and the players that live in this era. Quinn said you have to "coddle" these players. Maloney said you have to "baby and pamper" them.
While it's good for the NHLPA that these players have the power to cry and force teams to make moves, it also takes some authority away from the franchises. If a franchise has a career path for a player, a player can ignore what a franchise thinks is best for them, pout about it online and force their team to make a move. This is a slippery slope here and another issue that has many sides & arguments surrounding it.
Question Three: How much of this falls on Jeff Gorton?
I have written a ton about Gorton on these blogs. I like him. I think he's made some good moves. If there are any black marks on his record, it is the contracts he's given to his defensemen, such as Brady Skjei, Kevin Shattenkirk and Brendan Smith. The fact that Lundqvist is still here during a rebuild is also minor black mark, but that was a bad contract handed out by Glen Sather.
Now, as Gorton has been entrenched in the front office for some time now, how much does he effect the culture here? How come we have two situations here, with both Andersson and Kravtsov? How come future one-and-done Rangers, in Haley & McKegg, are eating up minutes and ice time, while guys like Vinni Lettieri, Lias Andersson and others sit in Hartford?
Granted, the Kravtsov situation seems settled for now. However, it was Jeff Gorton talking about Lias Andersson being the second coming of the messiah. Listen, no GM has a 100% success rate, but these top picks in recent years is cause for concern. It's at least worth lifting an eyebrow over.
Question Four: How much of this falls on Quinn's doorstep?
We all know that Alain Vigneault, one of the most successful coaches in Rangers history, was fired, because the Rangers wanted to embrace a youth movement. (A youth movement centered around a 38 year old $8.5M cupless goaltender.)
David Quinn was hired, because he is thought to be some Jedi Master when it comes to developing talent.
I think it's tough to blame Quinn for anything Kravstov related. That seemed to be an organization decision.
When it comes to Andersson, Quinn is part of Andersson's playing time, or lack thereof. However, we are seeing young guys like Tony DeAngelo, Filip Chytil, Brendan Lemieux, Ryan Lindgren, Adam Fox and other young players playing well. Ironically, most of those players are American or Canadian, meaning that the guys from this side of the world are acclimating to the game better than their Euro counterparts.
When it comes to Andersson, I think it's hard to fault Quinn here. He gave Andersson chances and Andersson never did anything to force the issue of more playing time.
In conclusion on Andersson, I get where he's coming from. He feels like he's facing an uphill battle and doesn't feel like he has a shot here. Perhaps a change of scenery is what's best for him. That said, at the same time, how hard did he really work for it? He's buddies with Filip Chytil. He didn't learn anything from Chytil's stay in Hartford this year?
I can understand Andersson being frustrated, but I think he gave up too early. At the end of the day – what did he do to prove that he deserved more playing time? What did he do to prove that he should be with the big club? If you look at Andersson's numbers, they are freaking horrible. He can feel he has been mismanaged, and I get that; but he never did anything to make the Rangers evaluation of him look erroneous.
Put it this way – Igor Shestyorkin is killing it in Hartford. He's going to force the Rangers to do something with their goaltenders. Lias Andersson never forced the Rangers into a pickle with their forwards. If anything, the Rangers gave him chance-after-chance, and it never went anywhere.
And who knows, maybe Andersson was upset after seeing how Jeff Gorton tried to trade him earlier this month. Maybe Andersson can't handle that, and if that's the case, maybe he's not cut out for this business. And hockey is just that – a business.
Lastly here, with one Swede gone, it's now time for the Rangers to move the $8.5M Swede too! Speaking of…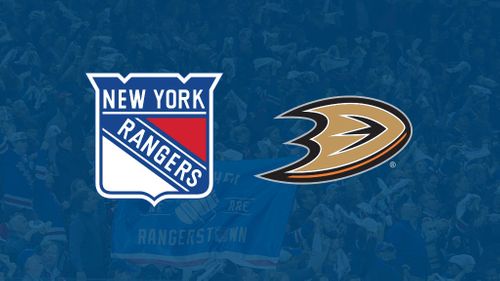 As mentioned last night, the Rangers host the Ducks tomorrow. Henrik Lundqvist was announced the starter of this game after Rangers practice today. Of course, not one of those beat reporters brought up my question that I brought up last night – "If Georgiev was starting against Toronto because of his numbers against them last season, why isn't Georgiev playing the Ducks this season?" After all, Georgiev beat the Ducks twice last season.
I watched the Ducks game with the Islanders today. After looking putrid against the last place Devils, the second-to-last-place Ducks beat a good team in the NY Islanders on Saturday, defeating the Isles 6-5, in a shoot-out.
This could be good news for the Rangers. Starter John Gibson played today, so I doubt he will play tomorrow. I assume the Rangers will see Ryan Miller in net for Anaheim on Sunday afternoon. Furthermore, the Ducks played 65 minutes in a crazy game with the Isles, so they could be due for a letdown & could be tired.
Put it this way – if the Rangers lose to the Ducks tomorrow, they may as well pack in this season. They can forget about the playoffs. The Rangers have every advantage going into this game and there is no excuse to lose.
Outside of Lundqvist looking for his first win in a month, the only other Ranger news is that Kaapo Kakko will be a game-time decision. As talked about last night, he was crying tears on the bench all game, after blocking a shot. It seems that he has a boo-boo, and may be held out until he's 100%. As we saw with the Devils & Jack Hughes, there's no reason to force Kakko to play if he's not fully healthy.
I'll be back in less than 16 hours. Talk about a fast turnaround!
Until then, as always, thanks for reading and…
"LET'S GO RANGERS!"
Sean McCaffrey
BULLSMC@aol.com
@NYCTHEMIC on tweeter